This irresistible Cajun Shrimp Pasta recipe is an easy way to get a satisfying dinner on the table in under 30 minutes! Creamy pasta and juicy, buttery shrimp are spiced up with a kick of cajun seasoning to keep things interesting.
Easy Cajun Shrimp Pasta Recipe
We love shrimp and we really love it when it's tossed in a creamy, dreamy sauce punched up with a bit of perfect cajun heat. This simple and quick cajun shrimp pasta is perfect for when you want something that feels decadent and a little more special, but still takes less than 30 minutes to make.
Cajun seasoning is such a great ingredient to use when you want to introduce a smoky, spicy flavor to a dish. It is the key to creating the juicy, buttery, and perfectly spiced shrimp that we sauté with sweet red bell pepper, garlic and onion. Everything is tossed together with tender pasta, and a creamy homemade alfredo sauce, to create this irresistible classic dish.
If you love shrimp and pasta like we do, check out our Shrimp Scampi and Shrimp Alfredo recipes.
Why You'll Love This Recipe
There are so many things to love about this pasta dish. Here's why we love this recipe:
Spicy. This is not a boring pasta dish! The heat of the cajun seasoning balances the creaminess of the sauce to keep it from being bland. You can use as little or as much as you like to match your tastes.
Hearty. You won't be hungry after eating this meal. The pasta and shrimp plus the cheesy sauce will definitely fill you up. Add a green salad, or some roasted or steamed veggies, for some added greens.
Quick. While it looks impressive, this recipe only takes 30 minutes or less to make. Which leaves you more time to actually enjoy your dinner!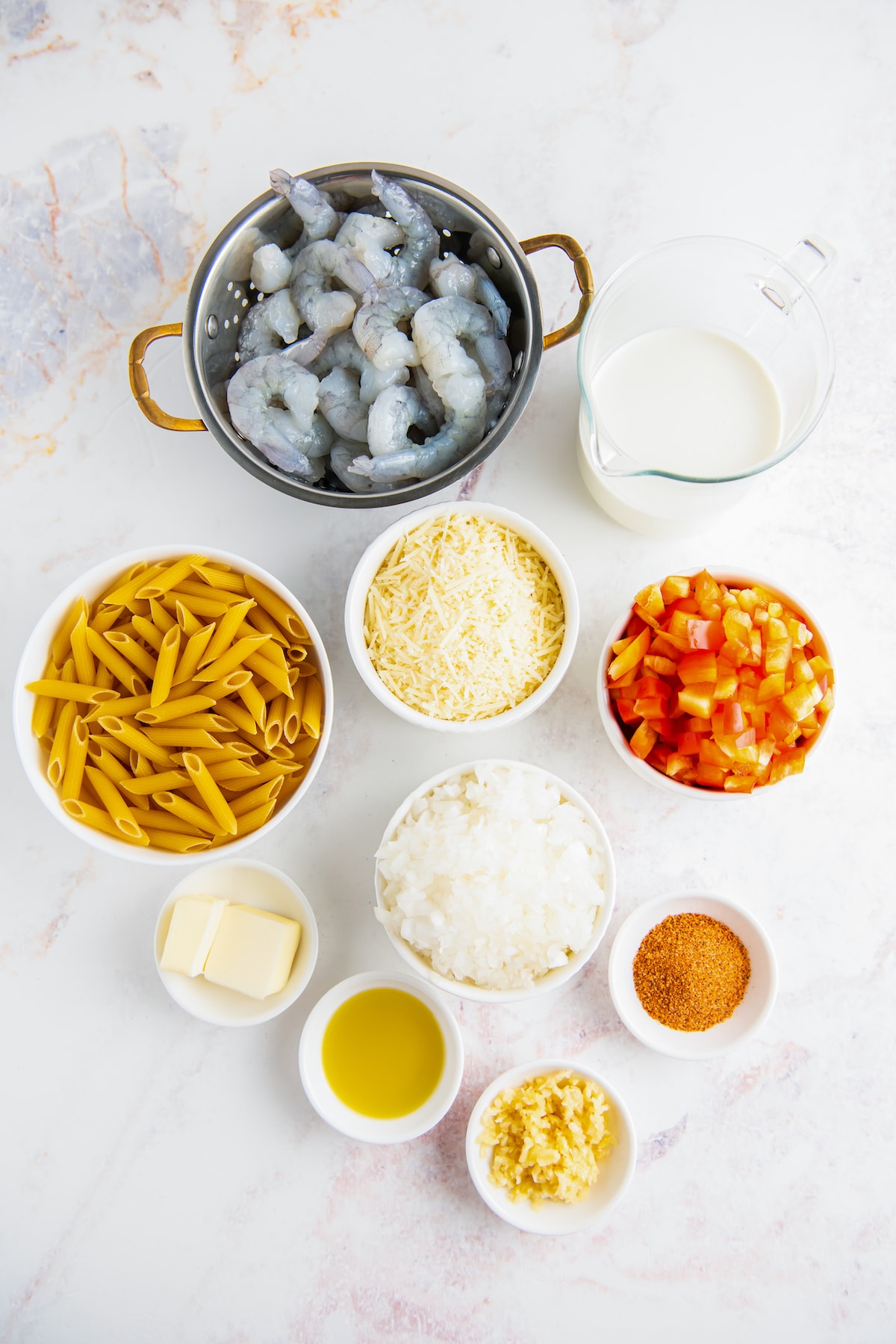 What You'll Need to Make Cajun Shrimp Pasta
Here's everything you need to make cajun shrimp pasta whenever the craving strikes. Make sure to check the recipe card below for the full amounts for each ingredient needed.
Pasta: I used rigate pasta, but you can use any pasta shape you have on hand…like fettuccine, penne, or even spaghetti.
Olive oil
Butter
Yellow onion: Use a medium onion.
Bell pepper: You can use any color in this recipe, red, orange, yellow, or green. Keep in mind that green bell peppers have a much stronger flavor, while red/yellow/orange bell peppers are milder and a little sweeter.
Garlic: Fresh garlic, not powdered or from a jar. For a dish like this, you really want to use fresh garlic to give you all the flavor!
Shrimp: You'll want to remove the shells and devein the shrimp.
Cajun seasoning: The key to all the flavor in this dish! Don't skimp on this ingredient!
Heavy cream: You can also use half-and-half, but heavy cream will give you the most luscious sauce for your pasta.
Parmesan cheese: Use the freshly shredded, or grated, parmesan cheese that is sold in the refrigerated section of the grocery store.
Where to Buy Cajun Seasoning
You can find Cajun seasoning in most grocery stores. Look for it in the spice aisle, we love Slap Ya Mama if using store bought. Or save some money by using spices you already own to make my recipe for Homemade Cajun Seasoning! You can use cajun seasoning in a few of my other favorite recipes, like Cajun Chicken Pasta or Cajun Chicken Casserole.
Can I Use Frozen Shrimp?
Frozen shrimp work great in this recipe! Make sure that you thaw the shrimp before cooking. I like to buy a bag of pre-cleaned shrimp to save some time.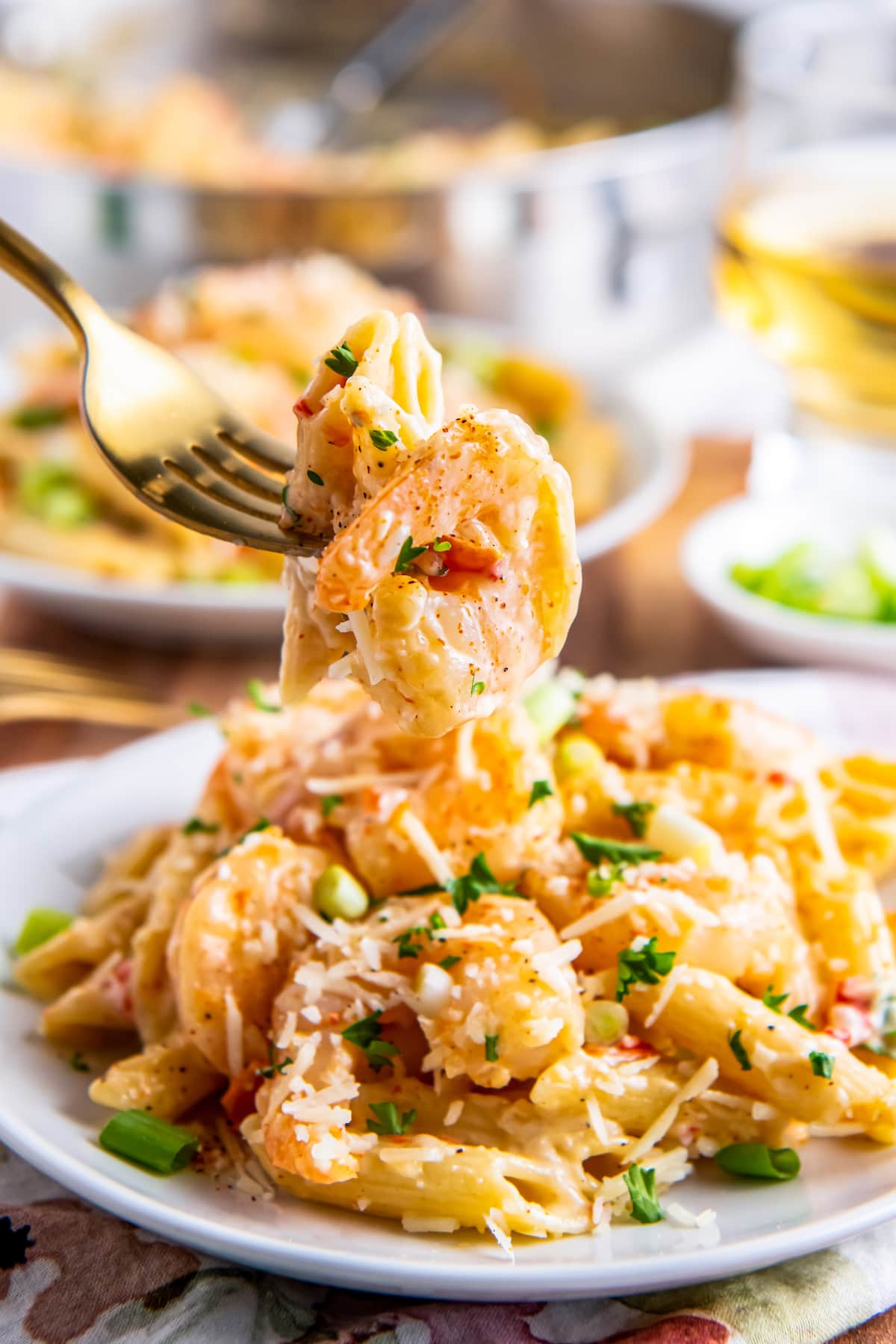 How to Make Cajun Shrimp Pasta
You'll need 30 minutes or less to get this on the table. Here's how to do it: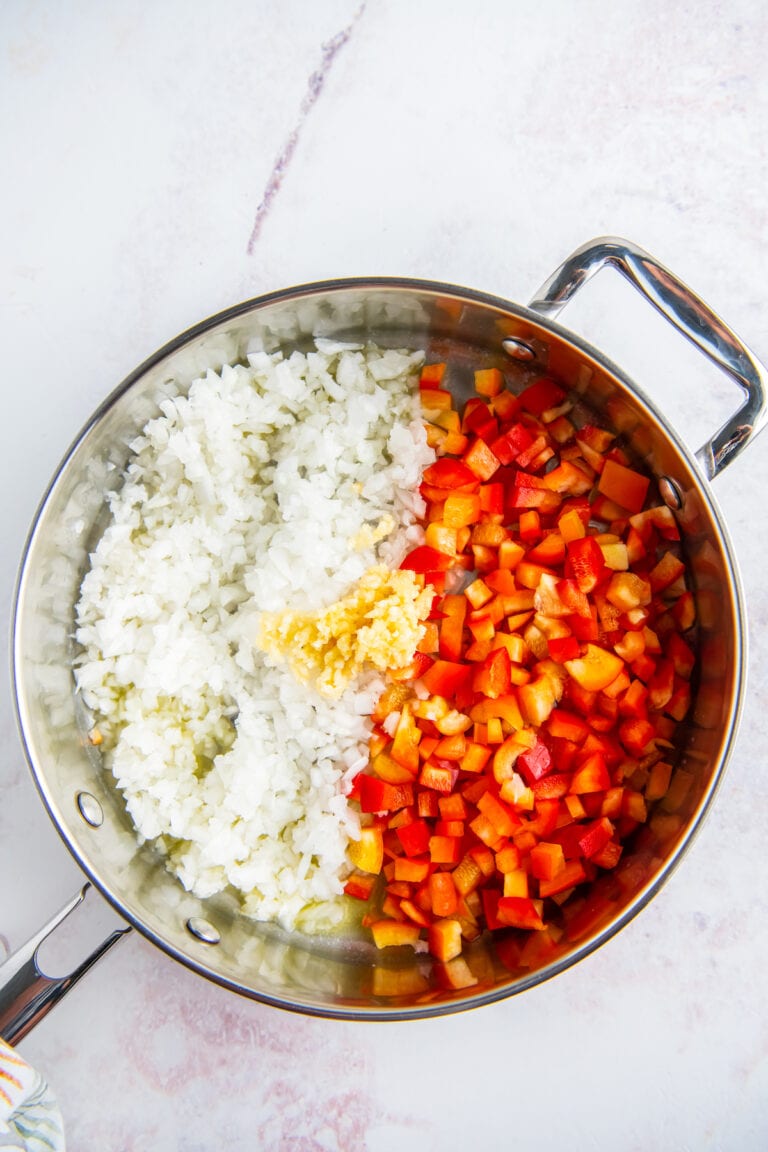 Make pasta. Cook the pasta according to package directions.
Cook the vegetables. In a large heavy skillet add olive oil and butter. When hot, add onion, bell pepper and garlic. Sauté for 5 minutes.
Cook shrimp. Cook the shrimp and ½ of the cajun seasoning for 3-5 minutes or until the shrimp have curled and turned pink. Do not over cook your shrimp or they will quickly become rubbery.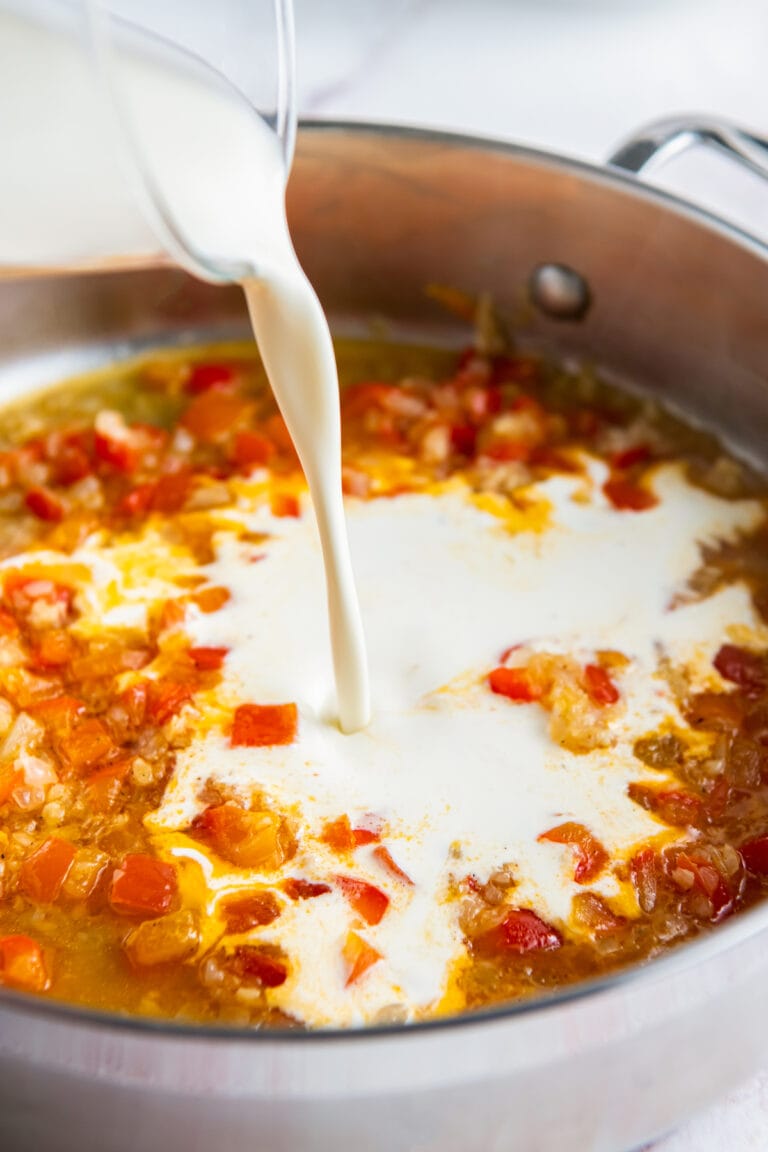 Remove shrimp. Remove the shrimp from the skillet and set aside on a plate. (Leave the vegetables in the skillet, only remove the cooked shrimp.)
Add cream. Add the remaining cajun seasoning to the skillet over medium heat. Bring to a soft boil, stirring often. Simmer for 10 minutes.
Add cheese. Stir in the parmesan cheese, stirring well, and cook until thickened.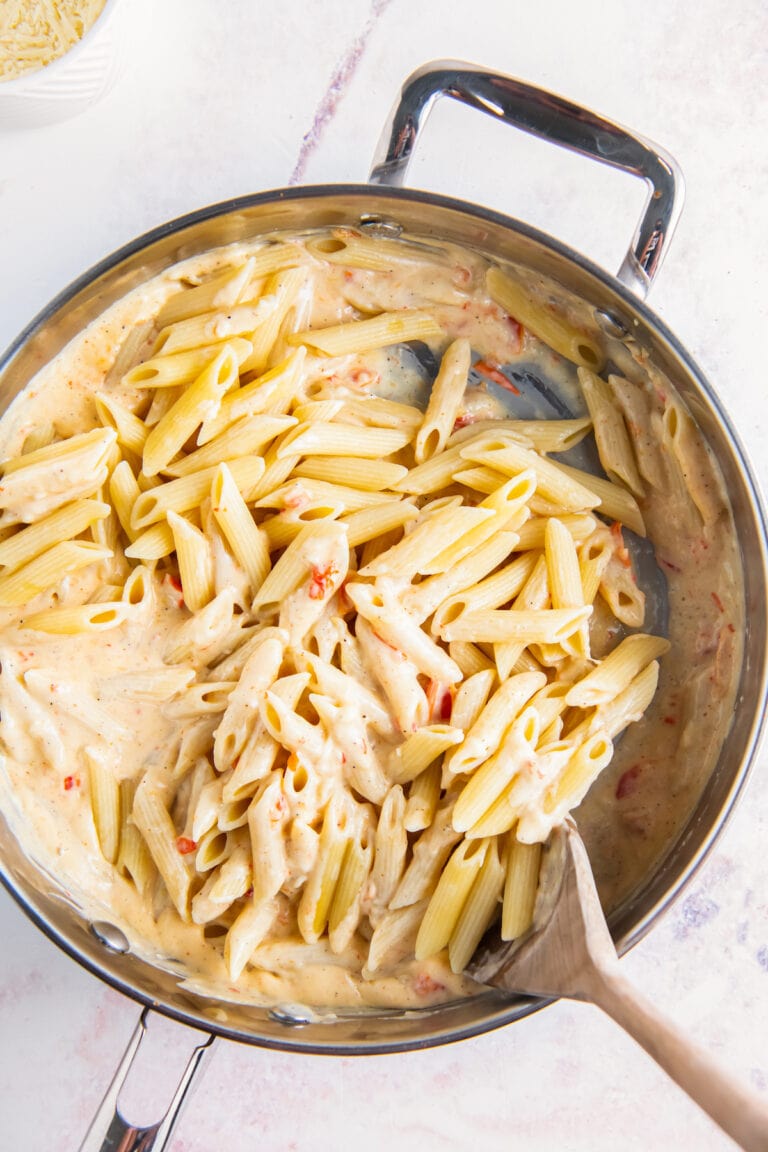 Combine. Add the pasta and remove from heat. Stir pasta until coated with the sauce, then add shrimp. Garnish with remaining parmesan and green onions, if desired. Serve hot.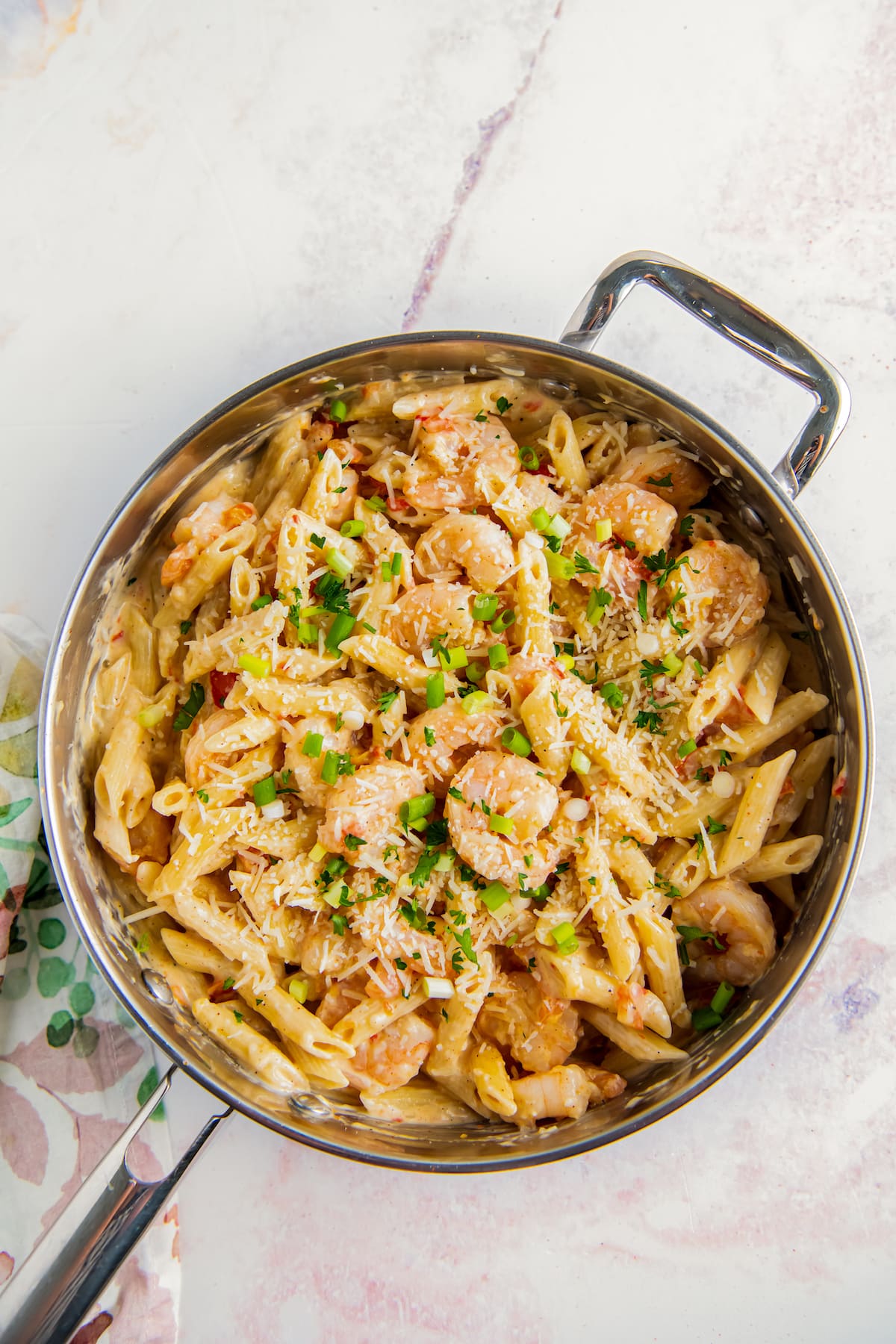 Tips for Success
This is an easy recipe, but we do have a few tips to help you achieve success every time. Read on for how to make the best cajun shrimp pasta:
You can take the tails off the shrimp or leave them on. Totally up to you. I like to remove the tails first before adding them to the pasta, but that's just personal preference.
Any pasta shape will work! Fettuccine, spaghetti or penne pasta will all work great. Make sure to cook the pasta just until al dente, so it doesn't get mushy. The pasta will cook a little bit more when you add it into the sauce.
Taste before adding salt. I did not need to add any extra salt. For me, the cajun seasoning was enough salt. But you may want to add more; give it a taste test first and season to you personal tastes.
Add more cajun seasoning when serving. You can sprinkle a little extra seasoning over each portion if you want more flavor.
Pump up the heat. If you like things extra spicy, you may want to add a pinch or two of cayenne pepper. Adding too much cajun seasoning can quickly make things salty.
Buy pre-cleaned shrimp. This will save you more time on prep!
Use fresh Parmesan cheese. We highly recommend using freshly shredded parmesan cheese you shred yourself or the kind you find in the refrigerated section of the grocery store. Don't use the kind that doesn't require refrigeration that is sold in a shaker can. It has preservatives on it that will overly-thicken your sauce.
How to Store and Reheat Leftovers
You can store any leftover pasta, shrimp, and sauce in an airtight container in the fridge for 3 days.
To reheat, place the pasta and shrimp in a microwave-safe bowl and spoon the sauce over. Stir to combine. Then heat in the microwave, stirring at least once to make sure it is heated through. We don't recommend freezing this recipe as the pasta will turn mushy when defrosted.
More Shrimp Easy Dinner Ideas
Yield: 4 servings
Cajun Shrimp Pasta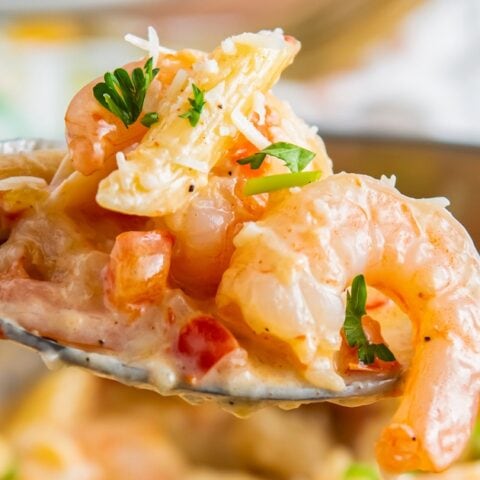 Cajun Shrimp Pasta is a quick and easy dinner ready in less than 30 minutes and full of flavor. The creamy pasta and shrimp are seasoned with just the right amount of cajun seasoning for the perfect kick.
Ingredients
8 oz penne or rigate pasta, cooked al dente and drained
1 tablespoon olive oil
2 tablespoons butter
1 medium yellow onion, diced
1 large bell pepper, seeded diced
1 tablespoon minced garlic
1 pound shrimp, shells and veins removed
1 tablespoon cajun seasoning, divided
1 ½ cups heavy cream
¾ cup shredded parmesan cheese, divided
Green onions, sliced, optional garnish
Instructions
In a large heavy skillet, add the olive oil and butter. Once hot, add the onion, bell pepper and garlic. Sauté for 5 minutes, till softened.
Add the shrimp and half of the cajun seasoning. Cook the shrimp about 3-5 minutes, or until the shrimp have curled and turned pink. Do not overcook the shrimp.
Remove the shrimp from the skillet and set aside on a plate.
Add cream and remaining cajun seasoning to the skillet over medium heat. Bring to a simmer, stirring often, and simmer for 10 minutes. Do not cover.
Add ½ cup of parmesan cheese, stir until sauce starts to thicken (about 3 to 5 minutes).
Add the pasta and toss to coat. Remove from heat and add back in the shrimp.
Serve immediately, garnished with the remaining parmesan and optional green onions.
Notes
Leftovers can be stored in an airtight container up to 3 days. To reheat add a little cream, broth or water to make the sauce creamy. I would not freeze this dish.
Tails on or off…up to you. When eating shrimp in pasta or rice I prefer to have the tails removed so that I can devour all of the yummy pasta and shrimp without stopping to remove the tails. 😊
Use the pasta you already have, fettuccine, spaghetti or penne pasta will all work great. Just make sure and cook to al dente so you do not have mushy pasta.
Taste before you add any salt. I did not add any salt I feel the cajun seasoning is enough. When serving you can lightly sprinkle a little cajun seasoning over the top.
Kick up the heat by adding cayenne pepper if you like things extra spicy!
This dish cooks very quickly. Have your ingredients prepared before starting.
Make sure and cook the pasta al dente, when you add it to the sauce the pasta will cook a little more.
Nutrition Information:
Yield:
4
Serving Size:
1
Amount Per Serving:
Calories:

786
Total Fat:

49g
Saturated Fat:

28g
Trans Fat:

1g
Unsaturated Fat:

17g
Cholesterol:

366mg
Sodium:

2214mg
Carbohydrates:

45g
Fiber:

3g
Sugar:

5g
Protein:

42g
Filed Under: