There's nothing more flavorful you can add to a dish than a sprinkling of homemade Cajun Seasoning! This classic spice mix is a celebration of all the bold and mouthwatering flavors and is easily made with spices you probably already have on hand!
Easy Homemade Cajun Seasoning
When it comes to Cajun food (gumbo, seafood boils, etc.) you can't whip any of it up without a few healthy dashes of a good Cajun seasoning. At least, that is the way I was raised in my mom's kitchen in Louisiana! This blend of bold spices compliments so many different veggies, proteins, and more! Even if it's not a traditional Cajun/Creole recipe you're making, we'd bet that a sprinkle of this stuff will make it better.
And yes, before you ask – this homemade seasoning is so much better than store-bought! Why? For starters, you can customize it however you'd like to be more or less salty, spicy, herbaceous, all that jazz. Plus, it's got none of the preservatives that too often sneak themselves into spice mixes. This Cajun seasoning is all natural and ready in minutes!
Once you have this mix of spices stored in a jar in your cupboard, you'll be reaching for it all the time. The chicken's a little bland? Sprinkle on some Cajun seasoning. Does the shrimp need a little something extra? You know what to do! Honestly, we even like adding a sprinkle of this vibrant seasoning to our popcorn sometimes. It's pretty addictive!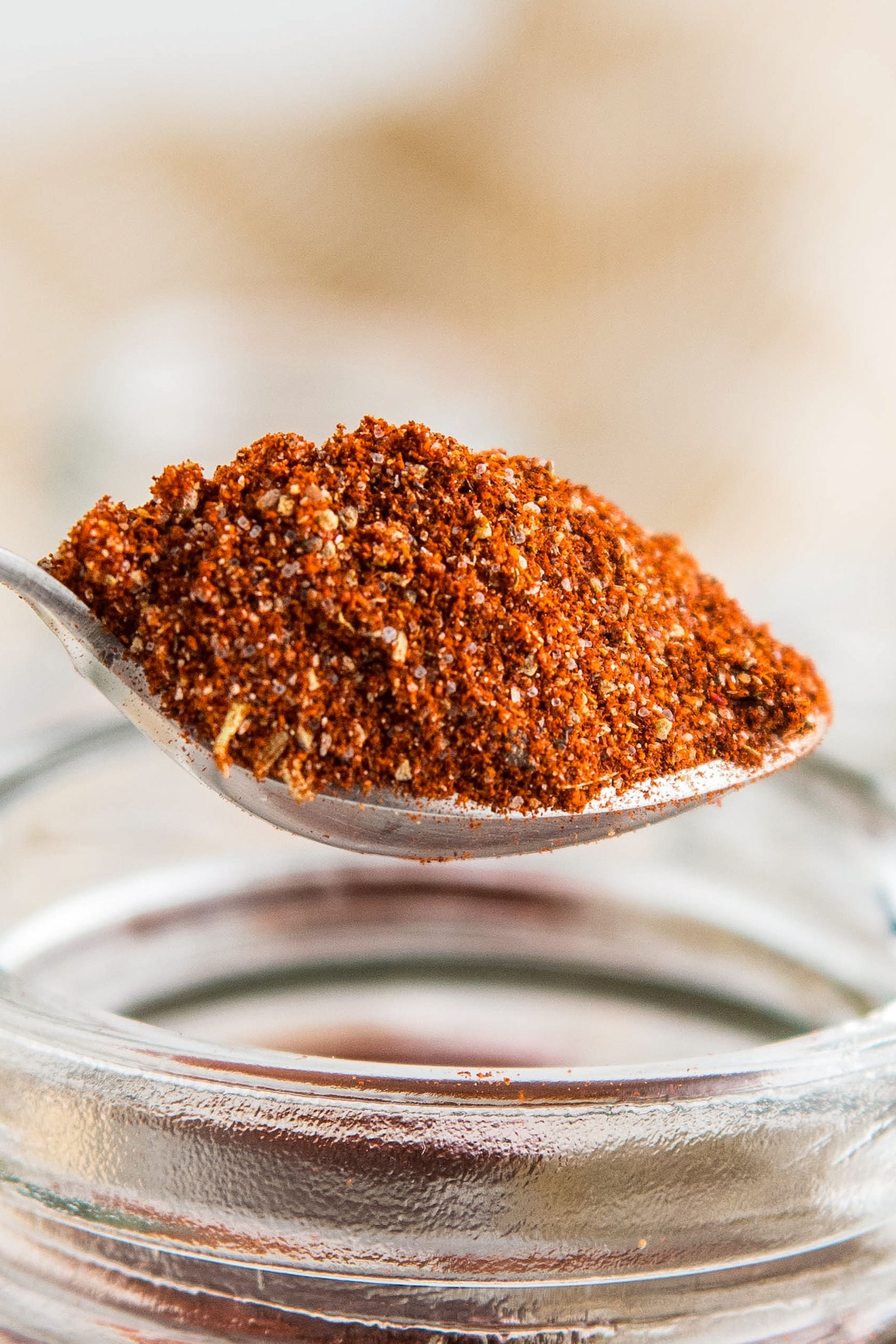 What Is Cajun Seasoning?
Cajun seasoning is a special blend of spices used in Cajun cuisine. It is known for it's robust, bold flavors, with spicy notes and a good hit of salt.
Cajun cuisine originated in the southern region of the United States, mainly in the region of Louisiana. Cajun food originated with Acadian immigrants who immigrated to Louisiana during the 18th century. Cajun cuisine is a combination of West African, French and Spanish cooking techniques.
Is Cajun Seasoning Spicy?
Yes, it can be spicy, depending on your personal level of spice tolerance. However, thankfully with a homemade custom blend, you are in charge of the level of spice. You can add more or less cayenne pepper, as desired, till you get the perfect amount of heat for you!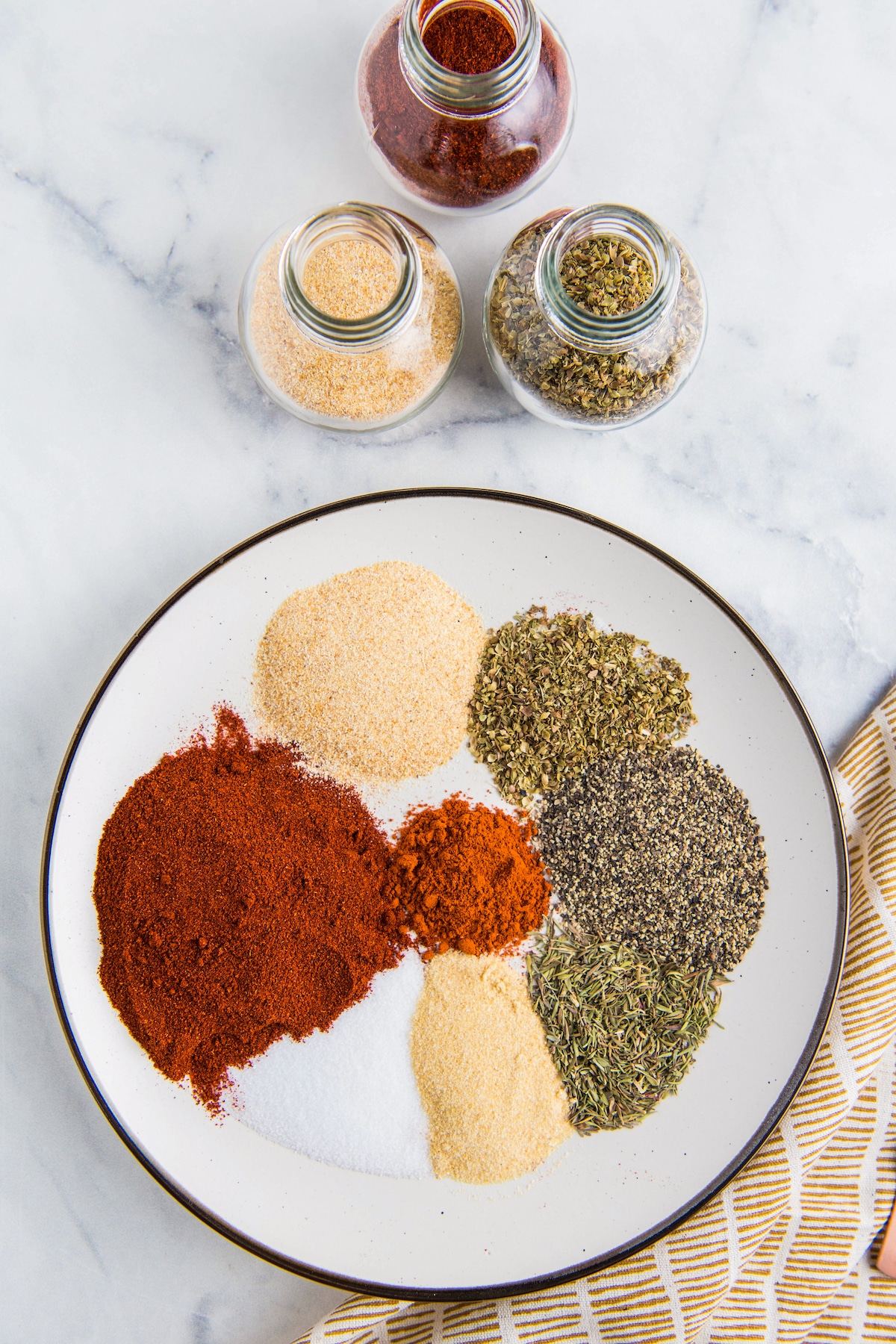 Cajun Seasoning Ingredients
Paprika: This is what gives Cajun seasoning that signature, vibrant red color. If you want to add more depth, you can also use smoked paprika.
Salt: Be careful not to add too much. You can sprinkle in a little extra salt if you'd like, but you don't want it overpowering the other ingredients.
Black Pepper: If possible, grind your own black peppercorns. It gives the black pepper so much more flavor that way.
Onion Powder: Onion powder is a favorite spice of ours because it adds depth, since it's both savory and slightly sweet.
Garlic Powder: The amount of this powder we toss in allows the garlicky taste to compliment the other flavors without overpowering them, as garlic sometimes does.
Dried Herbs: You'll need both dried oregano and dried thyme to create the most delicious herbaceous note!
Cayenne Pepper: You can add more or less of this spicy ingredient to alter the spice level of your Cajun seasoning. Just remember, once you mix it in, there's not taking it out.
How to Make Cajun Seasoning
Mix it up: Shake, shake, shake, señora! The most fun way to combine the spices is to toss them all in a Ziplock bag and shake it up. This is also a great way to get the kids involved in the kitchen! However, you can also mix them up in a bowl.
Enjoy: You can use your homemade Cajun seasoning right away, or store it. Either way, enjoy!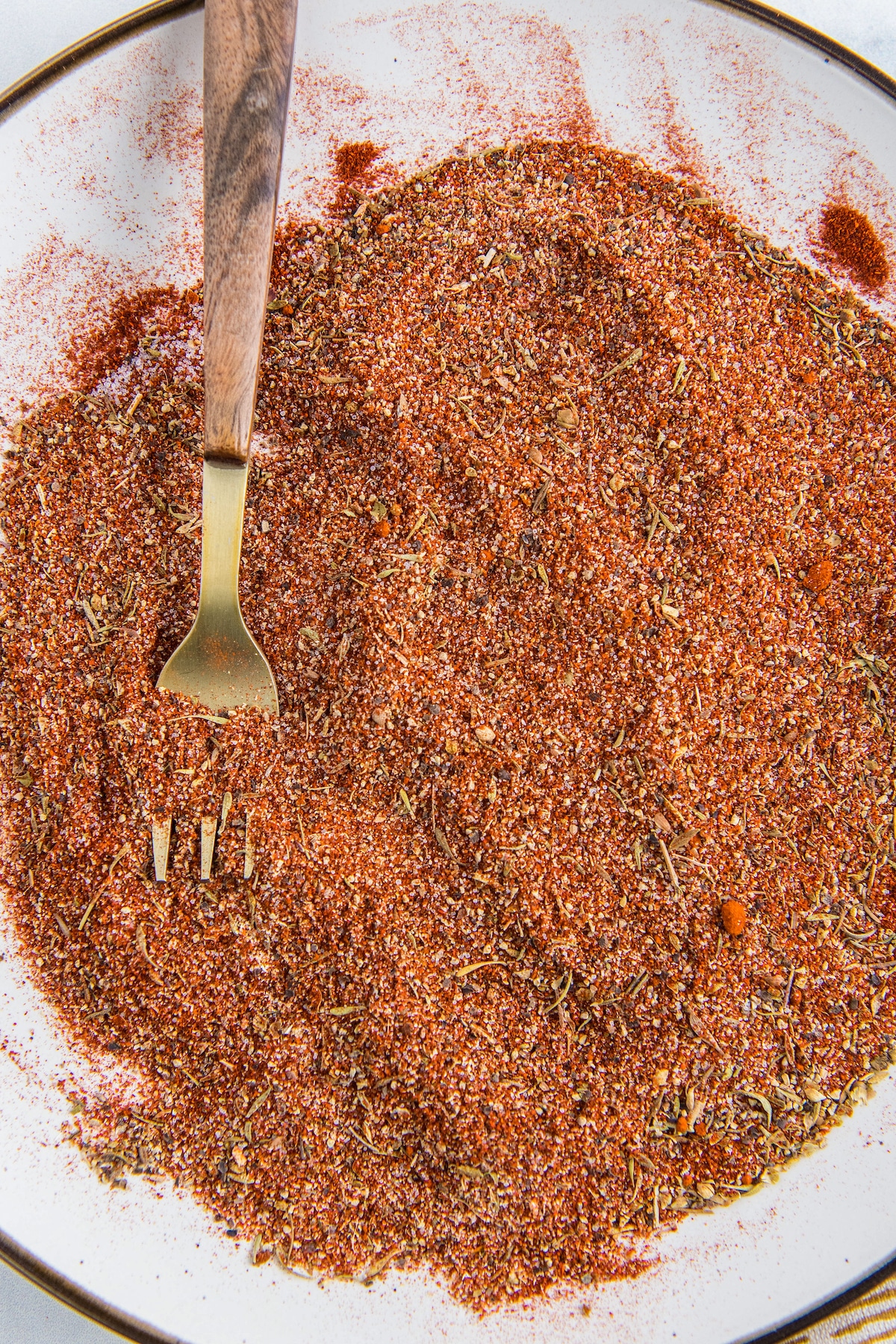 Tips for the Best Homemade Cajun Seasoning
Make it low sodium. For a low sodium alternative, you can half the amount of salt or fully omit it.
Keep it fresh. To keep this homemade seasoning fresh for the full six months of its shelf life, keep it stored in an airtight container at room temperature and out of direct sunlight. Also, be sure to use clean utensils when removing some spice mix from the jar! Any new bacteria that's introduced to the mix will cause it to spoil at a faster rate.
Change the flavor palate. For a smokier taste, use smoked paprika instead of plain paprika. To add just a little bit of smokey flavor while still staying true to the original flavor palate, you can make a mix of half paprika and half smoked paprika.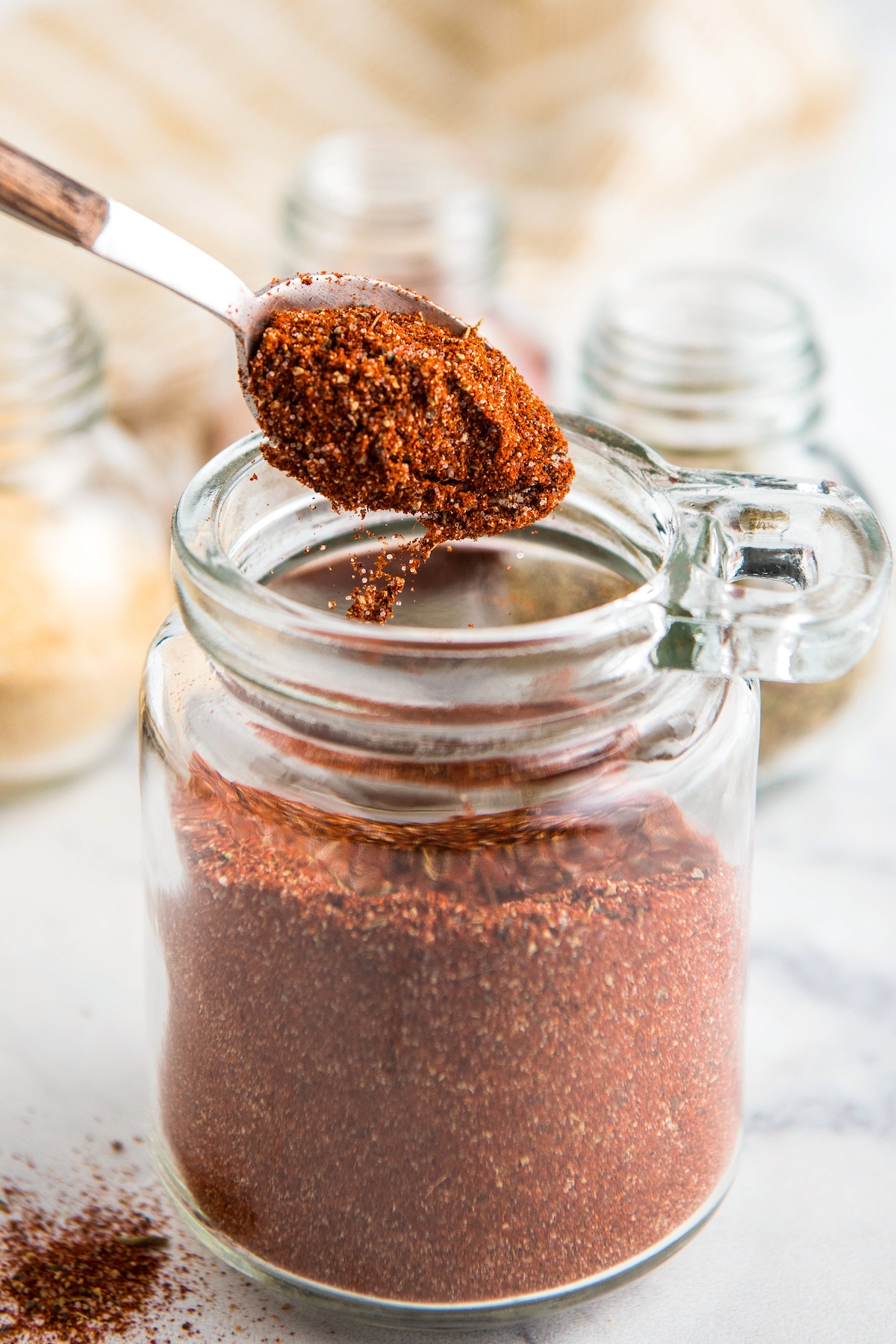 How To Store Seasonings
You can store this Cajun seasoning in a number of ways:
You can use a spice jar or mini mason jar to store your dry rub, like I do, and it will keep for up to a whole year. Or you can even use something as simple as a ziploc bag in a pinch.
You will store your dry rub in the same way you should store all your spices, in an air tight container and not in direct sunlight. This Cajun seasoning can last up to a year in an airtight container or spice jar if kept out of the light.
Serving Suggestions
Here are just a few of our favorite recipes that call for a tablespoon or two of Cajun seasoning!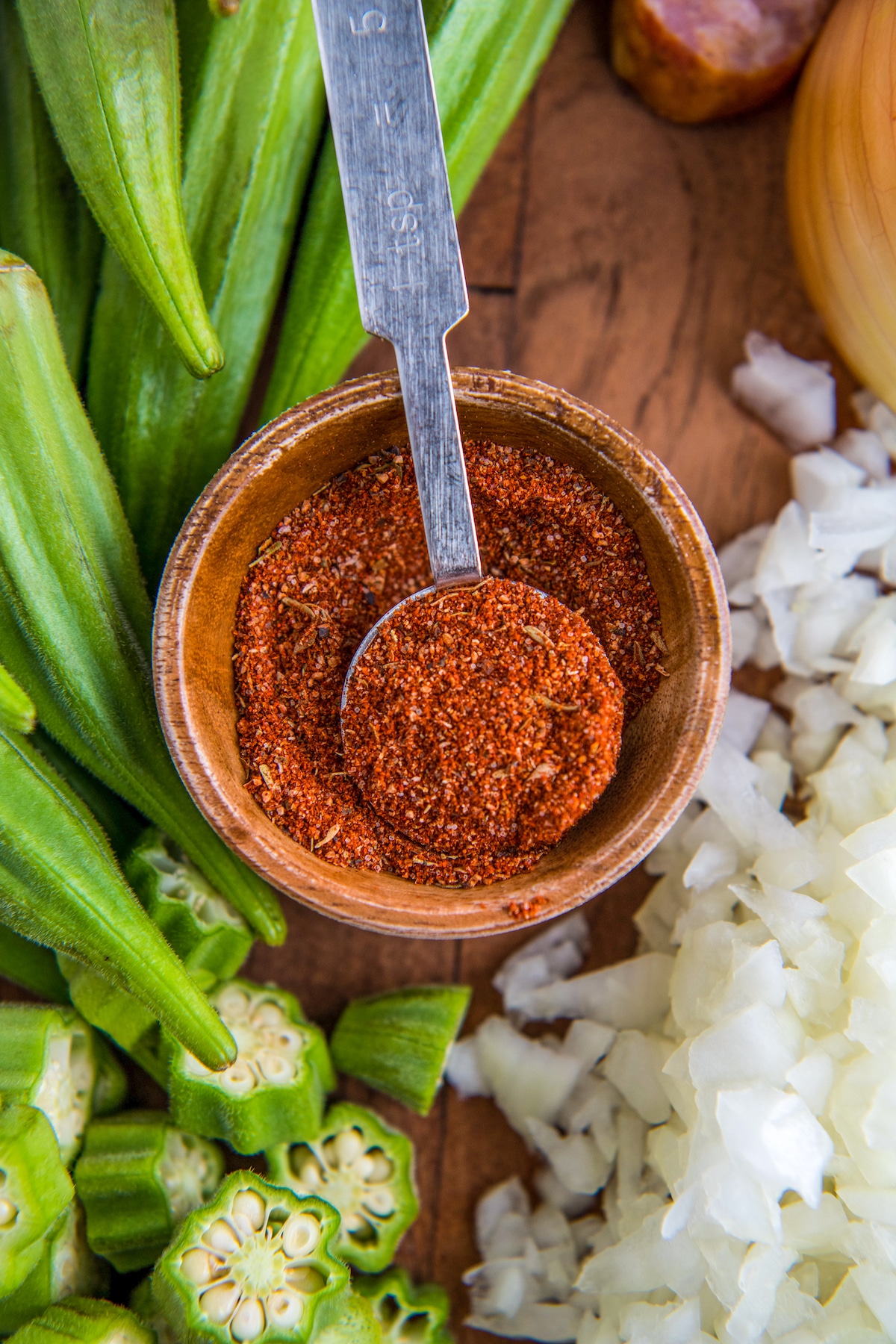 Yield:
1
/2 cup seasoning
Cajun Seasoning
There's nothing more flavorful you can add to a dish than a sprinkling of homemade Cajun Seasoning! This classic spice mix is a celebration of all the bold and mouthwatering flavors and is easily made with spices you probably already have on hand!
Ingredients
3

tablespoons

paprika

1 ½

tablespoon

salt

1

tablespoon

black pepper

1

tablespoon

onion powder

1

tablespoon

garlic powder

1

tablespoon

dried oregano

1

tablespoon

dried thyme

1

teaspoon

cayenne pepper
Instructions
Mix together all of your spices in a bowl, or shake them up in a big bag! Just make sure they're all evenly blended together.

Store in an airtight container, our of direct sunlight, to enjoy for up to 1 year.
Nutrition
Serving:
1
tablespoon
,
Calories:
19
kcal
,
Carbohydrates:
4
g
,
Protein:
1
g
,
Sodium:
1193
mg
,
Fiber:
2
g
More Homemade Seasoning Blends
Looking for more easy homemade seasoning blends? Here are our favorites: