This easy and FAST garlic butter shrimp is packed with flavor and only takes 15 minutes to make. Our secret? The most amazing cajun seasoning and a rich, lemony garlic butter sauce. Perfect for a quick dinner or night with friends!
Why You'll Love This Garlic Butter Shrimp Recipe
No matter how crazy your day may be, garlic butter shrimp will have your family smiling and happy before it's even out of the oven. Here are a few reasons why:
Quick and Easy: These garlic butter shrimp are incredibly quick to make and cleanup is a breeze! With only 5 minutes of prep and 10 minutes in the oven, it doesn't get much better than this.
Flavor: Shrimp with garlic butter on their own are pretty amazing. But once you add the cajun seasoning, this dish goes to a whole new level of flavor. Savory, spicy, and out of this world!
Cost Effective: Especially when you use frozen shrimp, the cost per serving of this meal is incredibly low. And with the corn and a piece or two of toasty bread, it's a complete dinner!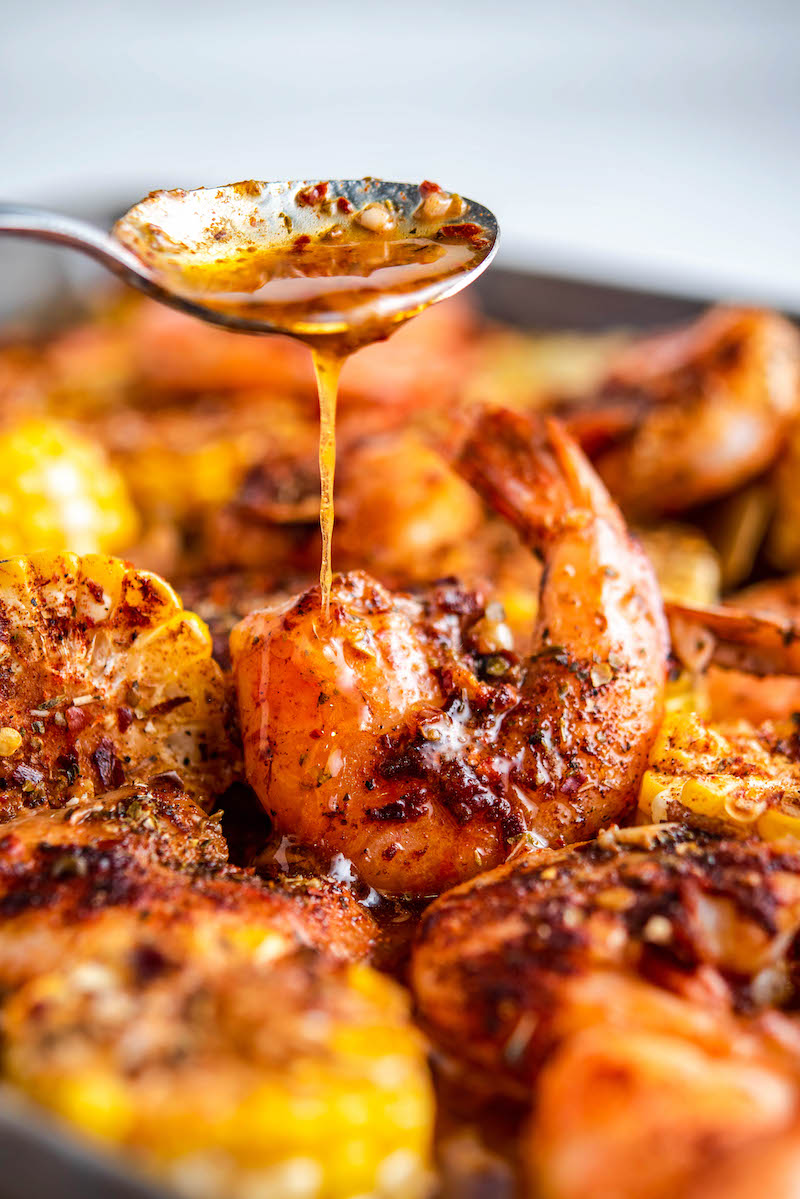 What You'll Need
You only need a few ingredients for these garlic butter shrimp and most of them you probably already have in the pantry. Scroll down to the recipe card for exact amounts.
Jumbo Shrimp: You can use frozen or fresh; with or without a shell/tail.
Seasonings: Crushed red pepper flakes, smoked paprika, dried oregano, bay leaves, and seafood seasoning. For the seafood seasoning, you can use Old Bay or our favorite homemade cajun seasoning.
Butter: Grab some salted butter for this recipe.
Worcestershire Sauce
Lemon
How to Cook Shrimp
This garlic butter shrimp recipe comes together really quickly and makes an excellent weeknight dinner. Here's how to make it. Check out the recipe card at the bottom of this post for detailed directions and ingredient amounts.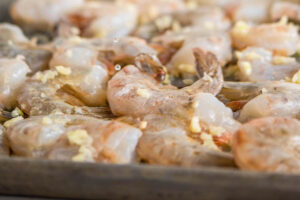 Prepare: Preheat your oven to 400°F, melt butter to grease a sheet pan, and rinse the shrimp in a colander.
Season: Place the shrimp on the buttered sheet pan in a single layer and season them with garlic and lemon juice. Add in the corn. Generously coat the shrimp and the corn with the remaining butter and seasoning.
Bake: Bake the pan for 10-12 minutes. You'll know it's done when the shrimp curl and turn pink. Serve and enjoy!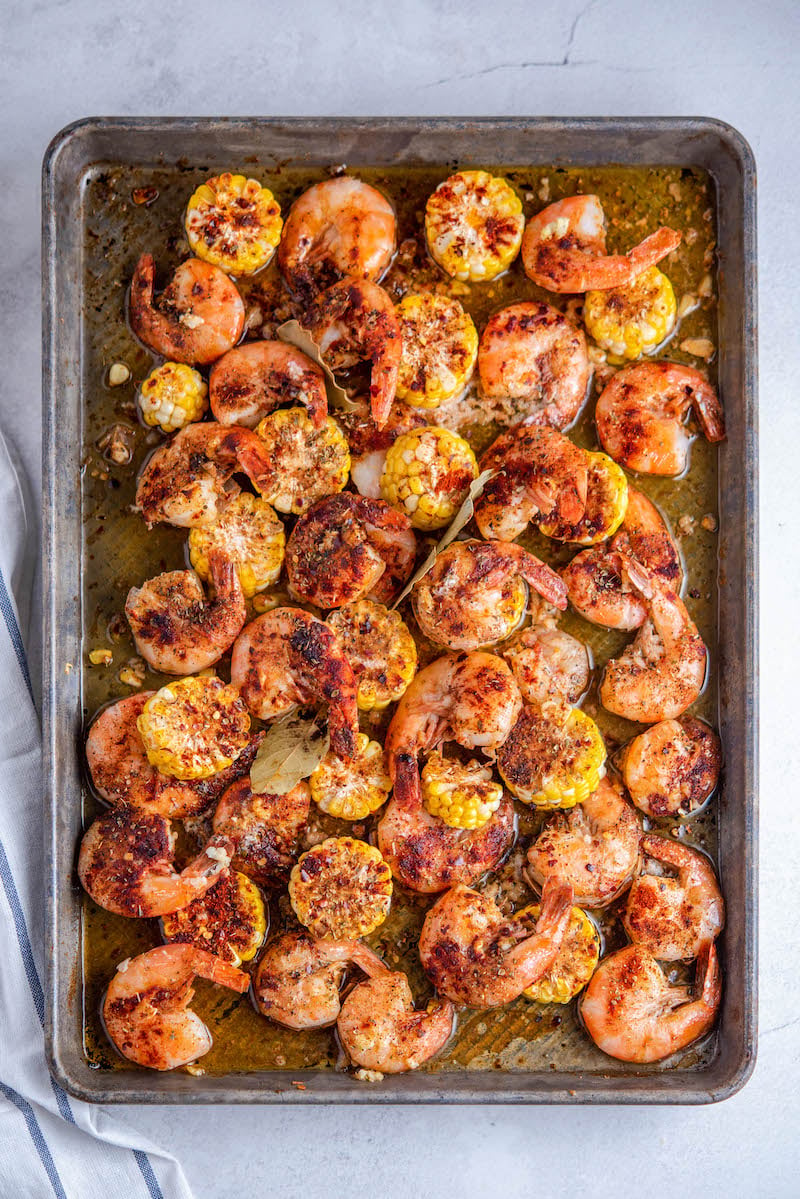 Tips for Success
When it comes to easy shrimp recipes, this one may be one of our favorites. The flavor is amazing and it's easy to make it your own with a few tweaks. Here are a few tips from our kitchen to yours.
Spicy: Love spicy food? Go ahead and amp up the heat! You can easily add more crushed red pepper flakes to increase the spice level.
Add Sausage: Smoked or andouille sausages go really well with garlic butter shrimp. The flavors light up with that cajun seasoning!
Thaw: Frozen shrimp is a huge money and time savor and we usually always have a bag in our freezer. Just make sure you defrost the shrimp before cooking. Pull them out ahead of time and thaw them in the sink. If you need to defrost them fast, you can keep them under cold running water until no longer frozen.
Shells: We like to use the jumbo size shrimp with the shells on to help maintain the tenderness of the shrimp while they cook.
Prep: This is an easy dish to prep ahead of time, which can be great if you're cooking for family or friends. Complete all the preparations right up until you put the sheet pan in the oven. Instead, cover it with plastic wrap and place in the fridge for up to 24 hours.
What to Serve With Cajun Shrimp
These delicious buttery shrimp are perfect straight out of the pan and can be a complete meal with or without adding sausage. But if you want to amp things, up, there are so many options to choose from!
Bread: We love cajun shrimp in a Po' Boy sandwich. But, a lot of times, we want to keep things simple and just have a couple of pieces of garlic bread to dip in the spicy butter!
Pasta or Rice: We love this shrimp in our cajun shrimp pasta and as a replacement in traditional shrimp scampi. They would also be amazing over some dirty rice or parmesan garlic rice. Get creative!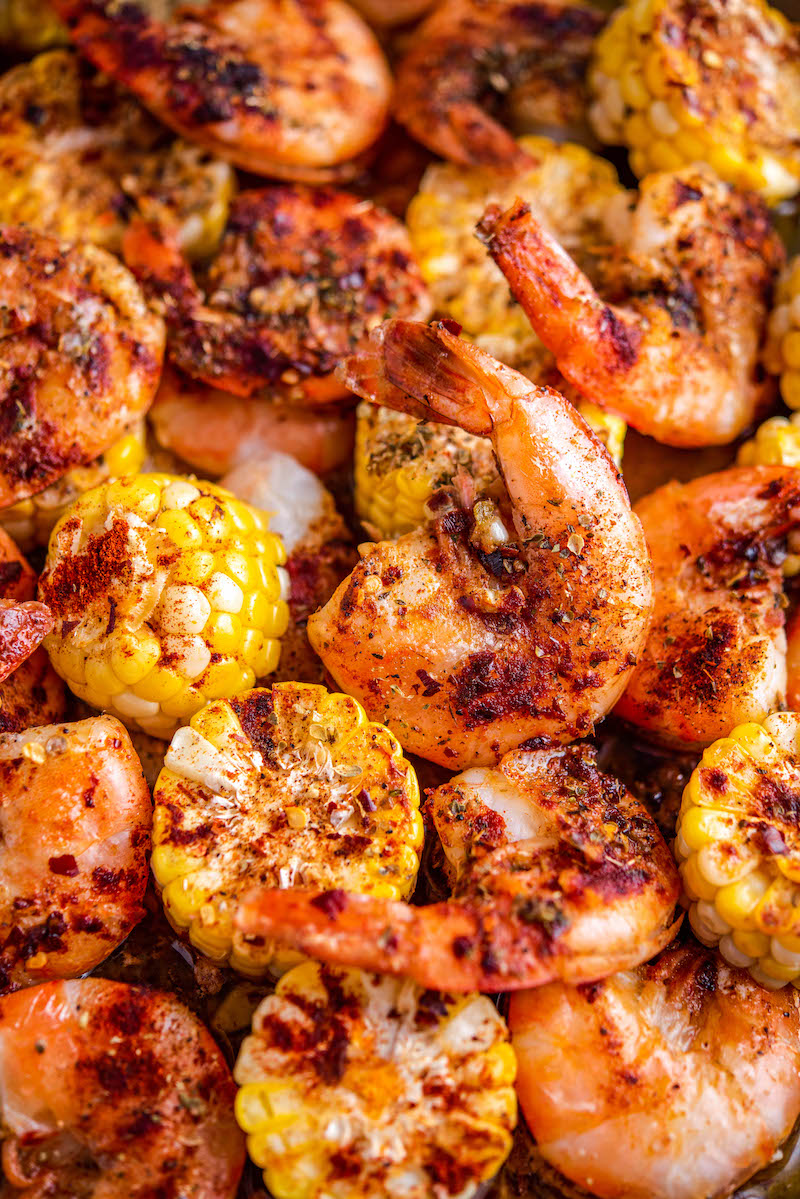 Can I Store and Reheat Leftovers?
Shrimp is best served fresh, and our garlic butter shrimp is no exception. Shrimp unfortunately get a little rubbery when reheated, so the texture isn't quite right. With that said, if you want to eat them cold the next day, they'd be great over a salad. Just be sure to peel the shrimp first and put them in an airtight container in the fridge. We do not recommend reheating or freezing leftovers.
More Easy Shrimp Recipes
Sheet Pan Cajun Garlic Butter Shrimp
This easy and FAST garlic butter shrimp is packed with flavor and only takes 15 minutes to make. Our secret? The most amazing cajun seasoning and a rich, lemony garlic butter sauce. Perfect for a quick dinner or night with friends!
Ingredients
2

sticks salted butter

,

divided

2

lbs

fresh jumbo shrimp*

,

shell on or peeled and deveined

4

large cloves garlic

,

minced

juice of 1 lemon

4

ears of corn

,

sliced into 2 inch pieces

1 ½

tablespoons

Worcestershire sauce

1 ½

teaspoons

seafood seasoning or cajun seasoning

1

teaspoon

crushed red pepper flakes

1

teaspoon

smoked paprika

1

teaspoon

dried oregano

3

bay leaves
Instructions
Rinse the shrimp in a colander and set aside to drain. Melt half a stick of butter and spread it around in the center of the sheet pan.

Place shrimp on the pan and cover with garlic and lemon juice. Try and spread the shrimp evenly on the roasting pan without to much overlapping.

Add the corn and generously sprinkle seasonings and Worcestershire sauce to cover the shrimp and corn.

Slice the butter into 1 tablespoon slices and spread the butter evenly over the shrimp/corn.

Bake for 10-12 minutes. Once shrimp curl and turn pink they are done. Do not over cook or they will be chewy!
Notes
*Shells on or off? This is a very personal question and neither answer is a clear winner. Yon can do which ever you prefer! Here are the pro/con list for both: Shell Removed and Devained: Easier to eat since you do not have to peel the shrimp before eating them. Shrimp can contain sand and mud in their digestive track, and while you might not taste it, the gritty texture can be unappetizing. That is why you devain your shrimp. Shell On: When you are cooking your shrimp quickly at a high temp, like in a very hot oven or on the grill, the shells will protect the delicate meat from the intense heat. This means you are much less likely to overcook your shimpr and they will still be juicy once you pull of the shell and bite into them. Leaving the shell on will also help them keep their shape instead of curling up into tight rings as they're prone to do. Another fun note, people in many countries actually eat shrimp with the shells on! They are editble, add a crunchy texture and flavorful! However this is not the norm in North America and we personally do not eat the shells. Just a fun note!
Nutrition
Serving:
1
,
Calories:
593
kcal
,
Carbohydrates:
28
g
,
Protein:
56
g
,
Fat:
51
g
,
Saturated Fat:
30
g
,
Polyunsaturated Fat:
17
g
,
Trans Fat:
2
g
,
Cholesterol:
600
mg
,
Sodium:
2512
mg
,
Fiber:
2
g
,
Sugar:
4
g