This Easy Shrimp Boil is done in under 30 minutes! Shrimp, sausage, potatoes, and corn are cooked in a rich, garlic, and citrusy broth with that traditional Old Bay flavor!
Easy Old Bay Shrimp Boil
It's time for a shrimp boil! We love a good excuse for a seafood boil and with this recipe, you really don't need one. It's so simple and quick you could make it any day of the week – with or without a special occasion!
We love how simple a seafood boil is, but if you aren't a shrimp fan, try our Crawfish Boil. Boils are a great easy dinner, just throw everything together into a pot and that's all there is to it! Shrimp, sausage, potatoes, and corn are cooked in the most flavorful broth. The broth has Old Bay, Cajun seasoning, onions, and garlic…what's not to love?!
Then there's the delicious melted butter! We like to keep it simple or dress it up a little by adding a few spoonfuls of fresh garlic. The butter is then poured over the boiled ingredients and served on the side for dipping. Let's get started on learning how to make your own shrimp boil at home!
Looking for more great Cajun recipes? Try some of our favorites: Chicken and Sausage Gumbo, Cajun Chicken Pasta, and Cajun Garlic Butter Shrimp!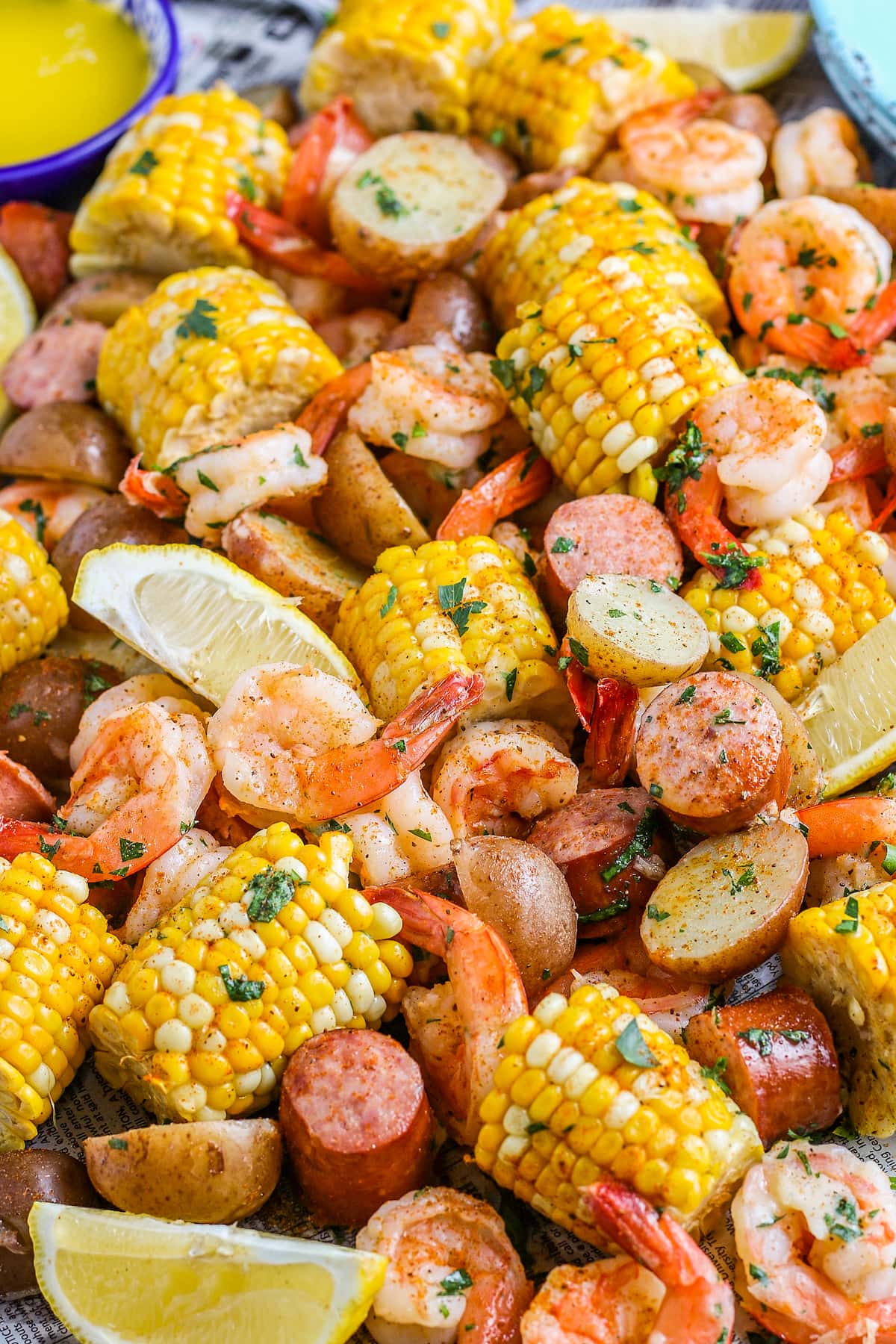 What Is A Shrimp Boil?
A shrimp boil can be a dish and a social event with a delicious meal at its center.
To make a shrimp boil you always have a large pot with a flavorful and rich broth that is used to cook various ingredients. Most often a boil is made with seafood, potatoes, corn, and sausage.
And usually, a shrimp or seafood boil is made for a large crowd. It's a great excuse to have friends over to celebrate and just eat good food.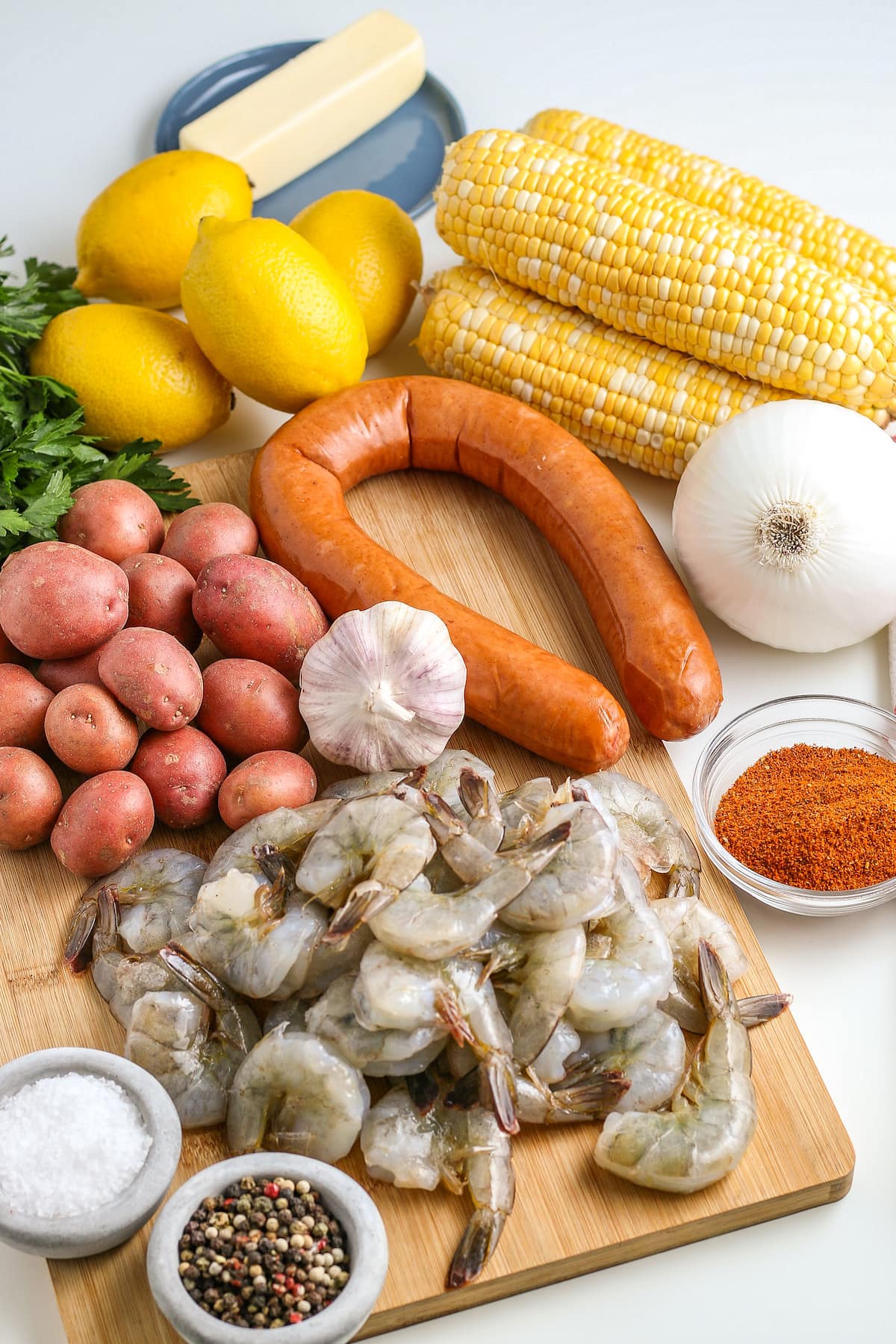 Recipe Ingredients
Here are the ingredients to make your own shrimp boil at home. Remember to scroll down to the recipe to see the exact amounts that you need for each ingredient.
Shrimp Boil Ingredients
Large Jumbo Shrimp: We like to use large shrimp for this recipe, but you can use other shrimp, too. It's best to leave the tails on so that you can grab them easily. But you can also take them off if you prefer.
Smoked Sausage: You can find Kielbasa or Andouille at most supermarkets.
Lemons: You'll need some lemons for the broth and garnish.
Onion: You can use yellow or white onions for this recipe. It adds to the flavor of the broth.
Garlic: The garlic adds a ton of flavor to the broth, too! We recommend sticking to fresh garlic if you can.
Seafood Seasoning: Nothing beats Old Bay Seasoning – the ultimate seafood seasoning! It has the perfect combination of spices. If you're in a pinch, extra cajun seasoning would also work.
Cajun Seasoning: Our Homemade Cajun Seasoning adds a ton of dried pepper flavor. Therefore it adds a little kick! Just omit it if you don't want it to be spicy. Or add more for more heat.
Red Potatoes: Potatoes are a traditional boil ingredient that adds a healthy starch and makes the dish more filling. You could use a different potato if you'd like. Yukon, white, or yellow potatoes would work well.
Corn: You'll want to use whole ears and then cut them into shorter pieces. The corn develops this rich, herbal, and spicy flavor from the cooking broth.
Butter Topping Ingredients:
Unsalted Butter
Salt
Fresh Cracked Black Pepper
Fresh Parsley: Parsley is traditionally used, but we love to switch it up with fresh cilantro sometimes.
Optional Butter Topping Add-Ins:
Finely Minced Garlic (start with 1 tablespoon)
Crushed Red Pepper Flakes (1 teaspoon)
Prepared Horseradish (1 tablespoon)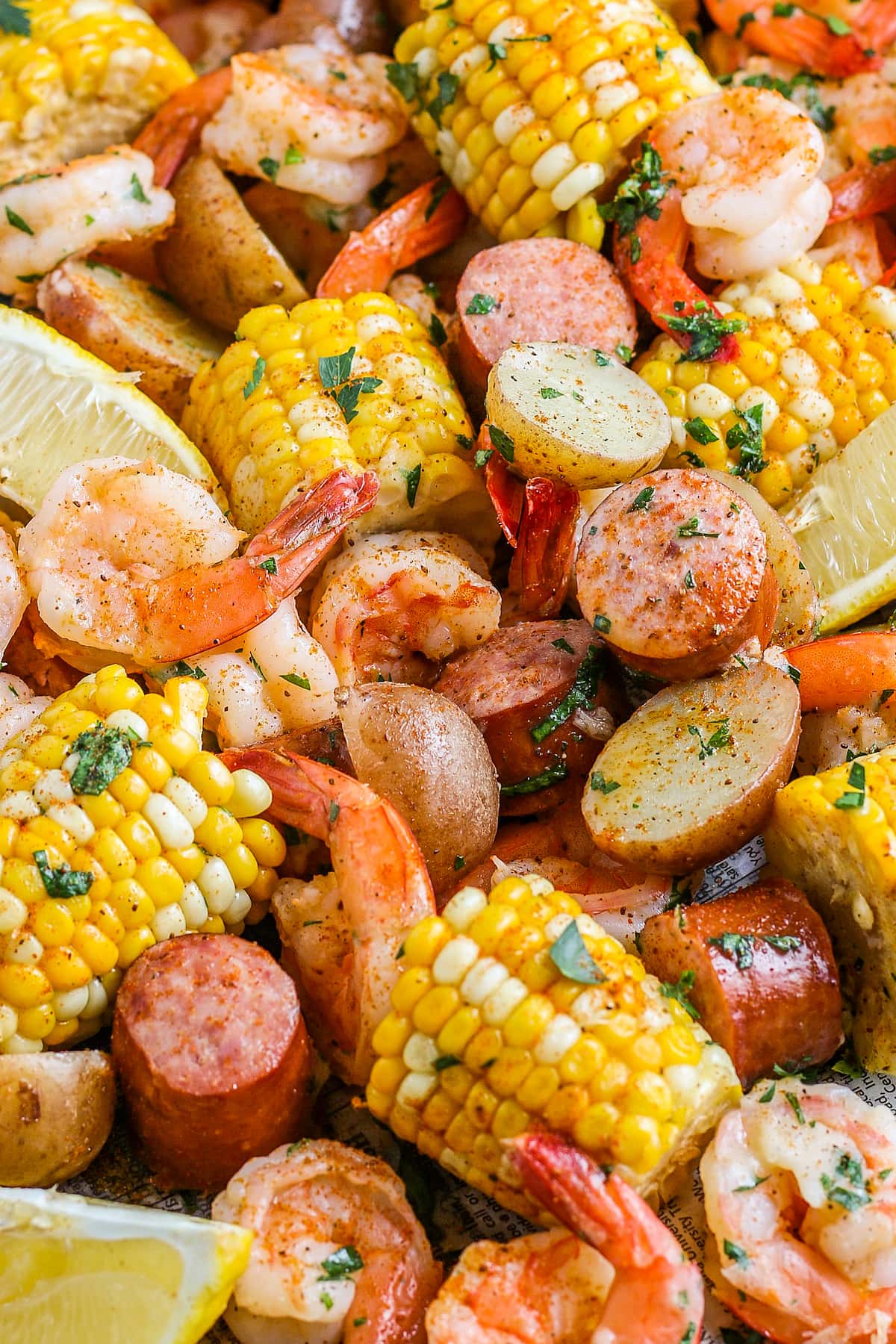 Variations
Here are some ways to mix up this recipe and add some new and different flavors.
Mix up the herbs: We like to use parsley most of the time. Additionally, cilantro is also a great herb to use. Better yet, you could do a combination of the two!
Don't skip on the butter mix-ins: You can use the standard melted butter recipe for pouring and dipping. However, we highly recommend playing with the flavors and trying some of the other suggestions noted above. A personal favorite is adding a tablespoon of fresh minced garlic.
Add some other vegetables: The deeper the flavor of the broth when you add more veggies. Some suggestions include celery and carrots.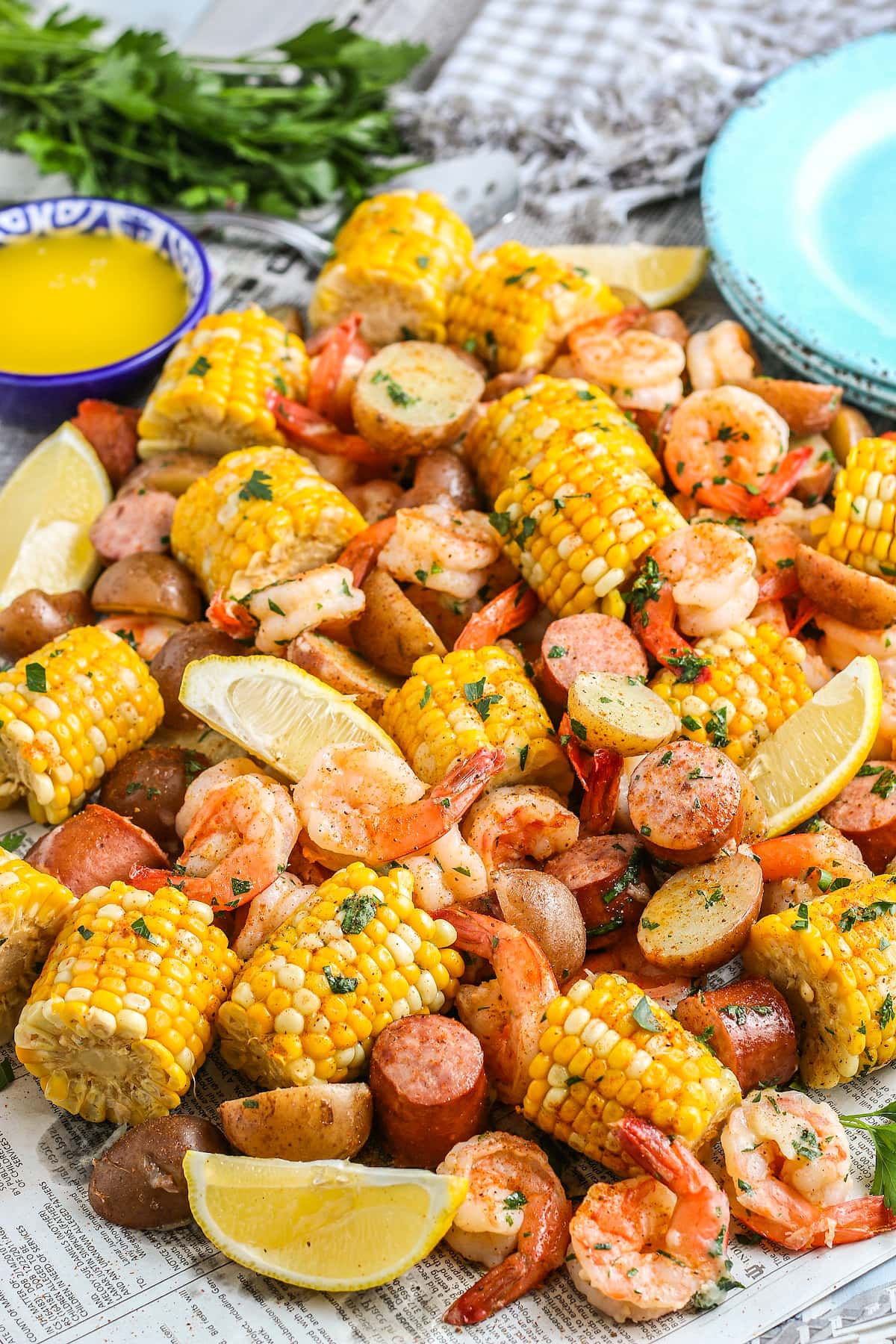 How to Make a Shrimp Boil
Here are the simple instructions for making a shrimp boil at home!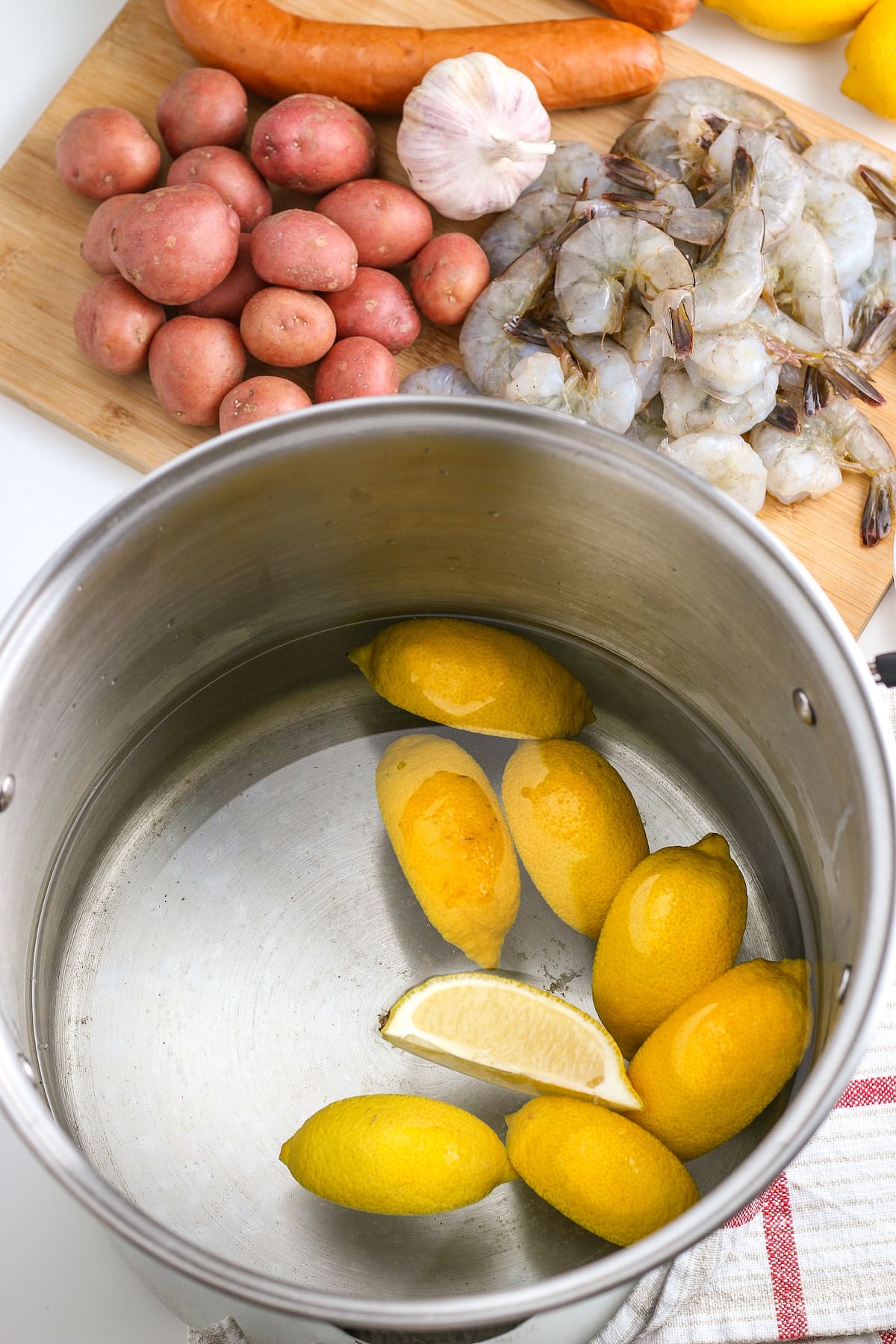 First, you'll prepare the cooking broth. You'll do this by adding water to a large pot and adding lemons, onion, garlic, Old Bay Seasoning, and Cajun Seasoning. And then bring it to a boil.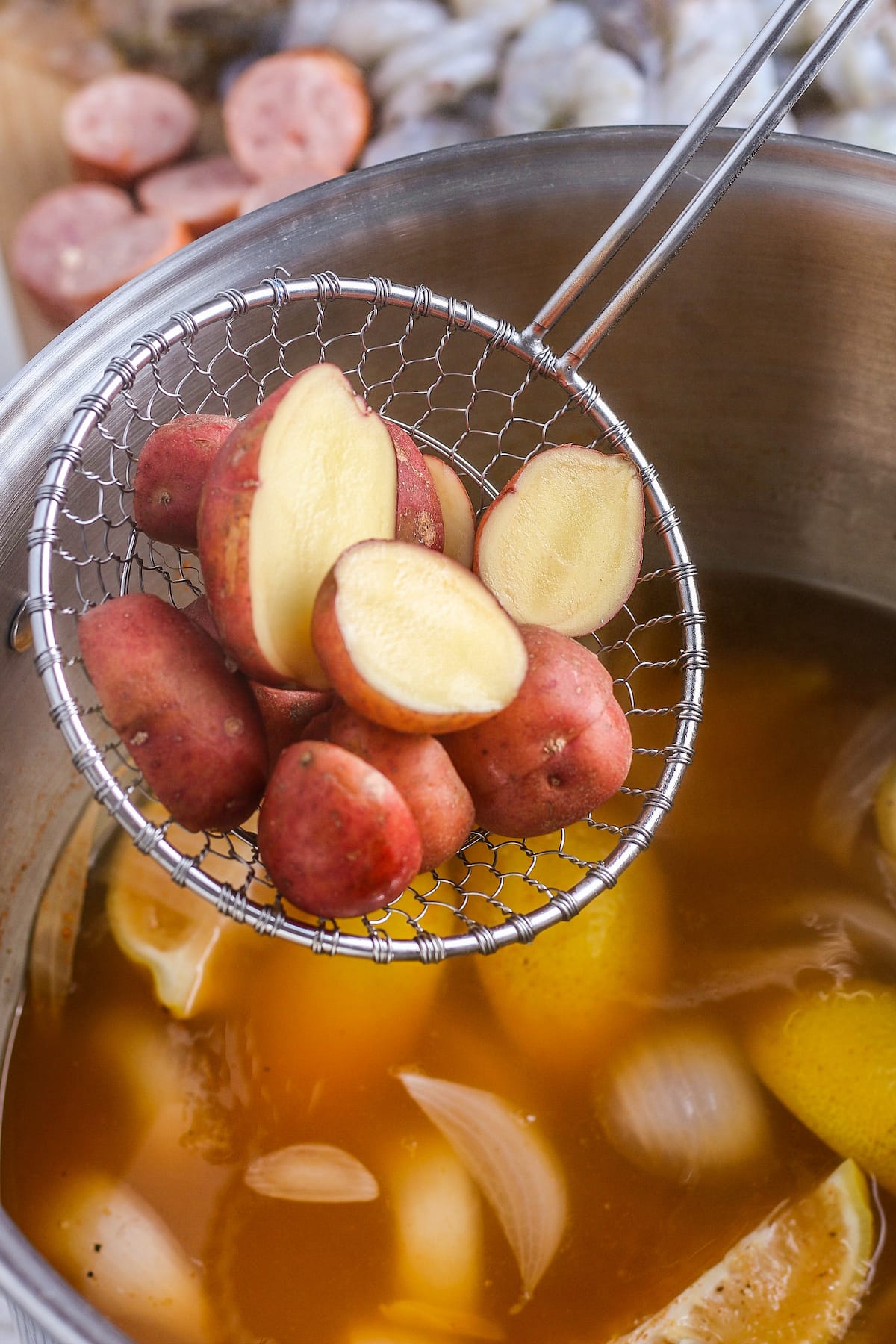 Then cook the potatoes in the broth first. Next, add the corn and sausage after the potatoes.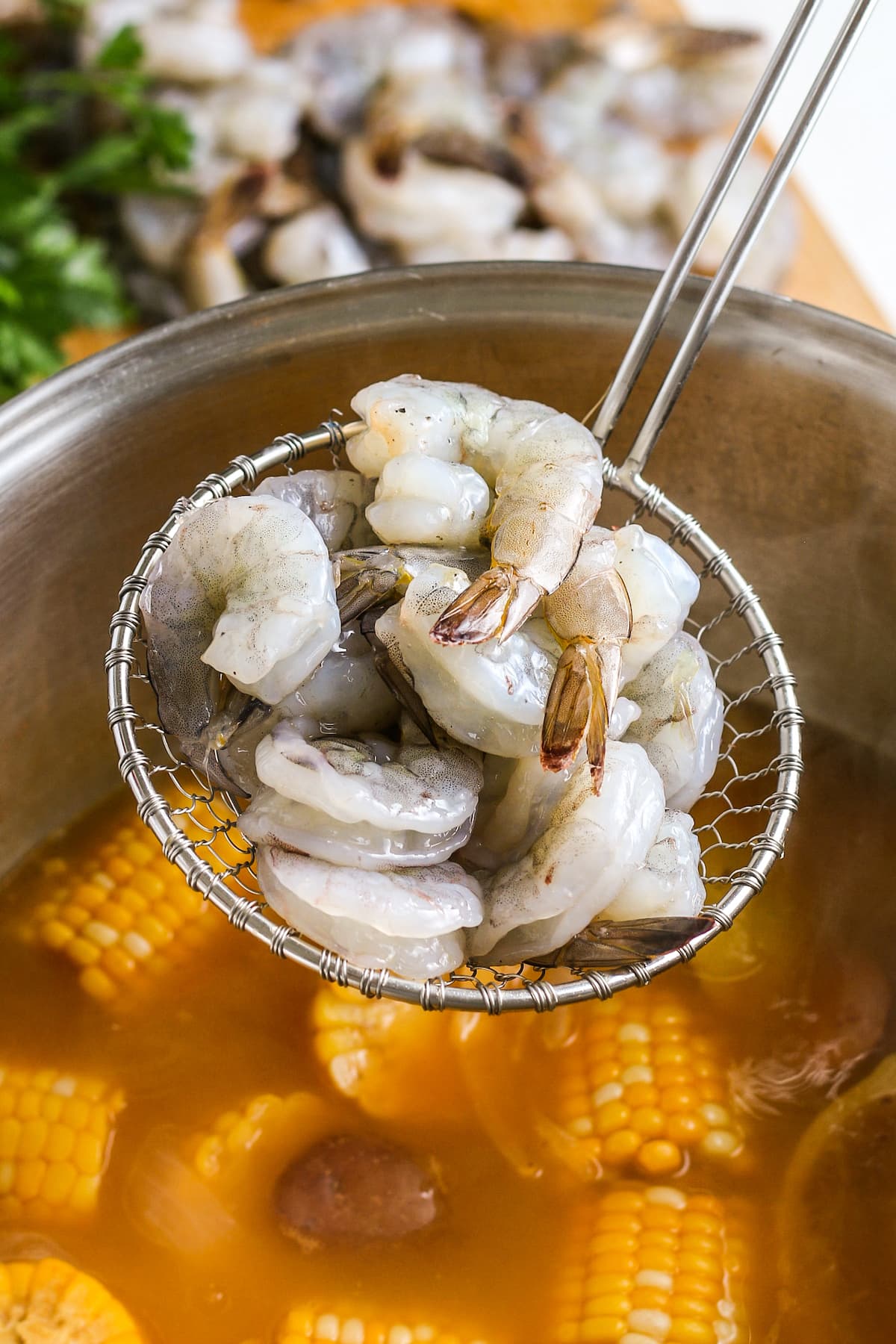 Cook the shrimp last. And be sure to watch your shrimp carefully. They cook very quickly and will become rubbery if they are overcooked.
While everything is cooking, prepare the melted butter. You can do this in a microwave or on the stovetop.
Next, strain and pour the boil out onto a sheet tray when everything is cooked. Then pour half of the butter over everything and toss to coat.
Serve the shrimp boil immediately. And serve the rest of the melted butter on the side. Finally, garnish the shrimp boil ingredients with chopped parsley and lemons.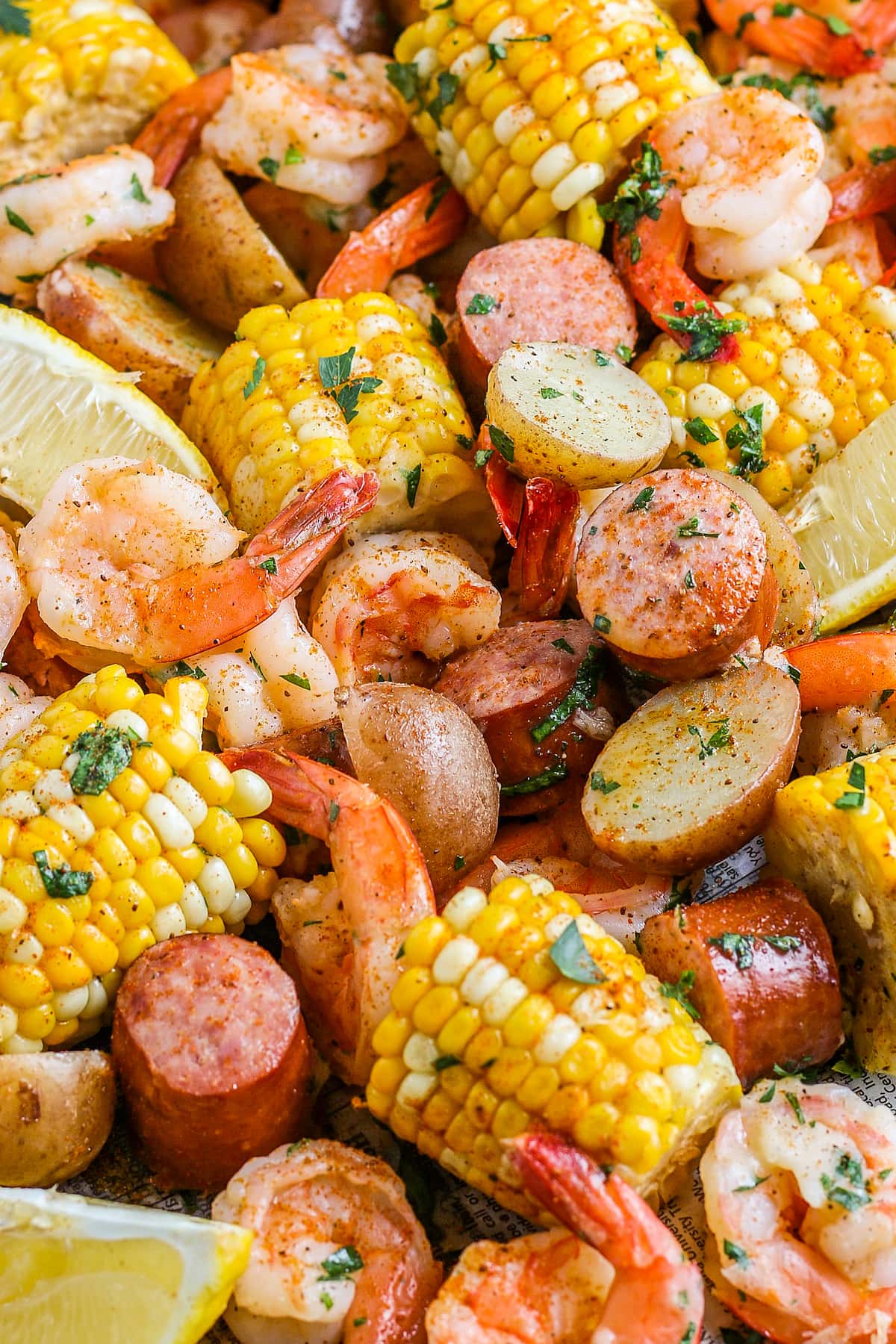 Tips for Success
We like to follow these helpful tips when making the shrimp boil. We hope that they help you, too, when making this fun and flavorful dinner!
Leave the tails on the shrimp. We like to leave the tails on because it makes them easier to grab, but you can remove the tails if you prefer.
You can use pre-cooked shrimp. Just add them at the very last minute to heat them up because you don't want them to dry out.
Also, leave the skins on the potatoes. Not only does this save you time, but it prevents the potatoes from falling apart.
Use the freshest herbs you can find. You want that fresh and bright flavor and green color from the fresh herbs. Plus, if you really like herb flavor, you could add more like fresh chives, cilantro, or thyme.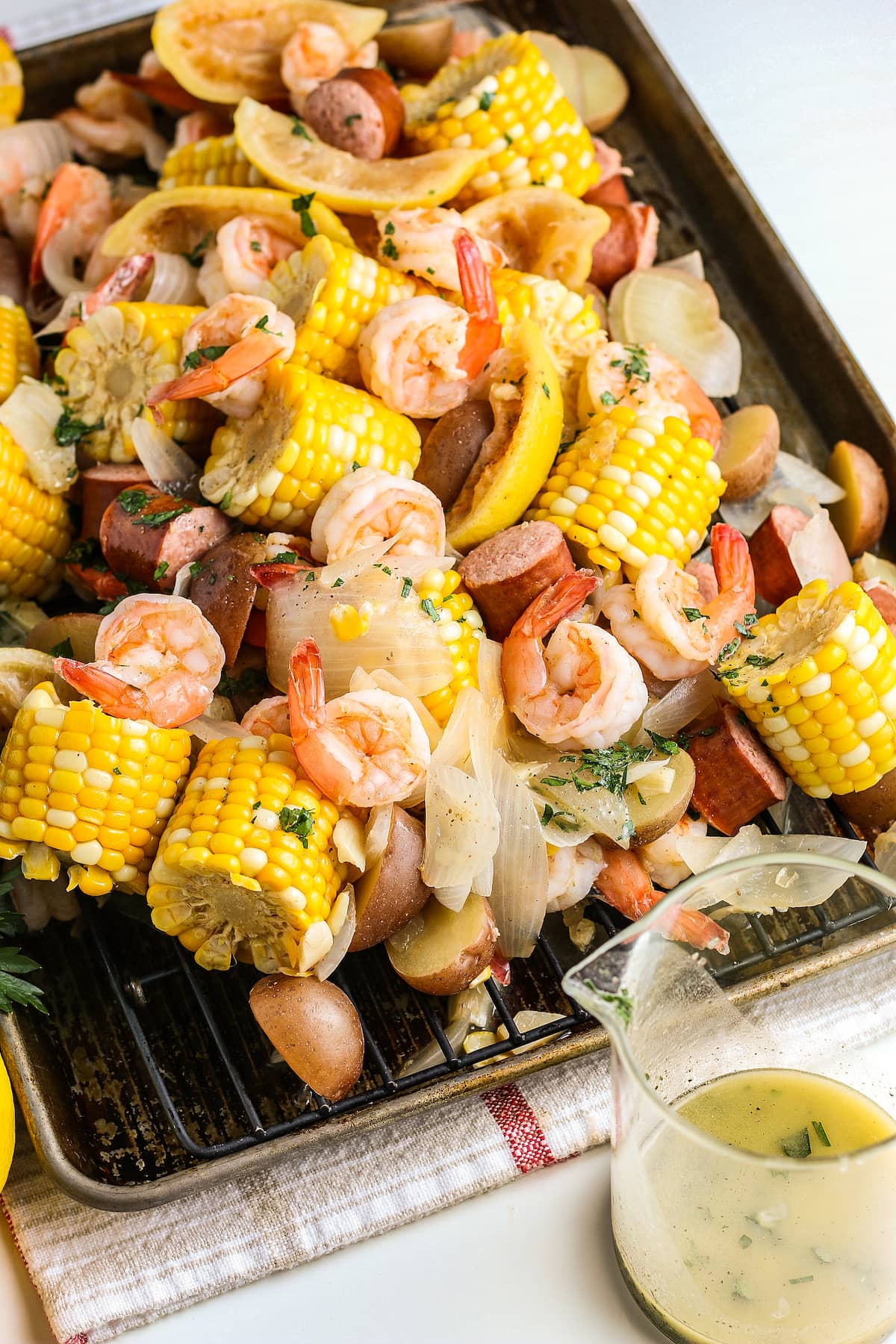 What To Serve With a Shrimp Boil
Honestly, this dish doesn't need much. There are plenty of ingredients and flavors in the boil itself. But here are some of our favorite basic side dishes that pair perfectly with a shrimp boil.
Garlic Bread: Or crusty dinner rolls are also great. Anything that you can use to soak up that delicious broth!
A Leafy Green Salad: You don't even need anything fancy. You can toss a spring greens mix with lemon juice, olive oil, salt, and pepper.
Cornbread: Cornbread is a great way to add a little subtle sweetness to the dinner.
Coleslaw: You can make or buy a traditional creamy coleslaw or use a basic slaw recipe (similar to the one we use on Shrimp Tacos).
Okra: Fried, steamed or Grilled Okra are always enjoyed along side a cajun dinner!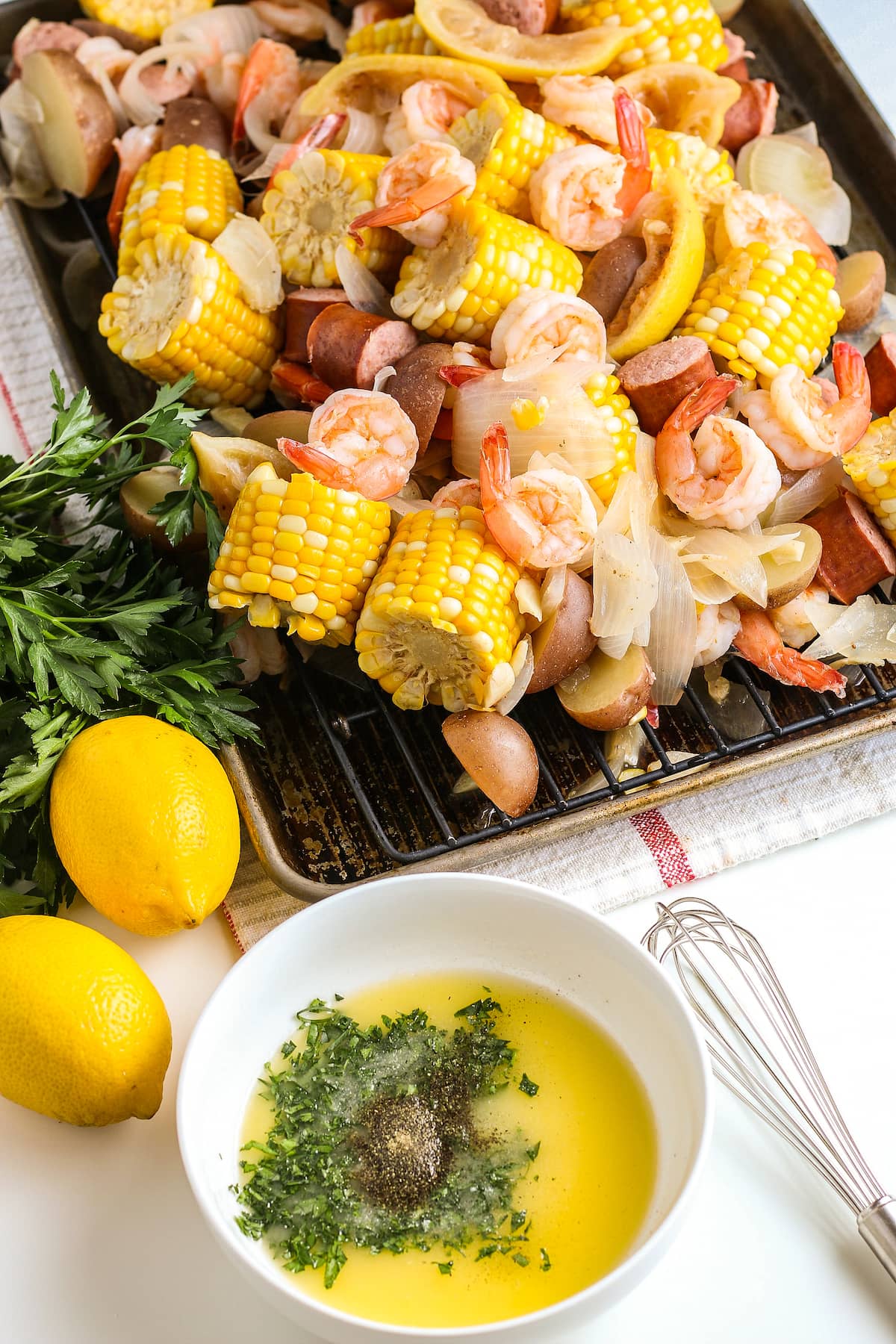 How to Store & Reheat Leftovers
You can store the leftovers in the refrigerator in an airtight container for up to 3 days.
For the best flavor, we suggest laying the ingredients out in a baking pan or sheet tray to reheat. Then splash a little water on top and cover with foil.
Next, bake in a preheated 350°F oven for about 10 minutes. The shrimp boil will steam and reheat under the foil without drying out.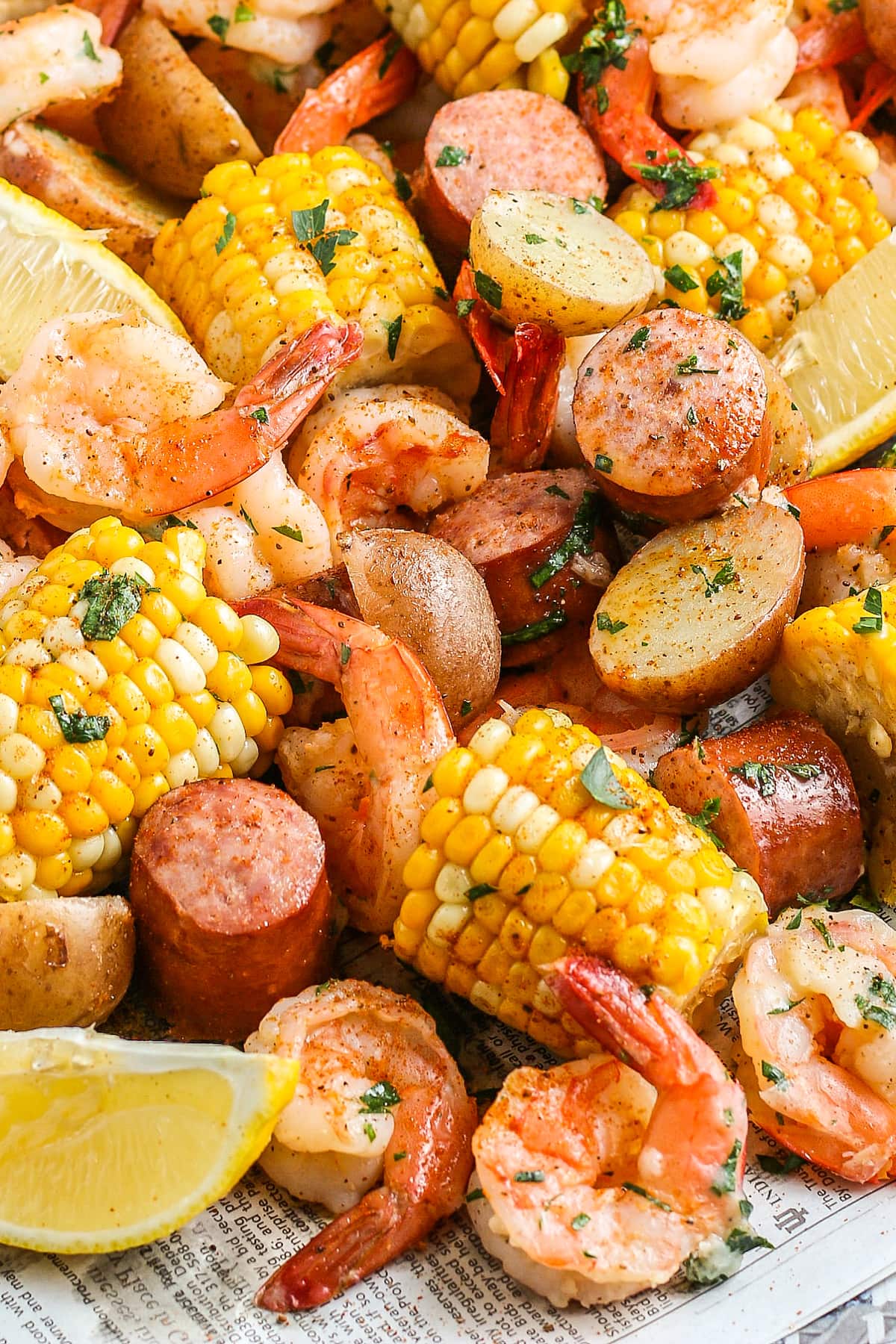 More Seafood Recipes:
Yield: 4 to 6 servings
Easy Shrimp Boil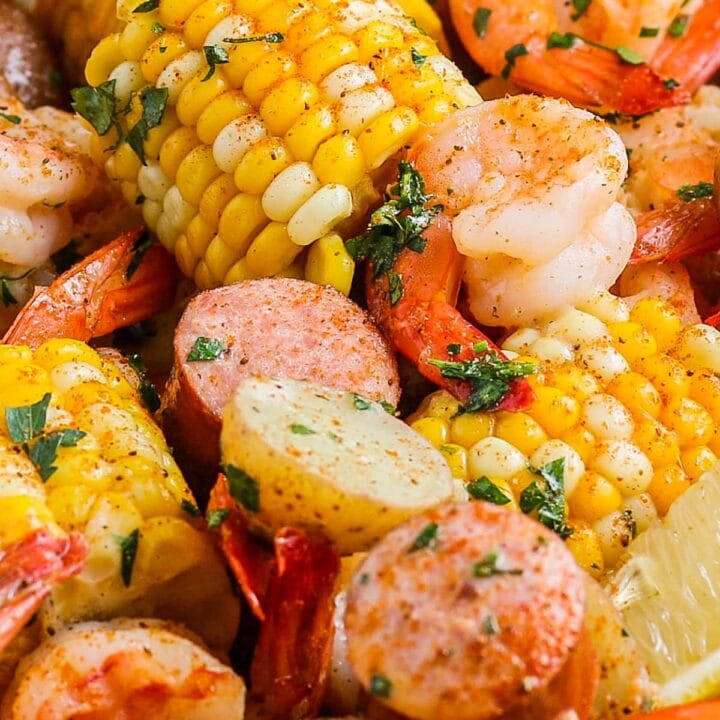 This Easy Shrimp Boil is ready in 30 minutes! Shrimp, sausage, corn on the cob, and potatoes are simmered in a rich broth made with Old Bay seasoning, garlic, and lemons.
Ingredients
2 pounds large jumbo shrimp, peeled and deveined, leave tails on
1 pound smoked sausage (kielbasa or andouille), cut into 1 inch pieces
4 lemons, (2 for cooking, 2 for serving)
1 medium onion, cleaned and cut into large pieces
6 cloves garlic, cleaned and smashed
1/4 cup seafood seasoning (like Old Bay)
2 tablespoons Cajun Seasoning
1 pound small red potatoes, cut in half
4 ears corn, each cut into 4 pieces
Butter Topping:
½ cup unsalted butter
1/2 teaspoon salt
1/2 teaspoon freshly cracked black pepper
2 tablespoons minced fresh parsley or cilantro, plus more for garnish
Optional Add-Ins for Butter Topping:
finely minced garlic (start with 1 tablespoon)
crushed red pepper flakes (1 teaspoon)
prepared horseradish (1 tablespoon)
Instructions
Fill a large stock pot with water. Cut 2 lemons into quarters and add to water. Add the onion, garlic, seafood seasoning, and cajun seasoning to water. Bring to boil.
Add potatoes to the boiling water, cook for 10 minutes.
Add corn and sausage, cook for 6 minutes more.
Add shrimp to the boiling water and cook 2-3 minutes, or until translucent/pink and curled.
As soon as the shrimp finish cooking, immediately drain and pour shrimp boil out on to a large baking sheet.
Butter topping: Melt butter in a microwave safe bowl. Add salt, pepper, and 2 tablespoons chopped parsley and whisk to combine.
Pour half of the butter topping over the shrimp boil and stir to coat.
Reserve remaining butter mixture for serving. Garnish with additional chopped parsley and lemons. Serve immediately.
Notes
Storage: You can store the leftovers in the refrigerator in an airtight container for up to 3 days. For the best flavor, we suggest laying the ingredients out in a baking pan or sheet tray to reheat. Then splash a little water on top and cover with foil. Next, bake in a preheated 350°F oven for about 10 minutes. The shrimp boil will steam and reheat under the foil without drying out.
Nutrition Information:
Yield:
4
Serving Size:
1
Amount Per Serving:
Calories:

1109
Total Fat:

64g
Saturated Fat:

28g
Trans Fat:

0g
Unsaturated Fat:

29g
Cholesterol:

616mg
Sodium:

7128mg
Carbohydrates:

63g
Fiber:

8g
Sugar:

11g
Protein:

74g
Filed Under: