This Creamy Cucumber Salad is a great way to use up some of that summer produce before the season changes. Sliced cucumbers, juicy tomatoes, and crisp red onions are tossed with a creamy dill dressing. It's a quick and easy side dish to bring to the next potluck!
Quick & Easy Cucumber Salad
Cucumbers are one of our favorite vegetables for salads and snacking. This is because we can usually find them year-round and they are affordable. We especially love cucumber salads and this one is quickly becoming a favorite. Our Creamy Cucumber Salad is so flavorful, refreshing, and easy to make, but if you aren't a creamy fan, you will love our classic Cucumber Salad with red onions!
The creamy dressing is delightful. It's perfectly seasoned with fresh dill and our secret ingredient – a ranch dressing pack! The dry mix of seasonings is a fool-proof way of adding a ton of flavor to a creamy dressing. It's like ranch dressing, but SO much better.
Don't be surprised when your friends and family ask you to share this recipe because it's bound to be a hit at the next gathering.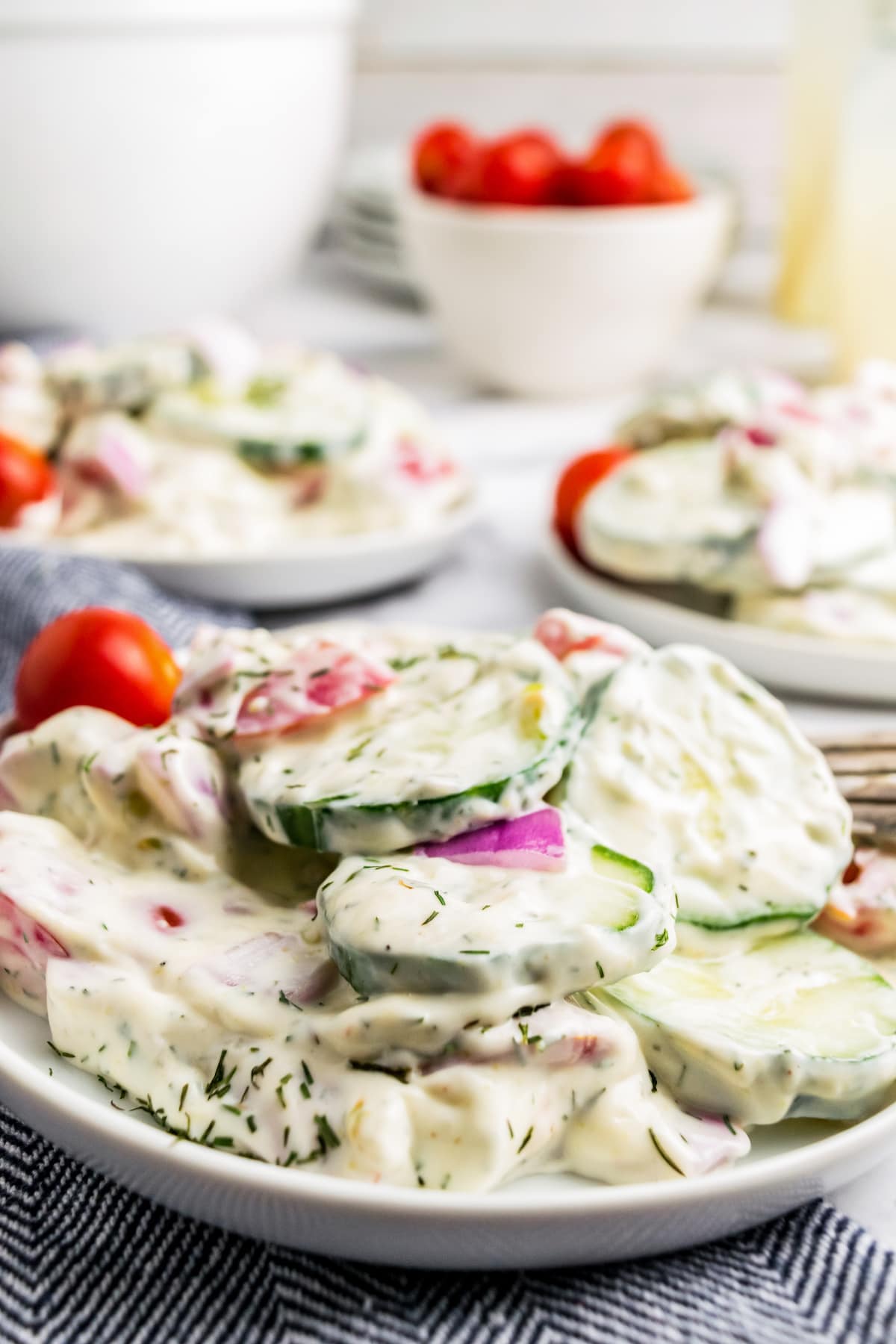 Why You'll Love This Recipe
Here are the reasons why you're going to love this salad!
The salad ingredient list is short and sweet. You only need cucumbers, tomatoes, and red onions for this recipe. Fortunately, you can find most of them year-round at your local supermarket.
It takes 10 minutes to make. This recipe is so quick to put together. You can make it on the fly!
You can make the salad ahead of time. Alternatively, you can save yourself some time and make this the day ahead. We suggest that you don't cut the tomatoes if you make it the day before. They are very watery and will add unwanted liquid to the salad.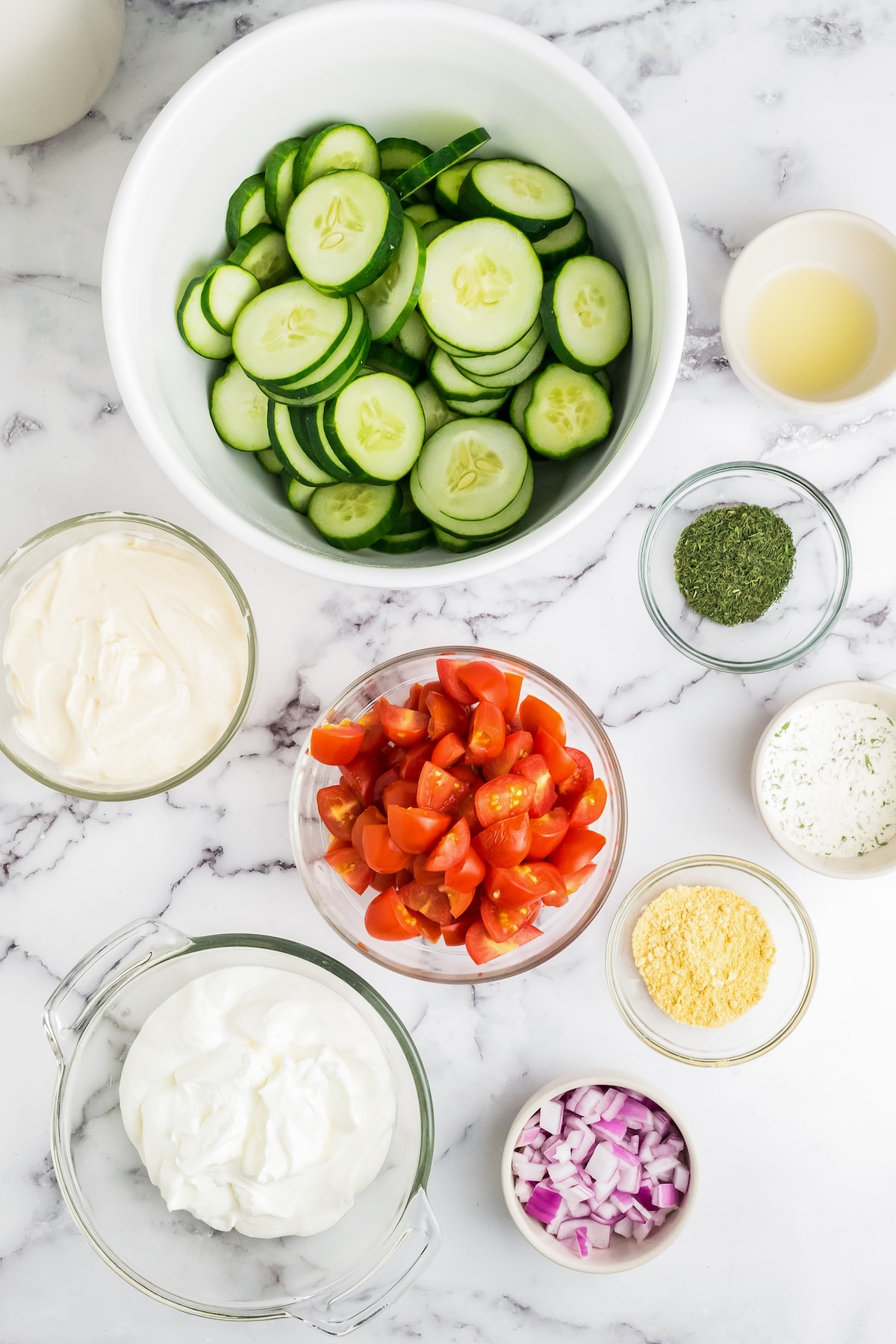 Recipe Ingredients
Here are the ingredients you need to make our Creamy Cucumber Salad.
For the Dressing:
Mayonnaise: Mayonnaise acts as the base for the dressing. It's a great way to start most creamy dressings and you can add another cream (like sour cream or heavy cream) to add depth and richness.
Sour Cream: The sour cream adds a little tanginess to the dressing. Using full-fat sour cream is recommended, but you could also use low-fat, too.
Ranch Seasoning: Look for the little 1-ounce packages because that's the perfect amount! Or you can also buy a larger container of ranch seasoning at wholesale stores.
Fresh or Dried Dill: We recommend using fresh dill for the best flavor! But dried dill works, too.
Dried Mustard: The mustard adds a subtle earthiness to the dressing, balancing out the tanginess from the sour cream and lemon juice.
Lemon Juice: A little lemon juice not only adds citrus flavor, but the acidity brings out the flavor of the other ingredients (especially the fresh dill!).
Olive Oil: The olive oil helps thin out the dressing so that it coats the salad ingredients perfectly.
For the Salad:
Cucumbers: English cucumbers work great for this recipe. Plus, you can leave the skin on for added fiber to save yourself a step.
Tomatoes: We recommend cherry or grape tomatoes for this recipe because they're perfectly sweet!
Red Onions: We love to use red onions for their looks and mild flavor! Sometimes, when you buy red onions in season, they are a little stronger. So you can rinse the cut-up red onions first with very cold water if you think that they are too strong. This takes the sting off.
Substitutions & Variations
No worries if you can't find some of these ingredients! Here are some ideas on how to make this salad with a few different ingredients.
Use yellow onions instead of red onions. Yellow or white onions are a little milder than red onions.
Add more fresh herbs. Fresh mint, parsley, or even basil would be great in this recipe.
Make it a little lighter. You can use plain full-fat Greek yogurt instead of mayonnaise to cut back on calories.
Omit the tomatoes. If you aren't a fan of tomatoes, don't worry! You can just take them out and the salad is still very delicious.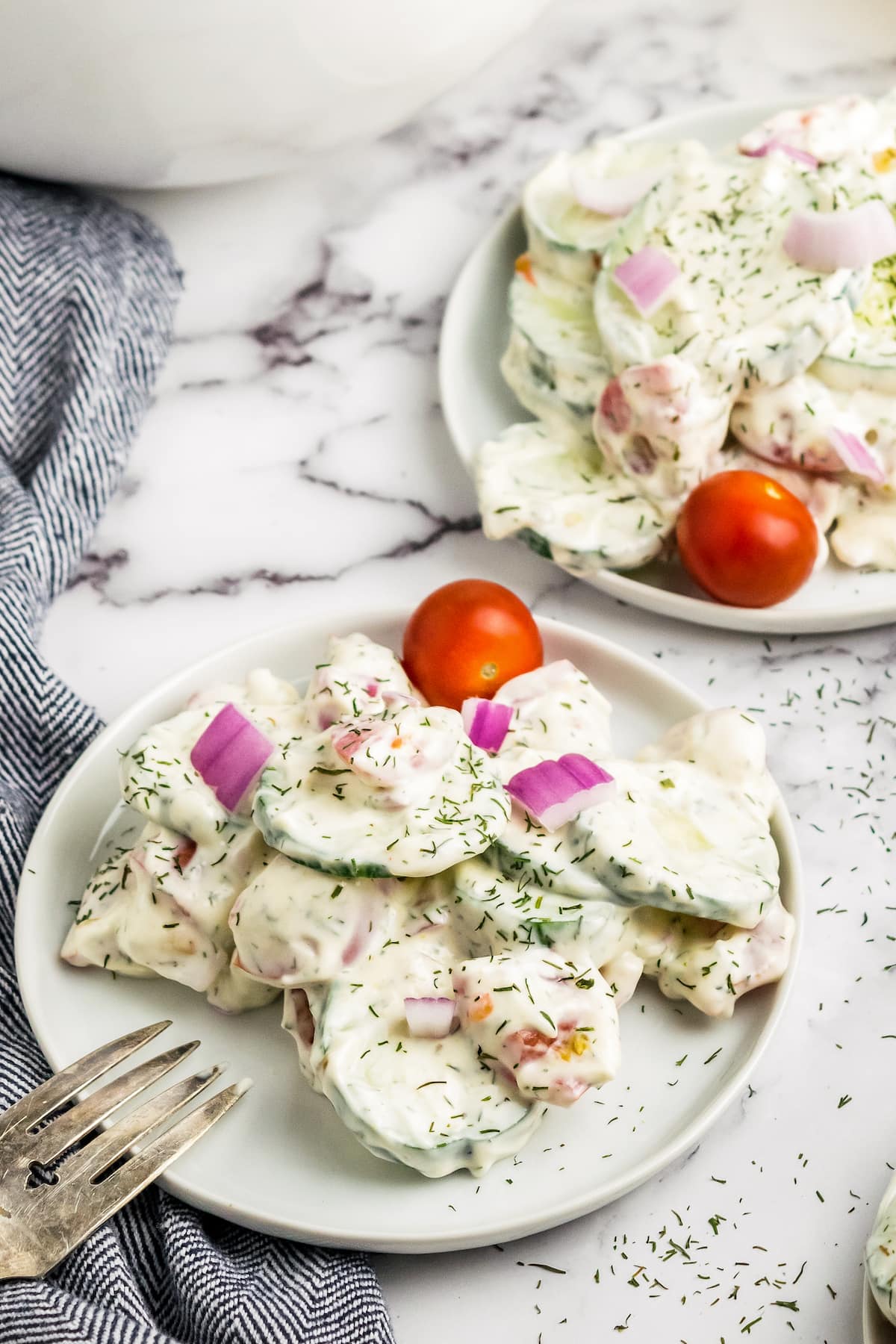 How to Make Creamy Cucumber Salad
Here are the quick and easy steps that you need to follow to make this recipe.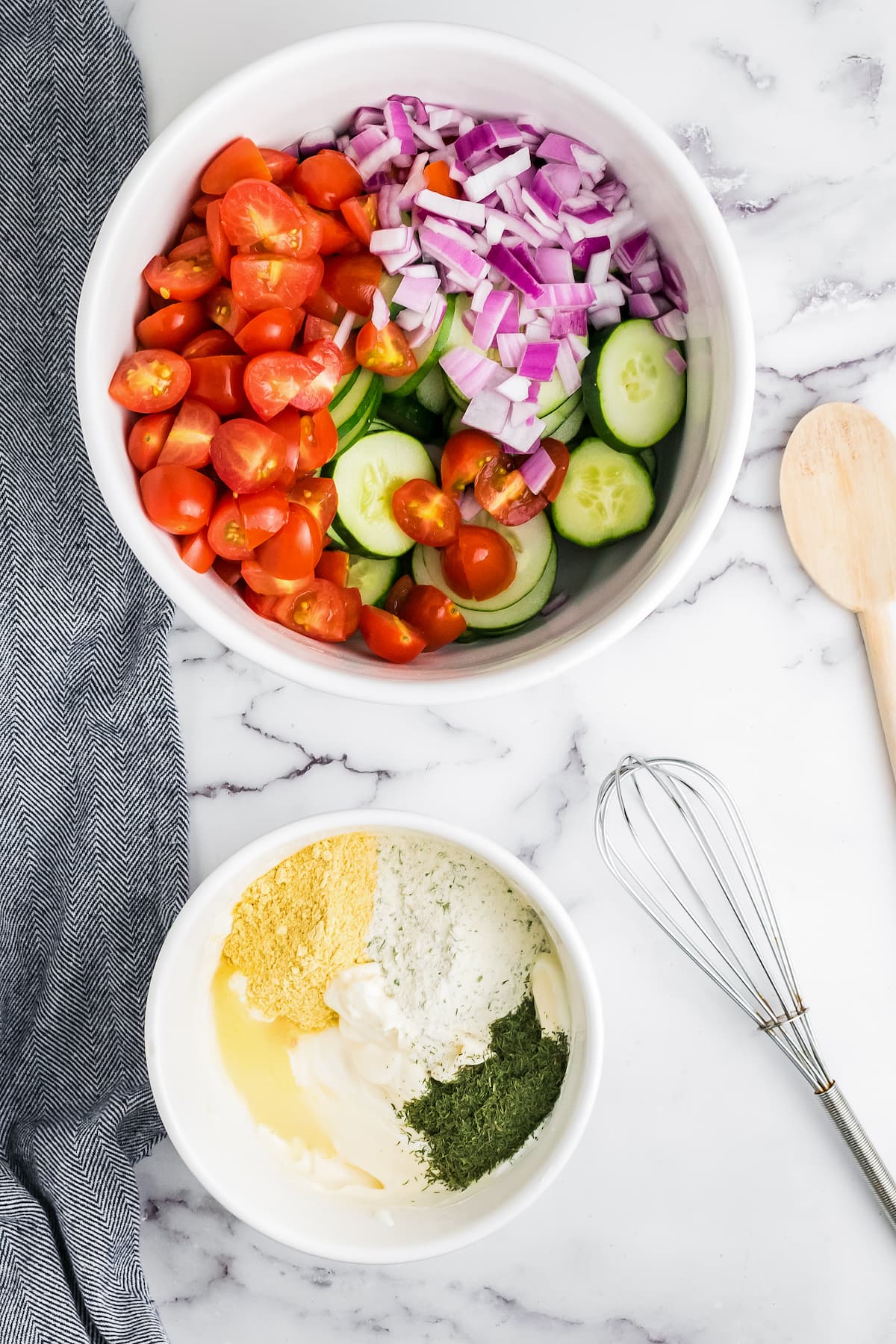 First, you'll need to make the dressing. Simply put all of the dressing ingredients in a bowl and whisk them together. It's that simple!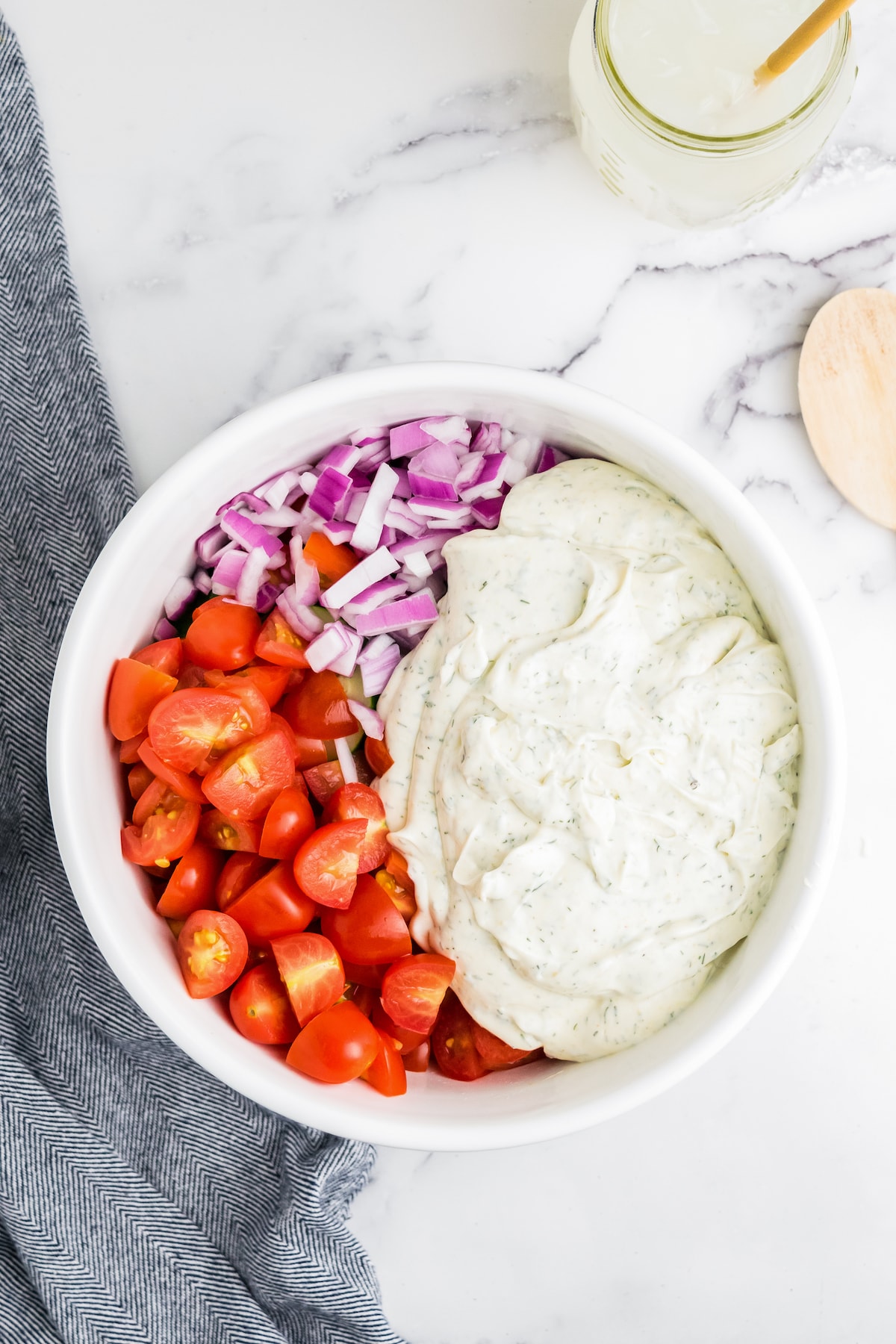 Next, put all of the prepped vegetables into a large salad bowl. Then add the dressing and gently toss everything together.
Serve the salad immediately or store it in the refrigerator. If you chill the salad for an hour, the flavors will meld more and your salad will have more of each flavor present.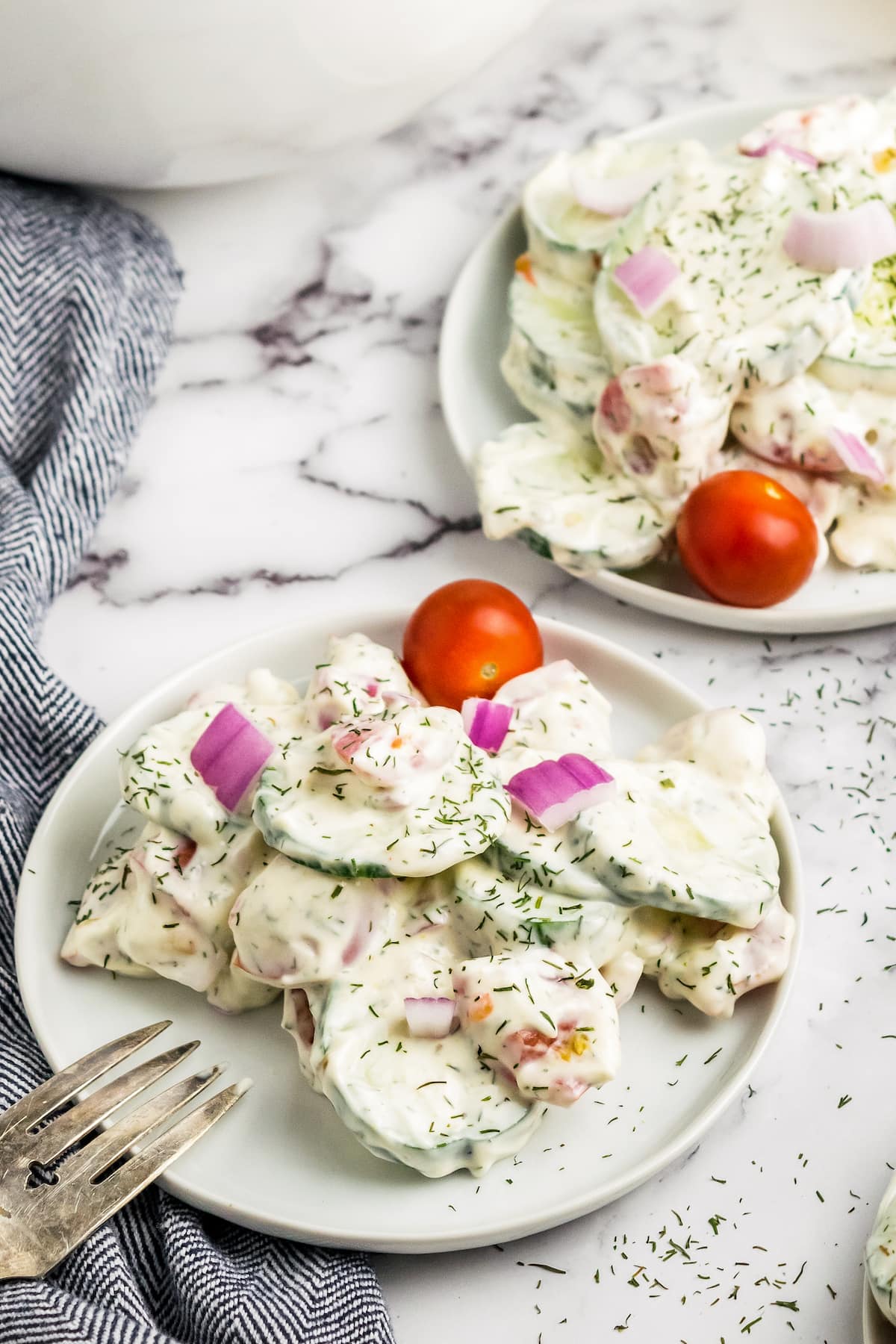 Tips for Success
Here are a few helpful tips when making this salad.
Don't cut the tomatoes if you're making the salad ahead of time. Cutting the tomatoes will add extra liquid to the salad and we don't want it to be soupy.
Toss the salad before serving. Make sure that you re-toss the salad if you've made it ahead of time.
Let the salad marinate. Even if you are serving the salad immediately, try to give yourself about an hour for the salad to chill in the fridge. This will help the flavors develop!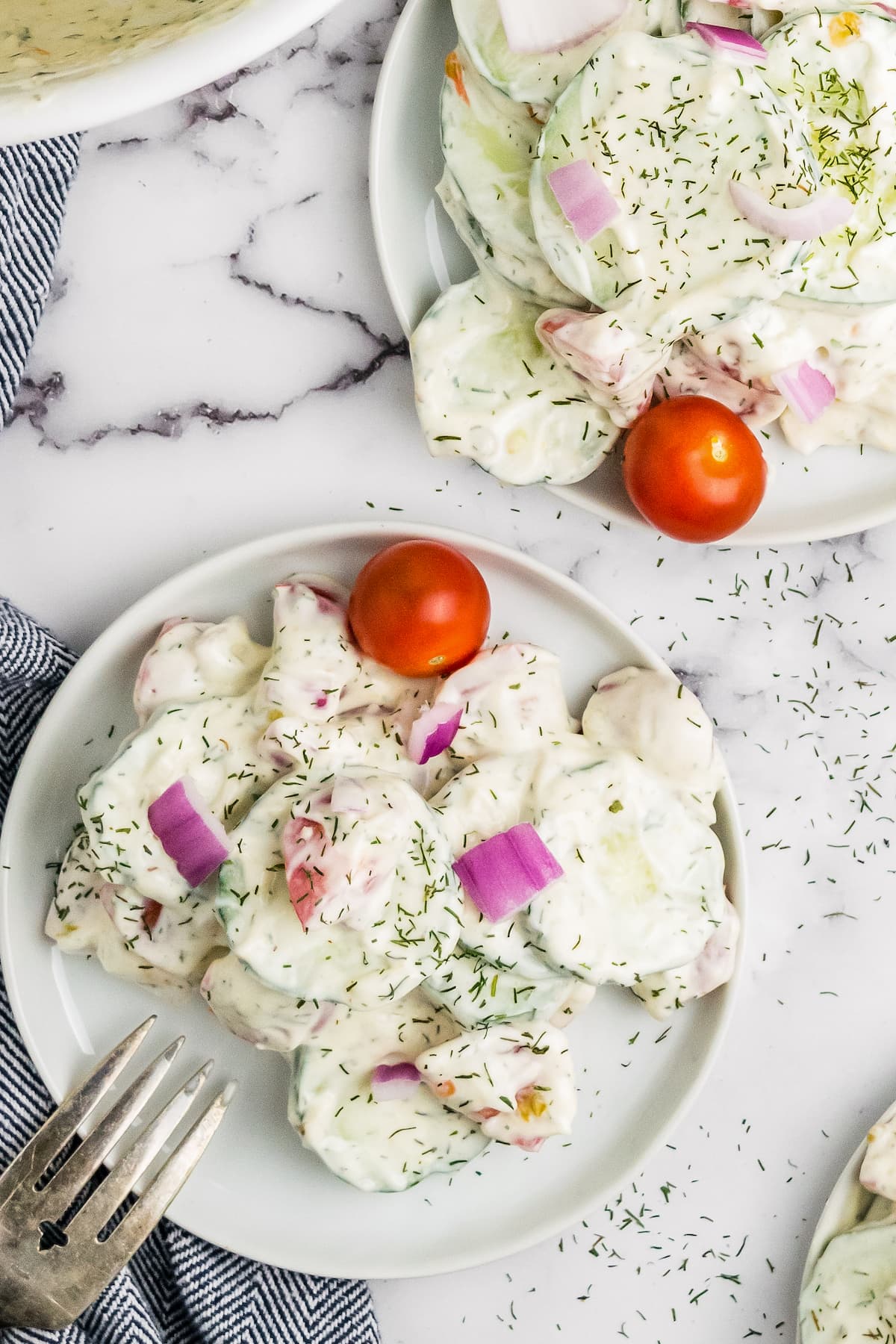 Can This Be Made In Advance?
Yes, you can make cucumber salad ahead of time. Just be sure to wrap it tightly and store it in the fridge. Then toss the salad again before serving.
We don't recommend making this salad more than a day ahead of time though.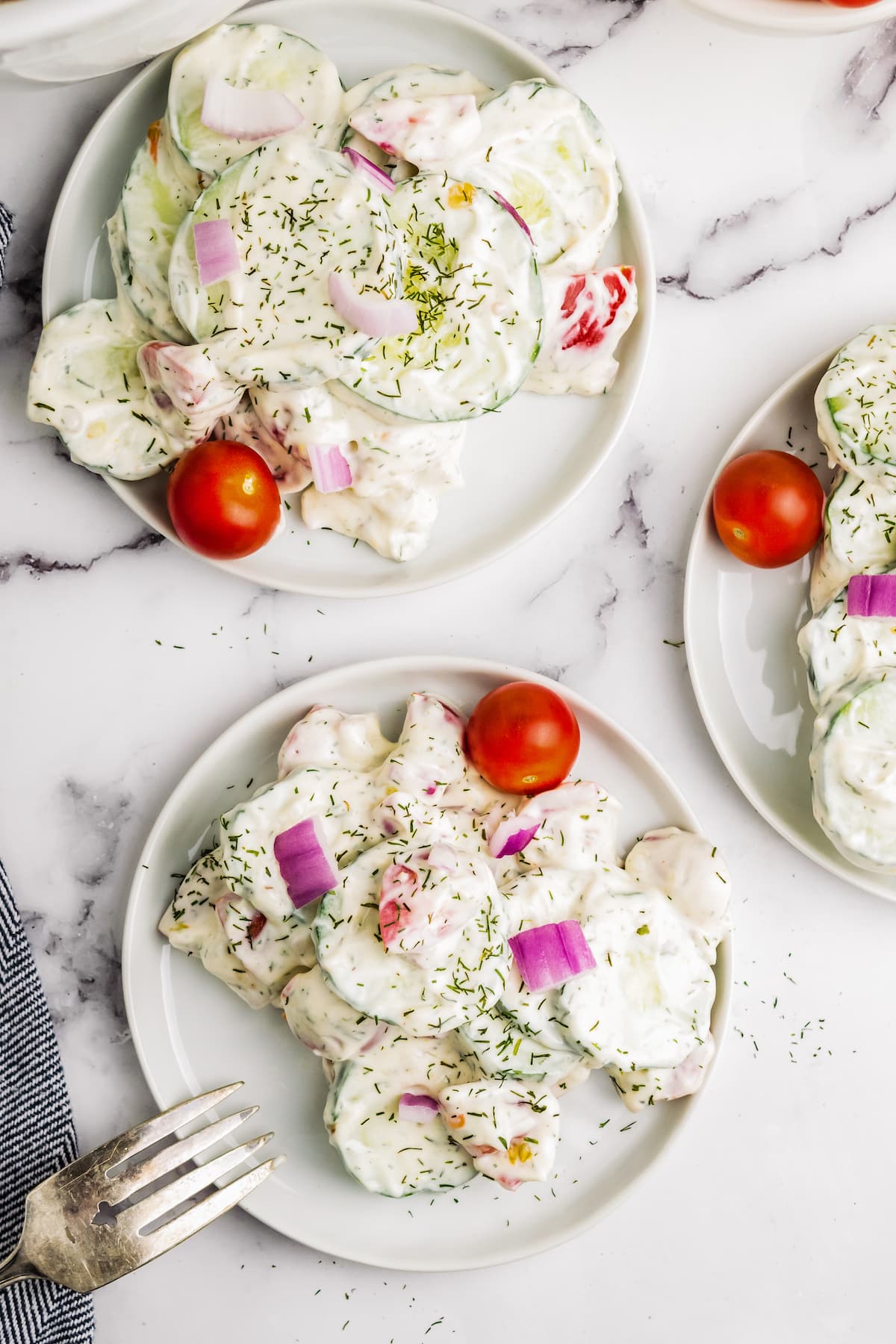 What Goes Well With Cucumber Salad?
Here are some of our favorite ways to serve this salad.
How to Store Leftovers
You can store any leftovers in an airtight container or wrap the salad bowl tightly with plastic wrap. And remember to always store this salad in the refrigerator.
Be sure to give the salad a gentle toss when you're ready to eat the salad again.
For the best-tasting salad, we recommend eating this salad within 1-2 days.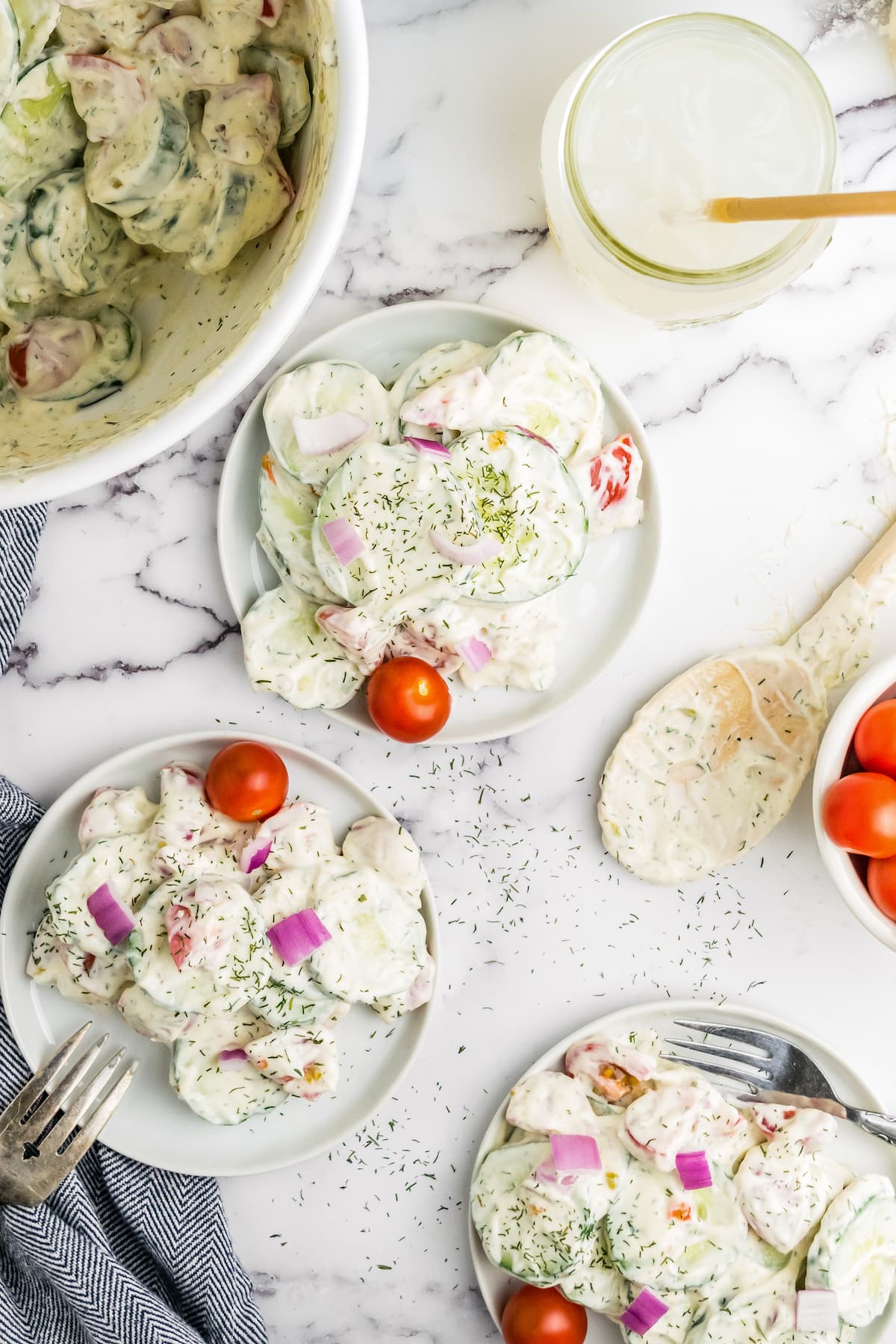 More Easy Salad Recipes
Creamy Cucumber Salad
This easy and creamy cucumber salad is loaded with tomatoes, red onion, fresh dill, and ranch flavors. It's easy to whip up and the perfect side dish for a party or potluck!
Ingredients
Dressing:
1

cup

mayonnaise

1

cup

sour cream

1

oz

packet ranch dip mix

,

dry powder

2

tablespoons

dried

,

or 1 tablespoon fresh minced dill

2

tablespoons

dried mustard

4

tablespoons

lemon juice

2

tablespoons

olive oil
Salad:
4

cups

thinly sliced cucumbers

,

about three large cucumbers

2

cups

cherry/grape tomatoes

,

sliced in half

½

cup

diced red onion
Instructions
For Dressing: In a large mixing bowl, combine mayonnaise, sour cream, ranch dip mix, dill, mustard, lemon juice, and olive oil. Whisk until well combined.

Add cucumbers, tomatoes, and red onion to the dressing in the large mixing bowl. Toss to combine the vegetables in the dressing.

Serve immediately or chill in the refrigerator until ready to serve. (If you chill the salad for an hour, the flavors will meld more and your salad will have more of each flavor present. Remember to stir well before serving.)
Notes
Storage: You can store any leftovers in an airtight container or wrap the salad bowl tightly with plastic wrap. And remember to always store this salad in the refrigerator.
Nutrition
Serving:
1
,
Calories:
335
kcal
,
Carbohydrates:
12
g
,
Protein:
2
g
,
Fat:
32
g
,
Saturated Fat:
7
g
,
Polyunsaturated Fat:
23
g
,
Cholesterol:
29
mg
,
Sodium:
219
mg
,
Fiber:
1
g
,
Sugar:
8
g