This Mexican Corn Salad is sweet, creamy, and tangy, and has a little kick from homemade Chipotle dressing. It's bursting with fresh flavor and makes the perfect side dish!
Easy Mexican Street Corn Salad
We love a salad with lots of "goodies"! Oftentimes, when we think of a salad we think of a boring plate of greens, vegetables, and dressing. The goodies-to-greens ratio is usually pretty unbalanced! This salad is 100% goodies and so delicious.
Sweet corn is charred before tossing in the salad. And when that happens you get more sweetness and a little smokey bitterness. Then the corn is tossed with creamy avocado, crunchy radishes, tangy red onions, and fresh cilantro.
Everything is then tossed in a homemade Chipotle dressing. Yes, it tastes just like the one you would get at a restaurant. But in our opinion, it's even better!
Love corn? So do we! Make sure and check out our favorite easy Skillet Fried Corn!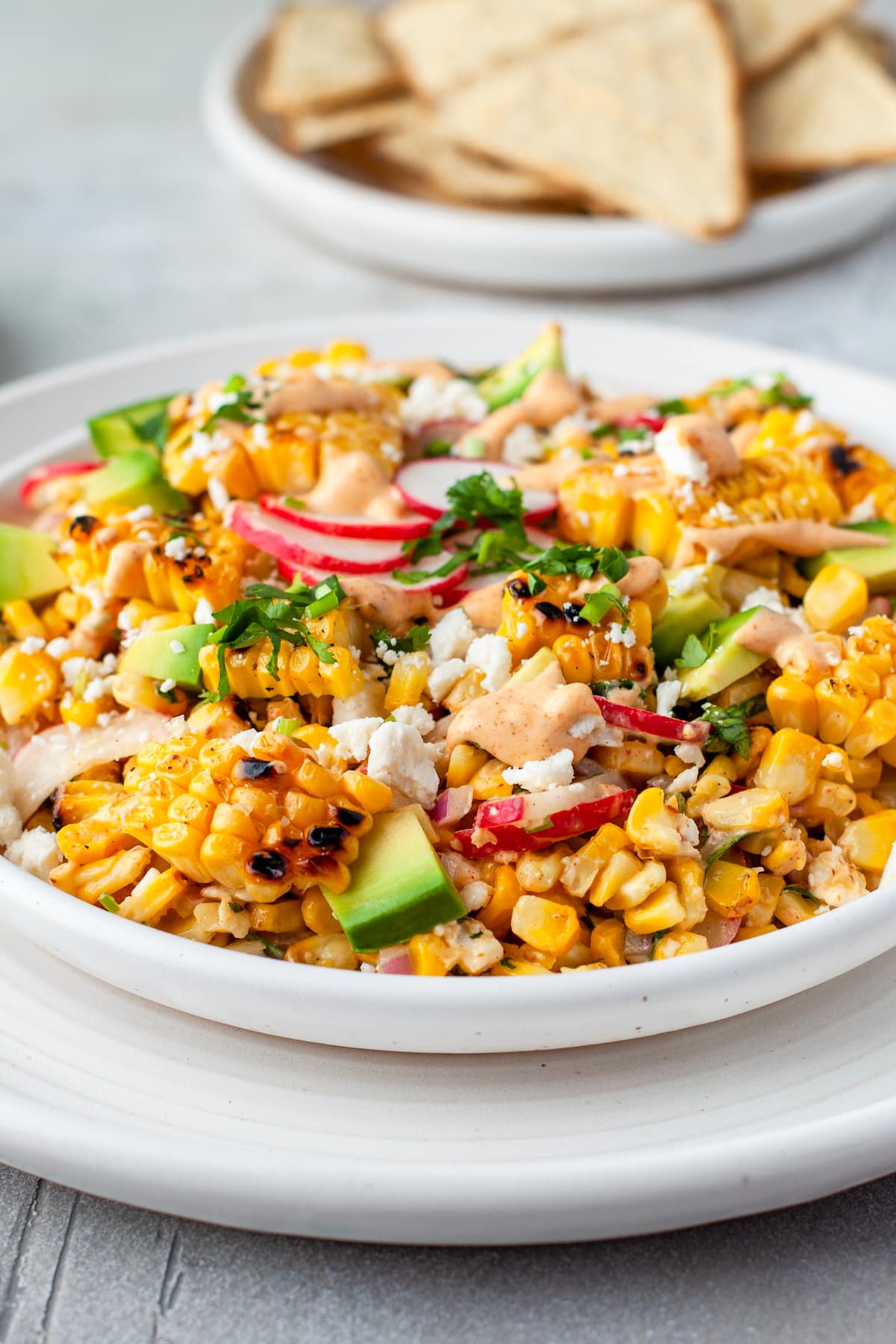 Why You'll Love This Recipe
Here are a few of the many reasons that you're going to love this salad!
It's as fresh as it gets! We love ordering this salad at a restaurant, but making it at home means you're getting it fresh out of the mixing bowl! And it tastes the best when it's as fresh as possible.
You can also serve it as a dip. This can also be Mexican Corn Dip! It tastes delicious as a dip for tortilla chips.
Every bite is perfect. The best bite is when you can get sweet, savory, spicy, and acidity in one mouthful And that's so easy to do with this salad. Every bite is so delicious!
It's quick and easy to make. The prep only takes a few minutes. You can even use the air fryer or oven to char the corn if you'd like. It can be ready in about 30 minutes.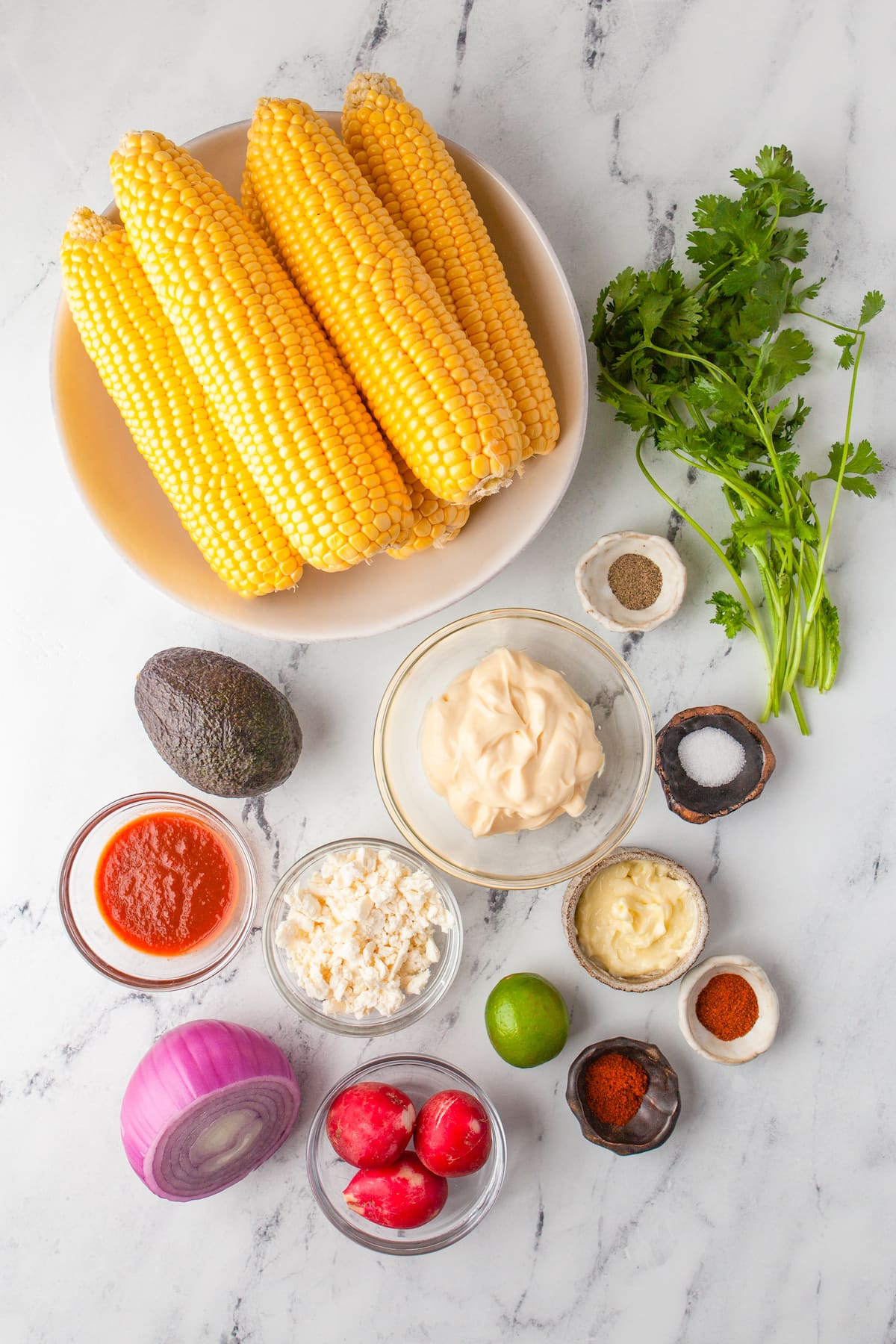 Recipe Ingredients
Here's what you need to make Mexican Corn Salad at home. Please scroll to the bottom to check out the recipe card for exact ingredient amounts.
For the Corn Salad:
Fresh Corn: This is a key ingredient! We highly recommend finding fresh corn on the cob so that you can roast it yourself.
Butter: The butter is used to char the corn. You can omit or use avocado oil for a healthier option.
Salt and Pepper: Salt and pepper are also used while charring the corn and will add to the overall flavor of the salad.
Red Onion: Red onions work really well for this recipe. But you can also use white or yellow onions. For a less strong flavor, you can use green onions.
Cilantro: Always use fresh cilantro for this recipe! If cilantro isn't your favorite, no worries! You could also use chopped parsley or chives.
Radishes: We love the flavor that radishes add to this salad (plus the beautiful red color!). You can omit or substitute with another crunchy vegetable like salad turnips or thinly sliced cabbage.
Avocado: The avocado is one of the heavier ingredients in the salad that adds creaminess, density, and health benefits! It helps the salad be more well-rounded while remaining meat-free.
Cotija Cheese: Cotija is often sold in a block. If you can't find it, you can use queso fresco or even feta cheese.
For the Chiptole Dressing:
Mayonnaise: You could also use plain Greek yogurt for a low-fat version (or a combo of the two).
Lime: The acidy and citrus flavor is needed for this dressing! You could substitute it with lemon juice, but lime juice is more authentic.
Chipotle Sauce: You can find a little jar of chipotle sauce with other Mexican foods at your supermarket.
Paprika: This adds a sweet peppery flavor to the dressing. You could also use smoked paprika for a deeper flavor.
Chili Powder: You can add more or less depending on how spicy you want the dressing to be!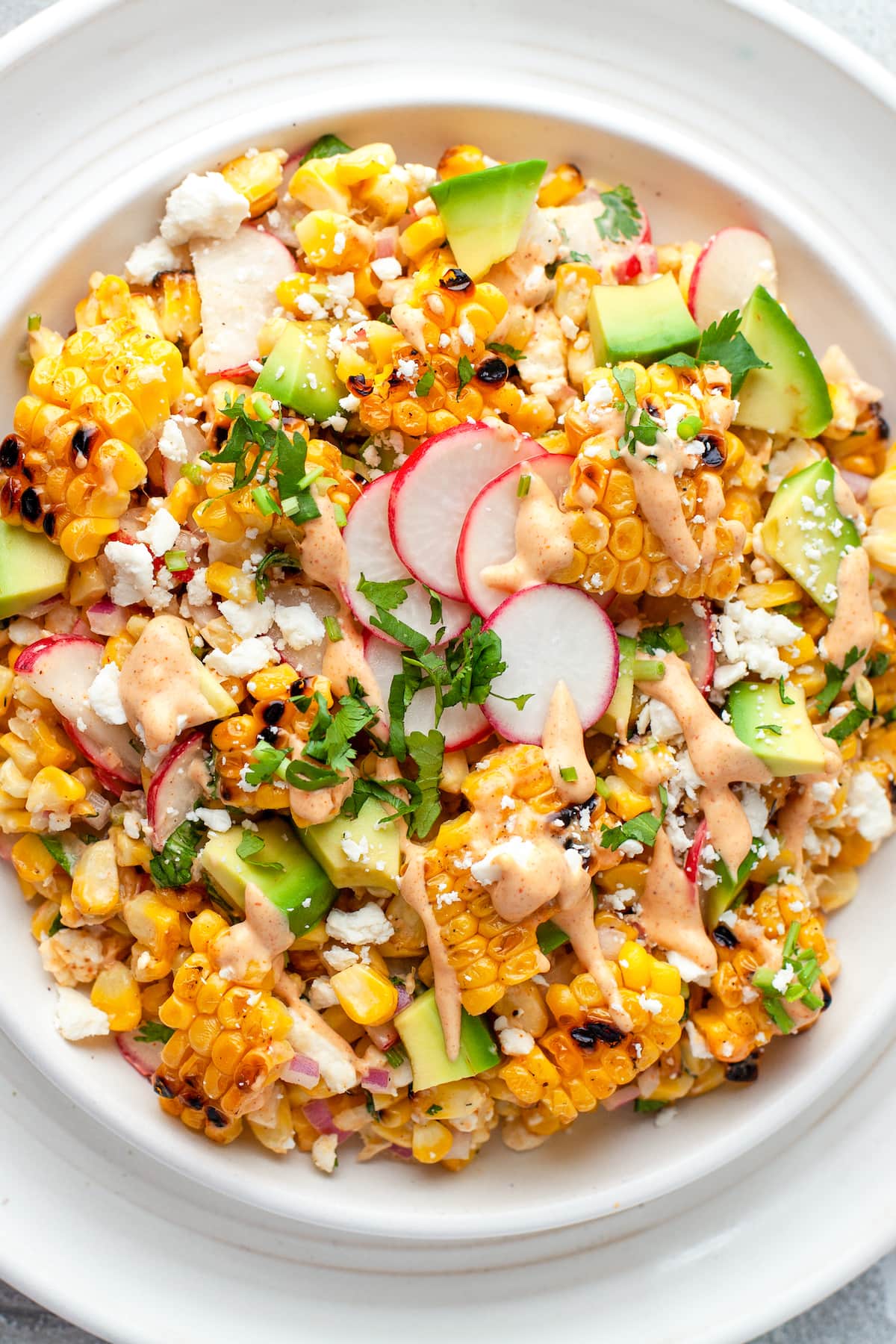 How to Cut Corn Off The Cob
Using fresh corn on the cob is the best way to make this recipe. But how do you cut corn off the cub without making a big mess?
Our trick is to cut the corn off the cob either into a bowl or a sheet tray. We find that the sheet tray works best because it's much larger and wider to catch any flying kernels!
Always use a sharp knife and hold it so that the ear is sticking straight up. Then slide your knife down the edge of the ear of corn and the kernels will fall right off.
How to Make Mexican Corn Salad
Here are the simple steps you need to follow to make this delicious salad.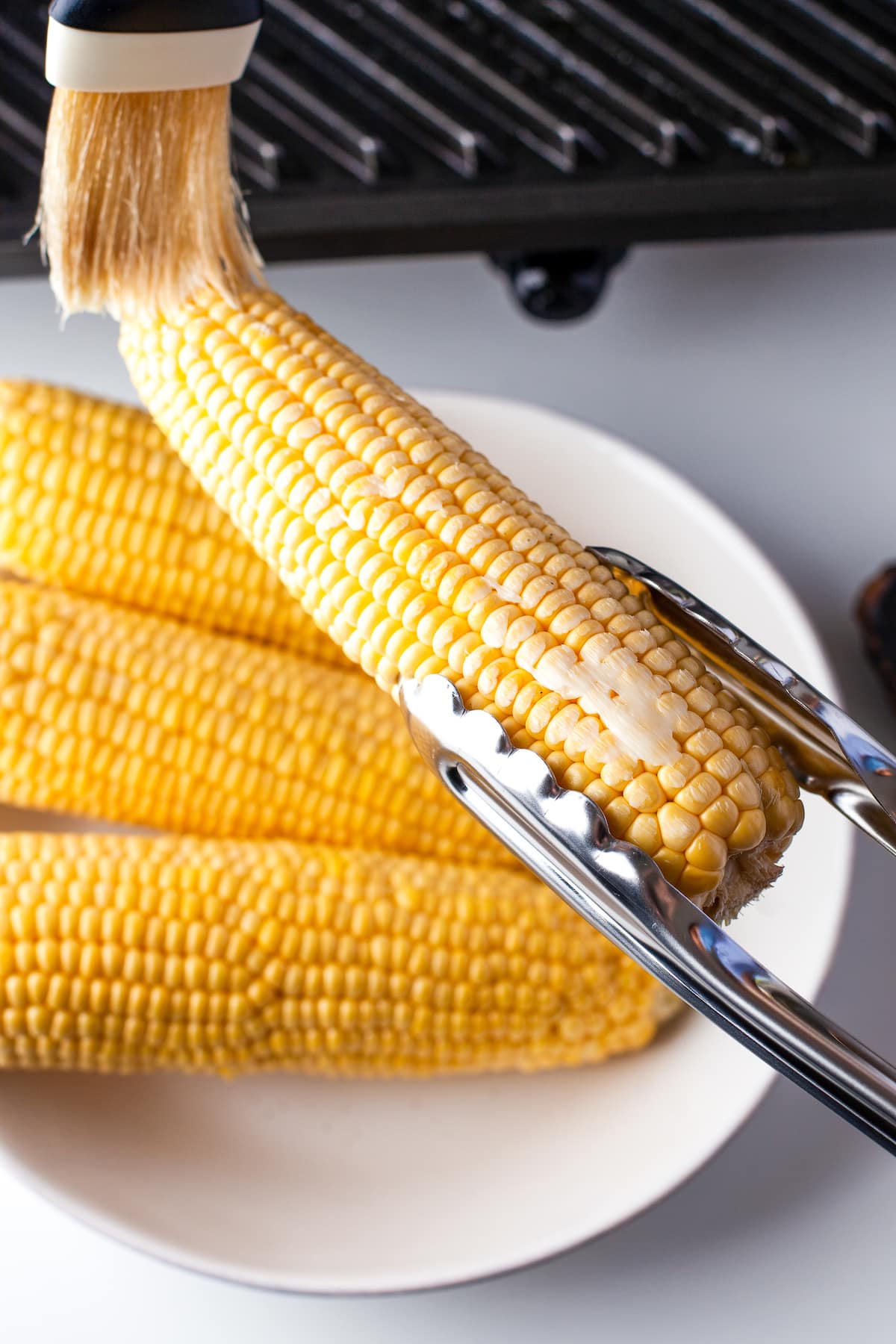 First, char the corn. You can do this on the grill or even in the air fryer. We like to add butter, salt, and pepper to the corn before charring it for added flavor.
Then remove the corn from the cobs. Make sure that the corn is cool enough to handle because it's going to be hot coming off the grill!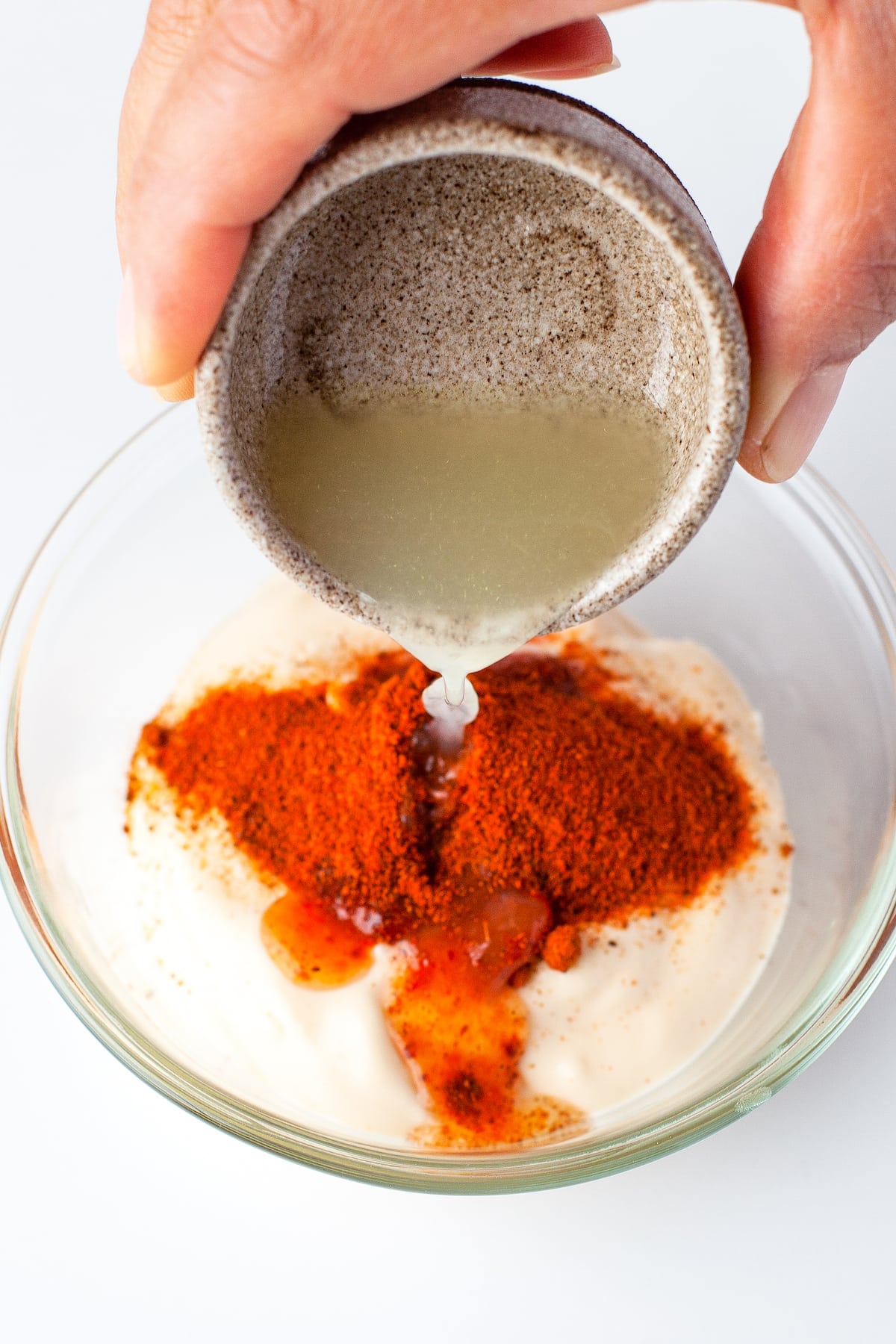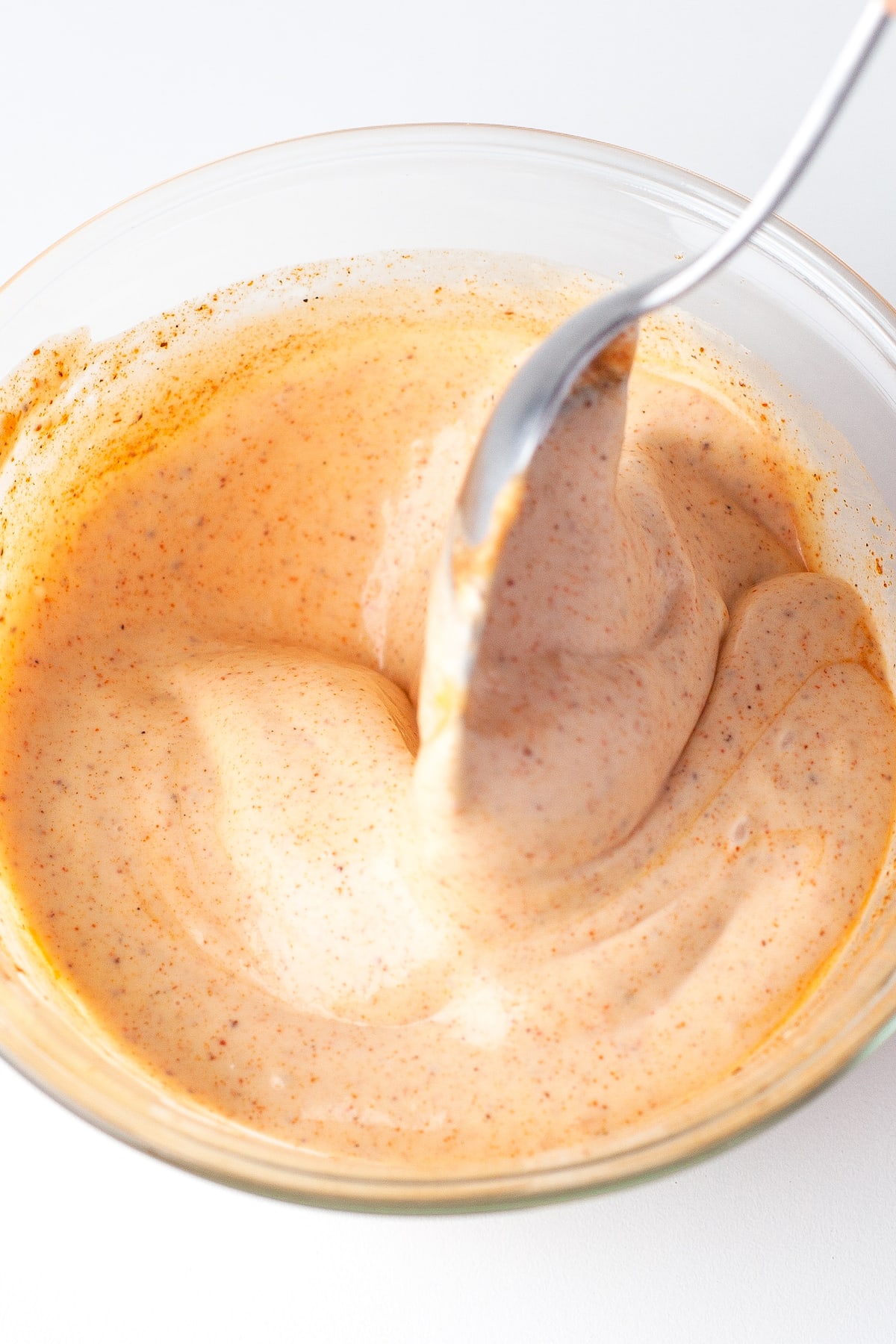 Make the Chipotle dressing. Simply combine the dressing ingredients in a small bowl and set aside.
Next, prep the remaining ingredients. Cut up the onions, radishes, avocado, and cilantro. And crumble the cotija with your hands. Then place everything in a large mixing bowl.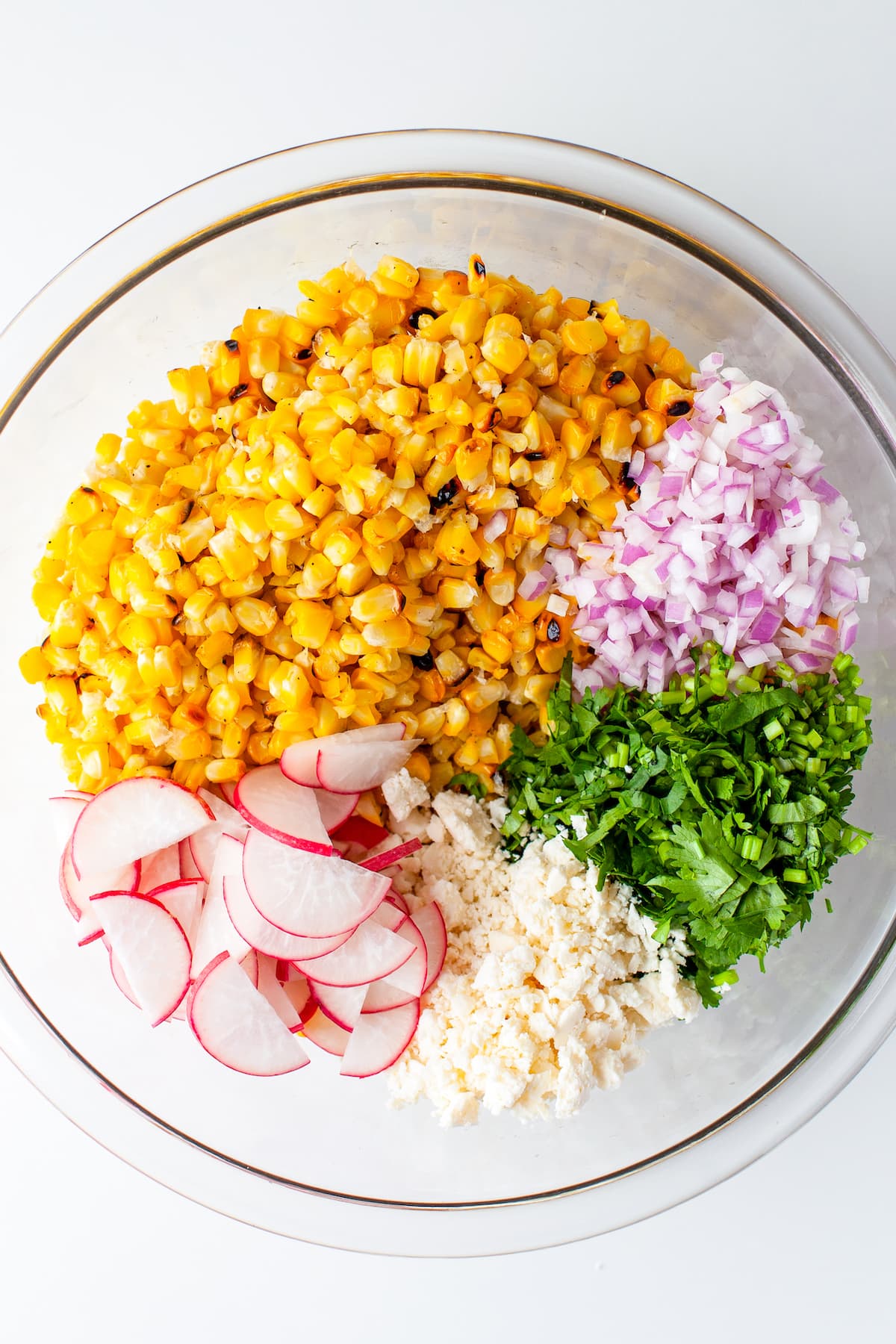 Toss everything together. Then you just need to add all of the ingredients into a large mixing bowl and toss them with the dressing. Serve the salad immediately for the best flavor.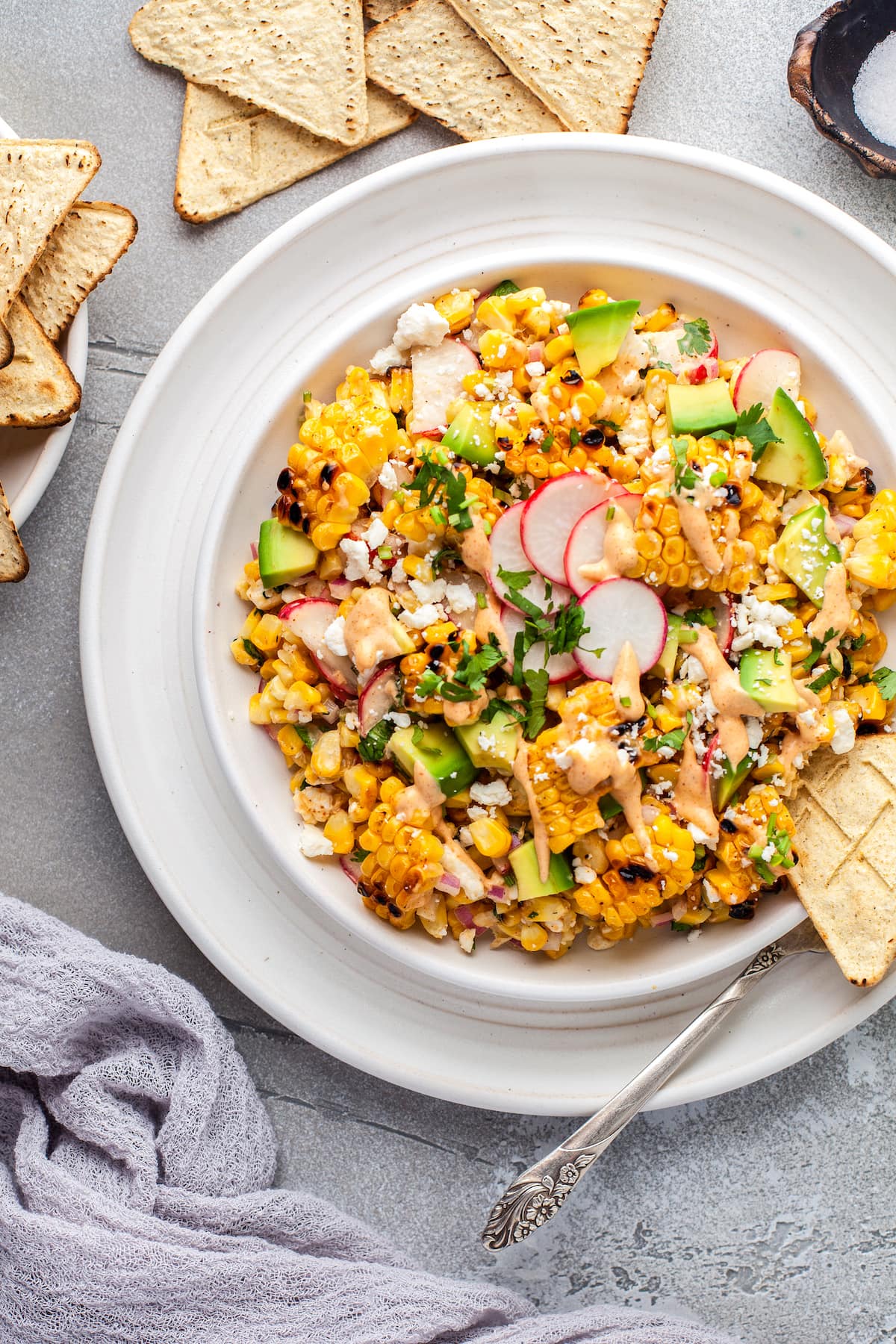 Tips for Success
Follow these tips so that your salad turns out perfectly!
No grill? No problem! You can also cook the corn in the oven or air fryer.
You can make this salad ahead of time. If you want to prepare this ahead, we recommend waiting to add the dressing and avocado until right before you serve it.
Add more heat if you'd like. If you want your chipotle dressing to be spicy add an extra tablespoon of chipotle sauce. The recipe is written to be mild with just a touch of heat.
What to Serve with Mexican Corn Salad
Here are some of our favorite ways to serve this salad.
Use it as a dip. You can keep it simple and serve it with tortilla chips for dipping.
It's a great side dish for taco night. We love serving this alongside tacos. Plus, the corn salad is also a great taco topping!
Serve it with chili. It's a great salad to serve alongside chilis and other soups. Our Mexican White Chicken Chili is a great recipe to try.
Make a Mexican feast. It is also a great side dish to serve on "Mexican night". We love to make Mexican Chicken and Cilantro Lime Rice.
How to Store Leftovers
You can store the leftover salad in the refrigerator in an airtight container for up to 3 days. Keep in mind that this dish does not freeze well and it's best enjoyed as fresh as possible!
Yield: 4 to 6 servings
Mexican Corn Salad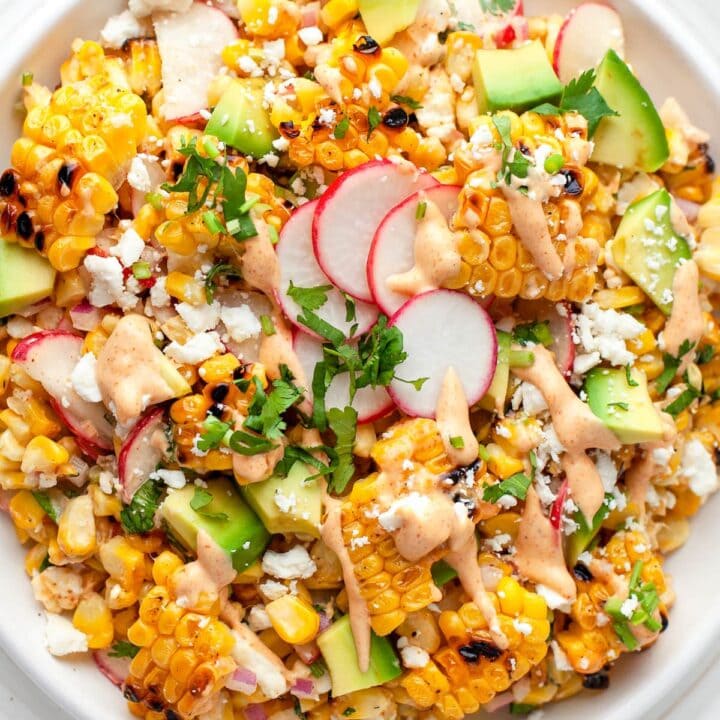 This Mexican Corn Salad is sweet, creamy, and tangy, and has a little kick from homemade Chipotle dressing. It's bursting with fresh flavor and makes the perfect side dish!
Ingredients
For the salad:
5 medium ears fresh corn, shucked
2 tablespoons butter, melted
¼ teaspoon salt
¼ teaspoon pepper
1/4 cup diced red onion
3 tablespoons minced fresh cilantro
4 -5 small radishes, sliced into thin slices
1 avocado, cubed
¼ cup crumbled cotija cheese
Chipotle Dressing:
½ cup mayonnaise
juice 1 lime
1 tablespoon chipotle sauce
½ teaspoon paprika
½ teaspoon chili powder
Instructions
Preheat your grill to 400°F.
Brush the butter on each ear of corn and season with salt and pepper.
Grill: Place corn on the grill and cook for 10 minutes, turning often, until they are good and charred. Remove from the grill and set aside.
Dressing: In a small bowl add the mayonnaise, lime juice, chipotle sauce, paprika, and chili powder. Mix until well combined.
Once corn is cool enough to handle, cut the kernels off of all five ears of corn and place them in a large bowl.
Add the onion, cilantro, radish, avocado, and cotija cheese to the bowl. Gently add the dressing and toss to combine.
Serve immediately!
Notes
Storage: You can store the leftover salad in the refrigerator in an airtight container for up to 3 days. Keep in mind that this dish does not freeze well and it's best enjoyed as fresh as possible!
Nutrition Information:
Yield:
4
Serving Size:
1
Amount Per Serving:
Calories:

535
Total Fat:

40g
Saturated Fat:

10g
Trans Fat:

0g
Unsaturated Fat:

28g
Cholesterol:

35mg
Sodium:

539mg
Carbohydrates:

44g
Fiber:

8g
Sugar:

15g
Protein:

8g
Filed Under:
More Easy Salad Recipes