This Chicken Noodle Soup is a family-friendly hearty soup that's ready in under an hour! It's loaded with chicken, vegetables, and fresh herbs making it a nutritious and filling soup for a comforting lunch or dinner.
Homemade Chicken Noodle Soup
It's wintertime, which means that it's cold and flu season, too. It's probably our least favorite part of the chilly weather. But, when you have a cozy and healing Chicken Noodle Soup recipe handy, it makes it all the more bearable!
Our Chicken Noodle Soup is a recipe we hold near and dear to our hearts. We always make it when we're feeling under the weather or just want a warm and comforting meal because its rich and hearty flavors hit all the right spots.
It's one of those recipes that is made with simple ingredients but creates a delicious and distinctive flavor. It's way better than if you were to just pour it out of a can because we use wholesome ingredients like boneless chicken breasts, carrots, celery, and onions and add fresh herbs. There are no questionable additives or necessary levels of sodium in this homemade soup!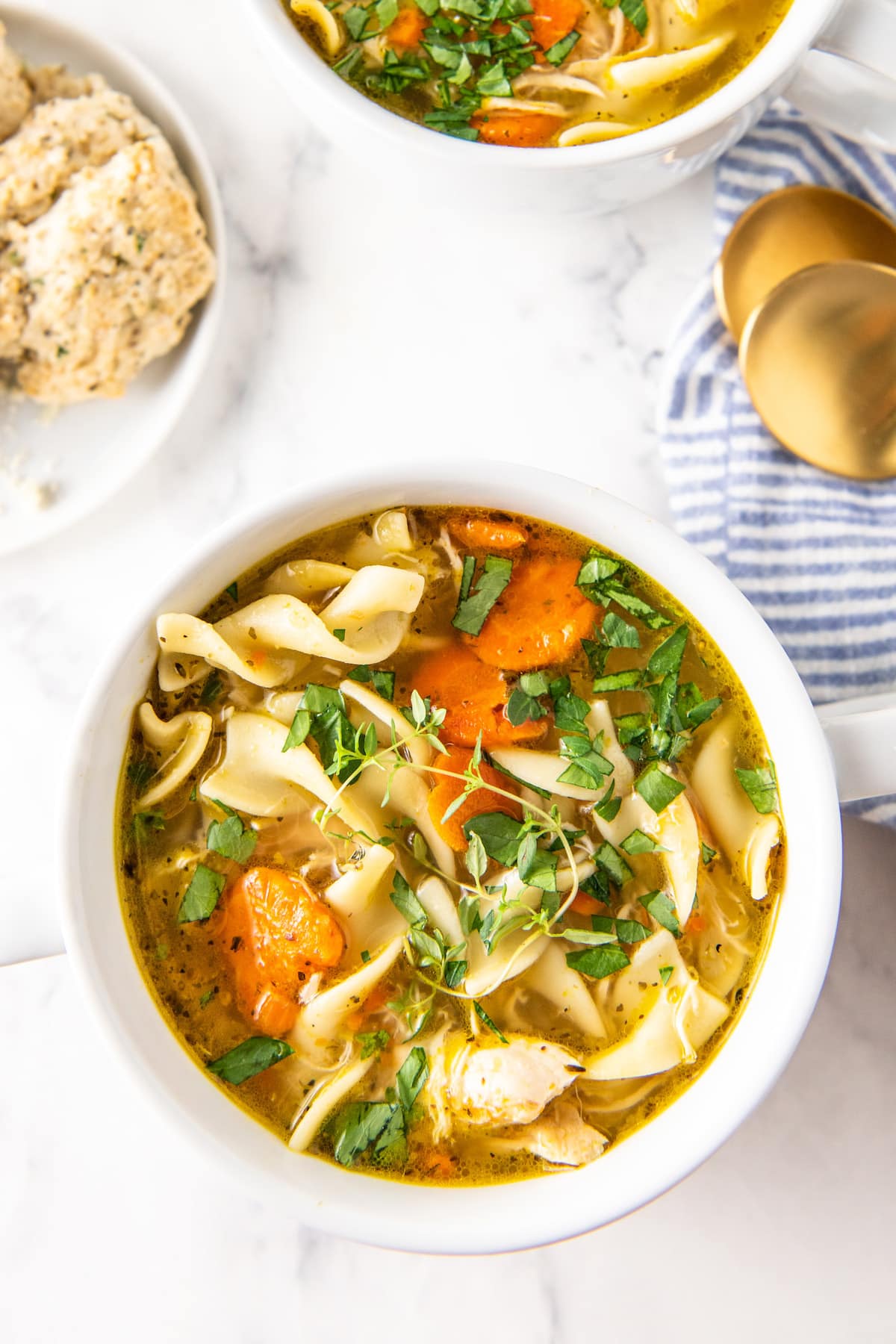 Why You'll Love This Easy Soup Recipe
There are a lot of reasons why you're going to love this cozy and comforting Chicken Noodle Soup.
The ingredients are easy to find and affordable. You can get the ingredients for this soup in a matter of minutes at the grocery store. In fact, you probably already have a lot of them in your kitchen right now!
It's ready in under an hour. The soup develops the perfect amount of flavor in just an hour.
It makes great leftovers. We think that this soup tastes even better the next day and you can also freeze it very easily.
The whole family will love it. We haven't found anyone that doesn't love this soup! Using simple and universal ingredients means that just about everyone is going to love it!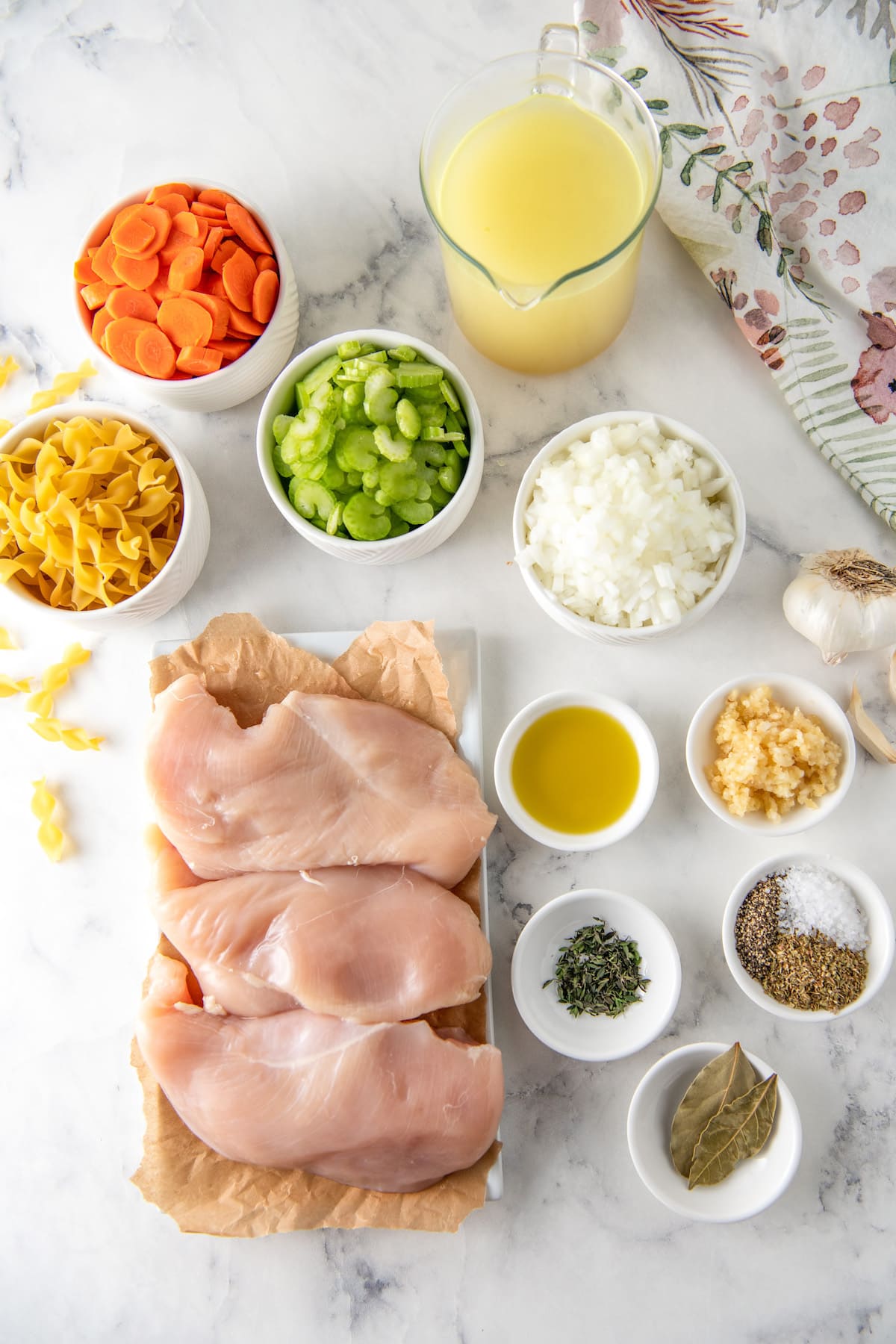 What You'll Need
Here is what you need to make this soup recipe:
Olive Oil
Yellow Onion: You could also use white or sweet onions.
Carrots: You can slice up fresh carrots or even use frozen carrots if that's what you have.
Celery: Use as much of the celery stalk as possible to eliminate food waste. The leaves at the end are fine to eat and add to the soup!
Garlic: Always use fresh garlic for this recipe because it gives the best flavor and has the most health benefits.
Chicken Broth: Or you can use chicken stock. We like to use low-sodium broth so that we can adjust the salt level ourselves.
Chicken Breasts: Boneless and skinless chicken breasts work best for this recipe because they're lean. Additionally, you could also use the meat from a rotisserie chicken to make the soup recipe even fast.
Salt & Pepper
Dried Oregano: It's earthy, flavorful, and easy to find and there's no need to use fresh oregano for this recipe.
Fresh Thyme: You could also use dried thyme if that's all that you can find (just cut the amount in half).
Bay Leaves: Make sure that you remove the bay leaves before serving because they aren't edible.
Egg Noodles: Or you can use your favorite pasta. We like to use egg noodles because they cook quickly in the broth and they aren't too starchy.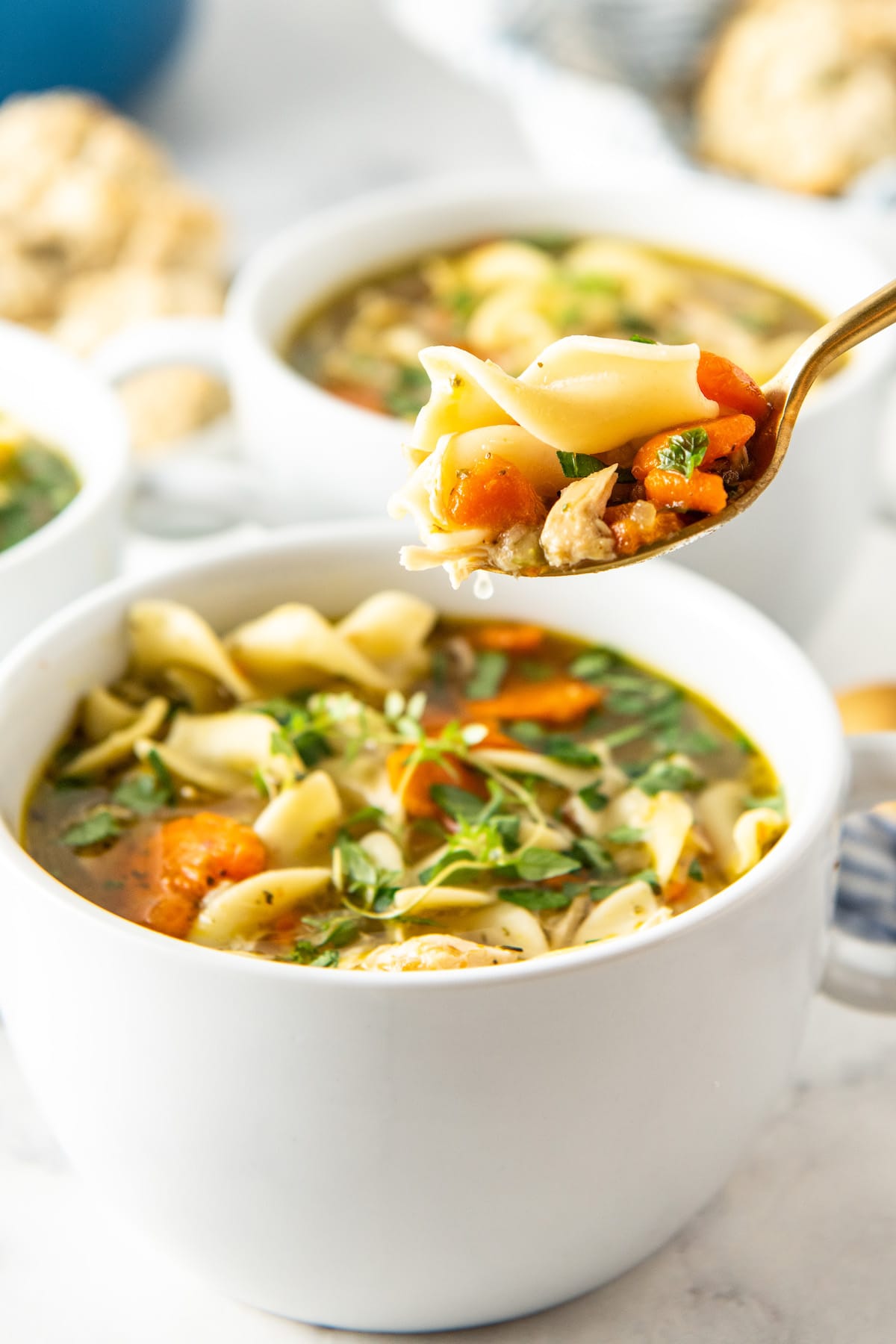 How to Make Chicken Noodle Soup
The steps are really simple for making this soup. Here is what you need to do: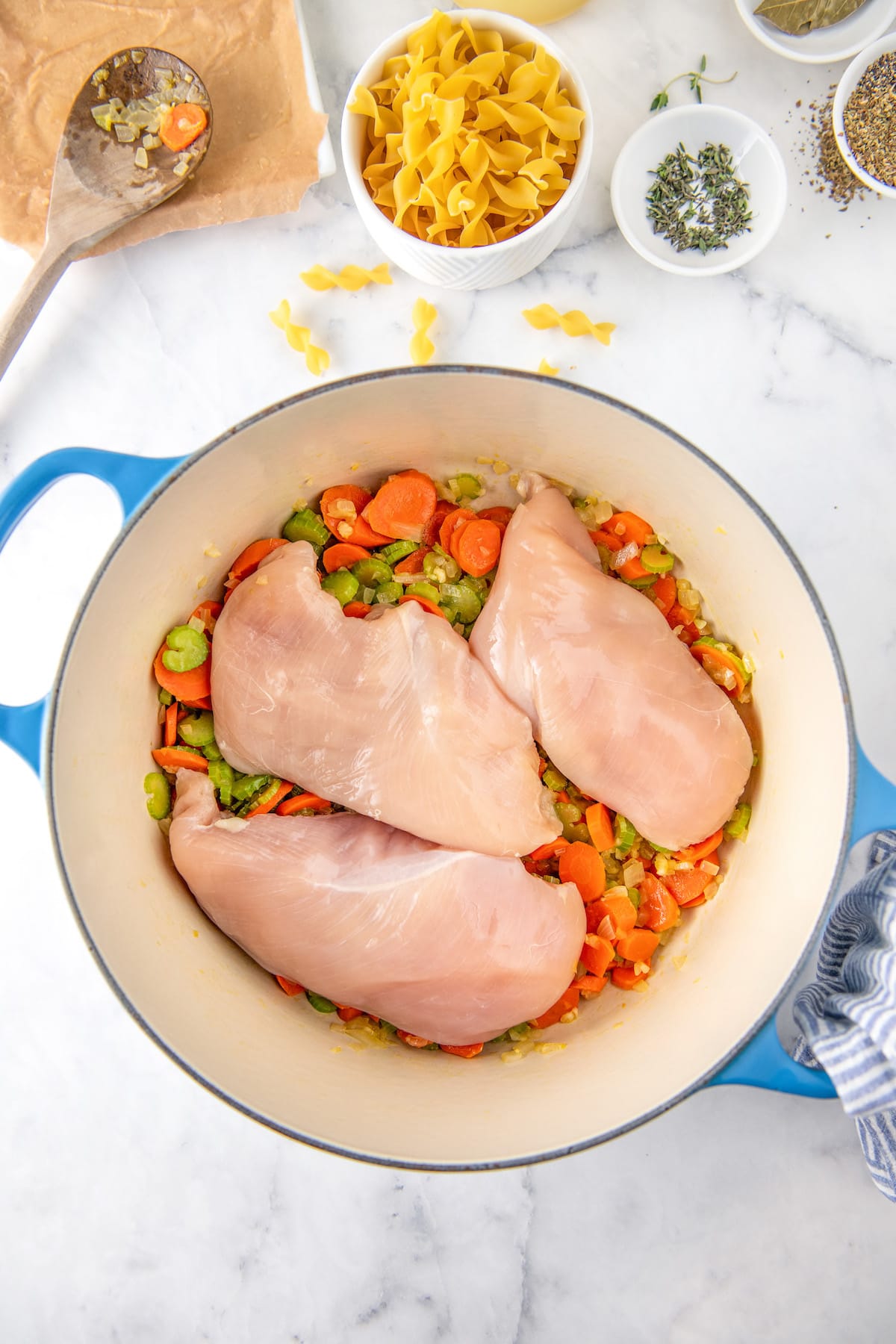 First, cook the onions, carrots, and celery. You'll cook the mirepoix (the combination of onions, carrots, and celery) for a few minutes until they become a little tender. Then add the garlic.
Next, add the broth, chicken, herbs, salt, and pepper. And turn up the heat so that the soup begins to simmer gently.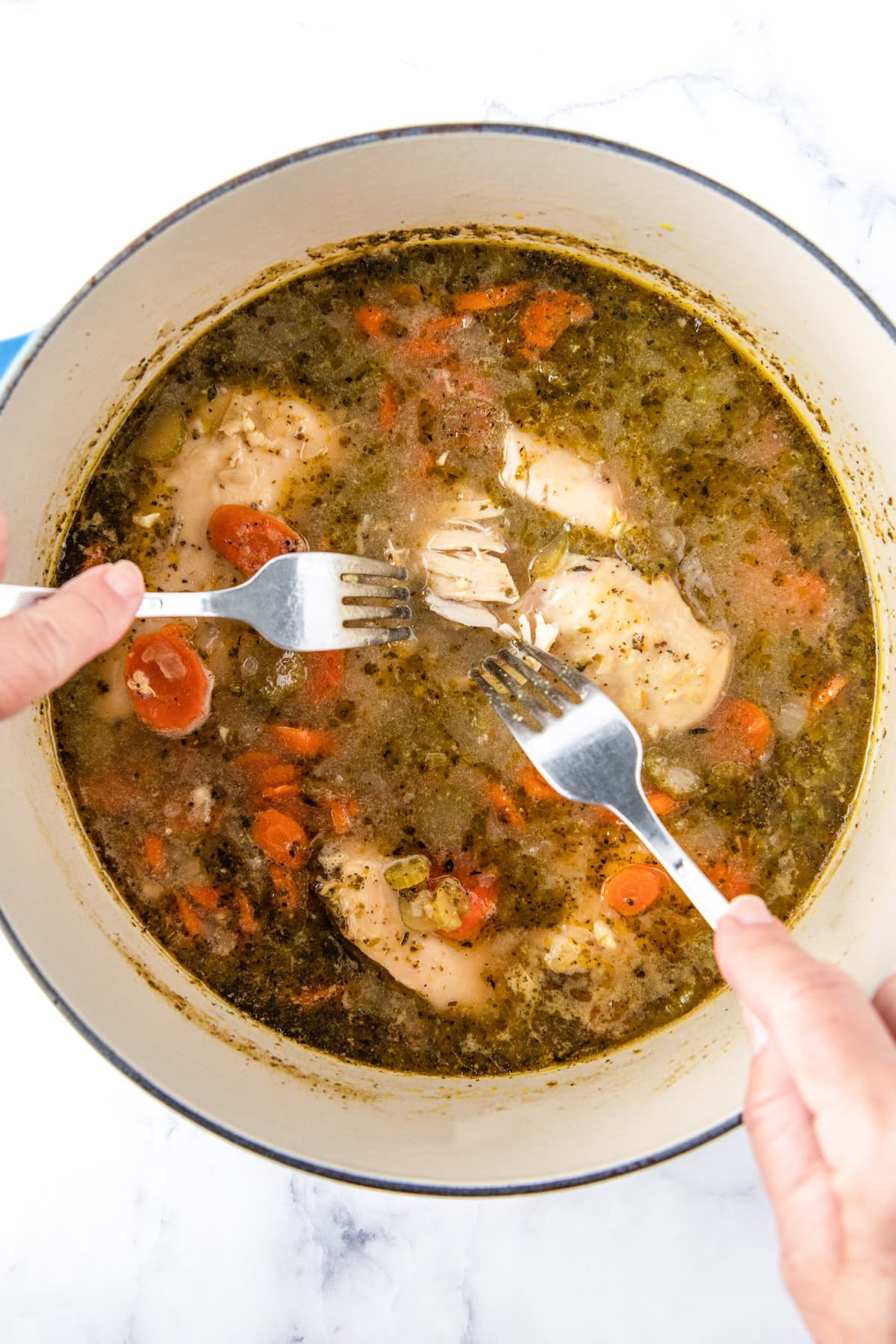 Cover the soup and cook the chicken until you are able to shred it right in the pot. You can use two forks to help break the chicken up.
Simmer the soup and add the noodles. You can cook the noodles right in the simmering broth. Once the noodles are cooked, the soup is ready to serve.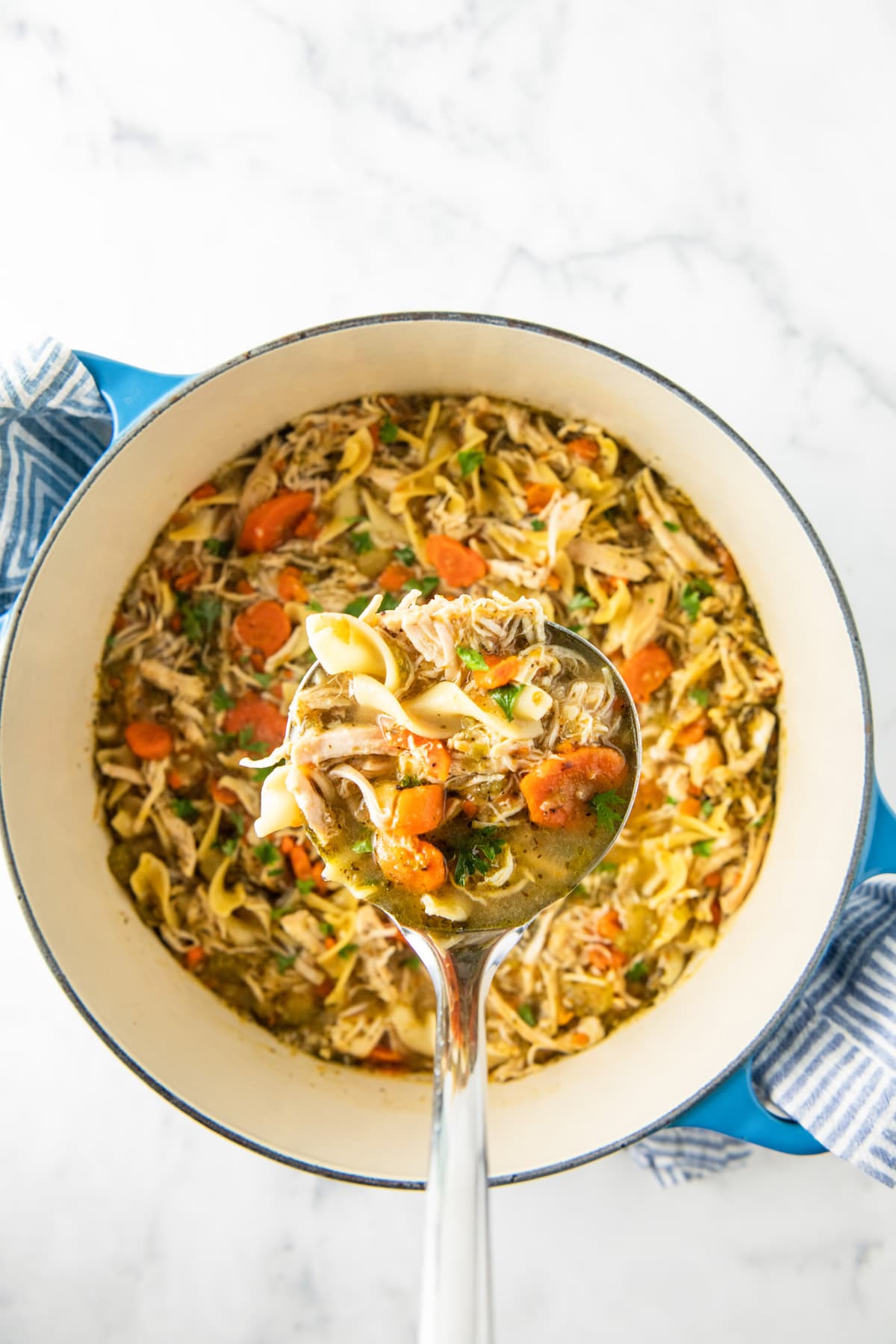 Tips & Variations
Here are some helpful tips and variation ideas for this Chicken Noodle Soup recipe.
Use the amount of chicken that you prefer. Two pounds of chicken makes a meaty soup, so it is hearty and filling. If you prefer, you can use less chicken. You can also use boneless skinless chicken thighs or rotisserie chicken instead of breasts.
Add more broth if needed. If you notice that the soup is getting a little too thick and chunky, you can add more broth while the soup is simmering.
Don't overcook the noodles. When the egg noodles are added, cook them until al dente (they will still have a little bite to them). The noodles will continue to cook in the hot soup after you remove the soup from the heat.
Add more vegetables if you'd like. This soup is a great way to use up any leftover vegetables you might have. You can add corn, peas, or any other small cut of vegetables that you have.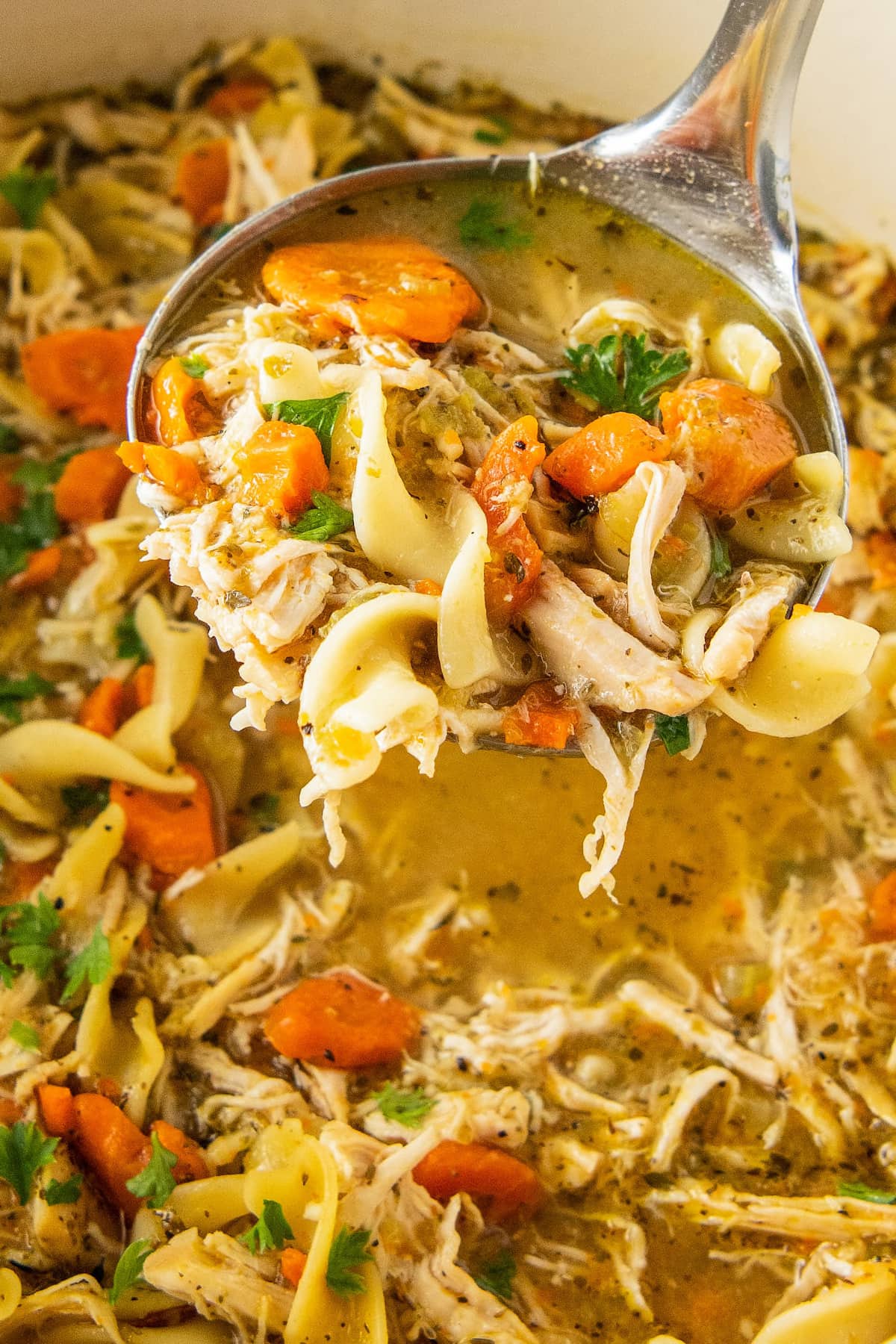 What To Serve with Chicken Noodle Soup
Chicken Noodle Soup is great on its own or you can add some of our favorite sides and snacks to it!
Crusty Bread or Dinner Rolls: Buy a loaf of your favorite rustic bread for dipping into the soup! You could also try our melt-in-your-mouth Herb Crescent Rolls.
Crackers: Saltine crackers and oyster crackers are classic add-ins for Chicken Noodle Soup!
A Quick and Easy Sandwich: You could make a simple sandwich with your favorite deli meat or try our Air Fryer Grilled Cheese.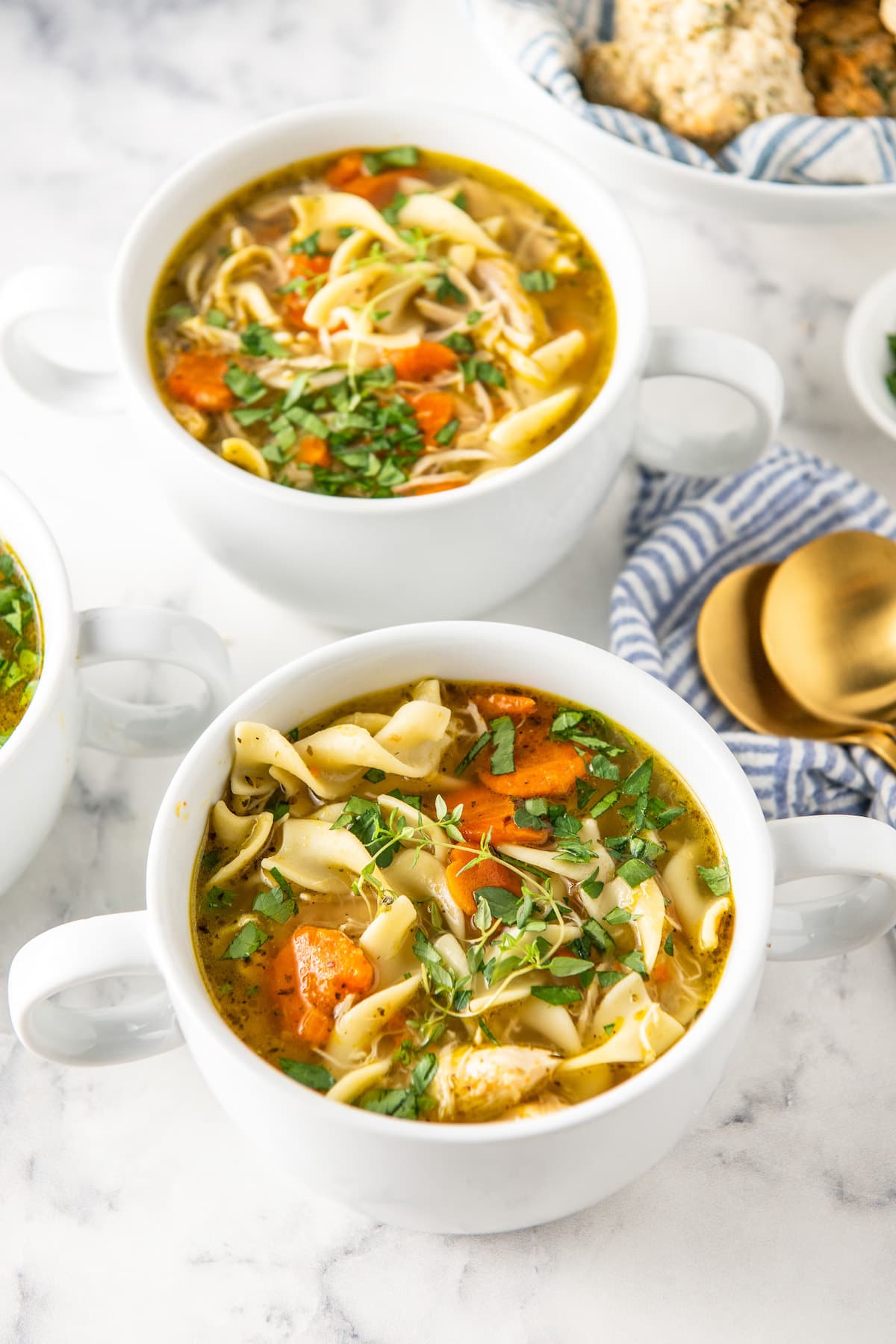 How to Store & Reheat Leftovers
You can store any leftover soup in an airtight container in the refrigerator for up to 5 days. Then you can reheat it on the stovetop or microwave.
Keep in mind that the noodles will absorb some of the broth, especially when storing leftovers. So we usually add a little extra broth when we reheat leftovers.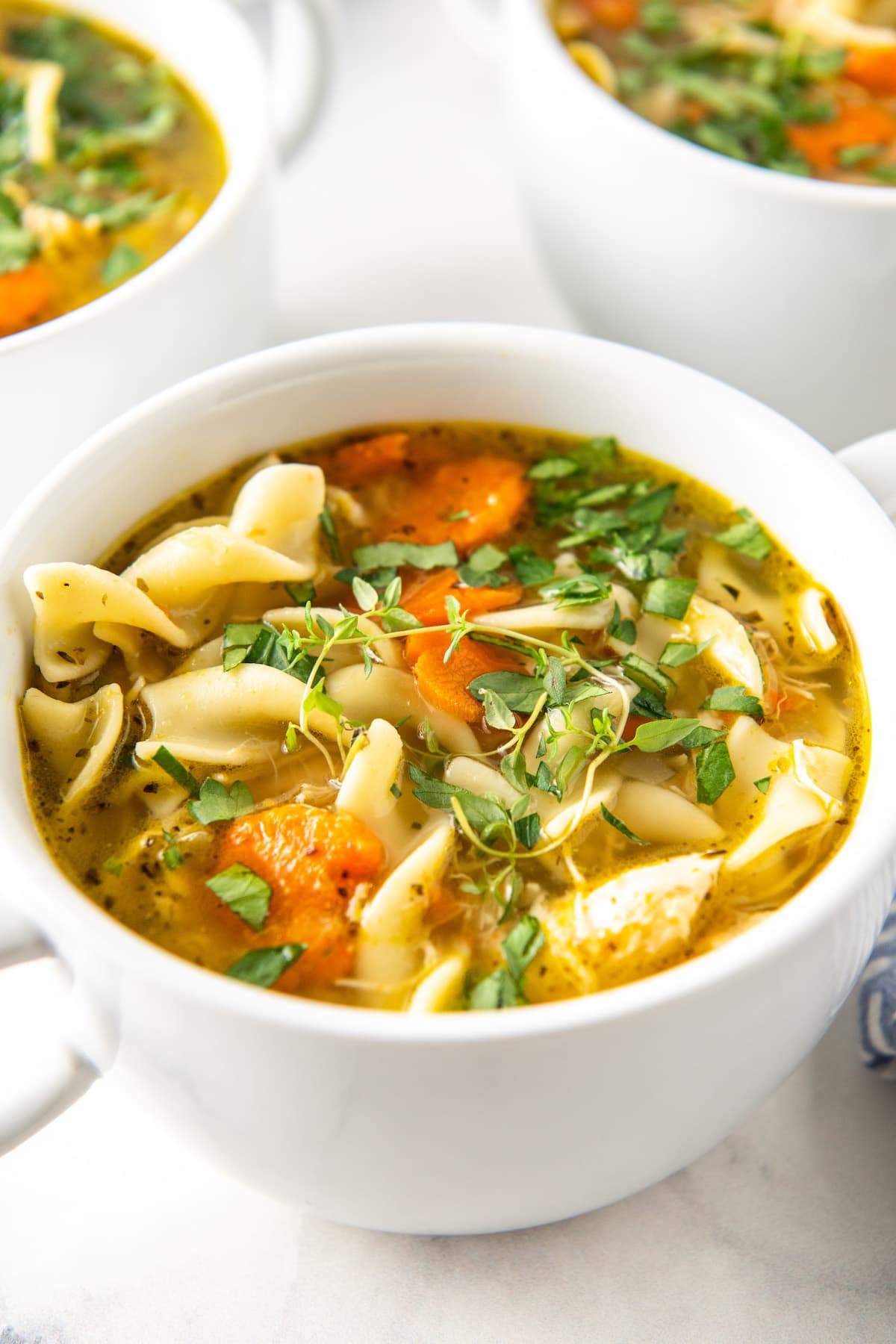 Can I Freeze Homemade Soup?
You can freeze the soup for up to 3 months in an airtight container. A great way to freeze soup is in individual serving freezer bags for easy meals!
Chicken Noodle Soup
Hearty and delicious Chicken Noodle Soup in under an hour! Our homestyle soup is loaded with chicken, vegetables, and herbs.
Ingredients
1

tablespoon

olive oil

1

medium yellow onion

,

diced

1

cup

sliced carrots

1

cup

diced celery

2

tablespoons

minced garlic

8

cups

chicken broth or stock

2

pounds

boneless

,

skinless chicken breasts

2

teaspoons

freshly cracked black pepper

1 ½

teaspoons

kosher salt

1

teaspoon

dried oregano

1

teaspoon

minced fresh thyme

2

bay leaves

6

oz

about 1 ½ cups egg noodles (or your favorite pasta)
Instructions
In a large dutch oven, over medium heat, add oil. Stir in the onion, carrots, and celery, and sauté for 4 minutes. Add the garlic and sauté an additional minute.

Add the broth, chicken breast, salt, pepper, oregano, thyme and bay leaves. Cover with the lid slightly askew, simmer over medium-low heat until the chicken is tender and easily shreds into the broth. Using 2 forks shred the breast into the broth.

Bring soup to a simmer and add the egg noodles, boil for 6 – 7 minutes, or until pasta is al dente.

Serve warm with fresh chopped parsley and your favorite bread or crackers on the side.
Notes
Storage: You can store any leftover soup in an airtight container in the refrigerator for up to 5 days. Then you can reheat it on the stovetop or microwave.
Nutrition
Serving:
1
,
Calories:
788
kcal
,
Carbohydrates:
70
g
,
Protein:
87
g
,
Fat:
15
g
,
Saturated Fat:
3
g
,
Polyunsaturated Fat:
9
g
,
Cholesterol:
205
mg
,
Sodium:
2620
mg
,
Fiber:
6
g
,
Sugar:
7
g
More Easy Soup Recipes