These Roasted Sweet Potatoes are so easy to make and healthy! The simply seasoned and perfectly tender potatoes are a side dish that you can use for many different meals. Plus, the recipe takes only 5 minutes to prep.
Easy Roasted Sweet Potatoes
Today we're going to show you one of our easiest side dishes that is so versatile, we wouldn't be surprised if you end up making this weekly! This Roasted Sweet Potatoes recipe is simple, healthy, and takes only 5 minutes to prep. But the real joy of this recipe is how many different ways you can use the cooked sweet potatoes.
First, sweet potatoes are a nutritional powerhouse. They are a great source of fiber and beta-carotene (which supports your eyesight and your immune system). We try to sneak in any food that we can that can naturally boost our immune system!
Plus, they taste great. They're naturally sweet and earthy and taste good with anything from just a little salt and pepper to marshmallows. Everyone in the family has their own favorite sweet potato recipe. For us, this Roasted Sweet Potato is up there. We can eat them for breakfast, lunch, or dinner and use them in so many different ways!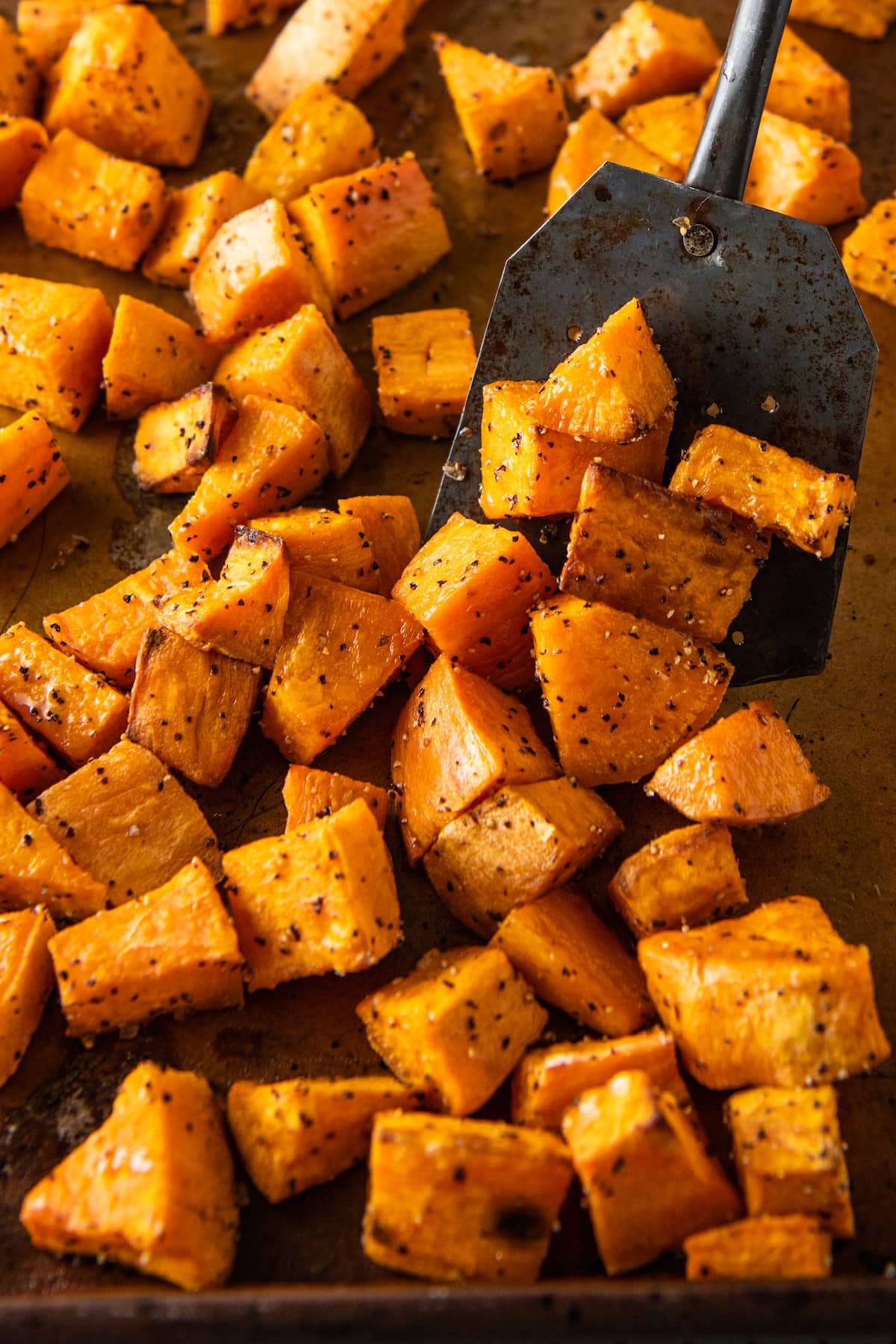 Why You'll Love This Recipe
Here's a list of reasons why this Roasted Sweet Potato dish is one of our favorites.
There are only 4 ingredients. You only need sweet potatoes, salt, pepper, and olive oil!
It takes 5 minutes to prep. This is key when it comes to meal prepping! Save your time for other recipes -this one only takes a few minutes.
The recipe goes well with so many different things. You can serve them as a "hash" with breakfast, in a salad for lunch, or alongside your favorite protein for dinner.
Sweet potatoes are so healthy! It's a really simple way to add a ton of nutrition to your meals.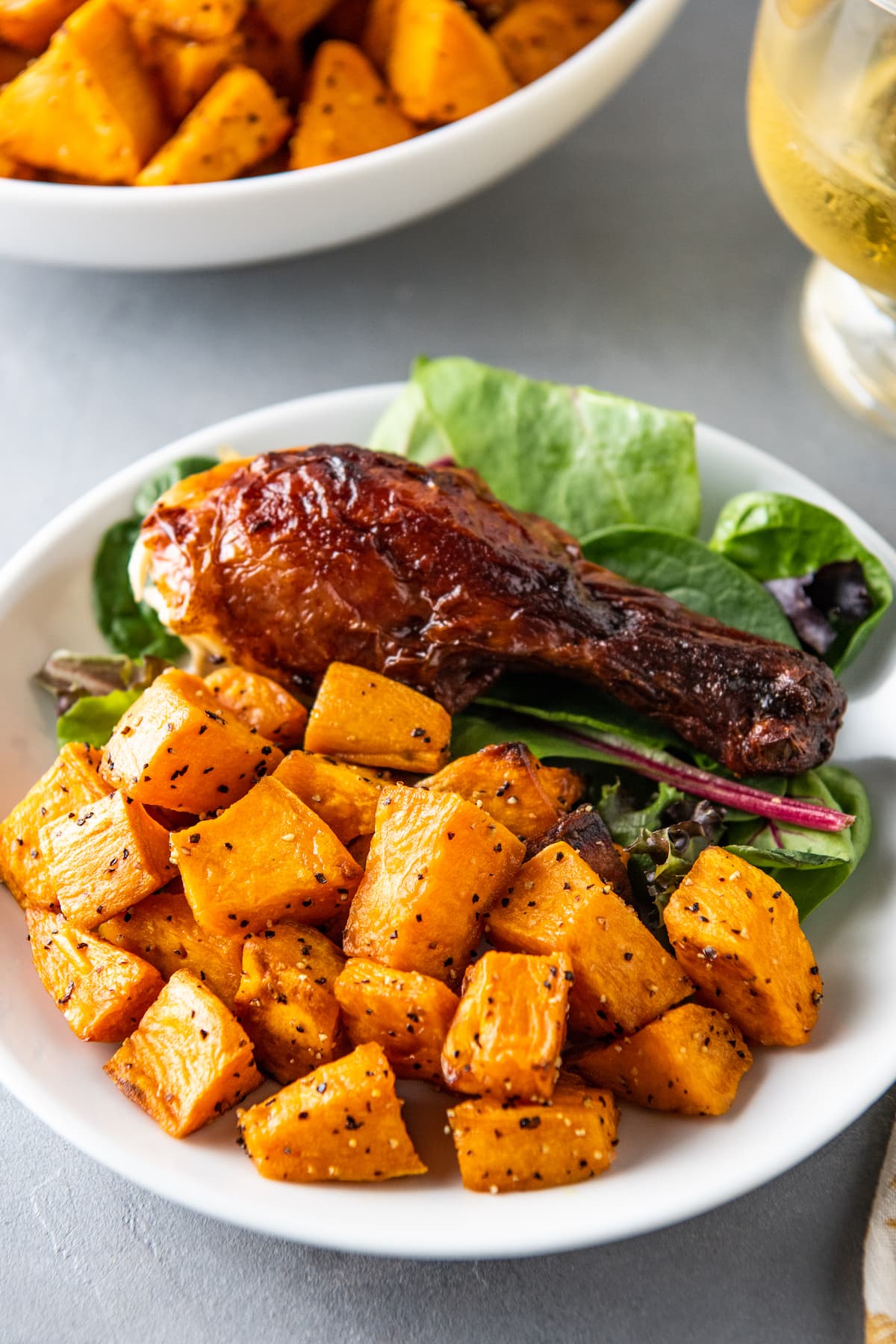 Are Sweet Potatoes Healthy?
Yes, we incorporated sweet potatoes into our meal planning regularly because they are very healthy!
They are naturally high in soluble and insoluble fiber, which promotes gut health. Plus, they have cancer-fighting antioxidants.
Additionally, they are high in beta-carotene which we all know helps our eyesight. It also helps build a strong immune system so we can fight off all the seasonal colds!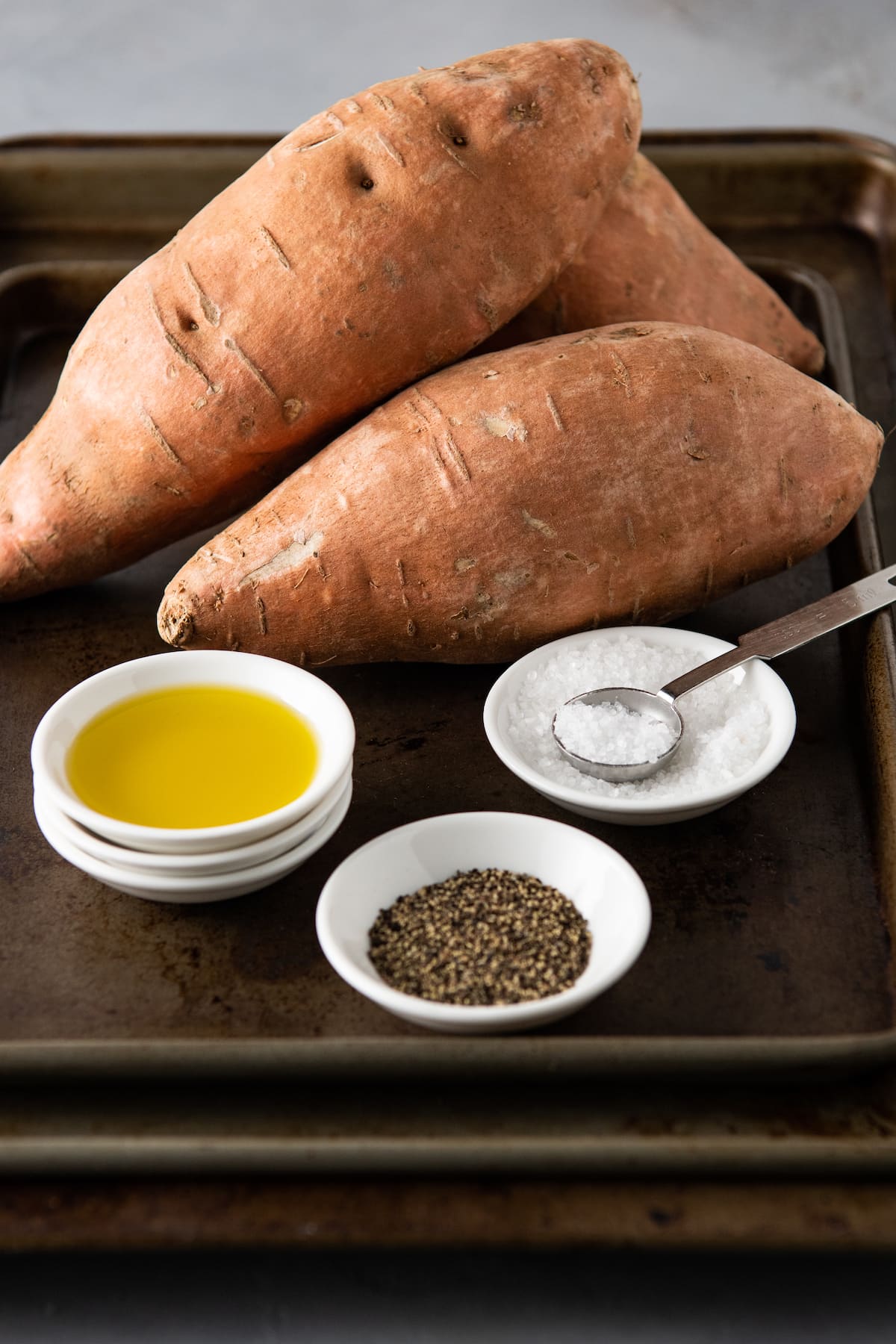 What You'll Need
The list is really short and sweet because you only need 4 ingredients for this recipe.
Sweet Potatoes: You can also use yams for this recipe, too.
Salt and Pepper: The only seasoning you need!
Olive Oil: We like the rich flavor of olive oil for roasting vegetables. But you can also use a different cooking oil if that's all that you have. Sunflower and avocado oil work well.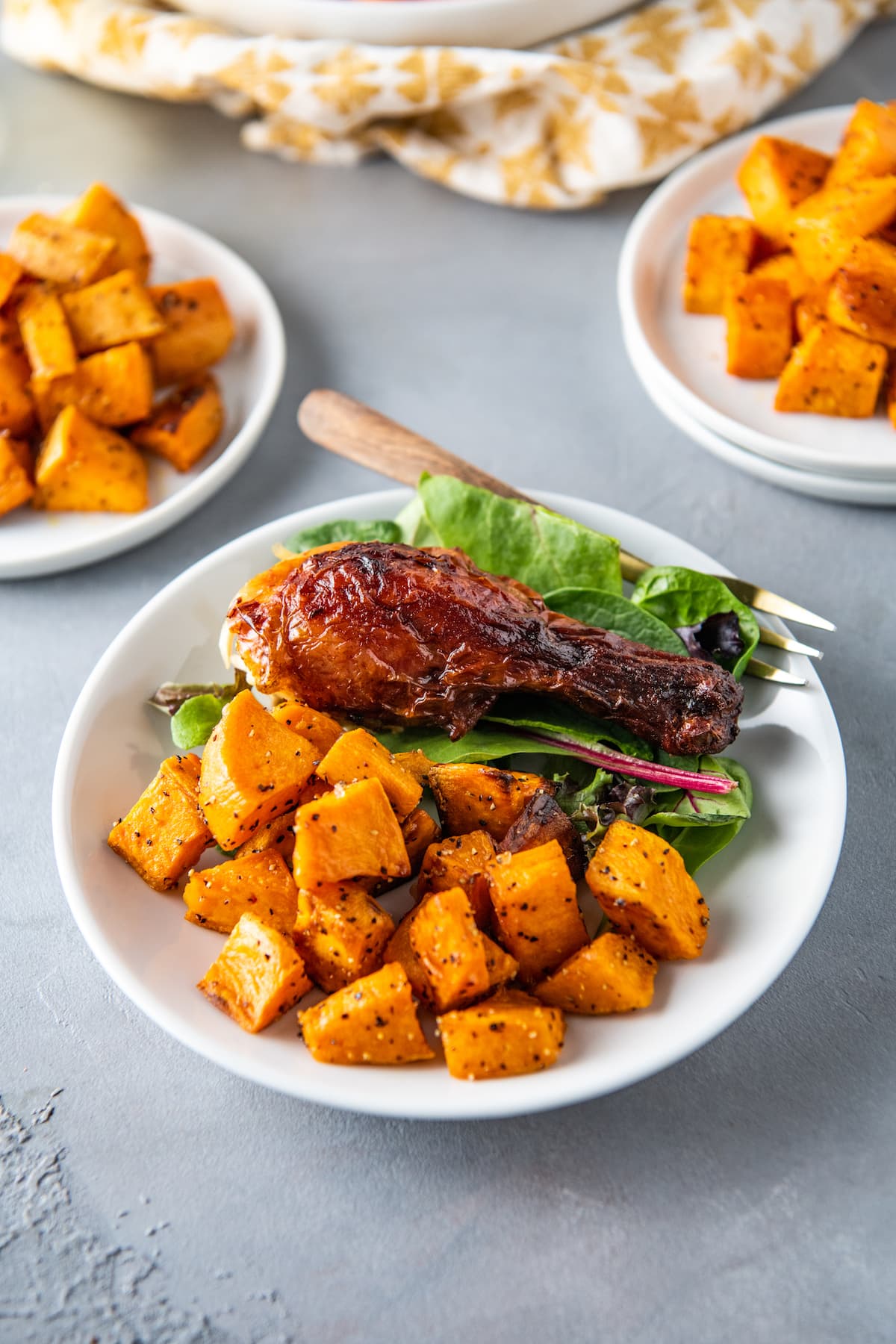 How to Make Roasted Sweet Potatoes
Here are the simple steps for making this recipe.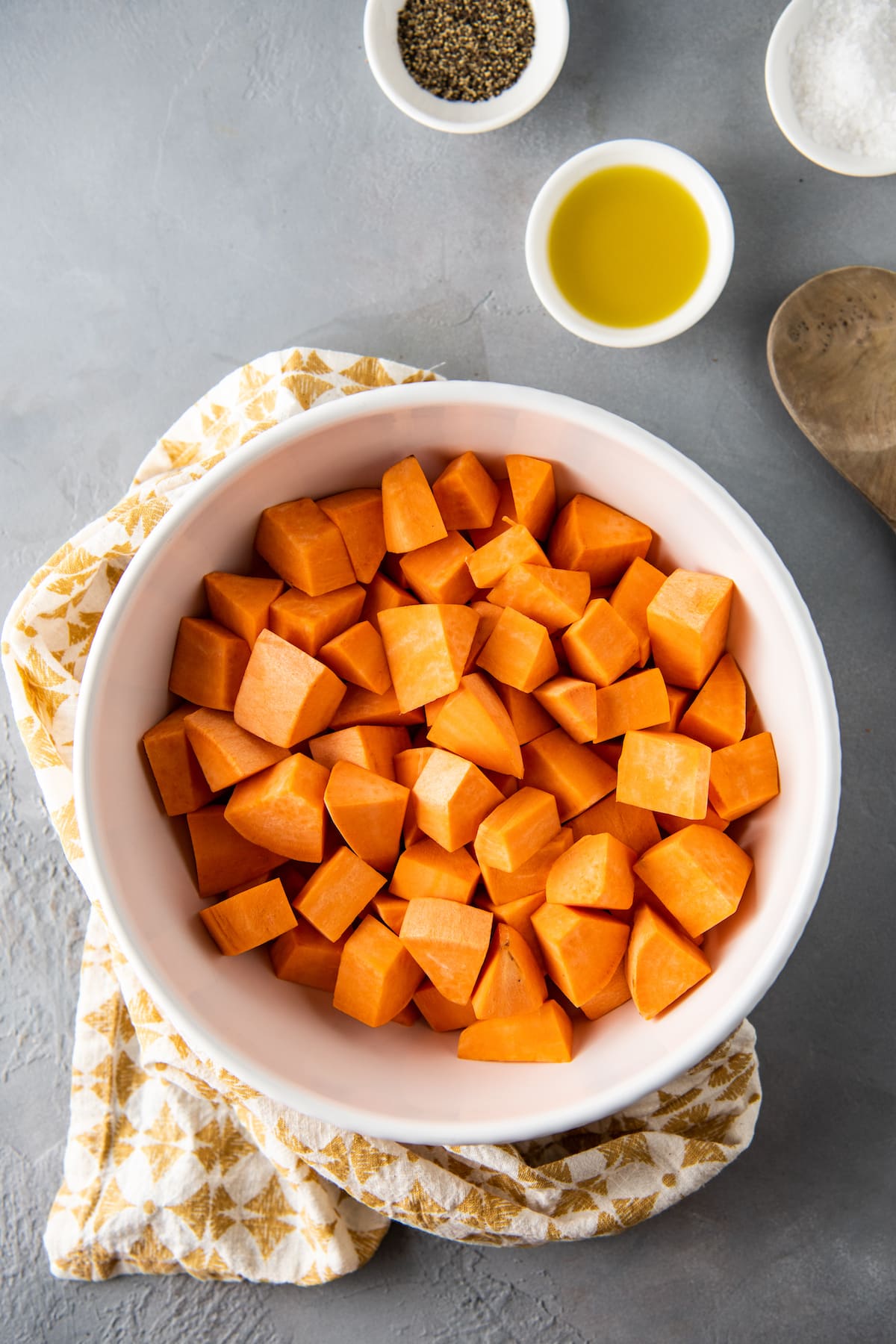 Peel and cut up the sweet potatoes. You'll want to cut them to be the same size so that they cook evenly.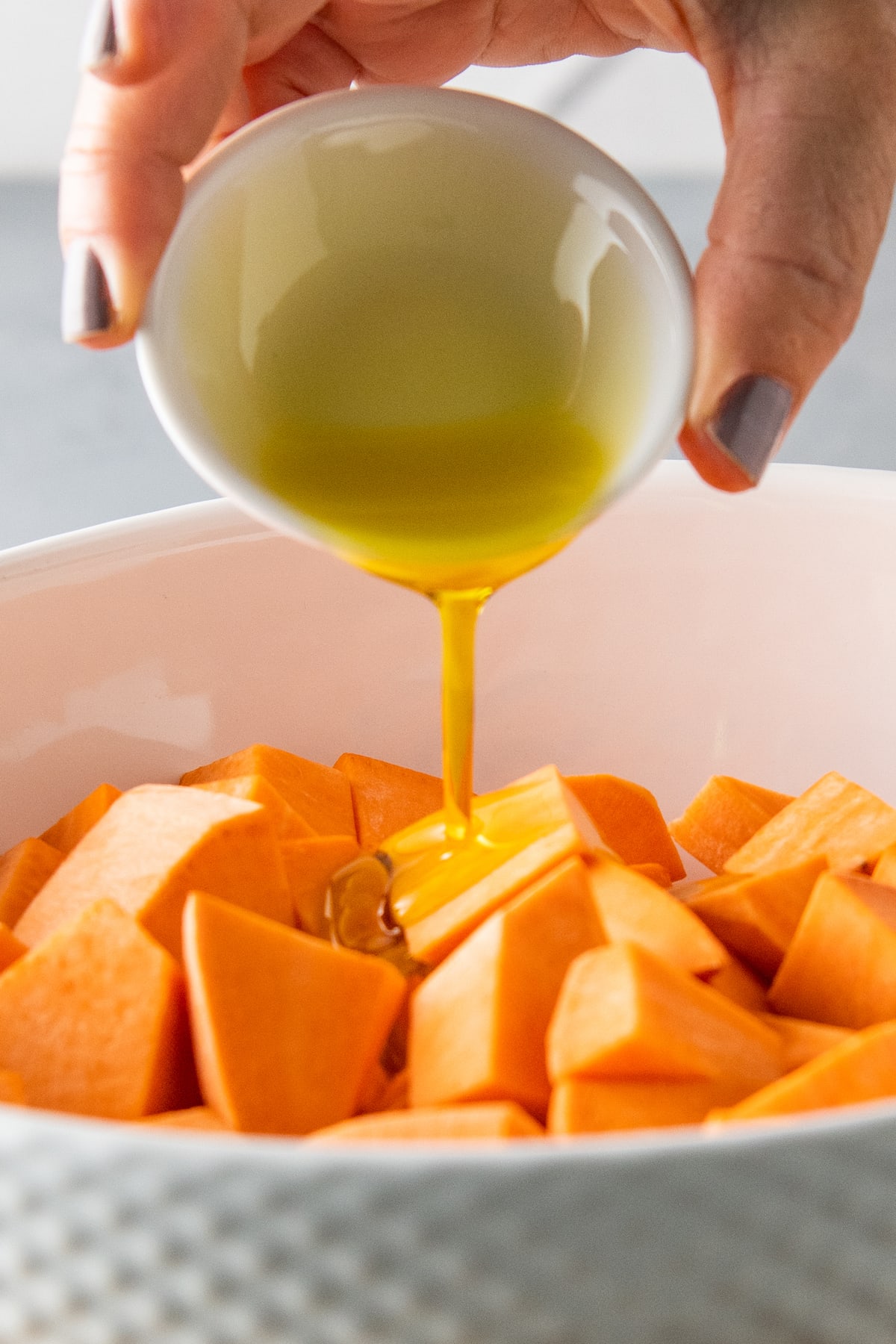 Next, you'll season the cut-up sweet potatoes. Toss the sweet potatoes with salt, pepper, and olive oil.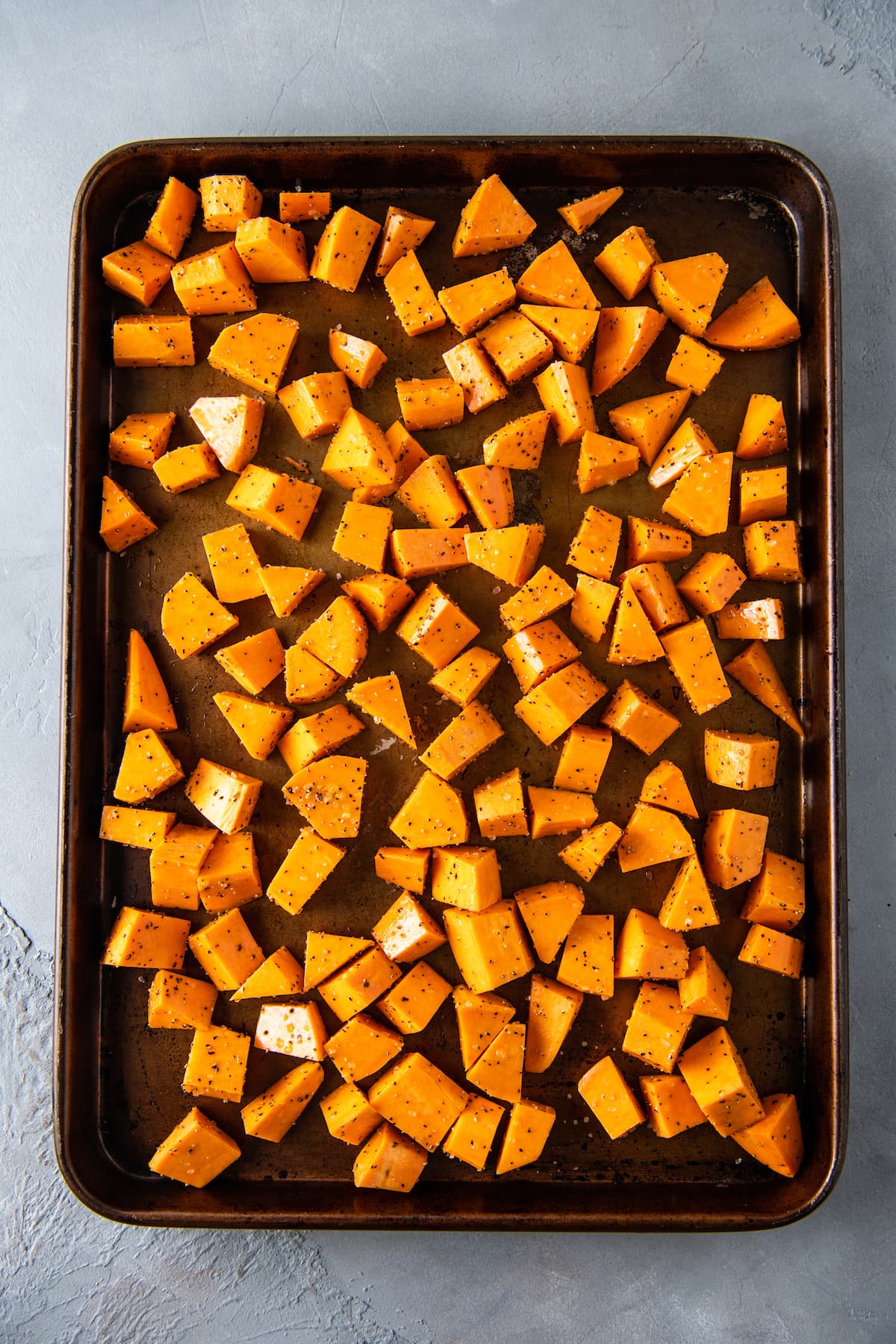 Then lay the sweet potatoes flat on a sheet tray. You can use parchment paper or foil to line the tray so that cleanup is easier.
Roast the sweet potatoes. Cook them until they are tender and the edges start to brown.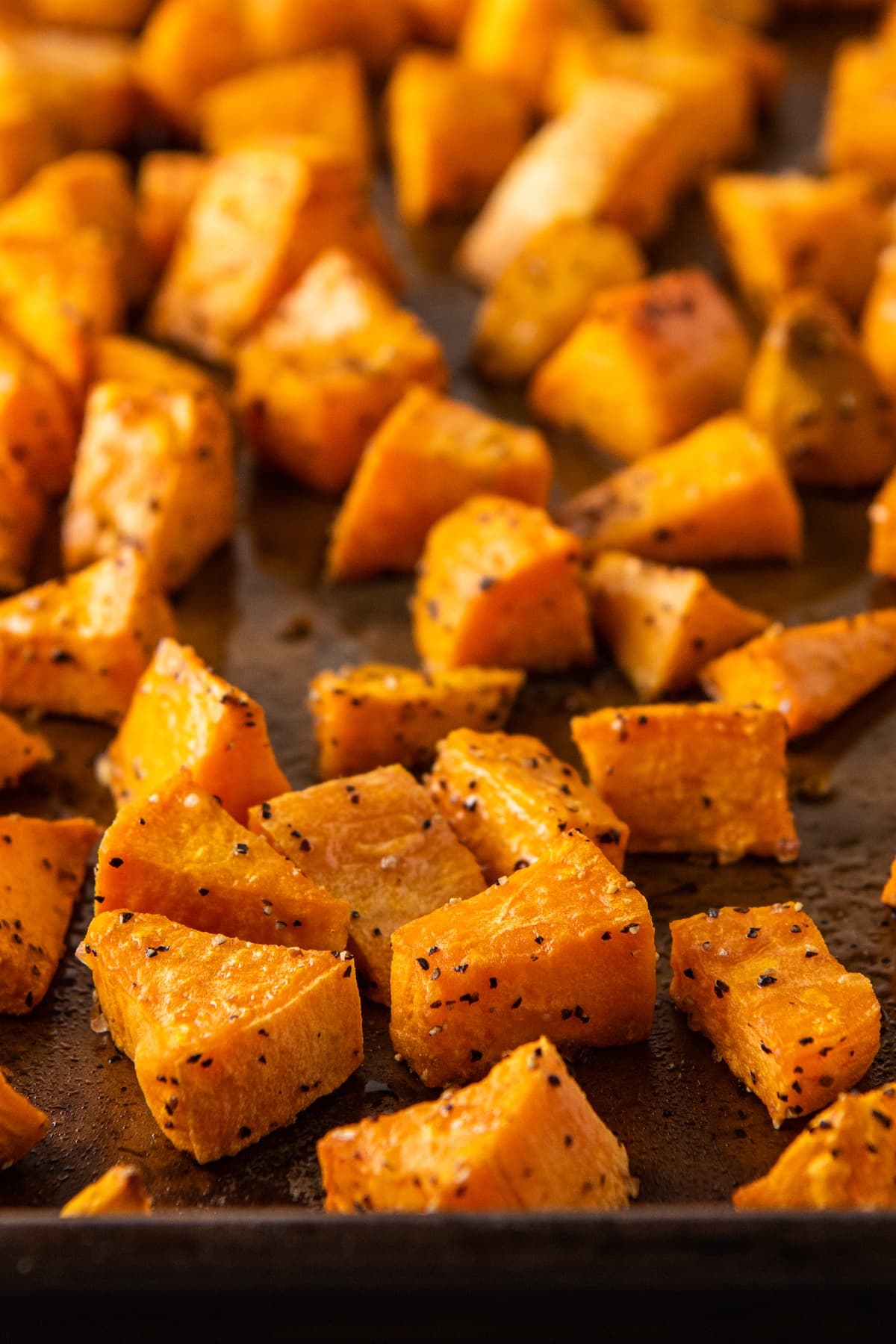 Tips & Variations
A few things to keep in mind when making this recipe:
Cut the sweet potatoes into equally sized pieces. This way they will cook evenly.
Use parchment paper or foil for easy cleanup. Line the tray with foil or parchment paper first and then scatter the sweet potatoes evenly on the sheet tray.
Add other seasonings. You could add some other spices like cumin, smoked paprika, cinnamon, chili powder, or Cajun Seasoning for more flavor.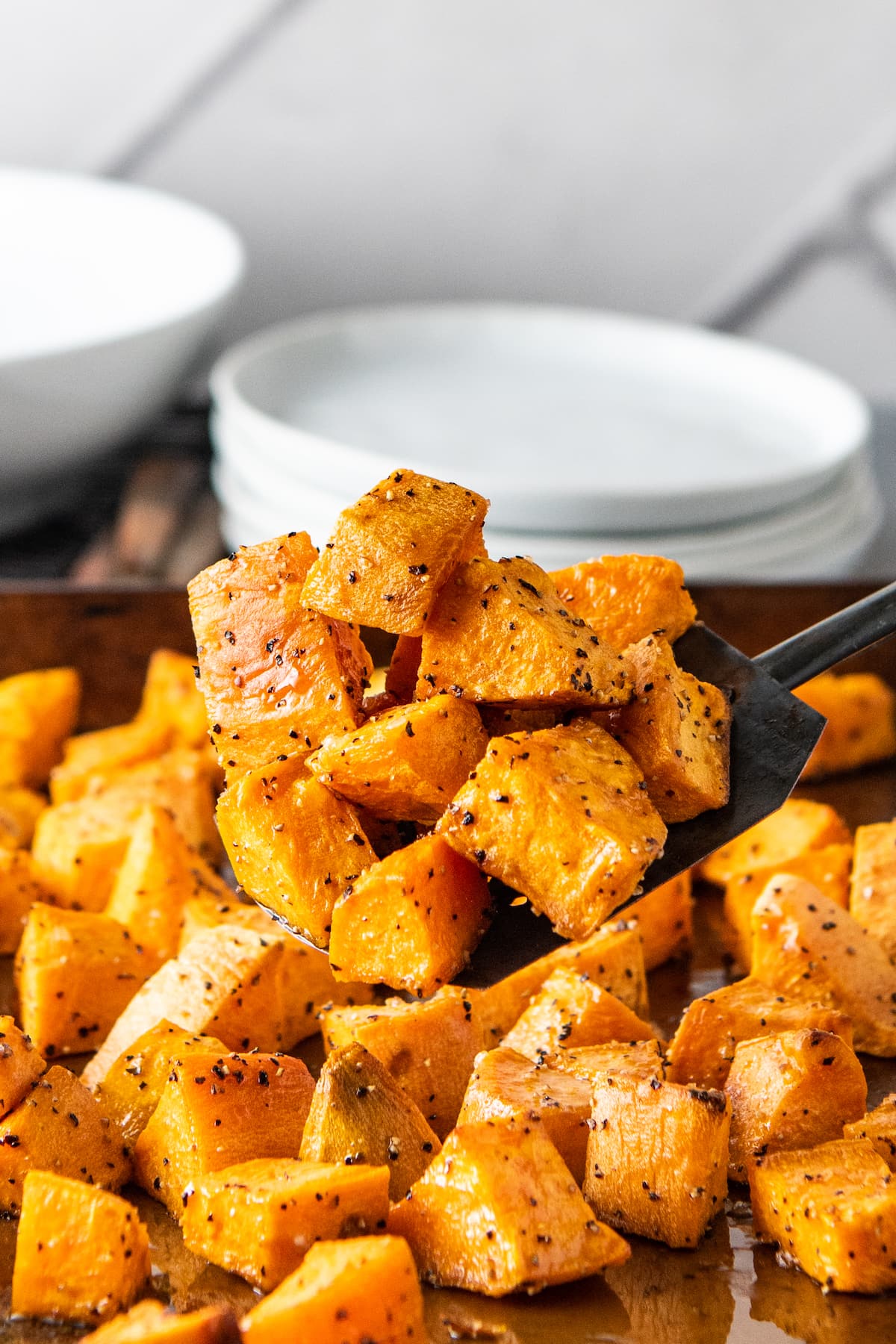 What to Serve with Baked Sweet Potato Cubes
Honestly, the options are endless! But here are some of our favorite ways to enjoy these Roasted Sweet Potatoes.
For breakfast: You can serve these sweet potatoes alongside a fried egg and some toast for a well-rounded breakfast.
Add them to a salad: Toss them into your favorite salad for added flavor and health benefits. We love adding them to our Shaved Brussels Sprout Salad.
Serve alongside your favorite protein: Roasted Chicken, Shredded Beef, and Pan Fried Pork Chops are great options to try.
Use them as a vegetarian taco filling. Swap out your normal protein with these roasted sweet potatoes for a fibrous taco filling.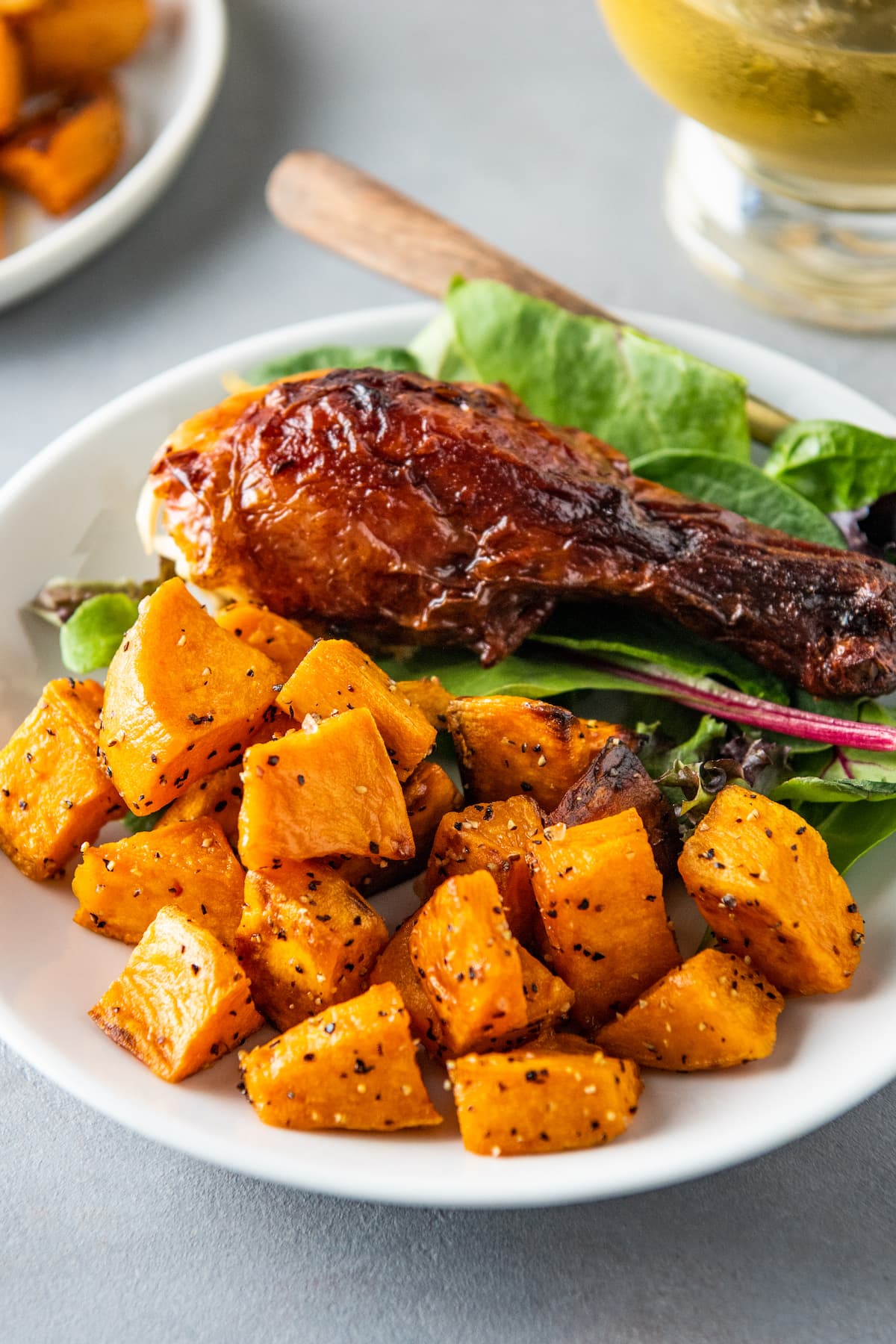 How to Store & Reheat Leftovers
Leftover Roasted Sweet Potatoes are best stored in an airtight container. You can keep them in the fridge for up to 5 days.
Then you can reheat them in the microwave for a few minutes or even use an air fryer. Honestly, you can also eat them cold and they are still really tasty! We add them chilled right into our salads and it's delicious.
Can I Freeze This?
You can freeze Roasted Sweet Potatoes without a problem. We suggest freezing them on a sheet tray first and then placing them into containers or small bags for freezer storage.
Just be sure to thaw them before you reheat them in the microwave or air fryer.
More Sweet Potato Recipes
Roasted Sweet Potatoes
These perfectly tender and seasoned Roasted Sweet Potatoes are quick and simple. Using just salt and pepper, the potatoes taste amazing and it's a healthy side dish to add to breakfast, lunch, or dinner.
Ingredients
2

large sweet potatoes

,

peeled and cut into 1-inch pieces (about 2 ½ pounds)

3

tablespoons

olive oil

Salt and freshly cracked pepper

,

to taste
Instructions
Preheat oven to 400°F.

In a large bowl, toss potatoes, oil, salt, and pepper, until all the potatoes are coated.

Spread potatoes evenly on a rimmed baking pan. (Line baking pan with parchment paper, or foil, for easy clean up.)

Roast potatoes for 30 to 40 minutes, until tender and browned.
Notes
Storage: Leftover Roasted Sweet Potatoes are best stored in an airtight container. You can keep them in the fridge for up to 5 days.
Nutrition
Serving:
1
,
Calories:
172
kcal
,
Carbohydrates:
19
g
,
Protein:
2
g
,
Fat:
10
g
,
Saturated Fat:
1
g
,
Polyunsaturated Fat:
9
g
,
Sodium:
178
mg
,
Fiber:
3
g
,
Sugar:
6
g