This classic Beef Stew recipe takes just 10 minutes to prep and then it's slow-cooked on the stovetop. Tender beef, carrots, and potatoes simmer in a savory rich beef gravy to create the perfect bowl of comfort food.
Cozy & Comforting Beef Stew Recipe
Beef Stew brings a smile to everyone's face because it's warm, cozy, and comforting. It's a classic recipe that needs no updating because the ingredients speak for themselves. When you take the time to slow cook a meal it brings out the best of each and every ingredient. And that's why this Beef Stew recipe has been loved for so many years.
Beef Stew is also a relatively affordable meal, which is another reason it's been so popular for so long. Beef stew pieces are usually cut from the chuck roast which is one of the less expensive cuts of beef. This cut can be quite tough if you were to cook it quickly. But when it's slow-cooked, it comes out perfectly tender and delicious.
The vegetables added are also easy to come by. You'll always be able to find fresh carrots, potatoes, and peas at the grocery store any time of year. This recipe is quick to prep and then you simply let it simmer on the stovetop. The results are a rich and hearty stew that will warm you from the inside out!
Love beef stew, but don't have time to make it on the stove top? Try these great recipes for Instant Pot Beef Stew or Crockpot Beef Stew!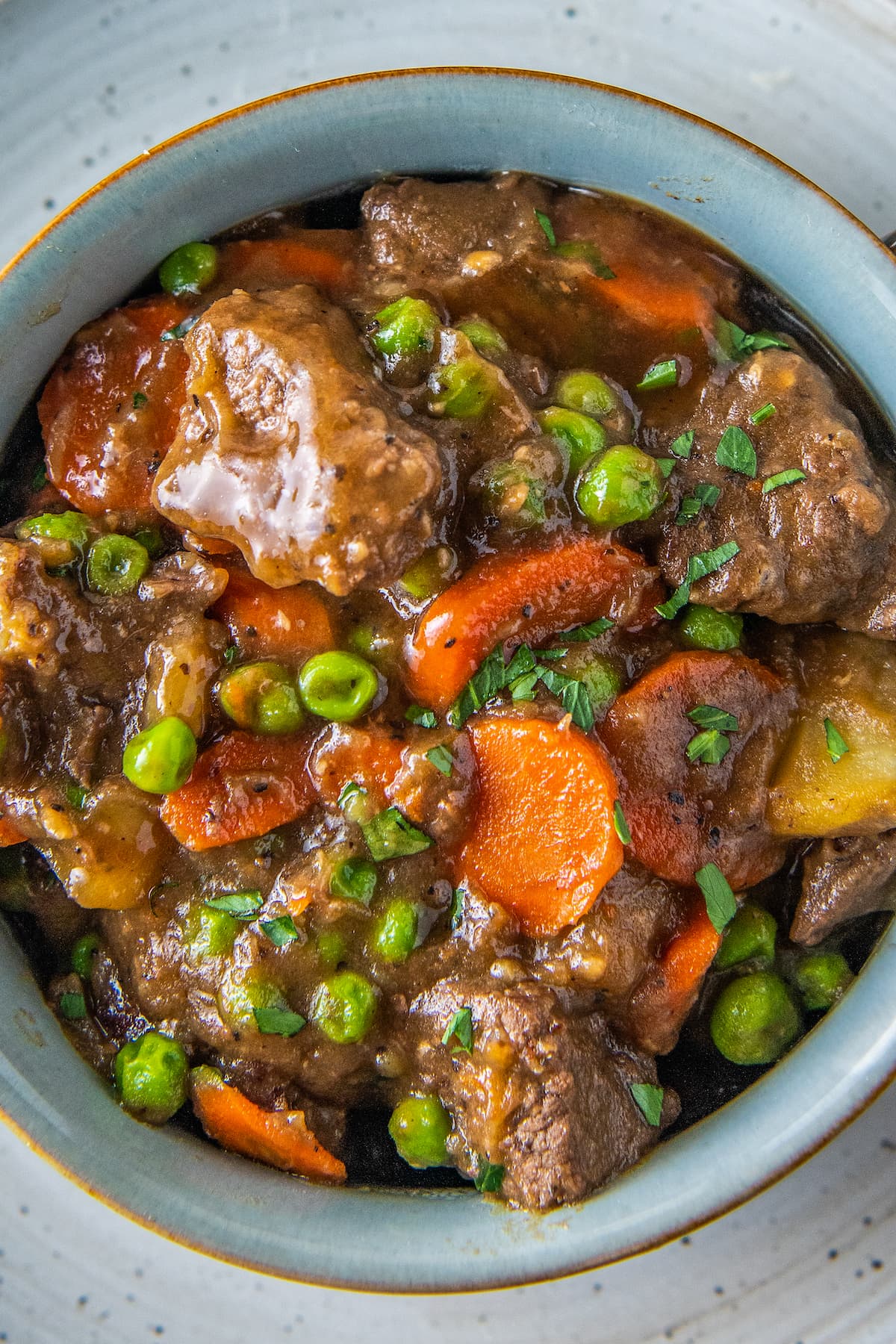 Why You'll Love This Stovetop Beef Stew
This recipe has been a family favorite for years. Here are a few reasons why we love this classic meal so much.
It takes 10 minutes to prep. It may take a long time to cook, but it only takes about 10 minutes to get this recipe going.
You only need one pot to make the stew. There won't be a lot of pots and pans to clean because you cook everything in one large pot.
It's hearty and healthy. This recipe will fill you up (in a good way!) with its wholesome fiber-filled ingredients like carrots and potatoes. Not to mention, the iron-rich chunks of beef.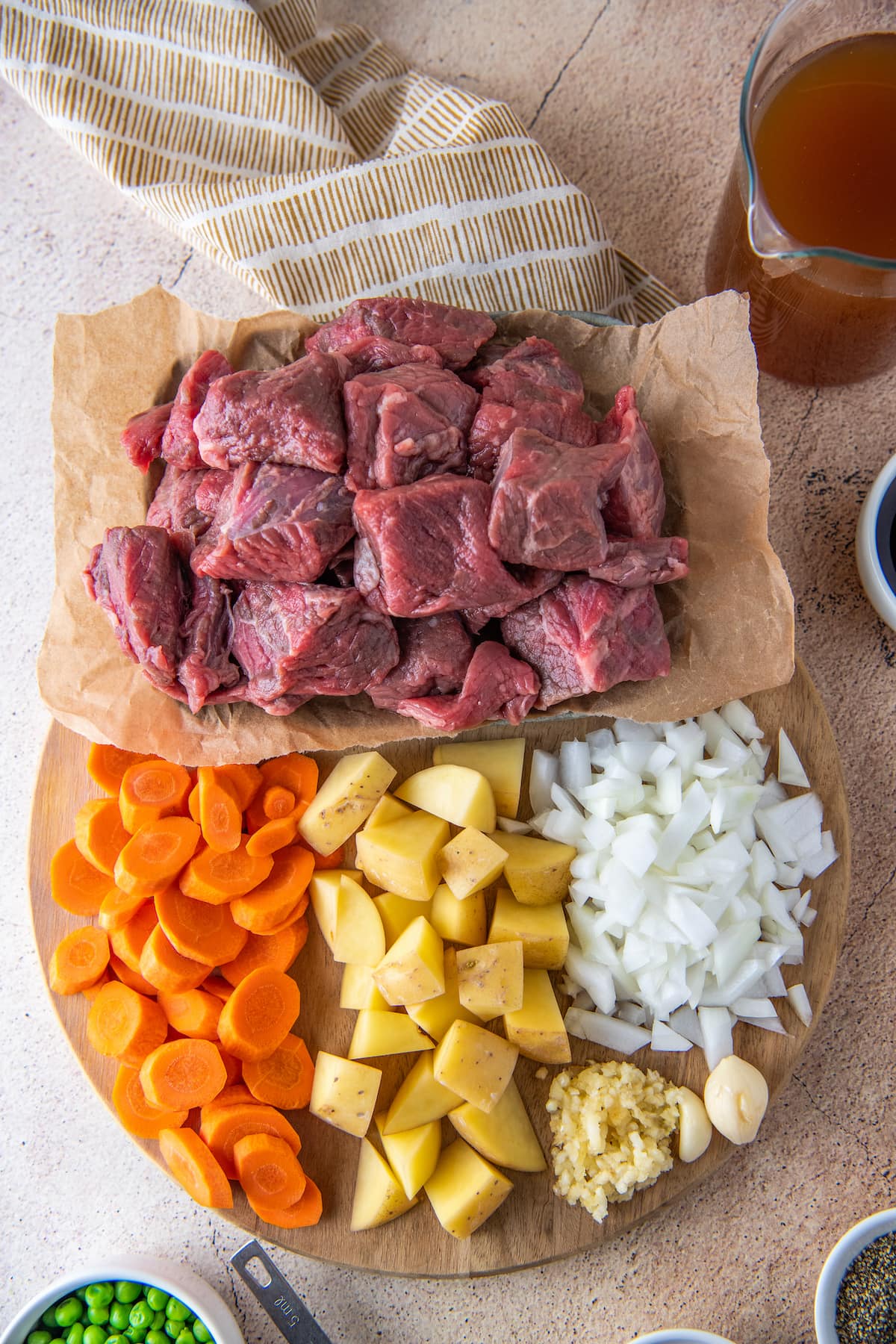 Recipe Ingredients
Here is what you need to make Beef Stew. The exact amounts for each ingredient can be found in the recipe card at the bottom of this page.
Beef Stew Meat: You should be able to find stew meat cut up and pre-packaged in your meat department.
Salt & Pepper: To season the beef before searing.
Cooking Oil: Use whatever you have on hand.
Yellow Onion: You could also use white or sweet onions.
Garlic: Always use fresh garlic for this recipe.
Beef Broth: Vegetable or chicken broth can work, but we suggest beef broth for the best flavor for this dish.
Red Wine: Use a little more beef broth if you don't want to cook with red wine
Beef Boullion: This will add depth to the gravy.
Worcestershire Sauce: The sauce will add flavor and saltiness to the stew.
Yukon Potatoes: We like the buttery texture of Yukon potatoes. Red potatoes would also work.
Sliced Carrots: Buying whole carrots will have the best flavor, but you can also use baby or pre-cut carrots.
Sweet Peas: Frozen peas are fine to use. They add a little sweetness and color to the dish.
Cornstarch: You will only need this if you need to thicken the gravy by making a slurry.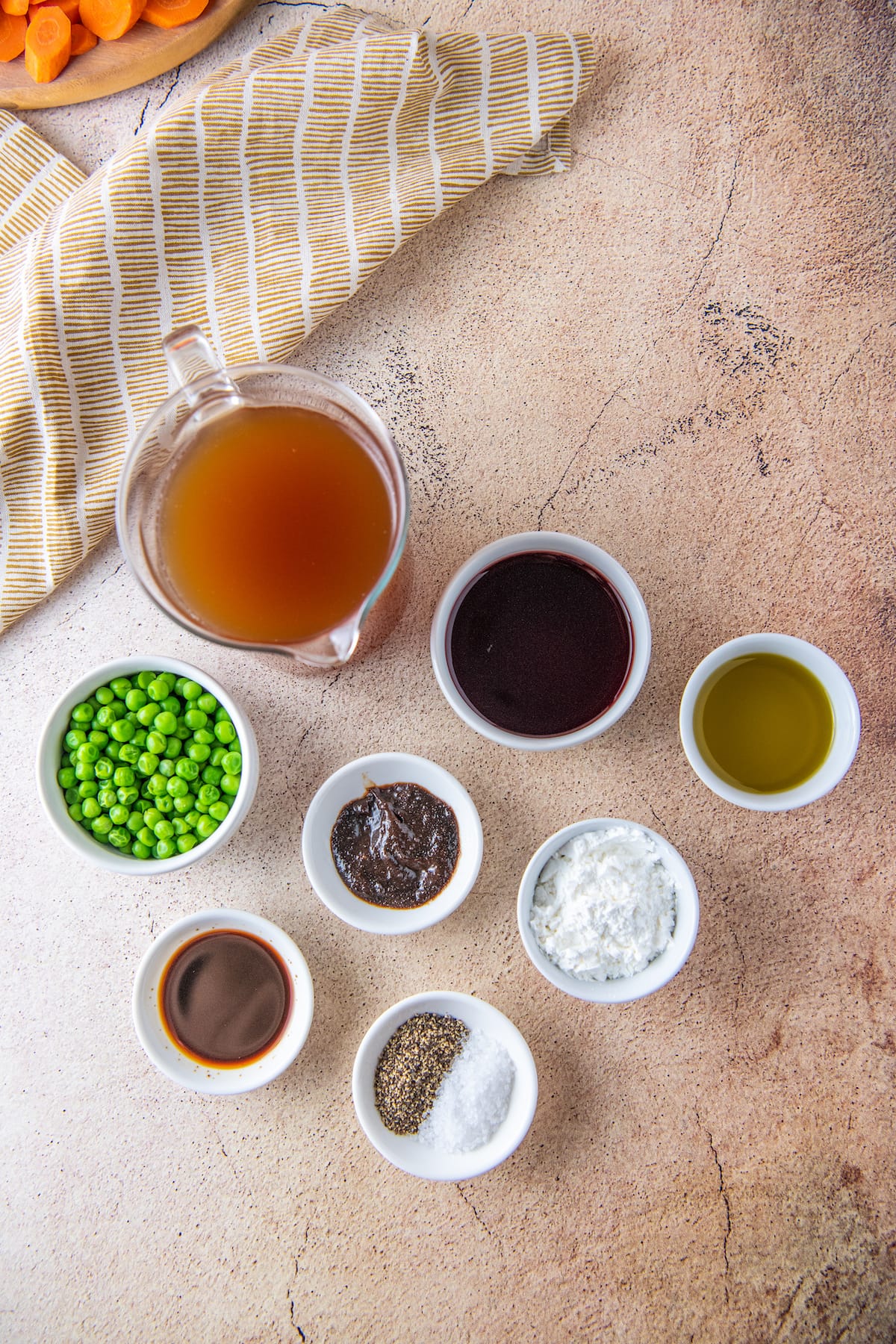 How to Make Beef Stew
The steps for this recipe are pretty simple. Give yourself about 10 minutes to prep everything. Let's get started!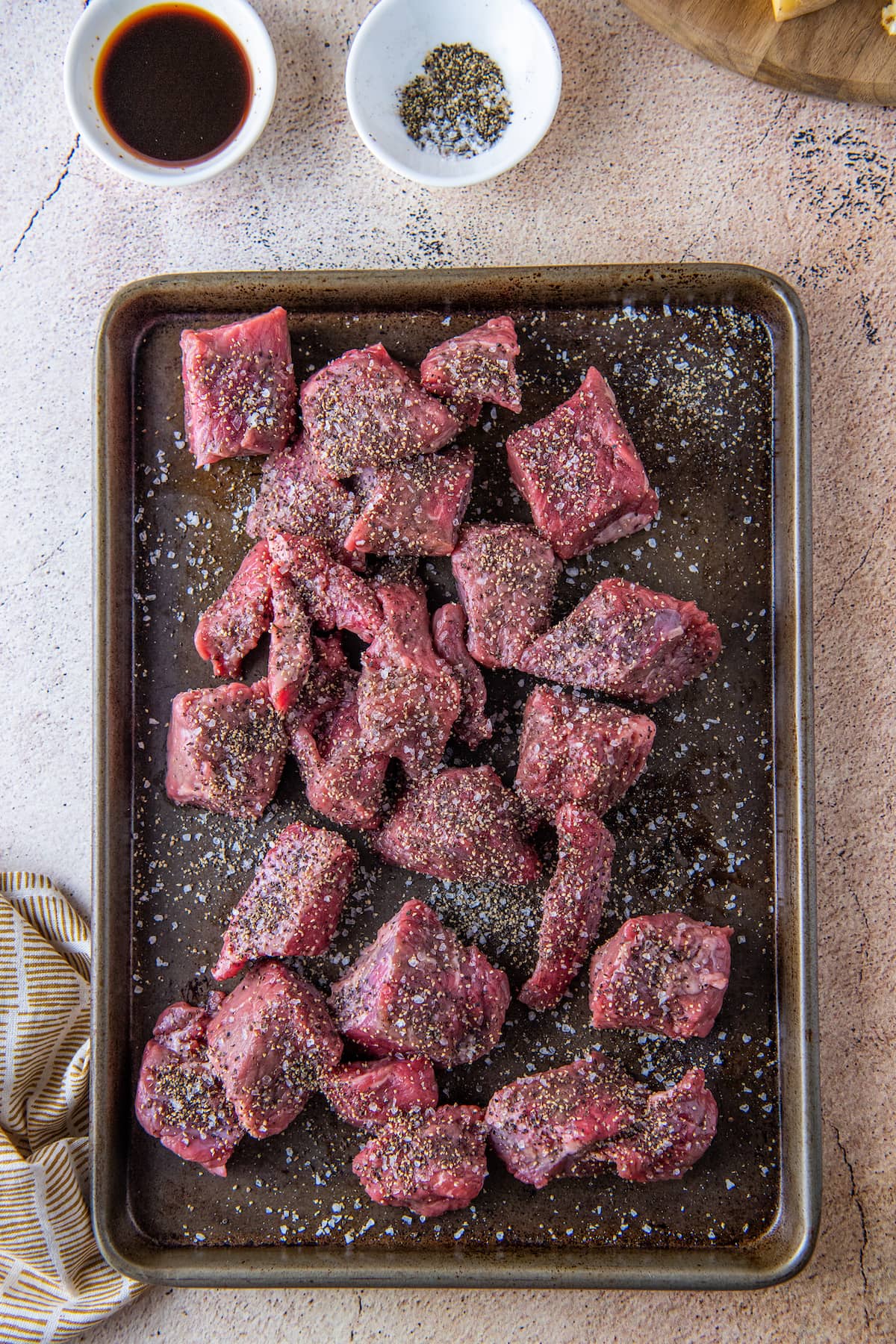 First, season and sear the beef. It's a good idea to let the meat come to room temperature before doing this if you have the time.
Next, add the onions and garlic. Cook the onions and garlic with the beef for about 2 minutes.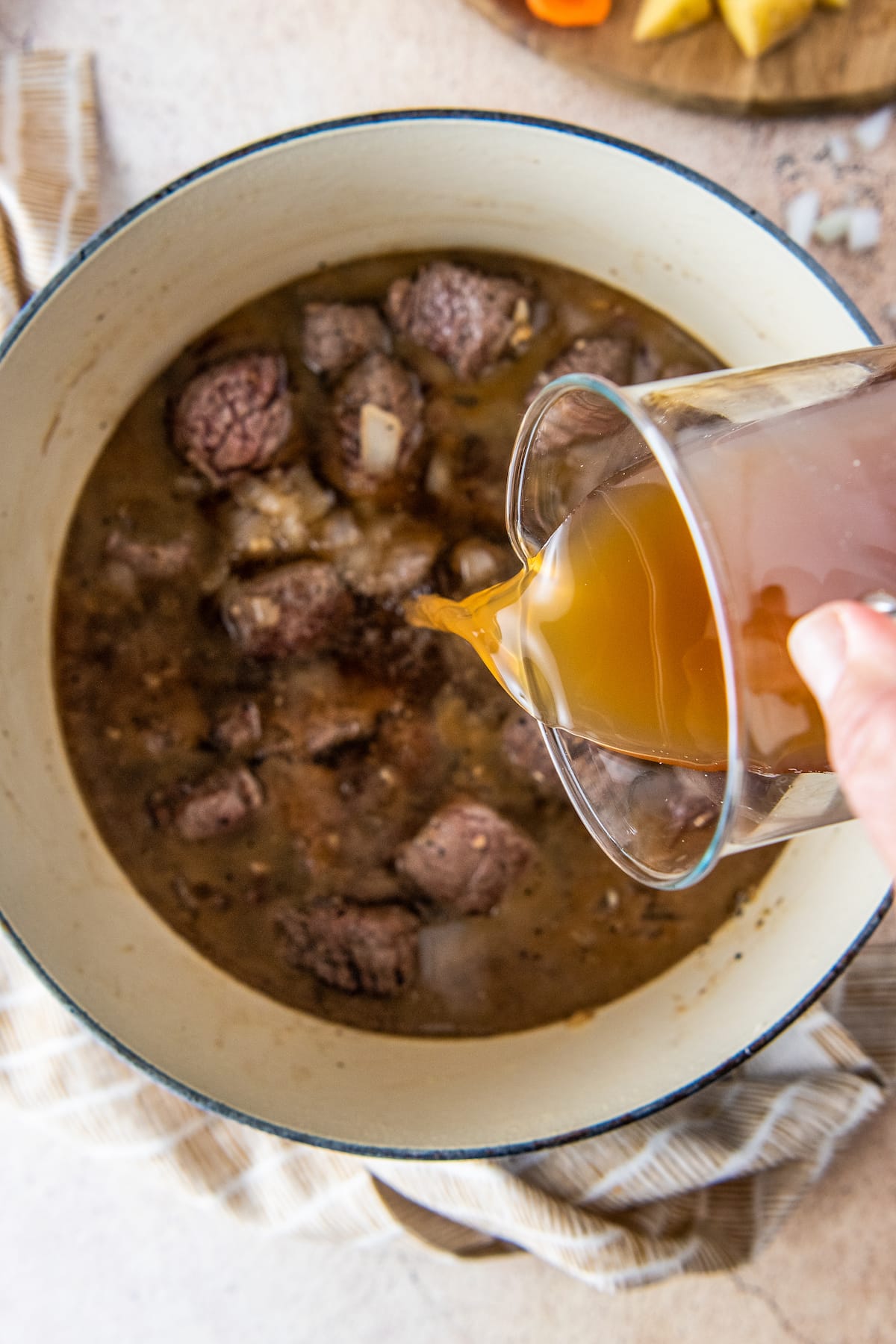 Add the liquids. Then add the beef broth, Worcestershire sauce, and red wine. Bring the liquids to a simmer and let everything cook for about 90 minutes. Be sure to keep an eye on it and stir occasionally.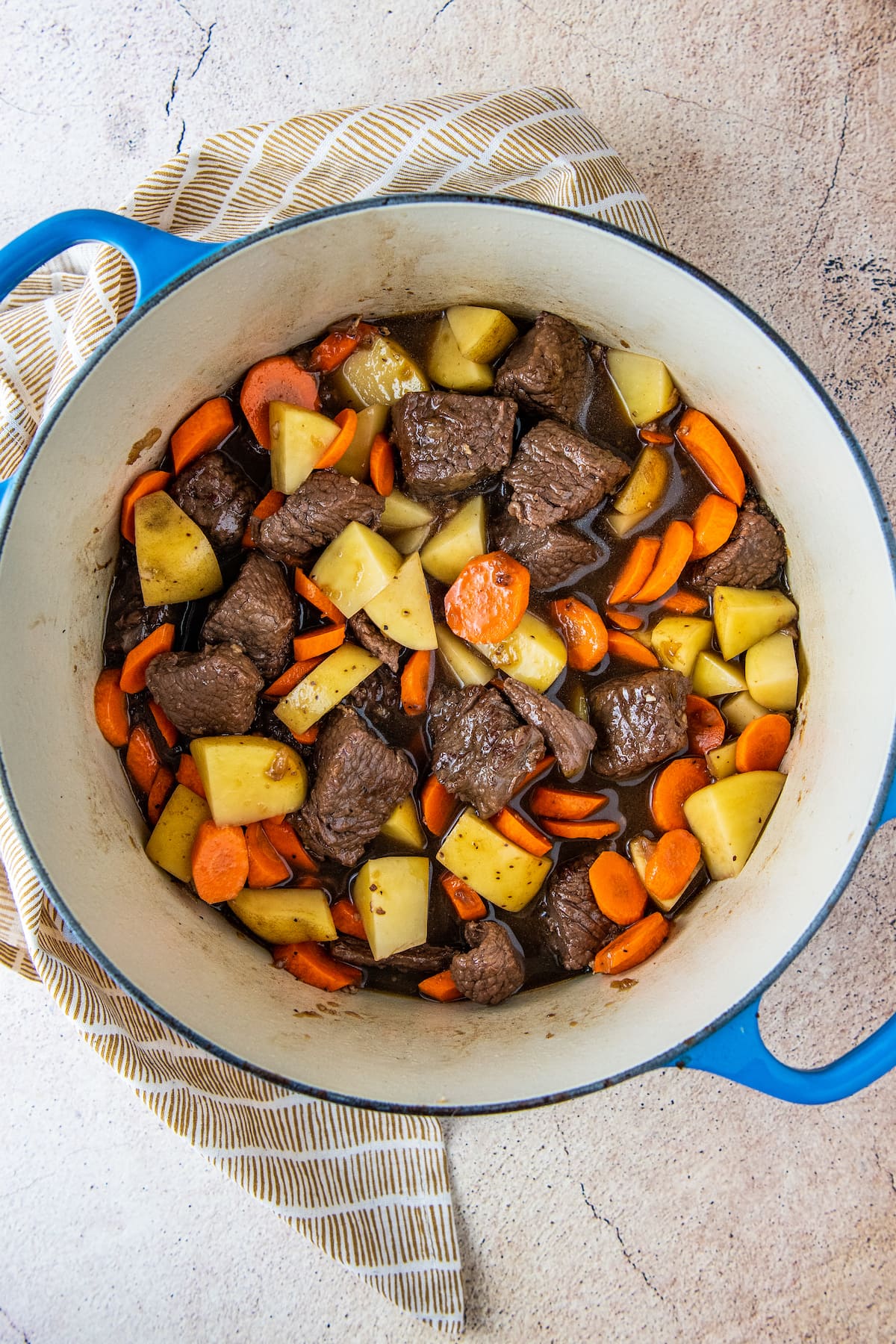 Add the carrots and potatoes. And simmer for another 30 minutes.
Finally, add the peas last. It's time to add the peas once the potatoes are tender. The stew is ready once the peas are cooked. Ladle and enjoy!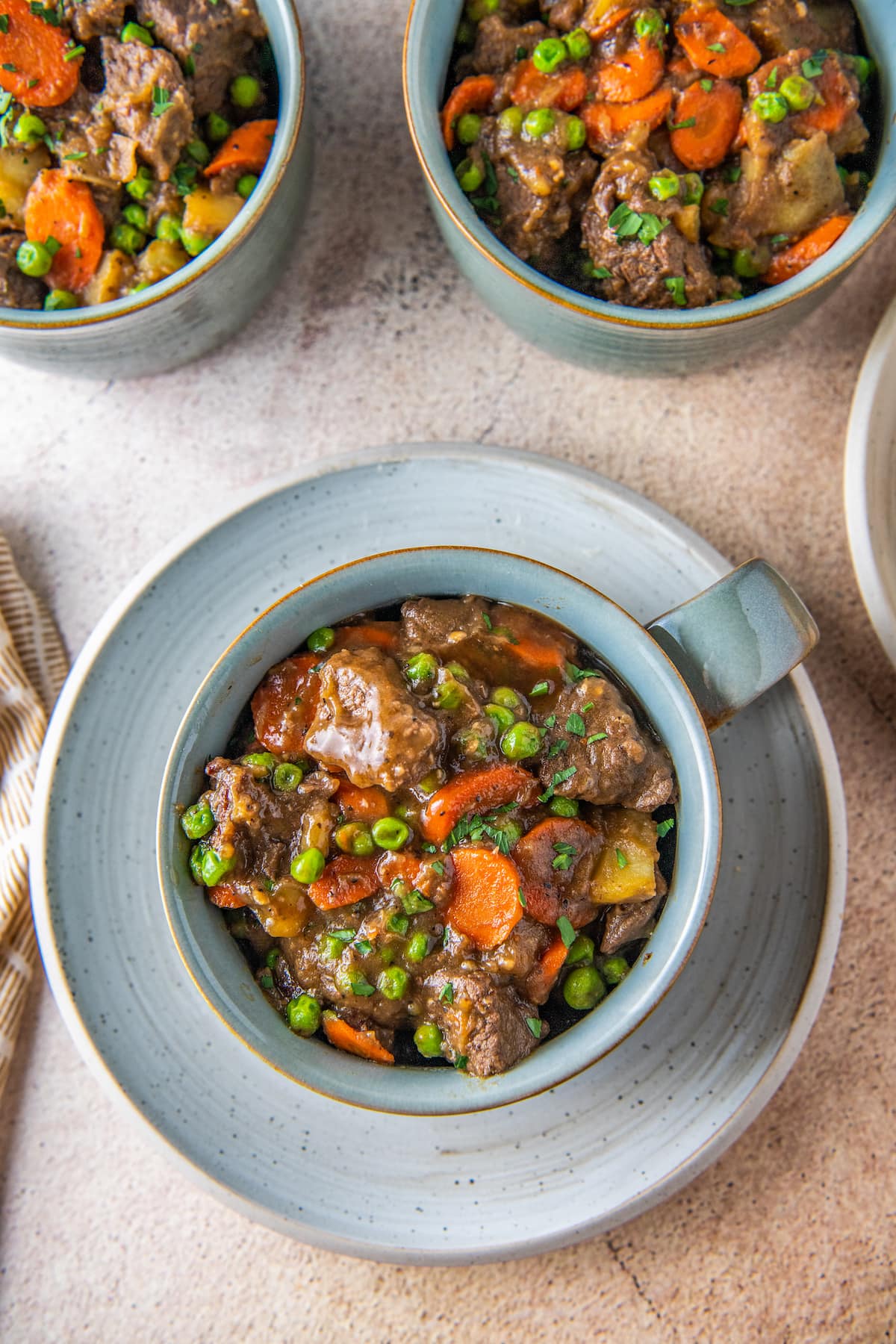 Tips & Variations
Making Beef Stew is a labor of love. Here are a few things to keep in mind when making this family favorite.
Let the meat come to room temperature first. Letting the meat sit at room temperature for about 20 minutes before searing will take the chill off and will help the meat cook nice and tender.
Deglaze as you're pouring the liquids in. When you add the beef broth it's the best time to use that liquid to scrape up any bits of beef or vegetables that have stuck to the bottom of the pan. It will add to the overall flavor of the gravy.
Add more broth if needed. Add more broth as necessary while it simmers. As the stew cooks the broth begins to thicken. If you do not want the gravy to be too thick add the broth a little at a time.
Don't rush the recipe! It's important that the meat cooks slowly. That's how it becomes so tender.
Use a slurry if you want to thicken the gravy. To make a slurry, use 1 tablespoon of cornstarch and 2 tablespoons of water, whisk together, and pour into the beef stew. Continue to simmer the stew, stirring occasionally, for 5 minutes, until thickened.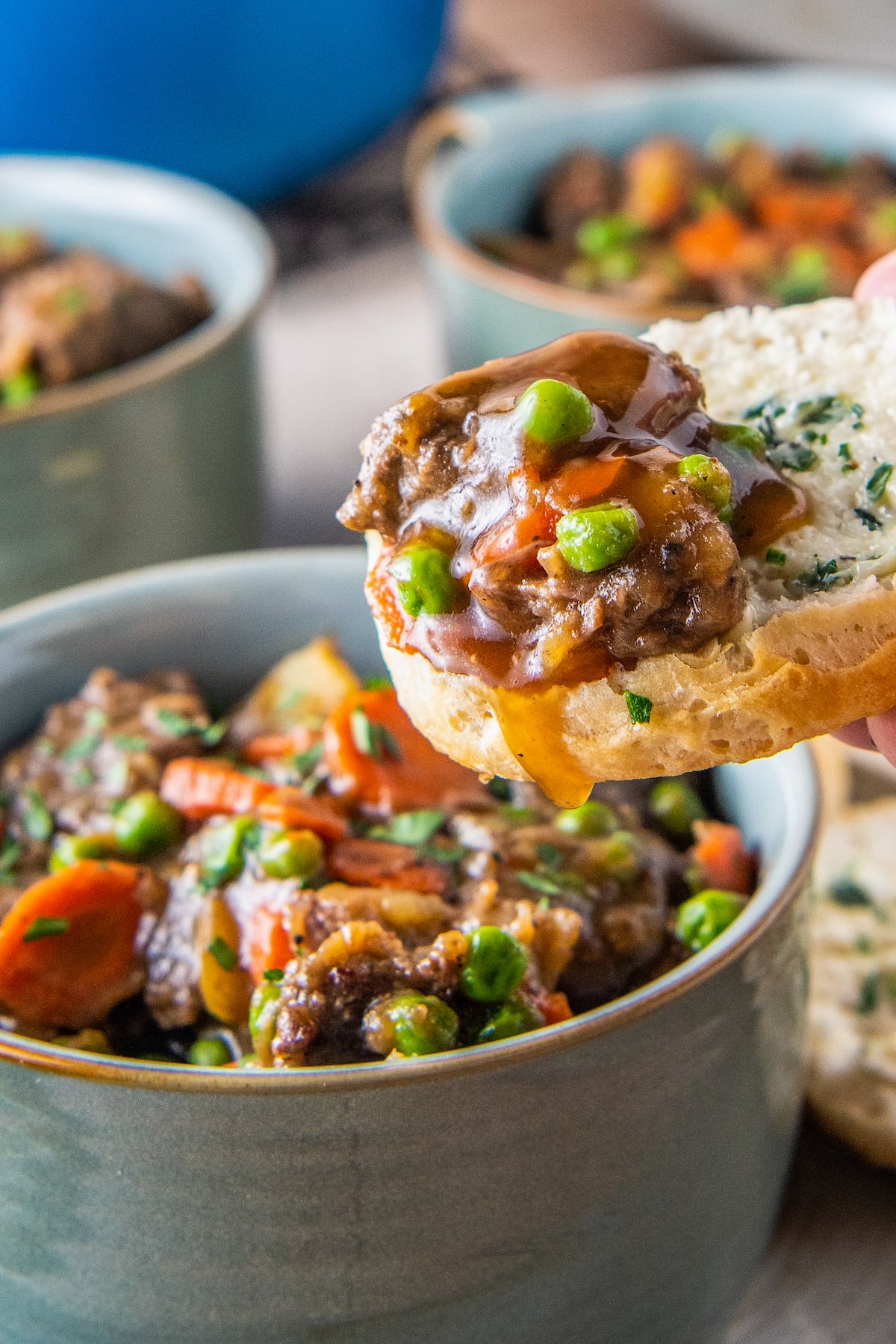 What To Serve with Homemade Beef Stew
Below you'll find a few of our favorite side dishes to serve with Beef Stew. It can be enjoyed on it's own, but we like to add a few things so that it's a well-balanced meal.
Biscuits or Rolls:

Have you tried our

Herb Air Fryer Crescent Rolls

yet? You won't be disappointed! These light and buttery rolls pair perfect with Beef Stew.

Salad: A side salad doesn't need to be anything fancy. You could just toss some spring mixed greens with your favorite dressing. Or you could go all out and try making our Shaved Brussels Sprouts Salad.
Your Favorite Quick Bread: The kids love when we make beer bread or cornbread to go with beef stew, something about the slightly sweet and savory.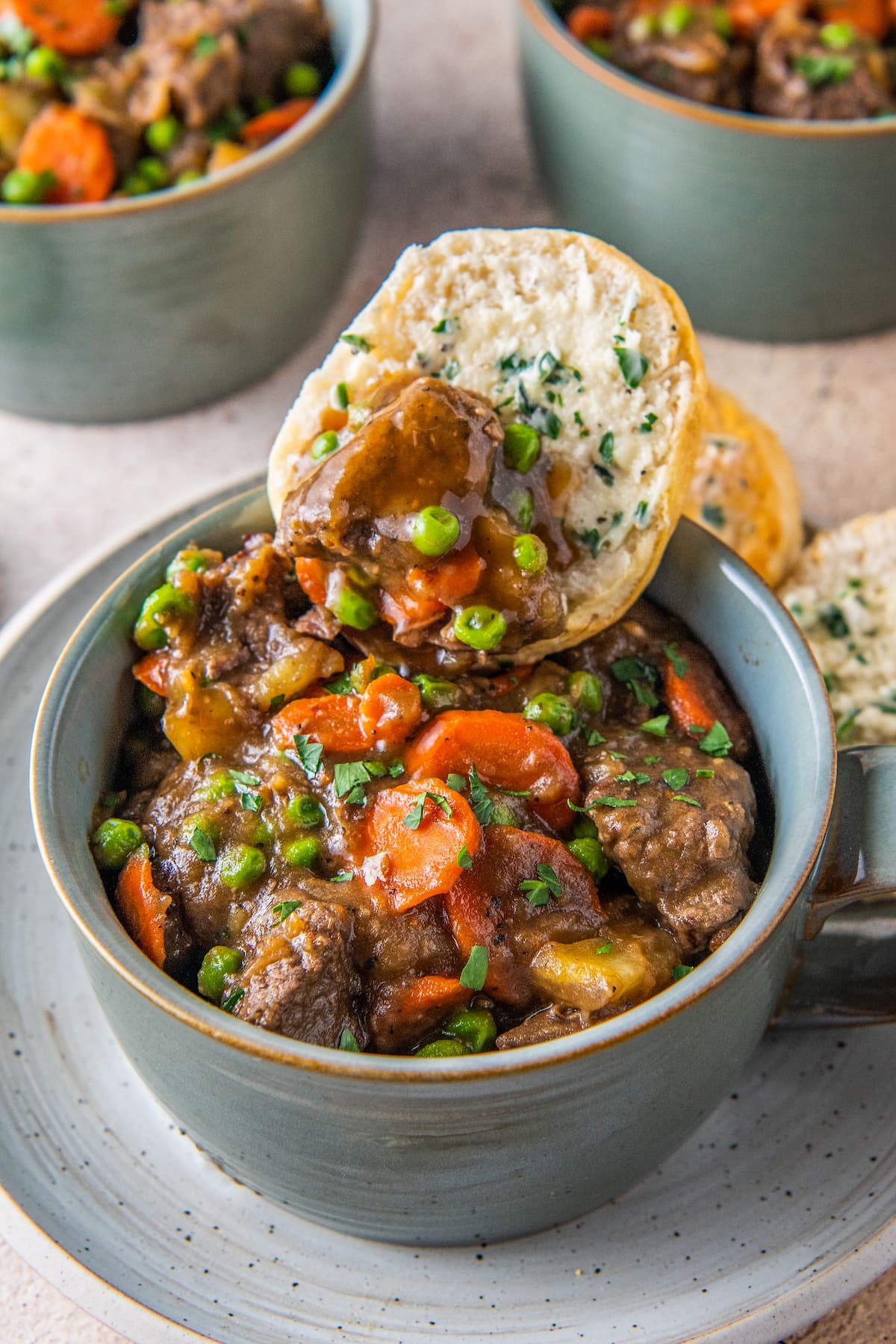 How to Store & Reheat Leftovers
You can store any leftovers in an airtight container for up to 5 days. You can scoop out the portion that you would like to reheat and then heat it up on the stovetop or in the microwave.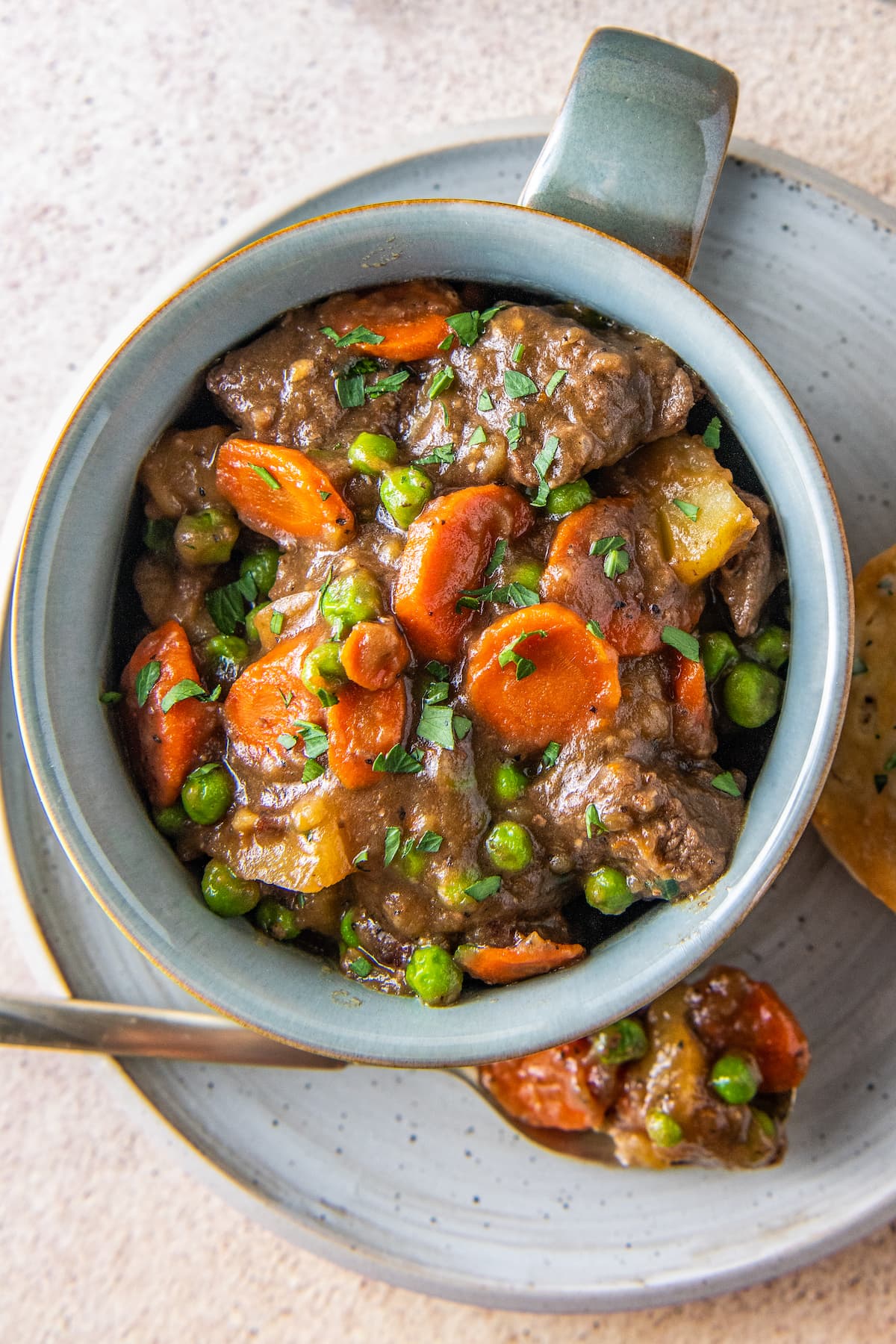 Can I Freeze Homemade Stew?
Yes you can freeze the leftovers! Freeze the leftovers in an airtight container for up to 3 months. It's best to transfer the stew 24 hours before you want to serve it again to the fridge to thaw. Then you can reheat on the stove top or in the microwave.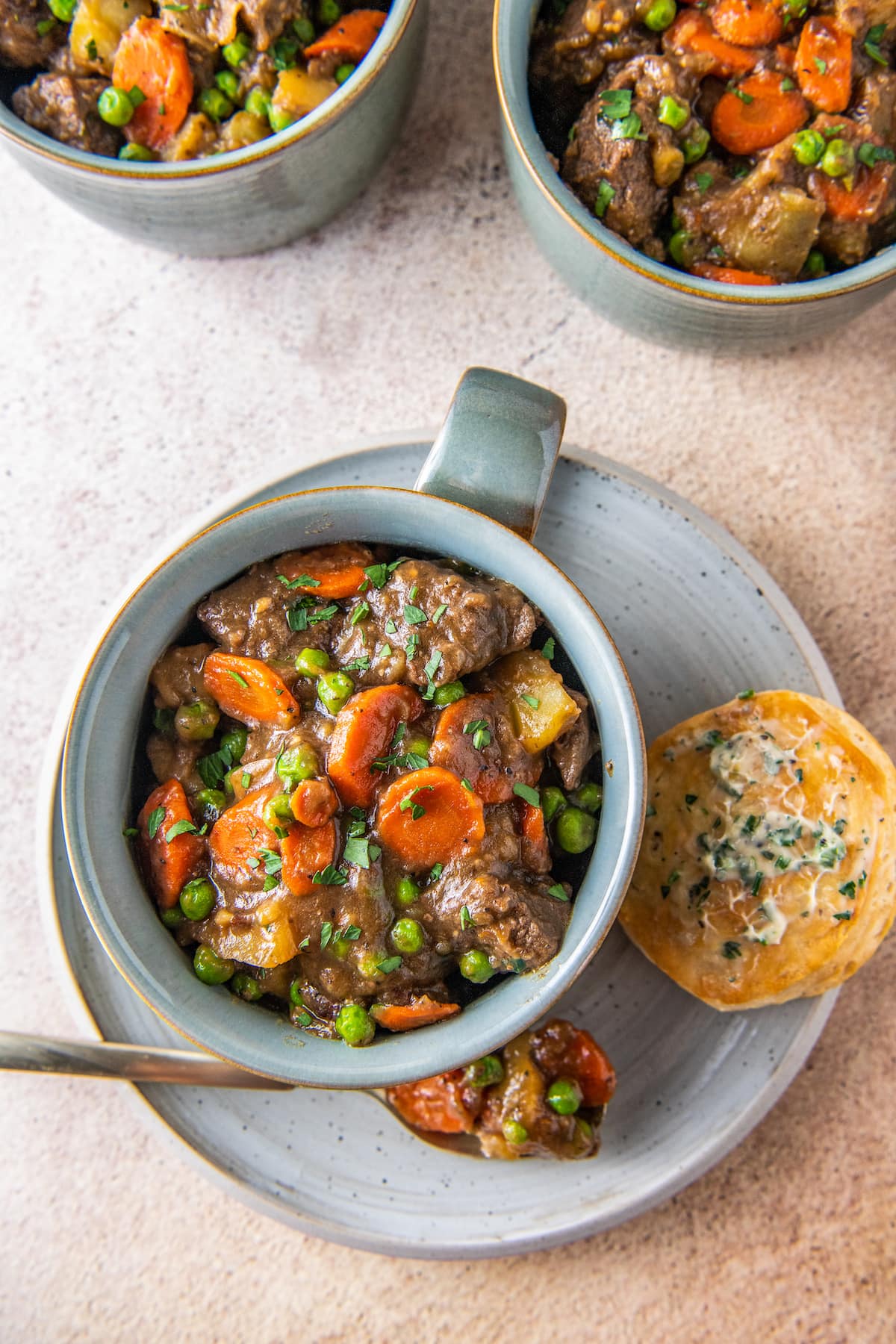 More Stew & Soup Recipes
Beef Stew
This one-pot Beef Stew has tender beef and vegetables that have been slow-cooked and smothered in a rich and hearty beef gravy.
Ingredients
2

pounds

beef stew meat

1

tablespoon

black pepper

1

teaspoon

salt

2

tablespoons

oil

1

large yellow onion

,

diced

2

tablespoons

minced garlic

3

cups

beef broth

½

cup

red wine

1

tablespoon

beef boullion

1

tablespoon

Worcestershire sauce

1

pound

Yukon gold potatoes

,

cubed (about 3 cups)

2

cups

sliced carrots

1

cup

sweet peas

corn starch

,

optional
Instructions
Season stew meat with salt and pepper. Optional: Let beef rest on the counter for 20 minutes. (This will help keep your beef tender.)

In a large heavy bottomed Dutch oven, heat the oil over medium-high heat. Carefully add the seasoned stew meat and sear on all sides.

Add the onion and garlic, and sauté for 2 minutes. Then add the broth, red wine, and Worcestershire sauce. Let simmer for 90 minutes, stirring occasionally. (You do not need the lid on the pot. This will cook down and create a gravy. If it gets too thick, you can add extra beef broth.)

Add the potatoes and carrots and continue simmering for 30 more minutes.

Once potatoes are tender, stir in sweet peas. Serve immediately!

Optional: If your gravy is not thick enough, make a cornstarch slurry. To make a slurry, use 1 tablespoon of cornstarch and 2 tablespoons of water, whisk together, and pour into the beef stew. Continue to simmer the stew, stirring occasionally, for 5 minutes, until thickened.
Notes
Storage: You can store any leftovers in an airtight container for up to 5 days. You can scoop out the portion that you would like to reheat and then heat it up on the stovetop or in the microwave.
Nutrition
Serving:
1
,
Calories:
496
kcal
,
Carbohydrates:
31
g
,
Protein:
55
g
,
Fat:
16
g
,
Saturated Fat:
5
g
,
Polyunsaturated Fat:
11
g
,
Trans Fat:
1
g
,
Cholesterol:
152
mg
,
Sodium:
970
mg
,
Fiber:
5
g
,
Sugar:
6
g