These Herb Air Fryer Crescent Rolls are so buttery and light they will melt in your mouth! These quick and easy fancy dinner rolls are ready in just 15 minutes.
Easy Air Fryer Crescent Rolls
We'll always snag a can of the Pilsbury refrigerated crescent rolls when we are grocery shopping. The rolls are so delicious and the kids love them (which is a major perk!). And now we have created a recipe to dress these rolls up a bit. And these Herb Air Fryer Crescent Rolls are one of the most delicious ways to use our Homemade Herb Butter.
The rolls are already so flaky and buttery, but when you fold in butter, it's just out of this world. We have to stop ourselves from eating them! They pair perfectly with just about anything – chicken, steak, soups, salads…you name it. And like we said, the kids LOVE them.
Plus, we're going to make clean up a breeze and cook these right in the air fryer. It's quick, easy, and simple. We think they turn out even better when they are cooked in the air fryer!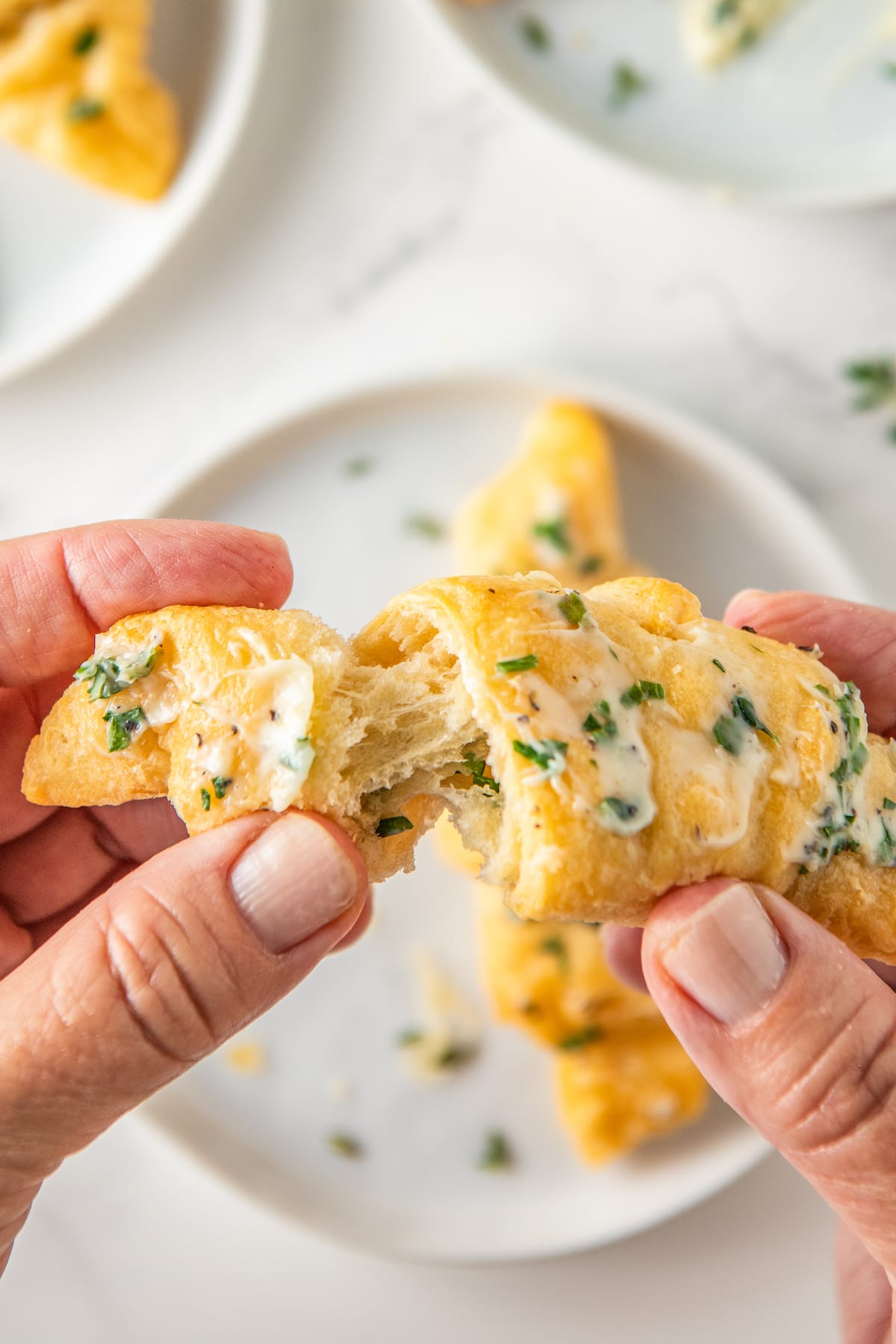 Why Make Crescent Rolls in the Air Fryer
Let's skip the oven today and make these crescent rolls in the air fryer. Here are a few reasons why we love using the air fryer for recipes like this one.
The rolls cook evenly. The entire purpose of the air fryer is to blow hot air around the food so that it cooks on all the surfaces. This is perfect when it comes to baking. No burnt bottoms!
You can use your oven for something else. Cooking the rolls in the air fryer frees up oven space.
Less chance of burning. We like baking in the air fryer because it turns off automatically! So if we're doing something else and forget what's baking – it turns off and nothing gets burnt.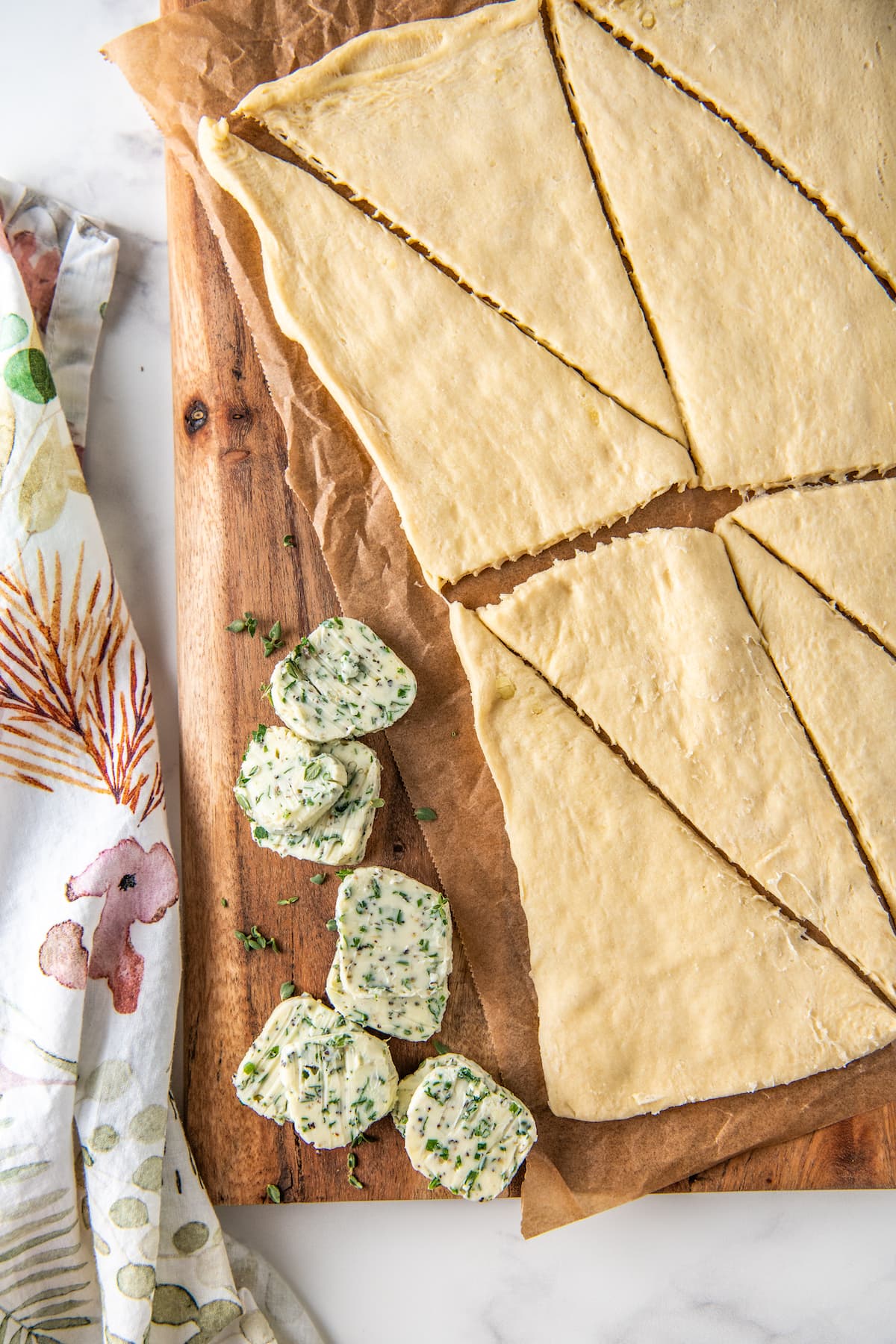 What You'll Need
Two ingredients are all that you need for this simple recipe!
Canned Crescent Rolls: We like to use the Pilsbury brand. You can use whatever brand that you'd like.
Homemade Herb Butter: This is a great way to use our homemade recipe. You can also sometimes find pre-made herb or garlic butter in the bakery section of your supermarket.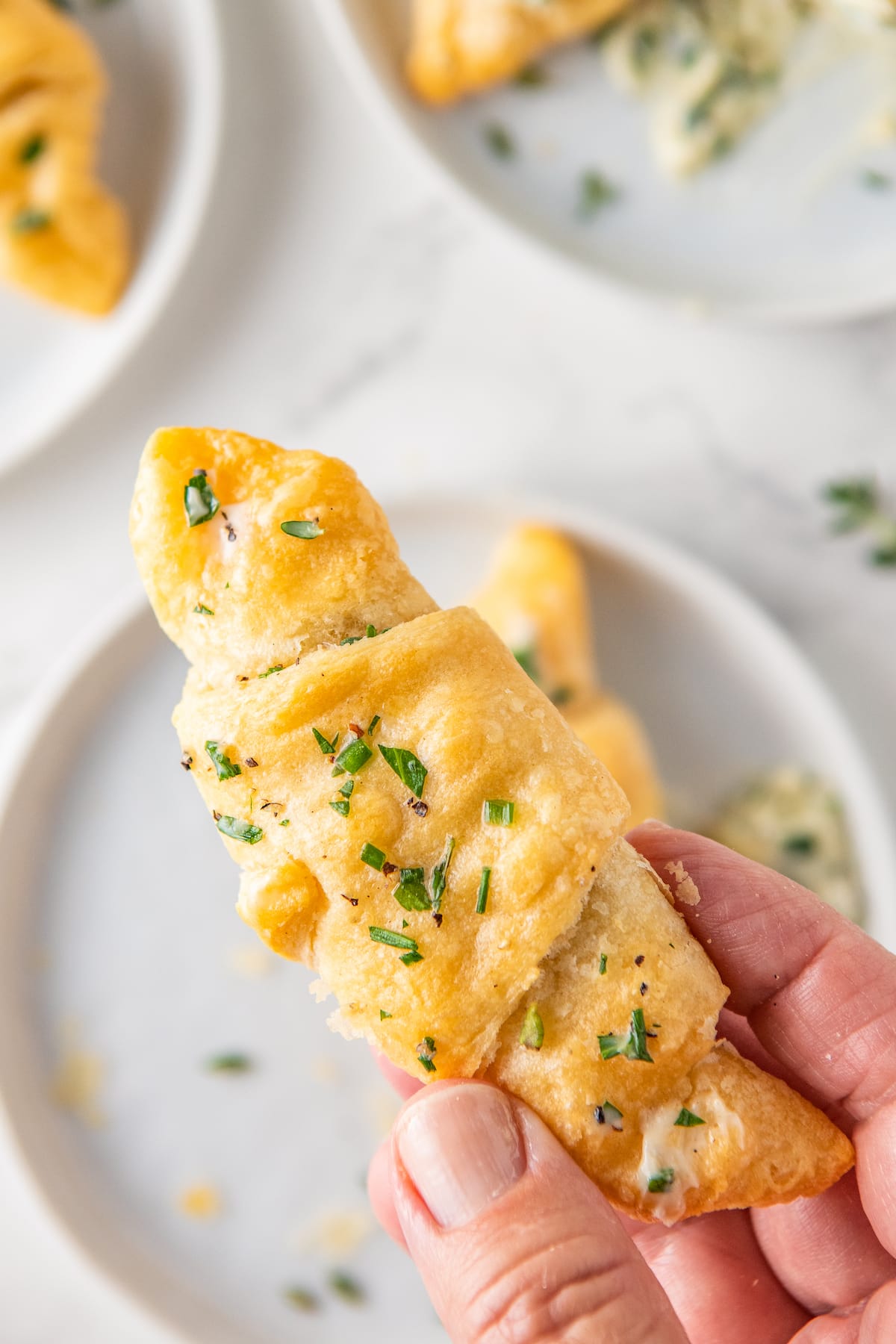 What If I Don't Have Herb Butter
It's ok if you don't have any herb butter! You can simply use regular butter and sprinkle a few pinches of your favorite dried herbs on top when you're folding up the dough.
After baking, brush the rolls with regular butter and then sprinkle a little more dried herbs on top.
Or, as mentioned above, you can see if your supermarket has pre-made herb butter.
How to Make Air Fryer Crescent Rolls
It's really simple to put these rolls together. Here's what you need to do: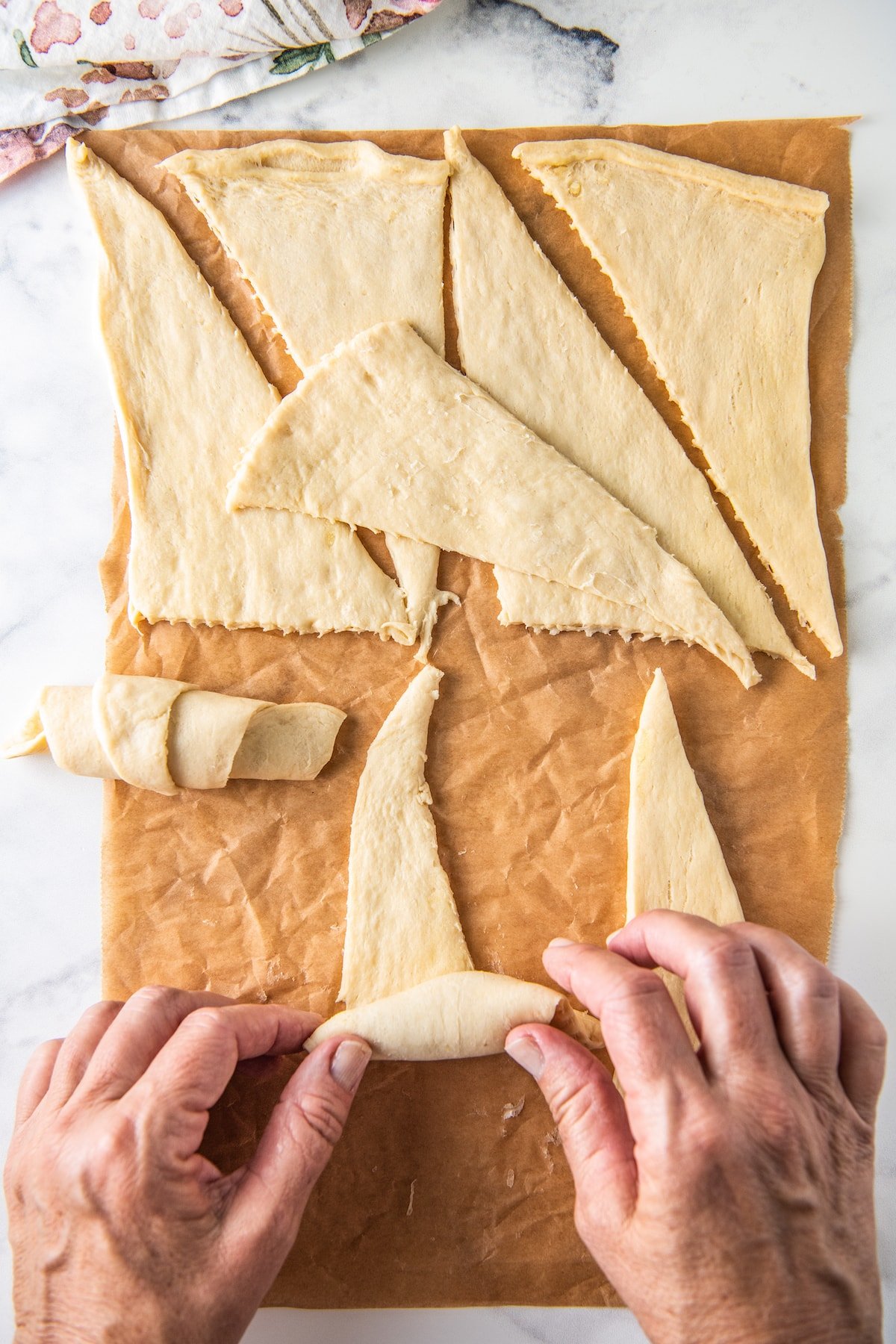 Roll up each crescent roll with herb butter. Lay each triangle flat and place about a teaspoon of butter at the widest part of the triangle. Then roll them up.
Put the rolls in the air fryer. Make sure that they are spread out on the air fryer tray.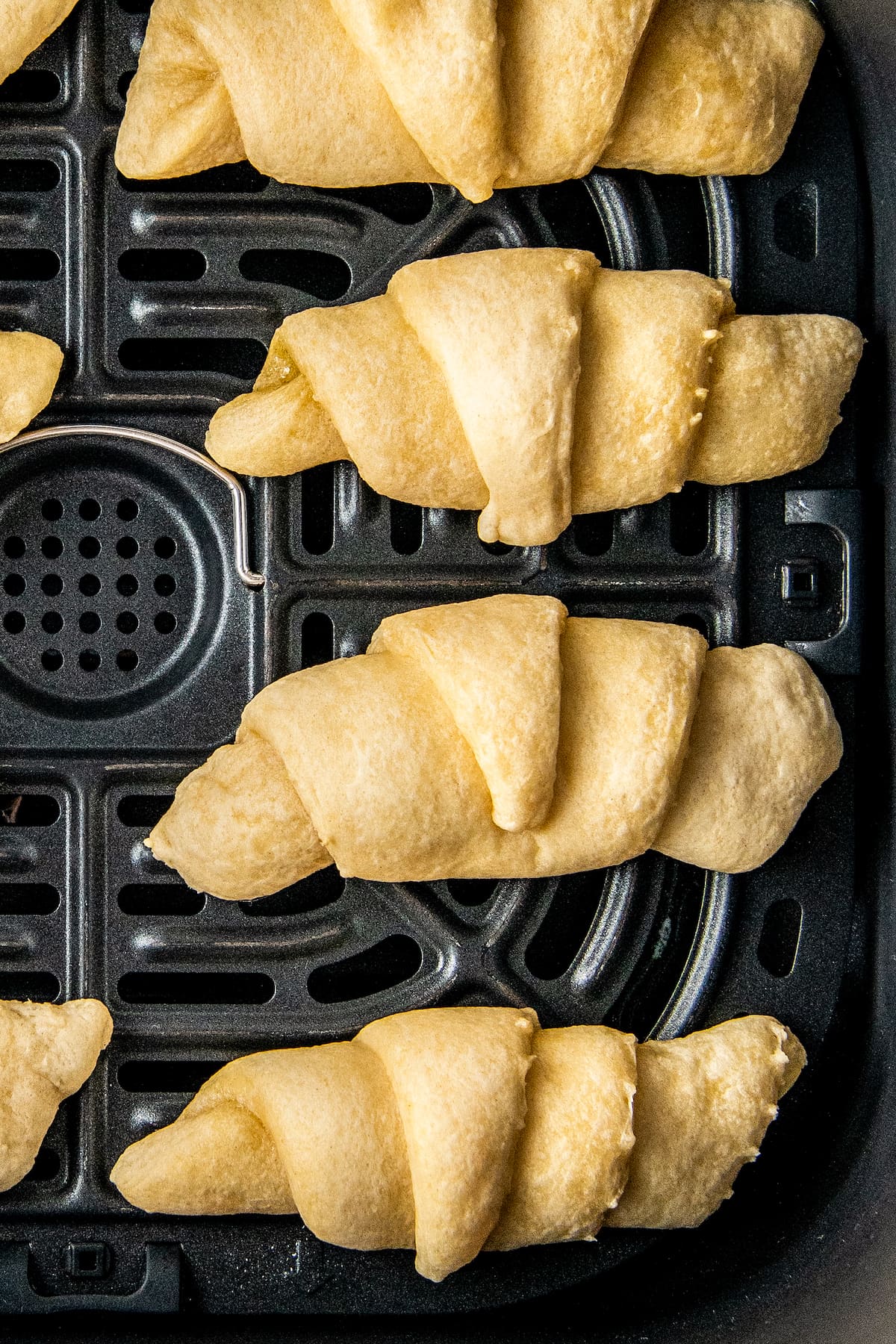 Air fry the crescent rolls. Next, bake them for 300F for about 5 minutes. Then flip them over and bake for another 4 minutes or so.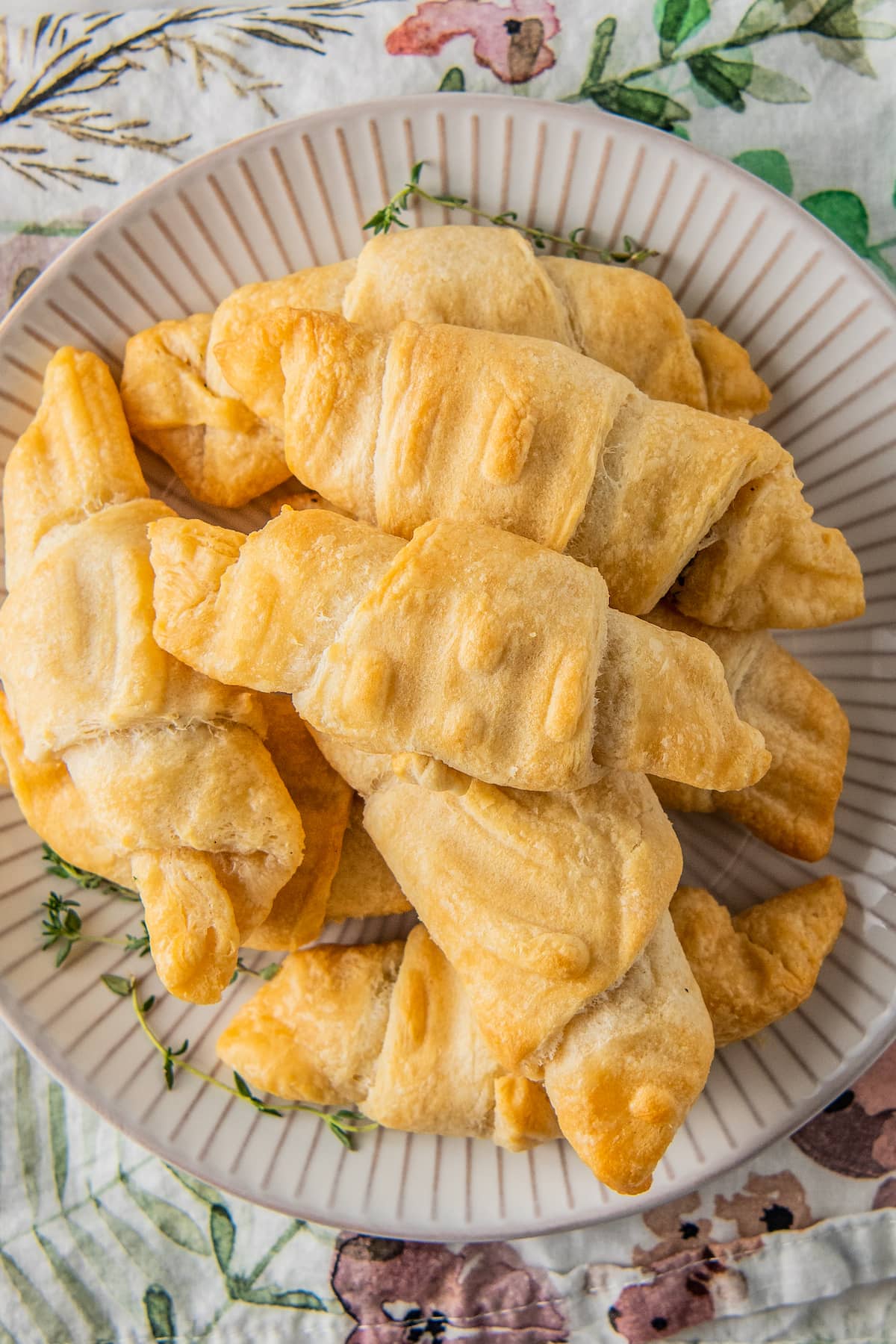 Brush more butter on the rolls before serving. Once you remove the rolls from the air fryer brush some more herb butter on top if you'd like for added flavor.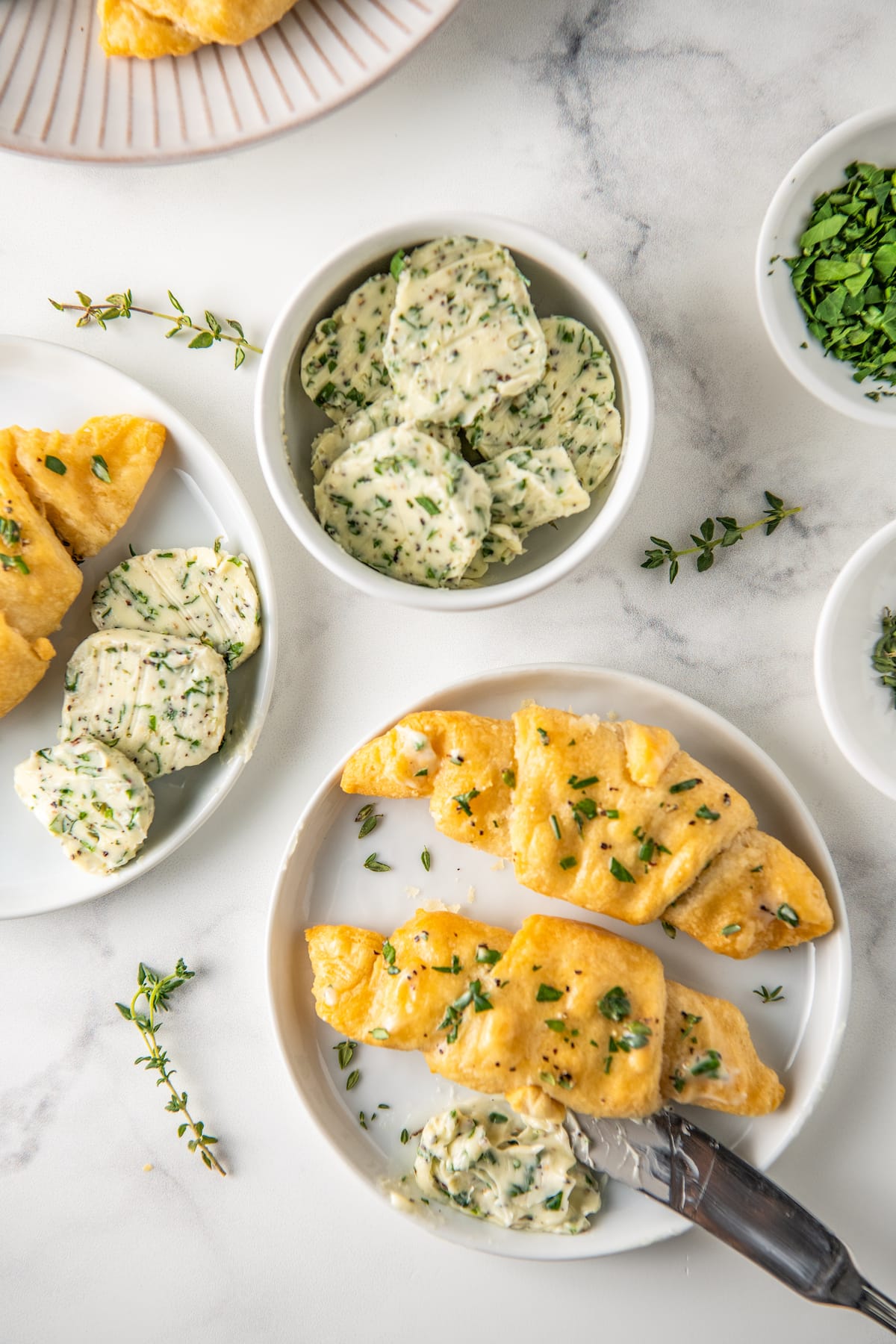 Tips for Success
Here are a few things we learned along the way while making this recipe. These tips will help your rolls turn out pefectly!
Use the regular sized rolls. You can buy the larger crescent rolls, but this recipe is written for the standard sized. If you use larger ones you may need additional cooking time. And you likely won't be able to fit them all into one tray.
Cook them in batches if you need to. You may need to bake in smaller batches if your air fryer tray is too small. You don't want to overcrowd the rolls.
Remember, all air fryers are a bit different. So, when you flip at the 5-minute mark if the rolls are really cooking fast, cook for 3 more minutes and check them before the last minute.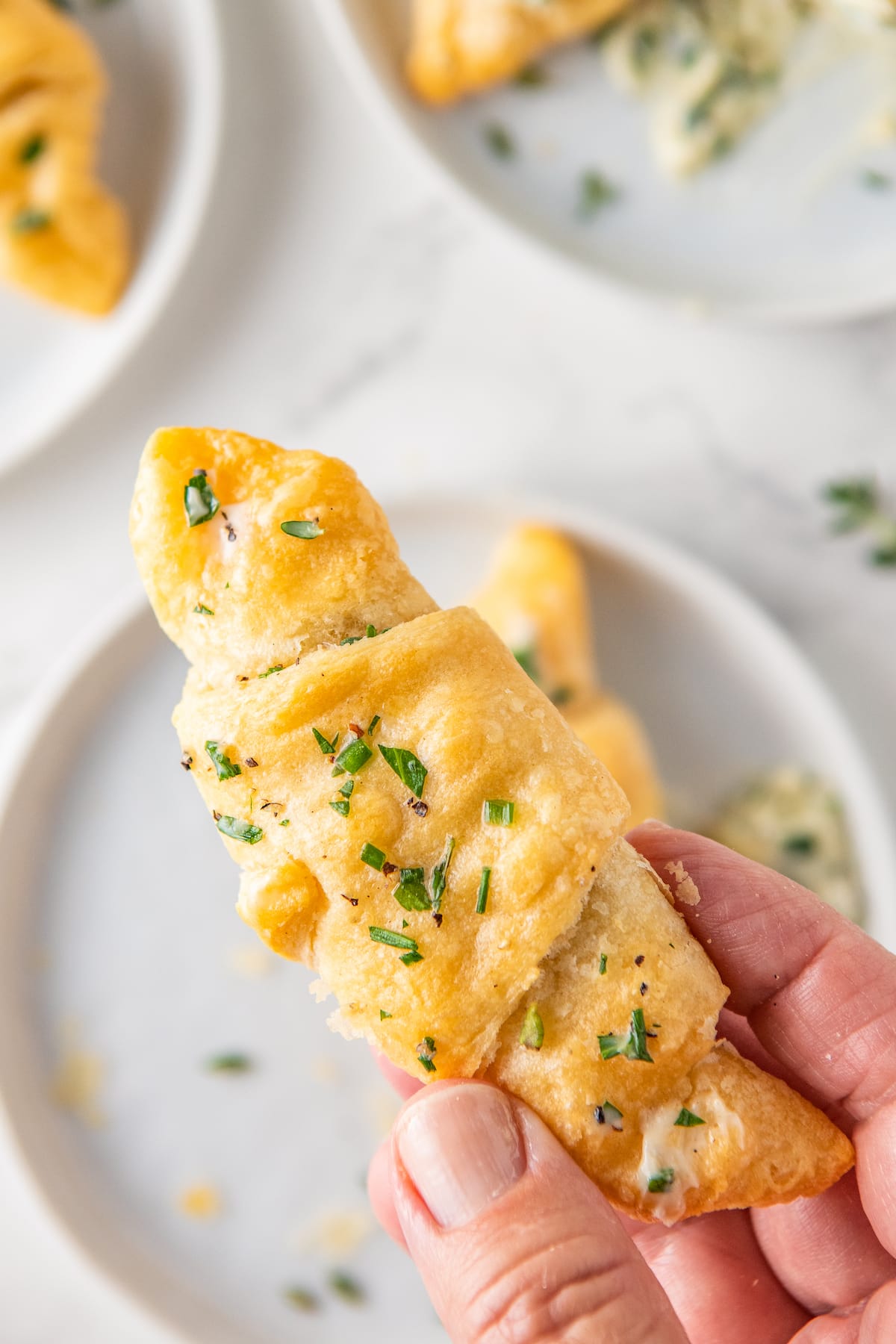 What Goes With Herb Crescent Rolls?
Here are a few of our favorite suggestions for what to serve with these delicious rolls.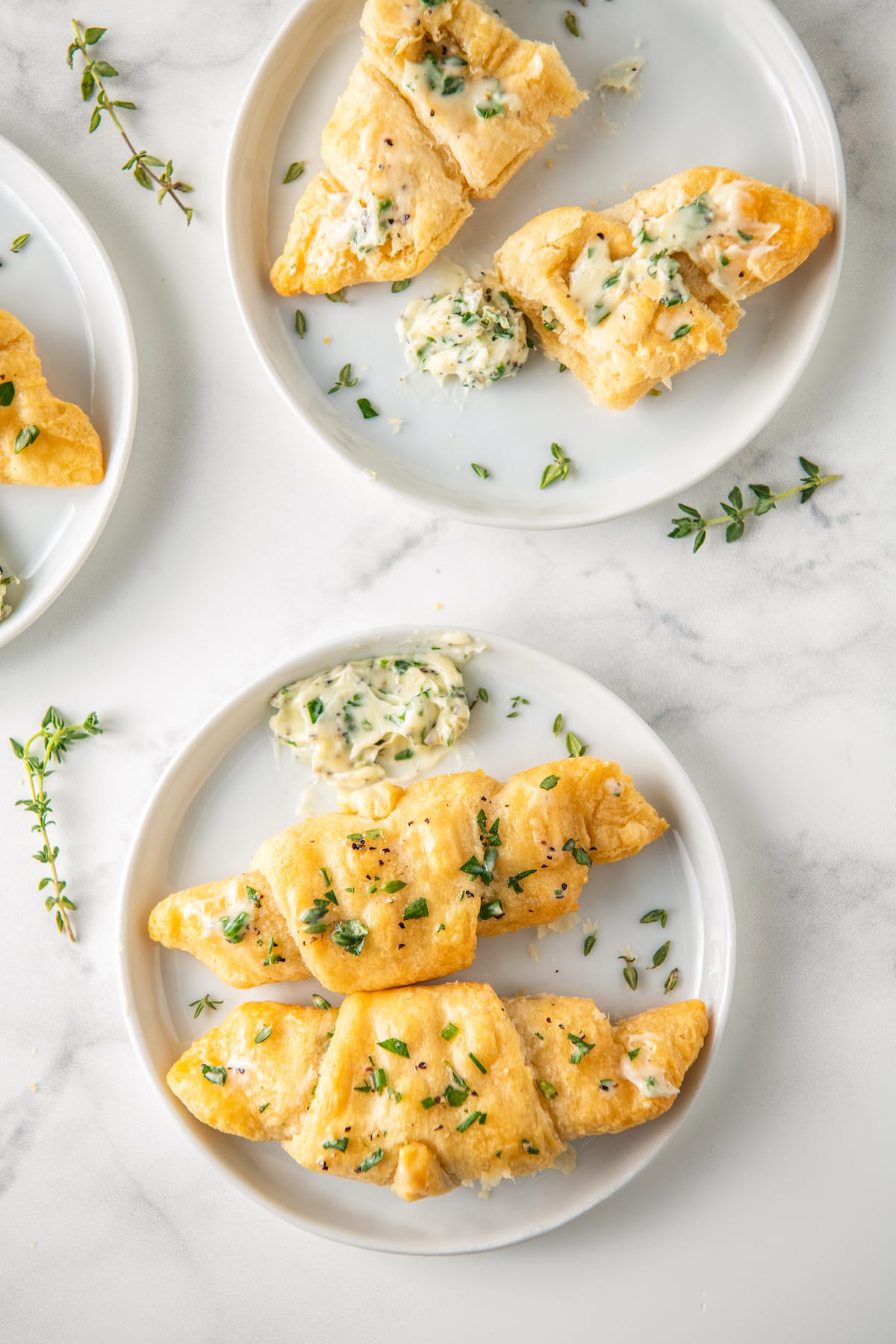 How to Store
These are best served fresh, but if you have leftovers, you can store them in an airtight container for up to 3 days.
Can I Freeze These?
We recommend that you don't freeze these rolls because they taste best when they are fresh out of the air fryer. Instead, you can keep the Homemade Herb Butter in the freezer and then all you need is a package of the refrigerated rolls to get the recipe started.
Yield: 8 rolls
Herb Air Fryer Crescent Rolls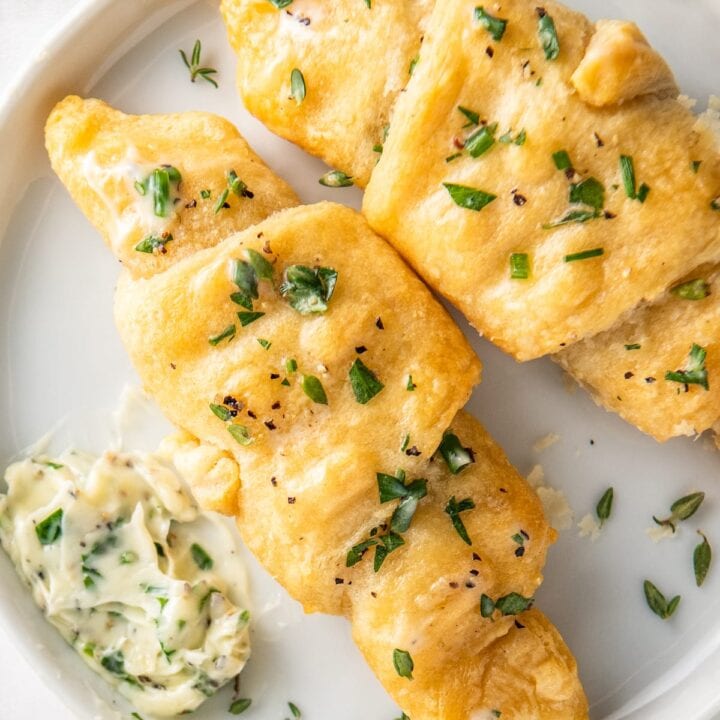 Refrigerated crescent rolls are a no-brainer when it comes to a quick side dish. This Herb Air Fryer Crescent Roll recipe will be ready in 15 minutes and they are loaded with herb and butter flavor. Plus, the baking process is quick and simple by using one of our favorite hassle-free kitchen tools - the air fryer!
Ingredients
1 can (8 rolls) Crescent Rolls
½ cup herb butter, plus extra for topping, if desired
Instructions
Unroll the dough and separate it into 8 triangles along the perforated lines.
At the widest part of the triangle, add 1 teaspoon of herb butter. Roll each triangle up and place them in the air fryer, leaving room between each crescent roll. Repeat until all crescent rolls are used.
Do not preheat the oven! Cook at 300°F for 5 minutes, then flip the crescent rolls and cook for 4 minutes more.
Remove from the air fryer and cover with herb butter, if desired. Serve immediately!
Notes
Storage:
These crescent rolls are really best served fresh. However, you can store leftovers for up to 3 days, at room temperature, in an air tight contianer.
Nutrition Information:
Yield:
8
Serving Size:
1
Amount Per Serving:
Calories:

27
Total Fat:

2g
Saturated Fat:

1g
Trans Fat:

0g
Unsaturated Fat:

1g
Cholesterol:

4mg
Sodium:

33mg
Carbohydrates:

3g
Fiber:

1g
Sugar:

0g
Protein:

1g
More Air Fryer Recipes