These are the biscuits you need to be making this holiday season! You can make decadent Herb Drop Biscuits anytime with this quick and easy recipe. All you need are a few fresh herbs and some basic pantry staples.
Easy Drop Biscuit Recipe
There are so many times when we're making dinner and we think to ourselves, "a biscuit would go great with this!". Fortunately, we have some tricks up our sleeves like this easy Herb Drop Biscuit recipe!
These herby and savory biscuits are perfect when you need a quick and comforting side dish. They pair well with various proteins like Roasted Chicken or Beef Tips with Gravy. They are also perfect with soups and stews. Plus, they are speckled with fresh herbs and are a great addition to any holiday meal.
We like to use fresh herbs, but you can easily get away with using dried ones if that's all that you have. The steps are straightforward. You can even use a food processor to speed things up. You're going to love their simplicity and flavor!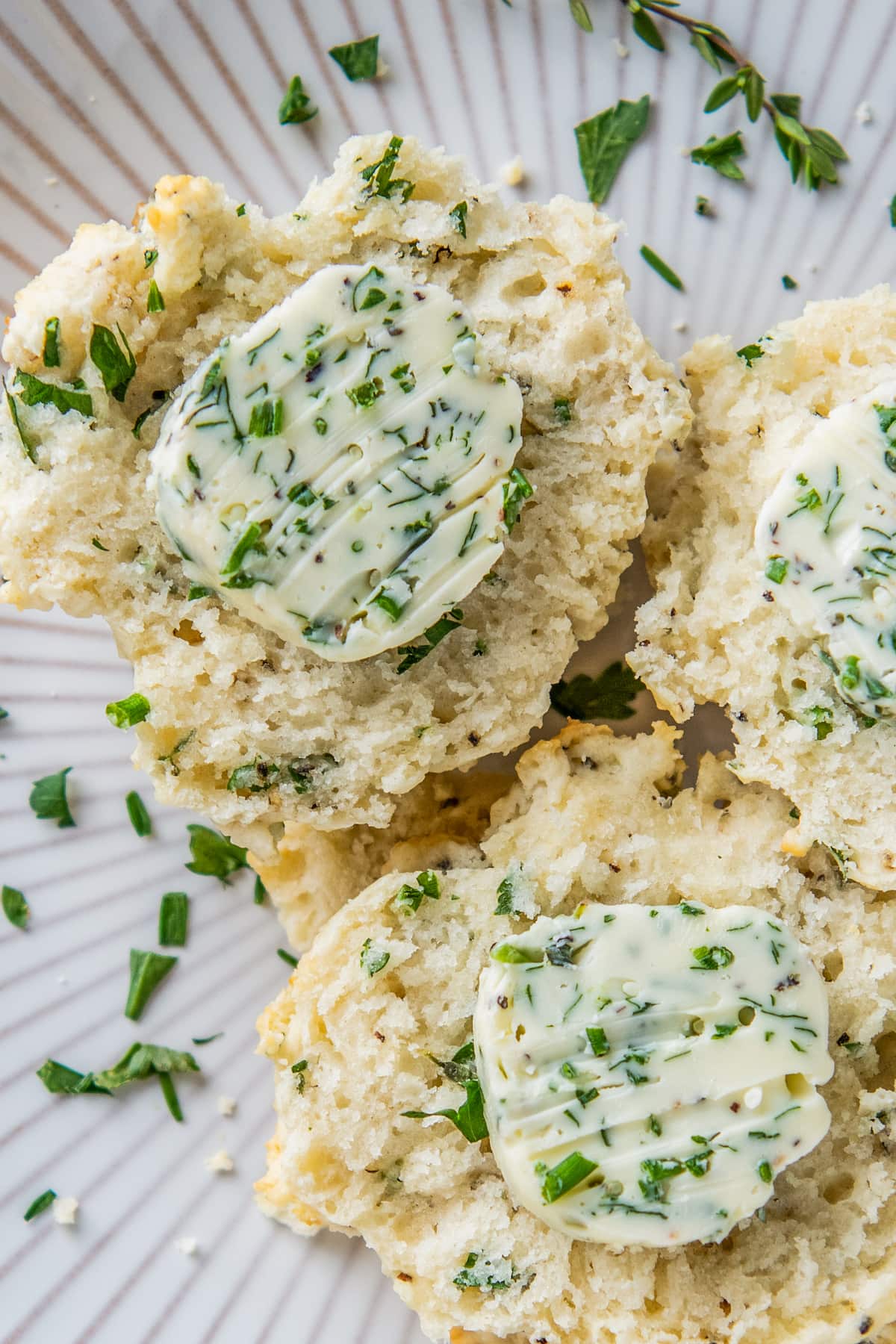 What Are Drop Biscuits?
Drop biscuits are just that – ones that you drop onto the pan. There are no fancy cutters needed or shaping. You simply use two spoons to scoop up a biscuit and drop it on the sheet tray. How easy, right?!
What's the Difference Between Drop Biscuits and Regular Biscuits?
Regular biscuits, like the ones you might find at a restaurant or bakery, are usually cut with a round cookie cutter. They are often rolled out very gently and then cut to all have the same shape.
The flavor is just about the same, but the drop biscuits obviously have a little more rustic look to them. They would also be harder to make a biscuit sandwich (like a breakfast sandwich) out of.
What's The Difference Between Drop Biscuits and Scones?
Scones are like regular biscuits in that they are often rolled out and cut into uniform pieces and most often they are cut into triangles.
Also, scones require eggs, and drop biscuits do not. The eggs allow the dough to bind together a little bit better so that it can be rolled out and cut up easier.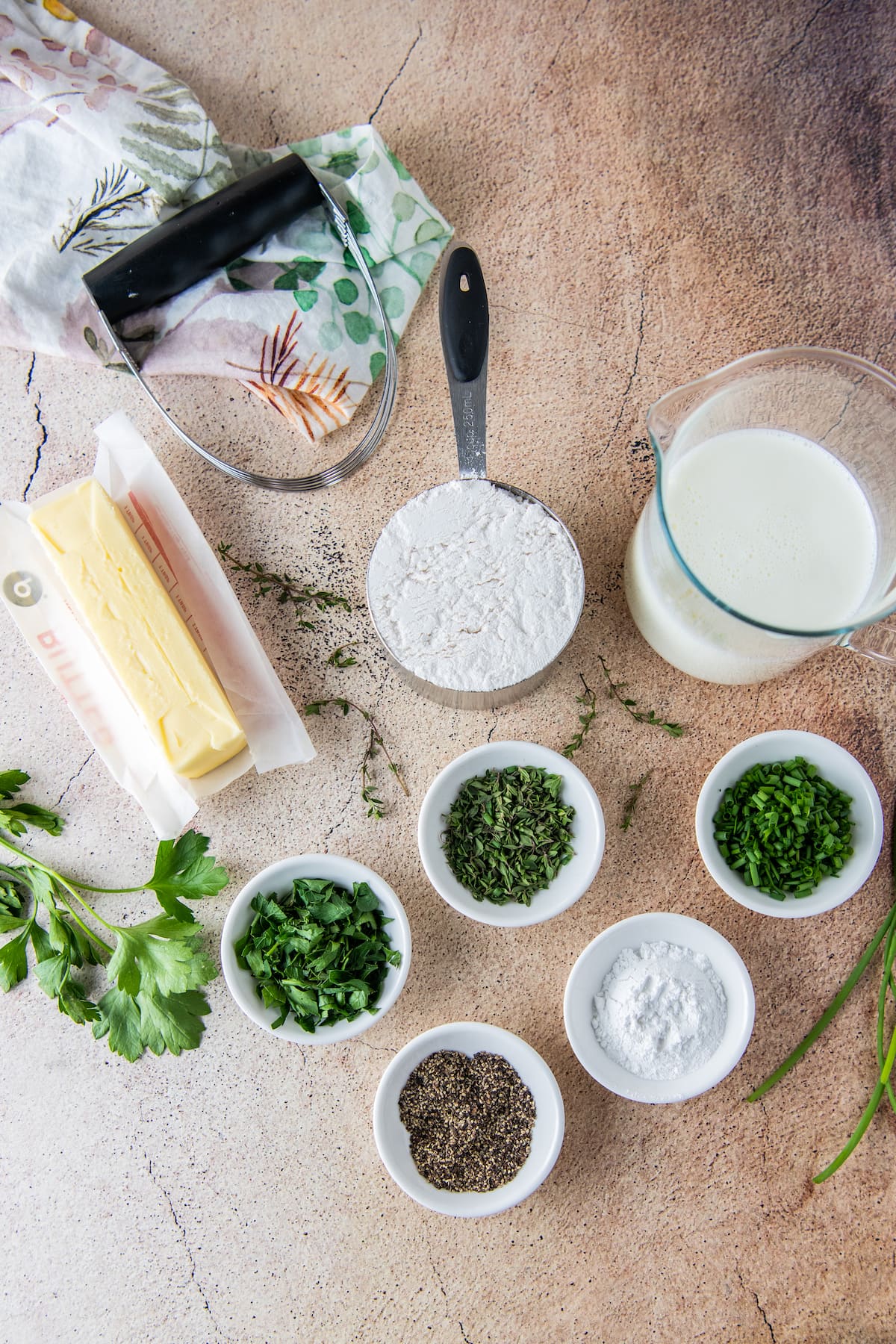 Recipe Ingredients
Here is what you need to make these quick and easy savory biscuits. Remember, recipe details are below in the recipe card that lay out how much you need of each ingredient.
All Purpose Flour: There's no better flour for flaky and flavorful biscuits in our opinion! Plus, it's always in the kitchen.
Baking Powder
Course Ground Black Pepper: Where the flavor begins! Black pepper adds an earthy kick to the biscuits.
Salted Butter: You can use unsalted butter, too. Just add 1/2 teaspoon of salt to the recipe if you do.
Fresh Herbs: We used parsley, thyme, and chives. You could also use oregano, lemon thyme, or basil. Fresh herbs are best but you can definitely use dried herbs instead. Fresh herbs have a higher water content, so they are not as potent as dried. If you use dried herbs cut the amount by half.
Milk: You can use whole milk or buttermilk.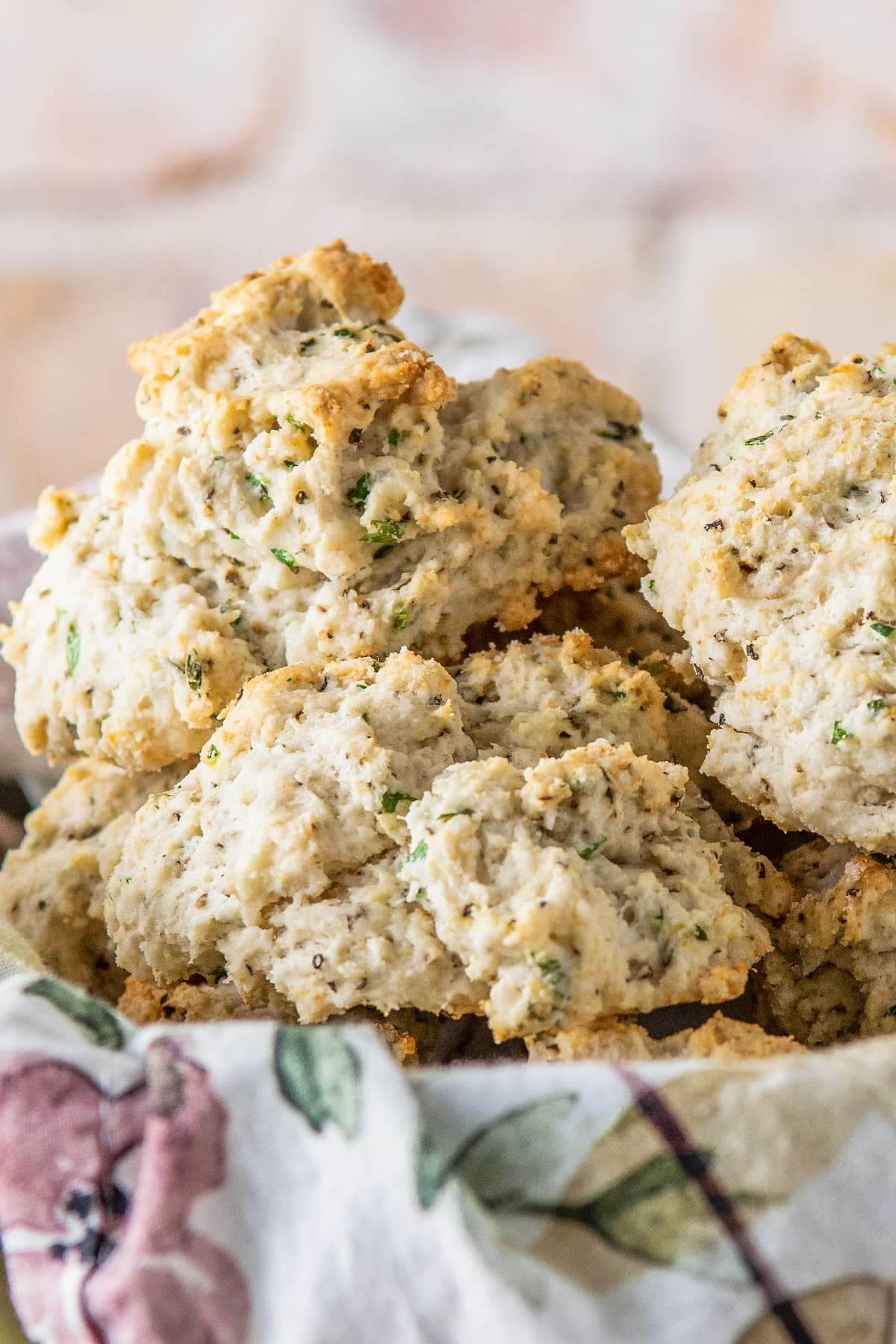 How to Make Herb Drop Biscuits
The quick and easy steps for making this biscuit recipe are below!
First, prep the tray and preheat the oven. You'll want to line your sheet tray with parchment paper or use a non-stick spray to prevent the biscuits from sticking.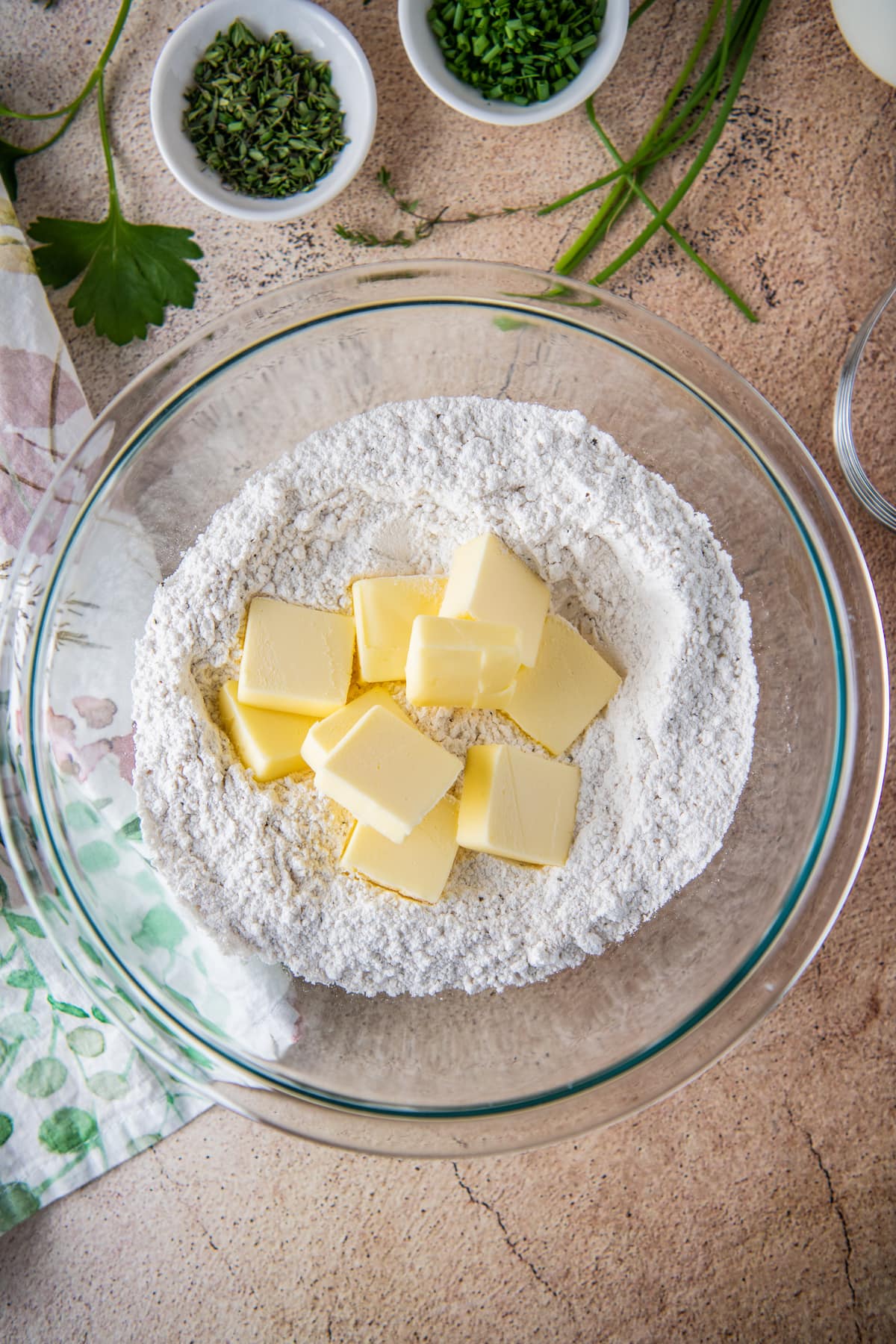 Then mix the biscuit dough. You can do this one of two ways. You can do this by hand and mix the dry ingredients together and then cut in the butter. Mix it gently until you get a crumbly mixture.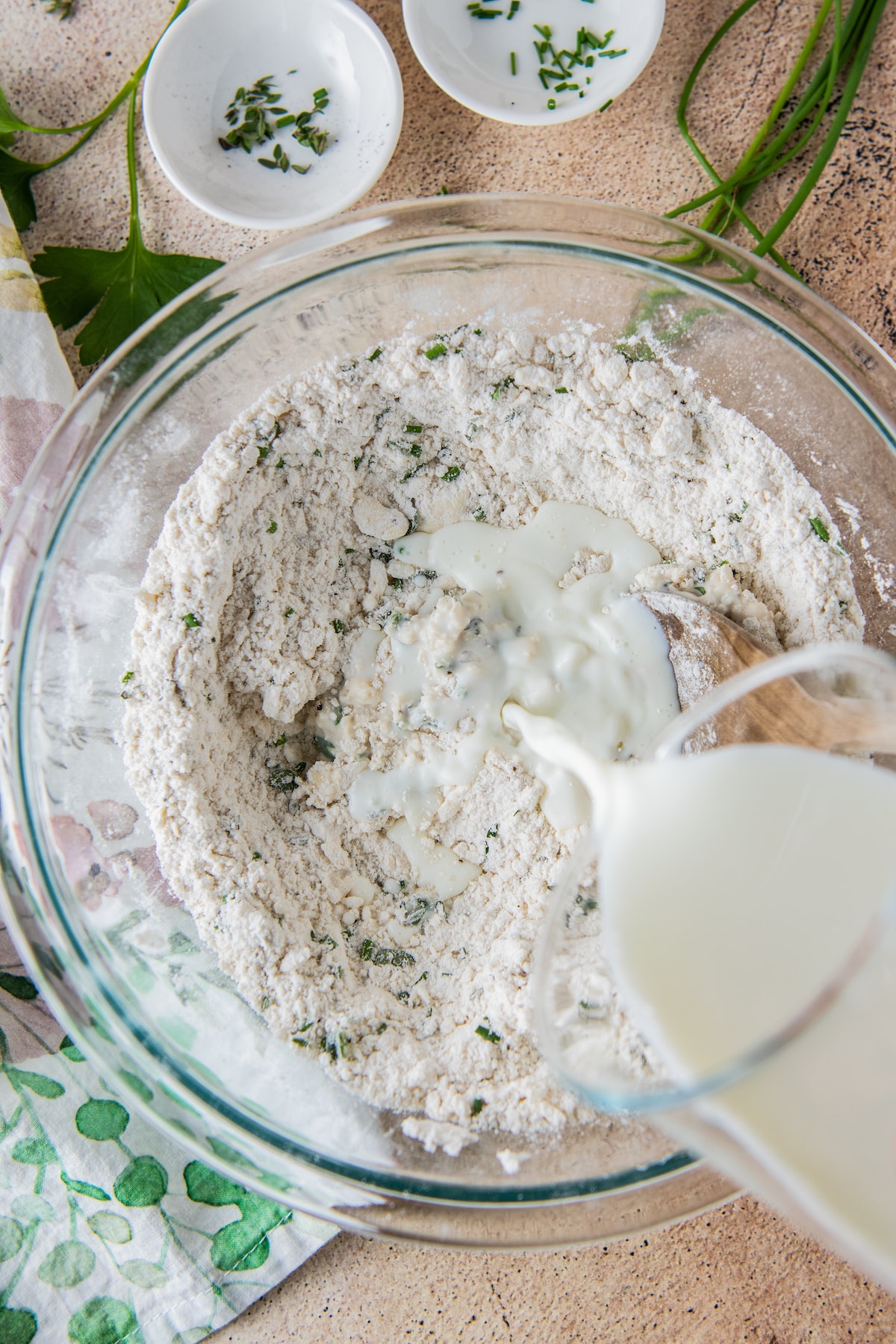 Add the milk. Slowly add the milk and gently stir until a soft dough forms.
Alternatively, you could use a food processor. Simply mix the dry ingredients in the food processor first and then add the butter. Lastly, slowly pour in the milk until a soft dough forms.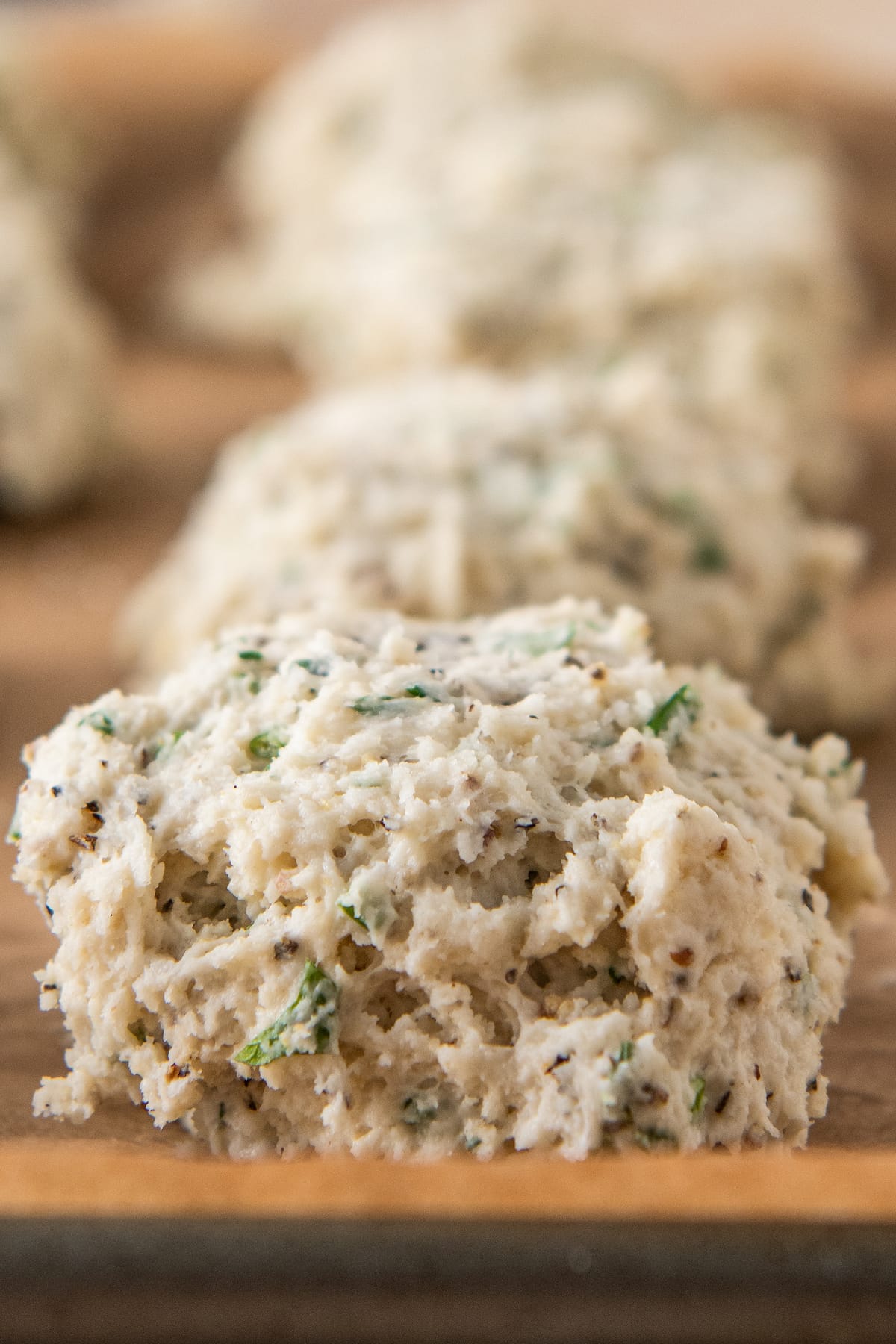 Then form and bake the biscuits. Use two spoons to drop the biscuits onto the sheet tray. Place the tray in the oven and bake for 20-30 minutes or until they start to turn light golden brown.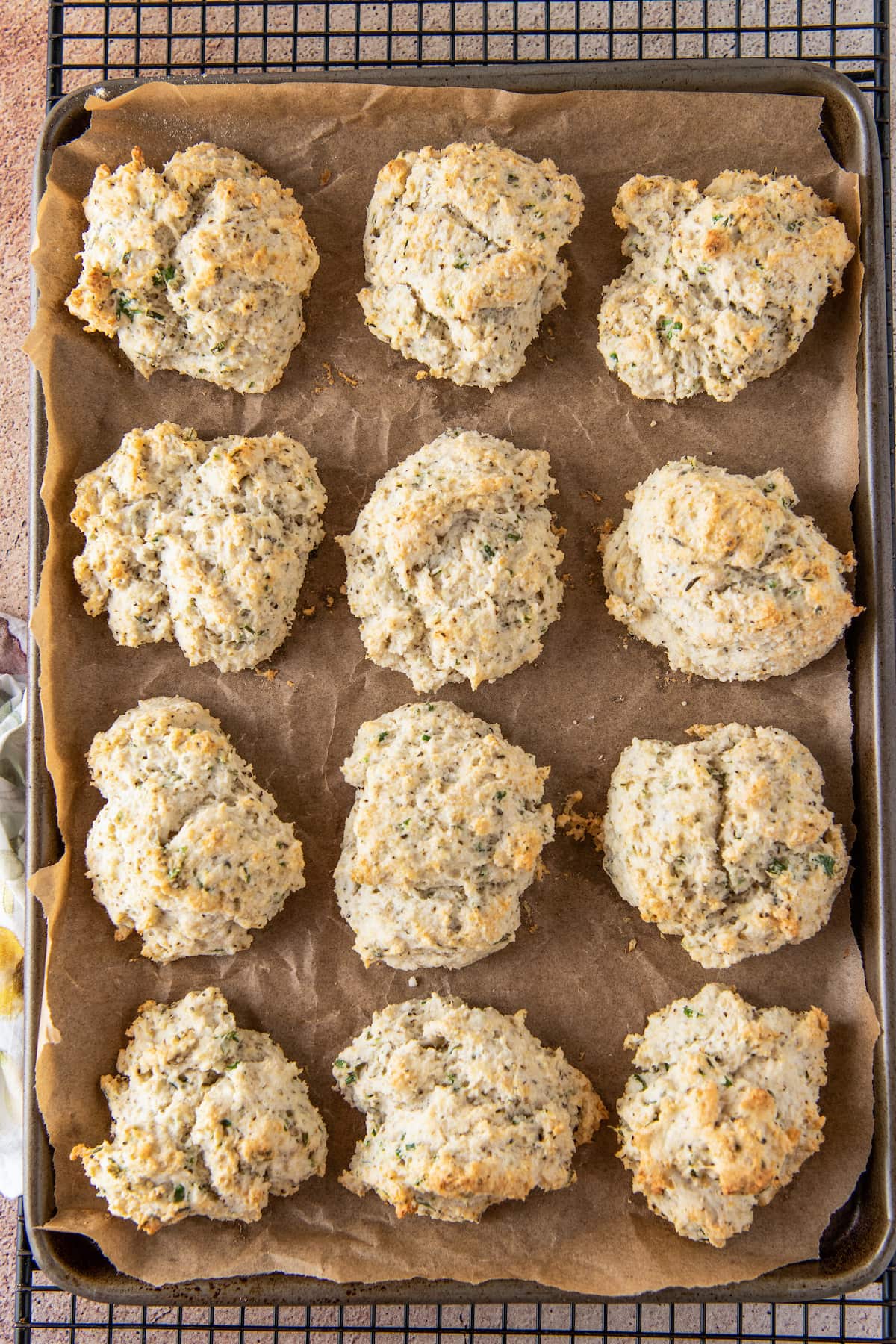 Tips & Variations
Here are a few notes to keep in mind when making these Herb Drop Biscuits.
Use cold butter. Always use chilled butter when making biscuits! This allows them to be light and fluffy, and less dense.
Don't overmix the dough. Overmixing can cause the biscuits to become hard when baking.
Add some garlic. If you are a fan of garlic, add 1 teaspoon of garlic powder when you add the pepper.
Keep an eye on the biscuits in the oven. Baking times vary depending on the oven so set the timer for 20 minutes and check for doneness.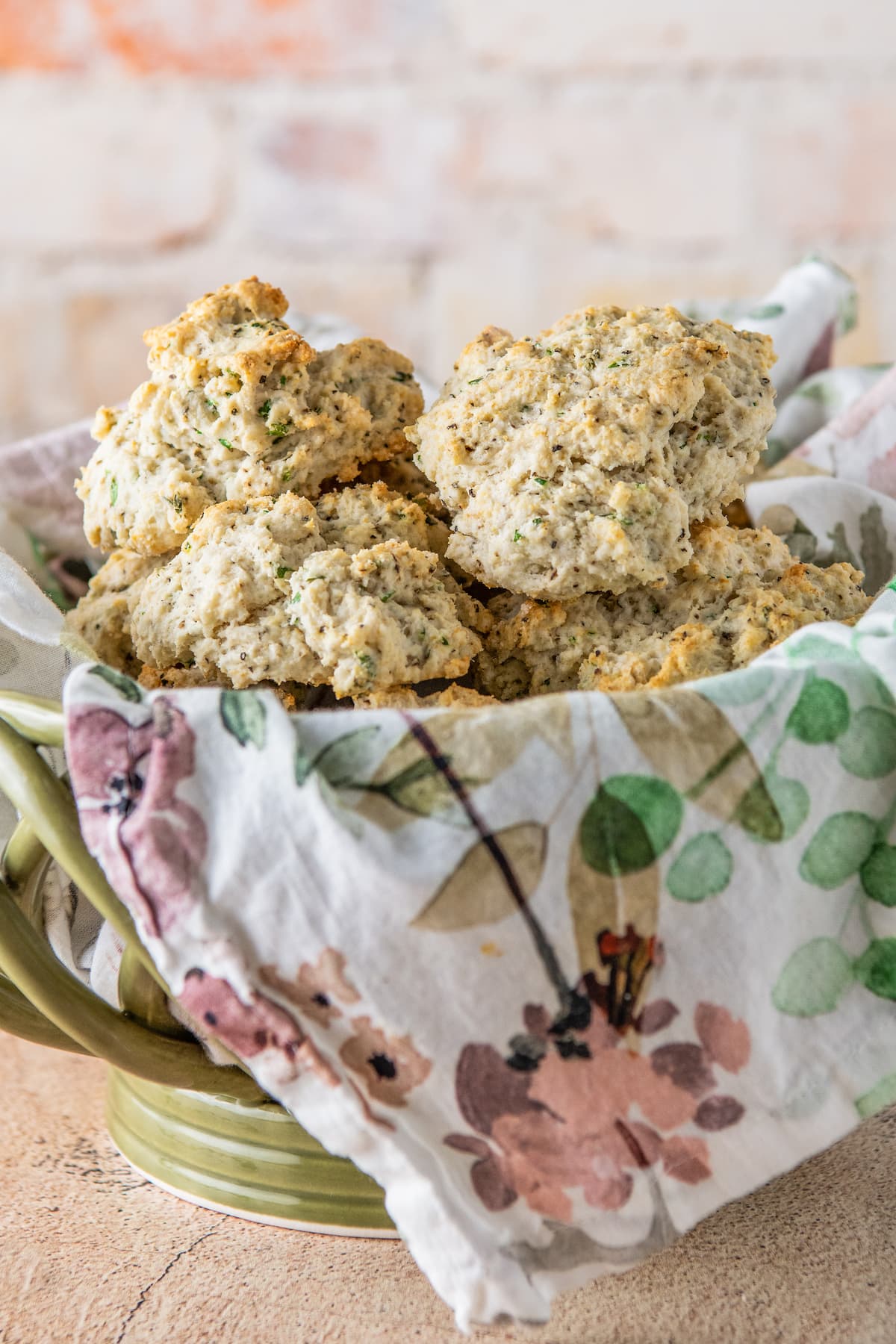 What To Serve These With
Here are some of our favorite ways to serve Herb Drop Biscuits.
How to Store Leftovers
Store the biscuits in an airtight container for up to 3 days.
Can I Freeze Homemade Drop Biscuits?
You can freeze these drop biscuits. We recommend freezing them on a sheet tray first and then placing them in an airtight bag or container for freezing. Simply thaw and then reheat in the microwave or oven before serving again.
Herb Drop Biscuits
These Herb Drop Biscuits are quick and easy. With fresh herbs and simple pantry staples, you'll be enjoying these biscuits in no time!
Ingredients
2

cups

all purpose flour

1

tablespoon

baking powder

1

tablespoon

coarse ground black pepper

½

cup

cold salted butter

,

cut into pieces

1

tablespoon

fresh thyme

2

tablespoons

chopped fresh parsley

2

tablespoons

chopped chives

¾

cups

whole milk or buttermilk
Instructions
Preheat oven to 400°F. Prepare a large baking sheet with parchment paper, or use a nonstick spray, and set aside.
MIXING THE DOUGH BY HAND:
In a medium size mixing bowl, whisk to combine the flour, baking powder and pepper. Add thyme, parsley and chives to flour mixture and blend until combined

Add the butter and blend it into the flour mixture until a crumbly texture forms. I used a pastry cutter, or you can use two forks, or even a food processor.

Slowly add in the milk and continue to stir with a wooden spoon, stirring until just combined. Do not over mix dough.
MIXING THE DOUGH WITH A FOOD PROCESSOR:
If you prefer to use a food processor, add the flour, baking powder and black pepper into the processor bowl. Pulse to blend.

Add the butter and continue to pulse until crumbly. Add the herbs, pulse a few times, then slowly add the milk and pulse until well blended. Do not over mix dough.
FORM THE BISCUITS:
Using 2 spoons, drop the dough in balls onto the prepared baking sheet. Leave room between the biscuits as they will spread when they bake.

Bake in the oven for 20 to 25 minutes, until the outside is slightly golden.

Serve warm, with butter, or try them with our herb butter!
Notes
Storage: Store the biscuits in an airtight container for up to 3 days.
Nutrition
Serving:
1
,
Calories:
164
kcal
,
Carbohydrates:
18
g
,
Protein:
3
g
,
Fat:
9
g
,
Saturated Fat:
5
g
,
Polyunsaturated Fat:
3
g
,
Cholesterol:
23
mg
,
Sodium:
229
mg
,
Fiber:
1
g
,
Sugar:
2
g
More Easy Side Dishes