These Pan Seared Chicken Breasts are perfectly crispy and juicy. They're a great protein option for a quick and easy dinner. You only need three simple ingredients – chicken, garlic salt, and flour to make this 30 minute recipe.
Easy Chicken Fried Breast Recipe
Sometimes you just want a simple dinner option. Not every night is meant for casseroles, pasta dishes, or other recipes that require time and a bunch of ingredients. This recipe for Pan Seared Chicken Breasts is simple but still has so much flavor. It's perfect for one of those evenings when you don't want to fuss with anything else.
You can serve these perfectly crispy and juicy chicken breasts on their own or you can toss them into your favorite salad or add them to a sandwich. Our family loves them with a side of Mashed Potatoes. Plus, they make great leftovers for quick and easy lunches.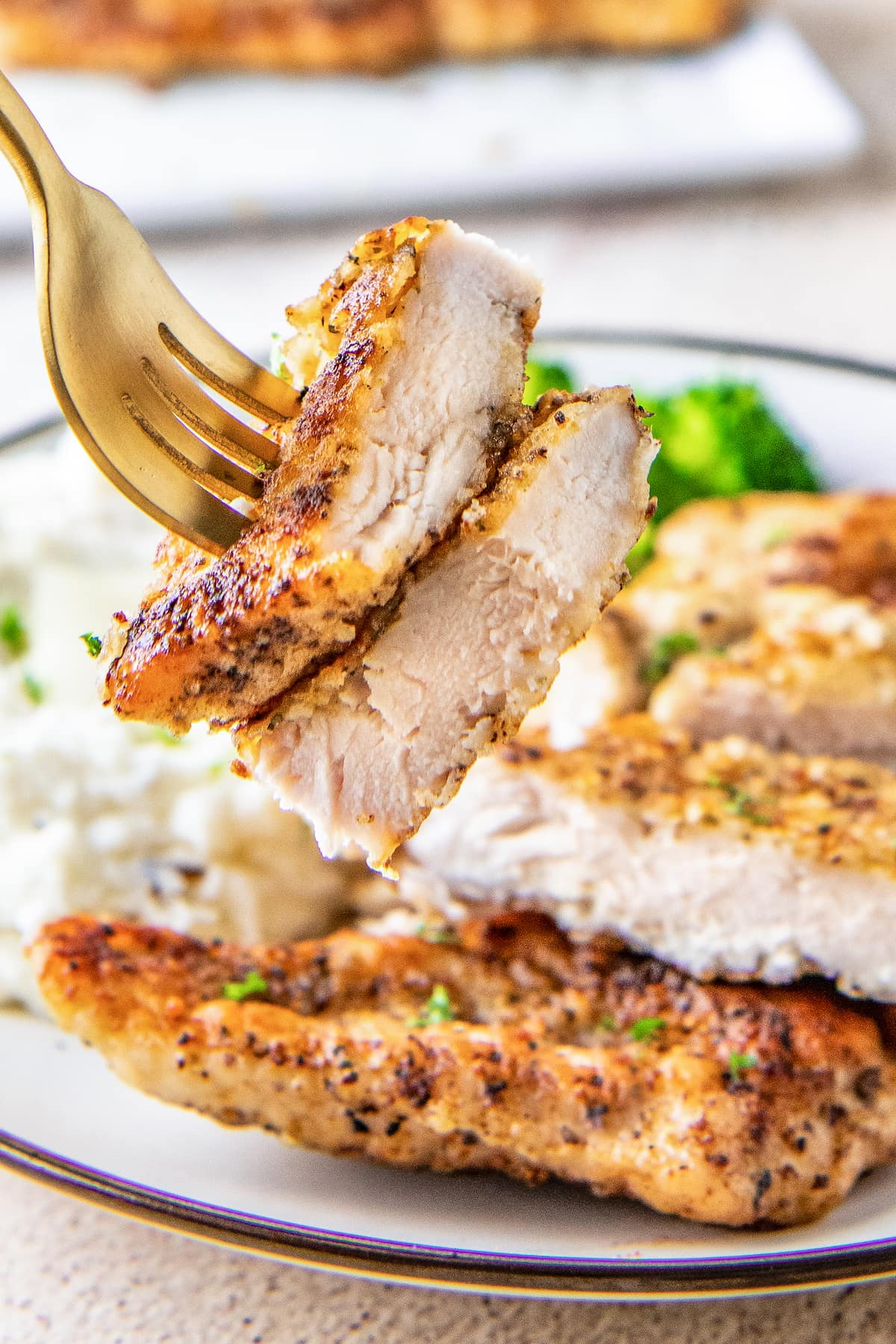 Why You'll Love This Seared Chicken
Here are some reasons why you're going to love this recipe.
Quick & Easy. Cooked on the stove and ready in 30 minutes, this is the perfect dinner idea for busy weeknights.
Only 3 Ingredients! Chicken breasts, garlic salt and flour are all you'll need to make these pan fried chicken breasts. This makes this a perfect meal to whip up on the fly when you're short on time.
Flexible. You can eat the chicken on its own or add it to a salad, sandwich, or even your favorite pasta dish. There are also easy subs you can make for gluten-free diets. (See the ingredients section below.)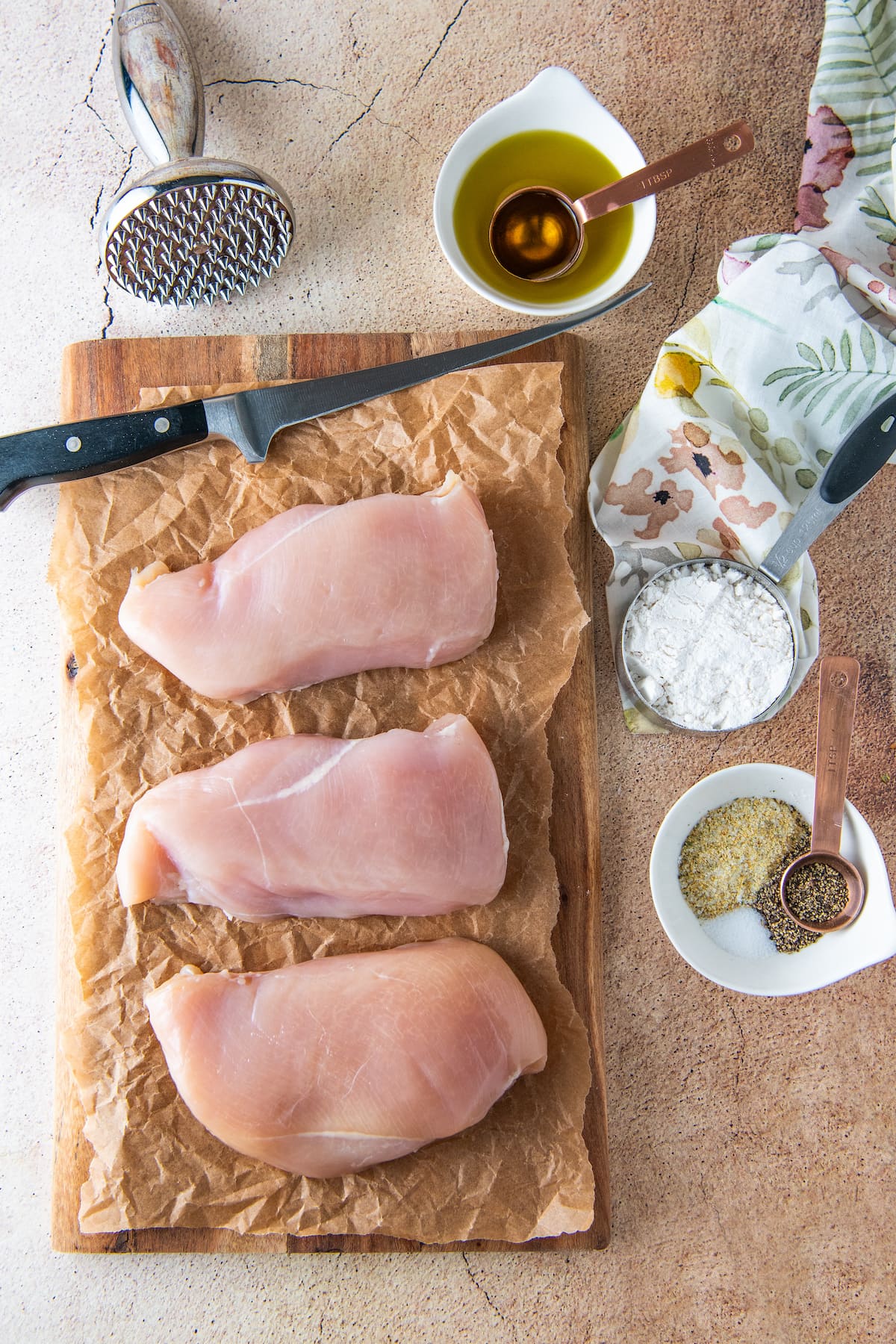 Recipe Ingredients
There's no need to run to the store for this list of ingredients! We bet you have everything in your kitchen already.
Boneless Chicken Breasts: You can also use boneless chicken thighs, too. We like to buy a big package of frozen skinless and boneless chicken breasts at our warehouse store. Then we keep them in the freezer so we can make this whenever we want to without having to run to the store.
All Purpose Flour: This helps the edge fry up to be nice and crispy. You can omit or use your favorite gluten-free or keto flour as an alternative if you are eating low carb. Almond flour also works with this recipe.
Garlic Salt: This one simple ingredient adds so much flavor! You could also try onion salt or granulated garlic.
Salt & Pepper
Olive Oil: Or you can use avocado oil.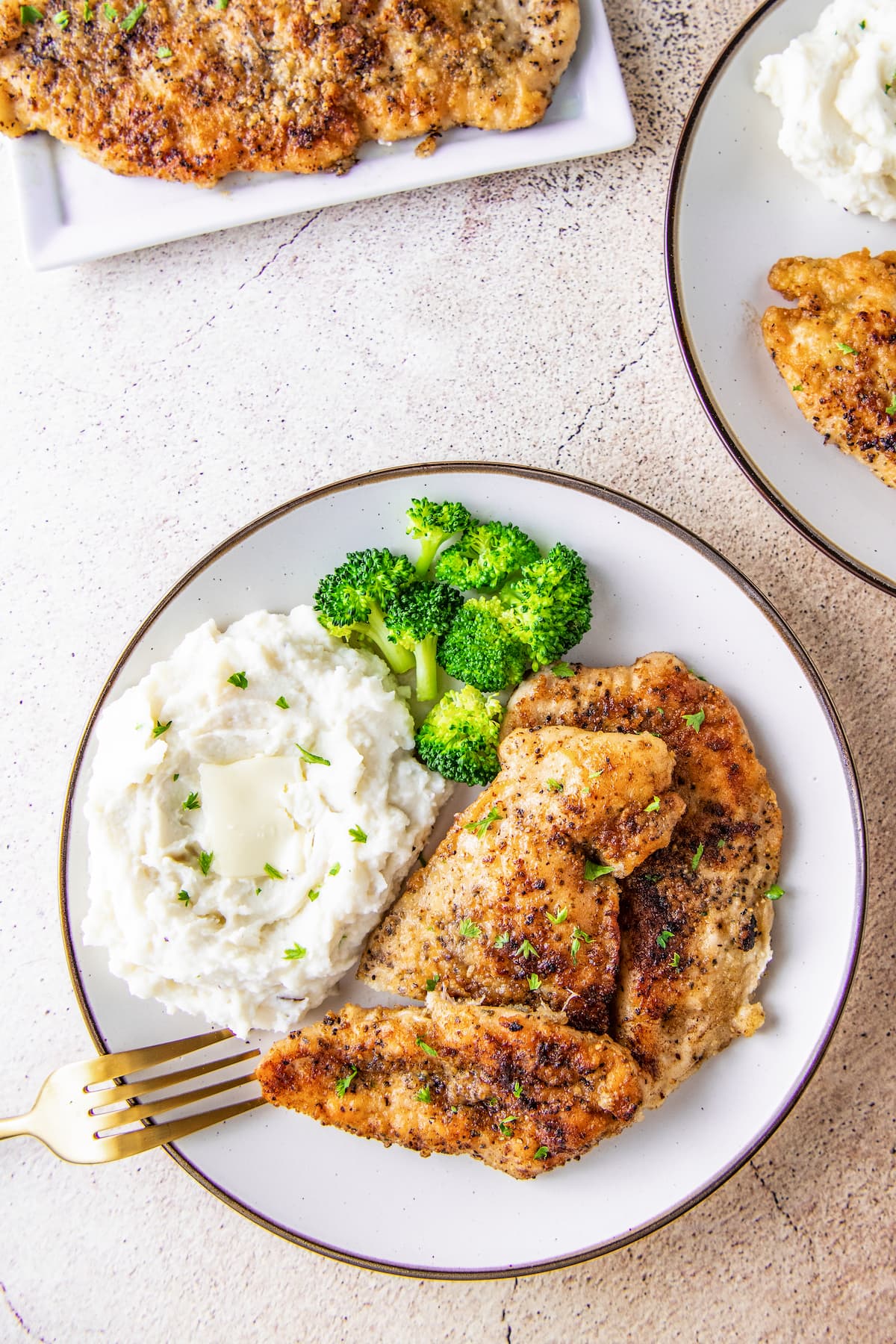 How to Make Pan Seared Chicken Breasts
Are you ready to make a winner of a chicken dinner? Here is how to make this quick and easy chicken breasts recipe: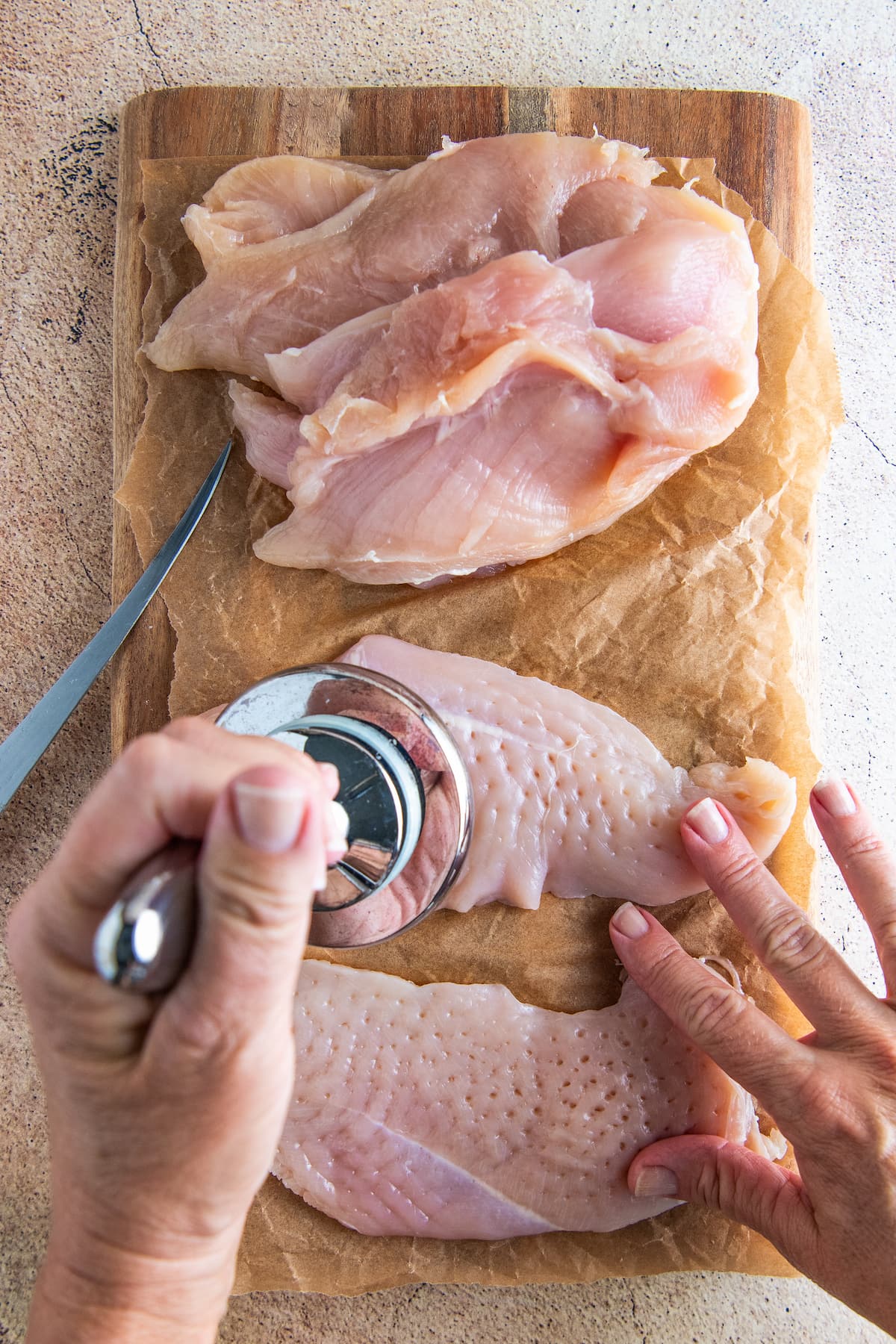 Prep the chicken. You can use a sharp knife to slice the chicken breasts into two thin pieces. Then use a meat tenderizer to pound the chicken so that it's even and very thin.
Season the chicken breasts. Generously season both sides of the breasts with salt, pepper, and garlic salt.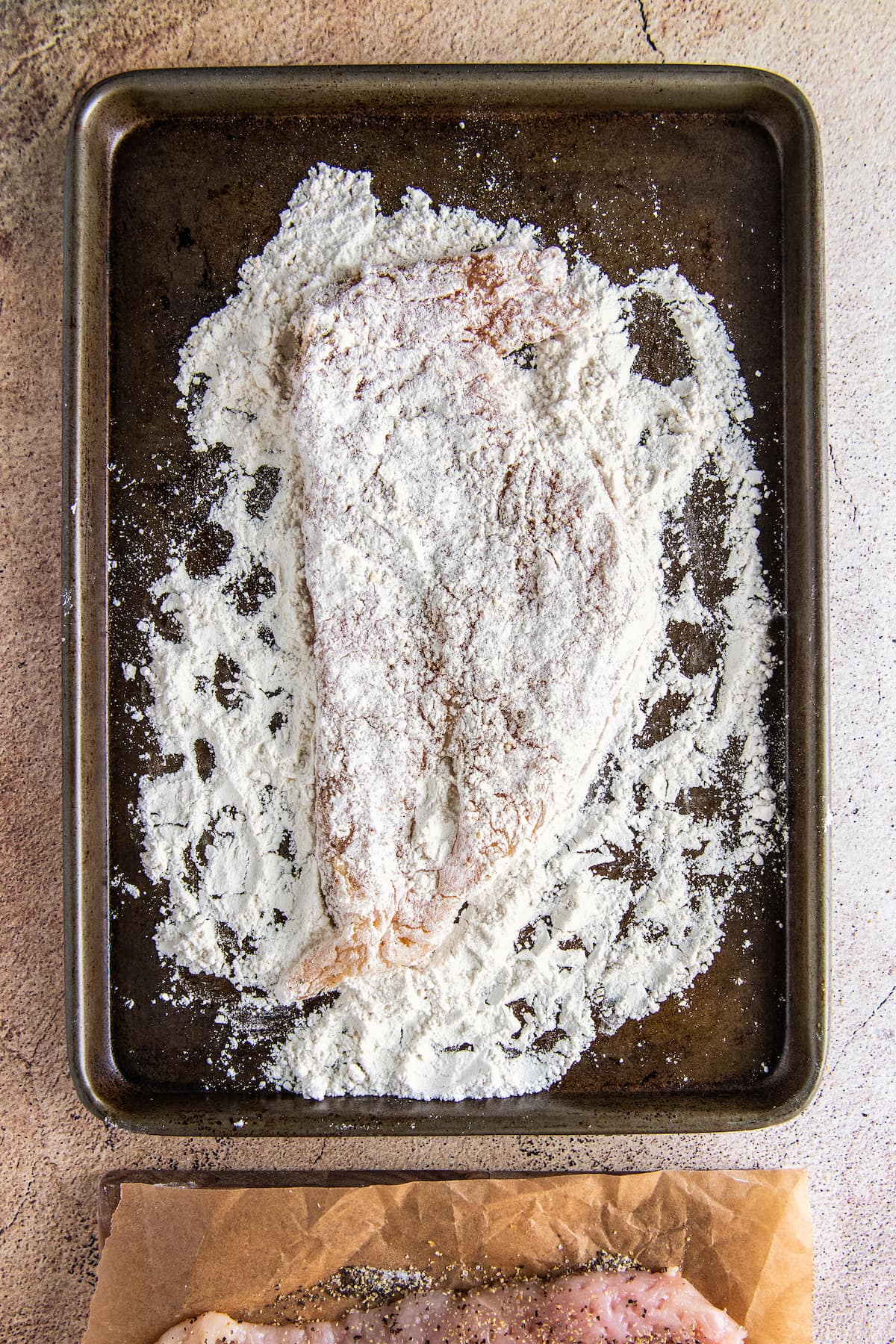 Dredge the chicken breasts. Coat each side of the chicken with flour.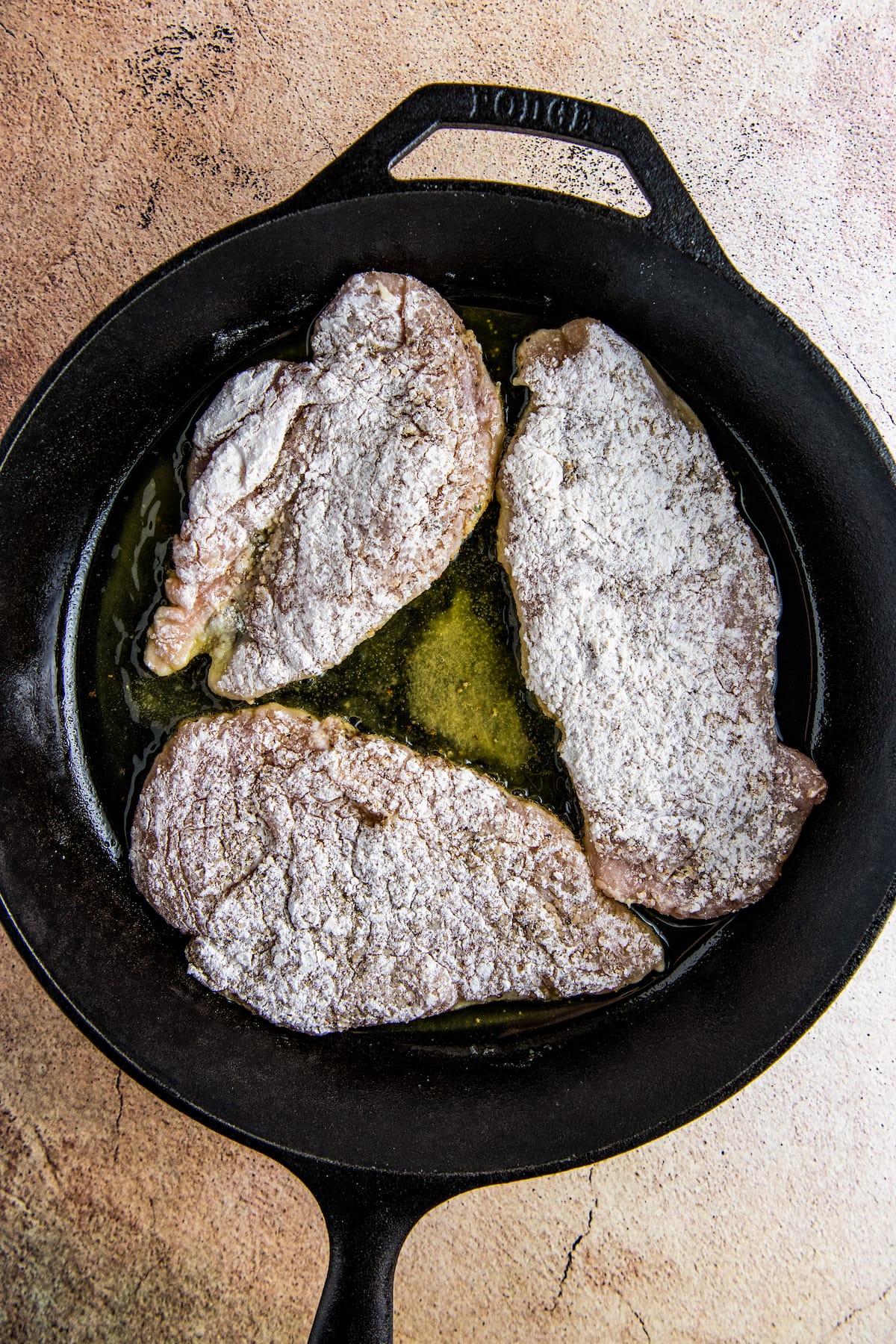 Then pan sear the chicken breasts. You'll want to be sure that the oil is nice and hot before dropping in the chicken breasts. Cook each breast for about 3-4 minutes on each side.
Serve immediately! You can keep any cooked chicken breasts warm in the oven (we suggest around 200F) while you cook the remaining pieces.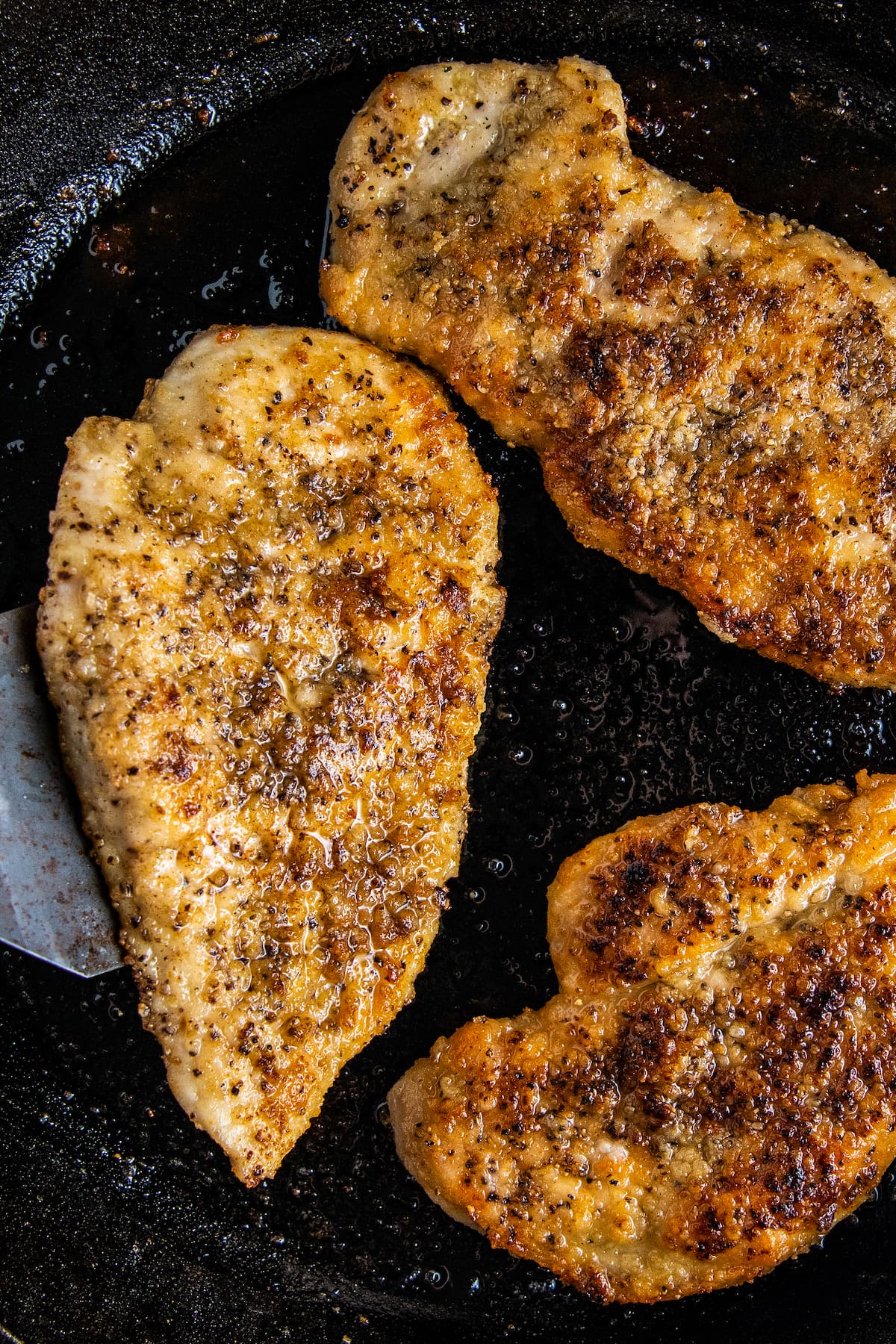 How Do I Know When Chicken Breasts Are Done?
To key to making sure that the chicken is cooked properly here is to make sure that they are pounded to be nice and thin. This will assure that they cook quickly and crisp up perfectly.
To make sure that they are cooked through, you can slice the chicken. The chicken is done when the juices run clear and the chicken is no longer pink. Use a meat thermometer to be extra sure that the chicken is done. The chicken should be 165F.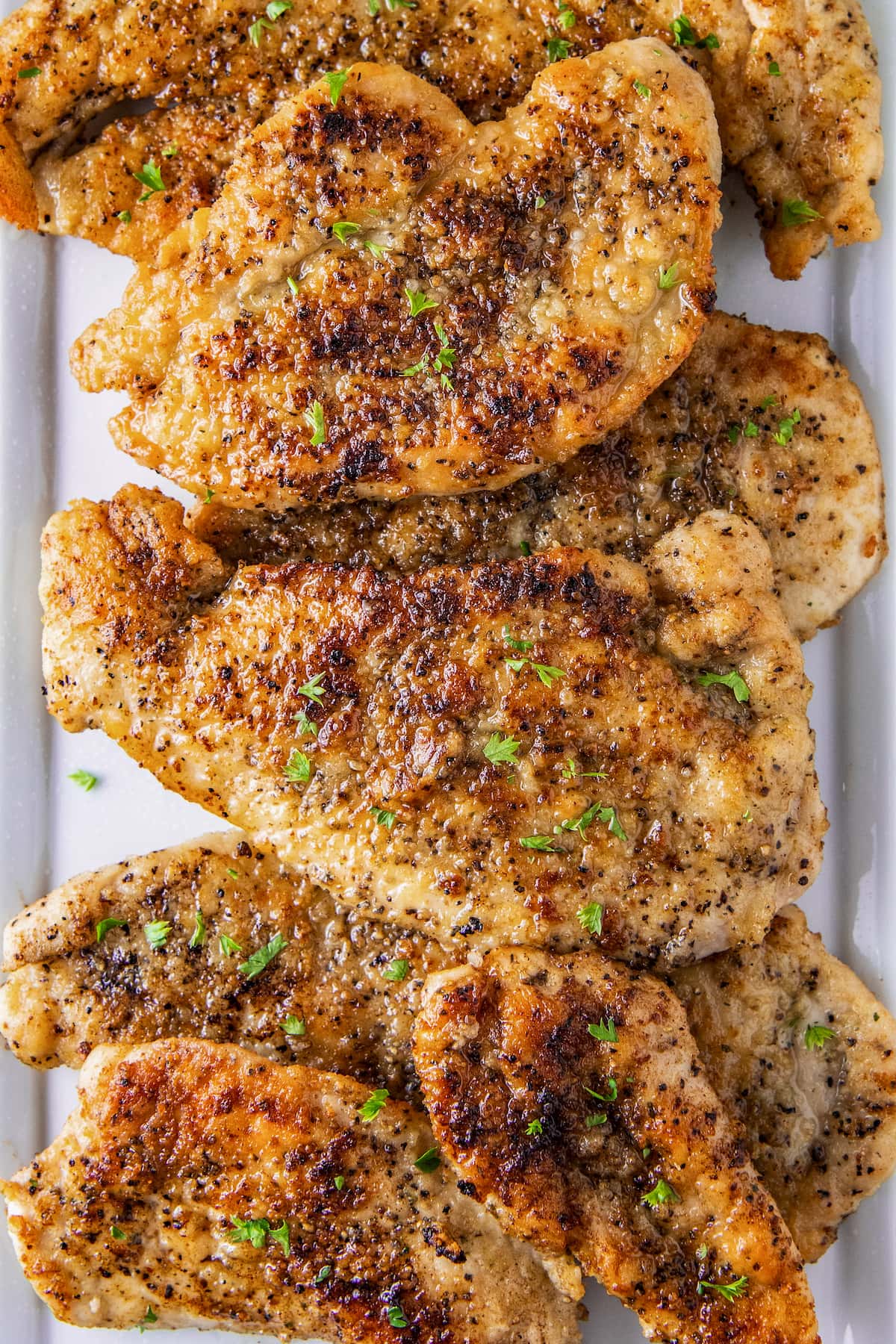 Tips for Cooking Juicy Chicken Breasts
Here are some helpful tips to remember when pan searing chicken breasts.
No meat tenderizer? No problem! If you don't have a meat tenderizer, try using a rolling pin, a canned food, or even a bottle of wine will do the trick.
We highly suggest pounding the meat before cooking. Using a meat tenderizer is optional, but for the most tender chicken, it is a must! This also helps the chicken breasts to cook evenly.
Flour all of the chicken before you cook it. Have the chicken seasoned and floured before heating the oil. Not much oil is used and it will get hot quickly, so you'll need to work fast.
Use more oil as needed. Add more oil as you continue to fry the chicken if the pan gets too dry.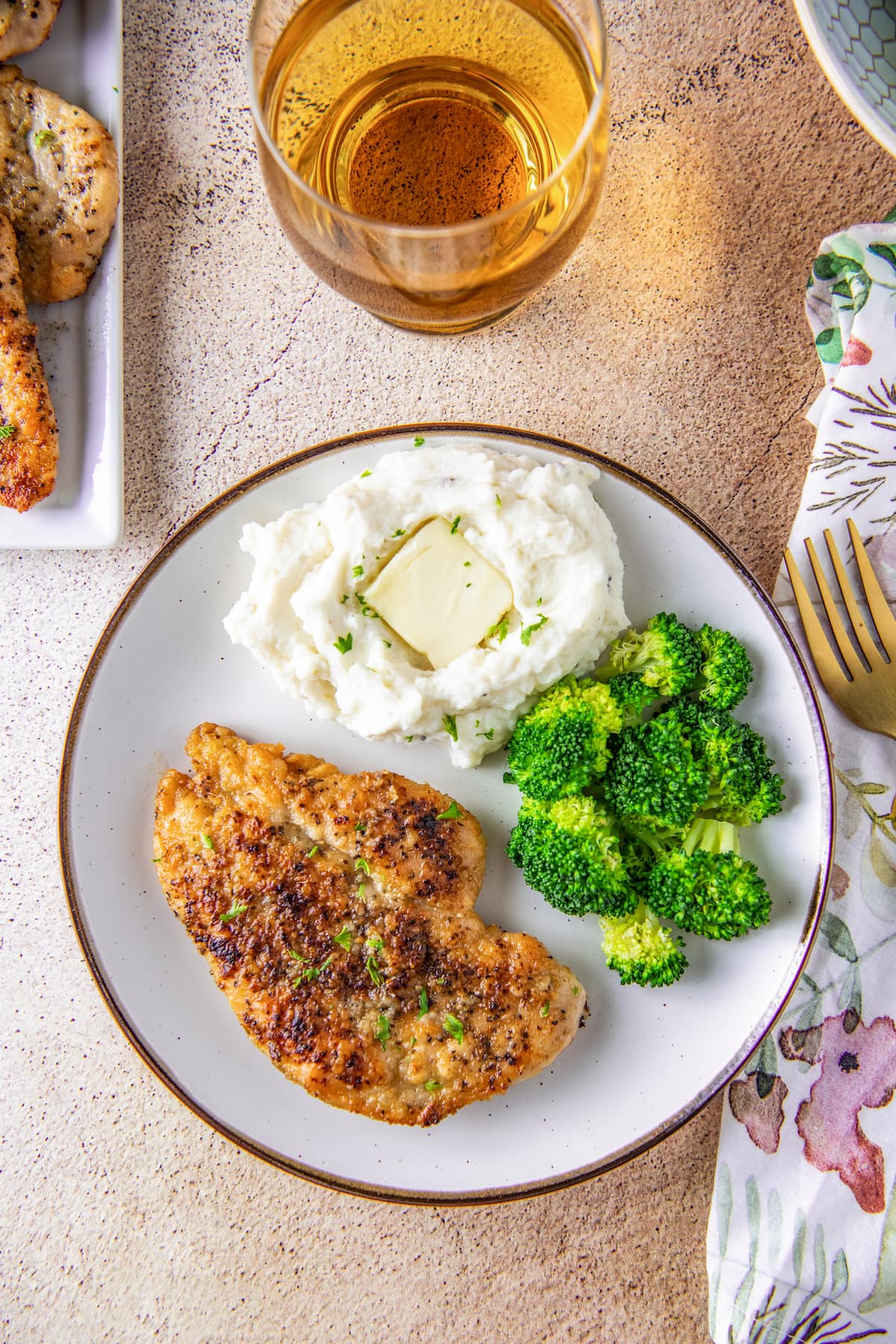 Serving Suggestions
Here are some of our favorite ways to serve Pan Seared Chicken Breasts: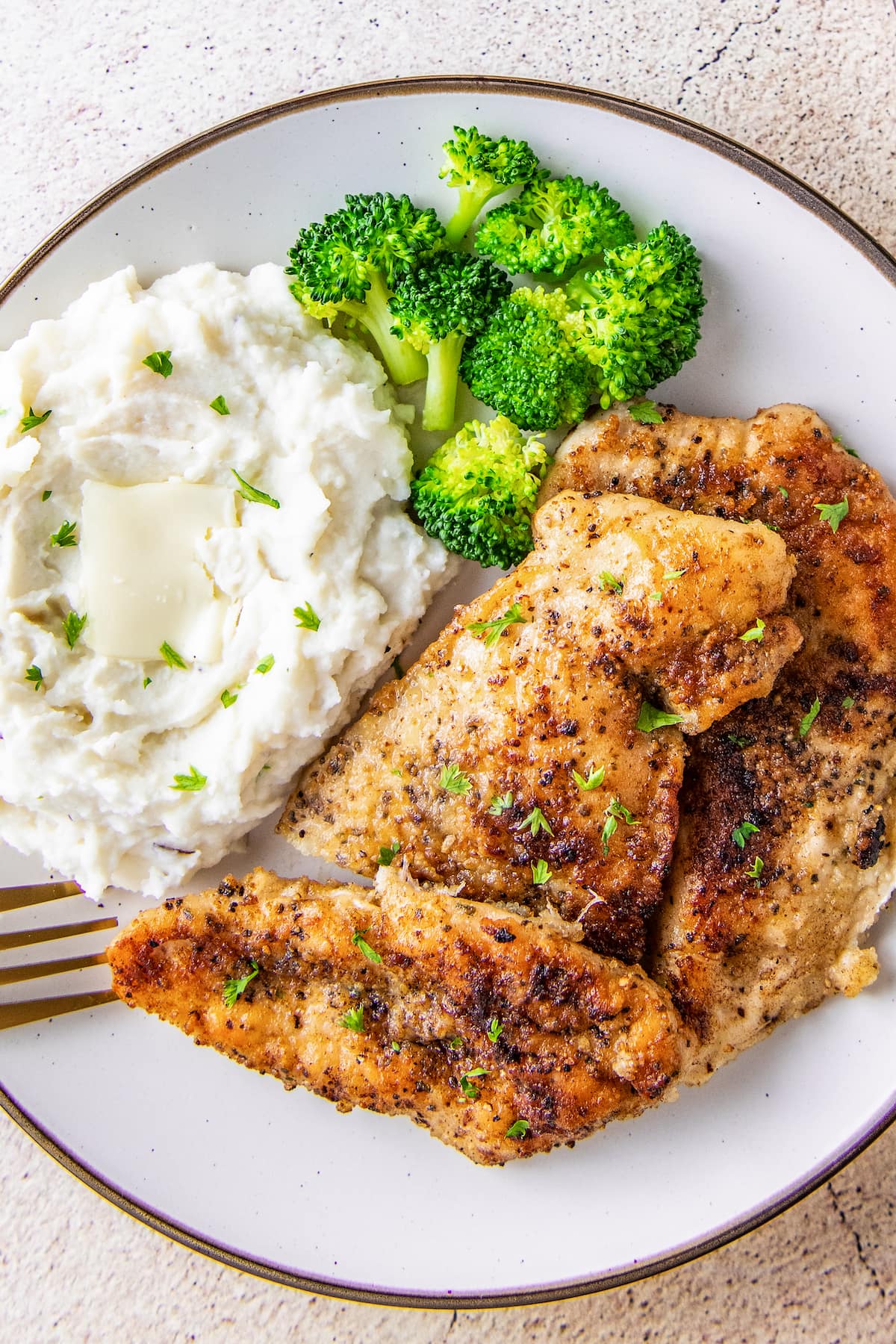 How to Store & Reheat Leftovers
These Pan Seared Chicken Breasts make great leftovers! Here is how to store and reheat extras:
Fridge: You can store them in an airtight container in the fridge for up to 5 days.
Reheat in the air fryer: The very best way to reheat is in an air fryer or the oven. If using the air fryer preheat to 350°F and set the time for 3-4 minutes.
To use the oven: Preheat the oven to 350°F, place the chicken in a baking dish, and then cover it up with foil. Bake for 15 minutes or until the chicken is hot and crispy again.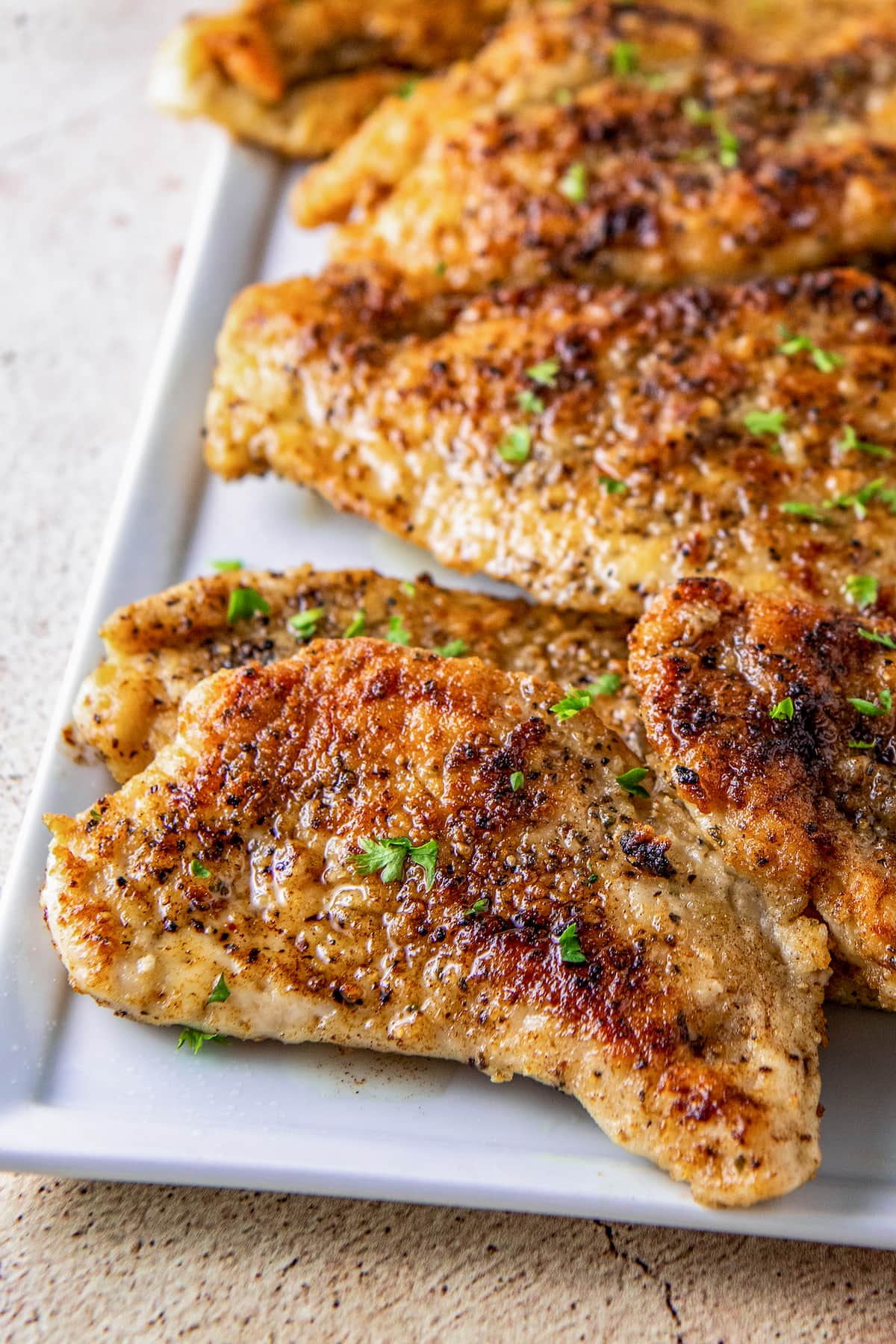 Can I Freeze Cooked Chicken?
We like to eat this chicken fresh and without freezing it. The breading may crumble off if you freeze it. If you choose not to use the breading, it would freeze a lot better.
This recipe is so quick and simple we don't see the need to freeze it! Remember, you can purchase a bulk package of frozen chicken breasts to keep on hand so that you can whip up this recipe anytime.
Yield: 4 servings
Pan Seared Chicken Breasts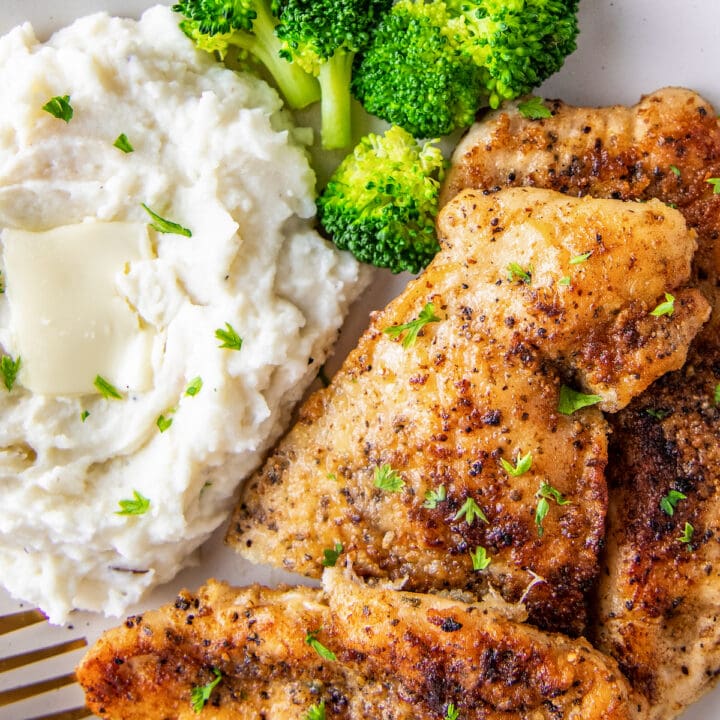 These quick Pan Seared Chicken Breasts are so easy to make. You only need 3 ingredients - chicken, garlic salt, and flour. Plus, it takes less than 30 minutes to prepare!
Ingredients
2 pounds boneless chicken breasts
½ cup all purpose flour
1 tablespoon garlic salt
1 teaspoon black pepper
1/2 teaspoon salt
3 tablespoons olive oil or avocado oil
Instructions
Using a sharp knife (a filet knife works best), slice each breast into 2 thin pieces. Place chicken breast on a cutting board and gently pound into an even thickness with a meat tenderizer.
Season both sides of the chicken breasts evenly with garlic salt, black pepper and salt.
Coat the seasoned chicken breasts with flour and set aside.
In a large frying pan, over medium heat, add just enough oil to cover the bottom of the frying pan.
Once the oil is hot, add the chicken breasts to the frying pan. Do not crowd the chicken, if the pot is not large enough to fry all the chicken at once, fry in batches.
Fry chicken on each side for 3-4 minutes, until golden brown and cooked through. (Chicken is cooked once it reaches 165°F with a meat thermometer.) Serve as desired!
Notes
Storage: You can store them in an airtight container in the fridge for up to 5 days.
Nutrition Information:
Yield:
4
Serving Size:
1
Amount Per Serving:
Calories:

557
Total Fat:

22g
Saturated Fat:

4g
Trans Fat:

0g
Unsaturated Fat:

16g
Cholesterol:

193mg
Sodium:

1622mg
Carbohydrates:

13g
Fiber:

1g
Sugar:

0g
Protein:

72g
Filed Under:
More Easy Chicken Recipes