Keep this easy Potsticker Soup recipe handy for when you're craving something unique, flavorful, and quick! The soup develops an incredible umami flavor from soy sauce, sesame oil, and fresh ginger. Plus, it's ready in under 30 minutes!
The Easiest Potsticker Soup Recipe Ever
If there's one ingredient we always grab when we're at Costco or Trader Joe's, it's the frozen potstickers. You just simply cannot go wrong with these items because not only are they delicious, but you can cook them in so many different ways – like a delicious One-Pot Potsticker Soup!
So, if you don't already have a bag in the freezer, go grab one now because you're going to be dying to try this soup recipe. This is because our Potsticker Soup is the easiest to make and one of the best ways to enjoy frozen potstickers and it's a filling enough soup that you can have it as a meal!
This Chinese-inspired soup has a perfect balance of umami flavor from soy sauce, sesame oil, and minced ginger. And then fresh and slightly bitter boy choy is added for nutrition and a bright pop of green. The potstickers simmer in the delicious broth and round out this soup-for-dinner recipe perfectly.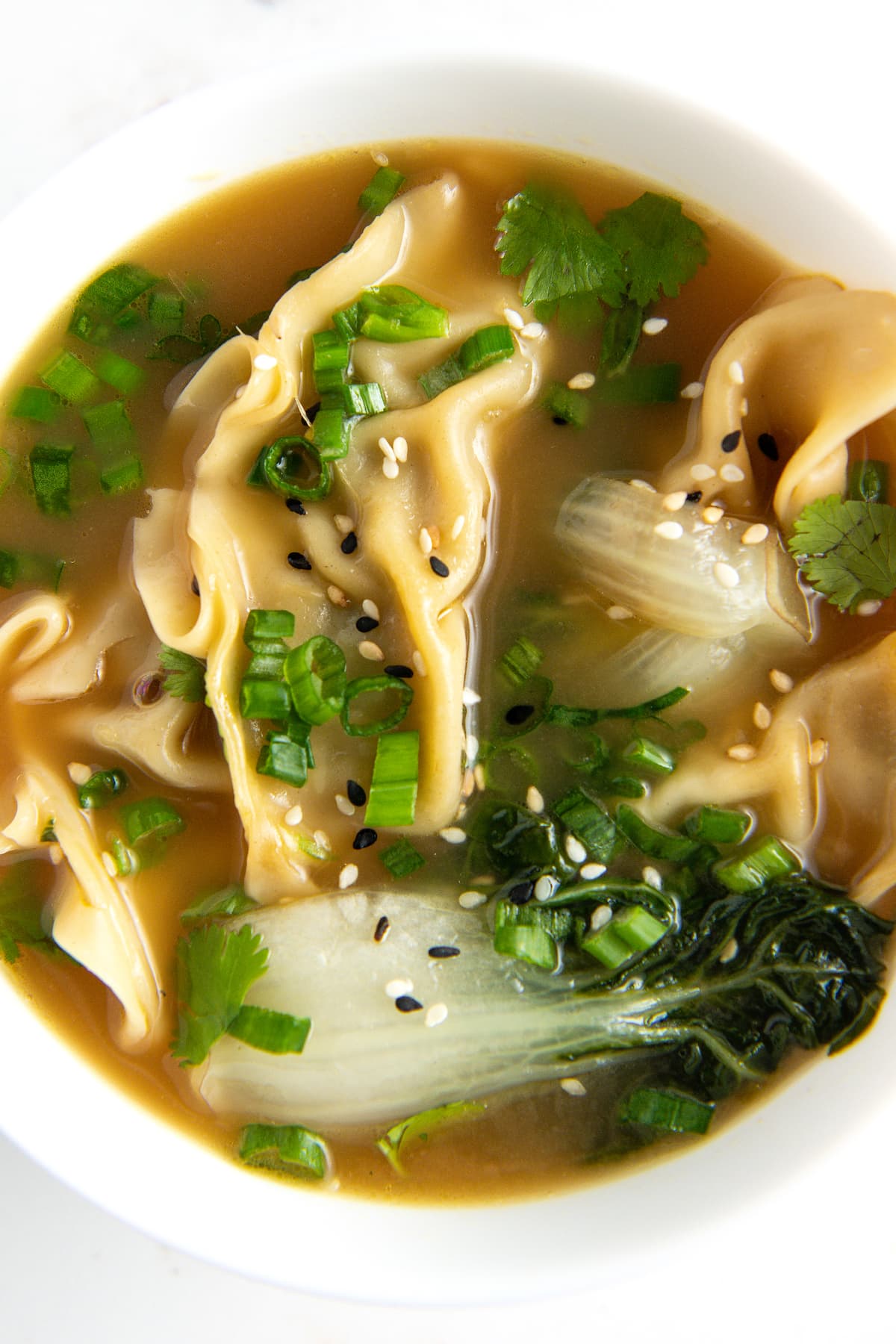 Why You'll Love This Soup Recipe
Here's why you're going to love this Easy Potsticker Soup recipe.
It's so easy to make! Honestly, there is very little knife work (just a little vegetable chopping!) and the rest of the steps are adding the ingredients to the pot. Bonus points – your kids could easily make this recipe with you!
It helps you explore different flavors. Speaking of kids, this a great recipe to showcase different flavors and cuisines with your family. It's a great way to expand their palette! It's not spicy at all and the flavors are kid-friendly and irresistible.
One pot meal. It's a one-pot soup recipe and there's essentially no mess and no cleanup!
Ready in under 30 minutes. This is by far one of the best recipes to make when you're scrambling for dinner because it's so quick to make.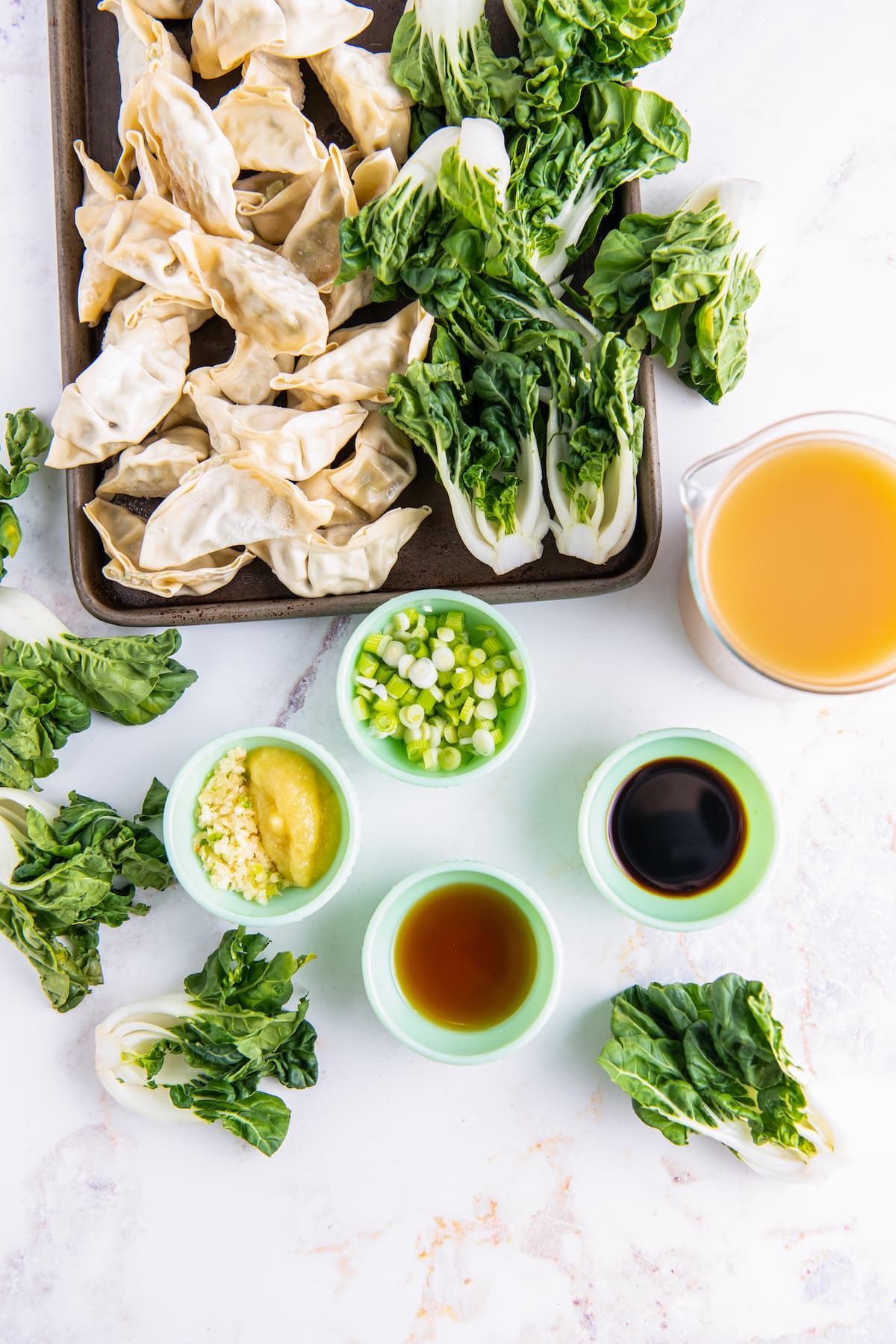 What You'll Need
The list of ingredients for this potsticker soup is below. And please remember that the ingredient amounts and recipe instructions are at the bottom of the post in the recipe card.
For the Soup
Sesame Oil: This is one of those ingredients where a little bit goes a long way. Sesame Oil has a deep earthy and nutty flavor and we love it so much that we will add a drizzle to our bowl before we eat the soup.
Garlic and Ginger: Use fresh ginger and garlic only because the dried versions will not create the same flavor.
Green Onions: You could also use white onions, but we highly recommend green onions as they work really well with this soup.
Broth: You can use chicken or vegetable broth. And we also recommend sticking with low-sodium broth so that you can control the salt level of the soup.
Frozen Potstickers: Use whatever brand you like best! We love the ones at Costco and Trader Joe's, so you know you can't go wrong with those.
Soy Sauce: Or you can use coconut aminos or tamari.
Baby Bok Choy: You could also use fresh spinach or kale for greens, but the bok choy is divine in this recipe!
Optional Toppings
Cilantro
Sesame Seeds
Red Pepper Flakes
Soy Sauce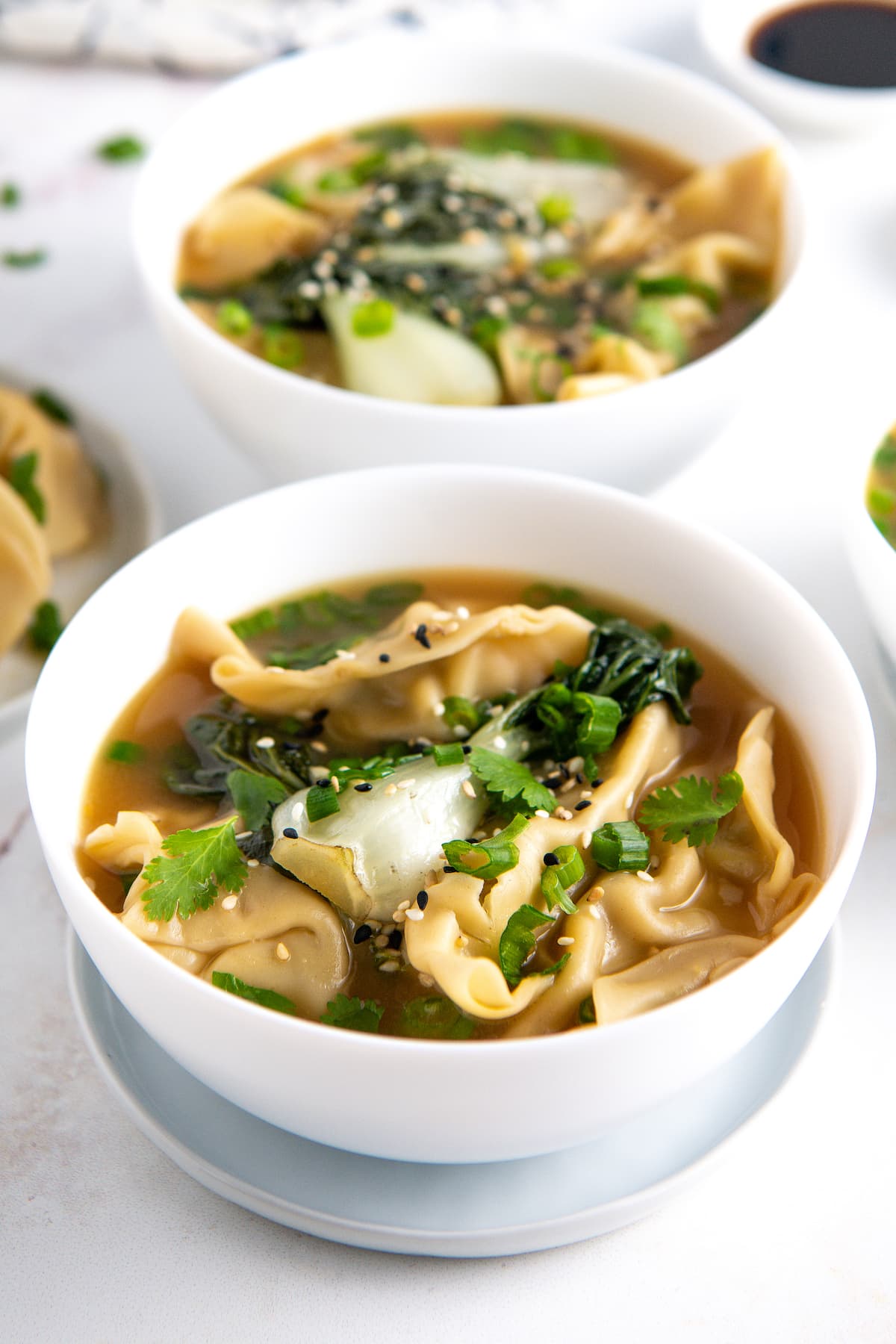 What is a Potsticker vs. a Dumpling?
Basically, a potsticker is a type of dumpling. And dumpling is a general term used for various items that are made by rolling small pieces of dough flat, filling them with vegetables and protein, and then cooking them. Many different cultures cook dumplings so there are so many different kinds of dumplings.
A potsticker stands out in that it's made with a thin rice wrapper instead of dough and has Chinese origins. They can be filled with anything from chicken to ground pork to vegetables. We love cooking them in the air fryer, pan-frying, and with this soup!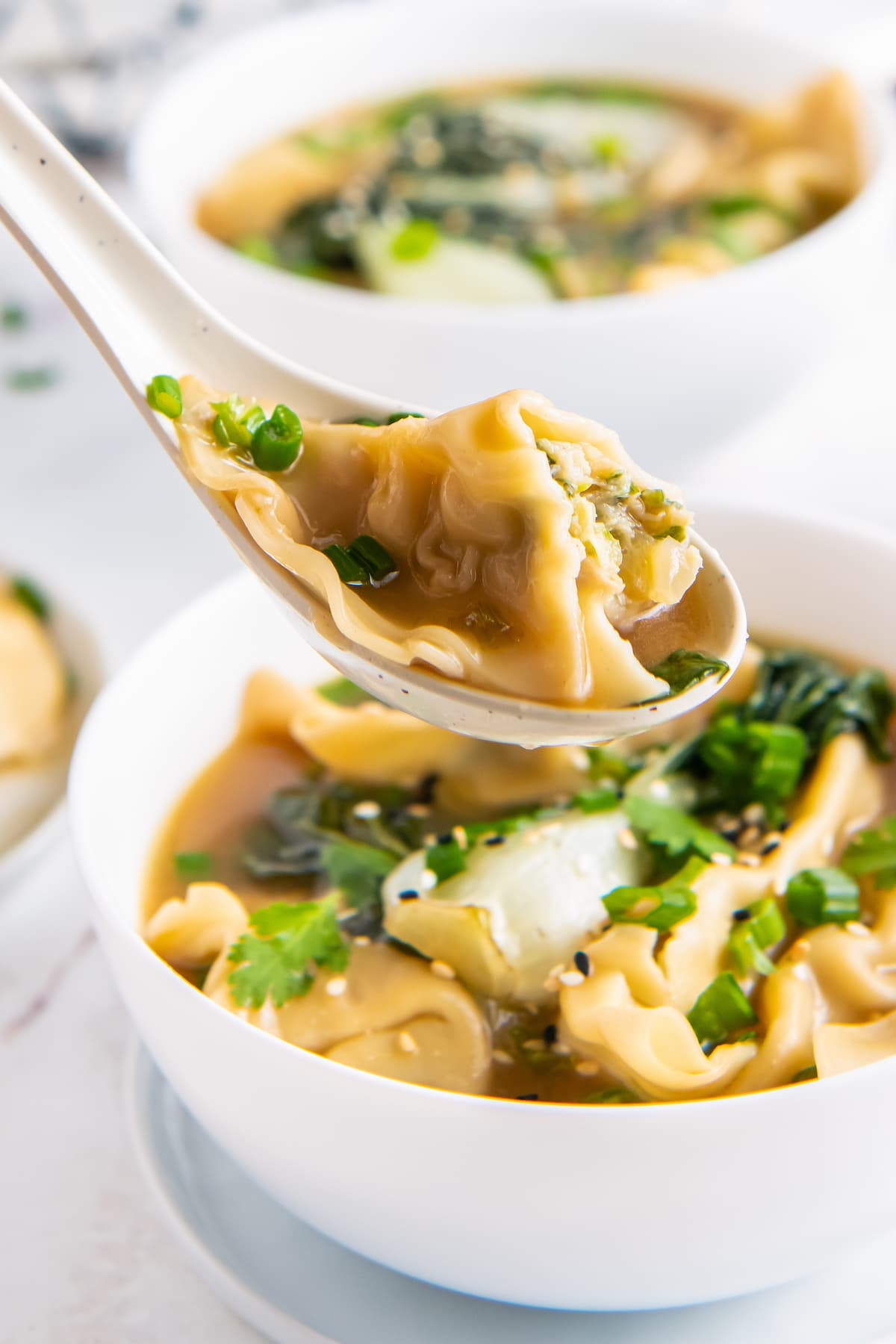 How to Make Easy Potsticker Soup
You'll be enjoying delicious soup in no time at all. Here's how to make this easy recipe.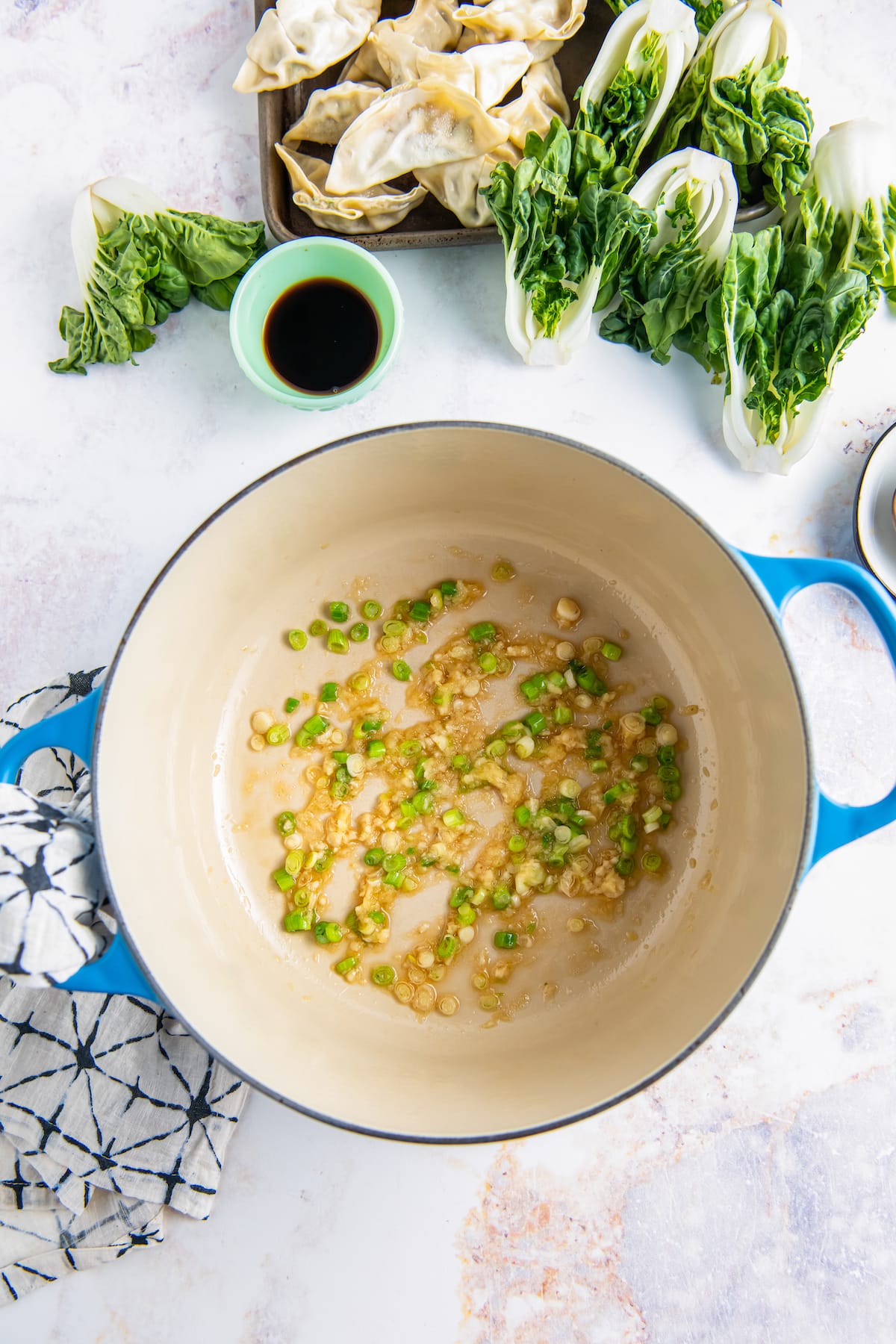 First, start with ginger, garlic, and green onions. Cook these ingredients (the white part only of the green onion) in some sesame oil in a large dutch oven or pot.
Then add the broth. Add the broth and bring it to a boil.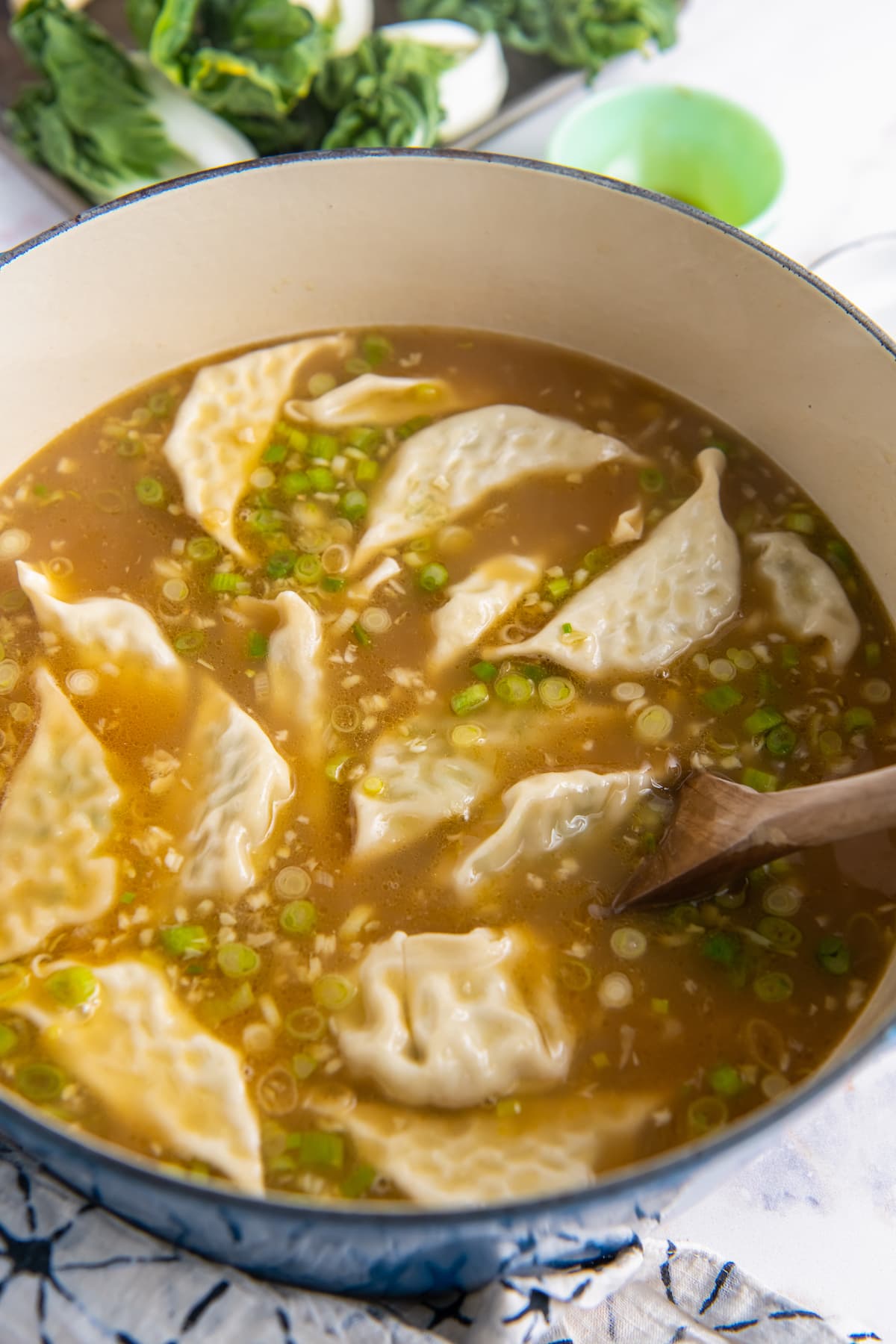 Add the potstickers. Next, carefully drop in the potstickers and simmer for about 10 minutes.
Add the soy sauce and bok choy. Simmer for another 5 minutes. As the soup finishes you can add the top parts of the green onion (sliced).
Serve immediately! And don't forget to add your favorite toppings!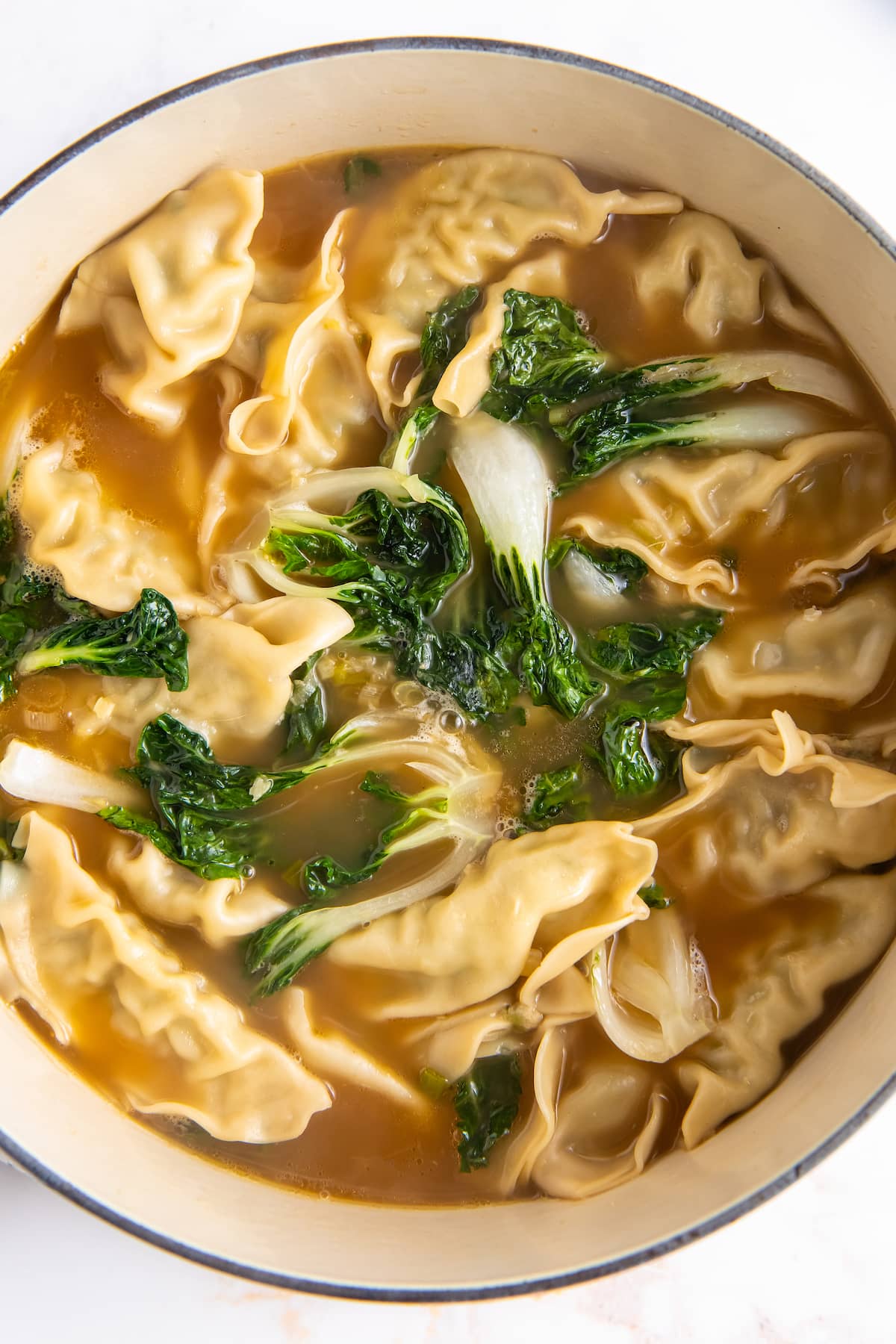 Recipe Tips and Variations
Here are some ingredients that you can add to the soup plus a few helpful tips.
Use your favorite potstickers (you can't go wrong!). We used Bibigo chicken & vegetable potstickers that I find at Costco. You can use any brand of frozen potstickers you like!
Prep the bok choy correctly. Cut the bok choy and then rinse thoroughly. Bok choy usually has a little dirt in it, but will easily wash away once you cut it and rinse it under water.
Baby bok choy vs. regular boy choy: We used baby bok choy because it is always tender. If you use regular bok choy, make sure to let it simmer a few extra minutes until tender, about 10 to 15 minutes of cook time.
Watch the salt. We did not add salt because the broth and soy sauce are both salty already. Be sure to taste as you go along and add salt if you like. Or you can use low-sodium products and salt as needed.
Add more veggies! You can also add shredded carrots when you add the broth for more vegetables.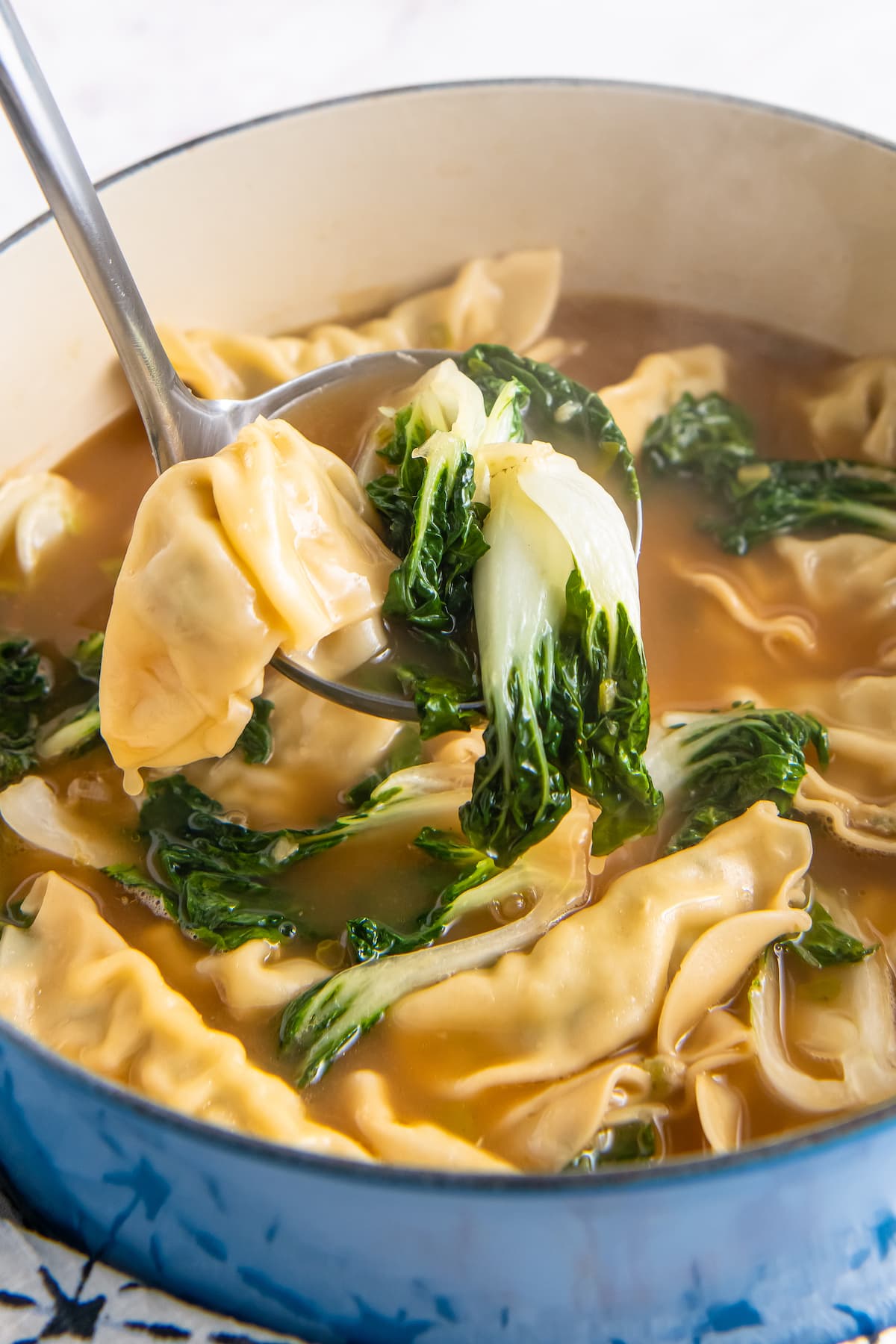 What to Serve with Potsticker Soup
This soup is a great one-pot dinner and it's even better when you pair it with some of the suggestions below!
Pair with another healthy Asian-inspired recipe. We love our Chicken Lettuce Wraps and they go great when paired with this soup because it makes for a light and healthy dinner.
Simple sandwiches for the kids. The soup and sandwich combo always wins over the little ones! You can make our Super Easy Air Fryer Grilled Cheese and call it dinner.
Chicken wings for the win. We don't know why, but our families always go nuts when we serve chicken wings with soup and chili! It's the perfect cozy dinner option and our Air Fryer Chicken Wings are perfect to try.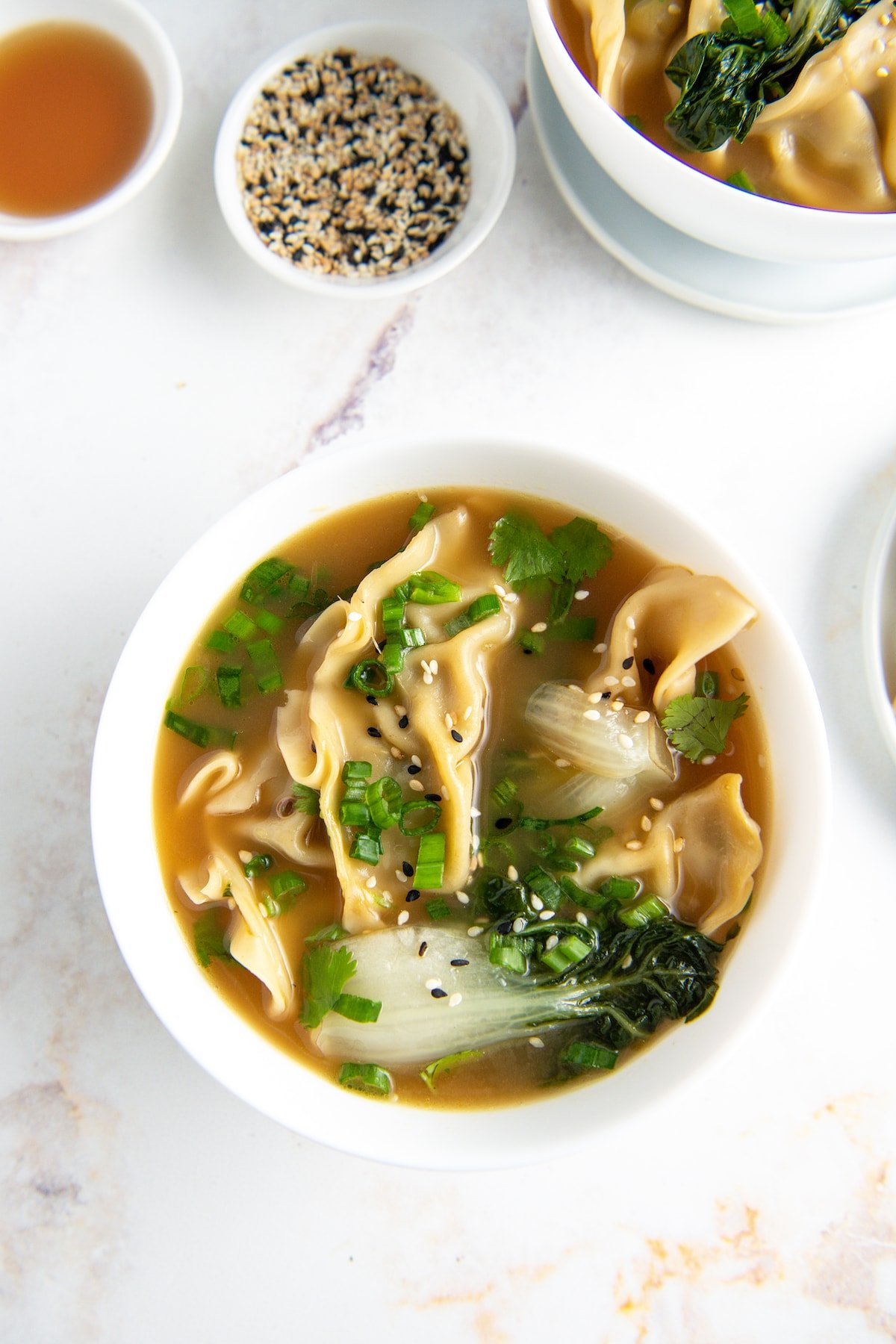 How to Store and Reheat Leftovers
Refrigerate leftover Potsticker Soup for up to 5 days in an airtight container. And then you can reheat on the stovetop whenever you're ready for round 2! Keep in mind that the dumplings will likely get softer the longer they sit in the broth. So, for the best results, eat the soup right away.
Can I Freeze This Soup?
We don't recommend freezing the soup because, as we said before, the dumplings will get softer the longer they sit in the broth. But the joy of this recipe is that it comes together so quickly that there really is no need to freeze it!
More Easy Soup Recipes
Easy Potsticker Soup
This Potsticker Soup is so easy and comes together in under 30 minutes! A bold umami flavor develops from rich soy sauce, ginger, and earthy sesame oil.
Ingredients
2

tablespoons

sesame seed oil

1

tablespoon

minced garlic

2

tablespoons

minced ginger

1

bunch green onions

,

sliced and divided

2

quarts

broth

,

chicken or vegetable

1

24 oz package frozen potstickers

2

tablespoons

soy sauce

½

pound

baby bok choy

,

chopped
Optional Toppings:
Cilantro

Sesame seeds

Red pepper flakes

Soy sauce
Instructions
Heat sesame oil in a large soup pot or Dutch oven over medium heat.

Add the minced garlic, ginger, and the white part of the green onions. Sauté for 2 minutes.

Pour the broth into the pot and bring the soup to a low boil over medium high heat.

Once the broth is boiling, carefully add the potstickers and let boil for a minute. Then reduce the heat to a medium, and simmer soup for 10 minutes.

Add bok choy and soy sauce and simmer for 5 minutes, more.

Serve hot with sliced green onions and optional toppings as desired.
Notes
Storage: Refrigerate leftover Potsticker Soup for up to 5 days in an airtight container. Reheat in the microwave or back on the stove top.
Nutrition
Serving:
1
,
Calories:
343
kcal
,
Carbohydrates:
26
g
,
Protein:
17
g
,
Fat:
19
g
,
Saturated Fat:
3
g
,
Polyunsaturated Fat:
15
g
,
Cholesterol:
17
mg
,
Sodium:
1616
mg
,
Fiber:
3
g
,
Sugar:
9
g