This Crockpot Chili is a great weeknight dinner and makes even better leftovers! It has lots of lean beef, roasted tomatoes, and beans that make it a protein-packed recipe the entire family will love.
The Best Crockpot Chili Recipe
Crockpot Chili is proof that a rich and delicious chili can be prepped in 10 minutes and taste like it's an award-winning bowl! And with a few simple ingredients and some low and slow cooking, you can make a flavorful dinner that everyone will love.
We like to make our Crockpot Chili with lots of ground beef and an assortment of beans. Adding both ensures that we can get away with having just a "bowl" for dinner (rather than piecing together a bunch of side dishes). So if we're running late or simply running the kids around, we know we can count on this recipe to keep our family happy and fed.
That doesn't mean this chili doesn't deserve some delicious toppings. That's the best part! We love to top this chili with shredded cheese, sour cream, and Frito chips. We can't wait to hear what your favorite chili toppings are!
Looking for an easy chili without beans? Try our favorite Hot Dog Chili – perfect for topping chili dogs, nachos, frito pies and more!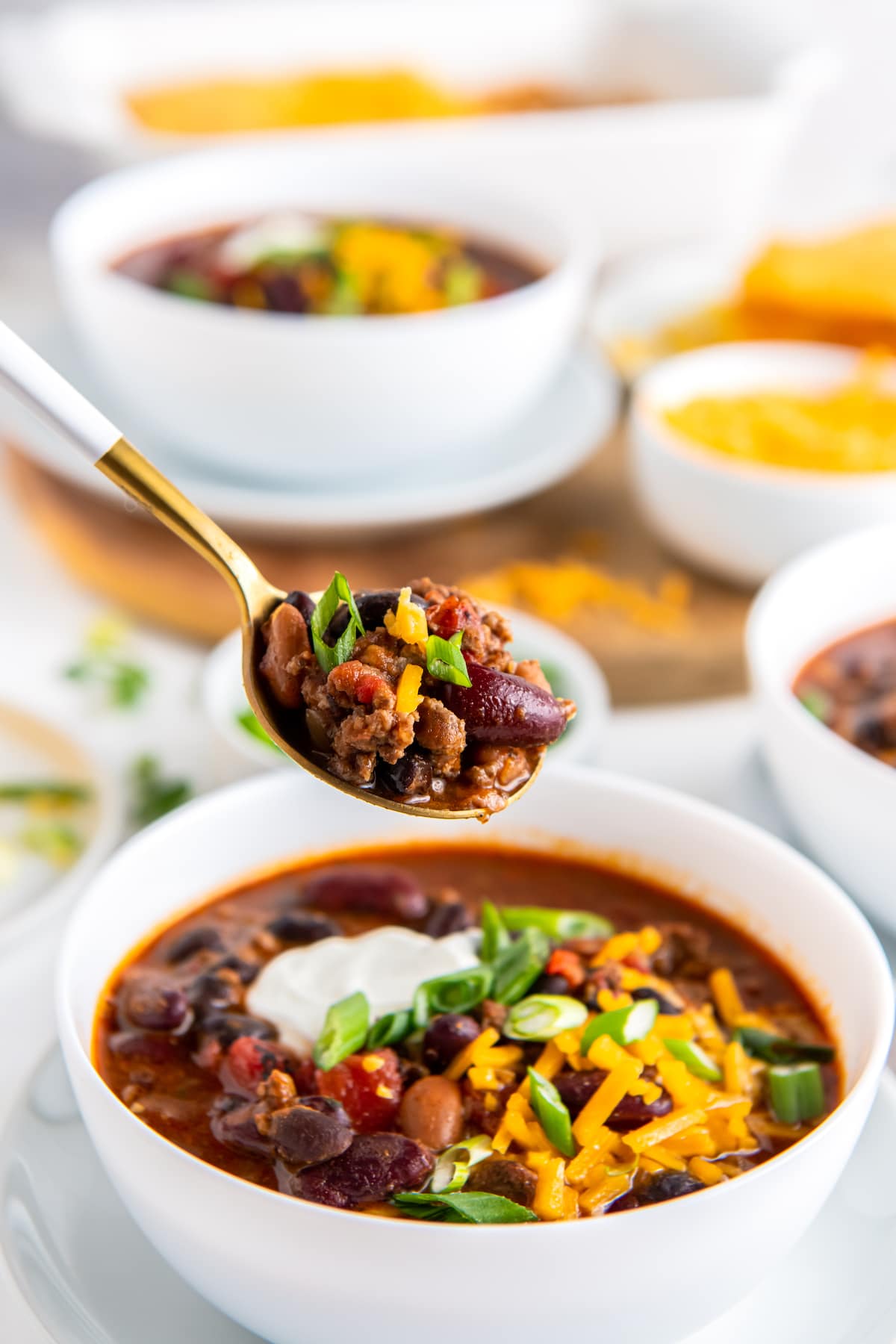 Why You'll Love This Recipe
Here's why this recipe is easily at the top of our list when it comes to easy healthy dinners.
It takes 15 minutes to prep. You can do the prep the night before or with a few minutes in the morning. All you need to do is brown the meat and then everything goes into the Crockpot. It's so simple.
The ingredients are easy to find and affordable. With the cost of groceries these days it's getting harder and harder to find affordable recipes for the whole family. These ingredients are right at the local supermarket and won't break the bank! Beans are some of the most healthy ingredients out there and you can get them for around $1 a can.
Set it and forget it! We love a good slow cooker meal and this one is no different. It's a recipe that works with our busy schedule and prevents us from scrambling to get dinner on the table at suppertime.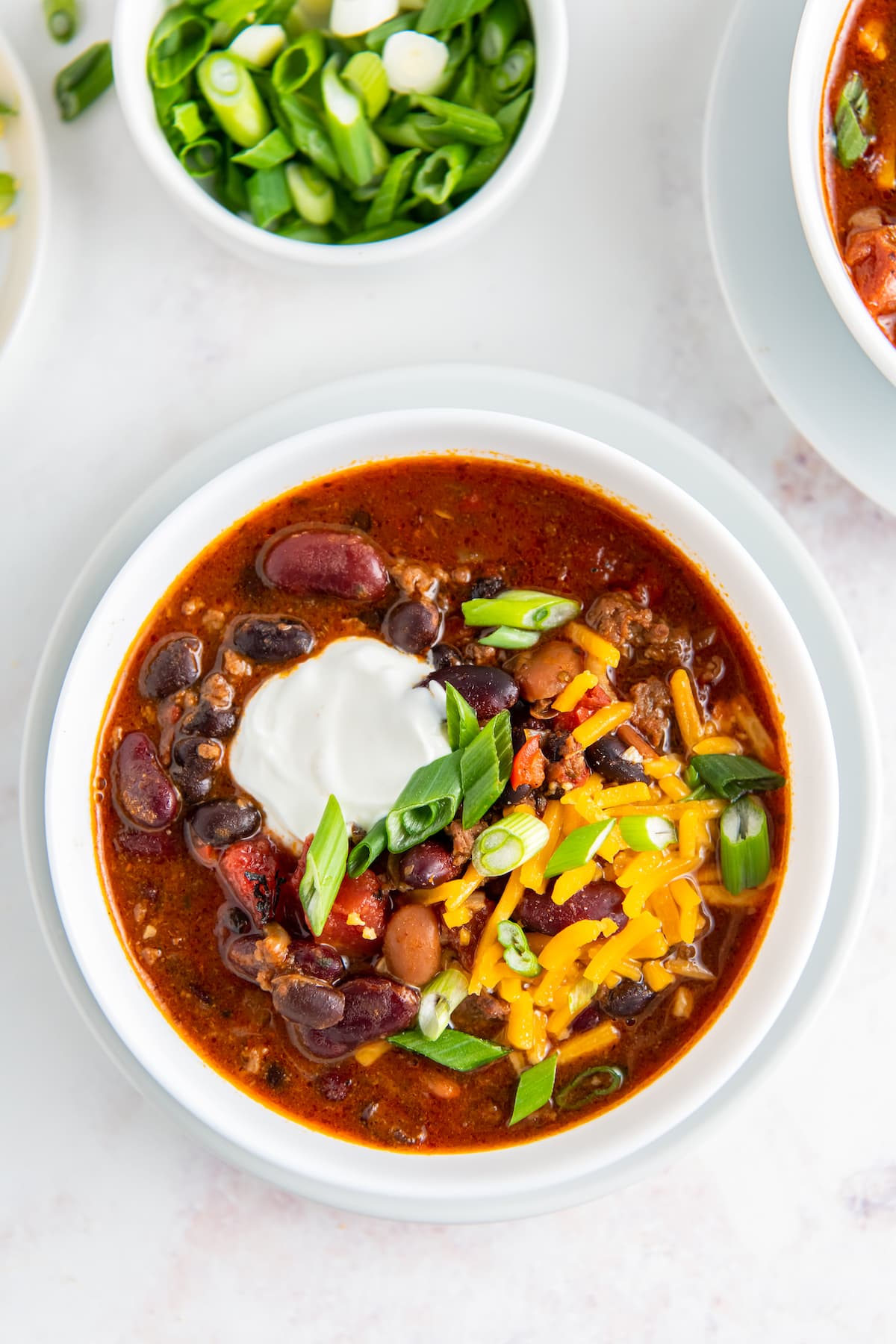 Recipe Ingredients
The list of ingredients for Crockpot Chili is below. Remember to check out the recipe card for the exact amounts and instructions.
Ground Beef: We used lean ground beef (90/10) so that the chili is less greasy.
Yellow Onion: White or sweet onions are also ok to use.
Bell Pepper: Red, orange, and yellow will add some sweetness to the chili. Green bell peppers have a stronger flavor.
Garlic: Always use fresh garlic for this chili for the best flavor!
Worcestershire Sauce: This adds a little salty and umami flavor to the chili which is a sweet earthy flavor that is so delicious! You can also use a dash of soy sauce if you do not have Worcestershire.
Chili Seasoning: Use our Homemade Chili Seasoning Recipe or you can buy some from the store.
Tomatoes: We used fire-roasted tomatoes with green chilis for a little kick, but you can also use two cans of Rotel tomatoes instead if you don't want the chili to be too spicy.
Tomato Sauce: We like to use unsalted so that we can add salt ourselves.
Beans: For this recipe, we used red kidney beans, black beans, and pinto beans.
Beef Broth: You can also use chicken or vegetable broth but the flavor won't be as rich.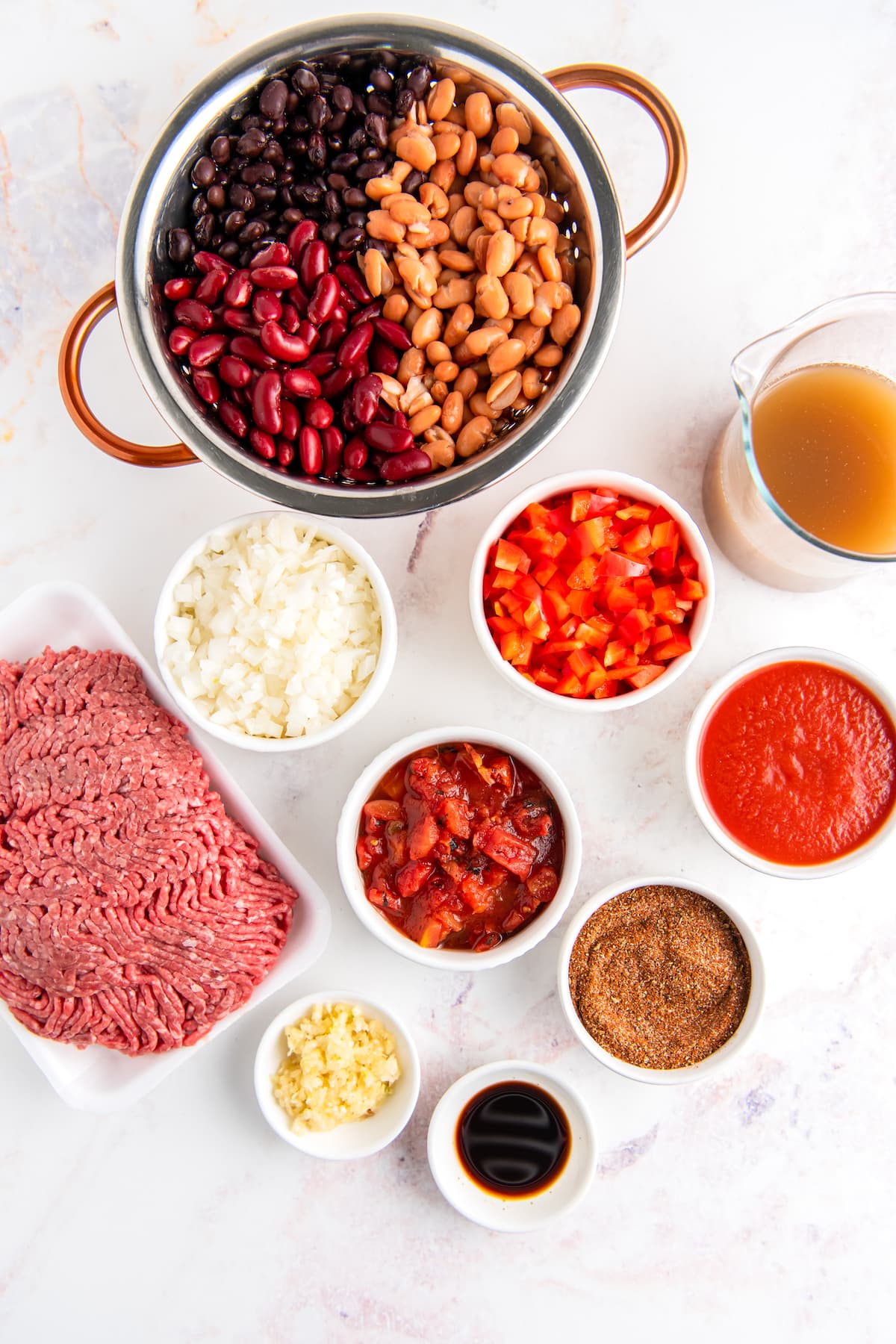 Topping Ideas
Adding toppings is one of the best ways to add more flavor and texture to the chili. We love adding some crunch and spiciness and here are our favorite ways to do so!
Shredded Cheese
Sour Cream or Plain Greek Yogurt
Chopped Onions
Hot Sauce
Fritos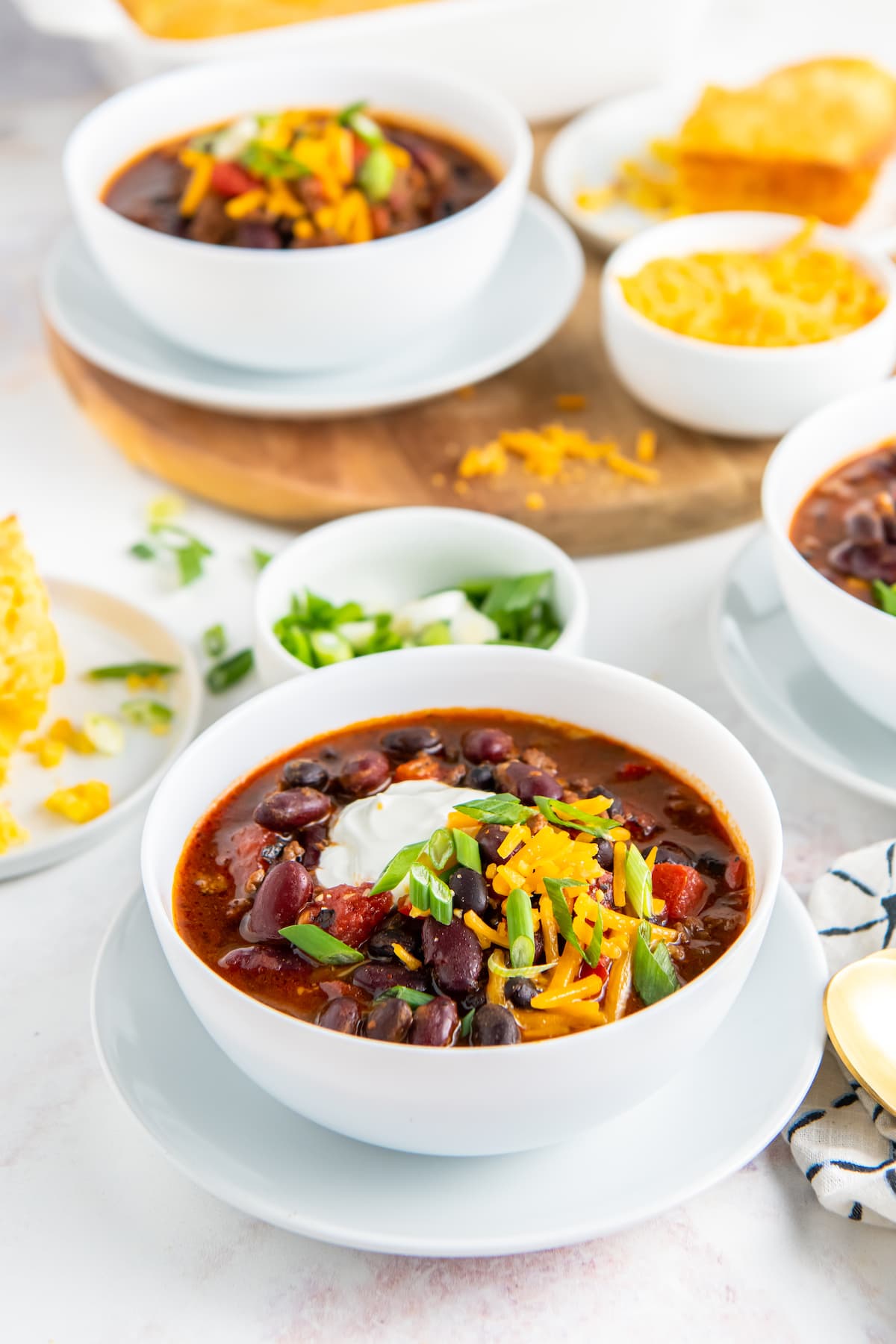 How to Make Slow Cooker Chili
The simple steps for making this recipe are below.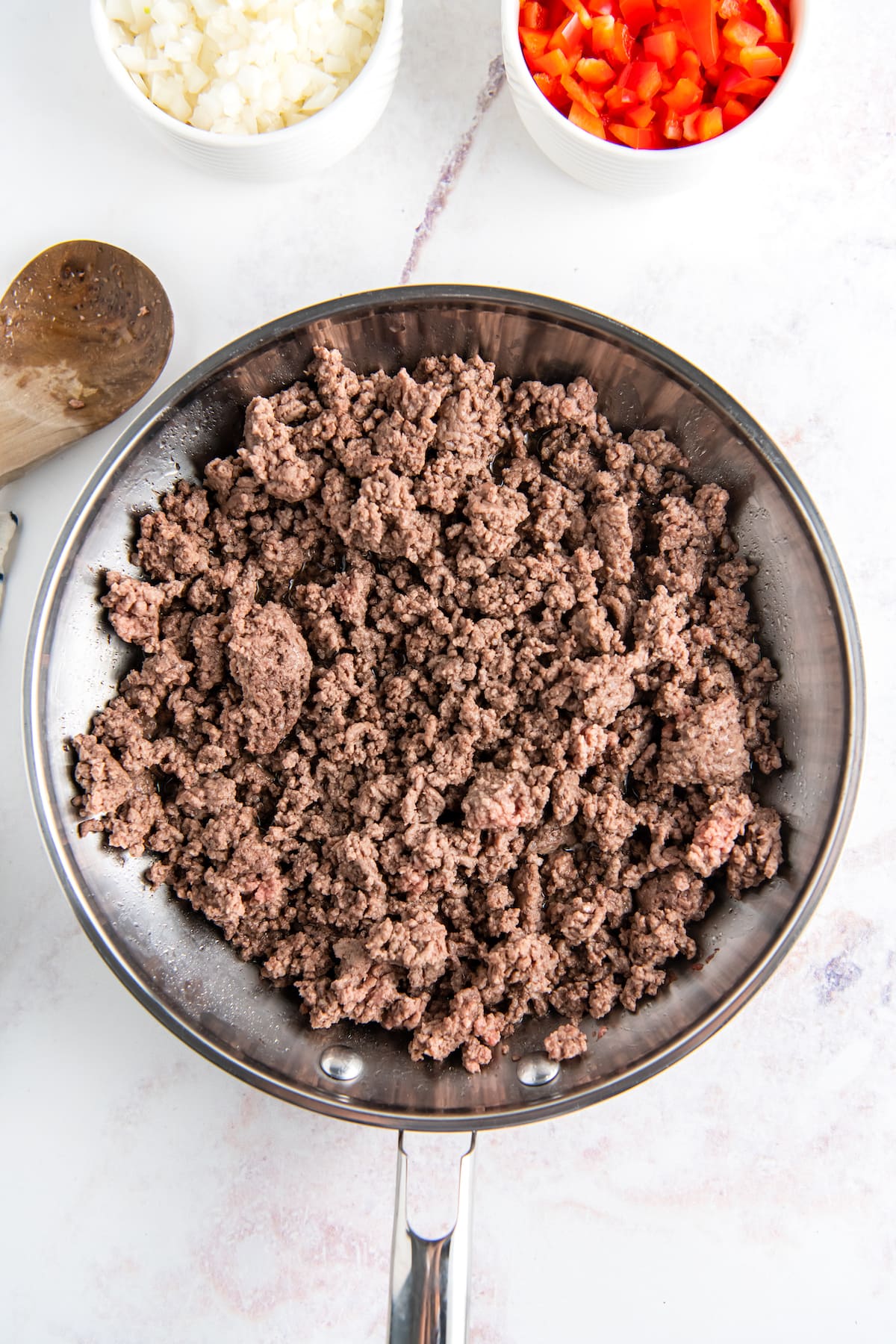 First, brown the meat. You'll do this on the stovetop. (Unless your slow cooker has a browning function). When the meat is cooked, add the onions, garlic, and pepper.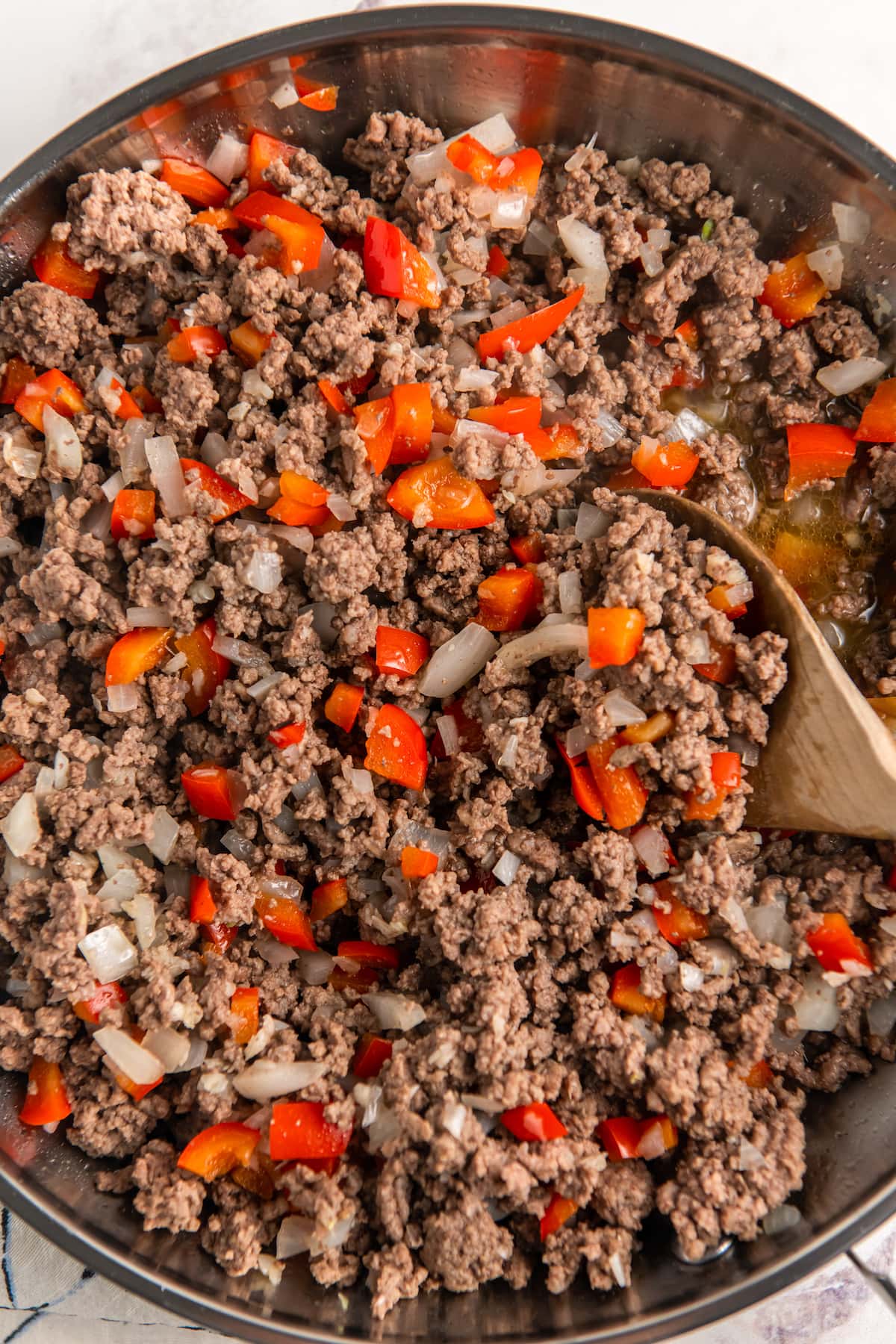 Stir in the peppers, onions, and garlic. You don't need to cook them for that long. About 3 minutes should be enough to soften them up and release their natural flavors.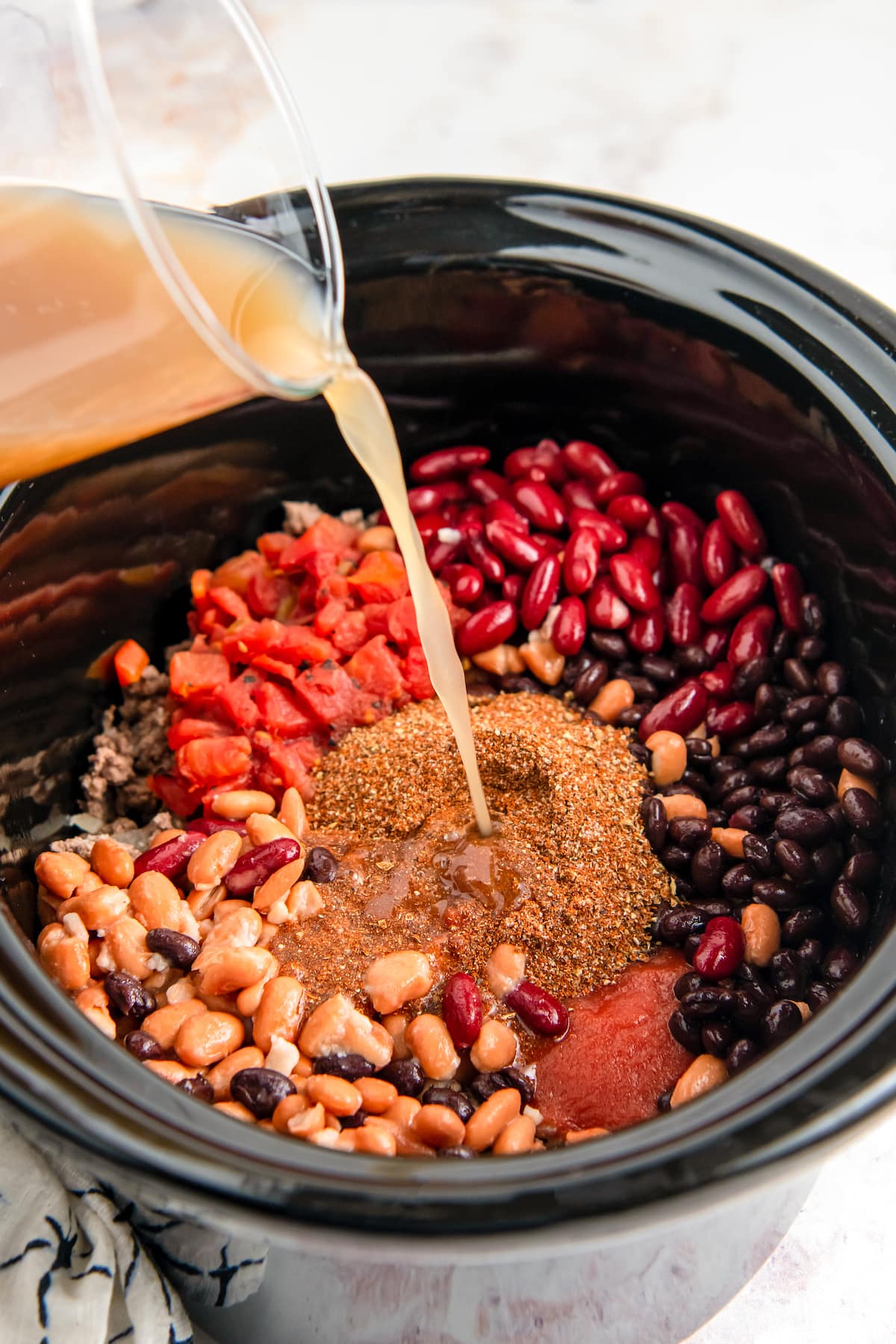 Then add the rest of the ingredients to the slow cooker. Once the beans, broth, seasonings, tomatoes, and tomato sauce are in the Crockpot, you can add the ground beef mixture.
Slow cook the chili. Cook on low for 6-8 hours or on high for 4-6 hours.
Serve with your favorite toppings! Add some red chili flakes at the end if you'd like a little kick. And then don't forget to add your favorite toppings like cheese, sour cream, and crunchy Frito chips.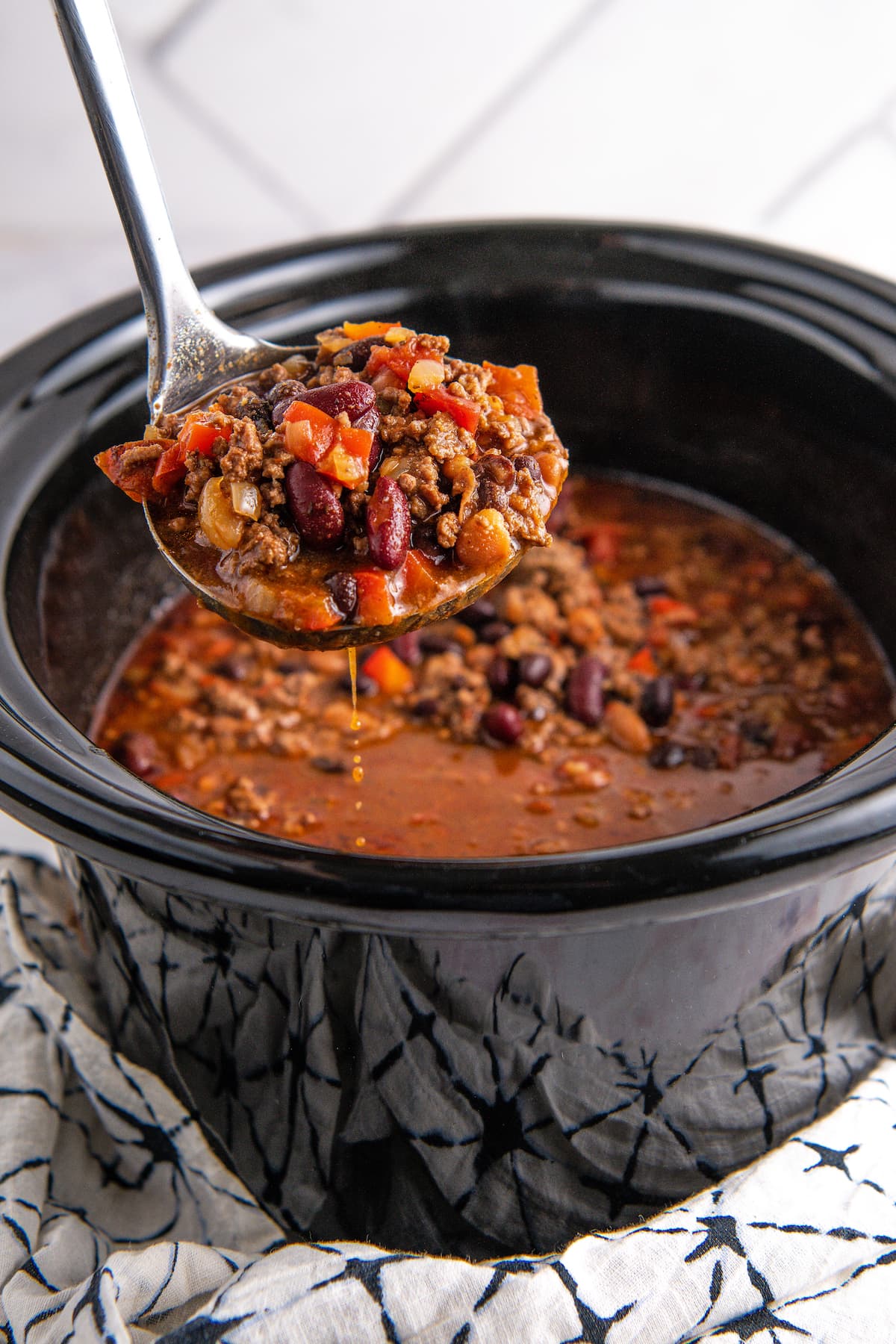 Can You Put Raw Beef in a Slow Cooker?
While some may say that you can put raw beef in a slow cooker, we don't recommend it. And it's mostly because you're going to get the best flavor when you sear meat before slow cooking it. Also, the texture of the beef is much different if you put it in the Crockpot raw (think pureed and more like a sloppy joe).
Some slow cookers now have a function where you can sear the meat right in that appliance. Which is great because saves you a pan! But if you don't have that function, we highly recommend cooking the beef separately on the stovetop before adding it to the slow cooker.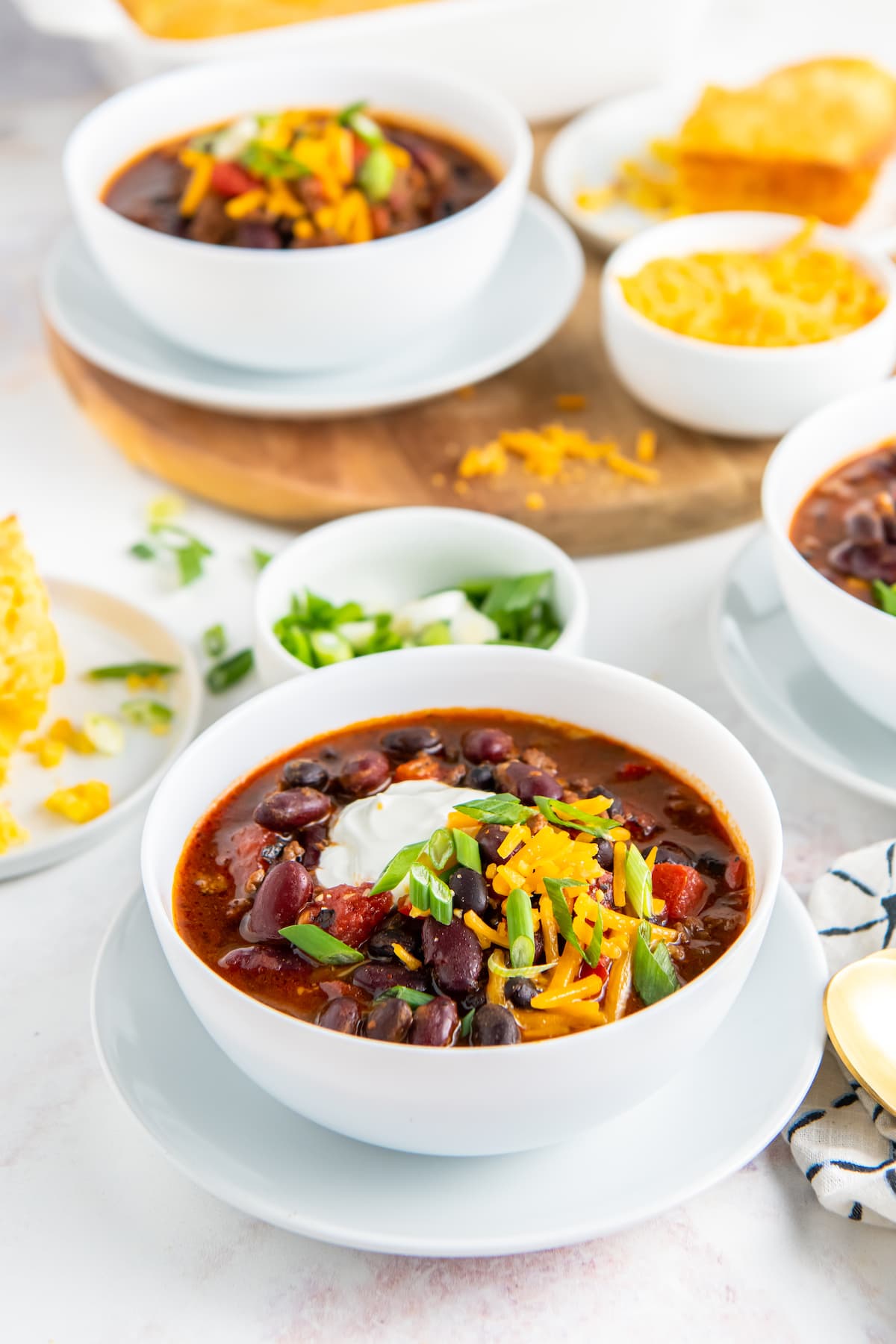 Tips and Variation Ideas
Follow these tips and variation suggestions to make this slow cooker chili recipe even easier!
Swap the meat: Use ground turkey or chicken for an even leaner chili recipe.
Remove any grease before putting the beef in the Crockpot. Simply strain out any grease so that it doesn't end up in the chili.
Add jalapenos: Add diced jalapeno peppers to the ground beef mixture with the other peppers and onions for an extra kick.
Be patient and don't be tempted to lift the lid! We promise you want to leave that chili alone while it's cooking. It's working its magic and you want to leave all of that heat and delicious flavor in the pot while the slow cooker is one.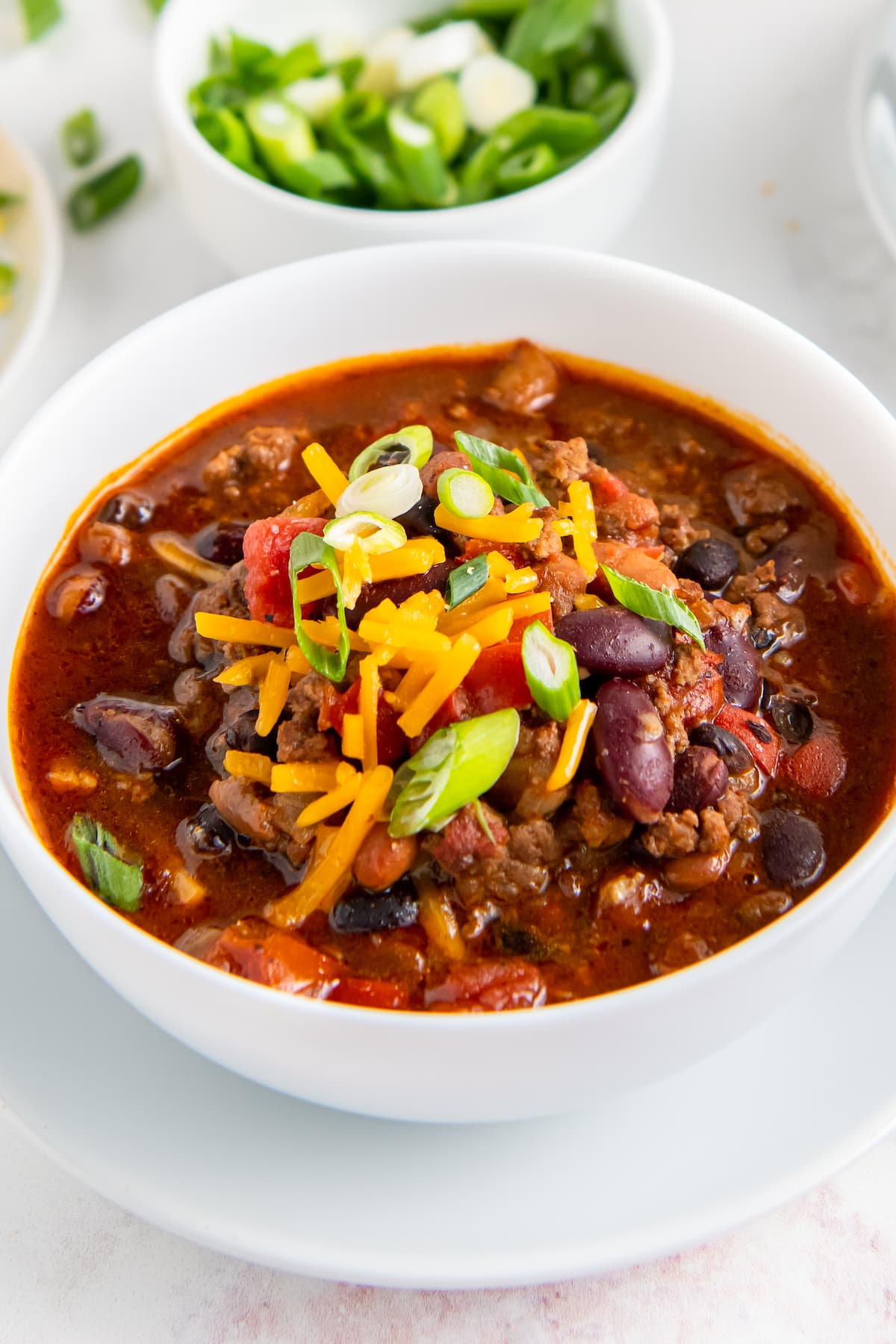 What to Serve with Crockpot Chili
You can enjoy Crockpot Chili on its own or pair it with one of our recipes below.
Make a chili bar with toppings and cornbread. Having a party? Set out all of the toppings in small bowls and bake some Homemade Cornbread and everyone can help themselves.
Mac and Cheese: We love a gooey side of mac and cheese with our chili. Or you can go all out and make out Chili Mac.
Potatoes: Chili makes a great topping for Baked Potatoes. You can also serve it on top of Baked Sweet Potatoes.
How to Store and Reheat Leftovers
You can refrigerate leftovers for up to 5 days in an airtight container. To reheat, you can use a pan on the stove or the microwave.
Additionally, you can use the slow cooker again if you're reheating a large batch. Simply put the slow cooker on high and heat for about 20-30 minutes.
Can I Freeze This?
Yes! You can freeze Crockpot Chili and it's so simple. We suggest freezing the chili in freezer-friendly bags so that they can lay flat in the freezer.
The night before you want to eat the chili put it in the fridge to thaw. Then you can reheat per the instructions above.
Crockpot Chili
Crockpot Chili is quick to prep and a great weeknight dinner! It has tons of protein from lean ground beef and beans. Plus smokey and rich flavor from fired roasted tomatoes, onions, and peppers.
Ingredients
1 ½ to 2

pounds

lean ground beef

1

yellow onion

,

diced

1

bell pepper

,

seeded and diced

2

tablespoons

minced garlic

1

tablespoon

Worcestershire sauce

¼

cup

chili seasoning

1

14.5 oz can fire roasted tomatoes with green chilies

1

8 oz can tomato sauce

1

15.5 oz can dark red kidney beans, rinsed and drained

1

16 oz can pinto beans. rinsed and drained

1

15.25 oz can black beans, rinsed and drained

1

cup

beef broth

1

teaspoon

crushed red pepper flakes

,

optional
Optional Toppings:
Shredded cheese

Sour Cream

Chopped onions

Hot sauce

Fritos
Instructions
In a medium size skillet, brown the ground beef (if there is a lot of grease drain off most of the grease).

Add the onion, bell pepper and garlic and cook an additional 3 minutes or until the onion is translucent.

Carefully add the ground beef mixture to the crockpot.

Stir in the Worcestershire sauce, chili seasoning, fire roasted tomatoes, tomato sauce, kidney beans, pinto beans, black beans and beef broth. Stir until well blended.

Cook on low 6-8 hours or on high 4-6 hours. Taste and add crushed red pepper flakes if you would like extra heat. Serve warm with all your favorite toppings!
Nutrition
Serving:
1
,
Calories:
853
kcal
,
Carbohydrates:
51
g
,
Protein:
82
g
,
Fat:
35
g
,
Saturated Fat:
13
g
,
Polyunsaturated Fat:
16
g
,
Trans Fat:
1
g
,
Cholesterol:
214
mg
,
Sodium:
1264
mg
,
Fiber:
12
g
,
Sugar:
5
g
More Easy Crockpot Recipes