Spice up your next pot of chili with this homemade Chili Seasoning recipe featuring the perfect medley of herbs and spices! We promise you will never make bland chili again!
Easy Homemade Chili Seasoning Recipe
Stop buying packets of chili seasoning. Seriously! That stuff is always so high in sodium and loaded with artificial flavors, preservatives, and other junk you don't need. Plus, we'll let you in on a little secret… You likely already have everything you need for this easy recipe in your spice cabinet right now.
This Chili Seasoning is a combination of spices like chili powder, cumin, onion powder, and a few other spices that you already know and love. Honestly, you can't make a good pot of chili without this classic seasoning mix. It's perfectly balanced to make a delicious, aeromatic and savory chili.
Once you start making your own seasoning mixes at home, you won't be able to stop. There's such a huge difference between the homemade stuff and the packets from the store. This chili seasoning recipe lends real flavor to your recipes, rather than the saltiness that so many packets create. Avoid the artificial stuff and keep it real (and delicious) with this easy homemade recipe!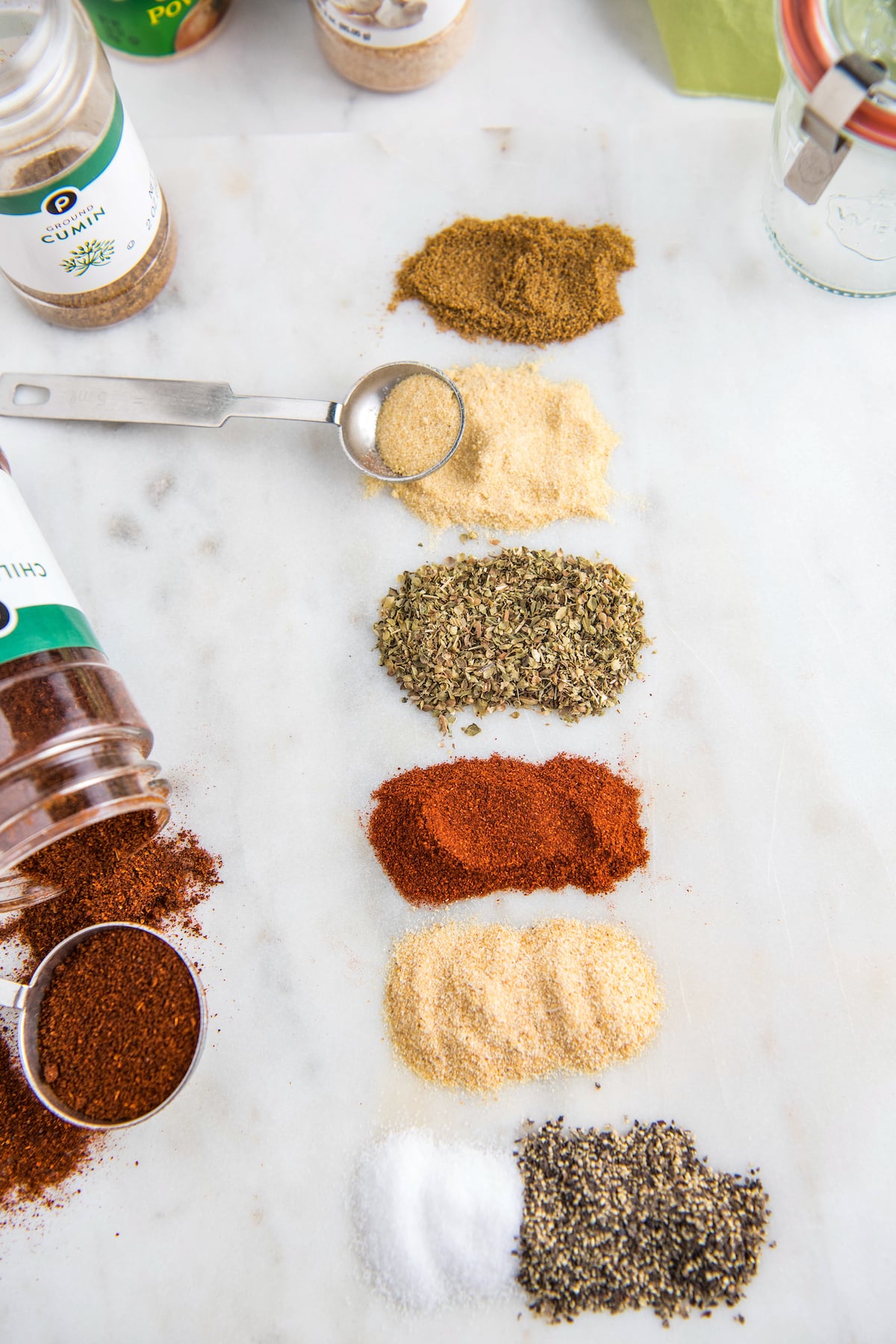 What Is In Chili Seasoning?
You will need a handful of herbs and spices to make this homemade chili seasoning recipe. However, you probably already have them all on hand in your spice cabinet! Here's what you need:
Chili Powder – This is a key ingredient that cannot be substituted! Keep in mind that chili powder has a moderate spice to it. If you want your chili seasoning to be spicier, we recommend adding some crushed red pepper flakes or cayenne pepper instead of more chili powder. If you add additional chili powder, you'll risk overpowering the other spices.
Cumin – Cumin lends the seasoning mix a deep, earthy note that keeps things nice and savory.
Onion Powder – Onion powder is a key ingredient in so many recipes! That's because it provides a light onion-y note throughout whatever it's added to without being too strong.
Oregano – No chili seasoning would ever be complete without this aromatic herb.
Paprika – You can swap out plain paprika for smoked if you'd prefer a smokey taste in your seasoning mix.
Garlic Powder – Be very careful when measuring garlic powder. It's a favorite ingredient of ours, but if too much is added to the mix it can easily take over the entire flavor palate. It's all about that perfect balance.
Salt – Similarly to the garlic powder, measure the salt with care. The goal for the salt is to enhance the other potent spices, not to make this mix taste salty. If you're on a low sodium diet, you can halve or even omit the salt entirely if desired.
Pepper – Freshly cracked black pepper will provide the best flavor.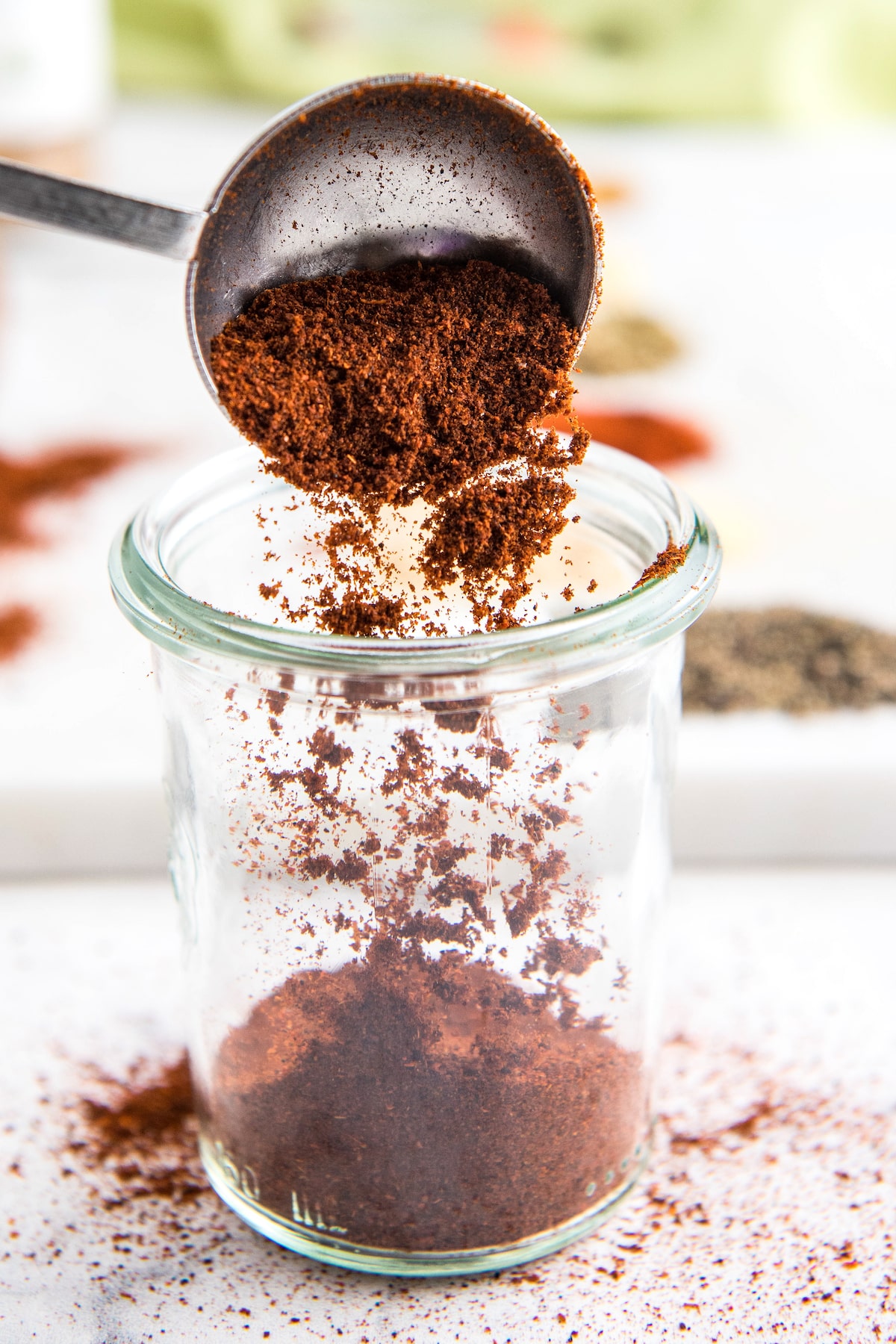 How to Make Chili Seasoning
Mix. Making seasoning mixes is SO easy! Simply combine all of the ingredients for Chili Seasoning in a bowl. Mix it well. You can use it immediately or store it.
How To Store
The best part about making Chili Seasoning is keeping it on your spice rack so you can always reach for it! Properly stored, this seasoning mix will stay fresh for up to 6 months.
To keep your Chili Seasoning fresh, store it in an airtight container at room temperature and out of direct sunlight. As for your container, you can use a spice jar or a mini mason jar. In a pinch, you can even use a Ziploc baggie!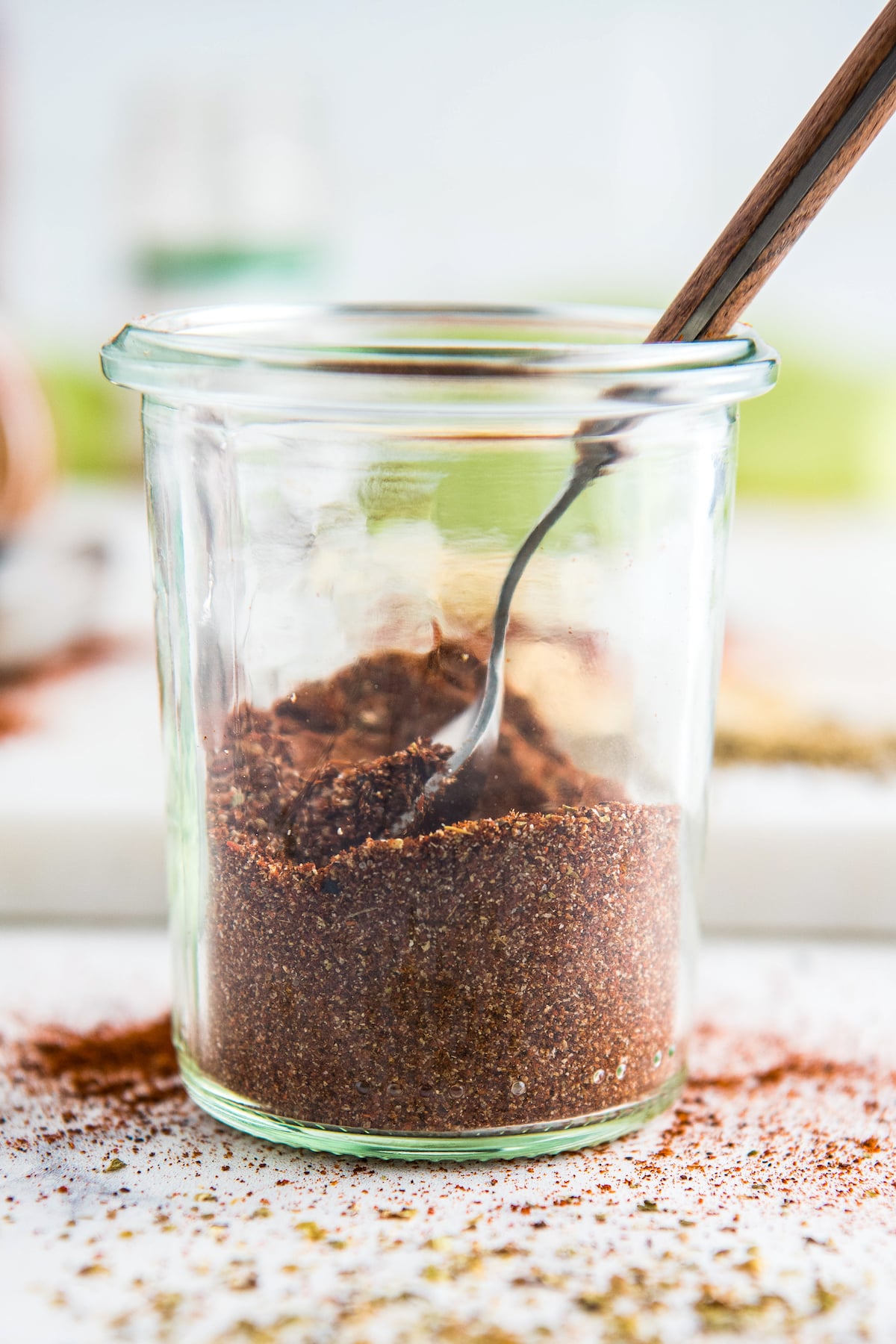 Frequently Asked Questions
Can I make chili seasoning extra spicy? Yes! Beside just adding a little more chili powder, you can also add a touch of red pepper flakes or cayenne pepper. Just be careful, because either of those ingredients will really turn up the heat quickly.
How much chili seasoning does this recipe make? 1/4 cup of seasonings. If you're using about 1-2 pounds of meat for your chili, this recipe will yield enough seasoning mix for you. You can easily double or triple this recipe as needed.
How much chili seasoning should I use if a recipe calls for 1 packet chili seasoning? A store bought packet of chili seasoning is usually 1.25 oz which translates to about 4 tablespoons worth, which is 1/4 of a cup. This recipe makes the same amount of chili seasoning as you would find in 1 chili seasoning packet.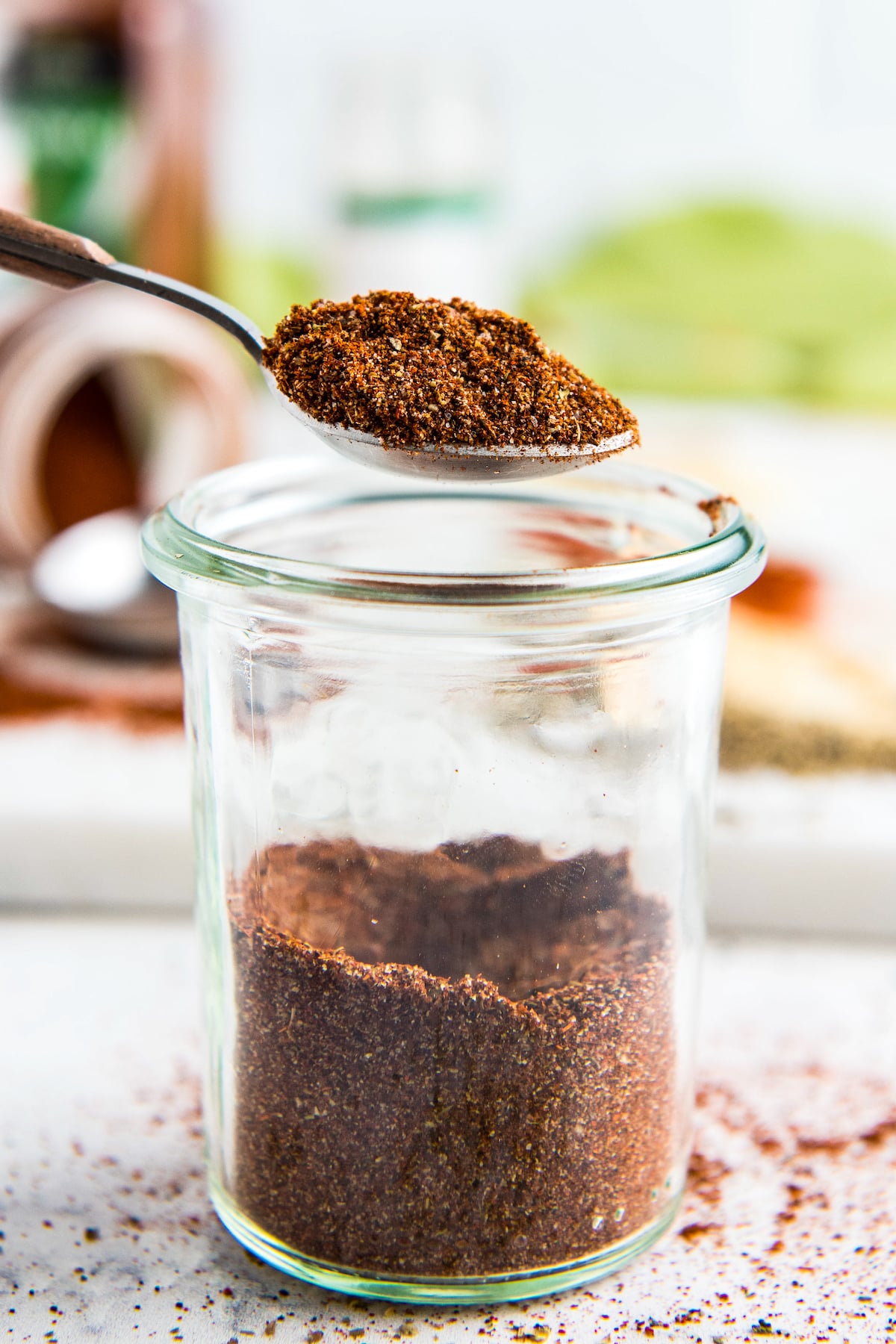 How To Use Chili Seasoning
Obviously, the most popular use for Chili Seasoning is chili, but you can also use it for chili adjacent recipes, like this Easy Chili Mac. Here are just a few other recipes that taste great with Chili Seasoning. Just replace the seasonings listed in the recipe and use this mix instead: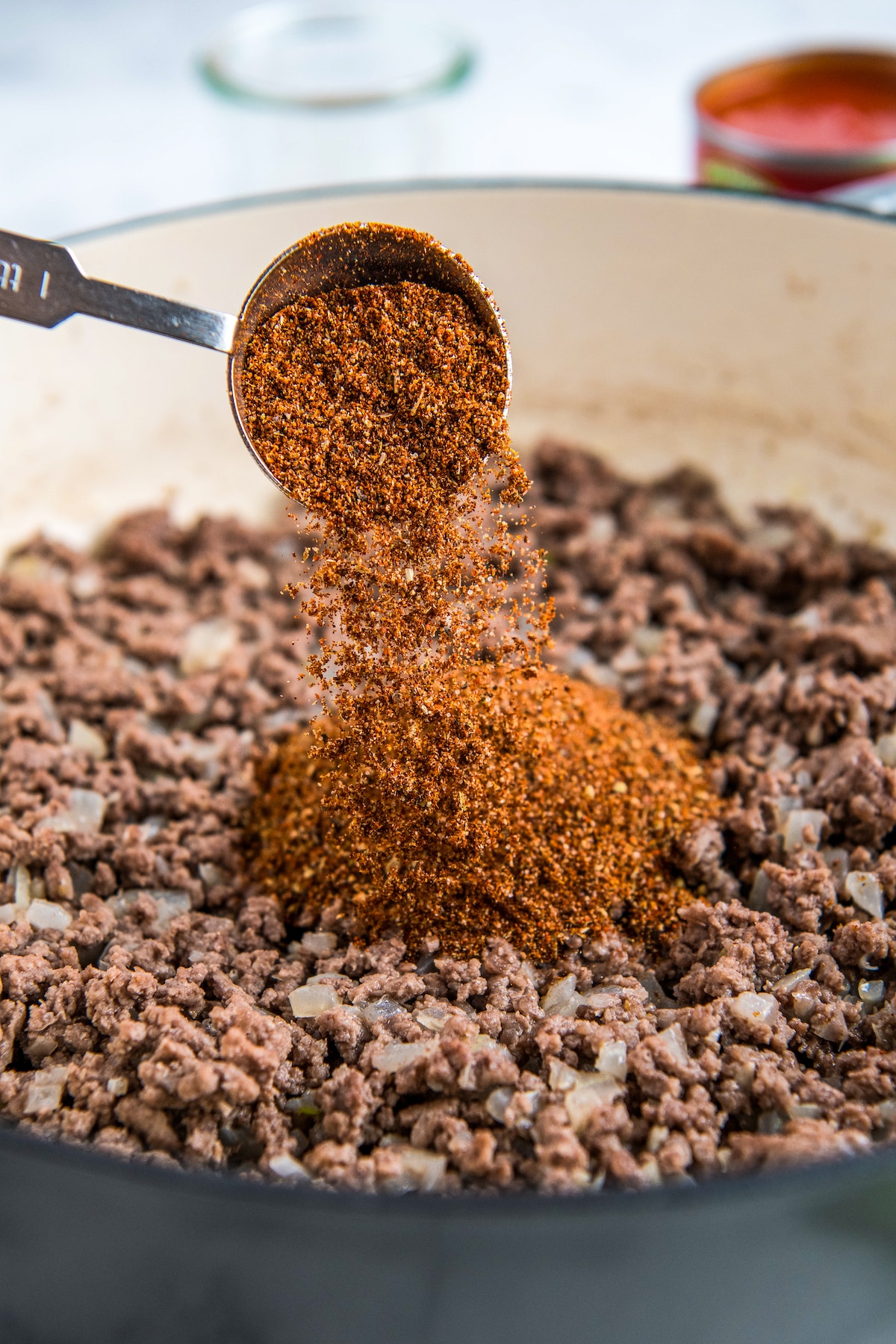 More Homemade Seasoning Mixes
Once you start making your own seasoning mixes at home, it's hard to ever go back to the sodium filled packets again. All of the best flavors with none of the preservatives, additives, or saltiness? Yes, please.
Keeping your kitchen stocked with homemade seasonings mixes is the best (and easiest) way to make ALL of your recipes go from good to great!
Here are a few of our favorite homemade seasonings:
Just like homemade seasonings, homemade sauces are the perfect way to elevate your dish to the next level and add a ton of extra flavor.
Here are a few of our favorite homemade sauces we think you will love as well: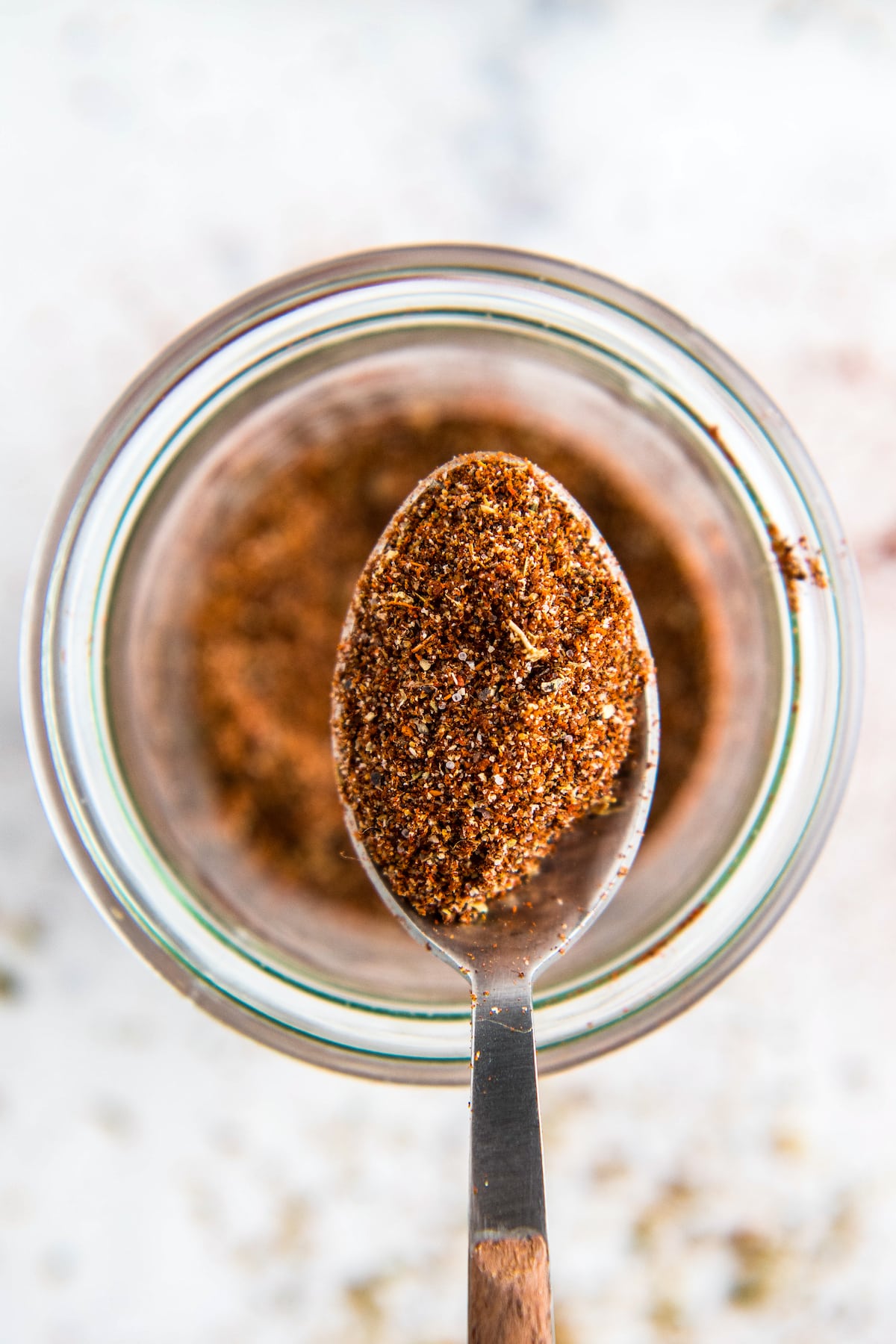 Yield: 1/4 cup seasoning
Chili Seasoning Recipe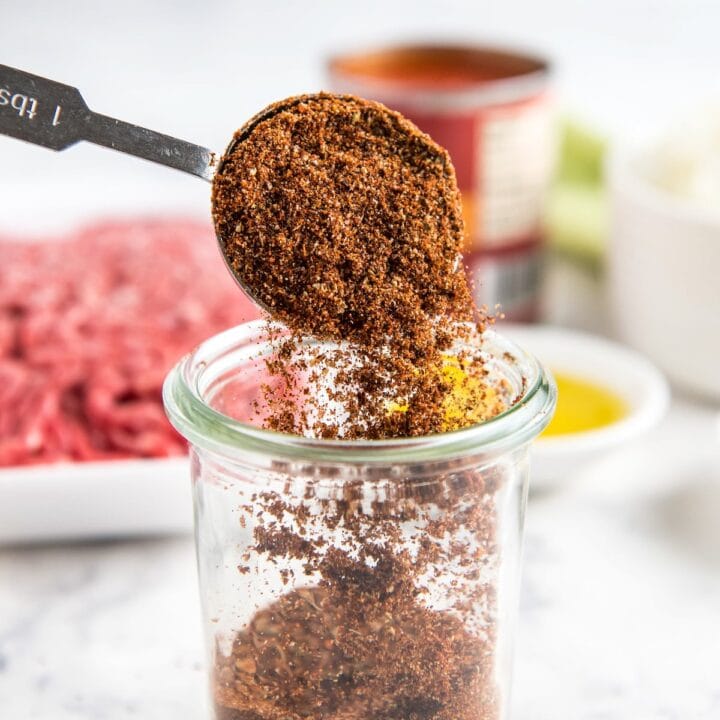 Spice up your next pot of chili with this homemade Chili Seasoning recipe featuring the perfect medley of herbs and spices! We promise you will never make bland chili again!
Ingredients
2 tablespoons chili powder
1 teaspoon cumin
1 teaspoon onion powder
1 teaspoon oregano
1 teaspoon paprika
1 teaspoon garlic powder
1 teaspoon salt
1 teaspoon pepper
Instructions
Add all of the seasonings to a container and mix well.
Store in an airtight container, in a cool dry place, for up to 6 months.
Notes
How Much Chili Seasoning? This recipe makes 1/4 cup chili seasoning, which is the same amount of chili seasoning in a standard 1.25 oz packet of store bought chili seasoning. Which is enough seasoning for 1 pound of ground meat.
More Heat: If you want your chili seasoning to be spicy, or extra spicy, we recommend adding cayenne pepper or crushed red pepper flakes, to taste.
Less Salt: If you are on a low-sodium diet, feel free to cut the salt in half in this recipe. You can always add more salt to taste to each persons individual bowl of chili.
Smoky: If you want your chili seasoning to have a smoky quality to it, you can use smoked paprika in place of the regular paprika.
Nutrition Information:
Yield:
8
Serving Size:
1
Amount Per Serving:
Calories:

11
Total Fat:

0g
Saturated Fat:

0g
Trans Fat:

0g
Unsaturated Fat:

0g
Cholesterol:

0mg
Sodium:

323mg
Carbohydrates:

2g
Fiber:

1g
Sugar:

0g
Protein:

1g
Filed Under: