Once you try this easy Homemade Tartar Sauce, you'll never buy a store-bought container again! This homemade condiment is creamy as can be with just enough tangy lemon juice to make your mouth water. You only need 4 ingredients!
Easy Homemade Tartar Sauce
It should be illegal to ever serve fried fish without offering tartar sauce with it. We have good authority on this, since so much of our lives is spent by the sea! Freshly fried fish goes with tartar sauce better than peanut butter goes with jelly, and this homemade recipe is the BEST way to compliment that fish!
If you ever look at the list of ingredients on a store-bought brand of tartar sauce, you may be surprised at how many things are listed that you can't pronounce. When you make your own condiments at home, you can cut all the junk out and only use what matters. This sauce calls for just 4 ingredients – mayo, dill relish, lemon juice, and dried dill!
Besides being simple and all natural, this homemade tartar sauce is also incredibly delicious… and easy to make! Just mix everything together thoroughly and you're ready to go. It's a creamy condiment that has tangy notes of lemon and dill, which is perfect for serving with not just fried fish, but any seafood dish of your choice.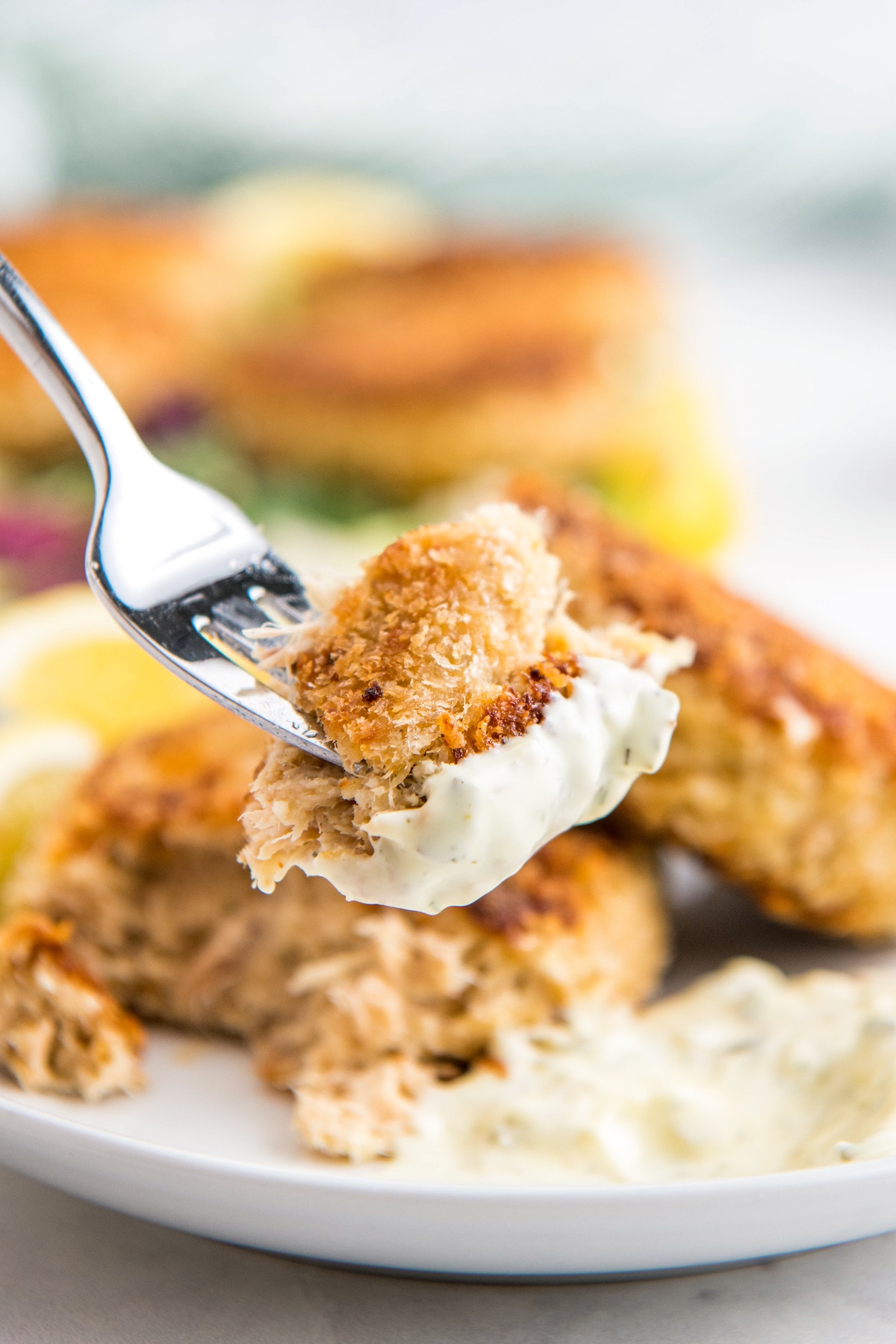 What Is Tartar Sauce?
Tartar sauce is a French sauce made of mayonnaise or aioli that has been combined with herbs and sometimes lemon. It pairs wonderfully with seafood and is almost always served with "fish and chips." You can also use it as a condiment that goes with fried chicken or even as a topping on burgers.
Why Is It Called Tartar Sauce?
The original recipe is from France, where it was called "sauce tartare." Tatar sauce is named after the Tartars, who settled in the Ukraine and parts of Russia hundreds of years ago.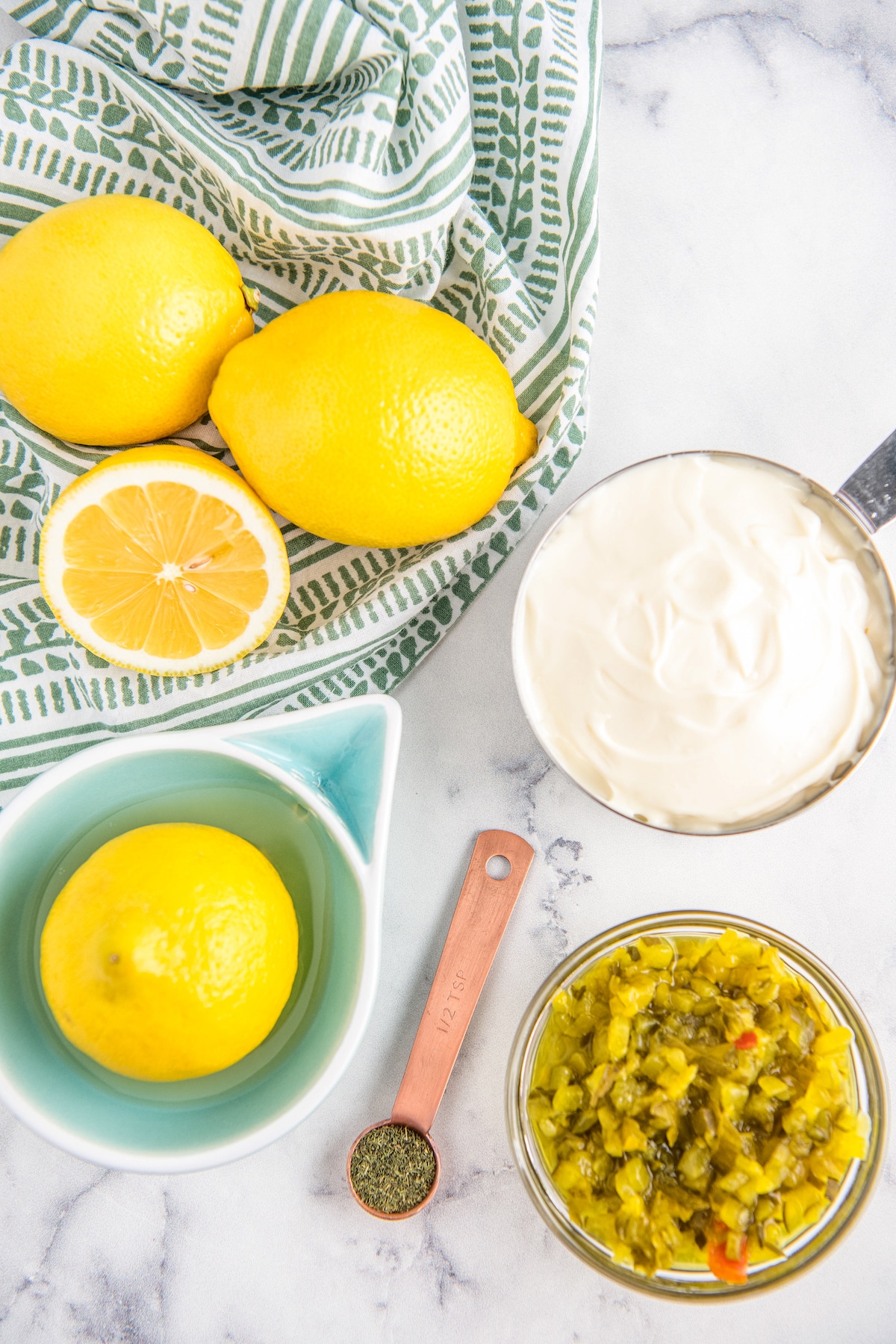 What's In It?
All you need are these 4 inexpensive ingredients to best compliment your fish dinner. Talk about a budget-friendly recipe!
Mayonnaise: For the creamiest, thickest consistency, we recommend using a full fat mayo. However, a low fat mayo can be used and it'll still be tasty if preferred.
Dill Relish: Any brand should do the trick!
Lemon Juice: For the absolute best results, use freshly squeezed lemon juice, not the stuff from a bottle.
Dill: You can either use half a teaspoon of dried dill or two teaspoons of freshly minced dill.
How to Make Homemade Tartar Sauce
In just under 5 minutes of prep time, you'll have your new favorite seafood condiment on hand.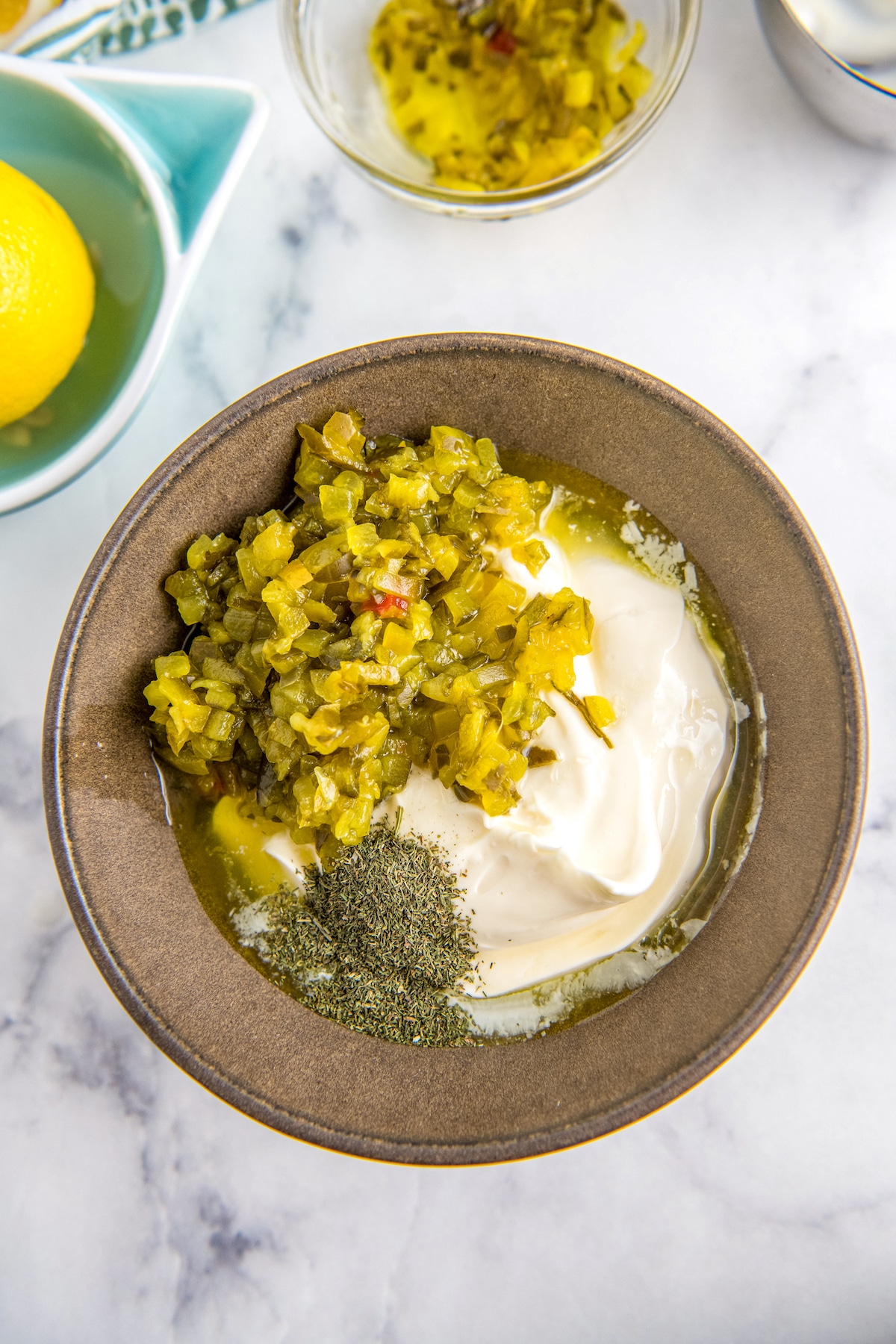 Mix: In a small mixing bowl, combine all of the ingredients together with a whisk or mixing spoon.
Spoon into a storage container: You can use your tartar sauce right away, or you can store it in the fridge. The flavors will develop over time so I recommend making it the day before you want to use it.
Tips for Success
Make it ahead of time: While this creamy condiment can be made in a jiff, it tastes the best when the flavors have time to settle and meld with each other. In an airtight container, place the tartar sauce in the fridge for about half an hour prior to serving. If you have time, it's even better a full 24 hours ahead of time.
Season it: If you'd prefer your tartar sauce to be a bit more flavorful, you can add a light sprinkle of salt and some freshly cracked black pepper to it. That way, you have a touch more flavor without compromising the intended flavor of the sauce.
Replace the dill: Not a huge fan of dill? While we can't relate, we can help you out! If dill's not your favorite flavor, feel free to replace it with equal amounts of parsley for a slightly similar herbaceous flavor.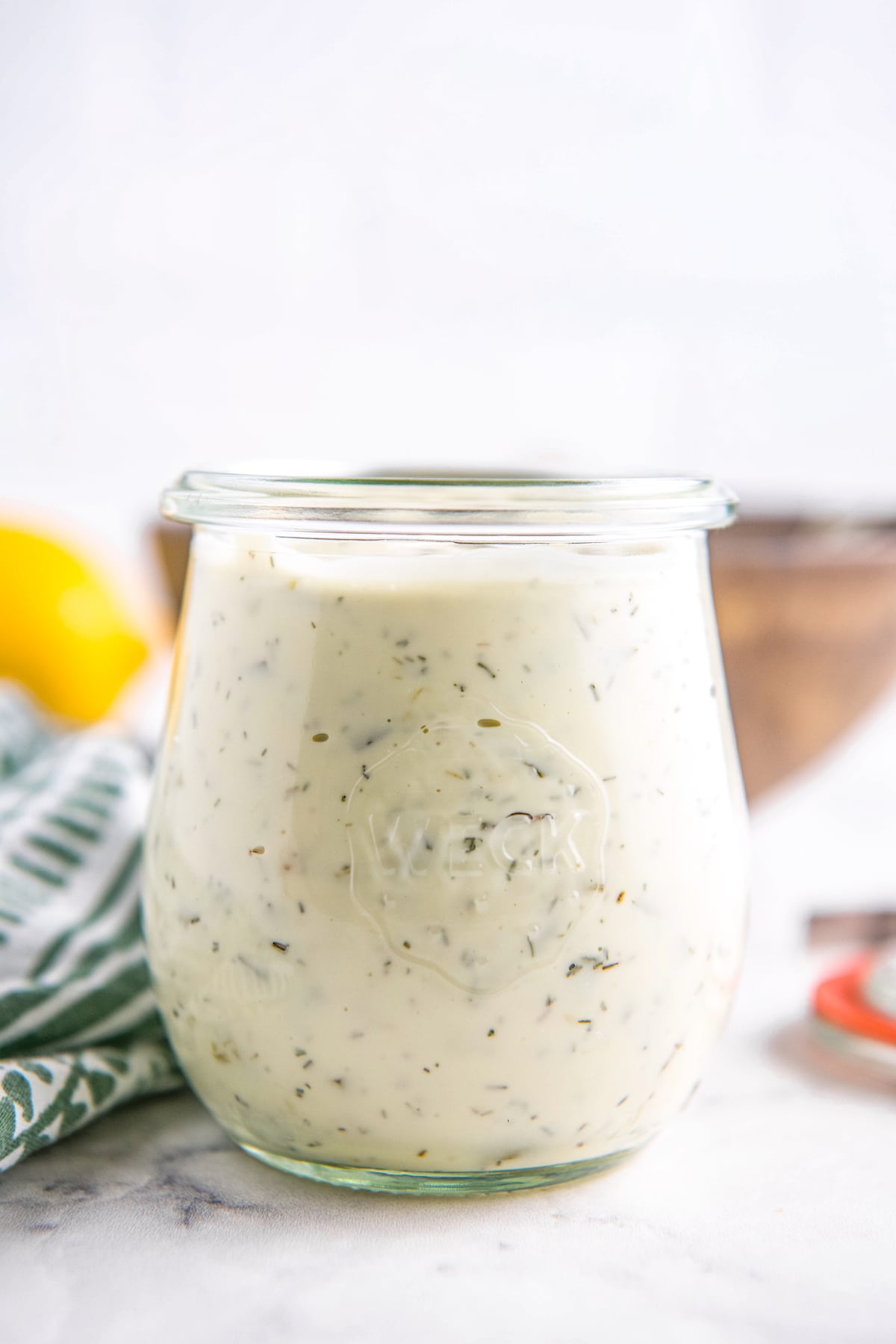 Serving Suggestions
Here are just a few of the most common foods to serve with tartar sauce.
Fried fish, of course! Really any type of deep-fried flaky white fish tastes fantastic when dipped in homemade tartar sauce. It's also perfect with our favorite easy Tuna Patties!
Shrimp! Can't have perfectly Fried Shrimp without some tartar sauce to dunk them in. I also always serve my Air Fryer Shrimp with tartar sauce too…my husband won't allow it any other way. 😉
Veggies! Smother it on some corn on the cob or dunk some roasted cauliflower into it. There are so many tasty ways to combine tartar sauce and veggies. It's even good on these Air Fryer Brussel Sprouts!
French fries! When you serve fried fish, it's gotta be with french fries. They go great with this sauce as well.
Fried chicken and burgers! This sauce is great with fried chicken or spooned over your burger patty along with your other fixings of choice.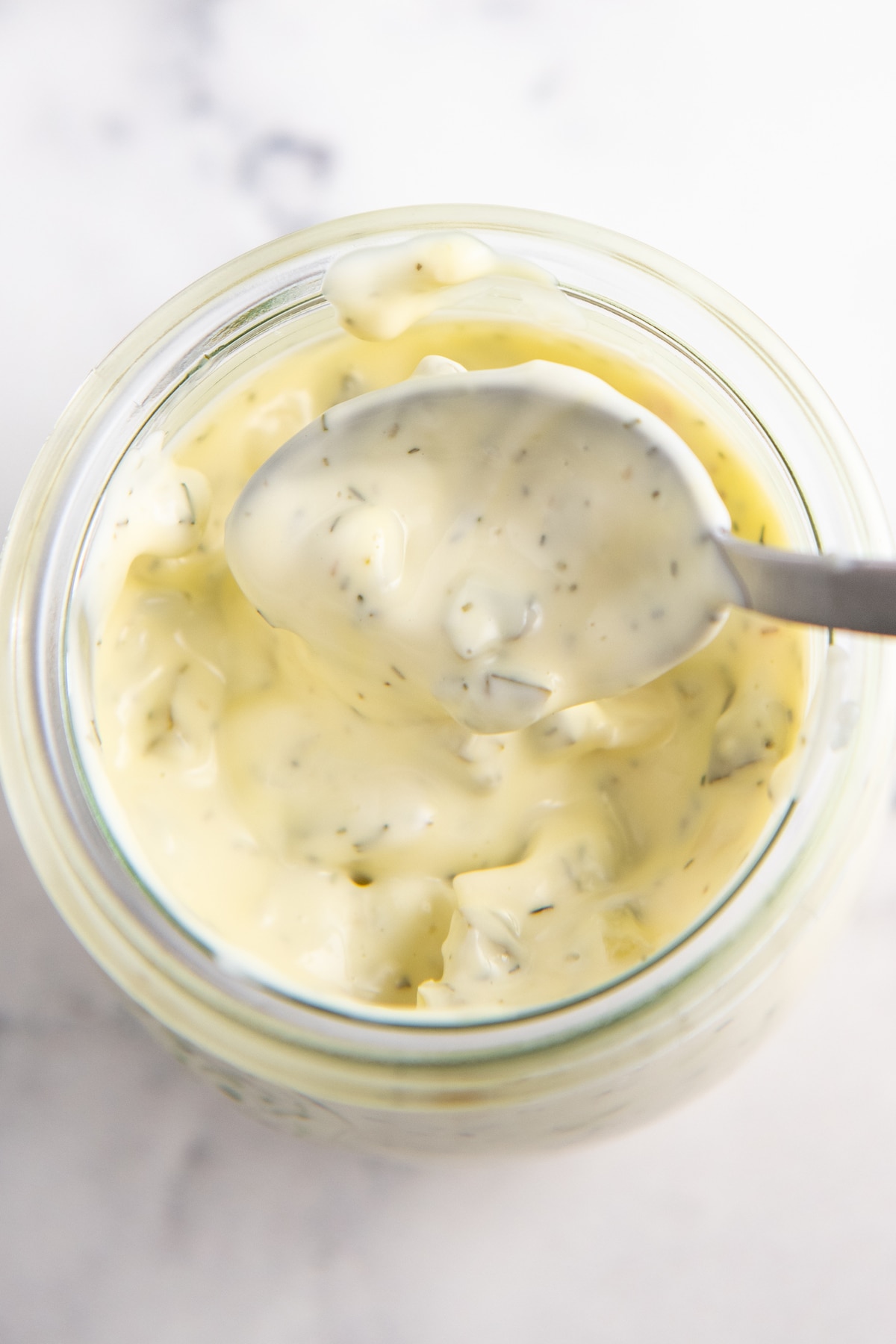 Storing Homemade Tartar Sauce
When stored properly in an airtight food storage container (a mason jar works just fine), your homemade tartar sauce will stay fresh for up to 1 full week. We love having ours on hand so much, especially during the summertime, so we're typically whipping up a fresh batch weekly!
I do not recommend freezing tartar sauce.
Homemade Tartar Sauce
Once you try this easy Homemade Tartar Sauce, you'll never buy a store-bought container again! This homemade condiment is creamy as can be with just enough tangy lemon juice to make your mouth water. You only need 4 ingredients!
Ingredients
1

cup

mayonnaise

½

cup

dill relish

1

teaspoon

fresh lemon juice

½

teaspoon

dried dill

,

or 2 teaspoons fresh minced dill
Instructions
Mix everything together and enjoy with your favorite seafood!
Notes
Storage: Store in an airtight container in the refrigerator for up to one week.
Nutrition
Serving:
2
tablespoons
,
Calories:
63
kcal
,
Fat:
7
g
,
Saturated Fat:
1
g
,
Polyunsaturated Fat:
6
g
,
Cholesterol:
4
mg
,
Sodium:
99
mg
More Easy Homemade Sauces & Condiments:
Sometimes the best way to add flavor to a dish is by making your own seasoning blend, sauces and condiments. Here are a few of our favorites: