This homemade taco seasoning is so easy to make! Add some flavor to your favorite meats, veggies, beans, or anything else with this delicious blend of spices. The best part? You probably already have what you need in your pantry.
Homemade Taco Seasoning
I use taco seasoning in almost everything these days! Once I realized how simple it was to make and how delicious it was, I couldn't help myself. It goes great with just about anything, and it's so much more flavorful than any store bought packet I've tried. Another big bonus is that you can tailor it any way you'd like to fit your family's tastes!
Speaking of family, my daughters LOVED helping me mix together all the different spices. If you have a little one at home, try letting them stir the ingredients together. You could also dump it all in a big bag and let them shake it up! If they're anything like my kids, they'll have a blast either way! It's always fun to make those special memories in the kitchen.
Why make it homemade?
Well, for a few different reasons. Some people make it homemade because they prefer to be in charge of the amount of salt. On a low-salt diet, you can use as much or as little salt as you want when you make your own taco seasoning.
The second biggest reason is because you want to make something with taco seasoning, but forgot to pick up a packet at the store! Instead of going all the way back to the store, just mix up your own batch right at home from your spice drawer!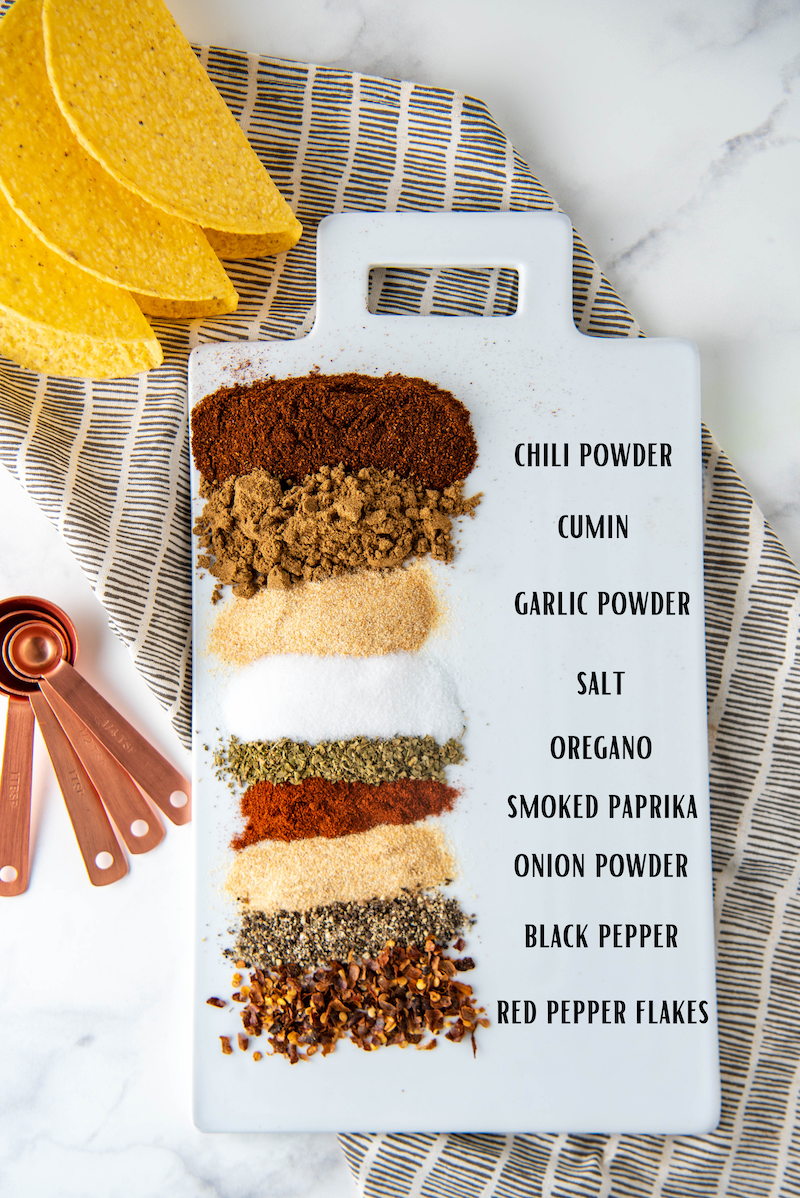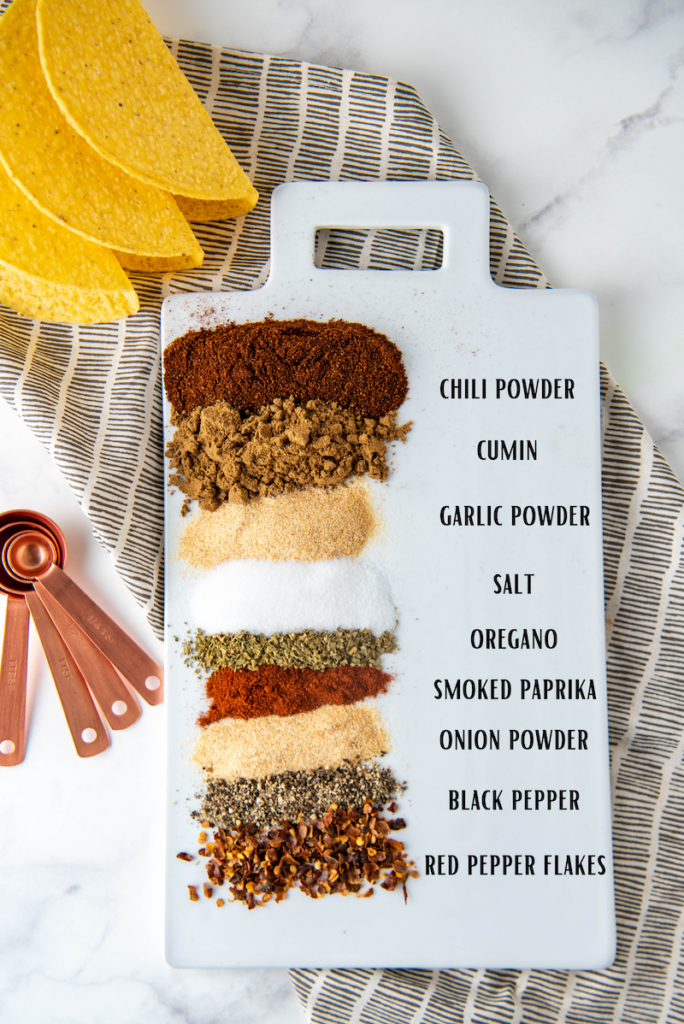 Ingredients
There are 9 easy ingredients to make your own taco seasoning at home:
Chili Powder – for that extra Southwest heat
Ground Cumin – lots of warm flavor
Garlic Powder – balances out the flavors while providing great aroma
Salt and black pepper – necessary in any good seasoning for that perfect taste
Paprika – gives so much color and slight smokey taste
Dried Oregano – provides both spicy and sweet flavoring
Onion Powder – another subtle aromatic fixture
Crusted Red Pepper Flakes – bring on the spice, baby!
If you like it spicy, I would absolutely add more red pepper flakes to the recipe below. You can also add a dash of cayenne pepper if you really want to crank up the heat! However, if you have picky eaters at home, you can add less red pepper flakes to ease up on the spiciness. Remember – this recipe is so easy to customize! Don't be afraid to mix it up any way you'd like.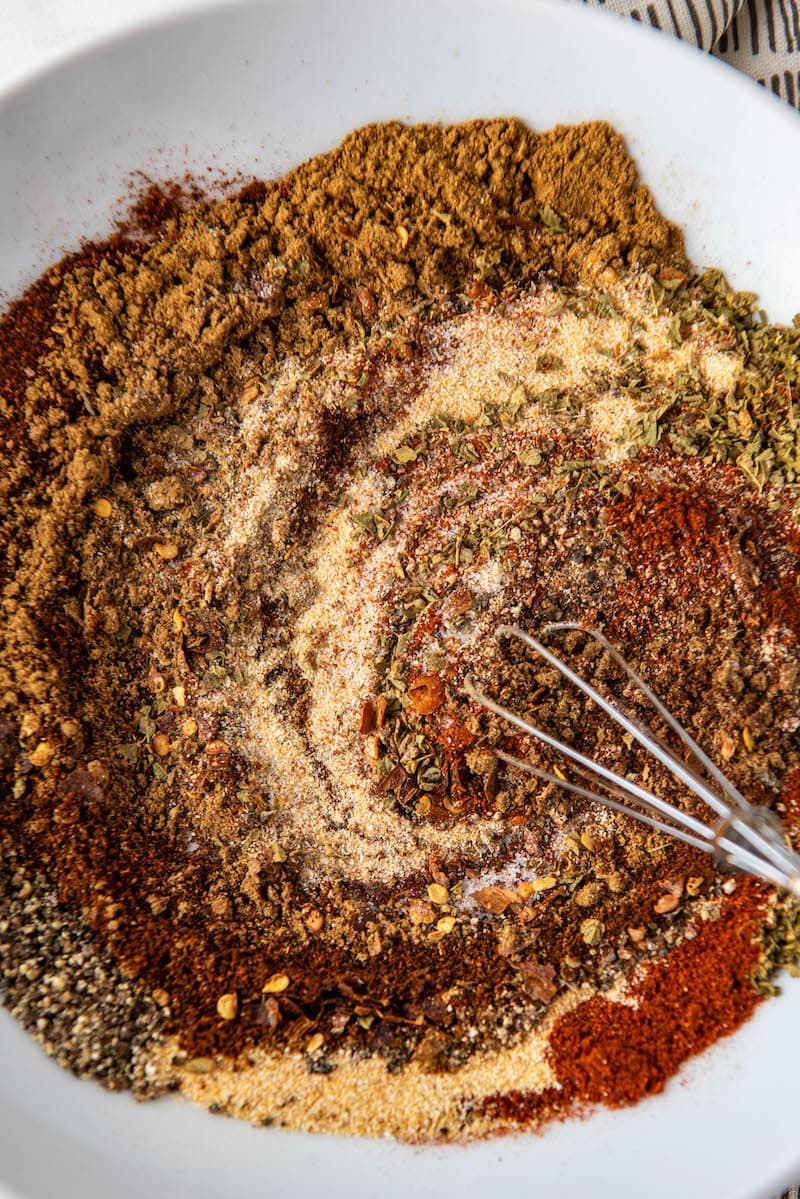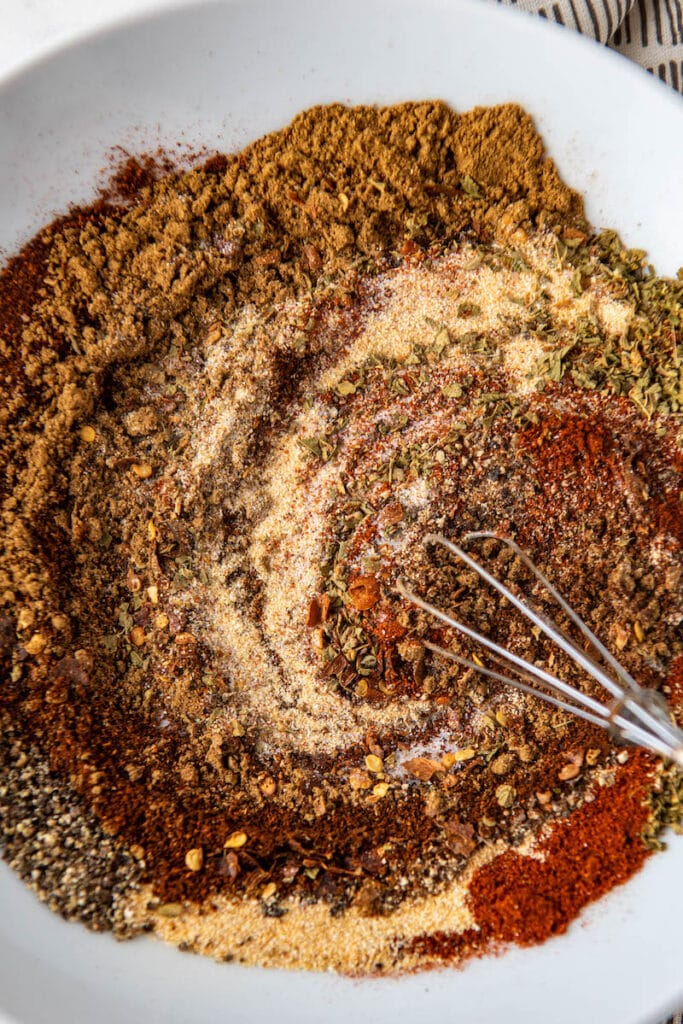 How to make Homemade Taco Seasoning
Mix together all of your spices in a bowl, or shake them up in a big bag! Just make sure they're all evenly blended together. When combined, you should have a nice amber colored seasoning that smells like taco heaven!
Your taco seasoning will have a bit of texture to it from the addition of the crushed red pepper flakes. If you want it to be completely smooth like the store bought version, you can puree it in a blender to ensure it's 100% smooth. This is completely not necessary, just an option you can also try!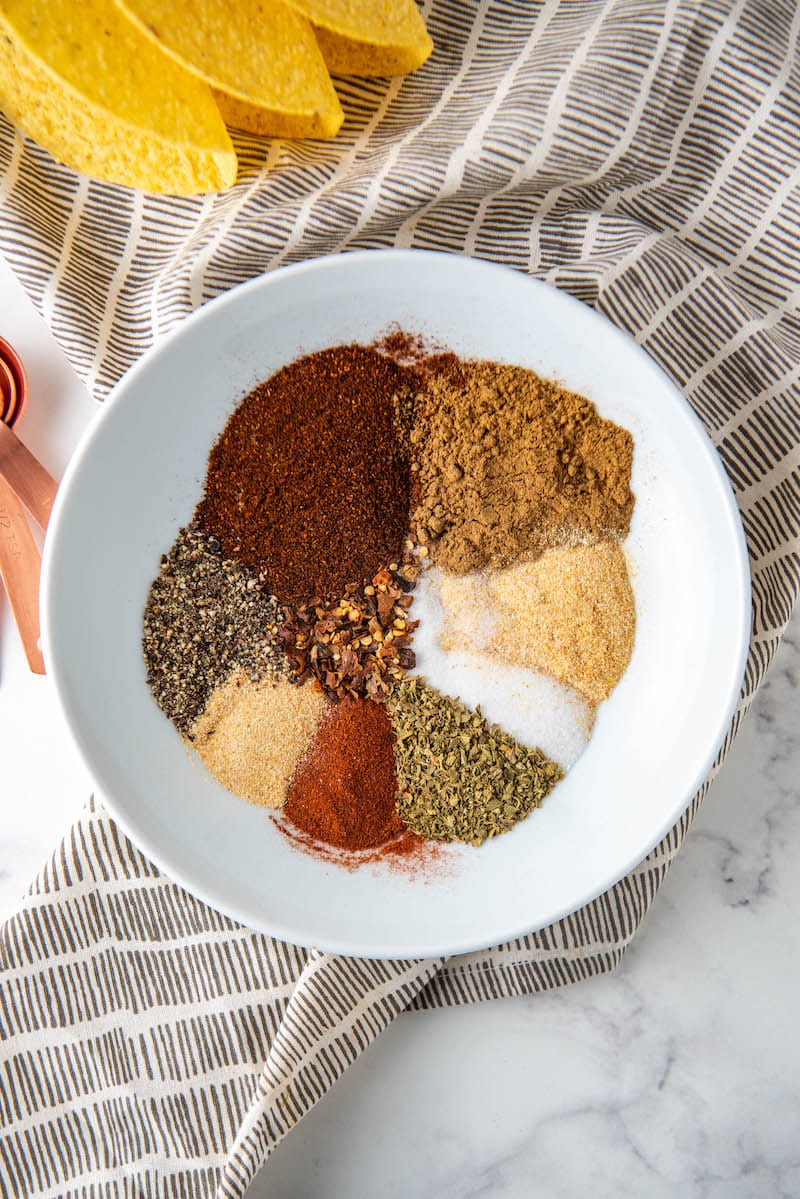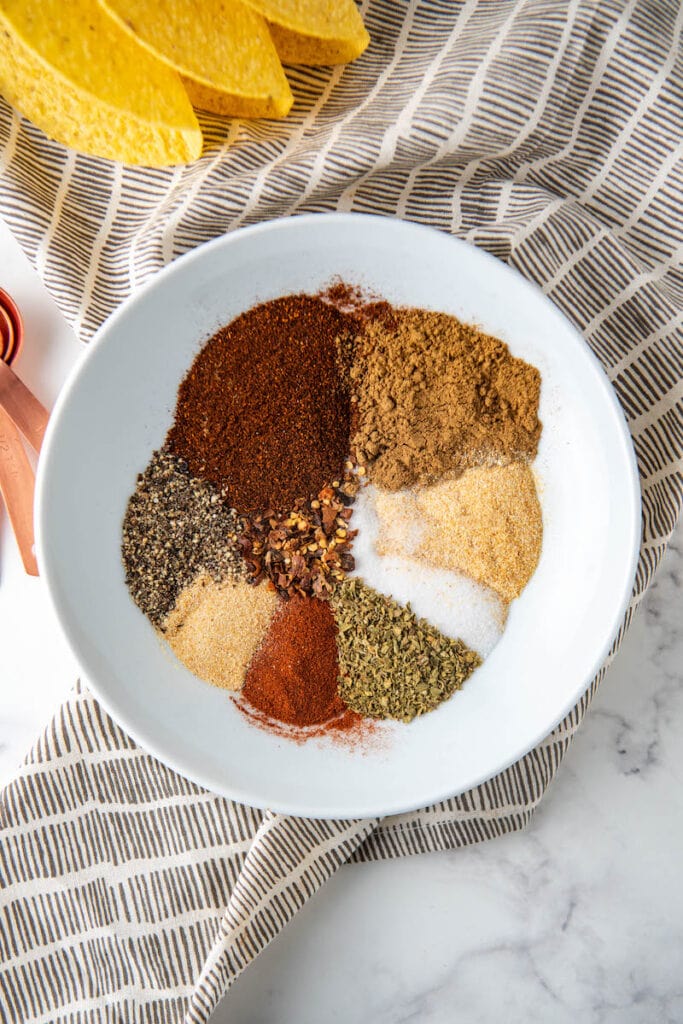 Tips to make the best homemade taco seasoning:
Taste the seasoning to ensure it's spicy enough and salty enough to your liking. Sometimes it's hard to tell until you have cooked with it, so if need be, you can always add more salt or heat (from the crushed red pepper) to the remaining spice mix.
Store in an airtight container, our of direct sunlight, to enjoy for up to six months.
How to use taco seasoning:
I love using this taco seasoning on vegetables, chicken, ground beef, and so much more! One of my favorites is mixing it with butter and putting it on corn for a festive spin. This recipe adds so much mouth-watering flavor to your dish, you'll find yourself reaching for it whenever you're in the kitchen! I'm usually pretty good at following exact measurements when cooking a meal, but with this seasoning, I always use a little more than what's called for. It's just that good!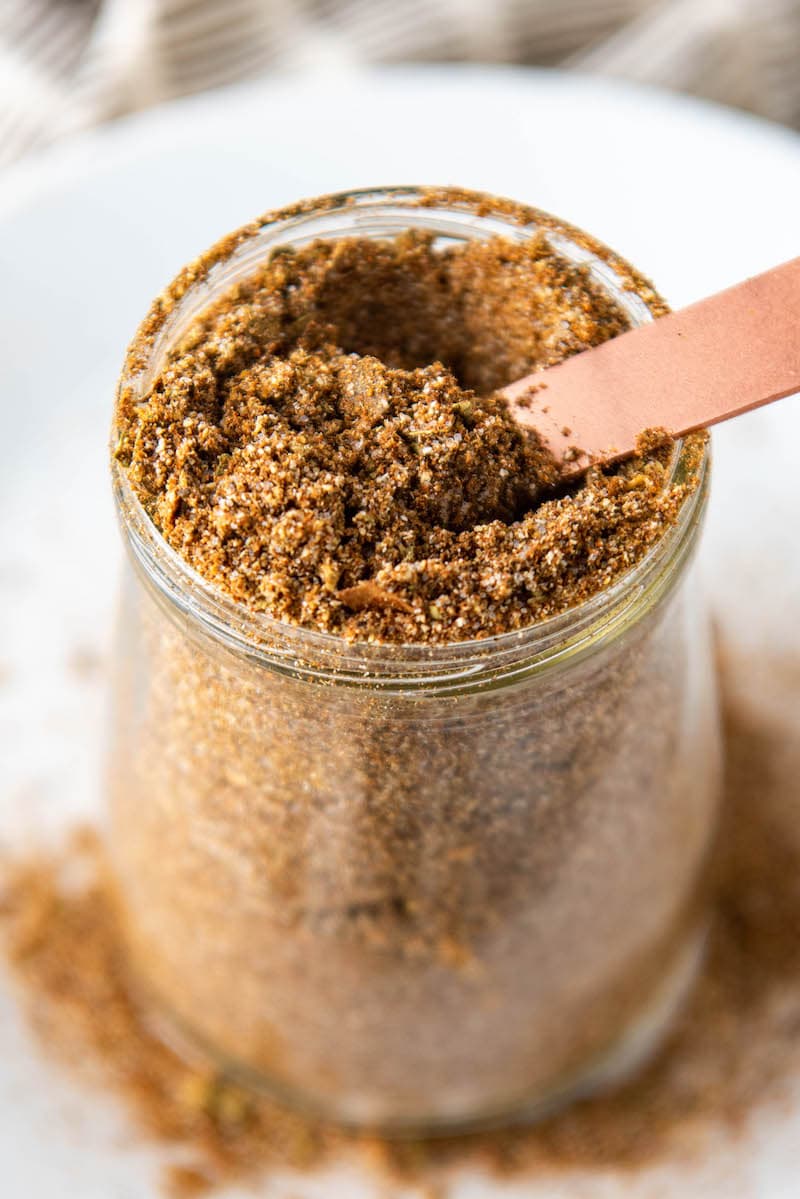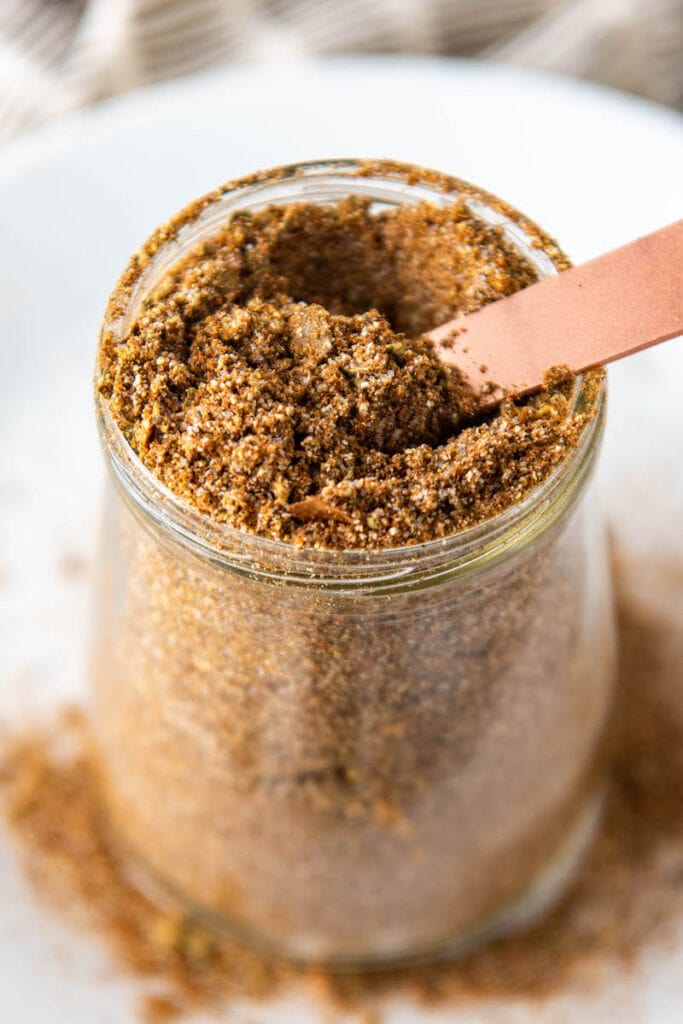 Overall, it's hard to think of meals I wouldn't add a little bit of this seasoning to! My husband recommended we try a little in our mac n' cheese, and I think he might be on to something there.
Usually, when it comes to store bought foods, I'm really not too picky. But when it comes to taco seasoning… I'll never go back to the packets! Besides, I don't think my family would ever let me. Once you start making your own, you can definitely taste the difference!
Yield: approximately 1/3 cup
Homemade Taco Seasoning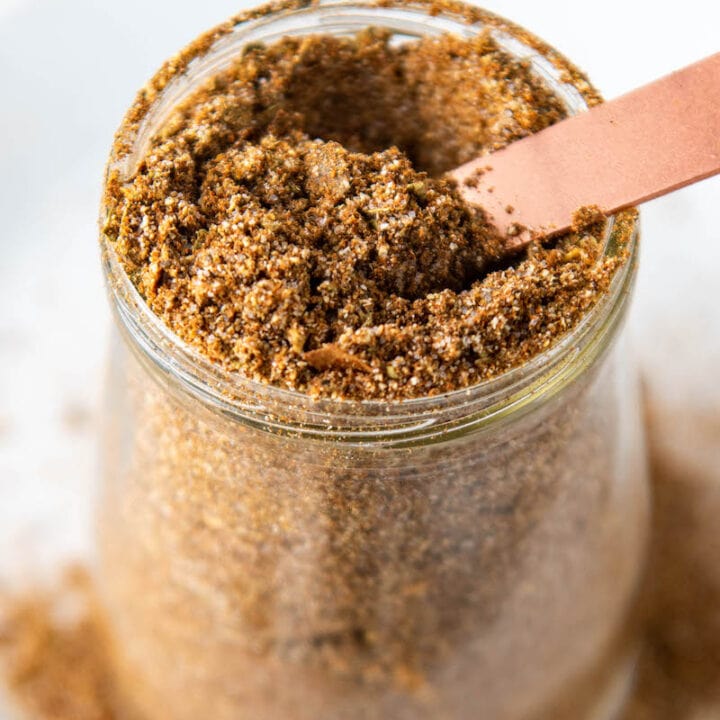 This homemade taco seasoning is so easy to make! Add some flavor to your favorite meats, veggies, beans, or anything else with this delicious blend of spices. The best part? You probably already have what you need in your pantry!
Ingredients
2 tablespoons chili powder
1 tablespoon salt
2 teaspoons ground cumin
2 teaspoons garlic powder
1 teaspoon smoked paprika (or regular)
1 teaspoon dried oregano
1 teaspoon onion powder
1 teaspoon black pepper
1/2 teaspoon crusted red pepper flakes
Instructions
Mix together all ingredients. Store in an airtight container, out of direct sunlight, for up to 6 months.
Notes
HOT: To add more heat, you can add additional crushed red pepper flakes or add cayenne pepper, to taste.
Nutrition Information:
Yield:
12 servings
Serving Size:
1
Amount Per Serving:
Calories:

9
Total Fat:

0g
Saturated Fat:

0g
Trans Fat:

0g
Unsaturated Fat:

0g
Cholesterol:

0mg
Sodium:

392mg
Carbohydrates:

2g
Fiber:

1g
Sugar:

0g
Protein:

0g
Filed Under: