These Roasted Tomatoes will quickly find their way into your weekly meal prep routine. You only need 5 ingredients and 5 minutes to prep the tomatoes before they are charred to perfection in the oven.
Easy Oven Roasted Tomatoes
These Oven Roasted Tomatoes are one of those ingredients that are worth the effort. Anyone can add fresh tomatoes to their foods but now you hold the key to adding even more flavor from roasted tomatoes.
The flavors that develop when you roast a tomato are incredible. They remain sweet, but there's a delicious bitterness that comes with the char from the heat. And, of course, we're going to add tons of garlic because garlic and tomatoes pair so well together!
You can use these tomatoes in several different ways, including our favorite Roasted Tomato Soup! But we're here to tell you that they are delicious just on their own, too! That is what we love the most about this recipe. The simplicity of the ingredients creates so much flavor that you can just eat them with a fork and they taste incredible.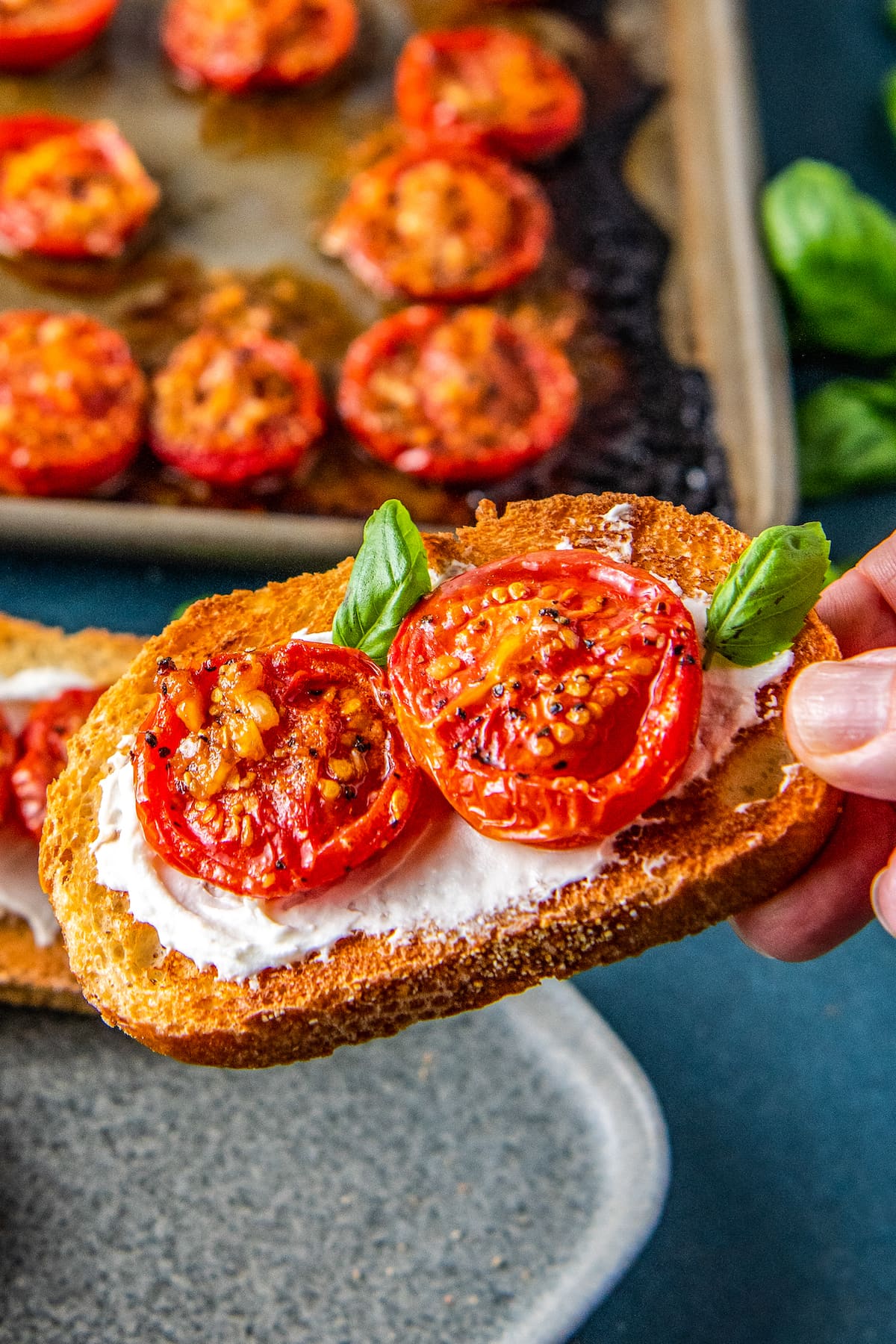 Why You'll Love This Recipe
You're going to love this recipe for several reasons! And here's why this recipe is such a hit in our kitchen.
You only need 5 ingredients. Tomatoes, garlic, olive oil, salt, and pepper…and that's it!
The recipe only takes 5 minutes to prep. The tomatoes will be cooking in the oven in just a few minutes. It's so simple and quick to prepare this recipe.
The ways to use roasted tomatoes are endless. We like to make a big batch at the beginning of the week and use them in different ways for breakfast, lunch, and dinner.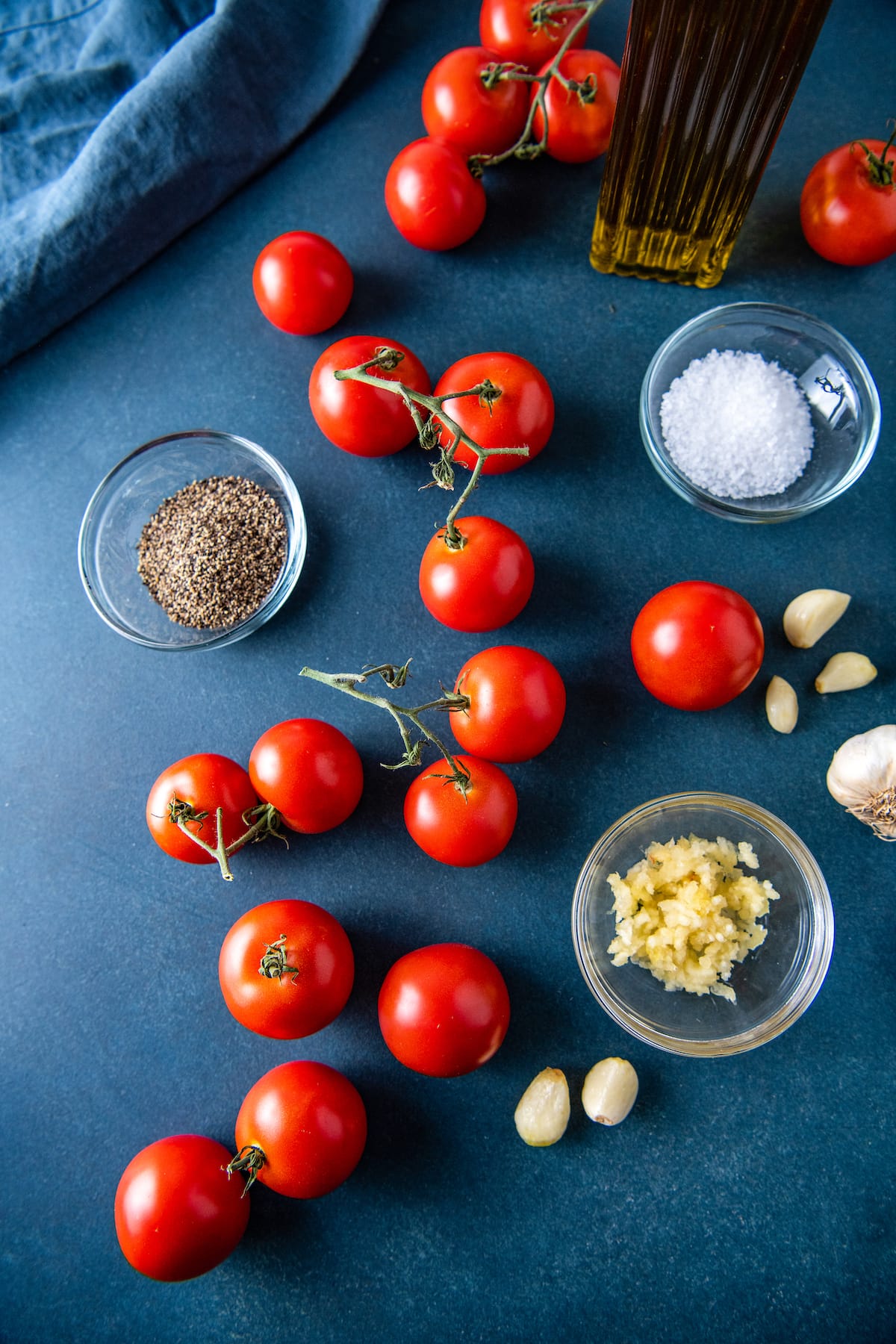 Recipe Ingredients
Here is what you need to make this Roasted Tomatoes recipe. Remember to check out the recipe card below for the exact amounts for each ingredient.
Tomatoes: We used Campari for this recipe. Dense and meaty tomatoes are the best to use for roasting.
Garlic: Fresh garlic is always recommended for this recipe! But if you're in a pinch, you can use granulated garlic or garlic powder (about 1 teaspoon will work).
Olive Oil: We highly suggest using olive oil for this recipe for its rich and savory flavor. You won't get the same flavor from regular vegetable or canola oil.
Salt & Pepper: Don't skip out on these either! Salt will bring out the natural sweetness of the tomatoes.
What Tomatoes Are Best for Roasting?
You can use any tomato that you'd like for this recipe. We suggest using tomatoes like Campari, Roma, or cherry tomatoes because they are meatier tomatoes.
We like to use these tomatoes because they have less water content and therefore will have more flavor and texture after they are roasted.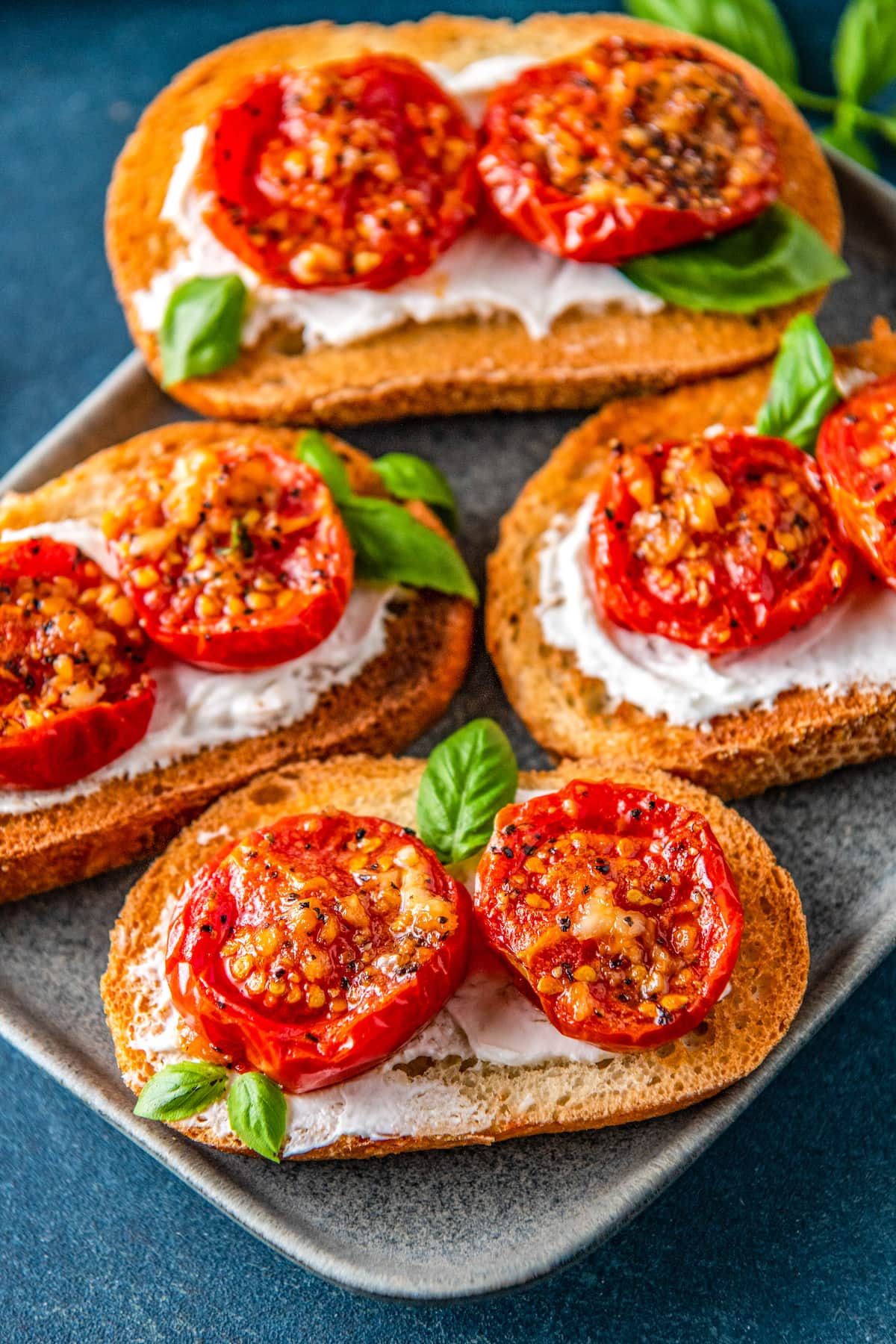 How to make Roasted Tomatoes
Here's how to make these simple baked tomatoes.
Prep the oven and a sheet tray. First, you'll want to preheat the oven to 400F and prepare a sheet tray. Lining a tray with parchment paper will help prevent the tomatoes from sticking to the pan.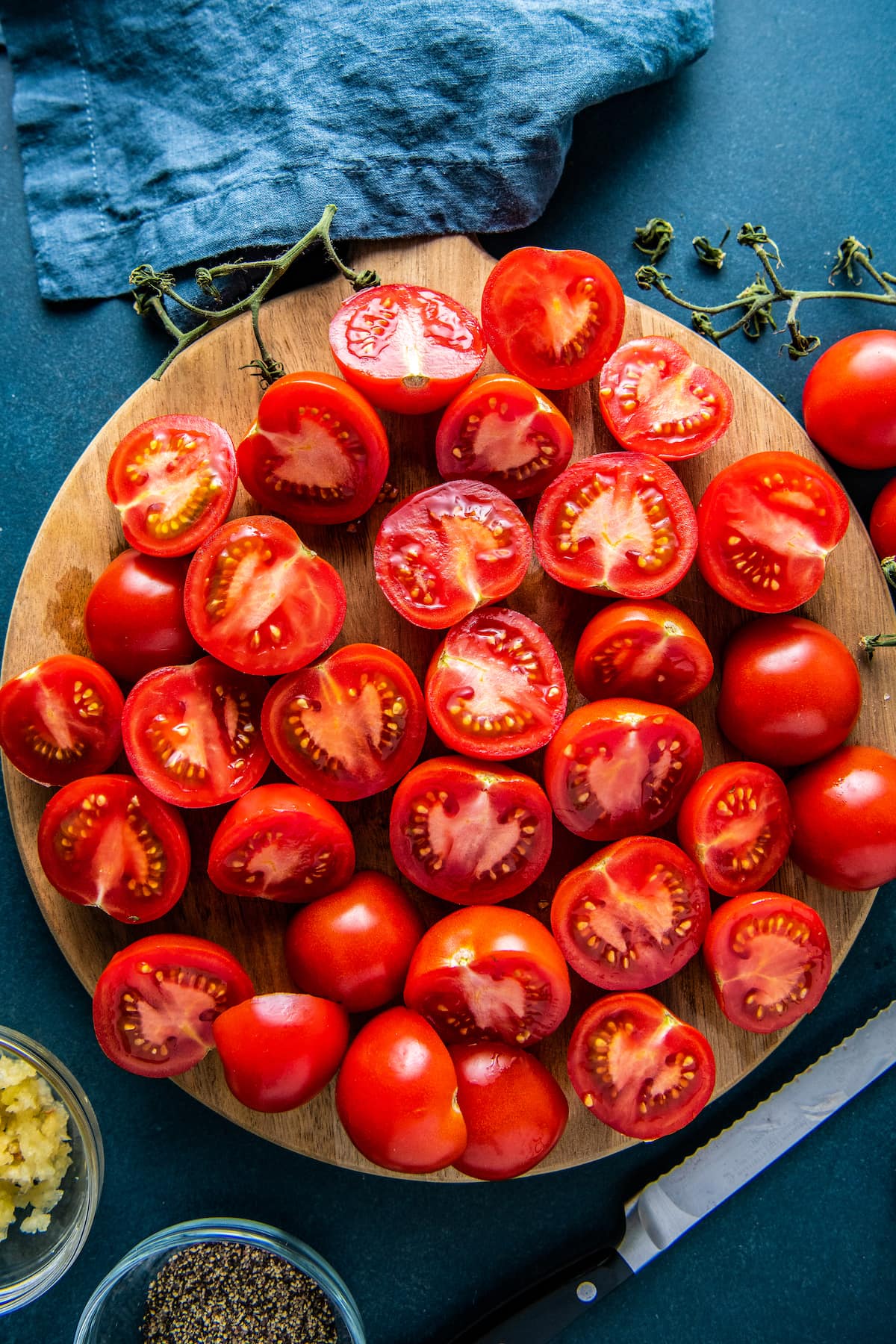 Then prep the tomatoes. Cut them in half (or in thirds if you're using large tomatoes). And put the tomatoes into a medium bowl.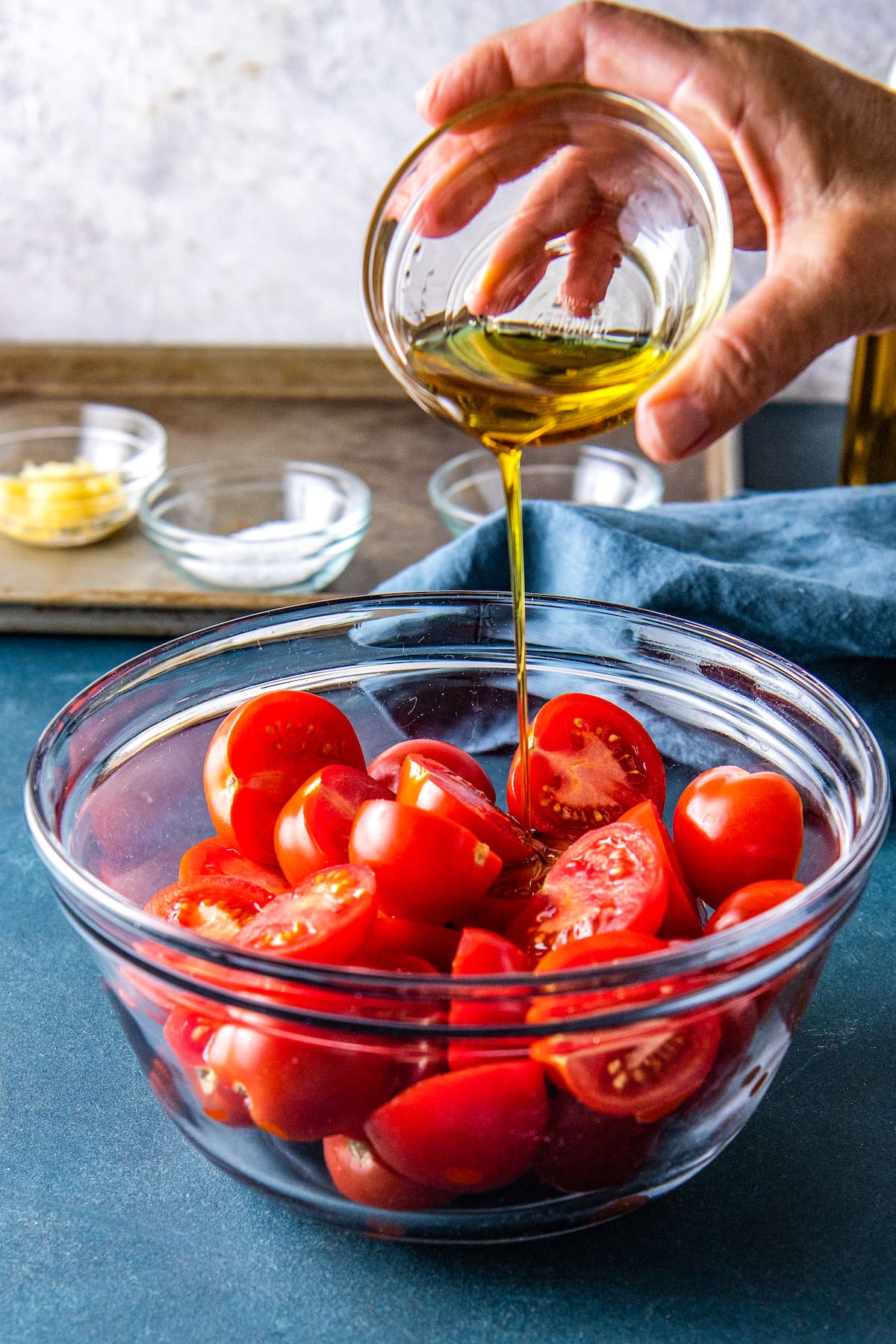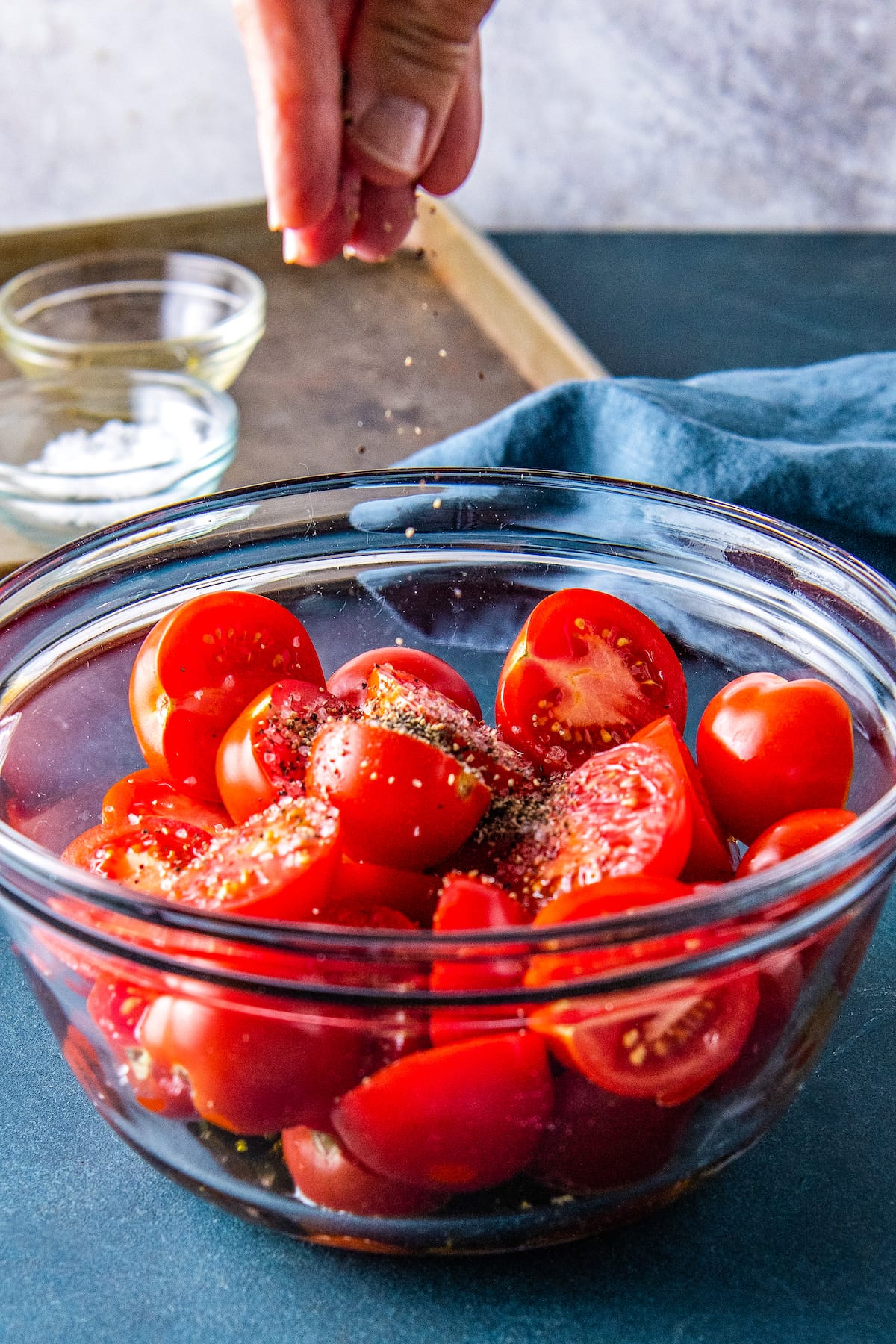 Add the other ingredients to the bowl with the tomatoes. You'll want to be sure that they are evenly covered with olive oil, salt, pepper, and garlic.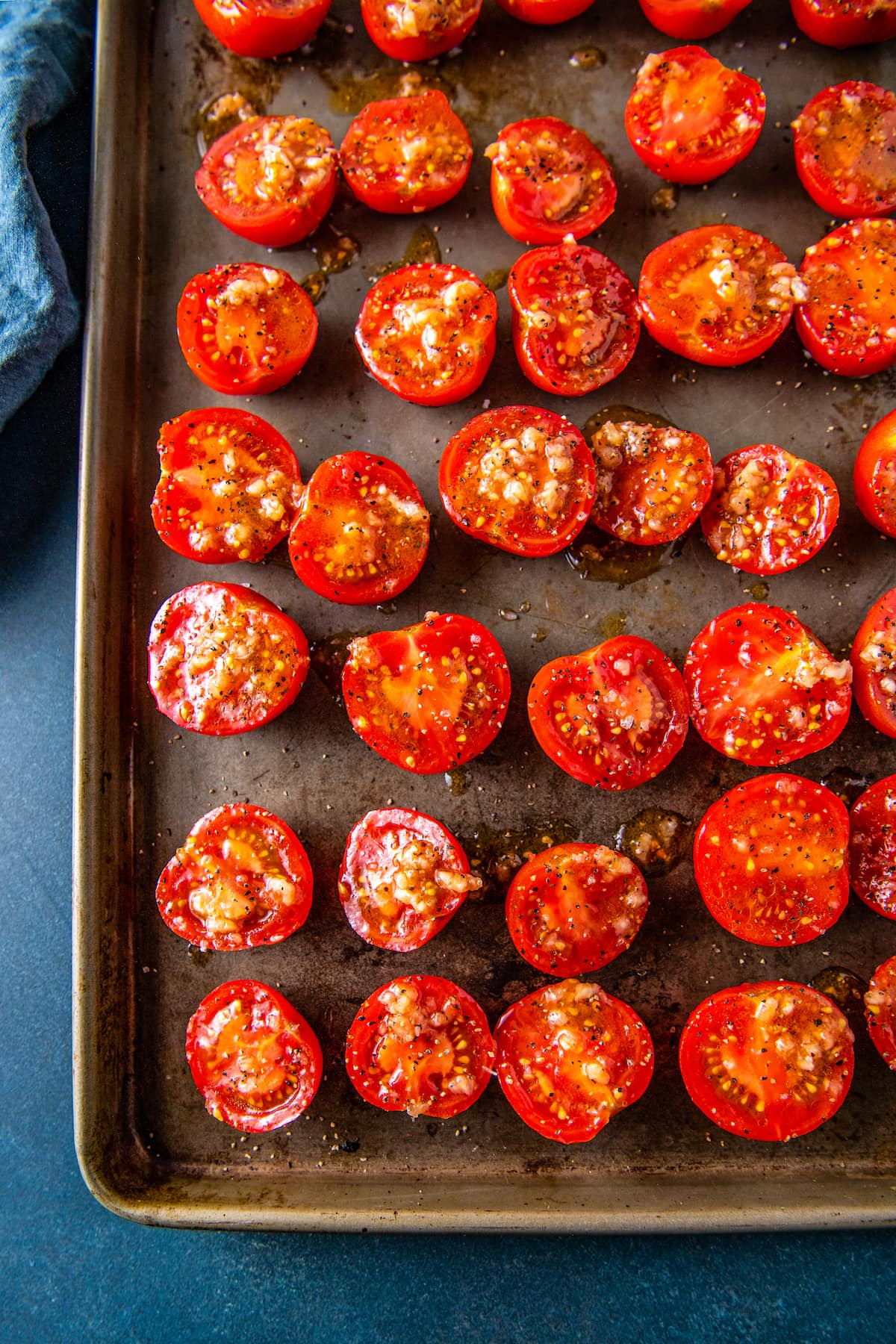 Next, lay them flat on the sheet tray. It's best that they are in a single layer and not overlapping.
Lastly, roast them in the oven. The tomatoes will be done after about 30 minutes. Now you can serve and enjoy them however you'd like!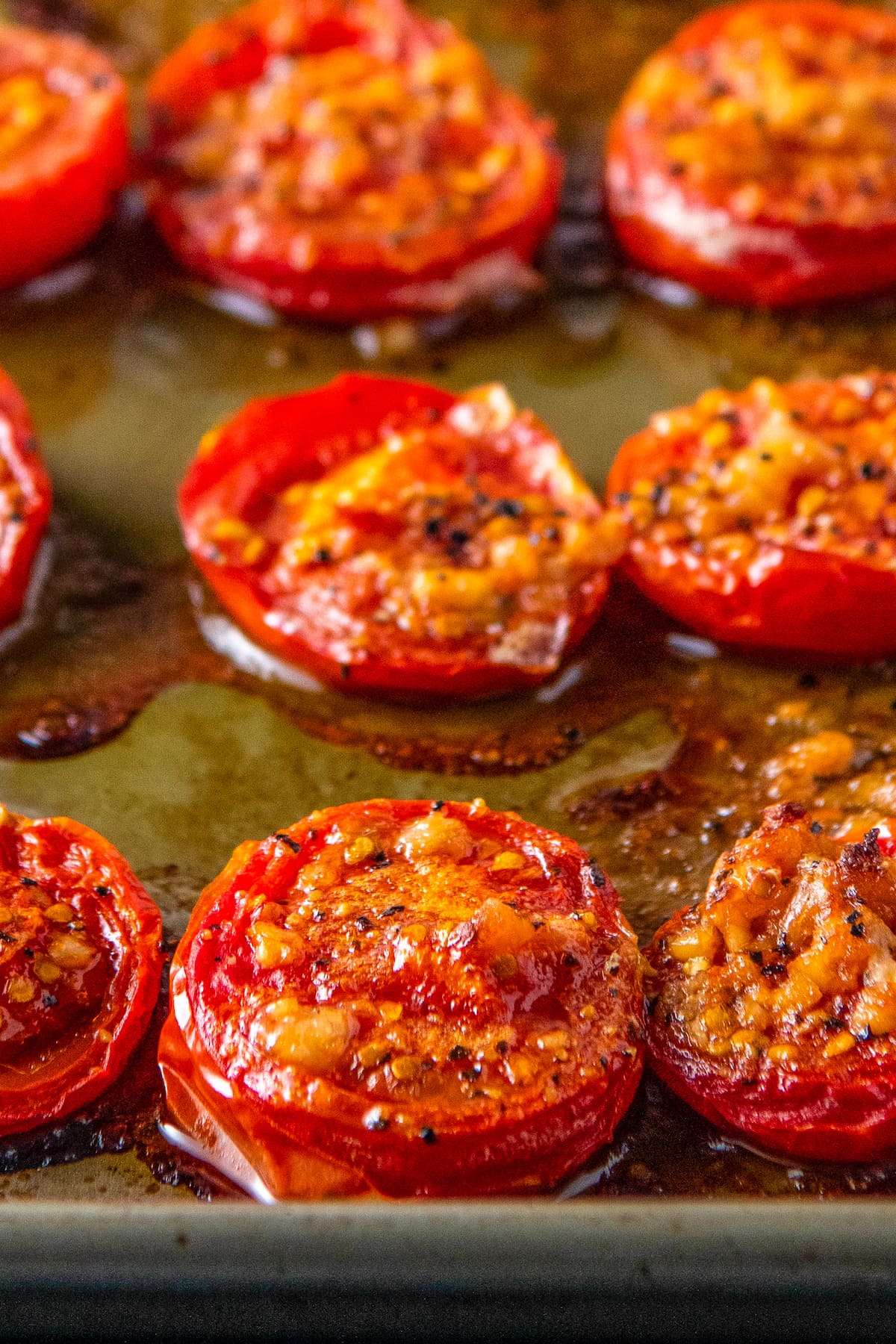 Tips for Success
This recipe is pretty straightforward, but here are some tips to help you along the way!
Make sure the tomatoes are cut to the same size. Remember, you can use whatever tomatoes you'd like just be sure that they are the same size before roasting. This way they will cook evenly.
Mince the garlic as fine as you can. Using finely minced garlic will have the best flavor!
Remove excess moisture before roasting. You can do this by simply patting the tomatoes dry or removing the seeds from some of the larger, more water-dense tomatoes.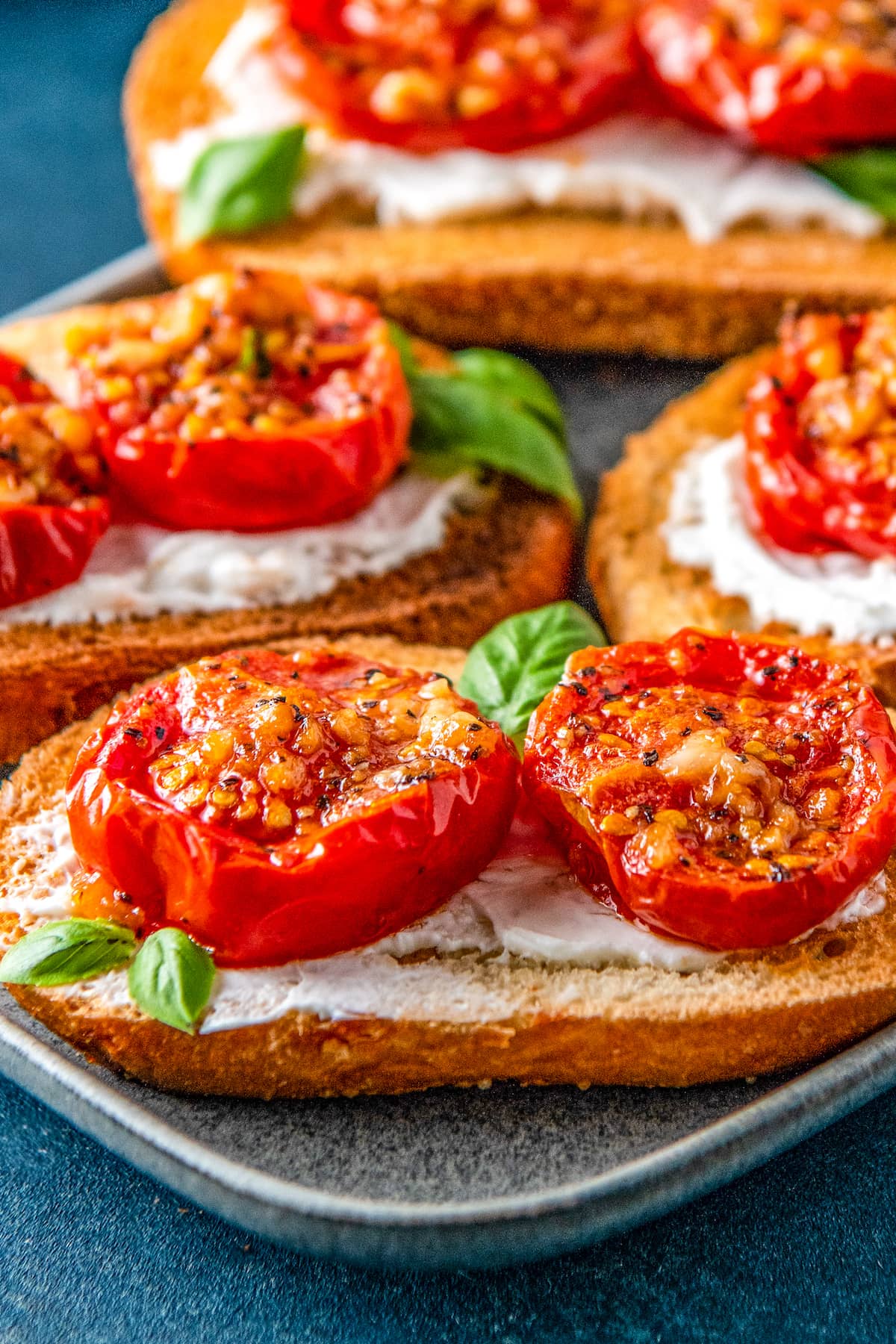 Ways to Use Roasted Tomatoes
There are a lot of different ways to use these tasty tomatoes. They add flavor to just about anything you add them to! Here are some of our favorites.
Dress up your toast. One of our favorite ways to enjoy these tomatoes is on a piece of toast with some spreadable cheese (like goat cheese) and with fresh basil. You can also use Homemade Pesto drizzled on top. Yum!
Add to pasta and pasta salads. We love adding them as "flavor bombs" to our favorite dishes – especially pasta dishes! You can add them to our Cajun Chicken Pasta or Chicken Bacon Ranch Pasta.
Swap fresh tomatoes for these roasted tomatoes in salads. Use these baked tomatoes instead of using fresh tomatoes in our Mediterranean Quinoa Salad (or any other salad!).
They are great for breakfast! You can add them to scrambled eggs or in an omelet.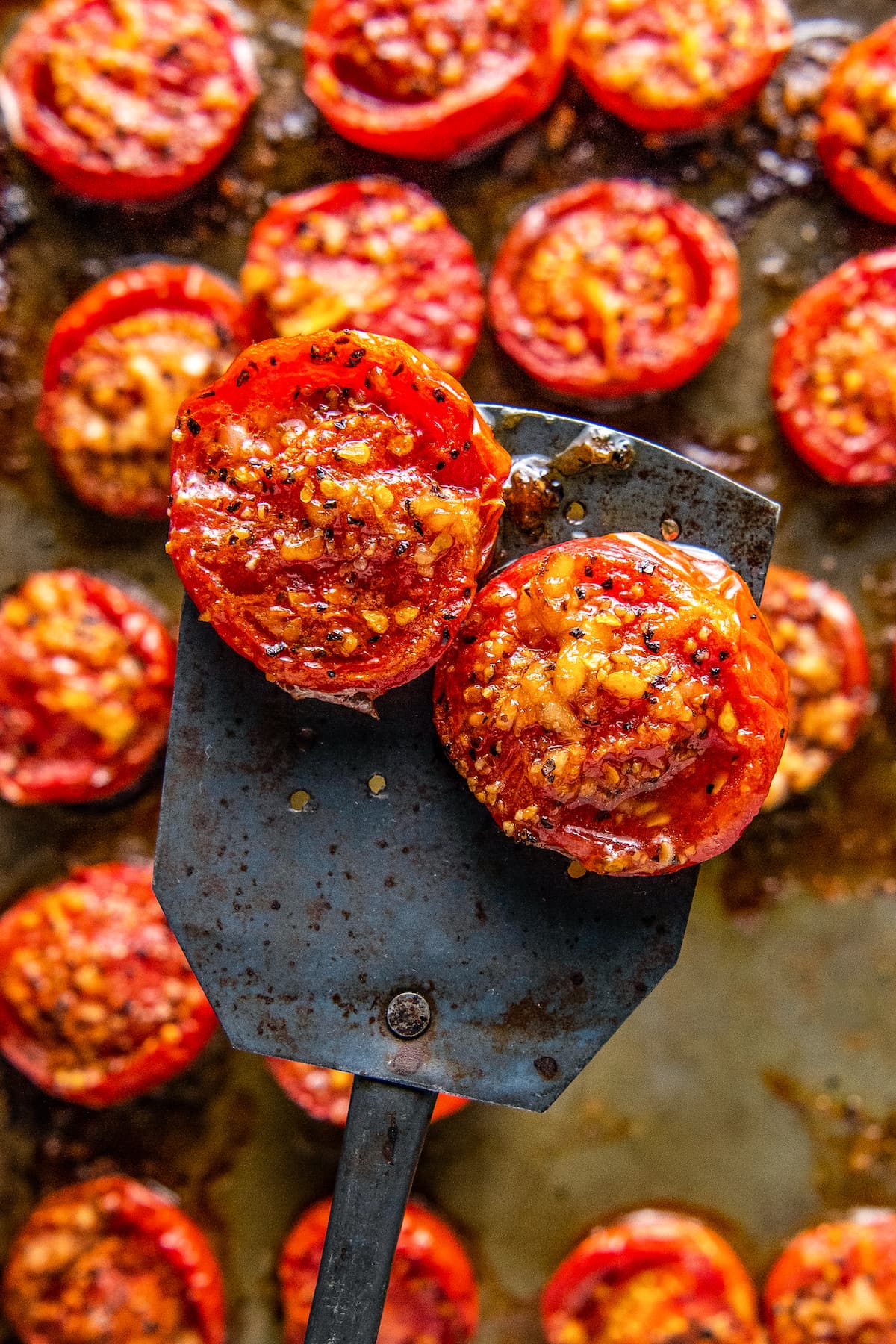 How to Store & Reheat Leftovers
The best way to store roasted tomatoes is in an air-tight container or jar. Then keep them in the refrigerator for up to 4 days. Roasted tomatoes can be frozen and stored in the freezer for up to 3 months.
You can enjoy them cold, at room temperature, or you can reheat them before eating. We like to put them under the broiler (on low heat) for about a minute to reheat.
Roasted Tomatoes
These Oven Roasted Tomatoes are perfect for adding flavor to salads, pasta dishes, and many other recipes! They are also perfect as a side dish. This recipe is very simple and only requires 5 basic ingredients.
Ingredients
3

pounds

tomatoes

,

sliced in half

2

tablespoons

olive oil

4

cloves

garlic

,

minced

1

teaspoon

coarse salt

1

teaspoon

cracked black pepper
Instructions
Preheat oven to 400°F. Line a sheet pan with foil (or parchment paper), or spray with nonstick cooking spray, and set aside.

In a large mixing bowl add tomatoes, olive oil, garlic, salt and pepper. Toss to coat the tomatoes.

Evenly spread the tomatoes on the prepared baking sheet and place tomatoes in the oven.

Roast the tomatoes for 30 minutes, until nice and charred. Serve as desired.
Notes
Storage:
Store leftover roasted tomatoes in the fridge for up to 5 days.
Reheat in the oven or air fryer for best results. When stored, the tomatoes will make excess juice. I pour out the juice before reheating them.
Freeze in an airtight container for up to 3 months. Thaw overnight in the fridge before reheat for best results.
Nutrition
Serving:
1
,
Calories:
127
kcal
,
Carbohydrates:
15
g
,
Protein:
3
g
,
Fat:
7
g
,
Saturated Fat:
1
g
,
Polyunsaturated Fat:
6
g
,
Sodium:
546
mg
,
Fiber:
4
g
,
Sugar:
9
g
More Easy Recipes With Tomatoes: