This easy Crockpot Beef Stew has the most tender cuts of beef and flavorful vegetables like carrots, potatoes, and peas, all smothered in a rich and hearty gravy. It only takes 10 minutes to prep making it a simple weeknight meal option!
The Best Slow Cooker Beef Stew Recipe
It's Crockpot season friends, and that's a special time for us! We're the queens of easy dinner ideas and it does not get easier than this Crockpot Beef Stew recipe. You can make this on the stovetop or even in an Instant Pot. But if you need the easiest possible version of Beef Stew – this is it.
Basically, the only prep work that you need to do is to cut the vegetables. There's no need to sear the beef either. Once your veggies are prepped you just toss it all into the slow cooker and step away!
This recipe is great for making during the week when your schedule is so busy you can't even think straight! It's also great to make when you have company over or even for the holidays. It's rich, hearty, and filling. This Crockpot Beef Stew is the easiest comfort food ever!
If you love crockpot beef stew, we bet you will also love these amazing Crockpot Beef Tips!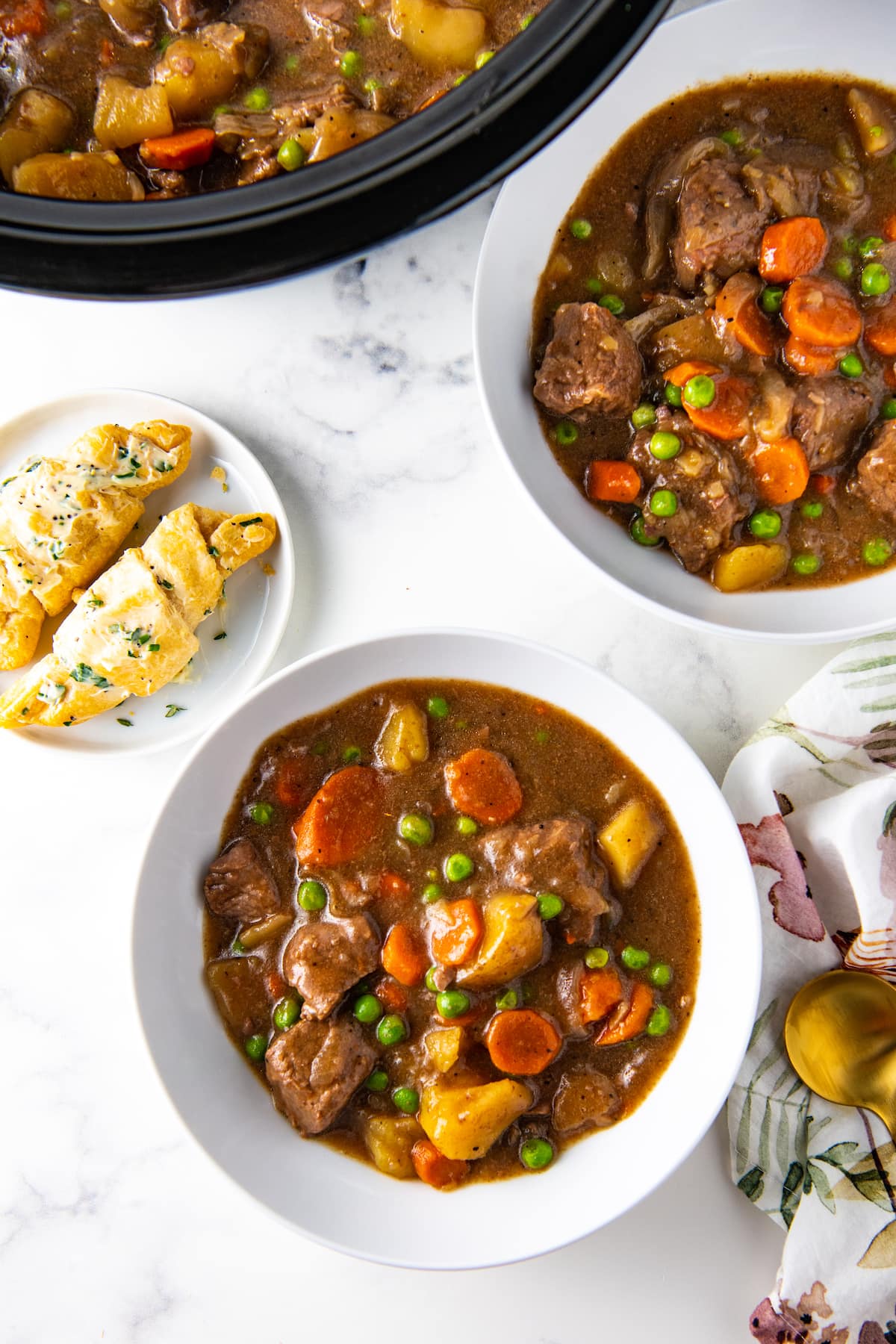 Why You'll Love This Crockpot Beef Stew
You're going to love how simple this recipe is. Here are the main reasons why it's a favorite in our book!
It takes 10 minutes to prep. You can prep the ingredients in just a few minutes. Sometimes we will cut them and store them in the fridge overnight so morning prep is even easier!
Dinner will be ready when you get home. Set the Crockpot in the morning and home to a warm and comforting meal.
It's affordable. There are no expensive cuts of beef or fancy vegetables here. Beef stew pieces are usually pretty inexpensive, as are potatoes and carrots.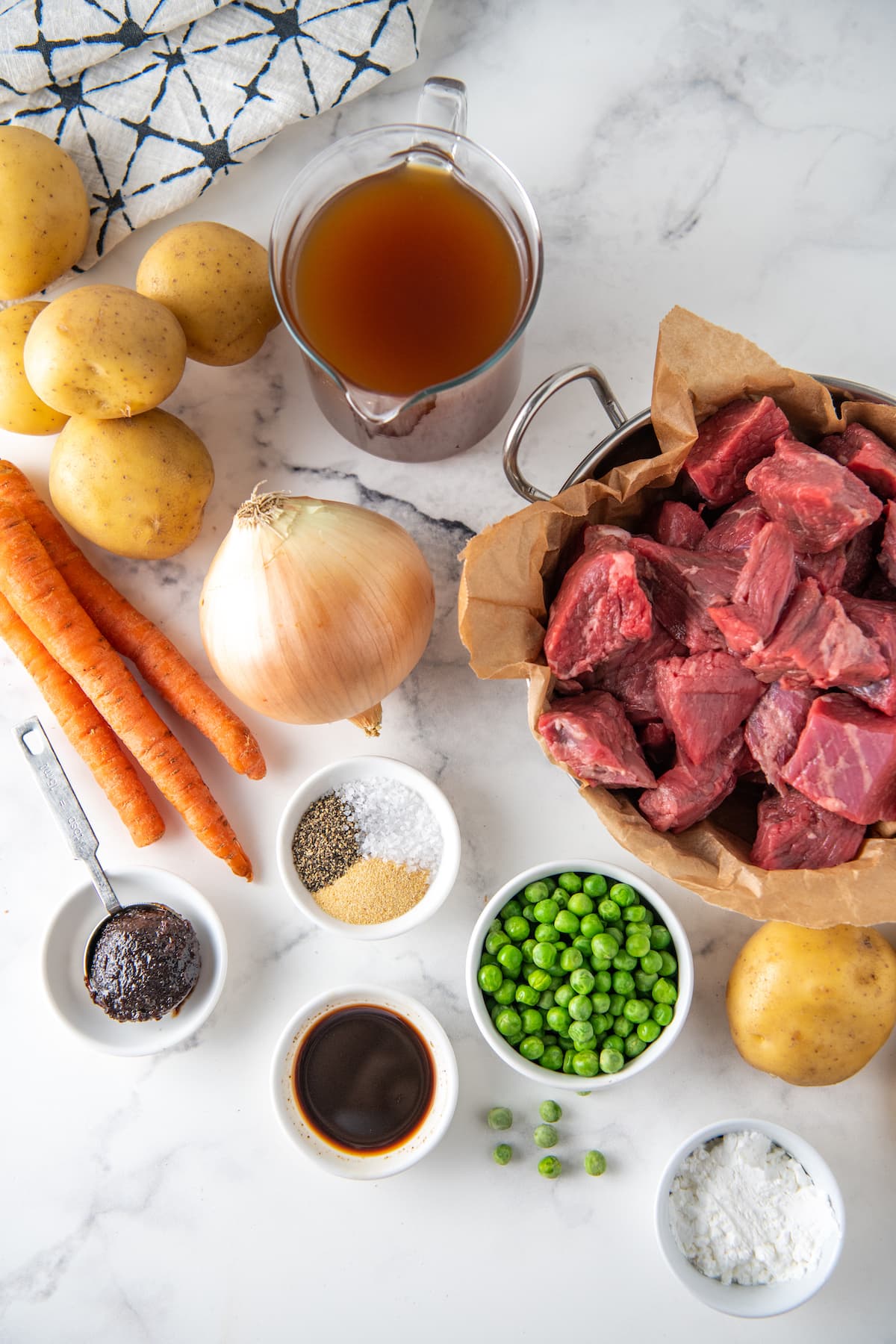 Recipe Ingredients
Here is what you need to make Crockpot Beef Stew.
Beef Broth: Try to use low-sodium beef broth so that you can control the salt level of the stew.
Cubed Stew Beef: Easy to find in the grocery store and it's super affordable! A great way to eat beef on a budget. It may be labeled as cubed chuck roast.
Garlic Powder: For seasoning the beef before cooking.
Salt & Pepper
Beef Boullion: This will deepen the flavor of the beef gravy.
Worcestershire Sauce: The sauce adds saltiness and savory flavor to the stew.
Yukon Potatoes: Yukon's buttery texture works perfectly for beef stew. You can always use red potatoes if you don't have Yukons.
Yellow Onion: You could also use white or sweet onions.
Sliced Carrots: Whole carrots have the best flavor for this dish, but baby carrots can also be used.
Sweet Peas: We like to use frozen peas. They taste great and add a little sweetness and color to the stew.
Cornstarch & Water: To make a slurry that will thicken the soup.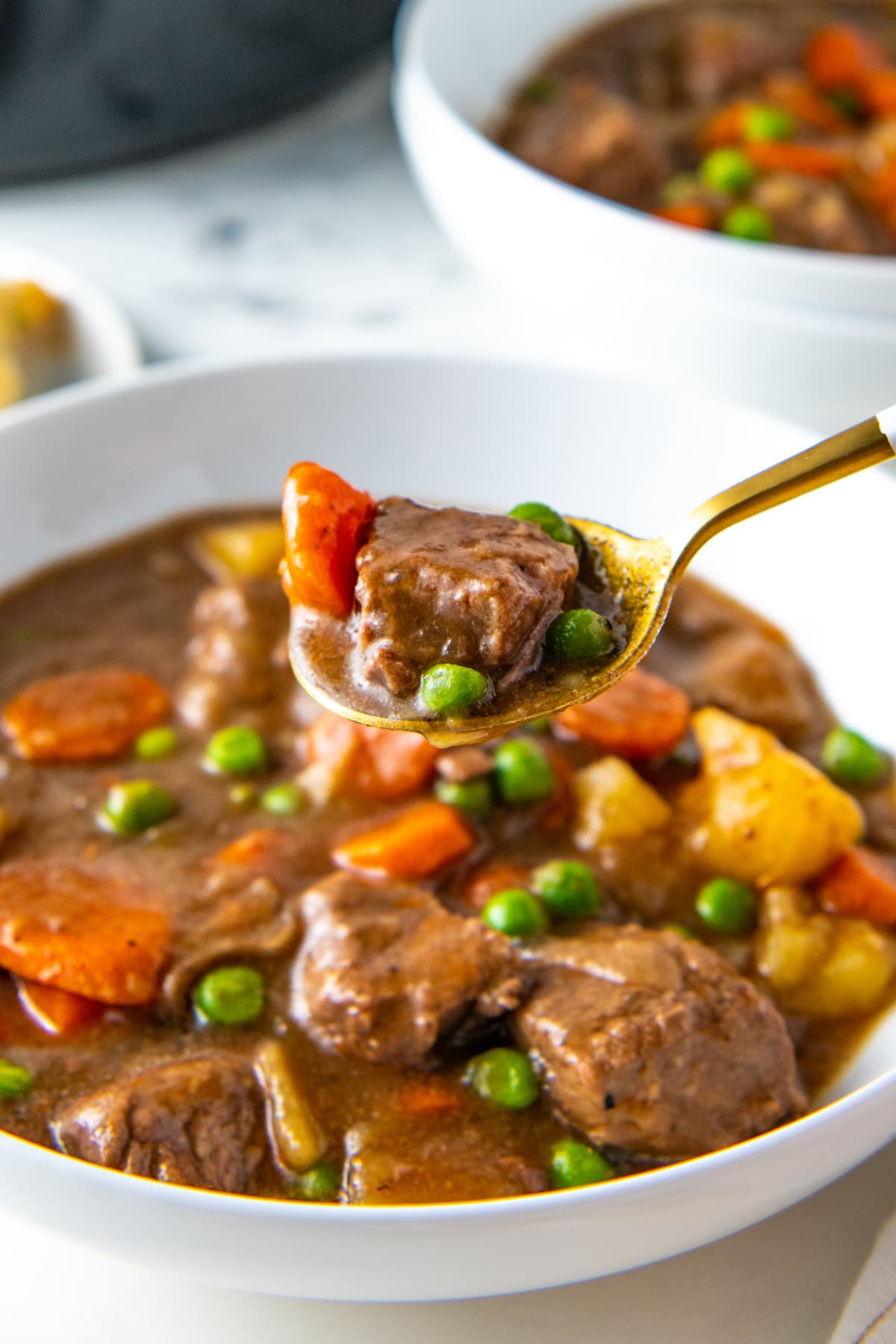 How to Make Crockpot Beef Stew
Honestly, the steps to make this recipe are so simple! You'll have this recipe down in no time.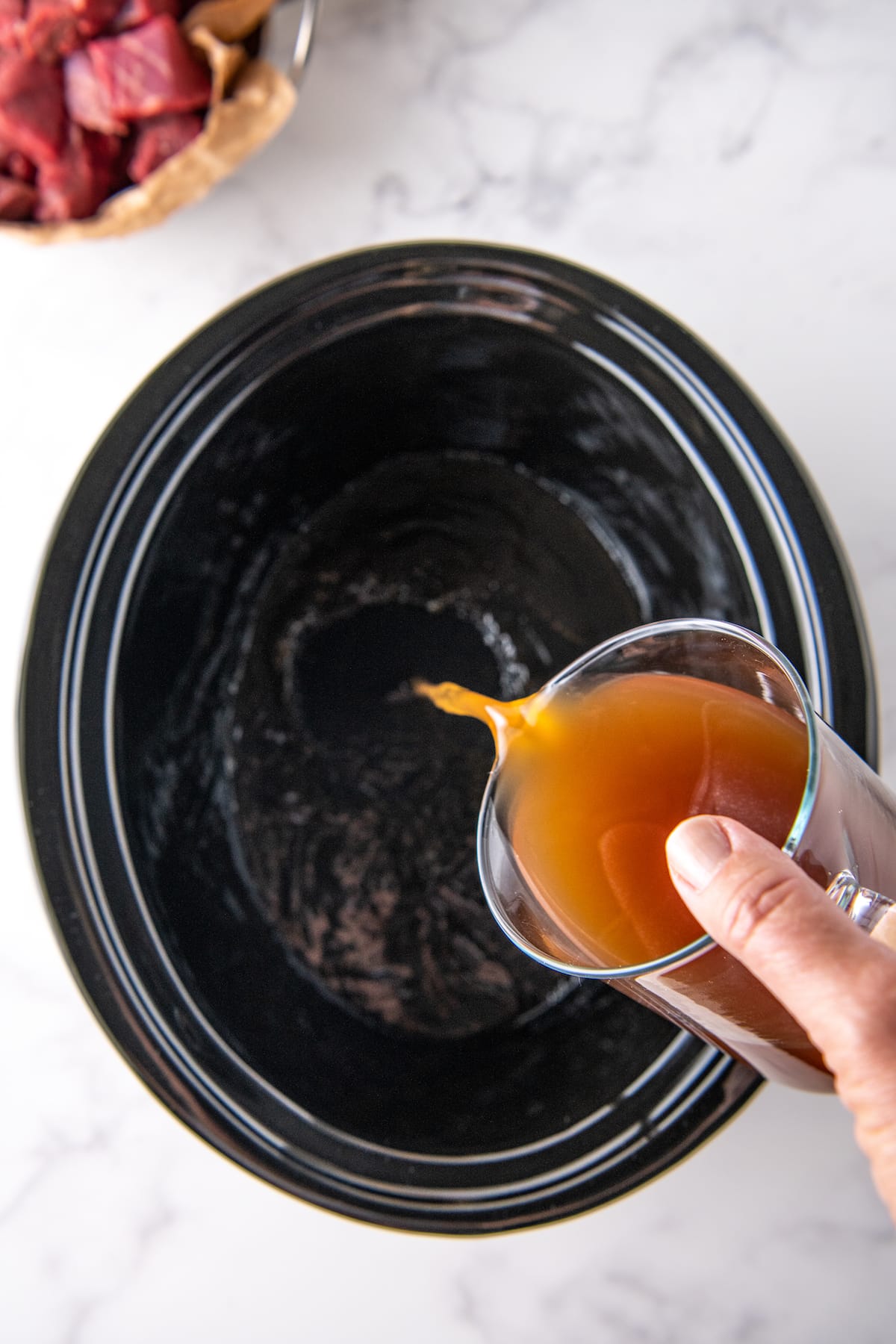 First, add the broth and beef to the Crockpot. Then add the seasonings and toss to coat the beef.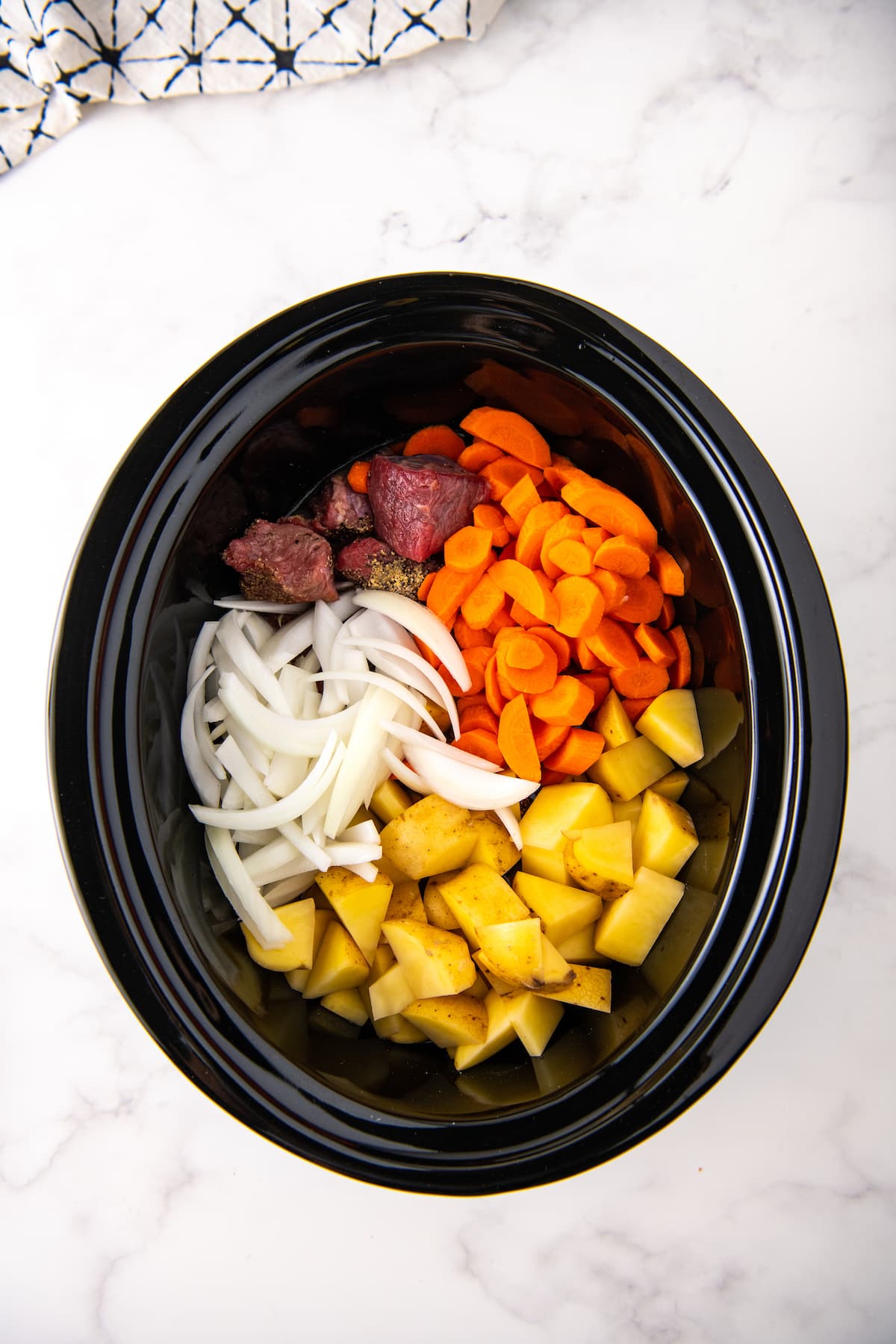 Next, add the vegetables on top. Just the carrots and potatoes for now. You will add the peas later on.
Now set it and forget it! Let the slow cooker do the work from here!
Then add the peas. When the beef is cooked, it's time to add the peas.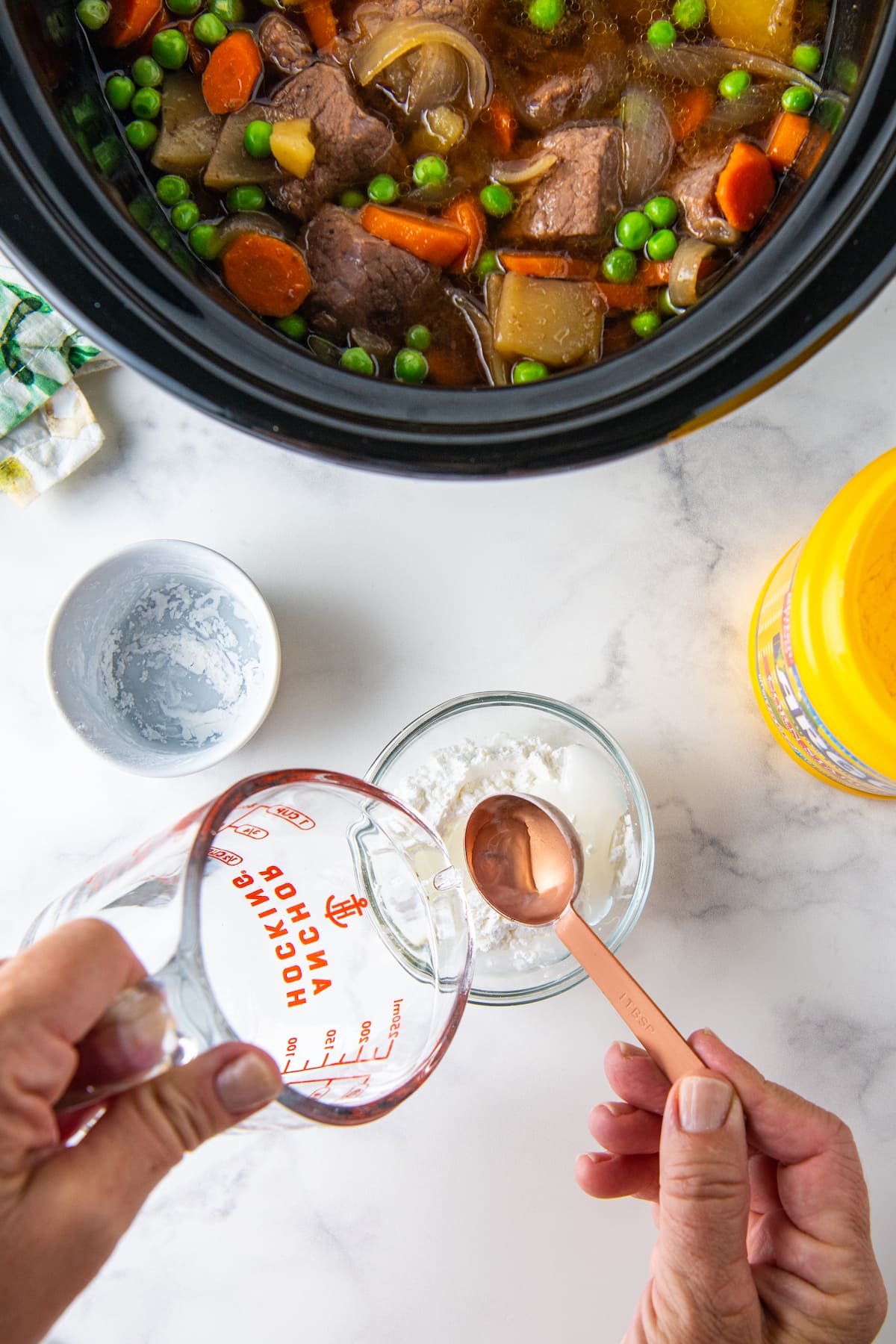 Thicken the stew by making a slurry. Finally, if you'd like to thicken the stew, you can make a slurry. Do this by mixing the water and cornstarch and then stirring into the stew. The beef stew will start to thicken once it's on high heat and it begins to simmer.
Tips for Success
Here are a few things to keep in mind when making this Crockpot Beef Stew.
Sear the beef beforehand. To deepen the flavor of the beef, you can sear the beef in the skillet before adding it to your crockpot. This is not necessary but will add an extra depth of flavor to your stew.
Add more flavor! Add ¼ cup of red wine (or coffee!) for a more intense gravy flavor.
Stick with the less expensive meat cuts. Stew meat is a less expensive cut of meat, it needs time to cook and get tender. If you use leaner cuts of meat they tend to get tougher as they cook. This is a good excuse to buy the more affordable beef!
Put the vegetables on top of the beef. We put the vegetables on top of the meat because this helps them to not overcook too much.
Choose the low and slow method. We highly recommend going with the low setting for a longer cooking time for the most tender beef.
Thicken to your liking. You can use less cornstarch and water if you don't want the gravy to be thick (2 tablespoons of each instead). Or you can use two slurries if you like the gravy to be really thick.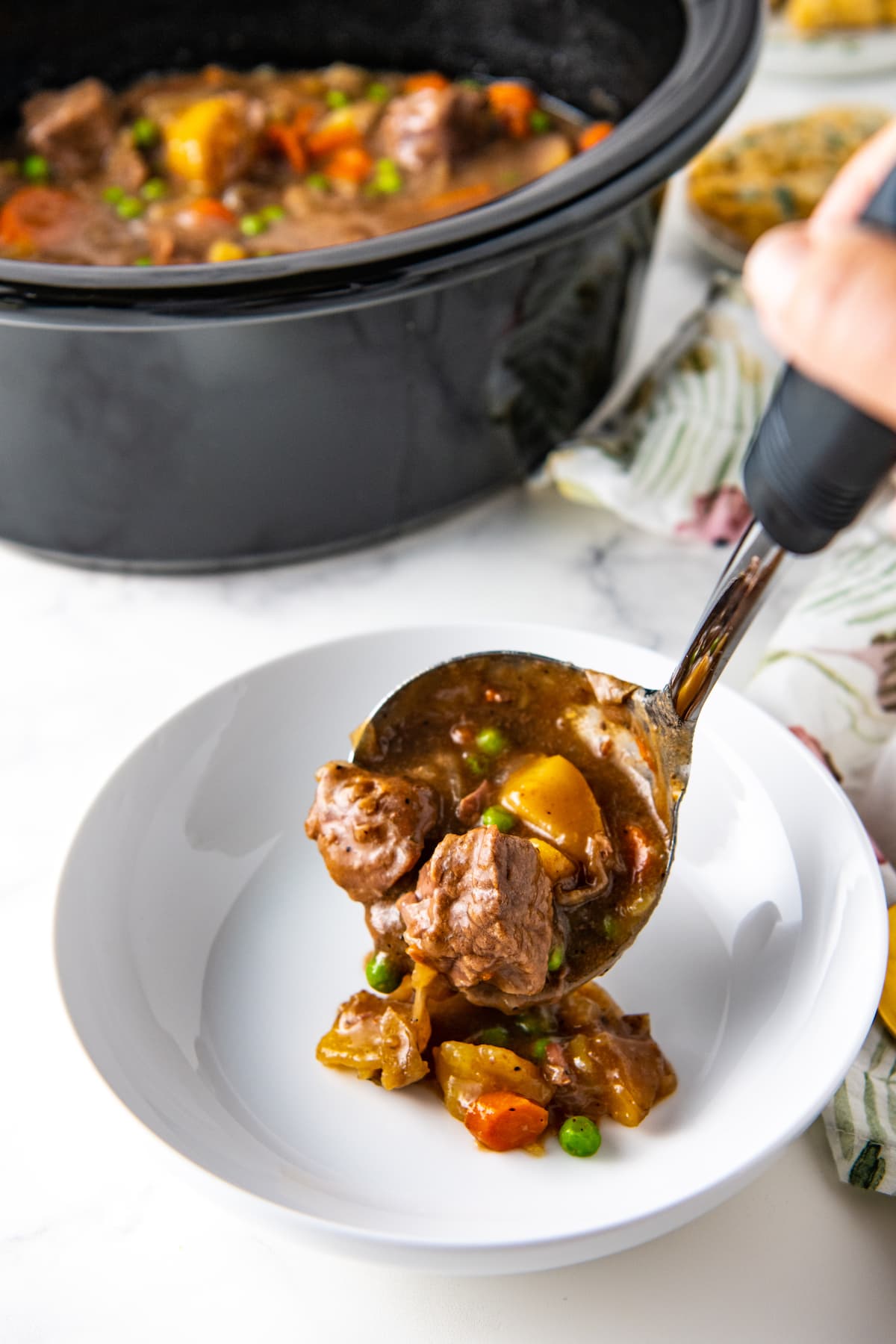 What to Serve with Homemade Beef Stew
This simple dinner pairs well with some very easy side dishes. Here are some of our favorite ideas.
Crescent Rolls: Specifically, our amazing melt-in-your-mouth Herb Air Fryer Crescent Rolls!
Banana or Zucchini Bread: Don't knock it till you try it! We love serving these semi-sweet pieces of bread with rich and savory stew because they balance each other out perfectly.
Easy Sandwiches: It could be a simple grilled cheese sandwich or Egg Salad Sandwich.
Cheese and Cracker Board: You can even throw some more veggies on there, too if you want!
How to Store & Reheat Leftovers
Store leftover beef stew in an airtight container for up to 5 days. You can reheat it in the microwave or on the stovetop for a quick and easy lunch or dinner.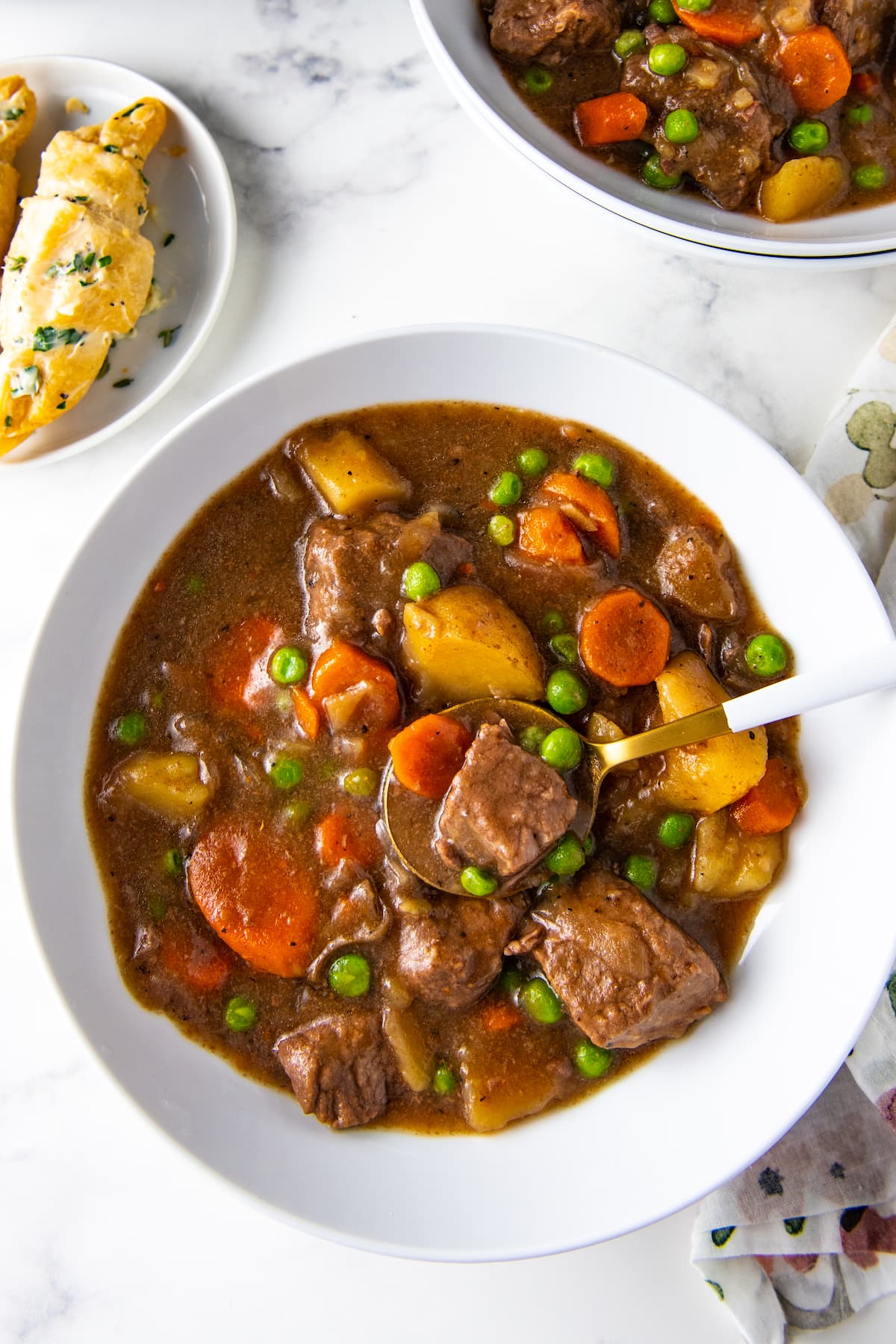 Can I Freeze This?
Yes, you can freeze the leftovers! Keep them in an airtight container for up to 3 months.
Then transfer the stew 24 hours before you want to serve it again to the fridge to thaw. You can then reheat it on the stovetop, in the microwave, or back in the crockpot on high for about an hour.
Yield: 6 to 8 servings
Crockpot Beef Stew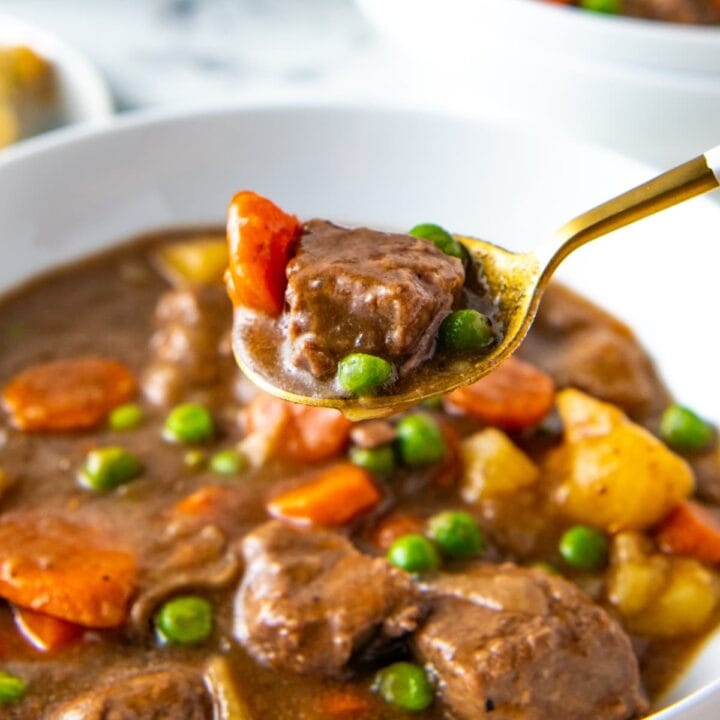 This Crockpot Beef Stew is quick to prep and then the slow cooker does the rest! The beef and vegetables are cooked perfectly in savory gravy.
Total Time
8 hours
10 minutes
Ingredients
2 cups beef broth
2 pounds cubed stew beef
1 tablespoon garlic powder
1 tablespoon black pepper
1 teaspoon salt
1 tablespoon beef boullion
1 tablespoon Worcestershire sauce
1 ½ pounds golden Yukon potatoes, cut into chunks
2 cups sliced carrots
1 large yellow onion, sliced
1 cup sweet peas
3 tablespoons cornstarch
3 tablespoons water
Instructions
Pour the beef broth into the crockpot and add the beef. Sprinkle the beef with the garlic, black pepper, salt, beef bouillon and Worcestershire sauce.
Add the cut potatoes, carrots and sliced onion on top of the beef.
Place lid on crockpot and set your time. Cook for 4-6 hours on high, or 6-8 hours on low, until beef is fork tender.
Once stew is cooked, add in the sweet peas.
To thicken the gravy, you will need to make a slurry with cornstarch and gravy. In a bowl, whisk to combine the cornstarch and water until smooth. Then slowly pour the slurry into the crockpot and stir until all combined.
Replace lid and turn the crockpot to high heat and cook for 10 minutes, stirring every so often, until thickened.
Serve immediately!
Notes
Storage:
Store leftovers in an airtight container, in the fridge, for up to 5 days.
Freeze for up to 3 months. Let thaw in the fridge for 24 hours before serving for best results.
Nutrition Information:
Yield:
6
Serving Size:
1
Amount Per Serving:
Calories:

481
Total Fat:

11g
Saturated Fat:

5g
Trans Fat:

1g
Unsaturated Fat:

6g
Cholesterol:

152mg
Sodium:

825mg
Carbohydrates:

41g
Fiber:

6g
Sugar:

6g
Protein:

56g
Filed Under:
More Crockpot Soup Recipes