Our quick and easy Homemade Herb Butter has fresh chives, thyme, and parsley. This compound butter is a simple way to dress up your favorite rolls, drizzle it over a steak, or try it on steamed vegetables.
Easy Herb Infused Butter
As the holiday season approaches, and we're spending more time in the kitchen cooking for family and friends, we look for fun and easy ways to dress up our recipes. This simple Herb Butter is a quick and easy recipe that you'll use all season!
Imagine putting a pad of this herb-infused butter on your streak…or a baked potato! It's also a great butter to serve with your favorite dinner rolls and bread. You can also use it when cooking your Thanksgiving turkey!
The options are endless and that's why we love this recipe so much. There are also no hard rules as to what herbs you can and cannot use. If you want to use just one herb, that's fine! If you want to add more – go right ahead. We're here to give you a baseline recipe that you can follow as you get more creative in the kitchen!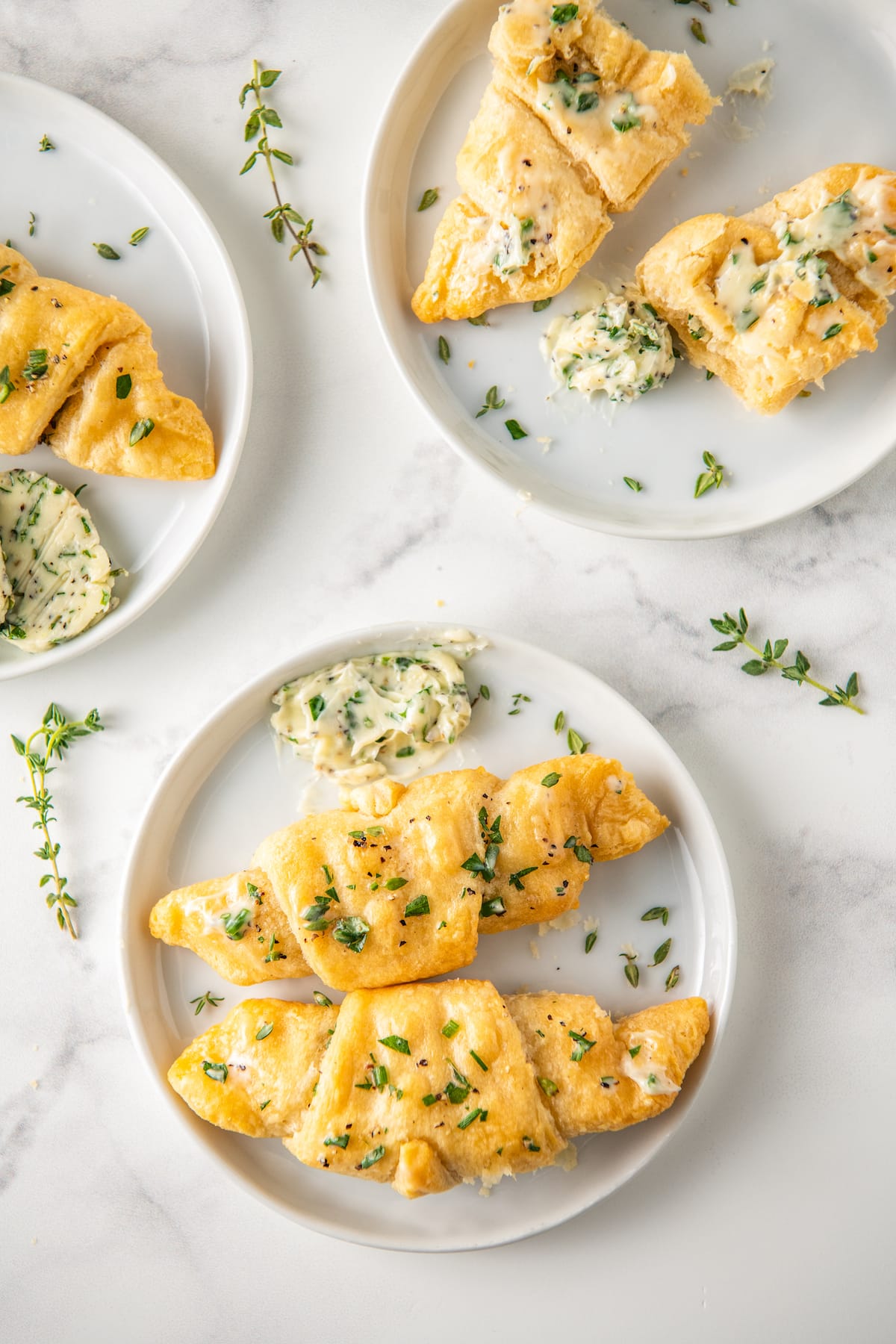 Why You'll Love This Compound Butter
We can't emphasize enough how much we think you should try this recipe. Here's why we love it so much!
You only need 5 ingredients. Butter, chives, parsley, thyme, and black pepper – that's all you need.
It takes 5 minutes to make. This is one of the fastest and easiest complimentary recipes you can make. And it's easy to put together while other things are cooking.
It's versatile. You don't have to use the herbs that we used in this recipe, but we do recommend using fresh herbs if you can. Alternatively, you could try rosemary, basil, cilantro, and/or oregano.
Store it in the freezer! You'll always find a log or two of this compound butter in our freezer for quick meal upgrades.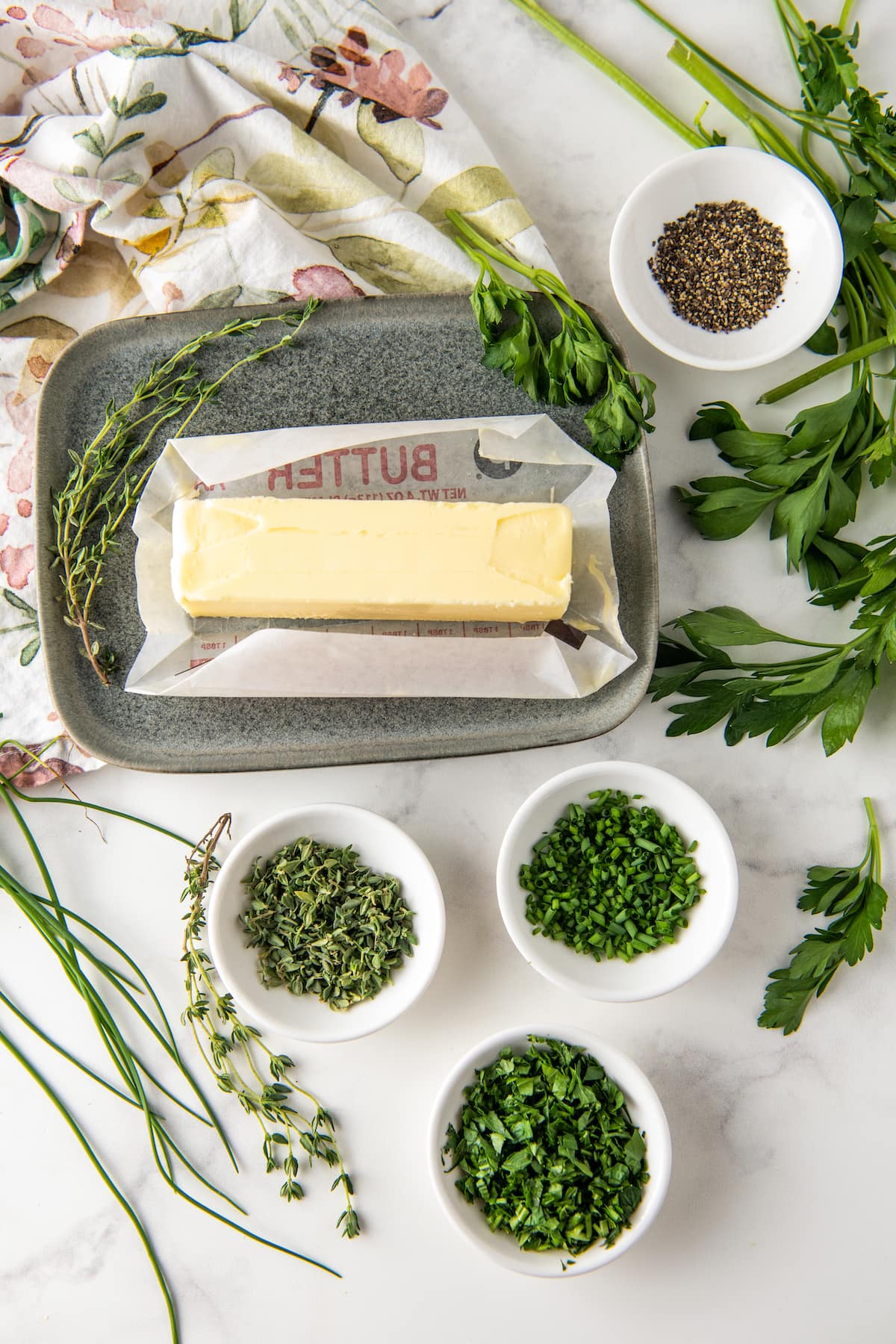 Recipe Ingredients
Here is a short list of ingredients that you need to make this compound butter.
Butter: You can use salted or unsalted butter. If you use unsalted, you may want to add a few pinches of kosher salt to the recipe. You can taste it to see how much you want to add.
Fresh Herbs: We used thyme, chives, and parsley for this recipe. But feel free to use whatever herbs you'd like.
Fresh Cracked Black Pepper: The pepper adds an earthy kick to the butter. Use fresh cracked if you can for the best flavor.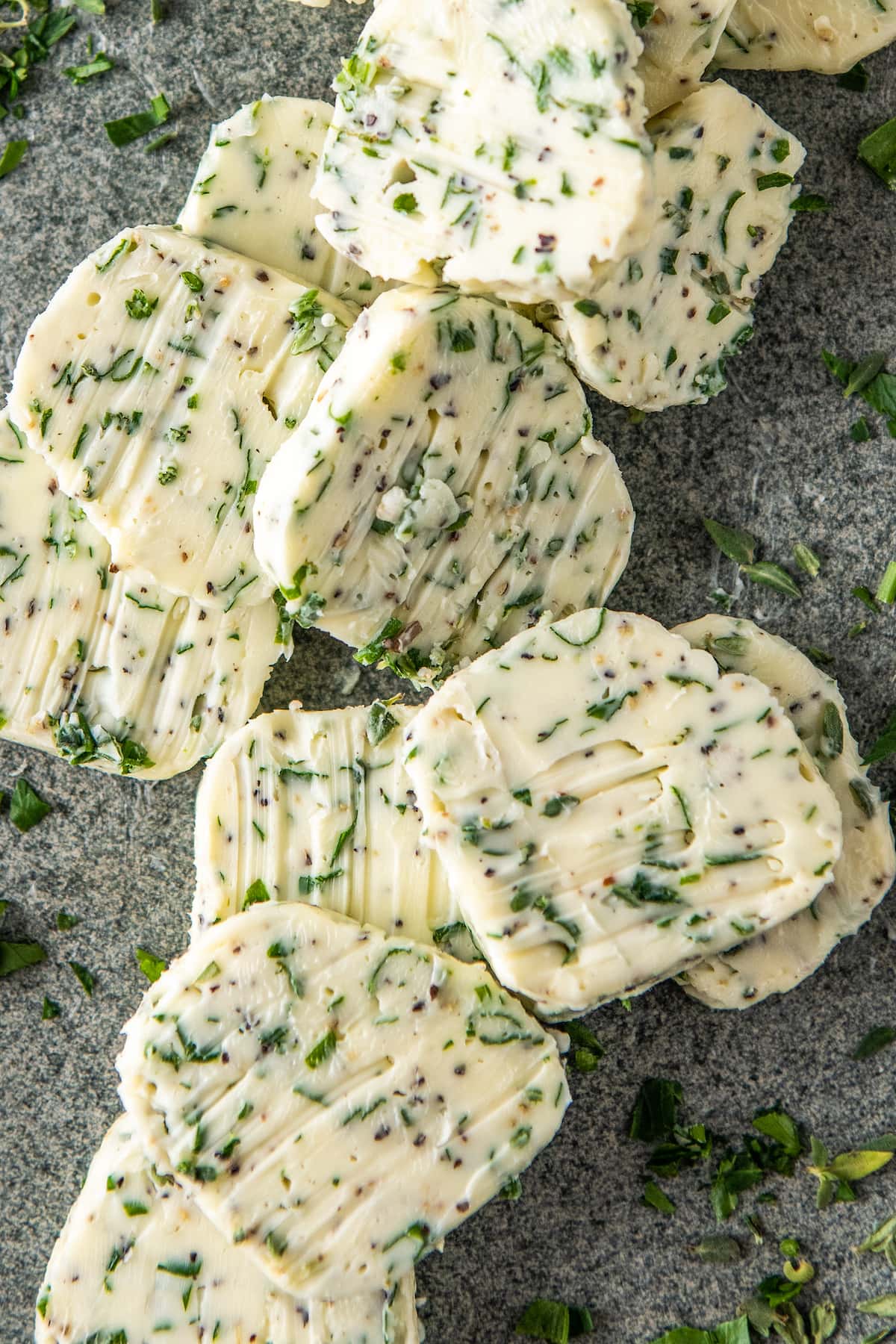 How to Make Herb Butter
You can easily make this butter while you're working on other things in the kitchen. Here are the quick and easy steps to follow: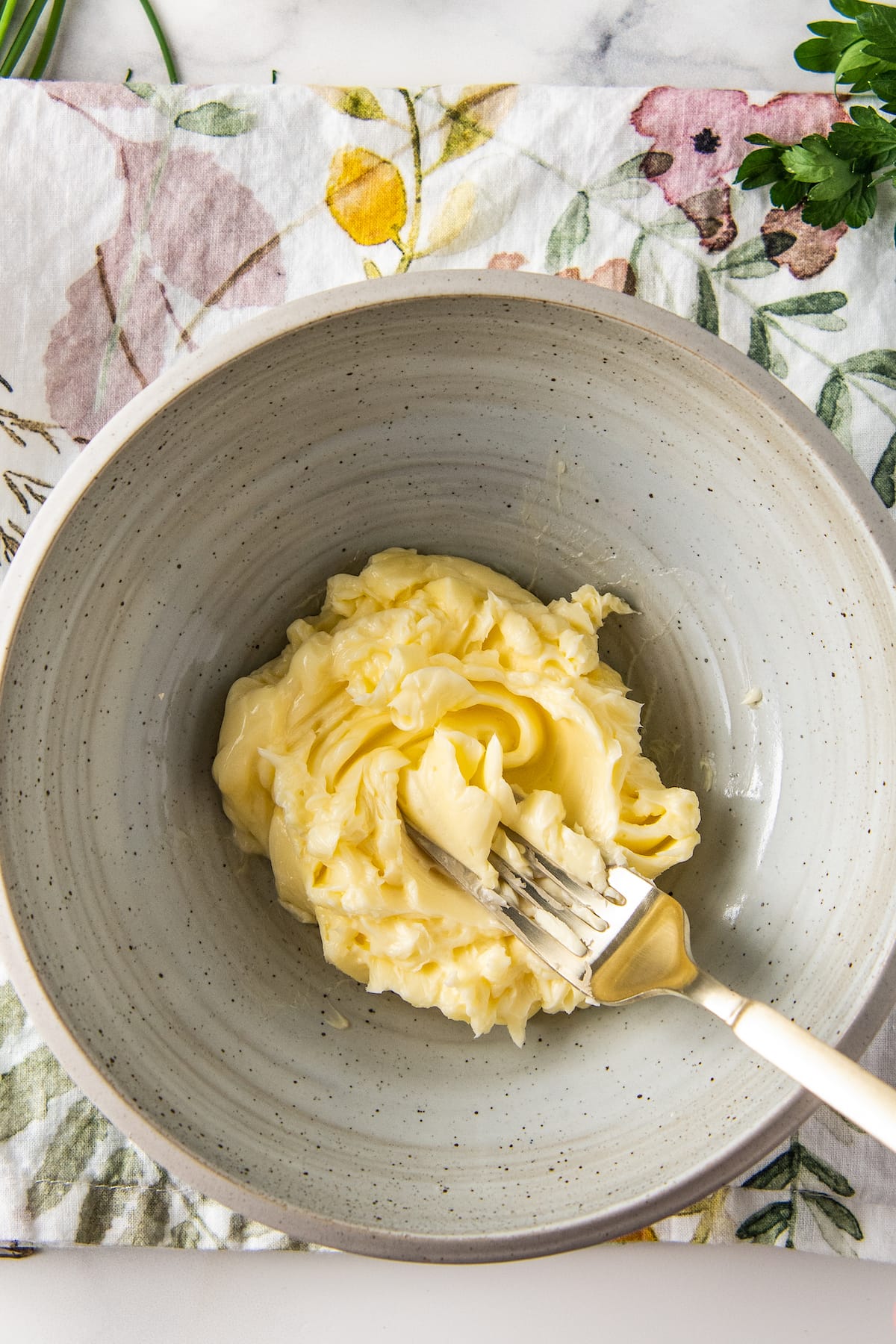 First, whip the butter. Always work with softened butter for the best results. You can use a fork to whip the butter if it's softened.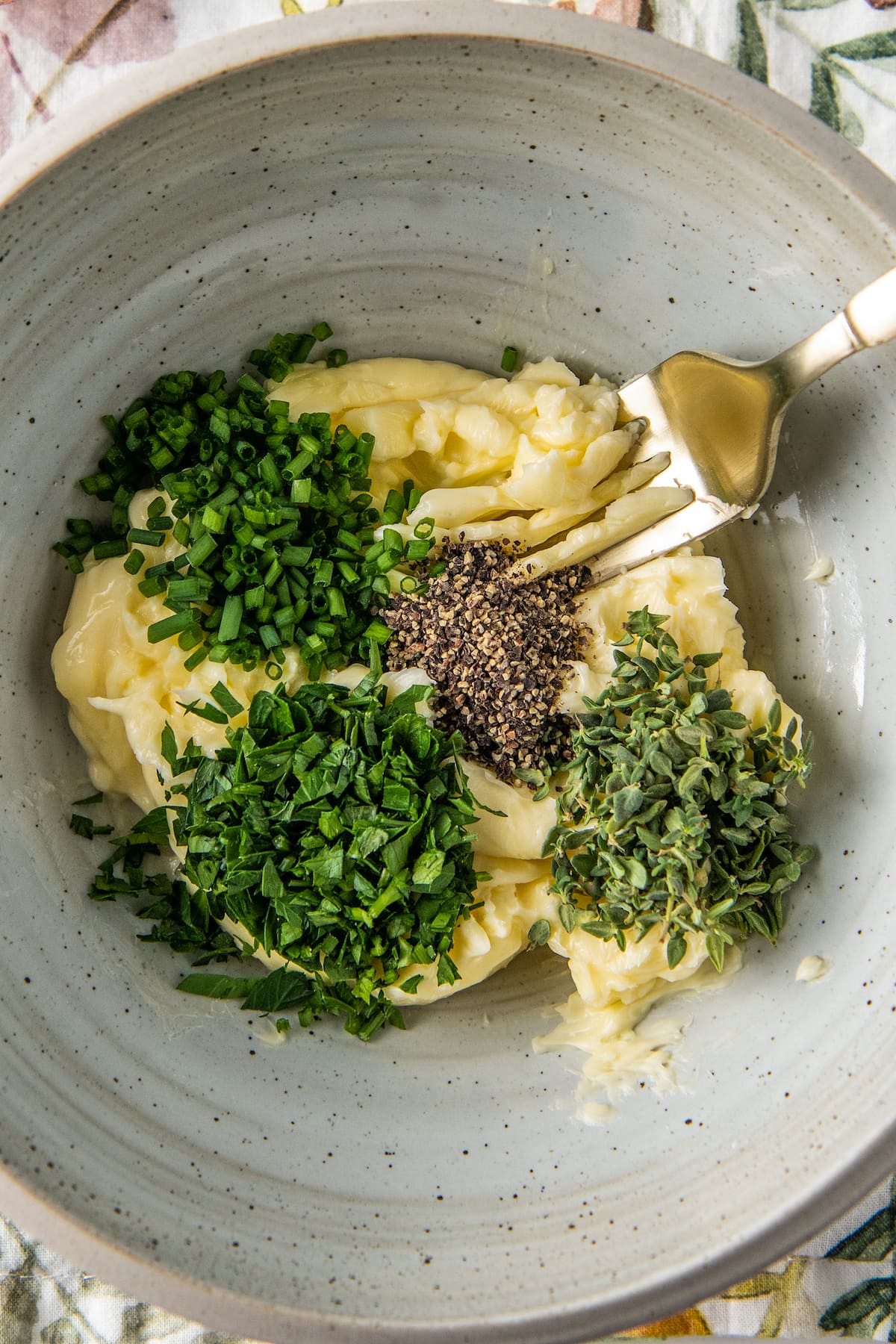 Then, add the herbs. Whip the butter again so that the herbs are distributed evenly.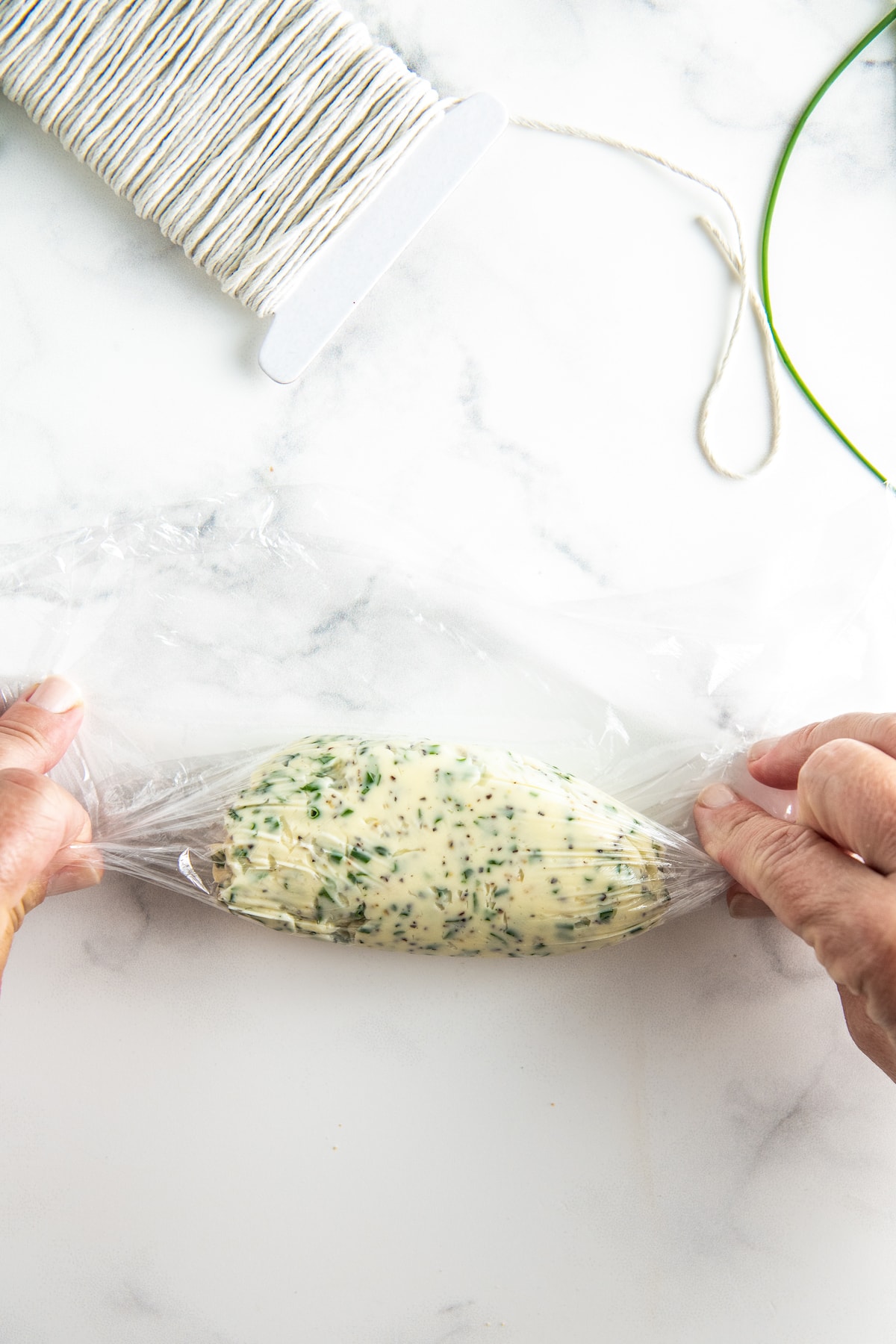 Use immediately or roll into logs for storage. You'll need to roll the butter into logs if you aren't going to use this butter right away. You can do this with some plastic wrap and then store the butter in the fridge or freezer.
Tips & Variations
Here are a few tips and different ways that you can make this compound butter.
Use a mixer for larger batches. You can easily double or triple this recipe to make a big batch for the freezer. We recommend using an electric mixer to whip the larger amount of butter.
Use dry herbs. We understand it might be hard to find fresh herbs sometimes. So, you can use dried herbs and we suggest starting with 1 teaspoon of each first, tasting, and adding more if you'd like.
Add other flavors. You could add some other flavor enhancers like hot sauce, truffle oil, or flavored salts.
Store the butter in a log shape. You want to do this so that it's easy to cut and serve for future uses. You can easily cut from the frozen state if you don't have time to thaw the butter.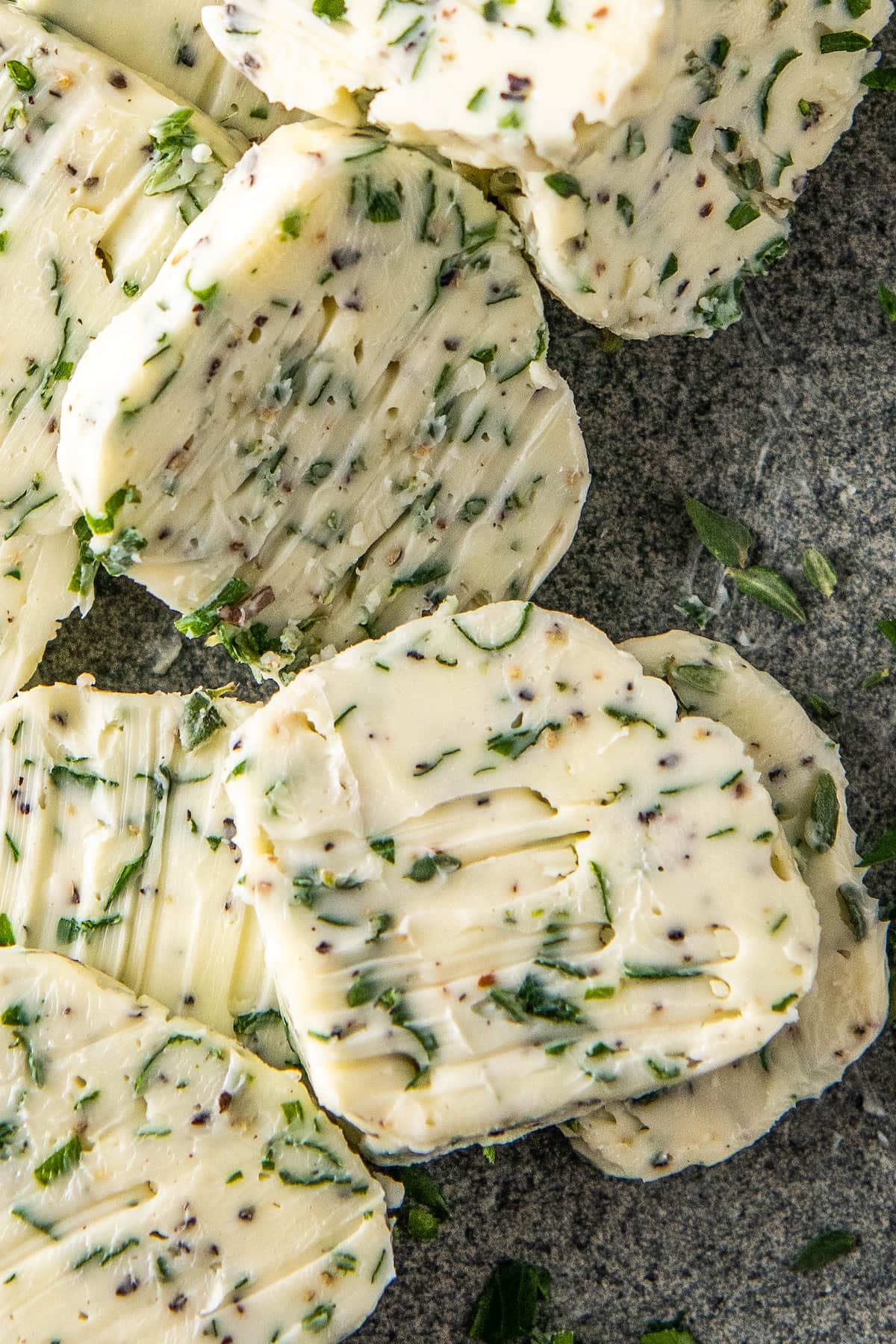 What to Serve with Herb Butter
We think the better question is – what can't you serve with herb butter?! It goes with so many different things. And here are some of our favorite ideas:
Potatoes: We love this butter when it's melted into our Sour Cream Mashed Potatoes or as a savory topping for Baked Sweet Potatoes.
Grilled Meats: It's great when it's served melted over grilled chicken, steaks, or fish.
Bread and Rolls: You can use this butter to dress up store-bought rolls if you don't have time to bake them yourself.
Steamed Vegetables: The kids love it when we pour melted herb butter over steamed vegetables! It's a great way to add flavor to a side dish they wouldn't usually care for.
Does Herb Butter Need To Be Refrigerated?
Yes, you should always refrigerate Herb Butter after you've made it. You can store it in the fridge (wrapped in a log or in an air-tight container) for up to a week.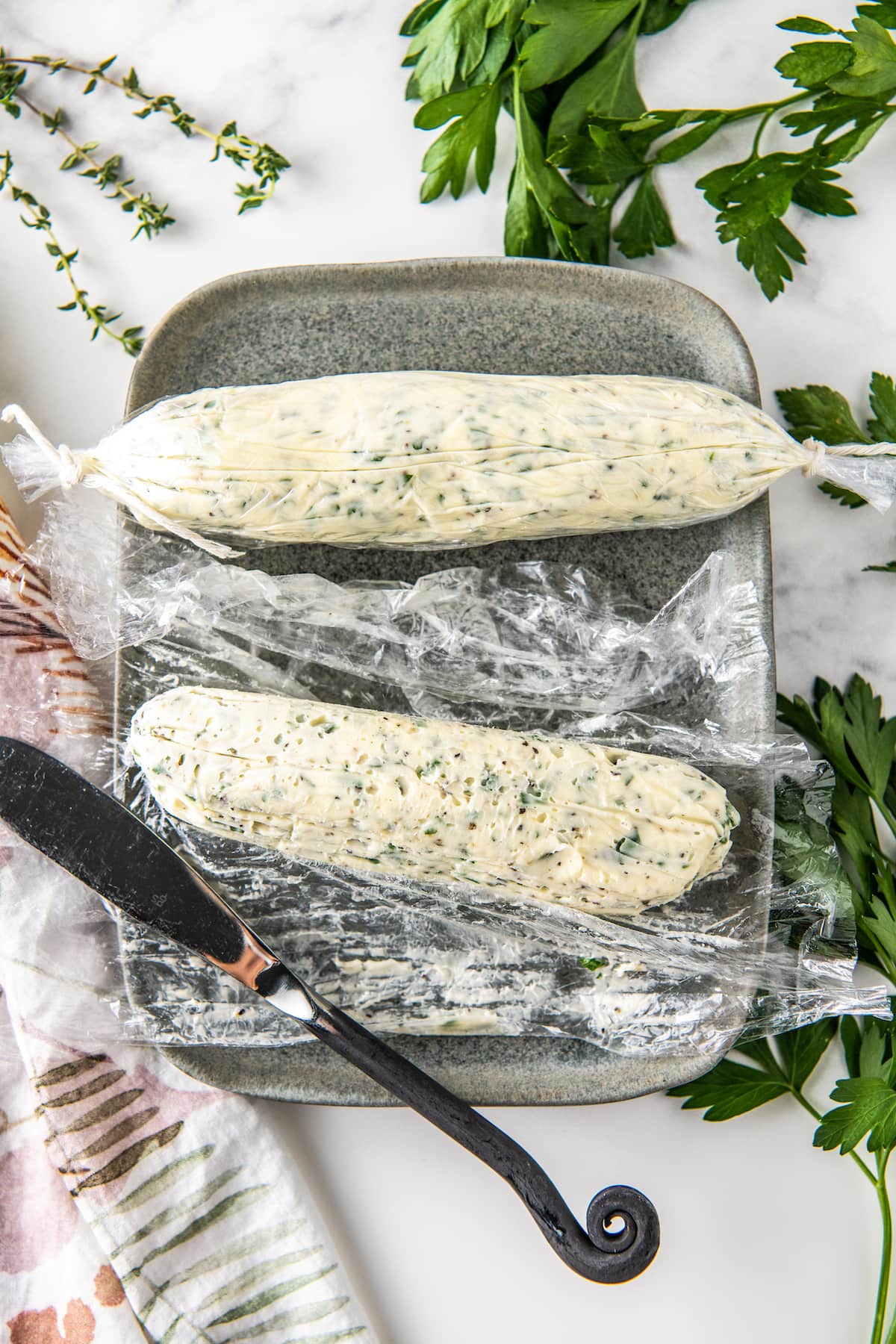 Can I Freeze This?
Freezing herb butter is a great idea! We love to make large batches and keep a few rolls in the freezer.
You'll want to store the butter in a log form by wrapping it in plastic wrap and using your hands to roll it out. Then twist the ends so that it's airtight.
You can keep herb butter in the freezer for up to 6 months.
Herb Butter
This easy Herb Butter recipe takes just 5 minutes to make! Chives, thyme, and parsley are all you need for this compound butter. You can use it on steaks, vegetables, and many other different recipes.
Ingredients
½

cup

1 stick salted butter, softened

1

tablespoon

minced fresh chives

1

tablespoon

minced fresh thyme

,

no stems just the leaves

1

tablespoon

minced fresh chopped parsley

1

teaspoon

freshly cracked black pepper
Instructions
Place butter in a small bowl. Using a fork, whip the butter.

Add the fresh herbs and black pepper. Whip the butter to combine.

Use immediately. Or, if preparing for later use, spoon the butter mixture onto a piece of cling wrap, or parchment paper, and roll to create a log. Seal the butter log in the cling wrap, twist the ends to seal and keep the butter fresh. Refrigerate until ready to use.
Notes
Storage:
Store in an airtight container (or wrapped with saran wrap), in the fridge, for up to a week.
Freeze for up to 3 months.
Nutrition
Serving:
1
,
Calories:
15
kcal
,
Carbohydrates:
1
g
,
Fat:
1
g
,
Saturated Fat:
1
g
,
Cholesterol:
4
mg
,
Sodium:
12
mg
More Condiment Recipes