This simple Chicken Taco Seasoning is quick, easy and exploding with flavor! The smoked paprika and chipotle are a flavor boost to all of your favorite chicken taco dinners.
Homemade Chicken Taco Seasoning Recipe
Spice blends from the store can come in handy in a pinch, and they usually taste pretty good, but homemade taco seasoning just can't be beat when it comes to authentic, bold flavors. That's why we're sharing this DIY Chicken Taco Seasoning with you! It's perfect for any chicken taco recipe, and you can even use it in a couple of other ways, too. (See suggestions below!)
The perfect taco seasoning (at least in our opinion) has a little bit of heat and smokiness, and a touch of earthiness, too. With the additions of chili powder, smoked paprika, ground chipotle, and cumin, we're pretty certain that this taco seasoning mix checks all of those boxes!
Don't just take our word for it, though… make room for chicken tacos on your meal plan for this week and test this chicken taco seasoning recipe out!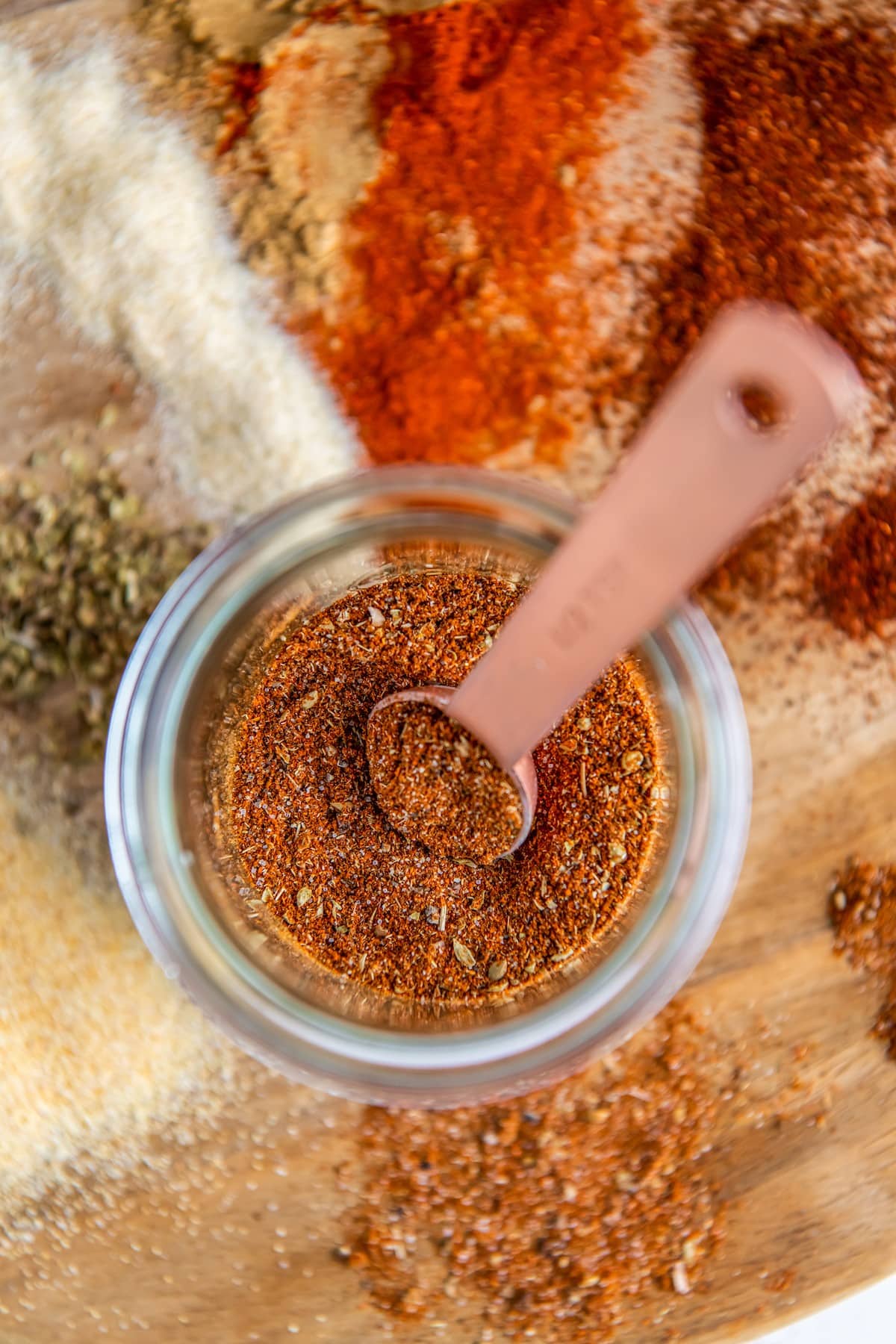 Why DIY Taco Seasoning Is the Best!
Making taco seasoning doesn't take very long, but, admittedly, buying some at the store is the quickest, easiest option. That said, here's why we're in favor of homemade taco mix seasoning recipes:
Fresh Flavors: This chicken taco seasoning is rich with flavor; it's smoky, spicy, savory… even a little bit sweet. You just don't get the same kind of depth with taco kit seasoning packets.
Adjustable: When you make your own seasoning, you can adjust the ingredients so that the mix fits your preferences. (You can reduce the salt content for health reasons, add more chili powder for a spicier blend, and avoid things like added msg, etc.)
Meal Prep: If you double the ingredients, you can make enough seasoning for a couple of meals, and save time on busy weeknights by having a spice blend all ready to go!
Chicken Taco Seasoning vs Other Taco Seasoning Recipes
This chicken taco seasoning differs a little bit from other homemade taco seasoning recipes. The flavors are chosen specifically with chicken in mind. (Chicken adopts the flavor of seasoning quite easily, so generally chicken taco seasonings are on the milder side.) You can, of course, use taco seasoning for chicken in a beef tacos recipe if you want, though – it will still taste great!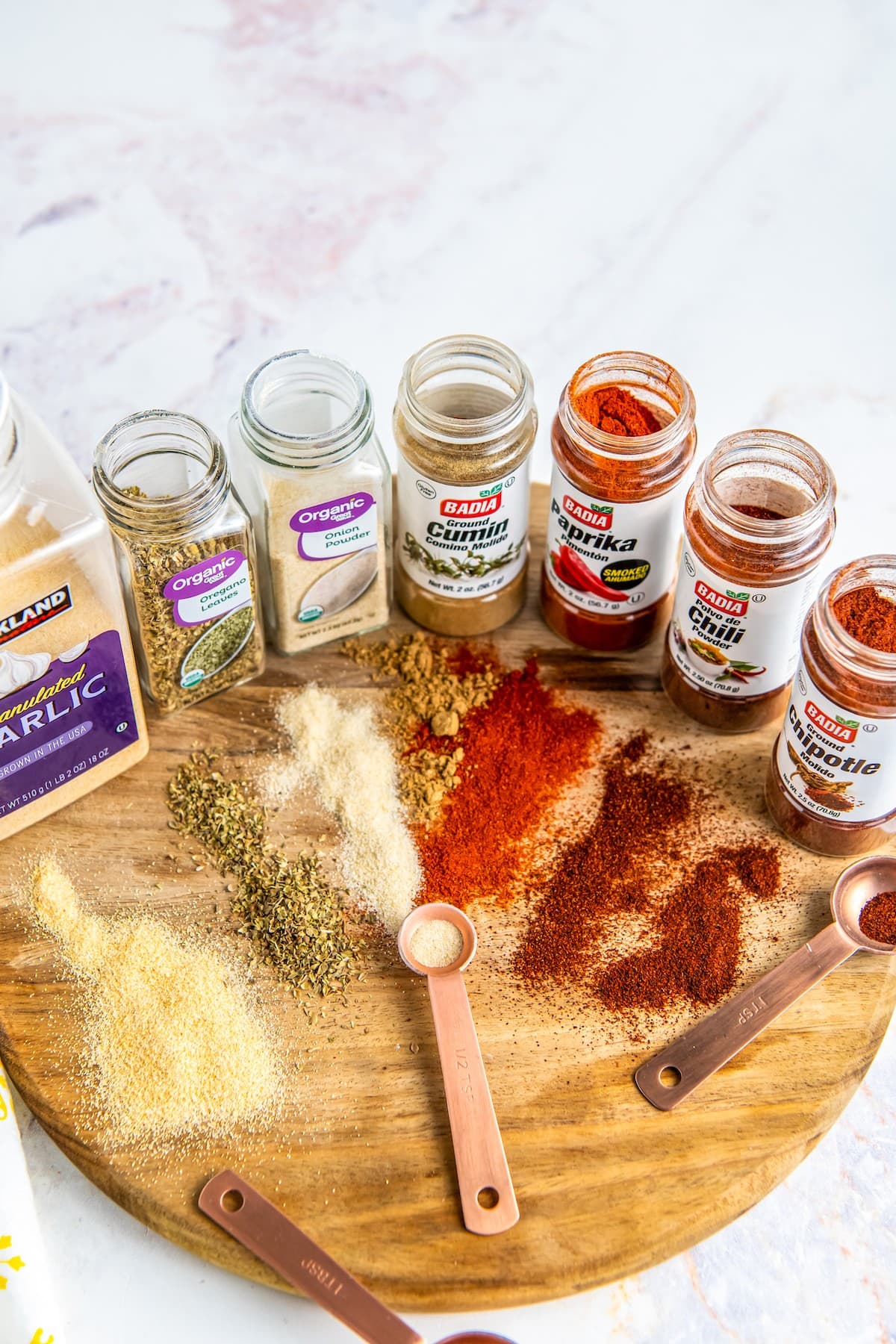 Recipe Ingredients
Let's dive into the key ingredients for today. If you're looking for specific amounts, head on down to the recipe card at the bottom of the page!
Chili Powder: Chili powder provides this spice mix with a bit of heat and a gorgeous, rusty red color!
Smoked Paprika: Smoked paprika has a unique and delicious smoky flavor that helps the chipotle seasoning stand out, but it doesn't overpower the other ingredients.
Cumin: Cumin has an earthiness to it that adds to the overall complexity of this spice blend. It's also a key ingredient in a lot of Latin American dishes!
Granulated Garlic: Garlic powder could also work here, but reduce the amount used because its consistency is flour-like rather than salt-like.
Oregano: Dried oregano can be substituted if you don't have these on hand.
Ground Chipotle: We used chipotle instead of other pepper choices because chipotle adds to the overall taste without contributing too much heat. It is a spicy, smoky flavor that helps enhance the other seasonings used.
Onion Powder: We like to add this in because it lends a touch of savory flavor and a touch of sweetness into the mix.
Salt: This seasoning blend only uses a 1/2 teaspoon of salt. That way, you can taste and add more salt as needed to your completed dishes without running the risk of over-salting your food.
Black Pepper: Grinding your own black peppercorns provides the best flavor, so if you have time, we highly recommend trying this!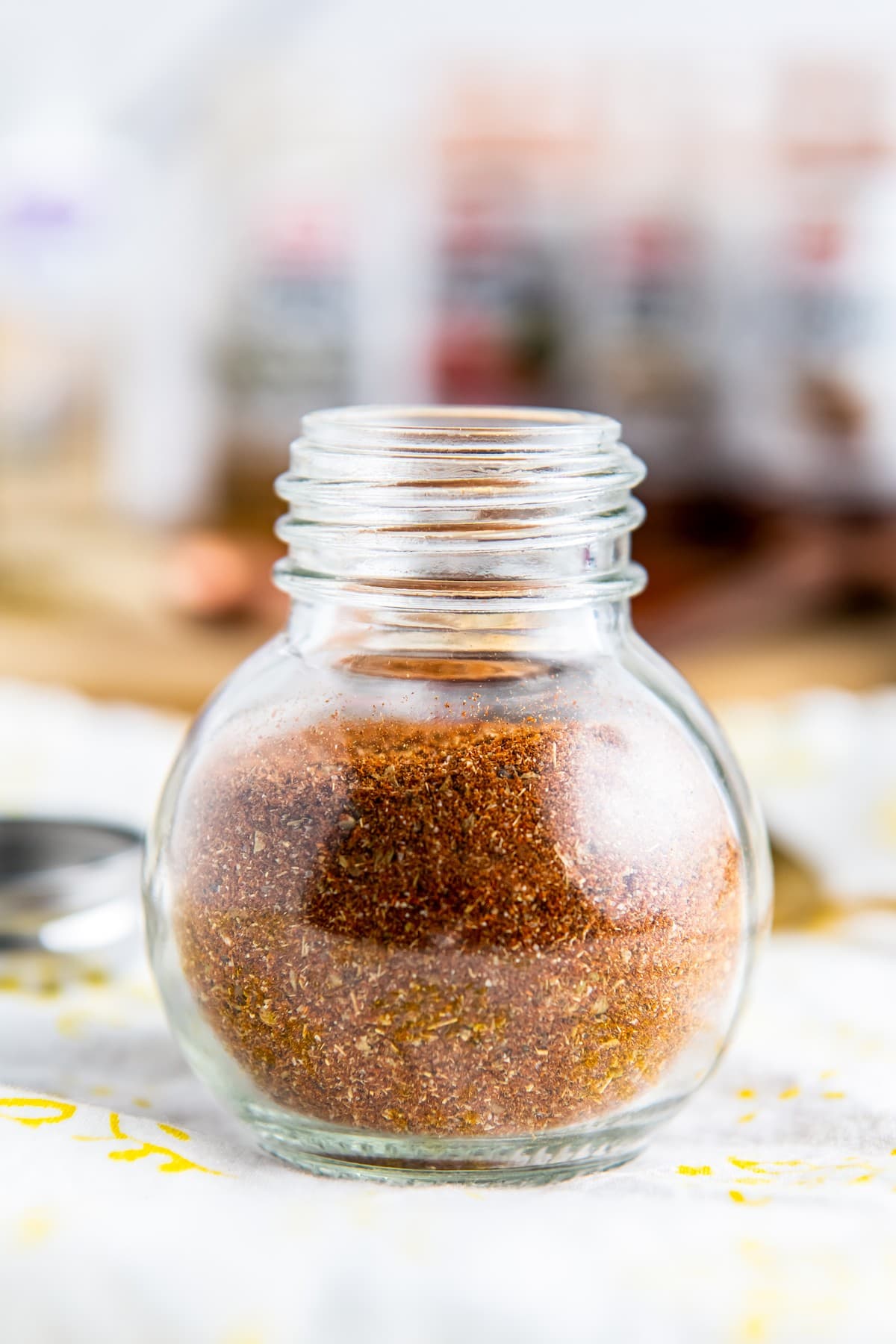 How to Make Chicken Taco Seasoning
Okay, now that you've got all that, it's time to get into how to make taco seasoning. Today is your lucky day, because after measuring out all of the ingredients, there is literally one step to complete:
Mix the Ingredients Together: Add all the seasonings to a small bowl and whisk to combine. Use the prepared blend as desired, and then store it in an air tight jar or container.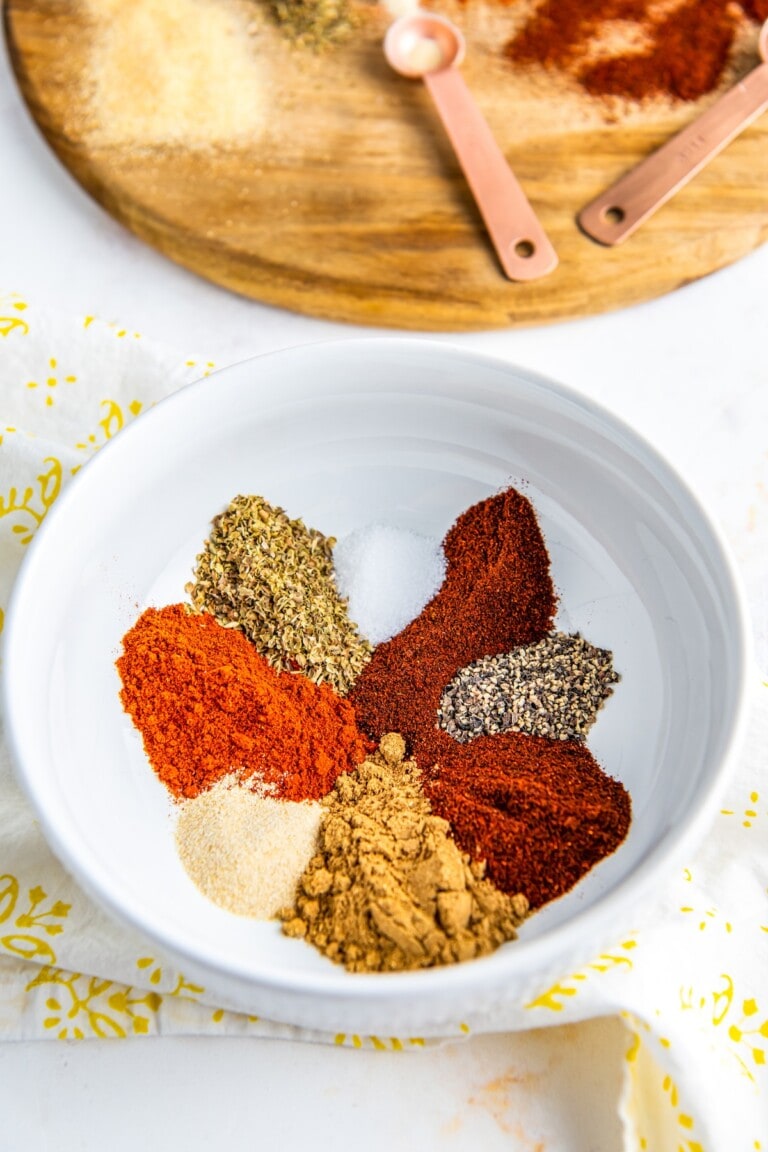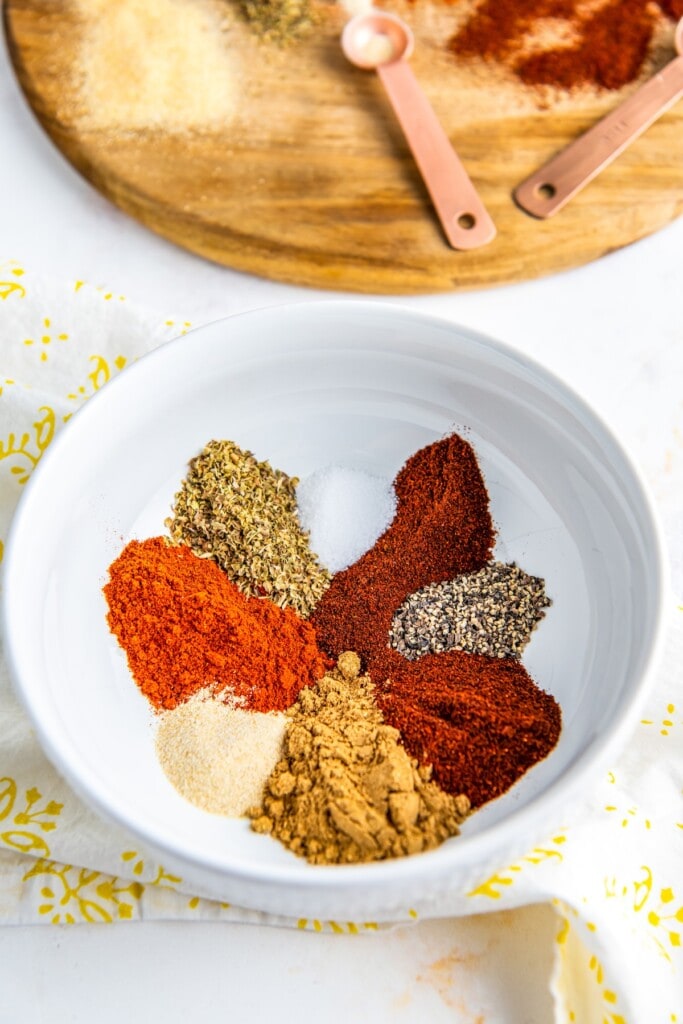 Tips for Success
It doesn't get much easier than that. A couple of shakes and you're done!
Nevertheless, we've got a few tips to share with you before you get started:
Use Fresh Spices: Make sure to check the expiration dates before you begin. Spices do not necessarily go bad, but old seasonings will loose some of their flavor.
Use a Funnel to Fill the Spice Jar: This will cut down on any spilling that might occur.
Looking for a Perfect Spice Jar? Try reusing spice jars from other spices. Once you have an empty jar, remove the label and run it through the dishwasher. Make sure to let it dry thoroughly, then fill it up with your fresh homemade seasoning.
Turn Up The Heat: Love spicy foods? Add cayenne pepper! If you like just a little added heat, start with 1/4 teaspoon of cayenne pepper, or use crushed red pepper flakes instead for a milder heat. If you want your seasoning blend to be super spicy, 1 teaspoon of cayenne pepper will really crank up the heat.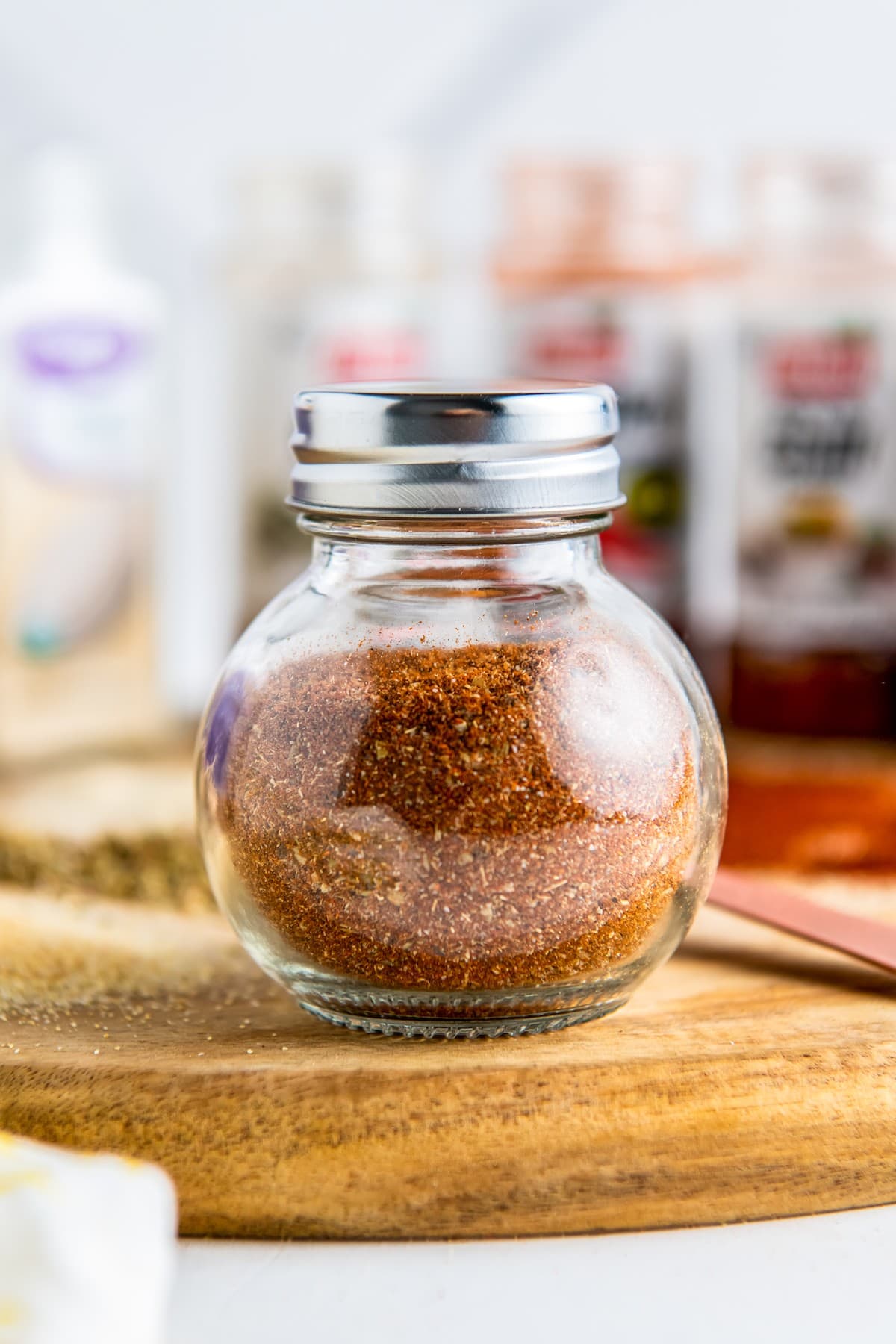 How to Use Chicken Taco Seasoning
Chicken taco seasoning recipes are obviously perfect for chicken tacos, but you can use them in other dinners, too. Here are a couple of thoughts on that matter:
Taco Soup: Swap out the traditional taco seasoning for this smoky chicken taco seasoning in our favorite Easy Taco Soup!
Chicken Fajitas: These are super similar to chicken tacos, and just as delicious when made with a homemade spice blend!
Quesadillas: If you want to add a little heat to a cheesy chicken quesadilla, this taco seasoning is a great way to do that!
Any Chicken Dinner: Any meal that uses shredded or ground chicken is a great candidate for this smoky, spicy seasoning blend. Our easy Crockpot Salsa Chicken or Crockpot Mexican Chicken are both great ways to use this seasoning blend.
Vegetables: You can even sprinkle taco seasoning over Roasted Broccoli or other roasted veggies to give them a little kick!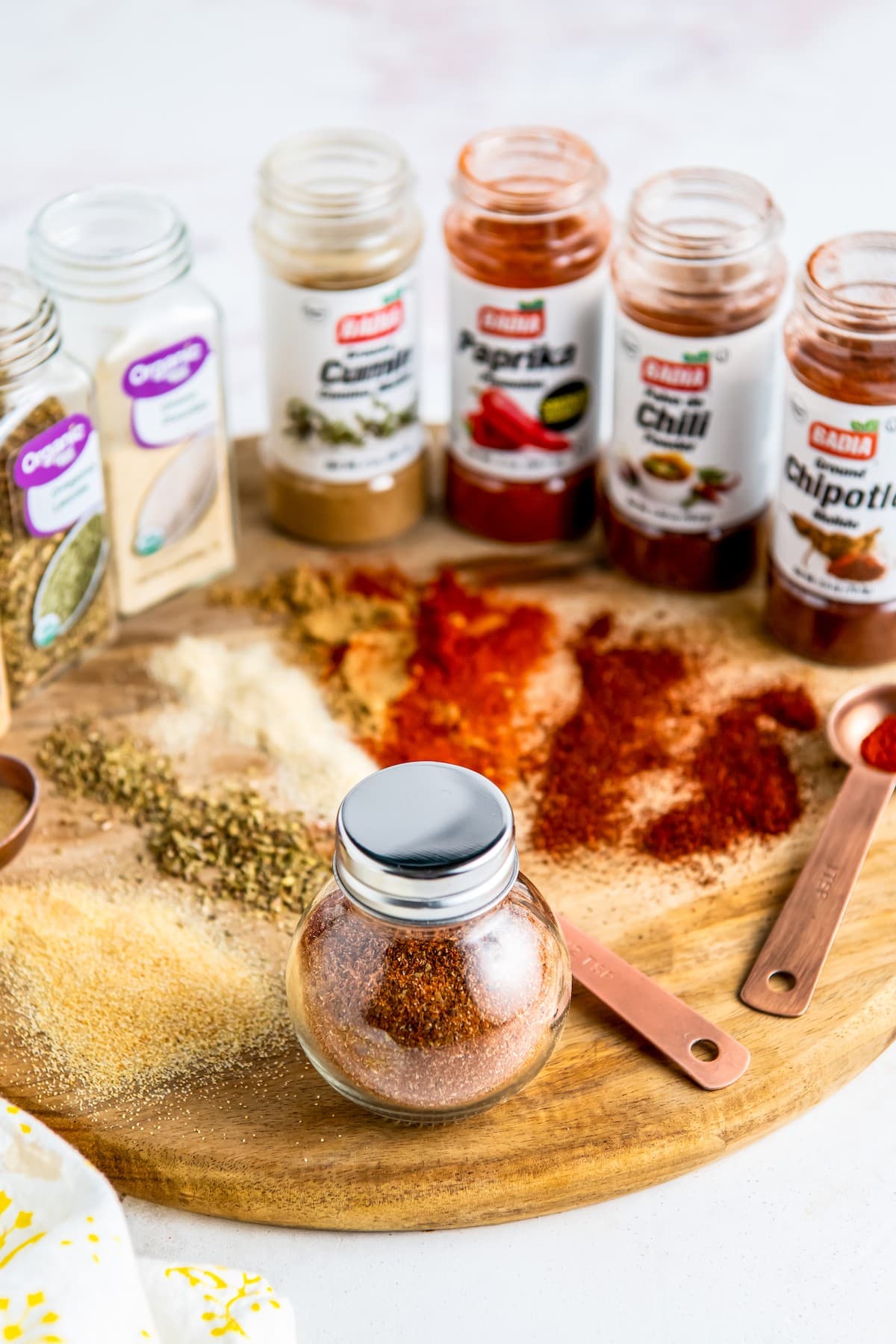 How to Store Homemade Seasoning
Storing taco seasoning is very straightforward. Just keep your seasoning blend in an airtight container, out of sunlight, for up to 6 months.
More Seasoning/Spice Mix Recipes
Looking for more DIY seasoning and spice blend recipes? You're in the right place:
Chicken Taco Seasoning
This homemade chicken taco seasoning is packed with spicy, smoky flavor. It's perfect for chicken tacos, chicken fajitas, and more!
Ingredients
1

tablespoon

chili powder

2

teaspoons

smoked paprika

2

teaspoons

cumin

2

teaspoons

granulated garlic

2

teaspoons

oregano leaves

2

teaspoons

ground chipotle

1

teaspoon

onion powder

½

teaspoon

salt

½

teaspoon

black pepper
Instructions
Add all the seasonings to a small bowl (or mason jar) and whisk (or shake) to combine. Use as desired and store in an air tight jar or container.
Notes
Yield/Servings Note: Makes 3 tablespoons.
To Store: Store your seasoning blend in an airtight container, out of sunlight, for up to 6 months.
Nutrition
Serving:
1
,
Calories:
40
kcal
,
Carbohydrates:
8
g
,
Protein:
2
g
,
Fat:
1
g
,
Polyunsaturated Fat:
1
g
,
Sodium:
438
mg
,
Fiber:
3
g
,
Sugar:
2
g