This Roasted Broccoli recipe is the easy and healthy side dish you've been looking for! The broccoli gets perfectly crispy in the oven and is seasoned with only garlic salt and fresh cracked black pepper.
Easy Oven Roasted Broccoli
We're going to cut right to the chase and say that this broccoli recipe is one that even the pickiest eaters are going to love! The little kids said they hated broccoli, but we kindly asked them to try this Roasted Broccoli and their opinions changed pretty quickly.
People are often turned off from broccoli because either they are eating it raw or steamed. They're right, it isn't nearly as delicious as this recipe. But when you put the broccoli florets in the oven to be roasted, some crispy magic happens!
The seasoned broccoli gets charred and develops this delicious crunchy and caramelized flavor that the broccoli doesn't have when it's eaten raw or steamed. Plus, the broccoli is seasoned with garlic salt and black pepper, which is the perfect amount of seasoning for this simple side dish.
If you love broccoli, make sure to also check out our easy Broccoli Salad with Bacon, perfect make ahead side dish for summer potlucks or bbqs!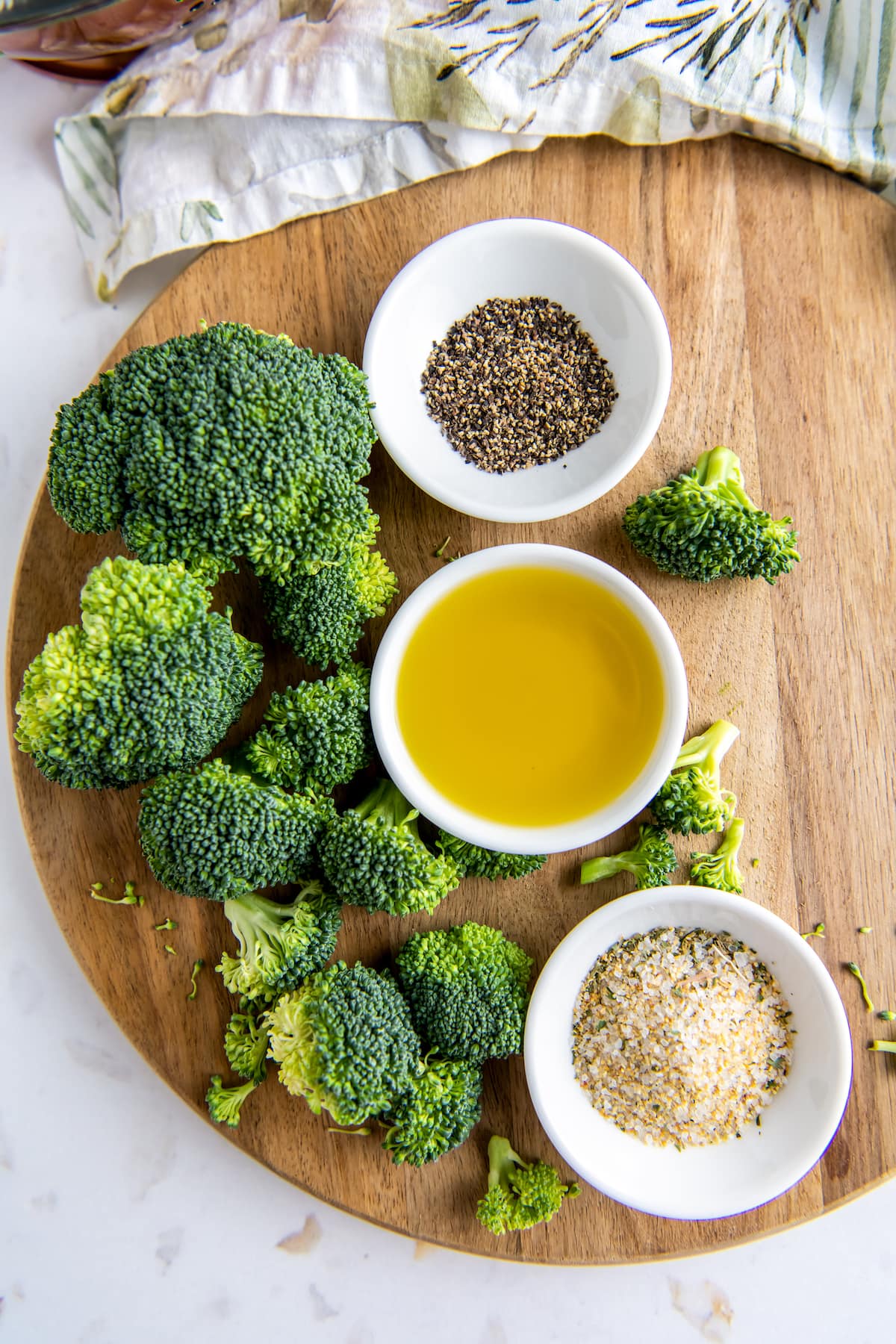 What You'll Need
You only need four ingredients for this Roasted Broccoli recipe.
Broccoli: Be sure to rinse the broccoli before cooking with it. And when cutting it, make sure that you cut the florets into evenly sized pieces.
Cooking Oil: You can use avocado oil or olive oil for this recipe.
Garlic Salt: This is a quick and easy way to add garlic flavor without having to cut up or mince fresh garlic.
Fresh Cracked Black Pepper
Tips for Storing Fresh Broccoli
The best way to keep broccoli fresh is by trimming the long stems and then placing the broccoli in a Ziploc bag with two paper towels. Using paper towels is important because it will help absorb the moisture and help keep the condensation from growing mold on the broccoli.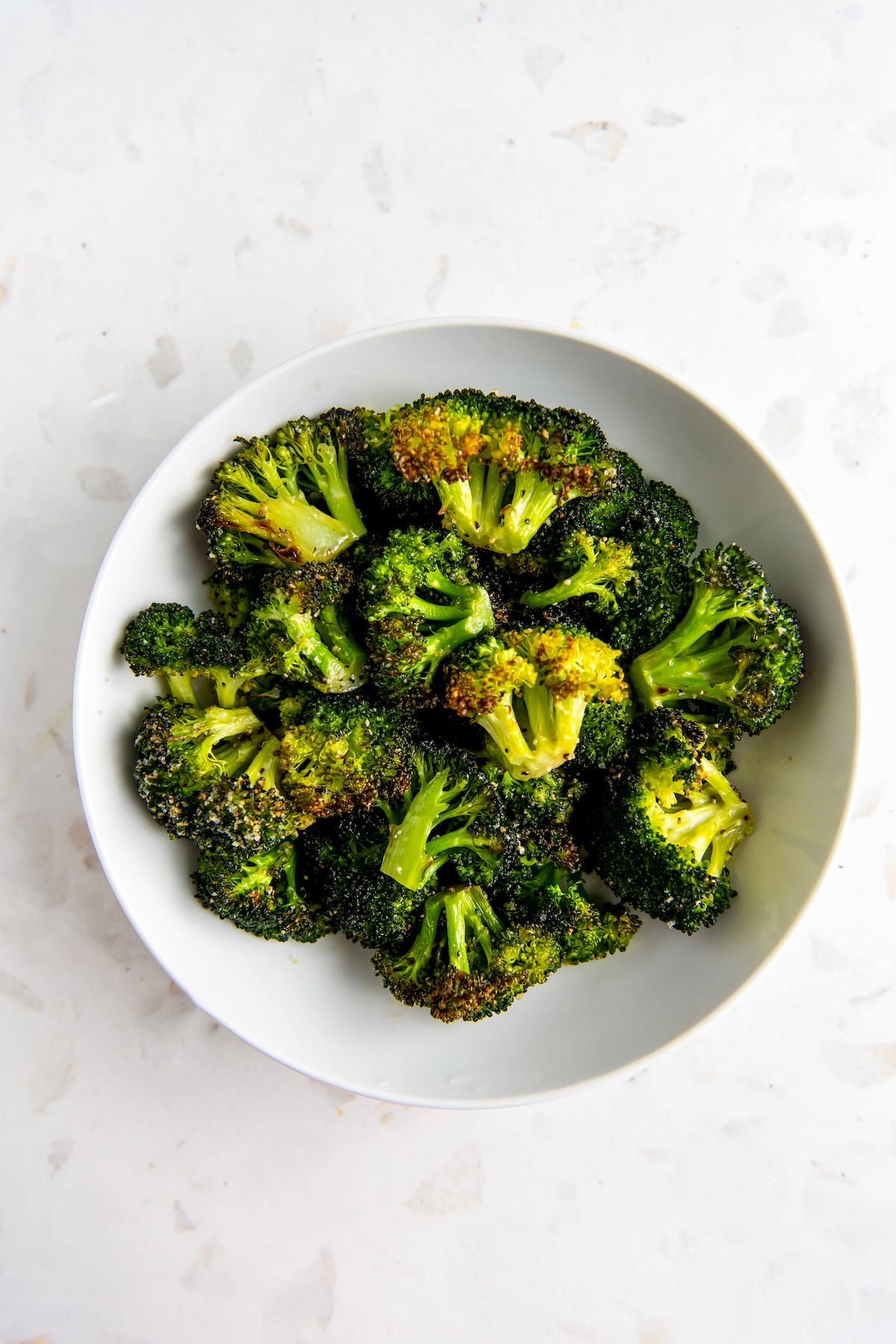 Recipe Variations
There are lots of ways that you can play around with this recipe. Here are some suggestions to try.
Use different seasonings: Honestly, almost any kind of dried spice is going to taste delicious with this Roasted Broccoli. We like to use cajun seasoning, onion salt, cumin, and paprika.
Add parmesan cheese at the end. Who doesn't love a little cheese on their vegetables? Fresh parmesan is perfect for this recipe because it's flaky and light and adds just the right amount of cheesiness.
Broccolini is ok to use, too! You can also make this recipe with broccolini. We love how crispy the longer thinner version of broccoli gets in the oven.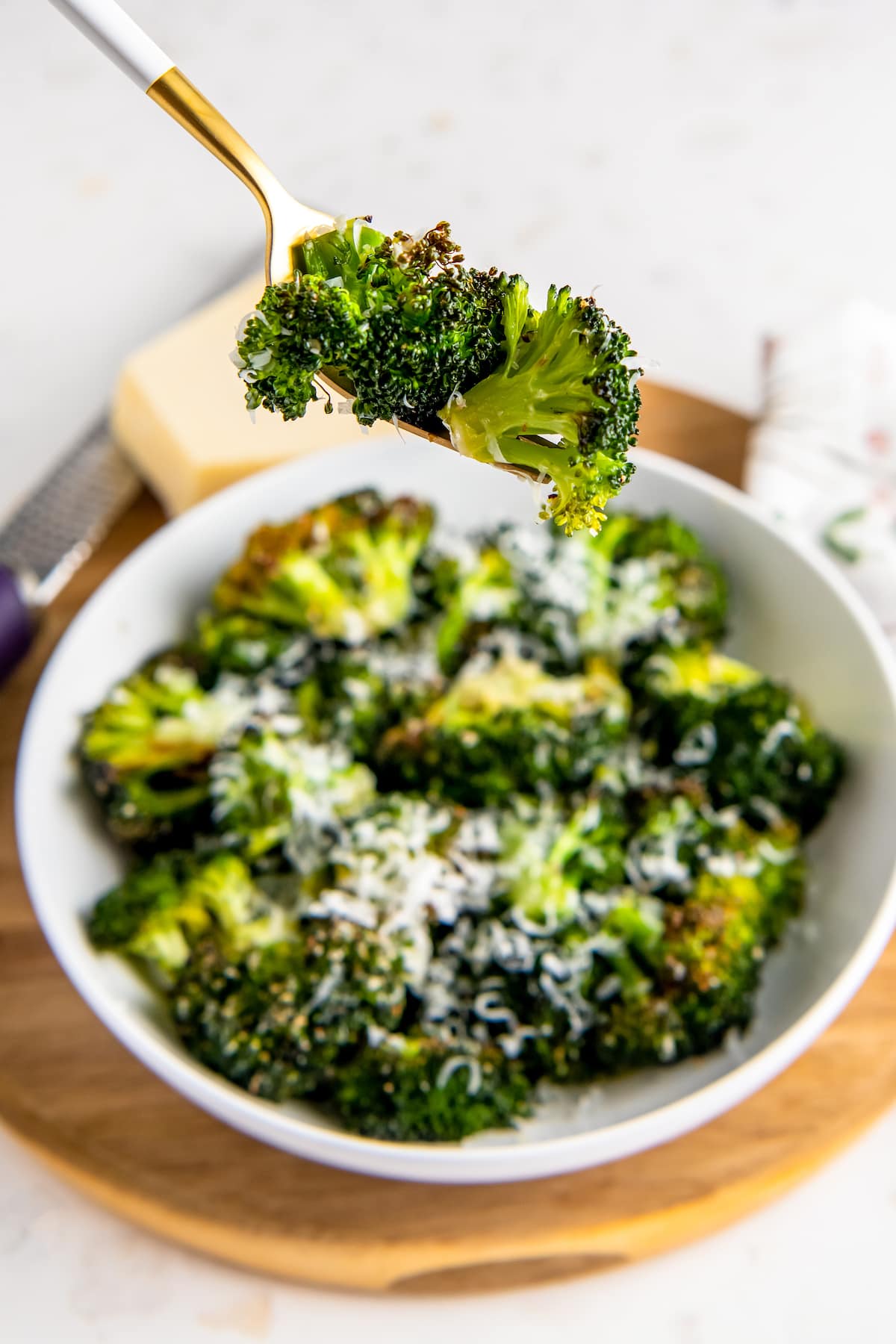 How to Make Roasted Broccoli
Here's how to make this simple broccoli recipe.
First, preheat the oven. You don't want to put the broccoli into a cold oven or it won't get crispy.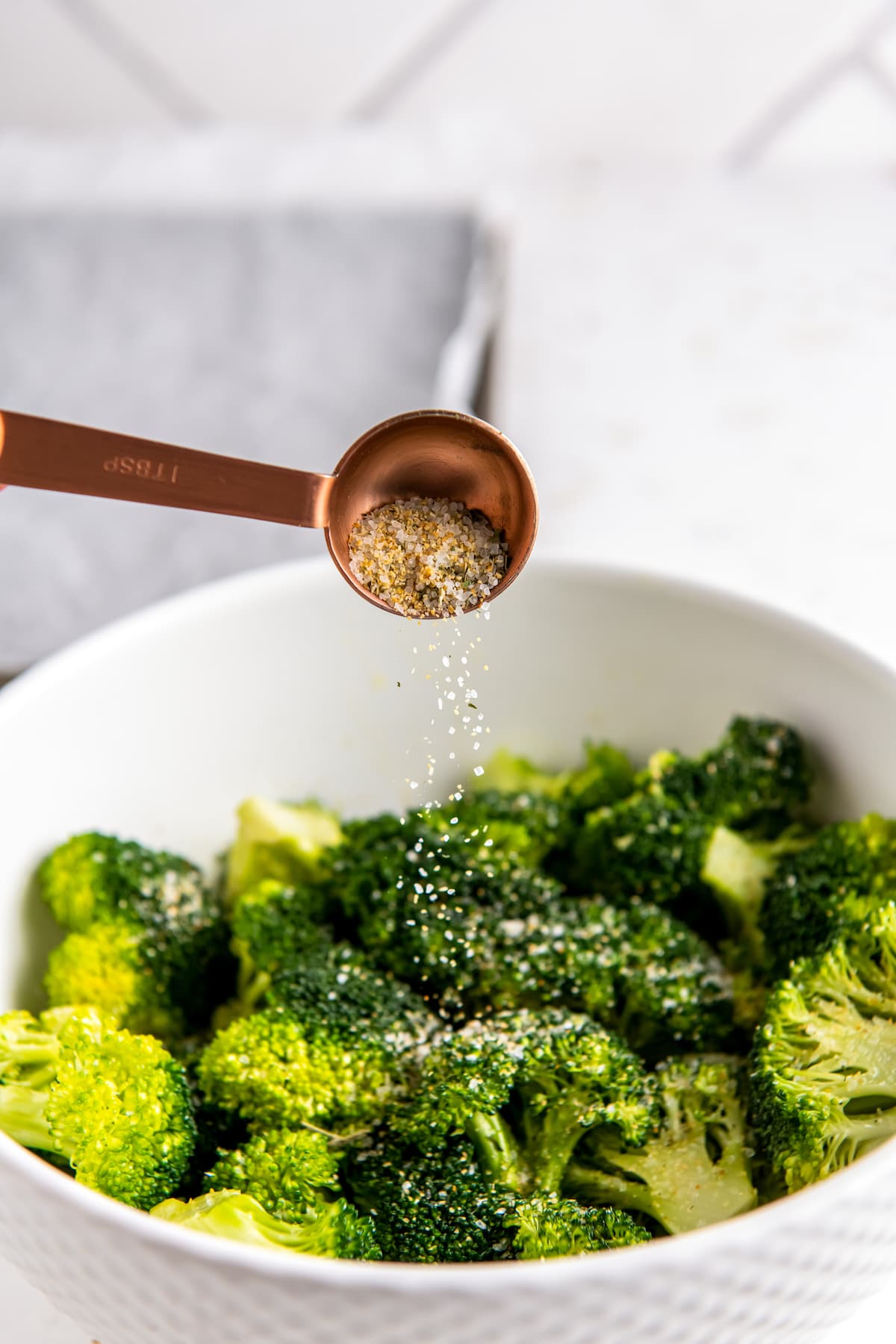 Next, toss the broccoli with the oil and seasonings. And make sure that the broccoli is evenly coated with the seasonings so that every bite is perfect!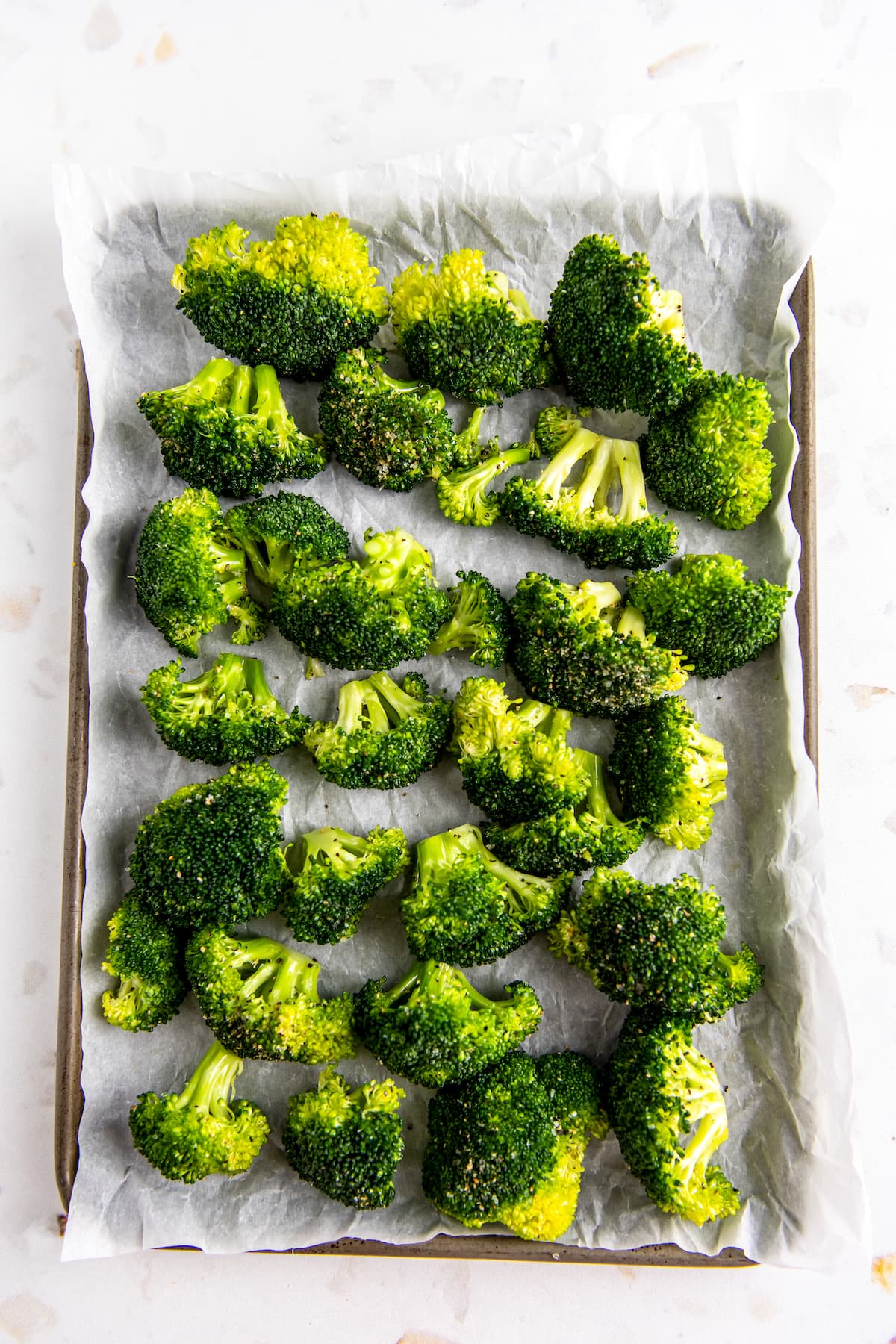 Then lay the broccoli on a parchment-lined sheet tray. It's best to lay the broccoli flat so that they all cook evenly.
Lastly, roast the broccoli in the oven. The broccoli will need about 20-25 minutes to cook.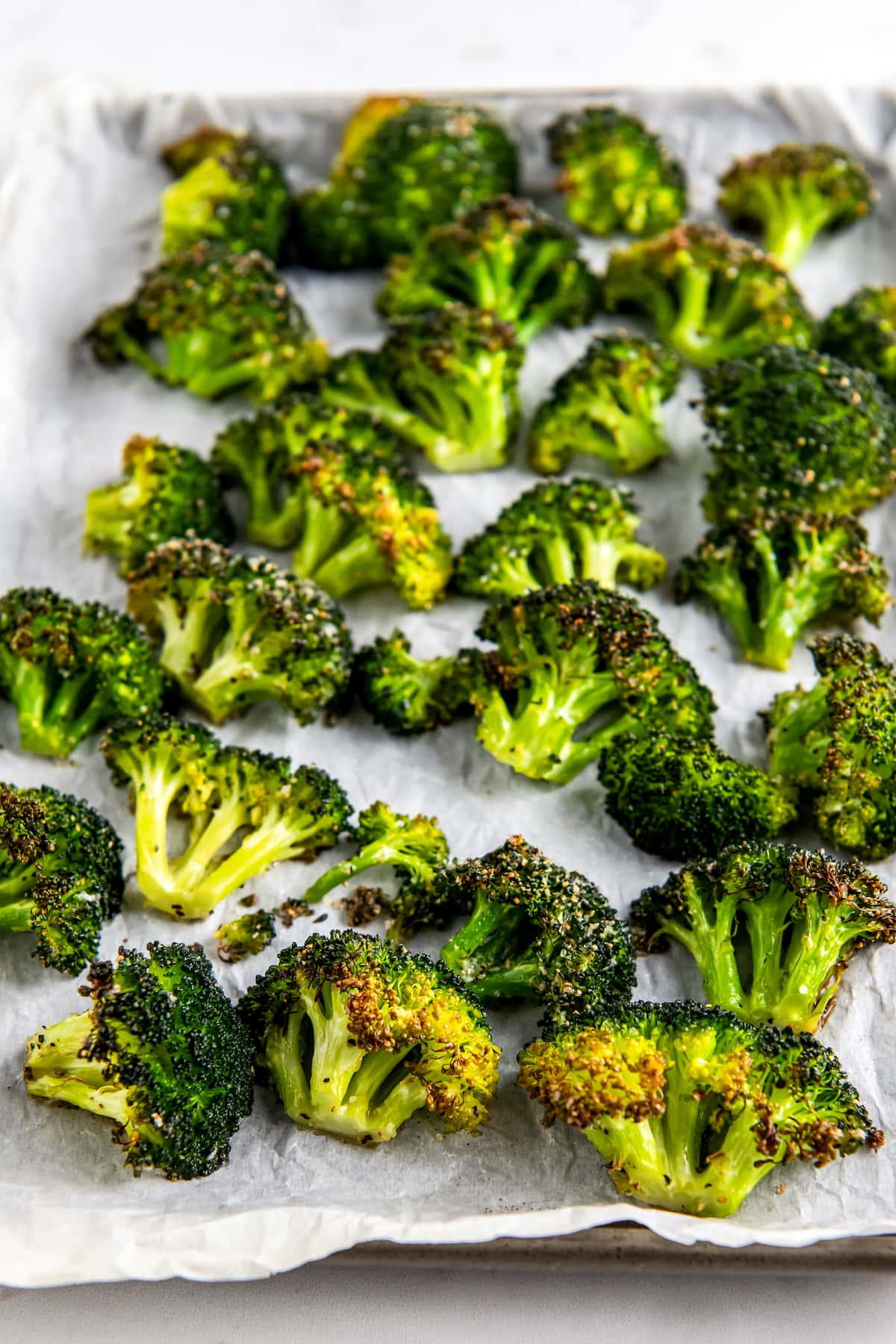 Tips for Success
Follow these simple tips and your Roasted Broccoli will turn out perfectly every time!
Cut the broccoli so that they are equal in size. This will prevent smaller pieces from burning and larger pieces from not cooking enough.
Rotate the tray.

About halfway through the cooking time, you may need to turn the tray if you notice one side is cooking quicker than the other.

Use the convection setting (if you have it). If you have a convection oven setting, turn that on because it will help char the edges of the broccoli.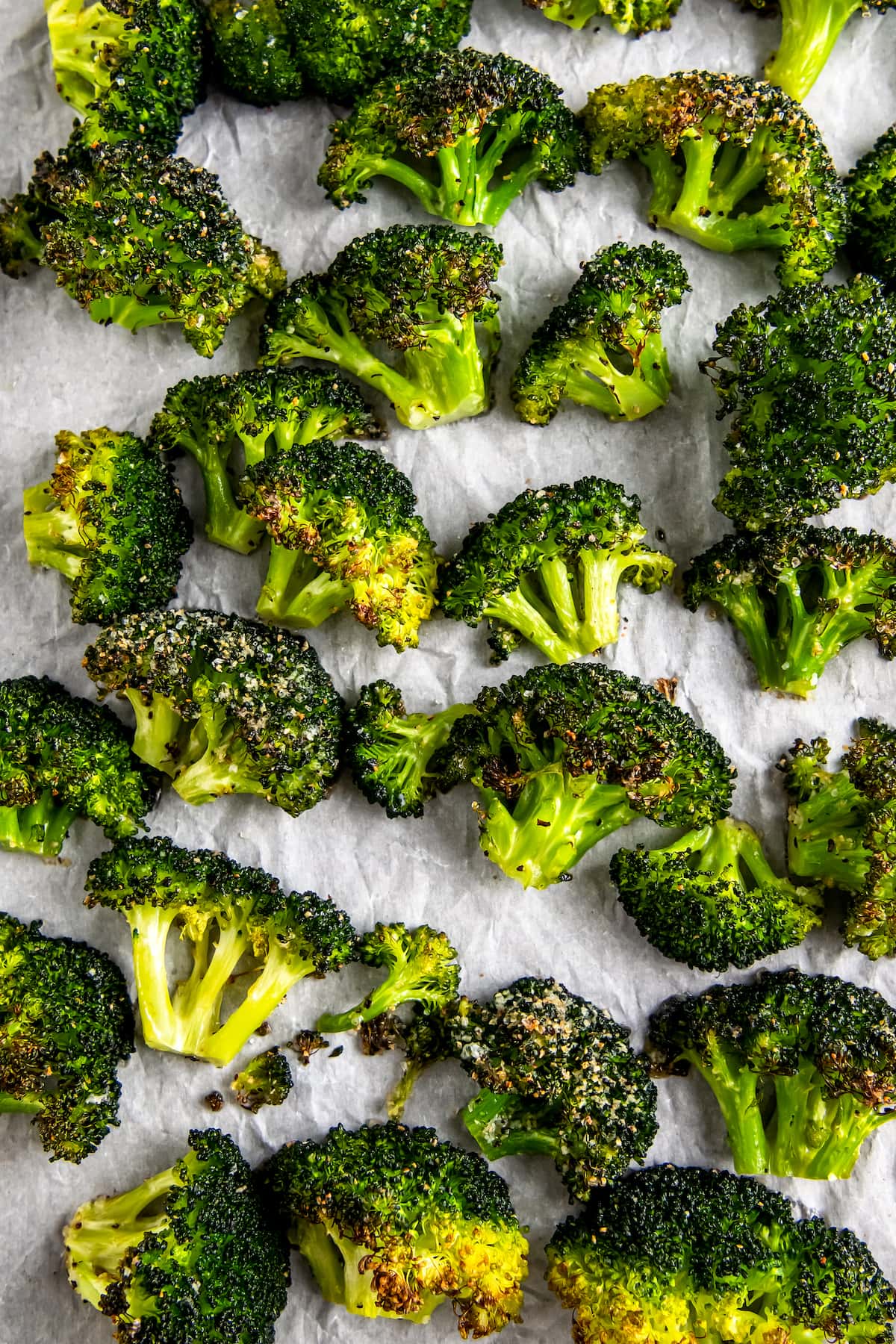 What to Serve With Baked Broccoli
Here are some of our favorite recipes to serve with Roasted Broccoli.
Add it to a salad: Hot or cold, this Roasted Broccoli is a great addition to any salad. It adds fiber and great texture. Don't forget to add a drizzle of our Greek Salad Dressing!
Use it as meatless taco filling: You can use our Air Fryer Avocado Taco recipe as inspiration. With a sprinkle of cumin and your favorite taco fillings, this broccoli becomes a unique way to make a vegetarian meal.
Serve it on the side with your favorite chicken dish. We have a lot of suggestions for you, but one of our favorites is our Crockpot Chicken and Stuffing recipe. Crockpot French Onion Chicken is also a great option!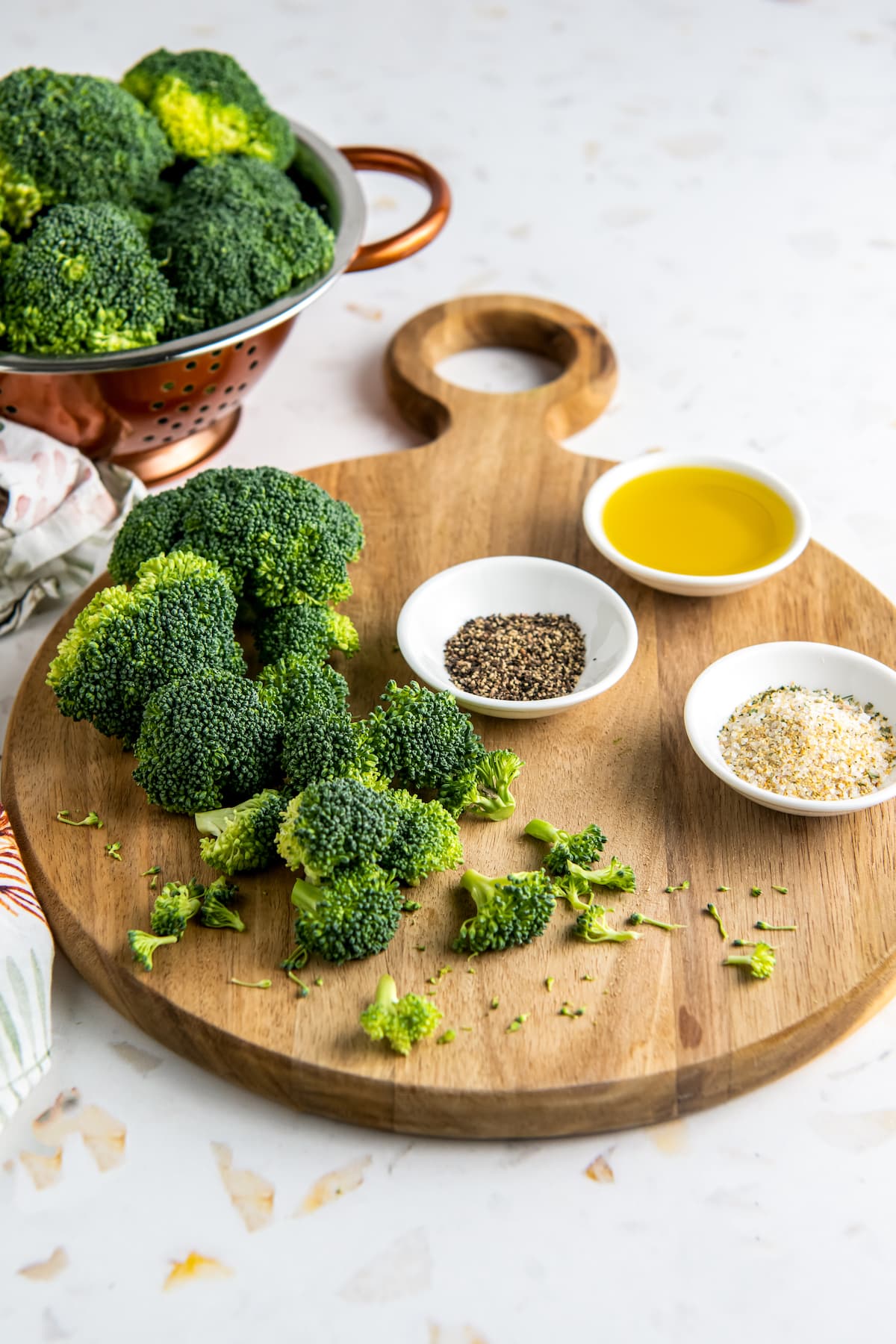 How to Store & Reheat Leftovers
One of the best things about this Roasted Broccoli recipe is that it makes great leftovers! We love to make a big batch and add it to salads throughout the week. It's also really tasty as a healthy snack. We'll often take out the container and nibble on it until it's all gone.
Store leftovers in an airtight container in the fridge for up to 5 days. If you choose to reheat the broccoli, we recommend doing it in the oven again (just for a few minutes) or the air fryer would work great, too.
Roasted Broccoli
This easy and healthy side dish recipe for Roasted Broccoli only requires 4 ingredients! When broccoli is oven-roasted, it gets perfectly crispy, and with the right seasoning
Ingredients
1

head broccoli

,

rinsed and trimmed into florets

2

tablespoons

olive oil or avocado oil

1 ½

teaspoon

garlic salt

1

teaspoon

freshly cracked black pepper
Instructions
Preheat the oven to 400°F. Line a baking sheet with parchment paper, set aside.

In a medium sized bowl, toss to combine the broccoli, olive oil, garlic salt and pepper.

Place broccoli on the prepared baking sheet. Roast for 20-25 minutes, or until the broccoli is fork tender.
Notes
Storage: Store leftovers in an airtight container in the fridge for up to 5 days. If you choose to reheat the broccoli, we recommend doing it in the oven again (just for a few minutes) or the air fryer would work great, too.
Nutrition
Serving:
1
,
Calories:
126
kcal
,
Carbohydrates:
7
g
,
Protein:
2
g
,
Fat:
11
g
,
Saturated Fat:
1
g
,
Polyunsaturated Fat:
9
g
,
Sodium:
633
mg
,
Fiber:
3
g
,
Sugar:
1
g
More Easy Veggie Sides: