These Air Fryer Steak Bites will be your new favorite air fryer recipe because it's so quick, easy, and flavorful. The steak bites are perfectly tender and juicy. Plus, they cook in under 6 minutes!
Tender Air Fryer Steak Bites
Making steak tips at home has never been easier! Air Fryer Steak Bites are a family favorite and they are soon going to be one of yours, too. What's better than little bites of steak that are cooked perfectly on the outside and seasoned with your favorite steak seasoning?
Did we mention that this is a 3 ingredient recipe?! Yep, all you need are three simple ingredients (steak being one of them, obviously). The other two are cooking oil and your favorite steak seasoning. That's it!
And the air fryer does all of the hard work for you. It circulates hot air around each bite cooking all of the sides perfectly and developing remarkable flavors. Each bite is perfection!
If you love steak and cooking with your air fryer, make sure to also check out our easy Air Fryer London Broil!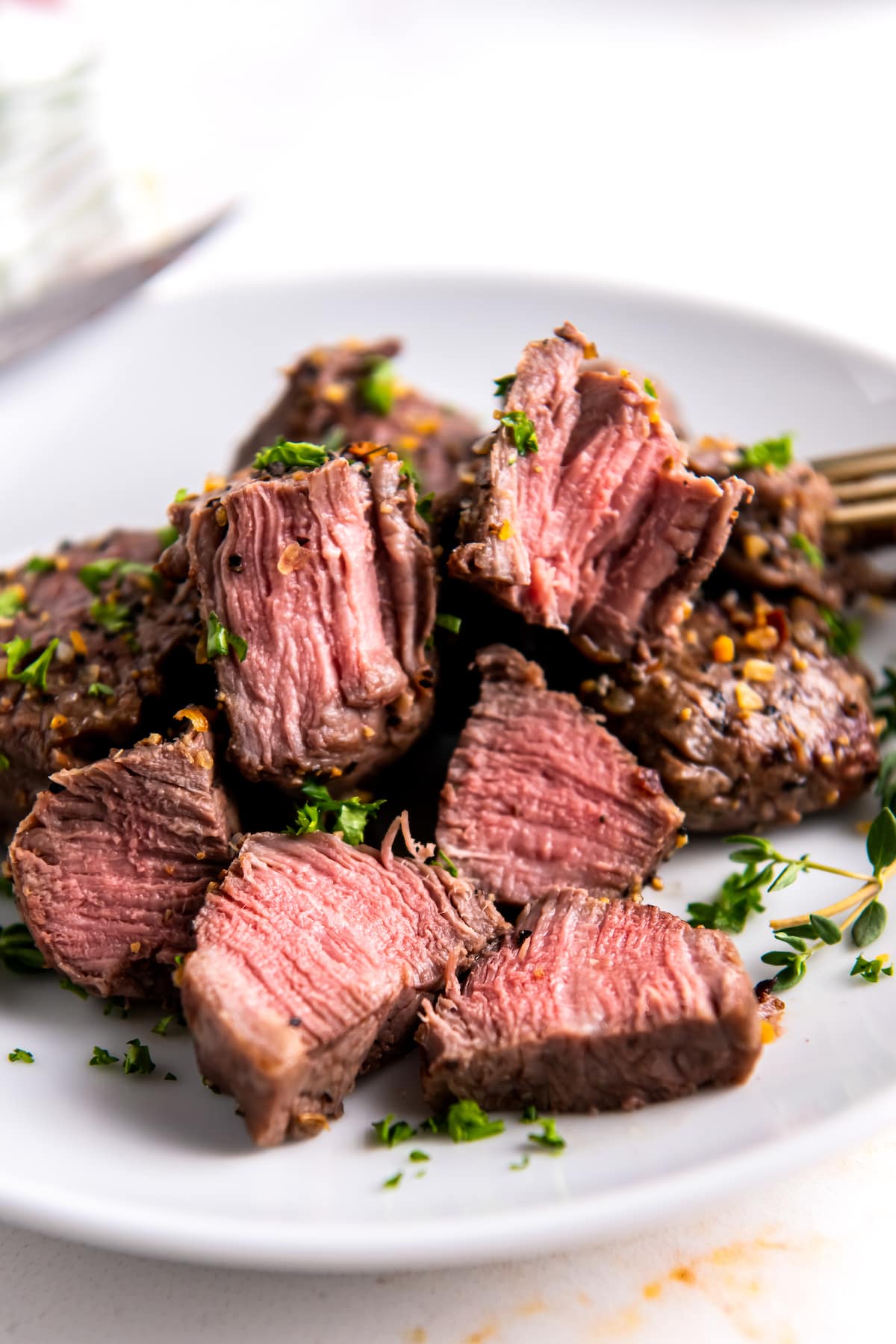 Why You'll Love This Air Fryer Steak Bites Recipe
These steak bites are constantly on our meal plan. Here's why you're going to love this air fryer steak bites recipe, too:
You can use whatever cut of beef that you like. We used tenderloin because we had trimmings left over from a large one we had bought at the supermarket. So, it's a great way to make use of extra beef! However, we have also done this with ribeye and sirloin, and both were delicious.
3 simple ingredients are all you need. Steak, oil, and steak seasoning and that's it!
Super fast recipe. This recipe is a good one to have when you're short on time and need to get something together quickly.
A filling dinner option that's also low carb. Not only is this a great dinner to make because it's quick and easy, but it's low carb and gluten free. Plus, beef has lots of iron which is a nutrient we all need!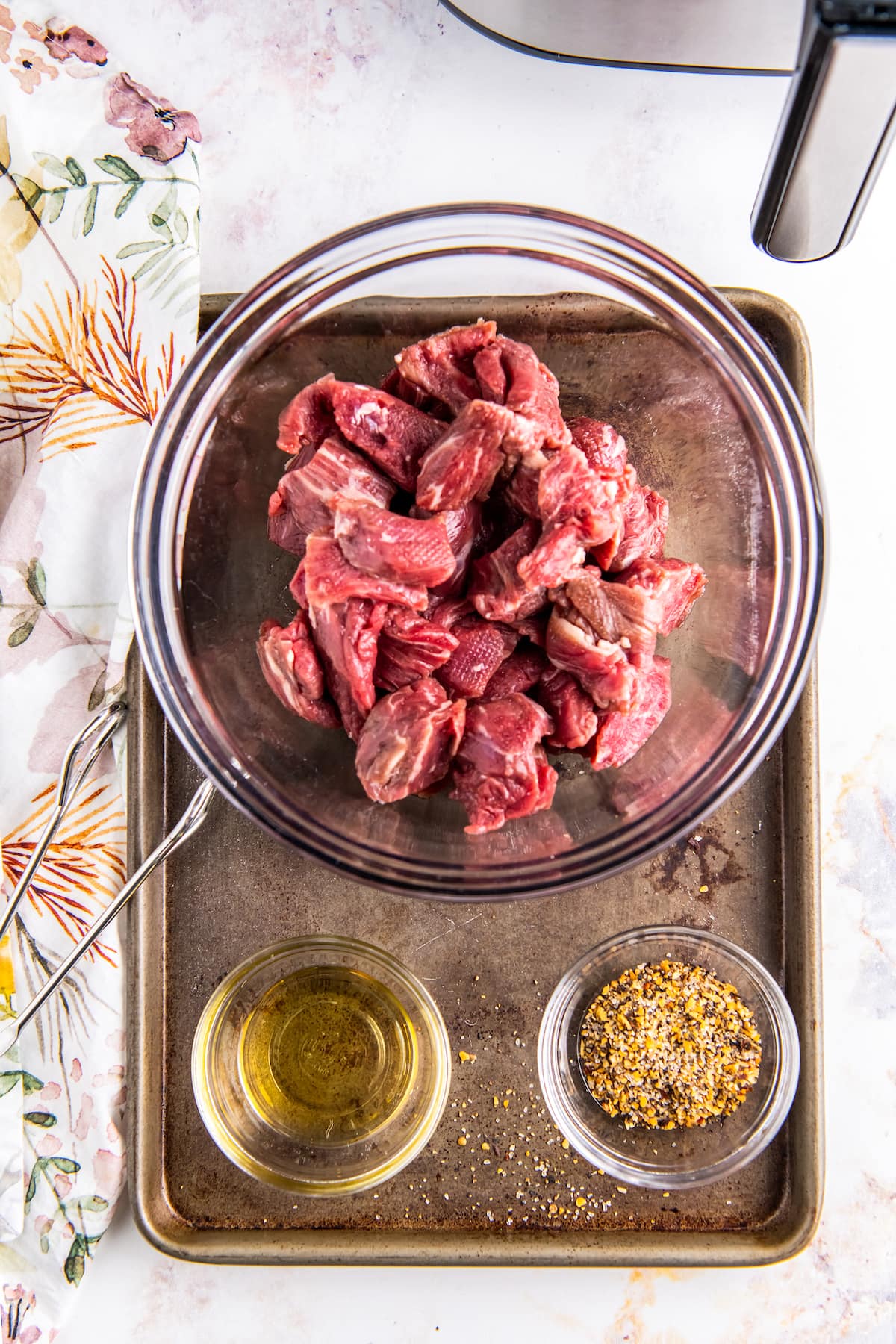 Recipe Ingredients
Here's what you need to make the most perfect steak bites in the air fryer! Note that you can find the exact quantities for each ingredient in the recipe card below.
Steak: You can use tenderloin, sirloin, ribeye, etc. – most cuts of beef work perfectly for this recipe!
Salt: To taste. This is optional, but it enhances the flavor of the steak and helps it become tender.
Cooking Oil: We like to use avocado or olive oil.
Steak Seasoning: We love McCormick's Montreal Steak Seasoning because it's classic and always delicious. And you can use your favorite brand, too! If you do not have steak seasoning, you can use a combination of garlic salt and pepper to season your steak and it will also be delicious.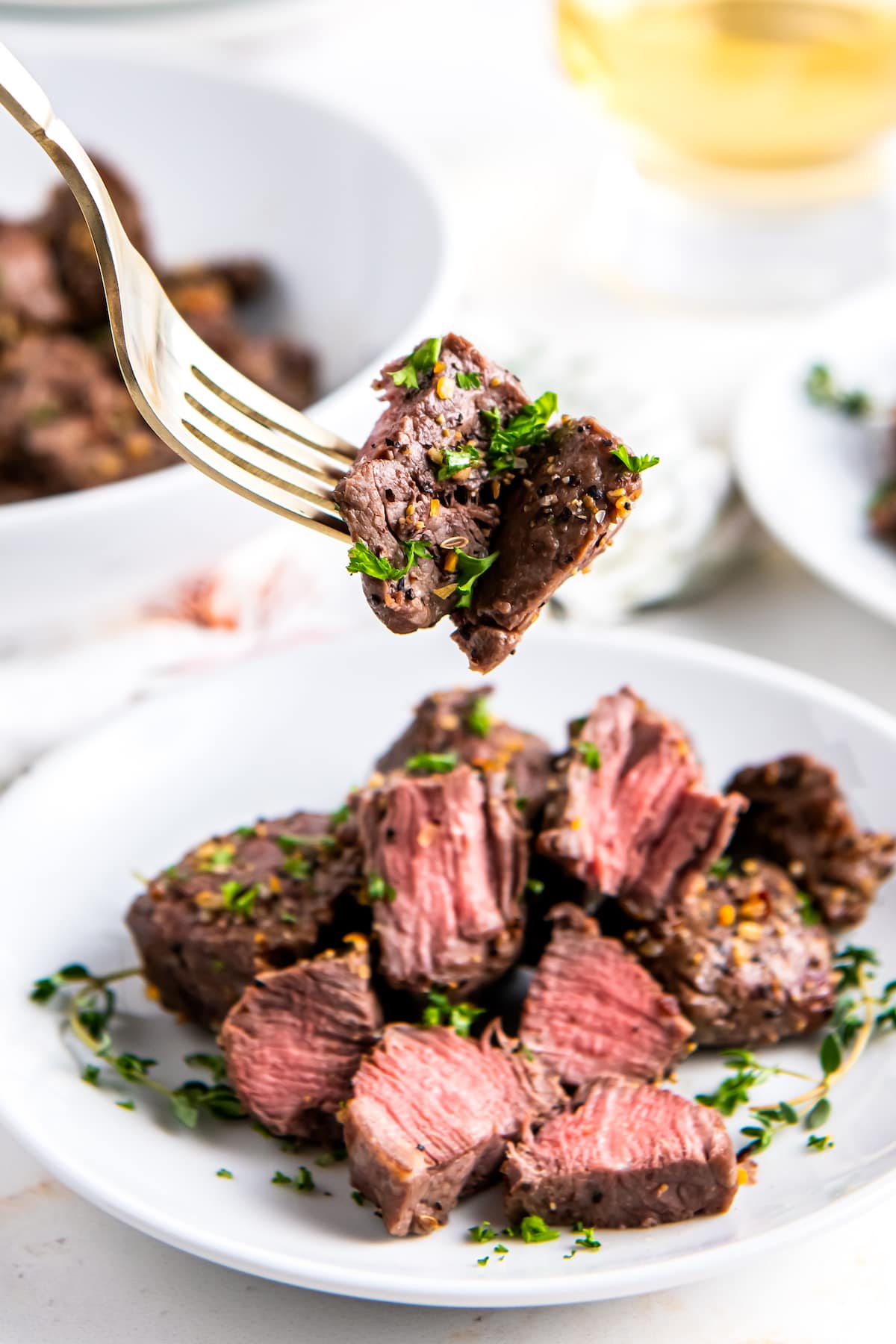 How to Tell if Steak Bites Are Done
Cooking steak bites in the air fryer is not any different than when you are using the stovetop or the grill to cook beef. There are specific temperatures that correlate to specific levels of doneness for your steak.
You can check your steak with an instant-read thermometer to know exactly when your steak is cooked to your liking.
Steak Temperatures for Levels of Doneness
Rare: 125°F to 130°F
Medium Rare: 130°F to 140°F
Medium: 140°F to 150°F
Medium Well: 150°F to 160°F
Well Done: Over 160°F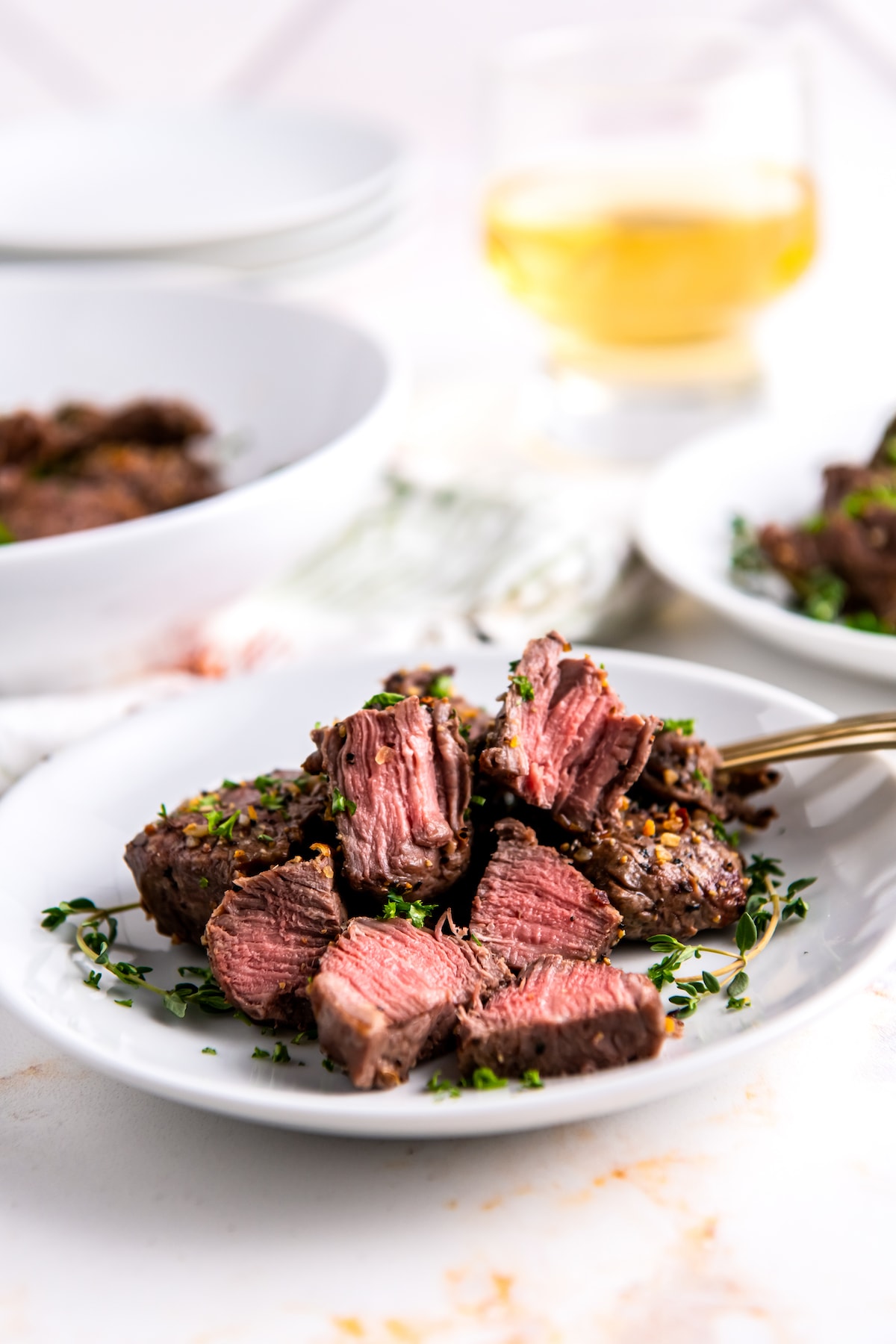 How to Make Air Fryer Steak Bites
Below, you'll find simple steps for making steak bites in the air fryer. So, grab your 3 ingredients, and let's get to work! (For the full set of directions, check out the recipe card below!)
First, you want to make sure the beef is at room temperature. This is the best way to get tender and juicy steak bites. You do not want to put cold steak bites in the air fryer!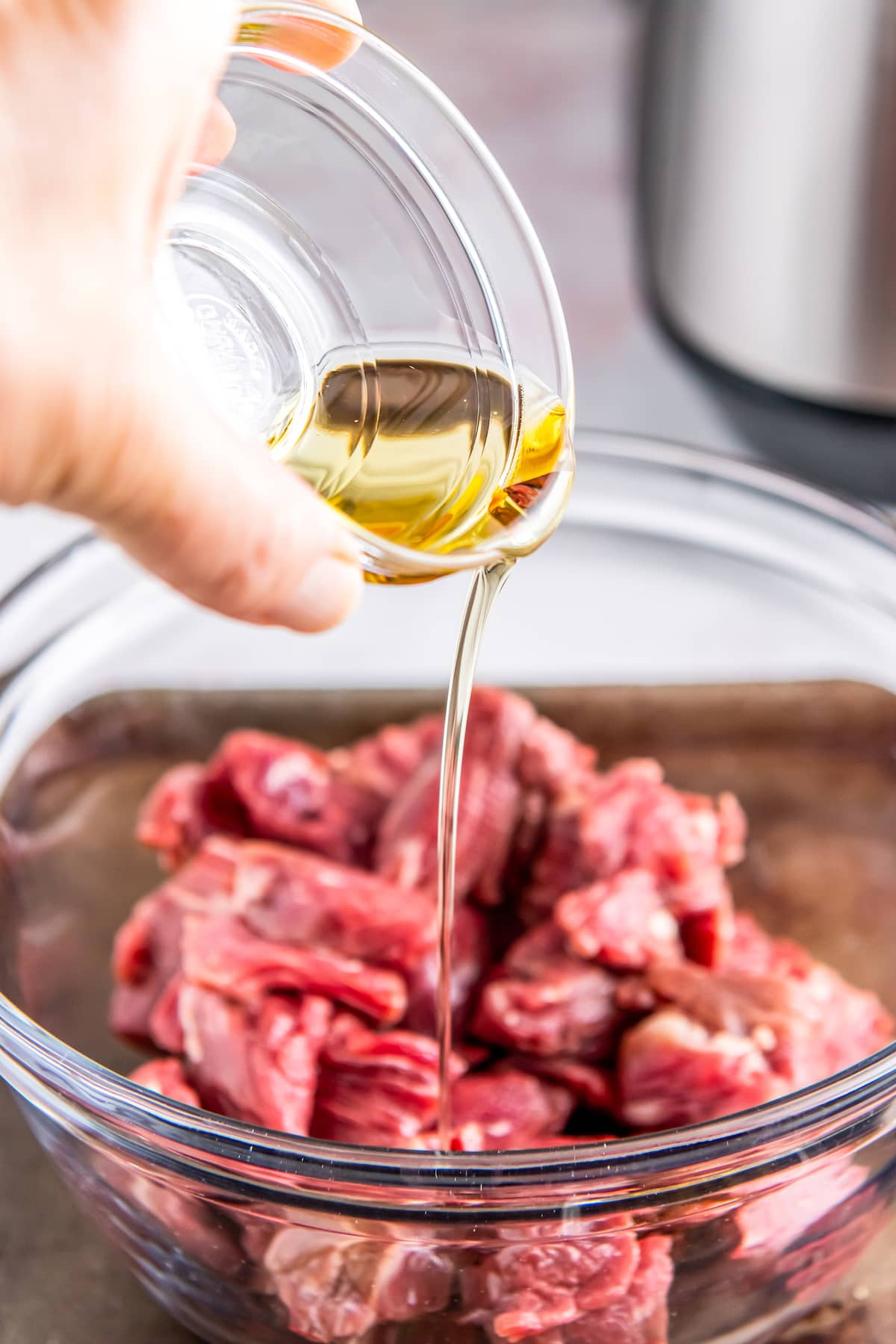 Then, season the steak bites. Toss them with your favorite steak seasoning and some cooking oil.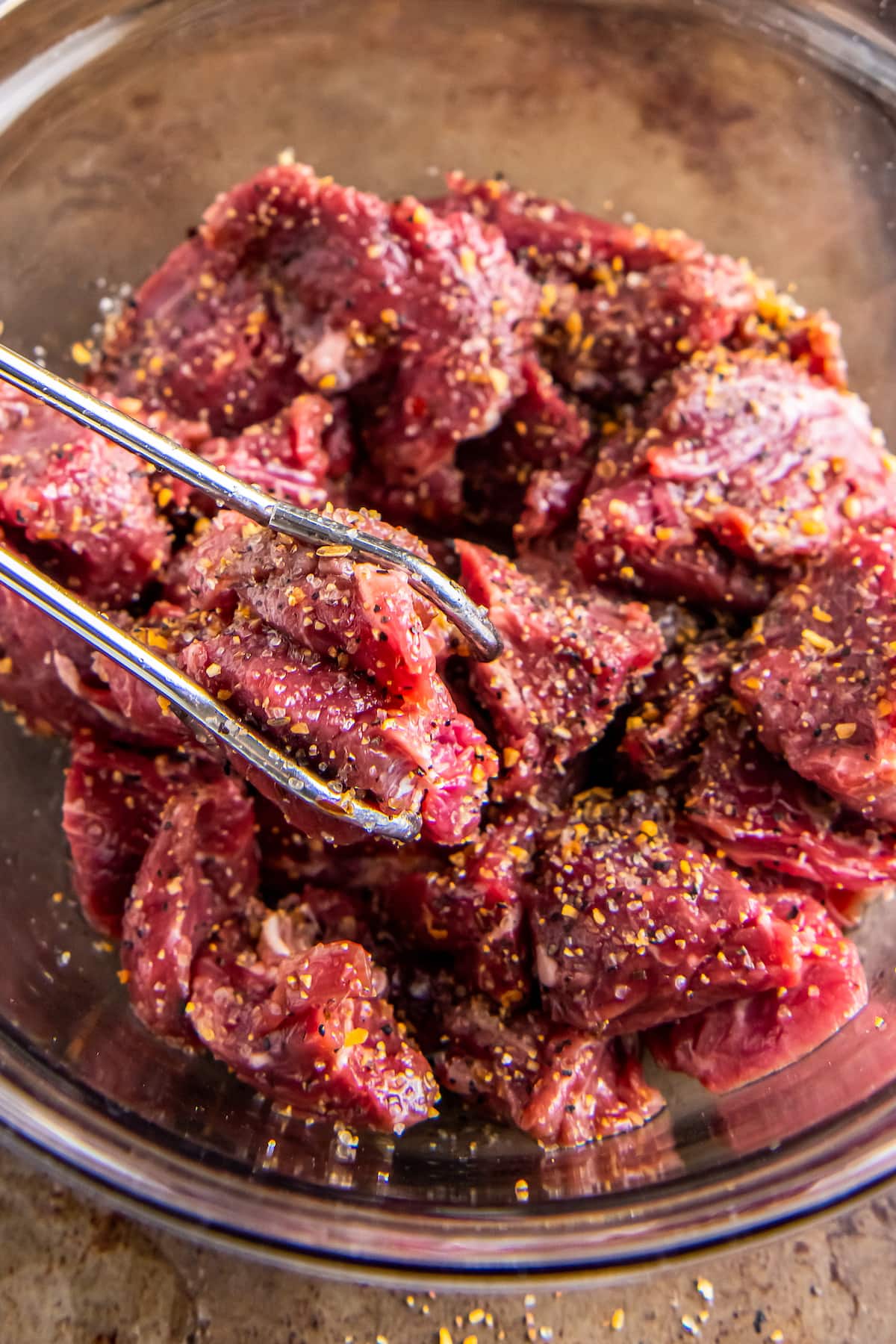 Put the steak bites on the air fryer tray. Make sure that they are spaced out and not touching. You may need to work in batches depending on the size of your air fryer basket.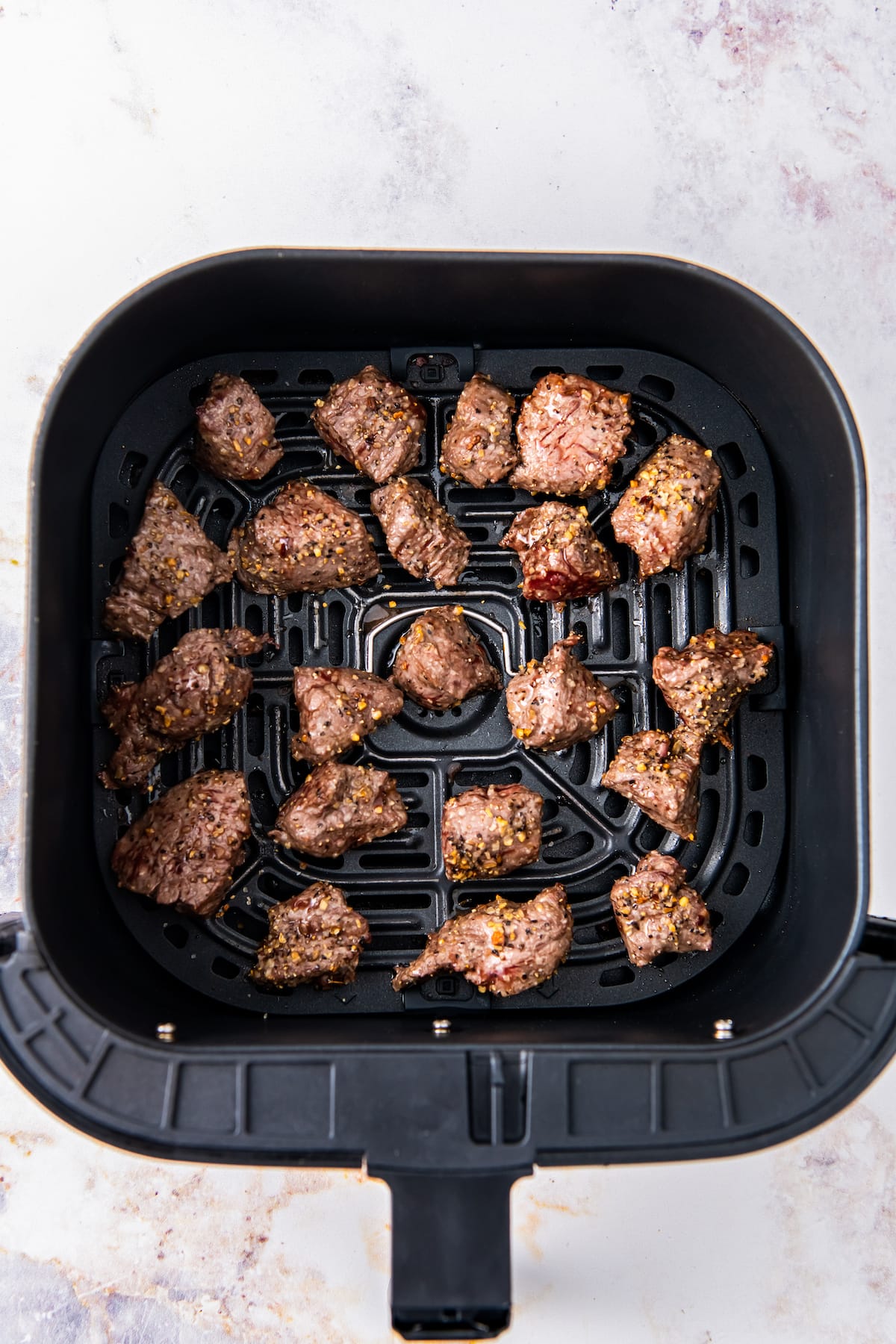 Cook the steak bites. Set a timer for 4 minutes and then check on the steak bites and shake them on the tray a little bit. Cook for another 1-2 minutes, or more depending on how you like them cooked.
Let them rest before eating! This is another crucial step. Letting the steak bites rest for a few minutes will help tenderize the meat.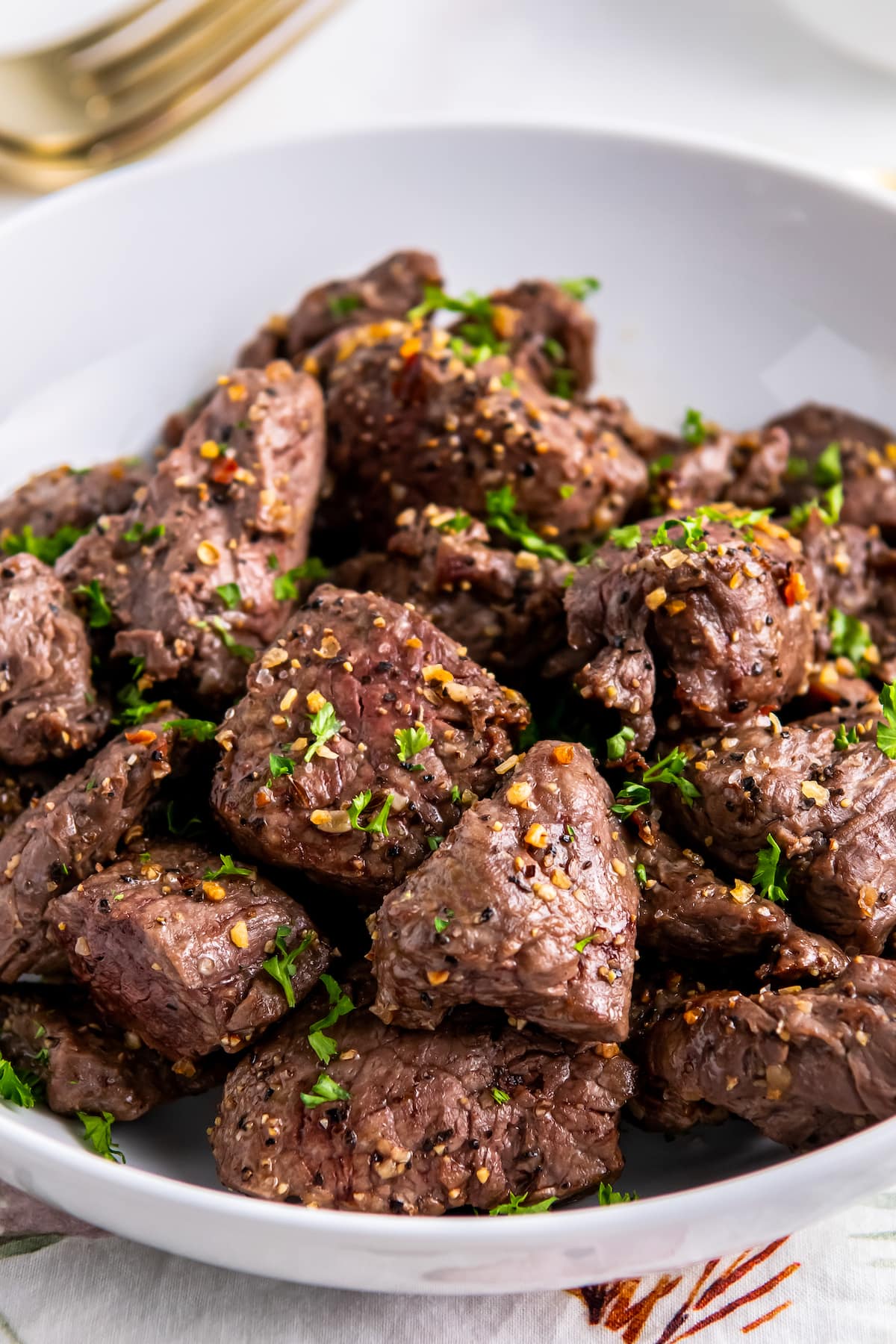 Tips for Success
Follow the tips below when making air fryer steak bites at home for the best results every time!
Bring the steak to room temperature. Make sure your meat is at room temperature before you start cooking it! This makes a *HUGE* difference to how juicy your steak bites will be! We pull our meat out 1 hour before we plan to cook it and let it come to room temperature on the counter.
Cut your steak into equally sized pieces. Try and cut the steak into the same size pieces as much as possible for even cooking.
Watch the cooking time.

While knowing the temperature of the meat is helpful to see how well it's cooked, you also need to be mindful of the cooking time. We cooked these steak bites for 6 minutes and they were cooked medium. If you want medium rare try 4-5 minutes total cook time.

Cook to medium rare if making extra for leftovers. That way when you reheat the steak, it will cook just a little more and still be tender and yummy when you reheat it.
Use tenderizer as needed. If the steak is a tougher cut of meat, tenderize it before adding it to the air fryer.
Know your air fryer! Air fryers are so different so make sure and check the steak bites at 4 minutes to make sure they aren't cooking too fast.
Resting time. While it's hard to wait, make sure you follow the recommended 5 minute resting time for the steak bites after cooking. This helps your steak get extra juicy and tender!
Frequently Asked Questions
Why are my air fryer steak bites tough?
Overcooking the steak bites is the number one reason that they come out tough. To avoid this, make sure the steak comes to room temperature before you begin, check on it as it cooks (starting at 4 minutes, as mentioned above), and use a meat thermometer to confirm the internal temperature.
How do I keep meat moist in the air fryer?
Coating the steak in olive oil or avocado oil is essential to keeping it moist while it cooks. You don't need a ton, just a teaspoon or two will go a long way.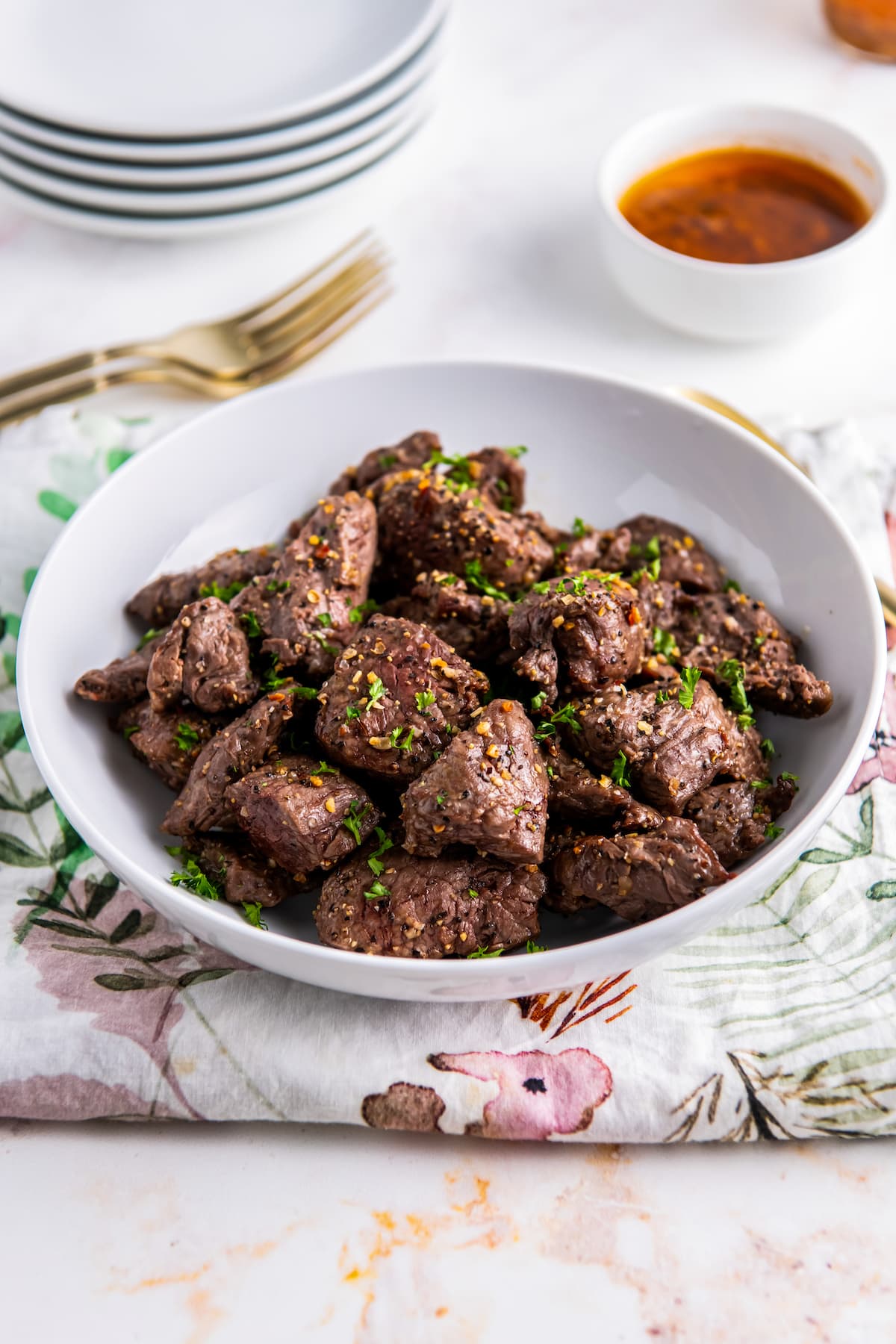 What Goes With Steak Bites?
These little tender steak tips pair well with so many different recipes. You're bound to find one to please everyone in the family! Here are some suggestions:
How to Store and Reheat Leftovers
Leftover steak makes for great lunches! Here's how to save your steak bites for later:
To store. Store leftover air fryer steak bites in an airtight container in the fridge for up to 5 days.
To reheat. Reheat them in the air fryer at 400°F for 2 minutes, or until warmed through.
Can I Freeze This?
We don't recommend freezing the cooked steak bites. They will dry out and become less flavorful if they are frozen.
What you can do is portion out the beef and freeze it in small bags so that the cut-up beef is ready to go. We like to do this when we get a large piece of meat from the store and are unable to use it all right away. Just remember to give yourself enough time for the beef to thaw and come to room temperature before air frying.
More Easy Air Fryer Recipes
Ready to try out some more simple air fryer recipes? Check out these ones!
Air Fryer Steak Bites
These Air Fryer Steak Bites are perfectly seasoned and so tender! You only need 3 ingredients for this easy air fryer recipe. They only take 6 minutes to cook, too!
Ingredients
1 ½

pounds

steak

,

cut into 1" pieces (tenderloin, sirloin, ribeye, etc)

Salt

,

to taste

1

teaspoon

avocado oil or olive oil

2

teaspoons

steak seasoning
Instructions
Lightly salt steak and set on the counter to come to room temperature 30 minutes (or up to an hour) before cooking.

Toss steak bites with oil and then season them with steak seasoning, making sure to cover all sides with seasoning.

Lay steak bites in an even layer in the air fryer basket (or tray). Do not overcrowd the tray. If needed, cook the steak in batches.

Cook on 400°F for 4 minutes. Remove the tray give it a shake and evaluate how done the steak is. (We highly recommend using an

instant read meat thermometer

to verify your steak is cooked to your desired temperature.) Return the tray and cook for 1 to 2 minutes more, depending on how well done you like your steak.

Let rest for 5 minutes covered in foil (this really helps to tenderize the meat), then serve!
Notes
Storage: Store leftover air fryer steak bites in an airtight container in the fridge for up to 5 days.
Reheating: Then reheat them in the air fryer at 400°F for 2 minutes, or until warmed through.
Steak Temperatures for Levels of Doneness:
Rare: 125°F to 130°F
Medium Rare: 130°F to 140°F
Medium: 140°F to 150°F
Medium Well: 150°F to 160°F
Well Done: Over 160°F
Nutrition
Serving:
1
,
Calories:
516
kcal
,
Carbohydrates:
1
g
,
Protein:
45
g
,
Fat:
36
g
,
Saturated Fat:
13
g
,
Polyunsaturated Fat:
18
g
,
Cholesterol:
165
mg
,
Sodium:
475
mg