If you're wondering about How to Bake Sweet Potatoes, you've come to the right spot. We've tested multiple recipes and came up with the best one for fluffy, tender, and delicious baked potatoes.
The Best Way to Bake Sweet Potatoes
We find ourselves making sweet potatoes a lot. For a lot of reasons! One, they are really good for you and super flavorful. Second, they are so yummy even when they're simple! They're delicious with just a pad of butter or you can dress them up with cinnamon and maple syrup.
There are options with sweet potatoes. You can cook them in several different ways. But today we'll show you how to bake sweet potatoes. This method is tried and true, as we tested several different methods!
We found that if you follow just a few simple steps the result is always perfectly tender and fluffy sweet potatoes. This recipe isn't complicated at all! You'll be baking perfect sweet potatoes time after time after you've mastered this easy recipe.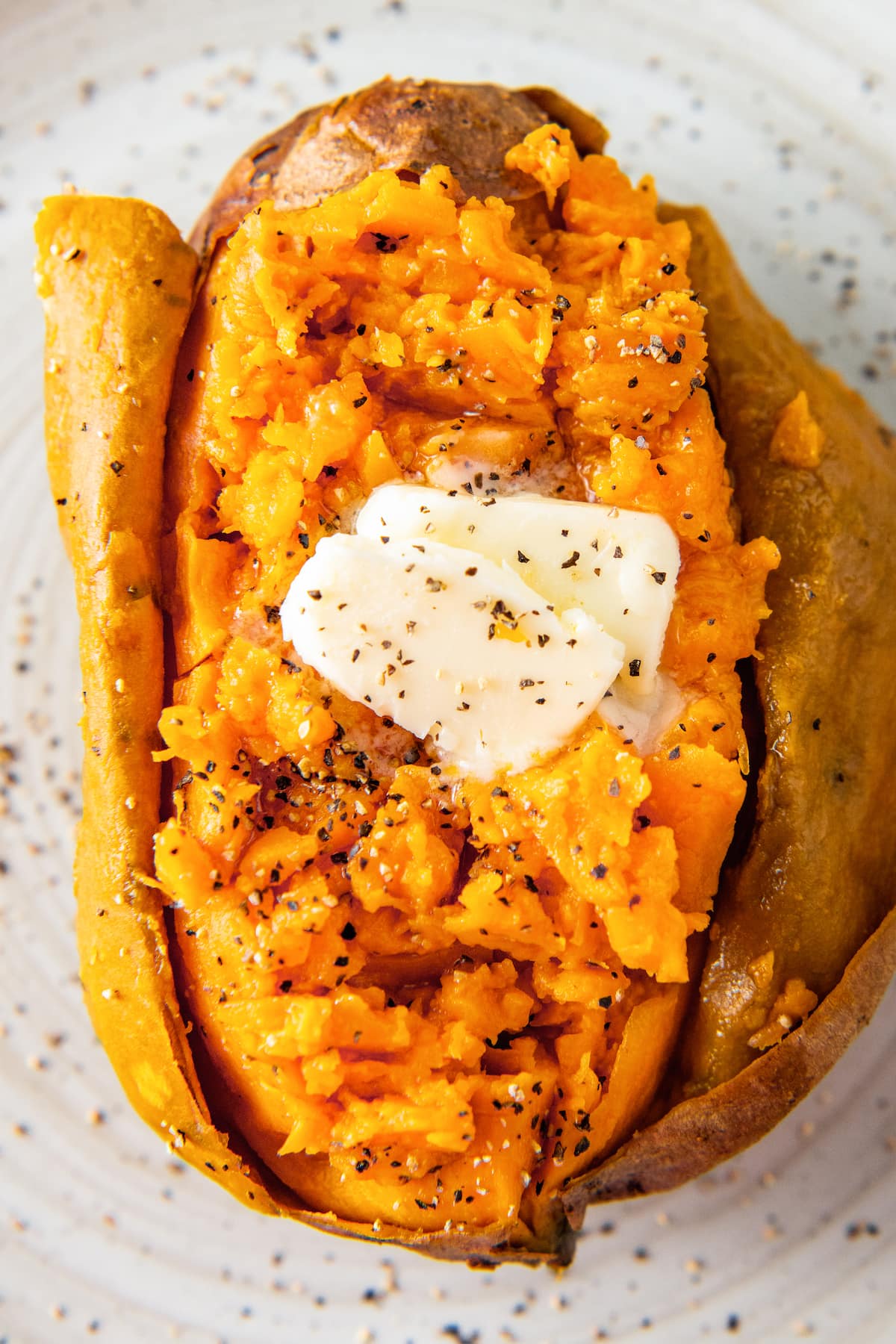 What You'll Need
There's no surprise here, you only need one ingredient. The sweet potatoes are the star of the show!
Sweet Potatoes: If there's one tip to follow when buying sweet potatoes, it's this – find ones that are all about the same size so that they require the same amount of cooking time.
Butter: We love to put butter on our sweet potatoes. It adds richness and so much flavor. You could also use olive oil, margarine, vegan butter, or coconut oil.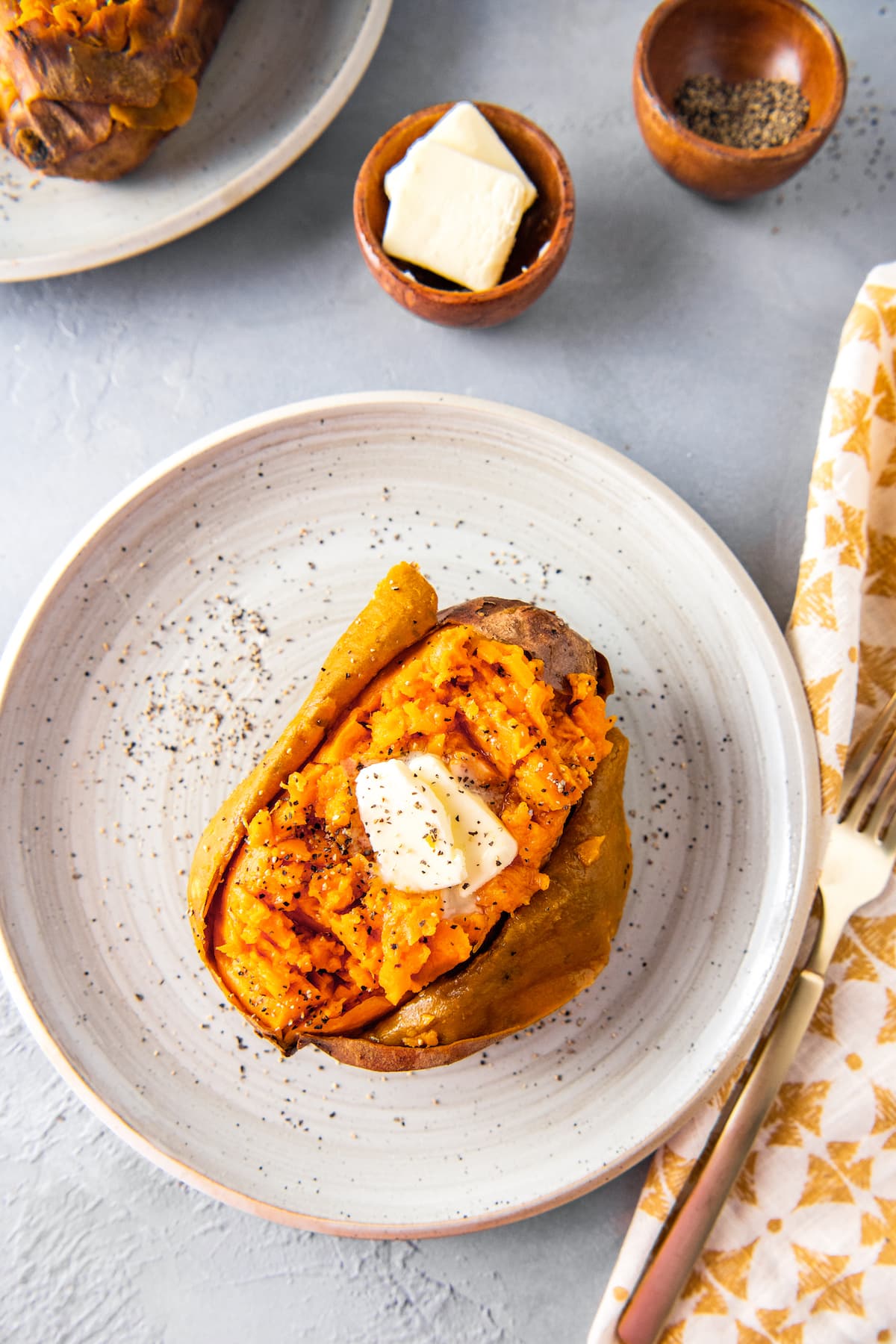 How to Make Perfect Baked Sweet Potatoes
We tried a few different ways, and this is the best way to make baked sweet potatoes. The foil is a vital part of the process for tender and fluffy potatoes.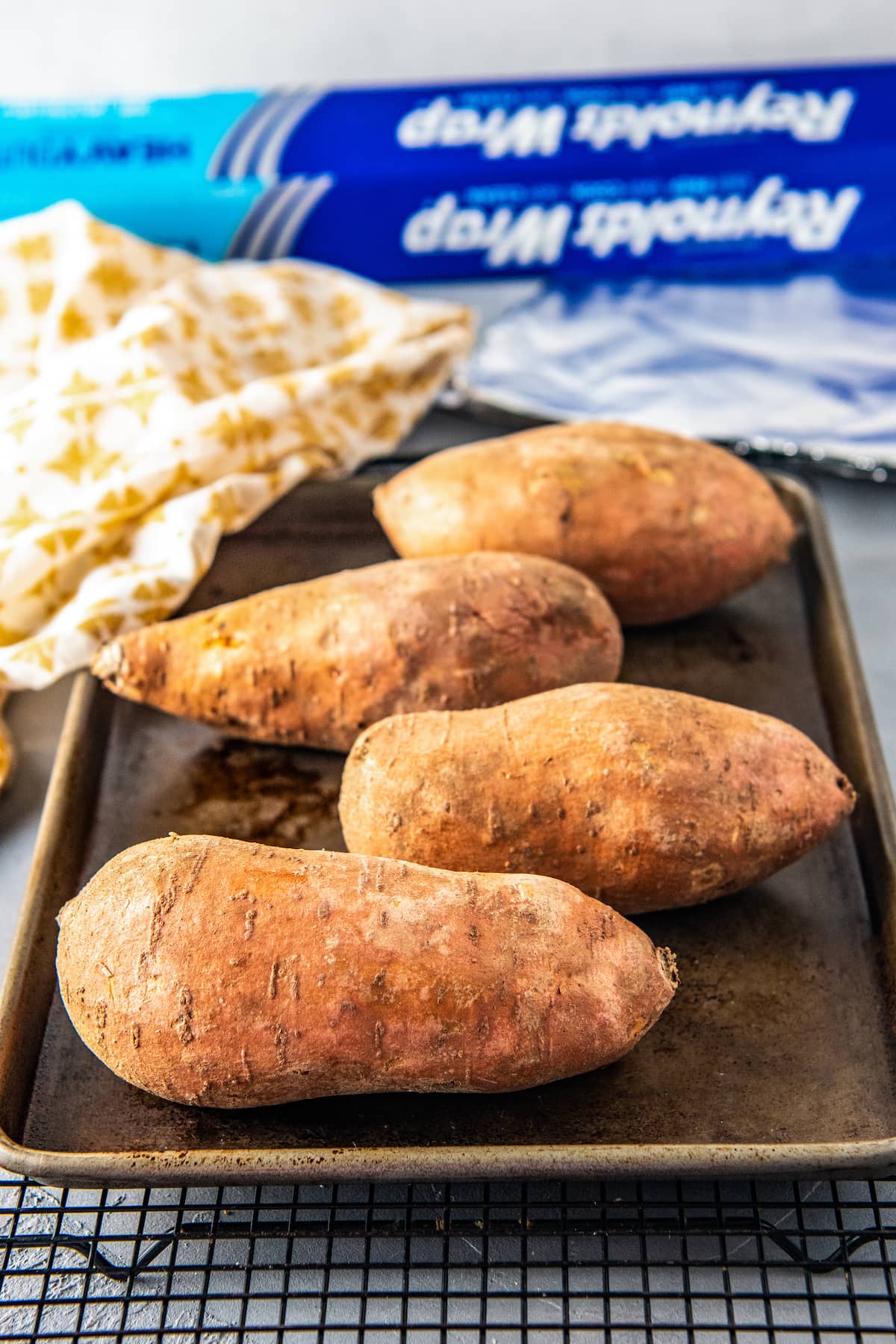 Wash and dry the sweet potatoes. You'll want to make sure the sweet potatoes are clean and dry before baking. Drying the skin prevents it from breaking while baking.
Wrap the sweet potatoes in foil. Then, place them on a baking sheet.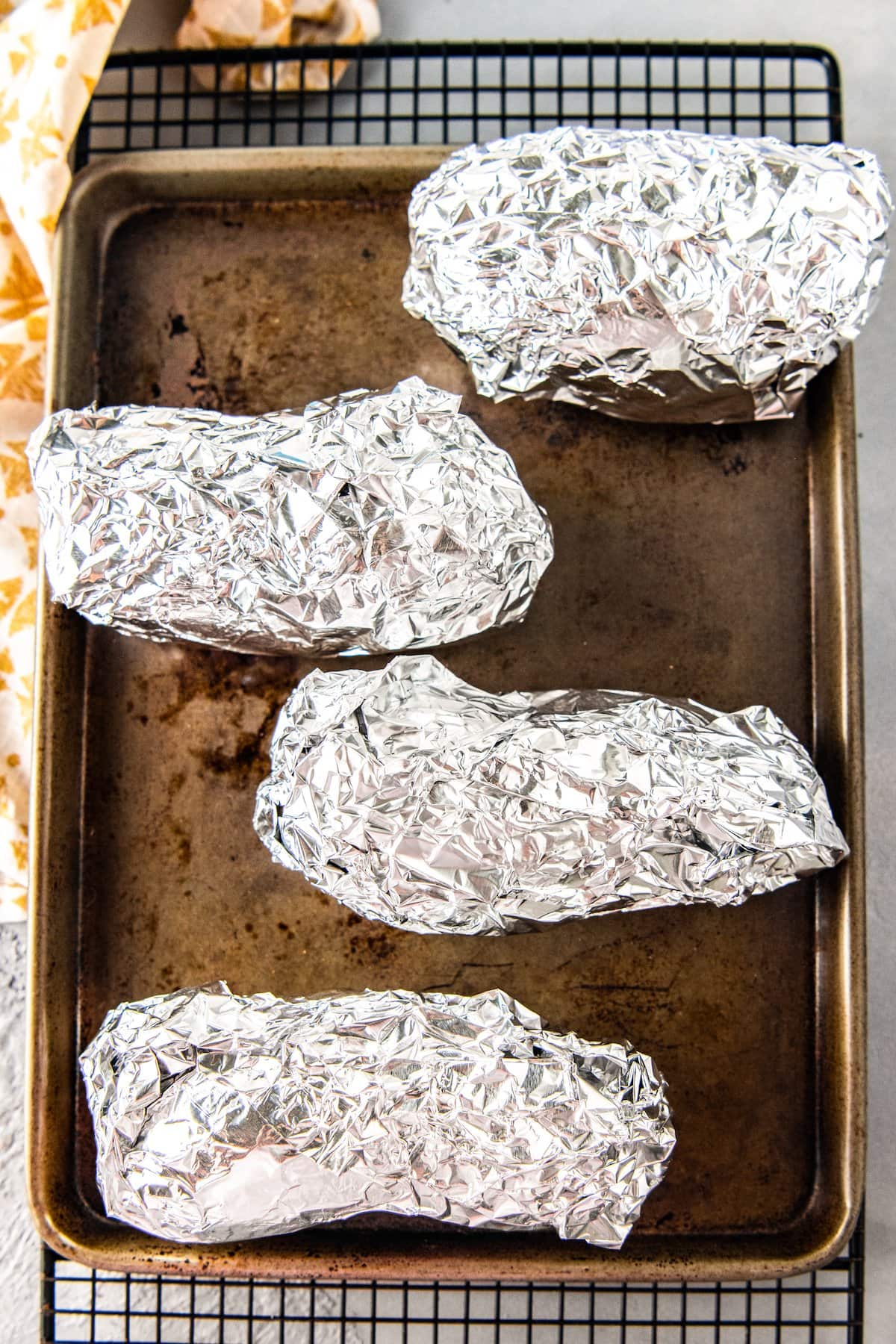 Bake for about 45-60 minutes. Keep in mind that different-sized potatoes will take more or less time. You can tell that they are done if they are tender and soft when you give them a little squeeze. You want them to be soft and tender.
Serve immediately! You can serve them right away with butter and a little salt and pepper.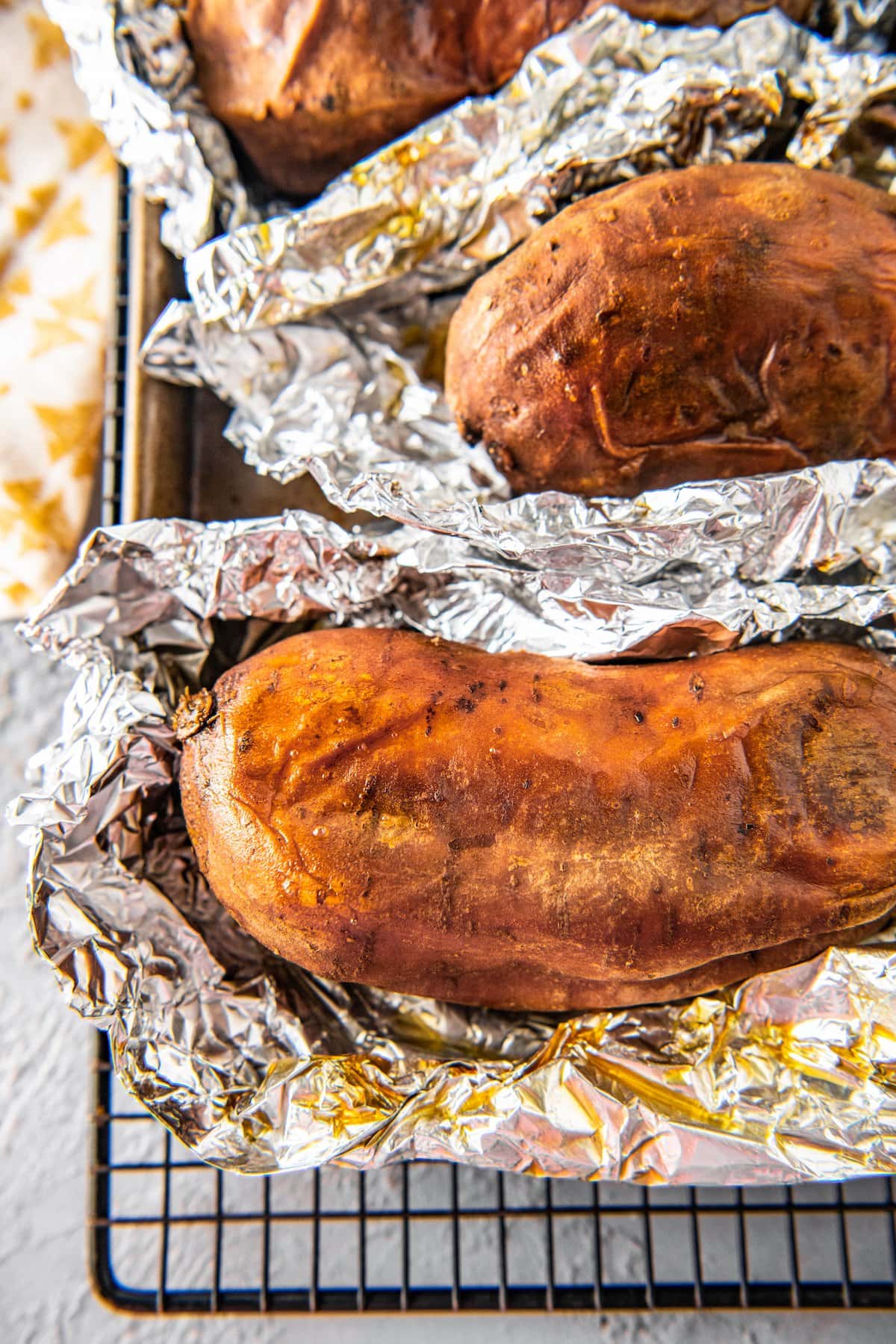 Why Should I Wrap The Potatoes in Foil?
We found that using foil while baking sweet potatoes is the best method when testing this recipe.
While some people will suggest you don't wrap your sweet potatoes in foil, we tested them both ways – with foil and without. And in our blind taste test, we all much preferred the sweet potato that was wrapped in foil.
The foil keeps the steam trapped in the sweet potato as it cooks, making your sweet potato more tender and moist than if they were cooked without being wrapped in foil. The skin on the sweet potato wrapped in foil came off much easier as well.
How To Tell When They're Done Cooking
The best way to tell if they are done is the squeeze them. They are done if they are soft and tender. If they still feel hard, then cook them for a little bit longer.
If the foil is too hot to handle, you can use a towel to protect your hands while testing the sweet potatoes.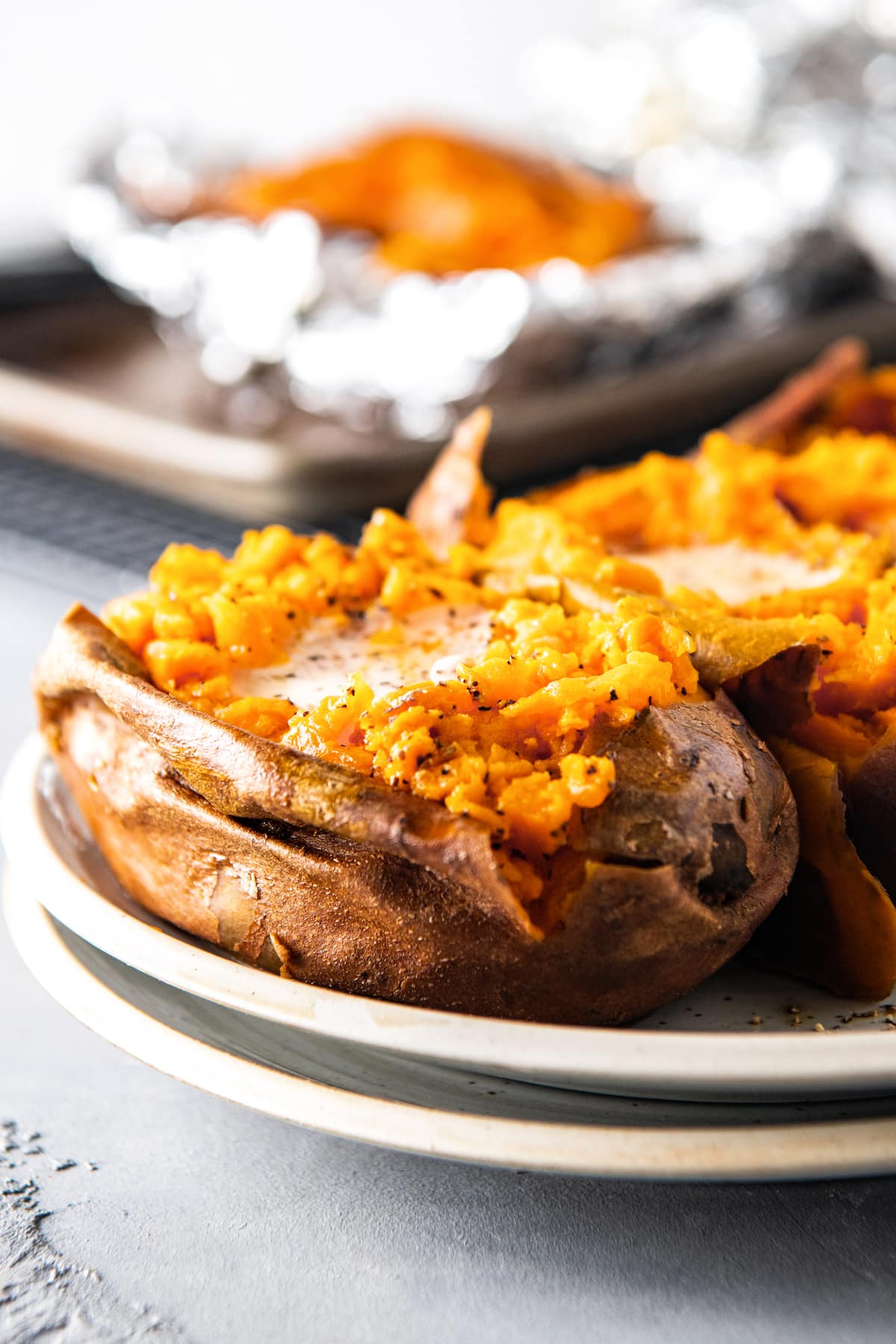 Tips for Success
We did all the work for you when testing how to bake sweet potatoes. Here are some helpful tips we figured out while testing recipes.
Using a baking tray to prevent a mess. We bake sweet potatoes on a tray just in case they leak while baking. This helps keep your oven clean.
Enjoy the skin! You can discard the skin, or if you like, it is safe to eat the sweet potato skin. You can season the skin with a little salt and pepper to make it more flavorful.
Wash them really well. This is really important if you're going to use sweet potatoes for a casserole. You don't want any specs of dirt in your creamy sweet potatoes!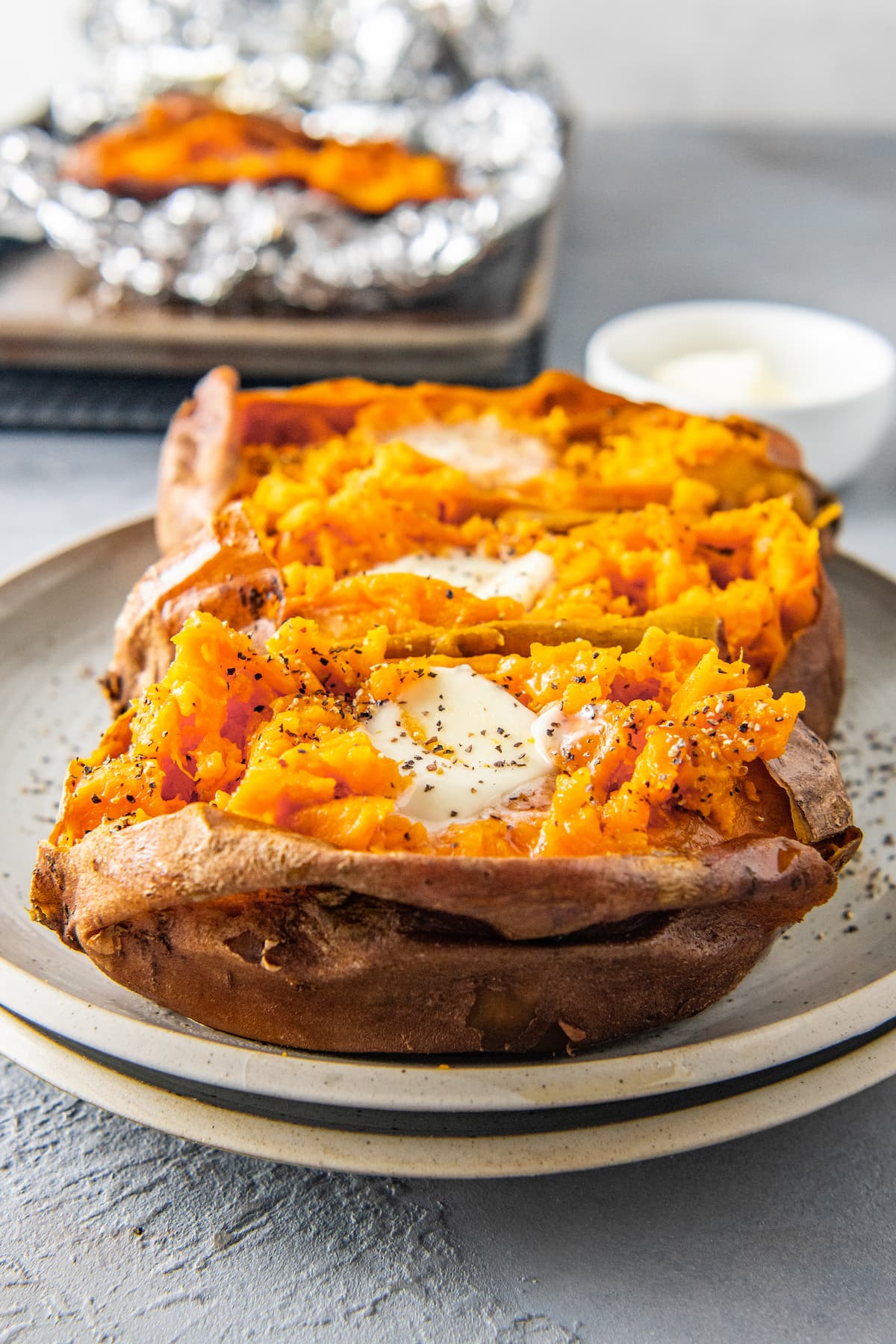 Ways to Use Your Potatoes
You can enjoy the sweet potatoes on their own or mix it up a little. Here are some of our favorite ways to eat baked sweet potatoes.
Baking sweet potatoes for meal prep. We love baking sweet potatoes on Sunday for lunch all week. They reheat easily, are filling, and are full of healthy benefits. Plus it helps keep me from eating fast food!
Use them for mashed sweet potatoes or casseroles. This is a great way to prepare sweet potatoes for our Mashed Sweet Potatoes recipe.
Sweet potatoes and chili. Use the sweet potato as a "bowl" for your favorite chili. This really easy Hot Dog Chili is a great recipe to try.
Sweeten them up. You can add a drizzle of maple syrup and cinnamon to enjoy a sweeter version of baked sweet potatoes. Brown sugar is also delicious!
How to Store and Reheat
Store the baked sweet potatoes in an airtight container in the refrigerator for up to 5 days.
You can reheat it in the oven, microwave, or even the air fryer! If you let the potatoes sit out at room temperature for a few minutes, they won't take quite as long to reheat.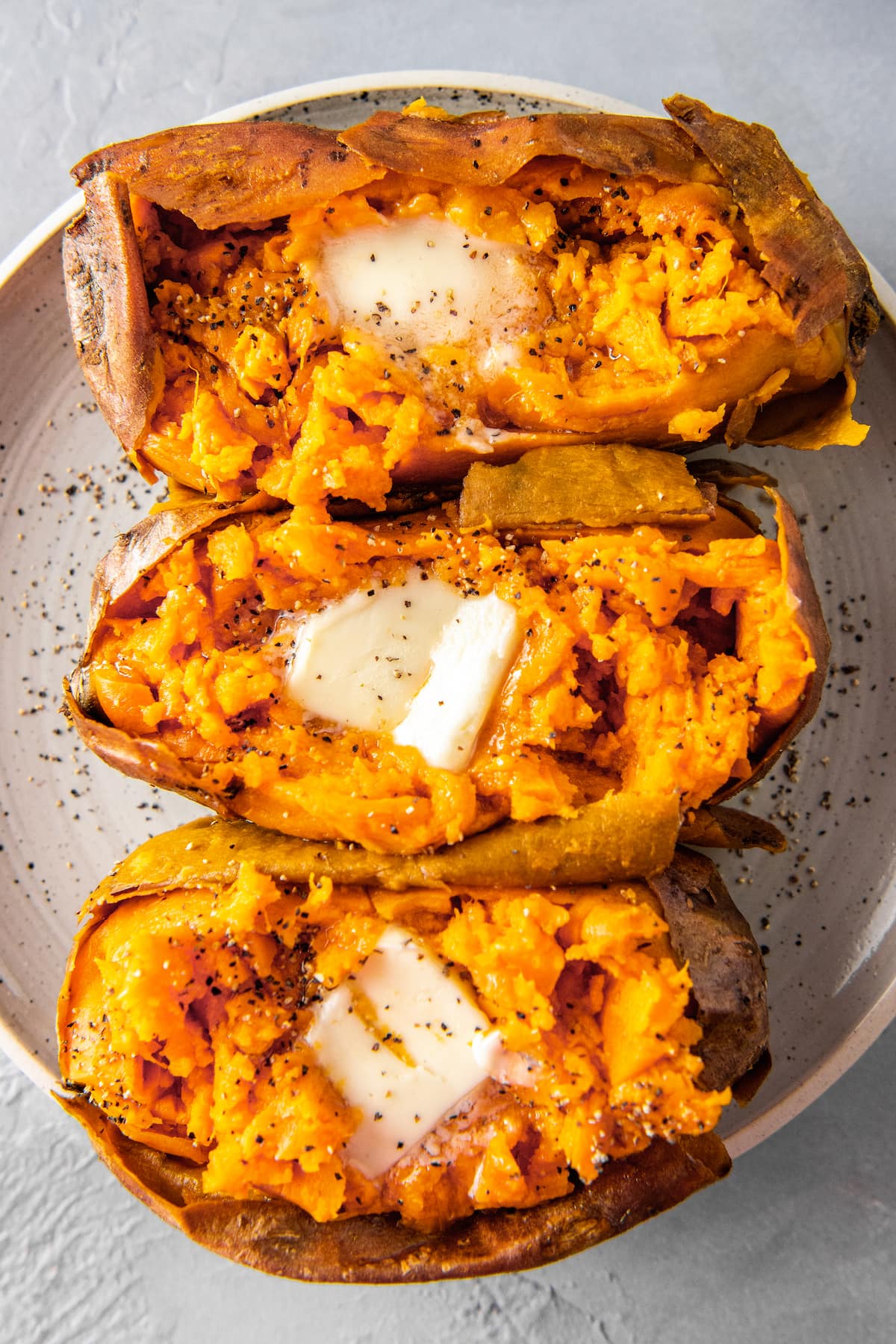 Can I Freeze a Baked Sweet Potato?
You can make a bunch of baked sweet potatoes and pop them in the freezer for another day. It's really simple!
We recommend removing the skin and storing it in a freezer-friendly bag for up to 3 months. We also suggest letting them thaw before re-heating for the best results.
Yield: 1 serving
Baked Sweet Potatoes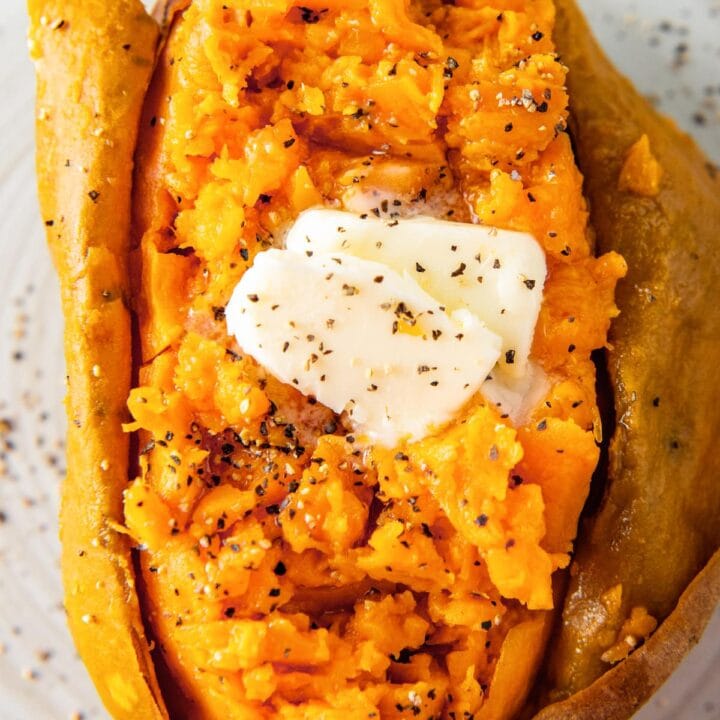 Here is the best way to bake sweet potatoes. The sweet potatoes turn out fluffy and tender every time!
Ingredients
Sweet Potatoes
Butter, optional
Instructions
Preheat oven to 400°F.
While the oven is preheating, rinse the sweet potatoes and pat dry. Wrap sweet potatoes with foil and place on a baking sheet.
Place sweet potatoes in oven and bake for 45-60 minutes, until tender. The baking time depends on their size, large sweet potatoes will take longer than small sweet potatoes. Sweet potatoes are done when you give them a squeeze and they are soft.
Serve as desired! We like ours with butter, salt, and pepper, but they are also delicious with butter, brown sugar and cinnamon.
Nutrition Information:
Yield:
1
Serving Size:
1
Amount Per Serving:
Calories:

204
Total Fat:

12g
Saturated Fat:

7g
Trans Fat:

0g
Unsaturated Fat:

4g
Cholesterol:

31mg
Sodium:

132mg
Carbohydrates:

24g
Fiber:

4g
Sugar:

7g
Protein:

2g
Filed Under:
More Sweet Potato Recipes