This is one of the easiest air fryer recipes you'll find! This Air Fryer Lemon Pepper Chicken Drumsticks will be ready in under 30 minutes. Plus, there are only 5 ingredients. So, if you need a quick dinner idea – this is it!
Crispy Air Fryer Lemon Chicken Legs
This is one of those dinners that you can put together in a few minutes and impress everyone – kids and adults alike! The flavor is amazing and the chicken legs turn out perfectly crisp and juicy every time. Bookmark this Lemon Pepper Air Fryer Chicken Drumsticks recipe. It's a keeper!
We love to use chicken legs for a quick dinner because they don't take long to cook and they are super affordable. We can buy a huge package and feed the whole family!
Using lemon pepper seasoning is a simple way to add a ton of flavor. The flavor resembles Greek chicken wings that you might order at a restaurant. Tons of garlic flavor, pepper, and a lot of fresh citrus flavor from the lemon. Adding a squirt of fresh lemon juice will really amp up the dish!
Looking for more easy chicken dinners in the air fryer? Check out these reader favorites: Air Fryer Hot Honey Chicken, Air Fryer Chicken Legs, Air Fryer Chicken Wings, and our favorite Air Fryer Orange Chicken.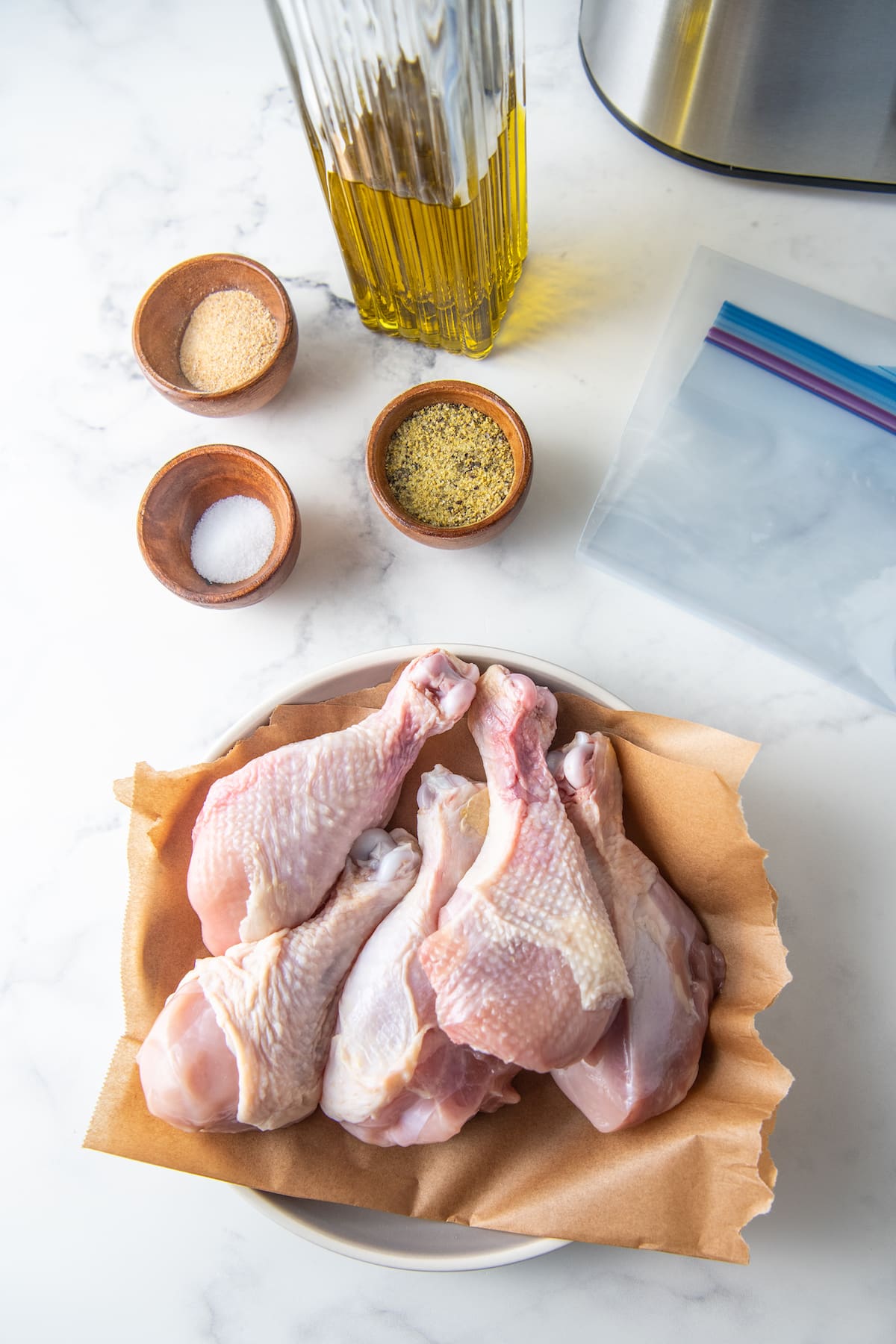 What You'll Need
You'll only need 5 ingredients for this recipe! Please remember to check out the recipe card below for exact amounts of each.
Chicken Legs: You could also use chicken thighs for this recipe or even chicken tenders for a leaner meal.
Olive Oil: Olive oil lends a rich flavor that helps the chicken legs crisp up in the air fryer. You could also use canola or vegetable oil, but it won't have as much flavor.
Garlic Powder: Granulated garlic would also work here.
Lemon Pepper: This is a pantry staple in our kitchen! Lemon pepper seasoning is so delicious and such an easy way to add tons of flavor to meats and vegetables.
Salt
Parsley: Adding fresh parsley at the end is optional, but highly recommended. The fresh herb flavor really adds to that Greek-inspired flavor.
Lemon Wedges: You'd be amazed what a little bit of fresh lemon juice will do to a dish. Adding just a little acid brightens and elevates the flavor of the chicken and seasonings.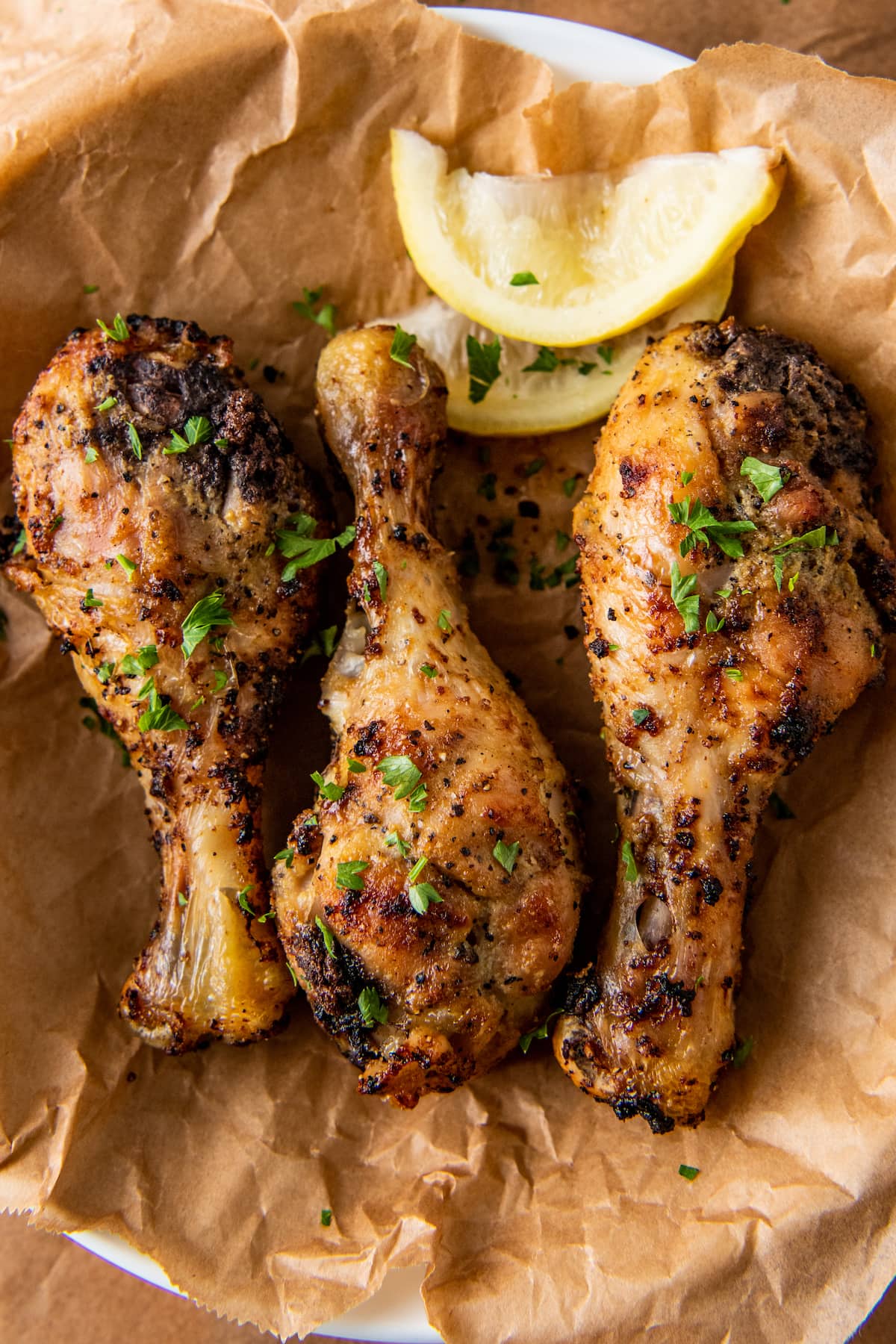 How to Make Lemon Pepper Chicken in the Air Fryer
This simple dinner will be ready in under 30 minutes! Here's how to make this easy chicken dinner.
First, preheat the air fryer. This is very important if you want extra crispy chicken!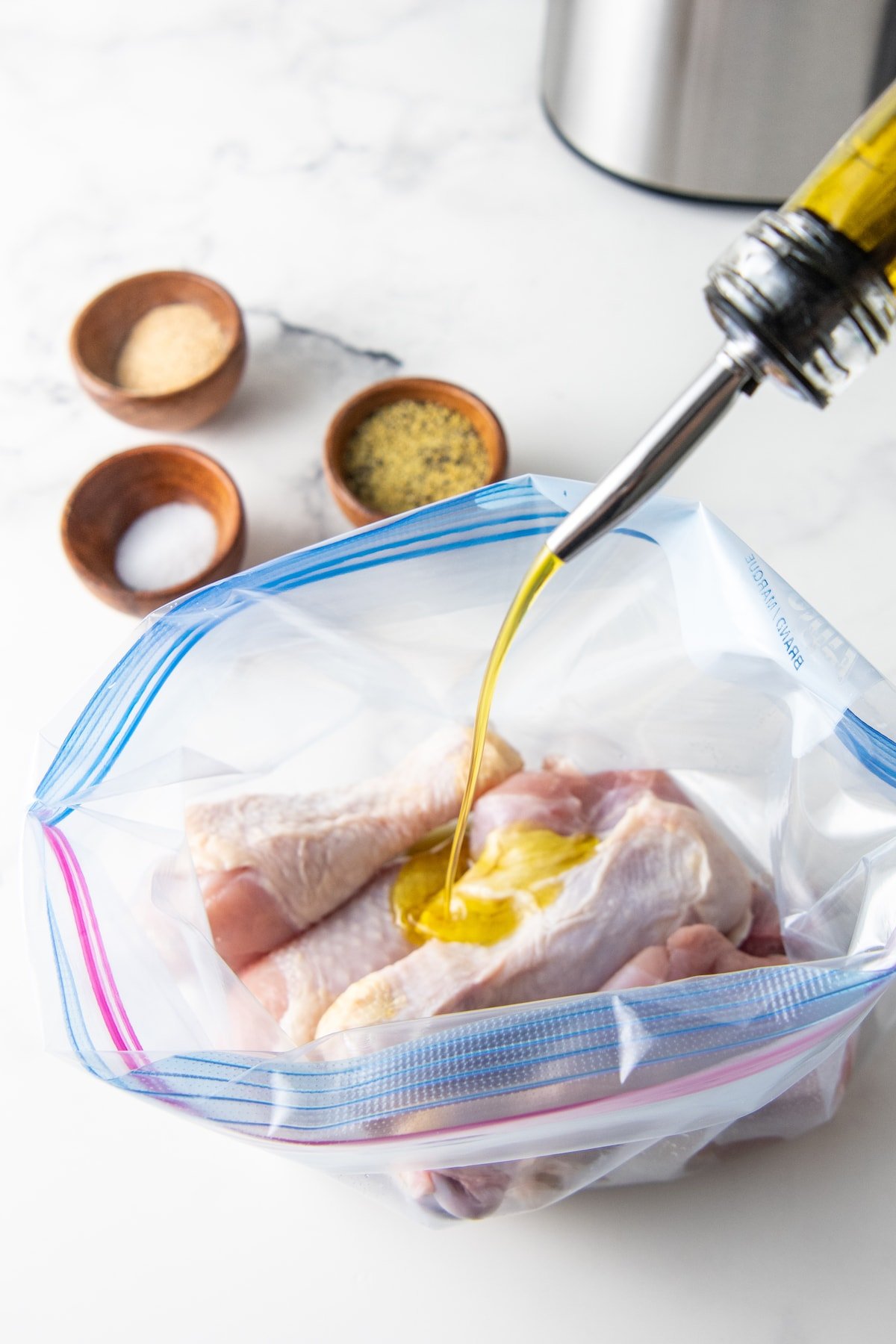 Marinade the drumsticks. Next, you're going to marinade and season the chicken drumsticks. Do this by putting the chicken in a gallon-sized plastic bag. Then, pour the olive oil and seasonings into the bag.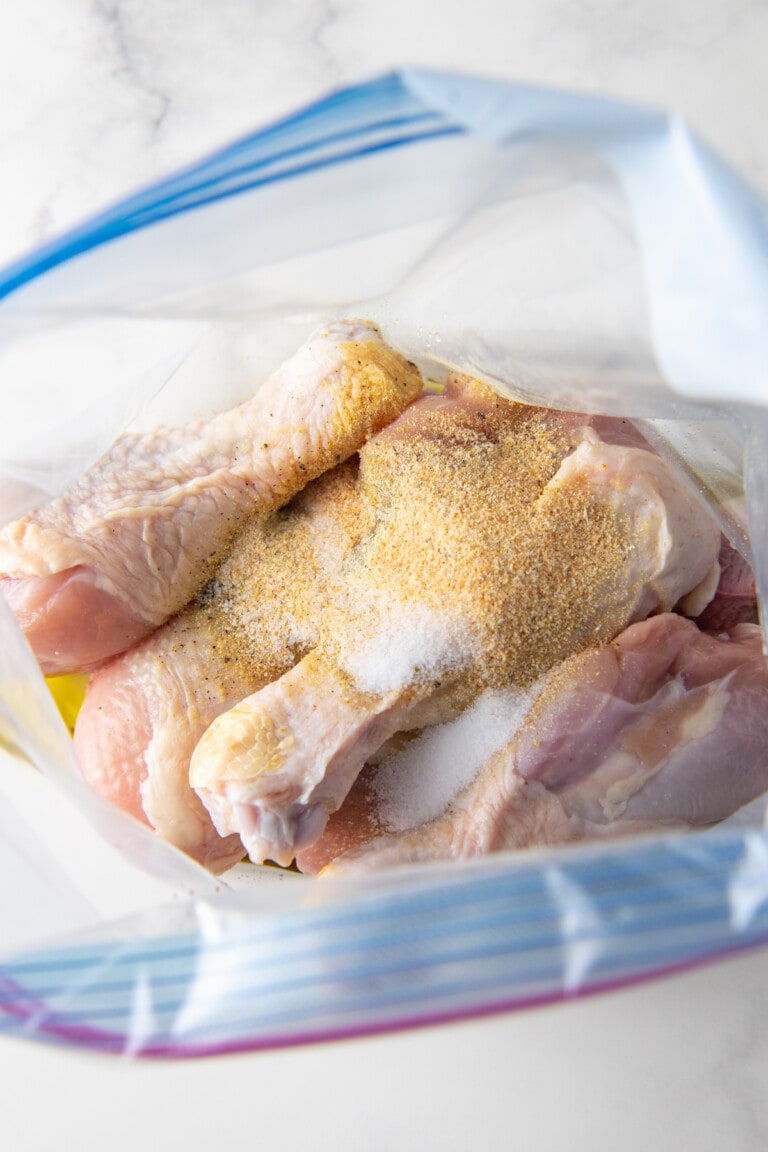 Toss to coat the chicken legs with the seasonings. Gently toss the chicken legs so that they are evenly coated with oil and seasonings.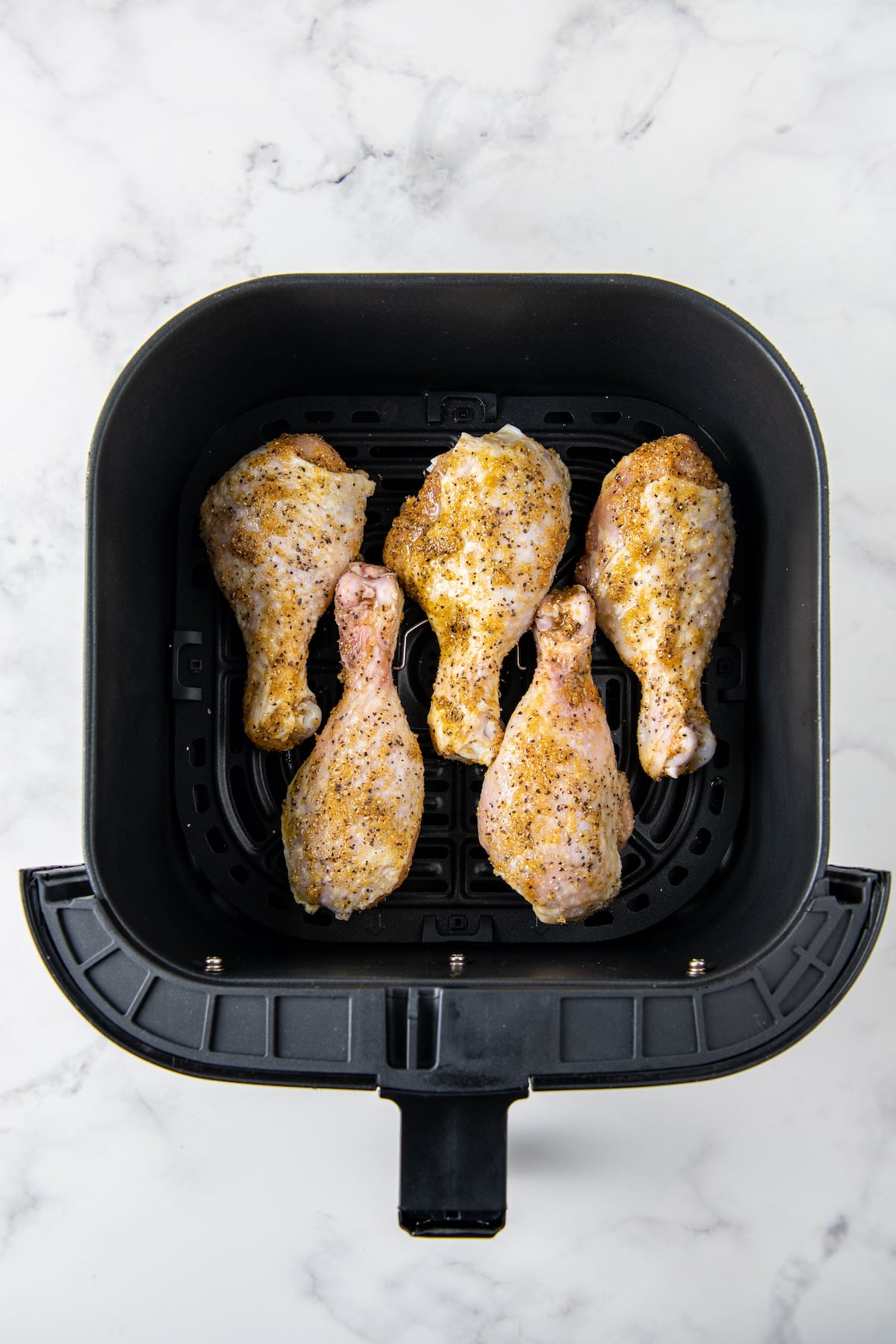 Then put the chicken legs in the air fryer. Make sure that they are not touching each other and spaced out on the air fryer basket. This way the heat will circulate around the chicken legs and cook evenly.
Cook for about 20 minutes. You'll want to flip the chicken about halfway through. Check to be sure the chicken is cooked thoroughly by using a meat thermometer.
Serve immediately. Don't forget to garnish with lemon wedges and fresh parsley.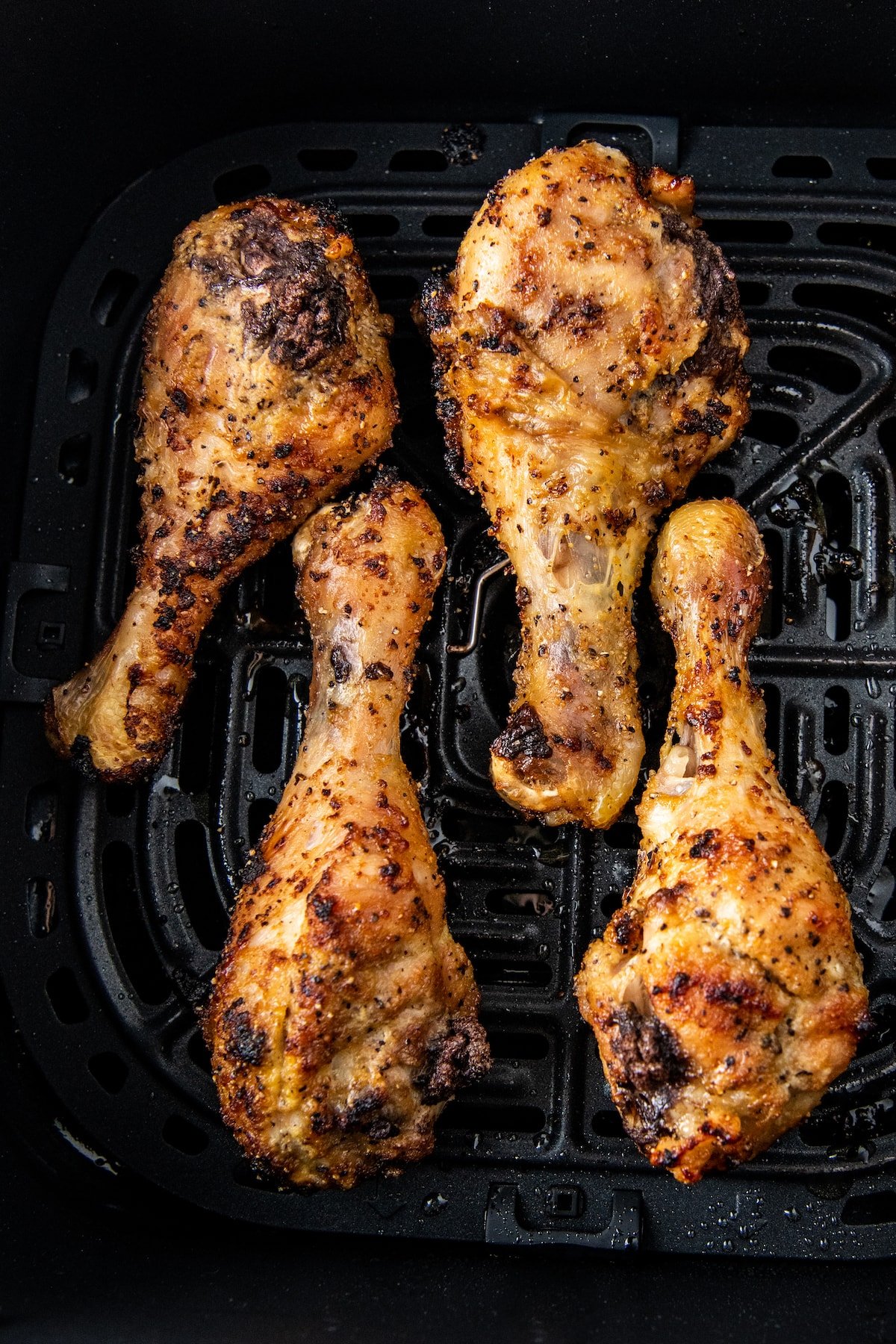 Tips and Variation Ideas
Here are a few things to keep in mind when making this recipe!
Add a little heat. You can add some cayenne pepper to the bag when marinading for an extra kick.
Squeeze fresh lemon juice over the cooked chicken. This adds a great burst of lemon flavor to the dish.
Don't overcrowd the air fryer basket. This is an important tip whenever you're using the air fryer. You want everything to be spaced out so that it cooks and crisps up evenly.
Use chicken thighs or breasts. You can also use skin-on chicken thighs or breasts for this recipe.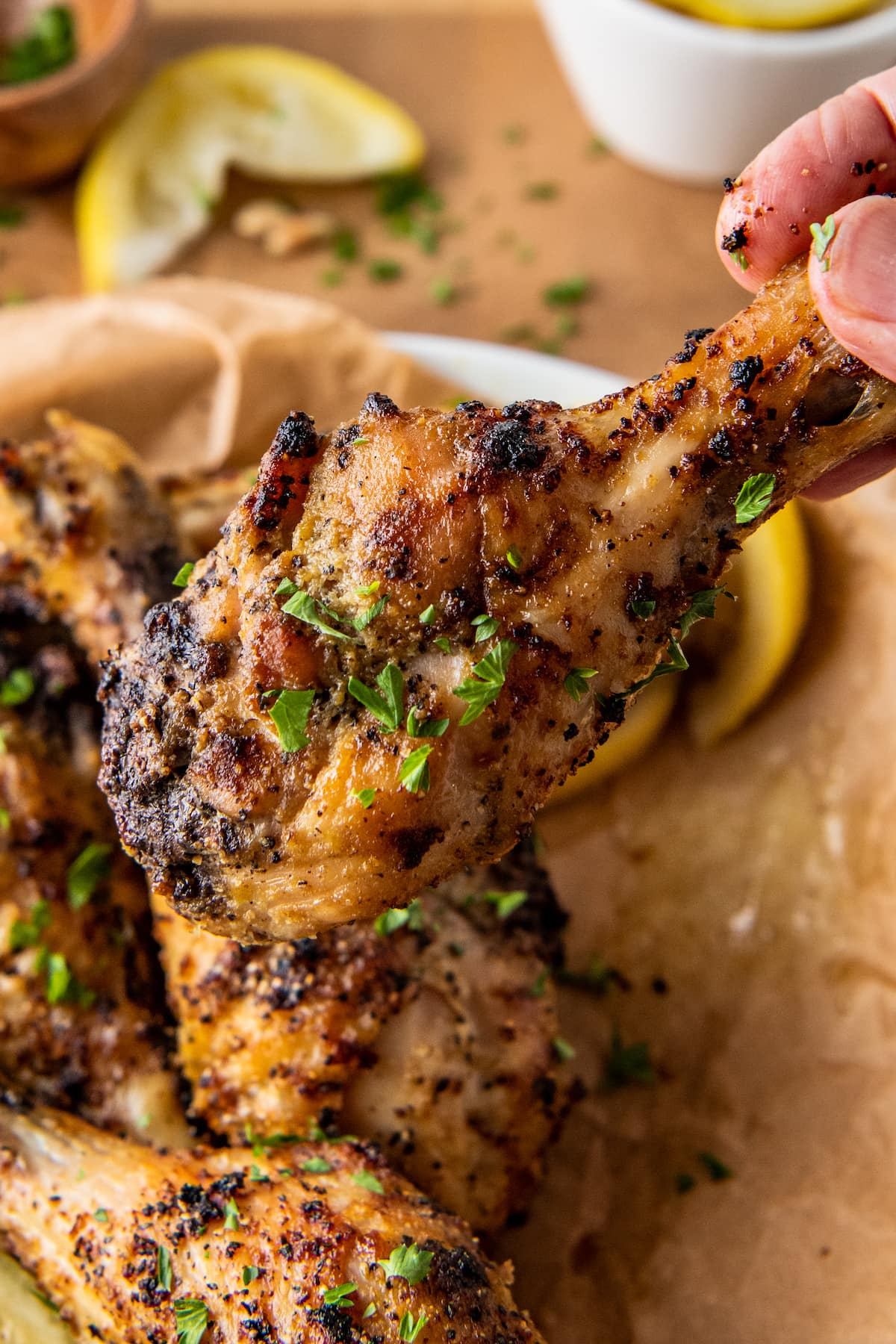 What Goes With Lemon Pepper Chicken?
Here are some of our favorite ways to serve this chicken.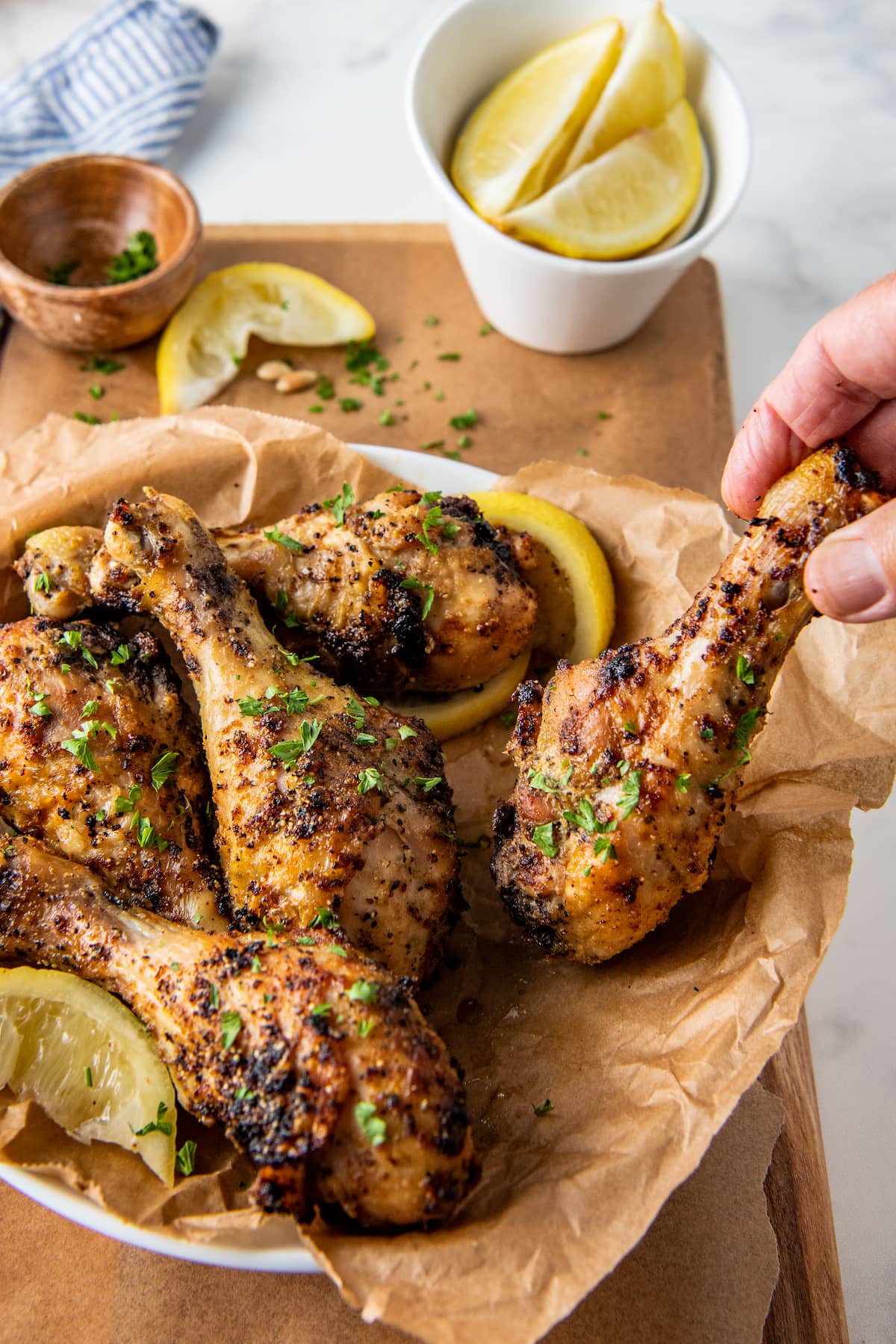 How to Store and Reheat Leftovers
Leftovers should be stored in an air-tight container in the fridge. They will stay fresh for up to 5 days.
Then simply reheat in the air fryer again when you're ready to eat the leftovers. You should only need 5-8 minutes to reheat the chicken.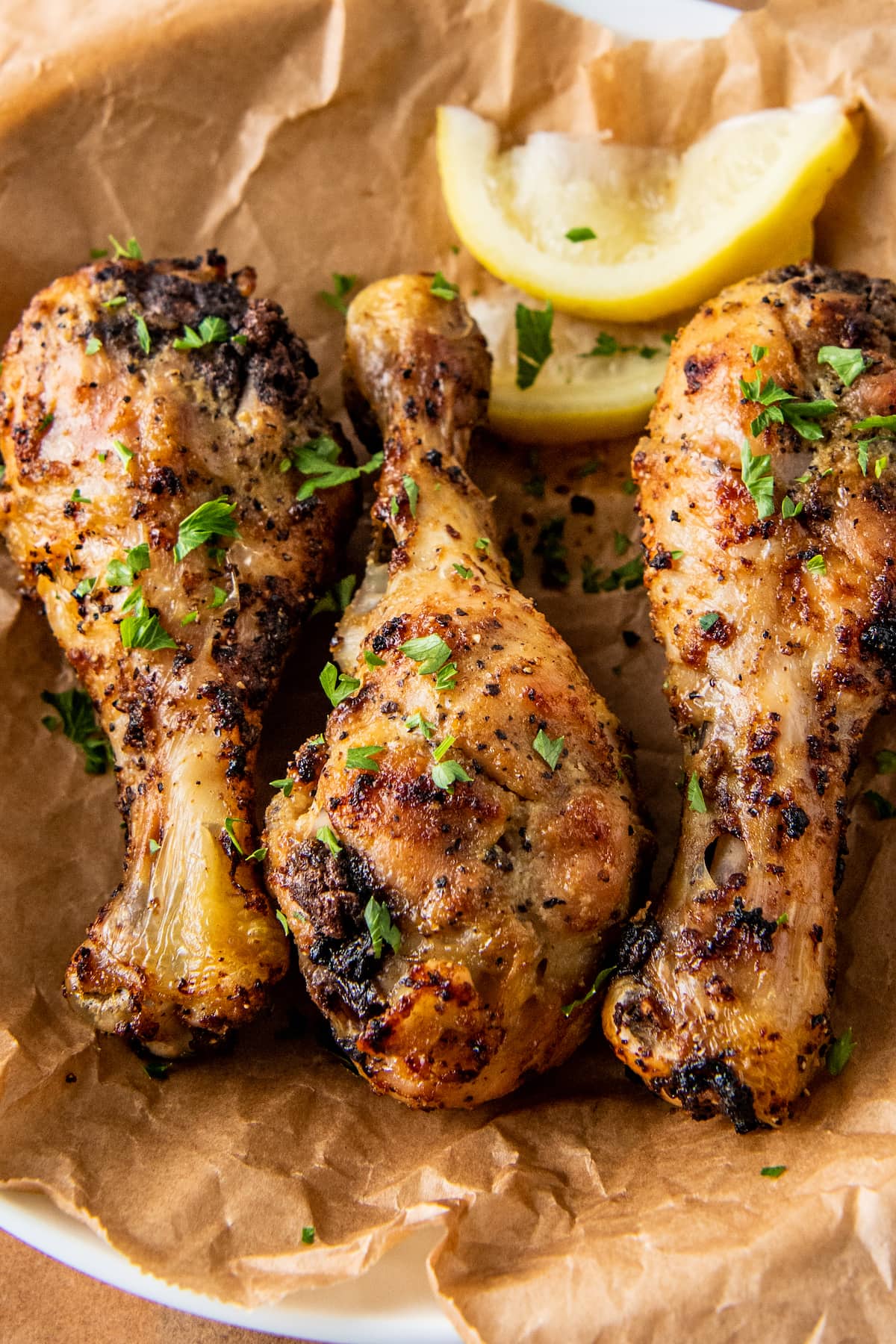 Can I Freeze This Recipe?
You can freeze leftover chicken drumsticks. It's best to wrap them in plastic so that they stay completely sealed. Then place the wrapped chicken drumsticks in an airtight container.
The chicken can be stored in the freezer for up to 3 months. We suggest thawing the chicken first before reheating.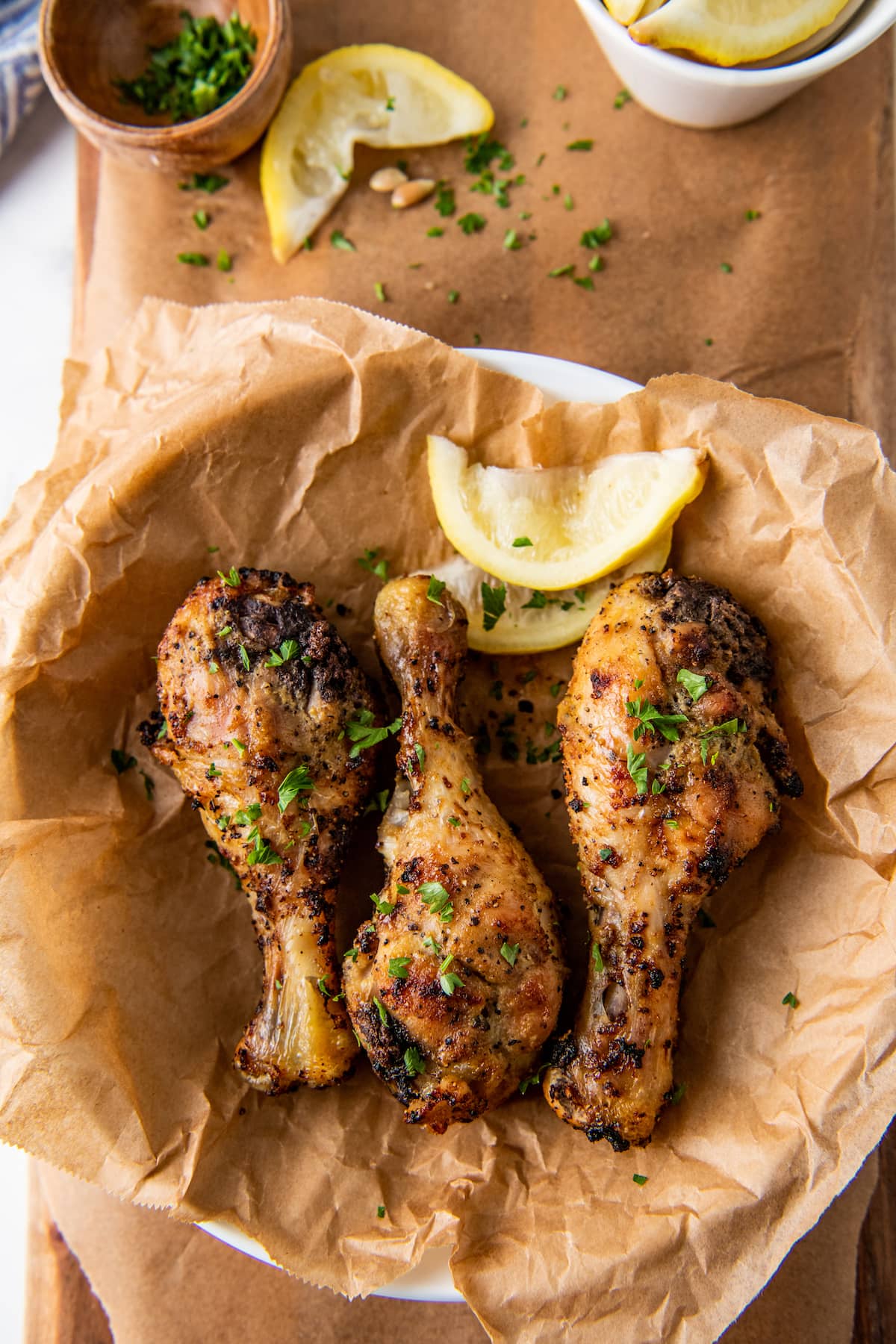 Yield: 4 servings
Lemon Pepper Air Fryer Chicken Drumsticks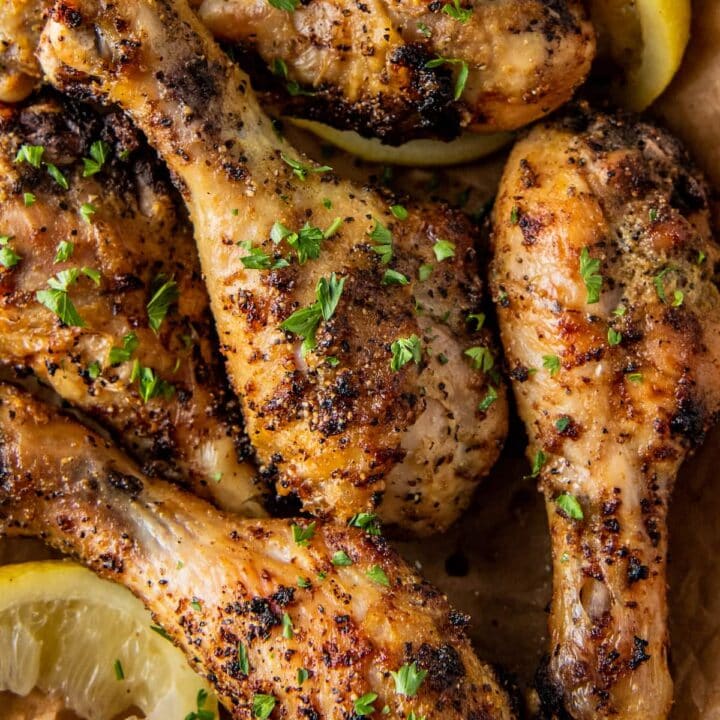 These easy Air Fryer Lemon Pepper Chicken Legs are ready in under 30 minutes and you only need 5 ingredients!
Ingredients
4-6 chicken legs
2 tablespoons olive oil
1 teaspoon garlic powder
1 tablespoon lemon pepper
1 teaspoon salt
Parsley, optional garnish
Lemon wedges, optional garnish
Instructions
Preheat air fryer to 400°F.
Place drumsticks in a gallon size ziplock bag. Pour the olive oil and seasonings into the bag. Zip shut and shake until the drumsticks are covered.
Place drumsticks in the air fryer basket and cook on 400°F for 10 minutes. Flip drumsticks and cook for 10 more minutes, or until cooked through.
Serve immediately.
Notes
Storage:
Leftovers should be stored in an air-tight container in the fridge. They will stay fresh for up to 5 days.
Nutrition Information:
Yield:
4
Serving Size:
1
Amount Per Serving:
Calories:

784
Total Fat:

42g
Saturated Fat:

10g
Trans Fat:

0g
Unsaturated Fat:

27g
Cholesterol:

491mg
Sodium:

1583mg
Carbohydrates:

3g
Fiber:

1g
Sugar:

1g
Protein:

94g
Filed Under:
More Easy Chicken Dinner Ideas