This Mashed Sweet Potatoes recipe is a crowd-pleaser. It's so simple to make (you only need 3 ingredients!). Plus, you have the option to serve this buttery, rich, and savory version or make it sweeter with maple syrup or brown sugar.
The Best Mashed Sweet Potatoes
Our family loves these Sweet Mashed Potatoes. This dish is always a hit and there are never any leftovers. This is likely because we usually amp up the sweetness when we make it for the kids…but, that's ok! That's the beauty of this recipe. You can customize it however you'd like.
Sweet potatoes have a natural sweetness on their own. They are very similar to yams, acorn squash, and butternut squash. They're bright orange, really good for you, and extremely delicious! Sometimes, all you need is a sprinkle of salt to serve them.
However, we're going to take it to the next level with this recipe. We're going to use the ingredients that you love and adore in classic Mashed Potatoes but instead, use sweet potatoes, not white potatoes. You're going to have the same rich creaminess but a slightly different flavor profile.
Looking for more great Sweet Potato recipes? Try some of these reader favorites: Sweet Potato Soufflé, Twice Baked Sweet Potatoes, and Candied Sweet Potatoes with Pecans.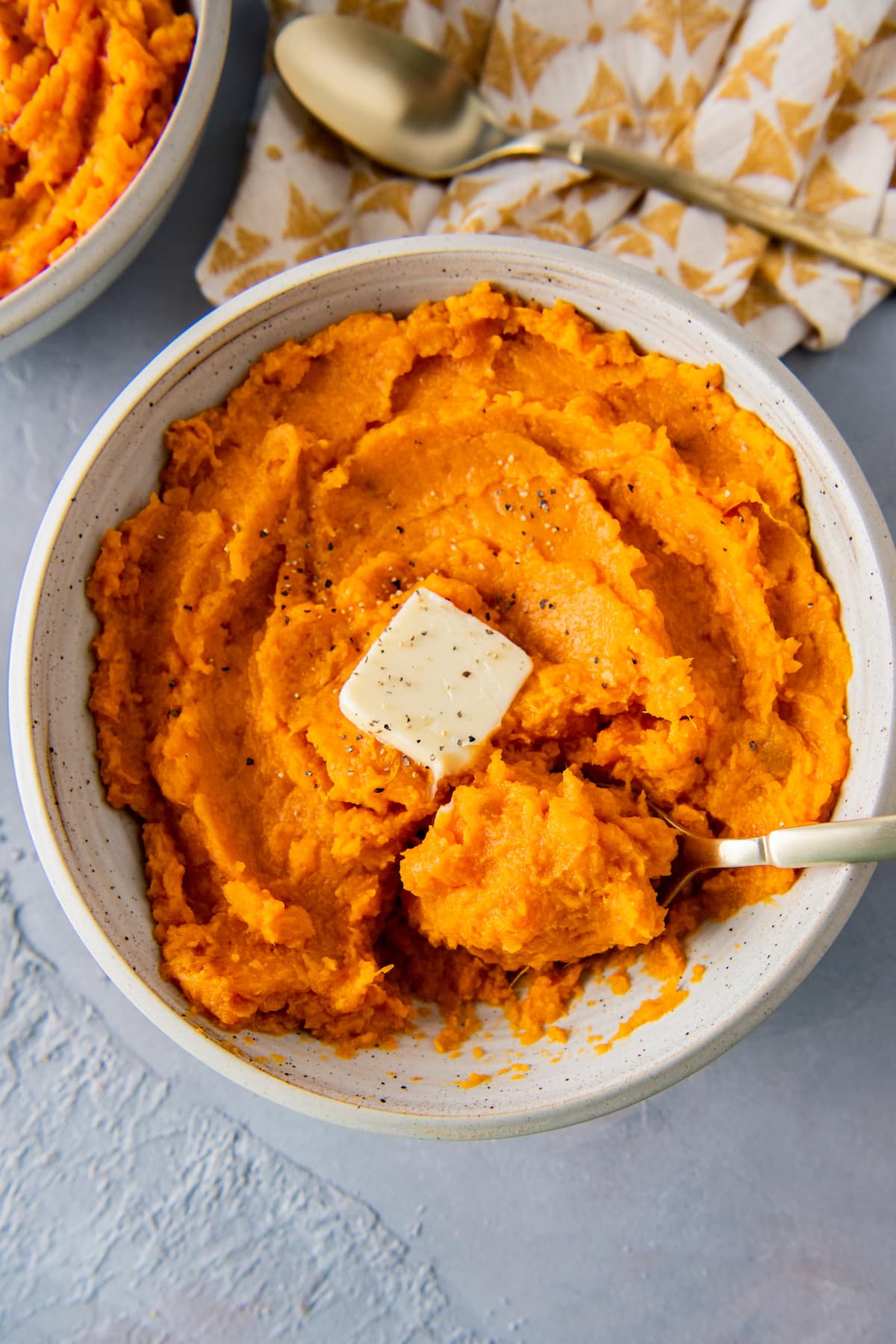 Why You'll Love this Recipe
There are plenty of reasons to love this recipe. It's one of the most popular holiday dishes for good reasons!
Everyone will love them. There is just something about sweet and buttery sweet potatoes that people just go crazy over. We have yet to be at a holiday dinner where someone doesn't ask for sweet potatoes.
You only need 3 ingredients. Sweet potatoes, cream, and butter. That's it! Salt and pepper are used for seasoning, but most people always have those close by in the kitchen anyways.
Make the sweet potatoes however you'd like. There are no rules here. If you want to use Boiled Sweet Potatoes, go ahead! That's what we did! You can also roast (make sure you peel them!) or steam them.
Make them ahead of time. You can easily freeze this recipe a few days (or weeks) before serving.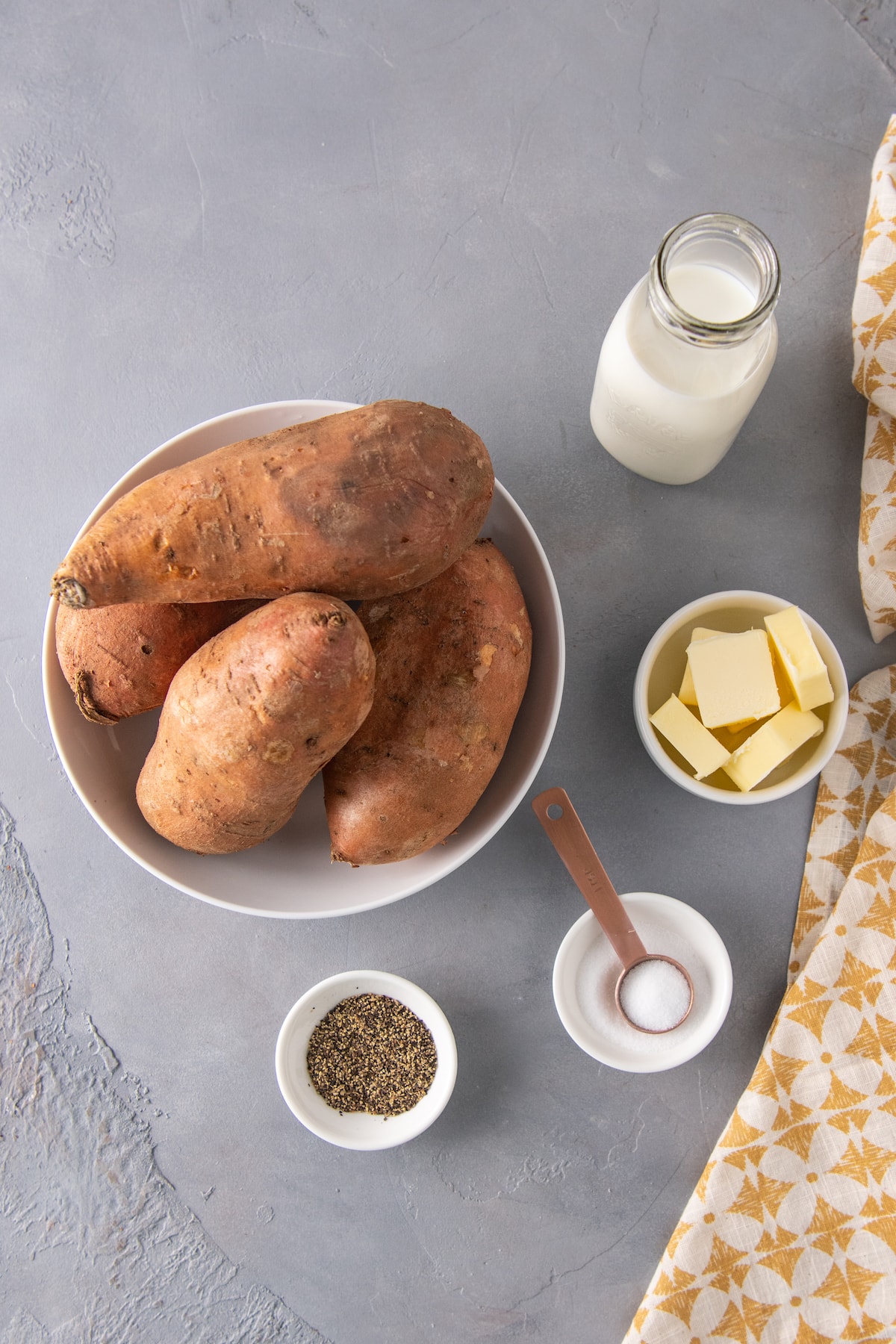 What You'll Need
We said the ingredient list is simple and small – and we mean it! You really only need to buy three ingredients and the rest you should have in your kitchen already.
Sweet Potatoes: You can cook them however you'd like. We suggest boiling them using our Boiled Sweet Potato recipe.
Salted Butter: Using salted butter may eliminate the need to use salt in this recipe (depending on your taste preference). Of course, you can use unsalted butter and just add more regular salt.
Whole Milk: You can also use heavy cream. The best dairy-free recommendation would be full-fat coconut milk. You can use other milk or creams (like low-fat or almond milk), too, but they may not have the same creaminess.
Salt and Pepper
Maple Syrup or Brown Sugar: You only need these ingredients if you want to sweeten up the recipe. You could also use maple sugar or coconut sugar.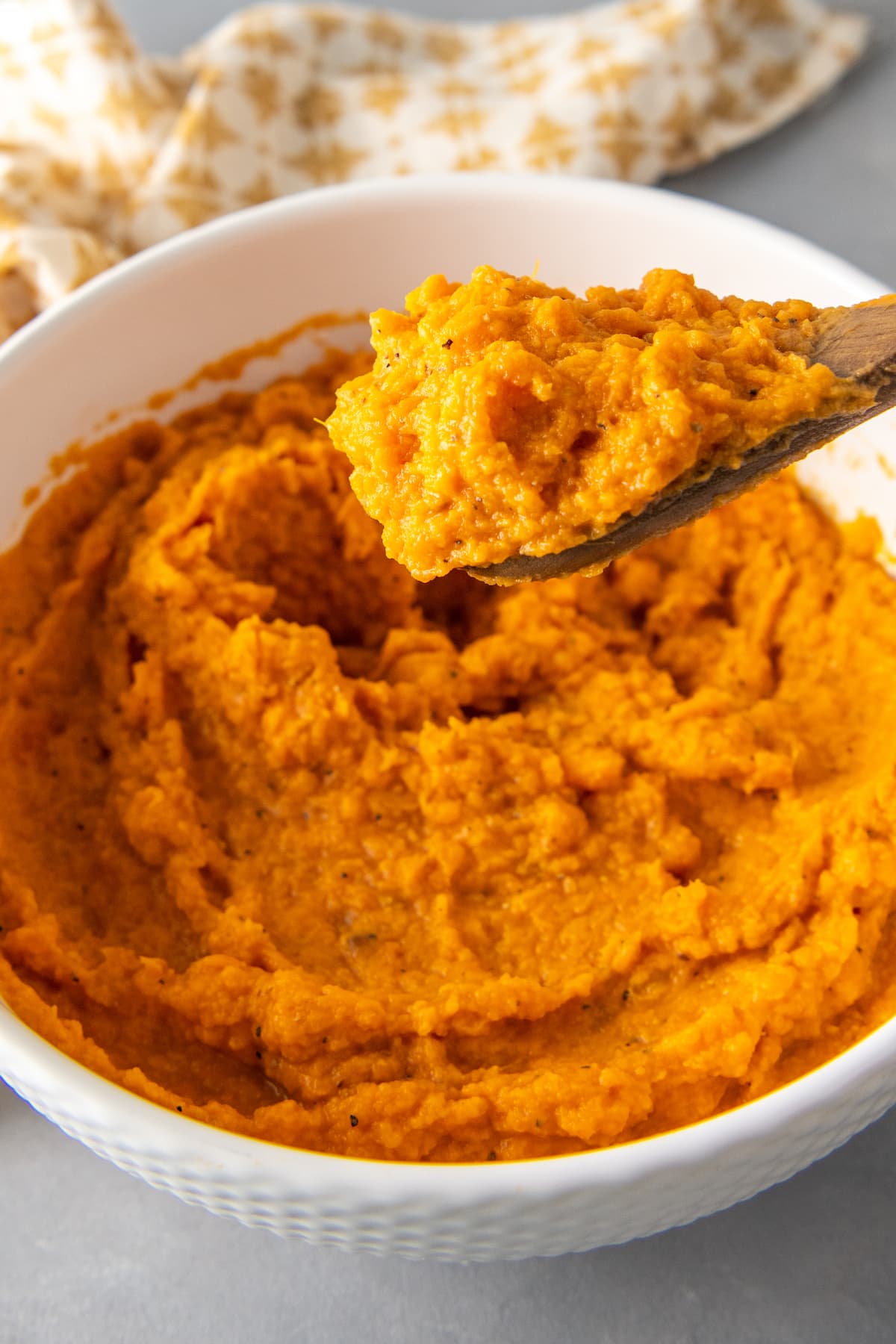 How to Make Mashed Sweet Potatoes
Here's how to make this super simple recipe! Keep it close by for the holiday season!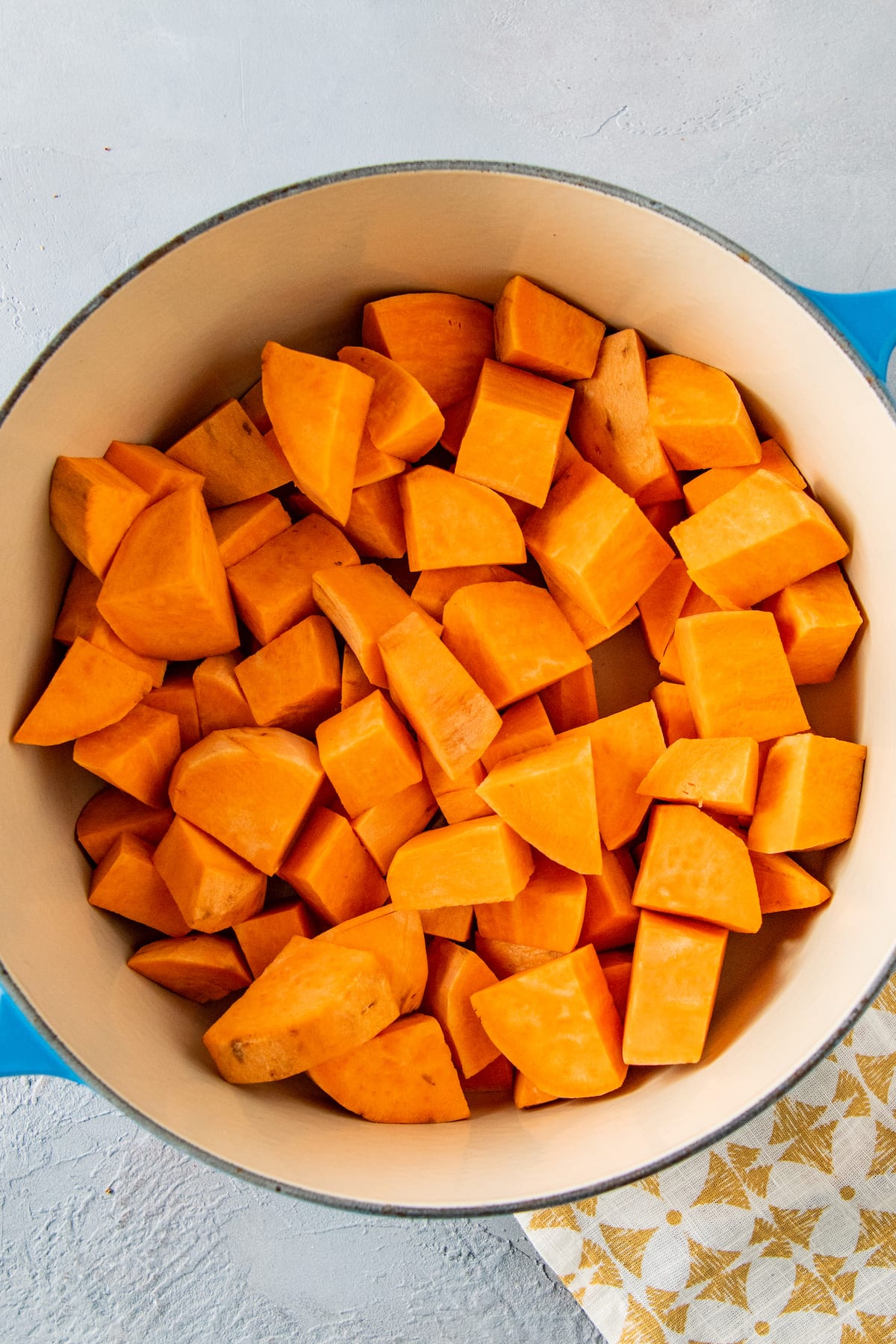 First, prepare the sweet potatoes. Our preferred method is boiling them. But you can also bake them, steam them, or cook the sweet potatoes in an Instant Pot.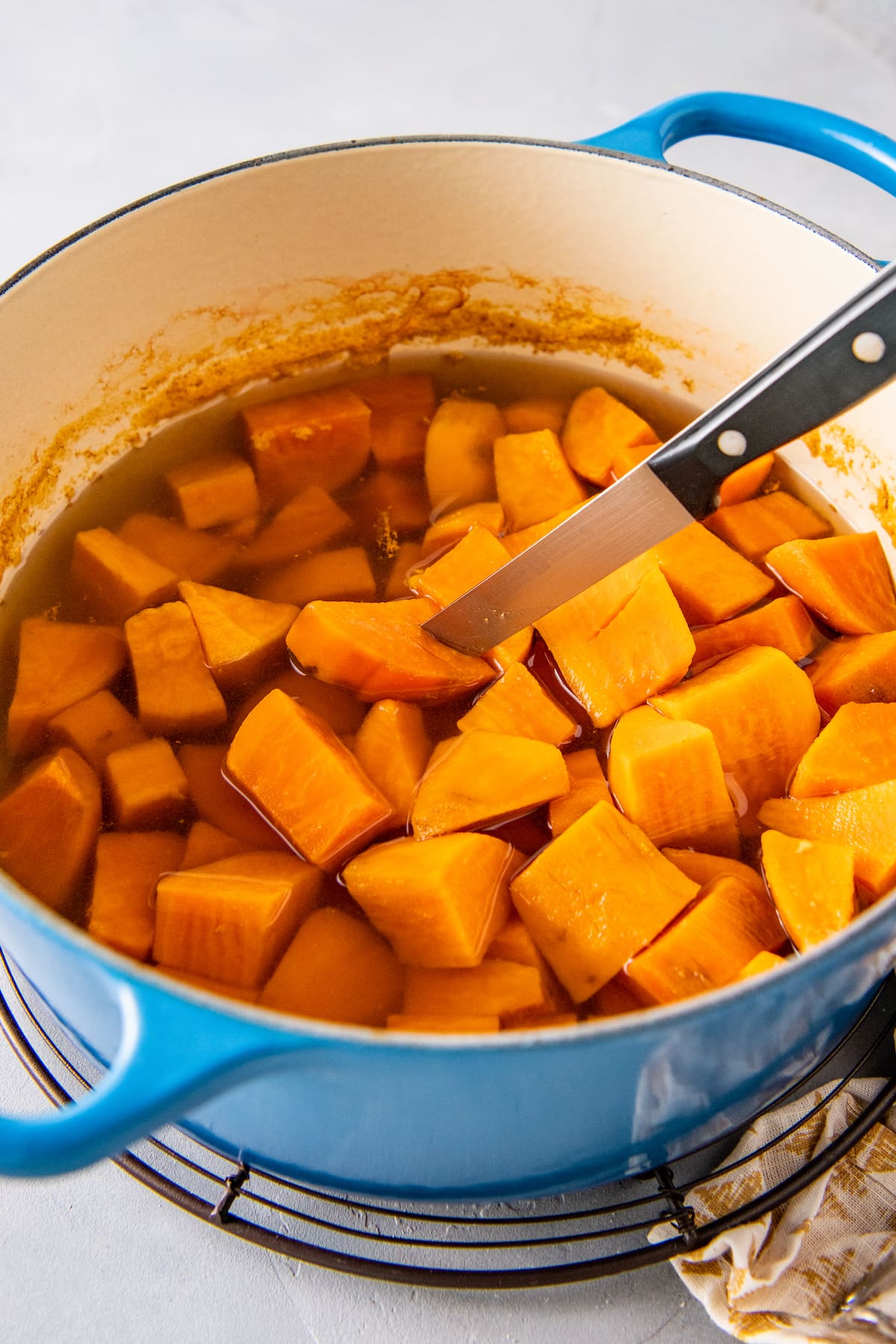 Cook the sweet potatoes until they are tender. You can tell if you can easily poke them with a fork.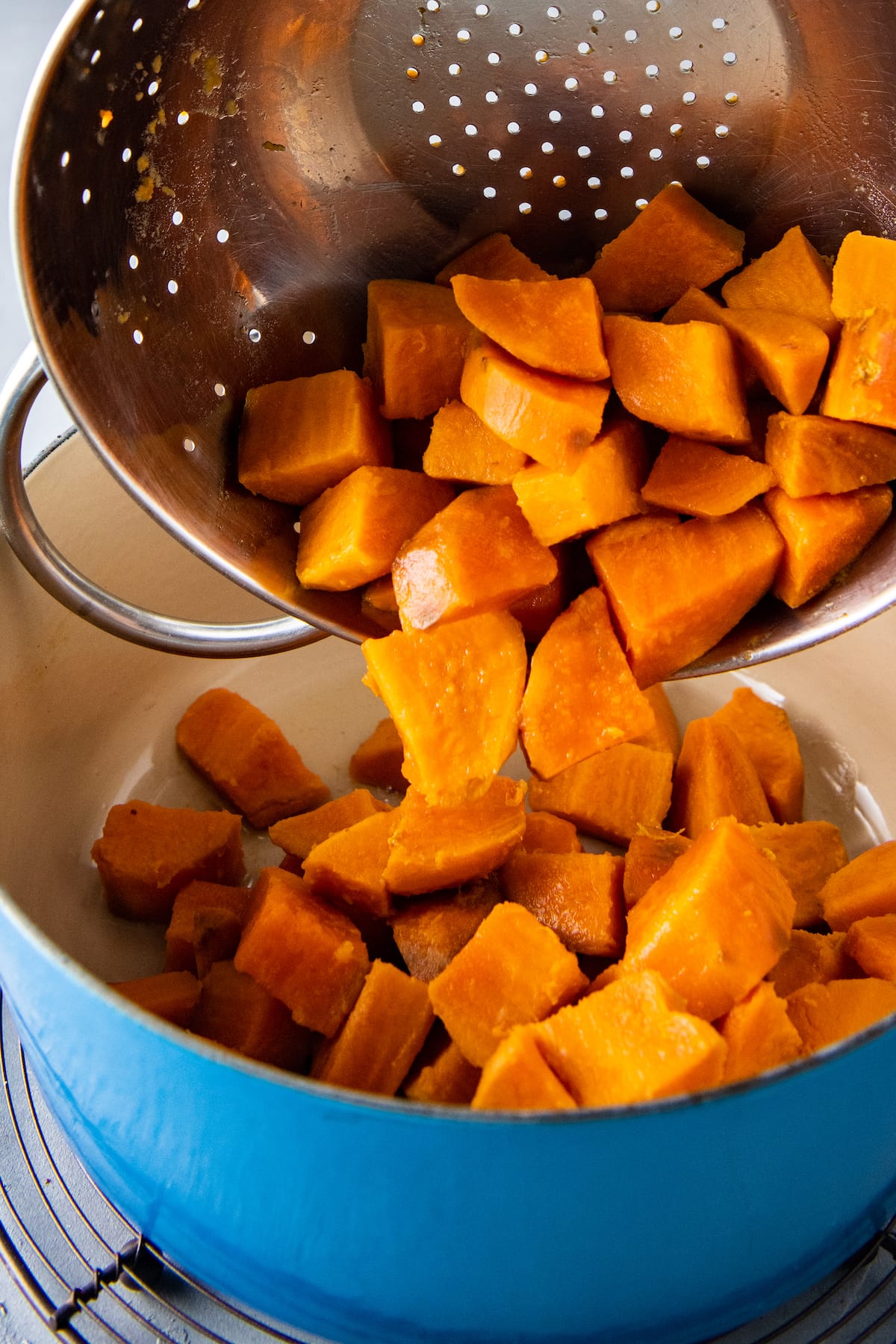 If boiling, make sure that you strain the potatoes well. You don't want any extra water getting into the potatoes.
Add the potatoes to a large pot. Make sure that they are still warm!
Mash them with a potato masher. Do this until all of the large chunks are gone. If you want your potatoes extra smooth, you can use an immersion blender or hand mixer to whip your sweet potatoes.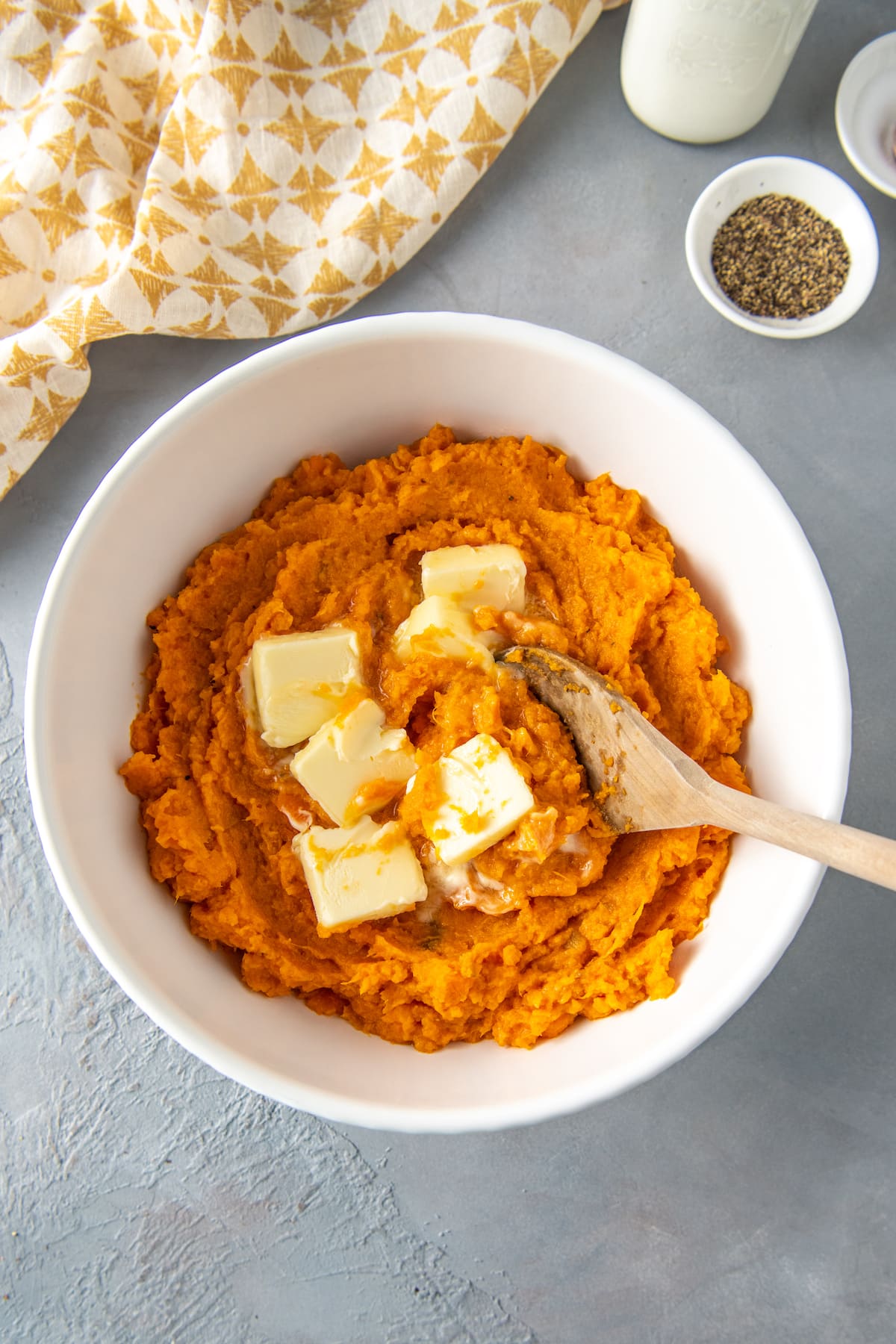 Add the butter and then the cream. Stir both in very well with a spatula or spoon. This is where they get extra creamy!
Season with salt and pepper. And sweeten them here if you'd like with brown sugar, maple syrup, etc!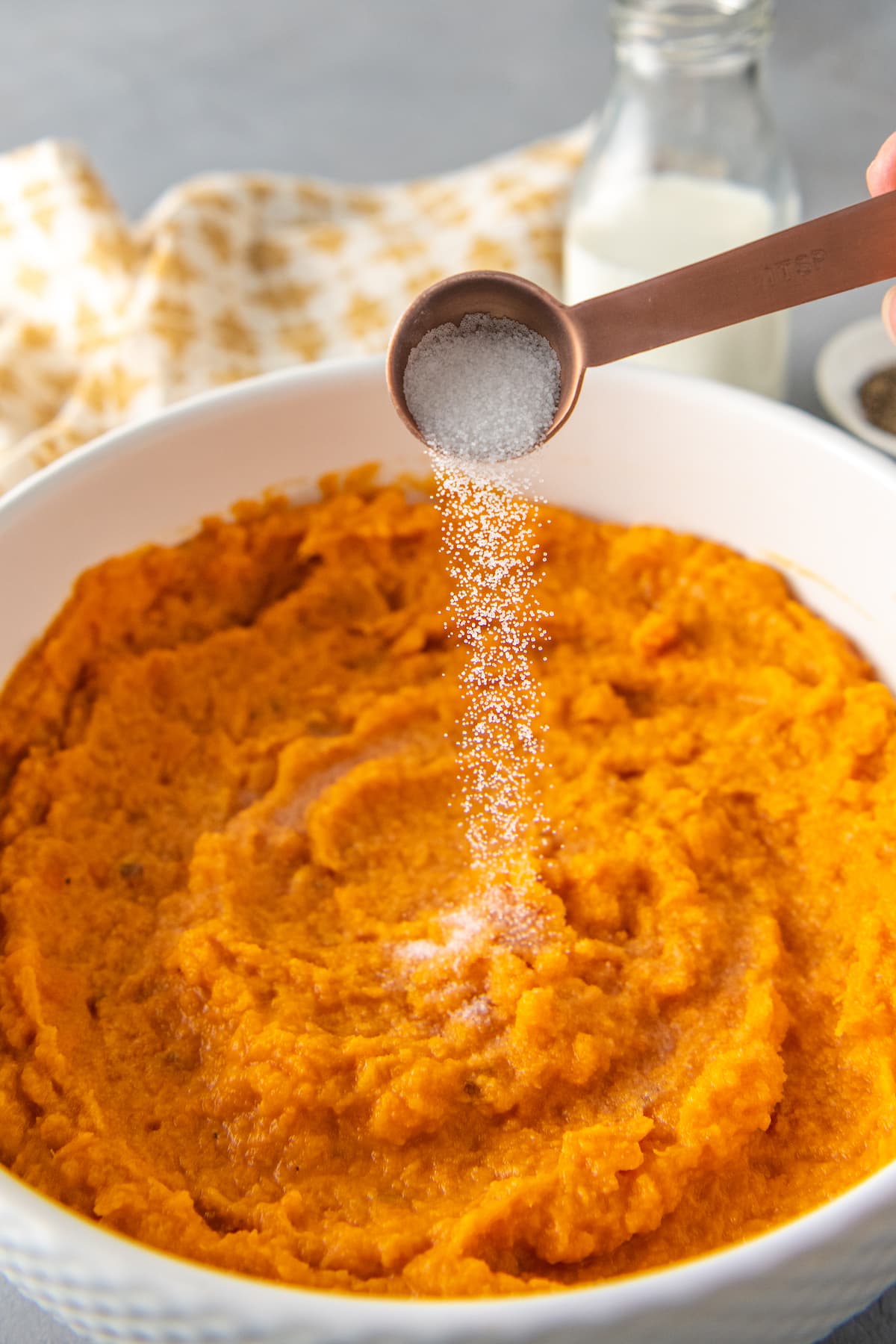 Tips for Success
This recipe will be a simple one to pull off around the holidays or for an easy weeknight meal. Here are some tips to help you along the way.
Use warm potatoes. Make sure that you use warm potatoes when you begin this recipe. We would suggest reheating in the microwave if you made them ahead of time.
Add a fun garnish. Sprinkle some fresh sliced chives and crumbled bacon on top for added flavor!
Add some spice. Or you can add spices, like cinnamon or nutmeg for some fall spiced mashed sweet potatoes. Pumpkin Pie Spice is also delicious in mashed sweet potatoes.
Use the best cream. Use whole milk or heavy cream or evaporated milk for the richest taste.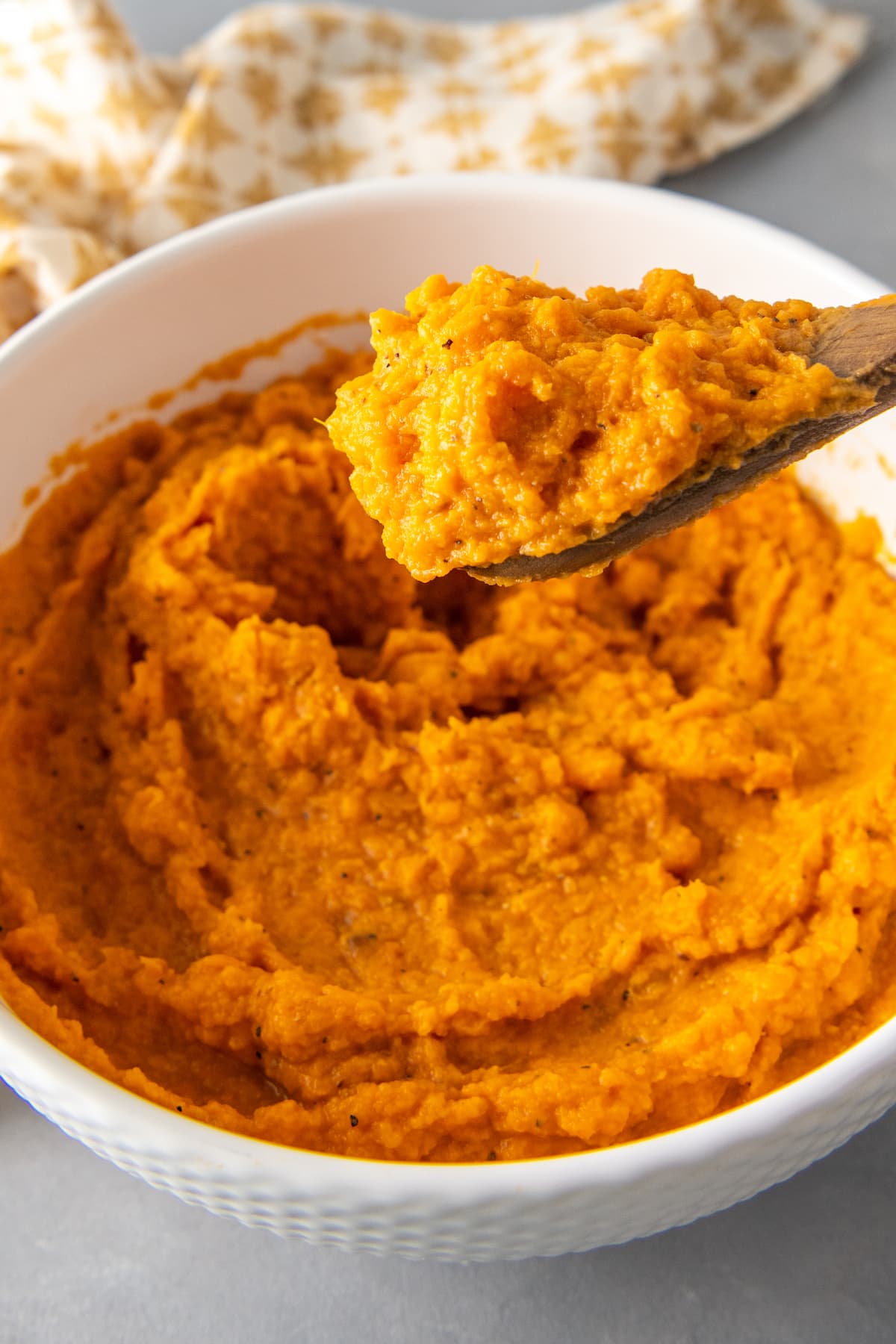 Are Mashed Sweet Potatoes Healthier Than Regular Mashed Potatoes?
This is a hard question! So, our quick answer is yes. But you need to remember this particular recipe has butter and whole milk – which makes it extra delicious, but not exactly the healthiest recipe! But if you boil it down, sweet potatoes have the edge over white potatoes when it come to nutrition.
Sweet potatoes have an extremely high about of Vitamin A. Plus, they have a lower calorie content than white potatoes. Both white and sweet potatoes are incredibly nutritious, but sweet potatoes are slightly healthier.
We feel that sometimes (especially around the holidays) it's ok to eat sides like this with ingredients that may be higher in fat. But you may want to cut back on the cream and butter if you're watching your weight and calorie consumption.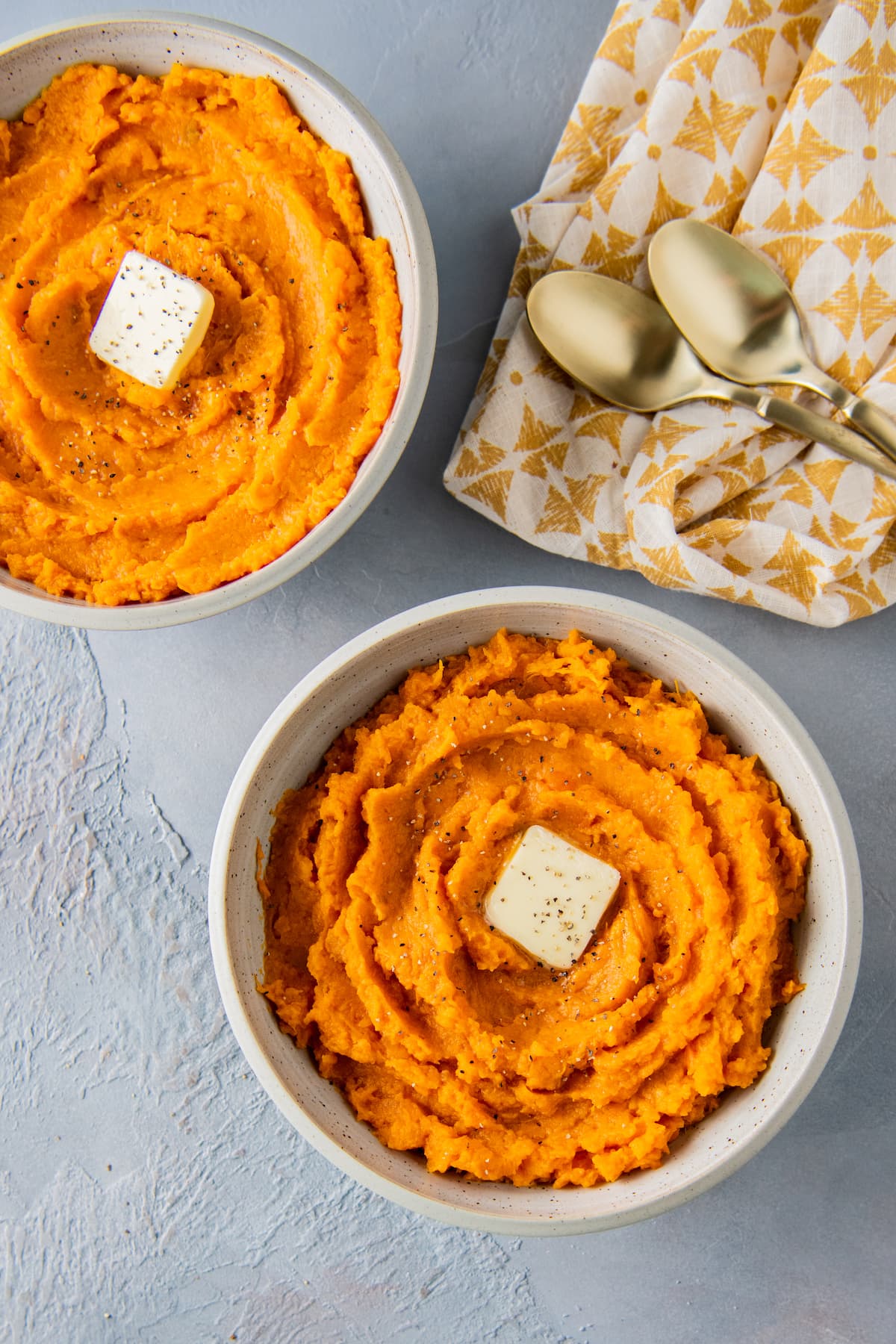 Serving Suggestions
Thanksgiving, Christmas, you name it – we love to serve these sweet potatoes! Here are some great ideas for when you make this recipe.
Add some green. We love to serve these sweet potatoes alongside a green vegetable to balance out the texture and creaminess. Something fresh and tender like Air Fryer Brussels Sprouts is a great idea!
Don't forget the turkey. This Crockpot Turkey Breast is a great way to have a holiday meal anytime of year.
Roasted Chicken. Whether it's a whole Roasted Citrus Chicken or some Easy Baked Chicken Legs, chicken and sweet potatoes are always perfect together.
Keep it simple. You can simply serve it with an extra pad of butter. Sometimes, we like to drizzle a little bit of honey over the pad of butter and a sprinkle of sea salt. Delicious!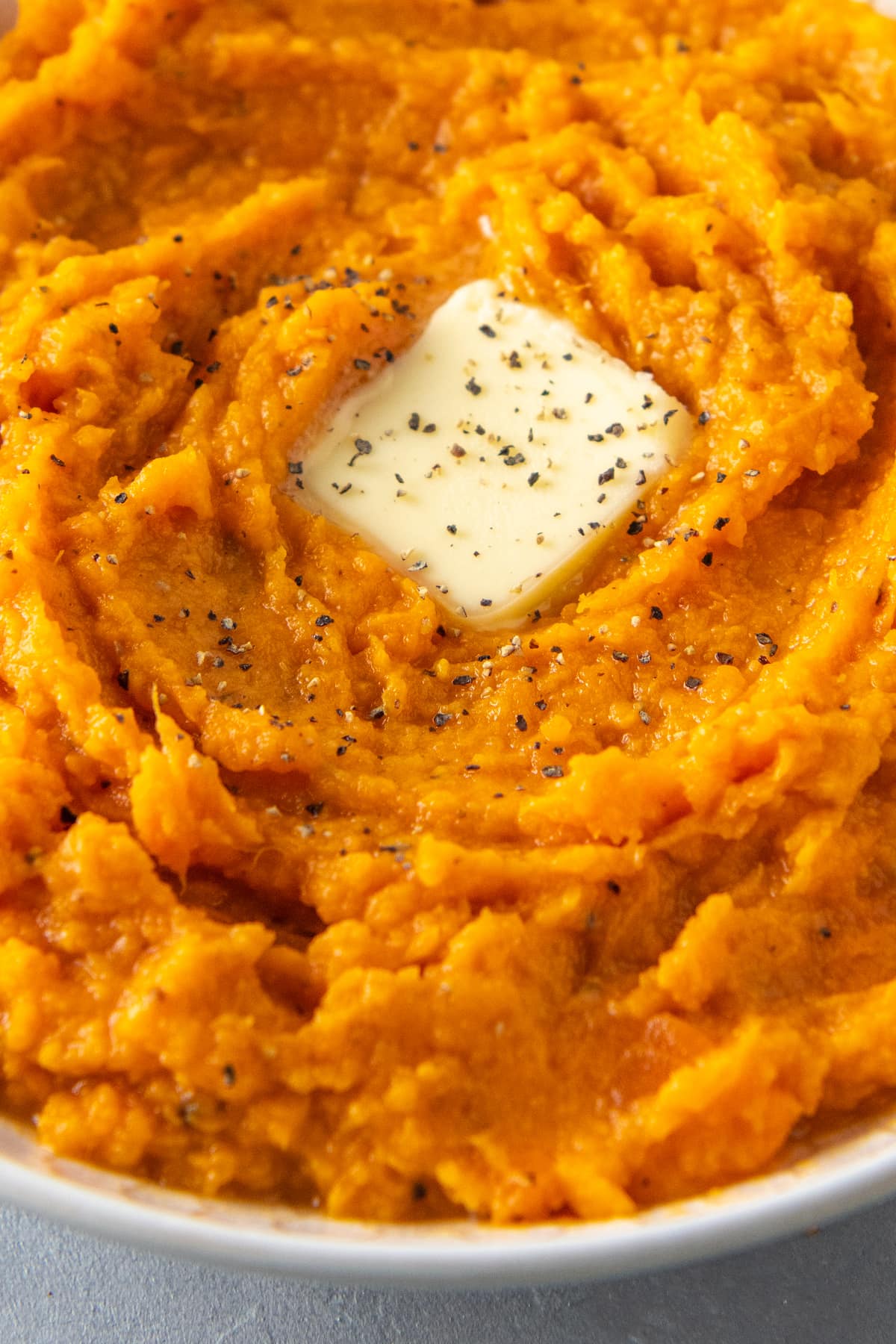 How to Store and Reheat Leftovers
If you're making the dish ahead of time, you can put the sweet potatoes right into a casserole dish so that they are easy to reheat. We suggest leaving it at room temperature for at least 30 minutes first. Then, reheat in a 350°F oven for about 20-30 minutes or until they are warm.
To store and reheat leftovers, simply keep them in an air-tight container in the fridge for up to 5 days. Then, you can reheat right in the microwave to keep it simple!
Can I Freeze Extras?
Yes! You can freeze these mashed sweet potatoes. It's really simple.
Sometimes, we'll use gallon size freeze bags so that they don't take up too much space in the freezer. You can also just freeze in a regular container.
We recommend that you thaw them overnight in the fridge prior to reheating.
Mashed Sweet Potatoes
These simple Mashed Sweet Potatoes only have 3 ingredients! This is a savory recipe, but you can easily make it sweet by adding maple syrup or brown sugar.
Ingredients
3

pounds

boiled sweet potatoes

,

hot

5

tablespoons

salted butter

¼

cup

whole milk or heavy cream

Salt and pepper

,

to taste

2

tablespoons

maple syrup or brown sugar

,

optional
Instructions
In a medium size bowl, using a potato masher or hand mixer, mash the sweet potatoes. You can mash them till lumpy or smooth, whichever you prefer!

Add butter and continue to mash/stir the potatoes until butter has melted and everything is well combined.

Pour in the milk into the potatoes and blend. Season with salt and pepper, to taste.

If you want sweeter mashed sweet potatoes, stir in maple syrup or brown sugar. Serve warm.
Notes
Storage:
Store leftovers in an airtight container in the fridge for up to 5 days.
Freeze leftovers in an airtight container for up to 3 months.
Make Ahead:
If you're making the dish ahead of time, you can put the sweet potatoes right into a casserole dish so that they are easy to reheat. We suggest leaving it at room temperature for at least 30 minutes first. Then, reheat in a 350°F oven for about 20-30 minutes or until they are warm.
Nutrition
Serving:
1
,
Calories:
248
kcal
,
Carbohydrates:
39
g
,
Protein:
4
g
,
Fat:
9
g
,
Saturated Fat:
6
g
,
Polyunsaturated Fat:
3
g
,
Cholesterol:
24
mg
,
Sodium:
160
mg
,
Fiber:
6
g
,
Sugar:
15
g
More Thanksgiving Sides to Try