This KFC Bowl Casserole has it all. What's better than fried chicken, corn, mashed potatoes, cheese, and homemade brown gravy? If you've had a chicken bowl from KFC, you know this flavor combination is amazing. And now you can recreate it at home in a few simple steps.
Homemade KFC Bowl Casserole
Have you ever wanted all the cozy flavor of a KFC bowl, but you were too comfy to want to leave the house? Well, friends, we have the recipe for you. This easy KFC bowl casserole lets you recreate your favorite KFC comfort food right in your own kitchen.
We can already envision ourselves scooping out a generous portion of this KFC Bowl Casserole and snuggling up on the couch…devouring it without any guilt and being SO happy about it! This casserole hits all the right spots when it comes to homestyle comfort food. It will warm you from the inside out!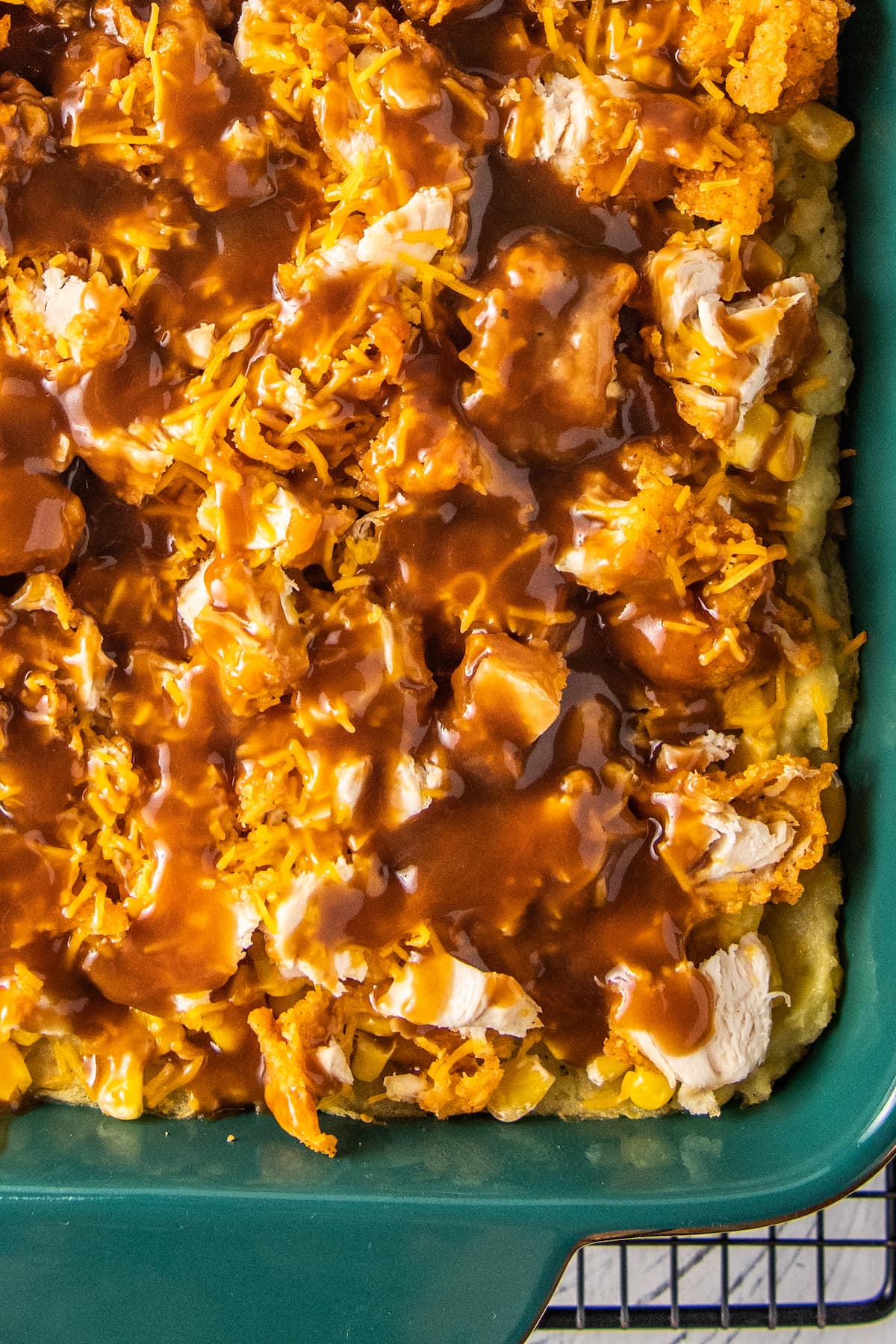 What is a KFC Bowl?
You might be wondering what a KFC Bowl is. If you don't have a KFC nearby, it's one of the menu items that has all of the best ingredients combined into one big bowl. It's often called KFC's Famous Bowl and for good reason!
The bowls have all of the ingredients that we have in our casserole. There's their classic crispy fried chicken that's added to a bowl with buttery mashed potatoes, corn, cheddar cheese, and brown gravy. If you haven't had one, trust us when we say it's VERY delicious!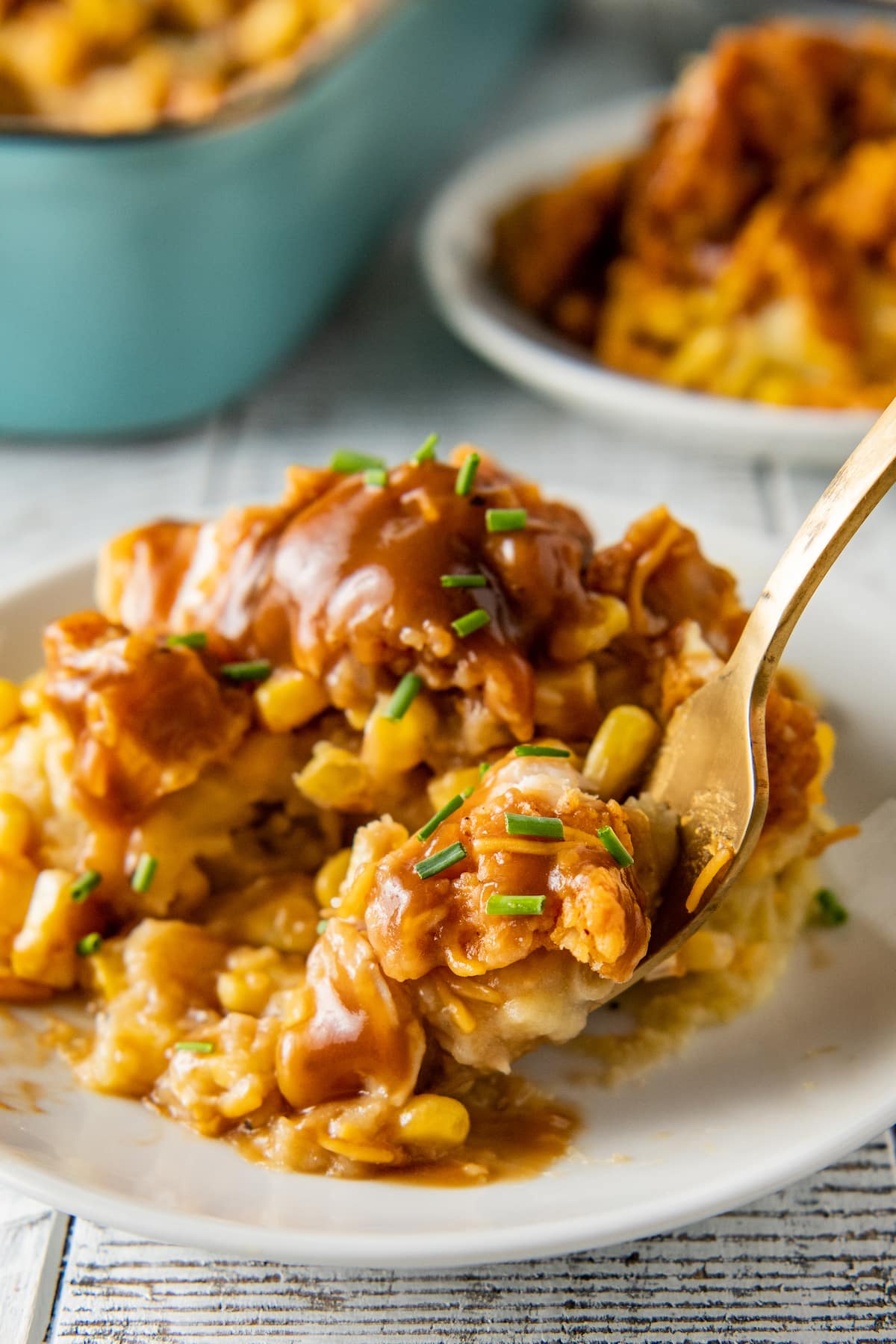 Why We Love This Easy Recipe
You're going to love this recipe just as much as we do. Here's why:
The ingredients are simple. Really, really simple! You can make them yourself, use up leftovers, or buy them pre-made at the store.
Flexible. The ingredients are flexible too. For example, you can use fried chicken, chicken tenders or chicken nuggets. Whatever you prefer. (More on this below under What You'll Need.)
You can make this casserole in under an hour. It comes together so quickly. It's just a matter of getting everything in the pan. And then you simply warm it up in the oven for about 30 minute total.
It makes great leftovers. Don't even get us started on the leftovers. We love heating up an extra scoop for lunch the next day!
Only one dirty dish. You only need one casserole dish to make this recipe.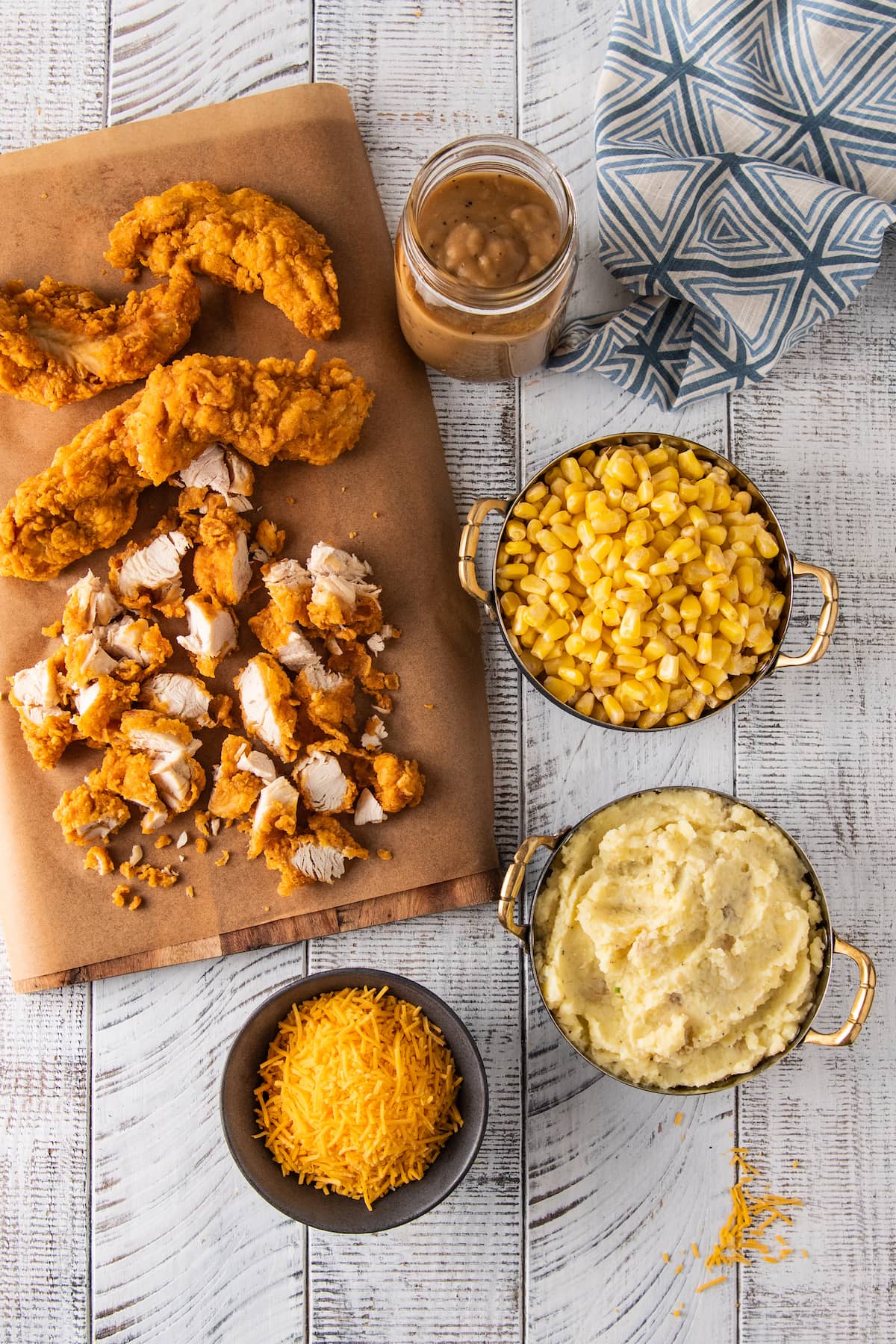 What You'll Need
The ingredient list is so simple. Here's what you'll need to make this chicken casserole.
Fried Chicken: Use chicken tenders, chicken nuggets , popcorn chicken or any kind of chicken you like! This is a great way to use up any leftover chicken and make it into a whole new dinner.
Mashed Potatoes: Use up some leftovers or make a new batch of the Best Mashed Potatoes. You could also use Mashed Sweet Potatoes for something different.
Corn: You could also use fresh corn if you cut it off the cob. But using frozen corn is faster.
Shredded Cheddar Cheese: Add more cheese if you like it extra cheesy.
Brown Gravy: We highly recommend our Homemade Brown Gravy recipe. It's really easy to make and so rich and flavorful.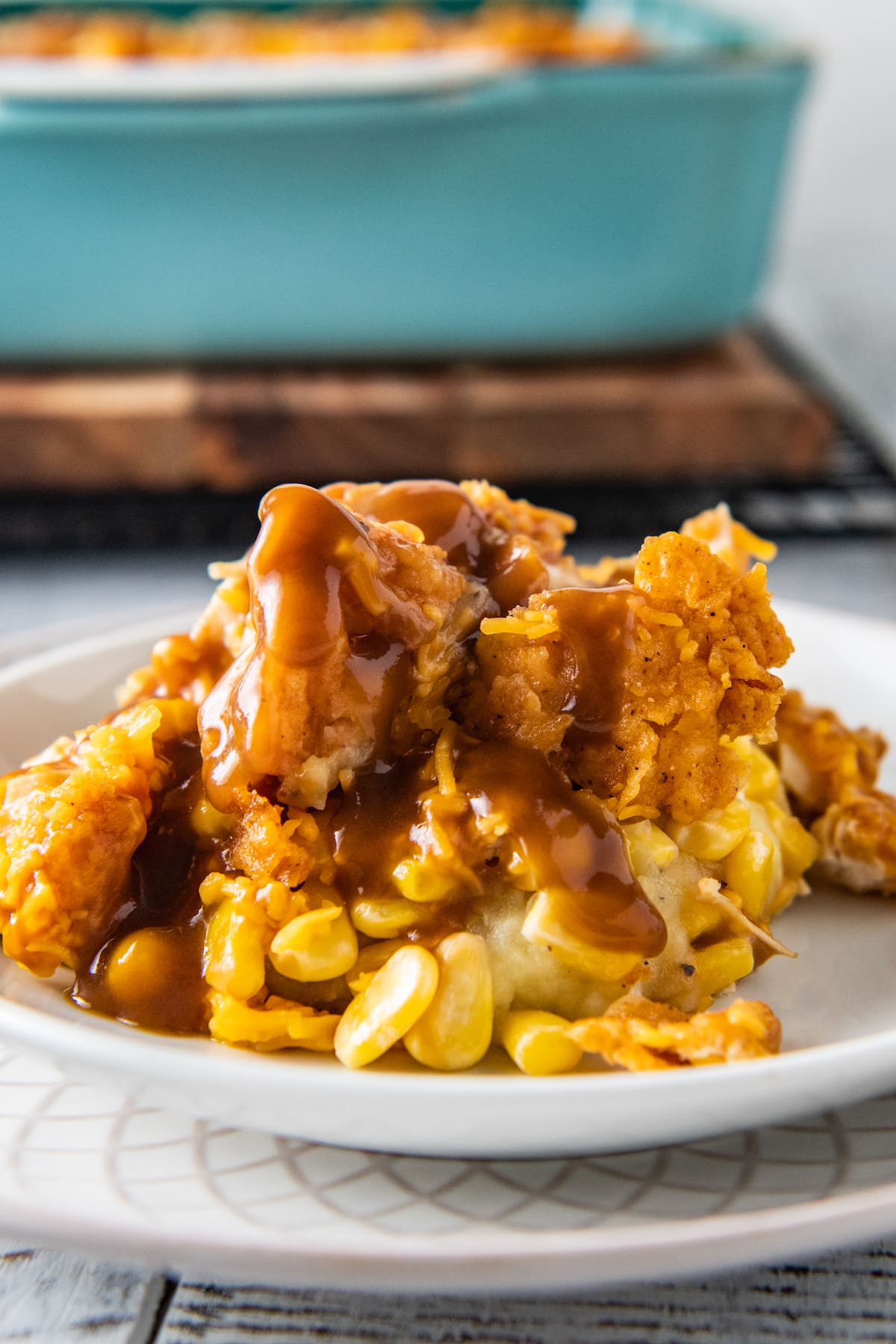 How to Make a KFC Bowl Casserole
This recipe is incredibly simple. There's just a few simple steps:
Start with the basic prep. Preheat your oven and spray a casserole dish with non-stick spray. You don't want your potatoes sticking to the bottom of the pan.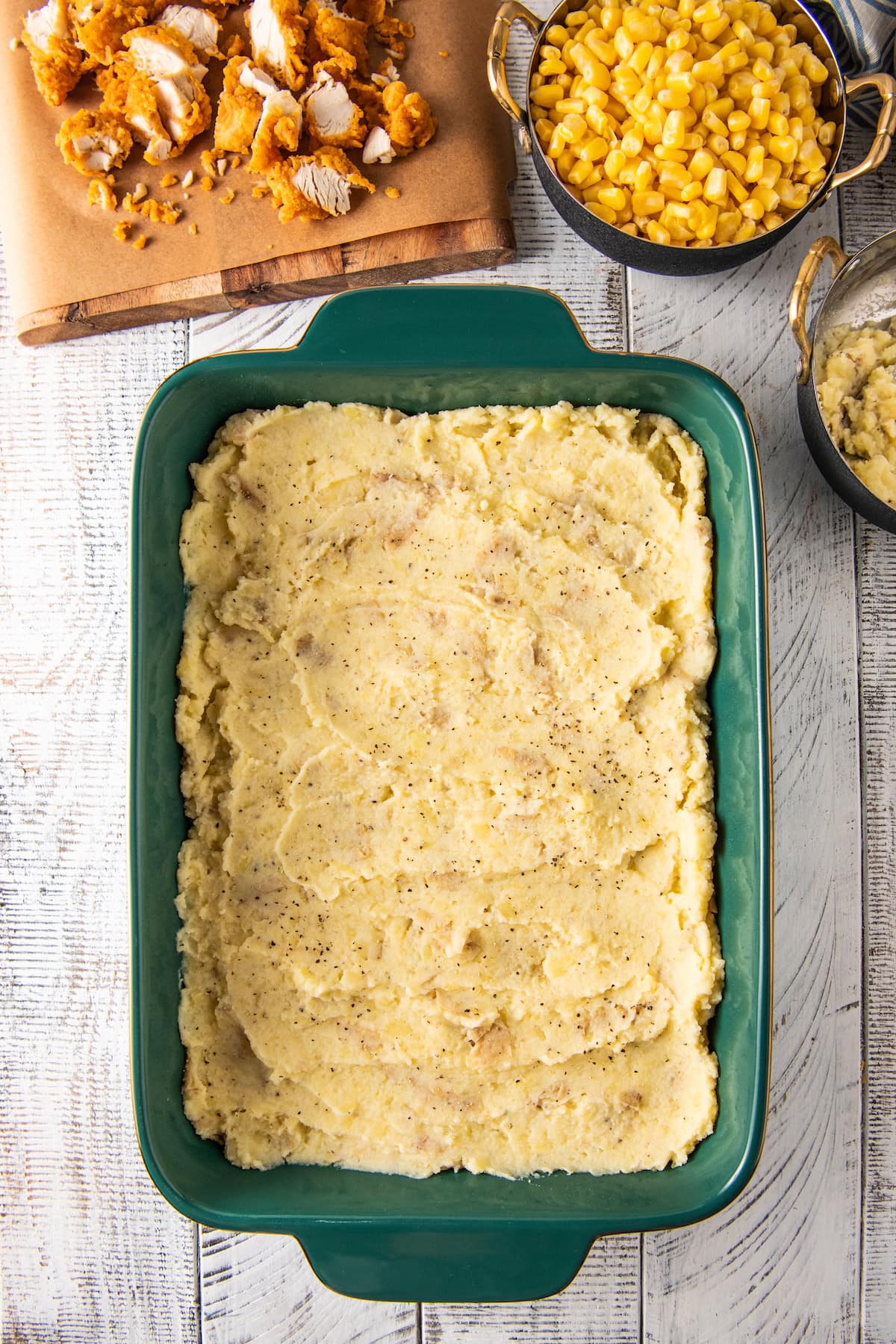 Spread the mashed potatoes into the pan. Make sure that you cover the whole bottom of the pan.
Then, sprinkle the corn over the mashed potatoes. Again, making sure you cover everything.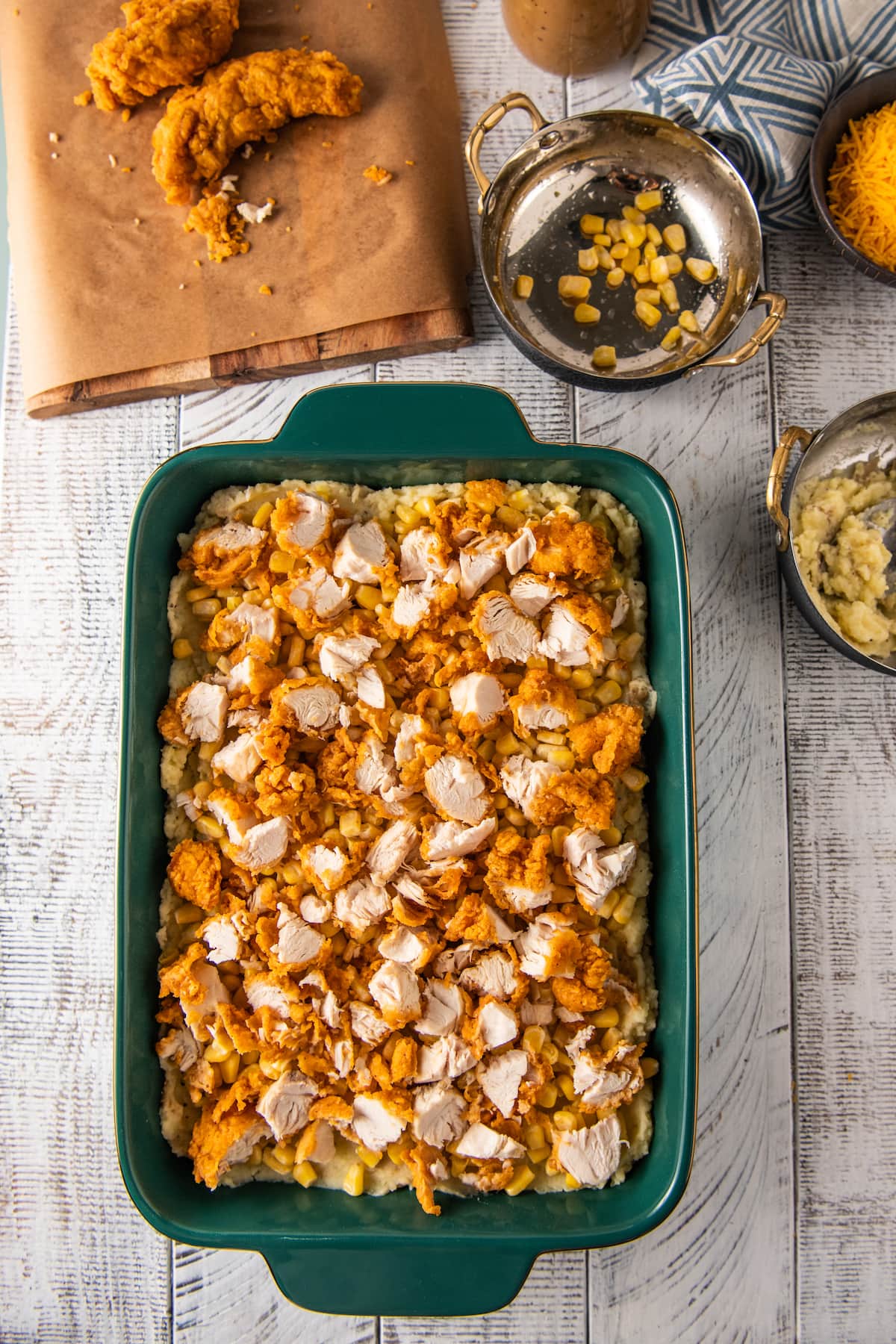 Add the chicken on top of the mashed potatoes and corn. It's helpful if the chicken is cut into even pieces.
Add the cheese. Next, sprinkle the cheese to cover the whole casserole.
Bake for about 30 minutes. You'll first want to cover the casserole with foil while it's baking. This will speed everything up. Then, for the last few minutes of baking, you'll remove the foil.
Pour on the gravy. You'll pour the gravy over the casserole right before serving.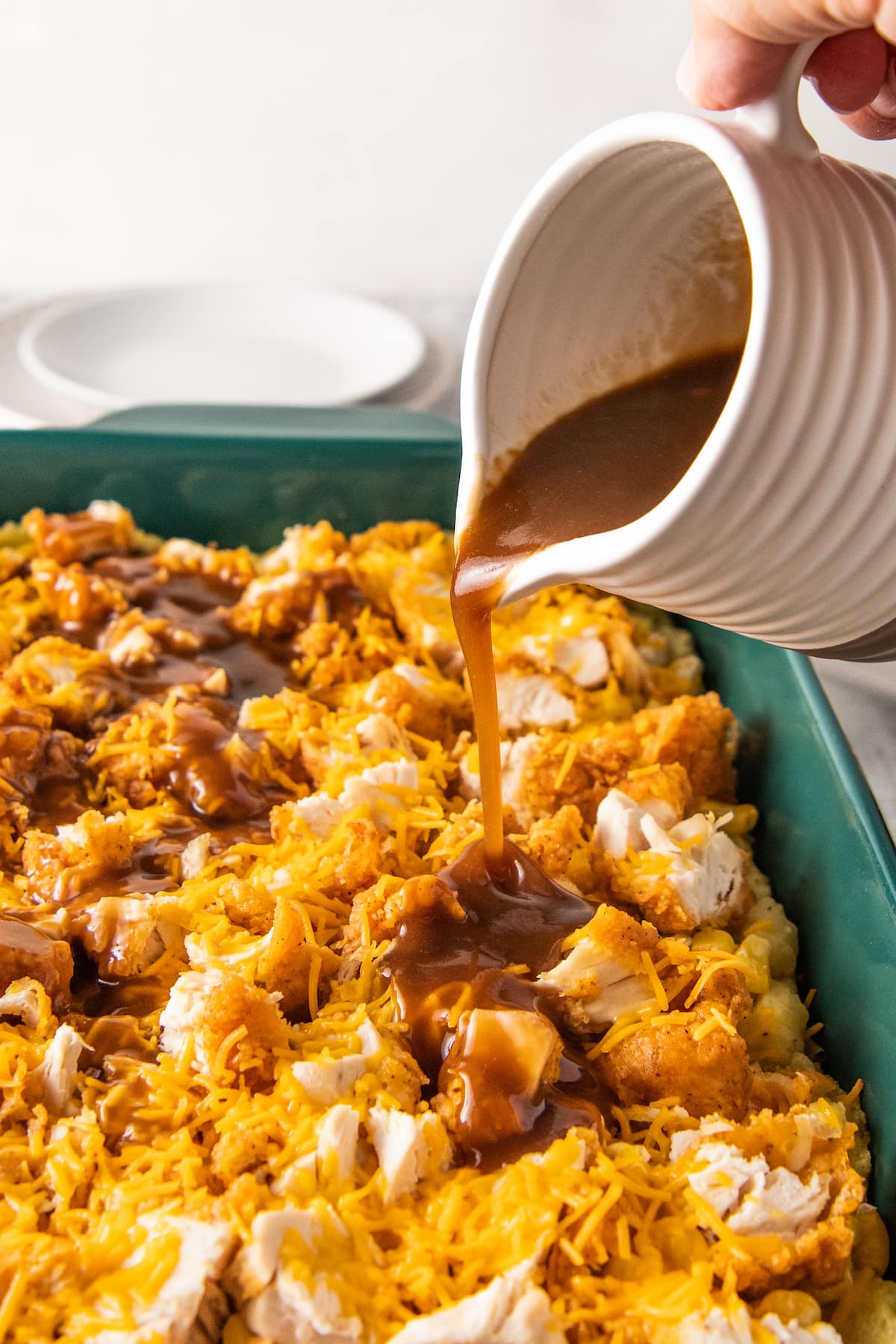 Tips and Variation Ideas
Here are a few helpful tips to help you along the way.
Shortcuts are your friend. Like we said before, the choice is yours if you want to use homemade ingredients or buy something from the store. Go ahead and grab some premade mashed potatoes, fried chicken, and gravy. This recipe is "shortcut friendly"!
You don't have to use fried chicken. You could also use rotisserie chicken.
Add some more vegetables. There's no harm in adding some green to this recipe. We recommend substituting or adding frozen peas or green beans to boost the vegetable content.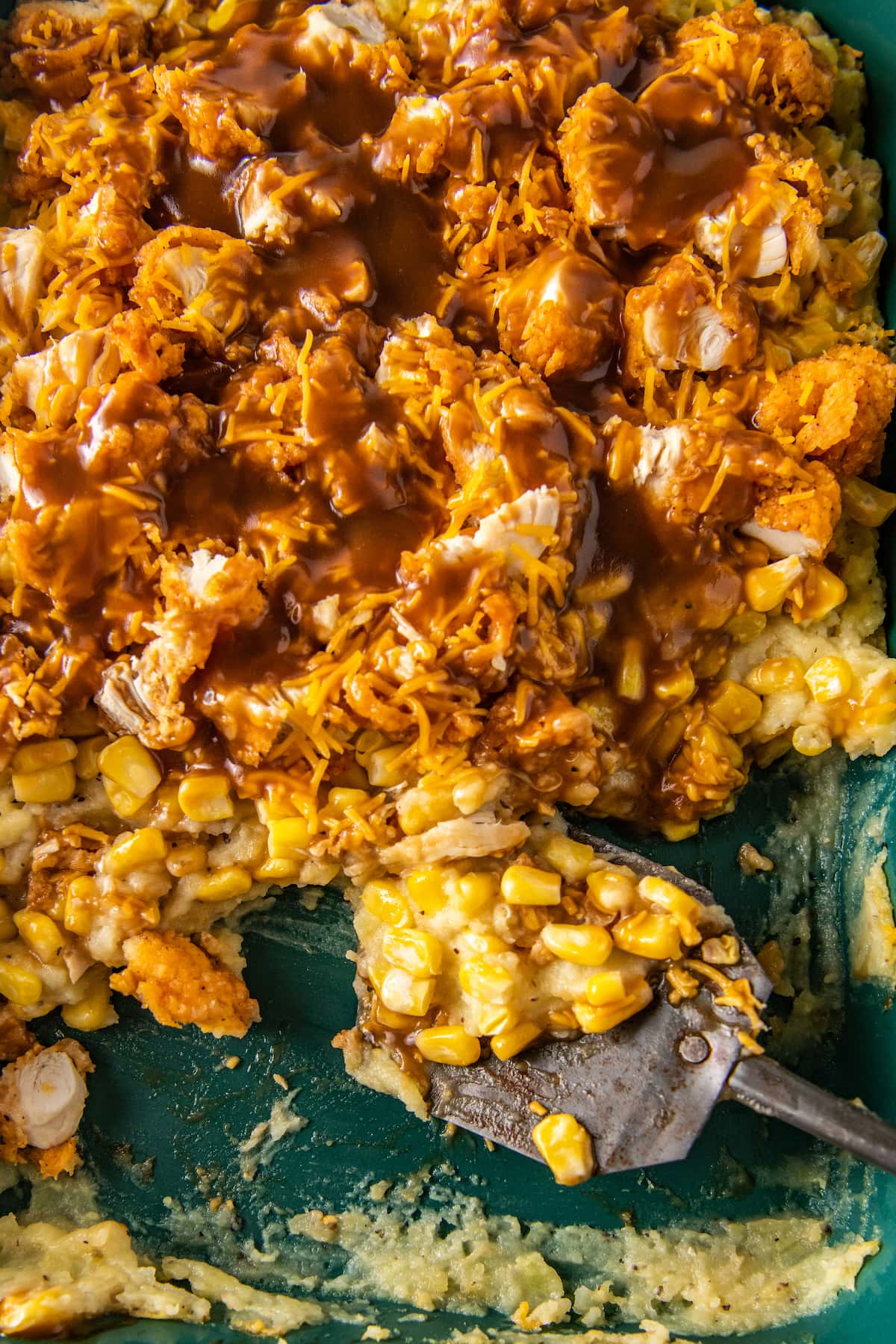 What Goes With a KFC Bowl?
We've got some great suggestions for side dishes that pair well with our KFC Bowl Casserole. There's a little something for everyone!
Serve it with your favorite vegetables. We suggest our amazing Air Fryer Brussels Sprouts or French Onion Sauteed Mushrooms. You could also just do a simple side of blanched green beans, peas, or asparagus.
Bake up a batch of homemade rolls. A roll will be the best vessel for scooping up any leftovers…and of course, dipping into extra gravy!
Add something light. You can lighten the meal by adding a salad, like our Cucumber Tomato Salad.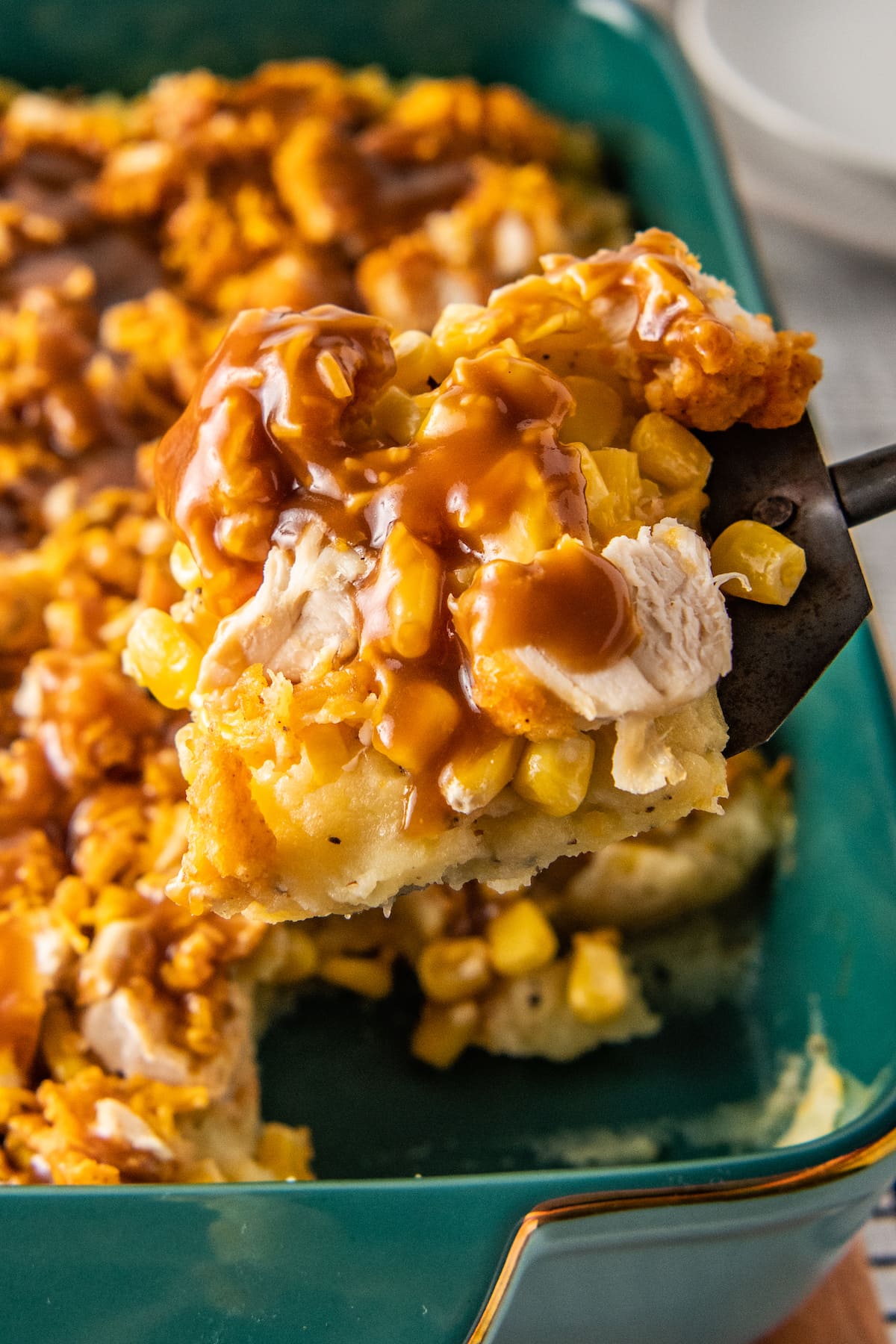 How to Store and Reheat Leftovers
Leftover KFC Casserole is still incredibly delicious. If anything, the flavors develop a little more and it's even better.
You can use a lid for your casserole dish or use a different air-tight container for storage. It's best to eat within 3-5 days. Simply heat up in the microwave when you're ready to reheat.
Can I Freeze Extras?
You can certainly freeze any leftovers. Better yet, make a few batches and freeze them for an easy weeknight dinner. Simply stop at the last step BEFORE baking in order to freeze this casserole. (This means holding off on adding the gravy.)
Just be sure that you wrap the dish very tightly before putting it in the freezer. Also, always label and date and freezer meals. You can freeze this casserole for up to 2 months.
We recommend thawing in the refrigerator and then proceeding with the baking instructions once the casserole is thawed. And then add the gravy right before serving.
KFC Casserole
This easy KFC Bowl Casserole is the ultimate comfort meal using only 5 ingredients. Layers of mashed potatoes, crispy chicken, and corn all topped with homemade brown gravy.
Ingredients
4

cups

mashed potatoes

12

oz

bag frozen corn

5 to 6

chicken tenders

,

cut into bite size pieces

1

cup

shredded cheddar cheese

1

cup

brown gravy
Instructions
Preheat oven to 350°F. Spray a 9×13 casserole dish with nonstick spray.

Spread the mashed potatoes evenly over the bottom of the prepared casserole dish. Sprinkle the corn over the mashed potatoes.

Layer the chicken over the corn and top it all with the shredded cheese.

Loosely cover casserole with foil and bake in the oven for 20 minutes. Remove foil and let cook 10 minutes more.

Let casserole rest for 5 minutes, then pour warm gravy over casserole and serve immediately!
Nutrition
Serving:
1
,
Calories:
530
kcal
,
Carbohydrates:
63
g
,
Protein:
20
g
,
Fat:
24
g
,
Saturated Fat:
8
g
,
Polyunsaturated Fat:
12
g
,
Trans Fat:
1
g
,
Cholesterol:
42
mg
,
Sodium:
1384
mg
,
Fiber:
6
g
,
Sugar:
6
g
More Chicken Dinner Ideas