If you love baked sweet potatoes, wait until you try them in the instant pot! This easy recipe for Instant Pot Sweet Potatoes takes half the time of baking and produces an extra tender, soft and moist sweet potato. You will never waste time baking them again!
Easy Instant Pot Sweet Potatoes
If you're a sweet potato fan then I have THE recipe for you: Instant Pot sweet potatoes! This simple method for cooking sweet potatoes is a complete game changer, my friends. Why? Because what can take an hour (or more!) in the oven takes only 30 minutes in the Instant Pot.
These sweet potatoes come out super soft, tender, and delicious. They are 100% PERFECT. Sometimes people think that sweet potatoes are only a side dish for Thanksgiving or the Christmas holidays. The truth is sweet potatoes make a great side year round!
We love these potatoes with butter and a bit of brown sugar, but you can add any of your favorite toppings to yours. Using this recipe would also be a great way to start a sweet potato casserole without having to cook the potatoes in the oven.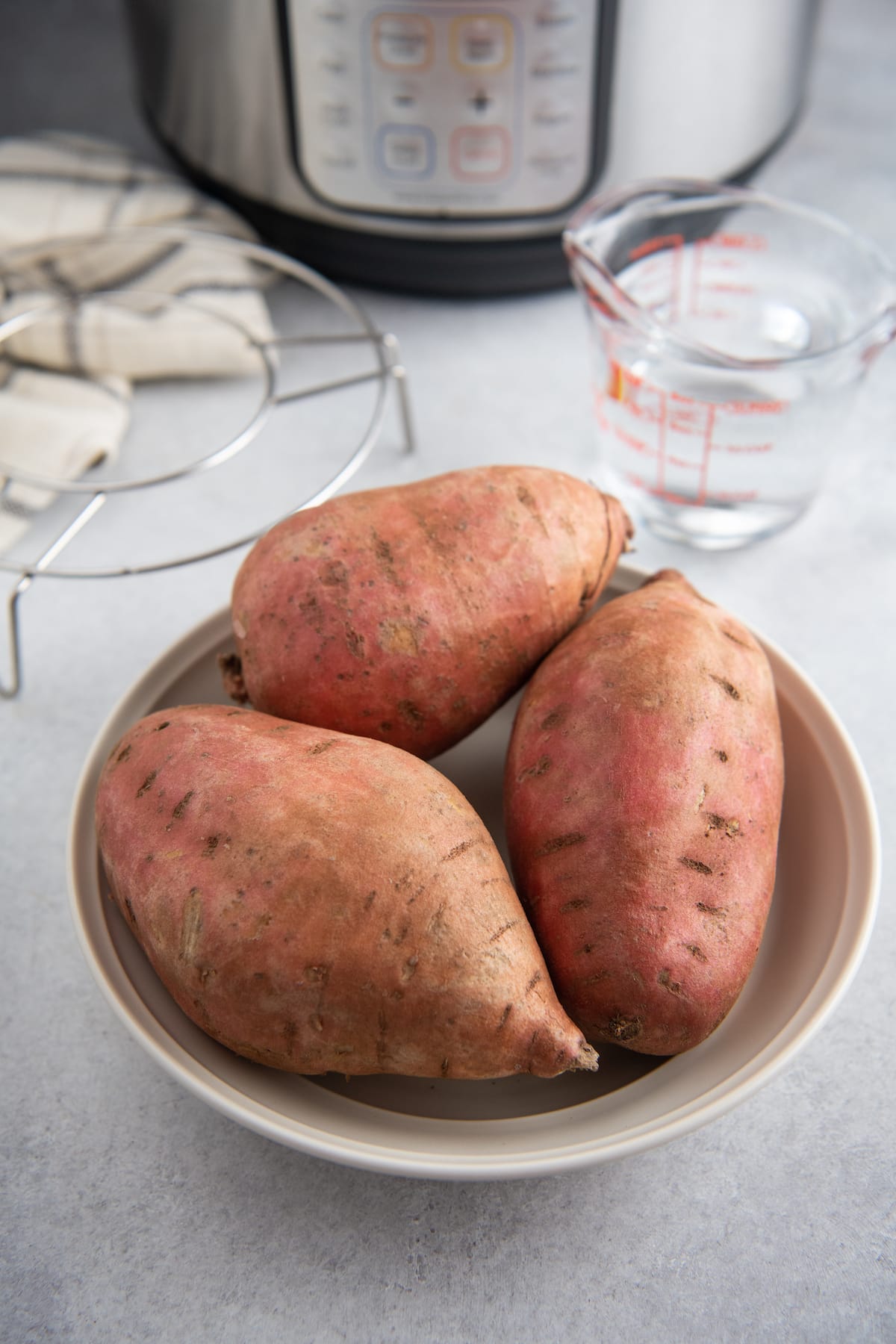 What You'll Need
The best part about this recipe is that you only need 2 ingredients! You will also need any toppings you'd like to put on the potatoes, but cooking them is simple. Here's what you'll need:
Sweet Potatoes – Make sure that your sweet potatoes are uniform in size so that they all cook evenly. Depending on the size of your Instant Pot, you can fit 3-4 sweet potatoes in the inner pot.
Water – You will need some sort of liquid in the Instant Pot to allow it to reach pressure and cook the potatoes. You can use water or your favorite broth if you prefer.
Pro Tip: Use a Trivet or Steamer Basket
You will also need your Instant Pot and a trivet or steamer basket. You don't want to place the sweet potatoes directly into the pot as they will get really soft while cooking and hard to remove.
Placing them on the trivet or in a steamer basket, away from the liquid, will allow you to easily remove the potatoes after cooking and keep them from becoming waterlogged!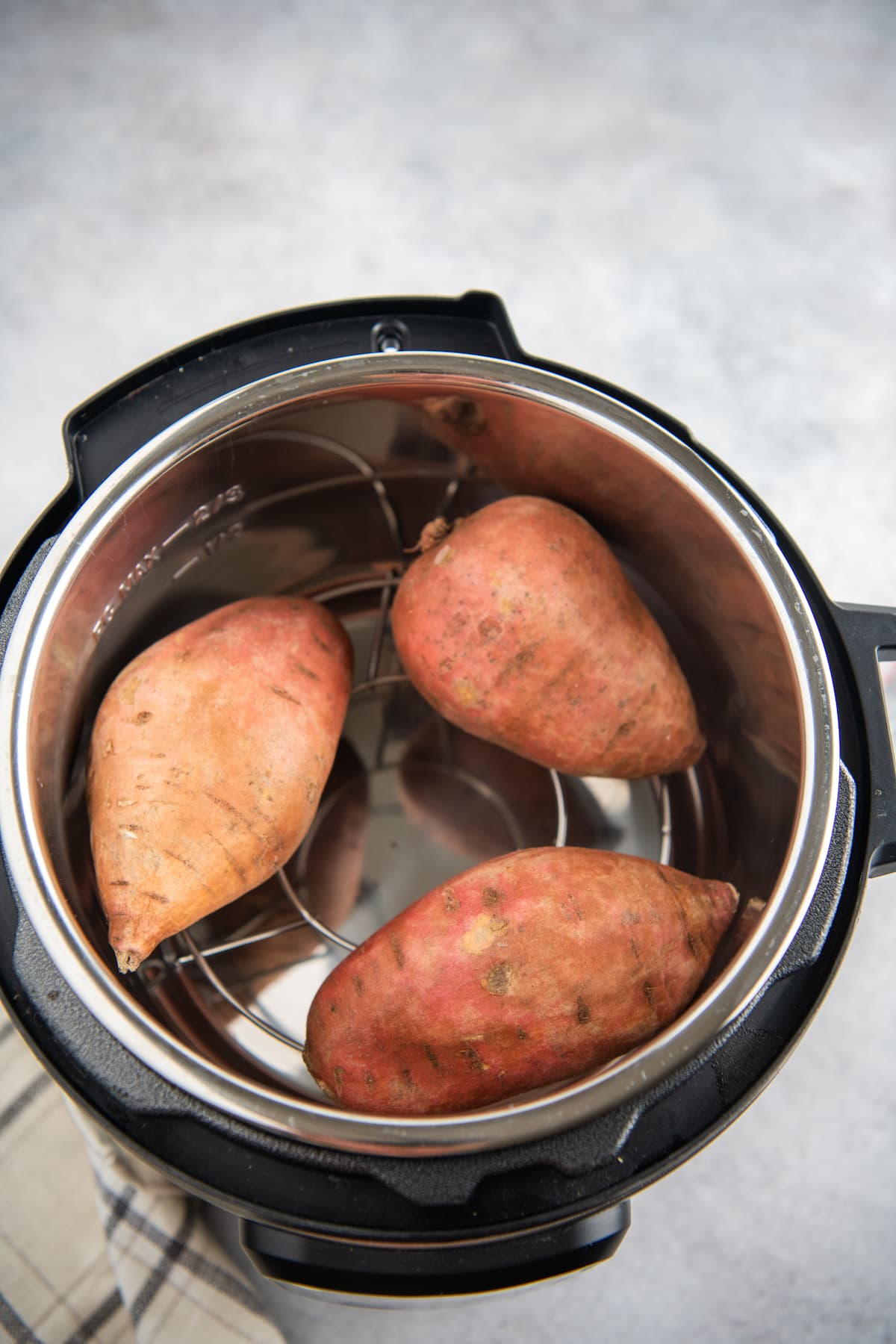 How To Cook Sweet Potatoes In Instant Pot
You will need to follow these easy steps below to make sweet potatoes in your pressure cooker.
Clean the potatoes: Make sure that you thoroughly clean your sweet potatoes before adding them to your Instant Pot. You can use a potato brush and water to make sure all of the dirt is removed from your potatoes.
Add your potatoes: Place your trivet or steamer basket into the instant pot and then add your potatoes and water. Make sure that the potatoes are not touching the water before placing the lid back on the instant pot.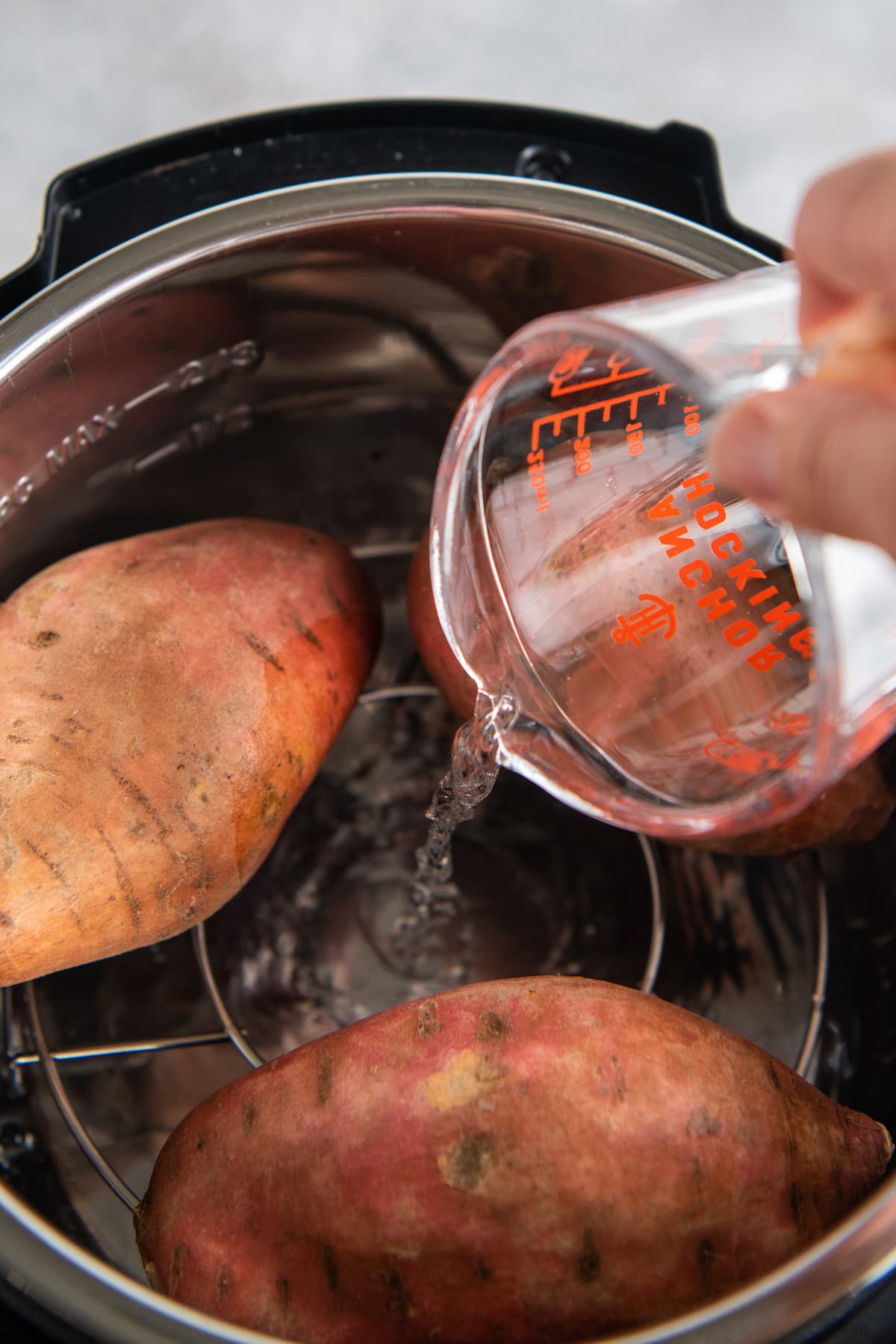 Cook the sweet potatoes: Set the valve to seal and cook on manual high pressure. You will cook the potatoes from 15-22 minutes, depending on the size. Allow the pressure to naturally release for 5 minutes and then manually release any remaining steam.
Remove the potatoes: The potatoes will be soft and tender when they are done cooking, so be careful when you remove them from the pot. The best way to do this is to grab oven mitts and pull out the trivet and place it on a plate. Use tongs to remove the potatoes and place them on plates before using a butter knife to slice them open.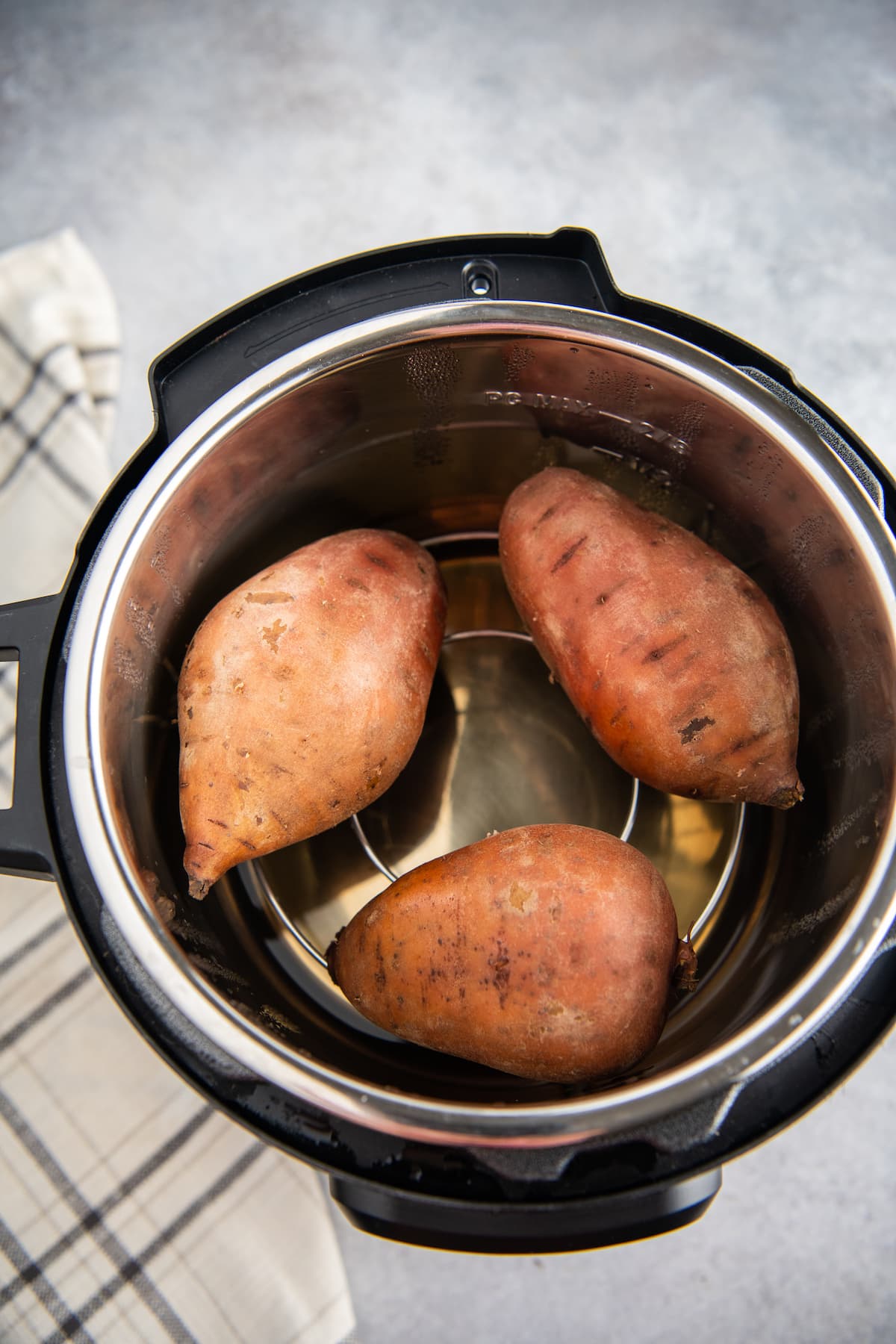 How Long To Cook Sweet Potatoes In Instant Pot
The size of your sweet potatoes will determine how long they will need to cook. I suggest getting sweet potatoes that are similar in size so that they all cook evenly. All times are cooked on manual high heat with a 5-minute natural pressure release after cooking time ends.
Small sweet potatoes cook for 15 minutes.
Medium sweet potatoes cook for 18 minutes.
Large sweet potatoes cook for 22 minutes.
What Does Natural Pressure Release Mean?
I mentioned this phrase, natural pressure release, above and if you are new to the instant pot, it can be a little confusing.
All that it means is after the timer runs out and the instant pot is finished cooking, you let the instant pot sit untouched for the amount of time mentioned for a natural pressure release. Then do a quick release where you manually release the valve on top.
So for example, if the natural pressure release is 10 minutes, you follow the recipe and start your instant pot in the sealed and locked position. Start your cook time. The instant pot will start building pressure.
Once it reaches pressure, the timer will start for however long you set it and will begin counting down. Once the timer runs out, this is where you let it naturally release the pressure by not touching the instant pot for the desired amount of time (in this example, that would be for 10 minutes).
After that 10 minutes, you would then move the valve on top of the instant pot to quickly release any remaining pressure and open the instant pot to serve your food.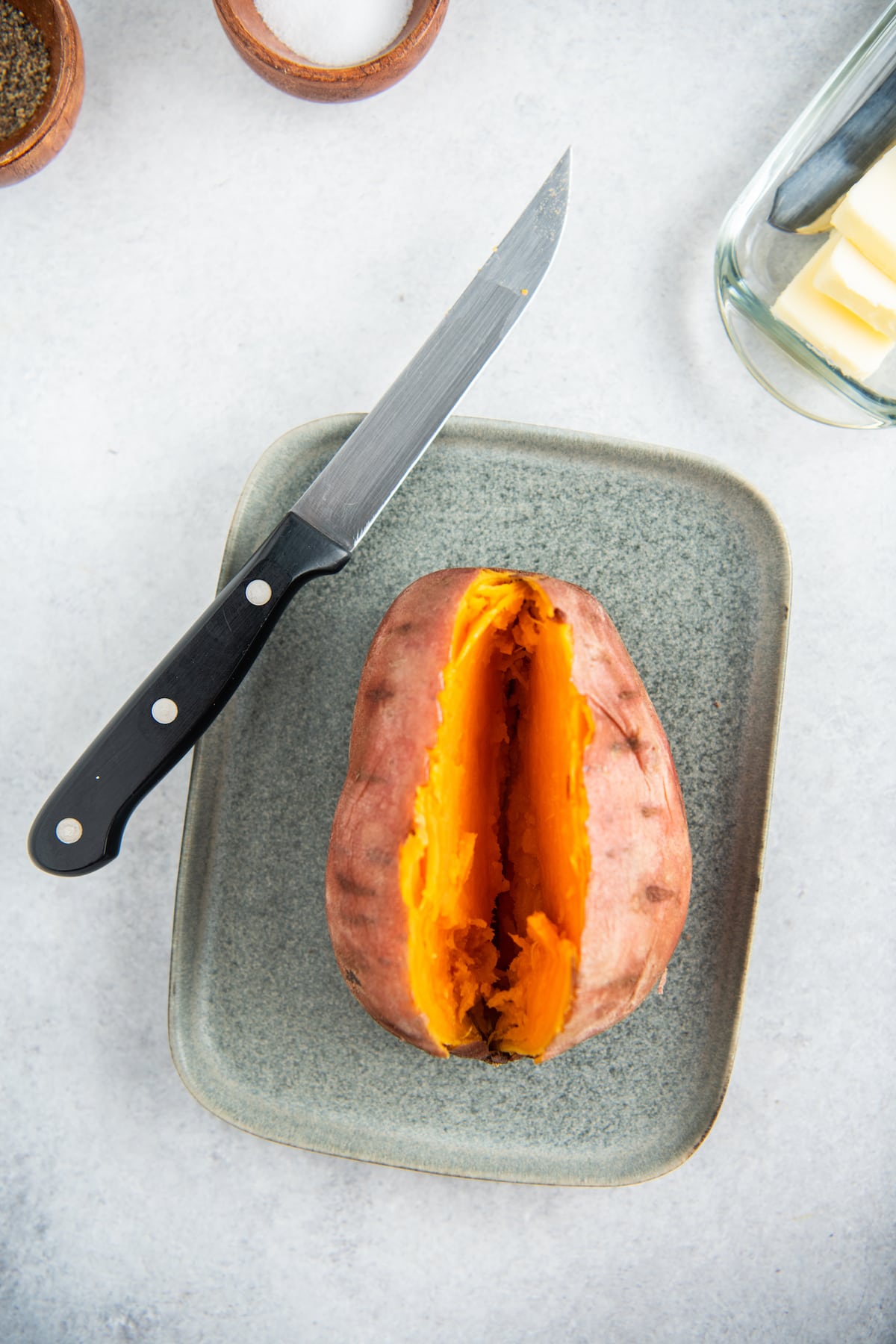 Tips for the Best Sweet Potatoes
These sweet potatoes are super simple to make, but make sure to read the tips below so that you are fully prepared before starting this recipe.
Wash the potatoes. You will want to make sure you thoroughly wash the potatoes before adding them to the pot. The potato skin can open up while cooking and you don't want to risk getting any dirt in the potatoes.
Don't forget the trivet. The trivet is an important part of cooking these potatoes. It allows them to cook above the water and helps in easy removal. If the potatoes are placed in the water they will boil instead of steam.
Size matters. Depending on the size of the potatoes, you may need a different cook time. Smaller potatoes require 15 minutes, medium potatoes need 18 minutes and larger potatoes need at least 22 minutes. Thankfully sweet potatoes are pretty generous when it comes to cooking a little longer, so if you aren't sure if you're sweet potatoes are small or medium, cook them for the longer cook time.
Are Sweet Potatoes Healthy?
Sweet potatoes are full of good-for-you nutrients and are a little better health wise than traditional white potatoes. Sweet potatoes are a great source of fiber, vitamins and minerals. They are also known to help with gut health and immune support!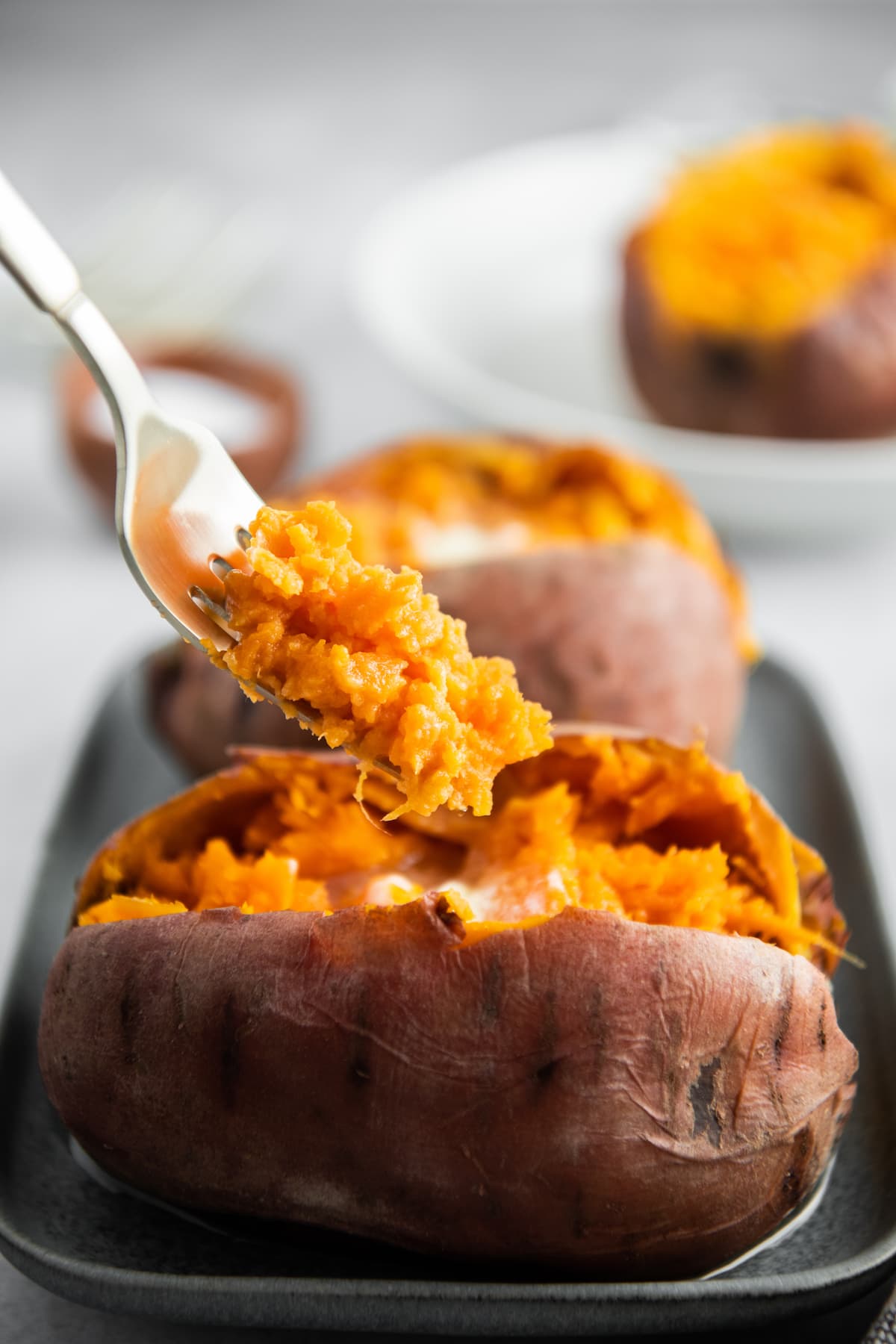 Topping Ideas
These sweet potatoes come out super tender and soft after cooking, all you have to do is add your favorite toppings! Some of our favorite topping suggestions are:
Butter: Just add a bit in the center and let it melt into your sweet potatoes.
Brown sugar: Sprinkle it on top of the butter, or use it on its own!
Cinnamon: A pinch of cinnamon on top of a warm sweet potato is surprisingly delightful.
Pecans: Chop them up and then sprinkle them on top with any other fixings.
Candied nuts: Also chop them up. Candied walnuts are particularly tasty!
Marshmallows: Use mini marshmallows or cut larger ones into smaller pieces.
How to Store Extras
You can store any sweet potatoes in an airtight container, such as a Tupperware. Place the potatoes in the fridge and they will stay fresh for 3-4 days. Reheat in the microwave. I prefer to store mine with the skins removed, but that is optional!
Instant Pot Sweet Potatoes
If you love baked sweet potatoes, wait until you try them in the instant pot! This easy recipe for Instant Pot Sweet Potatoes takes half the time of baking and produces an extra tender, soft and moist sweet potato. You will never waste time baking them again!
Ingredients
3 to 4

sweet potatoes

1

cup

water
Instructions
Rinse sweet potatoes and set aside.

Pour water into instant pot. Add trivet to the bottom of the pot and set potatoes on trivet.

Close and seal the lid on instant pot. Lock the lid on the Instant Pot, set the valve to seal and turn on manual high pressure.

Cook times vary depending on size of your sweet potato. For small sweet potatoes, cook on high pressure for 15 minutes. For medium sweet potatoes, cook on high pressure for 18 minutes. For large sweet potatoes, cook on high pressure for 22 minutes.

Once the potatoes have finished cooking, do a natural pressure release for 5 minutes, then a manual pressure release after 5 minutes. (This means to leave the pot alone for 5 minutes after the cooking time is done, then after 5 minutes, release the pressure from the pot by turning the seal on top.)

Nutrition
Serving:
1
,
Calories:
103
kcal
,
Carbohydrates:
24
g
,
Protein:
2
g
,
Sodium:
43
mg
,
Fiber:
4
g
,
Sugar:
7
g
Other Instant Pot recipes to try
Looking for other easy Instant Pot recipes to try? I suggest you check out these reader favorites: