Toss golden, crispy air fryer shrimp in a sweet and spicy homemade bang bang sauce to create this easy Air Fryer Bang Bang Shrimp! Perfect for an appetizer or even as a main dish – grab your air fryer and let's get cooking.
The Best Air Fryer Bang Bang Shrimp
We love using the air fryer for quick and easy recipes like this Air Fryer Bang Bang Shrimp because it always saves us so much time! This shrimp is perfectly crunchy with a spicy kick in every bite. We never have any leftovers when we make this recipe!
Jumbo shrimp are crisped to perfection before being doused in our knock off recipe for Bonefish Grill's popular Bang Bang Sauce. Made with mayo, sweet chili sauce, and sriracha, this bang bang sauce is sweet and savory with a little heat. Thus, each bite of crispy air fryer shrimp has plenty of crunch and is full of Asian inspired flavors.
Serve these flavorful shrimp as a fun appetizer for game day or as a main dish with veggies, salad, or fried rice for dinner. They go great on top of a salad too!
Looking for a stovetop version? Try out this classic fried Bang Bang Shrimp! Or, keep your shrimp dinner simple and go with this 10 Minute Air Fryer Shrimp recipe!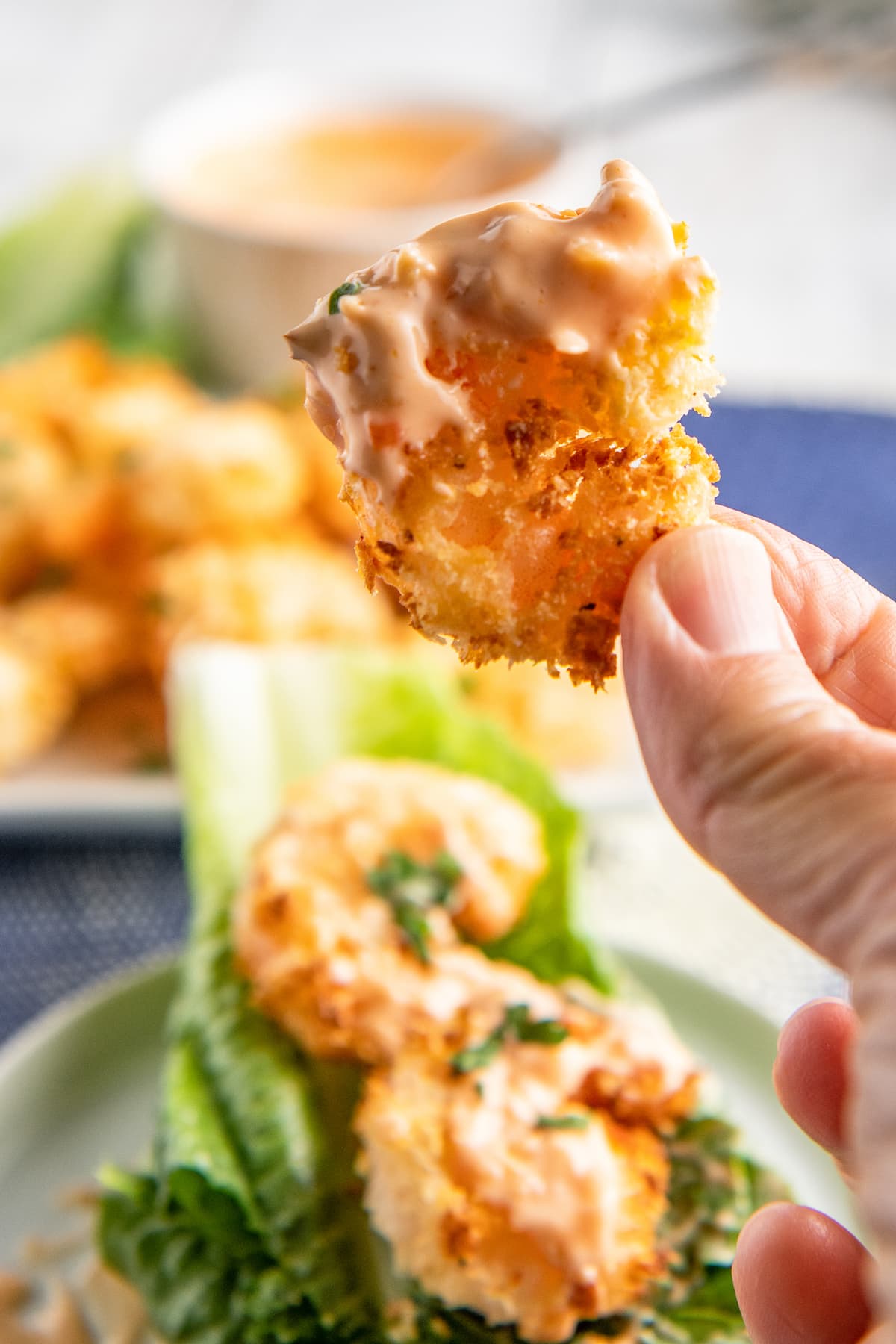 Why You'll Love This Shrimp Recipe
What's not to love about bang bang shrimp? It's flavorful, it's easy to make, and it's a crowd-pleaser! Here's why we think you'll love this air fryer version:
Crispy and Juicy: The crispy panko breadcrumb coated exterior paired with the light, juicy shrimp interior is just heavenly!
Healthy: Compared to traditional fried shrimp, air fryer shrimp is relatively healthy! You don't have to use any frying oil, for example, which reduces the fat content.
Quick: Air fryer bang bang shrimp comes together in just 20 minutes. If you're hosting a party and don't want to spend the whole time in the kitchen making appetizers, this is the recipe to make!
What is Bang Bang Shrimp?
Bonefish Grill's popular, Thai-influenced bang bang shrimp is a combination of crunchy fried shrimp and bang bang sauce. Bang bang sauce is traditionally made with Thai sweet chili sauce and sriracha, so it's got a little kick to it. Anyhow, with everything put together, you get crispy shrimp in a creamy sauce that creates a burst of flavor in your mouth. (You might even say a bang!)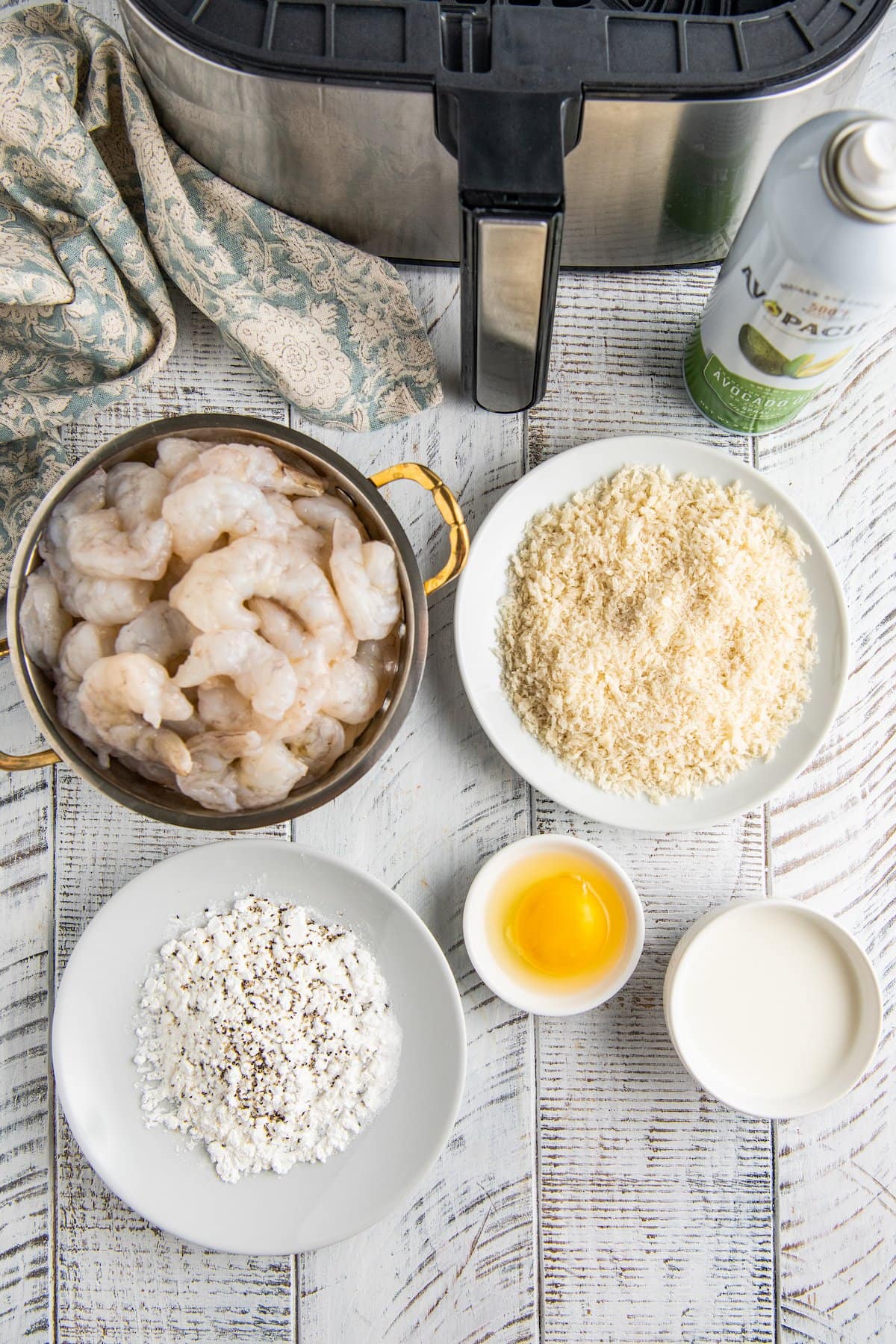 Recipe Ingredients
For this sweet and tangy shrimp recipe, you'll need just a few ingredients. Find the exact quantities listed in the recipe card below!
Shrimp: We like to use jumbo or large shrimp that is cleaned and deveined.
Corn Starch: Corn starch is the secret to achieving the crispiest breaded shrimp.
Buttermilk and an Egg: Combining buttermilk with a beaten egg and applying the mixture to the shrimp helps the breadcrumbs stick to them while they fry.
Breadcrumbs: It's important that you use panko breadcrumbs versus a traditional breadcrumb. Panko breadcrumbs have a drier and flakier consistency than regular breadcrumbs, and they absorb less oil when fried. Panko breadcrumbs produce a lighter and crunchier tasting fried food!
Bang Bang Sauce: An easy homemade sauce made with sweet chili sauce, mayo, sriracha, rice vinegar, and a clove of garlic!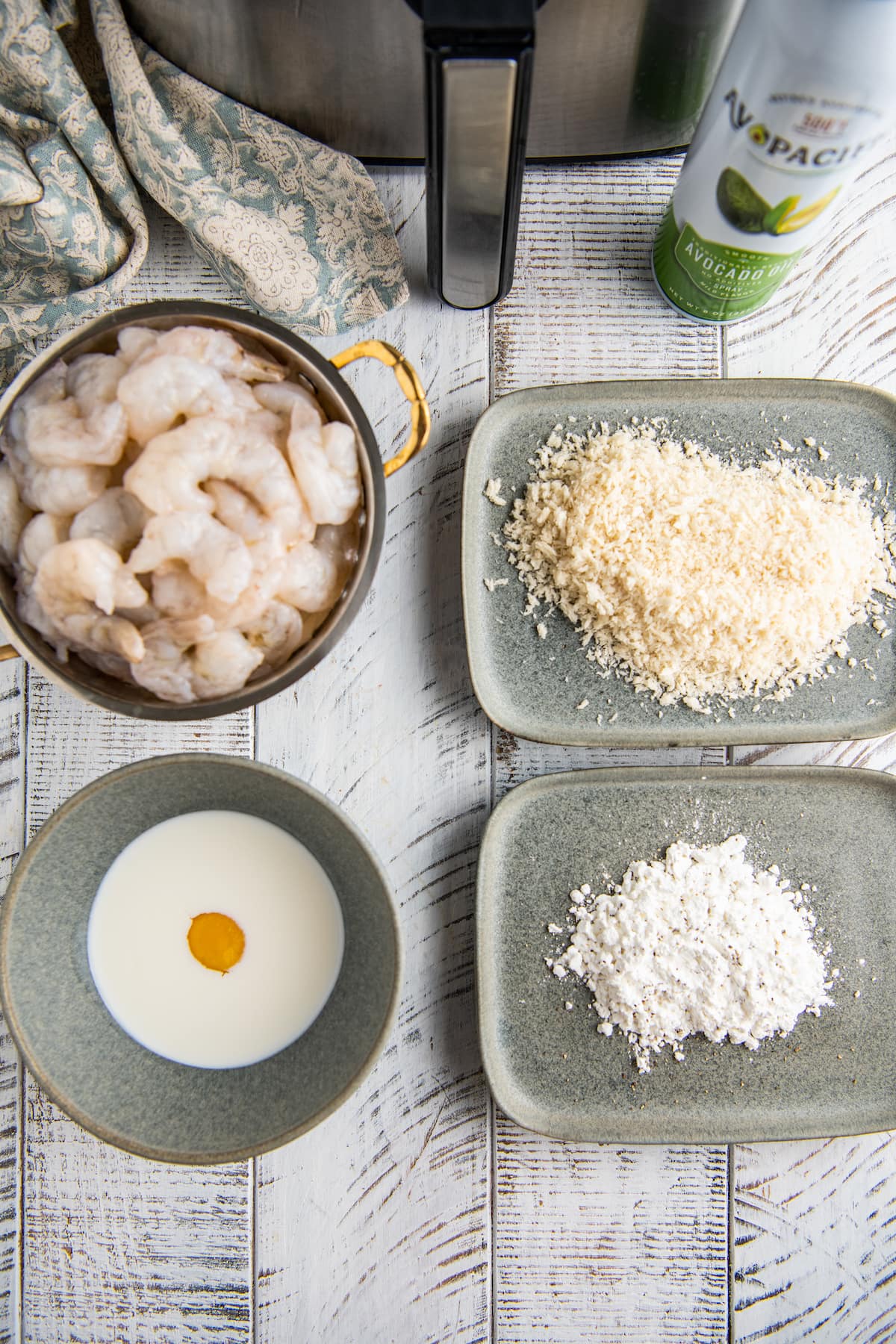 How to Make Air Fryer Bang Bang Shrimp
Get out that air fryer and let's discuss how to make bang bang shrimp in it! Follow the simple steps below:
Preheat: Preheat your air fryer to 400°F.
Bread the Shrimp: Working in batches, coat your shrimp in cornstarch, then dip each shrimp in buttermilk, and finally toss them in the breadcrumbs.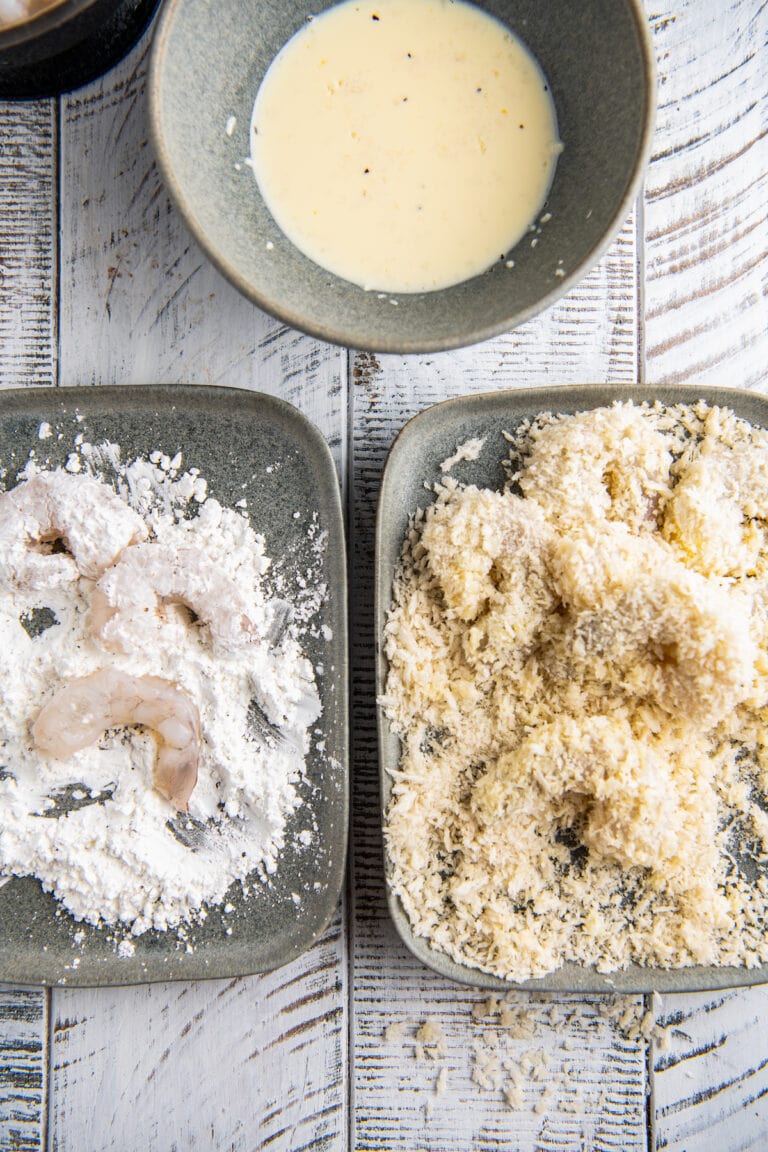 Mist With Cooking Oil: Next, put your shrimp in the air fryer basket and lightly mist them with cooking oil. Leave space between the shrimp so it's not overcrowded.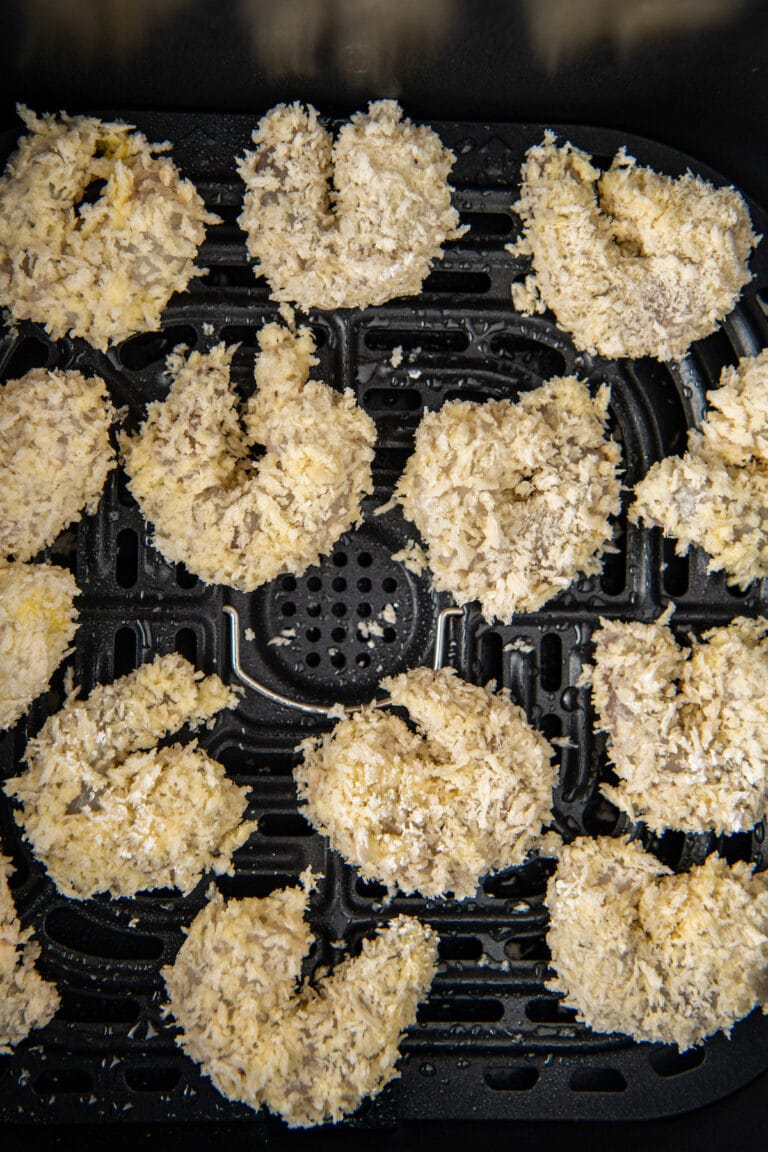 Cook the Shrimp: Cook your shrimp for 5 minutes. Then, turn the shrimp over and cook them for another 3-5 minutes or until the shrimp has a nice crispy texture.
Toss With the Sauce: Once the shrimp are cooked, you can toss them in the sauce to coat them. You can also lightly drizzle the sauce, or just dip your shrimp straight in it! Enjoy!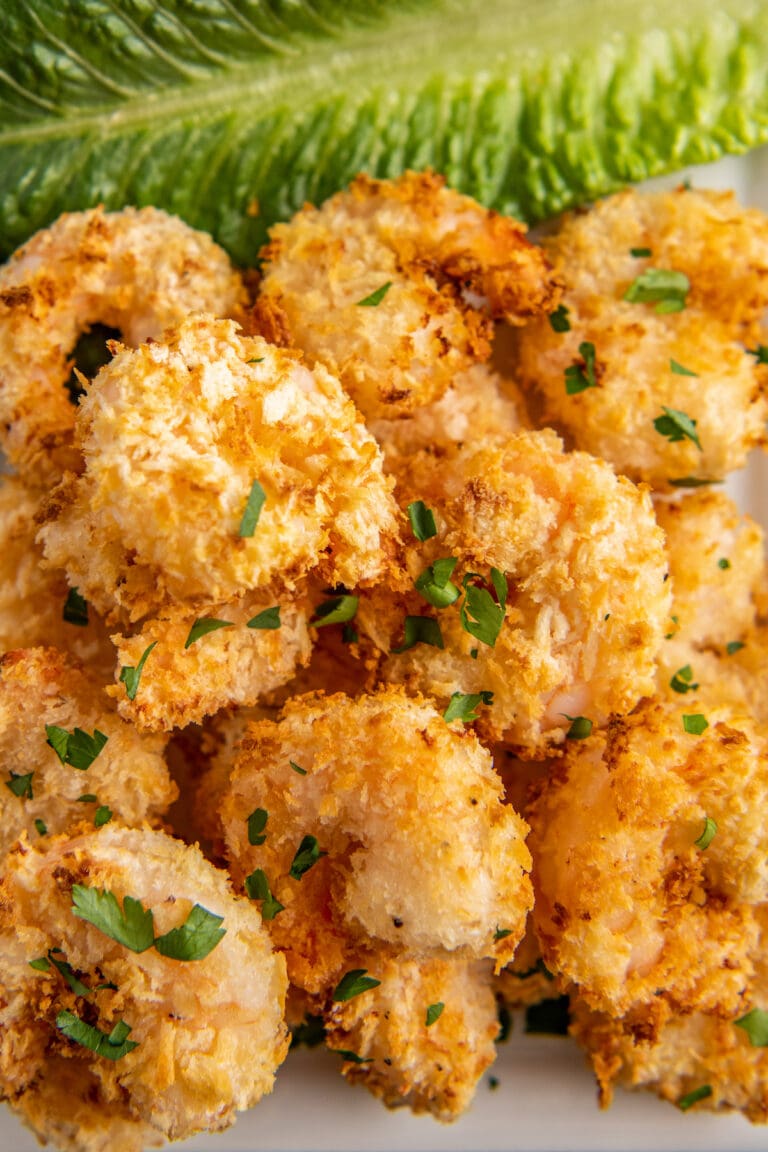 Tips for Success
As you can see, this air fryer bang bang shrimp recipe is pretty straightforward, but we still have a few tips for you to keep in mind while making it.
Use Cooking Oil. Misting the breaded shrimp, lightly, with cooking oil or avocado oil will help the breading to crisp up and brown. It's an optional step, but it makes a big difference!
Make the Bang Bang Sauce Ahead: You can make the sauce ahead of time and store it for 7 days in the refrigerator.
Serve Your Shrimp Fresh: Fried shrimp do not really store well because they get soggy in the refrigerator, especially if the sauce is added. Only make as much as you plan to eat!
Don't Skip the Cornstarch! The secret to perfectly crispy air fried shrimp is the cornstarch. Don't skip it!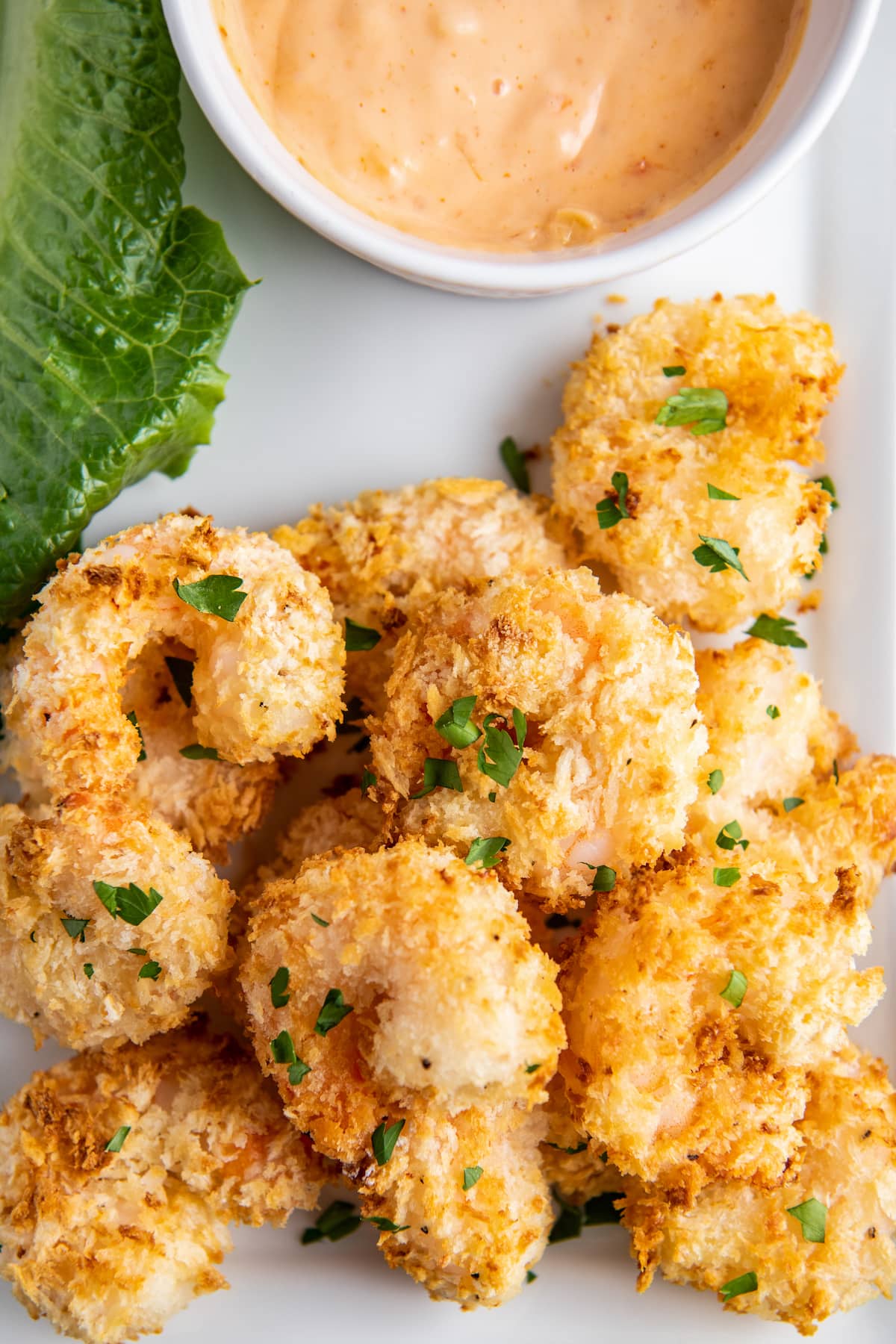 Frequently Asked Questions
What is bang bang sauce made of?
Bang bang sauce is made with sweet chili sauce, mayonnaise, sriracha, rice vinegar, and garlic! It's a sweet and spicy masterpiece that you've just got to try.
What shrimp should I use?
For this recipe, it is best to use large or jumbo shrimp. Additionally, you will want to grab a bag of raw shrimp that has already been peeled and deveined to make this recipe extra quick and easy.
Can I use frozen shrimp?
Yes, you can! Keep in mind that you will need to thaw frozen shrimp before using them in this recipe, though. Do this by placing them in the refrigerator, or by running them under lukewarm water.
How long should I cook shrimp in the air fryer?
At 400 degrees F, this shrimp needs between 8-10 minutes to cook all the way through. To make sure that they're done, use a meat thermometer. When it reads 120 degrees F, the shrimp is ready!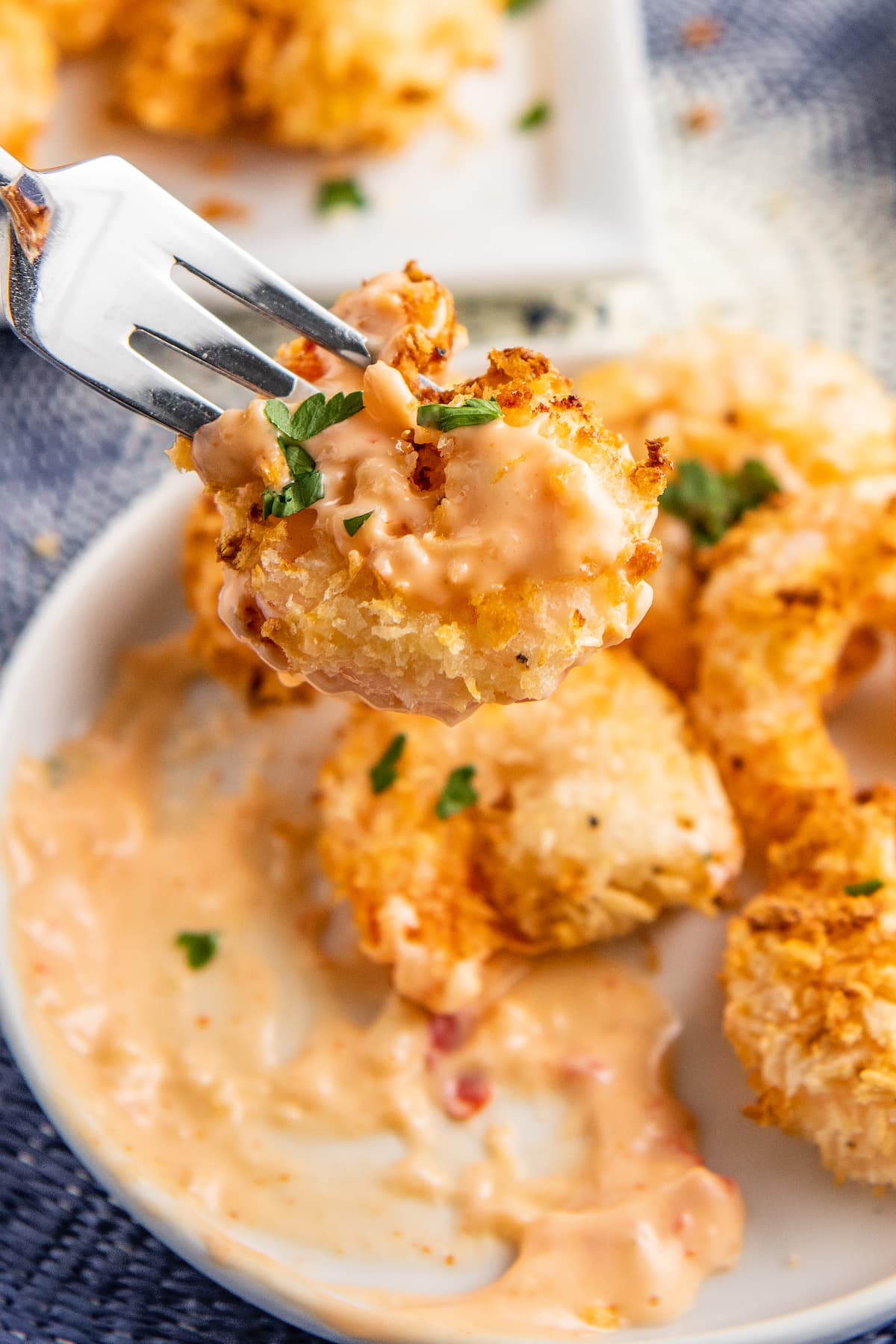 Serving Suggestions
These air fryer bang bang shrimp are the perfect party or game day snack, but you can also make them your main protein for dinner. Here are a couple of ideas on that subject:
Rice or Pasta: A plain bed of rice or pasta is the perfect way to make this shrimp recipe into a filling dinner. Parmesan Butter Noodles could work really well because the flavors are pretty subtle.
Corn on the Cob: A buttery piece of corn on the cob complements juicy breaded shrimp so well!
Roasted Vegetables: Roasted veggies, like this Roasted Broccoli recipe, pair perfectly with bang bang shrimp.
Other Appetizers: You can also serve this shrimp next to other fun party snacks like Air Fryer Chicken Wings, Steak Kabobs, or Pulled Pork Nachos!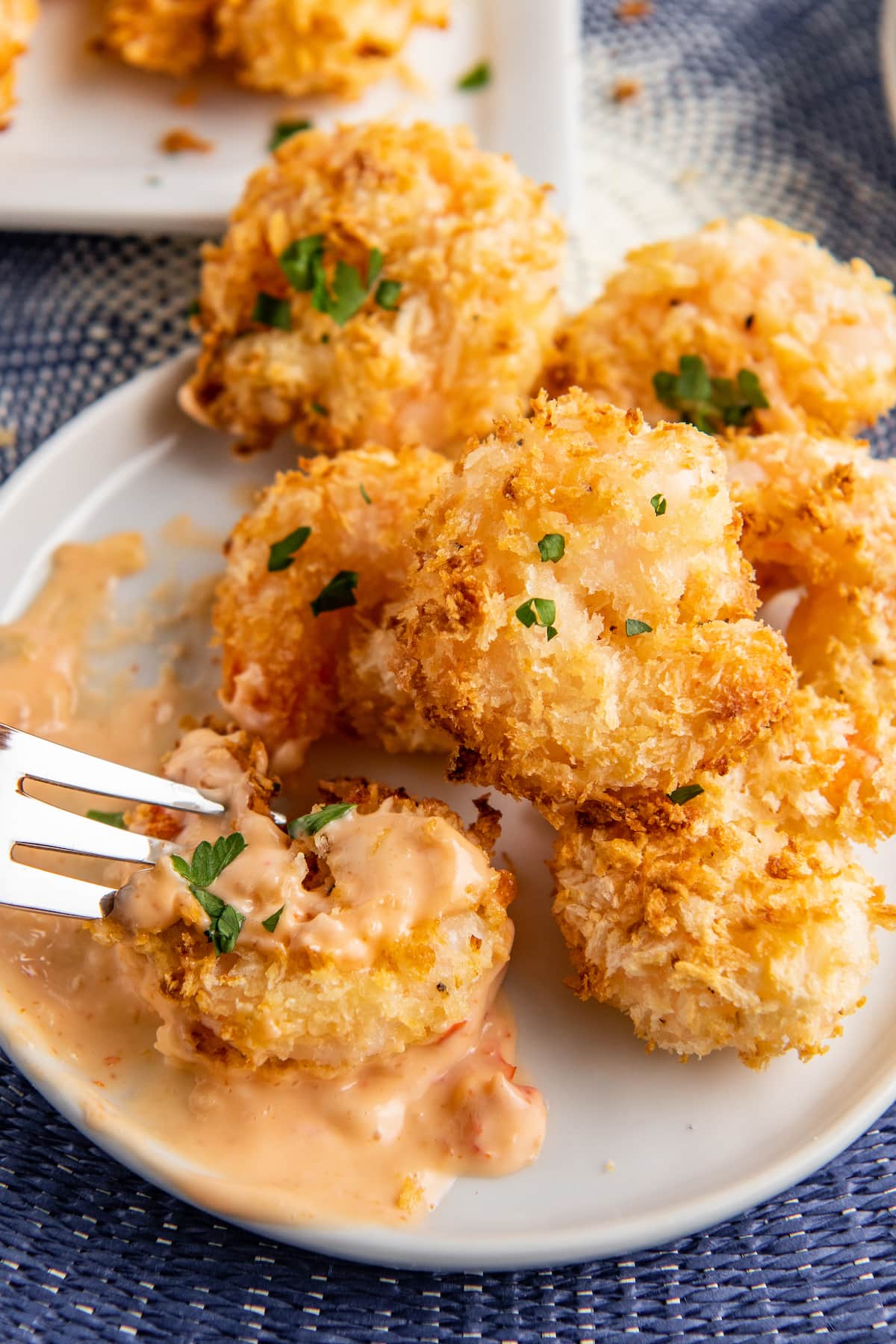 More Shrimp Appetizer & Dinner Ideas
Looking for more easy shrimp appetizers and dinners? These ones are some of our favorites!
Yield: 4
Air Fryer Bang Bang Shrimp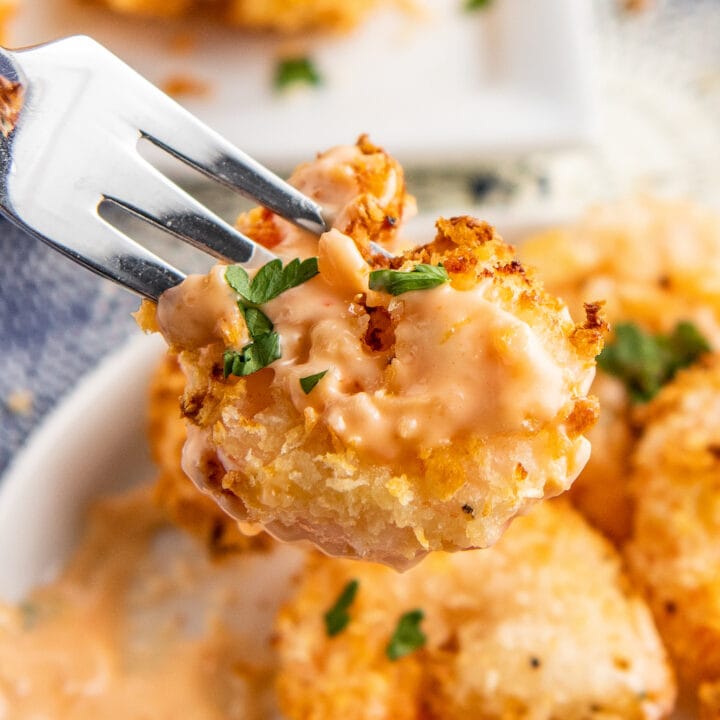 Air fryer bang bang shrimp are crispy, juicy, and covered in a sweet and spicy bang bang sauce that will knock your socks off! This air fryer shrimp recipe is perfect for game days and more.
Ingredients
1 pound large shrimp, cleaned and deveined
1/4 cup corn starch
1 large egg
1/2 cup buttermilk
1 cup Panko breadcrumbs
Cooking spray, optional
Instructions
Preheat air fryer to 400°F. Working in batches, coat shrimp in cornstarch, dip each shrimp in buttermilk, then toss shrimp in bread crumbs.
Place shrimp in air fryer basket and lightly mist with cooking oil (I used avocado oil), if desired. Make sure to leave space between the shrimp and do not overcrowd the air fryer basket.
Cook shrimp for 5 minutes, then turn shrimp over and cook for 3-5 minutes more, until shrimp is cooked thru and has a crispy texture.
Once shrimp are cooked, remove from air fryer. You can toss shrimp to coat in sauce, drizzle the sauce lightly over the shrimp or you can just dip your shrimp! Enjoy!
Notes
Misting the breaded shrimp lightly with a cooking oil (like avocado oil or olive oil) will help the breading to crisp up and brown.
You can make the sauce up to a couple of days before and store it in the refrigerator for an easy dinner later in the week.
The shrimp are best served fresh and do not store well. They will get soggy, especially if the sauce is added. So only make as much as you plan to eat.
Nutrition Information:
Yield:
4 servings
Serving Size:
1
Amount Per Serving:
Calories:

319
Total Fat:

5g
Saturated Fat:

2g
Trans Fat:

0g
Unsaturated Fat:

3g
Cholesterol:

288mg
Sodium:

1492mg
Carbohydrates:

32g
Fiber:

2g
Sugar:

5g
Protein:

32g