Now you can make this Bang Bang Shrimp copycat recipe at home in just under 30 minutes! The sweet and tangy sauce coats perfectly fried shrimp for the best crispy small bites.
Copycat Bonefish Grill Bang Bang Shrimp
Bonefish Grill makes such great Bang Bang Shrimp that even other restaurants started copying it. The idea of tossing crispy fried shrimp in a creamy yet tangy and spicy sauce is culinary brilliance. And guess what? You can make it at home now!
In fact, this isn't the first time we've made Bang Bang Shrimp. We have a tried and true Air Fryer Bang Bang Shrimp recipe that you'll love if you're trying to avoid deep frying your food. But if you're looking for the real deal, this recipe is it.
Juicy and plump large shrimp are tossed in panko bread crumbs. Then the shrimp are fried until they are perfectly golden brown. Then you'll toss them with our delicious Bang Bang Sauce. Every bite has crunchiness with a sweet and spicy flavor from the sauce.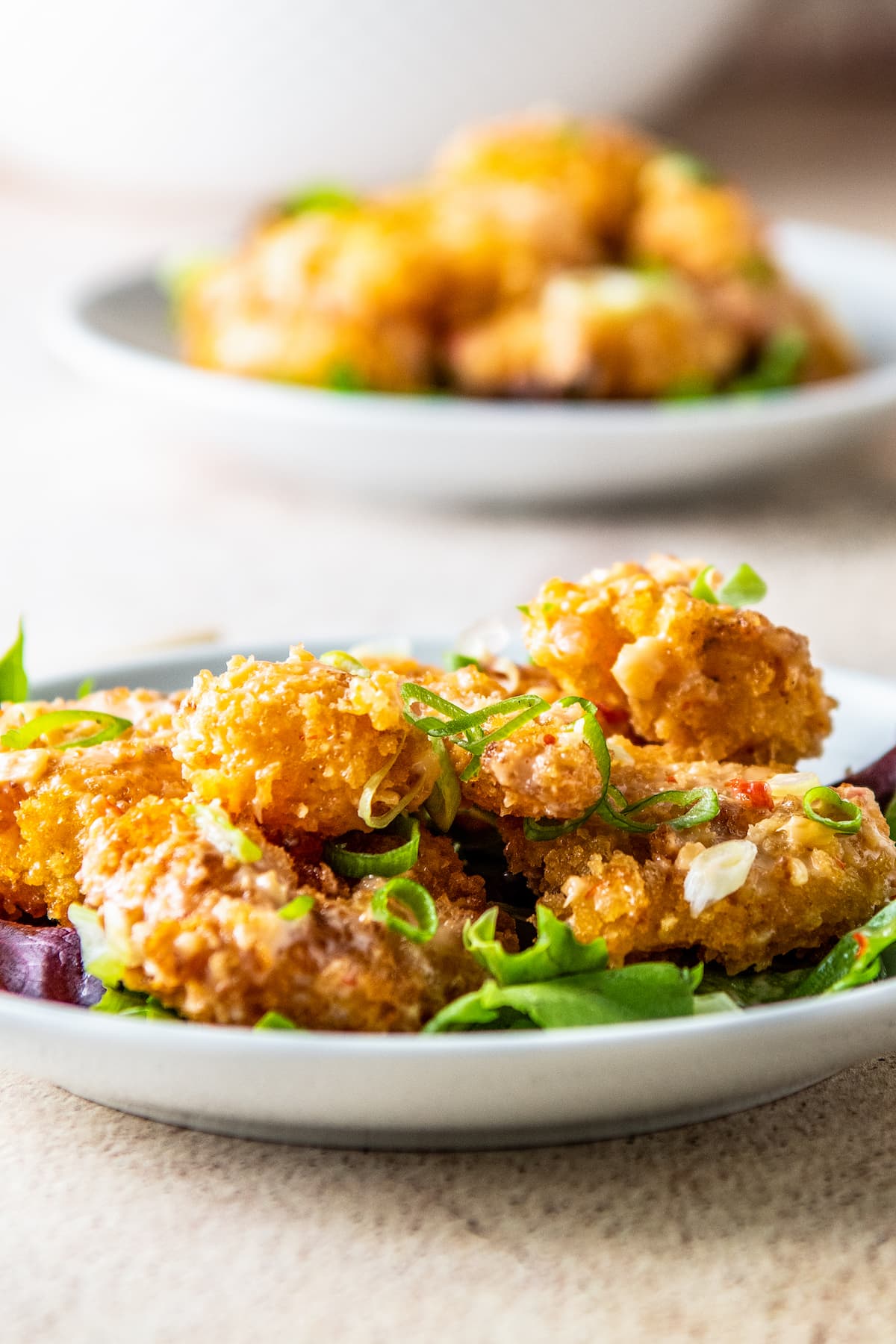 What Is Bang Bang Shrimp?
Bang Bang Shrimp was originally made popular by Bonefish Grill. It's their most-loved appetizer and with good reason!
Deep-fried shrimp are tossed in a creamy sauce made with sweet chili sauce, mayonnaise, sriracha, rice vinegar, and garlic. You can garnish with fresh herbs like chives or green onions. The shrimp are delicious on their own, but you can also serve them with a salad or a side of rice.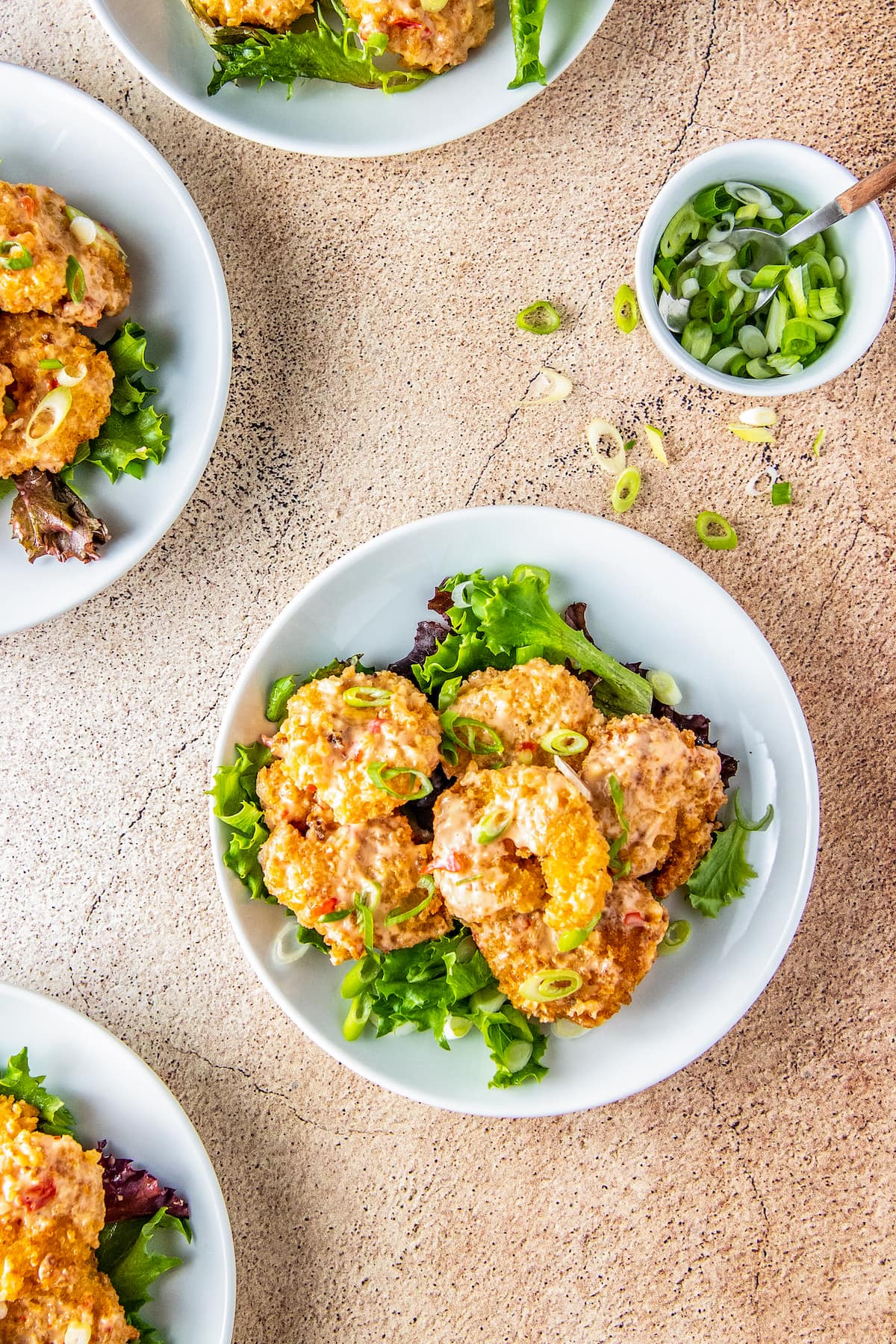 Why You'll Love This Recipe
This is one of our favorites and we think it will be yours, too! Here's why we love this recipe so much.
It's easier than it looks. You don't need a restaurant kitchen to replicate this recipe. You just need a few simple kitchen tools to deep fry and then your ingredients. It's a quick and simple recipe without a lot of fuss.
You can make it in under 30 minutes. This recipe doesn't take very long at all!
It's a great recipe to serve at a party. You can make it a fun weeknight meal or serve it at your next party. Everyone will love it!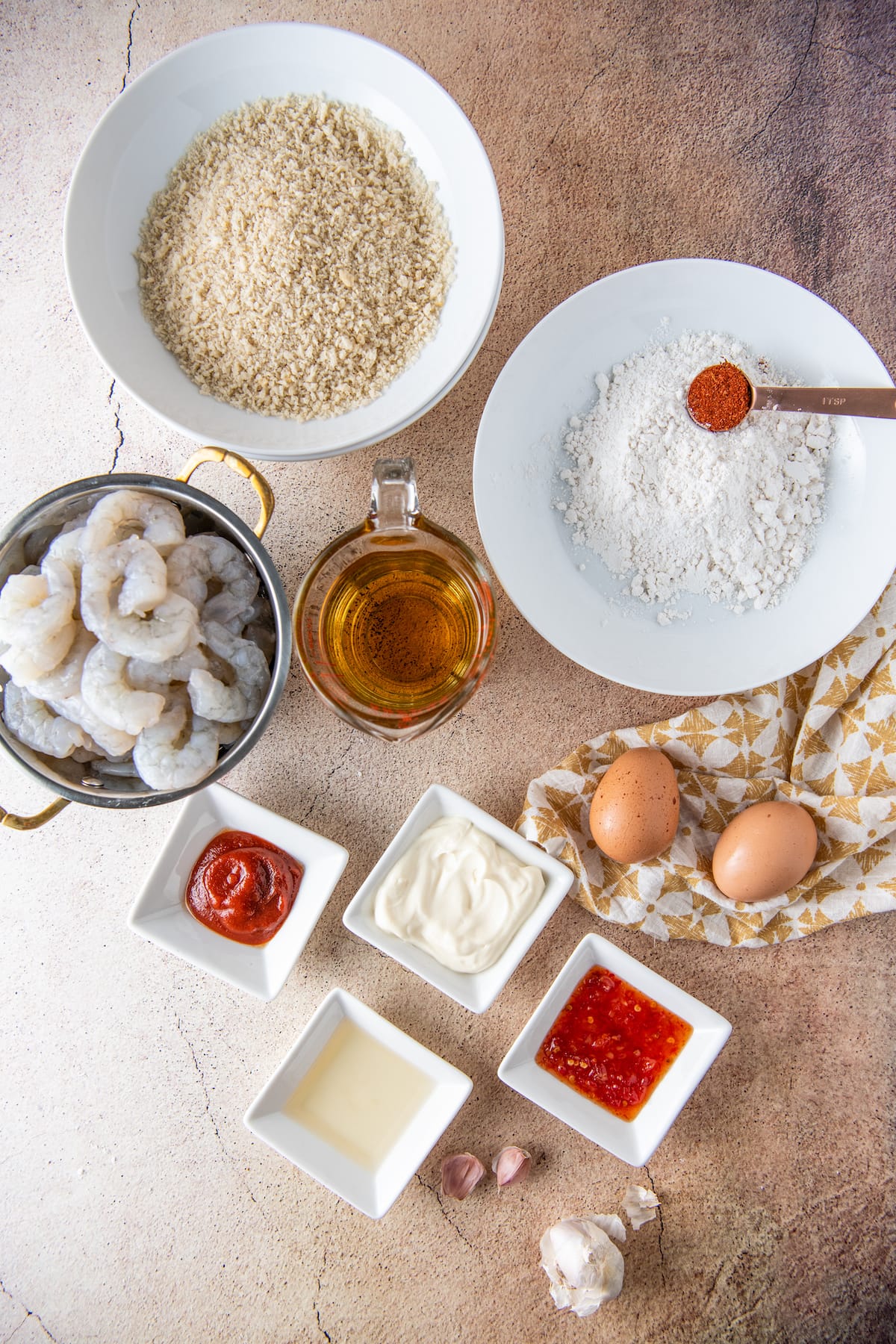 Recipe Ingredients
Here is what you'll need to make Bang Bang Shrimp at home. Take note that the recipe card below has the exact amounts of each ingredient.
All-Purpose Flour: Flour is used as part of the breading. It also helps flavor the shrimp, too, because you'll mix it with the seasoning.
Cajun Seasoning: You can use the bottle that you find at the store but we highly recommend trying our Homemade Cajun Seasoning. It has so much more fresh flavor!
Eggs: The eggs help the breading stick to the shrimp. The eggs are the "glue" that holds the panko bread crumbs onto the shrimp.
Panko Bread Crumbs: Using panko bread crumbs create a light and golden brown crust on the shrimp. It's perfect for light breading and deep frying.
Large Shrimp: The shrimp need to be peeled and deveined. You can also use smaller shrimp, too. Just remember the frying time won't be as long.
Vegetable Oil: This is the oil you'll be using to deep fry. You can also use canola oil.
Bang Bang Sauce: This is the star of the recipe! Follow our quick and simple recipe for Homemade Bang Bang Sauce.
Green Onions: Sliced green onions are used as a garnish. They also add a bit of freshness to the final plate! We also like to use chopped cilantro as a garnish sometimes.
Can I Use Frozen Shrimp?
Yes, you can use frozen shrimp. It's very important that you thaw the shrimp before breading and deep frying.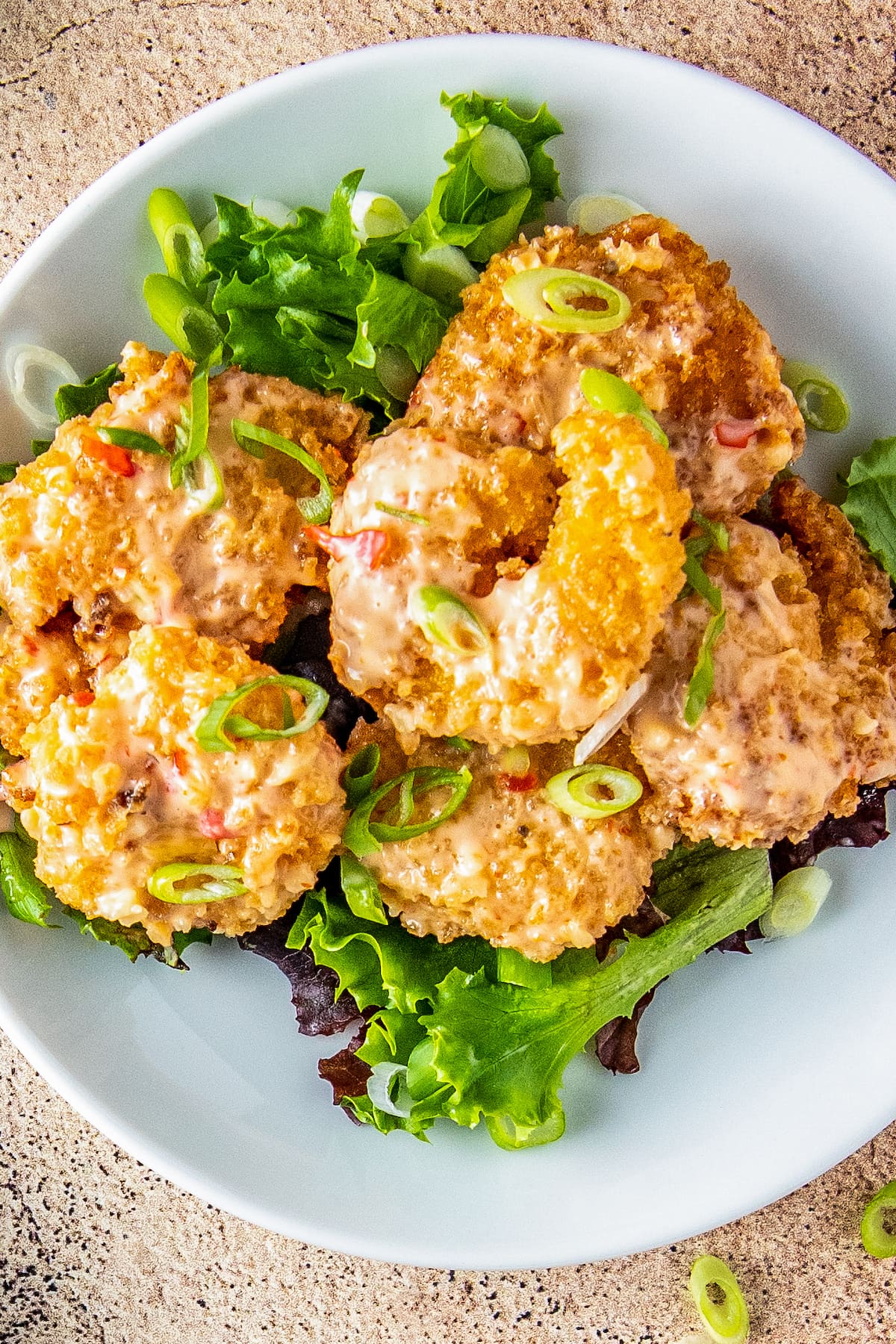 How to Make Bang Bang Shrimp
Here's how to make this delicious shrimp recipe.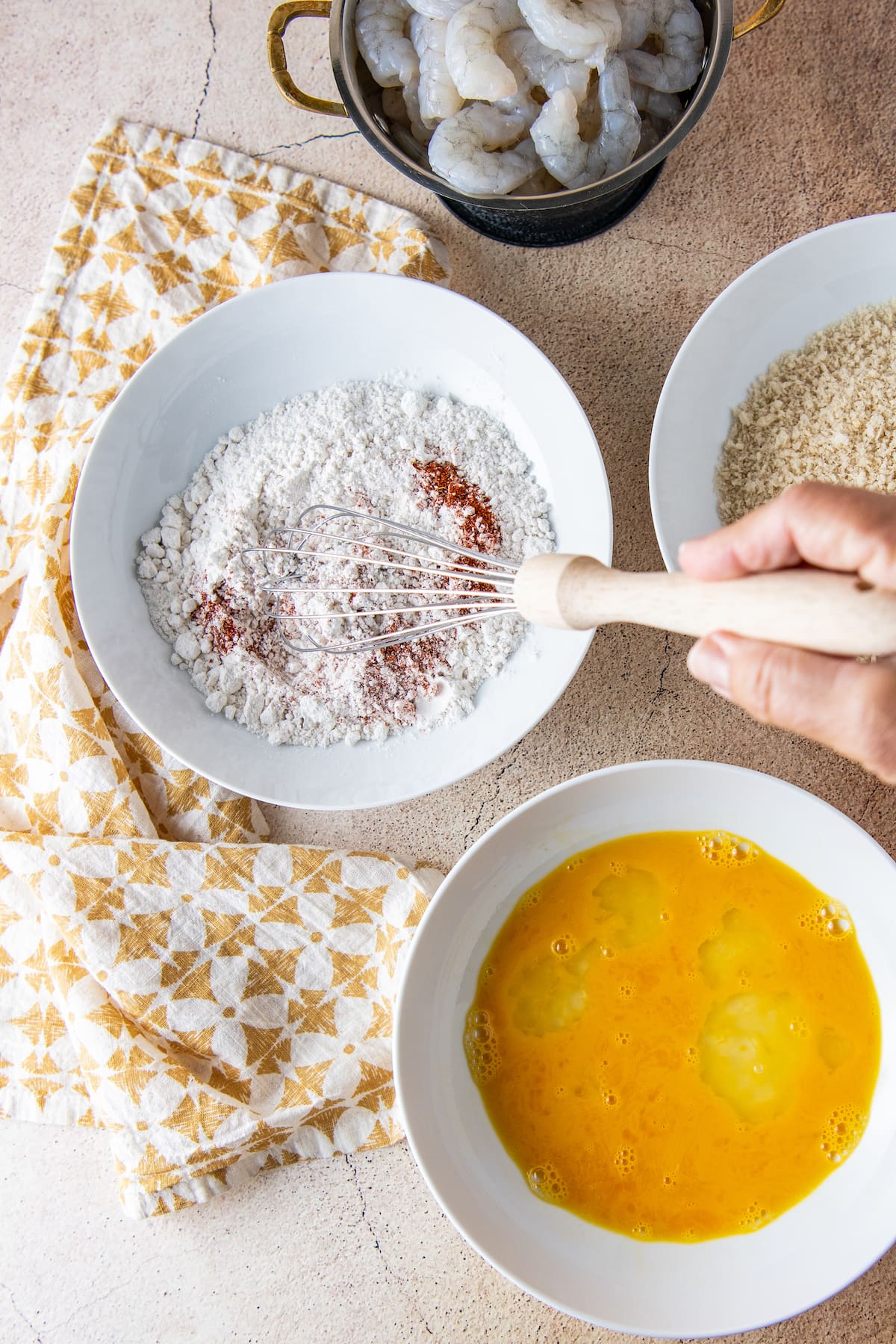 First, you'll need to prep the breading station. You'll mix the flour with the Cajun Seasoning in one bowl.
Then beat the eggs in a separate bowl and set aside. The eggs need to be whisked really well so that they coat the shrimp evenly.
Also, pour the panko into another bowl. These three separate bowls make up the breading station for your shrimp.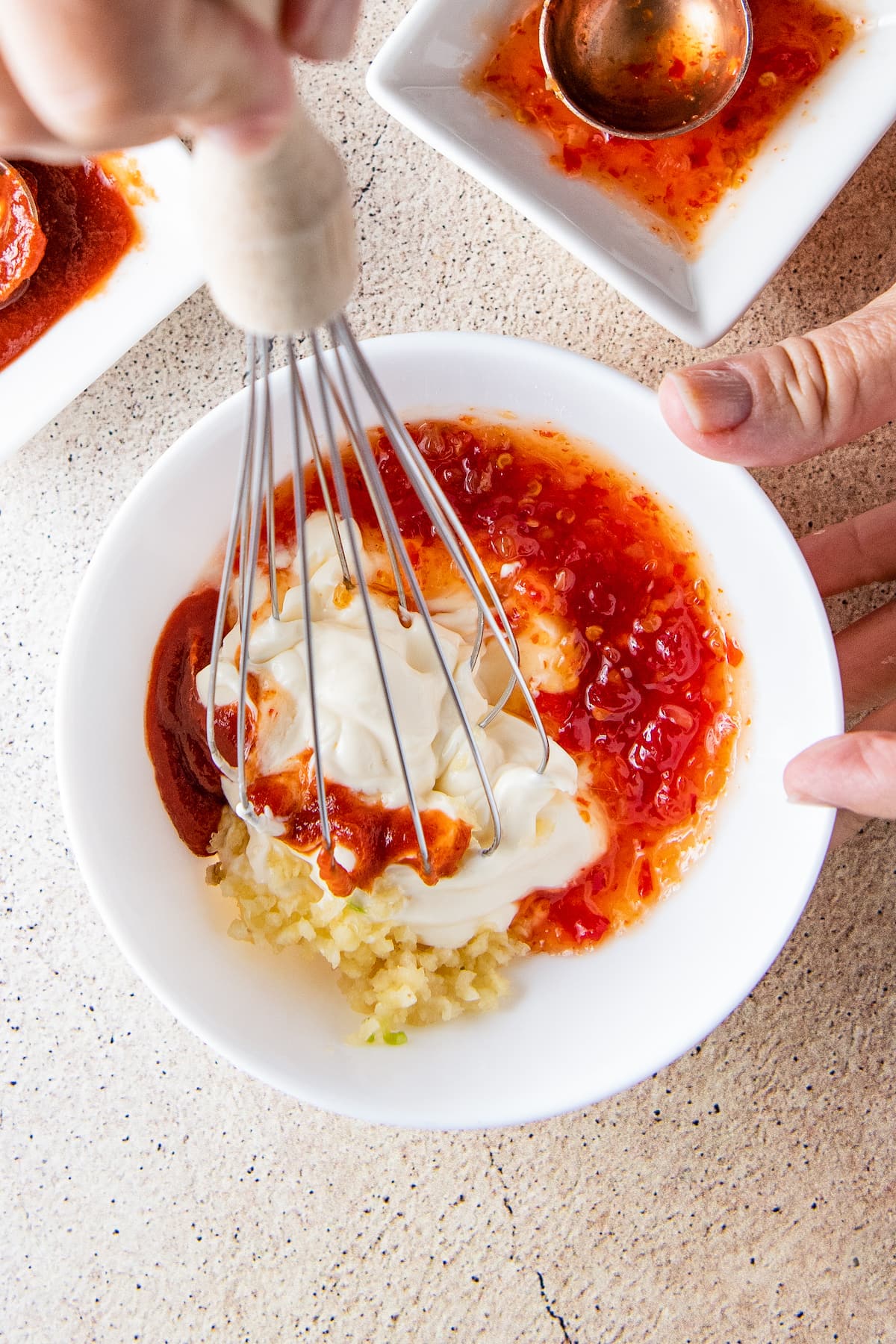 It's also time to make the Bang Bang Sauce. You can also do this ahead of time and store the sauce in the fridge.
Next, bread the shrimp. First, make sure that your shrimp are clean. They need to be shelled and deveined. Then you can dip them into the flour mixture, then the egg, and the panko last. Do this until all of the shrimp are breaded and set aside.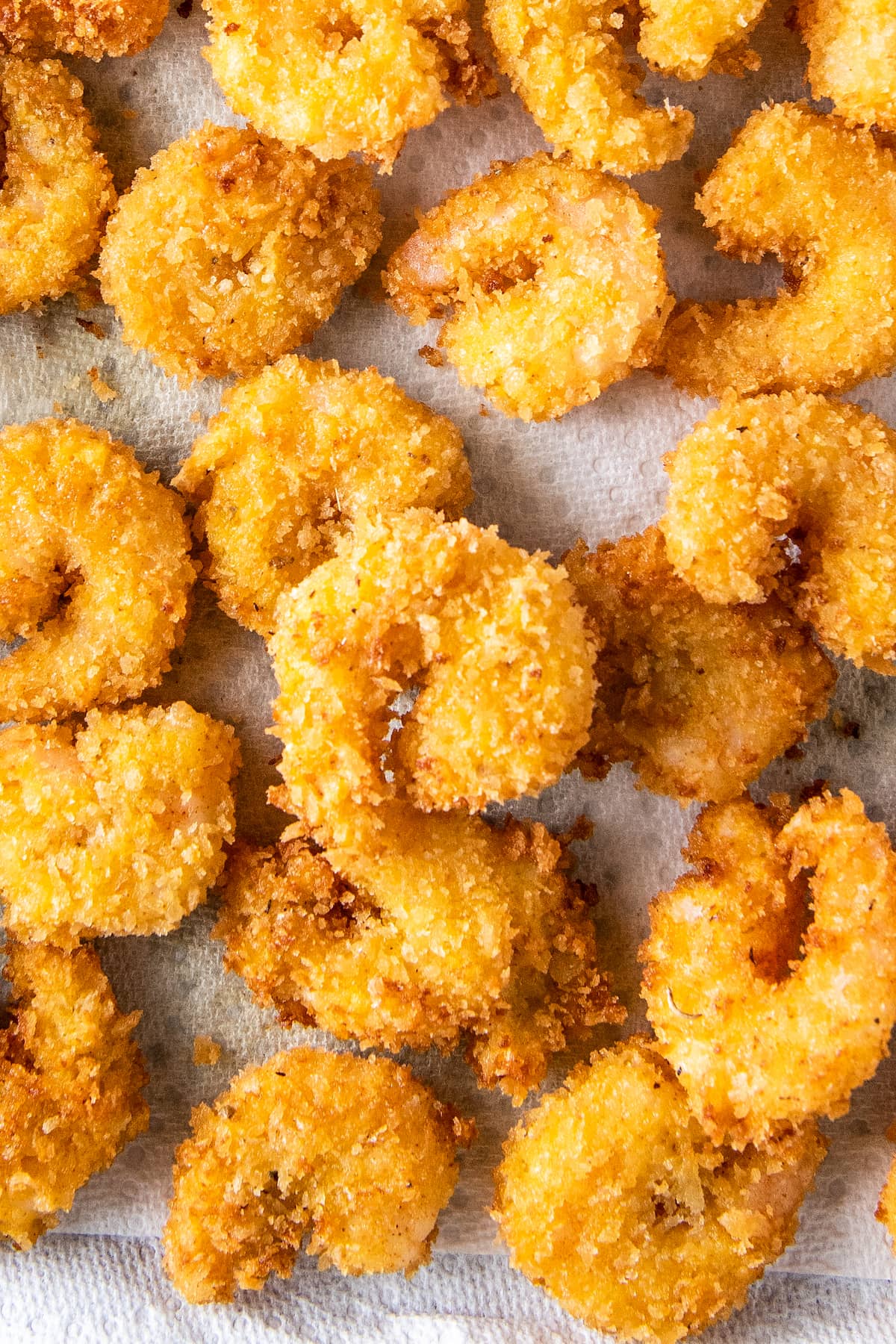 It's time to deep fry the shrimp! You'll fry the shrimp on the stovetop in a heavy pot. Make sure that the oil is hot before you start frying. Also, it's important to work in small batches so the shrimp cook evenly and the oil isn't overcrowded.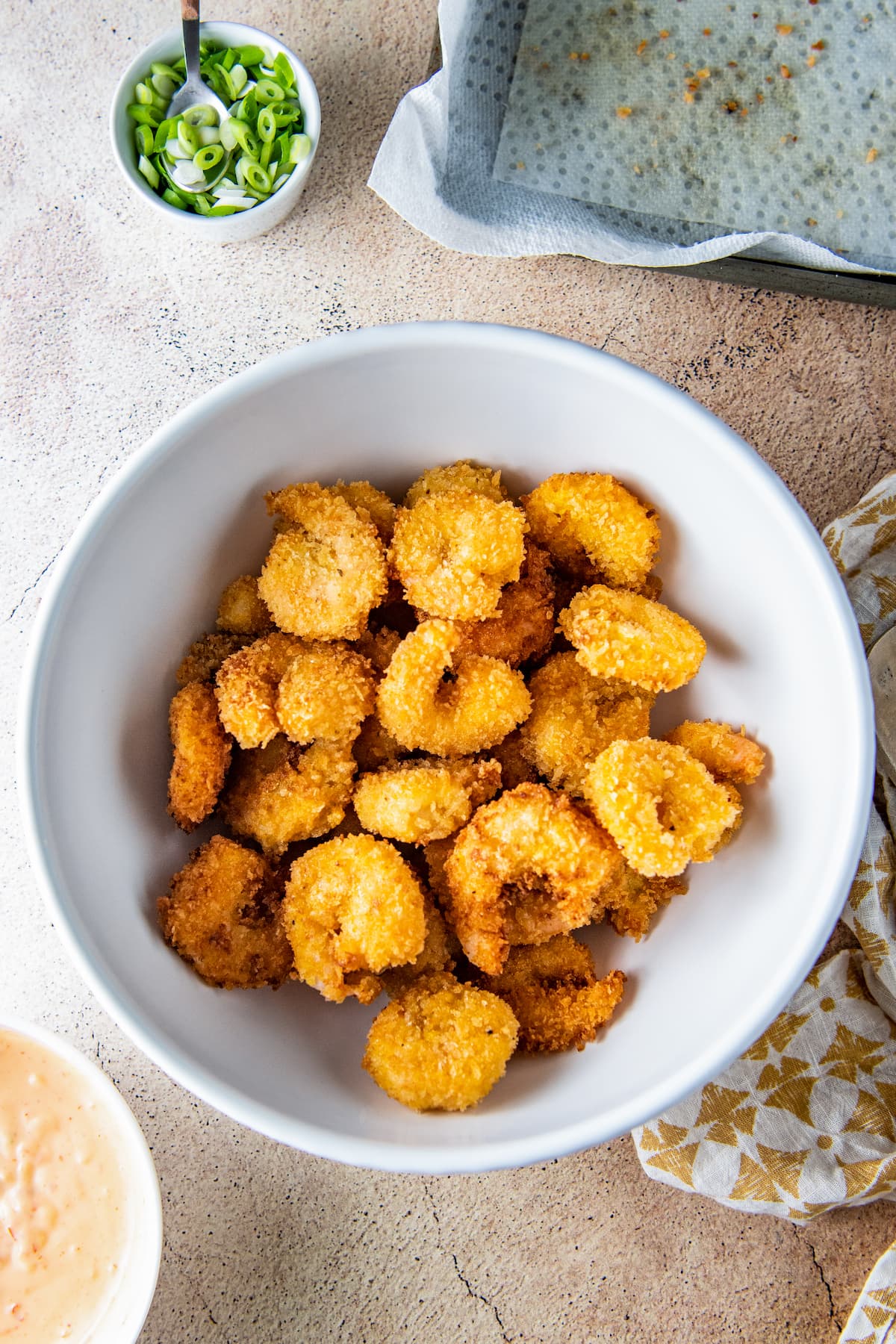 Toss the shrimp in the sauce after they are all cooked. Once the shrimp are all done, gently toss them in the Bang Bang Sauce. Then garnish with the fresh sliced green onions and serve immediately!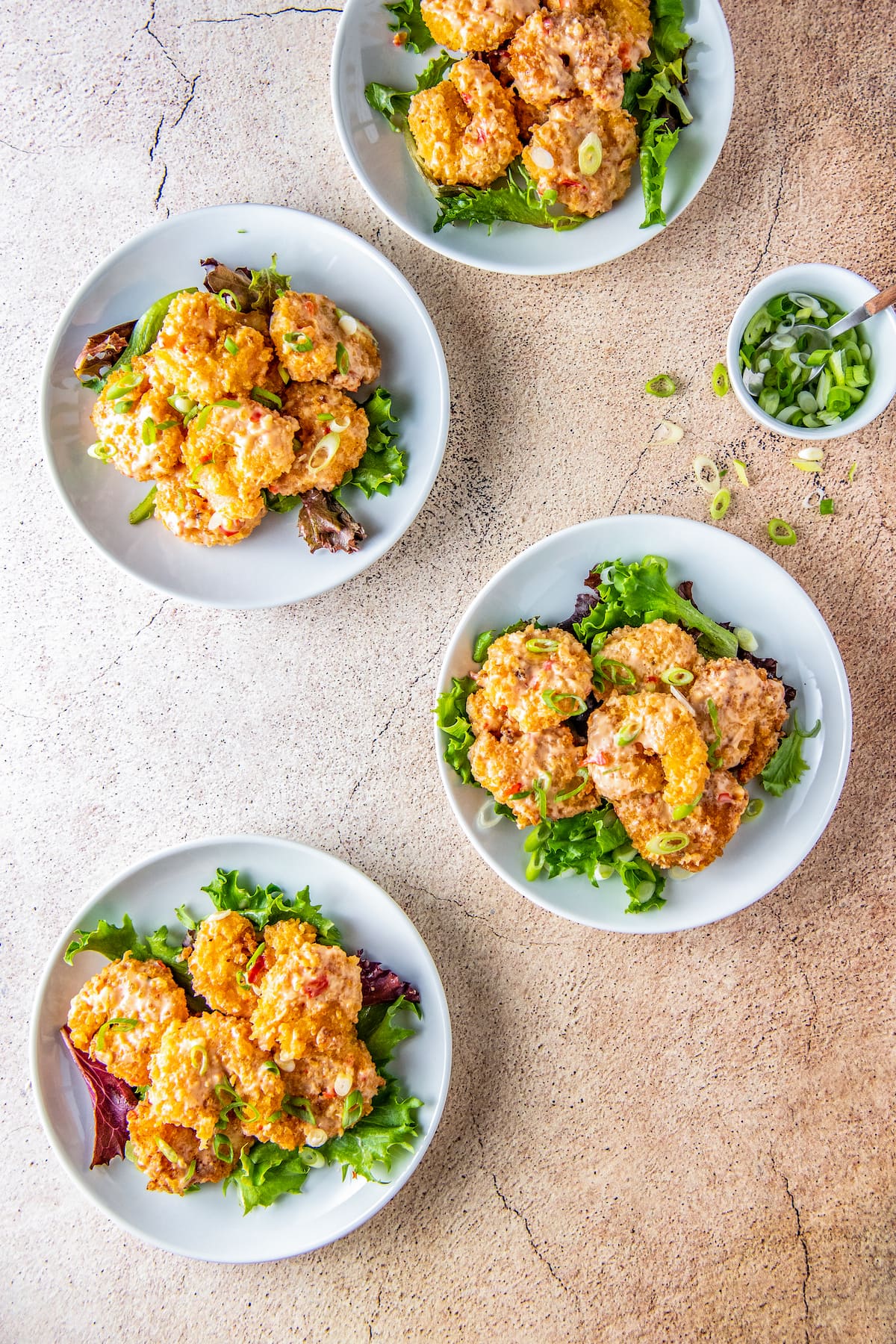 Tips for Frying Shrimp
Frying shrimp at home can be really simple. Here are a few simple tips to follow.
Make sure that everything is ready to go. This recipe moves fast once the oil heats up! So it's best to have everything prepared ahead of time and ready to go on the counter.
Have a "wet hand" and a "dry hand" while dredging the shrimp. This avoids a big clumpy mess! Use one hand to handle the dry ingredients (flour and panko) and the other to handle the wet (the eggs).
Sift the panko and remove clumps if it gets messy. If the panko does develop some clumps, try and remove them from the bowl because they will not stick to the shrimp as well.
Use the right sized pot. We like to use a small to medium-sized pot with deep sides. If you use a large and shallow pot, you'll have to use more oil so that the shrimp fry correctly.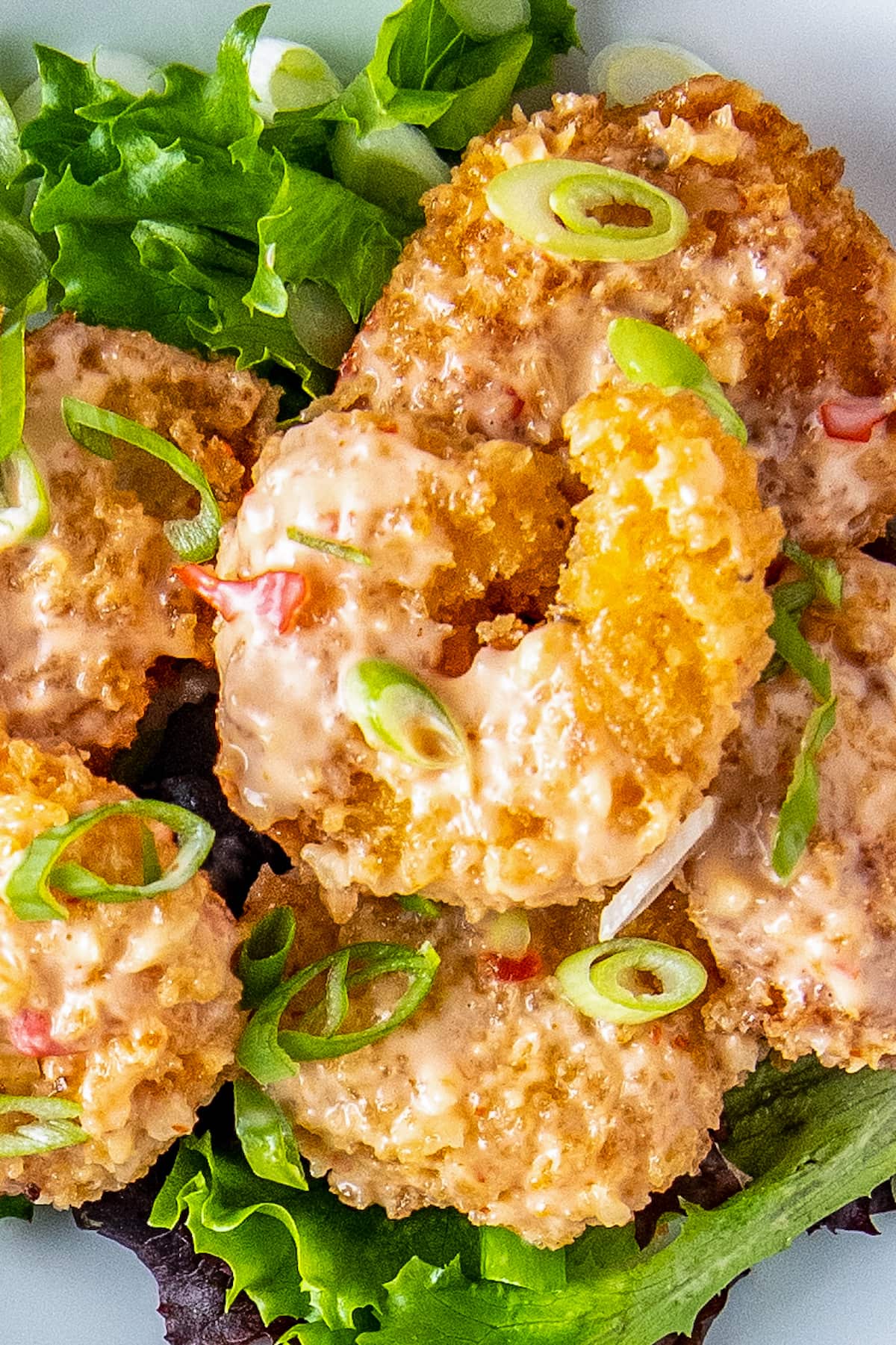 What To Serve with This Dish
Here are some of our favorite foods that pair really well with Bang Bang Shrimp.
Serve the shrimp on top of rice. We love to make this meal a dinner by serving the shrimp on top of our Cilantro Lime Rice.
Place them on top of a simple salad. You can dress up some spring greens with a little bit of olive oil, lime juice, salt, and pepper, and then add the crispy fried shrimp for a yummy lunch!
Make it an appetizer night! Sometimes we love to serve a bunch of apps for dinner. You could pair the shrimp with Chicken Lettuce Wraps and Pulled Pork Nachos.
How to Store & Reheat Leftovers
This Bang Bang Shrimp recipe is best served fresh and does not store very well. They will get soggy, especially if the sauce is added. So it's best to eat the shrimp right away and only make as much as you plan to eat.
Yield: 4 servings
Bang Bang Shrimp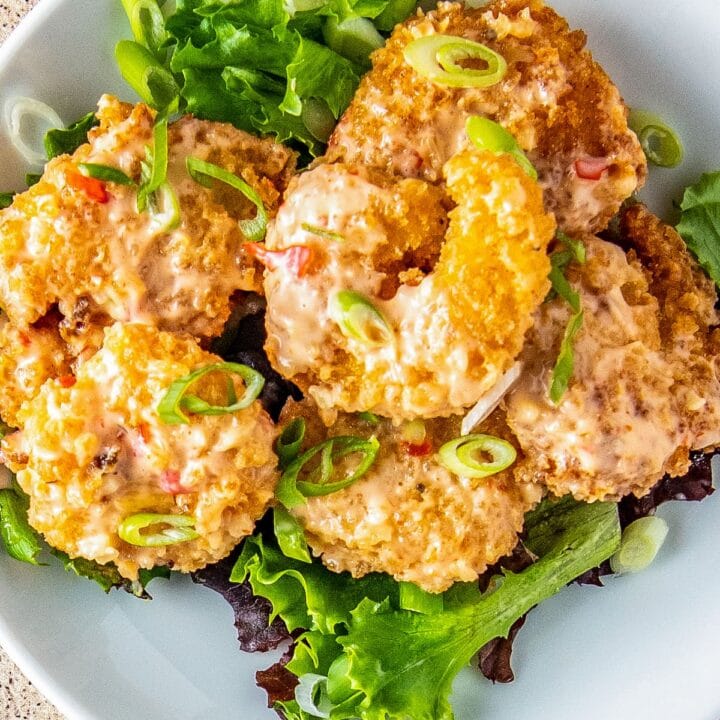 Juicy and crispy fried shrimp are tossed in a sweet and spicy sauce to create this copycat recipe for the best Bang Bang Shrimp at home!
Ingredients
1 cup all-purpose flour
2 teaspoons Cajun Seasoning
4 large eggs, beaten
2 cups Panko bread crumbs
2 pounds large shrimp, peeled and deveined
2 cups vegetable oil
2x batches Homemade Bang Bang Sauce
4 green onions, thinly sliced
Instructions
In a medium sized bowl, whisk to combine the flour and Cajun Seasoning. Set aside.
Place beaten eggs in a separate shallow bowl and the panko bread crumbs in a third shallow bowl.
Dredge one shrimp through the seasoned flour on all sides. Then place floured shrimp in egg and then coat the shrimp in the bread crumbs. Repeat until all shrimp are breaded.
In a medium size heavy pot, heat oil over medium-high heat, until it reaches 375°F. (You can also check if your oil is ready by dropping in a few breadcrumbs. If they sizzle, your oil is ready.)
Fry shrimp in batches, making sure not to crowd the shrimp, for about 2 minutes, until golden brown. Remove shrimp from oil and transfer to a paper towel lined plate or tray to drain. Repeat with remaining shrimp.
Toss shrimp immediately in bang bang sauce and serve topped with green onions!
Notes
Storage: This Bang Bang Shrimp recipe is best served fresh and does not store very well. They will get soggy, especially if the sauce is added. So it's best to eat the shrimp right away and only make as much as you plan to eat.
Nutrition Information:
Yield:
4
Serving Size:
1
Amount Per Serving:
Calories:

1655
Total Fat:

121g
Saturated Fat:

12g
Trans Fat:

3g
Unsaturated Fat:

103g
Cholesterol:

665mg
Sodium:

3303mg
Carbohydrates:

70g
Fiber:

4g
Sugar:

6g
Protein:

69g
Filed Under:
More Shrimp Recipes: