Nothing says party time like a big platter of these double-layer Pulled Pork Nachos. Tortilla chips topped with delicious BBQ pulled pork, shredded cheese, jalapeños, guacamole, and sour cream…these nachos are perfect for game day, get-togethers, or anytime!
Easy Pulled Pork Nachos Recipe
Crispy tortillas chips are topped with sweet and smokey pulled pork and all the toppings you can dream up to create these epic Pulled Pork Nachos! We make them double layered with two full layers of chips, pulled pork, cheese, black beans and pico de gallo. Then we top them all off with the final toppings. The magical double layer guarantees that no chip will be left behind!
These supreme nachos are topped with 9 different toppings, each one adding a new layer of texture and flavor. These nachos are sweet, savory, a little spicy, and super cheesy! Warning: you may be tempted to eat the whole sheet!
I like to make a big batch of pulled pork to use for nachos as well as for sandwiches. You can use these nachos as a party appetizer, main course, or as an evening snack. We really like to make them for family movie night! No matter when you make them, they will be devoured.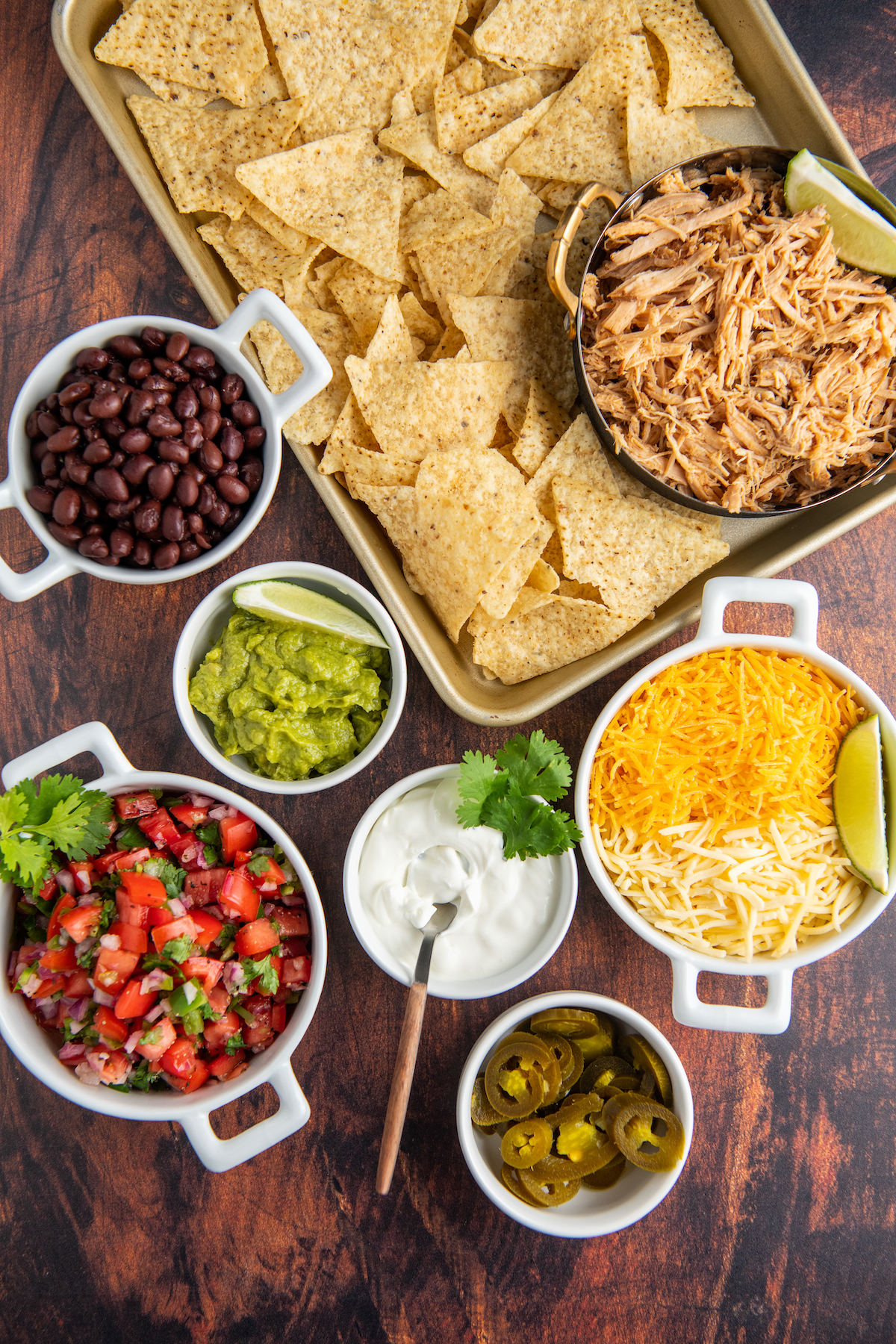 What You'll Need
This recipe is a great way to use up your leftover pulled pork. The best thing about this recipe is that you can use or omit any of the ingredients you don't like. Get out your shopping list:
Pulled pork: If you don't already have leftover pulled pork, you can use my sweet and savory Crockpot Pulled Pork recipe or my kids' favorite Dr. Pepper Pulled Pork!
Cheese: I recommend using shredded cheddar cheese and chihuahua cheese. Chihuahua cheese is a Mexican cheese that you can find in the same area as regular shredded cheese. You can also use queso on top if you want them extra cheesy!
Pico De Gallo: This is a type of fresh chunky salsa that has not been cooked or heated. It adds a ton of flavor! You can buy it already made, or you can make your own using our Homemade Pico De Gallo recipe.
Black beans: Totally optional, but when I'm serving nachos for dinner, I always like to add black beans to make them extra hearty and add a little fiber too.
Jalapeños: For a spicy kick you can add a few jalapeños — pickled or fresh, it's up to you. If you want a little more heat, add more!
Guacamole: You can find pre-made guacamole at your local grocery store, or you can make your own. You can also use fresh avocado slices!
Sour Cream and Cilantro: After your nachos have been warmed and heated, you can top them with sour cream and cilantro to taste.
Lime Wedges: a squeeze of fresh lime is always delicious.
How to Make Pulled Pork Nachos
The best thing about these pulled pork nachos is that they are super easy and quick to whip up. Just follow the simple steps below.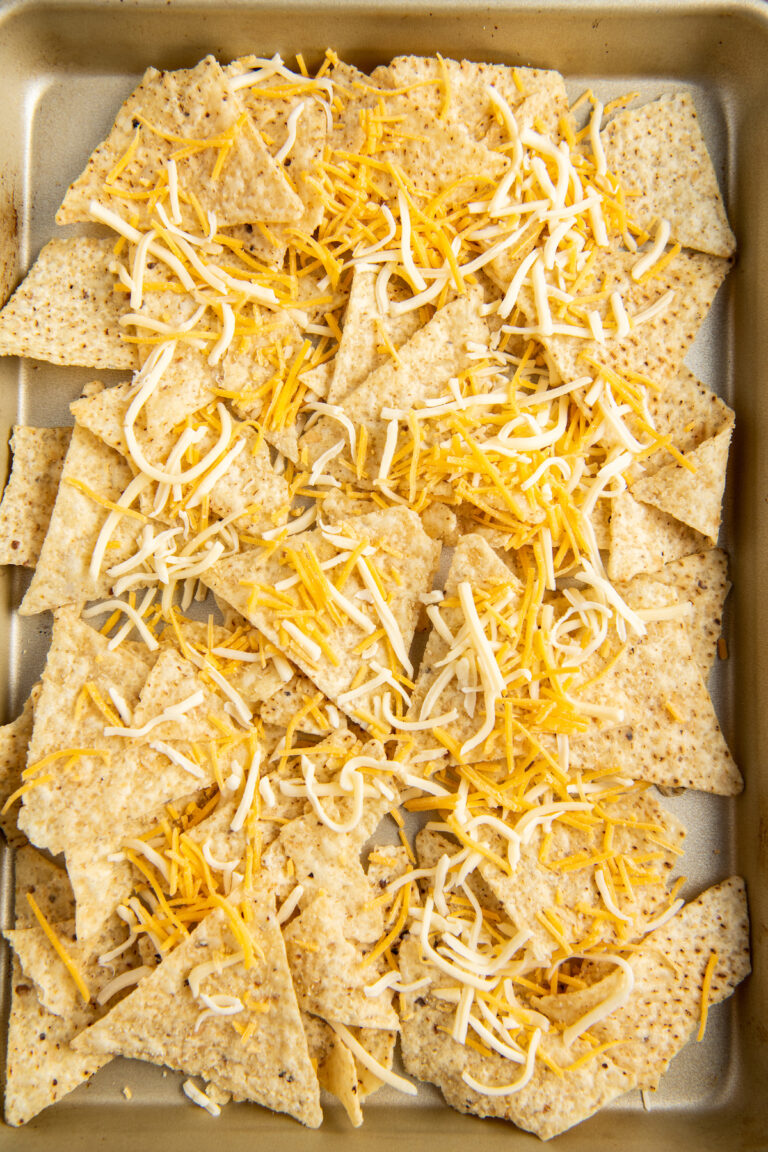 Preheat the oven: First, you will want to preheat your oven to 400℉.
Line your sheet pan: Next, line your sheet pan with ½ of the tortilla chips in the bag. Then, top those nachos with half of your pulled pork, cheddar cheese, chihuahua cheese, pico de gallo, black beans and jalapeños.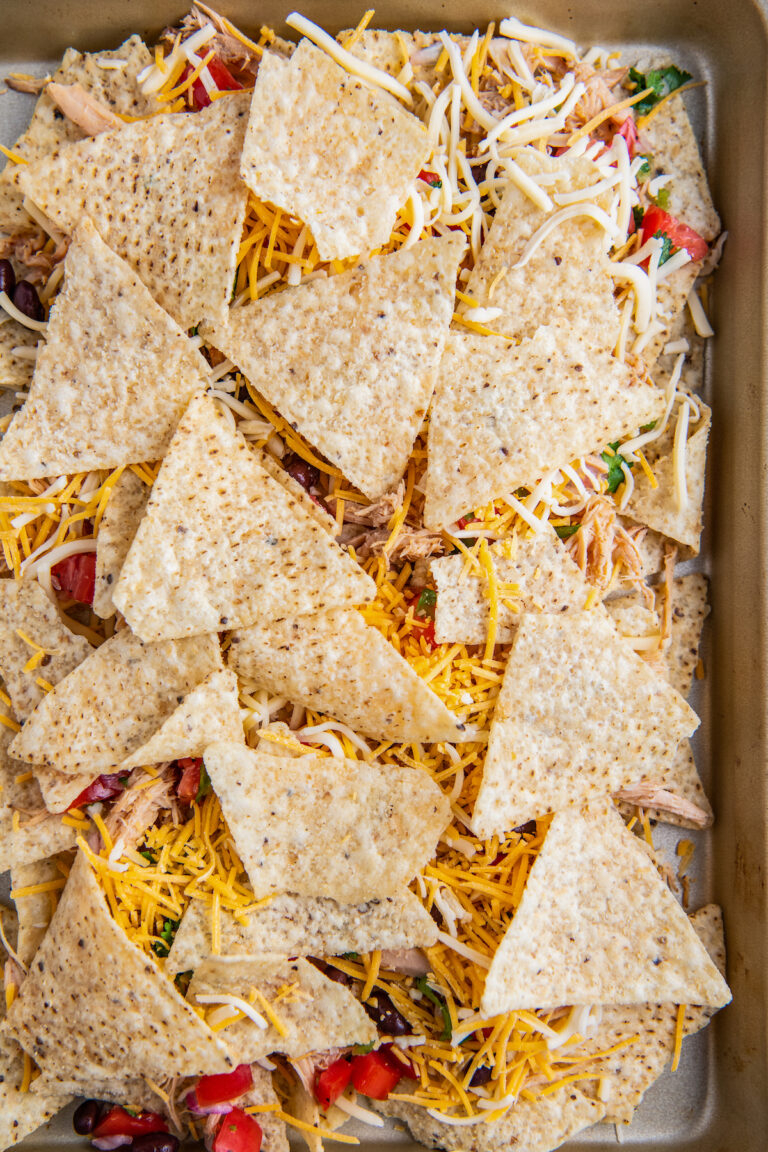 Add more chips and toppings: Then, add the remaining chips on top, and begin topping them with the rest of your pulled pork cheddar cheese, chihuahua cheese, pico de gallo, black beans and jalapeños.
Bake your nachos: Place your sheet pan of nachos in the oven and bake for 10 minutes.
Add more toppings: When the nachos are finished baking, remove them from the oven and quickly top them with sour cream, guacamole, and cilantro.
Serve and Enjoy! Quickly serve up your nachos, as they are best fresh and hot!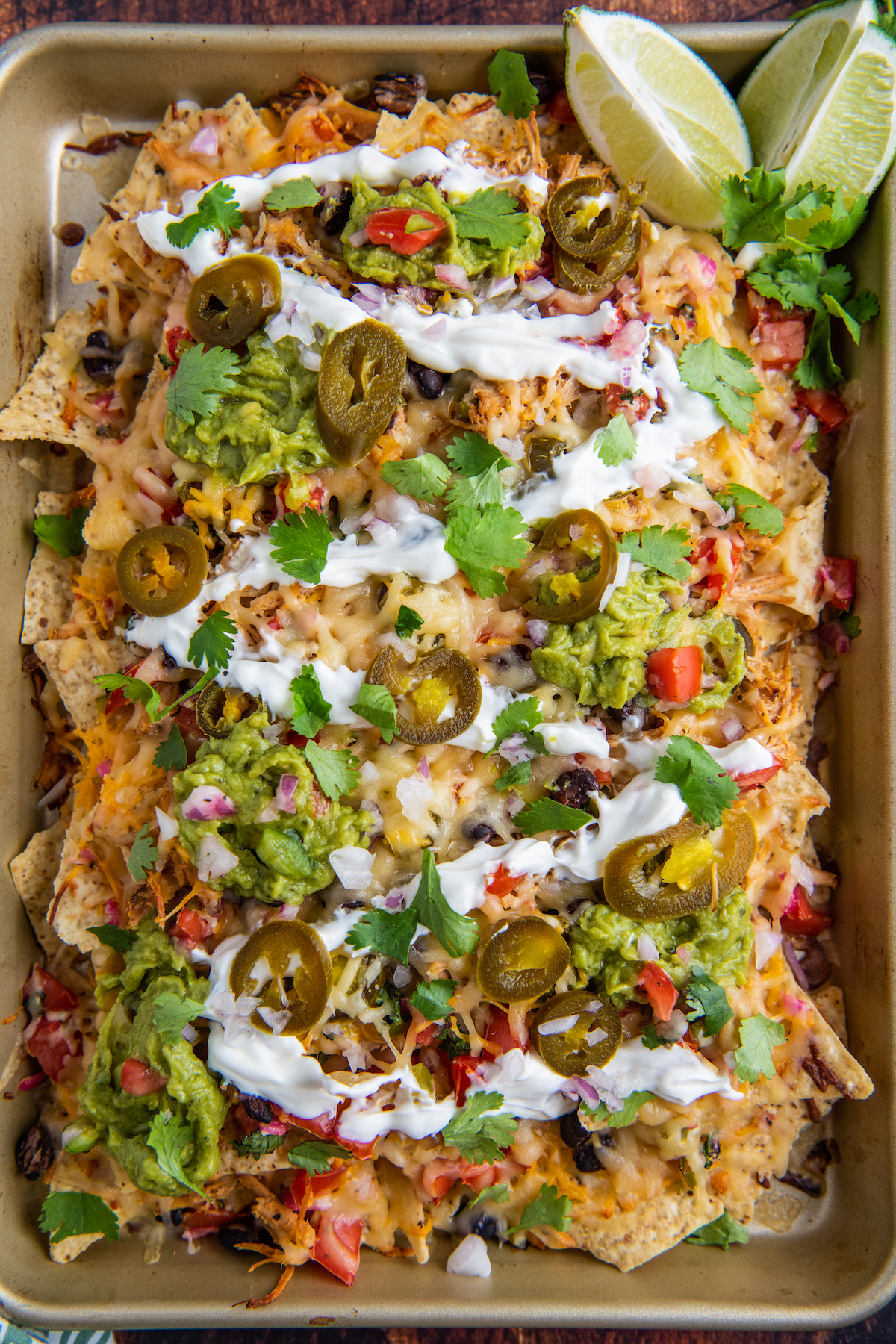 Tips for Making the Best Pulled Pork Nachos
Use quality tortilla chips. You want thick tortilla chips that can handle the weight of the toppings without them getting soggy.
Make sure the cheese is melted. Allow your nachos to cook until the cheese is fully melted.
Grate your own cheese. Freshly grated cheese melts and tastes better than pre-packaged shredded cheese, so if you have the time, grate your own!
Drizzle with queso. If you really want to take these nachos to the next level, you can drizzle melted queso over them right after they come out of the oven and before you add the last toppings like guacamole, sour cream, cilantro, etc.
Don't store leftovers. If your nachos have been prepared, you won't be able to store the leftovers as the tortillas will get soggy. You can store individual leftover ingredients in the refrigerator as needed.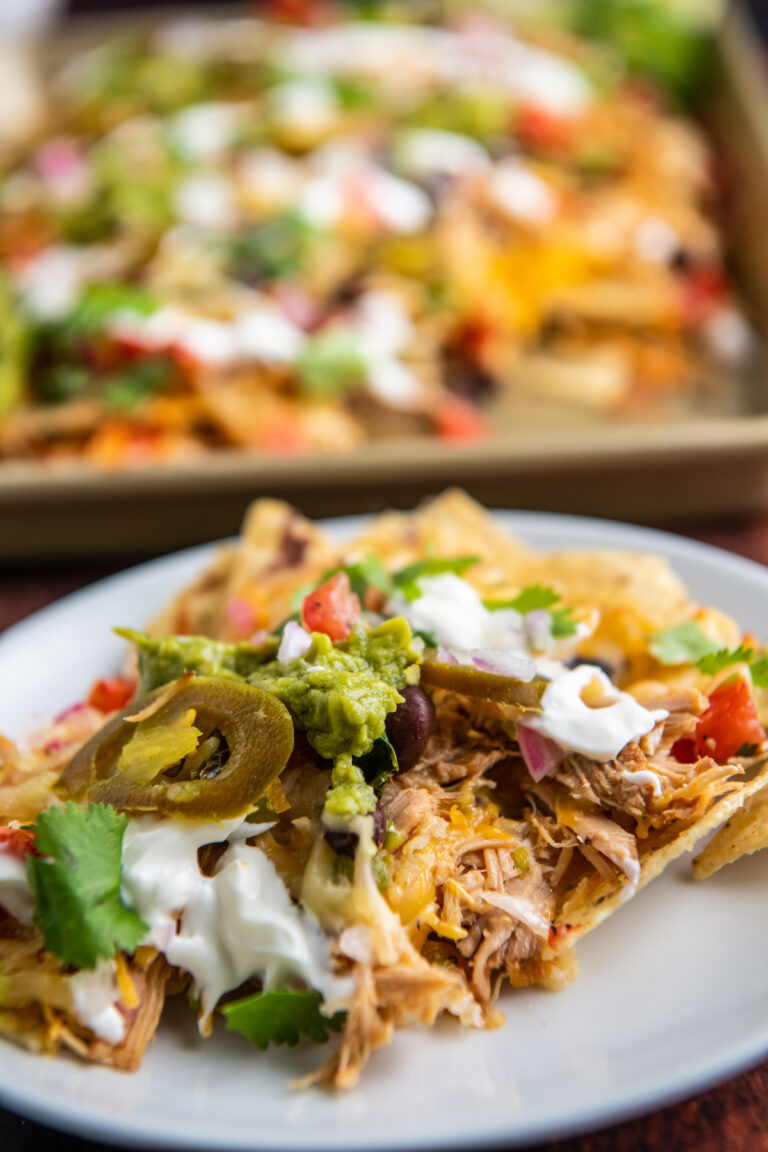 Do You Put Pico De Gallo on Before Cooking?
Because pico de gallo is a type of salsa that has not been cooked, it can go on your nachos before baking. Traditional salsa is more watery, so you would not want to put it on your tortillas before baking as it can make them soggy.
However, if you only want to use your Pico De Gallo as a topping, that's totally fine! Add it later when you add all the rest of the toppings.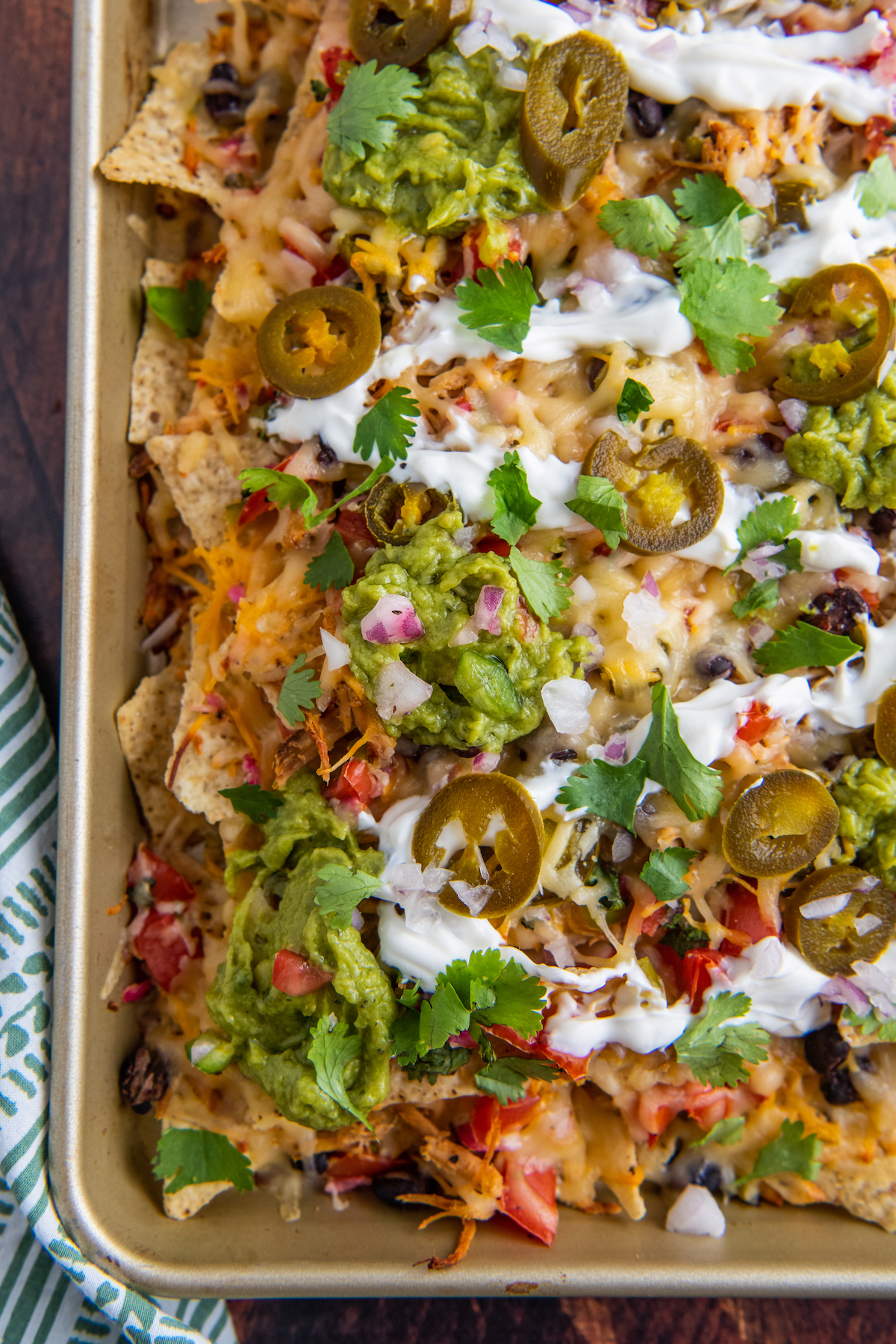 How Do I Make Pulled Pork?
If you don't have any leftover pulled pork, you can make pulled pork just for this recipe. Pork butt or shoulder can be cooked in your crockpot on low all day. When you are ready to make these nachos, you'll just need to pull out the pork and shred it.
We have two great recipes that we love and highly recommend for pulled pork, both are made in the slow cooker and/or instant pot. First is the classic: The Best Pulled Pork Recipe. Second is a fun spin on the first: Crockpot Dr Pepper Pulled Pork.
More Appetizer Ideas to Try
Looking for other easy appetizers to make at home? Here are some of my go to appetizers that can also be served as easy dinners as well!
Yield: 4 to 6 servings
Pulled Pork Nachos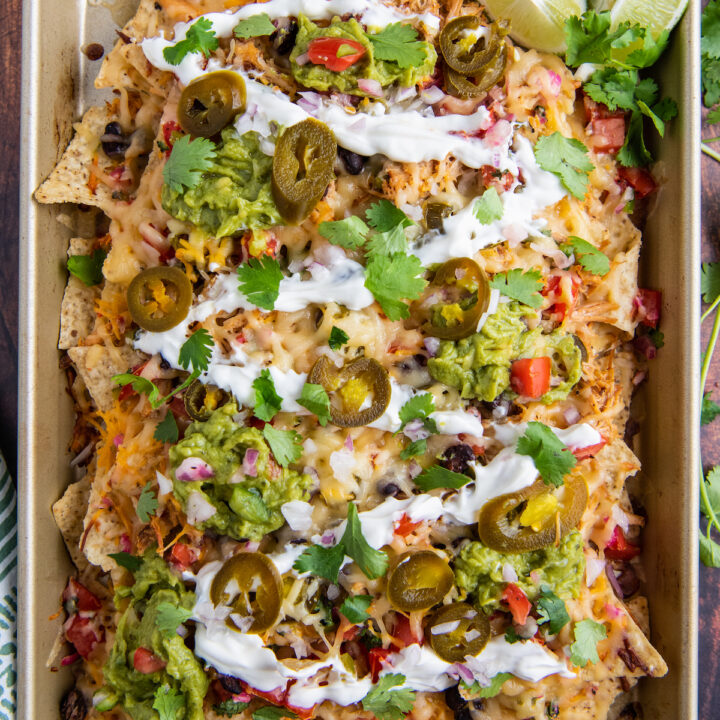 Loaded with smokey bbq pulled pork, lots of cheese, and all the toppings, prepare to fall in love with these double layer Pulled Pork Nachos!
Ingredients
11oz bag of tortilla chips
2 cups cooked pulled pork
1 cup shredded cheddar cheese
1 cup shredded chihuahua cheese
1 cup pico de gallo
1/2 cup black beans
Optional Toppings:
jalapeños, fresh or pickled
sour cream
guacamole
cilantro
lime wedges
queso**
Instructions
Preheat oven to 400°F.
Line a large sheet pan with 1/2 of the bag of tortilla chips. Top tortilla chips with half of the pulled pork, cheddar cheese, chihuahua cheese, pico de gallo and black beans.
Add the remaining chips on top and add the remaining pulled pork, cheddar cheese, chihuahua cheese, pico de gallo and black beans.
Bake for 10 minutes or until cheese is melted and hot.
Remove from oven and quickly top with all your favorite toppings. Serve immediately!

Notes
**If you really want to take these to the next level and LOVE cheese, you can also drizzle warn and melted queso over the nachos right after they come out of the oven, before adding any extra toppings like sour cream, guacamole, cilantro, etc.
Nutrition Information:
Yield:
4
Serving Size:
1
Amount Per Serving:
Calories:

634
Total Fat:

36g
Saturated Fat:

13g
Trans Fat:

1g
Unsaturated Fat:

19g
Cholesterol:

58mg
Sodium:

640mg
Carbohydrates:

60g
Fiber:

6g
Sugar:

1g
Protein:

21g