This easy Crockpot Butternut Squash Soup is made with warm spices and fresh fall veggies to create a healthy, creamy, and comforting soup. It's the perfect easy crockpot dinner recipe for those cool Autumn days!
Crockpot Butternut Squash Soup
With the hustle and bustle of everyday life, this crockpot butternut squash soup is one of my go-to dinner options during the cooler Fall and winter months. It's incredibly easy to make and only takes 10-minutes to prep. Just throw everything in to the crockpot and go about your day!
Butternut squash in itself is an excellent source of fiber. It aids in decreasing hunger and is a great choice for any healthy weight loss plan. Adding it to any meal is sure to give you great results.
Packed with fresh veggies like butternut squash and chopped carrots, this soup is perfect as a lower carb or vegetarian/vegan option. Not only is it great for those of us who need to watch what we eat, but it's packed full of delicious fall spices that make it absolutely irresistible.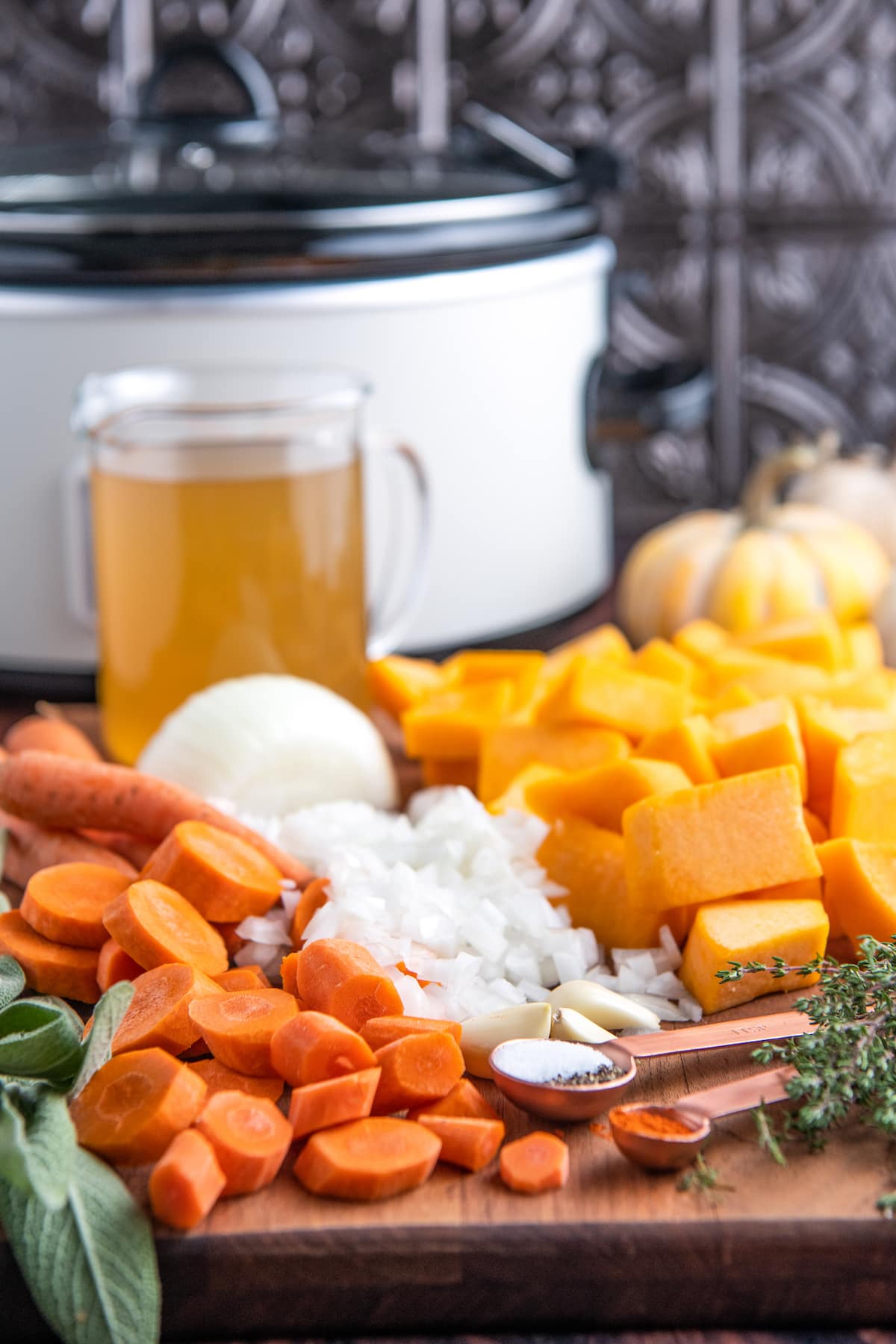 Butternut Squash Ingredients
The best part of this recipe is that you only need 10-ingredients-most of which are spices you probably already have in your cupboard. Here's what you'll need:
Butternut squash: Obviously you can't have butternut squash soup without the squash. Make sure to peel it and cut it into small cubes or save time by purchasing already cleaned and diced butternut squash.
Carrots: The carrots need to be chopped into smaller chunks so they cook in time.
Onion: A sweet yellow onion adds great flavor!
Garlic: Fresh minced garlic will add the most flavor.
Broth: For this recipe, you can use either vegetable or chicken broth. I like to use chicken broth because I think it gives more of a diverse flavor, but if you would like your soup to be vegetarian or vegan, use vegetable broth.
Herbs and Spices: In addition to the above ingredients, you will need salt, pepper, cayenne pepper, sage, and thyme.
How to Make Crockpot Butternut Squash Soup
You can make this deliciously creamy butternut squash soup without much skill at all. That's the beauty of crockpot meals! Follow these simple steps below, for a delicious dinner the whole family will love.
Prep the crockpot: First, spray the crockpot liner with nonstick cooking spray or line your crockpot with a crockpot liner for super easy clean up. (However, with a crockpot liner, you will have to be very careful when puréeing your soup!)
Add ingredients: Add the cubed butternut squash, carrots, garlic, onion, broth, salt, pepper, and cayenne pepper to your crockpot. Stir everything to combine it.
Add fresh herbs: Next, lay the thyme and sage on top of the soup. You want to keep these herbs together in bunches, do not chop them up, they are just for flavor and will be removed later.
Cook: Cover your crockpot with a lid and cook the soup on low for 6-8 hours or on high for 4-6 hours. You just want to cook it long enough for the vegetables to be fork tender. It will not hurt the soup to continue to sit on the warm/low setting for a few hours, if it finishes cooking before you are ready to serve it. In fact, it lets the flavors meld together even more!
Remove the sage and thyme: Once the soup is cooked and your squash is fork tender, remove the sage and thyme from your soup and discard them into the trash.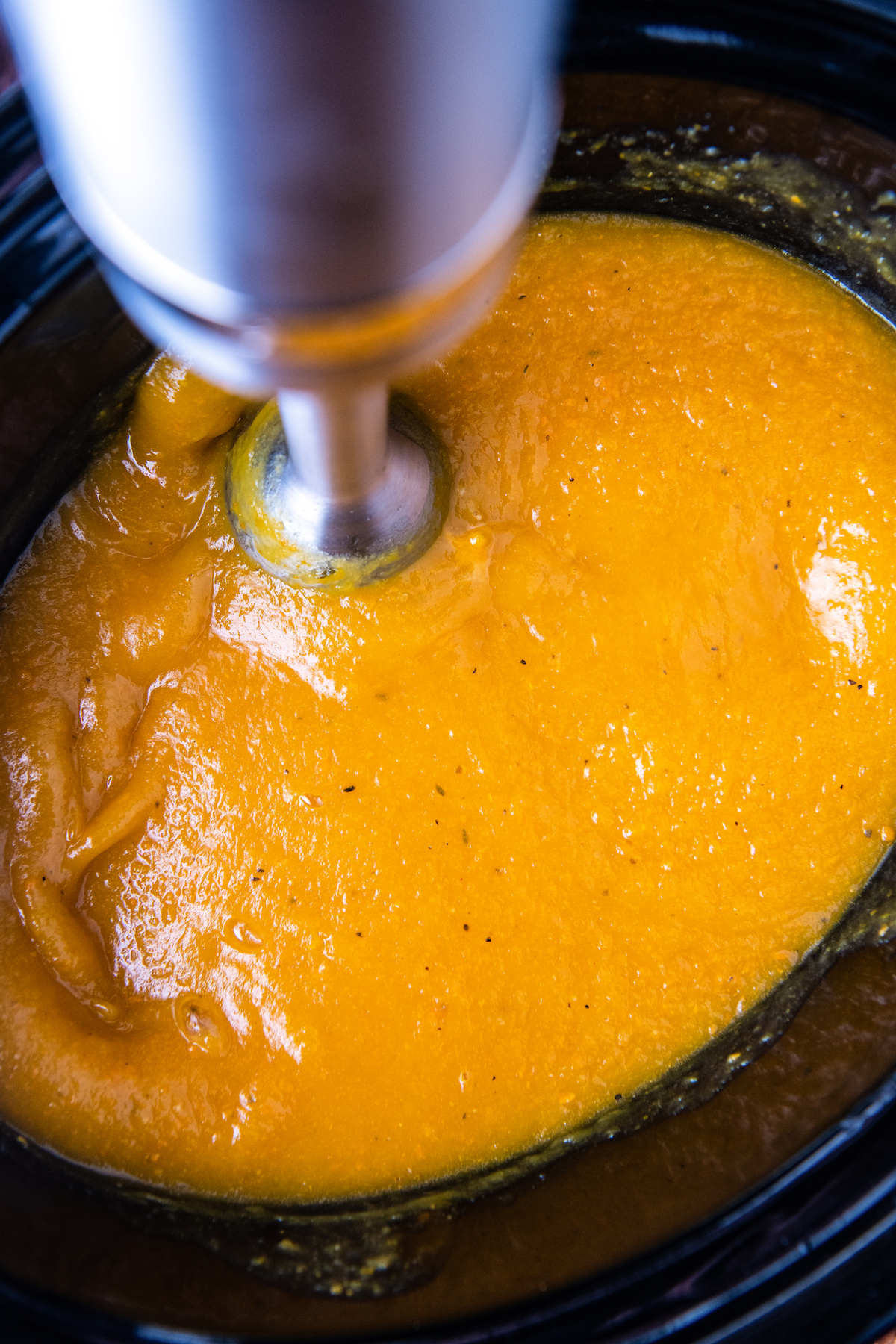 Puree the soup: Transfer your soup to a food processor or immersion blender to puree the soup. If you use a food processor or blender, make sure not to overfill them or you will have quite the hot mess on your hands!
Serve: Serve your soup hot, topped with all your favorite toppings. Our favorites are pumpkin seeds, cream and croutons!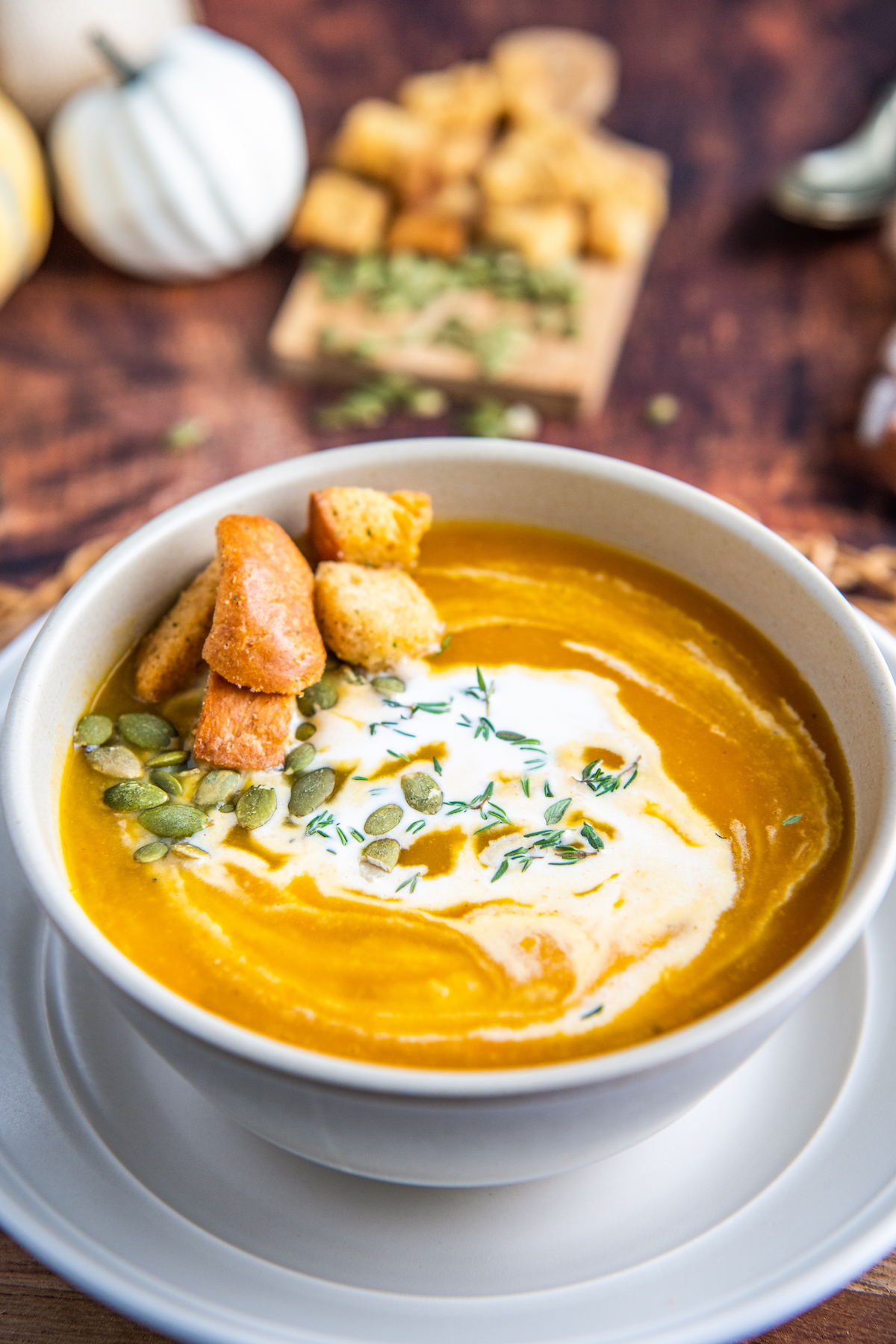 Helpful Butternut Squash Soup Tips
Butternut Squash: To save time, you can purchase already cleaned, peeled and cubed butternut squash in the produce section. I always buy a big bag of it at Costco and it saves a ton of time when making this soup.
Use a liner. Although you don't have to use a crockpot liner, I would recommend using one so that your soup does not burn or stick to the bottom of your crockpot while cooking. It also makes it easier to clean. But be careful when you go to puree your soup, you don't want to puree the plastic liner!
Don't overfill the food processor. When pureeing your soup, be sure not to overfill the food processor or blender or it will make quite a mess. If possible, I really recommend using an immersion blender.
Add toppings. We like to top our soup with a swirl of sour cream, pumpkin seeds, or croutons.
Be careful with the cayenne pepper. ¼ teaspoon of cayenne pepper gives this soup a nice light kick. It may be a little too spicy for kids, so you can leave it out and add it to individual bowls, as desired.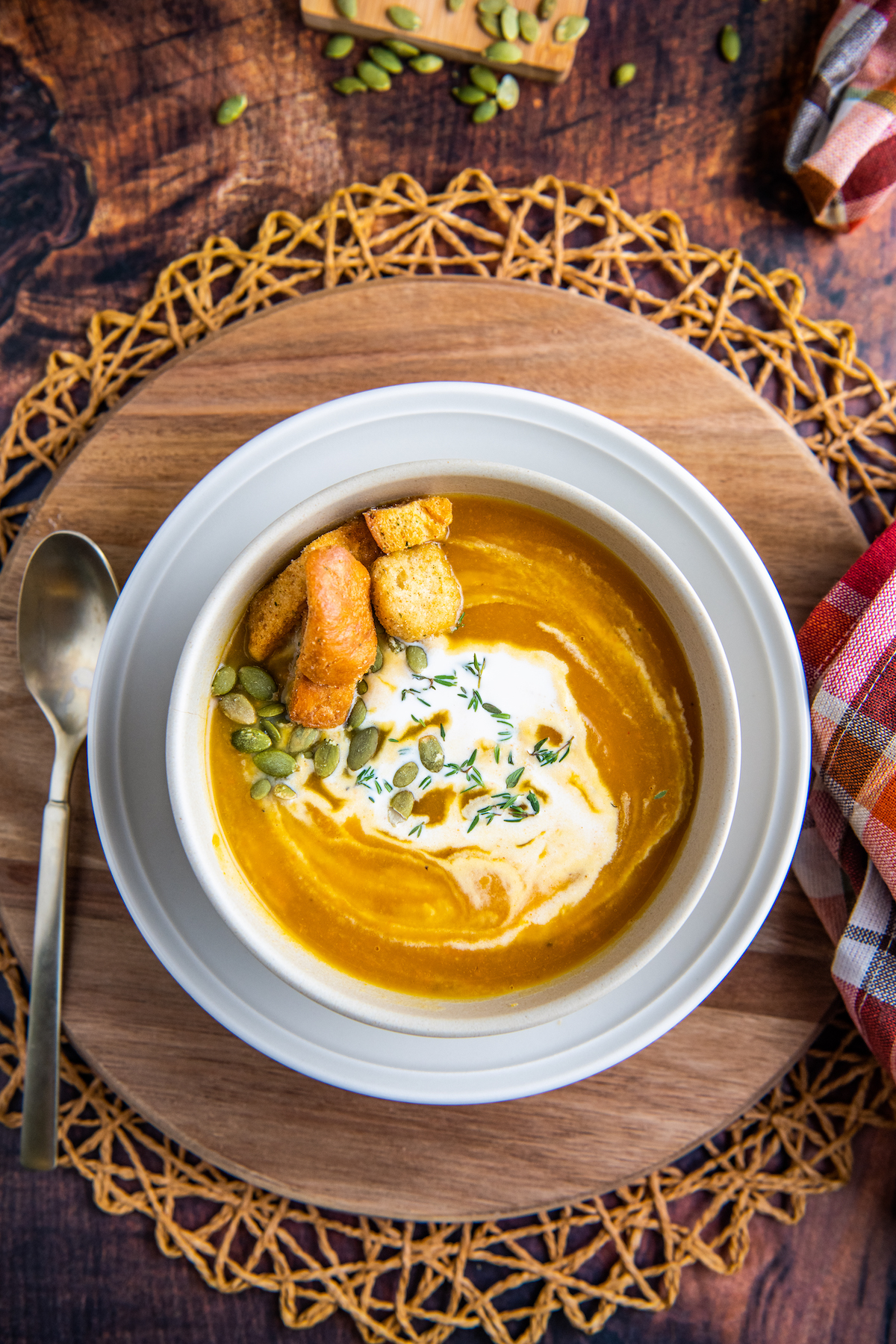 Do You Have to Peel the Butternut Squash?
Yes, you do not want to eat the skin in your soup. The texture will not be the same.
However, butternut squash can be difficult to peel and chop, so I like to purchase already peeled and cubed butternut squash from Cotsco to save time when I think ahead.
How Do I Cube the Butternut Squash
If you are having trouble peeling and cubing your squash, follow these steps to easily do it:
Slice the butternut squash in half.
Use a spoon to remove the seeds.
Cut the squash into sections.
Use a paring knife to remove the skin.
Cut the squash into 2-inch chunks.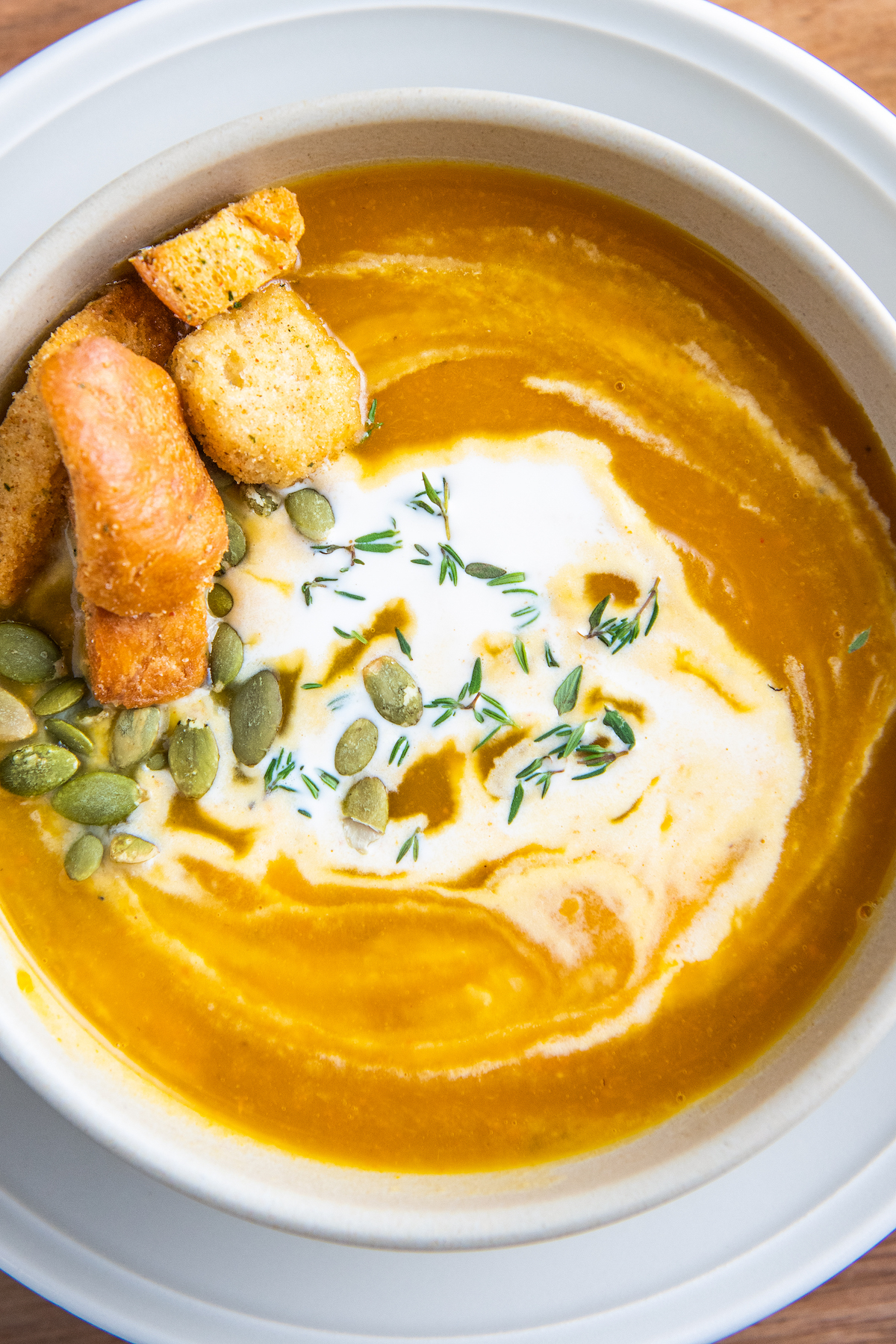 How Do You Make the Soup Thicker?
If the soup seems a little too thin, you can thicken it up. To thicken soup, you will want to add a cornstarch slurry.
To do this, pull out a little bit of the broth into a separate bowl and whisk in a two tablespoons of cornstarch. Then, add the mixture back to your soup, stirring to combine it well. This process prevents the cornstarch from clumping and helps it to dissolve evenly.
Let your soup rest for about 5 minutes, then stir again and it should be nice and thick!
Side Dish Suggestions
Butternut squash soup is so versatile that it can be served with a variety of different sides. Or, it can be served as a side to your main course. Here are a few ideas:
Salad
Roasted veggies
Pork tenderloin
Sandwiches
Bread
How to Store Leftovers
This soup is really easy to store, and it tastes just as delicious the next day. To store any leftover soup, let the soup cool and then transfer it to a tupperware bowl. Place it in the refrigerator where it can be stored for 3-5 days.
Additionally, you could pour the soup into Ziploc freezer bags and store it in the freezer for 6 months. This soup makes an excellent freezer meal!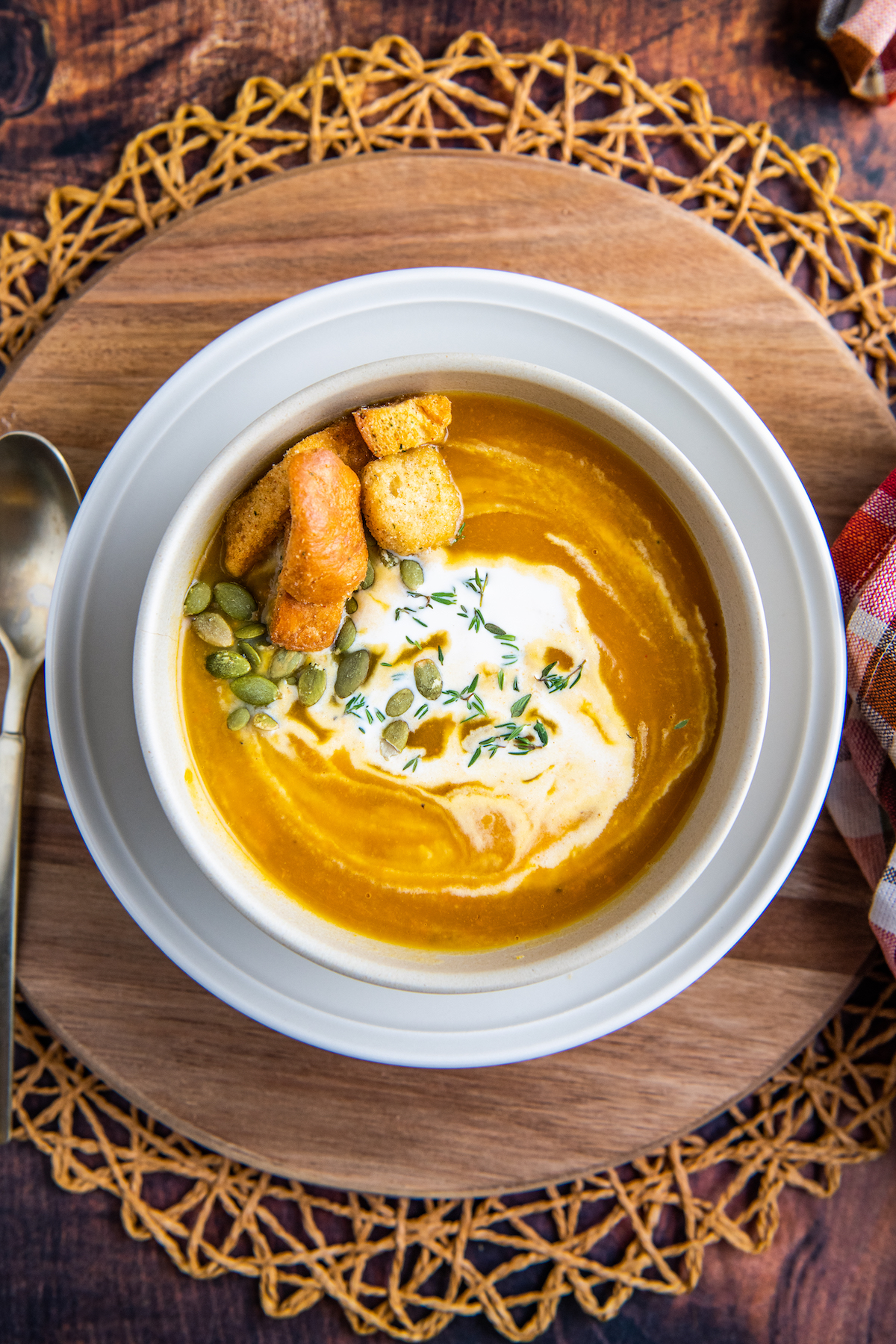 Crockpot Butternut Squash Soup
This easy Crockpot Butternut Squash Soup is made with warm spices and fresh fall veggies to create a healthy, creamy, and comforting soup. Perfect easy fall soup recipe!
Ingredients
2

lbs

peeled and cubed butternut squash

1

cup

chopped carrots

1

medium onion

,

diced

2

cloves

garlic

,

minced

32

oz

low sodium broth

,

vegetable or chicken

½

teaspoon

salt

½

teaspoon

pepper

¼

teaspoon

cayenne pepper

1

sprig fresh sage

5-7

sprigs fresh thyme
Optional Toppings:
croutons

pumpkin seeds

red pepper flakes

cream

,

heavy cream, half and half, or coconut milk/cream
Instructions
Lightly spray crockpot liner with nonstick spray.

Add butternut squash, carrots, onion, garlic, broth, salt, pepper and cayenne pepper to crockpot and stir to combine.

Lay thyme and sage on top. Cover and cook on low for 6-8 hours or high for 4-6 hours.

Once cooked and squash is fork tender, remove the sage and thyme and discard.

Purée the soup with an immersion blender or transfer to a food processor or blender to purée in batches. If you use a food processor or blender, make sure not to overfill them.

Serve soup hot, topped with desired toppings! A swirl of cream, pumpkin seeds and croutons are our favorites!
Notes
Storage: Store in refrigerator up to 5 days. Reheats great in the microwave. Can also be frozen for up to 3 months.
Nutrition
Serving:
1
,
Calories:
320
kcal
,
Carbohydrates:
50
g
,
Protein:
13
g
,
Fat:
10
g
,
Saturated Fat:
3
g
,
Polyunsaturated Fat:
6
g
,
Cholesterol:
16
mg
,
Sodium:
684
mg
,
Fiber:
12
g
,
Sugar:
11
g
More Soup Recipes You'll Love
Soup is hearty, healthy, and comforting. If you're looking for more soup recipes, here are some of my favorites!