It doesn't get more southern than Chicken Fried Steak. Tender and delicious steaks are fried to perfection in a crispy golden brown coating. The dish isn't complete without pouring creamy White Gravy on top!
The BEST Chicken Fried Steak Recipe
We promise that this is one of the best southern dishes you'll ever try! If you haven't had Chicken Fried Steak before, now is the time! And we promise that you're going to love our version if you are already a fan. This classic southern family favorite is always requested again and again!
We love this recipe because it's so simple and affordable. Cube steaks are one of the most affordable cuts of beef. You can feed the whole family without breaking the bank!
The rest of the ingredients are also affordable and easy to find. You just need milk, eggs, some seasonings, and flour. That's it!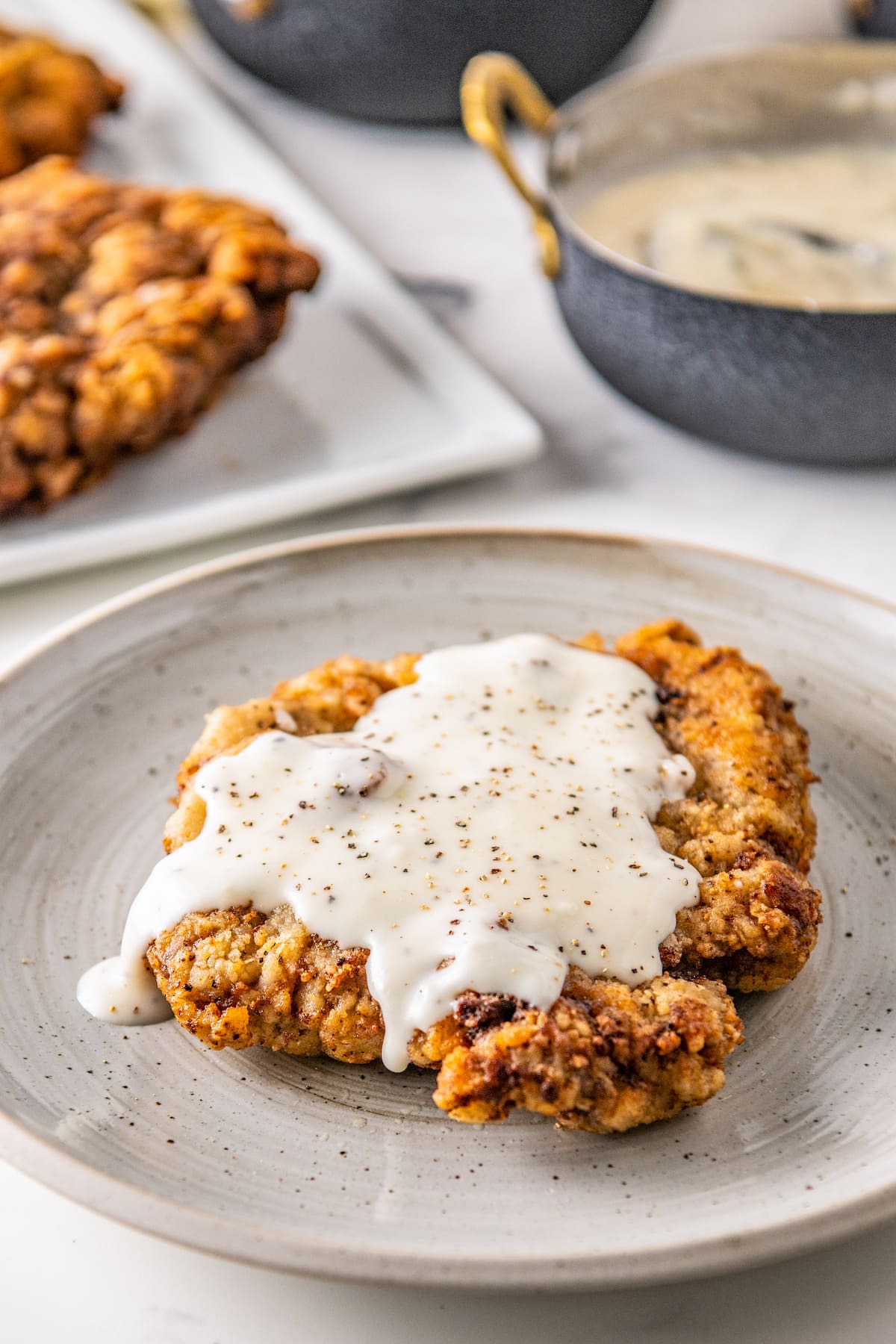 What Is Chicken Fried Steak?
Chicken Fried Steak doesn't have any chicken in it at all. The reason it's called Chicken Fried Steak is that the steak has a similar breading as fried chicken. So, that's how it got its name!
Chicken Fried Steak vs Country Fried Steak
You will often see both Chicken Fried Steak and Country Fried Steak on a menu. While they may sound the same, there are a few differences.
Chicken Fried Steak has a thicker and crispier crust. And it's usually served with white gravy. Alternatively, Country Fried Steak usually has a less crispy crust and is served with brown gravy.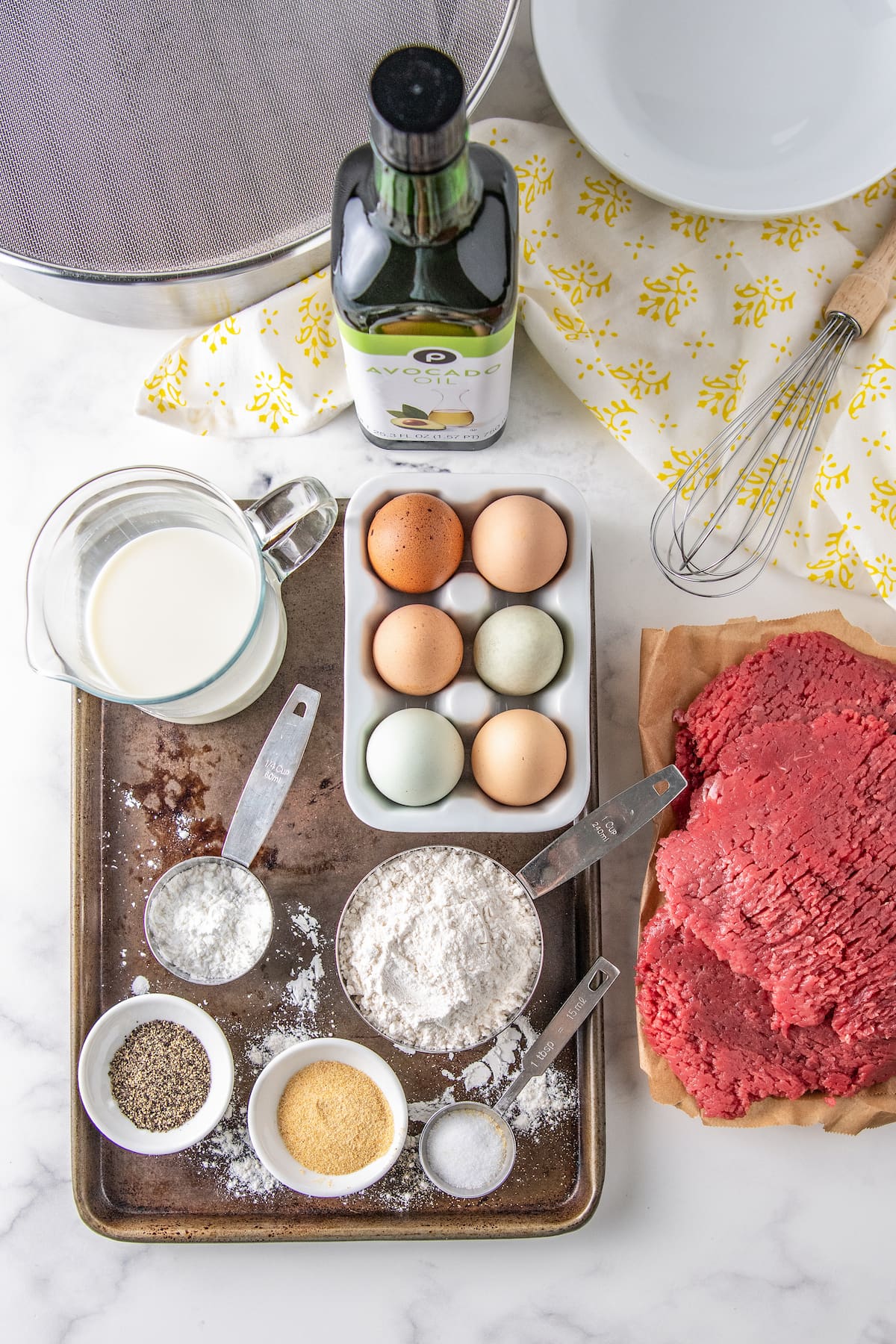 Recipe Ingredients
Here are the ingredients you need to make Chicken Fried Steak.
Whole Milk: You can also use buttermilk.
Egg: This is a key ingredient for a good dredging station! It helps the flour stick to the steak.
All-Purpose Flour: Using all-purpose flour is the best way to get a thick and crispy crust.
Cornstarch: The cornstarch also helps the steak fry up beautifully!
Salt & Pepper: Freshly cracked black pepper will give your gravy the best flavor.
Garlic Powder: You could also use granulated garlic or garlic salt. However, you will want to cut back on regular salt if you use garlic salt.
Cube Steak: Cube steak (also called cubed steak) is a cut of Top Round or Top Sirloin that's been tenderized. It's affordable while still being very delicious.
Cooking Oil: Any high-heat oil will work like avocado oil, canola oil, or vegetable oil.
White Gravy: This Homemade White Gravy is a must-have for this recipe!
What type of beef is best for chicken fried steak?
Chicken Fried Steak was originally created to make cheaper cuts of beef taste better. So, using less expensive meat is the best way to get the most of out this recipe! There's no need to break the bank when making this dish.
Cube steak is one of the less expensive cuts of meat. You can also use any other beef that has already been tenderized. A round steak is also an option.
It's important that you tenderize it and pound it thin with a meat mallet if you do choose to use a different type of steak.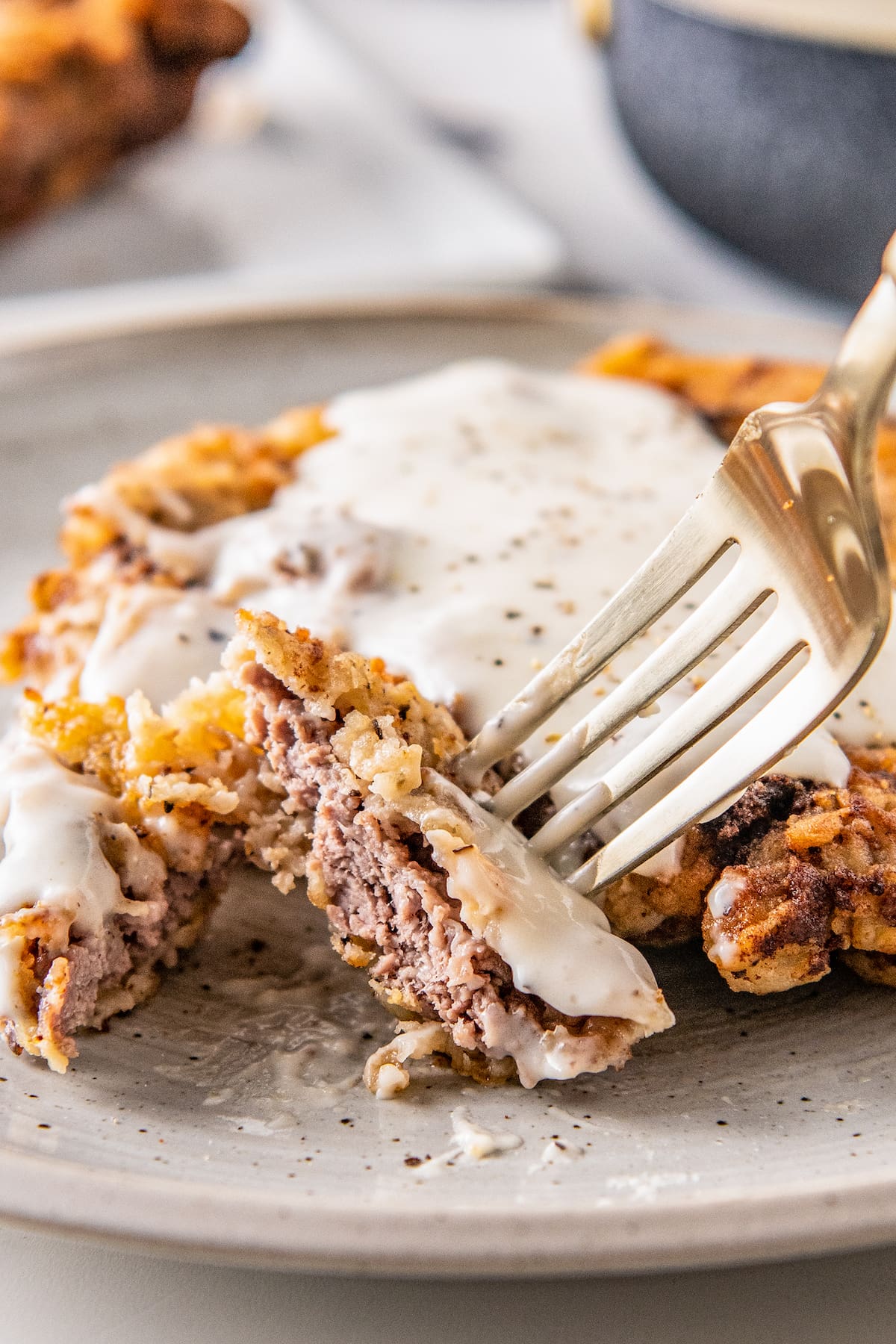 How to Make Chicken Fried Steak
Here's how to make this classic southern meal!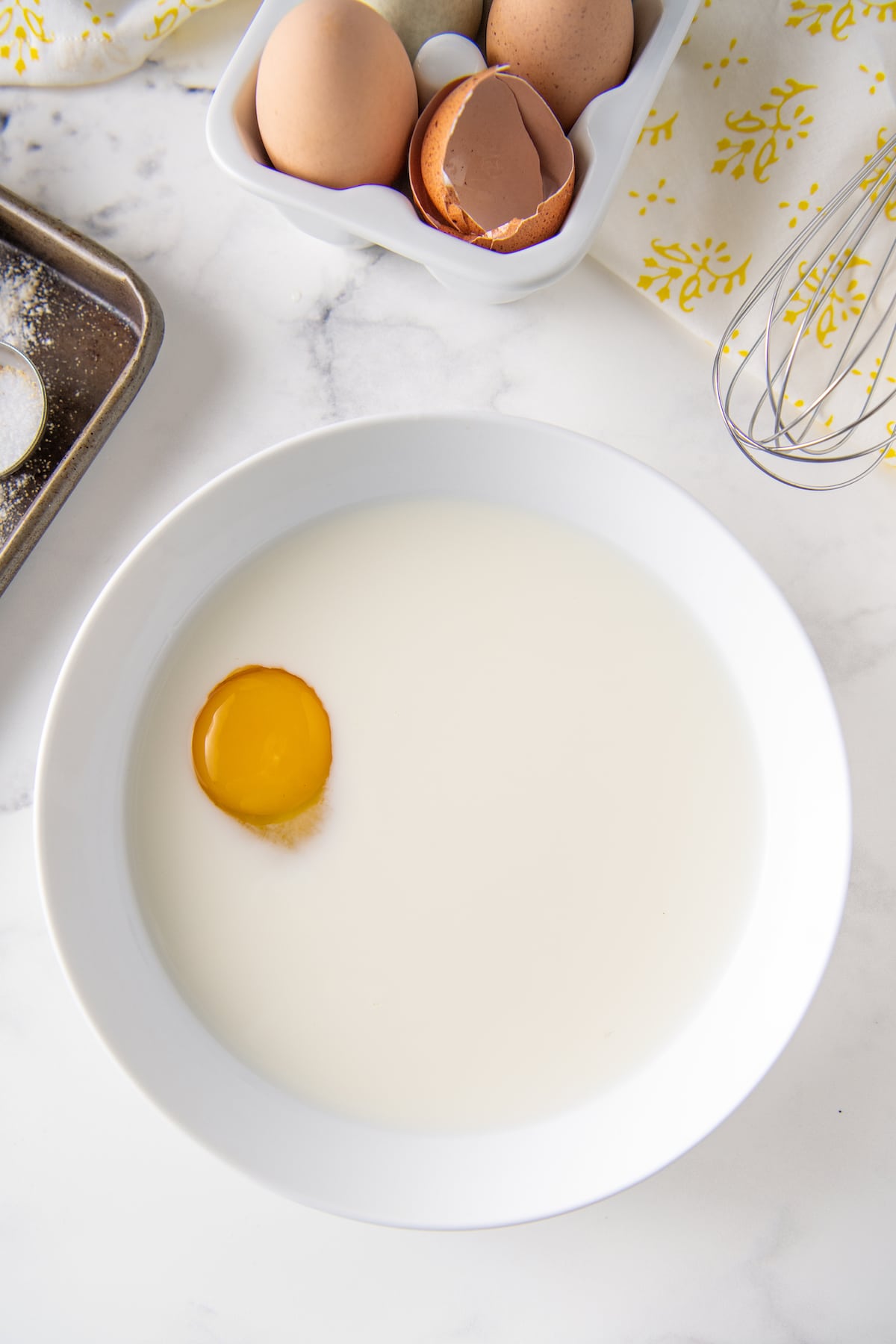 Set up your breading station. The first thing you will need to do is whisk together the egg and milk in a shallow bowl.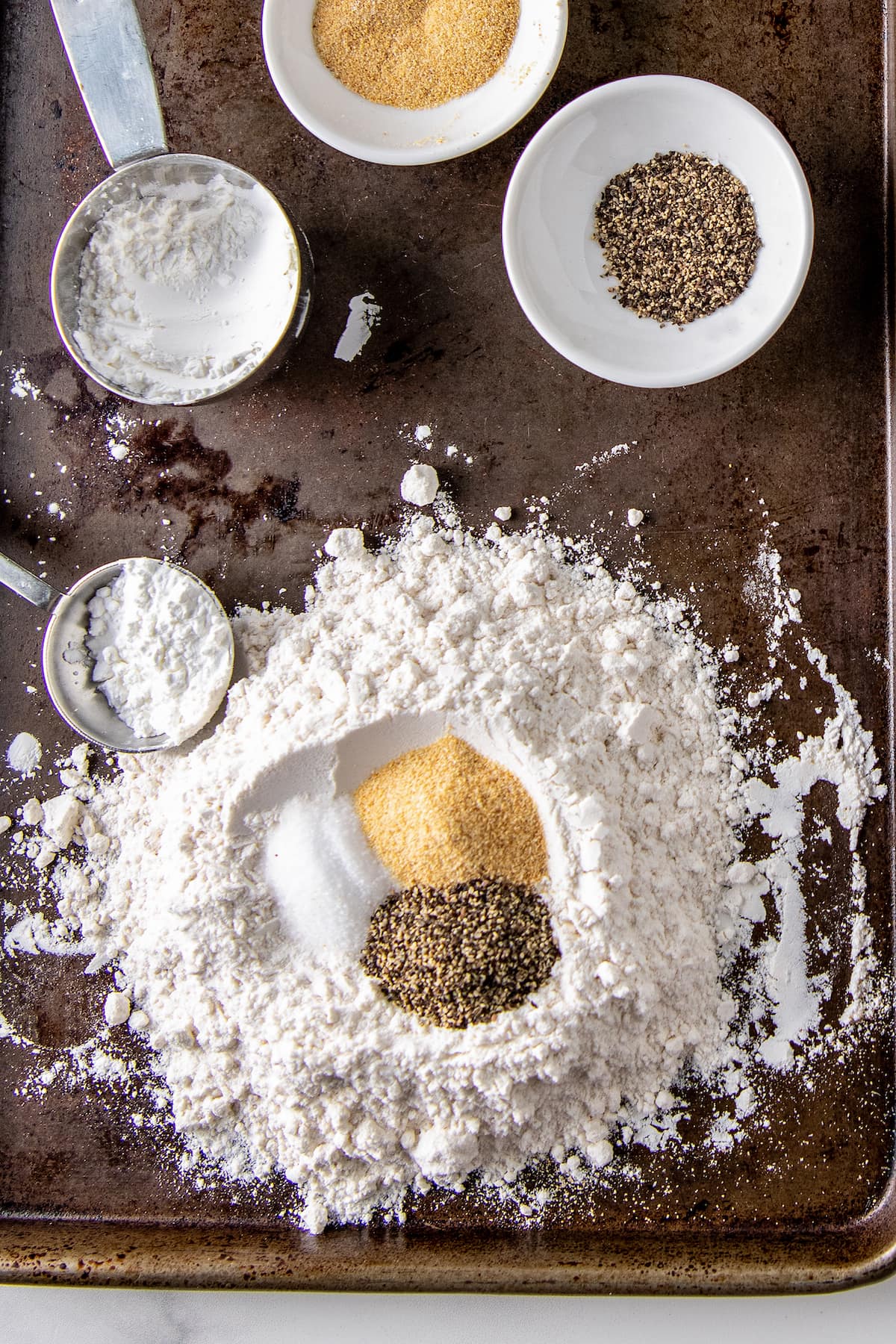 Prepare the dry ingredients for the breading station. Mix the flour, cornstarch, salt, pepper, and garlic powder in a shallow bowl or sheet tray for easy dredging.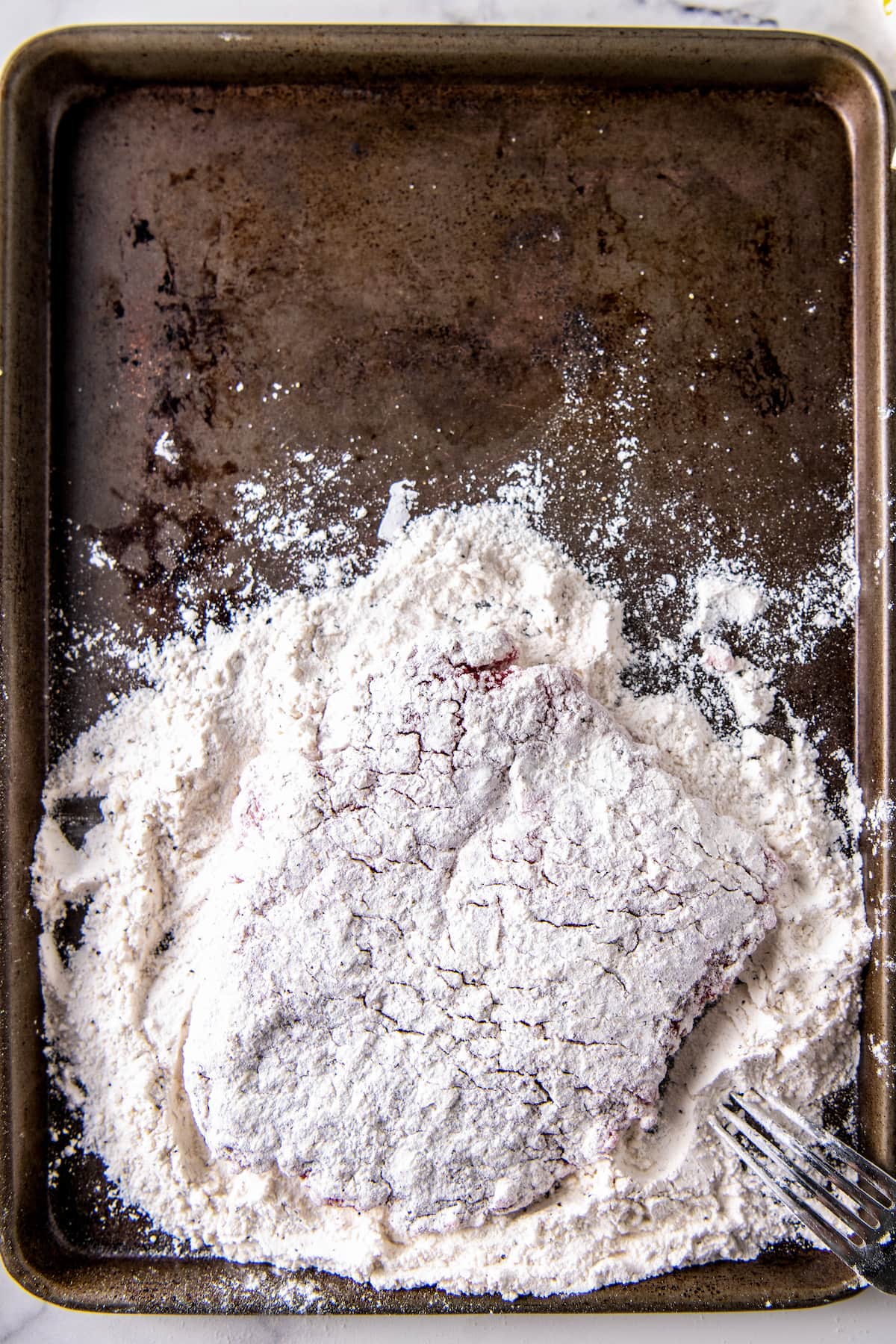 Coat the steak with the flour mixture first. Make sure that you rub the flour into the steak very well.
Then place the steak in the milk and egg mixture. Be sure to coat both sides of the steak.
Put the steak back into the flour mixture. Return the steak to the flour mixture. Double coating the steak helps create a thick crust.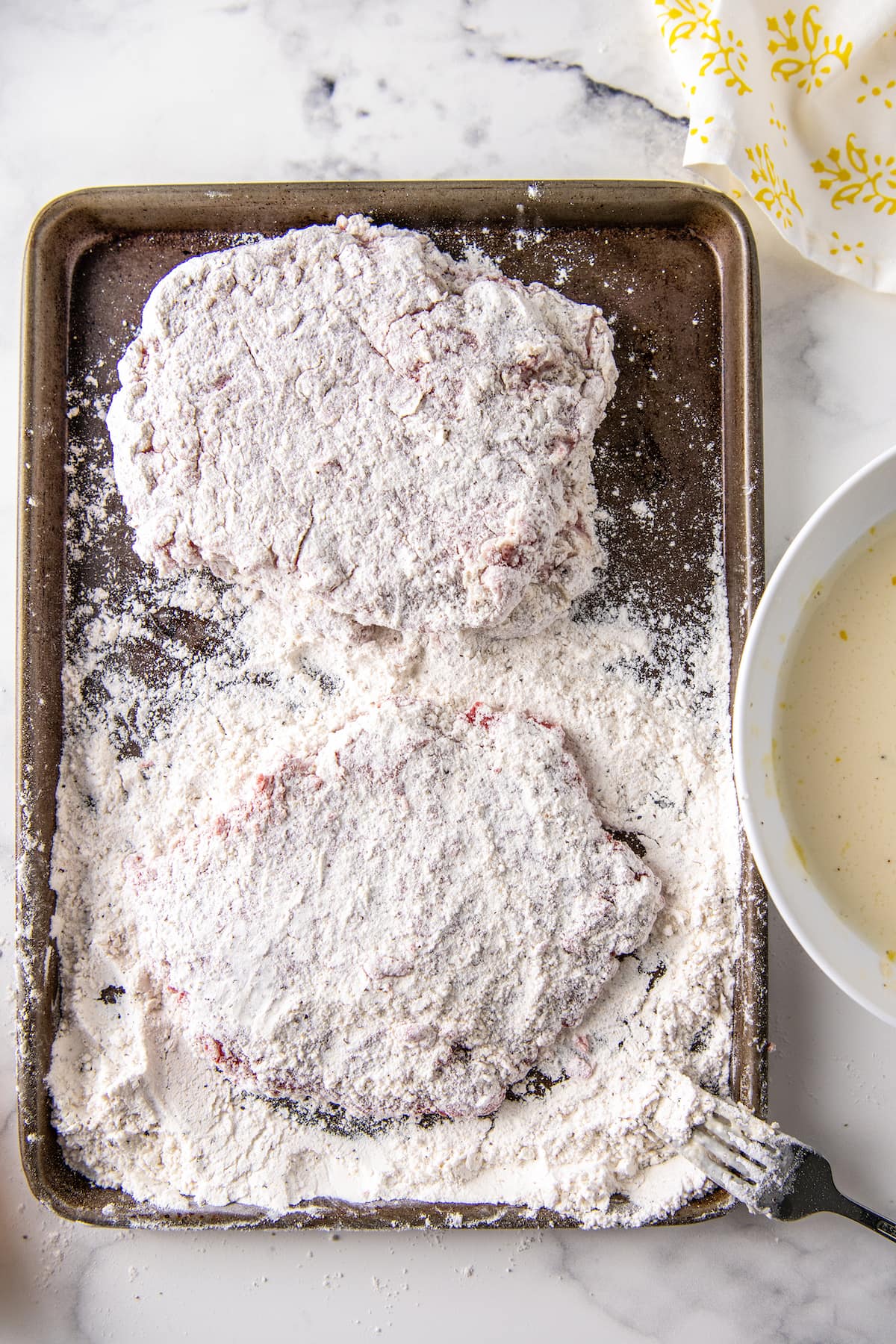 Fry the steaks in a large frying pan. Make sure that the oil is nice and hot before putting the steaks into the pan! Fry the steaks on each side until they are golden brown and crispy.
Serve the steaks immediately! Don't forget to cover each steak with our rich and creamy White Gravy.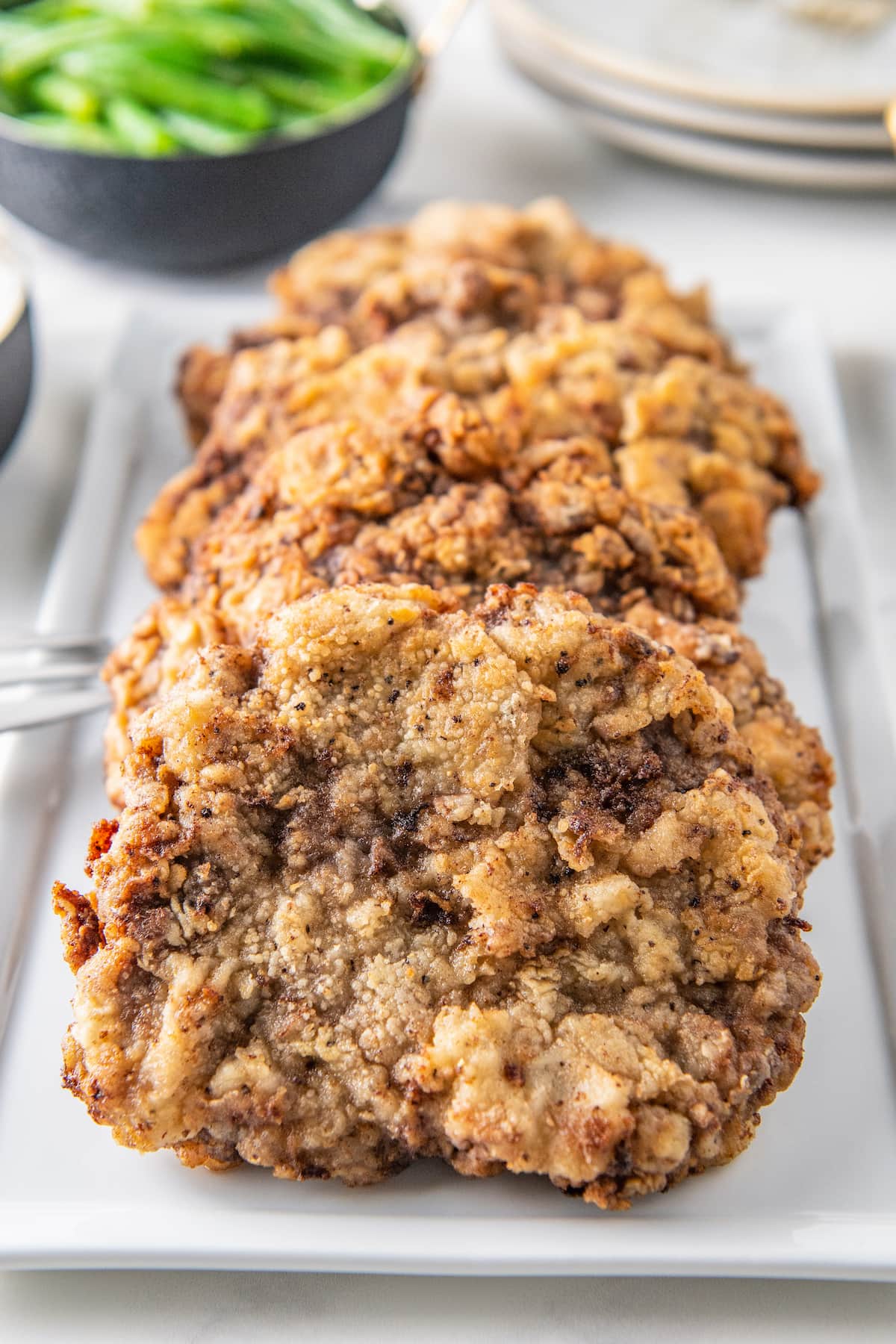 Tips for Success
Here are a few things to keep in mind to make sure that your recipe turns out perfectly every time!
Room temperature cube steak is best. Let the cube steak rest on the counter for 20-30 minutes before coating it with the flour. This will help the meat to stay tender.
Tenderize the meat more, if needed. Sometimes, you may need to tenderize the beef more. If the meat is thick try placing it on a cutting board and using a meat tenderizer pound it until thin.
How to ensure a thick and crispy crust: You want to really rub the flour into the steak. Getting it in all of the grooves helps the meat get coated and become crispy once fried.
It's important to double-coat the steak. The double coating makes all the difference to a thick crispy breading on the fried steak.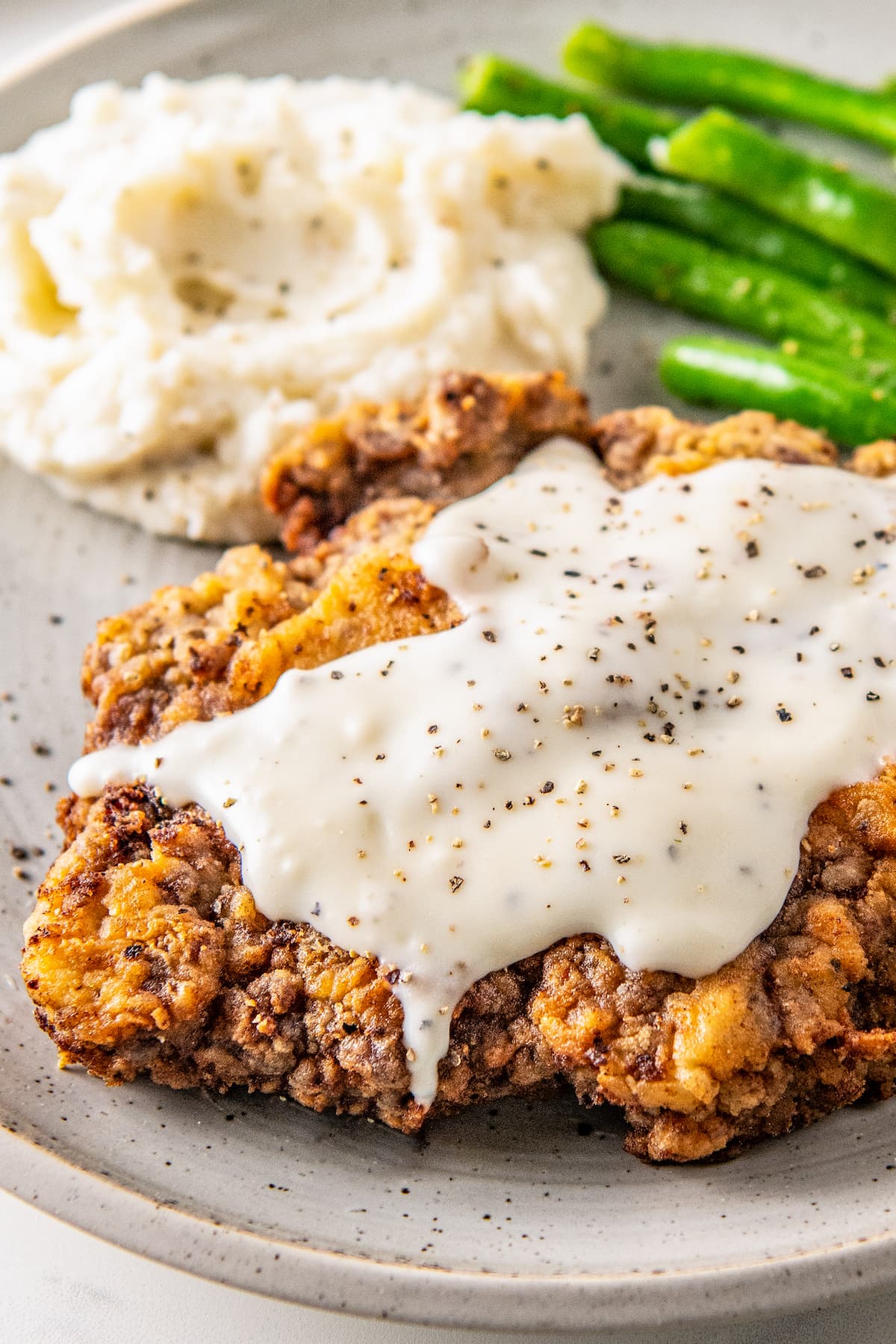 Serving Suggestions
Here are some suggestions for what to serve with Chicken Fried Steak.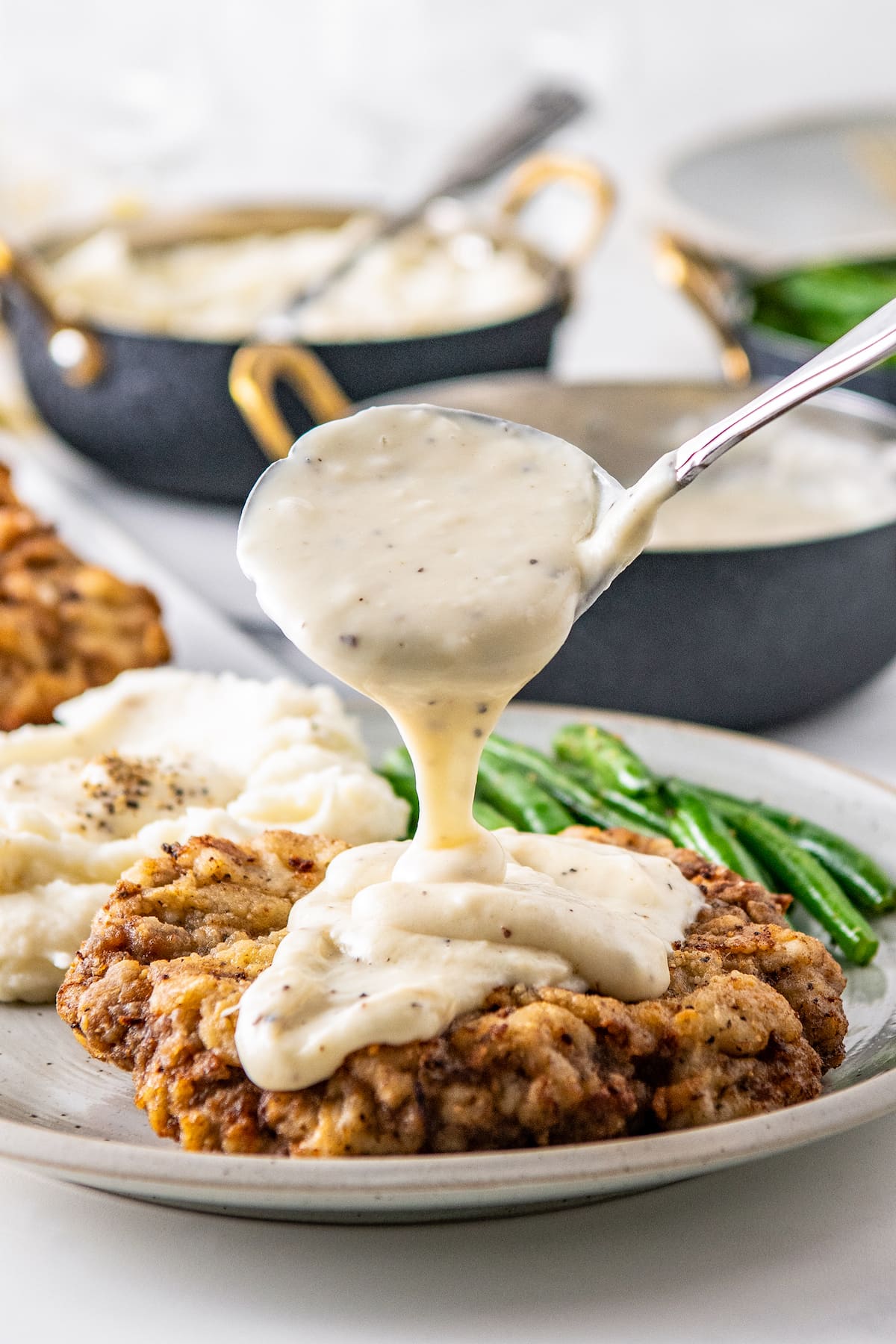 How to Store & Reheat
You can keep any leftovers in the fridge for up to 3 days. Additionally, you can also freeze this dish. You can freeze Chicken Fried Steak for up to 2 months.
You'll want to thaw the steaks overnight in the fridge before reheating them.
You can use the air fryer when you're ready to reheat. All you need to do is fry the steaks at 375°F for about 4 minutes.
Chicken Fried Steak
This Chicken Fried Steak has a thick crispy golden brown coating and creamy white gravy on top. It's a classic Southern favorite.
Ingredients
1

cup

whole milk

,

or buttermilk

1

large egg

1 ½

cups

all purpose flour

2

tablespoons

corn starch

1

tablespoon

pepper

1

teaspoon

salt

1

teaspoon

garlic powder

2

pounds

cube steak

1

cup

*oil
Instructions
In a shallow bowl, whisk together the eggs and milk. In a separate shallow bowl or plate, whisk together the flour, cornstarch, pepper, salt and garlic powder.

Dredge the cube steak in the flour and coat completely on both sides. Use your fingers to really press/rub the flour mixture into the meat.

Transfer the flour coated steak to the milk/egg bowl and cover both sides with the milk and egg mixture.

Then transfer the steak back into the flour mixture one more time and coat on both sides. Set aside and repeat with the remaining steaks.

Add the oil to a large frying pan over medium to medium-high heat. Once you think the oil is hot, do a test drop with a pinch of flour. If the flour sizzles, the oil is ready to add the steaks. If it doesn't, continue to let the oil heat and test again.

Once oil is hot, add the breaded steaks to the skillet (as many as you can fit without overlapping the steaks). Cook for 3 to 4 minutes per side, until perfectly golden brown and cooked through.

Place cooked steaks on a serving plate and repeat the process until all of the steaks have been cooked.

Serve immediately with white gravy!
Notes
*Any high heat oil will work: avocado oil, canola oil, or vegetable oil.
Nutrition
Serving:
1
,
Calories:
1497
kcal
,
Carbohydrates:
48
g
,
Protein:
71
g
,
Fat:
112
g
,
Saturated Fat:
22
g
,
Polyunsaturated Fat:
82
g
,
Trans Fat:
1
g
,
Cholesterol:
270
mg
,
Sodium:
950
mg
,
Fiber:
2
g
,
Sugar:
5
g
More Southern Classics