This quick and easy Homemade White Gravy, made with or without pan drippings, is the recipe you need to keep in your back pocket! It's thick, creamy, and perfectly seasoned with just salt and pepper. It's delicious on just about everything!
The Best Homemade White Gravy
Homemade gravy is the ultimate comfort food. There's no judging here if you want to just eat it with a spoon! But the real joy of this delicious homemade gravy is how tasty it makes the food that you pair it with!
You'll want to use this country-style gravy on everything from Mashed Potatoes to simple Grilled Chicken. You know it tastes amazing on Chicken Fried Steak, too!
This is one of those recipes you'll start to know by heart. It's a great recipe to whip up on a whim when you're in the kitchen. We love it because the ingredients are always in our kitchen – and probably in yours, too! The recipe has just 5 common pantry items – milk, butter, flour, salt, and pepper.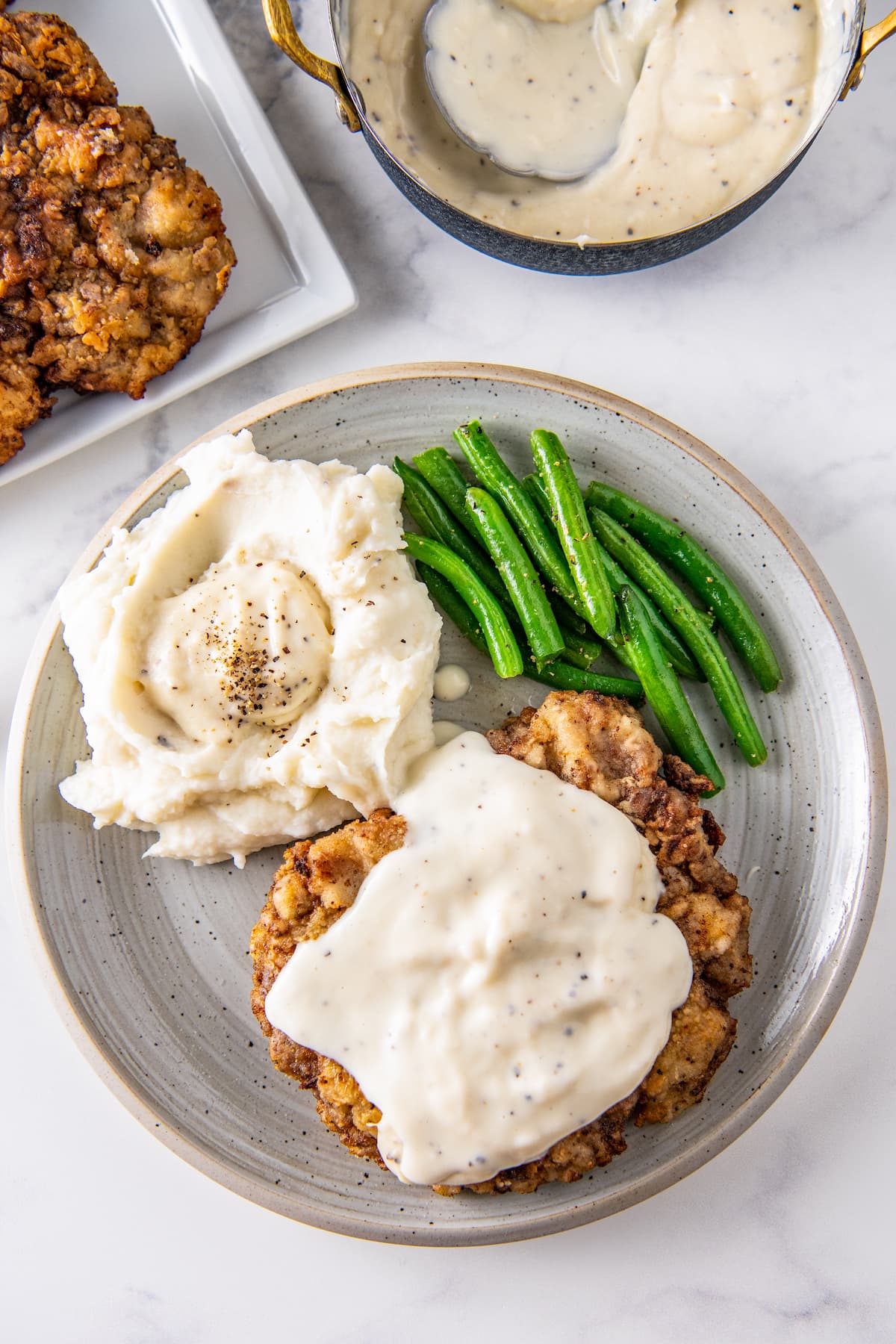 Why You'll Love This Recipe
There are lots of reasons you're going to love this recipe!
It's a classic recipe you'll use over and over again. Knowing how to make this recipe is a kitchen skill you'll be thankful to have for years! It will come in handy more than you think.
You already have all of the ingredients. There are just 5 of them and we can almost guarantee they are in your kitchen right now.
It takes less than 10 minutes. This recipe comes together very quickly.
It's so simple! P.S. – this is a great recipe for little ones to start learning their way around the kitchen!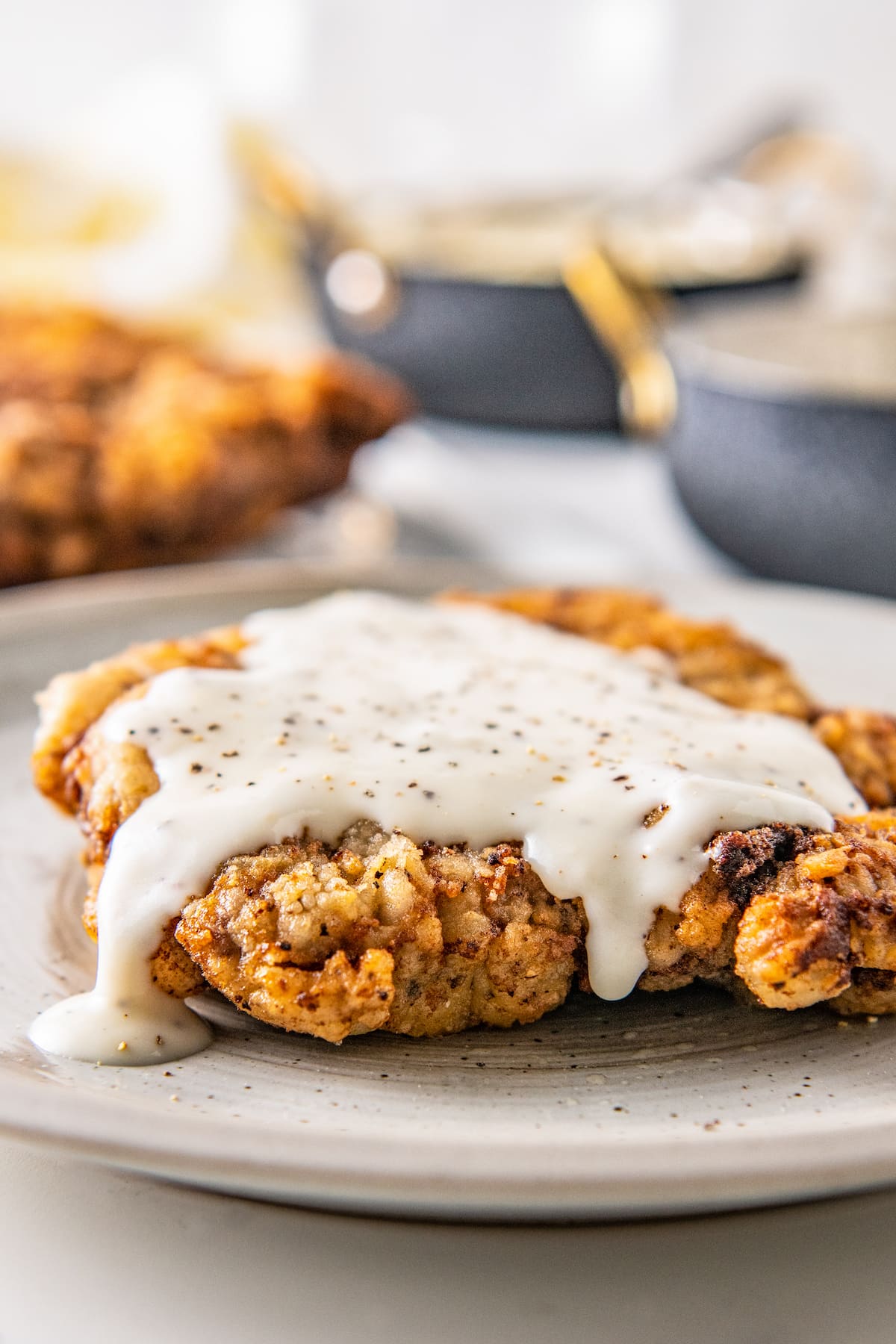 What's The Difference Between White Gravy and Country Gravy?
Country gravy and white gravy are actually the same things! Sometimes you can use pan drippings to add flavor, but they both are made of the same ingredients. The ingredient that sets these two gravies apart is milk.
For example, brown gravy uses stock or broth instead of milk. Which results in the brown color and meat flavor.
Country gravy is white in color, creamy, and thick. Both are equally delicious though!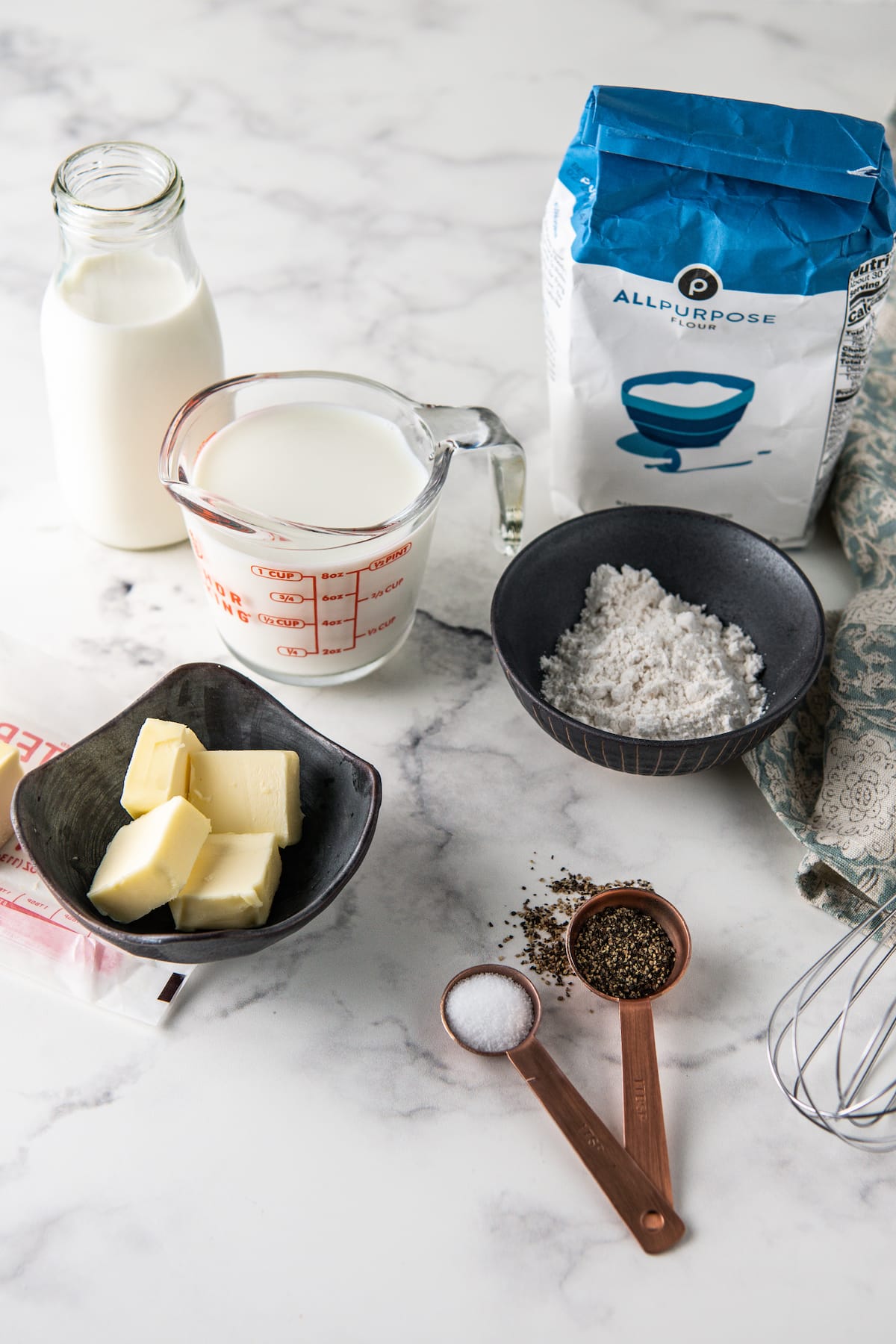 Recipe Ingredients
Here is what you need to make White Country Gravy. Don't forget that the recipe card below has the exact amounts of each ingredient.
Butter: Using unsalted is best so that you can control the salt level yourself.
All-Purpose Flour: The flour is what helps the gravy thicken.
Milk: Whole milk is suggested for the creamiest results. You can also use half & half.
Salt
Pepper: We prefer using fresh cracked black pepper for this recipe.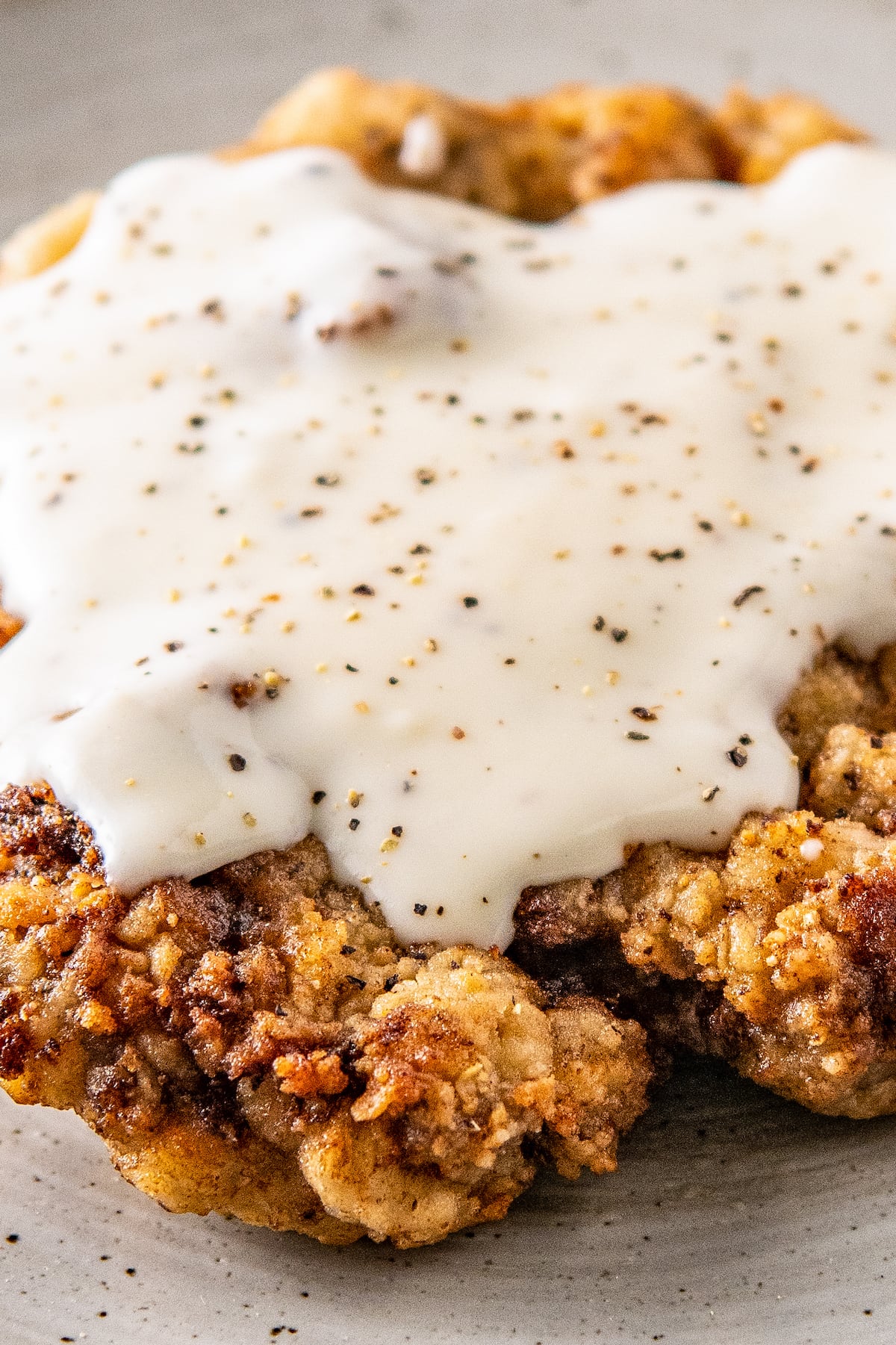 How to Make Homemade White Gravy
Here's how to make this simple white gravy.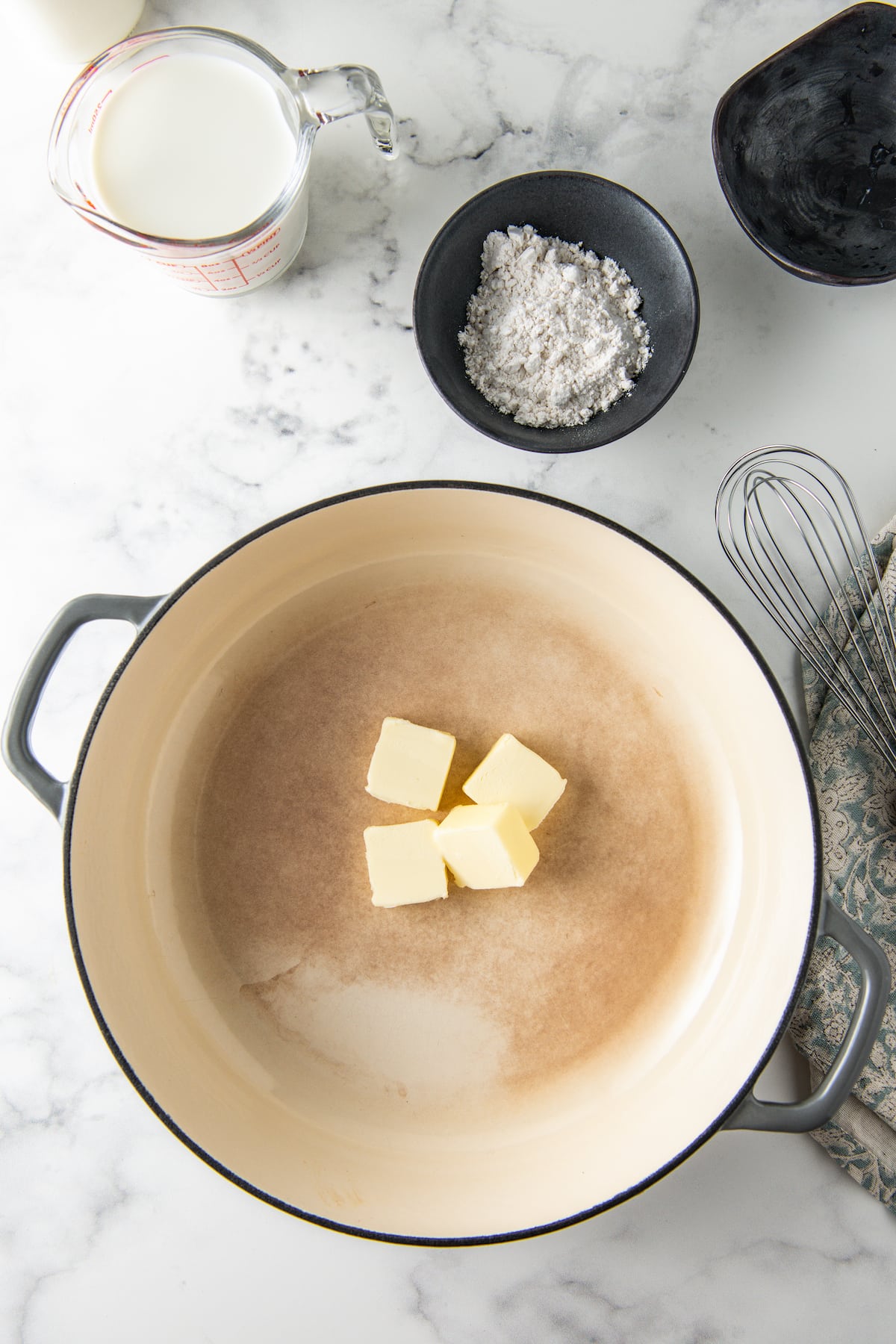 First, you'll melt the butter in a heavy-bottomed pan. You'll want to whisk the butter so that it doesn't brown or burn.
Then add the flour. Mixing the flour and butter creates a roux.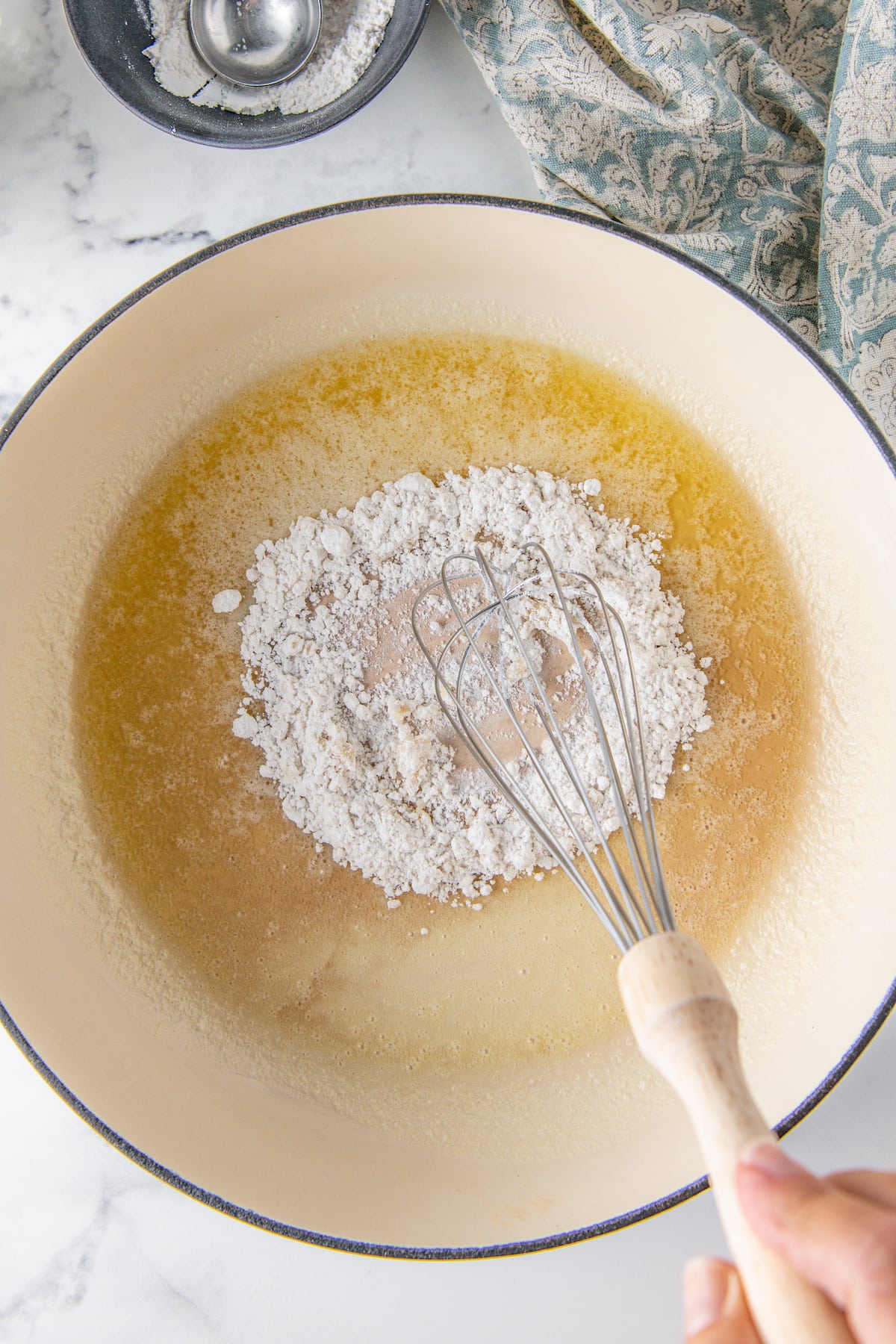 Make the roux by whisking the butter and flour. A roux is what will thicken the gravy. The trick here is to not let the roux get too brown (or the gravy will be brown). You want it to be a very light brown and smell like toasted nuts. That's when you know it's ready.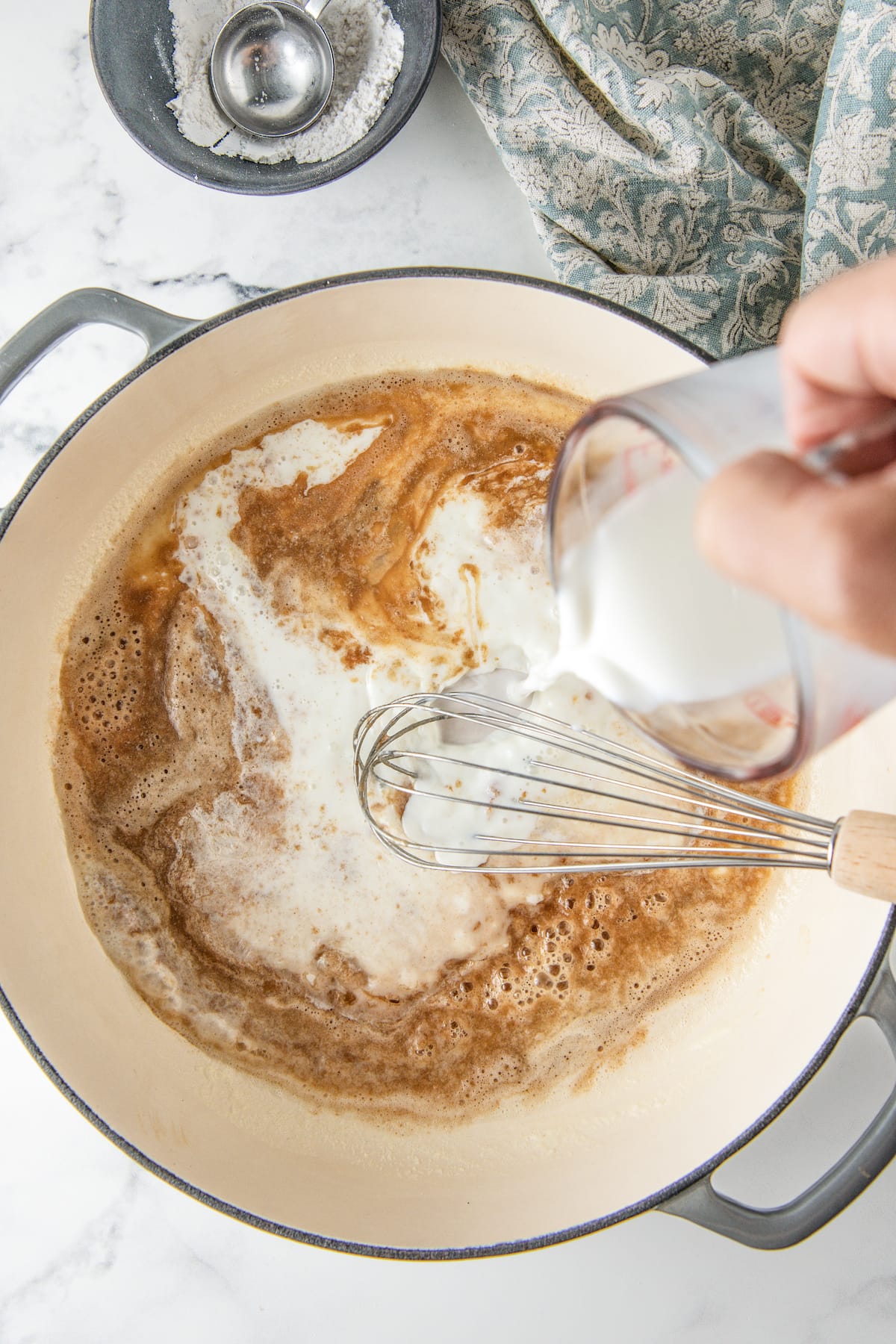 Slowly pour in the milk. Be sure to whisk it constantly so that no clumps form.
Cook the gravy for a few minutes until it starts to thicken. Once it's as thick and creamy as you'd like, add the salt and pepper.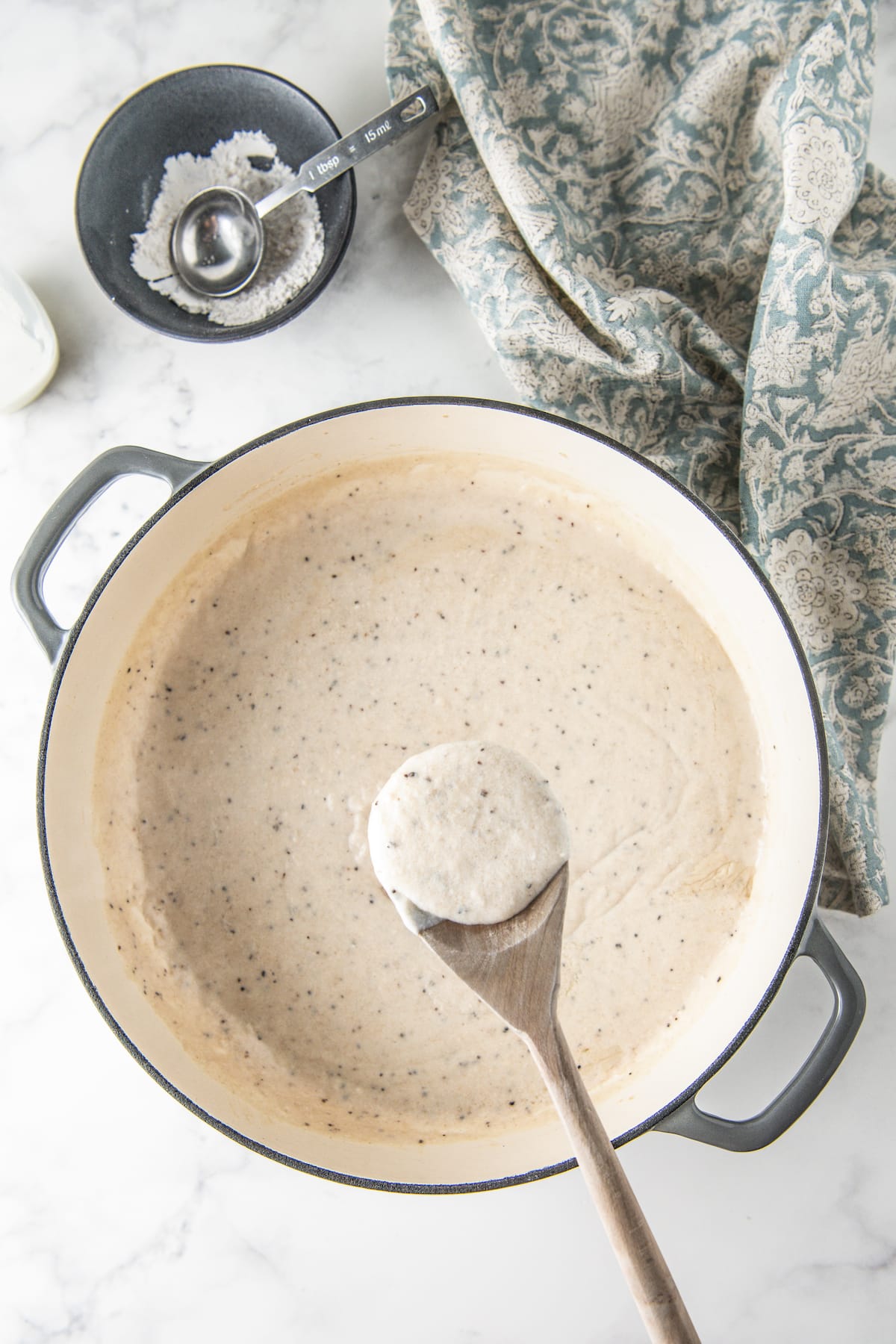 Tips for Success
Here are a few helpful tips to keep in mind when making this gravy recipe.
Whisk, whisk, whisk! Don't stop whisking, it keeps the roux from burning.
You can make it thicker if you'd like: If you like really thick gravy add ½ tablespoon more flour, but this gravy is thick already!
Don't worry if it gets too thick. If you over-thicken your gravy accidentally, don't stress, just add a couple of tablespoons of milk and whisk again.
An easy way to add flavor: If you have leftover drippings from cooking meat make sure to use them! After frying chicken or beef don't clean the skillet, just pour off any excess grease and make the gravy in the same skillet to get all the flavor!
Don't step away from the stove! This recipe moves very fast. So have the ingredients ready to go before you start.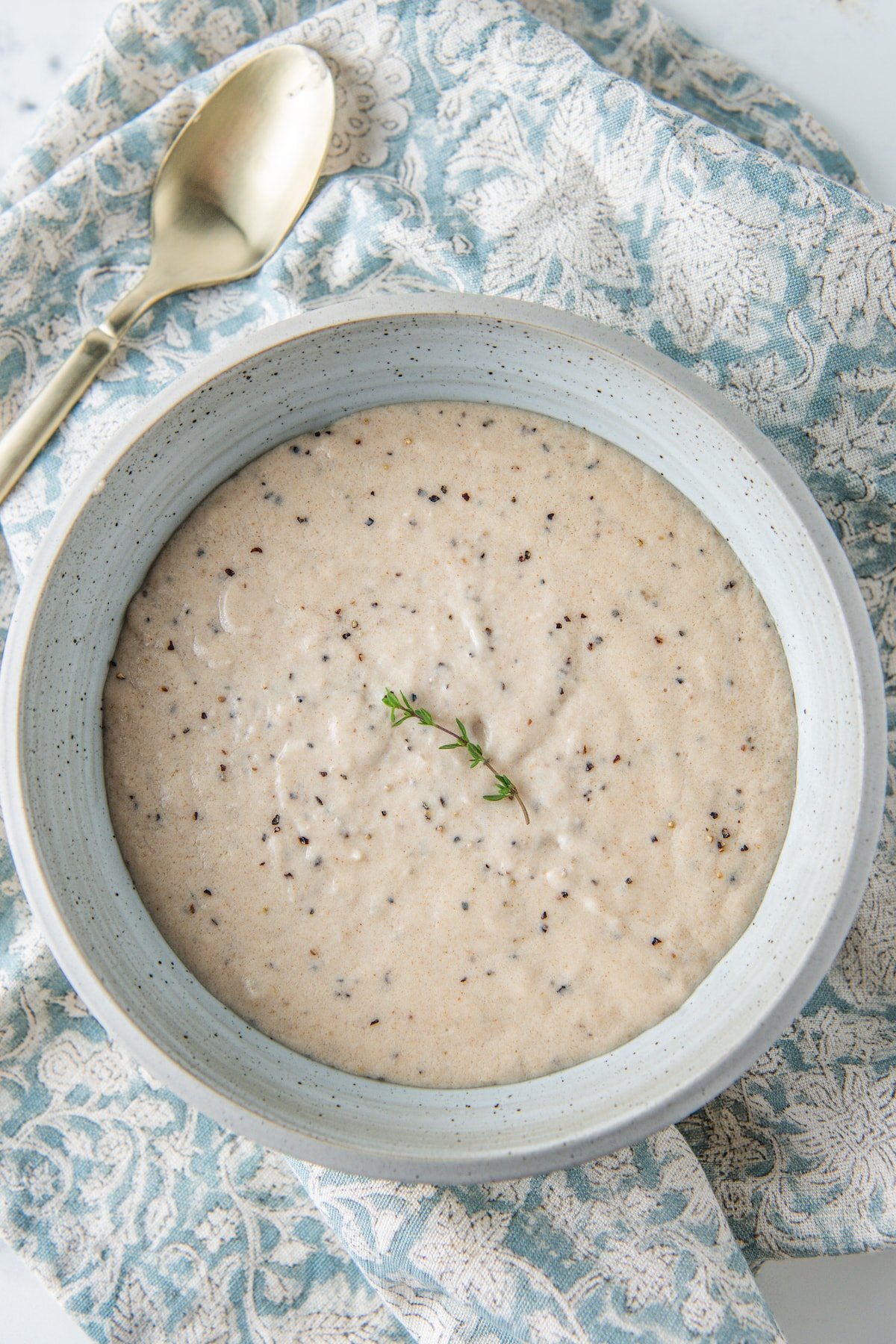 What To Serve with White Gravy
This gravy goes well with so many different things. Here are some of our favorites.
Chicken Fried Steak or Chicken: This is probably one of the most popular ways that white gravy is used! We even have a Chicken Fried Steak recipe for you.
Homemade Sausage and Biscuits: Add sausage and whip up some biscuits and you have your very own Sausage and Biscuits recipe!
Green Vegetables: You can certainly smother green beans, broccoli, and spinach with this delicious gravy, too.
Mashed Potatoes: We even have the best recipe for you with our Favorite Mashed Potatoes.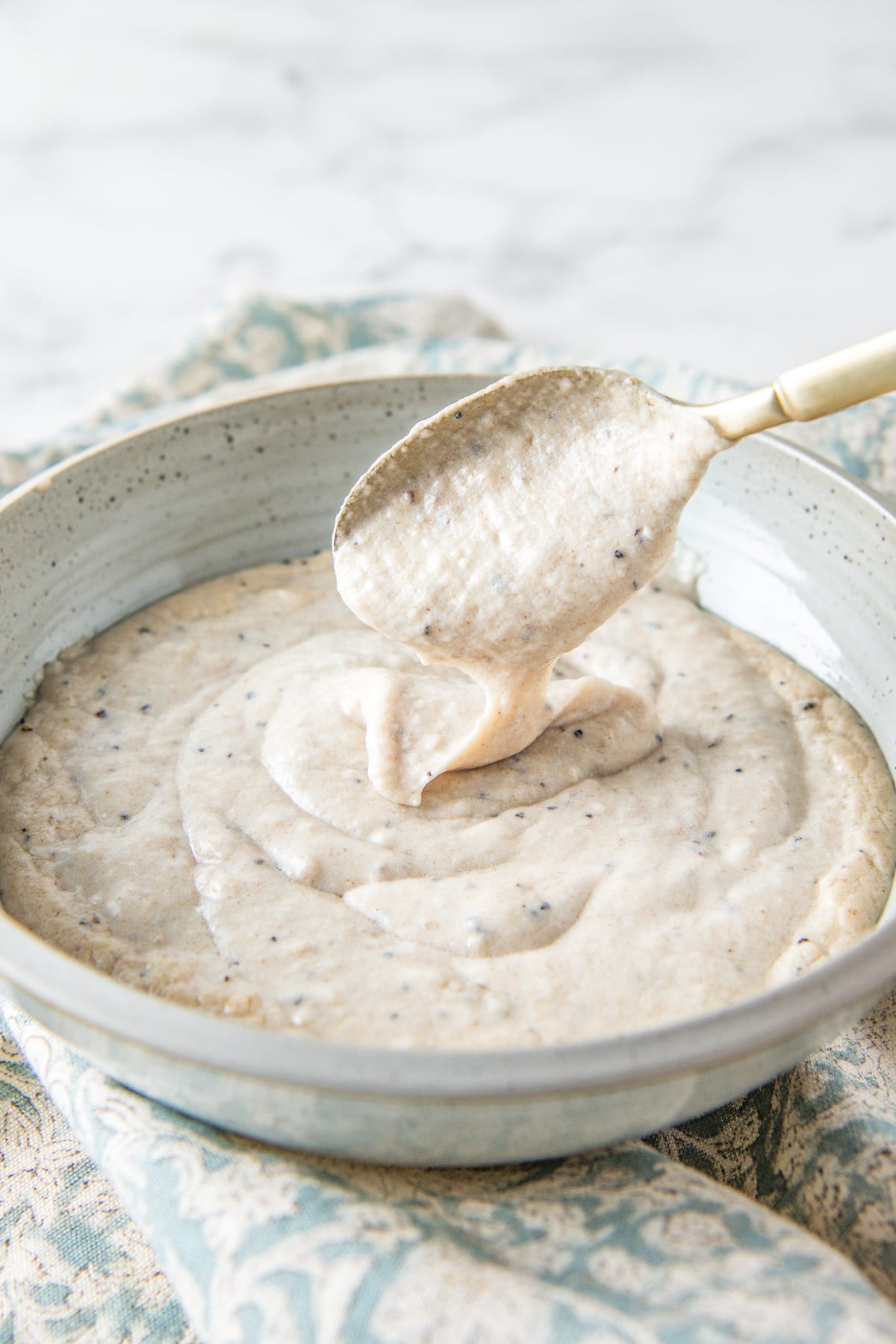 Can I Use Pan Drippings?
Of course! If you have leftover drippings from cooking meat, like frying chicken or steak, use those for extra flavor in your gravy. If you do not pour off excess grease, your gravy can become too greasy.
After frying chicken or beef don't clean the skillet, just pour off any excess grease. Then make the gravy in the same skillet. Make sure to scrape up any crispy pieces in the pan to get all the flavor!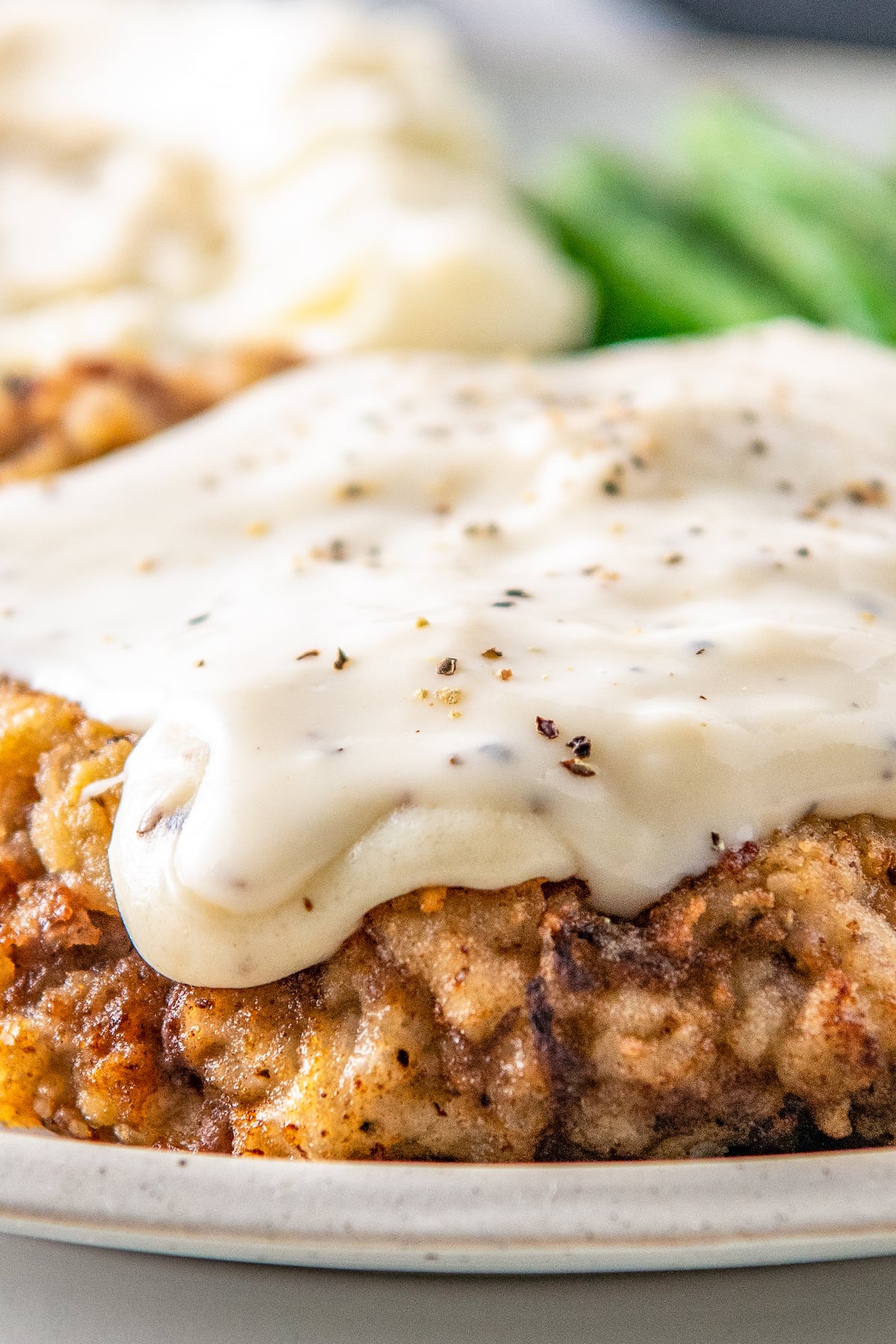 How to Store & Reheat Leftovers
You can store leftover gravy in the refrigerator for up to 4 days. To reheat, place it back on the stove, over medium-low heat. Add a couple more tablespoons of milk and whisk until warmed through.
Can I Freeze Extras?
You can freeze white gravy for up to 3 months! We recommend letting it thaw in the fridge overnight before reheating. And again, you may need to add some more milk to get the consistency that you had from the original batch.
White Gravy
This Homemade White Gravy is so quick and easy! You only need 5 basic ingredients and 10 minutes to make this thick and creamy gravy.
Ingredients
4

tablespoons

butter

3

tablespoons

all-purpose flour

2

cups

whole milk

,

or half and half

1

teaspoon

kosher salt

1

teaspoon

freshly cracked pepper
Instructions
Use a heavy bottom skillet or deep sided sauté pan. If using a pan with pan drippings from frying something (like chicken fried steak), drain any excess grease from the skillet, but leave the crispy fried pieces behind for flavor.

Over medium heat melt butter, constantly stirring. (If using a pan with pan drippings, scrape the pan to remove the pan drippings as you melt the butter.)

Once the butter has melted, whisk in the flour. While whisking constantly, cook the flour/butter mixture, until it turns light brown.

Then, slowly whisk in the milk, constantly stirring the entire time.

Cook for 2 to 3 more minutes, until gravy has thickened, whisking the entire time.

Season to taste, with salt and pepper, and serve immediately!
Notes
Pan Drippings: If you have leftover drippings from cooking meat use those for extra flavor. After frying chicken or beef don't clean the skillet, just pour off any excess grease and make the gravy in the same skillet to get all the flavor and follow the recipe as directed!
Nutrition
Serving:
1
,
Calories:
133
kcal
,
Carbohydrates:
7
g
,
Protein:
3
g
,
Fat:
10
g
,
Saturated Fat:
6
g
,
Polyunsaturated Fat:
3
g
,
Cholesterol:
28
mg
,
Sodium:
306
mg
,
Sugar:
4
g
More Comfort Food Recipes