Healthy, simple, and heartwarming. That's the best way to describe this Baked Chicken Drumsticks with Vegetables recipe. This one-pan meal has tender and juicy bone-in chicken that's cooked with fresh potatoes, carrots, and onions.
Oven Baked Chicken Drumsticks with Veggies
Sometimes we crave a wholesome meal made with just basic ingredients. These types of recipes often taste the best. Plus, they leave us with a warm and fuzzy feeling after making and eating them! This Baked Chicken Drumsticks with Vegetables recipe is no different. It's made with healthy and hearty ingredients that provide a ton of natural flavor.
There are no fancy cooking tools or appliances needed here. In fact, you just need one baking pan and your oven to pull this recipe off. Plus, the ingredients are very simple and affordable.
Love chicken drumsticks? Check out these other favorite recipes using chicken drumsticks: Lemon Pepper Air Fryer Chicken Drumsticks, Air Fryer Chicken Legs, and Baked Chicken Legs!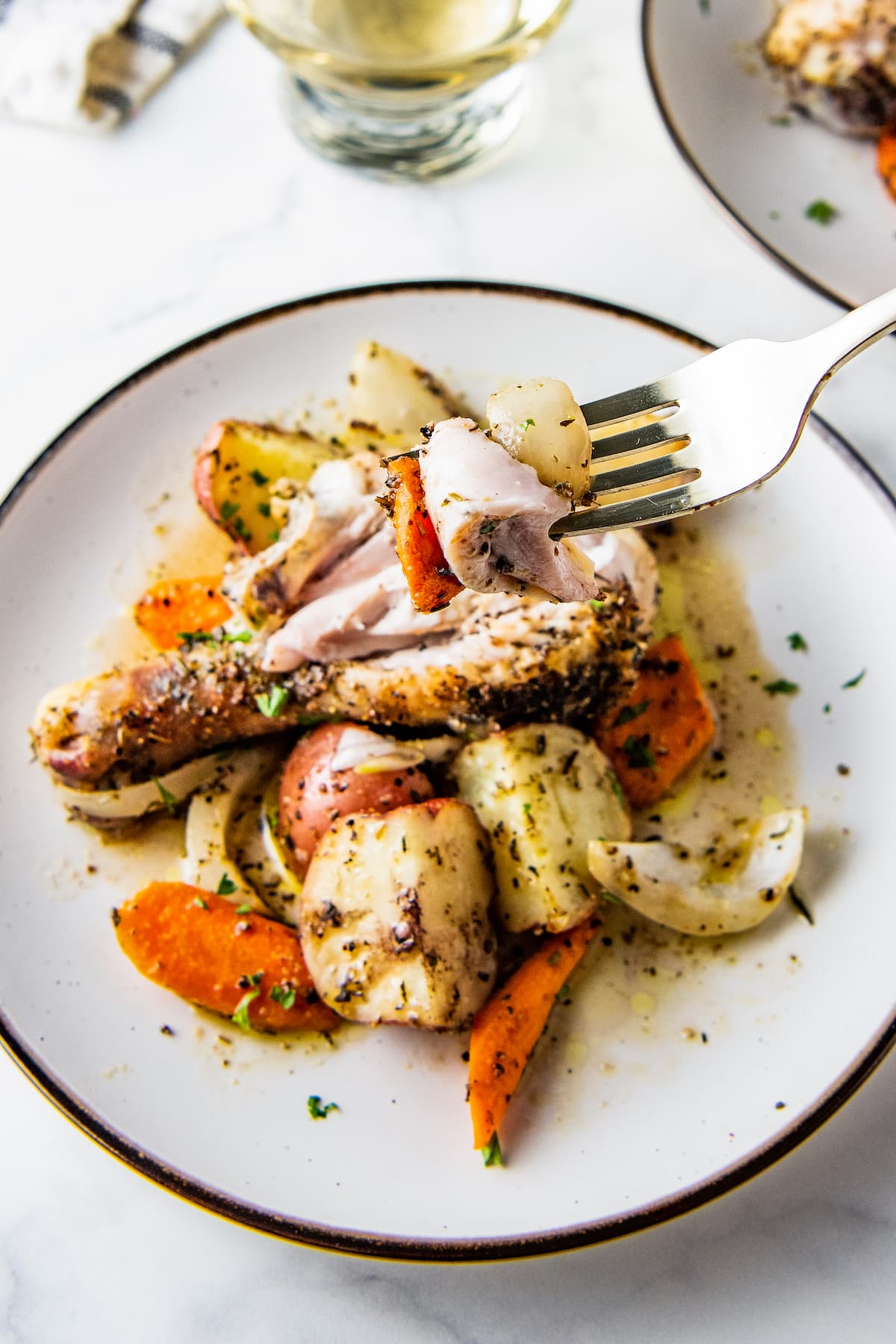 Why You'll Love this Recipe
You'll love this chicken drumstick recipe for lots of reasons! It is:
Easy – This is a simple one-pan dinner that can be made in about an hour. It doesn't get much better than that!
Flavorful – You'll also love how flavorful it is while being so incredibly simple to make. We really can't emphasize this enough. Some of the best meals are made without a lot of fuss and fancy ingredients.
Fast – We use drumsticks for this recipe because cooking meat on the bone provides so much more flavor! Also, they cook faster.
We bet that you can even win over some picky eaters with these this recipe. Roasted veggies included!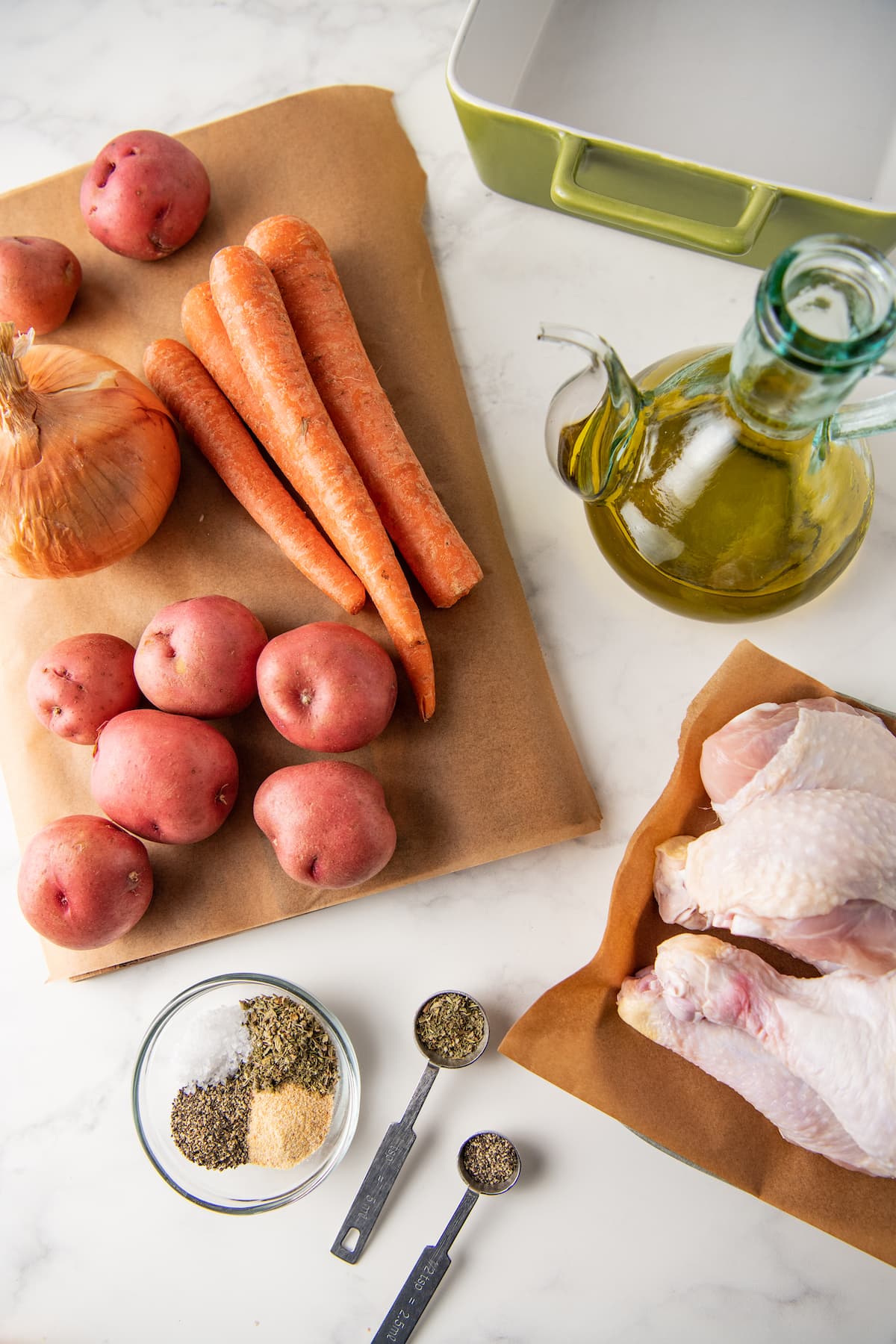 What You'll Need
As we mentioned before, the ingredients for Baked Chicken Drumsticks with Vegetables are very easy to find and affordable. Here is what you'll need. Don't forget to check the recipe for exact ingredient amounts.
Yellow Onion
Carrots: Parsnips are a great substitute here. Or you could do half of each.
Medium Red Potatoes: You could also use Baby Red Potatoes or Yukon Gold potatoes as substitutes. Sweet potatoes would also work. Just make sure that the are all cut to the same size. Also, if you want to make this lower carb, you can swap the potatoes for cauliflower florets!
Olive Oil
Kosher Salt
Black Pepper
Garlic Powder: Granulated garlic is a comparable substitute. Or you could use equal amounts of fresh minced garlic.
Italian Seasoning: You can use dried basil and dried oregano (combined) as a substitute for Italian seasoning.
Chicken Legs: Chicken thighs will also work, as well as chicken breasts. Just remember, the best flavor is developed from cooking the meat on the bone.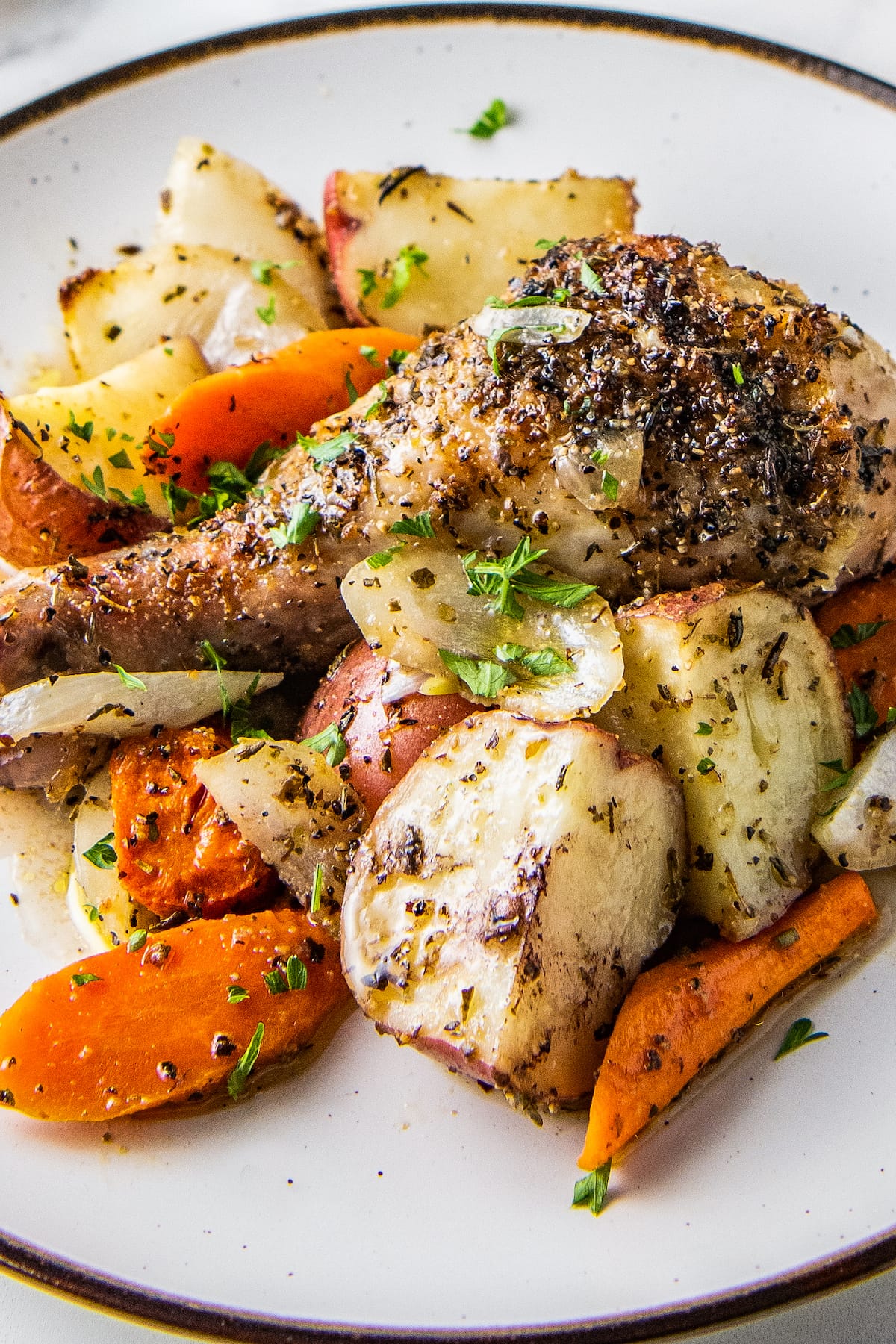 How to Bake Chicken Drumsticks with Vegetables
Here is how you'll make this one-pan chicken drumstick dinner. Believe it or not, dinner will be on the table in about an hour!
First, preheat the oven and prepare a baking dish. A glass 9×13 baking dish is ideal for this dish.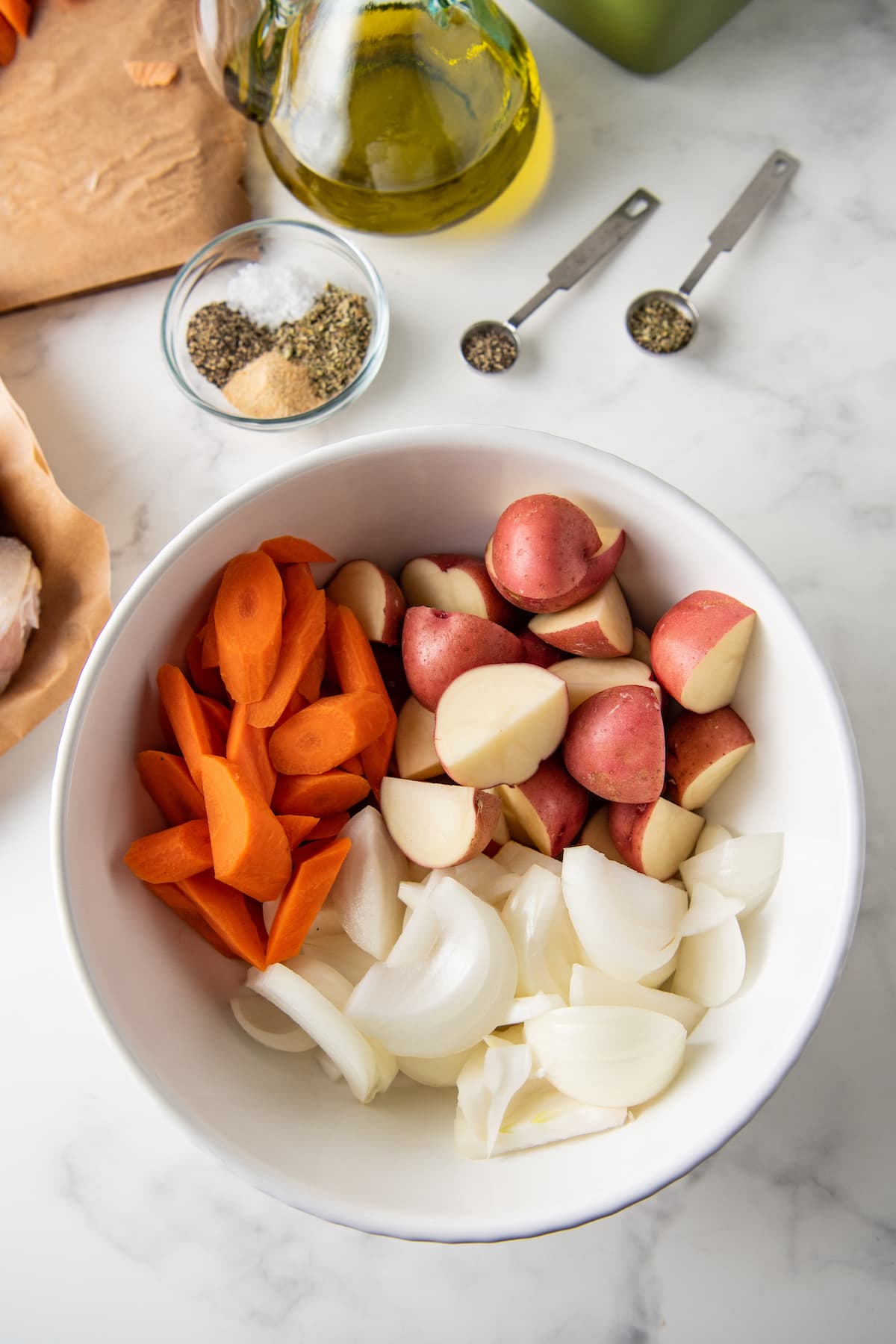 Prepare the vegetables. First, you'll place the vegetables in a bowl and toss them with olive oil.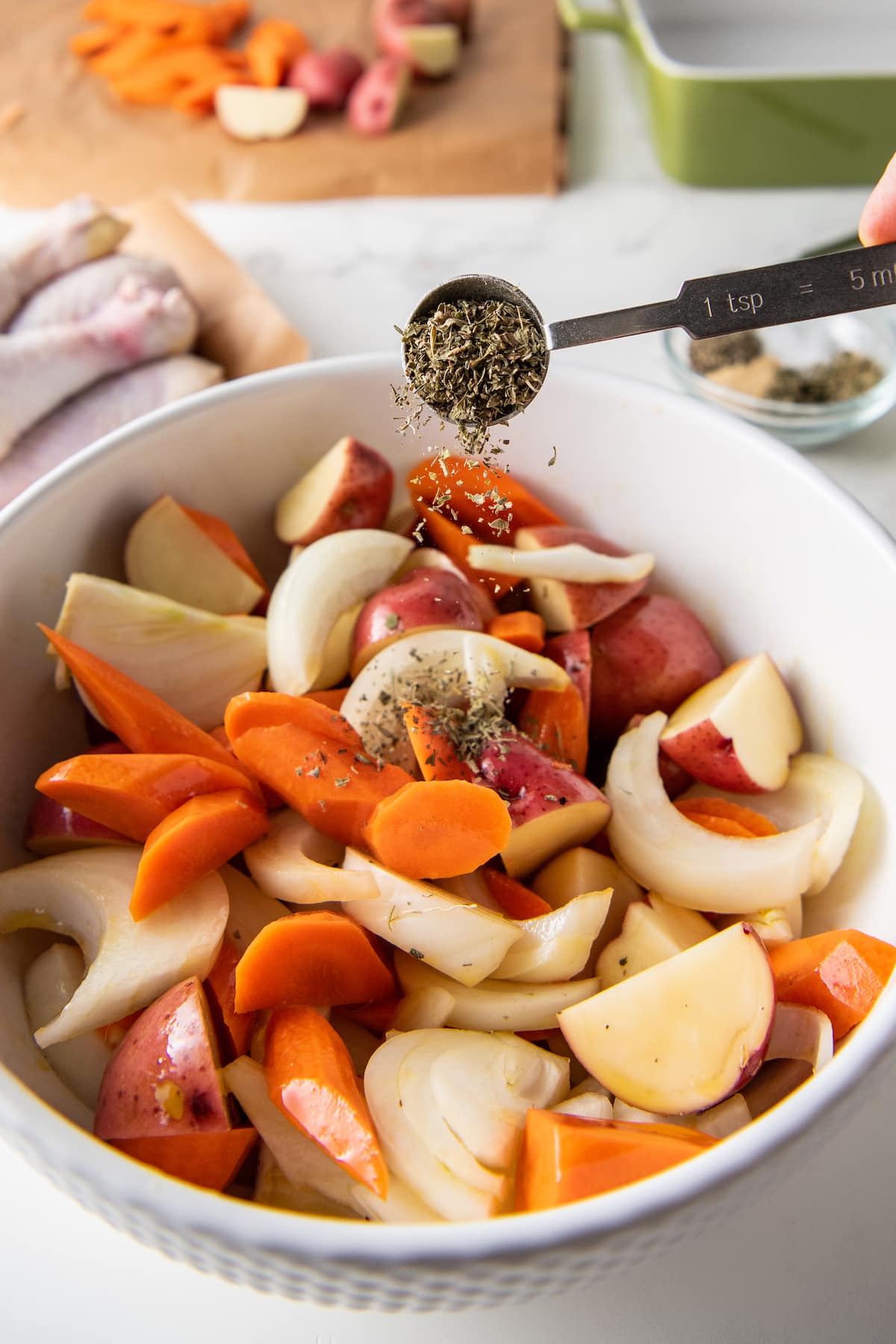 Season the vegetables. Then, toss the vegetables with a portion of the seasonings.
Add the vegetables to the baking dish. Make sure that they are spread out evenly into the dish.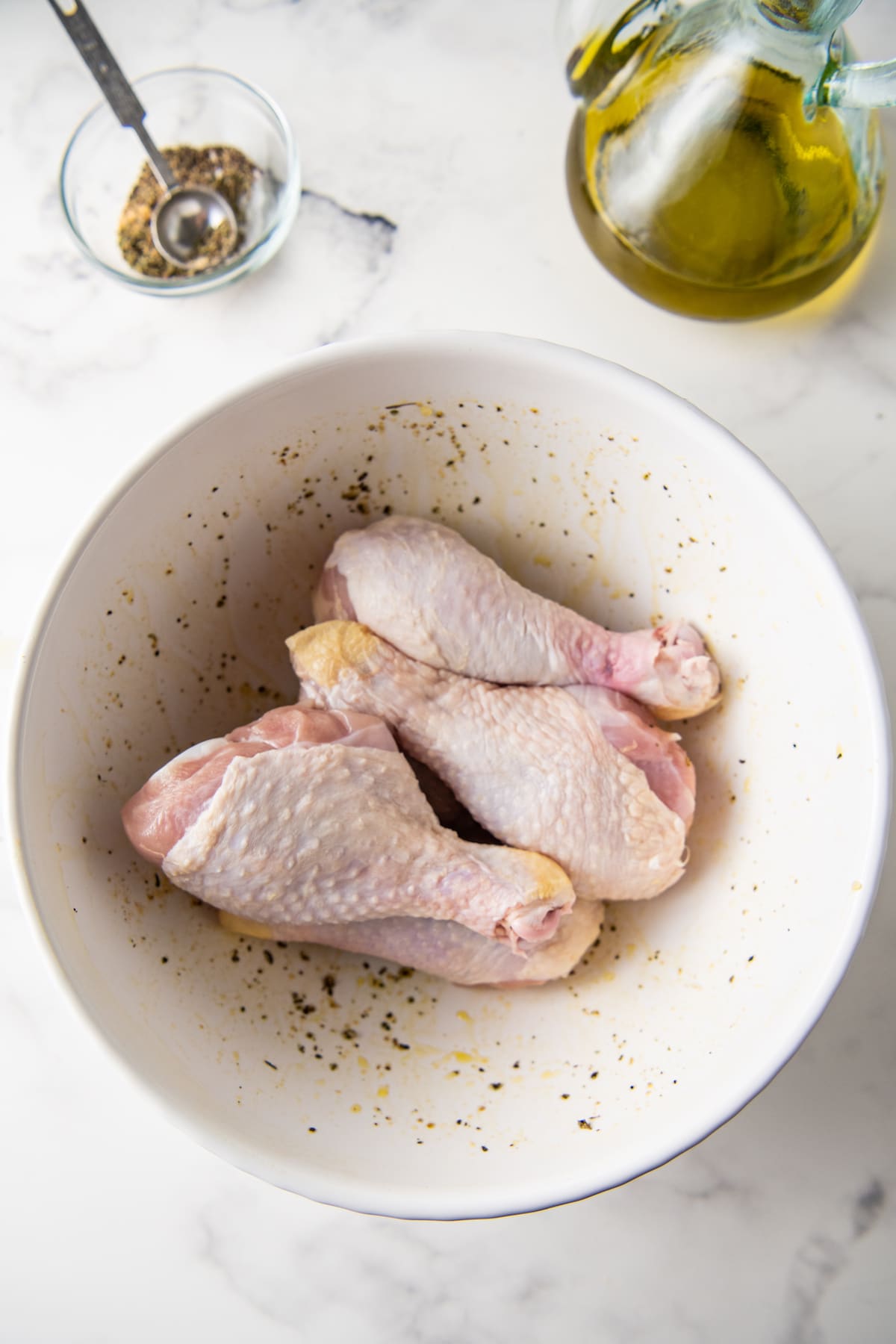 Season the chicken legs. Then you will do the same thing to the chicken as you did the vegetables. Toss the chicken with olive oil to coat and then proceed with the seasonings.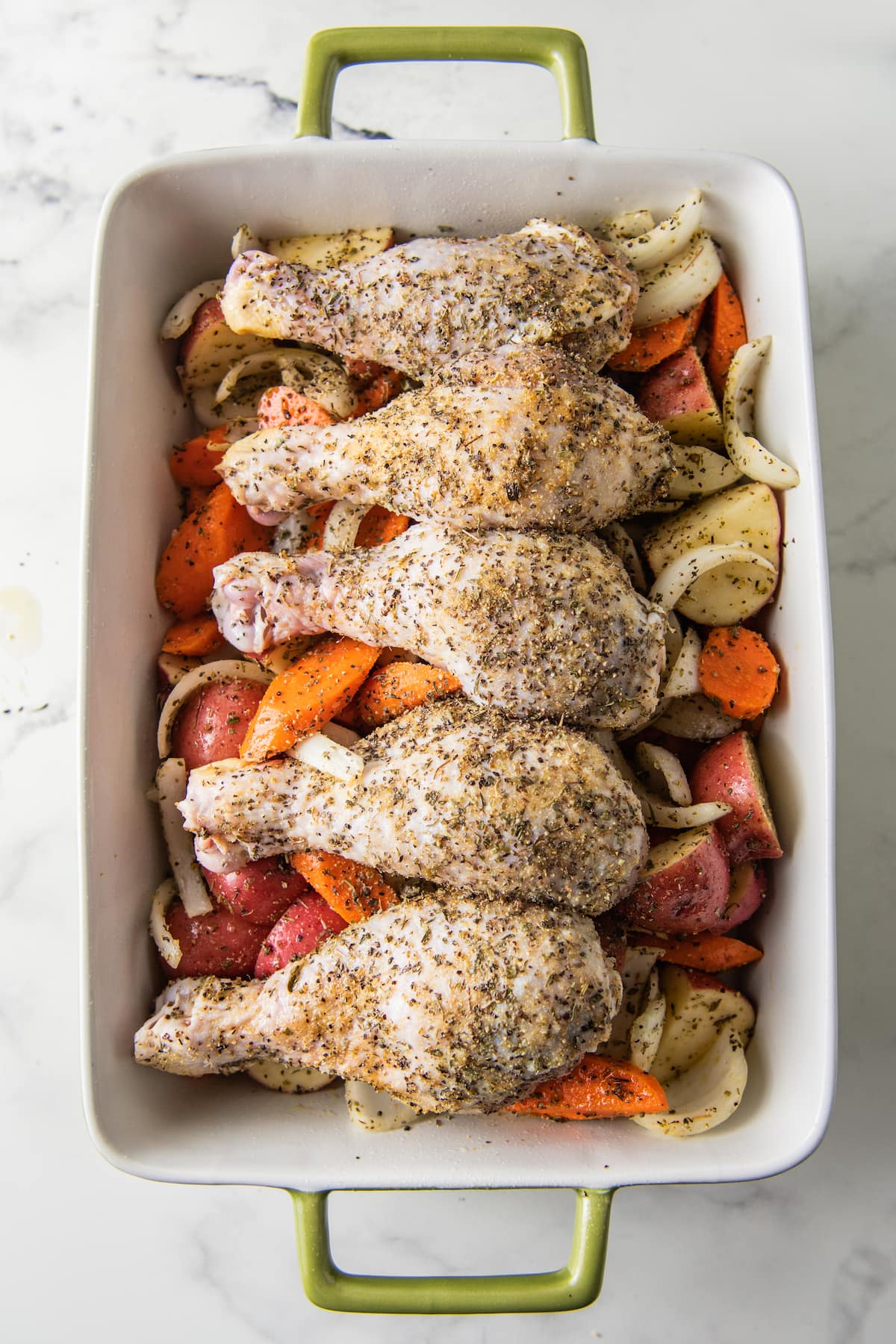 Lay the chicken on top of the vegetables. Put the chicken right on top of the vegetables in a single layer.
Roast the chicken and vegetables. Lastly, bake the dish for about 45 minutes or until the chicken is cooked. You can tell when the juices run clear and the internal temperature is 175F.
Serve and enjoy! Don't forget to pour a little bit of that yummy "jus" from the pan over the chicken drumsticks and vegetables!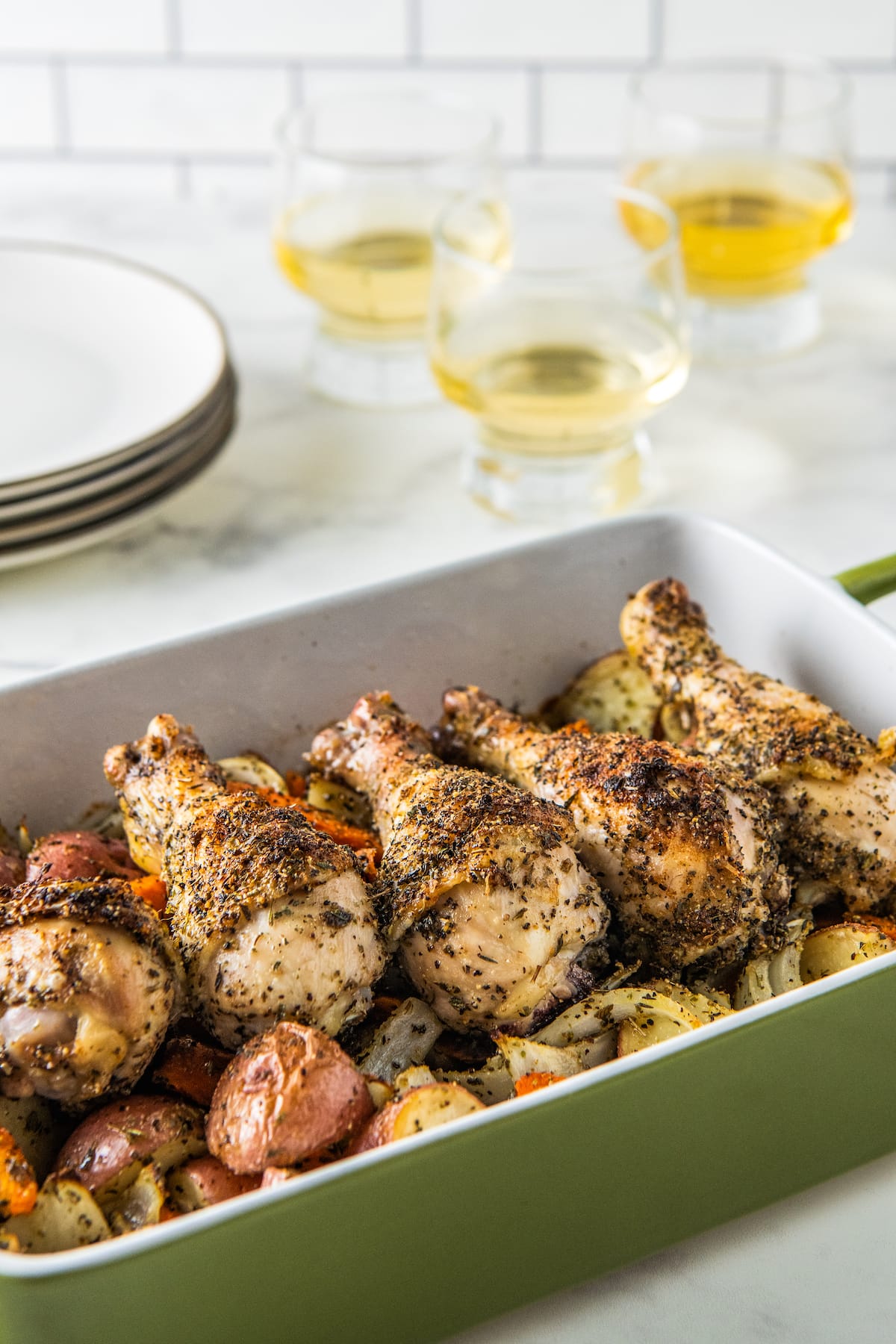 Tips for Success
Here are a few simple tricks to help you along the way. We want your dish to turn out perfectly!
Use a meat thermometer. We recommend using a meat thermometer to ensure that your chicken is cooked perfectly. When inserting the meat thermometer, do not let it touch the bone. The temperature should be 175F (for chicken breasts it is 165F).
Cut the vegetables to similar sizes. It's important that the vegetables are cut to be about the same size so that they cook evenly.
Use the leftover broth while plating. Serve the herbaceous broth, from the bottom of the pan, over the chicken legs and vegetables.
Cut the onion slices thick. You want them to be rather large so that they don't get lost in the broth. Their tender and slightly sweet bite is perfect with the chicken!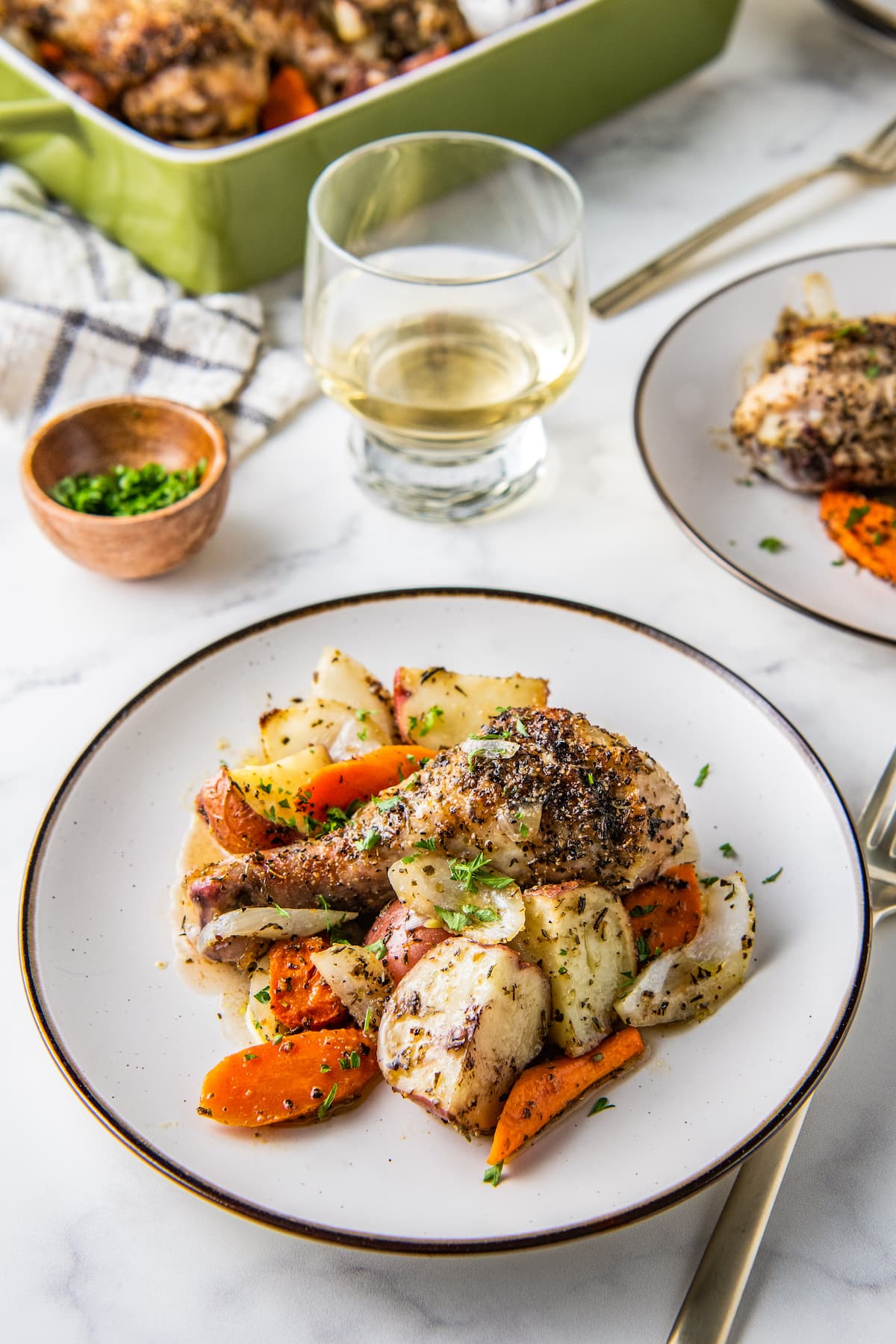 Serving Suggestions
This dish can be served on its own or we have some really delicious pairing options to try. Working a few of these ideas into your planning creates the perfect simple dinner.
Double the potatoes. There's no rule that says you can't have two types of potatoes with dinner! We love mashed potatoes and this Best Mashed Potatoes recipe is one of our favorites.
Keep it simple with a side of rice or noodles. Plain white rice or egg noodles are the perfect vessels to soak up that herby broth. This Cilantro Lime Rice is one of our favorites!
Add some green. Add these Air Fried Brussels Sprouts to add some fiber-filled green vegetables to the plate. Or how about this light and fresh Cucumber Salad?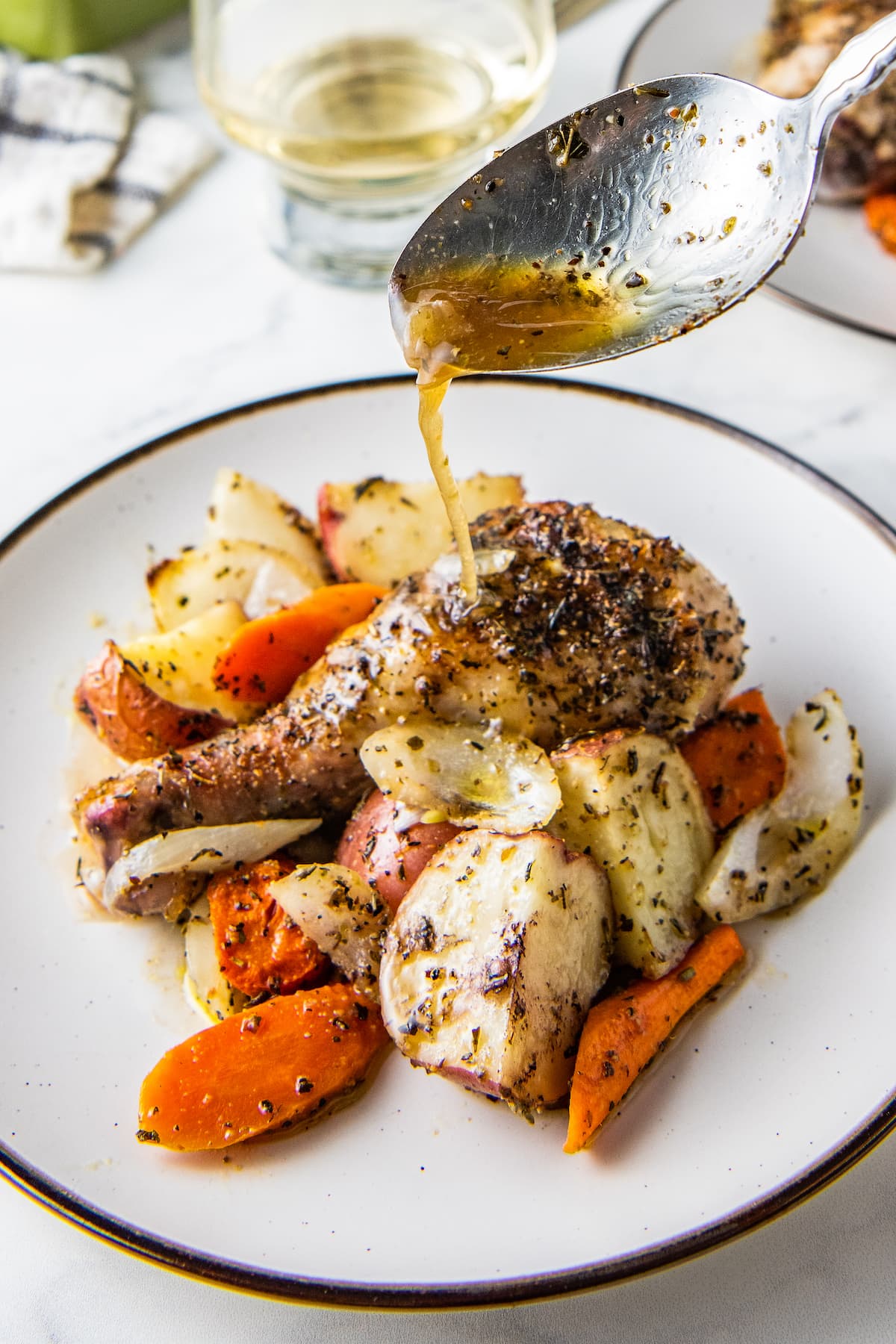 How to Store and Reheat Leftovers
This meal makes great leftovers. We love having them for lunch the next day. Simply store any leftover chicken and vegetables in an air-tight container in the fridge for up to 5 days.
Just reheat in the microwave when you're ready to eat!
Can I Freeze Extras?
Yes, you can even freeze leftovers! We recommend freezing them in a freezer-friendly bag or air-tight container for up to 3 months.
Baked Chicken Drumsticks with Vegetables
This one-pan meal is simple, hearty, and healthy! Tender chicken legs are seasoned and roasted alongside potatoes, carrots, and onions.
Ingredients
1

medium yellow onion

,

chopped

3

cups

carrots

,

peeled and chopped in 2" pieces

3

cups

medium red potatoes

,

quartered

2

tablespoons

olive oil

,

divided

2

teaspoons

kosher salt

,

divided

2

teaspoons

freshly cracked pepper

,

divided

2

teaspoons

garlic powder

,

divided

2

teaspoons

Italian seasoning

,

divided

6 to 8

chicken legs
Instructions
Preheat oven 350°F. Spray a 9×13 baking dish with nonstick spray and set aside.

In a medium size bowl, add all of the vegetables: onion, carrots and potatoes. Pour 1 tablespoon olive oil over the vegetables and toss until all vegetables are coated with oil.

Add 1 teaspoon of the following: salt, pepper, garlic powder and Italian seasoning. Stir until all of the vegetables are coated with seasonings. Pour the vegetables in the prepared baking dish. Spread them into an even layer. Set aside.

Pat the moisture off of the chicken legs and add them to the mixing bowl. Pour the remaining tablespoon of olive oil over the chicken and toss to coat. Add the remaining teaspoons of salt, pepper, garlic powder and Italian seasoning. Toss until the chicken is coated in seasonings.

Place the chicken drumsticks on top of the vegetables. Roast chicken and vegetables for 40 to 45 minutes, until chicken is cooked through and an internal temperature reaches 175°F.

Remove from oven and let rest for 5 minutes, then serve!
Notes
Storage:
Store any leftover chicken and vegetables in an air-tight container in the fridge for up to 5 days.
Freeze for up to 3 months. Transfer to fridge to thaw for 24 hours before reheating.
Nutrition
Serving:
1
,
Calories:
1221
kcal
,
Carbohydrates:
47
g
,
Protein:
130
g
,
Fat:
54
g
,
Saturated Fat:
14
g
,
Polyunsaturated Fat:
34
g
,
Cholesterol:
655
mg
,
Sodium:
1225
mg
,
Fiber:
7
g
,
Sugar:
8
g
More Chicken Dinner Ideas