This Crockpot Chicken and Stuffing will satisfy all your fall cravings with its classic Thanksgiving flavors. Plus, it's so simple to put together! The slow cooker does all the work.
Easy Crockpot Chicken and Stuffing
Thanksgiving is right around the corner. We love it as much as you all do, but we have to admit – it's a lot of work! What if we told you that you could create a lot of those flavors that you love in a Crockpot without the prep and hassle?!
This Crockpot Chicken with Stuffing is the perfect fall meal when you're craving Thanksgiving comfort foods. Tender chicken breasts are slow-cooked on top of celery and onions (for extra flavor!). Then, the chicken is topped with creamy chicken soup and stuffing. Plus, more onion and celery are added for texture and flavor.
Just like we said, this dish provides all of the flavors that you love about Thanksgiving, but without the hours and hours of work. The slow cooker does the work for you with this recipe!
If you love this easy comfort food dinner recipe, you will also love this recipe for Stuffing Stuffed Chicken Breasts and Slow Cooker Pork Chops with Stuffing!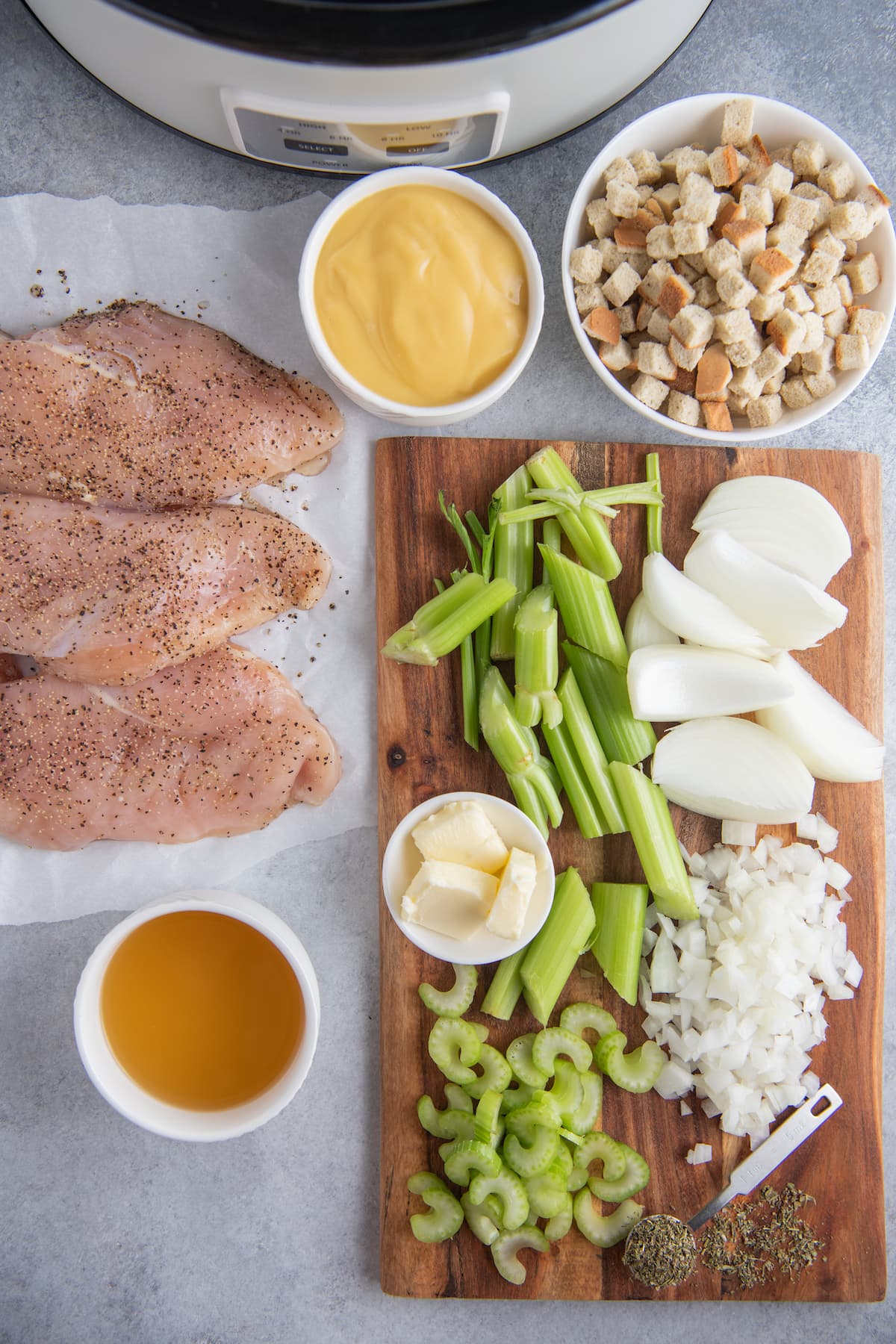 What You'll Need
The ingredient list is short and simple for this recipe! Don't forget to check out the recipe card below for exact amounts.
Onion: Adding the onion adds texture and flavor to the stuffing, plus it flavors the chicken while it cooks.
Celery: Celery also adds extra flavor and texture to the dish.
Chicken Breasts: Turkey breasts or chicken legs/thighs are two alternatives you could use here.
Salt and Pepper
Cream of Chicken Soup: You can use another creamy soup, too. Cream of Mushroom or Cream of Onion are two great choices.
Chicken Broth: We highly recommend using low-sodium broth. This way you can control the amount of salt going into the dish. Plus, the soup is going to already add a lot of salt.
Bagged Cubed Stuffing: We personally love using bagged stuffing because it's pre-seasoned and perfectly dry. You can also make your own by cutting up stale bread and toasting it in the oven until it's completely dry.
Can I Use Frozen Chicken in the Crockpot?
There are a few things to keep in mind if you're going to use frozen chicken in the Crockpot.
If you find yourself crunched for time, don't worry, you can use frozen chicken in the slow cooker. The important thing to remember is that you must check the internal temperature of the chicken after it's cooked.
So simply use a meat thermometer to make sure that the chicken has an internal temperature of 165F or higher. If it is not at that temperature, please increase the cooking time and wait until it's a safe temperature before eating.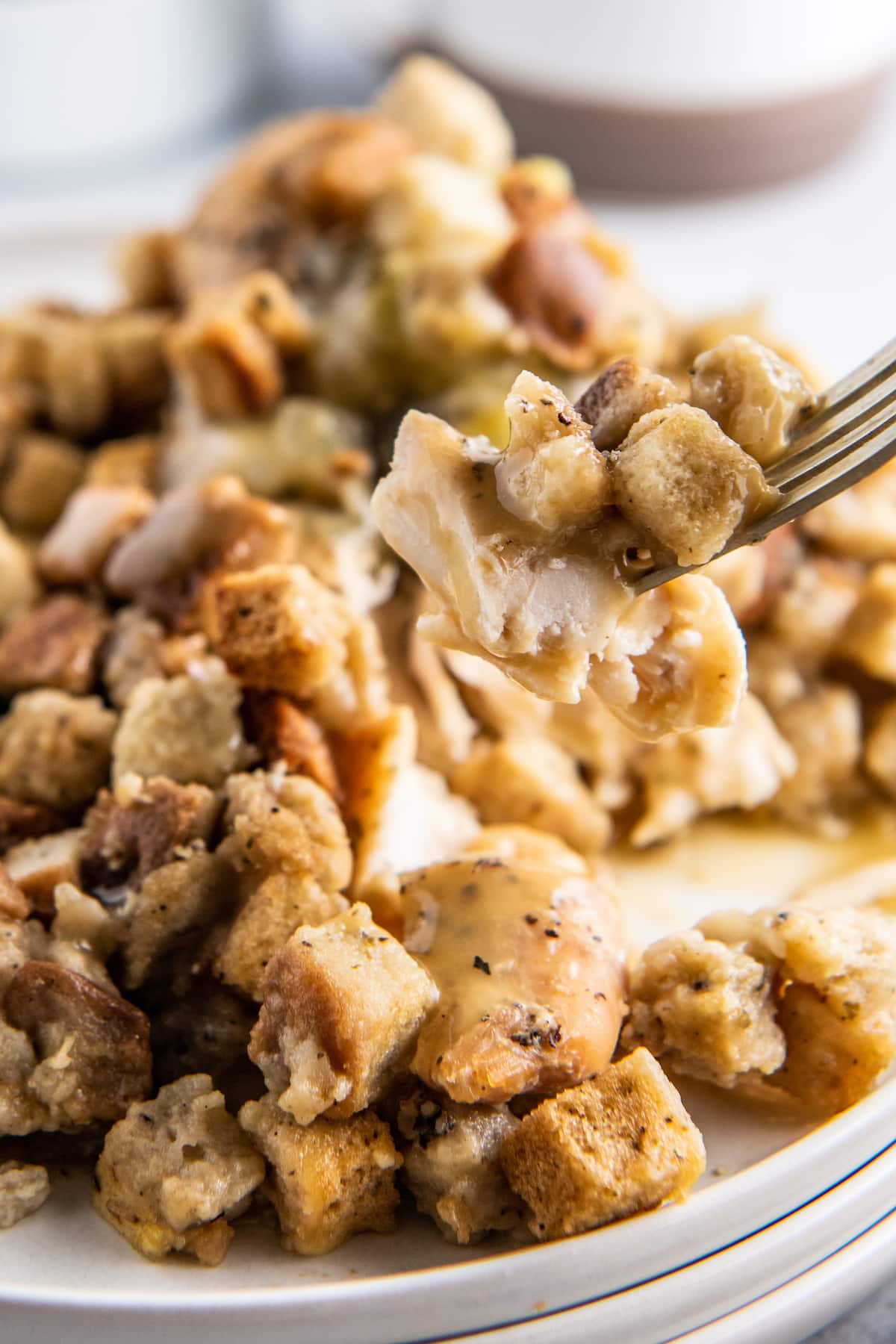 How to Make Crockpot Chicken with Stuffing
It's time to break out the slow cooker! Here are the quick and easy steps for making this recipe.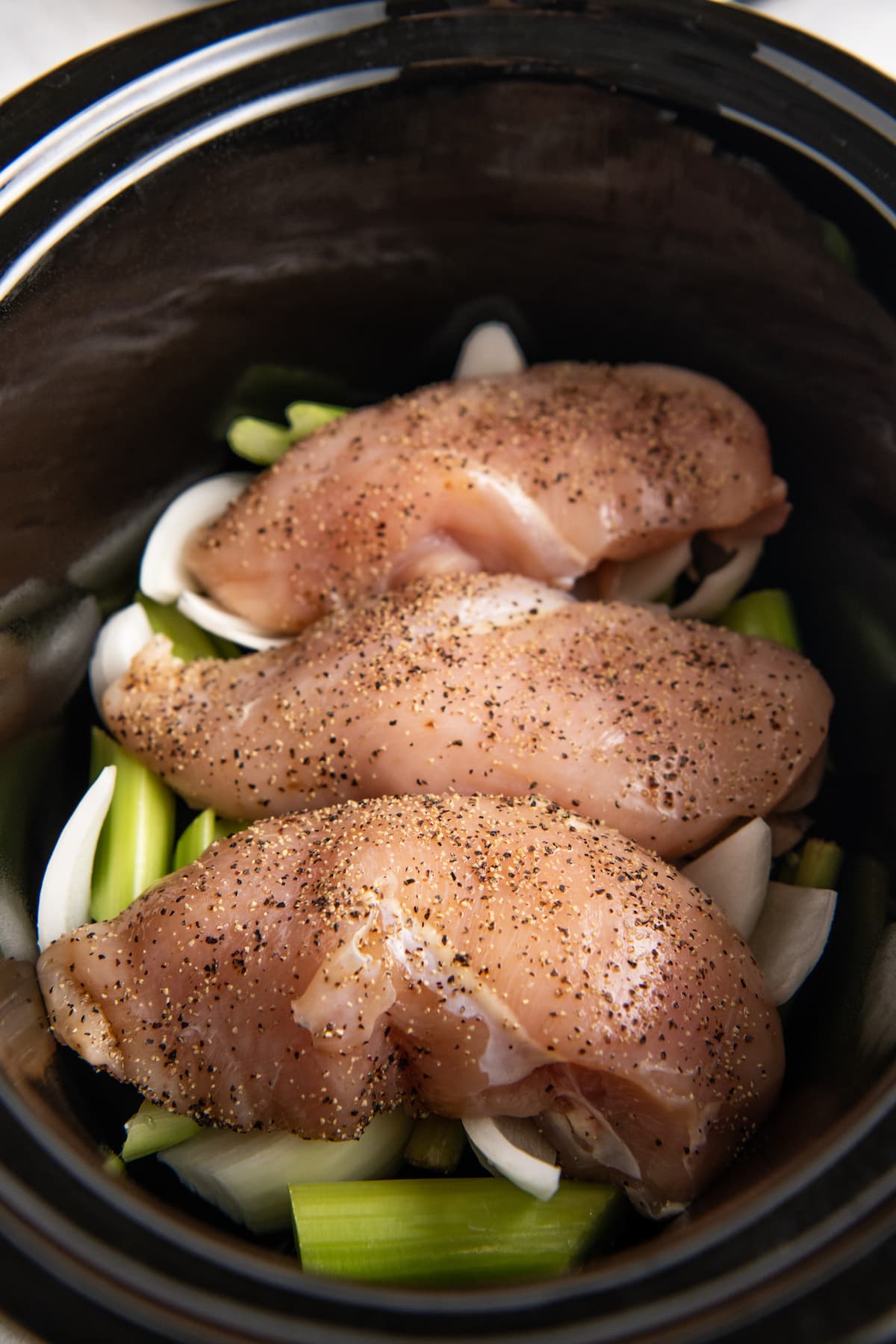 First, cut up the onions and celery. You'll use about 2/3 of each for the bottom of the slow cooker. You'll set the chicken on top of the celery and onion. Then, you'll dice the remainder for on top of the chicken.
Next, season the chicken and put it on top of the celery and onion. Make sure that you season the chicken breasts generously with salt and pepper.
Add the diced vegetables and soup. Next pour the diced celery and onion on top of the chicken. Then add the cream of chicken soup.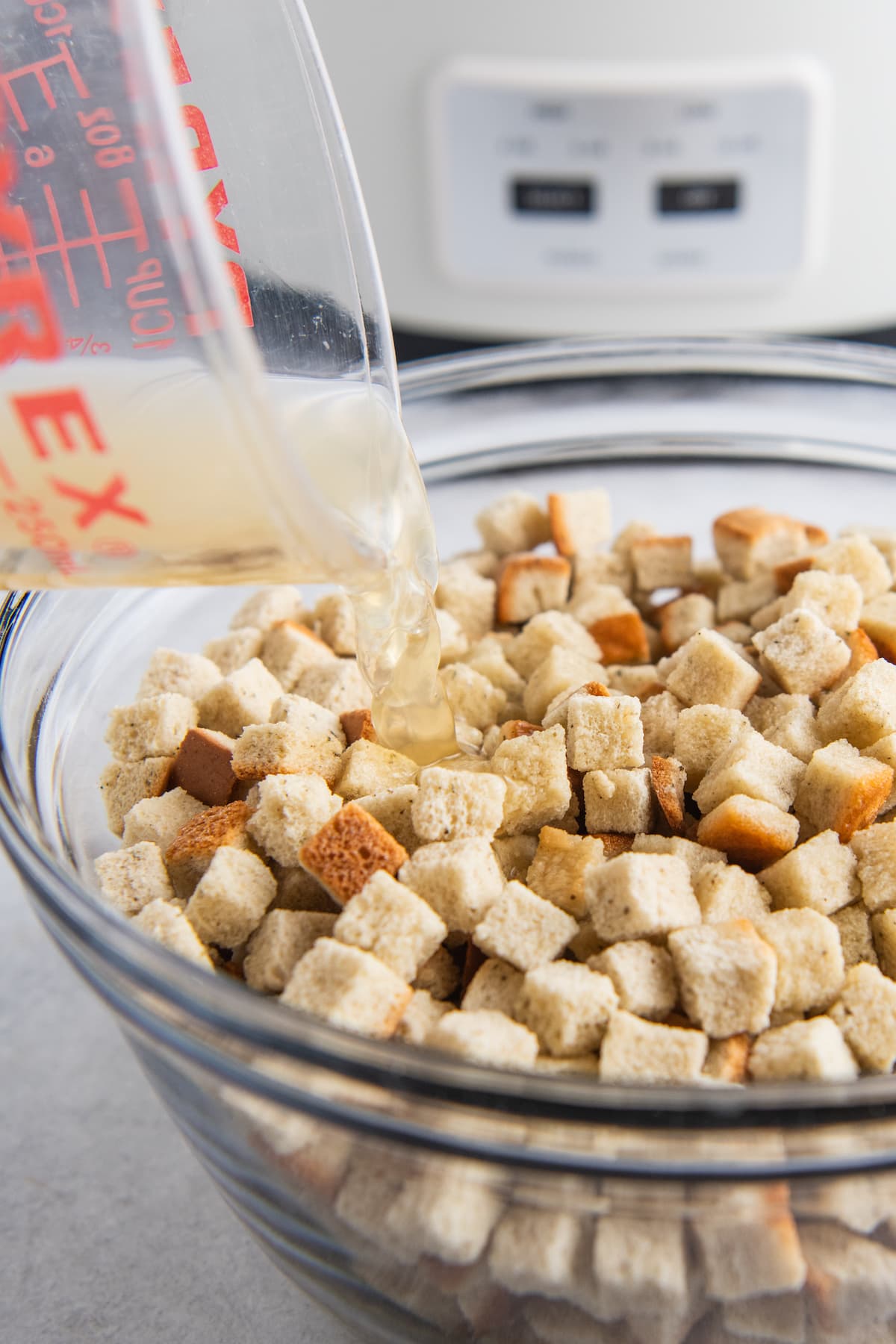 The next step is to prep the stuffing mixture. To prep the stuffing, add the mix to a bowl and pour the broth over it. Then toss together so the stuffing is evenly coated with the broth.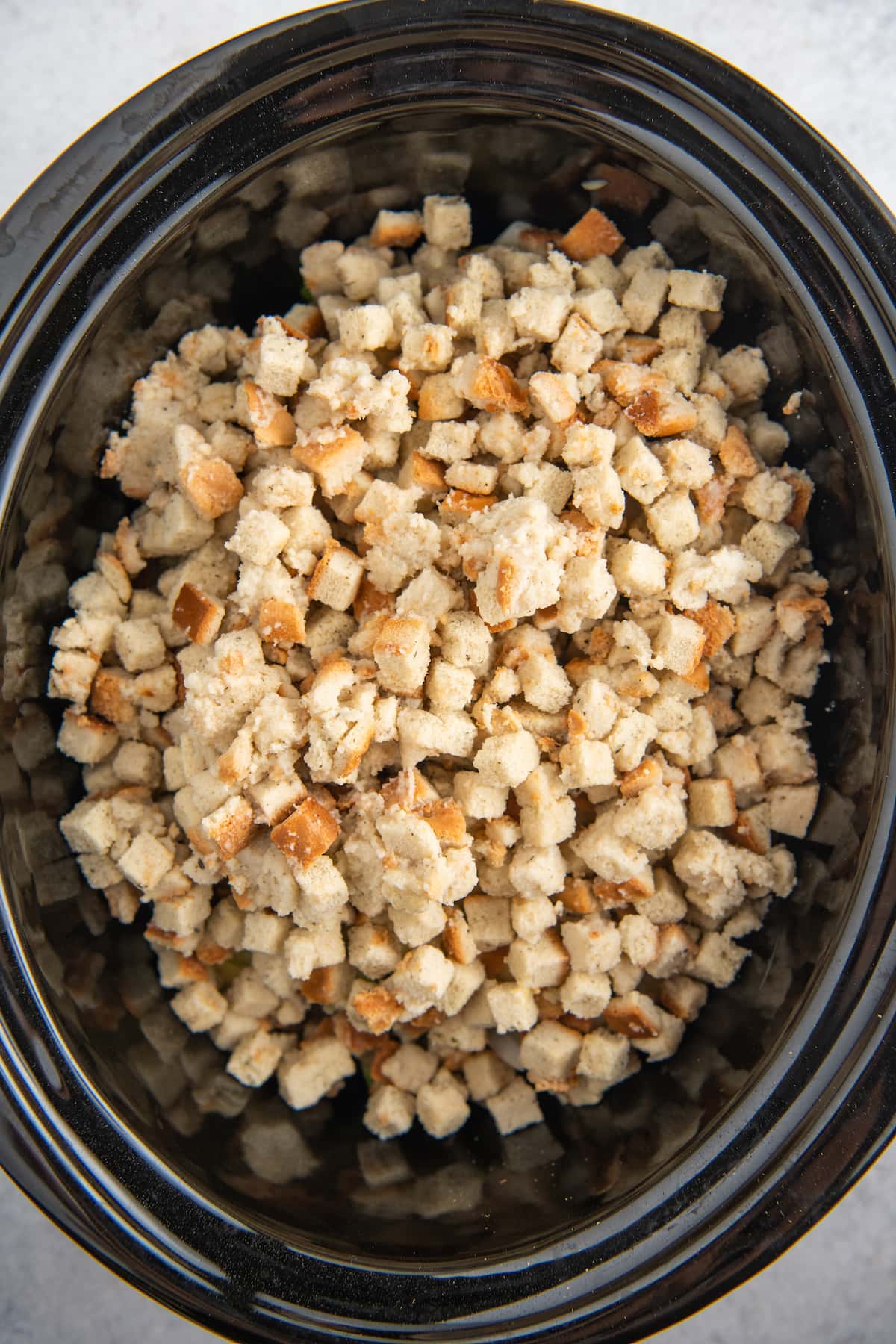 The last step is to add the stuffing to the slow cooker. Pour the stuffing over the soup and put the lid on the slow cooker. Then cook the chicken and stuffing for 7-8 hours on low or 3-4 hours on high.
Finally, serve and enjoy! Pour some homemade gravy on top if you'd like!
Tips and Variation Ideas
Here are a few ways to mix up the recipe. Plus a few helpful tips to follow along the way!
Add goodies to the stuffing mix. You could fancy up the stuffing with pecans, cranberries, apples, or dried cherries.
This could be your one-and-done Thanksgiving recipe! If you're having a small Thanksgiving this would be a great alternative to a turkey. Clean up is a breeze, too.
Use a different protein. You can also use turkey breasts for this recipe in addition to chicken legs and/or thighs.
Add vegetables. You could add cubed potatoes and carrots, too, for more variety.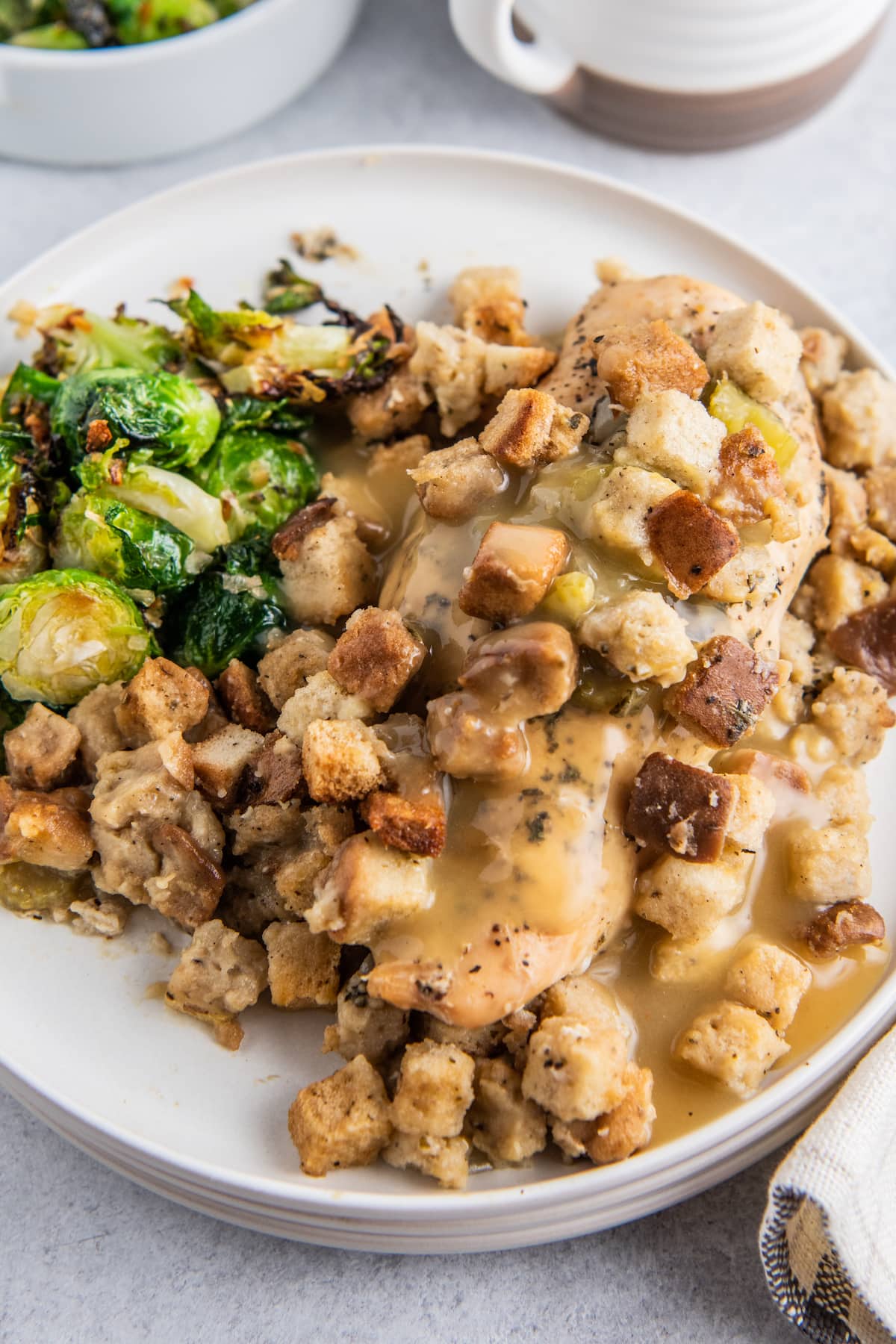 Serving Suggestions
Here are some of our favorite side dishes and serving suggestions for this easy Crockpot chicken.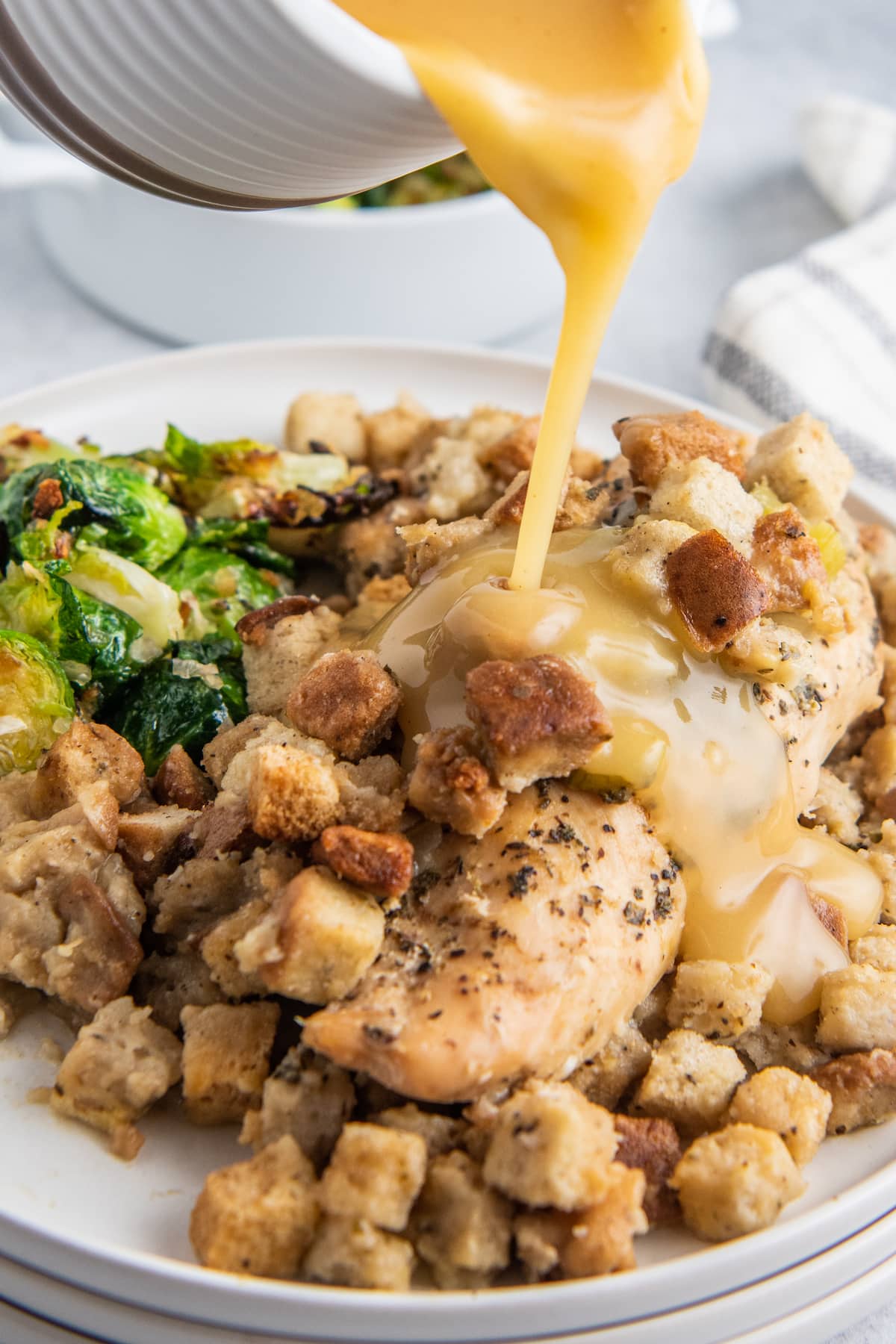 How to Store and Reheat Leftovers
You can store leftovers in an air-tight container in the fridge for up to 5 days. Simply reheat in the microwave for the best results.
Can I Freeze This Recipe?
You can also freeze this recipe after it's been cooked. We suggest storing in single-serving portions so that you can have an easy grab-and-go dinner or lunch option. If you'd like to serve the whole meal, you could use a larger Tupperware container or casserole dish.
It's best to thaw overnight before reheating for the optimal flavor and texture.
Crockpot Chicken and Stuffing
This easy Crockpot Chicken and Stuffing is the ultimate fall dinner! Perfectly cooked chicken is smothered in creamy soup and seasoned stuffing mix.
Ingredients
1

medium onion

,

divided

3

celery stalks

,

divided

1.5

pounds

boneless chicken breast

1

teaspoon

kosher salt

1

teaspoon

freshly cracked pepper

1

10.5 oz can cream of chicken soup

½

cup

low-sodium chicken broth

1

12 oz bag cubed stuffing
Instructions
Cut onion into 4 large quarters. Place 3 of the large quarter pieces into the bottom of the crockpot. Dice the remaining 1/4 quarter onion, set aside.

Cut 2 of the celery stalks into long pieces and place in the bottom of the crockpot. Dice the remaining stalk of celery. Set aside.

Season the chicken breast with salt and pepper and place on top of the onion and celery in the crockpot.

Add the diced onion and celery over the chicken breasts, then cover everything with cream of chicken soup.

In a medium sized bowl, add stuffing and pour broth over stuffing and mix thoroughly. Add stuffing on top of soup

Place lid on crockpot and cook on low 7 to 8 hours, or on high 3 to 4 hours, until chicken is cooked through.

Serve immediately, with gravy, if desired.
Notes
Storage: You can store leftovers in an air-tight container in the fridge for up to 5 days. Simply reheat in the microwave for the best results.
Nutrition
Serving:
1
,
Calories:
344
kcal
,
Carbohydrates:
8
g
,
Protein:
55
g
,
Fat:
9
g
,
Saturated Fat:
2
g
,
Polyunsaturated Fat:
5
g
,
Cholesterol:
147
mg
,
Sodium:
730
mg
,
Fiber:
1
g
,
Sugar:
2
g
More Chicken Dinner Ideas