This Easy Pizza Casserole needs to make its way into your meal planning routine! It's so simple to make, only has four ingredients, and is always a hit with its melty cheese, rich sauce, and perfectly tender biscuits!
Cheesy Pizza Dinner Casserole Recipe
It's time to revitalize pizza night! If you're a little tired of the standard, thin crust pizza – this Easy Pizza Casserole is for you. It has melty cheese, tasty tomato sauce, traditional pepperoni, and a buttery biscuit crust.
That's right, we only listed four ingredients! That's all you need to make this quick and simple pizza dinner. It even has one of our favorite secret weapon ingredients when you need to get a meal together in a hurry!
One of our favorite ingredients to use for quick dinners is refrigerated biscuits. They are so flavorful and have the perfect texture to make this pizza casserole.
You know what ones we're talking about, right?! The most notable brand is Pillsbury. It's a long blue tube that you'll find in the refrigerated section of the grocery store. This ingredient is so versatile and fun to use for various meals. It's the perfect shortcut product when a recipe calls for any sort of dough.
If you love pizza, don't miss this perfect Cast Iron Pizza and Grilled Margherita Pizza.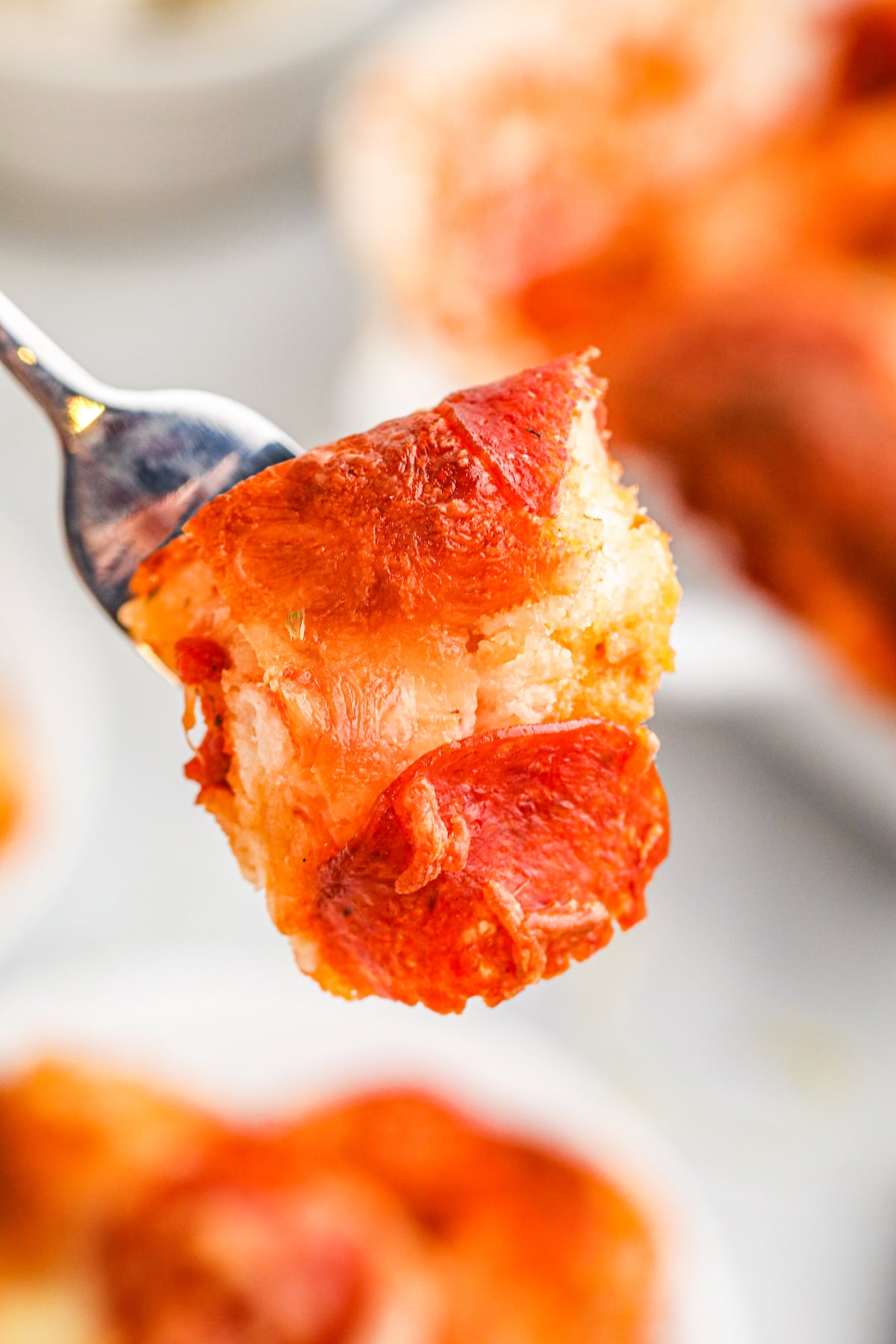 Why You'll Love this Recipe
You're going to love this recipe because it's fast and simple. Remember, we said there are only four ingredients!
Plus, you can customize it, too. If you want to add other pizza toppings like ground sausage, chopped peppers, or mushrooms – go ahead!
You also don't need a fancy pizza stone or any other kitchen equipment. All you need is your basic 9×13 baking pan.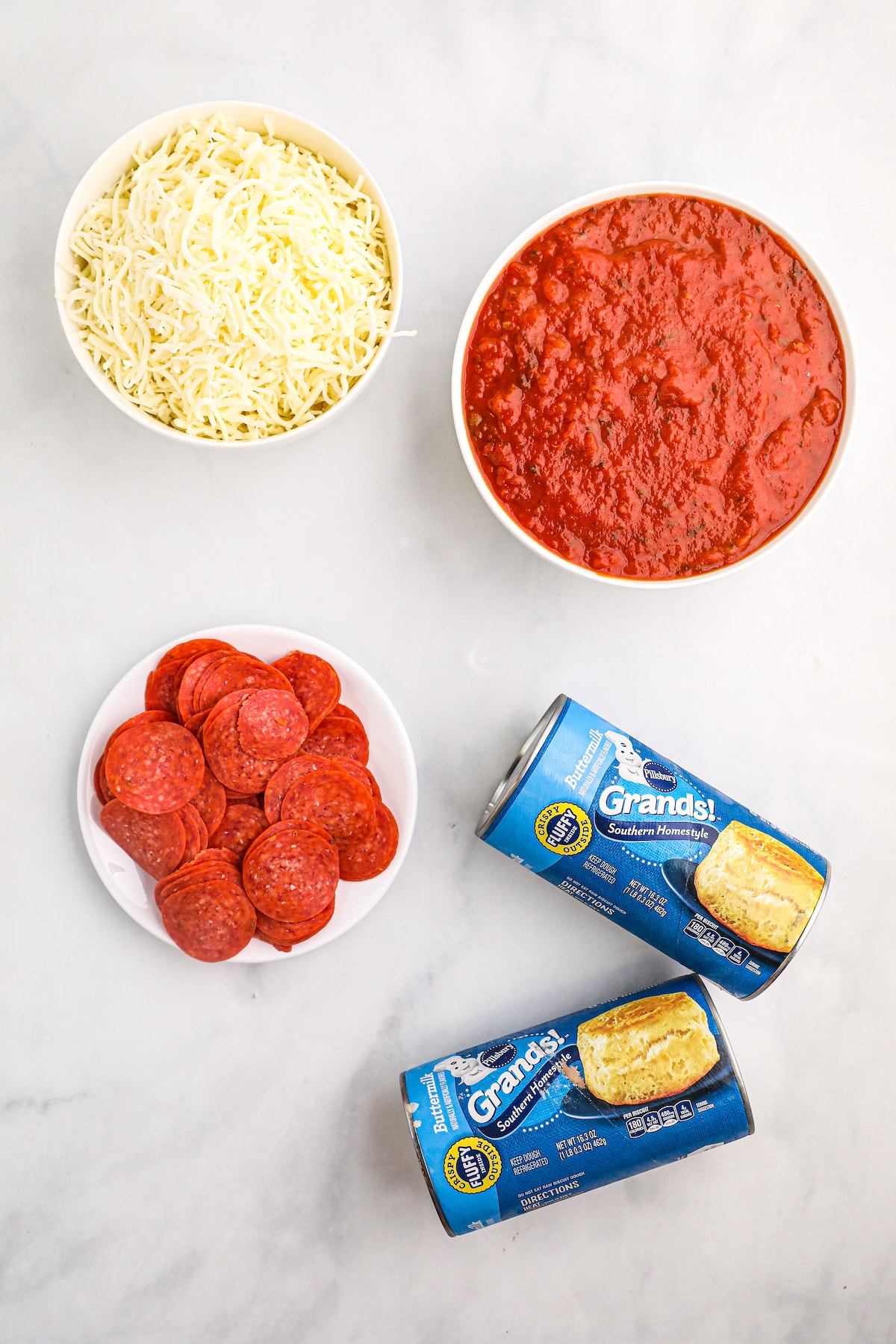 What You'll Need
These four ingredients are easy to find, affordable, and have a long shelf life. So, that means that you can stock up at the store and have the ingredients ready to go whenever you need an easy dinner.
Homestyle Refrigerated Biscuits: A 16.3-ounce can works best for this recipe. Make sure that you buy buttermilk or homestyle biscuits and not flaky.
Shredded Mozzarella Cheese: You could also use a pizza blend of shredded cheese.
Pizza Sauce: Buy a jar or use our favorite recipe for easy Homemade Marinara Sauce.
Pepperoni: Adding sliced pepperoni is a great way to add a little protein to this meal. However, you can omit it if you want to go meat-free!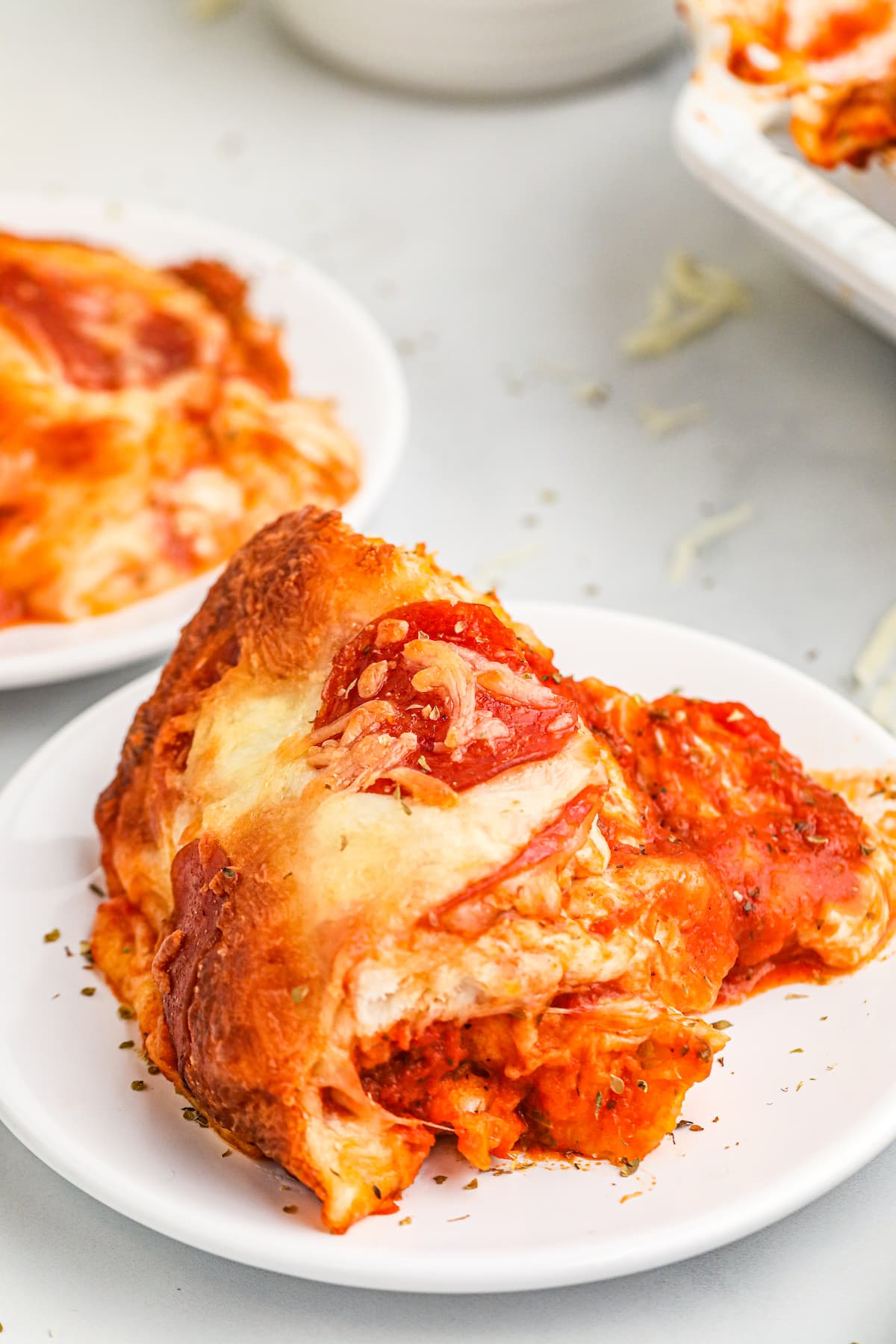 How to Make a Pizza Casserole
Here's how to make this super simple Pizza Casserole. Dinner will be on the table in about an hour!
First, you'll need to preheat the oven and prep your baking dish. Fortunately, you don't need to wait quite as long as with a frozen pizza (which often requires a much hotter oven!). Also, spraying the dish with oil makes sure that your casserole doesn't stick.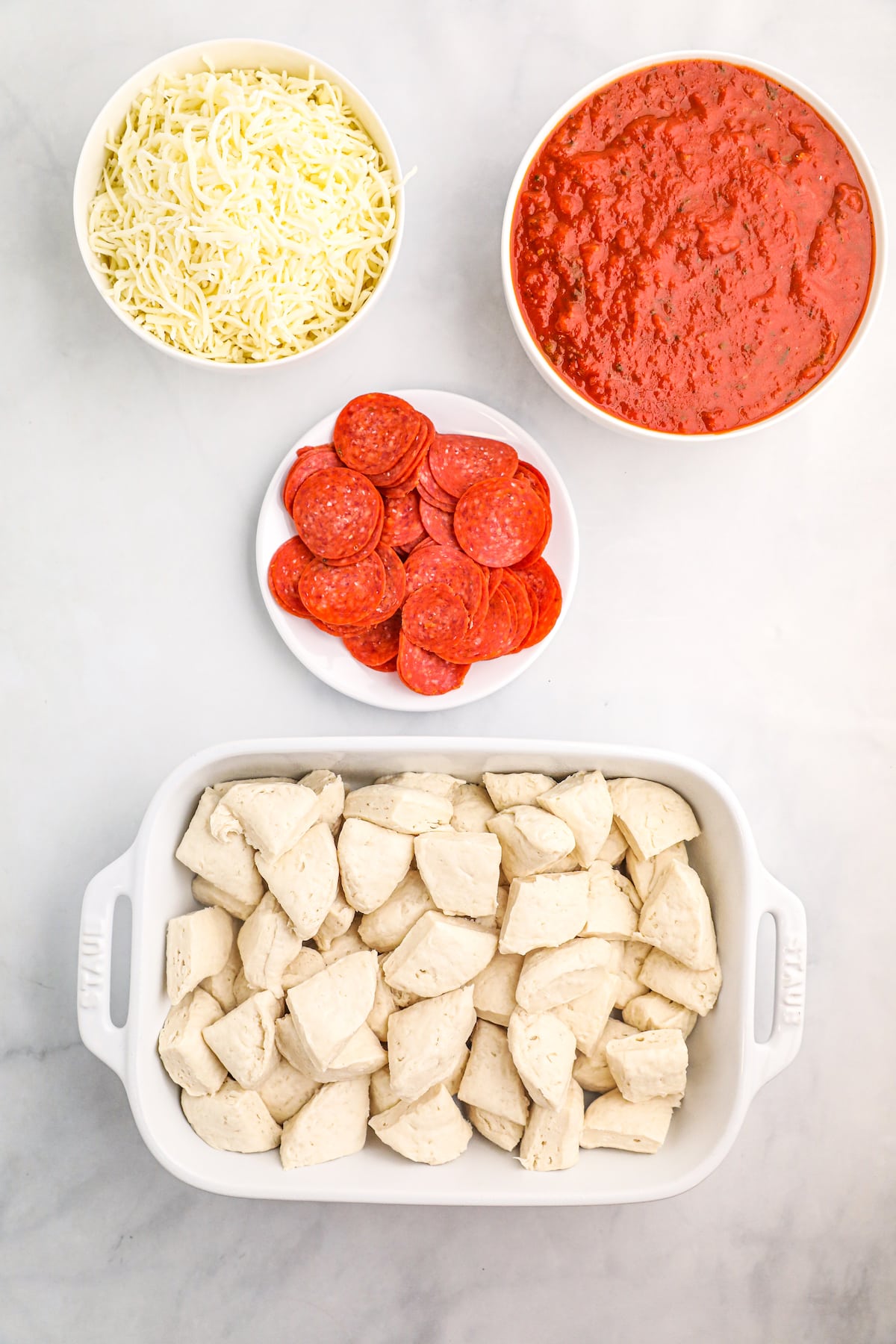 Cut the biscuits into pieces. Cutting them into quarters will be the perfect size for making the crust in the bottom of the baking dish. Place them all in the bottom of the dish, trying to make sure they are spread evenly.
Then, pour on the pizza sauce. Cover the biscuit pieces with pizza sauce.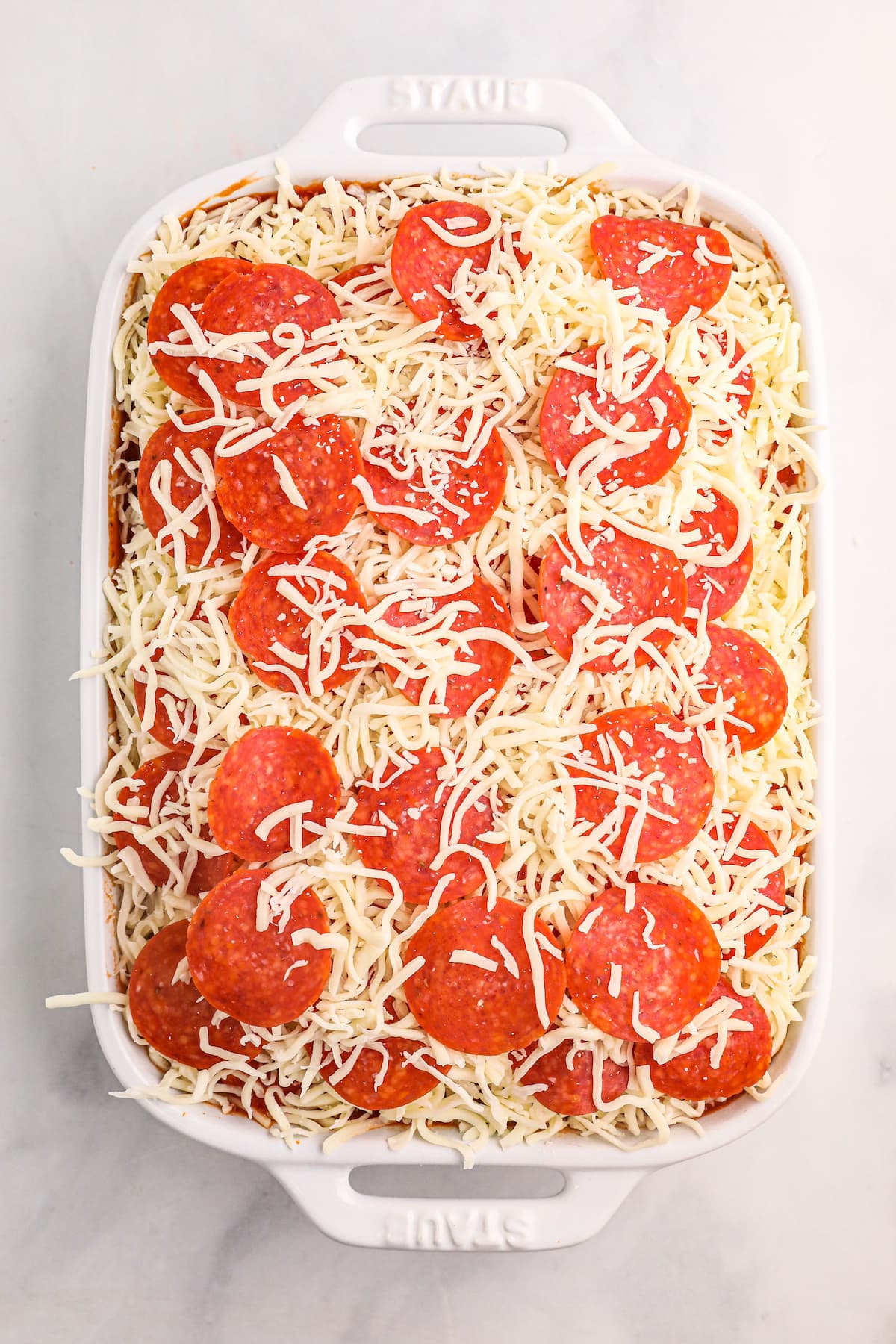 Make the cheesy pepperoni layers. Layer the shredded cheese and sliced pepperoni a few times to top the pizza.
Cover with foil and bake. You'll want to cook the pizza casserole covered for about 20 minutes first. Then, you can remove the cover and cook for another 20-25 minutes to get that crusty, melty cheese topping!
Let it rest before serving. This pizza is going to be gooey – and hot! – coming out of the oven. If you let it rest, it will hold its shape a little better when you take it out of the pan. Plus, you'll avoid burning your mouth by eating it too quickly!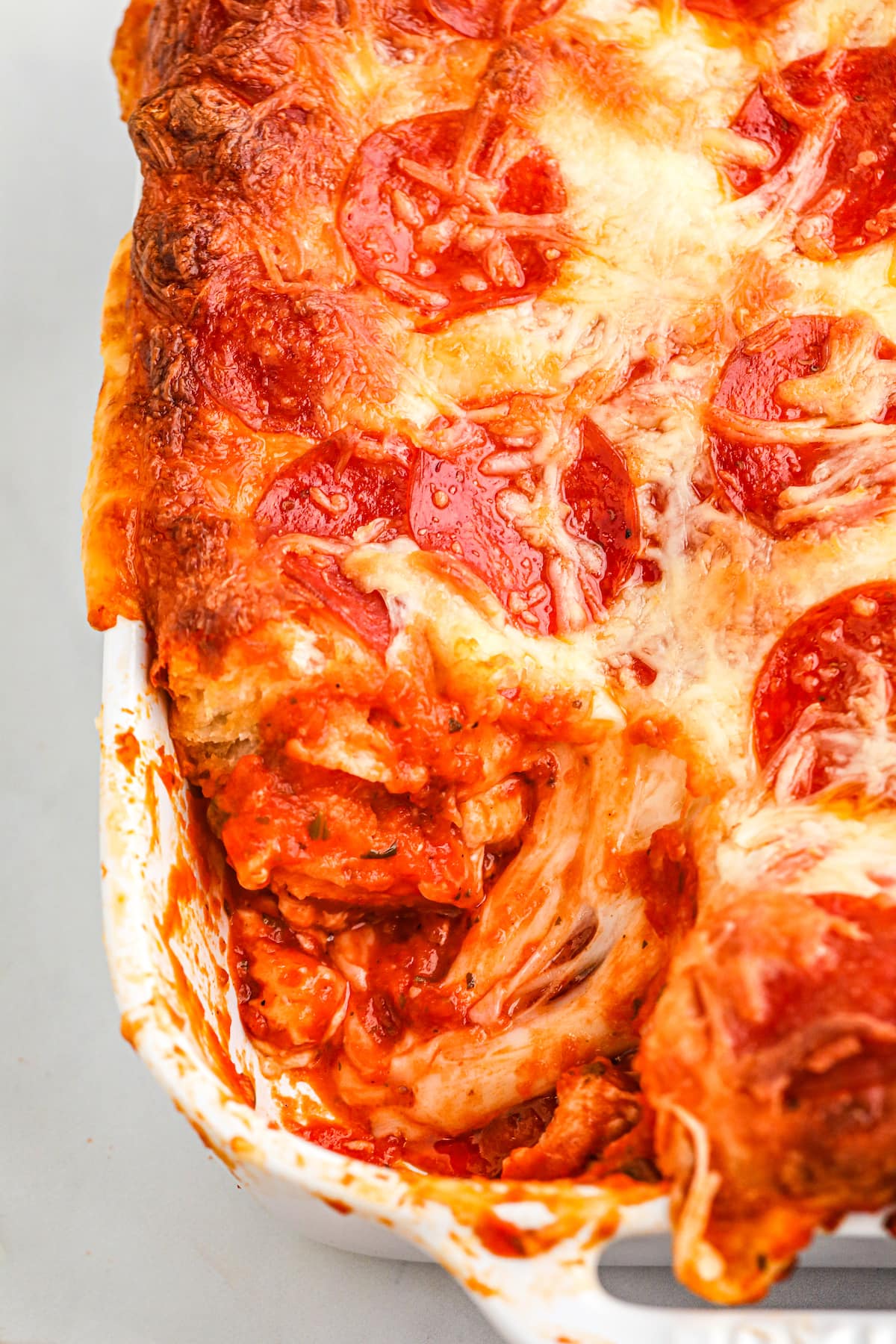 Tips and Variation Ideas
Here are a few tips for making the best pizza casserole. Keep them in mind when making this easy dinner recipe!
Adding extra toppings: It's best to stir any extra toppings in with the biscuit pieces. You can add whatever you'd like! Some ideas are olives, mushrooms, onions, and peppers.
Use the right pan. This recipe works best with a 9×13″ pan. If you try to use a smaller pan, it will be too thick and will not cook all the way.
How to make white pizza: You can do the same procedures and use an alfredo sauce (or jarred white pizza sauce) instead of red pizza sauce. We would even suggest adding some chopped garlic for the best flavor!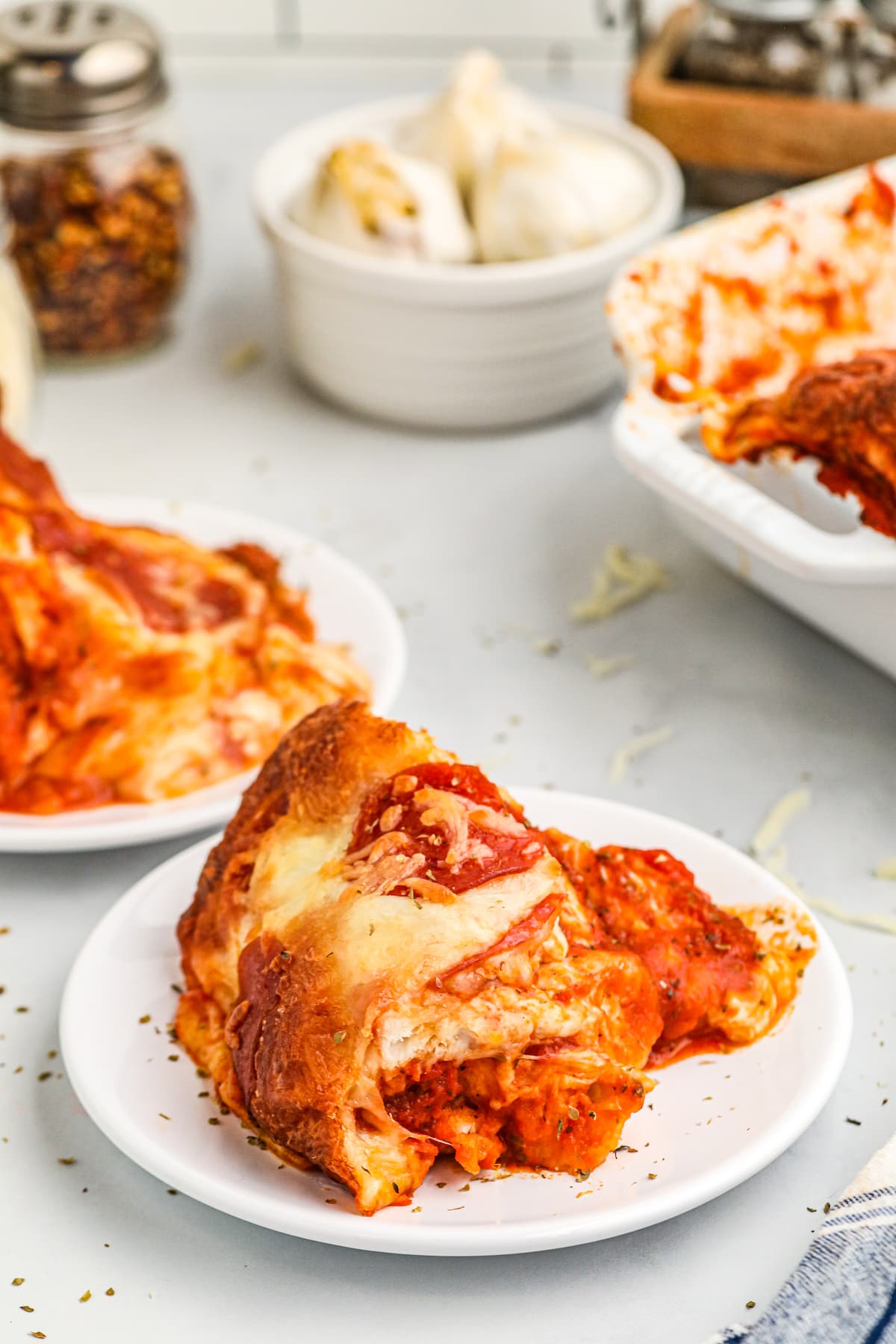 What Goes with Pizza Casserole?
There are lots of great side options to pair with this pizza casserole. Adding some of the options below ensures that you're eating a well-balanced meal!
Serve it with your favorite salad: Pizza and salad pair perfectly together. Try it with our Cucumber Tomato Salad or this protein-packed Mediterranean Quinoa Salad.
Chicken wings: These Air Fryer Chicken Wings are the perfect companion for this pizza when you're watching the big game!
Keep it simple: Sometimes, we just like to serve it with a basic veggie platter. Carrots and celery are always a hit.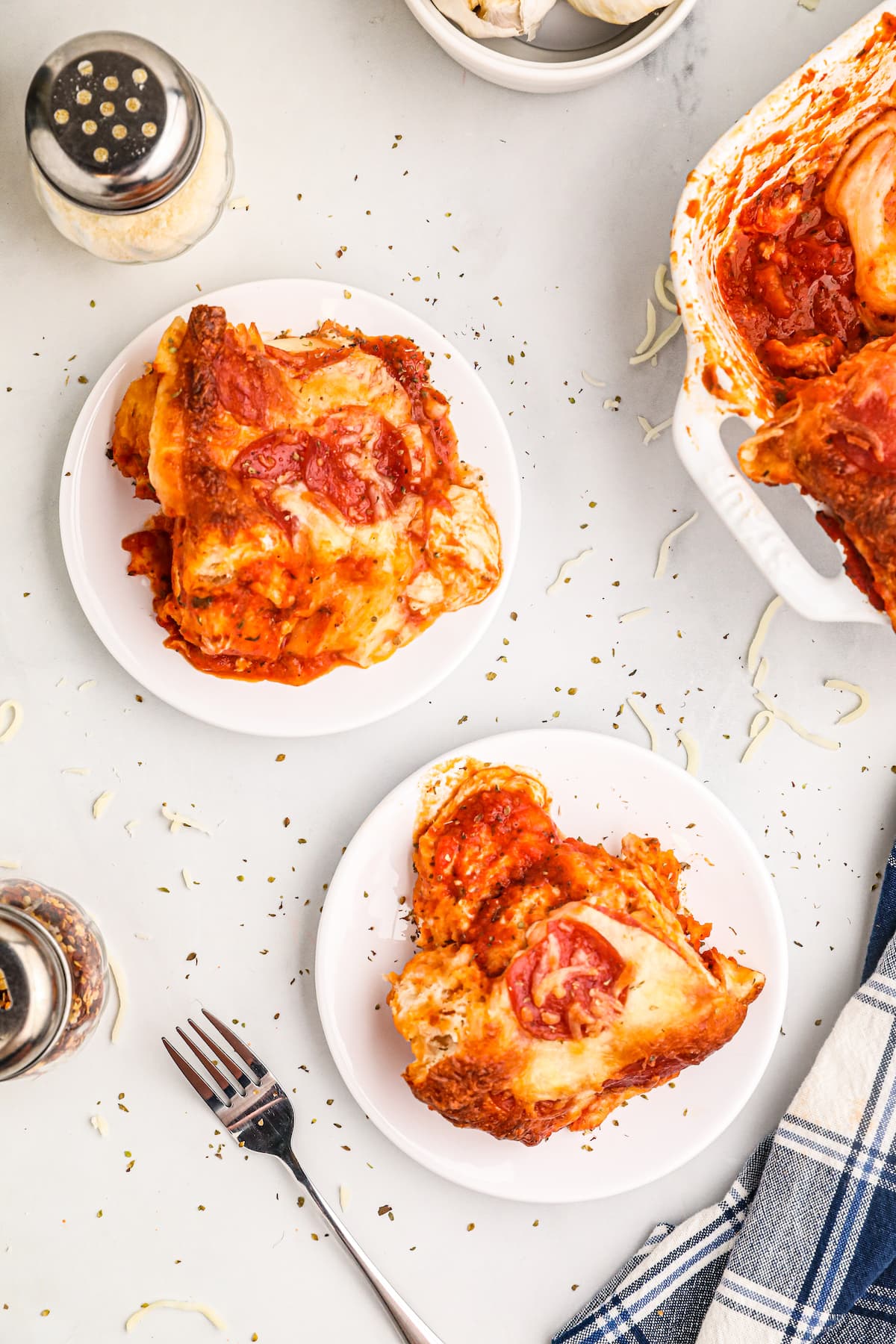 How to Store and Reheat Leftovers
Got leftovers? No problem! You can easily store this pizza casserole and enjoy it on another day. You can wrap it up and store it in an air-tight container for up to 5 days in the fridge.
Then, when you're ready to reheat, cut yourself a piece and heat the microwave or even the air fryer to develop a crunchy crust!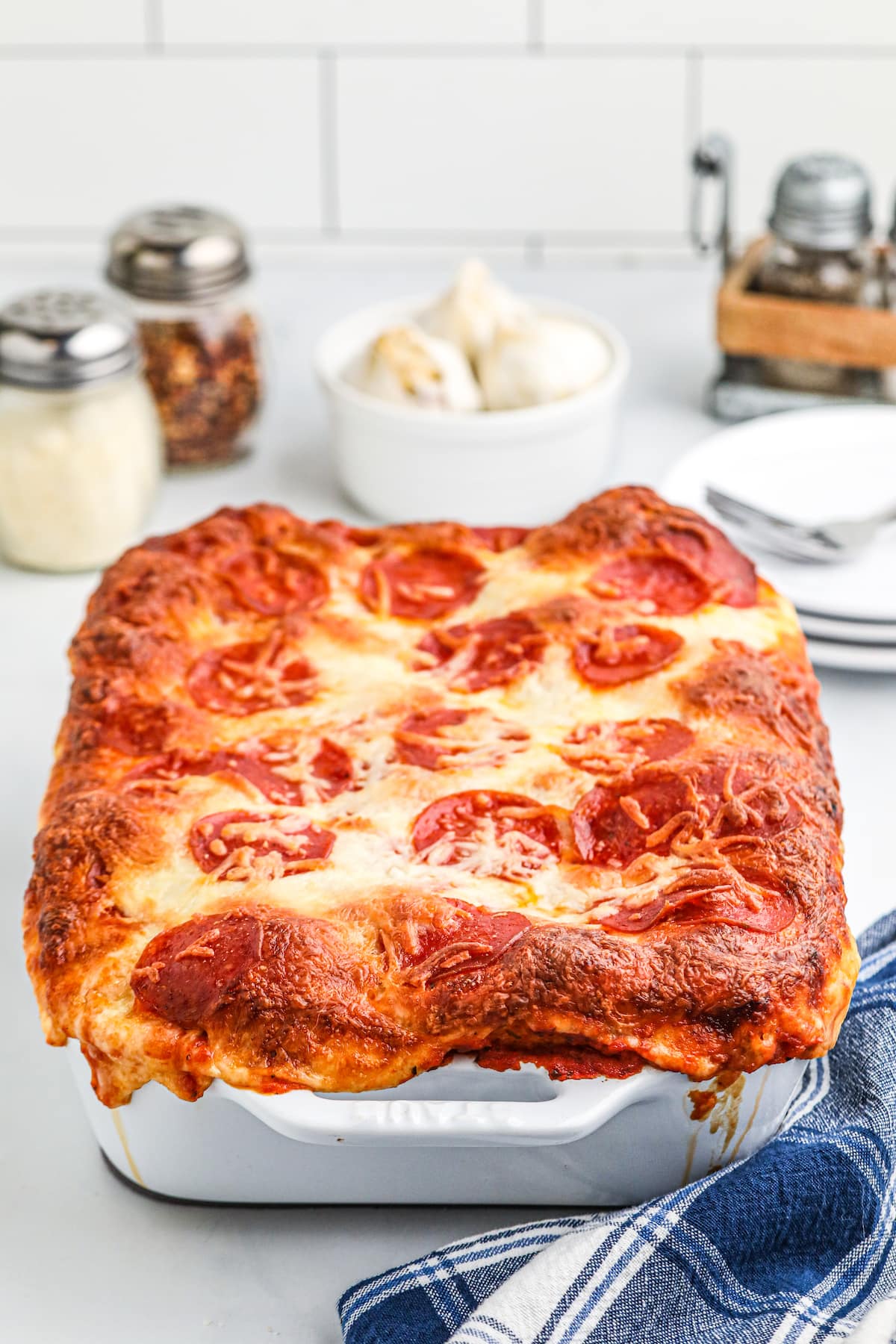 Can I Freeze It?
You can freeze this casserole before it has been cooked. So assemble the dish, then cover it with aluminum foil as well as saran wrap to prevent freezer burn. It will keep in the freezer for up to 3 months. Thaw overnight in the fridge, then proceed with the baking instructions.
I don't recommend freezing leftovers. Once cooked, this dish is best gobbled up or stored in the fridge until you can eat the extras.
Yield: 4-6 servings
Pizza Casserole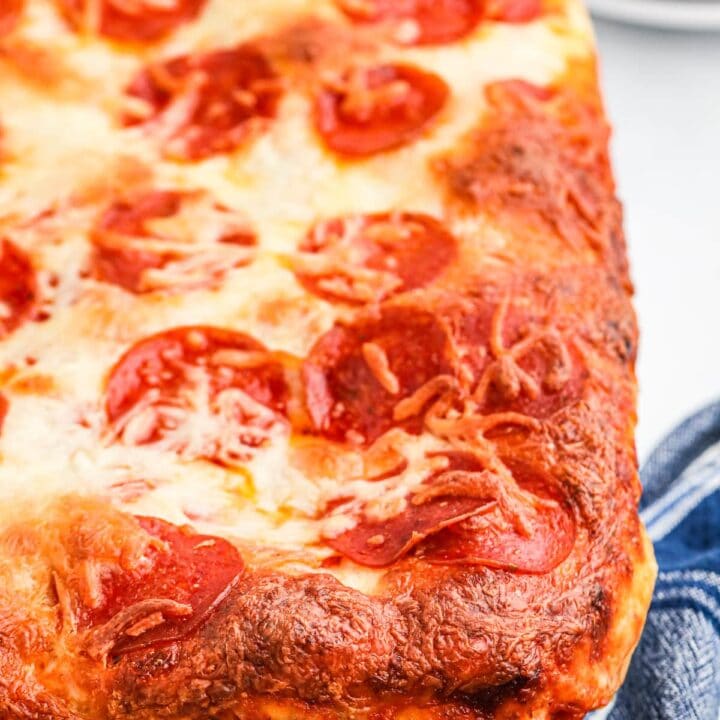 This Pizza Casserole is so quick and easy! Plus, you only need four simple ingredients - sauce, cheese, refrigerated biscuits, and pepperoni.
Ingredients
1 (16.3-ounce) can homestyle refrigerated biscuits
16-ounces shredded mozzarella cheese
1 (23.5 -ounce) container pizza sauce or homemade marinara
5 oz sliced pepperoni
Instructions
1. Preheat the oven to 350°F. Prepare a 9x13 baking pan with cooking spray, set aside.

2. Cut the biscuits into quarters and layer them in the bottom of the prepared dish. Pour the pizza sauce over the biscuits, making sure to get sauce in all of the nooks and crannies.

3. Sprinkle a little bit of the cheese, add some pepperoni, and then add another layer of cheese and pepperoni. We get more pepperoni in this way without just covering the top in a solid layer of pepperoni.

4. Top with foil and bake for 20 minutes, then remove the foil and bake for an additional 20 to 25 minutes, or until cheese is melted and just starting to brown.

5. Let rest for 5 minutes for casserole to set up, then serve!
Nutrition Information:
Yield:
4
Serving Size:
1
Amount Per Serving:
Calories:

600
Total Fat:

42g
Saturated Fat:

20g
Trans Fat:

1g
Unsaturated Fat:

18g
Cholesterol:

109mg
Sodium:

1616mg
Carbohydrates:

20g
Fiber:

1g
Sugar:

5g
Protein:

35g
Filed Under:
More Cheesy Dinner Ideas