This flavor packed Air Fryer Orange Chicken is incredibly easy, delicious, and perfect when paired with a side of rice. You only need 5 ingredients and 15 minutes to make this easy weeknight dinner that the whole family will love!
Air Fryer Orange Chicken
If you're a fan of orange chicken, and you'd normally order it from your favorite takeout restaurant, you're going to love this easy "cheater" recipe to make it at home in the air fryer. Instead of ordering out and spending more money, you can make a restaurant-inspired meal with just 5 ingredients at home in 15 minutes!
This recipe is not for an authentic orange chicken, but a quick cheater version you can make at home easily with common ingredients. Combining the flavors of orange marmalade with a bit of BBQ sauce, soy sauce, and sriracha leaves you with a heavenly sauce that will keep you coming back for more chicken! Bonus: you also use frozen chicken nuggets/tenders. I promise this recipe is super EASY.
So if you love orange chicken, have 15 minutes and some frozen chicken nuggets in your freezer, let's get busy! I know your family will love this easy knock-off takeout version of orange chicken as much as mine does!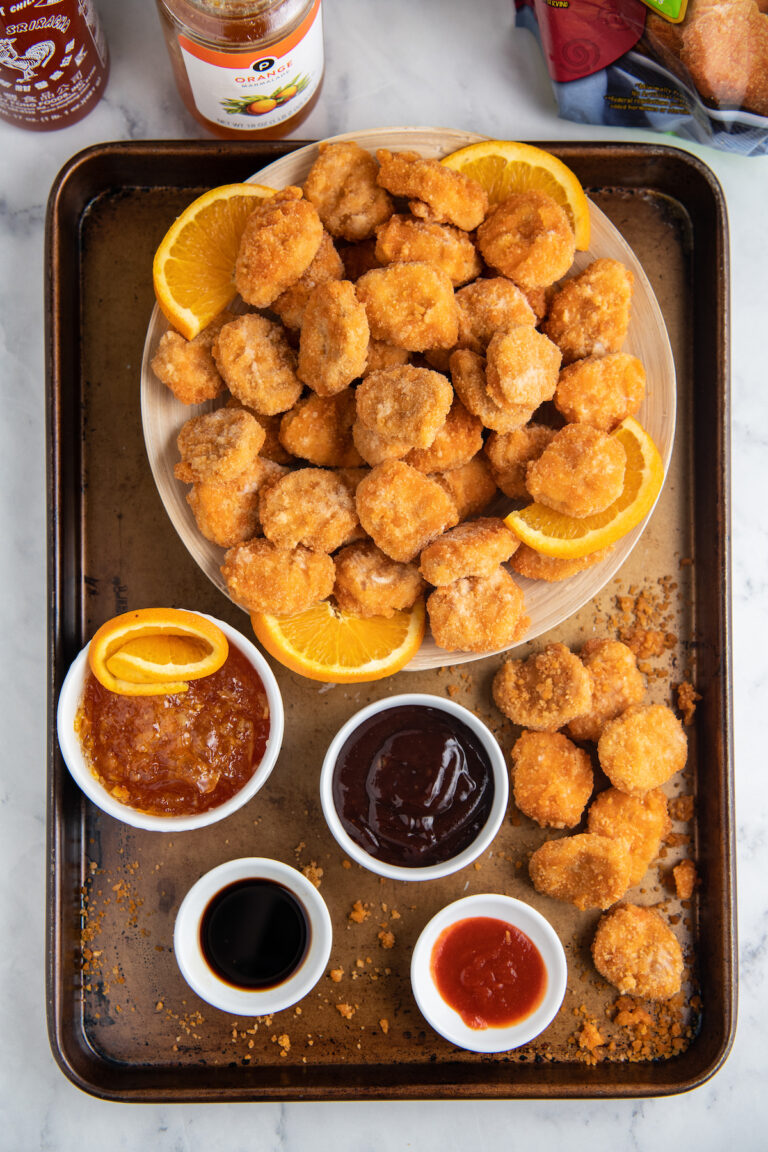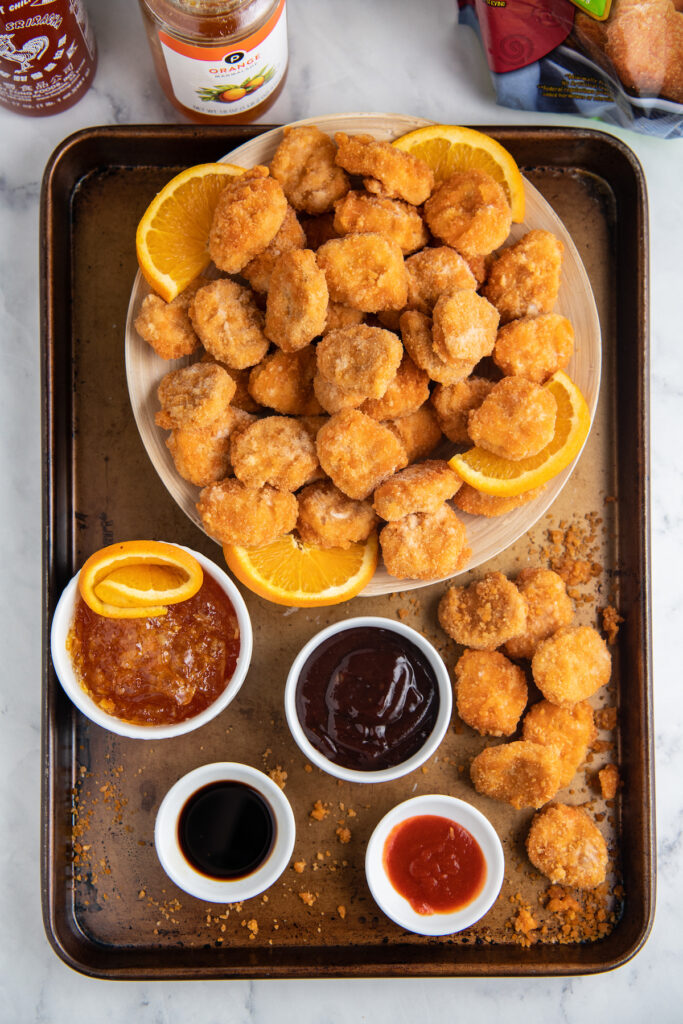 Ingredients
When preparing Air Fryer Orange Chicken, you will only need 5 total ingredients.
Chicken Nuggets – Be sure to get a two-pound bag of frozen chicken nuggets that are already fully cooked. The brand of the chicken nuggets doesn't matter too much. If you have a brand you already like, go for that one.
Orange Marmalade – Any brand of orange marmalade will do the trick. You can also swap it out with apricot marmalade if need be.
BBQ Sauce – Use your favorite brand and style of BBQ sauce. If you're not sure which one to choose, Sweet Baby Ray's provides several excellent BBQ sauce flavors.
Sriracha – Add as much or as little as you'd like, depending on the level of heat you're going for with this dish. Start with a single tablespoon and then take it up a notch.
Soy Sauce – You'll only need a tablespoon of the soy sauce to add a slightly salty tang to the orange chicken sauce.
You won't need to hunt down specialty ingredients to make this version of Air Fryer Orange Chicken! Best of all, it's going to taste like takeout but even better because you're making it with fresh ingredients at home.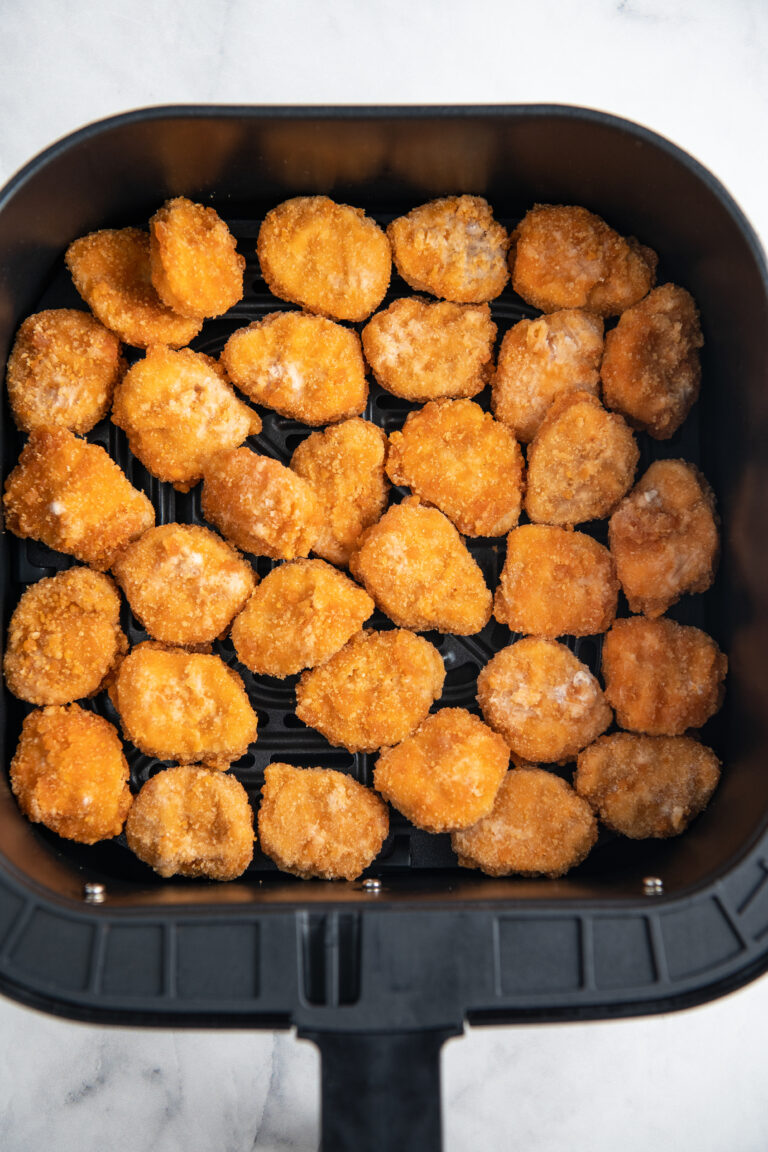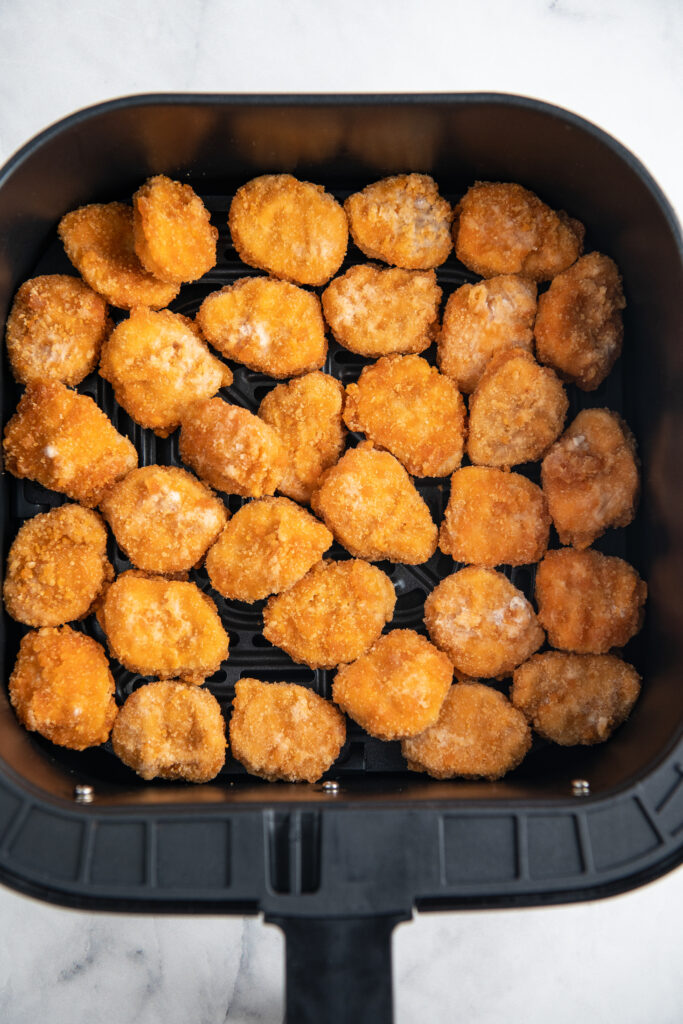 How to Make Air Fryer Orange Chicken
This recipe goes very quickly, so pull out your 5 ingredients and have them ready. Once the air fryer is done heating your chicken, you toss the crispy chicken into the warm orange flavored sauce and dinner is served!
Air Fry: Follow the air fryer directions given on the bag of chicken nuggets or strips, to cook chicken until warmed through and nice and crispy on the outside.
Sauce: While the chicken is cooking, you will want to make the sauce. In a medium bowl, that is microwave safe, add the marmalade sauce, BBQ sauce, sriracha, and soy sauce.
Heat: Microwave the sauce for one minute, stir, and then cook for an additional minute. Just enough to get it nice and hot.
Taste: Always taste the sauce, to make sure it's the perfect flavor for your family. Add additional soy sauce or sriracha, to taste.
Toss: Once the sauce is done, you'll want to add the chicken to the sauce, toss completely, and then serve!
Variations to Try
Spicy: While orange chicken typically has a sweeter taste to it, you can make it spicier by adding more sriracha and some extra sriracha or red chili flakes to your sauce. If you're a spice lover, extra tablespoons of sriracha with some red pepper flakes will really increase the heat, leaving you with an incredibly hot and sweet chicken to enjoy!
Chicken Sticks or Tenders: Instead of using nuggets, you can use chicken sticks or chicken tenders for bigger pieces of meat. You might also want to consider using popcorn chicken if you like smaller pieces of meat.
Non-Breaded Chicken: If you don't want your chicken breaded, you can use pre-cooked chicken without the breading. While it won't have that crisp texture, it'll still taste great with the orange sauce you're creating using the marmalade, soy sauce, BBQ sauce, and other ingredients.
Shrimp: If you don't eat chicken, don't worry because you can still enjoy this flavorful sauce on something else. The orange sauce that you're preparing with soy sauce, BBQ sauce, and other ingredients goes great with shrimp. So, if you want to make the dish without the chicken, use jumbo shrimp instead.
Tips for Success
Increase your chances of having success with this recipe by following some of these helpful tips.
Mild to HOT: Start with a tablespoon of sriracha and taste the sauce. A single tablespoon won't make the sauce too spicy, but is a good starting point. If you're trying to achieve a spicier sauce, you're likely going to need to add at least two more tablespoons of the sriracha to get it nice and spicy!
Orange Marmalade: If you're unable to find orange marmalade, or want to try something different, apricot marmalade is an excellent choice known for its pungent, sweet taste. It pairs very well with the barbecue in the sauce.
Air Fryer Chicken: You can use any frozen chicken tenders or nuggets you like. Be sure to check the packaging for the correct cook time and temperature and follow those directions.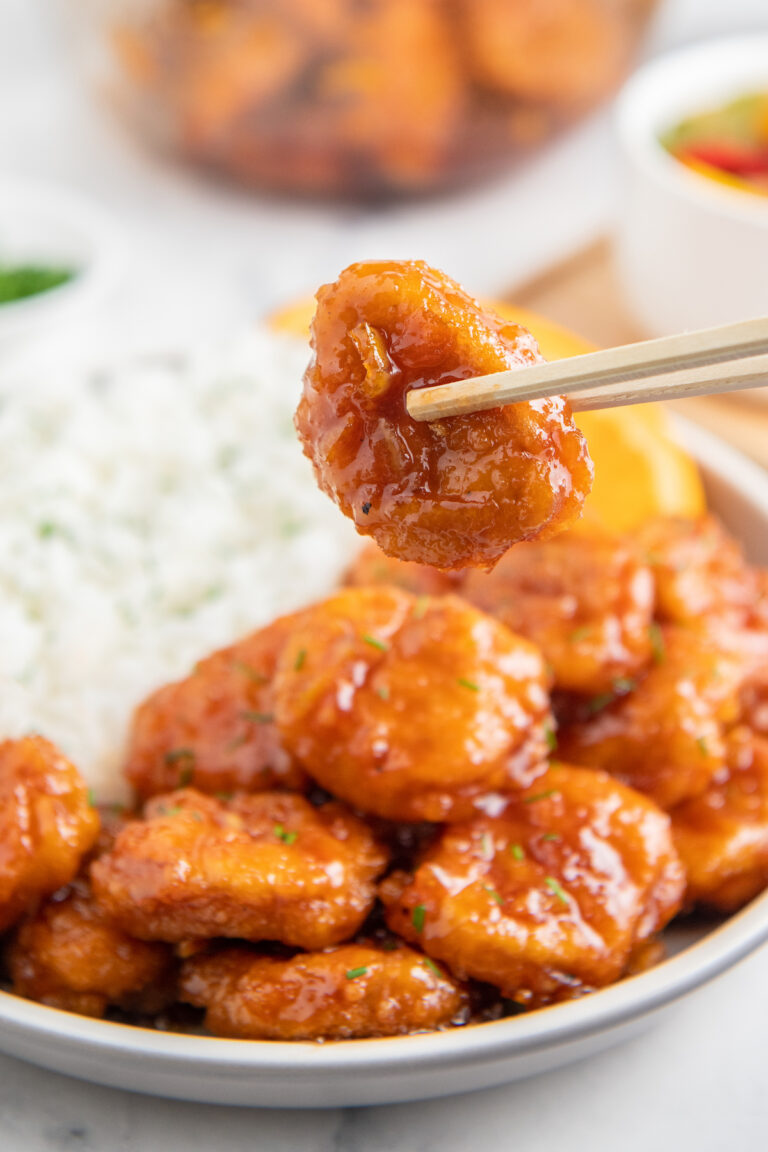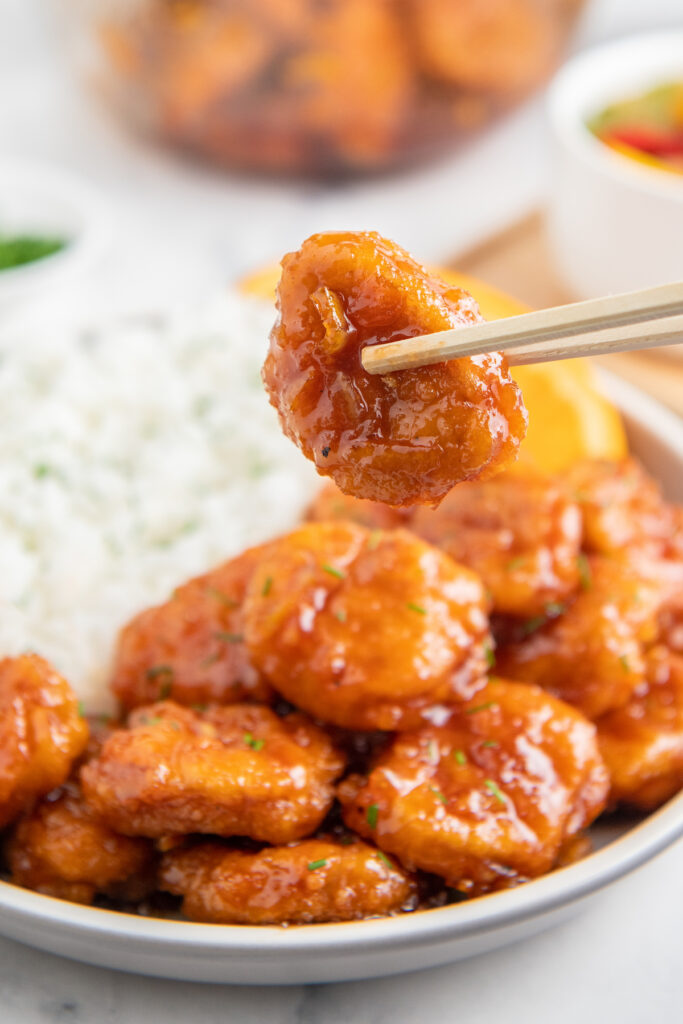 Can I Make This Air Fryer Orange Chicken Ahead?
If you are looking to save time, you can prep the sauce ahead and store it in an air tight container in the fridge. It will keep for a week in the fridge, or you can freeze the sauce as well.
However, the chicken must be cooked fresh. Once the chicken is air fried and coated in the sauce, it will eventually become soggy if trying to store it. This is just one of those recipes that is best served fresh!
Leftovers: While your chicken will taste best when served fresh, leftovers can still happen! It's still tasty the next day, just not as good as it was. You can reheat leftovers by adding the chicken back into the air fryer for about three or four minutes. You can even microwave the chicken if you don't mind.
Serving Suggestions
The recipe makes enough food to feed up to four people. It's the perfect 15-minute meal that you can make for the family when you want to prepare a quick dinner that everyone will love. If you have more mouths to feed, double the recipe to have up to eight servings!
Here are some of our favorite sides to go with Orange Chicken:
Broccoli: steamed, roasted or sautéed. Broccoli is always a great side with orange chicken.
Rice: white rice, sticky white rice, brown rice, cauliflower rice etc.
Stir Fried Vegetables: peppers, onions, snow peas, etc.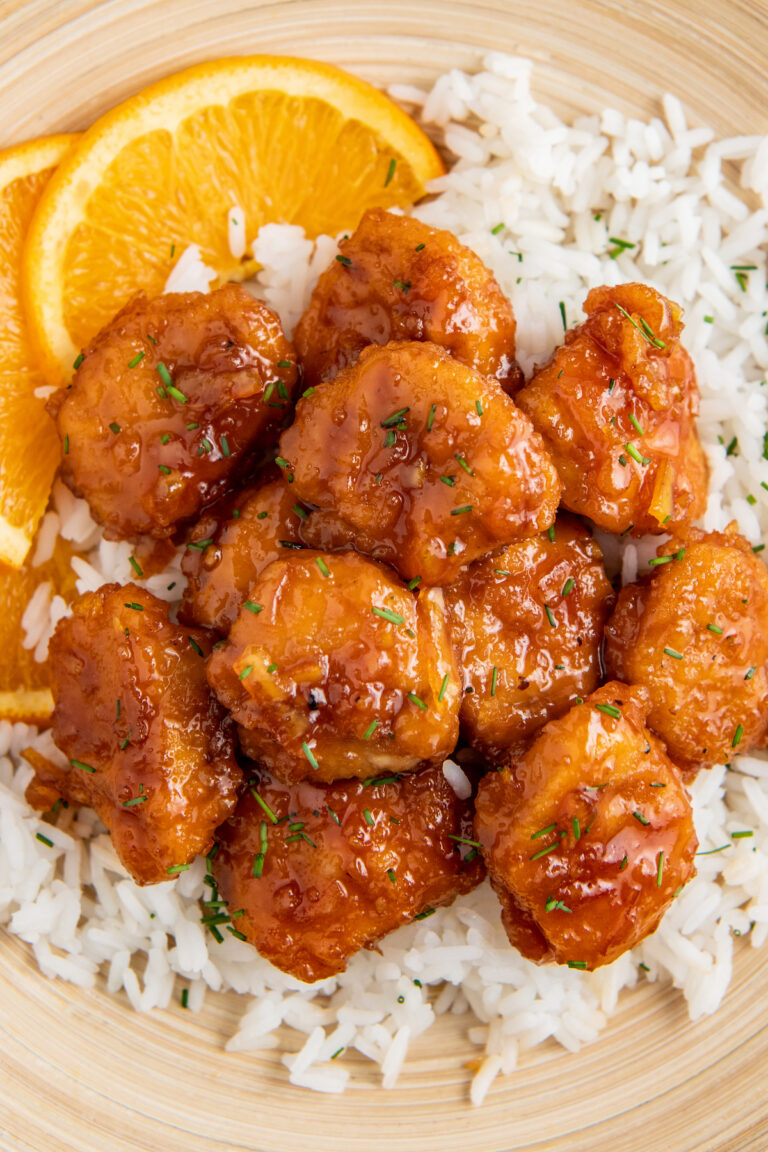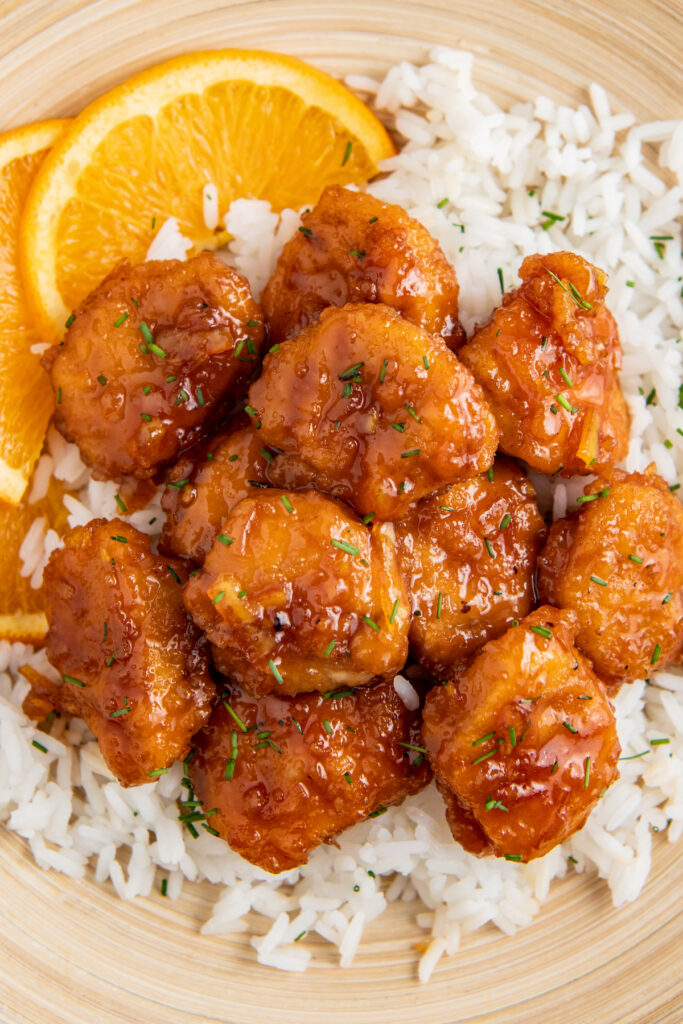 Looking For More Air Fryer Recipes?
We love our Air Fryer and how easy it has made dinner time. Here are a few of our favorite air fryer recipes:
Yield: 4 servings
Air Fryer Orange Chicken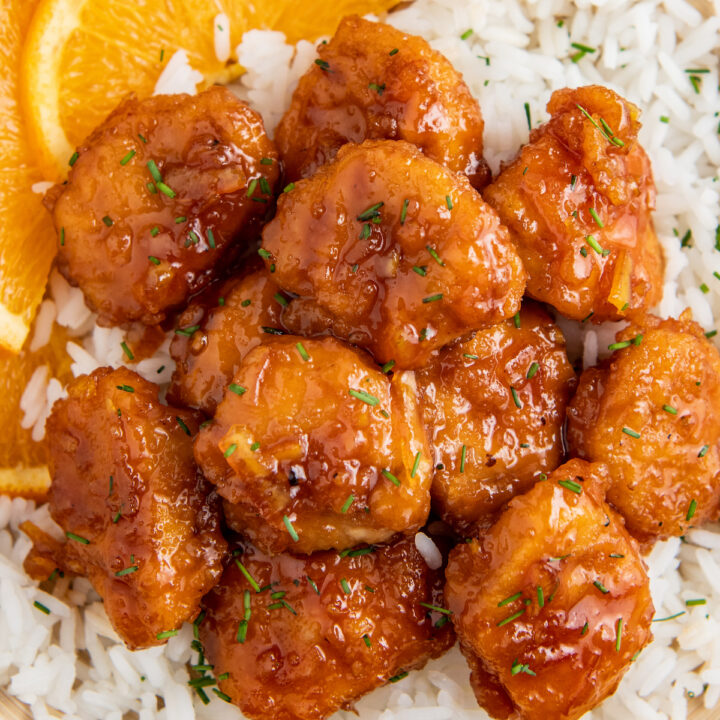 This flavor packed Air Fryer Orange Chicken is incredibly easy, delicious, and perfect when paired with a side of rice. You only need 5 ingredients and 15 minutes to make this easy weeknight dinner that the whole family will love!
Ingredients
2 pound bag frozen, fully cooked chicken nuggets/strips
1 cup orange marmalade
1/2 cup BBQ sauce
1-2 tablespoons sriracha, to taste
1 tablespoon soy sauce
Instructions
Follow the air fryer directions on the bag of chicken nuggets/strips.
While the chicken is cooking, make sauce. In a medium microwave safe bowl add marmalade, bbq sauce, sriracha and soy sauce and mix well. Taste test the sauce to see if you would like extra sriracha for heat.
Heat in microwave for 1 minute, stir well and heat for an additional minute.
Remove from microwave and add cooked chicken to sauce and toss to fully coat the chicken in sauce. Serve immediately, as desired, with rice!

Nutrition Information:
Yield:
4 servings
Serving Size:
1 serving
Amount Per Serving:
Calories:

281
Total Fat:

1g
Saturated Fat:

0g
Trans Fat:

0g
Unsaturated Fat:

1g
Cholesterol:

2mg
Sodium:

857mg
Carbohydrates:

70g
Fiber:

1g
Sugar:

61g
Protein:

2g
Filed Under: