Tender, sweet and savory, this Crockpot Dr. Pepper Pulled Pork melts in your mouth with every bite! It's an easy lunch or dinner recipe you can make right in your crockpot.
Crockpot Dr. Pepper Pulled Pork
This Dr. Pepper Pulled Pork is slow cooked in your crock pot until it is extra tender and falls apart. Quickly shred it with two forks, add some barbecue sauce, and dinner is served! It's ideal for days when you just don't have the time or attention for a high maintenance meal. It is an easy and affordable lunch or dinner option and the leftovers are possibly even better.
With a few minutes of prep and a crock pot, you can have a big batch of juicy, tender pulled pork to use on sandwiches, stuffed in baked potatoes, tacos, wraps, or even in salads. The combination of sweet and zesty rib rub, BBQ sauce, and Dr. Pepper gives a rich flavor that will have your taste buds screaming for more!
If you are looking for a more "from scratch" style pulled pork, make sure and also check out our best pulled pork that can be made in the crockpot or instant pot. It also has a great homemade coleslaw!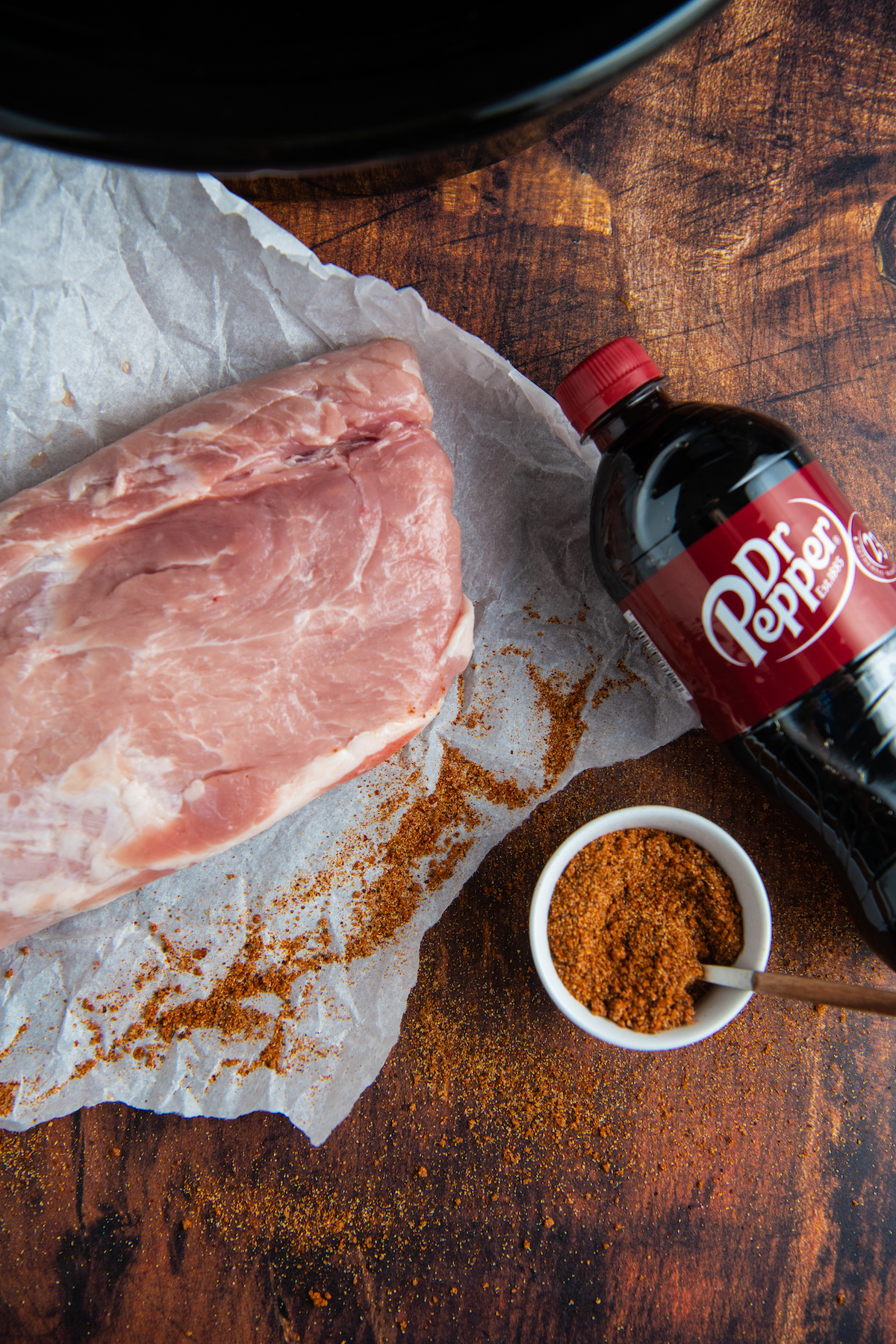 Pulled Pork Ingredients
With simple ingredients, you won't be scouring the store high and low looking for what you need. Jot these few simple ingredients down for a delicious home cooked meal without all the leg work.
Pork butt or shoulder: I prefer to use pork shoulder, because it has optimum fat content that yields a juicer, melt in your mouth meat when slow cooked.
Rib rub: We always make our own Homemade Rib Rub, but you can get whatever rib rub sounds good to you.
Dr. Pepper: You will need 1 cup of Dr. Pepper, so grab a can or a bottle of it, just know you will have a little left over. You can also use any other dark soda you prefer.
BBQ sauce: This is optional, but I highly recommend it for perfectly sauced pulled pork. I use Sweet Baby Ray's BBQ sauce, but you can use your favorite sauce.
Sandwich options: If you are serving your pulled pork on sandwiches, consider grabbing buns, slaw, onion, and pickles.
How to Make Pulled Pork In Crockpot
Dinner can always be a high stress time, but with this easy to make Dr. Pepper Pulled Pork recipe, it takes all the stress out of making dinner. It's so easy to make you'll be adding it to your weekly menu plan.
Prep the crockpot: First, spray your crockpot with non-stick cooking spray, or you can line it with a crockpot liner for an even easier clean up.
Season the pork: Generously season your pork butt or shoulder with rib rub.
Add everything to the crockpot: Next, pour your Dr. Pepper into the bottom of your crockpot. Then, place the seasoned pork in it. If you like onions in your pulled pork, you can also add a sliced onion to your crockpot during this step.
Cook slowly: Put the lid on your crockpot and cook it on low for 8 hours, or until the pork is fork tender and easily shredded with two forks.
Remove and shred: remove your pork from the liquid and shred it with 2 forks. If you choose, add your favorite BBQ sauce and stir to combine it.
Serve as desired and enjoy! If you have any leftovers, make sure and save them. They make a great lunch or another dinner later in the week!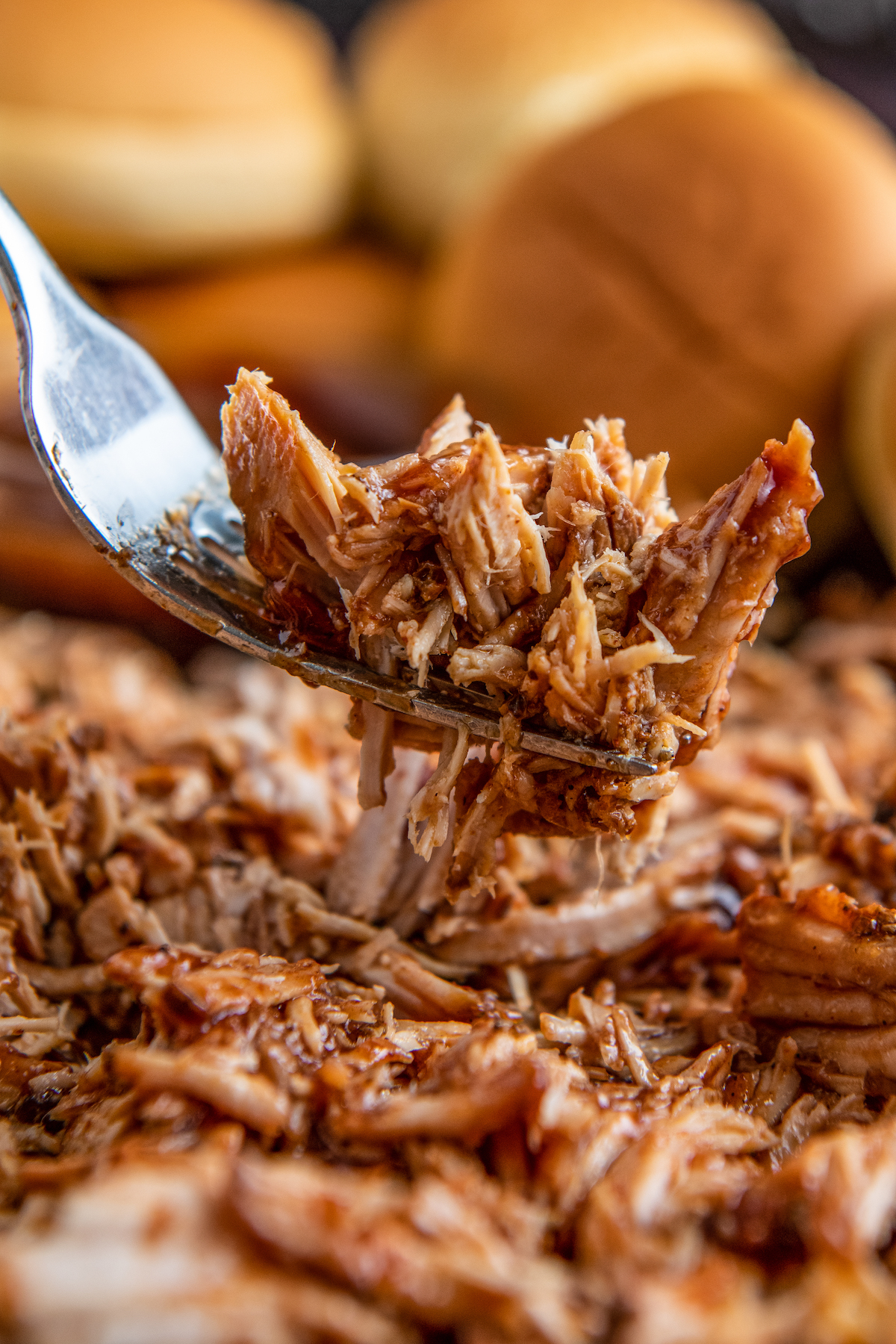 Tips for Sweet and Tender Pulled Pork
Choose a large cut of meat to prevent dryness. You want to reduce the amount of meat exposed to the heat to preserve the moisture within.
Add some liquid smoke. If you want your pulled pork to have that traditional smokey flavor, you can add 1 teaspoon of liquid smoke to the pork before seasoning it with rib rub. Just rub the liquid smoke onto the pork and then coat it with seasonings.
Cook low and slow. You may be tempted to put your crockpot on high and cook your pork butt or shoulder for less time, but that is honestly not ideal if you want your pork to be tender. A fatty piece of pork needs to be cooked low and slow, to allow for the tendons to break down, for the pork to come out juicy and tender.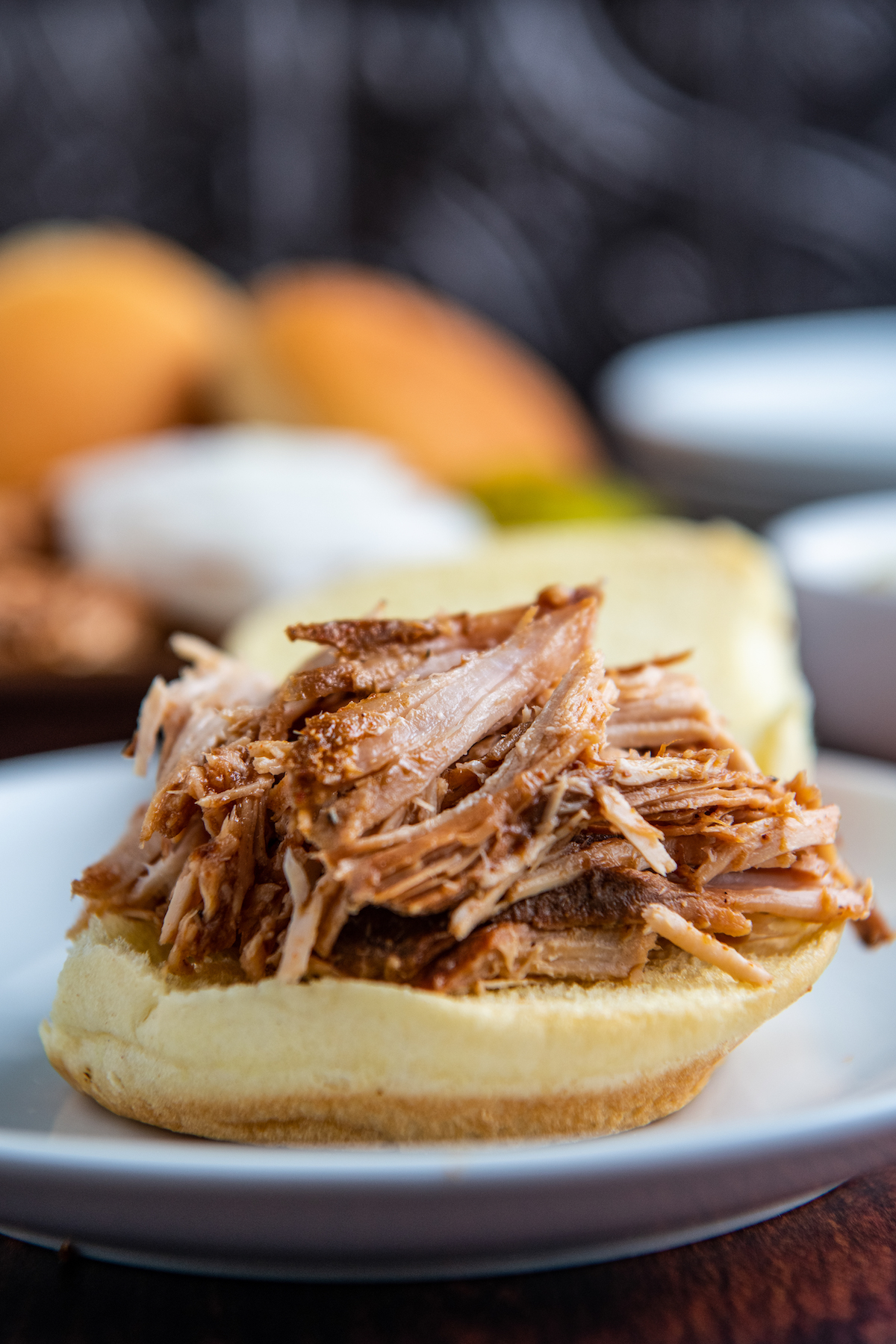 What is The Best Meat to Use?
When using your crockpot, the best meat to use for pulled pork is pork butt or a pork shoulder. It is the ideal meat for shredding. Because of its optimal fat content, cooking it low and slow creates a tender, juicy meat that melts in your mouth.
You can also use a pork tenderloin in a pinch, however the pork will be drier and require more bbq sauce to make it enjoyable.
Why Do You Use Dr. Pepper?
This recipe calls for Dr. Pepper because it acts as a natural tenderizer for your meat. Soda's high acidity causes the protein in your meat to denature and tenderise. Additionally, it adds so much more flavor to your pulled pork through the low and slow cooking process.
Can I Use Other Sodas?
Absolutely! You can use coke, root beer or any other dark soda you choose. In fact, some people even use diet soda! Since the soda is left in the crockpot after cooking, not much of it is absorbed into the meat, but if you're watching your sugar count, you can use a dark diet soda.
Easy Side Ideas
Whether you are slathering your pulled pork on sandwiches, tortillas, or just eating it as your entree, here are a few easy side ideas to go along with it:
Mashed potatoes
Salad
Mac & Cheese
Baked beans
French fries
Collard greens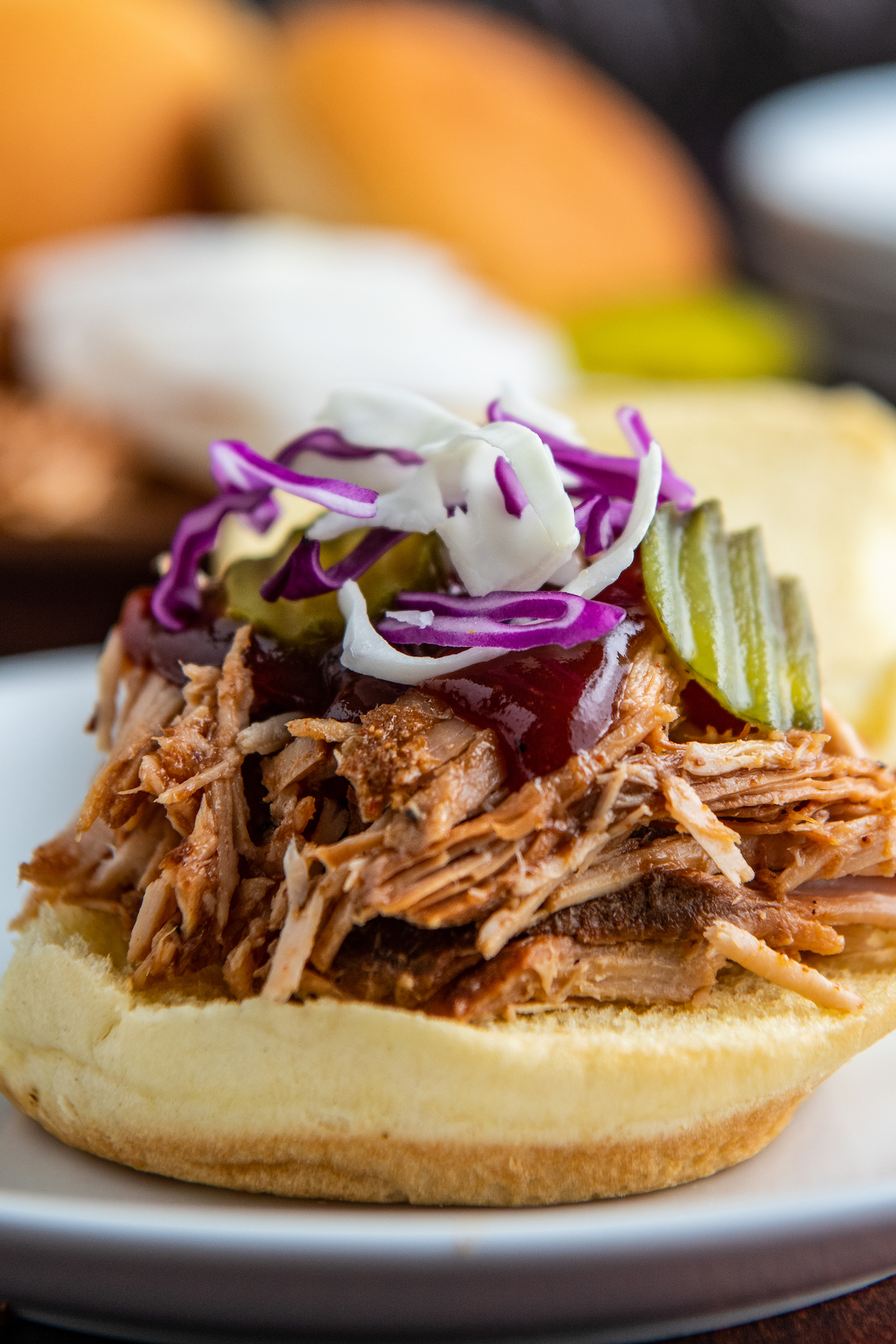 How to Store Leftovers
Pulled pork is even great reheated. To store your leftovers, simply put your leftover pulled pork in a tupperware bowl with a lid and place it in the refrigerator. It will be good for about 5 days.
When reheating your leftover pulled pork, be sure to add a little BBQ sauce to prevent it from drying out in the microwave.
Ways To Use Leftovers
One of my favorite reasons to make pulled pork? Leftovers! Pulled pork is amazing in a ton of dishes and can be re-made into a whole new easy dinner. Here are a few of our favorites:
Pulled Pork Nachos
Stuffed In A Potato: this is delicious with a sweet potato or regular baked potato.
Pulled Pork Tacos
Omelette: stuff it inside an omelet with some mozzarella cheese and red onion. Yum!
Pulled Pork Quesadilla: this one is my husband's favorite. I stuff it with any shredded cheese we have on hand, corn and cilantro!
Dr. Pepper Pulled Pork Crockpot
Tender, sweet and savory, this Dr. Pepper Pulled Pork melts in your mouth with every bite. If you're looking for a simple dinner idea to whip up, this one takes the cake. It's an easy lunch or dinner recipe you can make right in your crock pot.
Ingredients
4-5

pound

pork butt or shoulder

2

tablespoons

rib rub

8

oz

Dr. Pepper

Bbq sauce

,

optional
To Serve As Sandwiches:
Sandwich Buns

,

or sweet Hawaiian rolls

Slaw or cabbage

Red or white onion

Pickles

Bbq sauce
Instructions
Spray a crockpot with non-stick spray or line with a crockpot liner.

Season pork butt all over with rib rub. Add dr pepper to the bottom of the crockpot and then place the seasoned pork into the crockpot.

Place the lid onto the crockpot and cook for 8 hours on low, until pork is cooked through and fork tender.

Remove pork from liquid and shred pork with two forks. If desired, add bbq sauce and stir to combine. Serve as desired!

Nutrition
Serving:
1
,
Calories:
626
kcal
,
Carbohydrates:
4
g
,
Protein:
53
g
,
Fat:
43
g
,
Saturated Fat:
16
g
,
Polyunsaturated Fat:
23
g
,
Cholesterol:
195
mg
,
Sodium:
1344
mg
More Crockpot Recipes You'll Love
Looking for more easy and delicious crockpot recipes? Here are a few of my go to crockpot dinners: