Sharing our families favorite Dry Rub for Ribs that comes together in minutes and can be made ahead and stored for the next time. This dry rub has the perfect balance of sweet, and a little spicy, to make your ribs irresistible!
What is Dry Rub?
The best tasting ribs come from the best tasting rub! A dry rub is a mix of spices that you add to the ribs before you cook them. The rub infuses the ribs with flavor and the end result is amazingly delicious ribs. Just check out our Slow Cooker Country Style Ribs to see this rib rub in action!
The purpose of dry rub is to create a type of crust that enhances the flavor of your meat without adding moisture. It adds flavor and a great crust when it's grilled or broiled! If you like your ribs saucy, you will also want to start with a dry rub before brushing your ribs with sauce after cooking.
You can use a dry rub on ribs that you cook in any type of way: oven, grill, smoker, crockpot or even in your Instant Pot! It's easy to make and a great spice mix to have in your kitchen for anytime you are craving ribs. We even use it on burgers!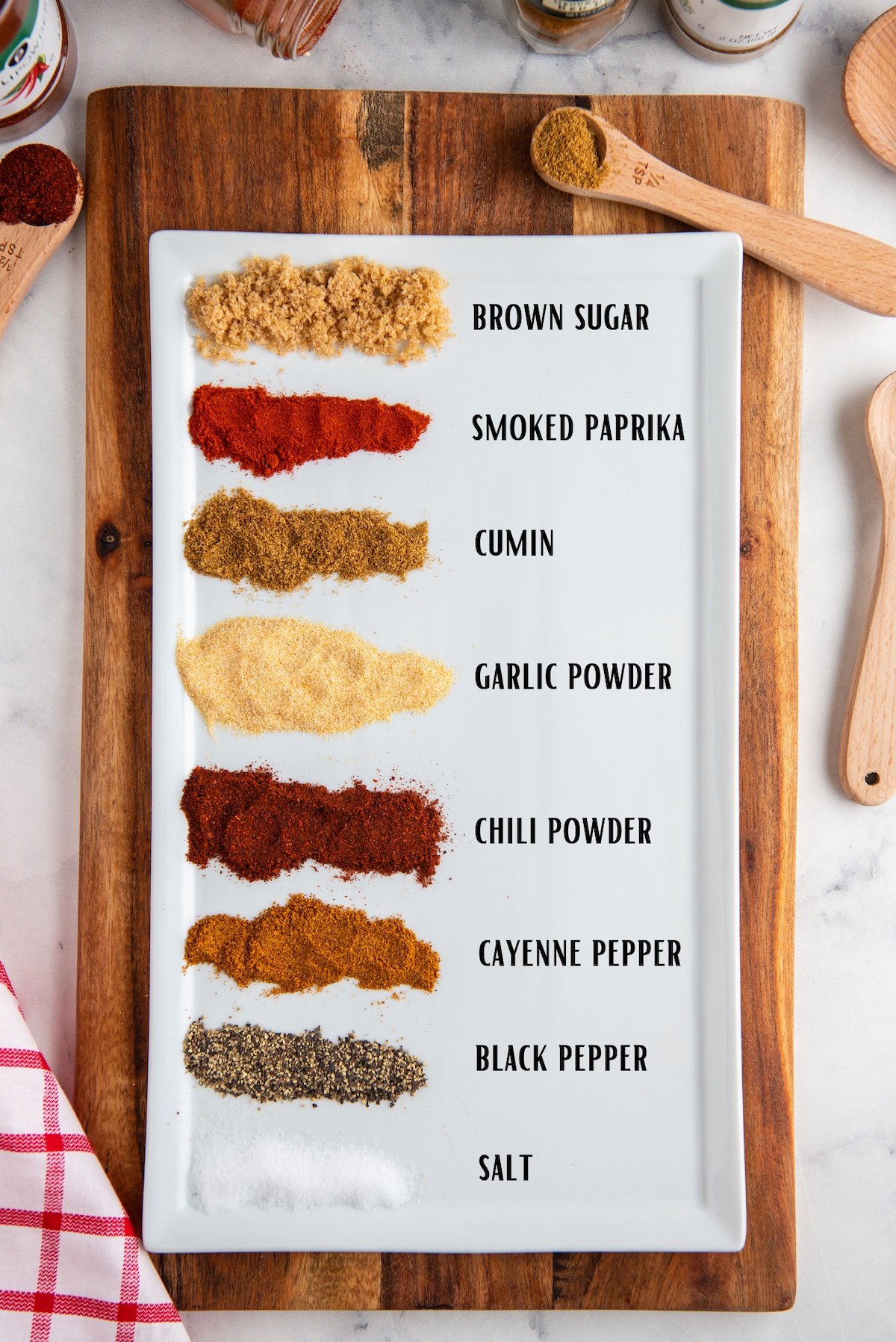 What is in Dry Rub
There are a variety of different dry rubs. In fact, not all dry rubs use the same ingredients. For this recipe, we are using a combination of seasonings and spices that give you a sweet and spicy flavor. Here's what you'll need:
Brown sugar: The brown sugar gives your rub a sweeter taste. Be sure to pack it into the tablespoon.
Smoked paprika: This type of paprika gives your food a smoky flavor that is perfect for ribs.
Garlic powder: Garlic powder gives a very mild garlicky flavor that has sweeter undertones.
Chili powder: This gives the rub a slight kick. It blends well with the cayenne pepper making the rub spicy.
Cayenne pepper: 8 times hotter than chili powder, be careful not to add more than the recipe calls for, or you'll have flaming hot ribs.
Cumin: This spice adds instant depth to your rub. It's hearty and earthy with an edge of citrus.
Salt and Pepper: No matter what rub you make, you'll always add a pinch of salt and pepper.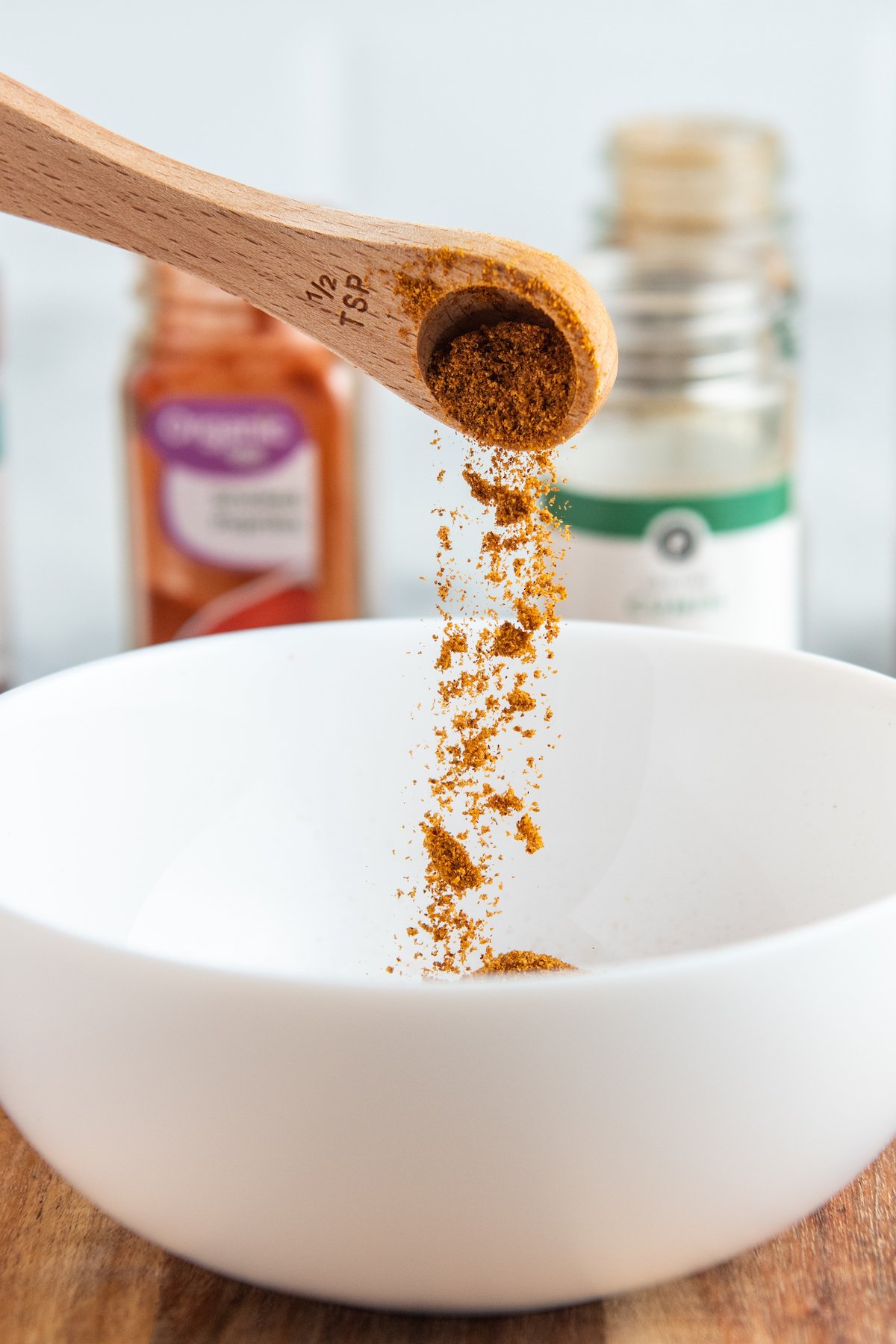 How to Make Dry Rub for Ribs
I love a good dry rub on my ribs and think it's necessary to get those perfect flavored ribs. It adds a layer of crispy deliciousness that you just can't compare.
Mix it: To make this recipe, all you need to do is gather all the ingredients, dump the right measurements into a bowl and whisk them together.
Store it: Pour your dry rub into an airtight container or jar and you can store it for up to one year.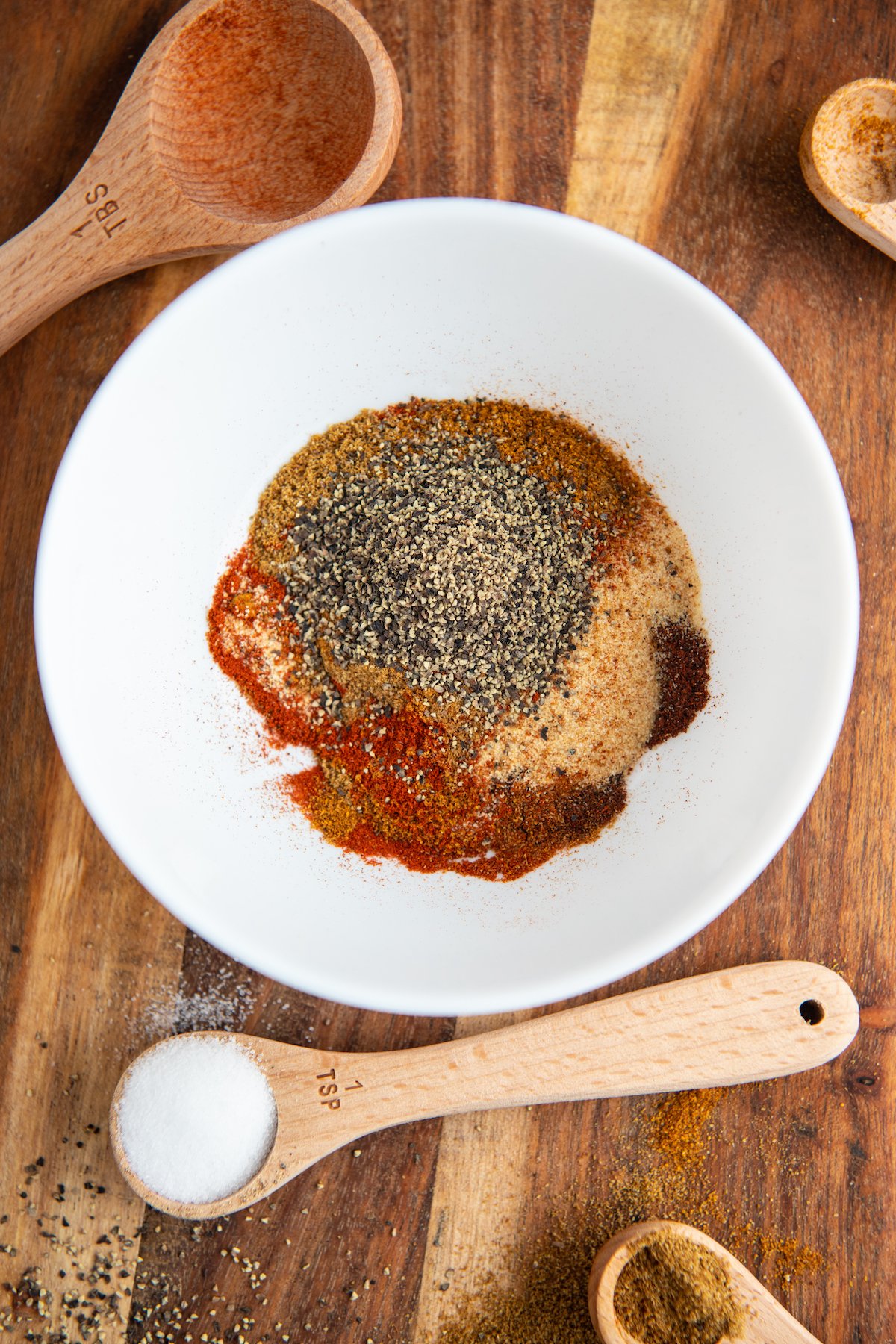 Tips to Make the Best Homemade Dry Rub
Taste it. Taste your dry rub to ensure it's just the right flavor for you. If you like it spicy, double the cayenne pepper. If you like it sweeter, add more brown sugar. You can always add more or less to the mixture to perfect it.
Store it properly. You want to keep your dry rub and any spices out of direct sunlight. Store it in a cool dark place in an airtight container. I love using mini mason jars for holding my homemade spices.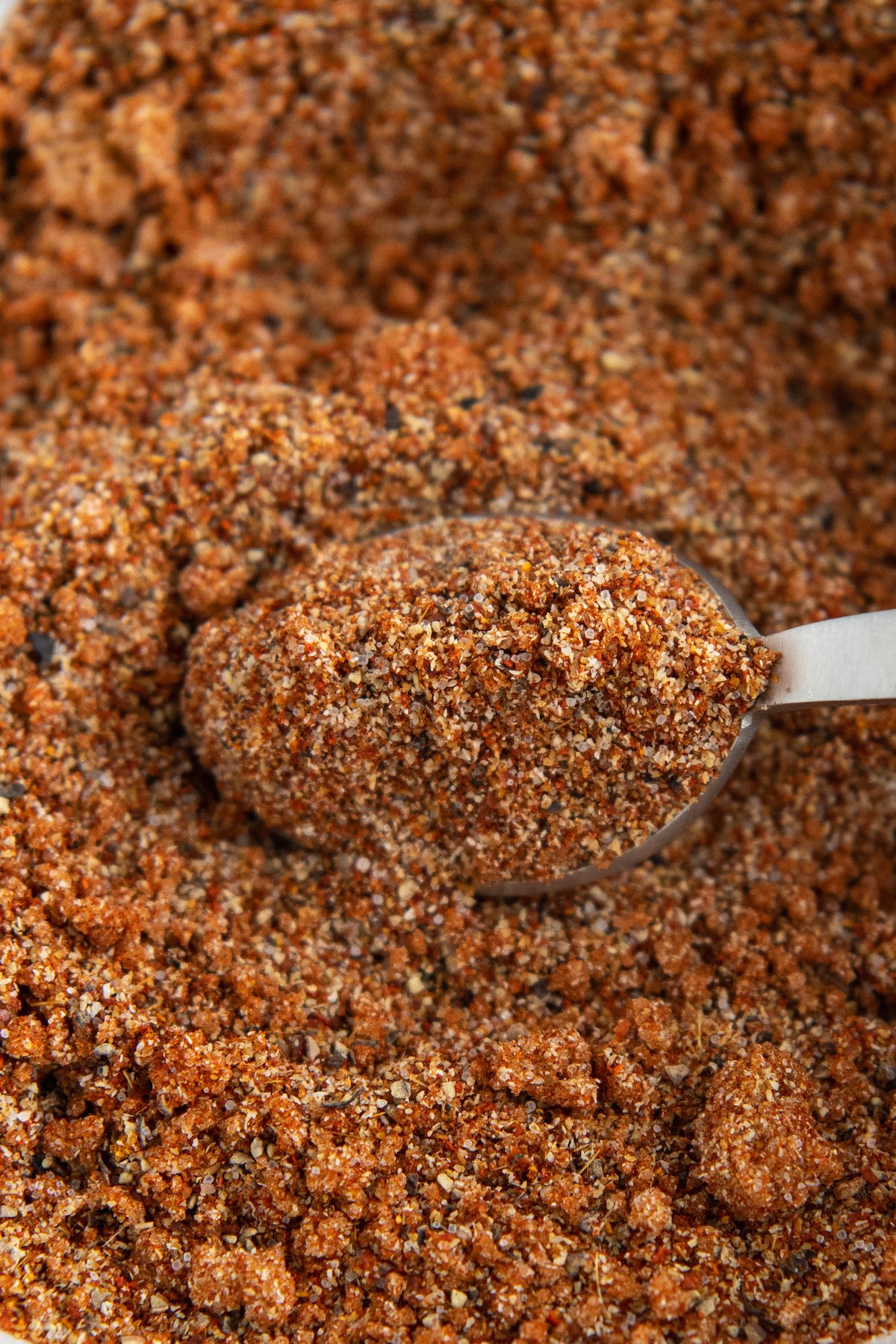 How to Store Dry Rub
You can store this in a number of ways:
You can use a spice jar or mini mason jar to store your dry rub, like I do, and it will keep for up to a whole year. Or you can even use something as simple as a ziploc bag in a pinch.
You will store your dry rub in the same way you should store all your spices, in an air tight container and not in direct sunlight. This rib rub can last up to a year in an airtight container or spice jar if kept out of the light.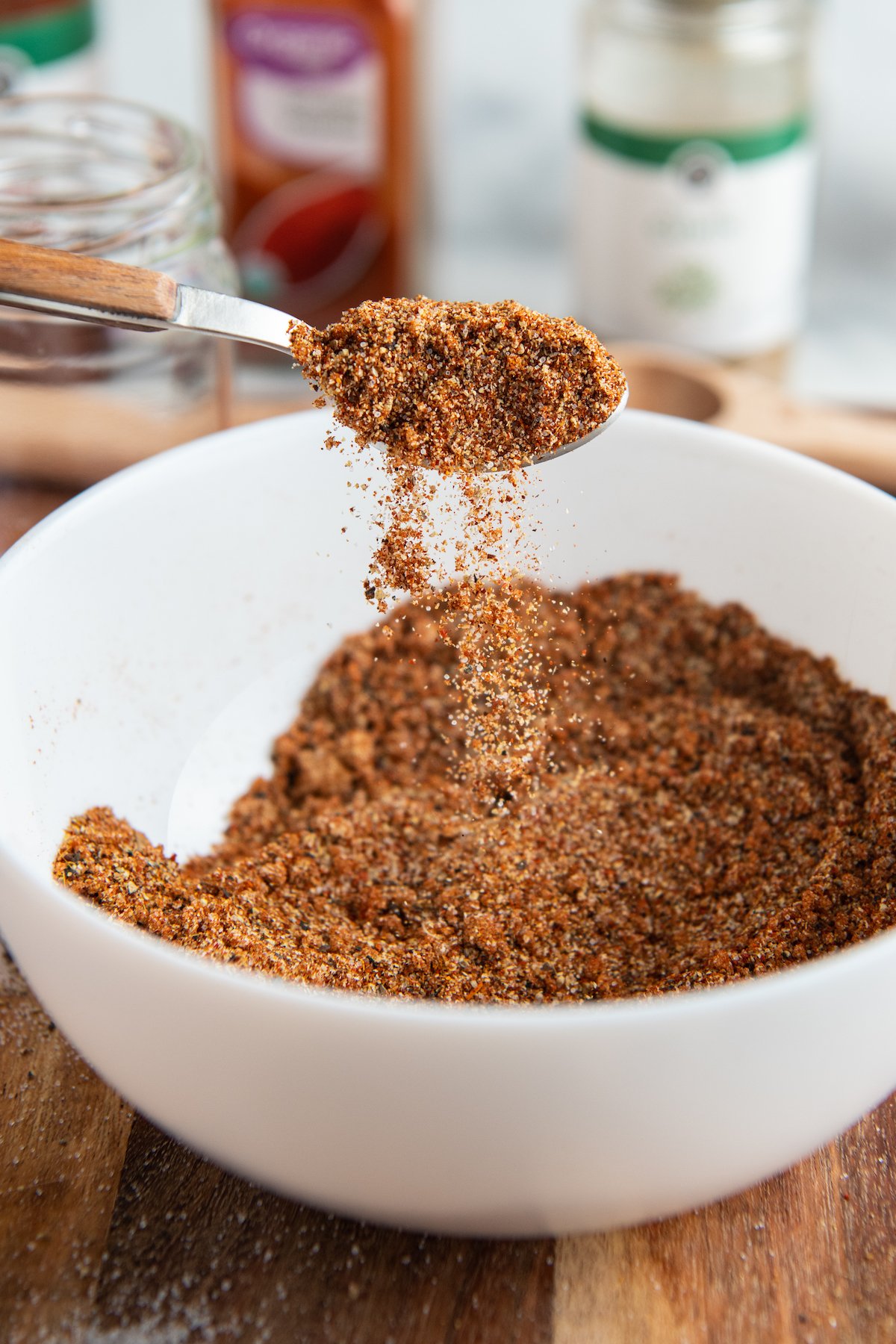 Why Make Dry Rub Homemade?
There are a few different reasons you may want to make your own homemade dry rub. One of the reasons I like to make homemade dry rubs and seasonings is because I don't always remember to grab it at the store.
How many times have you gone to the store and totally forgot to grab something for the meat whether it's dry rub, seasoning packets, or BBQ sauce? Instead of running back to the store, you can make your own right at home.
Some people make their own dry rub and seasoning mixes because they need a low sodium diet. When you make your own mixes, you can control how much salt goes into it.
Making your own dry rub is easy and you are able to control what goes into your homemade spice mix. It's easy to customize and it's great for all kinds of meat, not just ribs! Plus, you likely already have all the seasonings needed to make it at home!
How Much Dry Rub Do I Use?
When you want to use dry rub on ribs, steak, pork, or chicken, you want to use about 1 tablespoon of rub for every pound of meat. So, if you have 2 pounds of ribs, you would use 2 tablespoons.
How Long Before Cooking Do You Apply the Rub?
Dry rub needs a bit of time to work it's magic. For best results, I recommend letting the dry rub sit on your meat overnight.
However, at minimum, you want it to be on your meat 15 minutes to two hours before cooking it, unless they are cooking in the slow cooker, then you can season them and add them to the pot! Don't miss our recipe for easy Slow Cooker Country Style Ribs!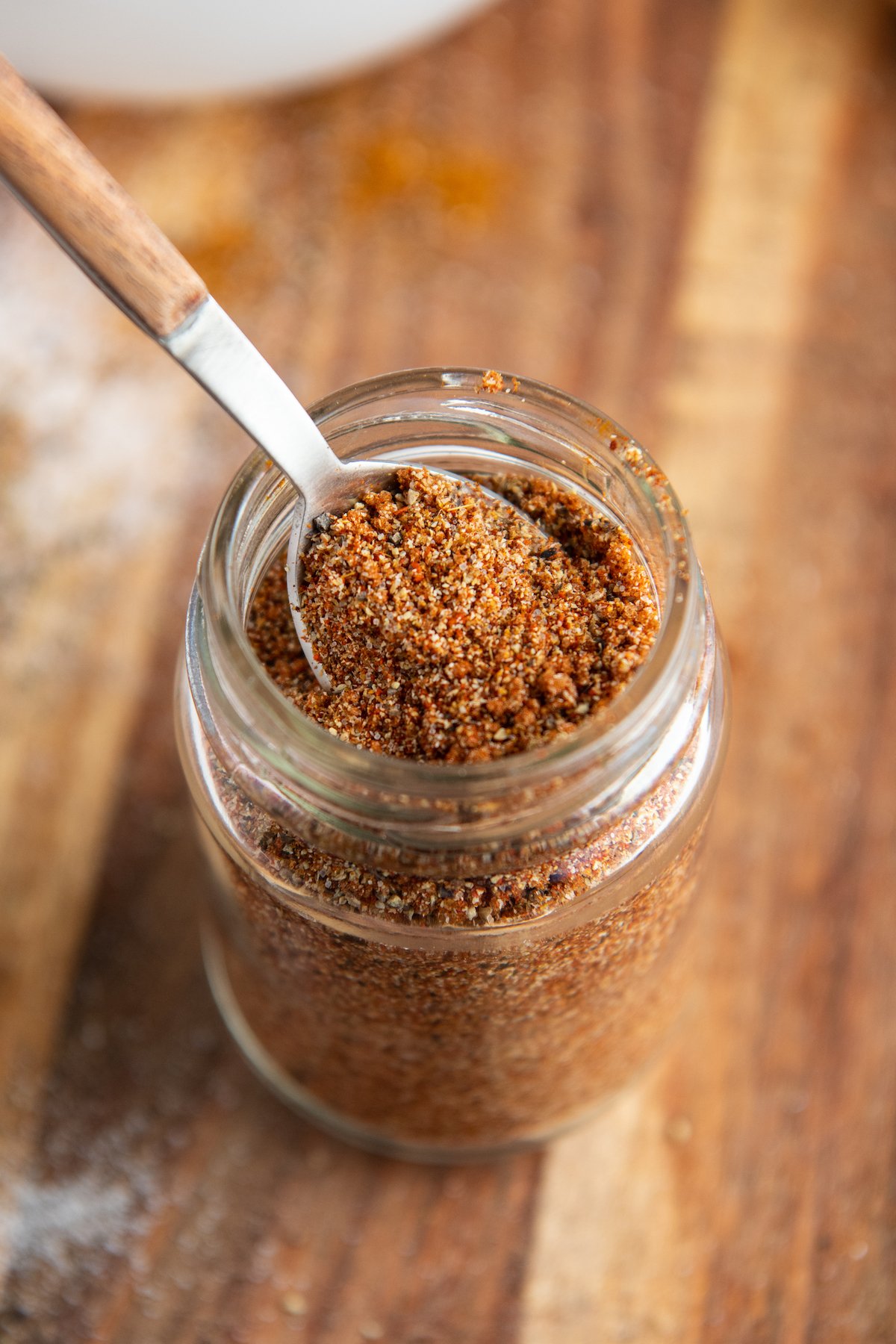 What to Use Dry Rub With?
Looking for more ways to use your dry rub? Use the dry rub with these recipes instead:
Other Seasonings to Try
If you liked this dry rub for ribs recipe, be sure to check out my Homemade Taco Seasoning. You'll love how flavorful and easy it is to make! Plus, you won't have to run back to the store when you forgot the taco seasoning package.
Yield:
3
/4 cup seasoning
Dry Rub for Ribs
Sharing our families favorite Dry Rub for Ribs that comes together in minutes and can be made ahead and stored for the next time. This dry rub has the perfect balance of sweet, and a little spicy, to make your ribs irresistible!
Ingredients
2

tablespoons

brown sugar

2

tablespoons

smoked paprika

2

tablespoons

garlic powder

2

tablespoons

chili powder

1

tablespoon

cumin

1

tablespoon

black pepper

1

tablespoon

salt

1

teaspoon

cayenne pepper**
Instructions
Mix together all ingredients. Store in an airtight container for up to one year.
Notes
** If you like it extra spicy, double the cayenne pepper in this recipe.
Nutrition
Serving:
1
tablespoon
,
Calories:
23
kcal
,
Carbohydrates:
5
g
,
Protein:
1
g
,
Fat:
1
g
,
Sodium:
570
mg
,
Fiber:
1
g
,
Sugar:
2
g