Keep a batch of this Garlic Herb Butter in your fridge for your dinner rolls and as an easy way to dress up steaks or pan-seared fish. You only need 4 ingredients and a few minutes to make this delicious spread.
The Best Homemade Garlic Butter
Here's a recipe that you're going to use time and time again! You might even start to make it every week. It's that good! This Garlic Herb Butter will quickly become one of your favorite condiments. And it's perfect to have around to put on the table for dinner.
This Garlic Herb Butter is a pretty basic compound butter. What's a compound butter? Basically, it's when you soften butter and add in various ingredients like garlic, herbs, nuts, or other things to flavor the butter. This recipe is a great place to start if you've never made one before.
The garlic is strong – and that's just how we like it! When you use fresh garlic the flavor is very pungent. Also, we use fresh herbs for the absolute best-tasting butter. The bright green specs are flavorful and beautiful. This is a great everyday table condiment or something special to put on the holiday dinner table.
Not a garlic fan? Try our classic Homemade Herb Butter instead!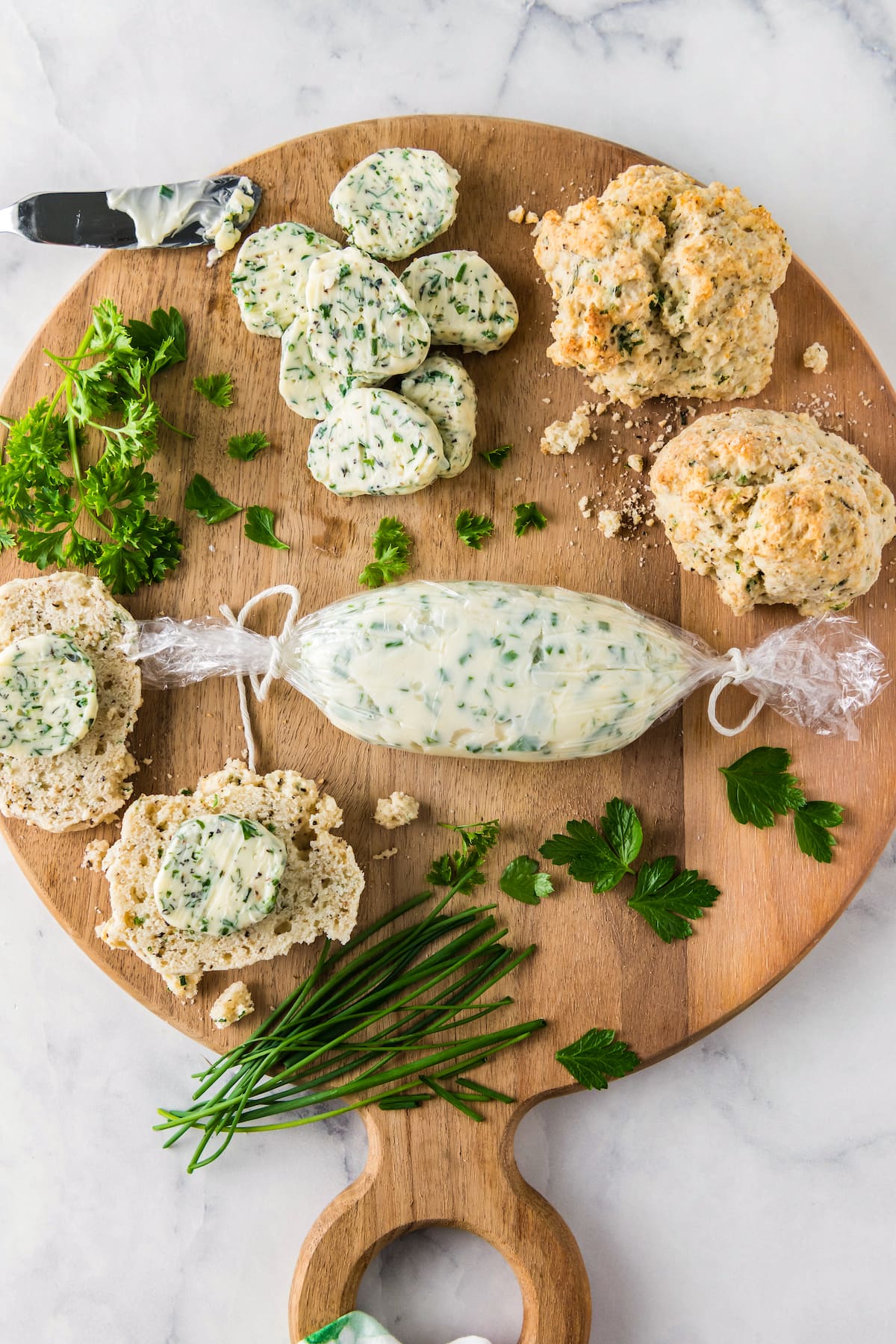 Why You'll Love This Compound Butter
There are plenty of reasons to make this Garlic Herb Butter! Here is why you're going to want to add it to your list of favorite recipes.
There are only 4 ingredients. And those 4 ingredients pack in so much flavor!
It's a great savory butter that goes well with so many things. You can spread it on biscuits, add it to your baked potatoes, or place a little bit on top of a grilled steak. It's delicious to use for many savory recipes.
You can make a lot and freeze it. The butter freezes great so you can make a big batch and freeze smaller portions to use in the future.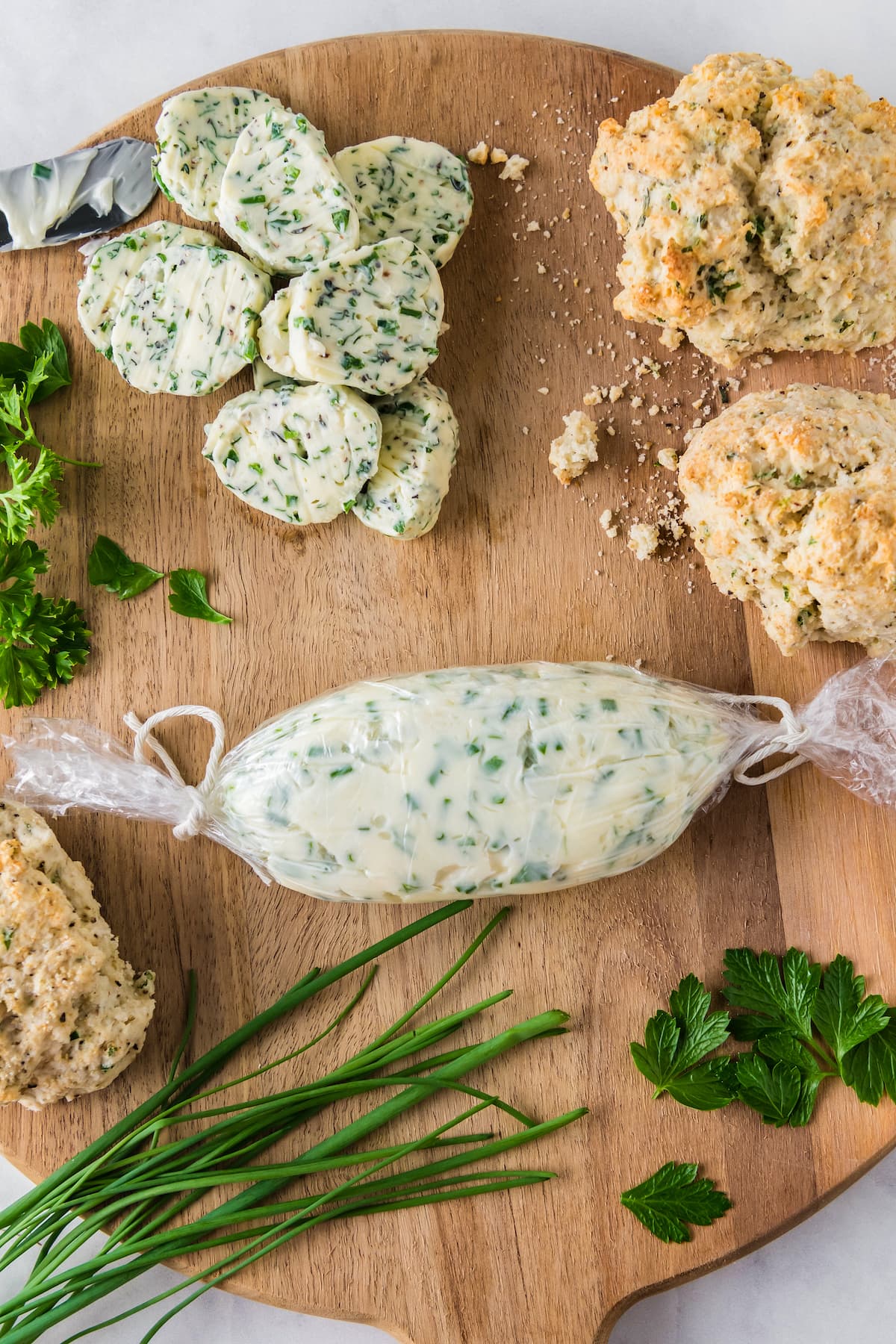 What Is Compound Butter?
We mentioned before that this Garlic Herb Butter is a compound butter. Compound butter is when you mix different things into butter to make it more flavorful.
You can mix in things like herbs, garlic, flavored salts, or even cheese. But you can also make a sweet compound butter and add dried fruit, honey, or cinnamon.
Recipe Ingredients
Here is the list of ingredients for this Garlic Herb Butter. You only need 4 things so it's a nice short list!
Salted Butter: You can use unsalted butter, too. However, you may want to mix in a few pinches of salt if you do use unsalted butter.
Garlic: Fresh garlic works best for this recipe. Add more if you really like garlic flavor!
Fresh Herbs: We used parsley and chives for this recipe. You can use just one of those if you'd like or mix in some others like rosemary. Add 1 teaspoon of rosemary for more herbal flavor.
How to Make Garlic Herb Butter
Here are the simple instructions for making compound butter.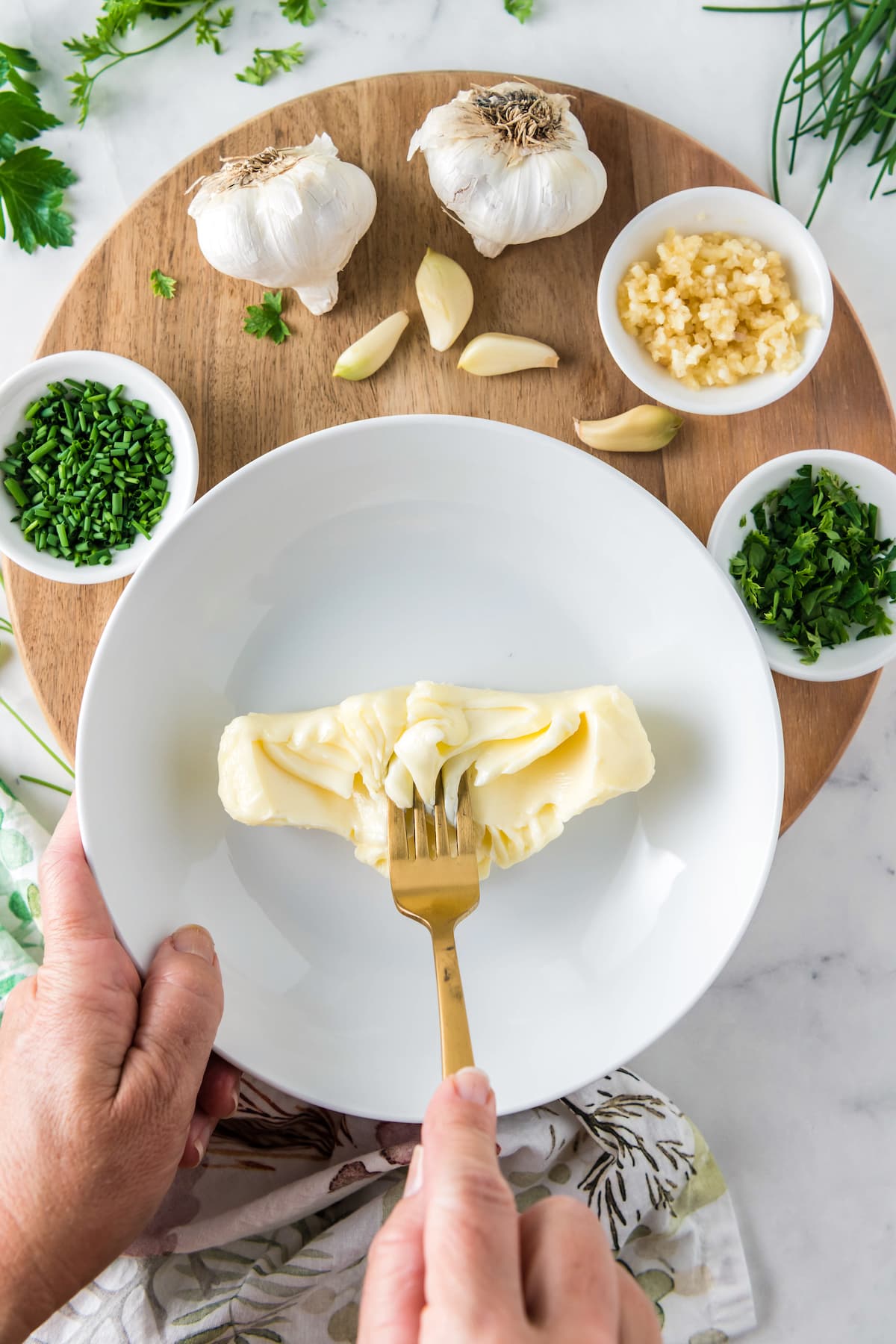 First, make sure that your butter is softened. You can leave it out at room temperature for a little bit to soften the butter. Then whip it in a small bowl with a fork.
Next, add the garlic and fresh herbs. Whip the butter again until all of the ingredients are incorporated.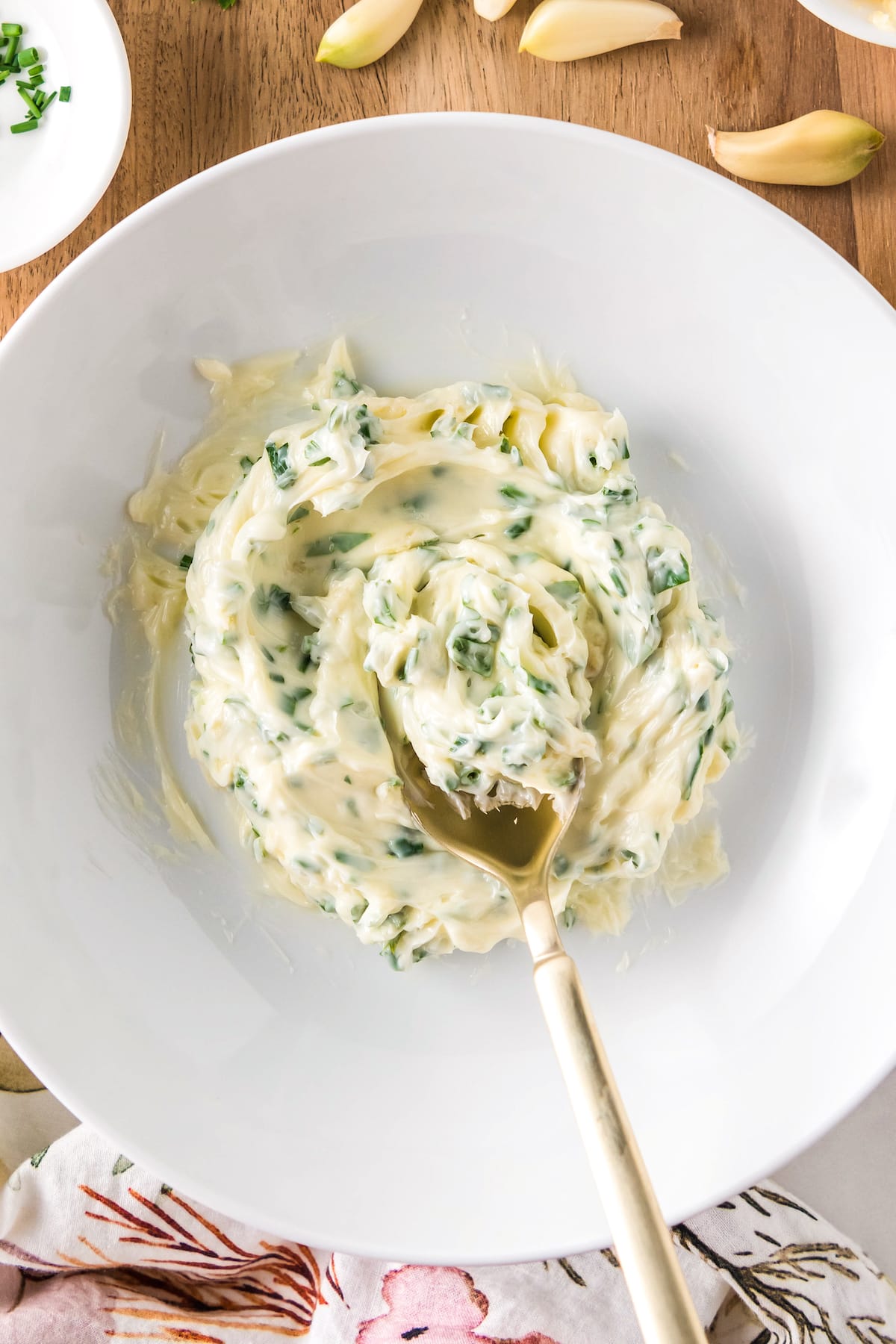 You can use the butter right away or refrigerate it. It's a good idea to roll the butter into a log so that it's easy to cut for use in the future.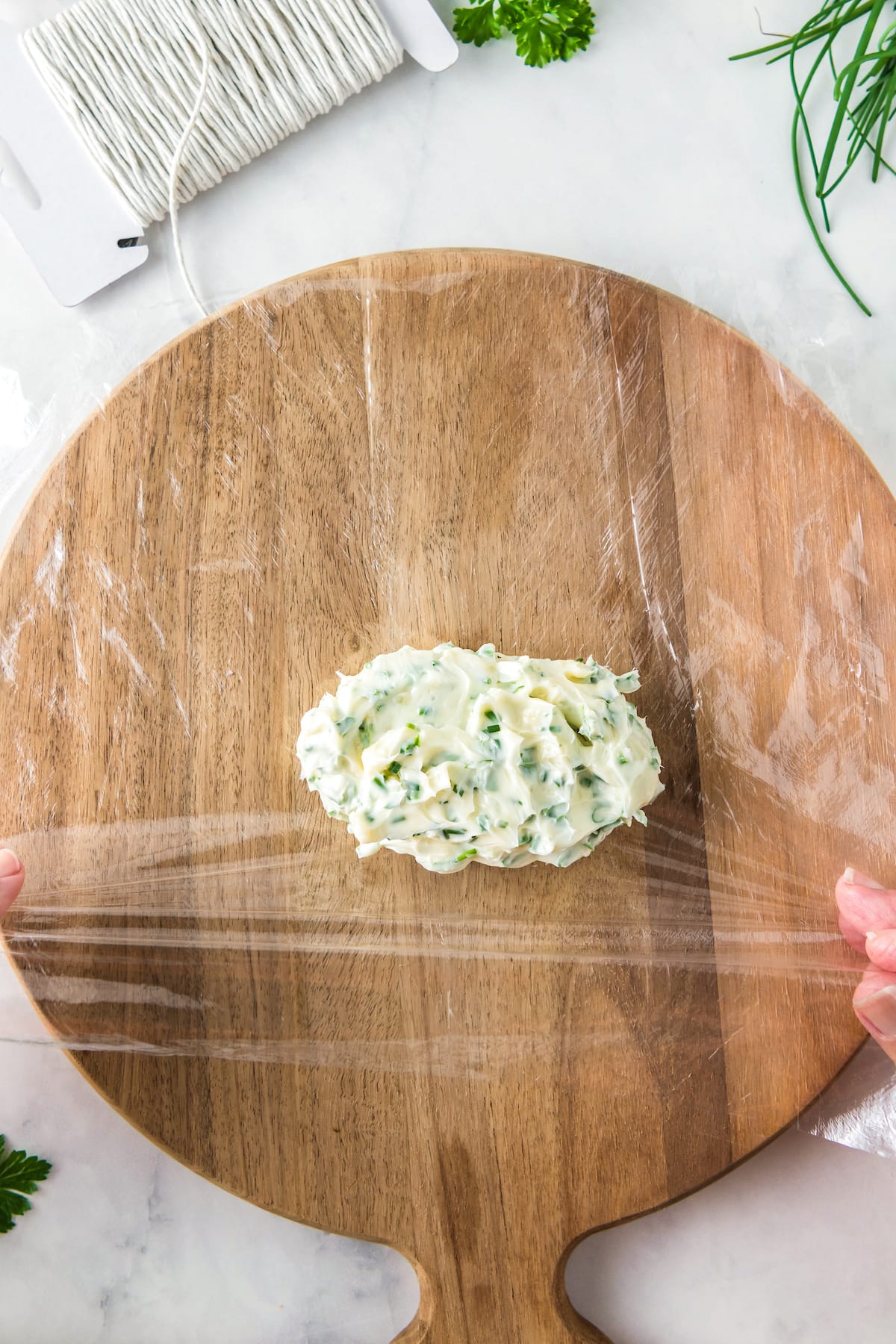 To roll the butter: Place the butter on a sheet of plastic wrap and then roll it up to completely cover it. Gently use your hands to roll the butter back and forth until you form a log. Then twist the edges so that they seal.
Tips for Success
Here are a few things to keep in mind when making this Garlic Herb Butter.
Tips for using the butter right away. You do not have to refrigerate the butter if you are using it on the same day. You should let it rest on the counter for a few minutes before serving just to let the herbs flavor the butter.
You can use dried herbs. If using dried herbs use 1 teaspoon of dried parsley and 1 teaspoon of dried chives.
The butter is best used after it's softened. Make sure and set the butter out ahead of time! Butter will soften on the counter quickly so make sure and plan ahead.
The garlic flavor will be very strong. This butter is so herby and the garlic is prominent! The garlic is raw so it is very strong. If you want a tamer garlic flavor roast the garlic before mixing it with the butter.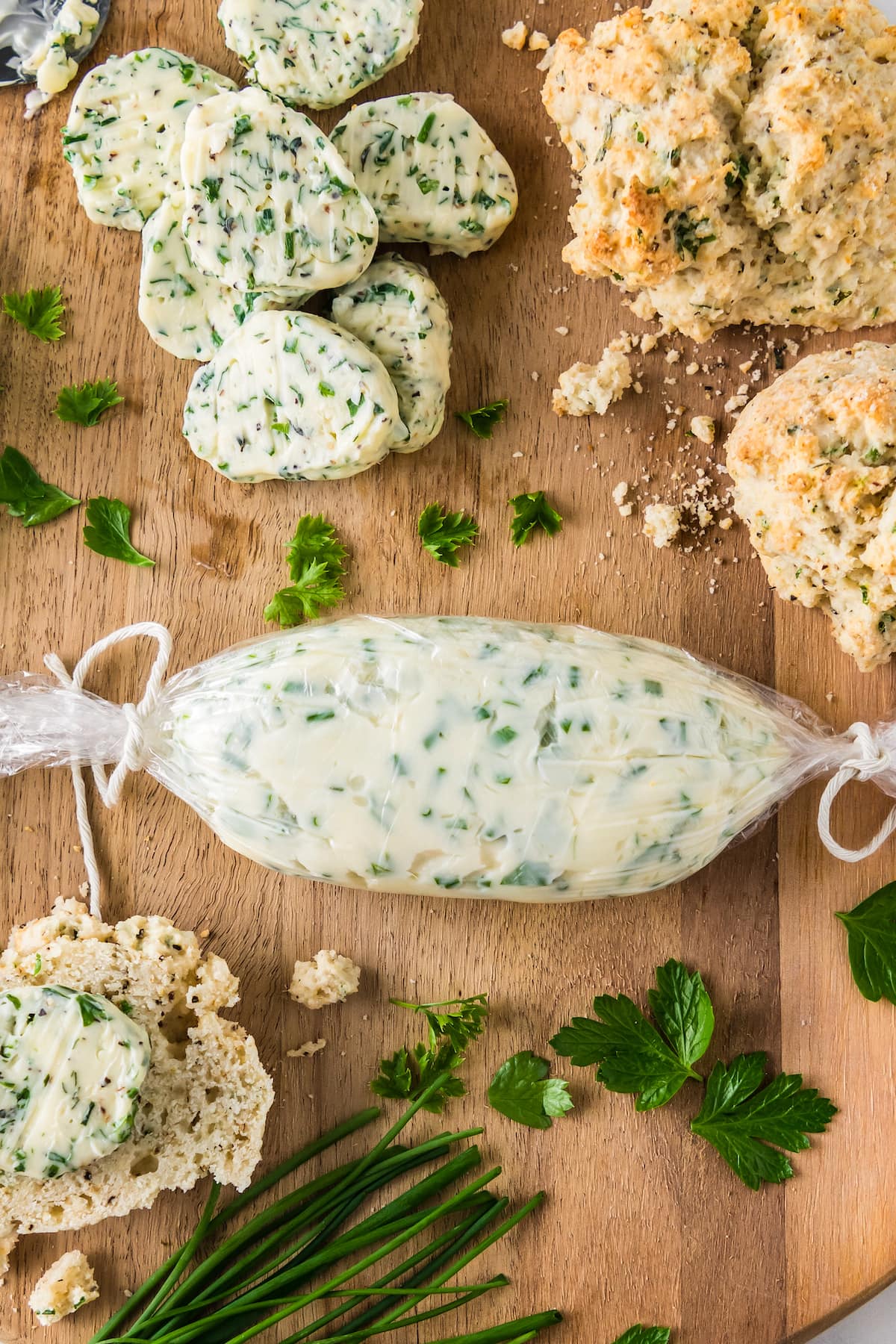 What to Serve with Garlic Butter
There are so many different ways to serve this compound butter. Here are some of our favorites:
Does Garlic Butter Spoil?
Garlic Butter can go bad if it's not stored properly. Always be sure that the butter is stored in the refrigerator when you're not using it.
It's important that the butter is in an airtight container or wrapped completely with plastic wrap when it's being stored. This butter will stay fresh for about a week in the refrigerator.
You can tell if butter is starting to spoil when it smells rancid. If at anytime your butter smells a little off, throw it away immediately.
Can I Freeze This?
Yes, you can freeze Garlic Herb Butter and we highly recommend it! You can make a larger batch of this recipe and roll the butter into logs and wrap it in plastic wrap. Then you can keep any extra portions in the freezer for up to 6 months.
Garlic Herb Butter
Garlic Herb Butter is loaded with fresh garlic, parsley, and chives. You only need 4 ingredients! It's great to spread on bread or with steak.
Ingredients
½

cup

salted butter

,

1 stick, softened

1

teaspoon

minced garlic

2

tablespoons

fresh parsley

,

chopped

2

tablespoons

fresh chives

,

chopped
Instructions
In a medium size bowl whip the butter until fluffy

Add garlic, parsley and chives, and continue to whip until the herbs are blended into the butter

Place the butter in the middle of a piece of saran wrap (wax paper works too) and pull one end over the butter. Roll the butter until it forms a log shape, tie off the ends (or tuck them under the butter log) place in the refrigerator for 2-3 hours or overnight.

Serve with your favorite bread, or rolls or try it on a filet!
Notes
Storage:
Store butter in an airtight container, in the fridge, for up to a week.
Freeze for up to 6 months.
Nutrition
Serving:
1
,
Calories:
103
kcal
,
Fat:
12
g
,
Saturated Fat:
7
g
,
Polyunsaturated Fat:
3
g
,
Cholesterol:
31
mg
,
Sodium:
92
mg
More Condiment Recipes