This Fried Potatoes and Onions recipe is simple cooking at its finest. With only 6 listed ingredients (most are already in your kitchen!), this side dish has tons of authentic homestyle flavor.
Easy Pan Fried Potatoes and Onions
Potatoes are one of our favorite ingredients. It pays to know how to cook them a few different ways! If you talk to anyone who went to culinary school (especially a French culinary school) you'll learn that they have cooked potatoes at least 25 different ways.
Today we won't be sharing with you one of the fancy French cooking school recipes. We'll do the opposite actually with one of the easiest (and most delicious) potato recipes you'll find. It doesn't get more simple than Fried Potatoes and Onions! This recipe can be made for breakfast, lunch, or dinner.
Potatoes are browned perfectly to develop crisp and flavorful edges but also maintain a tender bite. They are cooked alongside onions that have been cooked down to become perfectly sweet and caramelized. There's no need for a long list of seasonings here, either! We'll just use garlic powder, salt, and pepper.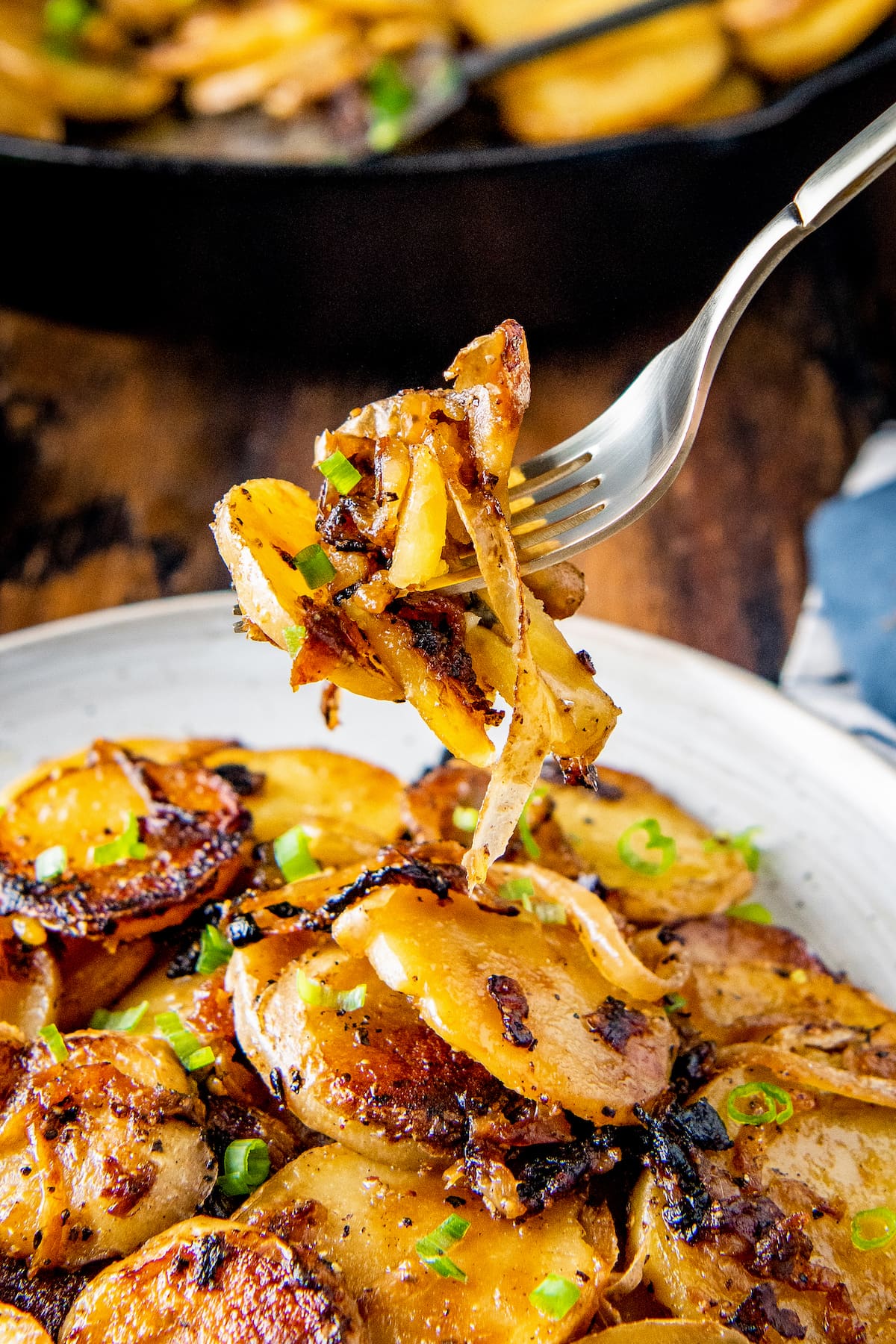 Why You'll Love This Recipe
Here's why you're going to love this simple potato side dish.
Make it for breakfast, lunch, or dinner. It's so simple and delicious any time of day! We love serving it in the morning with some fried eggs. It's also a great side dish for a simple grilled steak.
You already have everything in your kitchen. Just add potatoes and onions to your shopping list. We bet that you have the other ingredients in your kitchen already! And if you don't, we'll share some substitute ideas below.
It's simple cooking. Simple cooking is the best cooking, in our opinion. There's no need to peel the potatoes. The steps are so easy and it doesn't require a lot of time to make this recipe.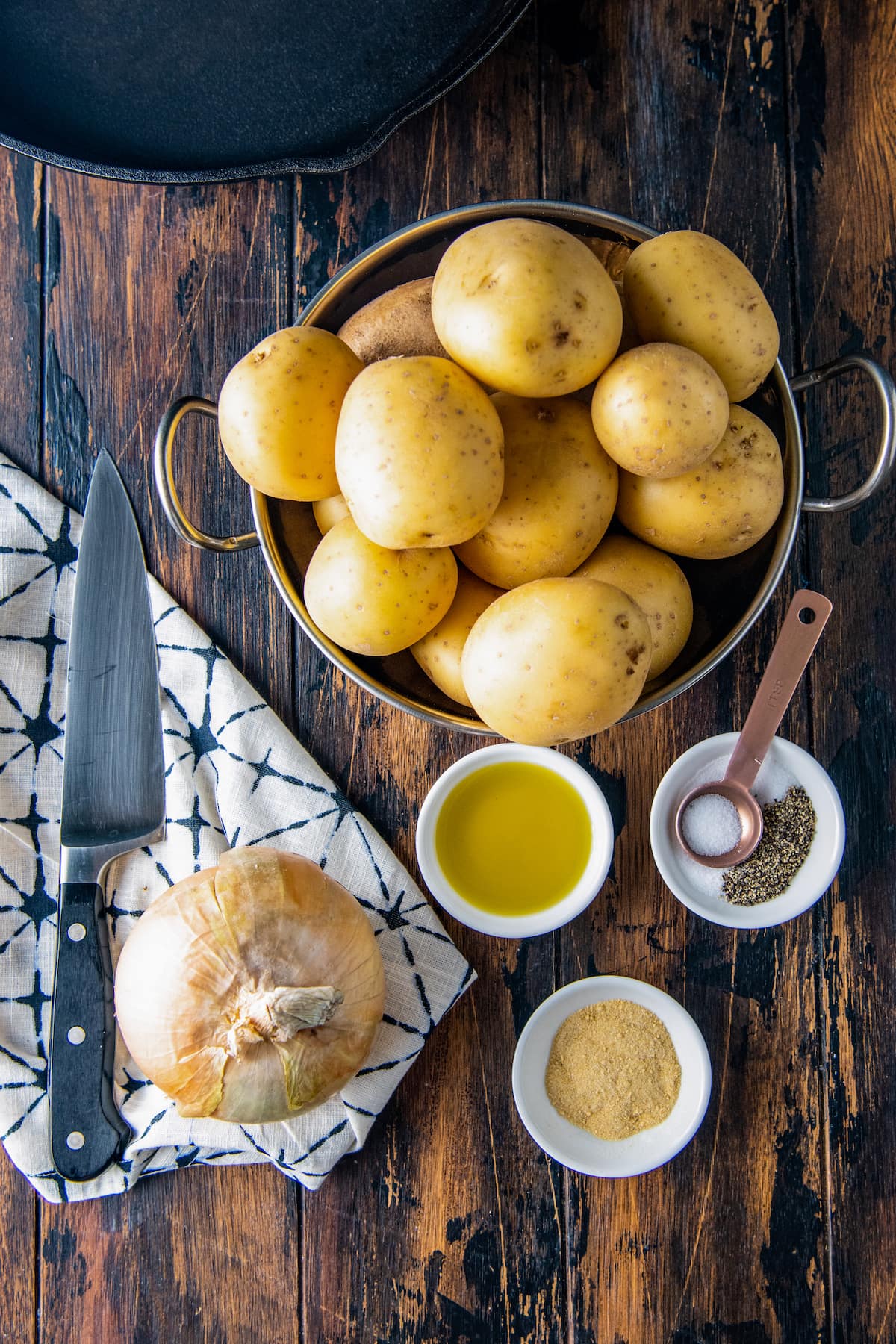 Recipe Ingredients
Here is the short and sweet list of ingredients for this recipe! Don't forget to check out the recipe card below for the exact amounts that you need.
Potatoes: We used Yukon gold for this recipe. But you can actually use whatever potatoes you'd like! And guess what? You don't even have to peel them! Don't slice the potatoes too thin or they break and get a little messy. You'll want to slice them to be about ⅛" thick.
Onions: Yellow onions work best. But you can also use sweet, white, or red onions.
Garlic Powder: You could also use garlic salt (just omit or use less regular salt) or granulated garlic. Add chopped fresh garlic in with the onions for the most garlic flavor.
Avocado Oil: Vegetable oil or canola oil would also work.
Salt & Pepper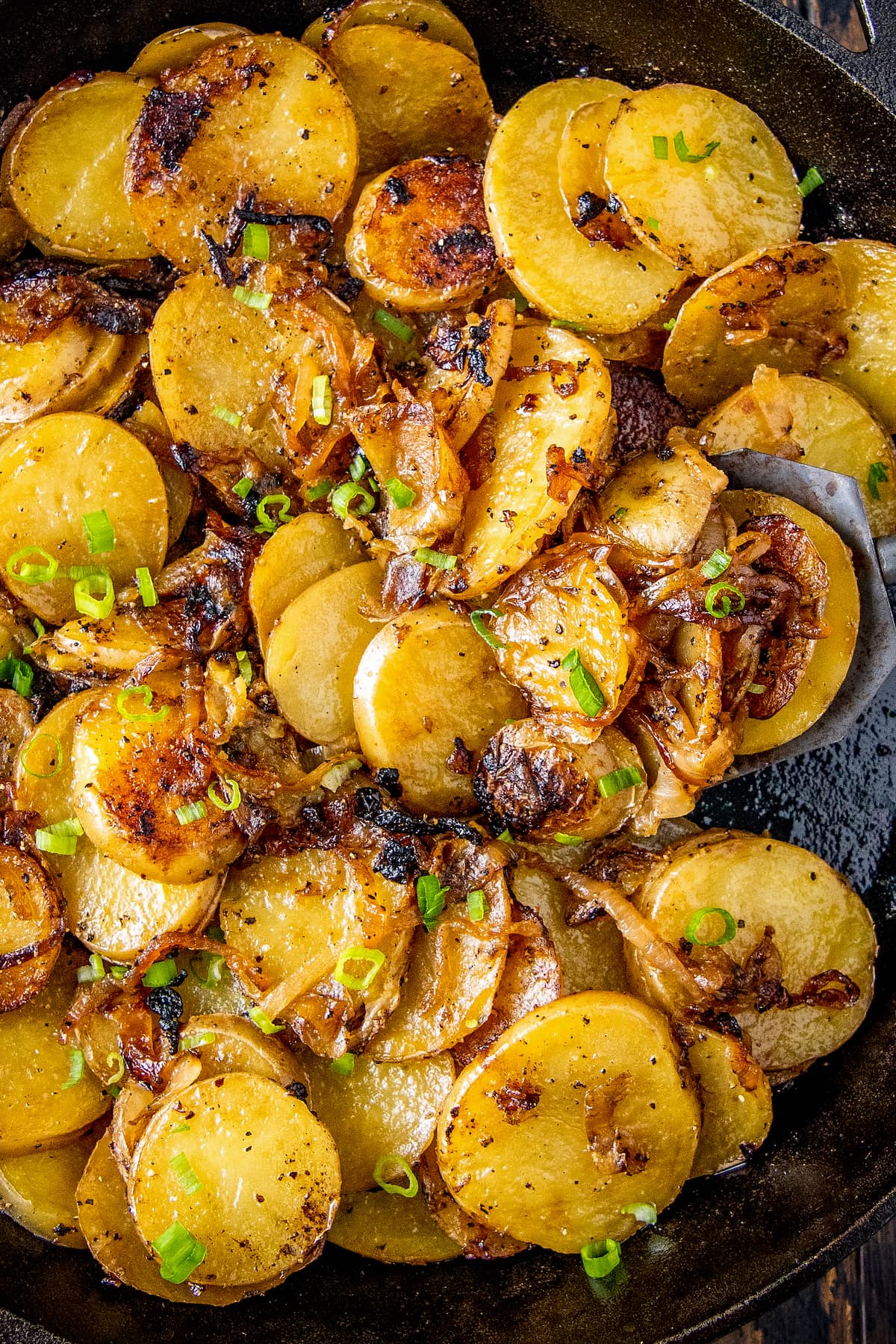 What Potatoes Are Best To Use?
We like the buttery texture and flavor of Yukon gold potatoes. But you can really use any potato you'd like! We have also used Russet potatoes and red potatoes. They taste just as great!
How to Make Fried Potatoes and Onions
You'll see that this recipe is really simple to make! Here are the easy steps.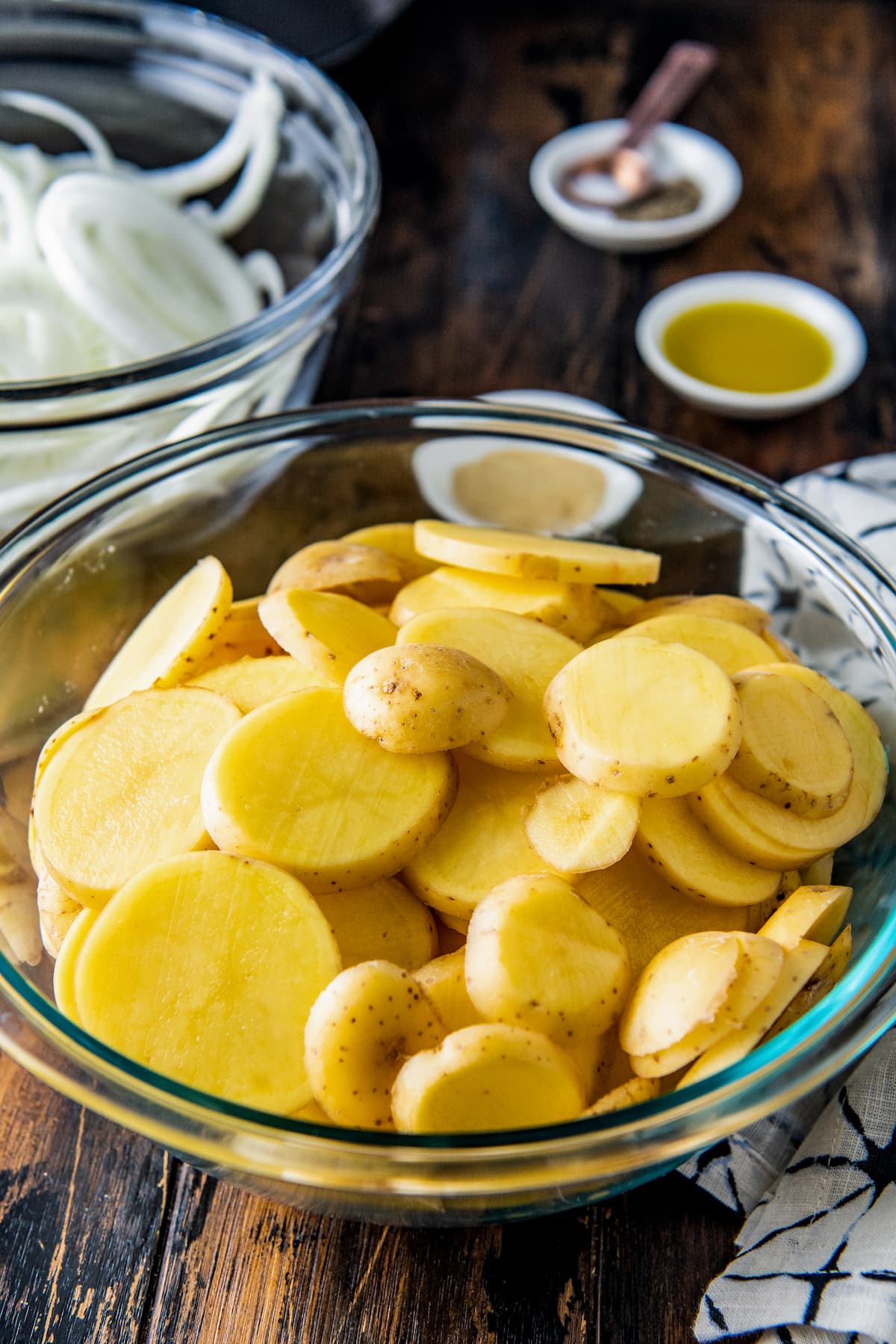 Prep the potatoes and onions. The key here is to make sure that the potatoes are sliced to the same thickness. This way they will cook evenly. After slicing the onions you can put them right into a pre-heated skillet.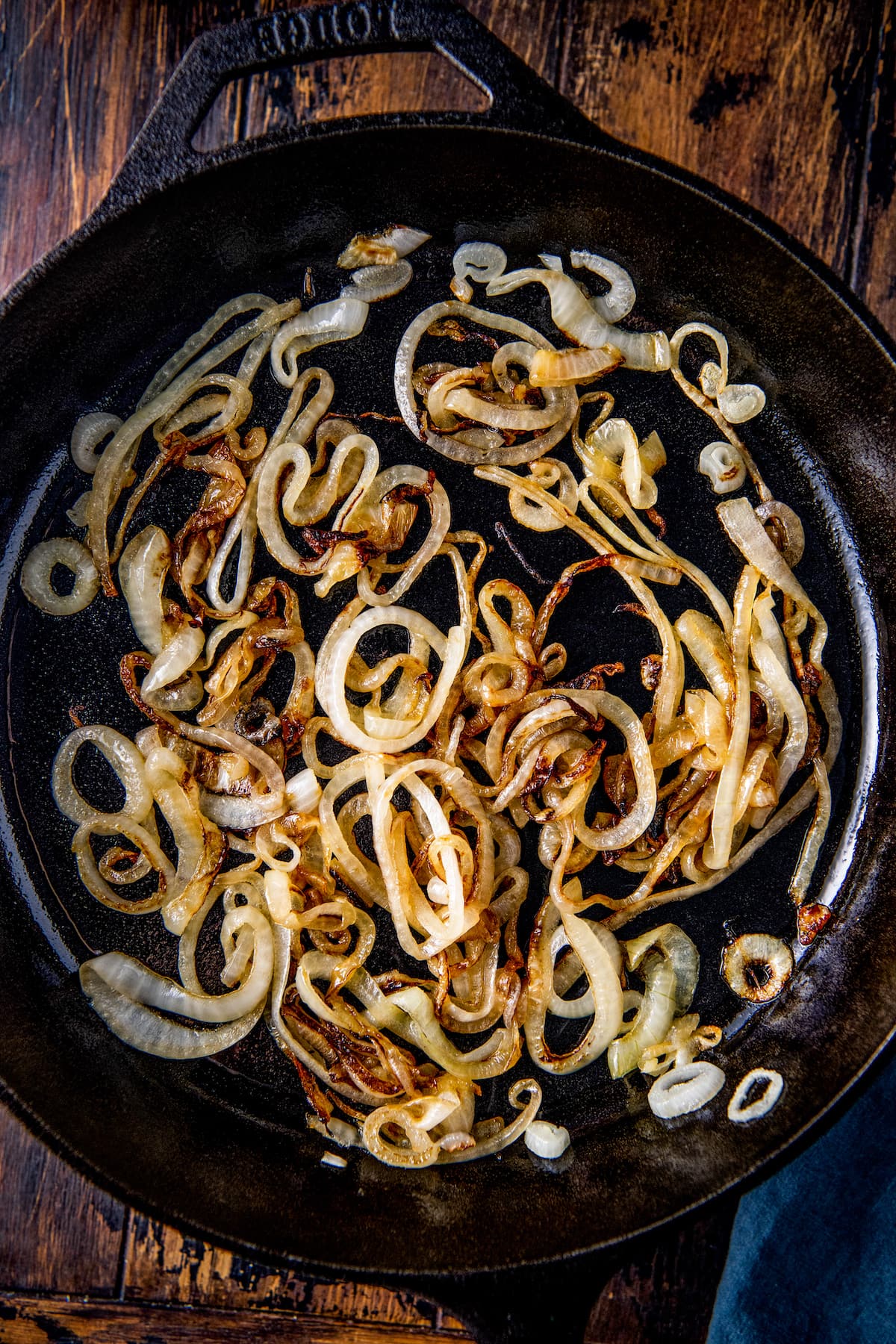 Next, you'll caramelize the onions. This will take about 10 minutes for them to soften and develop a brown color.
Then add the potatoes. You want to let the potatoes sit in the pan, untouched, for a few moments. This is how they develop the crispy and delicious browned edges!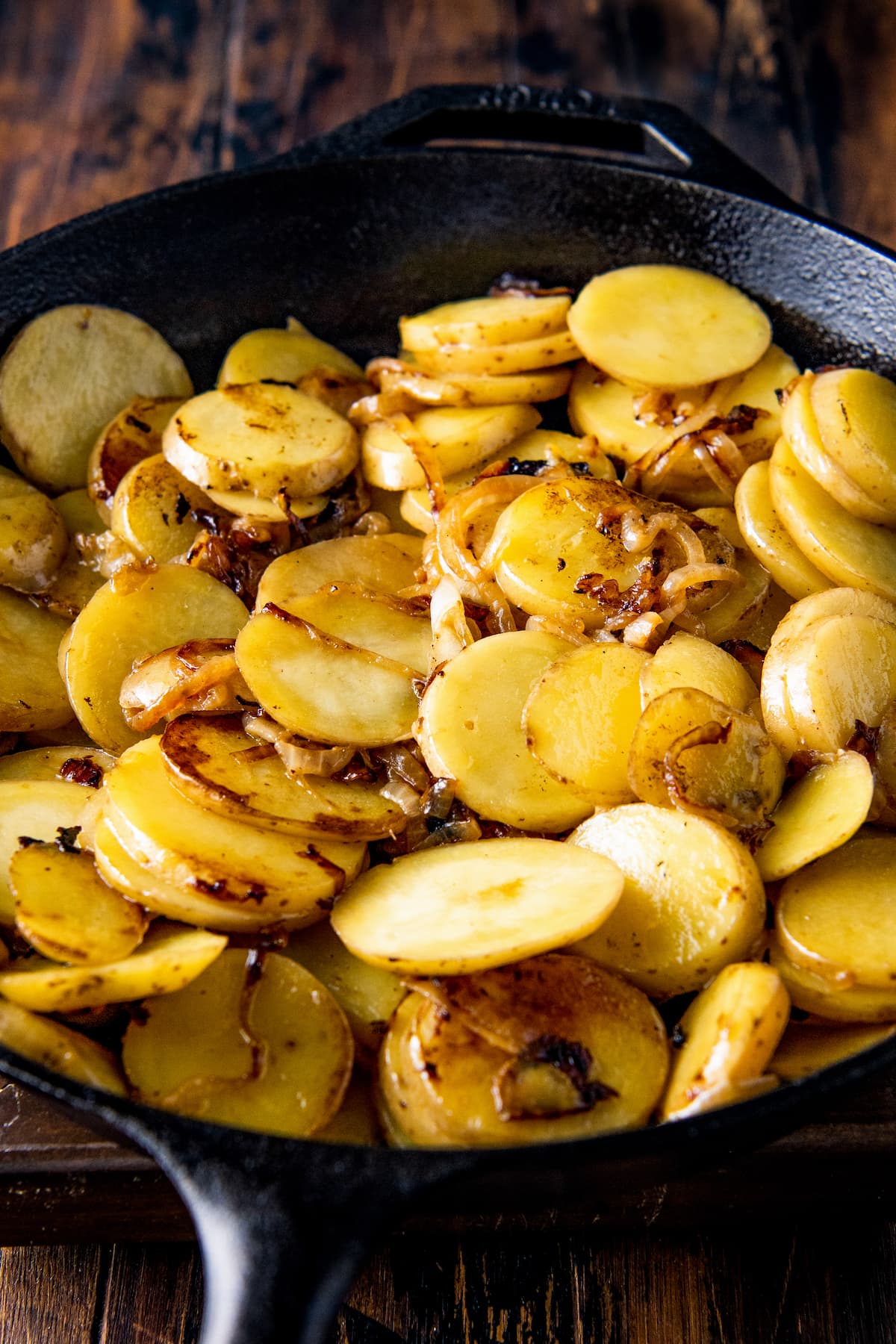 Flip the potatoes. And then cook them until they are tender.
Lastly, season the potatoes and then serve! These are best when they are eaten right away. You can also add some optional toppings chopped green onions, chives, cheese, or bacon.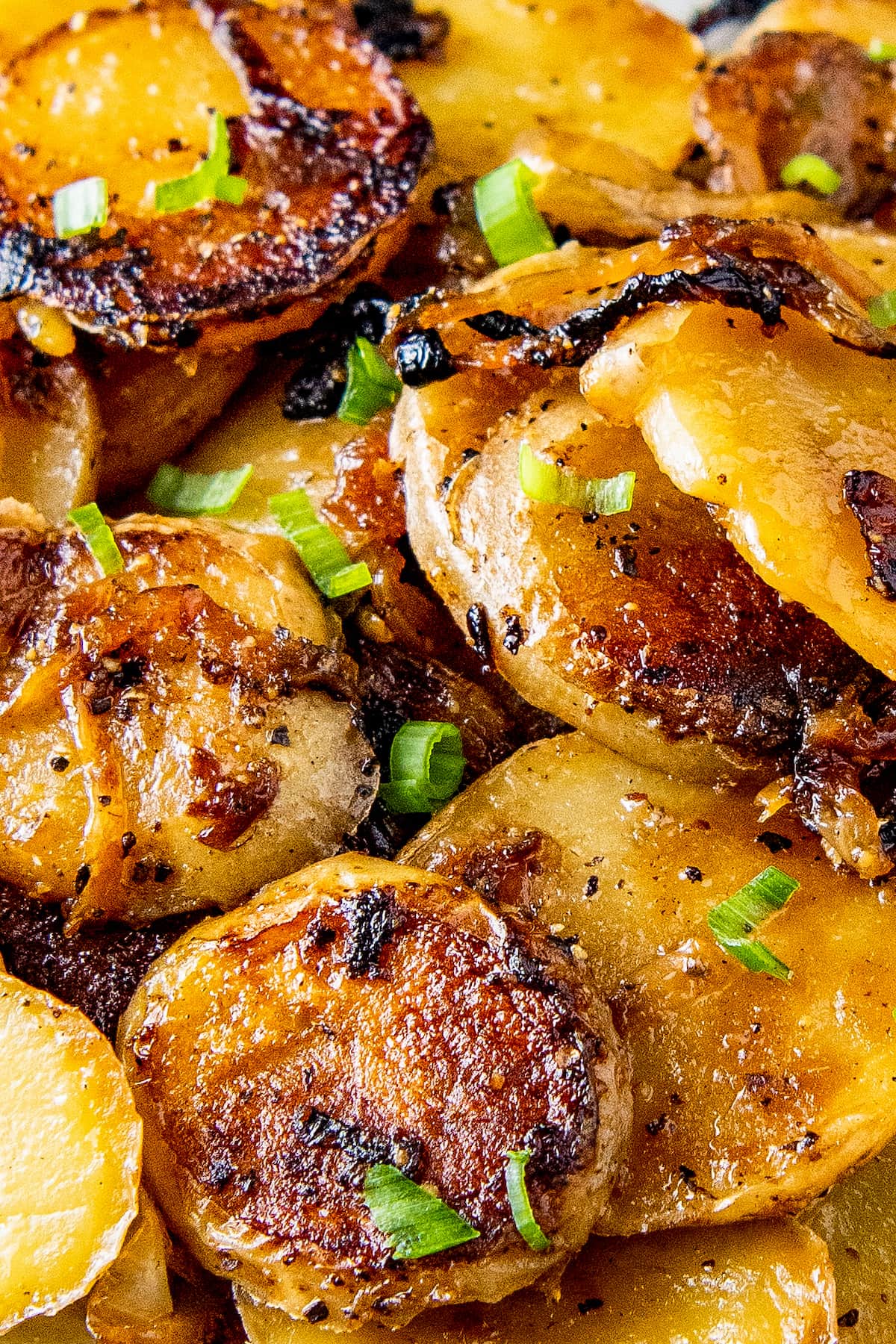 Tips for Success
Here are a few tips to keep in mind when making these potatoes.
Use a spatula for this recipe. Because the potatoes stick to the bottom of the skillet, use a spatula to flip them while cooking. It's ok that they stick a little, it's what makes them get that great crust. They shouldn't stick too much as long as your cast iron skillet is well seasoned.
Add more oil or butter if the potatoes are sticking too much. Use a high-heat oil like avocado oil. If you don't have avocado oil, vegetable oil or canola oil will both also work.
Take the time to caramelize the onions. Make sure and let the onion caramelize before adding in the potatoes, this adds a ton of flavor.
Use leftover potatoes instead. This is also a great way to use up leftover potatoes! Instead of using raw potatoes just add sliced cooked ones.
Add a little spiciness. You can also add some crushed red pepper flakes if you like them to have a little heat. We recommend starting with 1 teaspoon.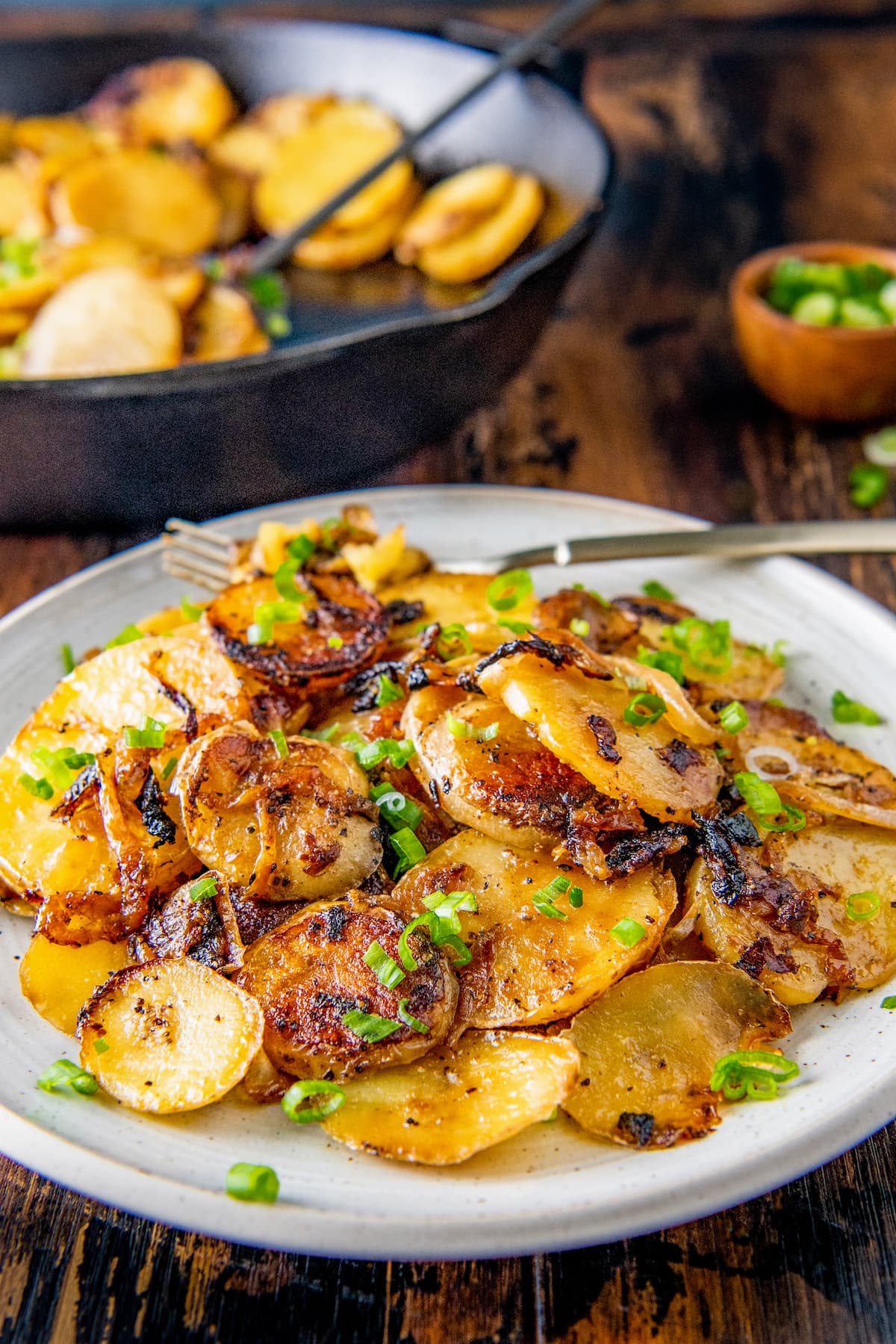 What Goes With Fried Potatoes and Onions?
Here are a few of our favorite ways to serve this recipe. You can keep it really simple or make a great main course to go with them!
Breakfast for dinner. You can easily serve these Fried Potatoes and Onions with a few simple fried eggs. We love to put a fried egg on top with a few dashes of hot sauce.
Serve it alongside a grilled steak. These potatoes would taste great with our Air Fried London Broil.
It also goes well with a simple pork dish. You can make an easy Pork Chop Dinner and have these potatoes as a hearty side.
Make these potatoes instead of french fries. These fried potatoes are a great french fry substitute when making hamburgers or Pulled Pork Sandwiches.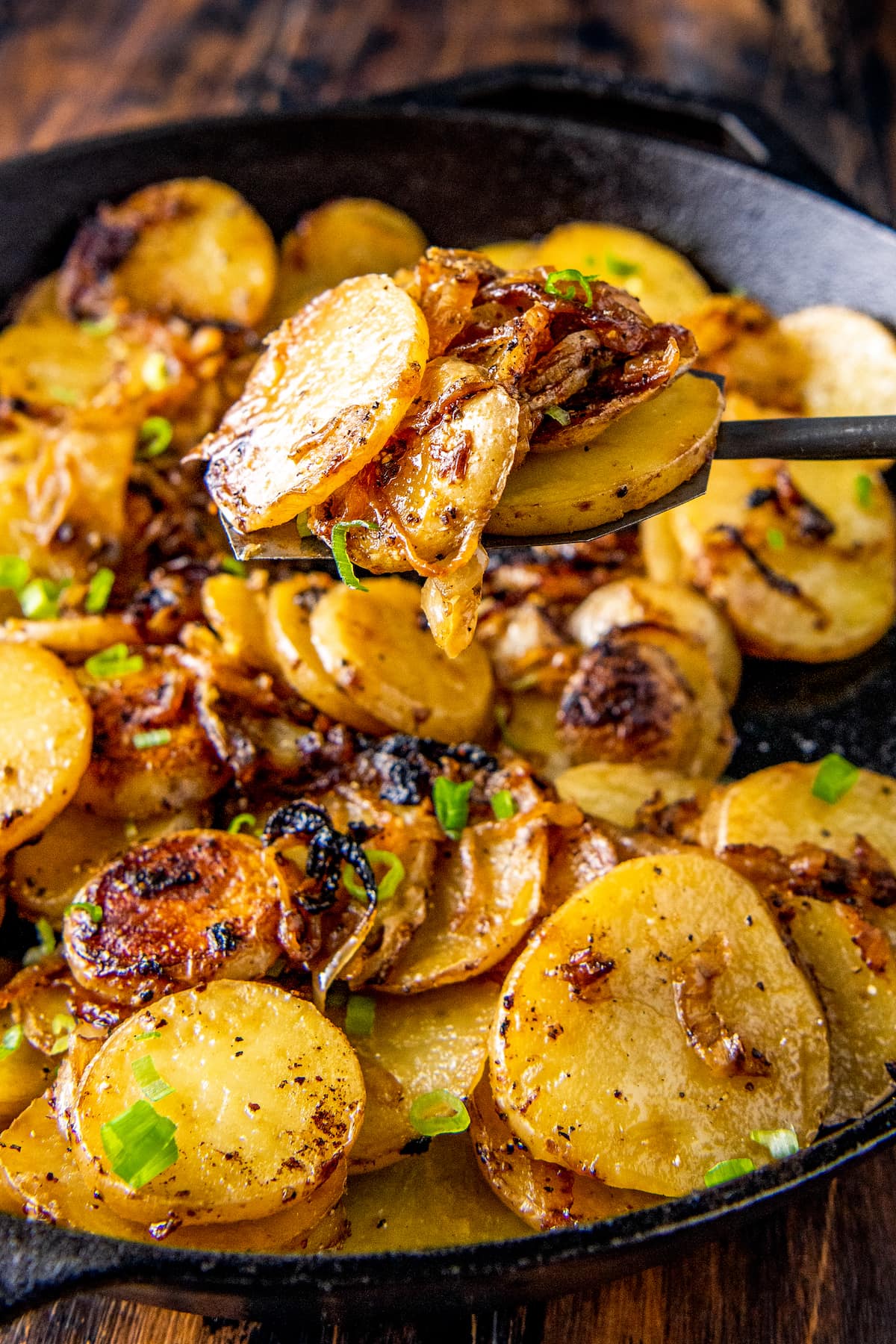 How to Store & Reheat Leftovers
Store any leftovers in an airtight container in the refrigerator for up to 5 days. You can reheat this dish in the microwave quickly. But we recommend reheating in a skillet if you want to keep the edges crispy and delicious.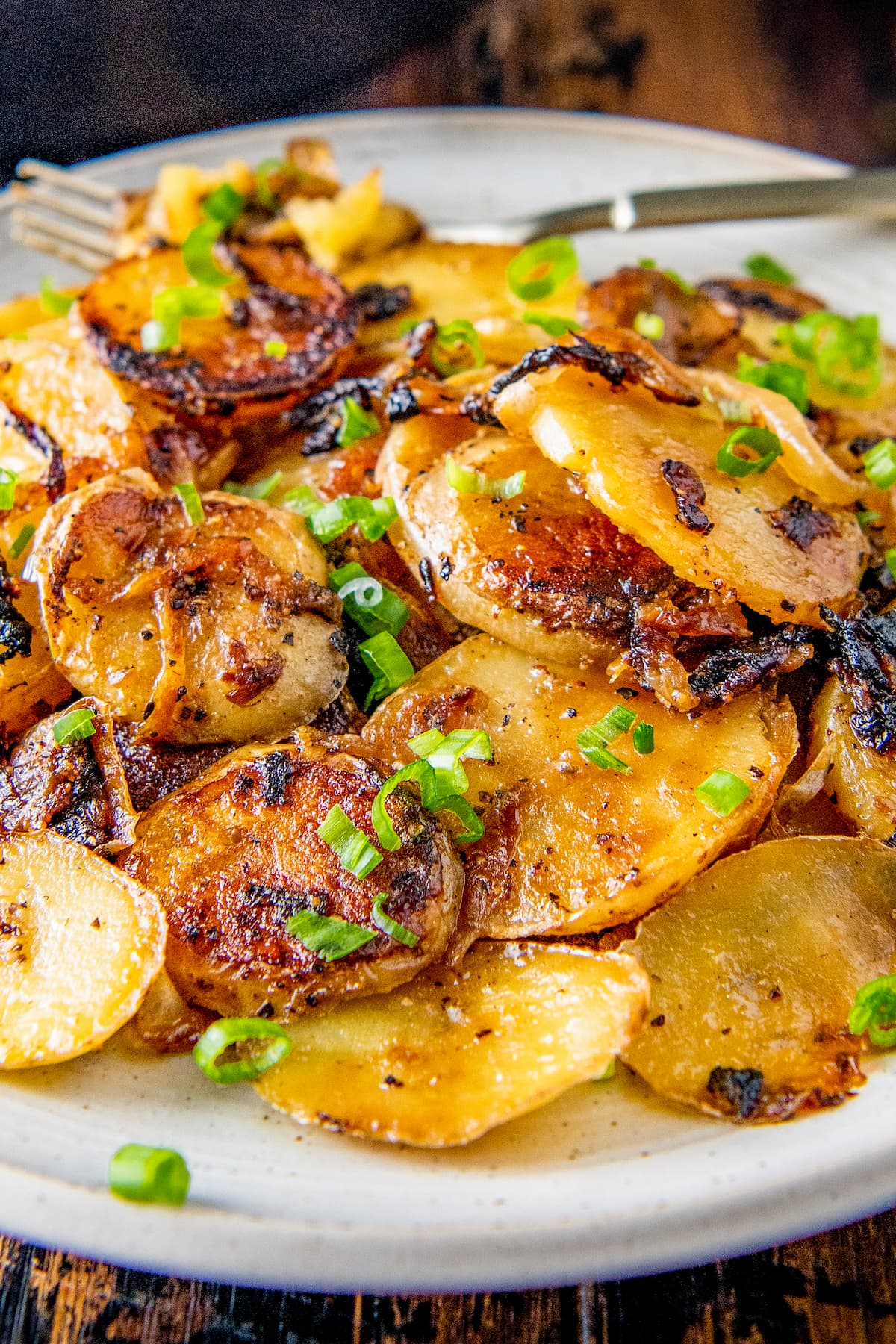 Can Extras Be Frozen?
Yes, you can freeze leftover fried potatoes. The potatoes and onions can be frozen for up to 3 months in an airtight container. Be sure to thaw and heat before serving.
Fried Potatoes and Onions
This Fried Potatoes and Onions recipe is a comforting and simple side dish. You only need one skillet and a few simple ingredients like potatoes, onions, and garlic powder.
Ingredients
3

pounds

potatoes

,

sliced thin

1

yellow onion

,

sliced thin

2 to 3

tablespoons

avocado oil

,

divided

1

teaspoon

garlic powder

,

optional

1

teaspoon

salt

1

teaspoon

pepper
Instructions
In a large heavy bottomed skillet (like a cast iron skillet), add 1 tablespoon of oil over medium heat.

Add the onion and sauté until the onion is caramelized, about 10 minutes.

Add a tablespoon of oil and the potatoes. Let the potatoes sit on the bottom of the skillet for about 5 minutes. Using a spatula, flip them often to help them brown evenly. Continue doing this until potatoes are cooked, about 20 minutes total. Add the remaining tablespoon of oil, if needed.

When the potatoes are almost done season with garlic powder, salt and pepper. Serve immediately
Nutrition
Serving:
1
,
Calories:
281
kcal
,
Carbohydrates:
50
g
,
Protein:
6
g
,
Fat:
7
g
,
Saturated Fat:
1
g
,
Polyunsaturated Fat:
6
g
,
Sodium:
376
mg
,
Fiber:
5
g
,
Sugar:
3
g
More Easy Potato Recipes: