Make the perfect Air Fryer Baked Potato that's creamy and tender on the inside with the crispiest seasoned skin. These air fryer baked potatoes are an easy side dish that comes out delicious every time, and you only need 4 ingredients!
The Best Air Fryer Baked Potato Recipe
A perfect baked potato is a ride-or-die side dish no matter the occasion. You can't beat that golden, crispy, salty skin that crunches to give way to soft and fluffy, buttery insides. Topped with sour cream? Heaven. It's easy to forget about the rest of the meal when a steamy, tender baked potato is on the plate. And on nights when the oven isn't an option, you can still make the BEST baked potato in your air fryer instead. We'd even say it's the better choice! Seasoned with just 4 ingredients, these air fryer baked potatoes come out perfect every time.
Love air fryer recipes as much as we do? Try other easy favorites like our air fryer sweet potatoes and air fryer onion and potatoes!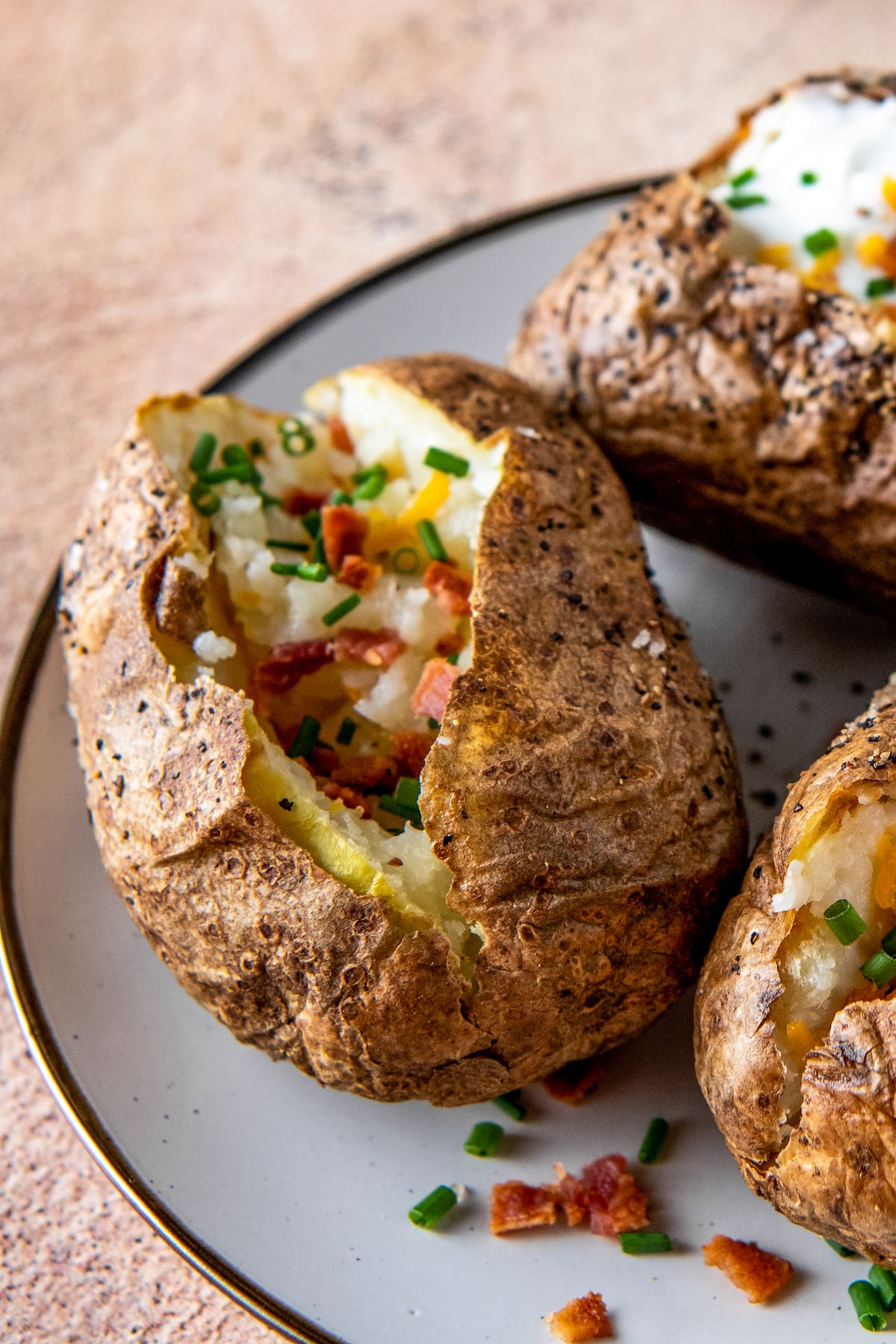 Why Cook a Baked Potato in the Air Fryer
No oven. Cooking potatoes in the air fryer is ideal if you want to free up your oven for a quick and easy main, like baked pork chops or ranch Ritz cracker chicken. It's just as great when you don't feel like turning the oven on at all!
Extra crispy skins. The potato skins crisp up perfectly in the hot air that circulates inside your air fryer. If you're a fan of extra crunchy, salty baked potato skins, the air fryer is the way to go.
Versatile. We can't really think of a meal or occasion that isn't made better by a steaming, fluffy baked potato, can you? Weeknights, holidays, you name it. You're going to love digging into these potatoes loaded with your favorite toppings!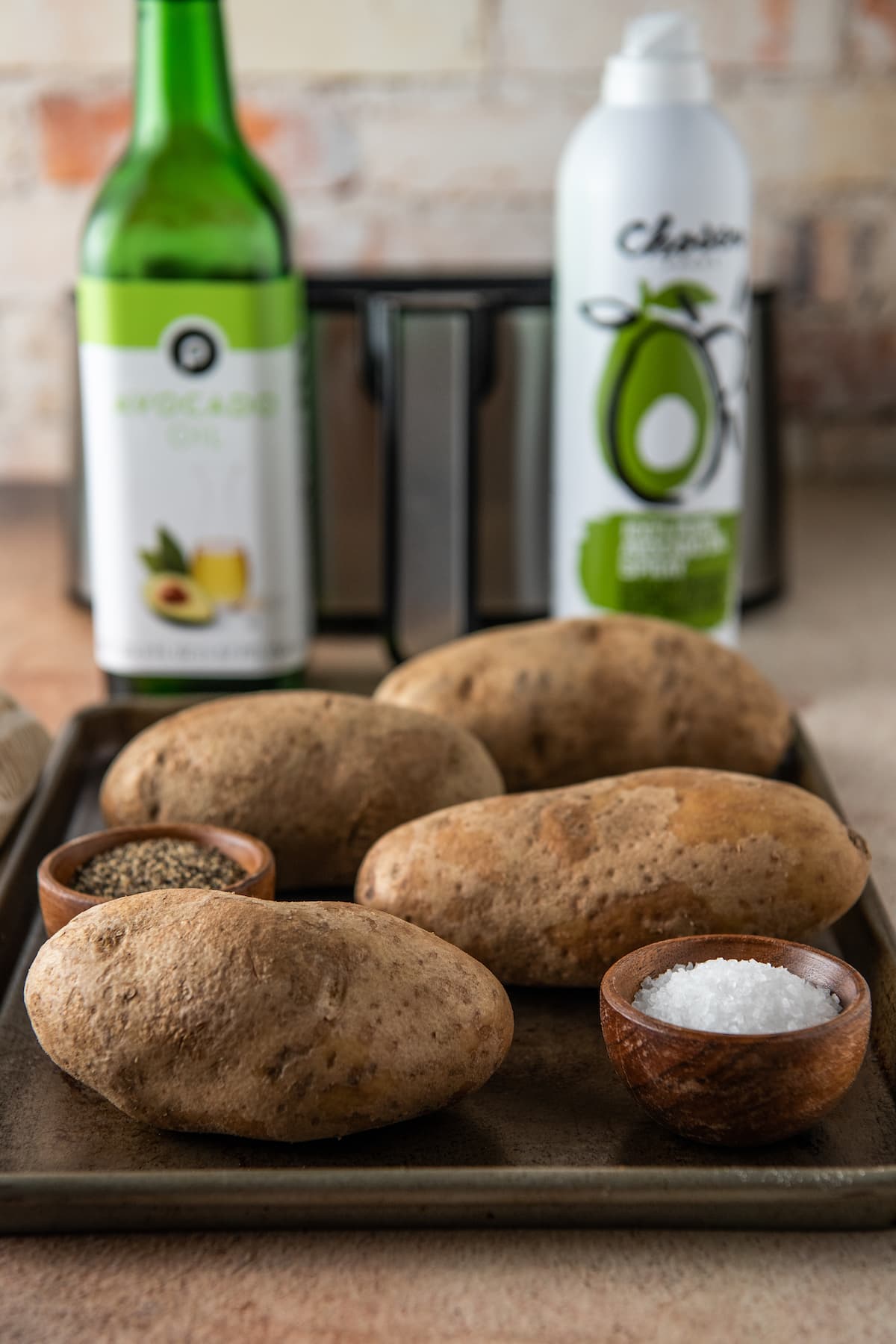 Recipe Ingredients
We're sharing some notes on the 4 easy ingredients you'll need to make the ultimate air fryer baked potato. Don't forget to scroll to the recipe card below the post for the full measurements and recipe details.
Russet Potatoes: Our first choice of potato for baked potatoes (see below). Russet potatoes have thick skins that crisp up nicely, while locking in the steam and moisture to make the potato flesh tender and fluffy.
Avocado Oil: You can also use olive oil or another neutral oil, like sunflower oil.
Salt and Pepper: The only seasonings you need to make these potatoes perfect!
What Kind of Potatoes Are Best for Baking?
The best potatoes for making baked potatoes are starchy potatoes, like Russets or Idaho potatoes. These varieties bake up beautifully with crispy skins and tender, fluffy insides. Avoid waxy potatoes, like red potatoes or similar, as these are better for salads, soups, and roasted potatoes recipes.
How to Make Baked Potatoes in the Air Fryer
An air fryer baked potato is one of the simplest side dishes you'll ever make, we promise! Follow these easy steps:
Preheat the air fryer. It's important to preheat the air fryer to 400ºF for this recipe. If you put the potatoes into a cold air fryer it will take much longer for them to cook.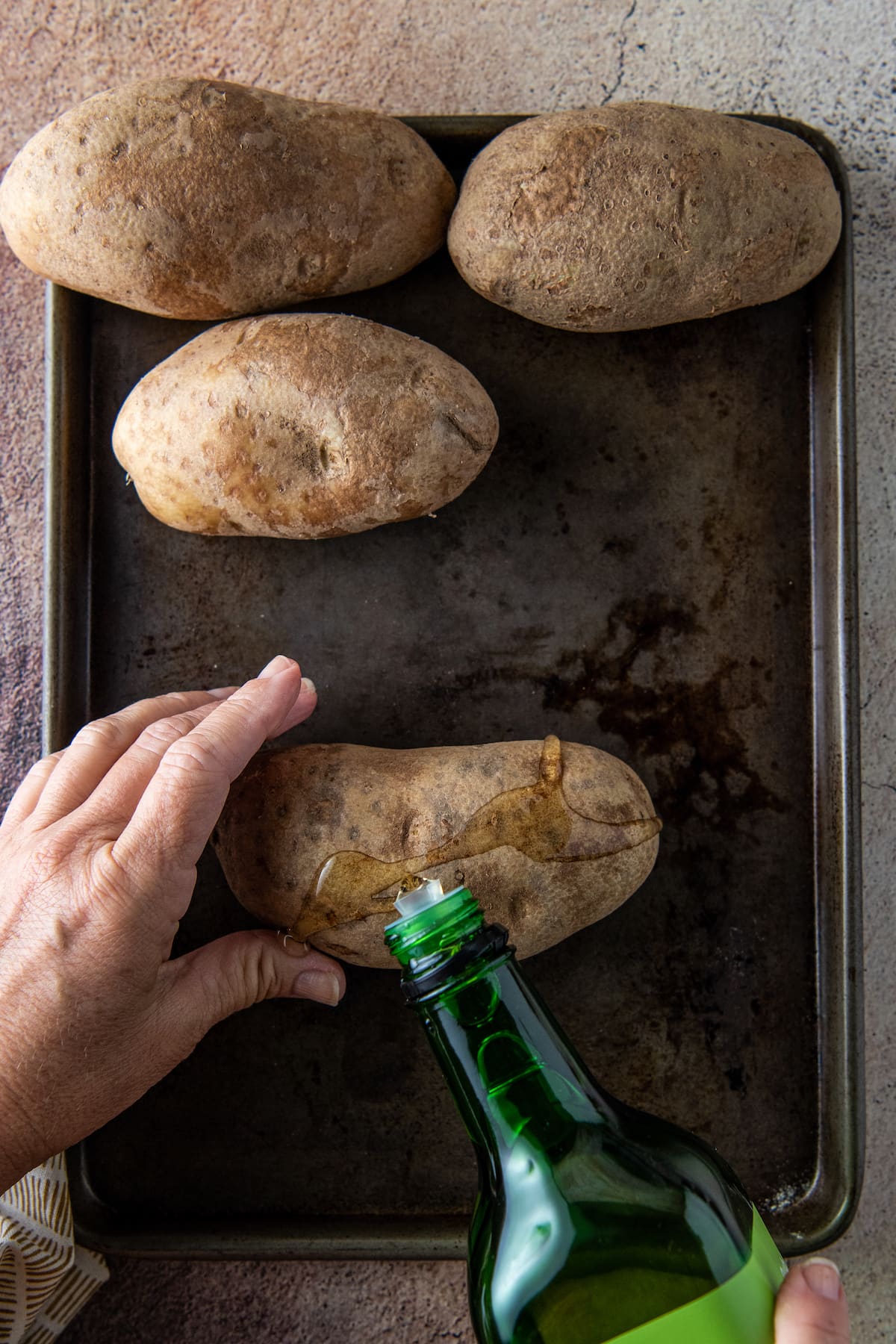 Prep the potatoes. Rinse and scrub the potatoes under water and then pat them completely dry. Next, rub the potatoes with oil and season them generously with salt and pepper.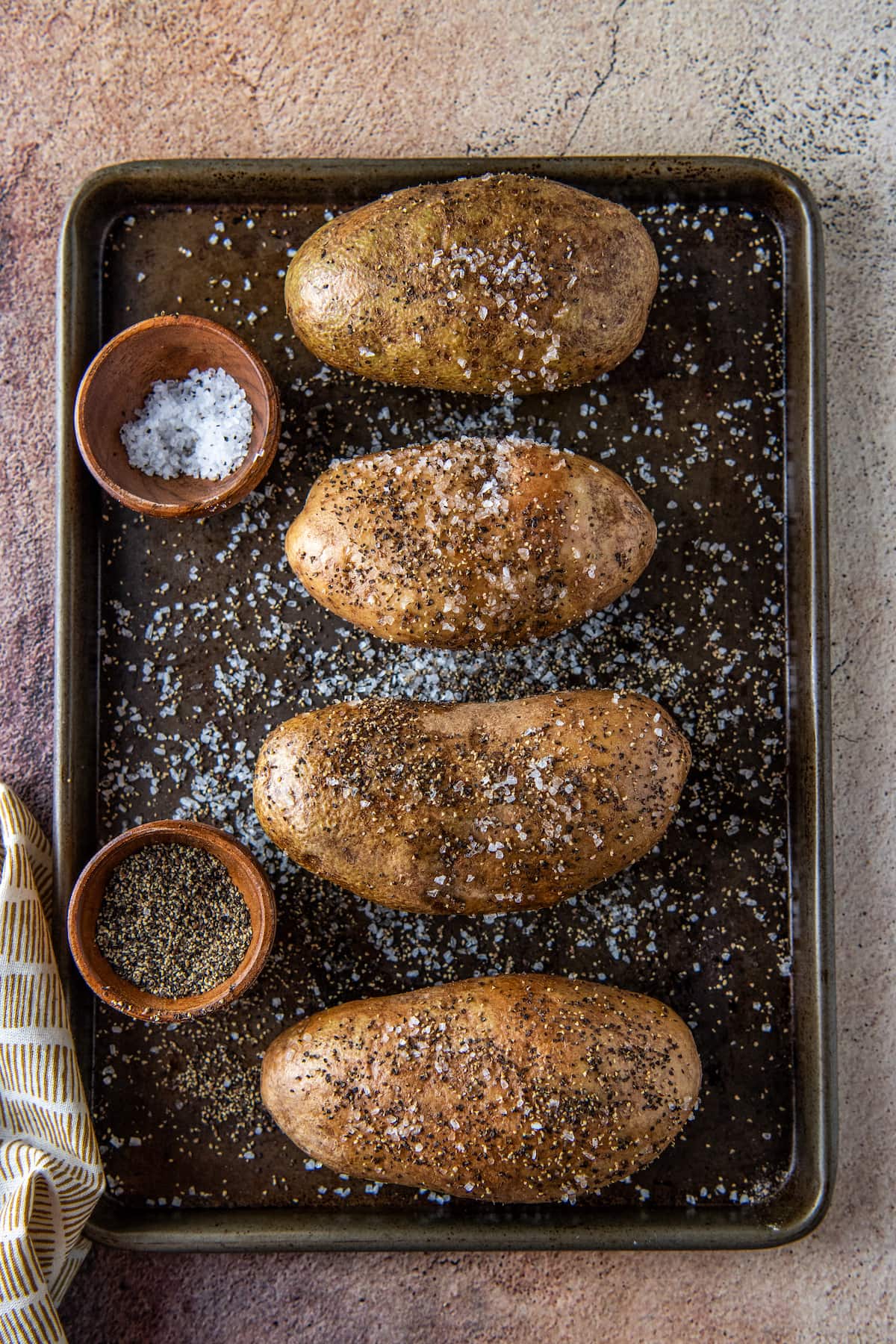 Add the potatoes to the air fryer. Arrange the potatoes inside the air fryer basket, making sure that they aren't touching. This way the hot air will be able to circulate and crisp up the outsides.
Bake. Bake the potatoes at 400ºF for 40 minutes. You'll want to flip the potatoes about halfway through the baking time.
Serve. Dish up your air fryer baked potatoes right away. And don't forget to add your favorite toppings! See below for easy topping and serving ideas.
How Can I Tell When an Air Fryer Baked Potato is Done?
The easiest way to check a baked potato for doneness is to give the potato a gentle squeeze. If it gives to the touch, it's cooked! Baked potatoes that are cooked through are also easily pierced with a fork or knife. If you still feel some resistance, place the potato back into the air fryer for another 5 minutes before checking again.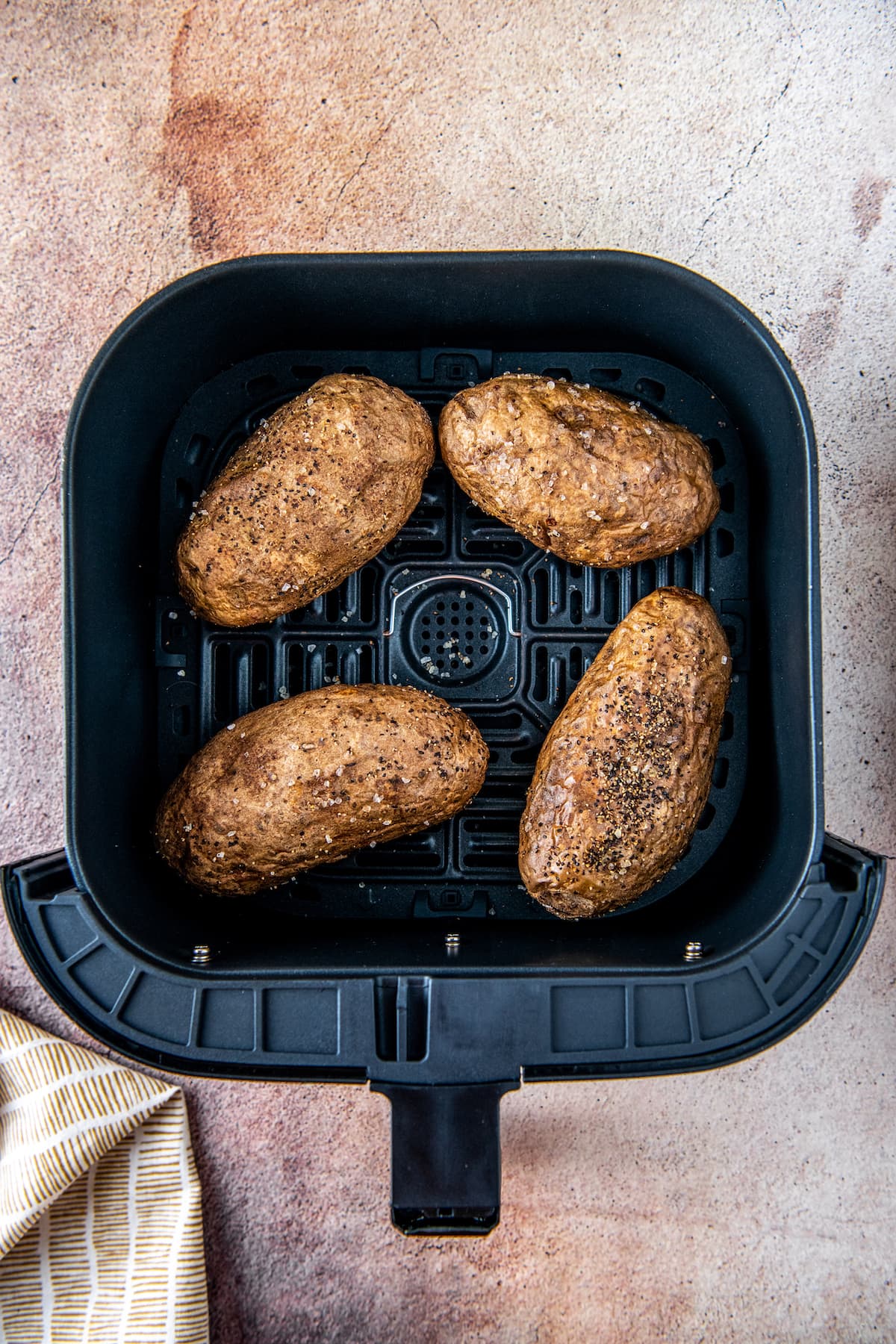 Tips and Variation Ideas
Here are some final tips for making baked potatoes in your air fryer, along with some possible recipe variations in case you'd like to spice things up:
Don't overcrowd the air fryer. Make sure there is room between each potato so that the hot air can move around and cook the potatoes evenly.
Adjust the cooking time based on the size of the potato. We used small to medium potatoes and they cooked for 40 minutes. But if you use a larger potato allow more time for it to bake. Check them at 40 minutes and if it's not ready cook them for 5 more minutes and check again.
Use garlic salt. Instead of regular salt, rub garlic salt on the outside of the potato to add delicious, garlicky flavor.
Get spicy. For a spicy kick, sprinkle the outside of the potato with homemade Cajun seasoning or chili seasoning.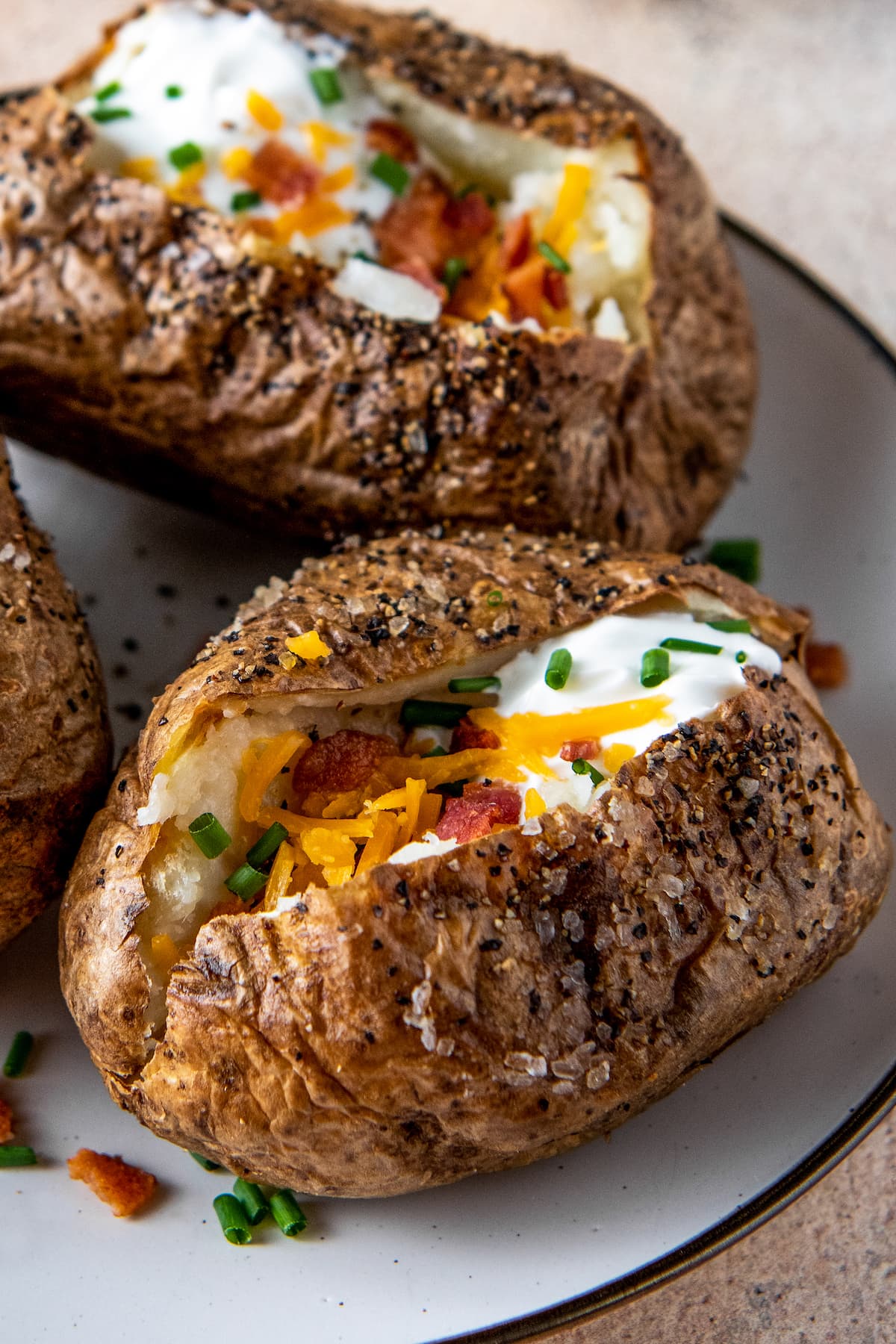 What To Serve With an Air Fryer Baked Potato
This air fryer baked potato recipe makes the perfect side dish to countless meal ideas. Here are some of our favorite easy mains to enjoy with a crispy baked potato:
Chicken. Baked potatoes make an easy side to juicy pesto chicken, baked chicken legs, or this savory Crockpot French onion chicken.
Beef. We love serving potatoes with gravy-soaked Instant Pot beef tips or this crispy chicken fried steak. Of course, you can't go wrong with a classic, perfectly done skirt steak.
Pork. Serve with sausage, peppers, and onions or our pan fried pork chops for a satisfying weeknight dinner.
More sides. Pair baked potatoes and any of the meals above with other tasty side dishes like garlic bread, green beans almondine, or Brussels sprouts with bacon.
Toppings. For a light meal or just because, pile on your favorite baked potato toppings like sour cream, chives, and bacon. See the next section for ideas.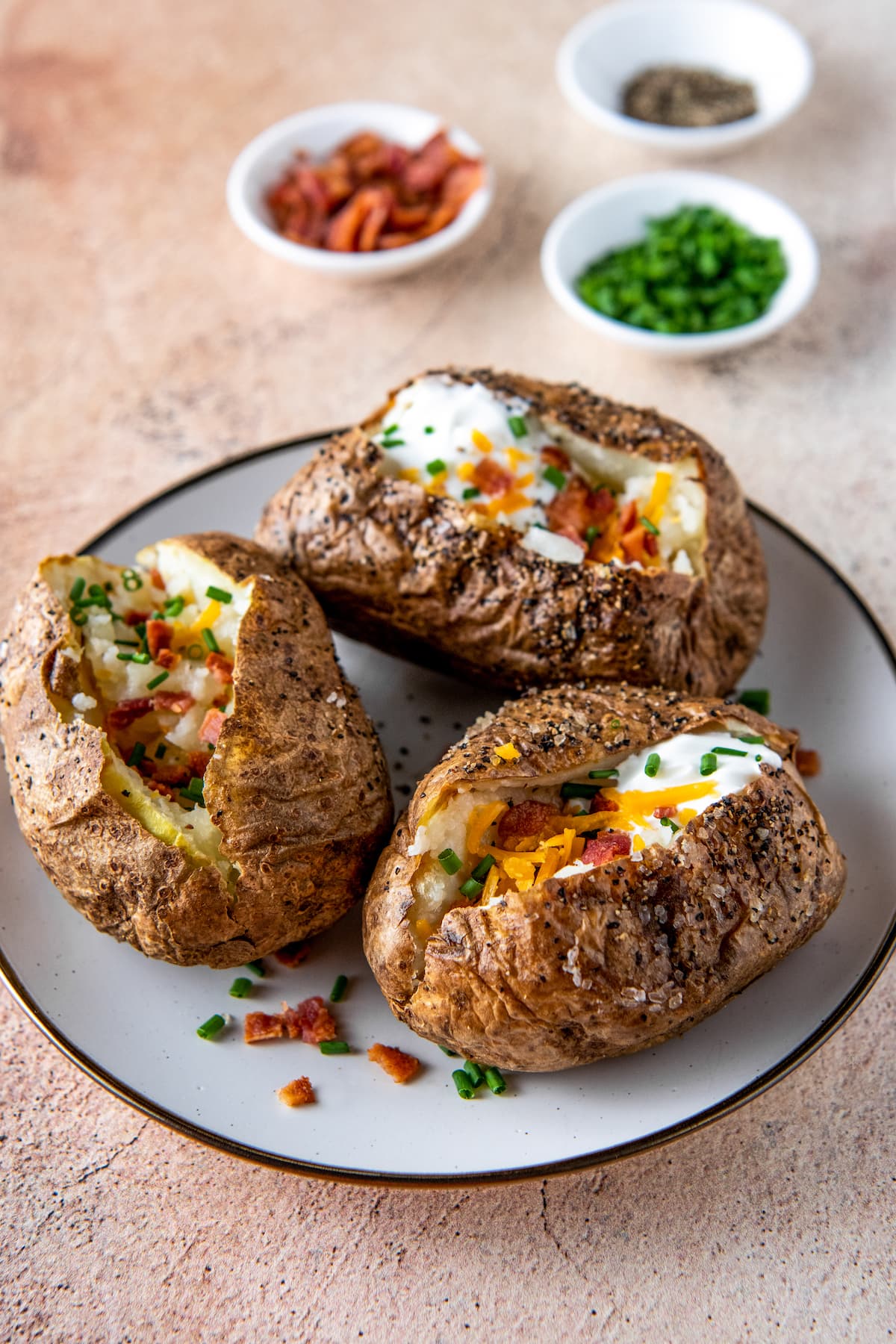 Baked Potato Topping Ideas
What's better than a fluffy, creamy baked potato? A fully loaded baked potato! Here are some of our favorite topping ideas that you can mix and match to taste:
Bacon. Sprinkle on cooked crumbled bacon, or good old-fashioned bacon bits from a bag.
Gravy. It doesn't get better than a drizzle of brown gravy or gravy from drippings at Thanksgiving!
Shredded Cheese. Cheddar and Monterey Jack are good options.
Sour Cream. For a lighter option, try plain Greek Yogurt.
Chives. Chopped fresh chives or sliced green onions are both delicious options.
Chili. Our hot dog chili is great for topping a baked potato. It's quick and easy to make, too!
Pulled pork. Top a baked potato with juicy pulled pork for an all-in-one meal. Crockpot salsa chicken would also be delicious.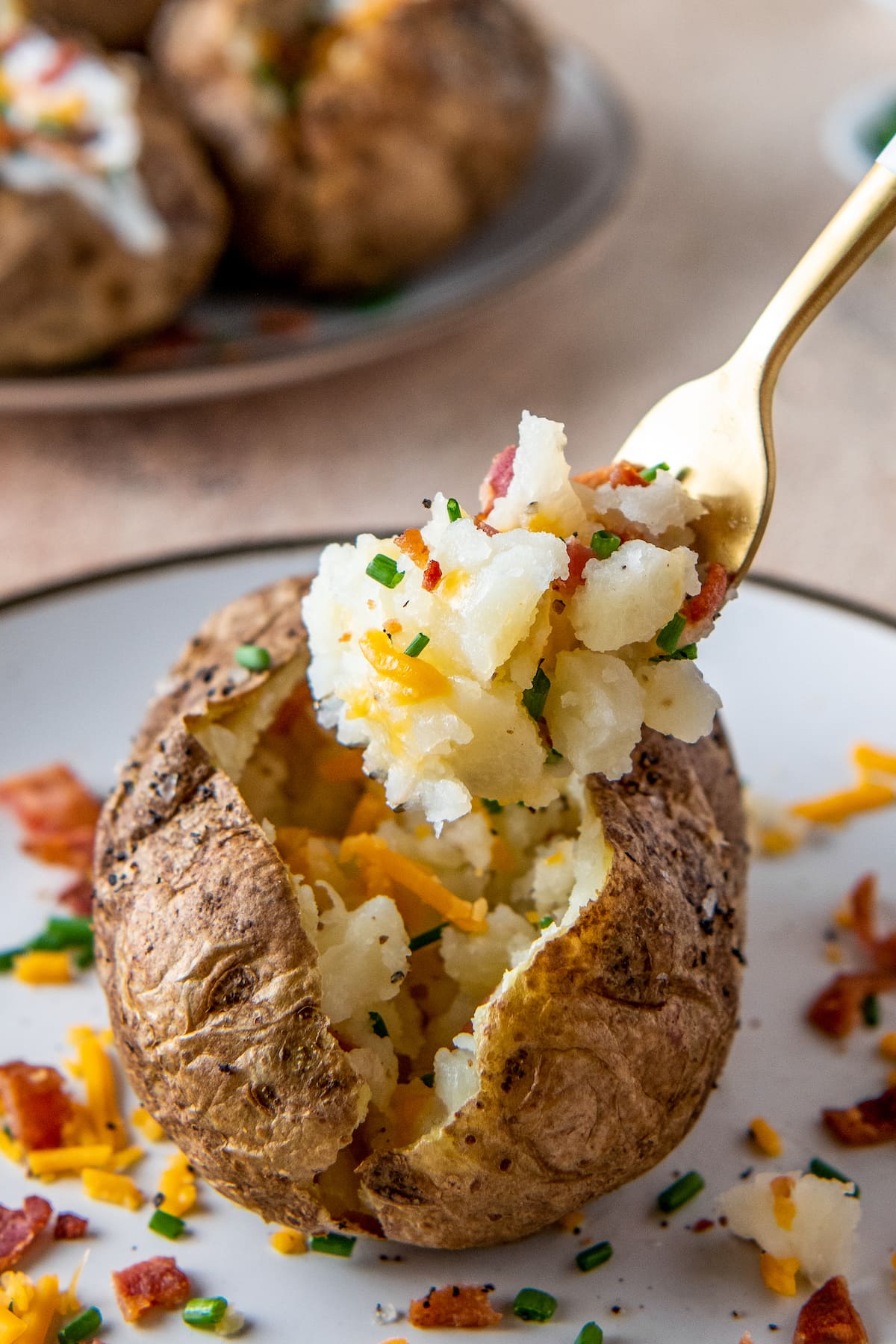 How to Store and Reheat Leftovers
To store. You can store leftover baked potatoes in an airtight container in the fridge for up to 4 days.
Reheat. Reheat the baked potatoes in the air fryer for 3-8 minutes, depending on the size of the potato. Alternatively, you can warm them in the oven or microwave.
Freeze. Wondering if you can freeze your air fryer baked potatoes for later? The answer is yes! Wrap the cooled baked potatoes in foil and then tuck them into an airtight container or freezer bag. Store them frozen for up to 3 months. The baked potatoes can be reheated inside their foil from frozen. Reheat them in the oven or air fryer until they're hot throughout.
More Easy Air Fryer Side Dishes
Air Fryer Baked Potato
You only need 4 ingredients to make a perfect baked potato in the air fryer! These air fryer baked potatoes are creamy and tender on the inside, with crispy seasoned skins.
Ingredients
4

russet baking potatoes

1

tablespoon

avocado oil

1

teaspoon

salt

1

teaspoon

pepper
Instructions
Preheat air fryer to 400 Degrees F.

Rinse potatoes and pat dry.

Coat potatoes with oil and salt and pepper.

Place potatoes in the air fryer basket and cook on 400 degrees F 40 – 45 minutes, FLIP halfway (20 minute mark) and finish baking.

Serve immediately with butter, cheese, sour cream, bacon bits and chives.
Nutrition
Serving:
1
,
Calories:
199
kcal
,
Carbohydrates:
37
g
,
Protein:
5
g
,
Fat:
4
g
,
Polyunsaturated Fat:
3
g
,
Sodium:
553
mg
,
Fiber:
4
g
,
Sugar:
2
g