This Air Fryer Baked Potato recipe is so easy and you only need 4 ingredients! The air fryer cooks the potatoes perfectly so that they have a crispy seasoned outside with tender and fluffy inside.
The Best Baked Potato Recipe
Whenever you're stuck finding an idea for a side dish – go with a baked potato. Actually, whenever you're looking for a dinner option – go with a baked potato! There are so many different ways to serve baked potatoes and with this easy recipe, your decision is made.
We're going to make it even easier for you and show you how to make an Air Fryer Baked Potato. When you use the air fryer to make baked potatoes, you're freeing up the oven for other foods. Plus, it's just so simple to pop potatoes into the air fryer. You can set it and work on other things in the kitchen.
Another perk about this recipe is that you only need four ingredients! All you need are baking potatoes, oil, salt, and pepper. That's it! You'll have a tough time finding a side dish that's easier than these Air Fryer Baked Potatoes.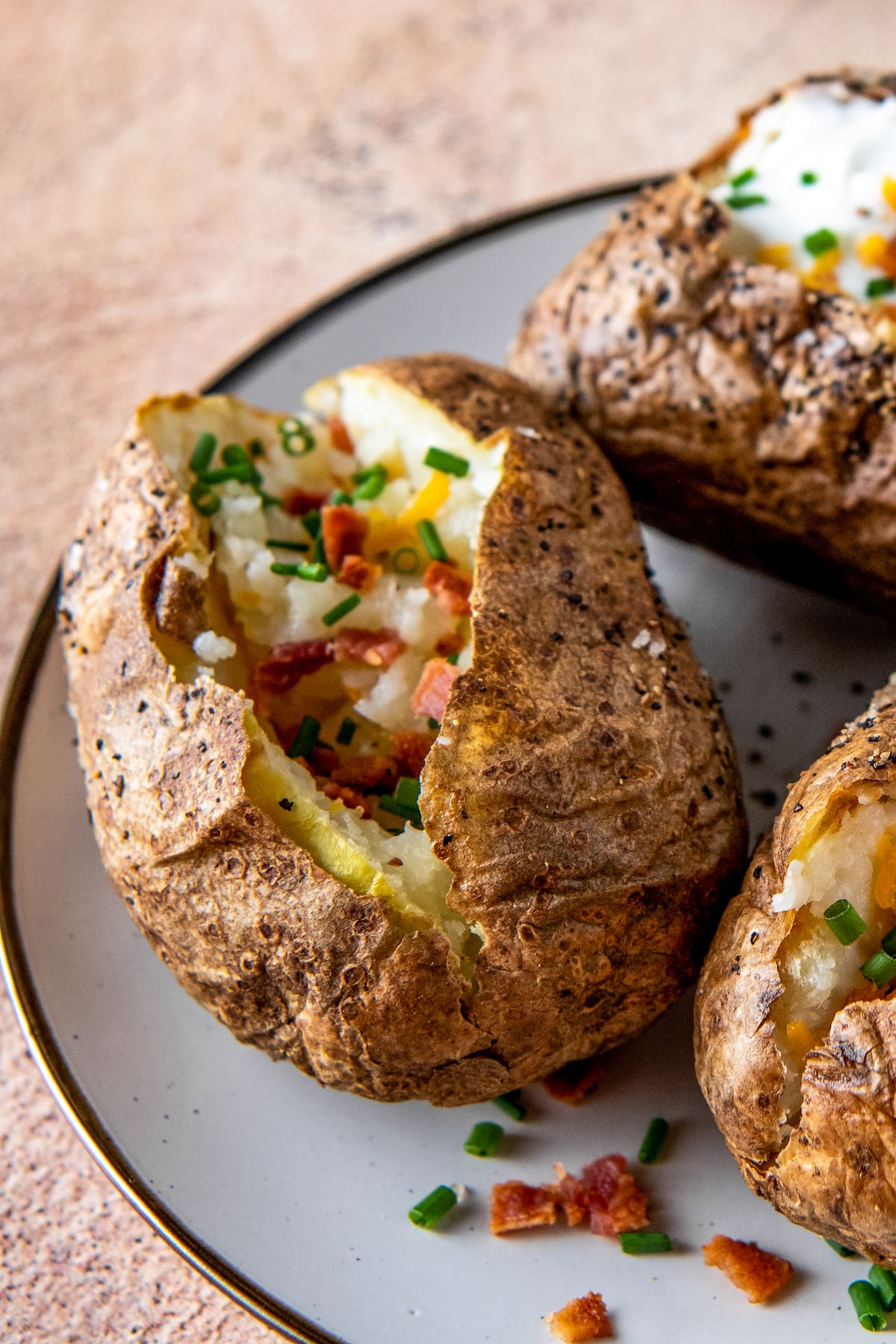 Why Cook A Baked Potato In the Air Fryer
You know how much we love air fryer recipes and this recipe is one we're proud to add to the collection. Here's why we love cooking baked potatoes in an air fryer.
There's no need to use the oven. This makes this recipe great to make when you need to use the oven for other dishes.
The potato crisps up perfectly. The hot air circulates around the potato fast and the circulating hot air cooks the potato skin evenly.
The air fryer turns off by itself. What we love about cooking in the air fryer is that it turns off when the timer is up. This is really helpful when we are running around the house doing other things and we don't have to worry about the potatoes burning.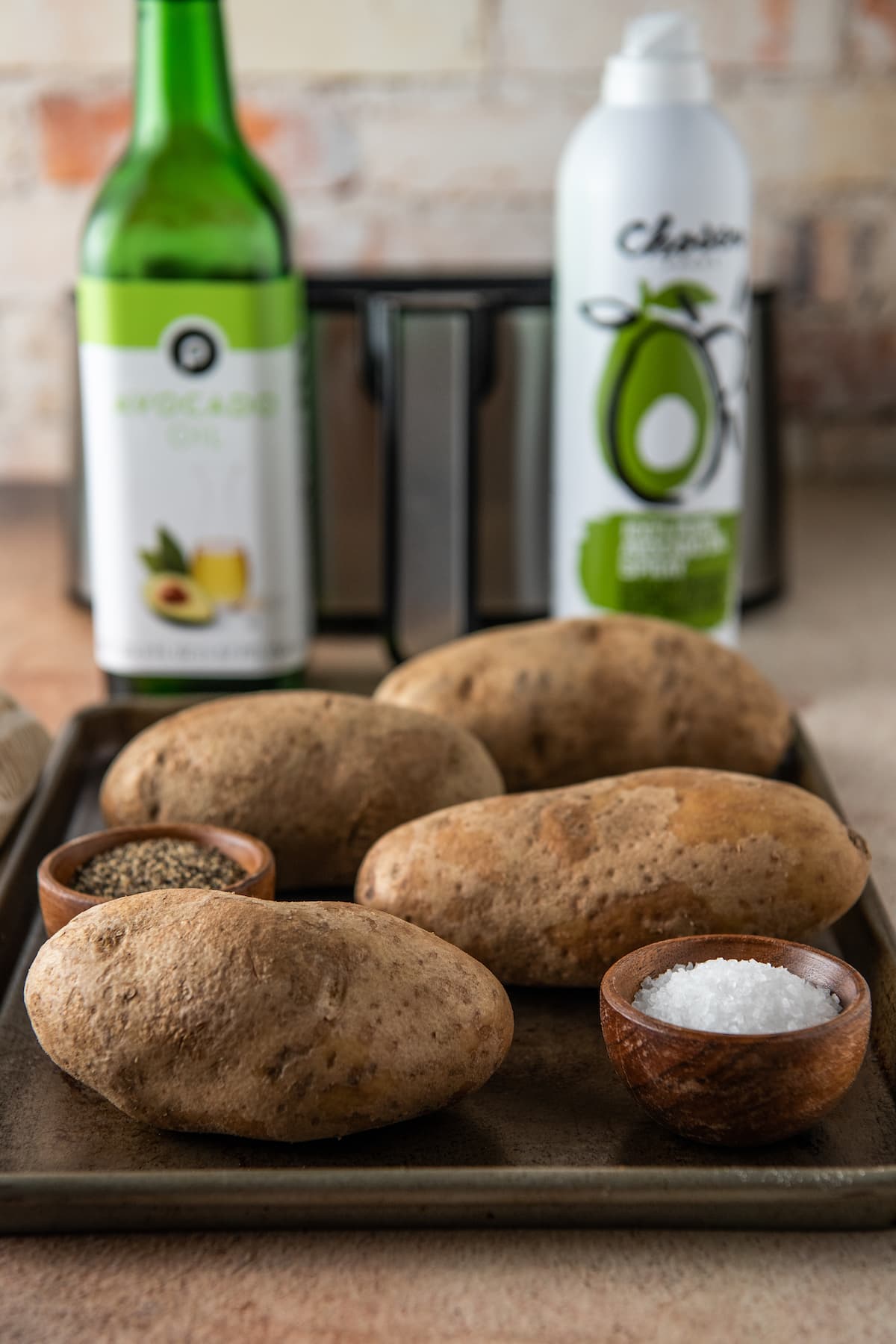 Recipe Ingredients
Here is what you need to make an Air Fryer Baked Potato. There are only four ingredients, making the list short and sweet.
Russet Potatoes: The skin of russet potatoes is perfect for making baked potatoes. It's very thick which allows them to crisp up in the air fryer and contain the heat and moisture to make the insides tender and fluffy.
Avocado Oil: You can also use olive oil or sunflower oil.
Salt and Pepper: The only seasoning you need to make these potatoes perfect!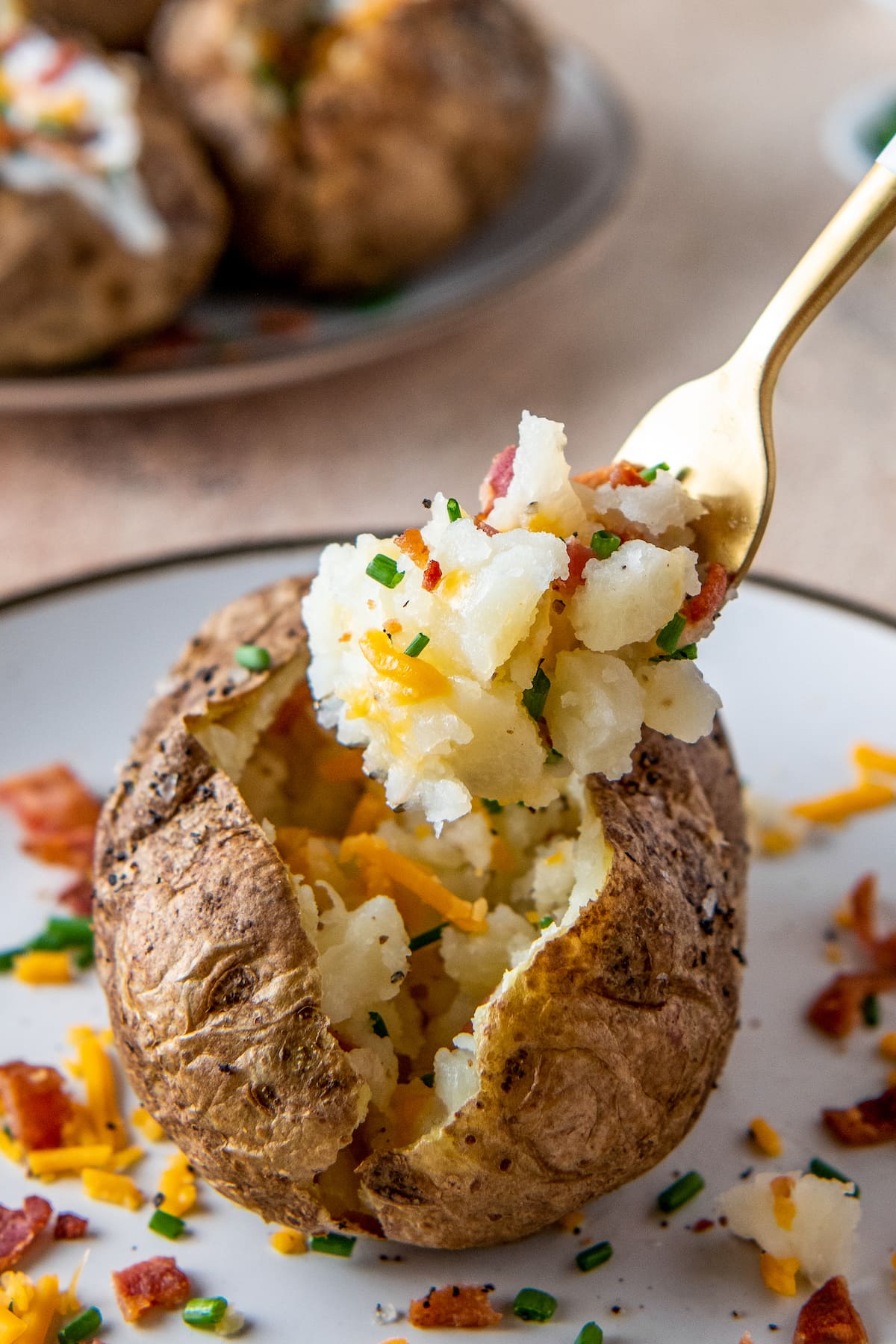 Baked Potato Topping Ideas
Here are some of our favorite topping ideas for the potatoes.
Bacon Pieces: We like to use cooked bacon but you can also use good old-fashioned bacon bits from a bag!
Shredded Cheese: Cheddar and Monterey Jack are great options.
Sour Cream: Or plain Greek Yogurt.
Sliced Chives: You can also use sliced green onions.
Chili: Our Hot Dog Chili is a great recipe to try. It's so quick and easy, too.
Salsa: Adding salsa and cilantro is great…it's even better if you add guacamole!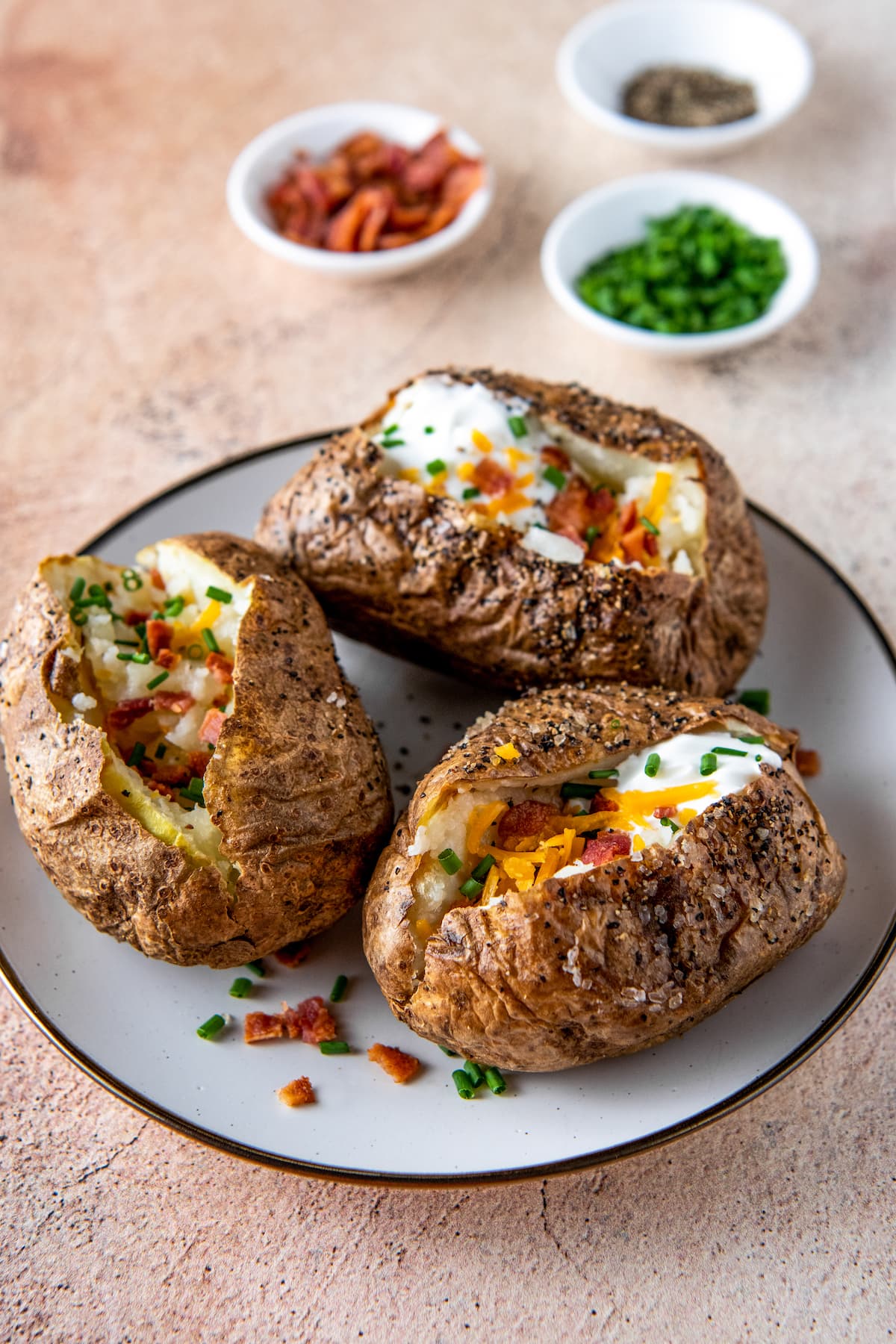 How to Make An Air Fryer Baked Potato
This is one of the simplest side dishes you'll ever make – we promise! Here are the easy steps for making this recipe.
Preheat the air fryer to 400F. It's important to preheat the air fryer for this recipe. If you put the potatoes into a cold air fryer it will take much longer.
Next, prep the potatoes. Do this by rinsing them with water and then patting them dry.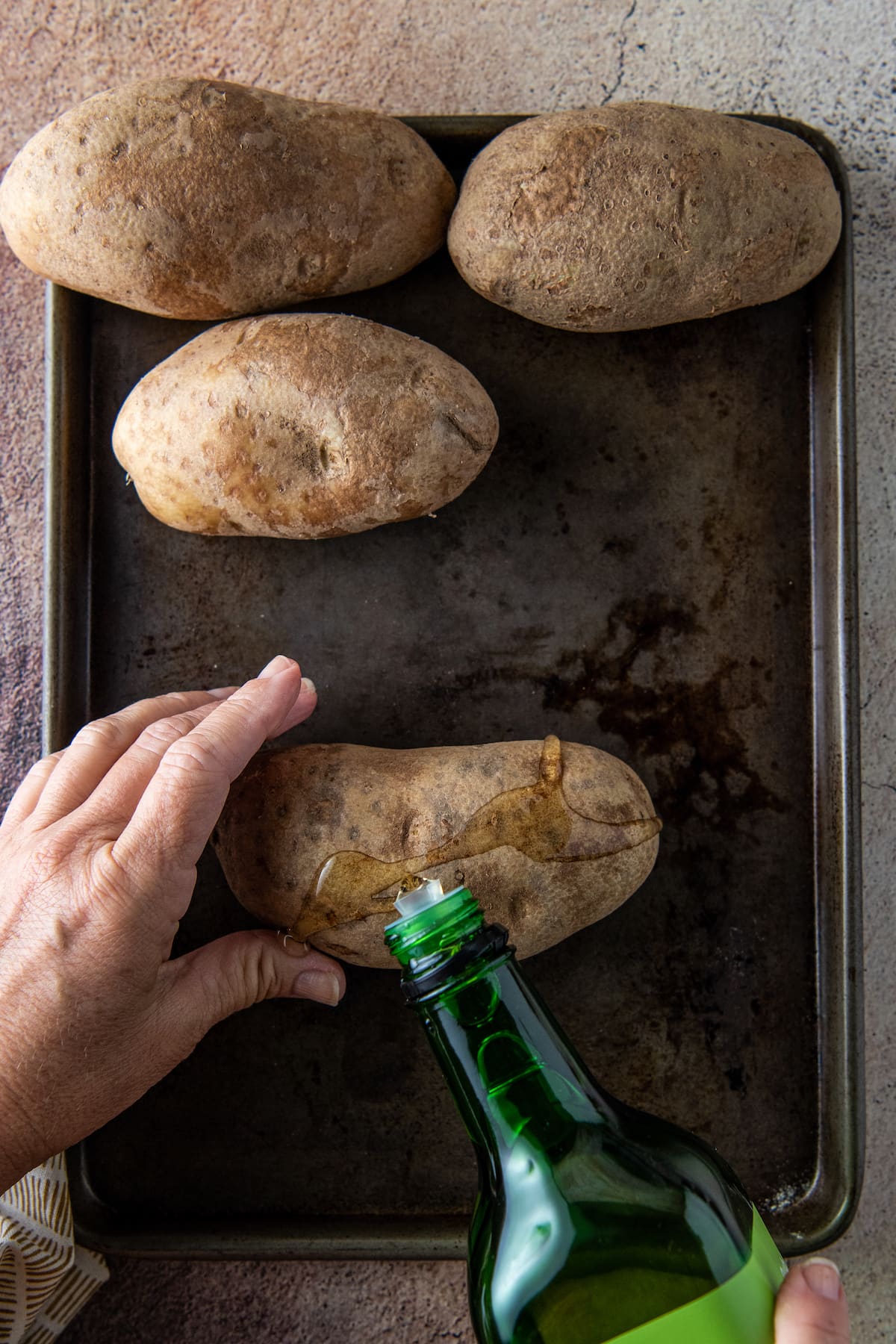 Coat the potatoes with oil, salt, and pepper. Then place them in the air fryer tray making sure that they do not touch each other.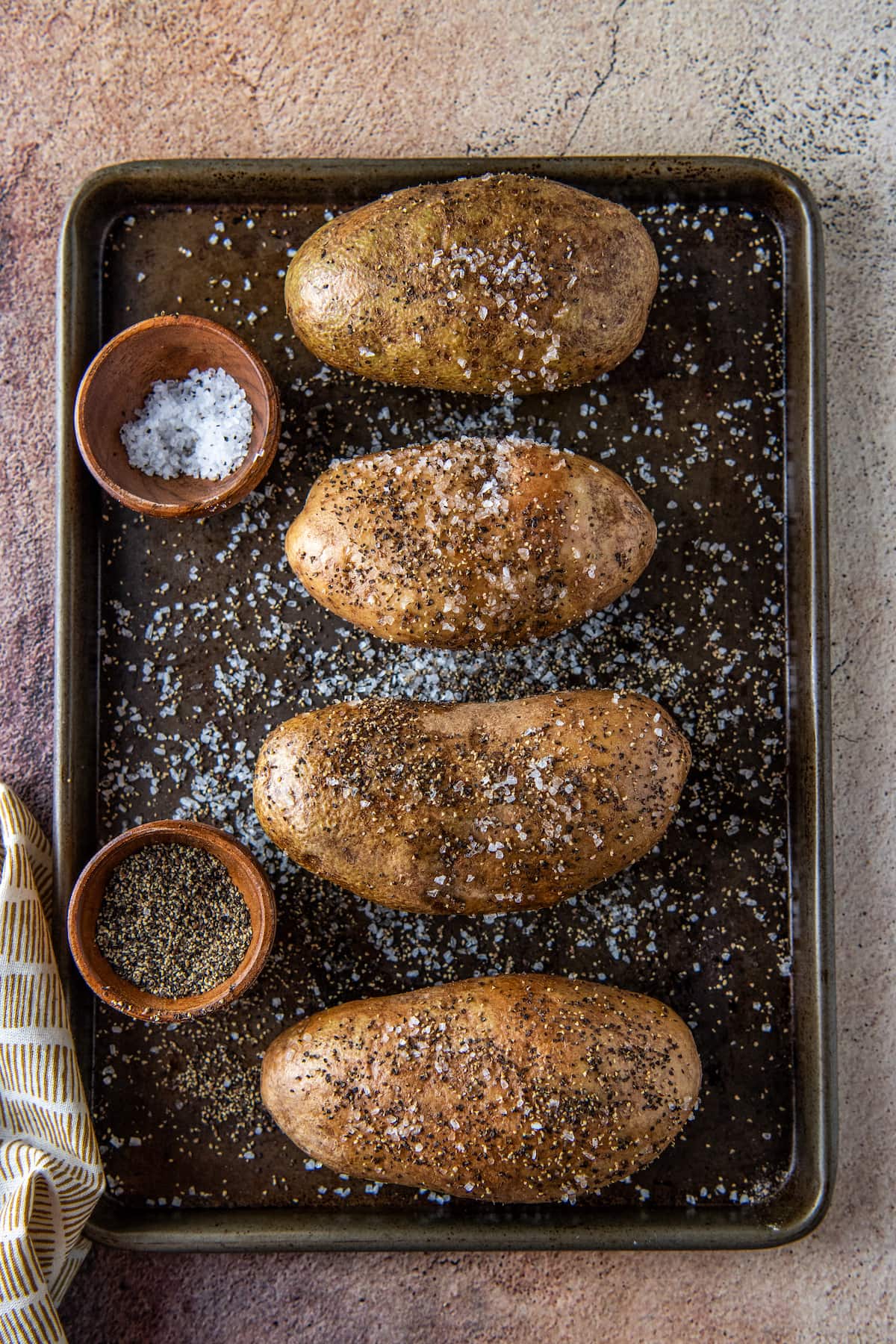 Cook the potatoes for about 40 minutes in the air fryer. You will want to flip the potatoes about halfway.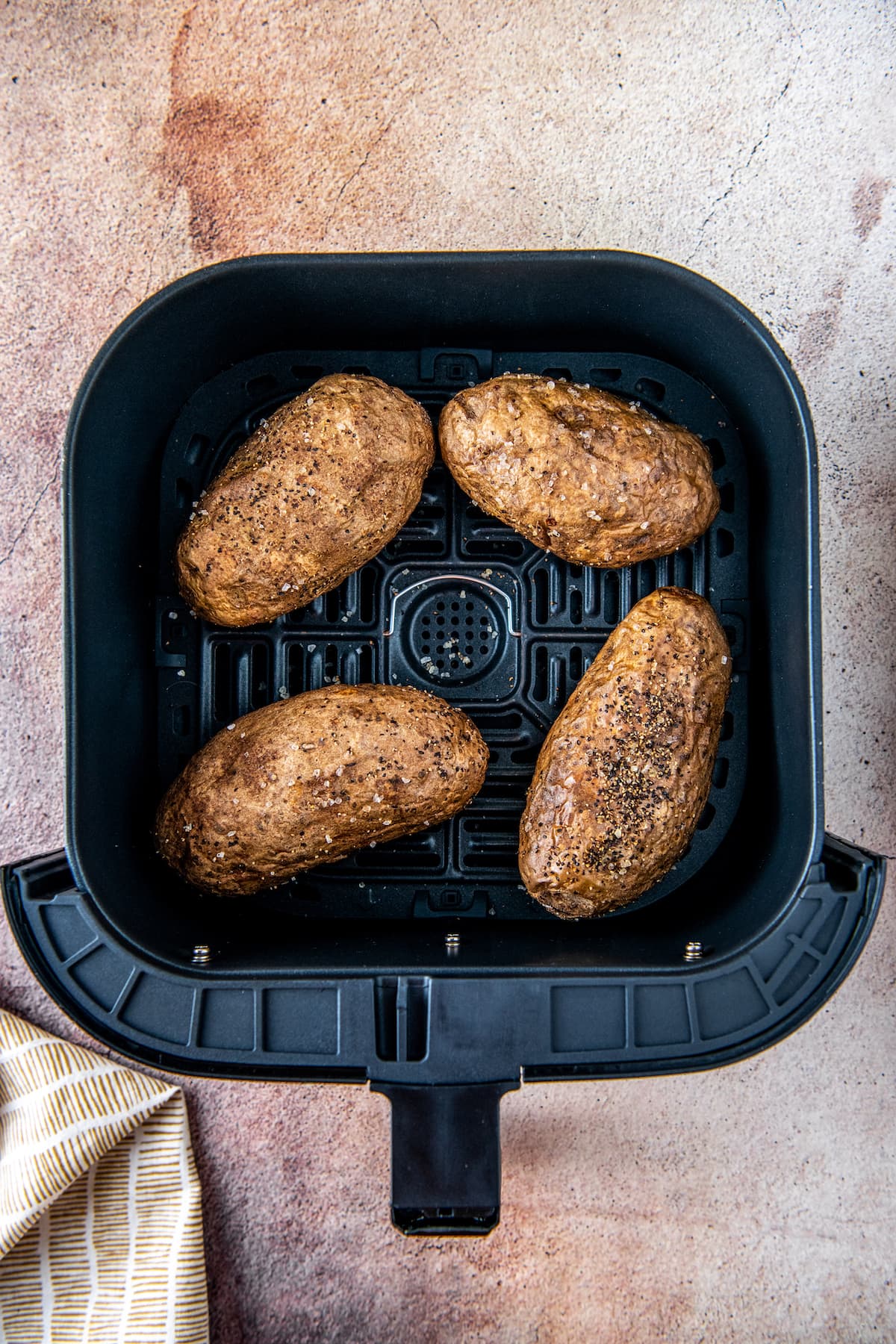 Serve them immediately once they are done in the air fryer. And don't forget to add your favorite toppings!
Tips for Success
Here are a few things to keep in mind when making Air Fryer Baked Potatoes.
Don't overcrowd the air fryer. Make sure there is room between each potato so that they all cook evenly.
Adjust the cooking time based on the size of the potato. We used small to medium potatoes and they cooked for 40 minutes. But if you use a larger potato allow more time for it to bake. Check them at 40 minutes and if it's not ready cook them for 5 more minutes and check again.
Give the potato a squeeze. The easiest way to check for doneness, give the potato a squeeze, if it gives to the touch it is done. Another way to check for doneness, pierce the potato with a fork or knife, if it easily pierces the potato it is done.
Use garlic salt instead. Instead of salt, rub garlic salt on the outside of the potato because it adds a ton of garlic flavor!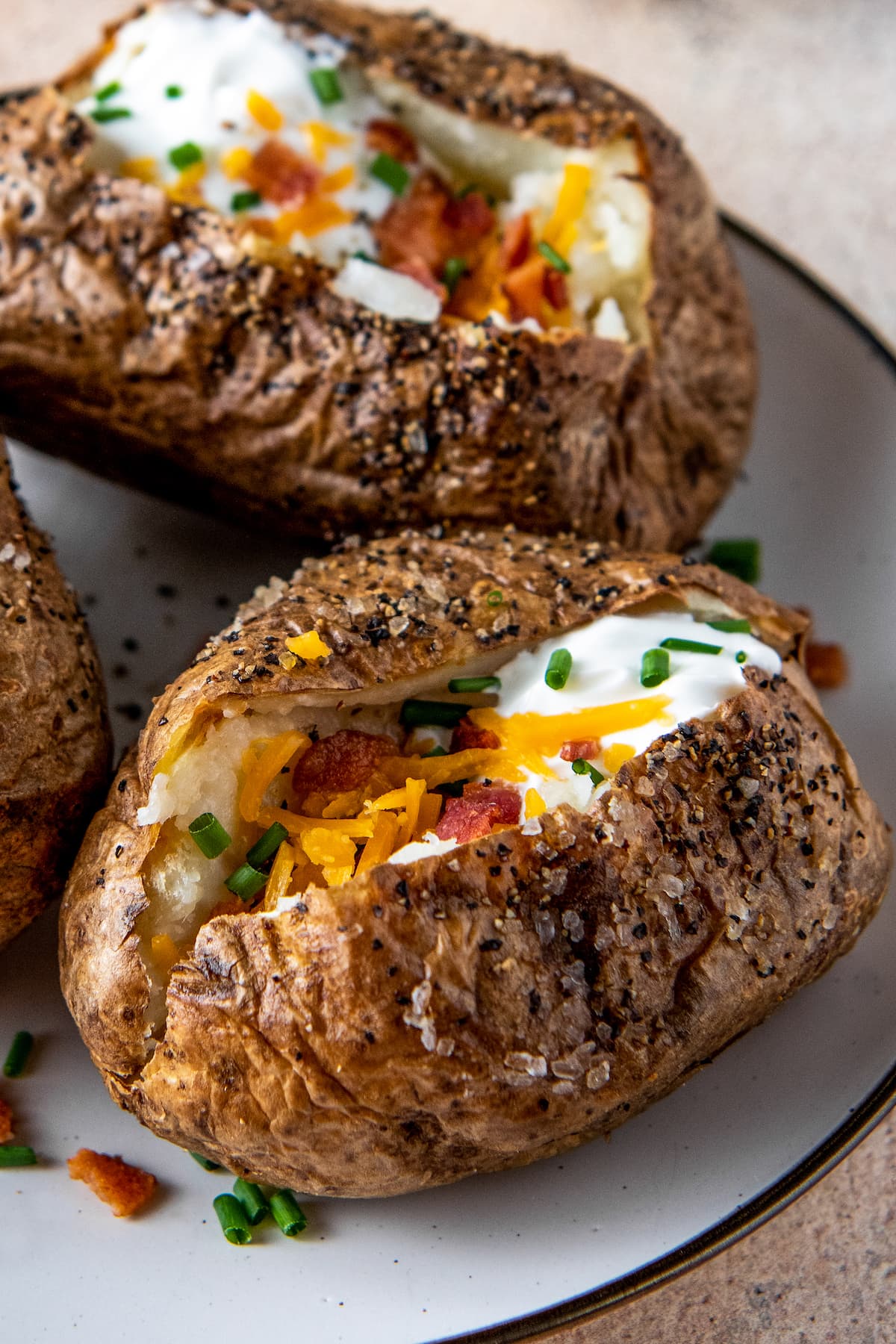 What To Serve This With
You can have an Air Fryer Baked Potato with so many different things! Here are some of our favorite main entrees to try with this easy side dish.
How to Store & Reheat Leftovers
You can store leftover baked potatoes in an airtight container in the fridge for up to 4 days. Then you can reheat them in the air fryer for 3-8 minutes, depending on the size of the potato.
Yield: 4 servings
Air Fryer Baked Potato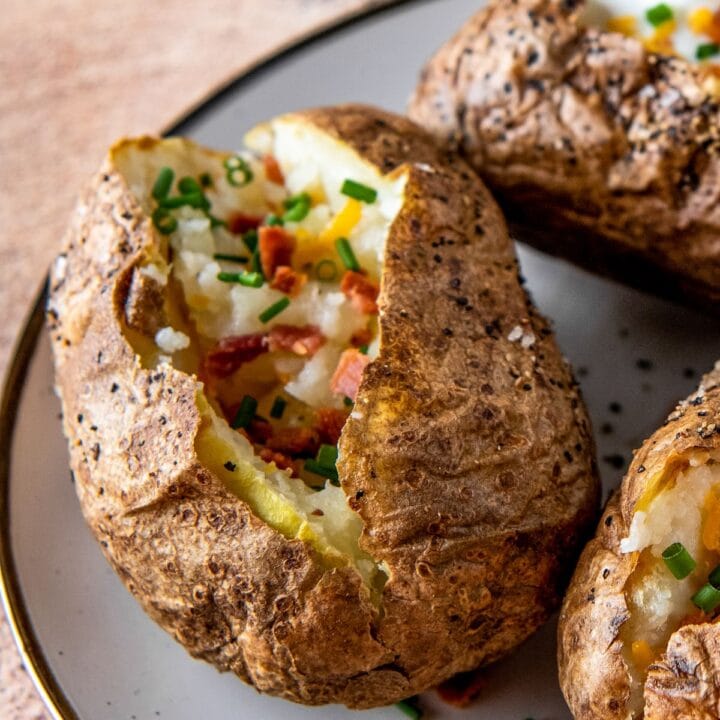 This easy Air Fryer Baked Potato recipe requires only 4 ingredients - potatoes, salt, pepper, and garlic powder. There's no need to heat up the oven for this simple side dish.
Ingredients
4 russet baking potatoes
1 tablespoon avocado oil
1 teaspoon salt
1 teaspoon pepper
Instructions
Preheat air fryer to 400 Degrees F.
Rinse potatoes and pat dry.
Coat potatoes with oil and salt and pepper.
Place potatoes in the air fryer basket and cook on 400 degrees F 40 - 45 minutes, FLIP halfway (20 minute mark) and finish baking.
Serve immediately with butter, cheese, sour cream, bacon bits and chives.
Nutrition Information:
Yield:
4
Serving Size:
1
Amount Per Serving:
Calories:

199
Total Fat:

4g
Saturated Fat:

0g
Trans Fat:

0g
Unsaturated Fat:

3g
Cholesterol:

0mg
Sodium:

553mg
Carbohydrates:

37g
Fiber:

4g
Sugar:

2g
Protein:

5g
Filed Under:
More Easy Air Fryer Side Dishes