This Air Fryer Pesto Grilled Cheese tastes like it's right off a sandwich shop menu! It's buttery and perfectly toasted with gooey mozzarella cheese and lots of basil and garlic flavor from Homemade Pesto.
Crispy Air Fryer Pesto Grilled Cheese
There's regular grilled cheese, and then there's THIS pesto grilled cheese. We have shown how to make the perfect Air Fryer Grilled Cheese, and now we're taking it to the next level.
Adding pesto to grilled cheese adds an earthy and herby element to the sandwich and a ton of garlic flavor. Garlic, basil, and cheese?! It's all delicious – especially when you combine them.
You could easily order this type of sandwich at a fancy deli. But now that you know how to make it home, you can make it time after time, saving money and customizing it to your liking! Use whatever bread you'd like, and treat yourself to fancy mozzarella. And don't forget the Homemade Pesto!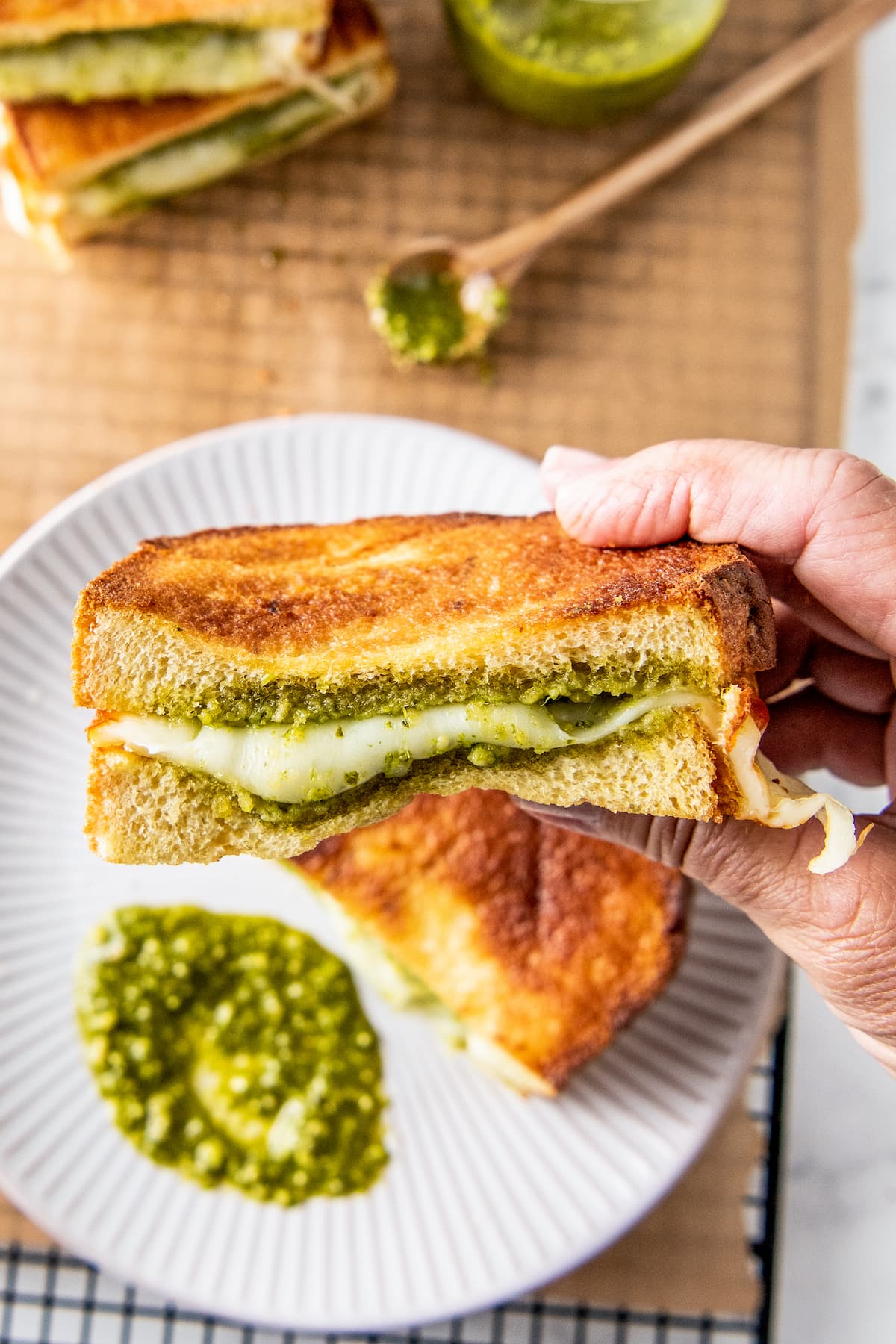 Why You'll Love this Recipe
Here's why you're going to love this recipe! It's one of our favorite sandwiches, and we think you'll agree.
Quick and simple lunch or dinner. You can make this quick for lunch and it's substantial enough to make for dinner. Either way, it's a delicious way to mix up the standard grilled cheese sandwich.
Only has 4 ingredients. You don't need much to make this recipe. In fact, it's just four ingredients. Most of which you probably already have in the kitchen.
No griddle required! You can make this recipe right in your air fryer. It's simple, quick, and foolproof.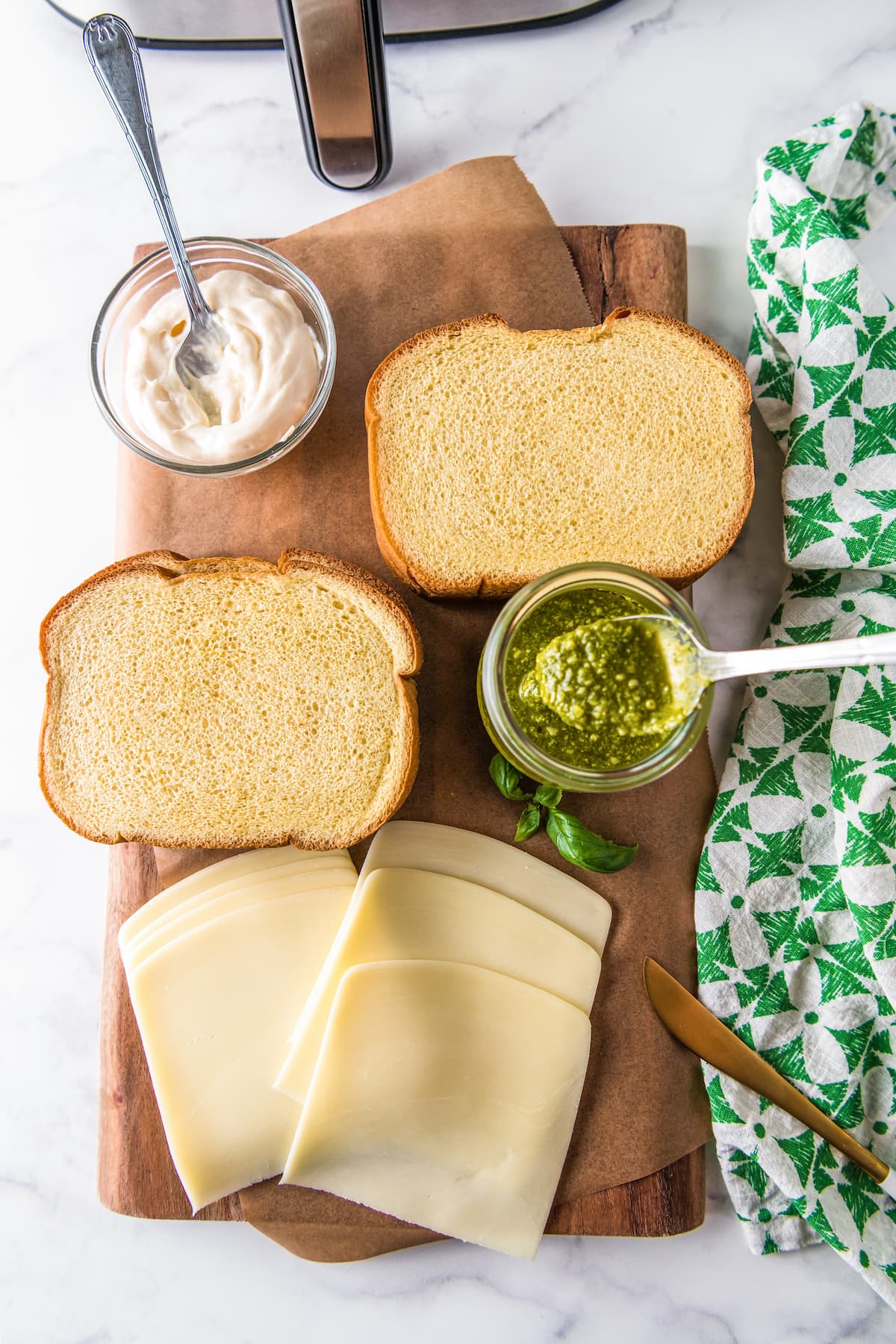 What You'll Need
Here is the short list of ingredients you need to make this recipe.
Sandwich Bread: The beauty here is that you can use whatever bread you like! We like to use white, sourdough, and multigrain.
Mayonnaise: Mayonnaise is the perfect spread that adds flavor and helps the bread crisp up perfectly. Butter can also be used, but we love the crunch that the mayonnaise provides.
Pesto: We highly recommend our Homemade Pesto. It's so easy to make and is a great condiment to have on hand for recipes like this.
Mozzarella Cheese: Using sliced mozzarella cheese is going to be best here. If you can only find the ball of mozzarella, simply slice it as thin as you can. You could also try this recipe with Swiss or cheddar as tasty alternatives.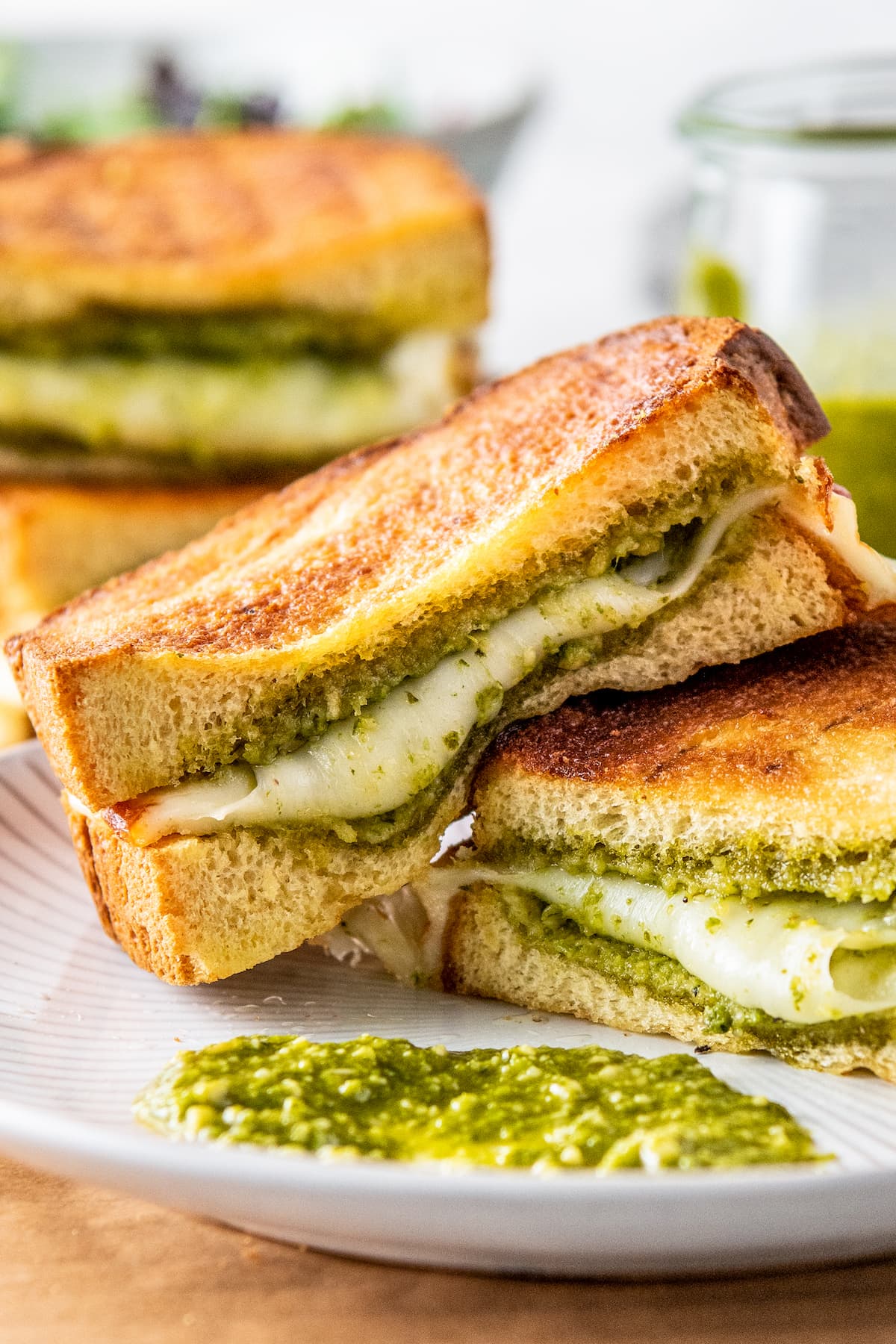 How to Make Air Fryer Pesto Grilled Cheese
Here is how to make this simple grilled cheese sandwich. So, let's break out the air fryer and get started.
First, preheat the air fryer. We always recommend preheating if your air fryer has this function. Why? Because it speeds up the cooking process and helps you get that crispy outer crust.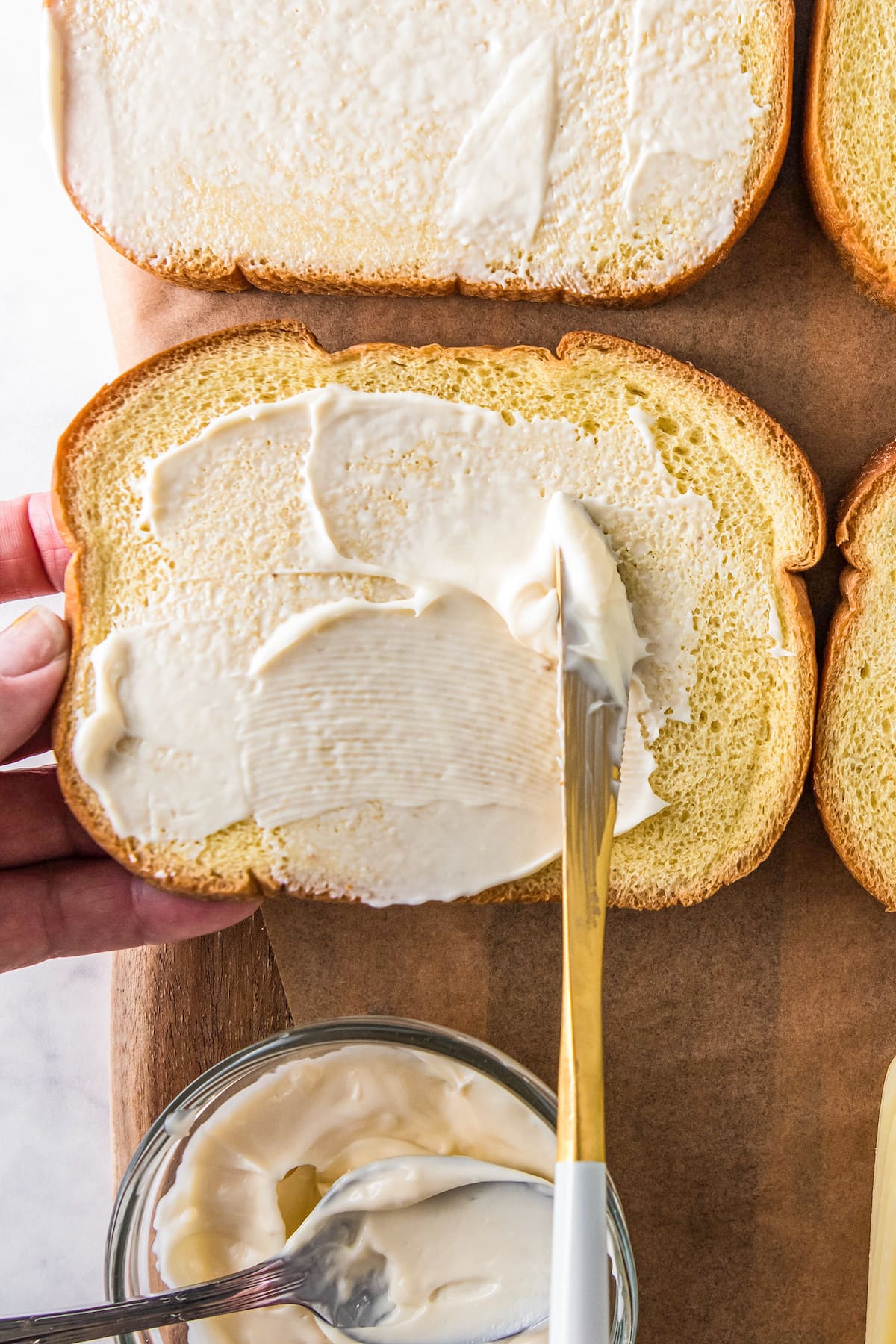 Next, spread mayonnaise on the outside of four slices of bread. This is a trick that you either swear by or you think it's strange. But believe us, it's the best way to get that golden crispy bread when making grilled cheese! Alternatively, you can use butter and get similar results.
Then spread the pesto on two of the slices of bread. Make sure you spread on the opposite side of the mayonnaise (the inside of the sandwich).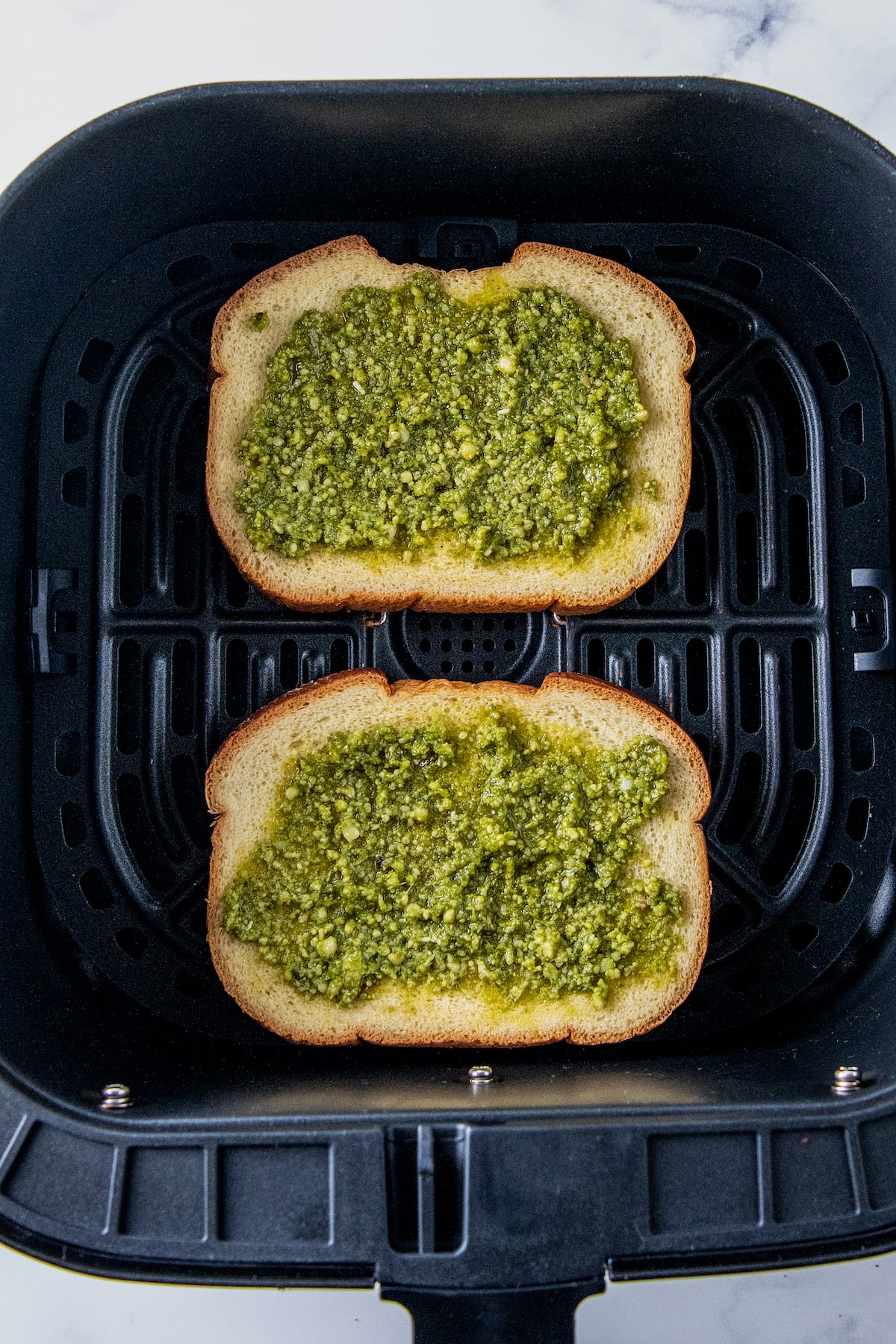 Place two slices of bread mayo side down in the air fryer. Remember, the pesto side (inside of the sandwich) should be facing up.
Add three slices of cheese on top of the pesto on each slice. Then, add more pesto on top of the cheese.
Next, top the sandwiches with the other slices of bread. Make sure that the mayonnaise side is facing up.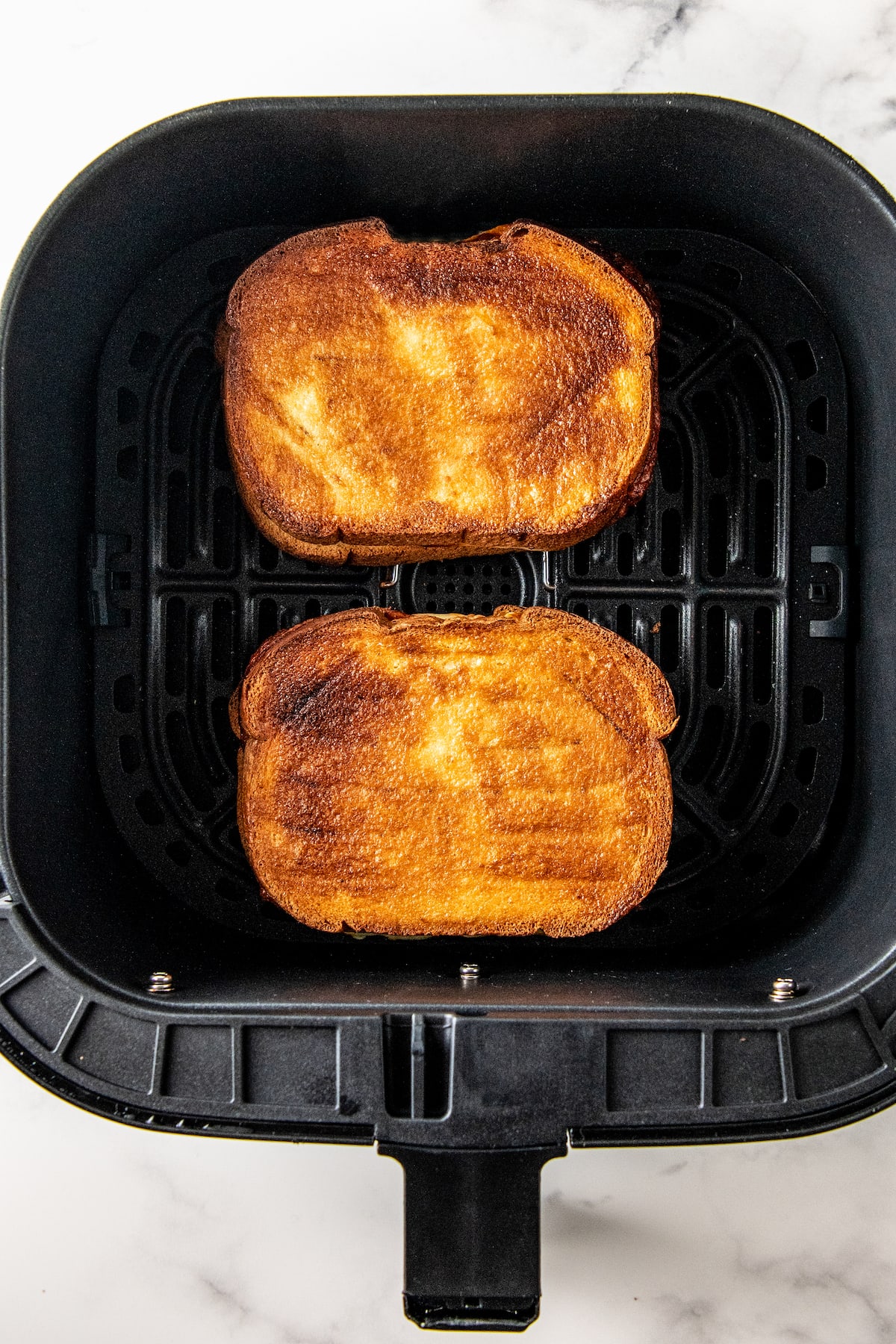 Air fry the sandwiches for about 8 minutes. Make sure that you flip the sandwiches about halfway through so that it toasts evenly.
Your Pesto Grilled Cheese Sandwiches are ready! Slice the sandwiches in half and serve them immediately.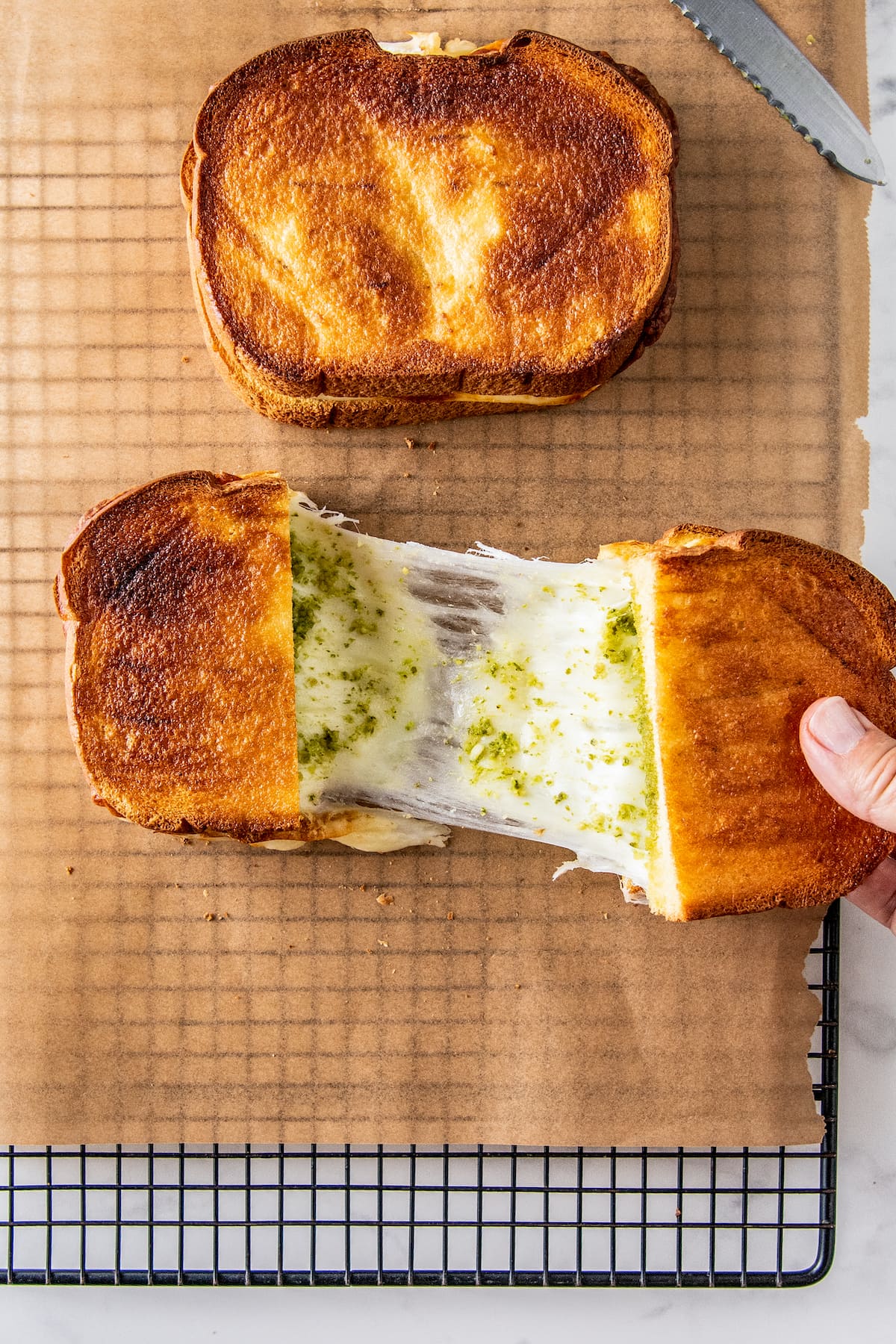 Tips for Success
Here are a few tips to keep in mind when making this recipe. We want it to come out perfectly for you!
Frozen bread is ok to use. Actually, you may even prefer to use a few slices of frozen bread. It's easier to spread pesto and mayonnaise on frozen slices if you're using very soft or thin bread. Keep in mind though that you may need to add a minute or two to the cooking time.
Boost the flavor. Add some fresh basil or tomato slices to add really great flavor to this sandwich.
Add protein. You could also add sliced turkey or chicken pieces to this sandwich to make it a little heartier.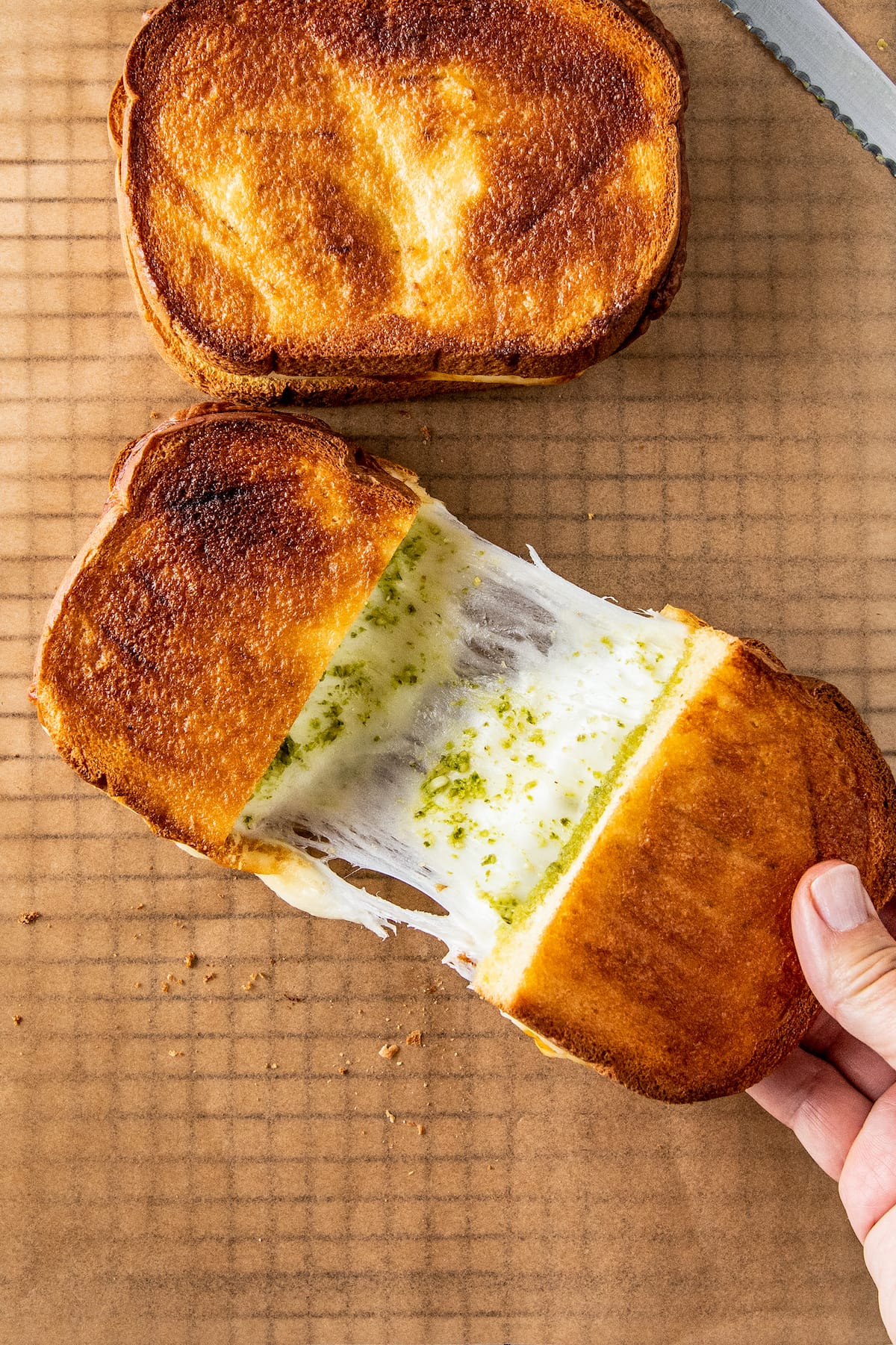 What Goes With a Pesto Grilled Cheese Sandwich?
This sandwich makes a great lunch or dinner. Here are some of our favorite sides and other pairings to make it the ultimate meal.
Make it a soup and sandwich combo. We have a lot of great soup options that pair great with this sandwich. We recommend our Vegetable Soup, Minestrone Soup, and Butternut Squash Soup. A classic Roasted Tomato Soup would obviously also be amazing!
Add a side salad. You can serve it with a simple side of greens or an oil-based pasta salad would work great, too.
Keep it simple. Sometimes all you need is a simple side of potato chips or cut up fruit to make a simple and delicious lunch.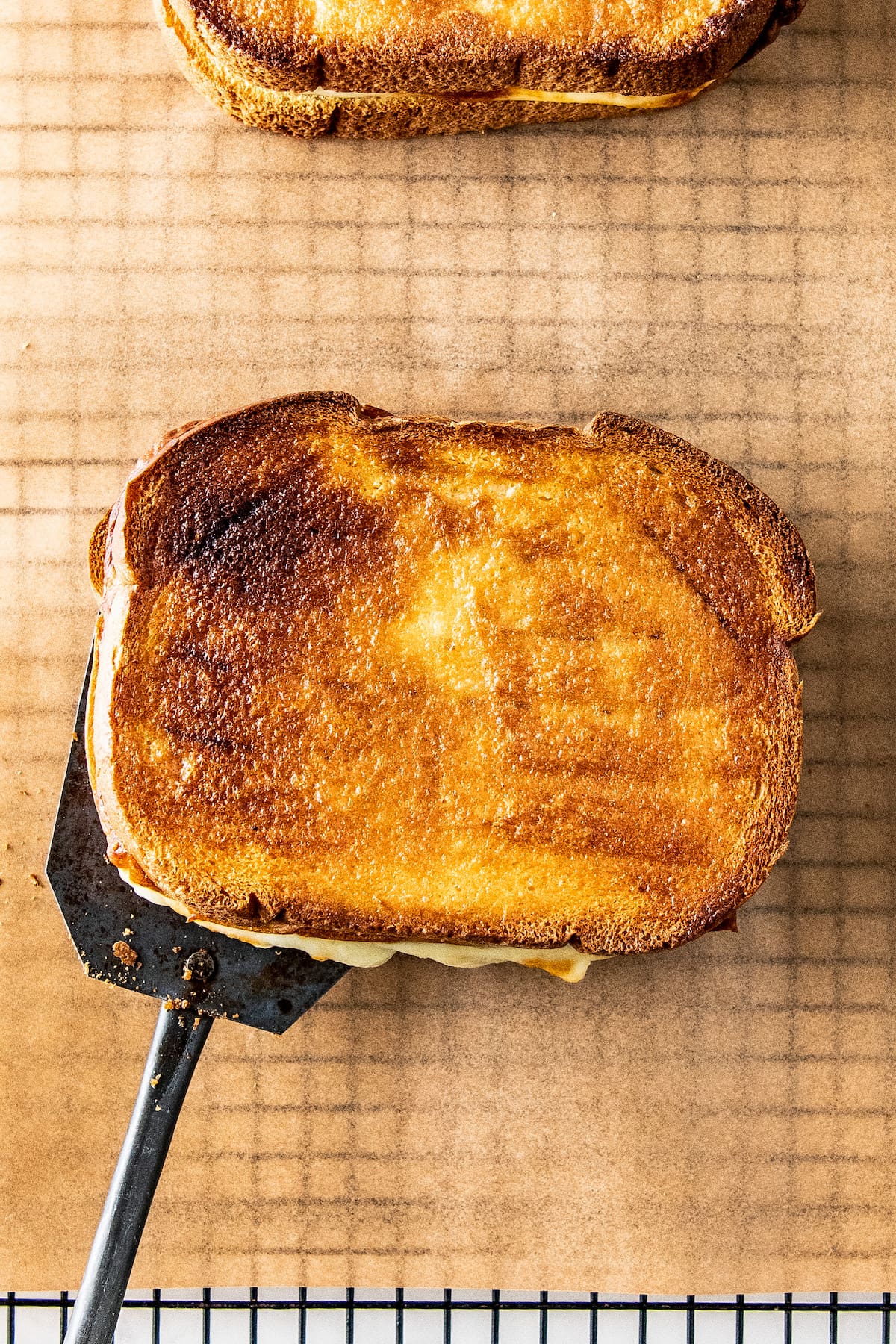 How to Store Leftovers
This sandwich should really be enjoyed fresh because it's so delicious right out of the air fryer! If you do have any leftovers, we recommend wrapping the sandwich in plastic wrap or foil. Then store it in the refrigerator for up to 3 days.
Reheating a Grilled Cheese in the Air Fryer
You'll definitely want to reheat any leftover sandwiches. It's so simple to reheat in the air fryer. You can put the sandwiches back into the air fryer and reheat for 4-5 minutes or until the cheese is melted.
Can I Freeze Extras?
We recommend making this sandwich fresh and not freezing any extras. It's so simple to make and shouldn't take you more than a few minutes to put together!
Air Fryer Pesto Grilled Cheese
This Air Fryer Pesto Grilled Cheese has perfectly toasted bread with melted mozzarella and herby pesto. The air fryer cooks the sandwich perfectly without having to use a griddle.
Ingredients
4

slices

sandwich bread

2

tablespoons

mayonnaise

,

or softened butter

3

tablespoons

homemade pesto

6

slices

mozzarella cheese
Instructions
If you air fryer needs to preheat, preheat air fryer to 375°F.

Spread the mayonnaise evenly over the outside of each piece of bread.

Place two slices of bread, butter side down, in the air fryer basket. Spread pesto on the inside of the bread in the basket.

Place 3 slices of cheese on top of the pesto, spread pesto over the cheese and cover with another piece of bread, mayo side up. Repeat with the remaining sandwich.

Air fry at 375°F for 8 minutes, flipping the sandwich half way though. Serve immediately!
Nutrition
Serving:
1
,
Calories:
636
kcal
,
Carbohydrates:
34
g
,
Protein:
27
g
,
Fat:
43
g
,
Saturated Fat:
15
g
,
Polyunsaturated Fat:
25
g
,
Cholesterol:
79
mg
,
Sodium:
1044
mg
,
Fiber:
2
g
,
Sugar:
5
g
More Air Fryer Recipes to Try