This Air Fryer Grilled Cheese is by far the simplest way to make this classic sandwich. If you like grilled cheese, you're going to love this perfectly toasted, cheddar-filled, buttery sandwich!
Easiest Ever Air Fryer Grilled Cheese
Having a grilled cheese for dinner is so nostalgic! Growing up, grilled cheese and tomato soup was always such a comforting, satisfying meal. When we make this classic sandwich today, though, the process is a little different from all those years ago.
Now, we're huge fans of this Air Fryer Grilled Cheese recipe. Yep, we are putting a sandwich in the air fryer and it's amazing! Using the air fryer helps the bread toast up perfectly, without getting greasy and messy. Plus, the sandwich holds its shape, so the bread is still light and fluffy while holding together the gooey cheese.
We're here to help you make simple dinners and this one is a breeze! You'll be so amazed at how easy and delicious it is to make a sandwich in the air fryer.
If you're looking to switch things up even more, try out this Air Fryer Pesto Grilled Cheese recipe! You'll be so glad you did.
Why You'll Love This Grilled Cheese Recipe
There are lots of reasons to love this recipe. Here's why you're going to want to bookmark this buttery grilled cheese!
There are only 3 ingredients. Who doesn't love a dinner that comes together with just 3 ingredients?!
It takes 10 minutes. The prep only takes a few minutes and then the air fryer does the rest of the work. We honestly find it a lot easier than cooking grilled cheese on the stove.
You can customize it however you'd like. You can keep this recipe as-is, or add in other ingredients or use different bread or cheese. The options are endless!
No messy griddle. Cooking grilled cheese in the air fryer is a much cleaner way to make this sandwich. Less grease and melted butter!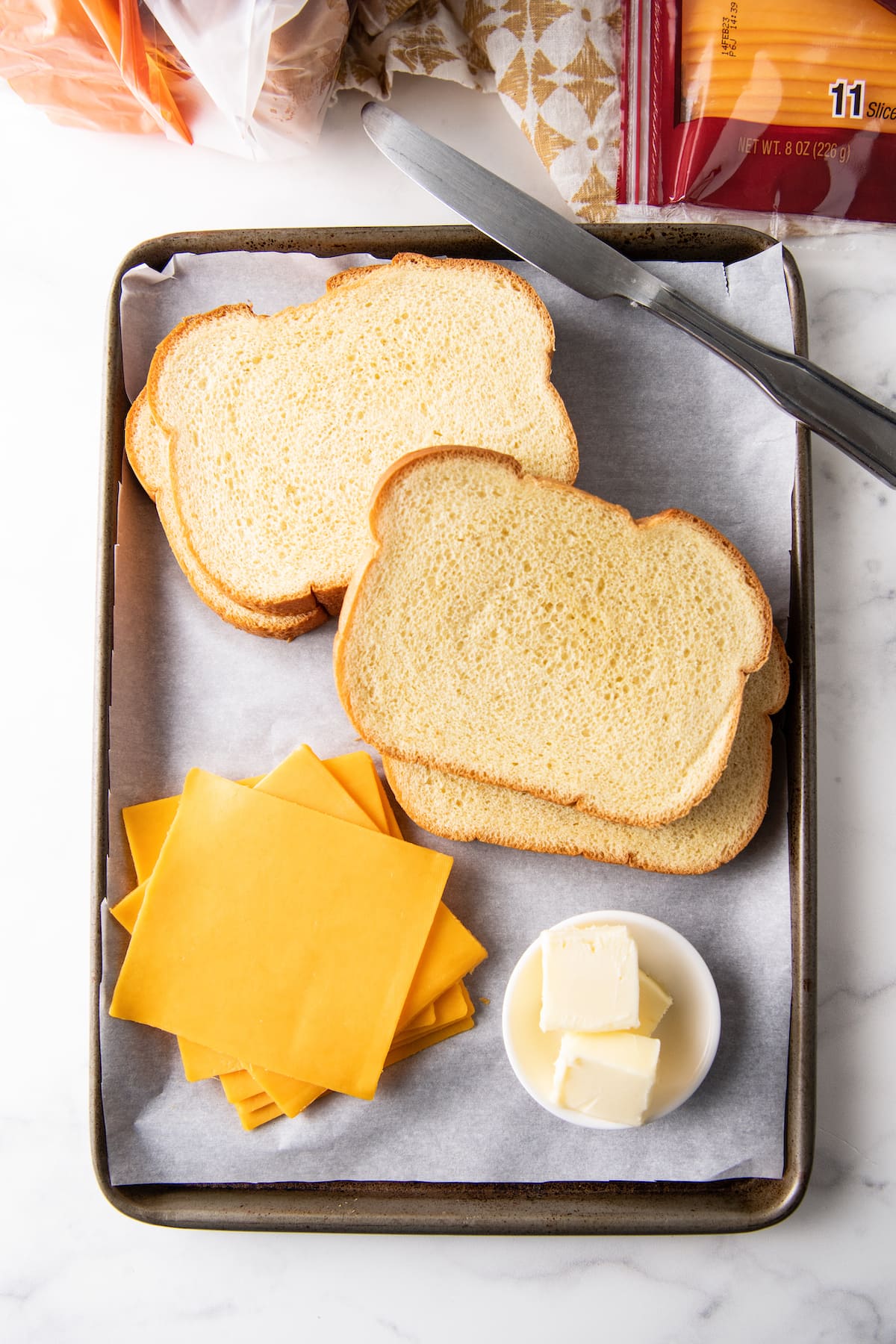 What You'll Need
Here is what you need to make a grilled cheese in the air fryer. If you're looking for the exact amounts for each ingredient, check out the recipe card below!
Sandwich Bread: Use whatever bread you like! We love to use a thick cut of white bread or sourdough.
Butter: Softened butter works best for spreading. Alternatively, you could use mayonnaise. (Yes, we said mayonnaise! Give it a shot!)
Cheddar Cheese: You can also use sliced American, mozzarella, swiss, or you could even combine a few cheeses.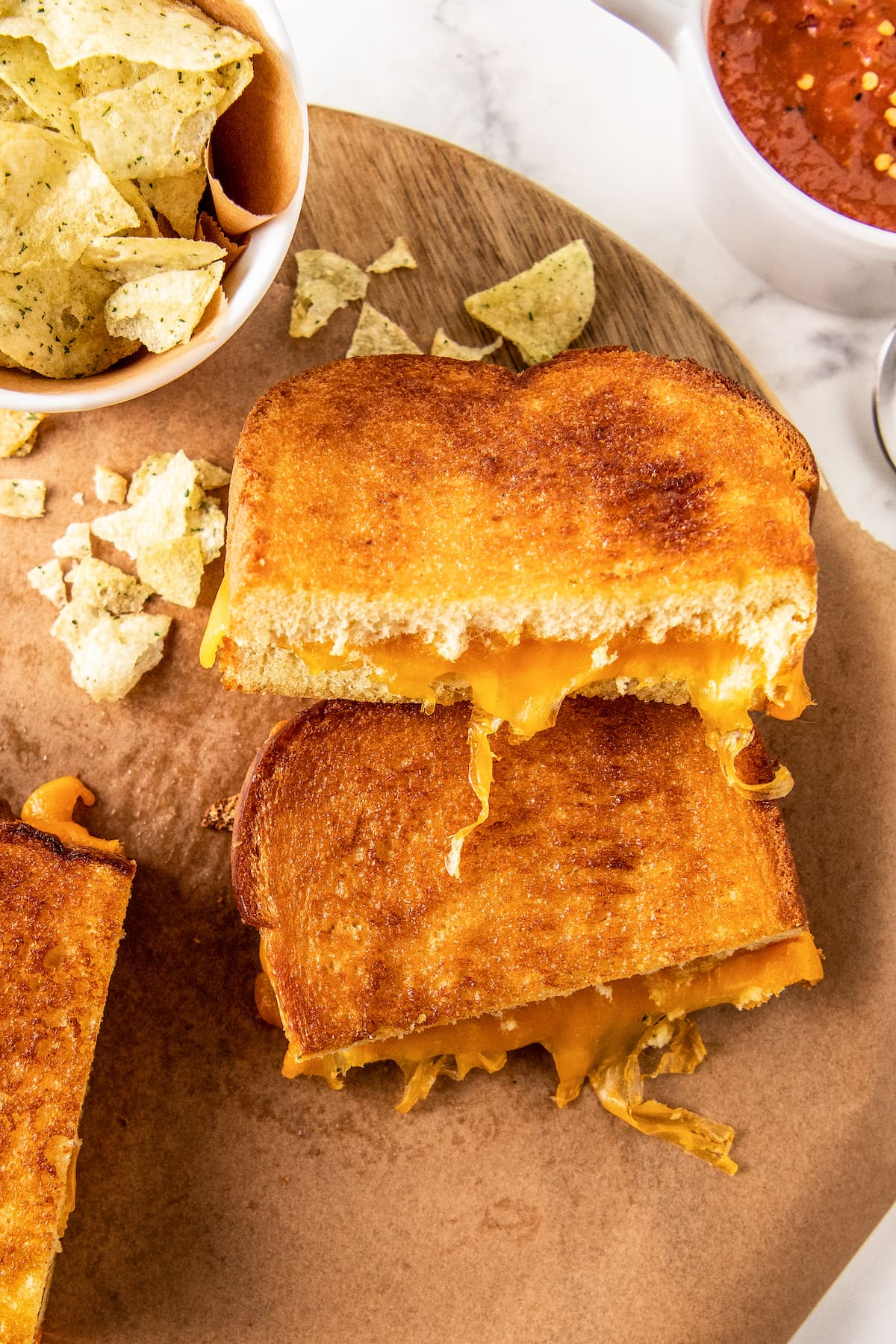 How to Make an Air Fryer Grilled Cheese
Making this recipe is so simple! Here's what you need to do. (Take a look at the recipe card below for the full set of directions!)
Preheat the air fryer. You'll want to do this so that the cooking time is accurate. You may have to cook the sandwich longer if the air fryer is not preheated.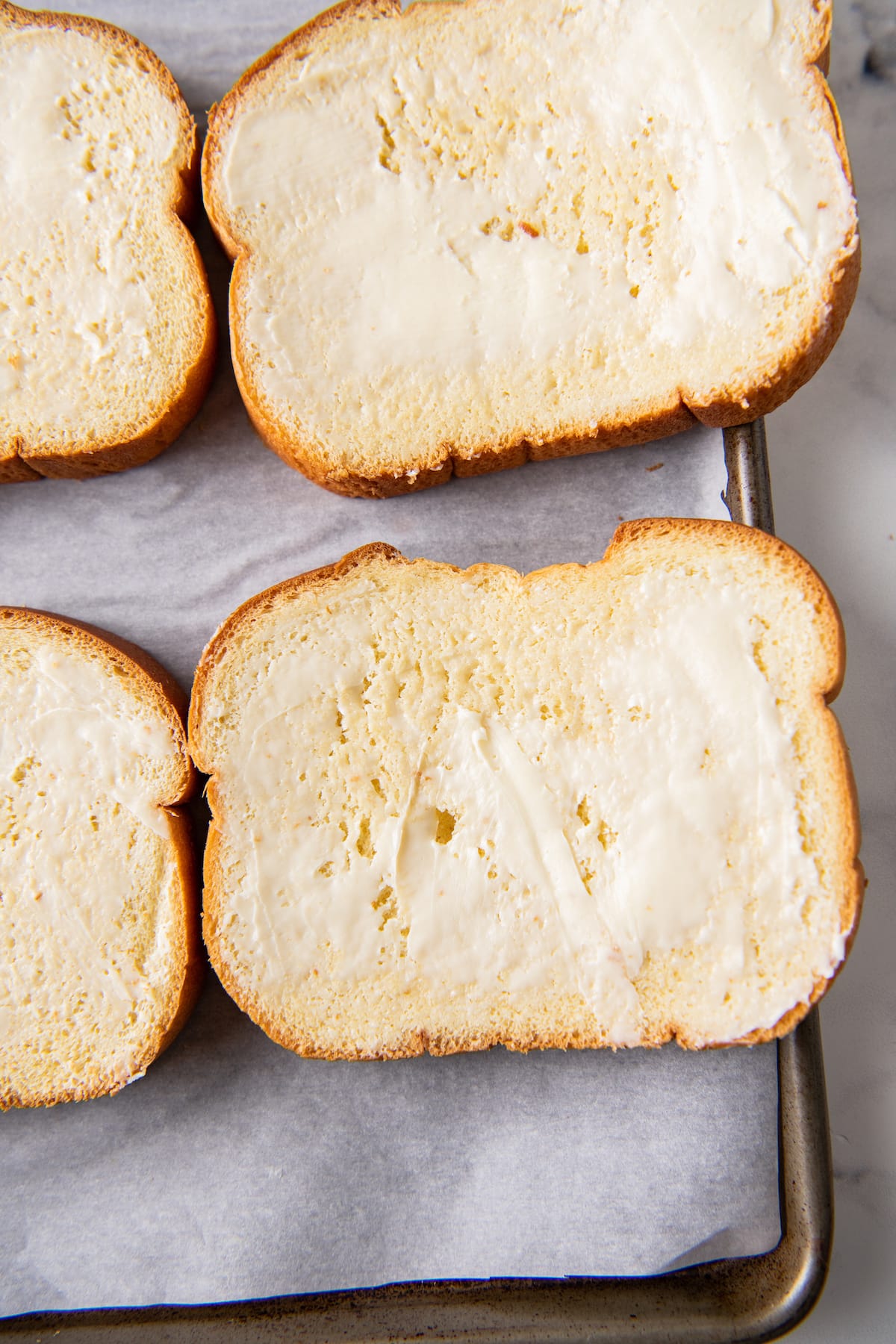 Next, spread butter onto one side of each of the slices of bread. Then put two slices of the bread, butter side down, in the air fryer.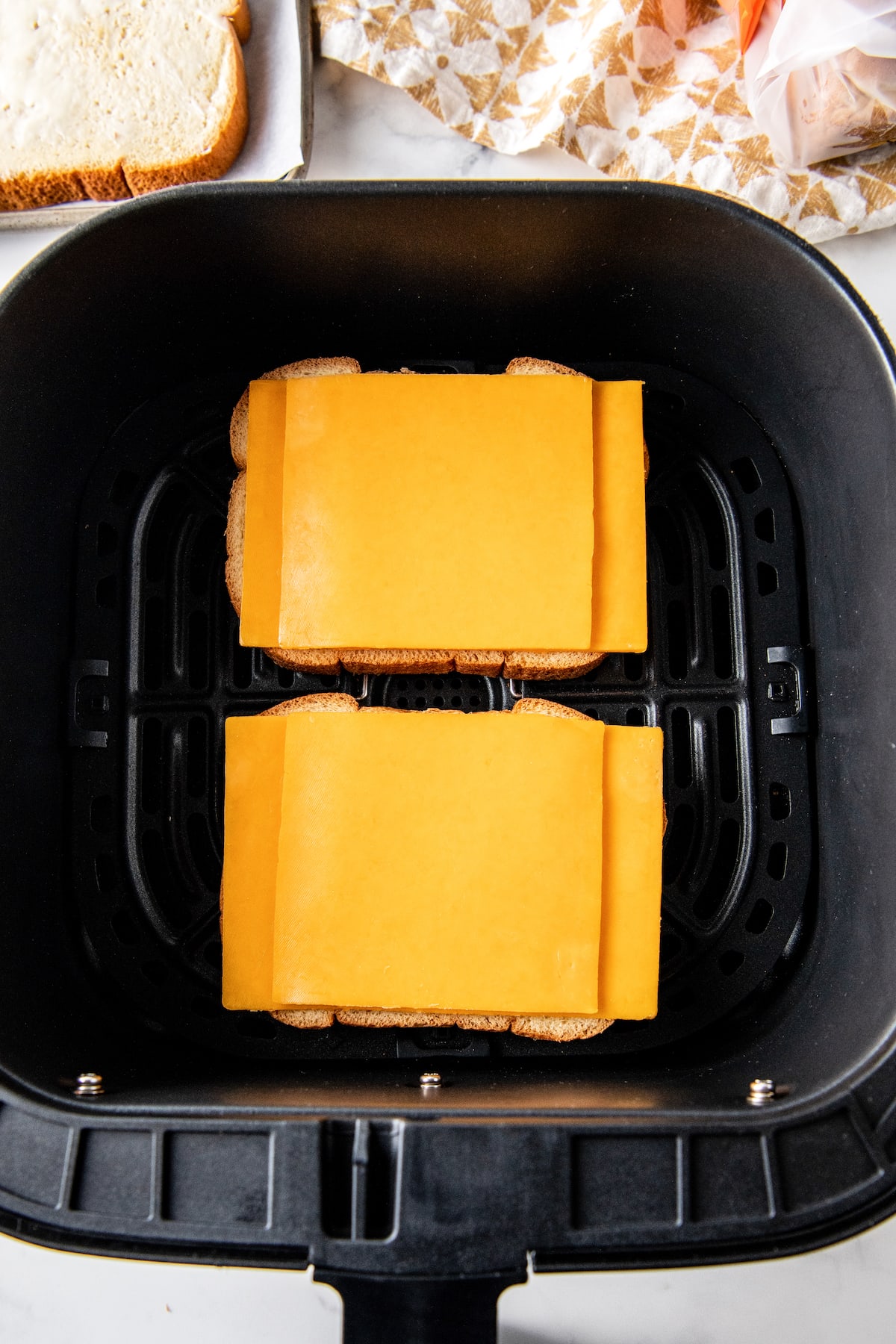 Add the cheese. Next, you'll add slices of cheese to the slices of bread.
Then top the sandwiches with the other buttered slices. Make sure that the butter side is facing up.
Let the air fryer do the work! Air fry the sandwiches for about 8 minutes. You'll want to flip them about halfway through so that they toast evenly. Then, serve the sandwiches immediately!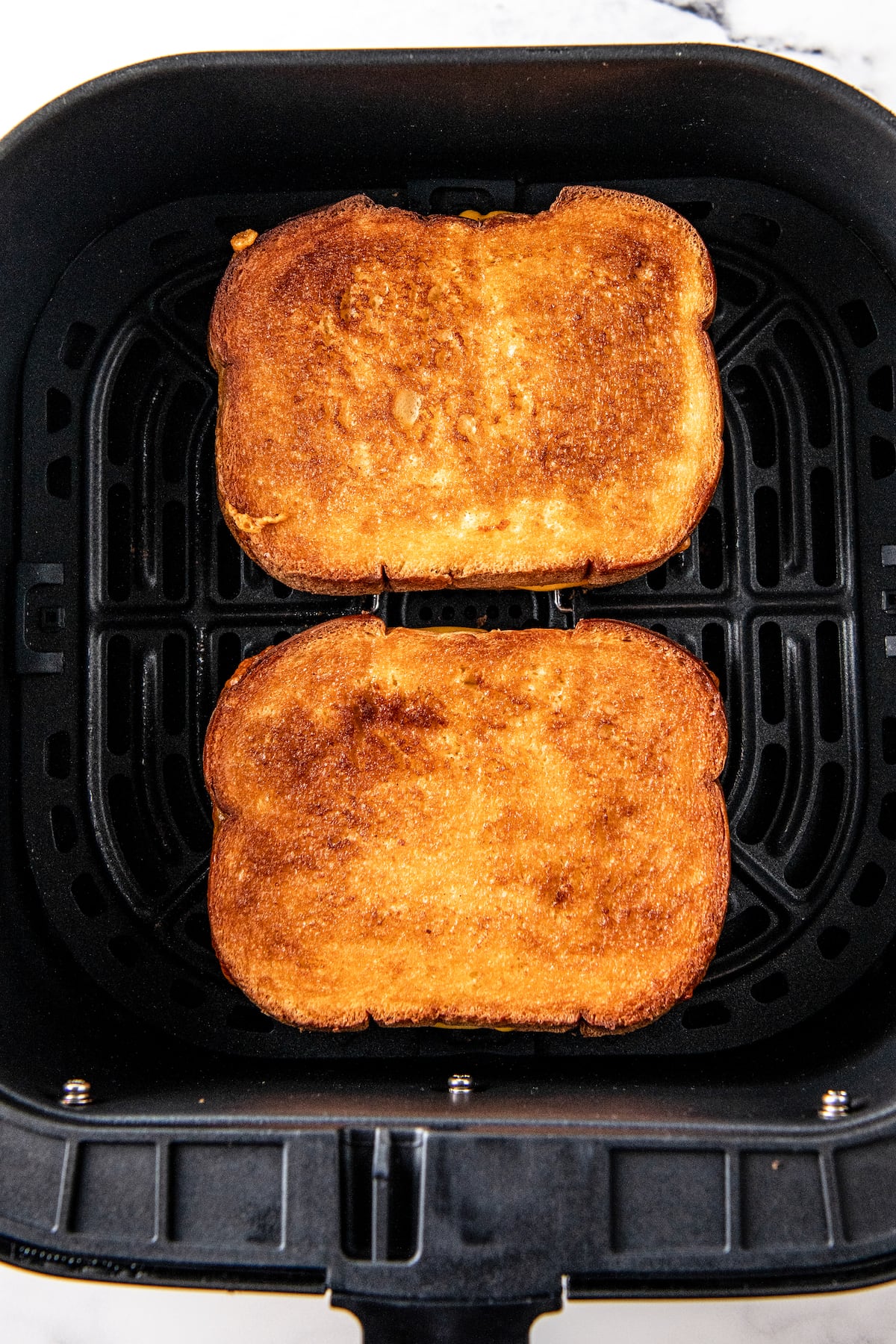 Tips for Success
Here are a few tips to follow along the way for the best results with your air fryer grilled cheese sandwiches.
Use thicker bread slices. You'll want to stick with medium to thick slices of bread for an air fryer grilled cheese. Thin slices of bread tend to dry out and overcook in the air fryer.
Use softened butter. All you need to do is keep your butter at room temperature for a few minutes so that it softens up. You want to cover the slices of bread edge-to-edge with butter for the best flavor.
Don't overcrowd the air fryer. Depending on the size of your air fryer, you may only be able to put one sandwich in at a time. Just make sure that if you do put multiple sandwiches in that they are not touching or overlapping.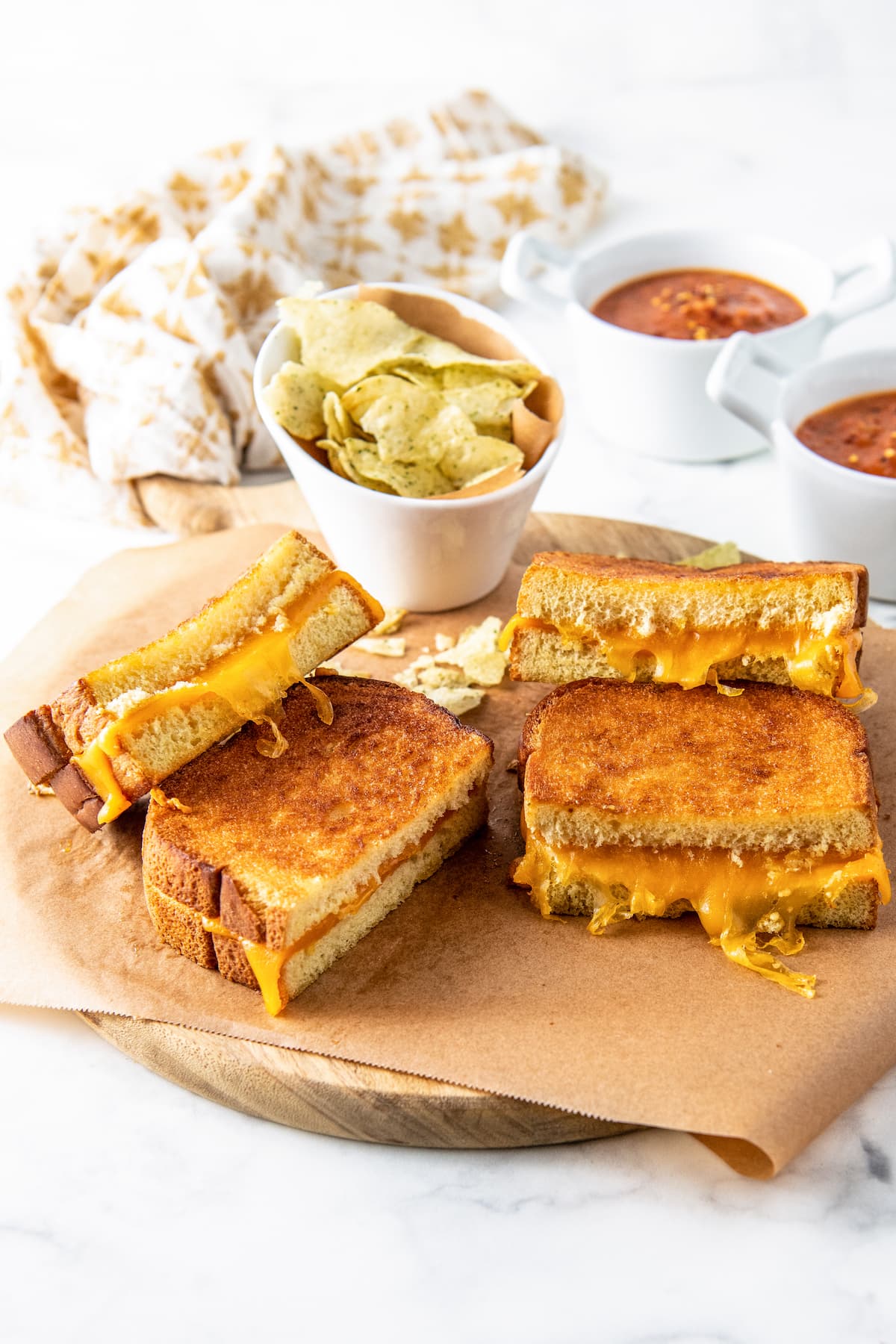 Variation Ideas
There are lots of ways to dress up a basic grilled cheese. Here are some of our favorites!
Add fresh or roasted vegetables. Some suggestions include tomatoes, roasted red peppers, and spinach.
Add bacon. Adding crispy bacon to a grilled cheese is always delicious!
Use a compound butter. Try using flavored butter like garlic or Herb Butter instead of regular butter.
This recipe can be gluten-free. Gluten-free bread options work great with this recipe, too!
Frequently Asked Questions
Why isn't my cheese melting in the air fryer?
It could be that the slices of cheese used were too thick. If you are not using pre-sliced cheese (i.e. you are cutting it from a block) make sure that you cut slices on the thinner side so that the cheese is sure to melt within the cooking time.
What kind of cheese is best for a grilled cheese?
As mentioned above, you can use cheddar cheese, sliced American, mozzarella, swiss, or even a mix of cheeses if you like. Freshly grated cheese melts the easiest, but we often stick to sliced cheese because it's simpler.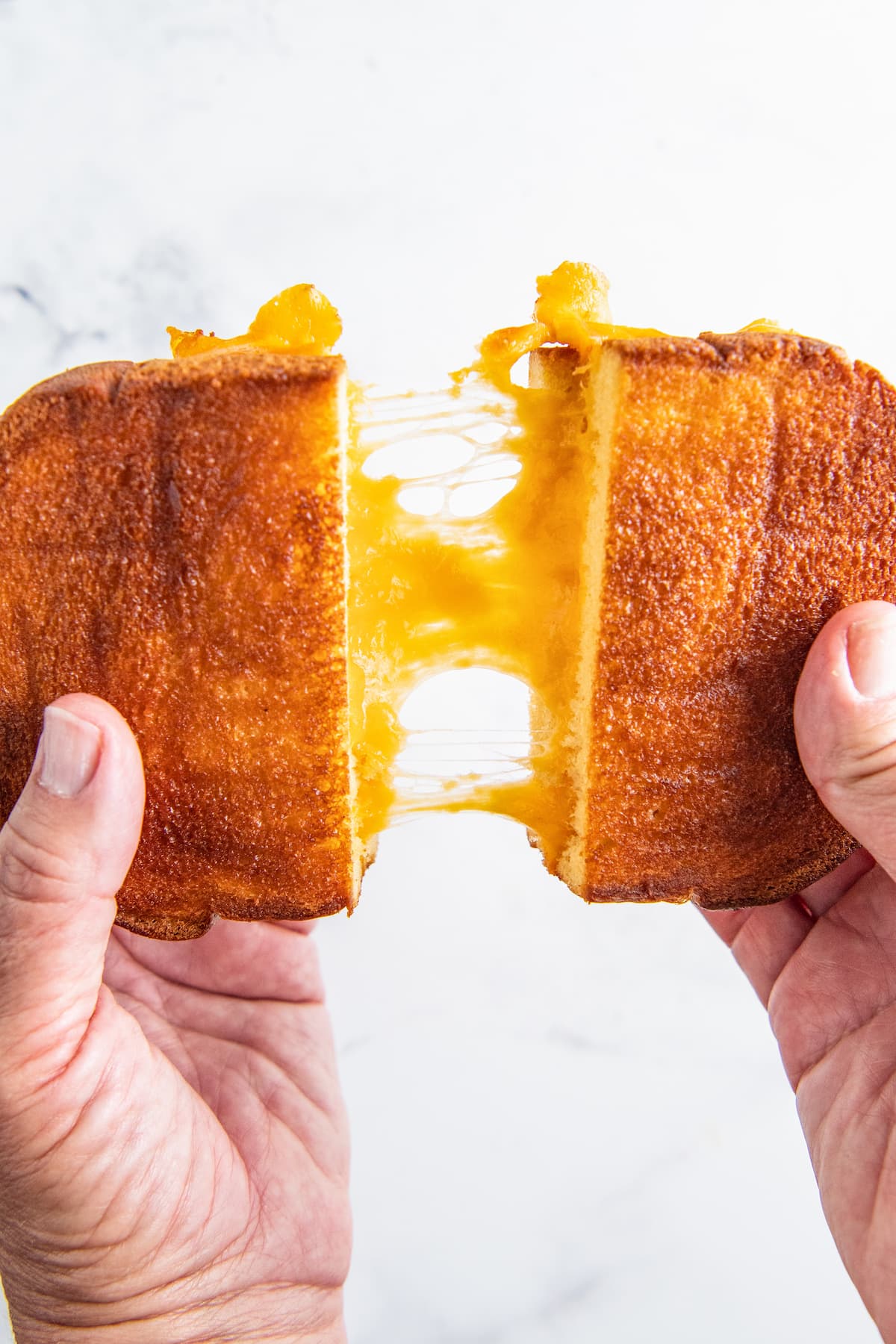 What Goes With a Grilled Cheese Sandwich?
What else pairs perfectly with grilled cheese besides classic tomato soup? Here are some of our go-to side dishes.
More soup options. This sandwich tastes incredible dipped into many other soups like our Butternut Squash Soup or Minestrone Soup.
Pair it with a salad. A simple mixed greens salad will balance out the meal and keep it healthy. You could also make our Mediterranean Chicken and Quinoa Salad for a more protein-packed meal.
The perfect sandwich side – potato chips! There is a potato chip for everyone. We love to keep it really simple by grabbing our favorite bag of chips when we make this recipe.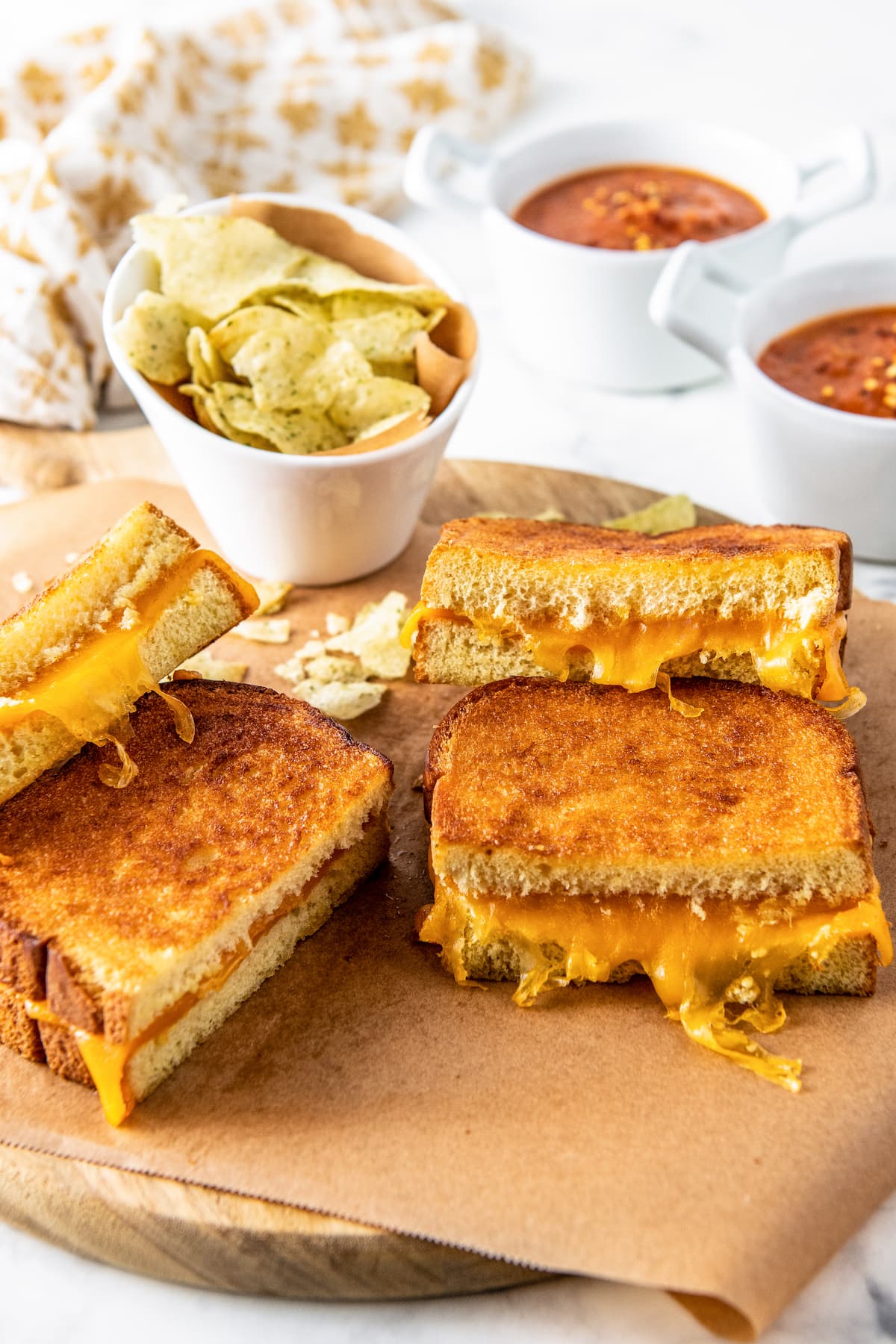 How to Store & Reheat Leftovers
This sandwich is best served fresh and eaten right away. But if you do have leftovers, it's ok! There's an easy way to keep the sandwich fresh.
To store. We like to wrap the sandwich with foil or plastic wrap and keep it in the fridge for up to 3 days.
To reheat. One of the best uses for an air fryer is reheating leftovers! It does a really great job of keeping things fresh and crispy. (Unlike the microwave, which can't make food crispy again.) We recommend taking the sandwich out of the fridge for a few minutes before cooking it. This will take the chill off and ensure that when you reheat the sandwich it doesn't burn. Then, simply put the sandwich back in the air fryer and cook for about 3 minutes.
Can I Freeze Extras?
We recommend that you enjoy these sandwiches fresh and not freeze any leftovers. It's such a quick and simple meal. There really is no need to freeze them.
More Air Fryer Recipes
Looking for more easy air fryer dinners to try? Check out these ones!
Air Fryer Grilled Cheese
Air fryer grilled cheese sandwiches are so buttery and perfectly toasted. These classic, gooey cheddar sandwiches can be made for lunch, dinner, or even a hearty snack!
Ingredients
4

slices

sandwich bread

2

tablespoons

soft butter

6

slices

cheddar cheese
Instructions
If your air fryer needs to preheat, preheat air fryer to 375°F.

Spread the butter evenly over the outside of each piece of bread.

Place one slice of bread, butter side down, in the air fryer basket.

Place 3 slices of cheese on the bread and cover with another piece of bread, butter side up. Repeat steps 3 and 4 for the remaining sandwich.

Air fry at 375°F for 8 minutes, flipping the sandwich half way though. Serve immediately!
Notes
Storage and Reheating:
You can wrap any leftover sandwiches in saran wrap or place them in a ziplock bag and store for up to 3 days. Reheat in the air fryer for 2 minutes at 375°F.
Nutrition
Serving:
1
,
Calories:
606
kcal
,
Carbohydrates:
33
g
,
Protein:
25
g
,
Fat:
42
g
,
Saturated Fat:
24
g
,
Polyunsaturated Fat:
14
g
,
Trans Fat:
1
g
,
Cholesterol:
114
mg
,
Sodium:
944
mg
,
Fiber:
2
g
,
Sugar:
4
g