This is the best Easy Guacamole Recipe out there! It's a crowd-pleaser and is ready in 5 minutes. You only need ripe avocados, a lime and two simple seasonings to make the most irresistible guacamole you've ever had.
The Best Guacamole Recipe Ever
Are you ready to make the most perfect party appetizer? This easy Guacamole recipe is the only one you'll ever need! I learned this simple recipe when we lived in Texas and it's our absolute favorite! There's no need for a long list of ingredients to make the most delicious guacamole ever, you just need 4 simple ingredients.
Our Easy Guacamole recipe requires just three things (in addition to ripe avocados, of course). And if they aren't already in your spice cabinet, they are super easy to find at the grocery store. You'll need fajita seasoning, granulated garlic, and fresh limes and that's it! Fair warning, your friends are going to go crazy for and beg you for this recipe. It happens every time we make this dip for a party!
You can use this guacamole as a dip with your favorite tortilla chips, as a taco or nacho topping, or make avocado toast with it! The options are endless…that's if you don't eat it all with a spoon first!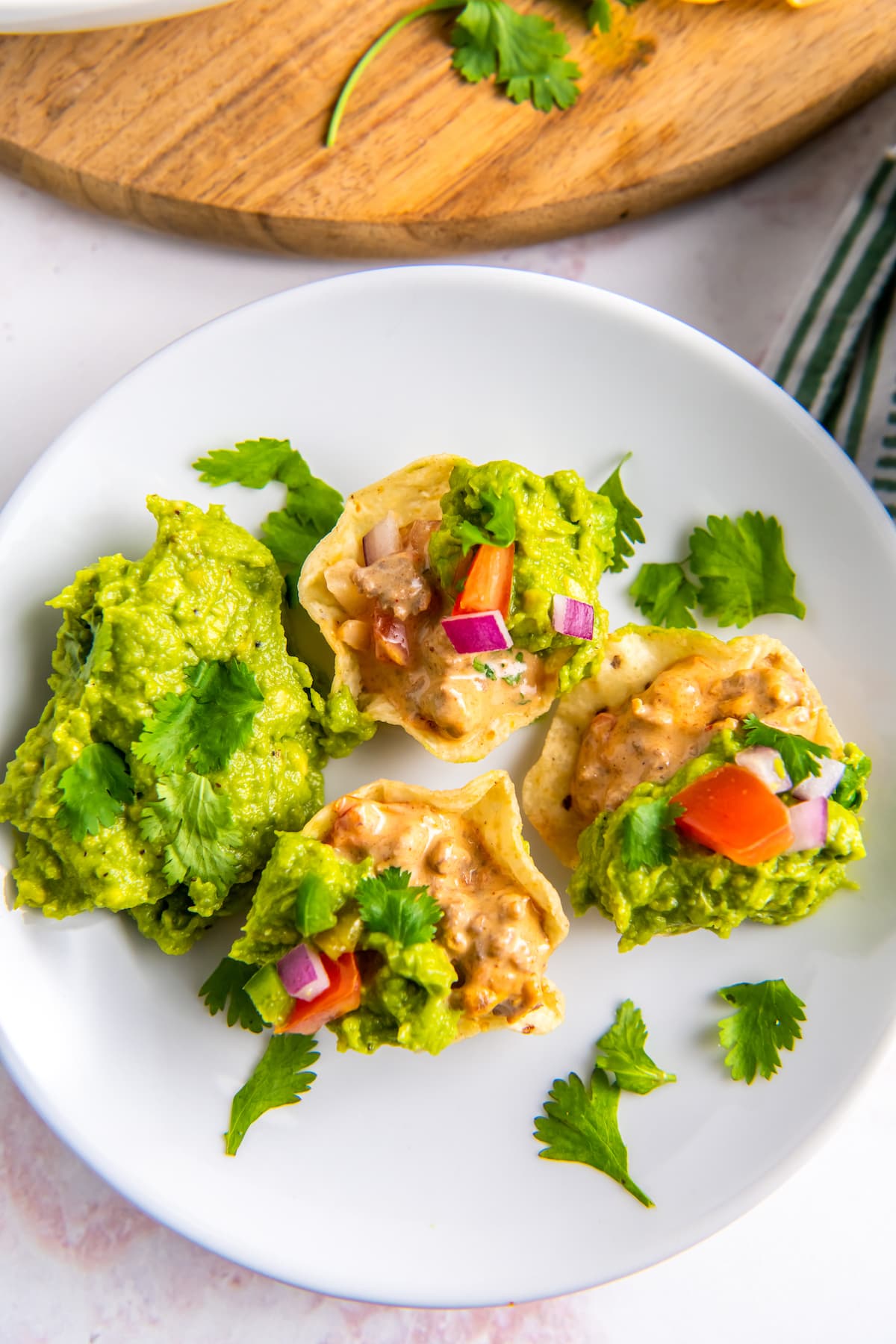 Why You'll Love This Avocado Dip
Here's why you're going to love this Easy Guacamole!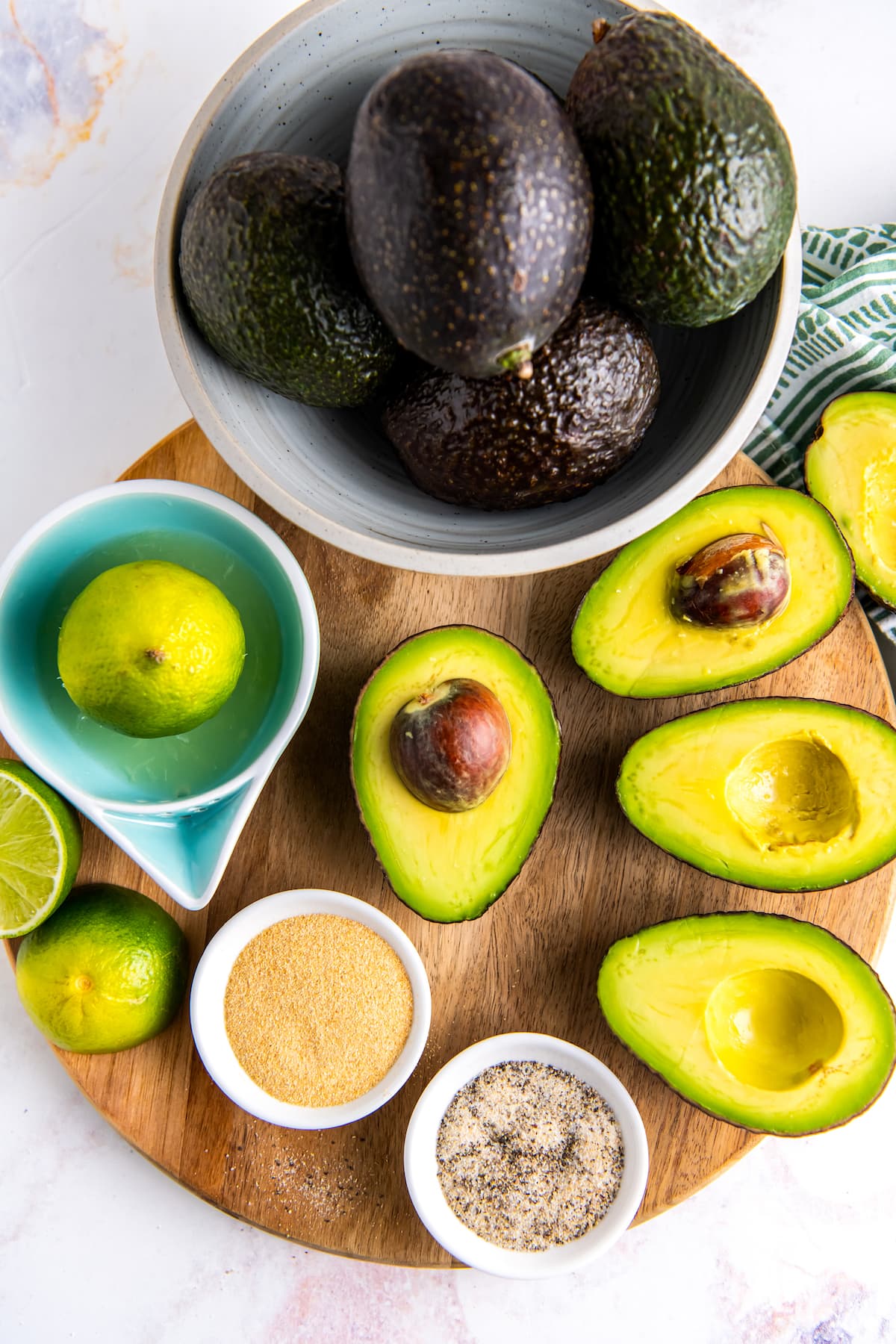 Recipe Ingredients
Jot down this short list of ingredients and then you're ready to get started!
Optional Add Ins
You can serve these add ins on top of the guacamole as a garnish or fold them in.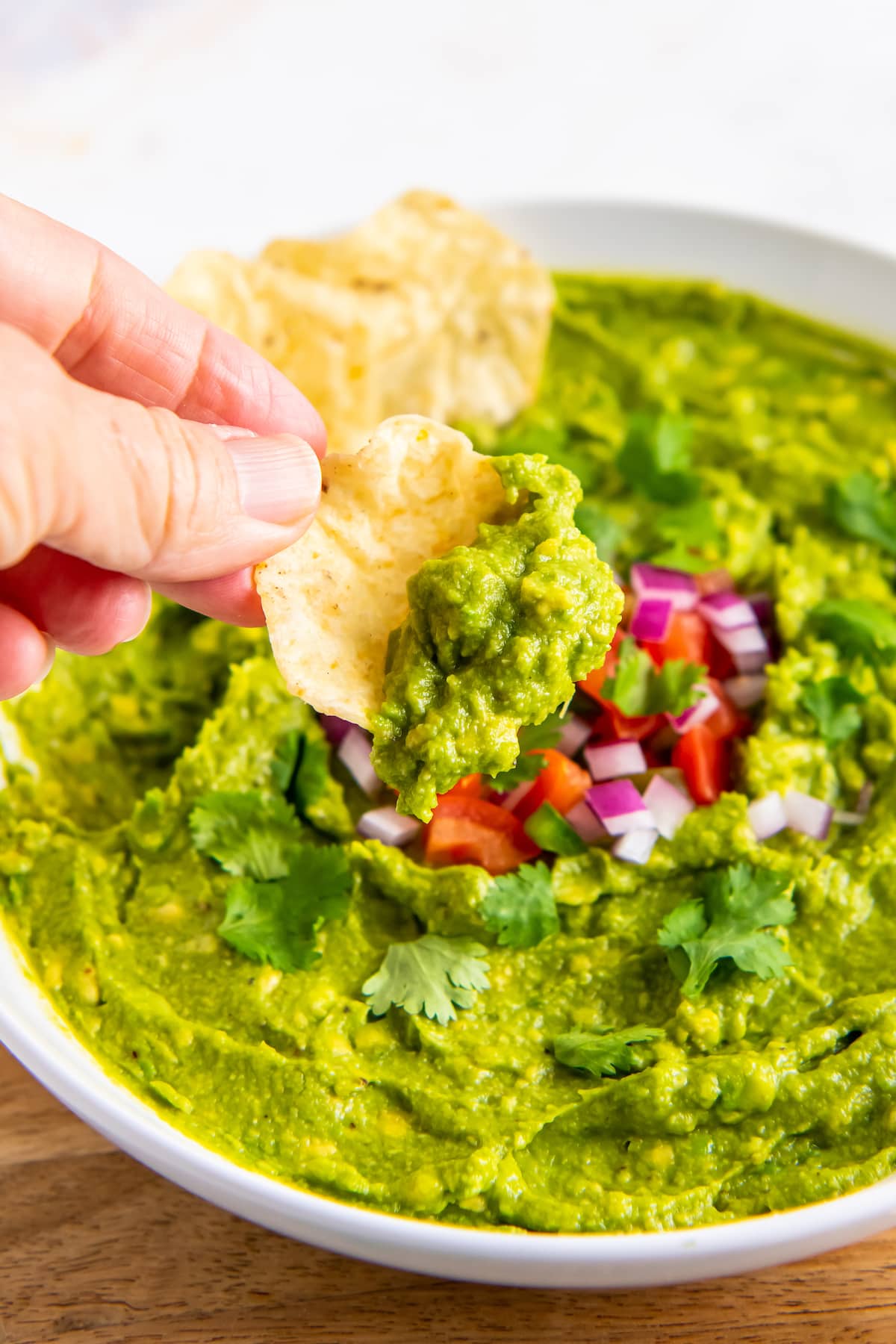 How Can I Tell if an Avocado is Ripe?
The best way to tell if an avocado is ripe is by touching it. You want it to be slightly tender – but NOT mushy! Do not buy an avocado if it's too soft to touch. We suggest buying underripe avocados at the market so that they can ripen at home. Then they are ready for when you want to use them.
A helpful tip is that if your avocados are ripe and you aren't ready to use them, you can put them in the fridge and that will stop the ripening process and keep for up to a week!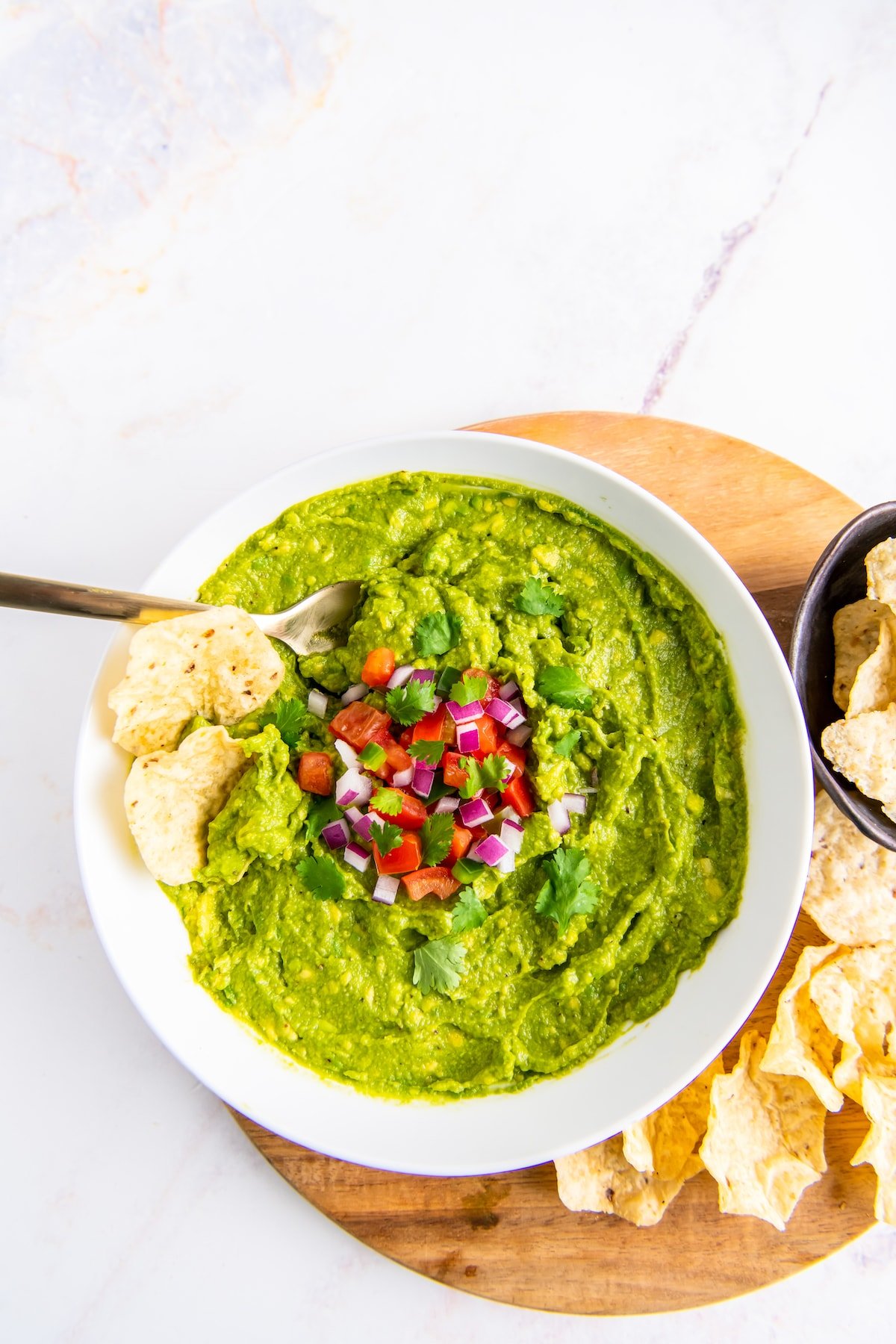 What is the Best Way to Store Avocados?
Unripe: Unripe avocados are best stored at room temperature on the counter to continue ripening until ready to use. If you need to speed up the ripening process, place an avocado in a paper bag and close the top of the bag. Your avocado will ripen in a day or two!
Ripe Uncut: Ripe avocados that have not been cut can be stored in the fridge for up to a week. Storing them at the cooler temperature stops the ripening process giving you more time!
Ripe Cut: Once an avocado has been cut up, we suggest using it right away. But if you do need to save a piece of the avocado, leave the pit in and wrap it tightly with plastic wrap. But before doing that, rub some lime wedges on the exposed part of the avocado if you have some. Then store it in the fridge and try to use it within a day or two.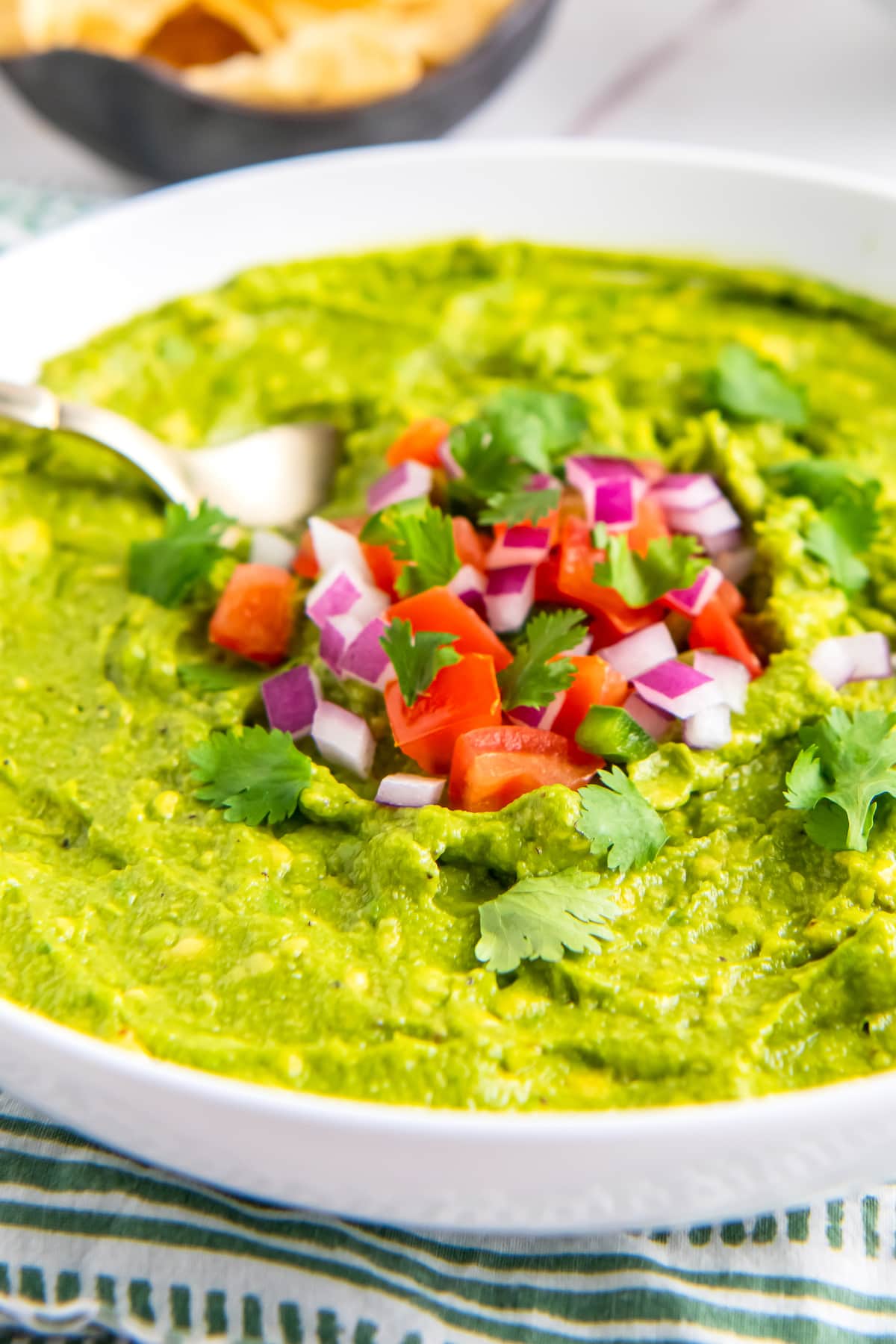 How to Make Guacamole
Here are the simple steps for making this recipe: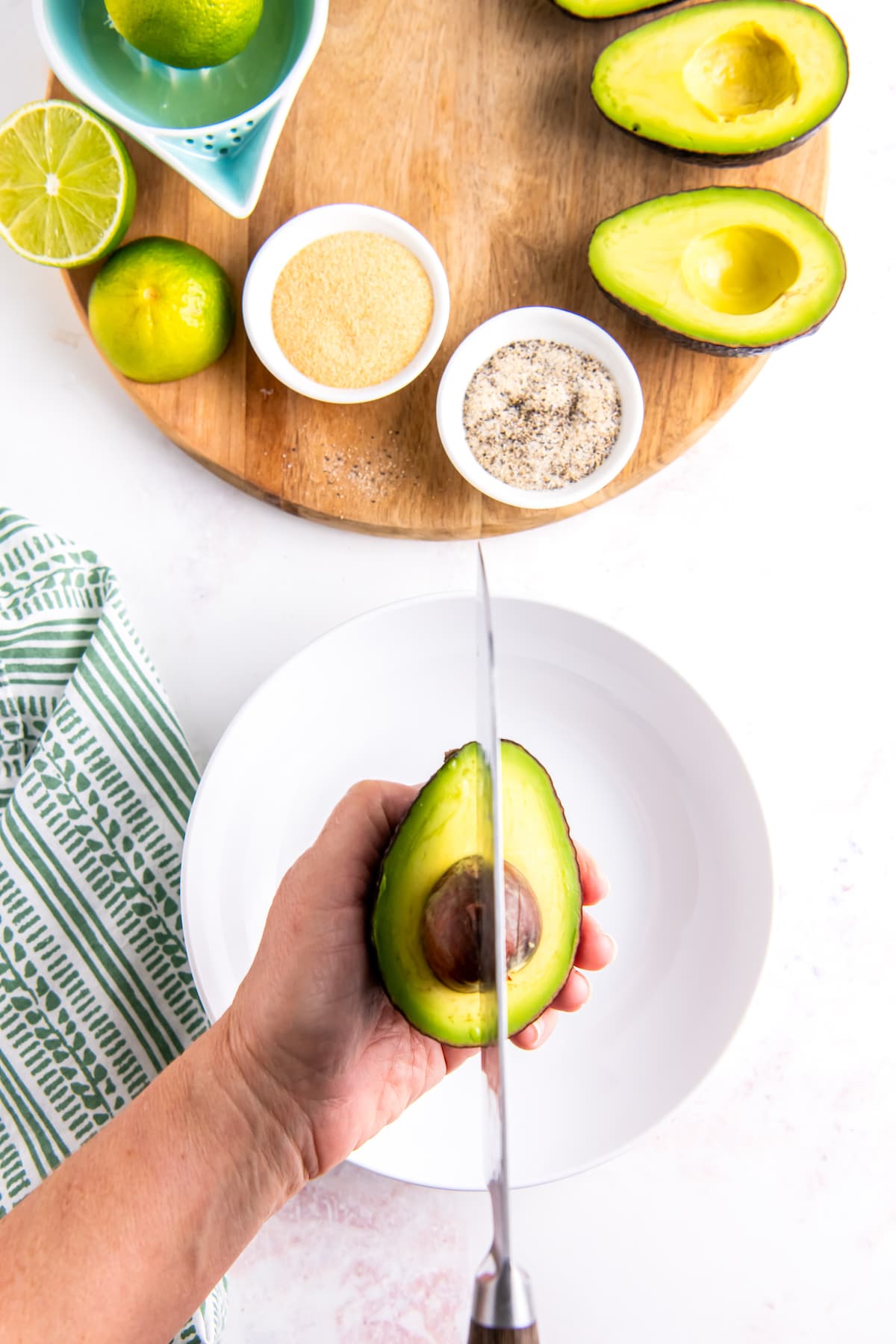 First, remove the pit from the avocado. You can do this by using a chef's knife and tapping it into the pit and it should pop right out when you remove the knife.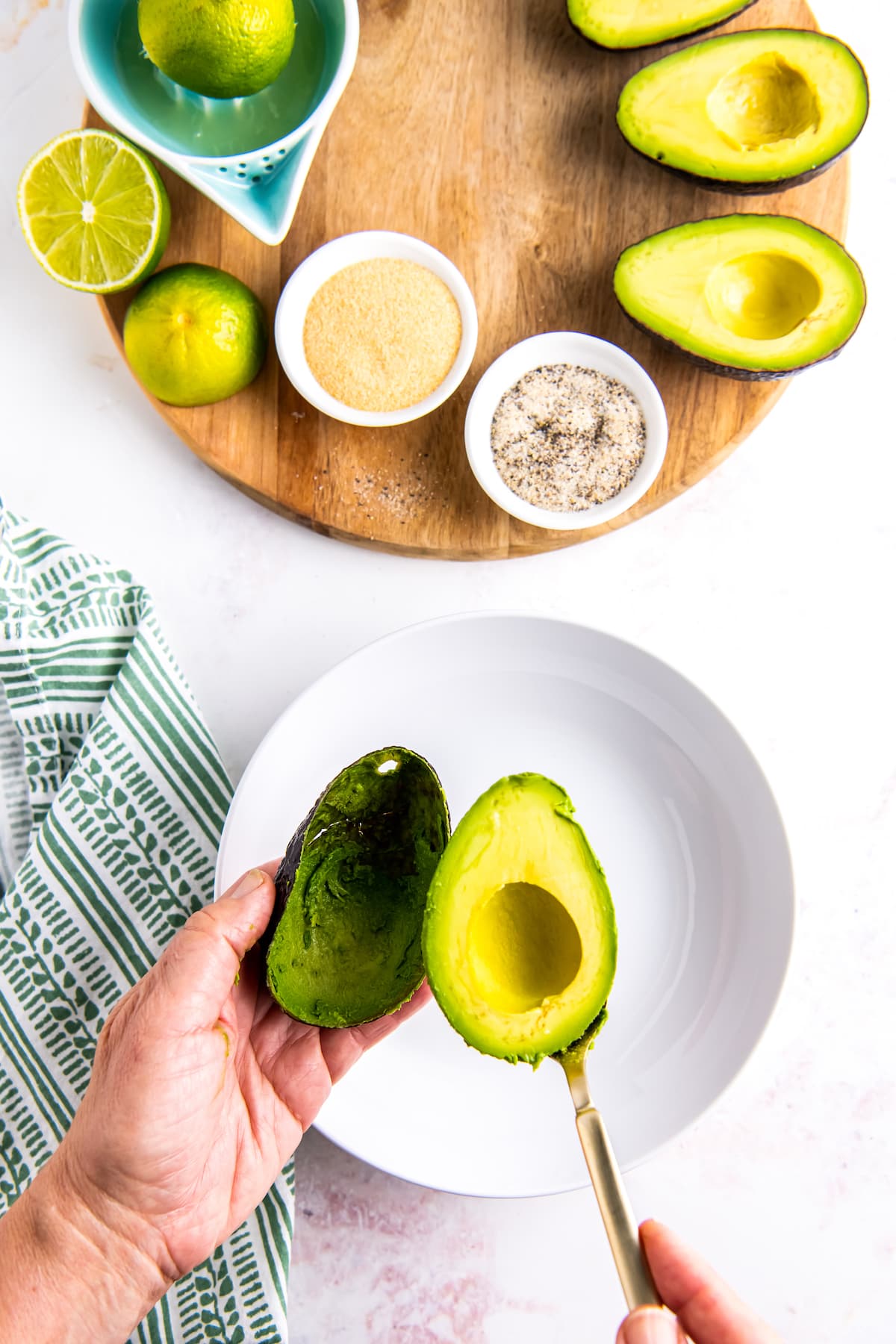 Then remove the fruit. Then use a spoon to scoop out the green flesh of the avocado.
Next, mash the avocado in a bowl. You can mash it however you'd like. Leave it chunky or make it smooth.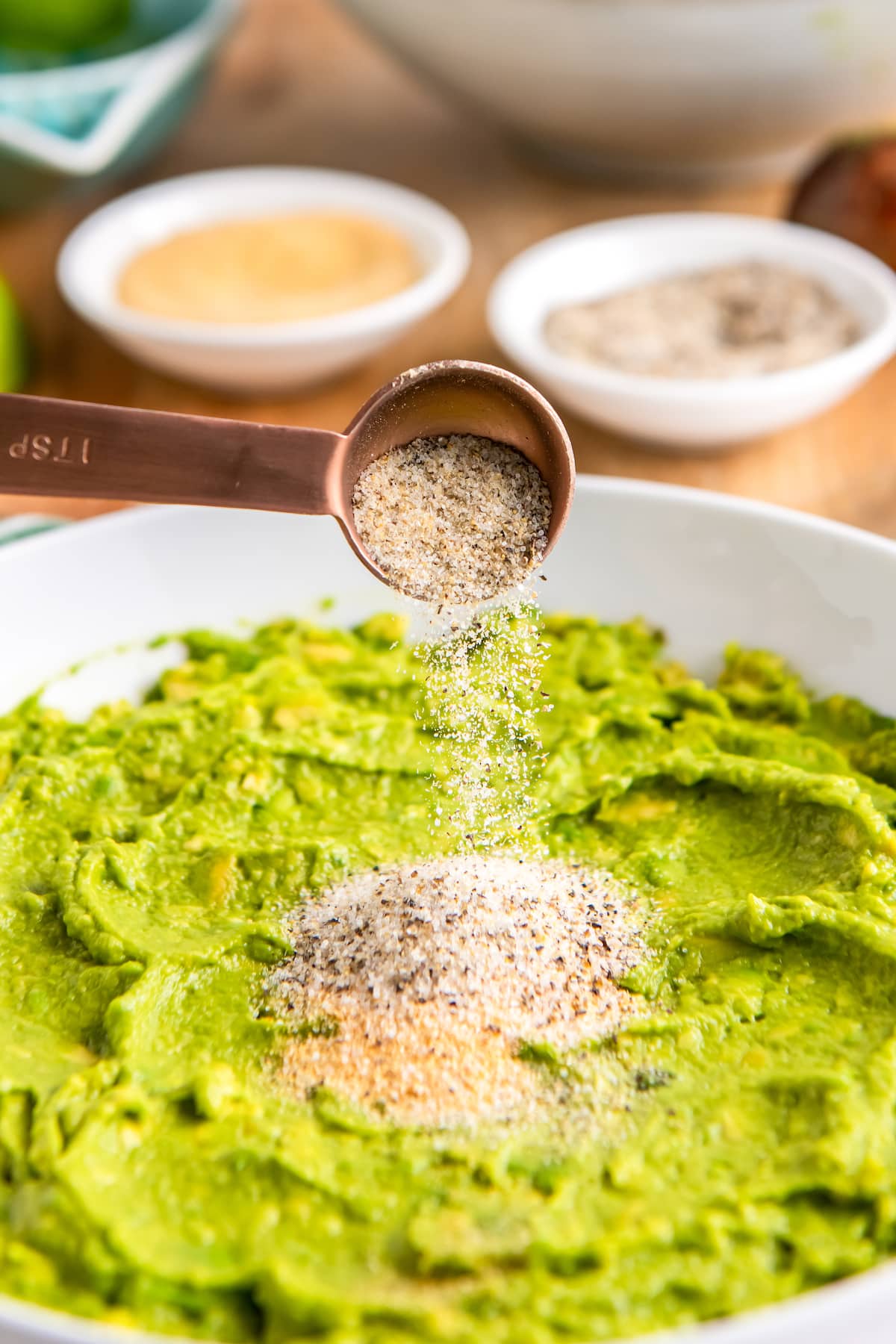 Season the avocado. Next, gradually add the seasonings, 1 teaspoon at a time, and taste as you go until it has the flavor that you like.
Serve immediately. Or cover the guacamole with plastic wrap and store it in the fridge until you're ready to serve.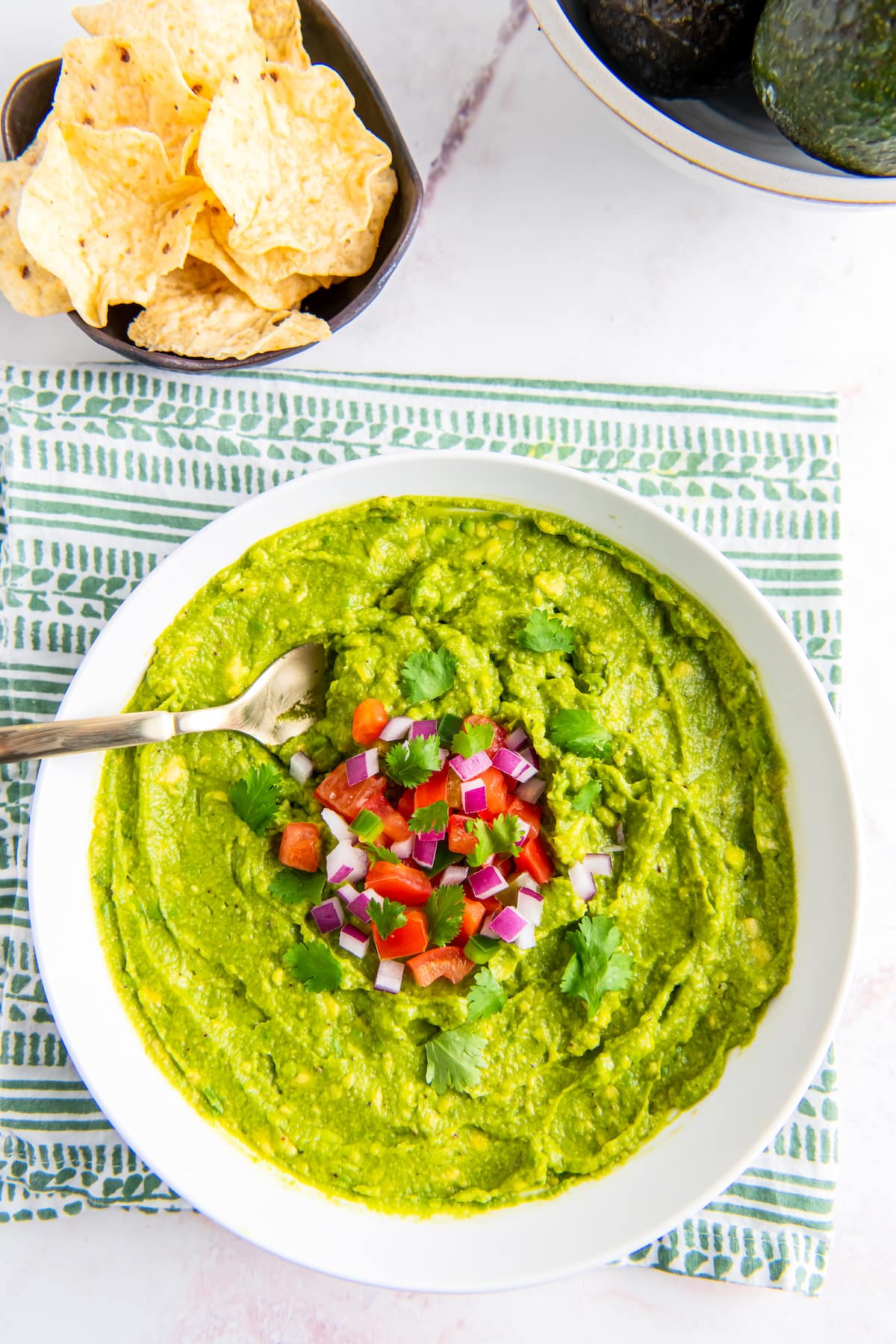 Helpful Tips
Follow these helpful tips and you're guacamole will turn out perfectly every time!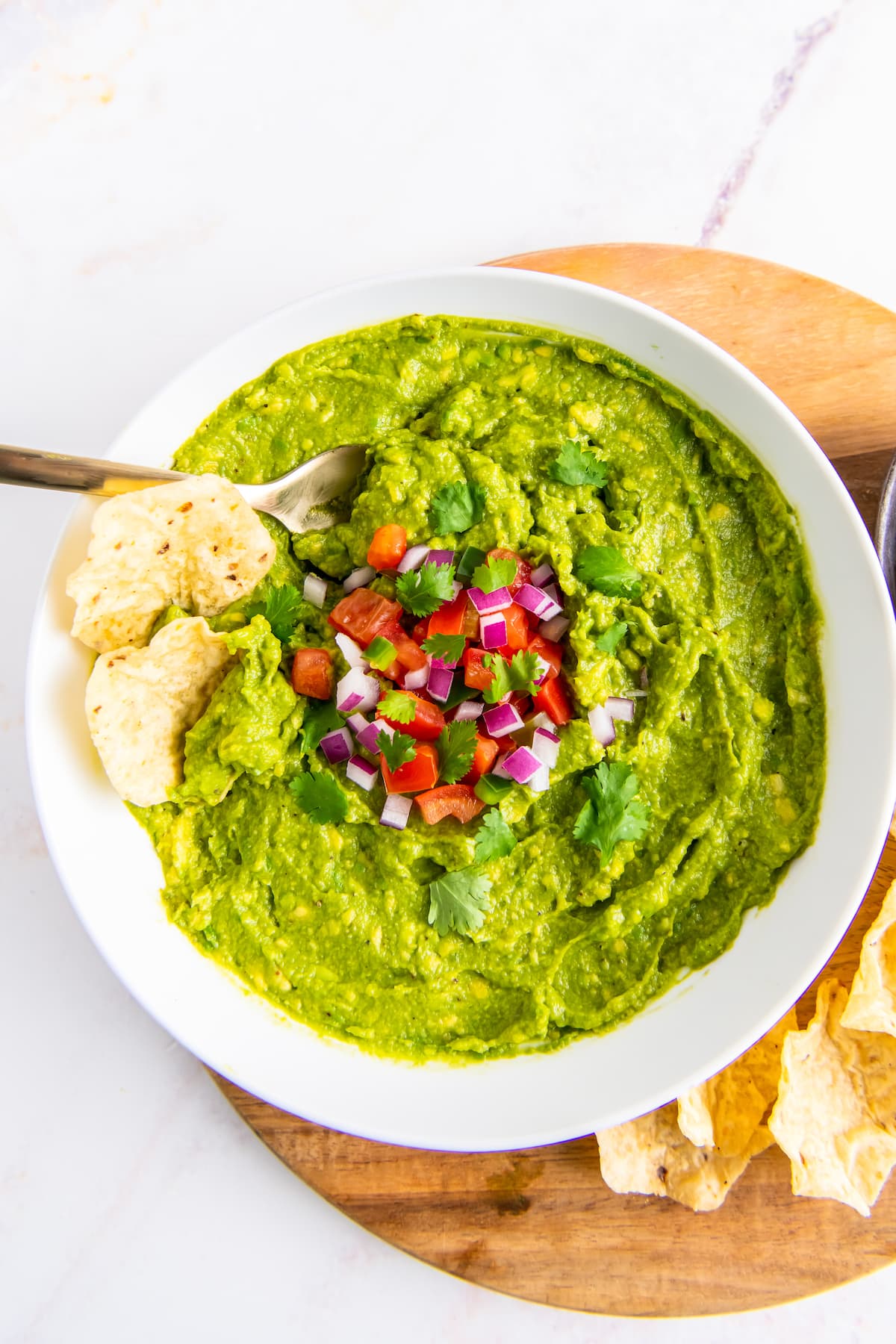 What to Serve with Guacamole
Here are some of our favorite ways to serve guacamole: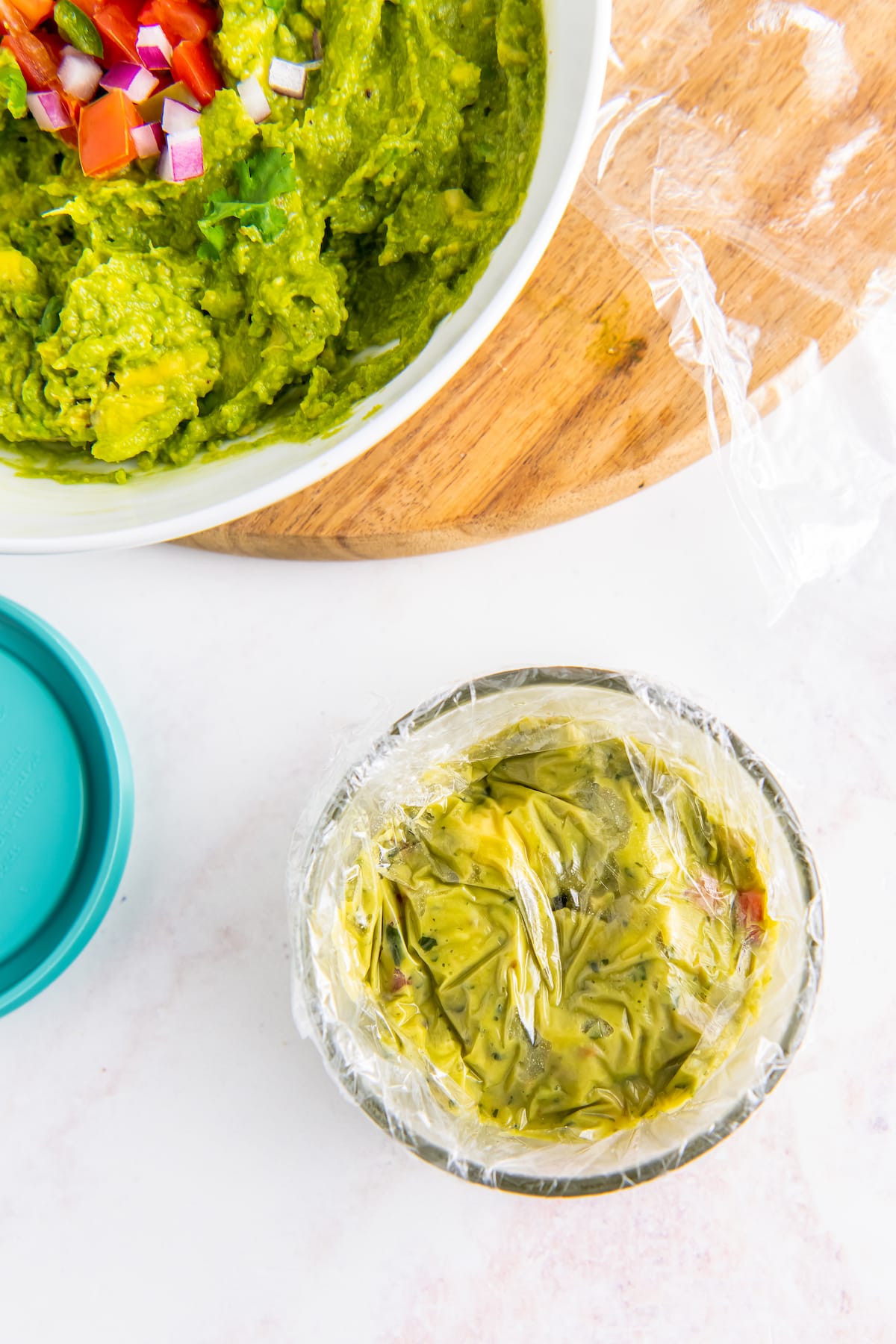 How to Store Leftovers
The best way to store guacamole and keep it from turning brown is to prevent any air or moisture reaching it. So the optimal way to do that is to seal it with plastic wrap.
Do this by placing a layer of plastic wrap over the guacamole and then put the lid over the container. Make sure that the plastic wrap is touching the guacamole so no air can reach the dip.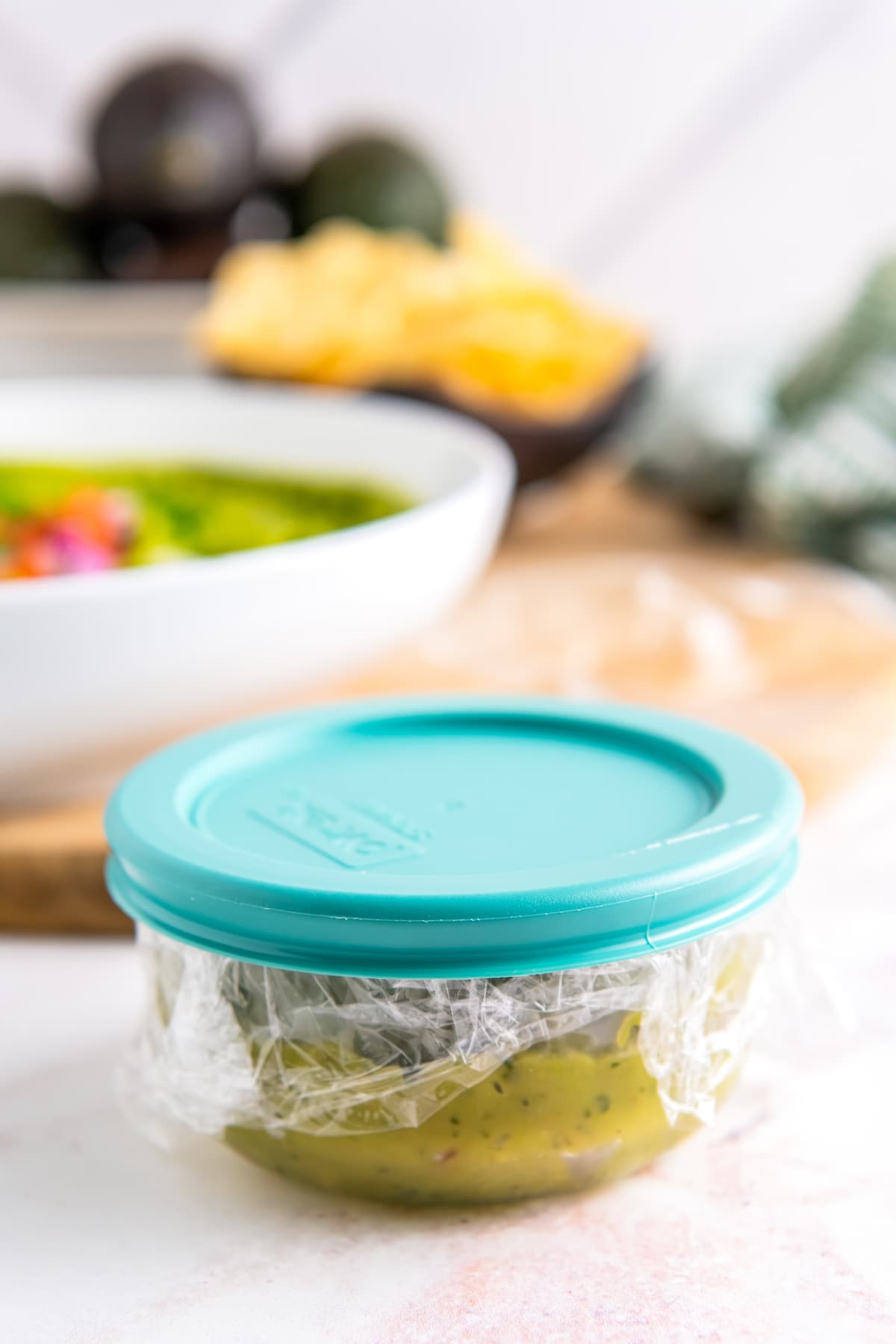 Can I Make This Ahead of Time?
You can make this a few hours ahead of time, but the fresher the better! Just follow the storage steps above if you need to make this guacamole in advance and you'll be good to go.
Easy Guacamole
Simple fresh and easy Guacamole made with ripe avocados and only three seasonings! Ready in five minutes, this creamy and zesty dip goes great on a chip or over your favorite tacos!
Ingredients
3

ripe avocados. cut in half and pit removed

1

teaspoons

fajita seasoning

1

teaspoons

granulated garlic

1

tablespoon

lime juice

,

fresh squeezed is best

Pico De Gallo,

optional garnish
Instructions
Use a spoon to remove the skin from the avocados and place them in a small to medium size bowl. Using a fork, mash the avocados until the consistency you like. Smooth or chunky, it is up to you!

Add the fajita seasoning, garlic and lime juice, stir to combine. Taste and season more if needed, adding no more than a ½ teaspoon at a time until reaching desired flavor.

Enjoy immediately or wrap the bowl tightly with saran wrap making sure to press the wrap down over the guacamole and then placing the lid on the dish and store in the refrigerator.
Notes
Storage: Store this leftover guacamole in the fridge in an airtight container for up to 3 days. If you press a piece of plastic wrap down to where it touches the guacamole (so no air can reach the guacamole) it should not turn brown.
Nutrition
Serving:
1
,
Calories:
124
kcal
,
Carbohydrates:
7
g
,
Protein:
2
g
,
Fat:
11
g
,
Saturated Fat:
2
g
,
Polyunsaturated Fat:
9
g
,
Sodium:
31
mg
,
Fiber:
5
g
,
Sugar:
1
g
More Easy Appetizer Recipes