Quick and easy Beef Enchiladas, made with just 4 ingredients, are the ultimate Mexican-inspired comfort food. Tortillas are stuffed with perfectly seasoned make-ahead Taco Meat and loaded with tasty red enchilada sauce and tons of gooey melted cheese.
The Best Beef Enchilada Recipe
These ground beef enchiladas are going to be a quick favorite in your house! We're sure that you're here looking for a family-friendly weeknight meal and this easy enchilada recipe is perfect.
You won't believe that this flavor-packed Mexican recipe has only 4 ingredients. One of the ingredients is our make-ahead Taco Meat, which has easily become our secret weapon when trying to get dinner on the table quickly. We always keep a few batches of taco meat in the freezer for fast meals. It's such a time-saver!
Then we'll use red enchilada sauce and shredded cheese to stuff the tortillas. And that's it! They get rolled up and put into the casserole dish and it's ready to go in the oven. Once they're baked and on the plate, everyone can add their favorite toppings like diced onions, scallions, or avocados.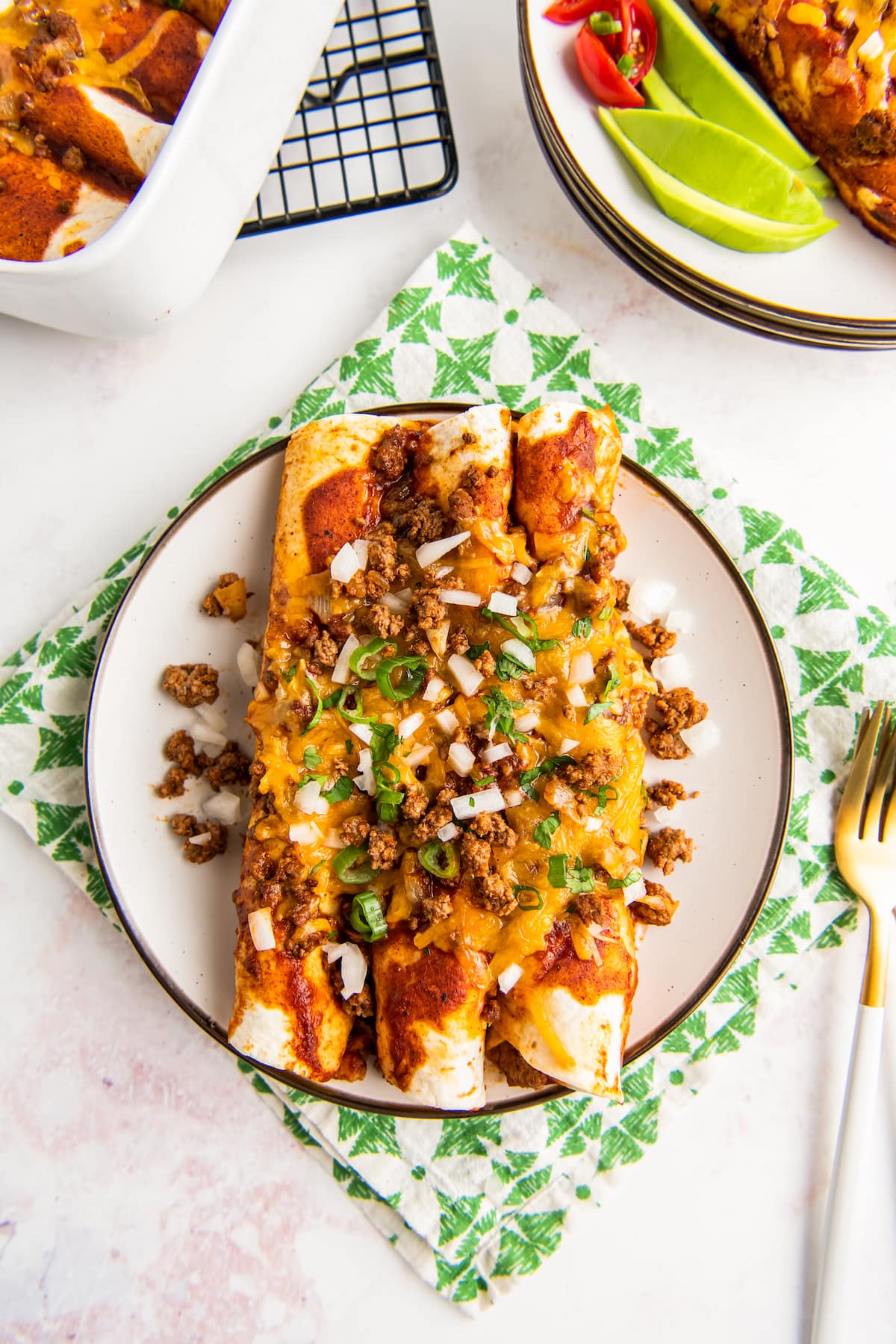 Why You'll Love This Recipe
This has easily become a favorite weeknight dinner in our house and here's why it's loved so much!
It takes less than an hour to make. This Beef Enchilada recipe is so quick that you can easily make it after a busy day at work and school.
You can prep this recipe ahead. Busy week? No worries! You can prep a batch of these a day or two before you are ready to cook them!
There are only 4 ingredients. You only need a few things to make the enchiladas and then you can pull together some toppings from whatever you have in the fridge.
It's kid-friendly. This is a big hit with everyone in the family! Kids seem to love things with ground beef and who doesn't love a bunch of gooey cheese on top?!
Recipe Ingredients
Here is a very short and simple list of ingredients that you need to make Beef Enchiladas.
Homemade Taco Meat: We always keep some taco meat ready to go in the freezer for quick meals like this one. It features our Taco Seasoning, which is a must-have when you love cooking Mexican food at home!
Flour or Corn Tortillas: 8″ tortillas work best for this recipe.
Red Enchilada Sauce: You can find canned red enchilada sauce with other Mexican foods at the supermarket. Using pre-made sauce makes this recipe super quick, but if you have a little extra time on your hands try this Homemade Enchilada Sauce.
Shredded Cheese: We like to use cheddar cheese or a Mexican blend cheese for this recipe, but you can use whatever cheese you like.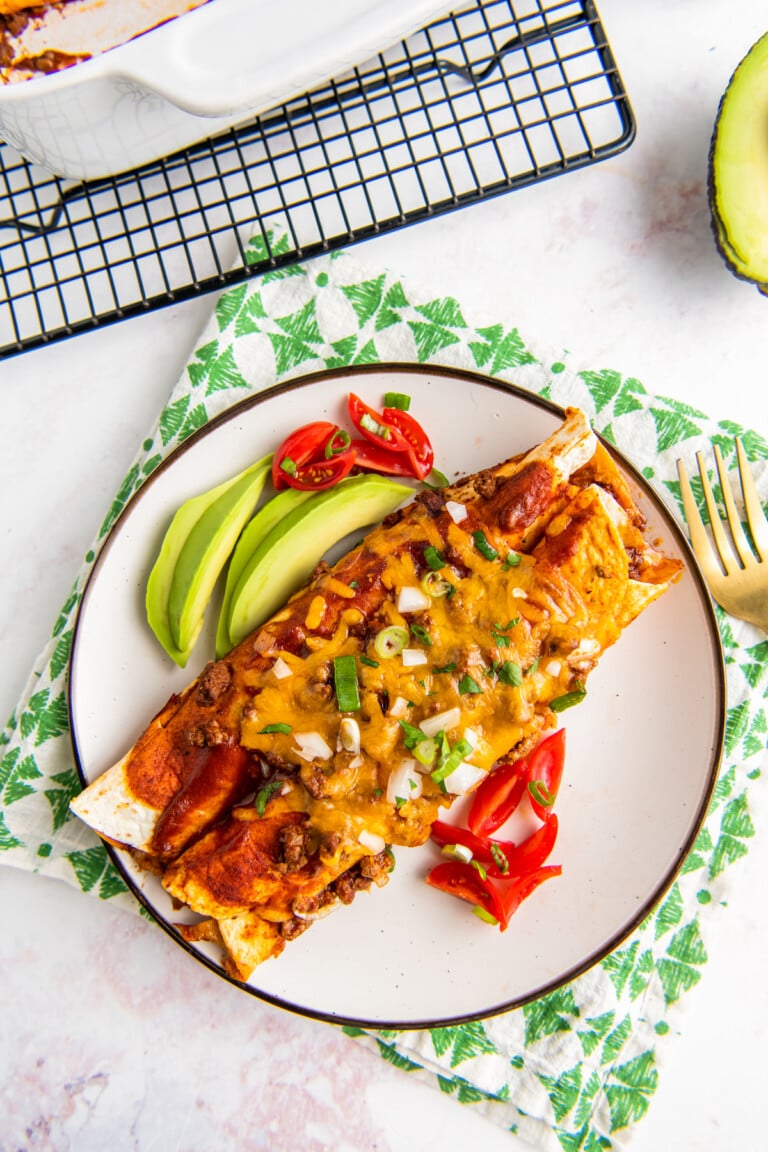 Topping Ideas
This easy Beef Enchilada recipe becomes even better when you break out the toppings! Here are some of our favorite ways to add more flavor and texture to this recipe.
Diced Onions
Sliced Green Onions
Cilantro
Avocado or Guacamole
Diced Tomatoes
Diced Jalapenos
Mexican Crema, Sour Cream or Plain Greek Yogurt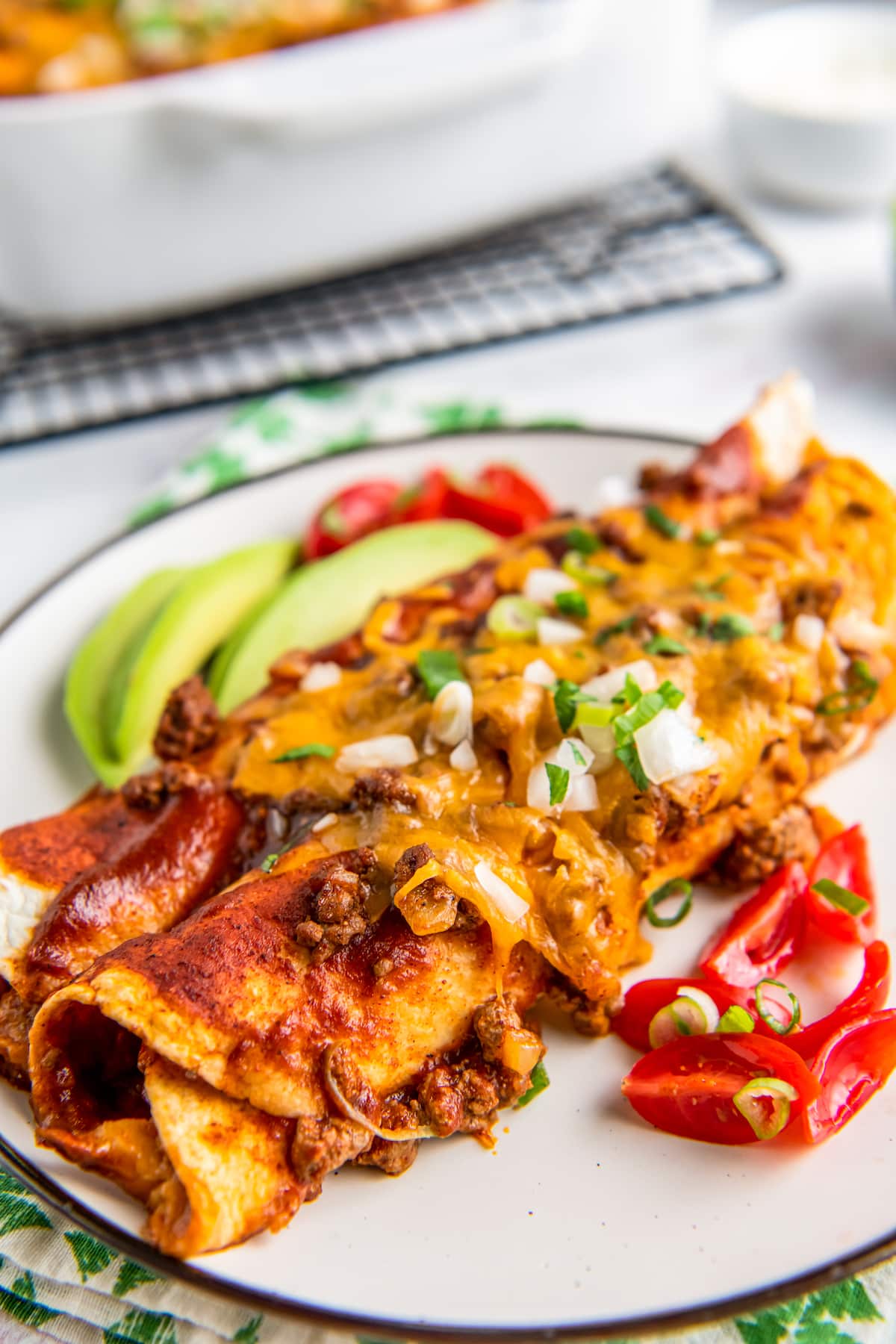 How to Make Beef Enchiladas
Follow the steps below to learn how to make this easy weeknight dinner.
First, preheat the oven and prepare a casserole dish. Spray the dish with non-stick oil spray and then coat it completely with red enchilada sauce.
Next, build each enchilada. Do this by coating the inside of each tortilla with red sauce and then adding a scoop of Taco Meat and cheese. Then roll them up with the seam side down.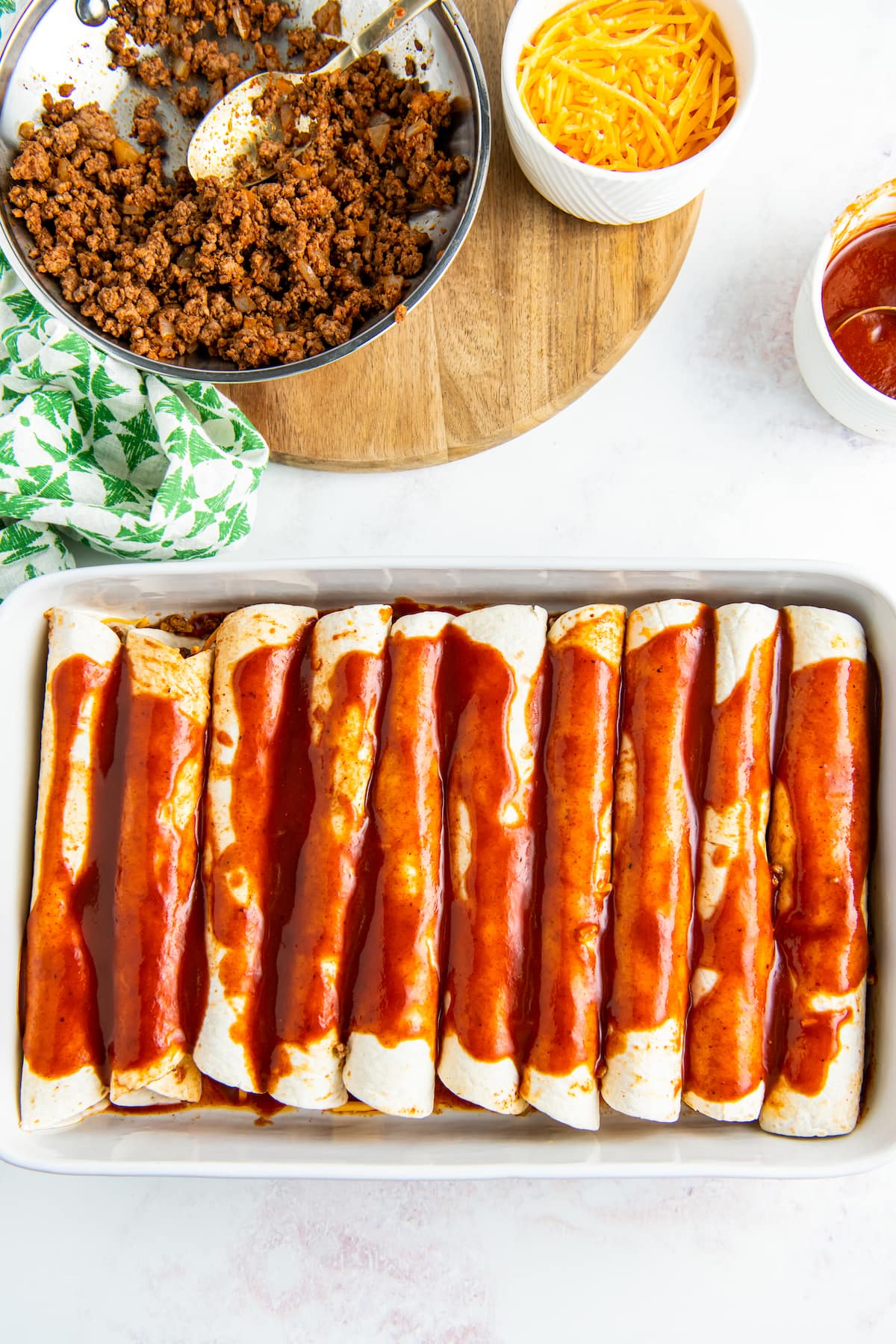 Place the enchiladas in the casserole dish. Place them all in a single layer in the dish.
Add more red sauce, Taco Meat, and cheese. Add the remaining red sauce on top of the tortillas and then sprinkle any leftover meat and cheese on top.
Cover and bake. Cover the dish with foil and then bake for 20-25 minutes. Let the enchiladas rest for about 5 minutes before serving and then plate and top with your favorite toppings.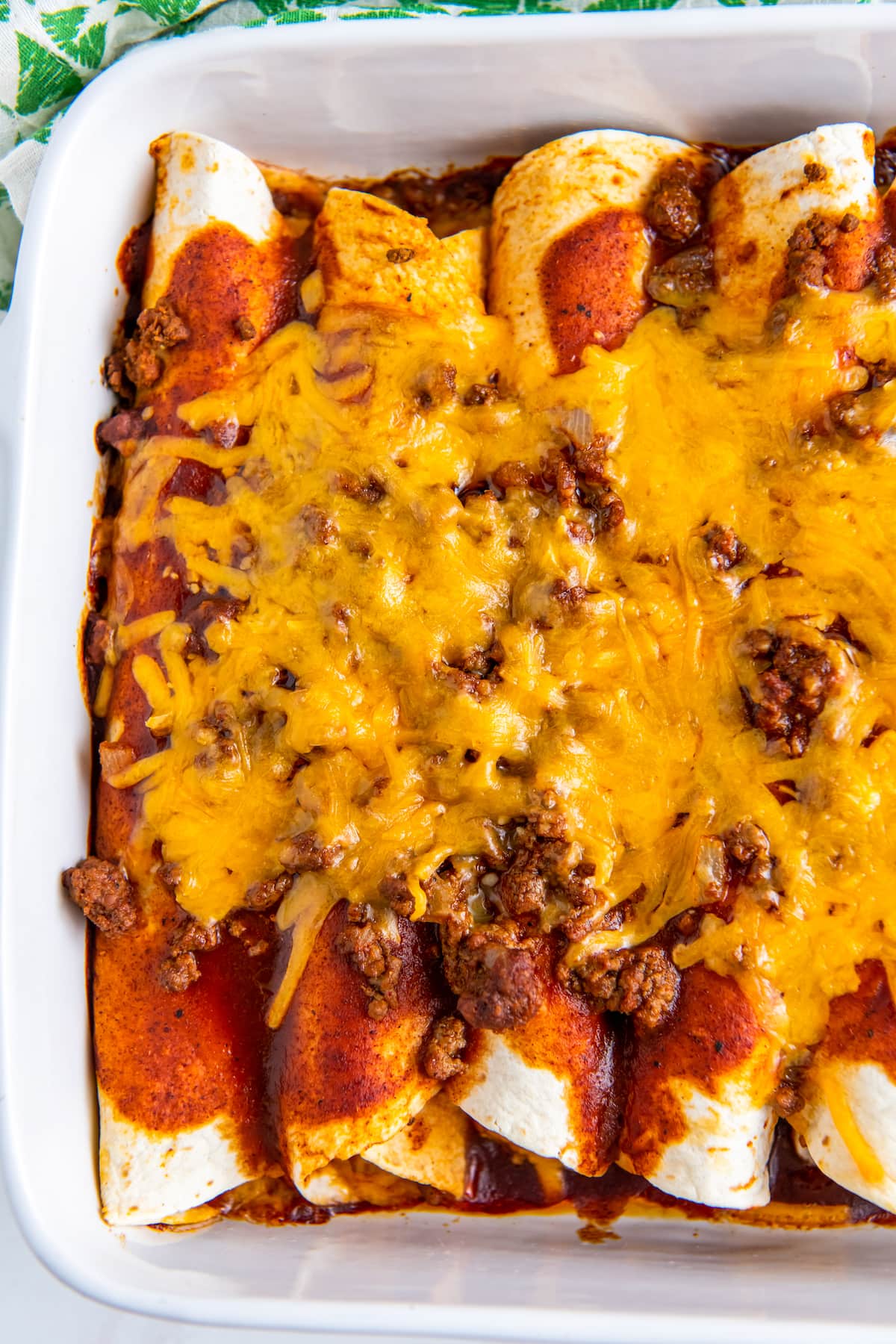 Recipe Variations
Here are some other ingredient swaps that will come in handy if you're missing an ingredient or you want to try a different flavor combination with this enchilada recipe.
Use different ground meat or other fillings. You can also use ground pork, chicken, or turkey. You can still follow the same seasoning and cooking procedures for our Taco Meat if you're using a different kind of meat. You can also use black beans if you want this recipe to be vegetarian.
Other shredded cheese will also work. We used cheddar cheese, but you can use any shredded cheese you have and enjoy. Mexican blend cheese is always delicious as well.
You can use either corn or flour tortillas. It's really about your preference. A true traditional enchilada is made with corn tortillas, but sometimes the kids prefer flour tortillas. Use whichever tortilla you like better!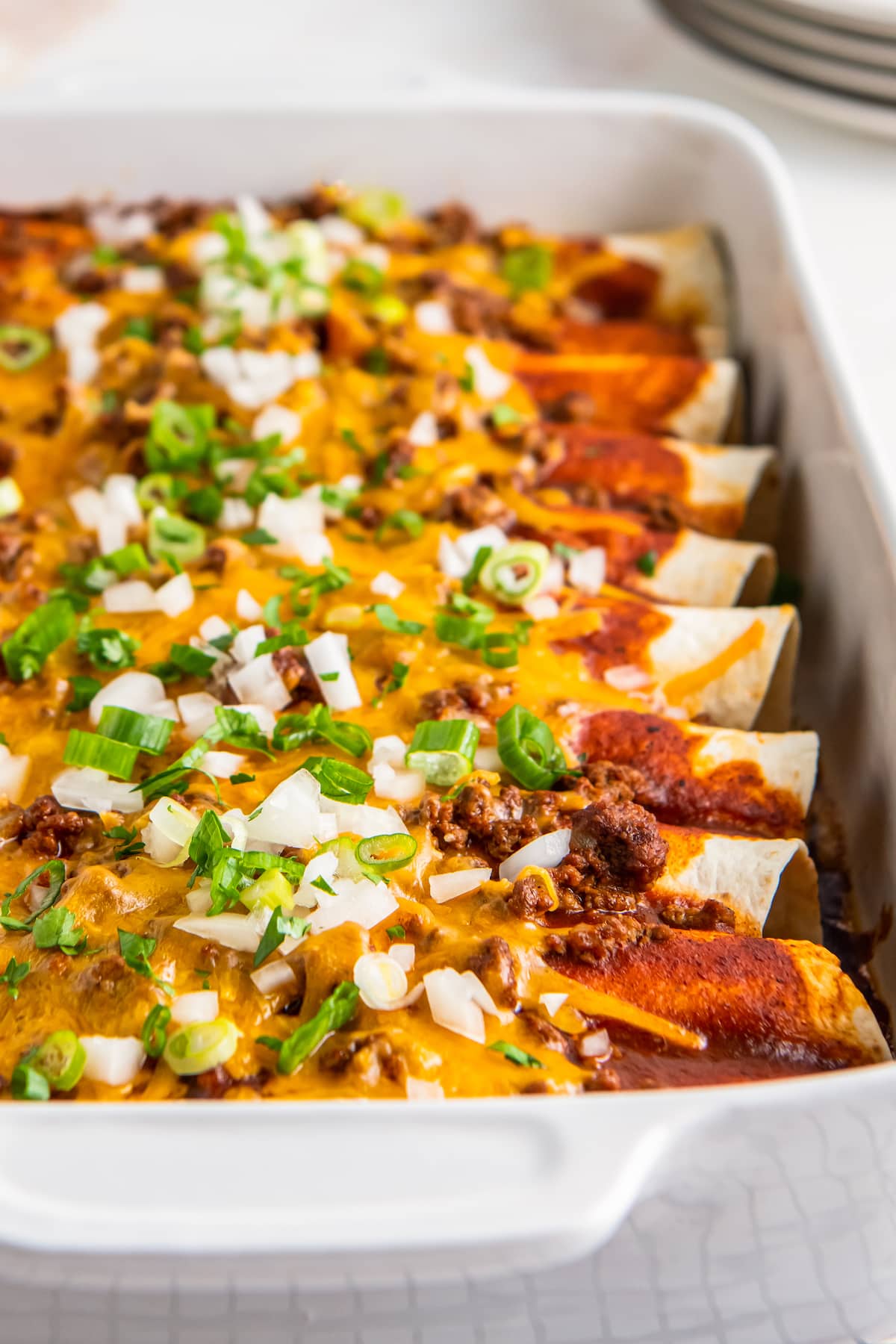 Helpful Tips
Follow these helpful tips when making these Beef Enchiladas so that they turn out perfect every time!
Roll the tortillas seam side down. Roll the tortillas nice and tight and place them seam side down, this helps with keeping the filling inside and also from unrolling.
Use less filling with smaller tortillas. If you use smaller tortillas cut the filling in half or double the number of tortillas.
Warm up corn tortillas before rolling them up. If using corn tortillas, warm the tortillas wrapped in a damp paper towel in the microwave for 30 seconds. This will make them more pliable and easy to roll.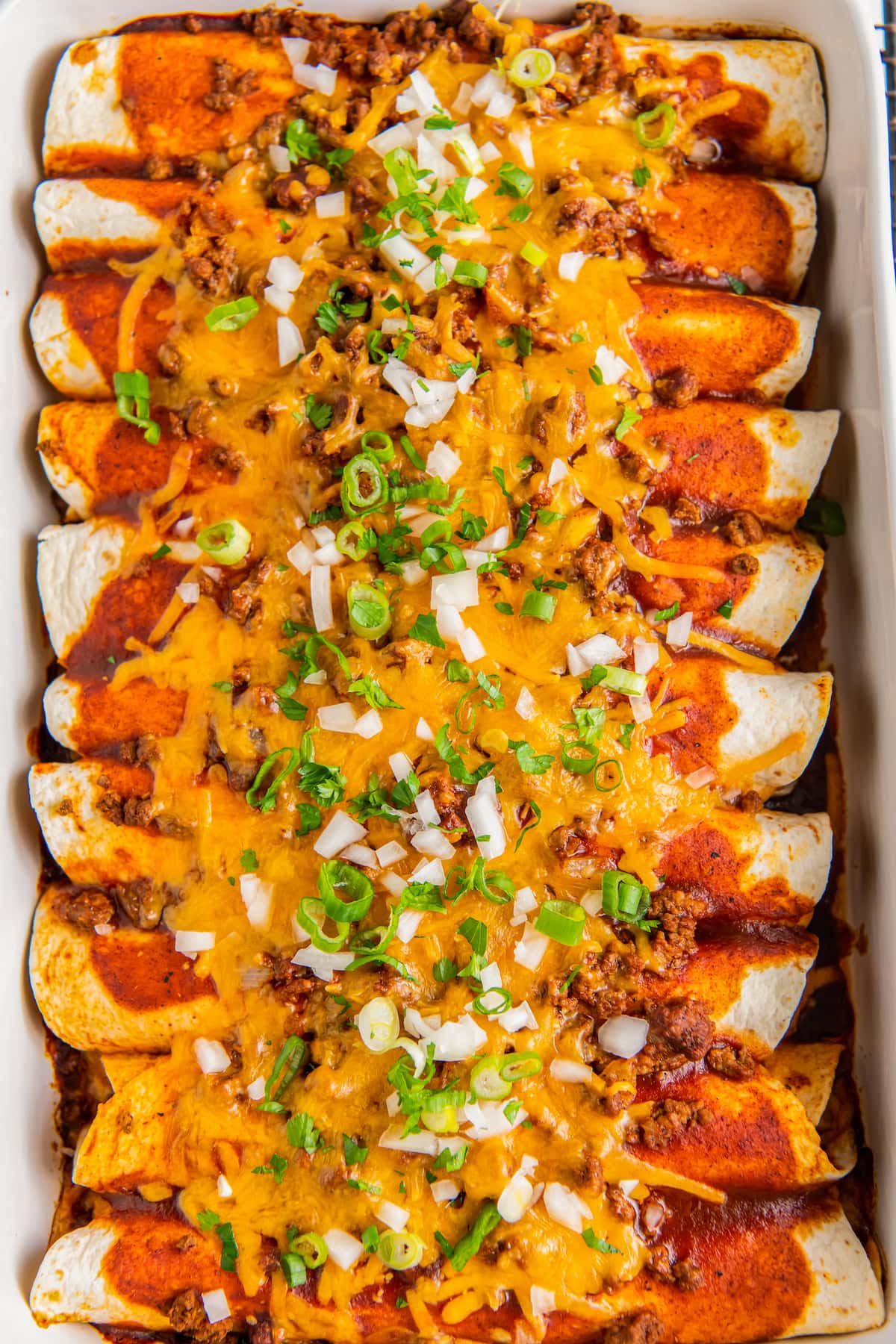 What to Serve with Beef Enchiladas
Here are some of our favorite dishes to serve alongside these enchiladas.
Rice: A side of rice is an easy way to make this beef enchilada recipe a whole meal. We love to serve them with our Cilantro Lime Rice.
Beans: Refried Beans or black beans are another great side dish to try.
Other Side Options: In addition to the toppings, we like to add hearty sides like sliced avocado or this fresh Mexican Corn Salad. These healthy options are a great way to add nutrition to the meal.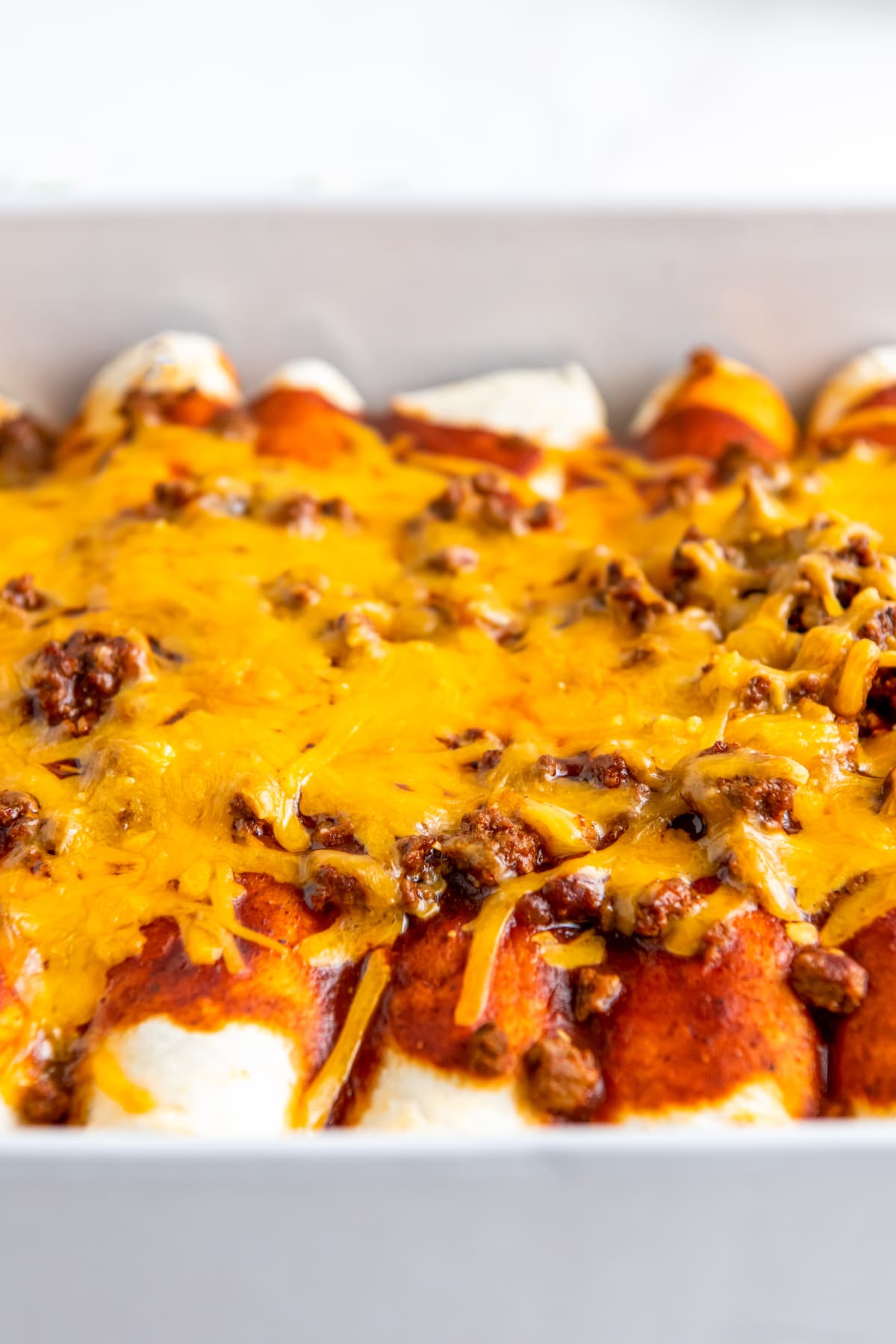 How to Store & Reheat Leftovers
You can refrigerate leftovers for up to 3 days in an airtight container.
To reheat the enchiladas, you can use an air fryer at 350°F for 3-4 minutes, or place them in a hot oven for 10 minutes. The microwave works too, but the tortillas can get a little extra soggy.
Can I Freeze This?
We don't recommend freezing this recipe because the tortillas will get too soggy with the amount of sauce that's used. You can however freeze batches of the Taco Meat so that you can easily thaw a bag and build the enchiladas in no time at all.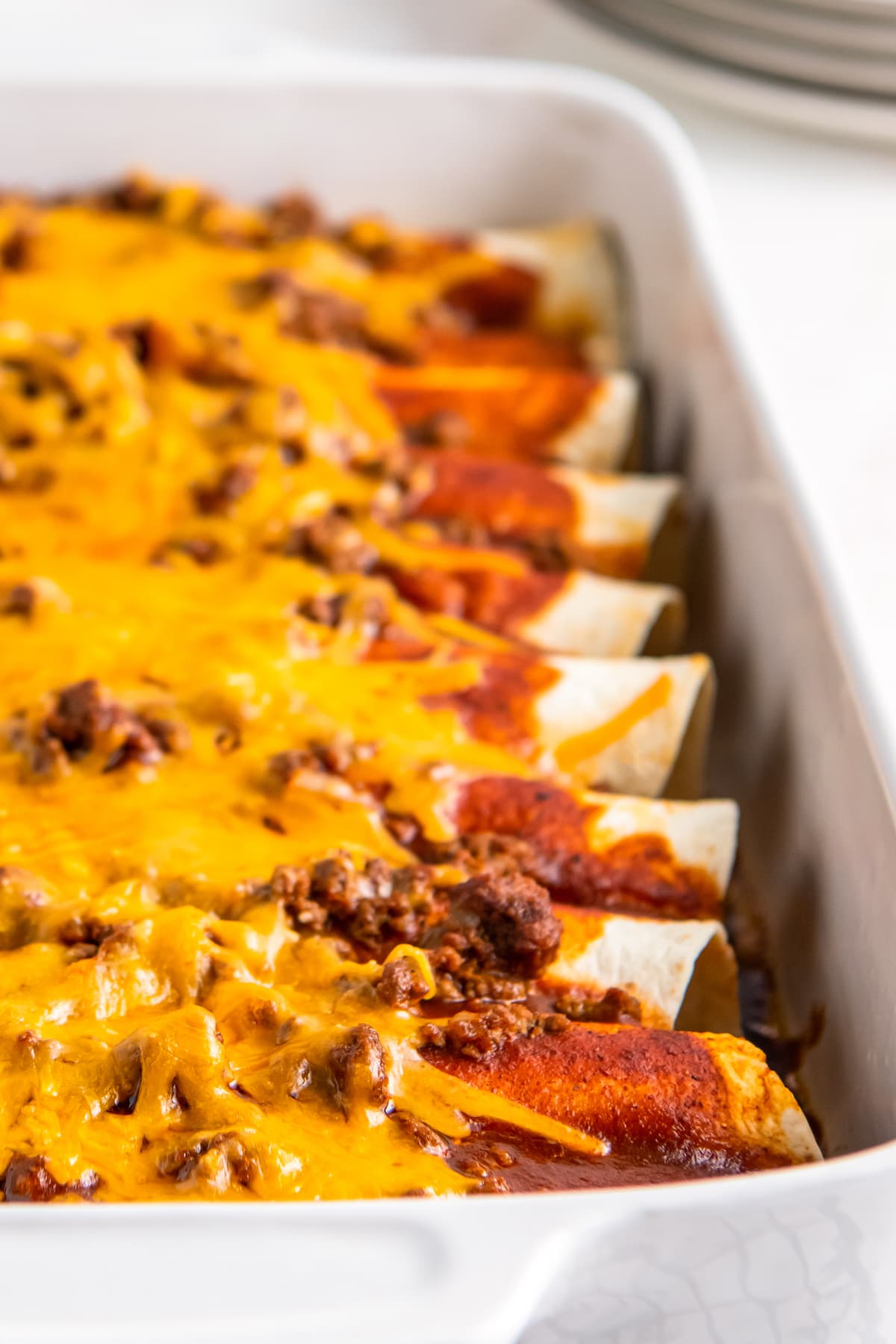 Can I Make These Ahead?
Yes! You can prep the enchiladas ahead, but don't pour the sauce all over the top. Instead, cover the baking dish with foil or saran wrap and then place them in the fridge for up to 48 hours.
When you are ready to cook you enchiladas, remove them from the fridge and let them rest on the counter for 30 minutes to warm up a little. Then pour the remaining enchilada sauce and cheese on top of the enchiladas and bake as directed!
Easy Beef Enchiladas
These Easy Beef Enchiladas are ready in under an hour! Each tortilla is stuffed with seasoned ground beef, cheese, and red sauce. Then you can add all of your favorite toppings like diced onions and scallions.
Ingredients
10

large

,

8" flour or corn tortillas

4

cups

shredded cheddar cheese
Optional Toppings:
Onions

Sour cream or Mexican crema

Avocado or guacamole

Jalapeños

,

pickled or fresh

Cilantro
Instructions
Preheat oven to 350°F.

Spray a 9×13" casserole pan with nonstick spray. Add ½ cup of enchilada sauce to the bottom of the pan and spread evenly (use enough sauce to cover the bottom of the pan).

If using corn tortillas, warm the tortillas wrapped in a damp paper towel in microwave for 30 seconds. This will make them more pliable and easy to roll.

Coat the inside of a tortilla with 2-3 tablespoons of enchilada sauce. Add ¼ cup of meat and a ¼ cup of cheese. Roll the tortilla tightly and place in the baking pan seam side down. Continue until all tortillas have been filled.

Spread the remaining enchilada sauce over the top of the prepared enchiladas. Spread any leftover taco meat on top of the enchiladas and then cover with the remaining cheese.

Cover pan with aluminum foil and bake for 20 to 25 minutes, until hot and cheese is melted. Let rest on counter 5 minutes before serving.
Notes
Storage: You can refrigerate leftovers for up to 3 days in an airtight container. Reheat: To reheat the enchiladas, you can use an air fryer at 350°F for 3-4 minutes, or place them in a hot oven for 10 minutes. The microwave works too, but the tortillas can get a little extra soggy.
Nutrition
Serving:
1
,
Calories:
793
kcal
,
Carbohydrates:
42
g
,
Protein:
39
g
,
Fat:
53
g
,
Saturated Fat:
25
g
,
Polyunsaturated Fat:
22
g
,
Trans Fat:
1
g
,
Cholesterol:
138
mg
,
Sodium:
1188
mg
,
Fiber:
9
g
,
Sugar:
5
g
More Easy Mexican Recipes