Walking tacos are the perfect party food if you're looking for something quick and easy, portable, and delicious. They have all the best parts of a taco, but in a chip bag! Clean up is a breeze and everyone gets to choose their favorite toppings.
Why You'll Love This Walking Tacos Recipe
If you love tacos, but hate the mess and hassle of making them, then you'll love this recipe. This is a fun and easy way to enjoy tacos without the need for plates or utensils. You just need some individual bags of chips, taco meat, and your favorite toppings. Here are some reasons why you'll love them:
Quick and Easy: You can make the taco meat recipe in less than 20 minutes, and then just add it to the bags of chips. Add your favorite garnishes and dig in!
Customizable: Use any kind of chips you like, such as corn chips, Fritos, tortilla chips, or Doritos. You can also choose your own toppings, such as sour cream, guacamole, pico de gallo, shredded cheese, cilantro, and lime wedges. You can make it as spicy or mild as you want.
Portable and Convenient: Looking for party food ideas? You found it! Walking tacos work great at parties, picnics, camping trips, and tailgates because you don't need any dishes. Enjoy your taco in a bag without any fuss, and just throw it away when you're done.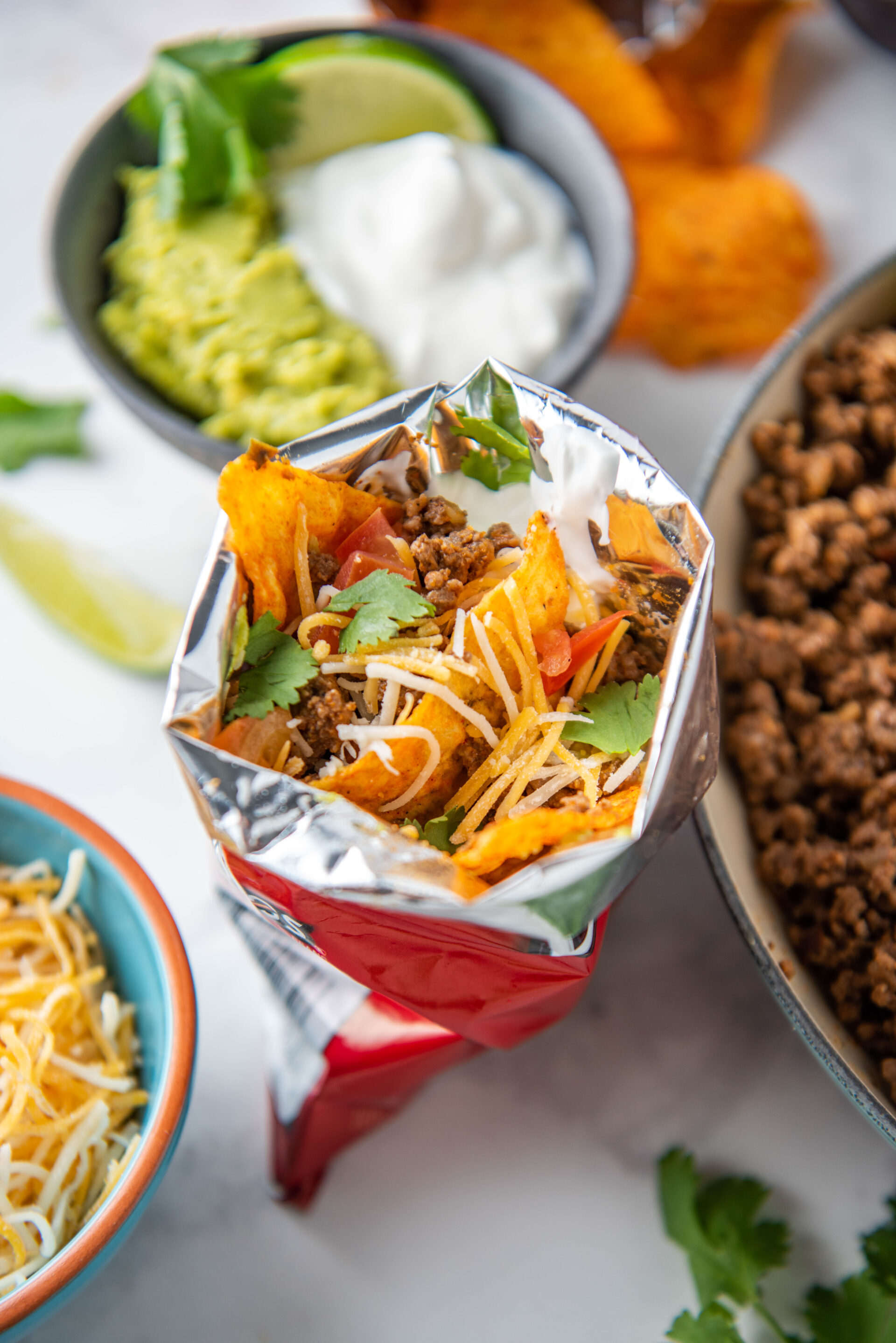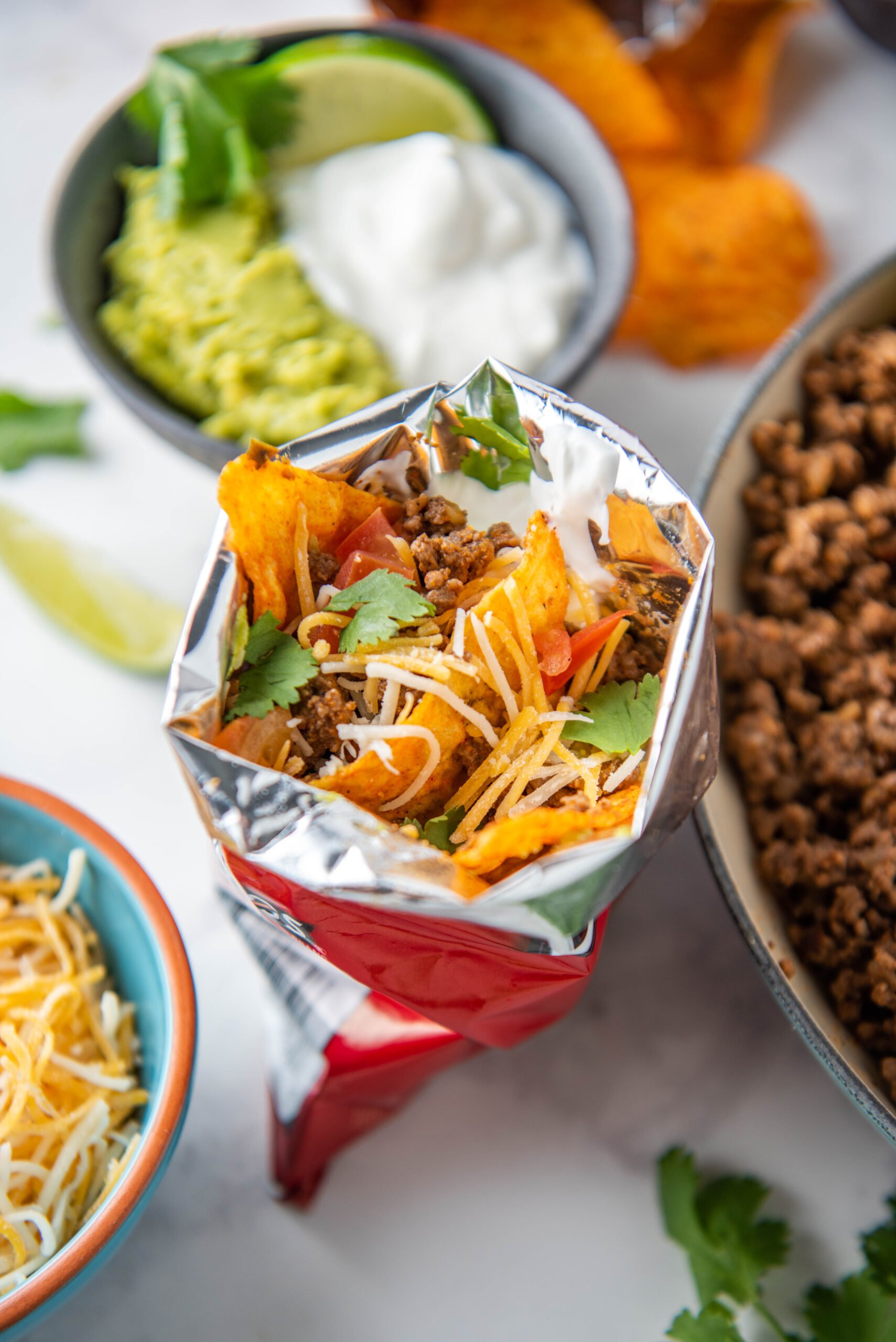 What Is a Walking Taco?
When it comes to taco recipes, you have a lot to choose from. So what makes walking tacos special and so darn fun?
Walking tacos – also known as a taco in a bag, Frito pie, or taco salad – is super popular in the midwest and south. We commonly see them used in fundraisers and sporting events because they're really easy, fun, and highly portable. But what really makes a walking taco is pretty simple… It's any kind of bagged chip that's garnished with a variety of taco or nacho toppings. From meat and beans, to cheese and guac, anything goes!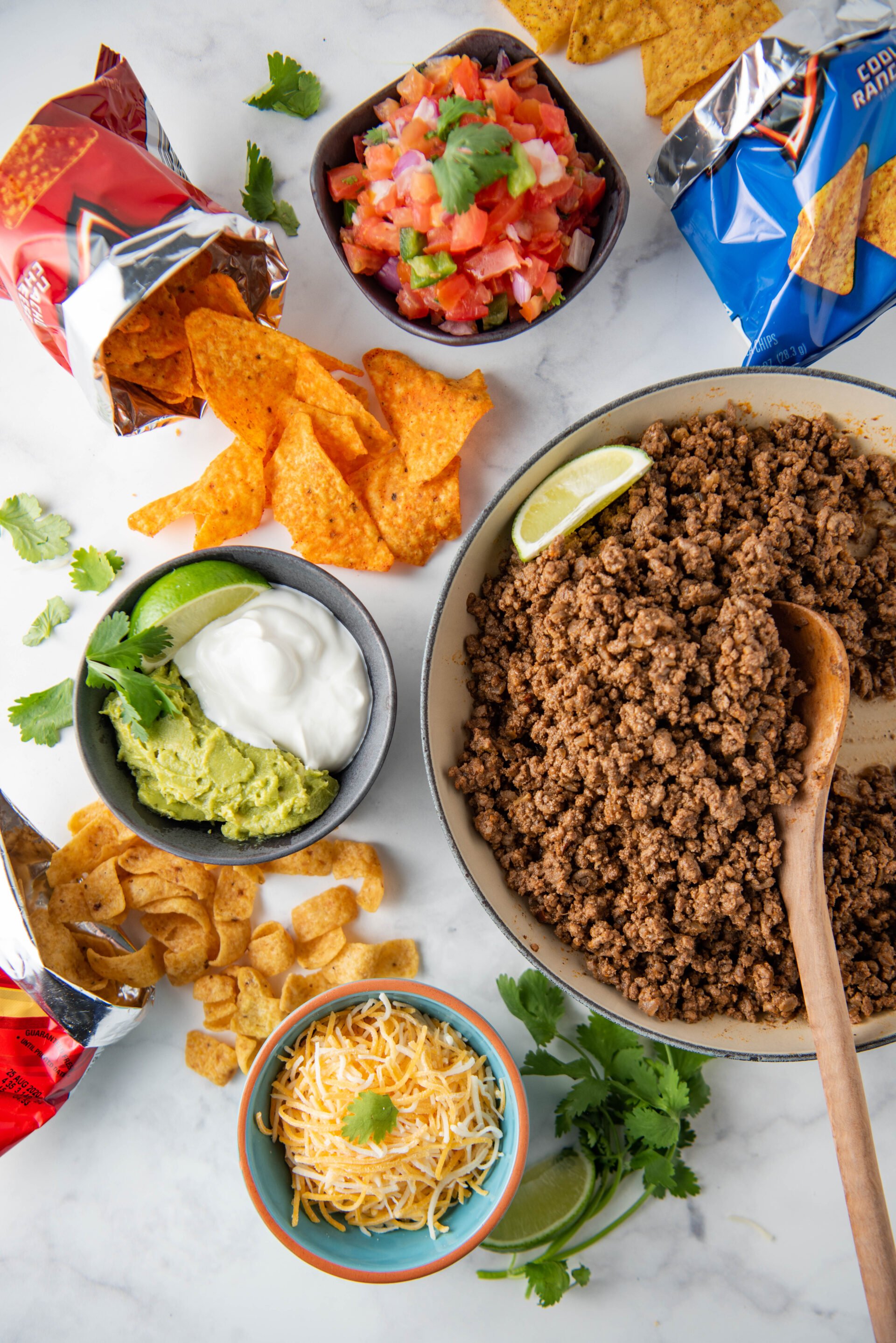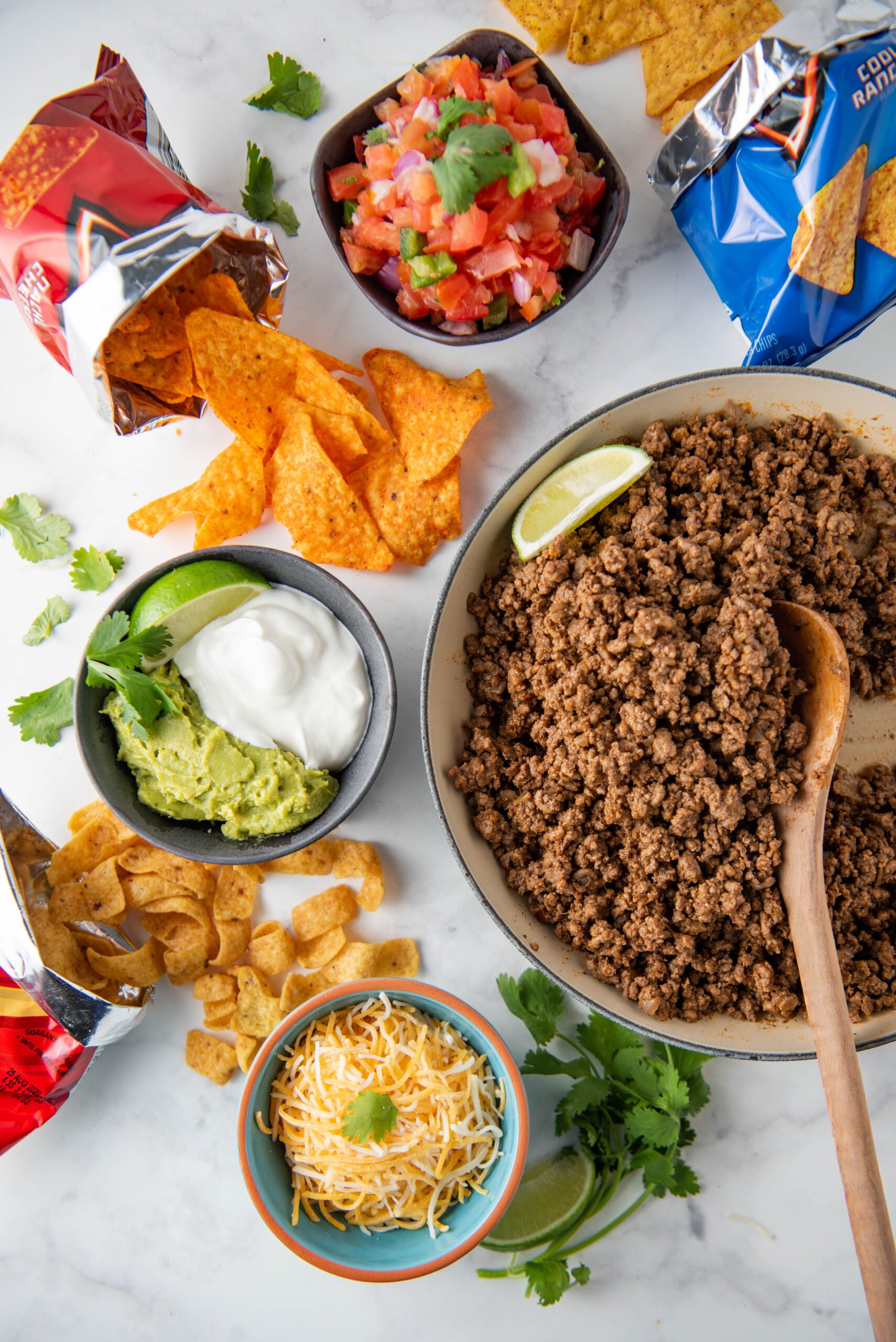 What You'll Need
There are only five simple ingredients to make the perfect taco meat recipe. Then all you need to do is choose your garnishes to make your walking taco complete. Scroll down to the recipe card at the end of this post for exact amounts.
Taco Meat: We made this recipe with ground beef, but you can also use shredded chicken or go vegetarian with refried beans.
Taco Seasoning: This was a great time to use our homemade taco seasoning, but you can also use a pre-made mix if you'd like.
Onion: Sweet onions are great in taco meat, but you can also use white onion or shallot.
Tomato Paste: Just a little adds a great boost of flavor to a taco!
Chips: Choose your favorite! Common choices include Frito Lay or Doritos but there are a ton of great options.
Garnishes: Anything goes here! We love a little sour cream, guacamole, pico de gallo, shredded cheese, cilantro, and lime. If you like it spicy, add some freshly chopped jalapeños or a good few shakes of hot sauce.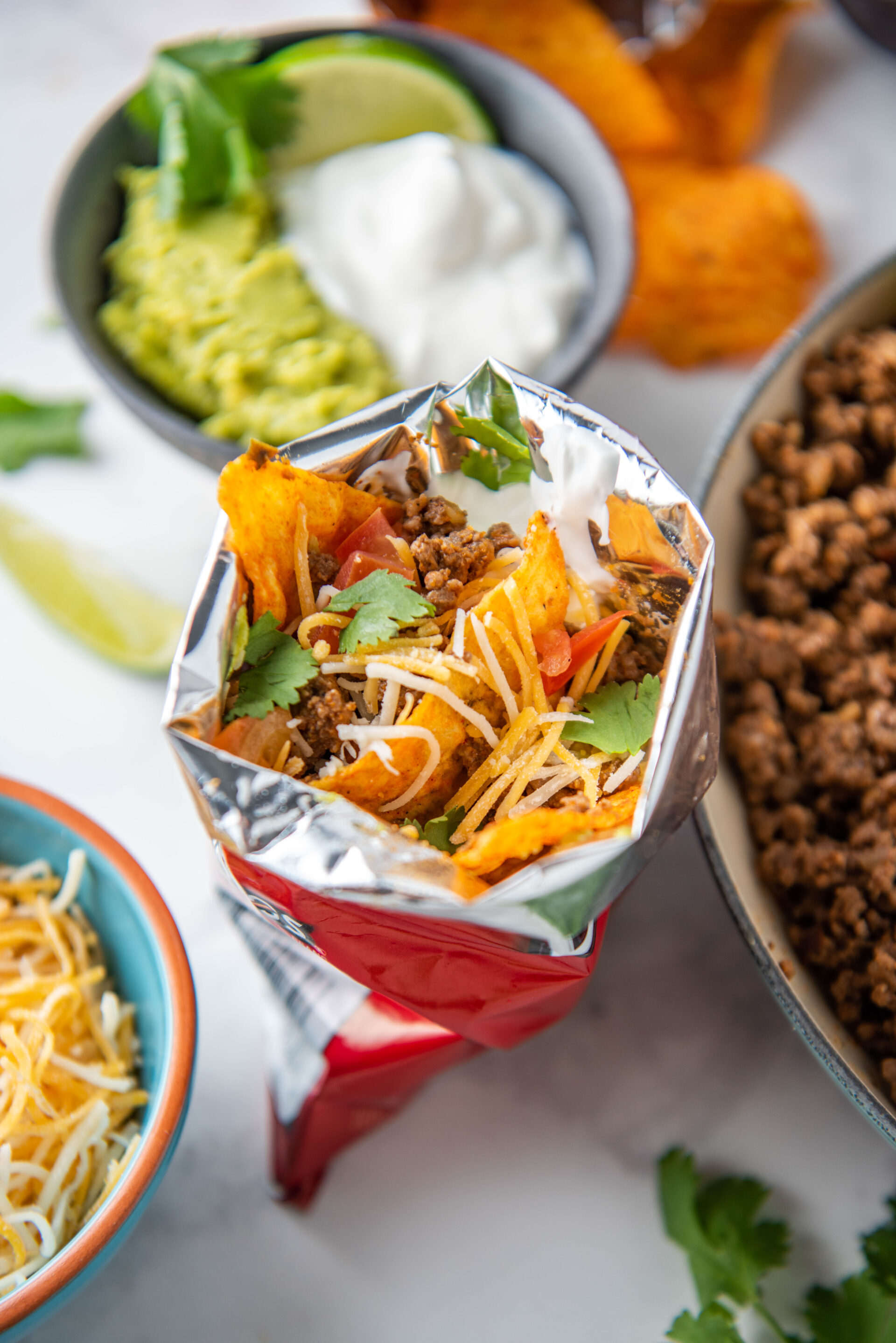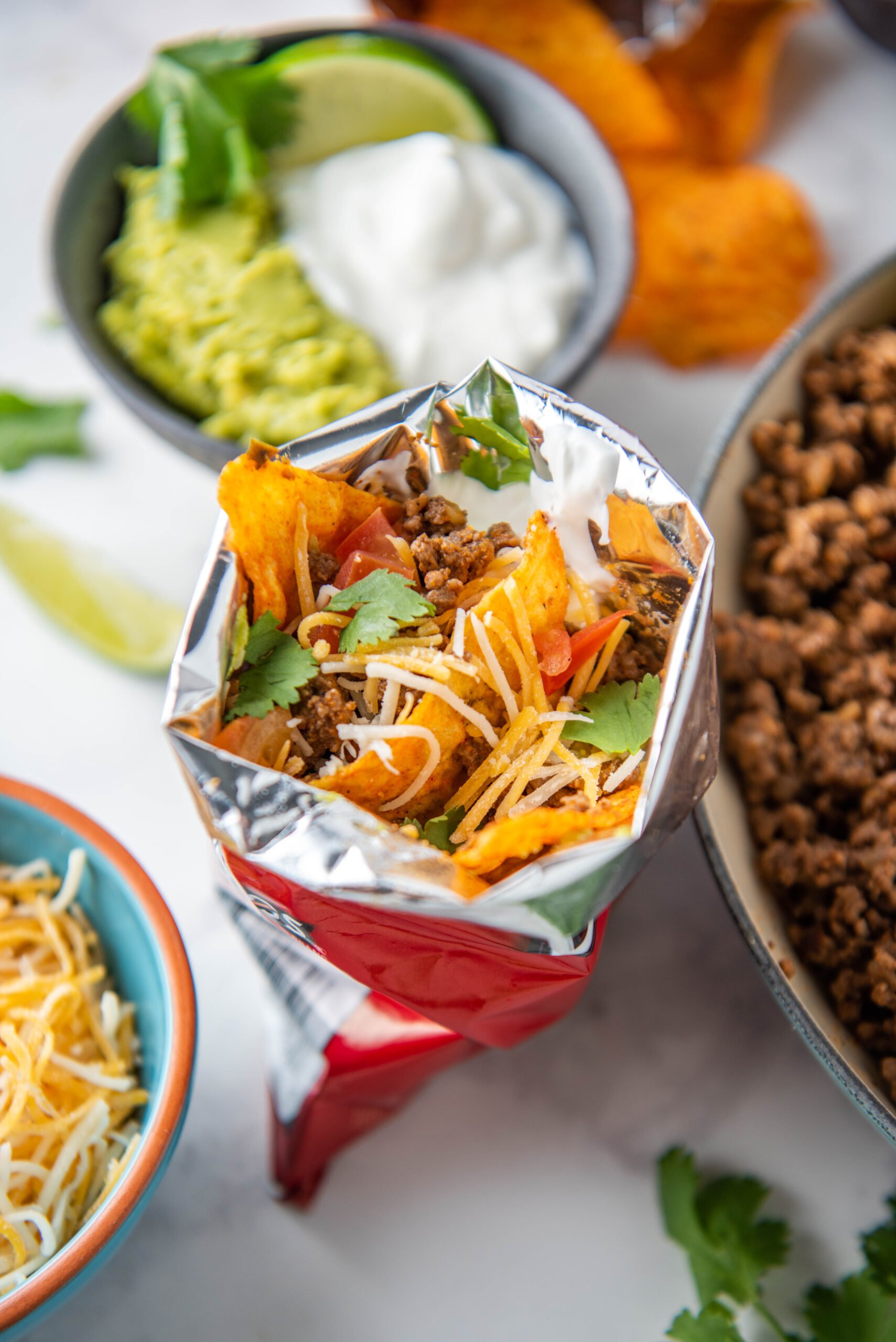 How to Make Walking Tacos
Walking tacos are great for taco Tuesdays, camping, tailgating, or anything else that involves a lot of fun! They're always a huge hit with our families, especially with the little ones because they can grab them and go. Here's how to make them. Be sure to check out the recipe card below for detailed instructions.
Cook the Taco Meat: Cook up the ground beef and onion in a large skillet until the meat is completely cooked. Stir in the taco seasoning, tomato paste and a little water and simmer until the liquid has completely evaporated. Taste everything and add a little more spice if needed.
Assemble: Now comes the fun part! Grab your bag of chips and add some taco meat. We usually find about 1/3 of a cup is just about right. Now, it's time to truly customize your walking taco. Top off your bag with all the toppings you like and dive right in. They are really that simple!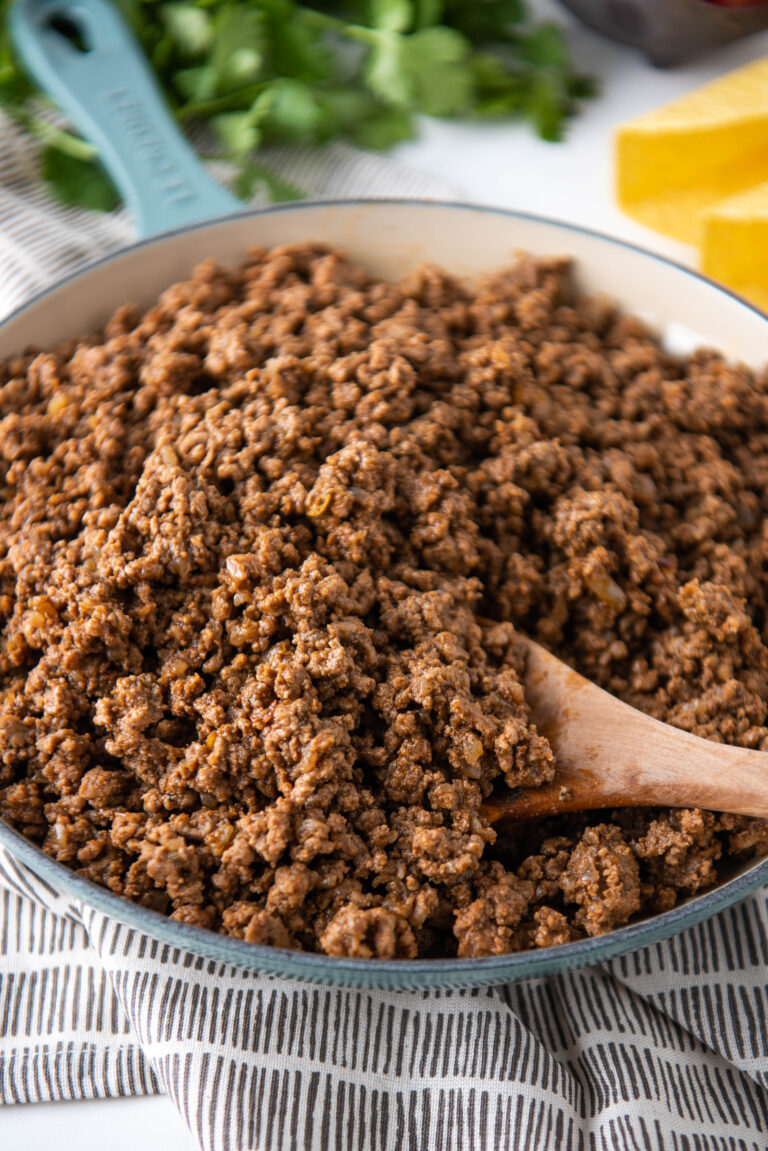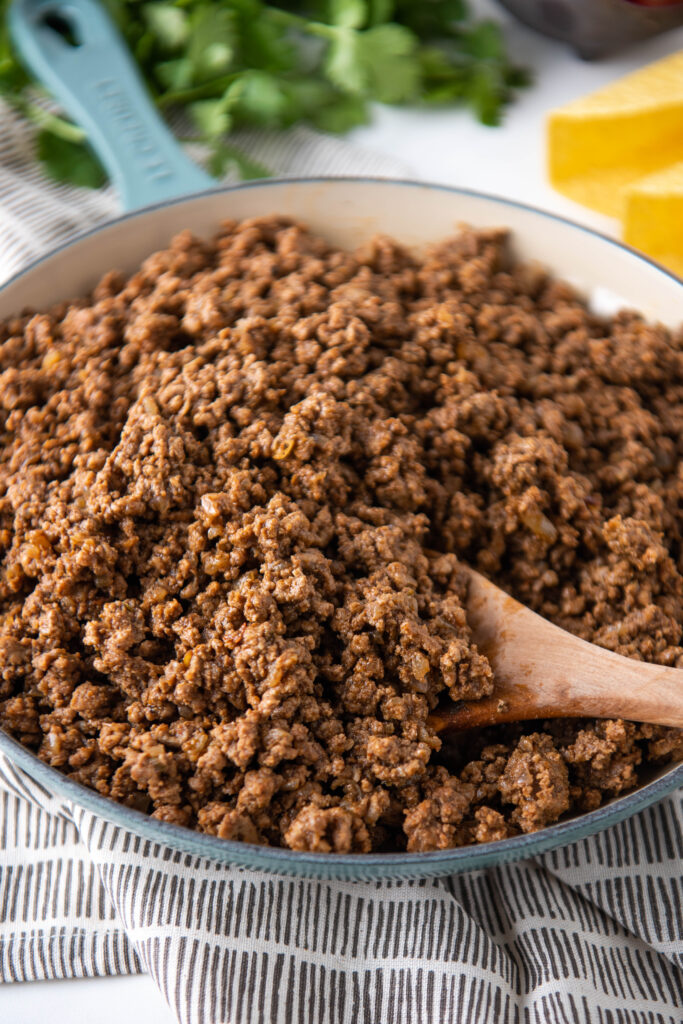 Tips for Success
These walking tacos are perfect because they're delicious, portable, and stress free! Seriously, try these at your next get together. You'll find yourself coming up with all sorts of reasons to have family and friends come over once you try out this recipe. Here are a few tips to make things go smoothly.
Tacos for a Crowd: If you're serving these for a party or a crowd, we recommend setting up an assembly line of toppings. Essentially like a walking taco bar! That way, everyone can get exactly what they want. You can also keep the taco meat warm in a slow cooker so it's ready to go whenever anyone wants to grab a taco in a bag. Set the slow cooker to warm and remember to stir the cooked meat occasionally.
Make Taco Meat Ahead of Time: We usually make walking tacos for larger gatherings, so having things done ahead of time is a huge plus. Tackle your taco meat recipe the night before and then just reheat it in the slow cooker when you want to serve. So easy!
Have Lots of Toppings: The best part about having a taco in a bag is the chance to make it exactly like you want it! Have garnishes that everyone will love and include a nice selection of chips. We love the classics, but sometimes our guests enjoy more unique flavor combos like Cool Ranch Doritos or Cheetos!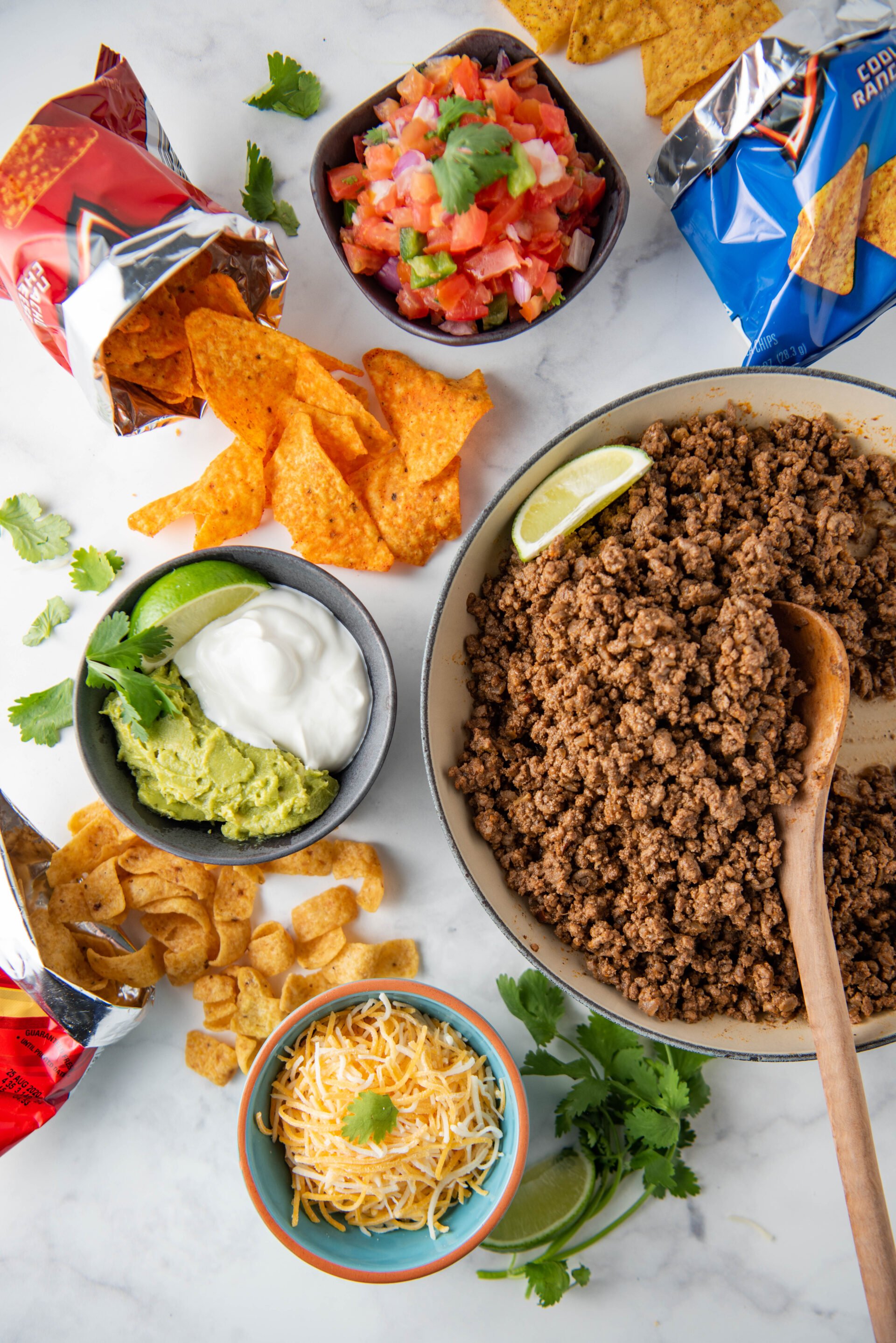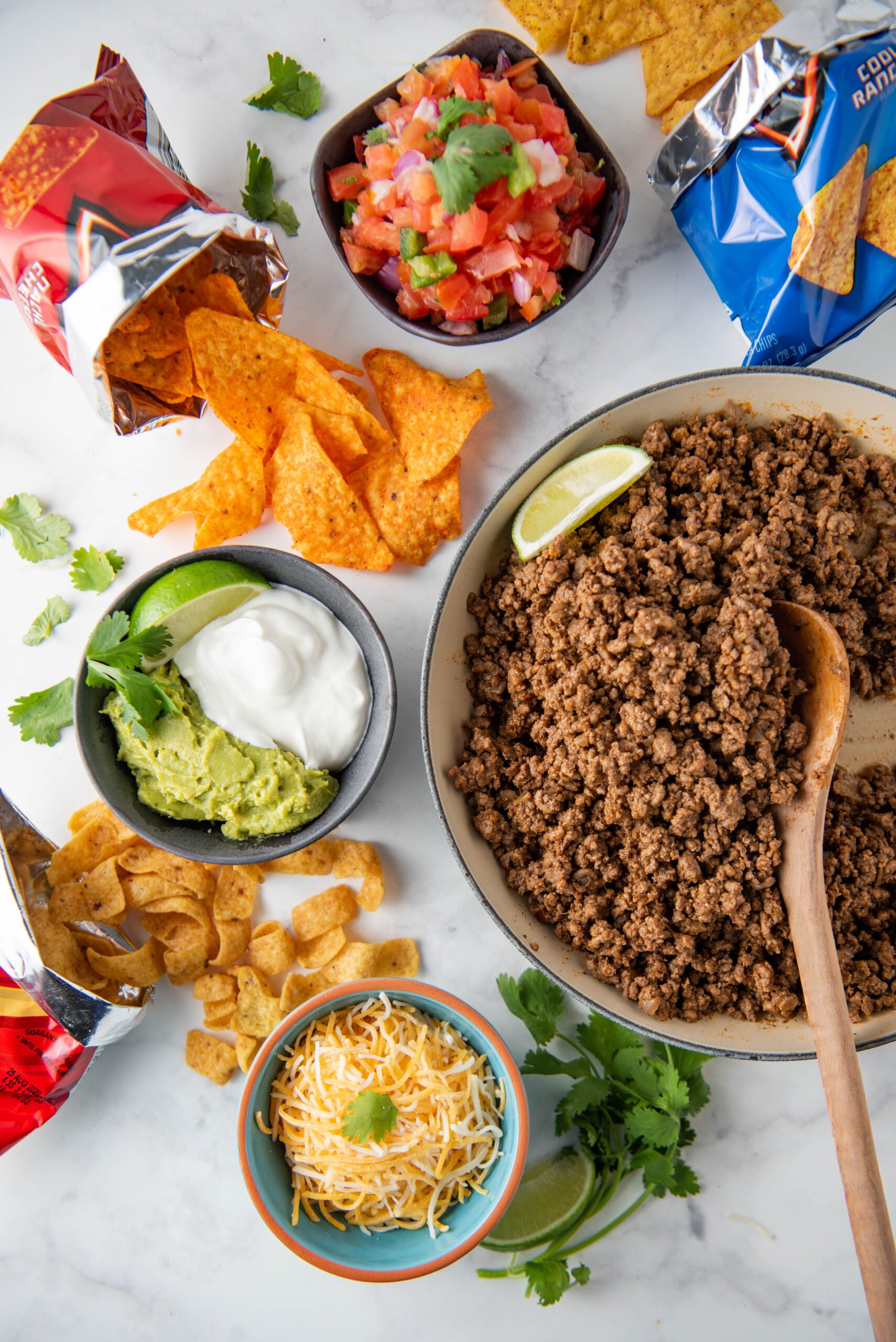 How to Store and Reheat
Storing and reheating taco meat couldn't be simpler. Here are a few things to keep in mind.
Refrigerate: If you have leftover taco meat, it'll keep really well in the fridge for 3-4 days. Be sure to store it in an airtight container for best results. We do not recommend storing chips and meat together as the chips will get soggy.
Reheat: Reheating is super easy and quick in the microwave. Just give everything a quick stir to make sure its heated through evenly.
Freeze: Freezing cooked taco meat is a huge time saver! We always try to make a double or triple batch to have some on hand for easy dinner ideas. For best results, let the meat cool completely and portion out serving sizes into freezer safe bags. Remove as much of the air as possible and then freeze for up to 3 months. When you're ready to use, let the meat thaw overnight in the fridge and reheat in the microwave.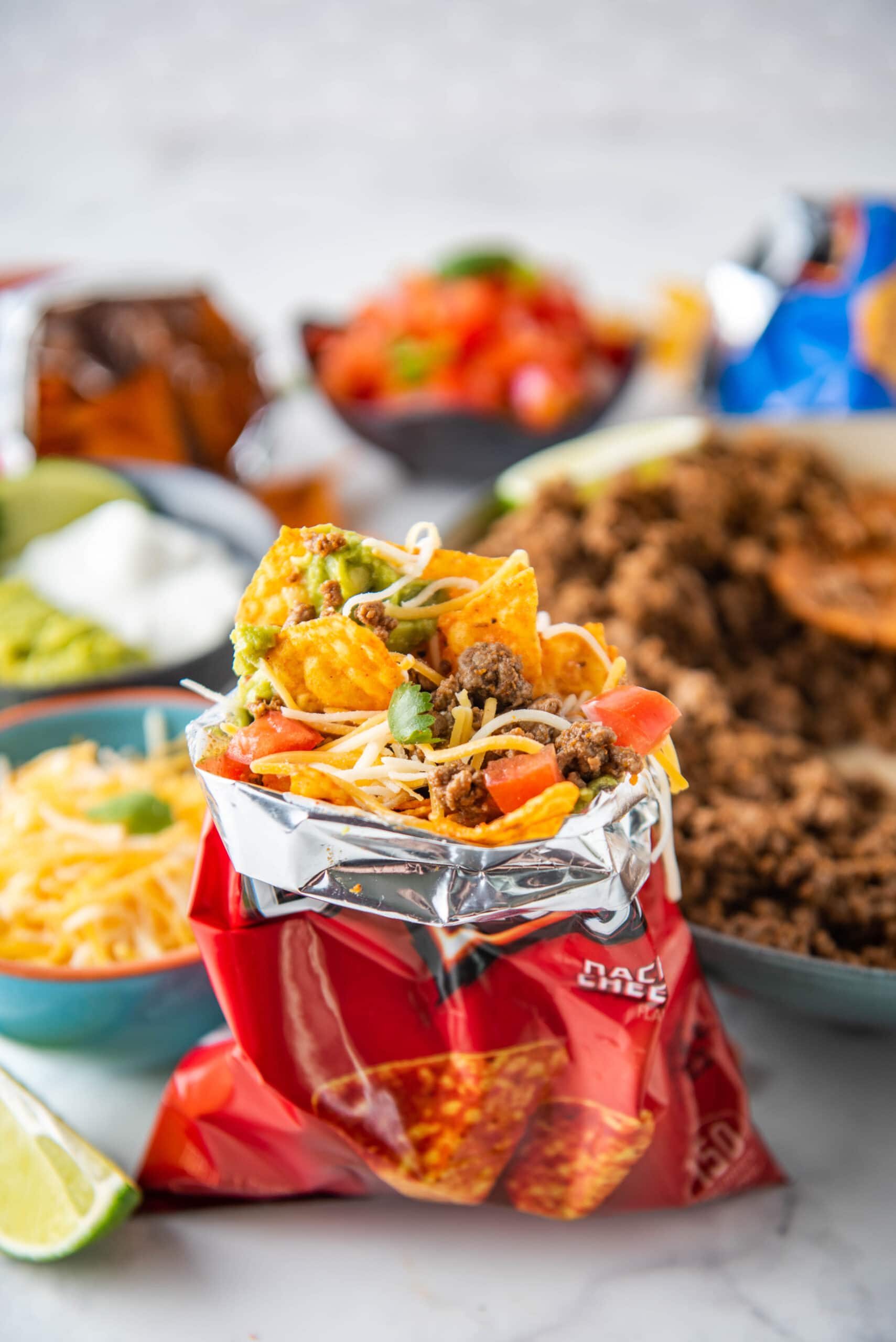 Other Tasty Taco Recipes
Walking Tacos
Walking tacos are the perfect party food if you're looking for something quick and easy, portable, and delicious. They have all the best parts of a taco, but in a chip bag! Clean up is a breeze and everyone gets to choose their favorite toppings.
Ingredients
Taco Meat:
2

pounds

lean ground beef

1

large onion

,

chopped

3

tablespoons

homemade taco seasoning

1 ½

cups

water

2

tablespoons

tomato paste
Walking tacos:
16

individual bags of corn chips

,

Fritos, tortilla chips, Doritos, etc

Sour Cream

Guacamole

Pico De Gallo

Shredded Cheese

Cilantro

Lime Wedges
Instructions
In a large skillet, brown beef and onion over medium heat until meat is no longer pink. Drain any excess fat from pan.

Add seasoning and tomato paste, stir to combine. Add water and bring to a boil. Reduce heat to a simmer and cook uncovered, until the liquid is evaporated, about 10 minutes.

Taste meat to ensure it's seasoned enough. If the flavor isn't there, add more salt or taco seasoning as needed.

To assemble Walking Tacos: Open individual bags of chips and fill with taco meat and extra toppings as desired! Serve immediately!

Notes
Keep taco meat warm in a slow cooker over medium heat for a party!
Nutrition
Serving:
1
serving
,
Calories:
756
kcal
,
Carbohydrates:
67
g
,
Protein:
24
g
,
Fat:
45
g
,
Saturated Fat:
8
g
,
Polyunsaturated Fat:
32
g
,
Cholesterol:
52
mg
,
Sodium:
779
mg
,
Fiber:
5
g
,
Sugar:
1
g