These White Chicken Lasagna Rollups are so delicious and impressive, but surprisingly simple to make! They are so hearty, cheesy, and loaded with flavor!
If you enjoy this recipe, try our Stuffed Shells!
White Chicken Lasagna Rollups
As much as we love classic lasagna, there's something so unbeatable about this White Chicken Lasagna Rollups recipe. It's creamy, it's dreamy, it's absolute perfection! This dinner is especially nice when you need some good comfort food. I mean really, what's better than cheesy white sauce and tender chicken all wrapped up in noodles?
Another BIG benefit is that these rollups are easy to prep ahead and make great leftovers! Our family, despite their best efforts, can never finish the full pan. Luckily, they're still scrumptious reheated!
These lasagna rollups look incredibly impressive, but are surprisingly easy to make. You will definitely impress your guests with a tray of these for dinner, just don't tell them how simple they were for you to whip together.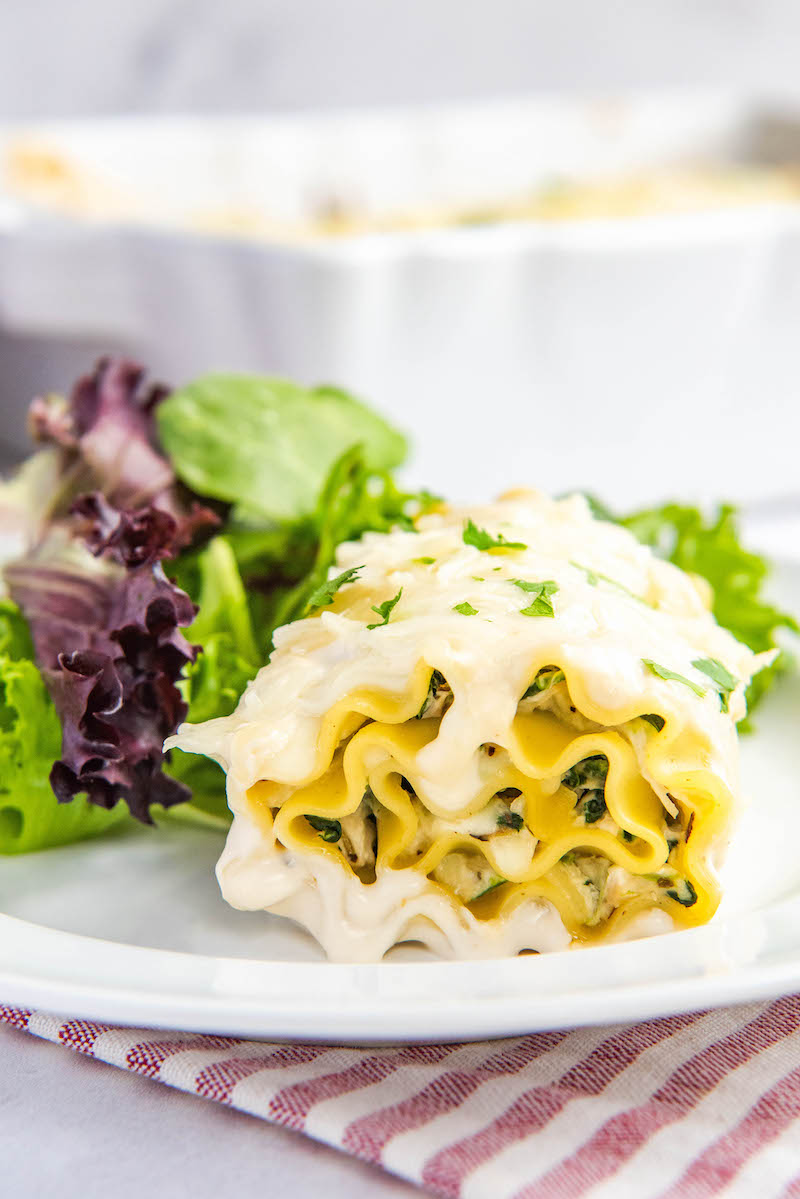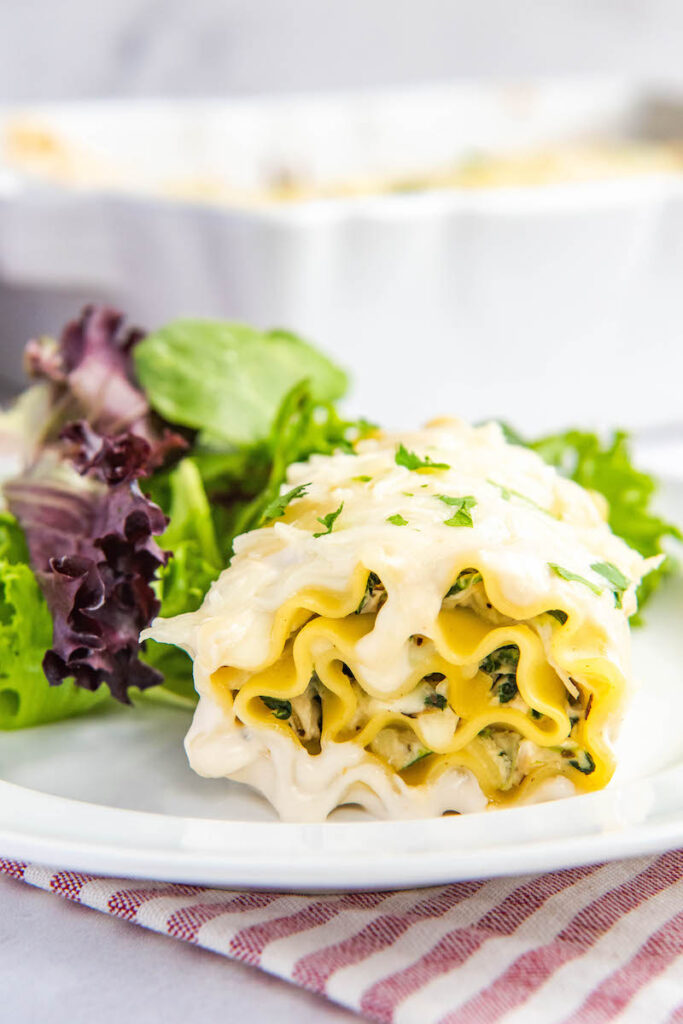 Lasagna roll ups are incredibly similar to lasagna in all ways except presentation. Instead of layering each layer on top of each other, we stuff our lasagna noodles with filling and roll them up. Cover them in sauce and bake!
One of my favorite things about this recipe is that the portions are already made for you! Instead of having to cut a piece of lasagna, you can just scoop up one of these rollups and place them on your plate. Chances are, once you taste how delicious they are, you'll have more than one!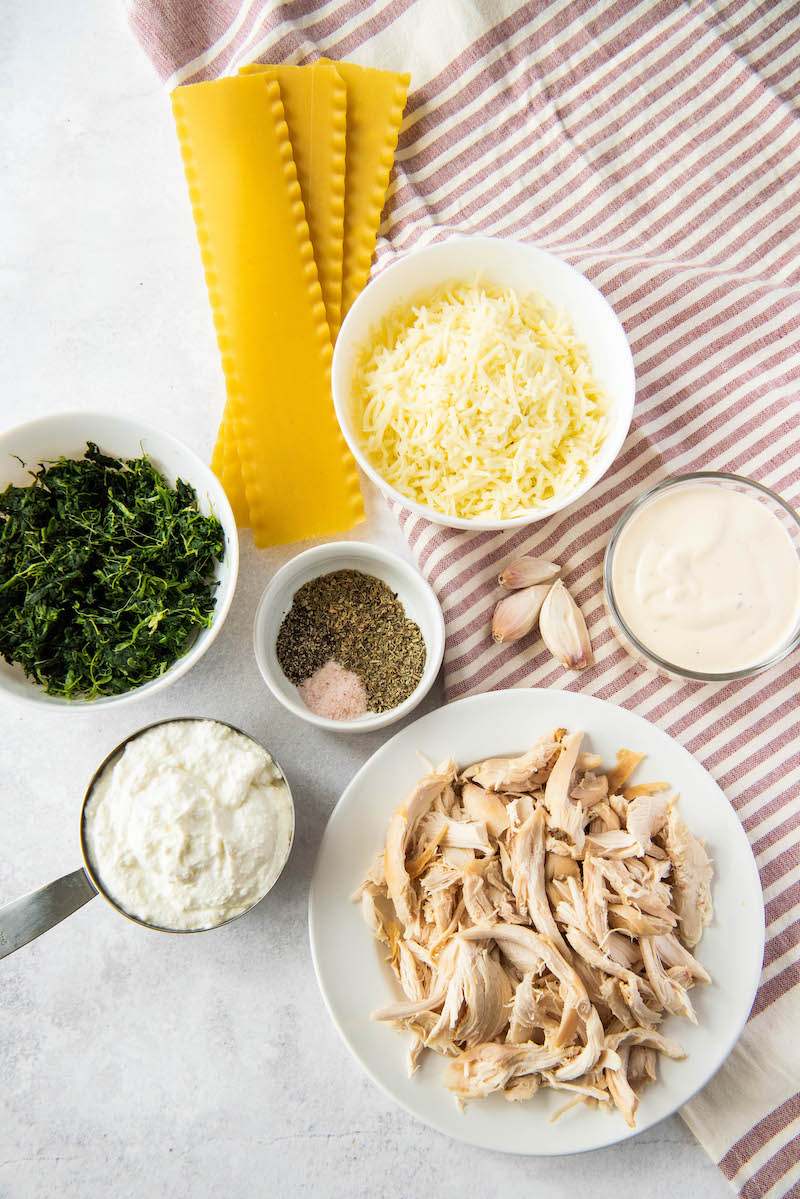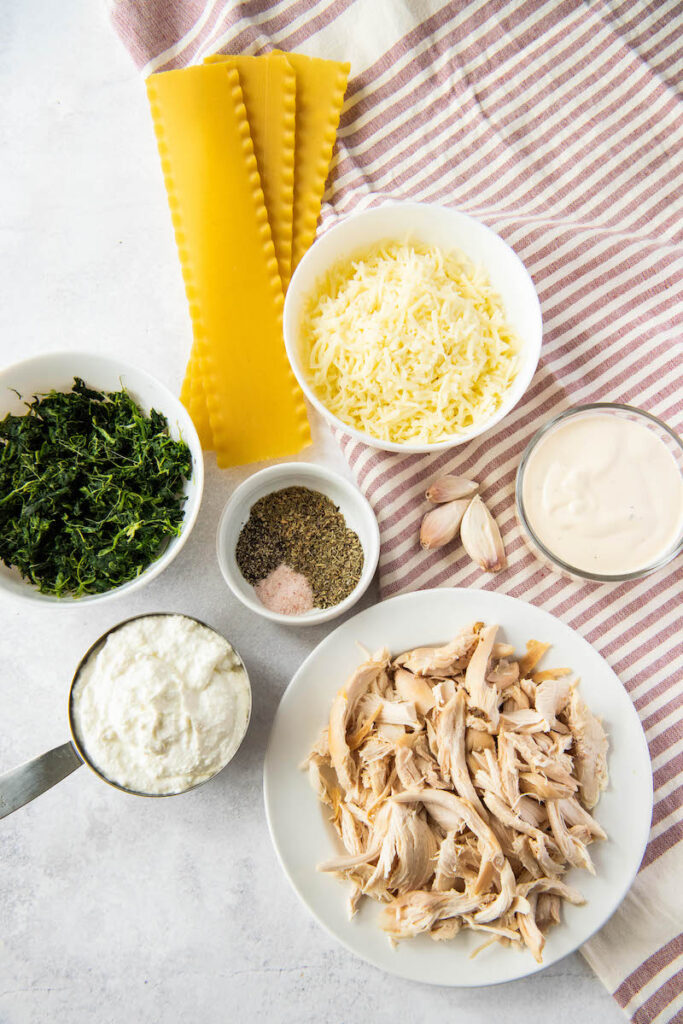 Ingredients
This recipe uses various cheeses and Italian seasonings, so be ready for your kitchen to smell better than a restaurant!
Lasagna Noodles
Frozen Chopped Spinach
Shredded Mozzarella
Ricotta Cheese
Shredded Parmesan Cheese
Garlic Cloves
Salt
Pepper
Dried Oregano
Italian Seasoning
Cooked and Shredded Chicken
Alfredo Sauce
To speed this recipe up, you can use a store bought rotisserie chicken and shred the meat. Or, if you'd prefer, you can also make your own shredded chicken at home. Either way is delicious, it just depends on how much time you have!
Can I make these into vegetarian lasagna rollups?
Yes! You can absolutely skip the chicken in this recipe and instead have some delicious cheesey spinach lasagna rollups. You can also double the spinach and/or add some sautéed mushrooms for extra vegetable goodness.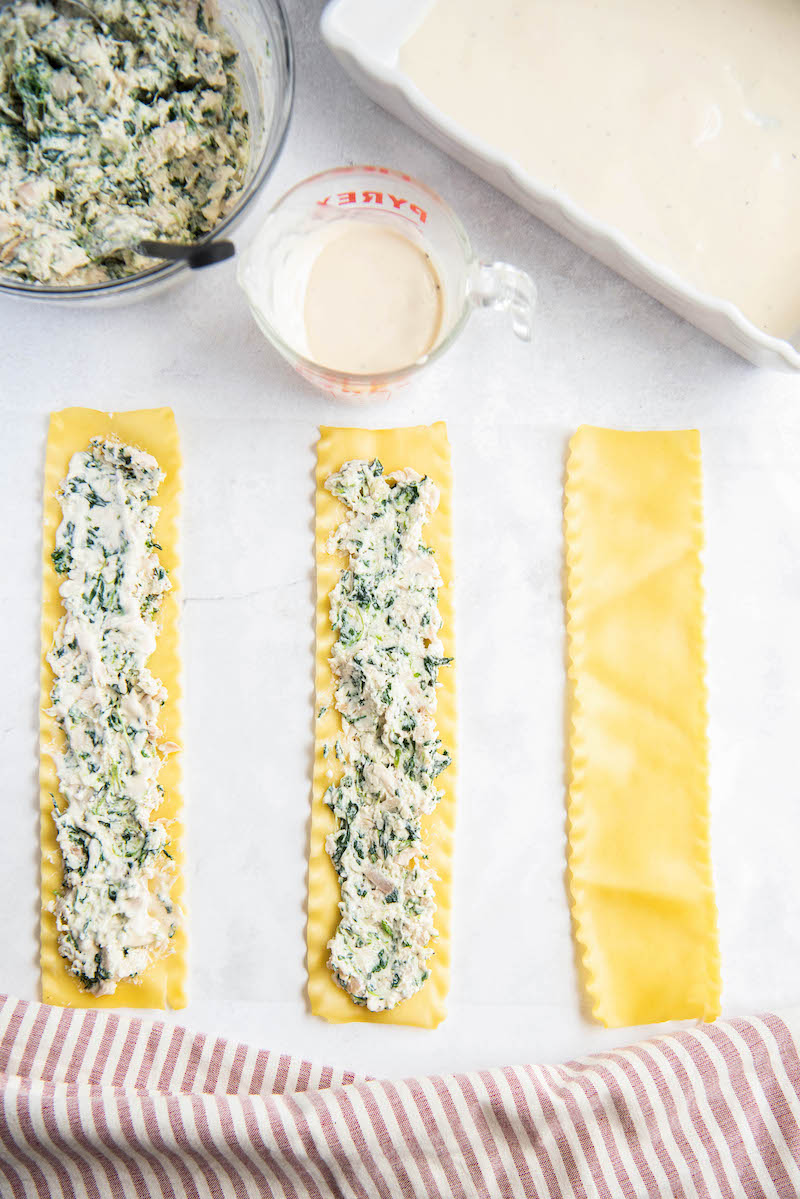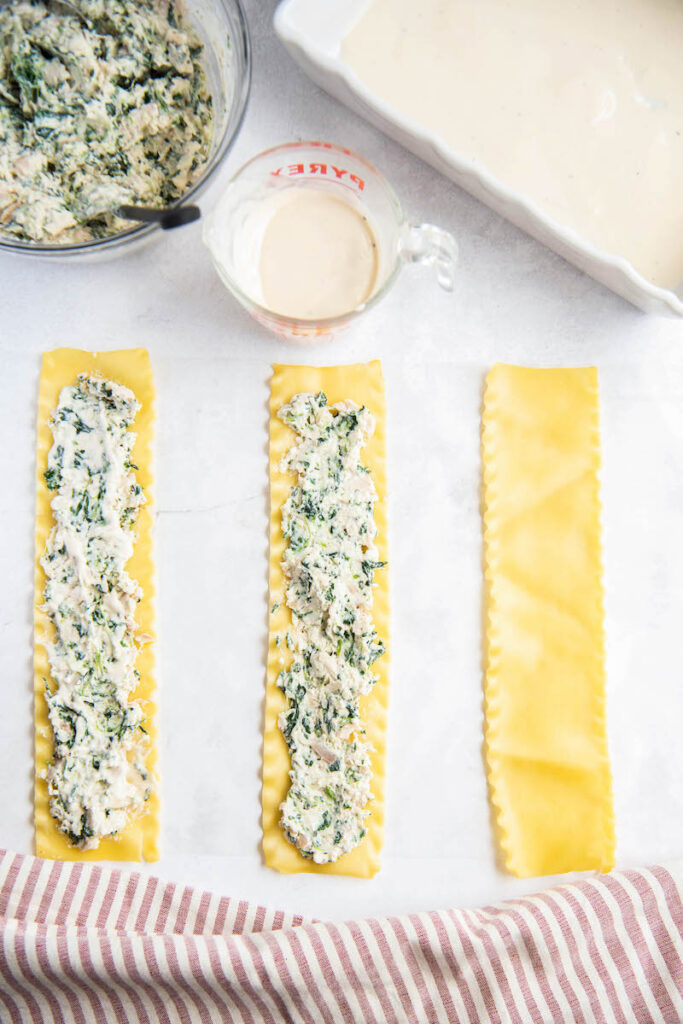 How to make lasagna rollups:
1. Preheat your oven to 350 and grease a 9×13 casserole dish.
2. While your oven is preheating, go ahead and boil your lasagna noodles according to the package instructions so they'll be ready to go. Drain them well, then set them aside. You want to make sure they're totally dry, that way they'll be easy to roll.
3. Then, in a large bowl, combine the spinach, mozzarella cheese, ricotta cheese, parmesan cheese, minced garlic, salt, pepper, oregano and Italian seasoning. Once that's all mixed together, fold in the chicken. Try not to eat the whole bowl then and there!
4. Pour one cup of Alfredo sauce into the bottom of your already prepared casserole dish.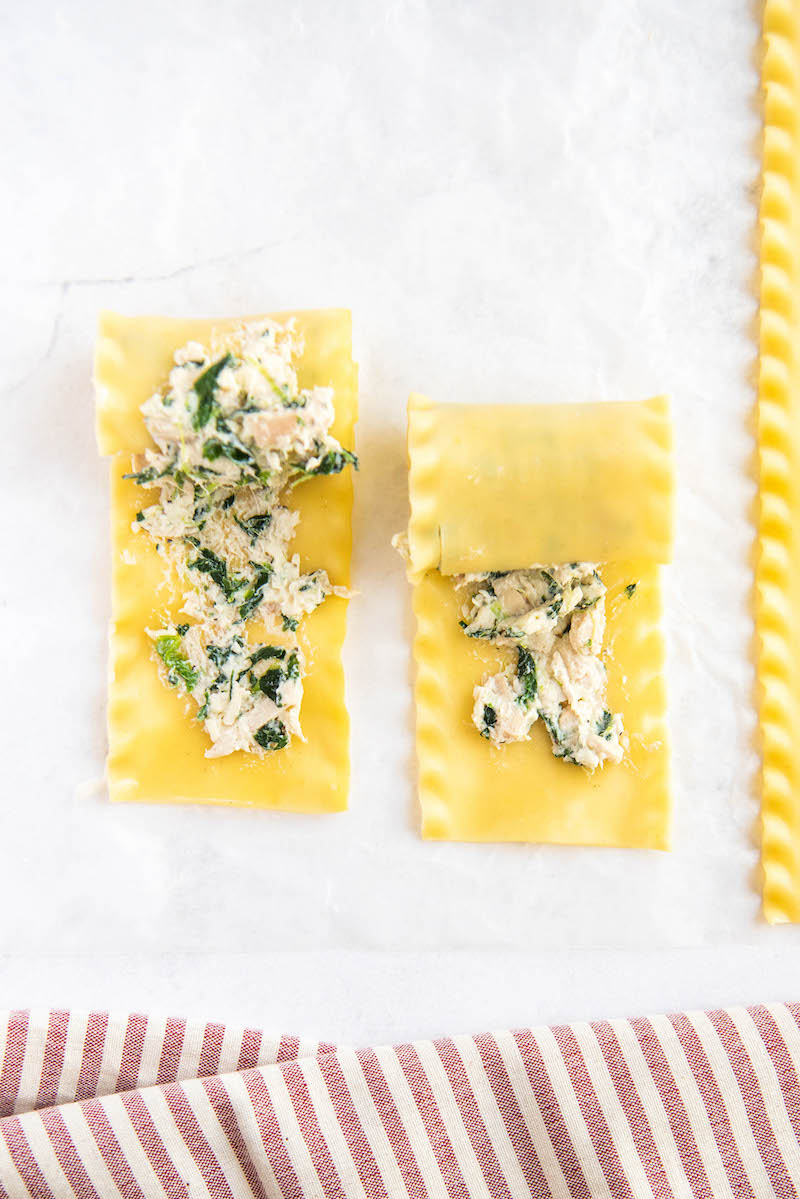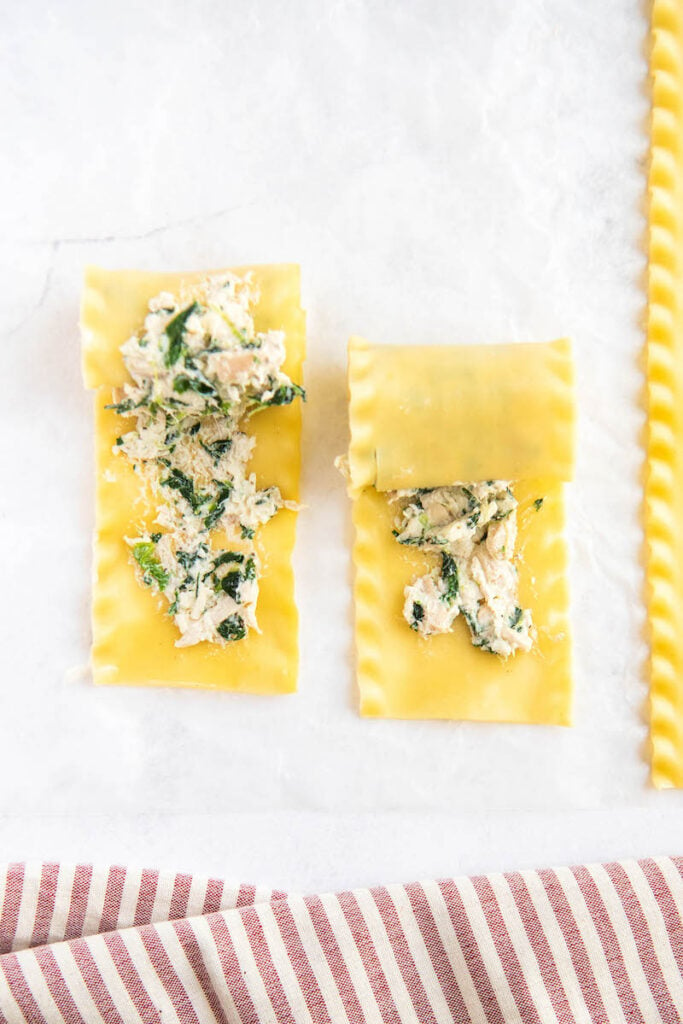 5. Next, lay your cooked lasagna noodles on either wax or parchment paper. Use about a 1/4 to 1/3 cup of your cheesy filling and spread it evenly over each lasagna noodle. When doing this, it's important to make sure you're leaving the tips of the pasta clean! That way, when you roll it up, it'll seal.
6. Now, for the fun part — this is usually when the kids want to join in to help! Carefully roll up each lasagna noodle and place them seam side down. Do this for each lasagna noodle, until you fill your casserole dish.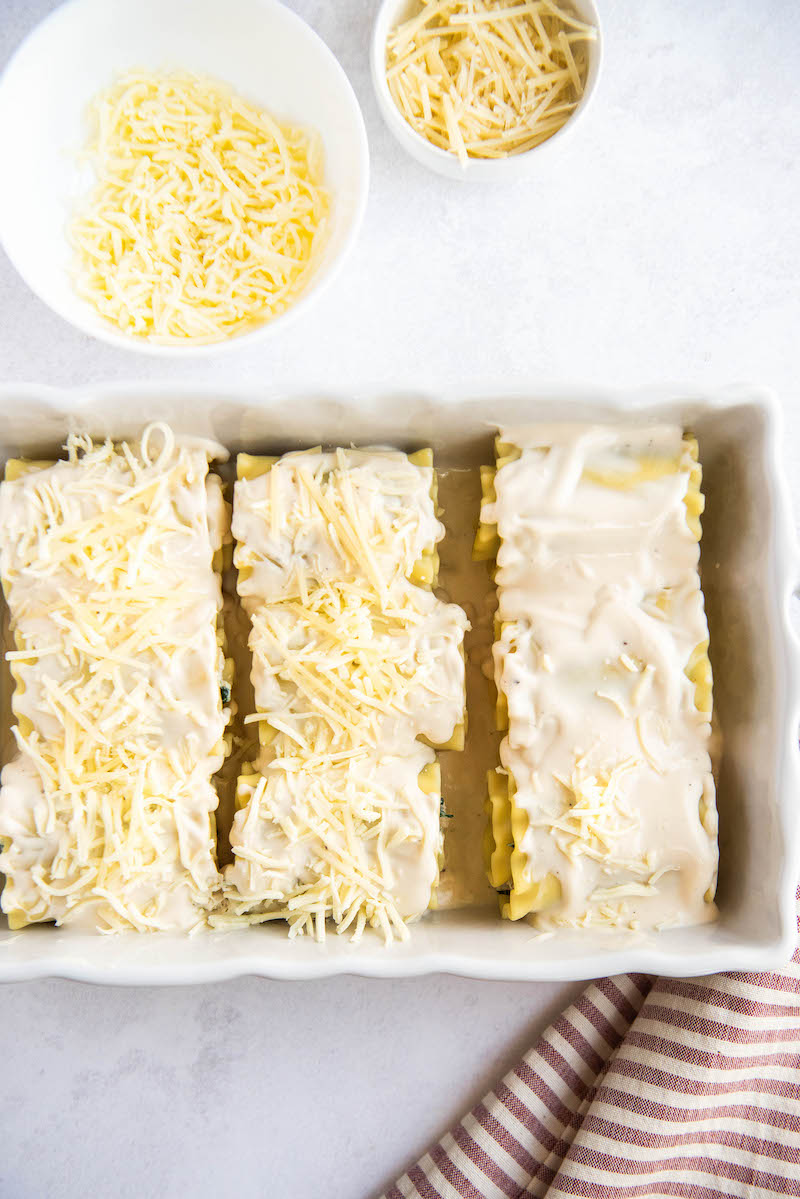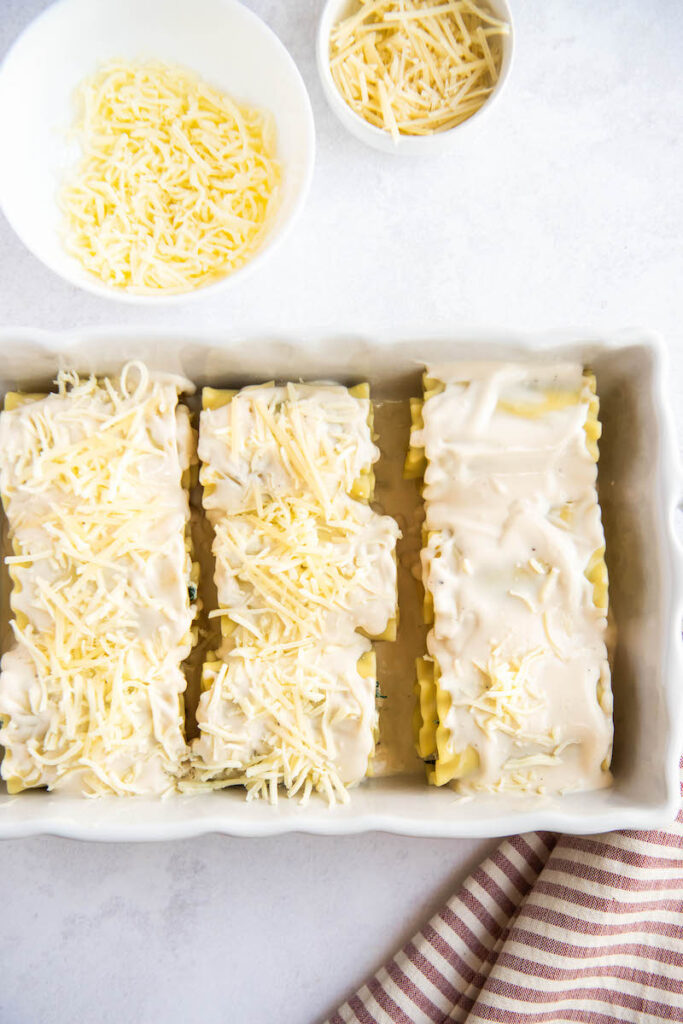 7. Take your remaining Alfredo sauce and pour it all over your rollups. Don't be afraid to really smother them!
8. After that, sprinkle some mozzarella and parmesan right on top. We love is extra cheesy, so we're pretty liberal with how much we use. In our homes, we have a simple rule – the more cheese, the better!
9. Bake covered with aluminum foil for 20 minutes. Remove foil and bake for 10 more minutes. Serve immediately!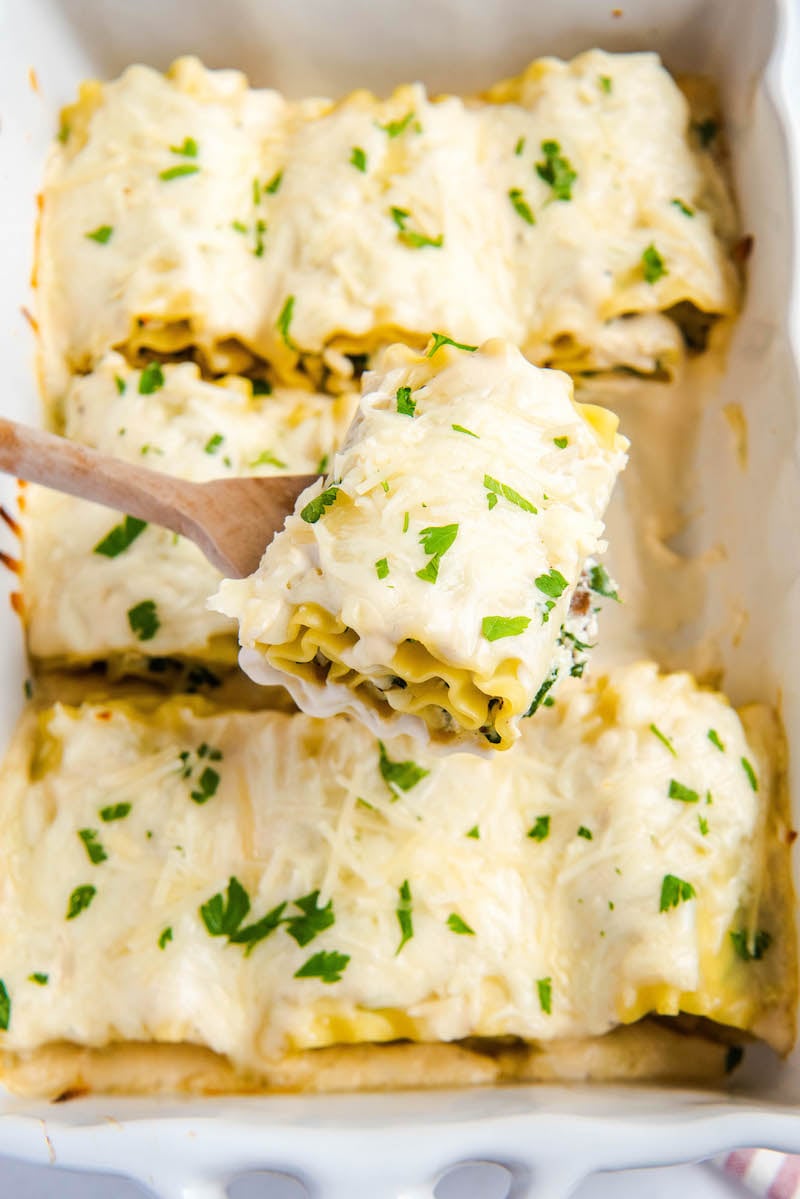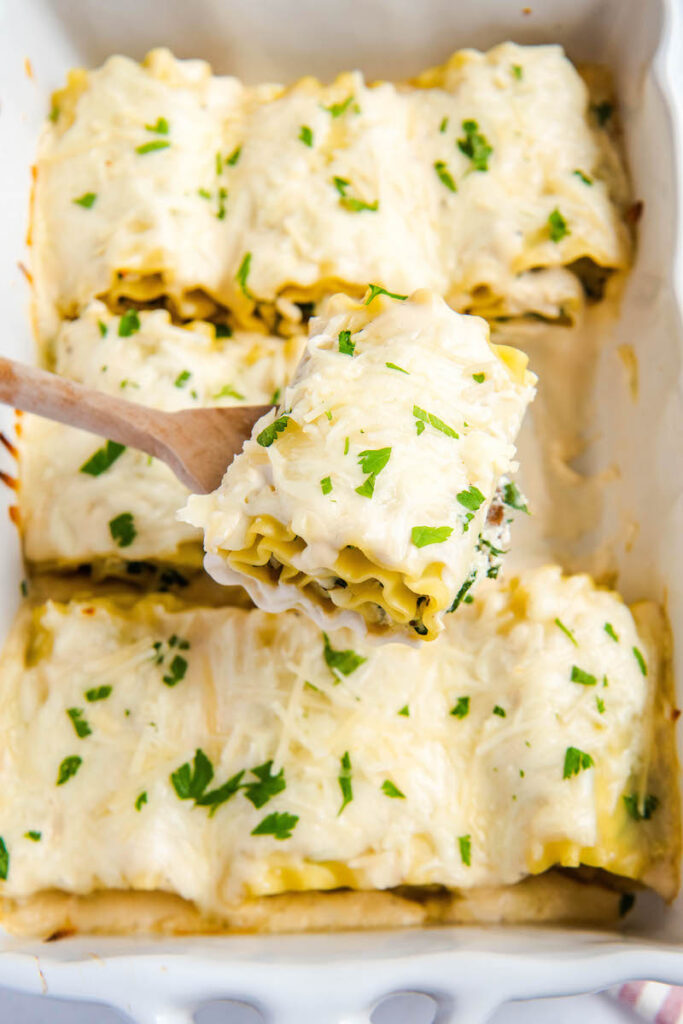 Can I prep these ahead?
Yes! This is a great meal prep dinner that can be prepped ahead of time. It's also wonderful for guests so you can spend your time enjoying their company instead of cooking.
How to prep lasagna rollups ahead of time:
Follow all directions until it's time to bake lasagna rollups. Stop there and cover lasagna roll ups tightly in casserole dish with plastic wrap or foil.
Refrigerate for up to 24 hours (48 hours max).
To bake, remove plastic wrap, cover and bake for 30 to 35 minutes. Uncover; bake for an additional 10 minutes, or until completely cooked through. They will need to bake a little longer than the recipe states because they are going straight from the fridge to the oven.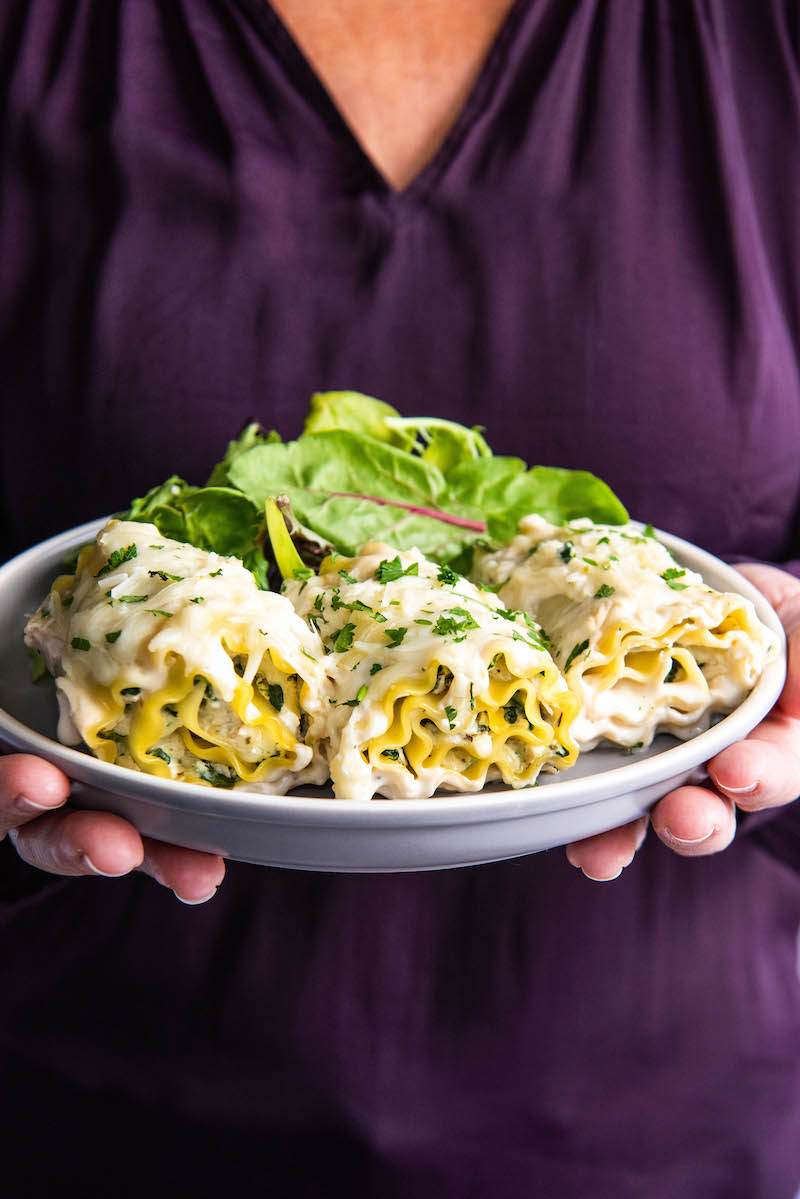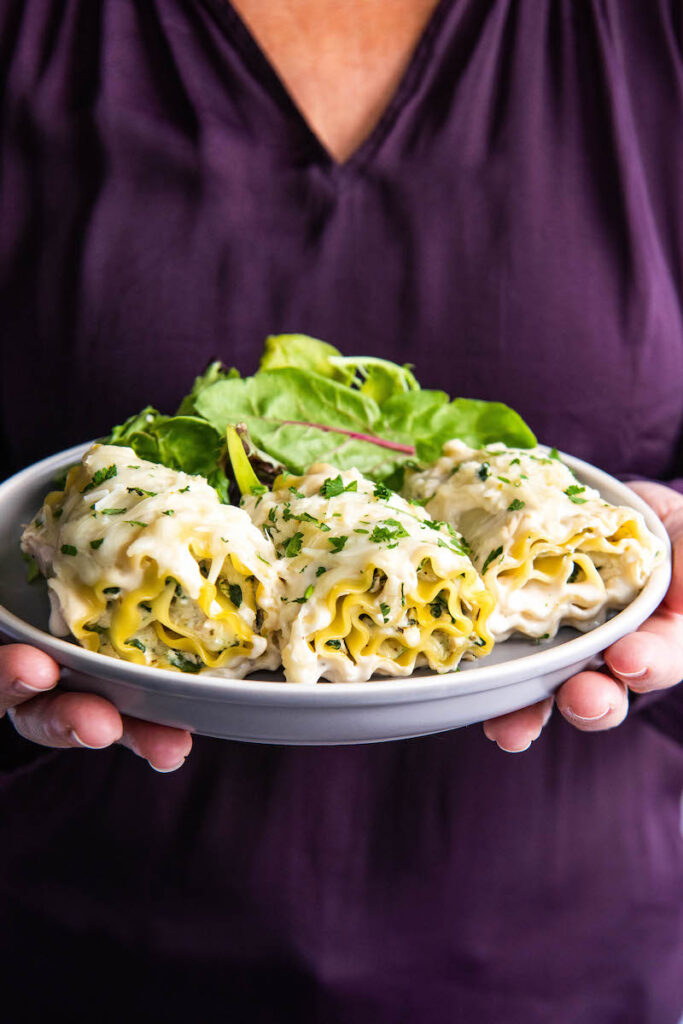 Tips for the best Lasagna Rollups:
It's very important to make sure to squeeze out all excess water from the spinach. Or your filling will become watery. I like to use cheese cloth to do this, but you can also use a mesh strainer and a spatula or wooden spoon to press the excess liquid out!
Make sure to leave the tip/end of the pasta clear of any filling so when you roll it up it seals. Then place the lasagna rollup seem side down in the casserole dish. This will ensure they stay together while baking and serving.
Do not overfill your rollups or they will ooze a lot while baking. And while this doesn't really affect the taste, it does make them a lot messier to serve and not as attractive as you see in the photos. I recommend between 1/4 cup to 1/3 cup of filling per lasagna noodle.
How to serve:
These White Chicken Lasagna Rollups are best served fresh and hot out of oven! They go perfectly with a side salad of your choice, like an Italian or Caesar salad. We also love to serve these with a good hunk of garlic bread or breadsticks!
If you are feeling up to it, we also love to finish off the meal with a big slice of our favorite chocolate cake!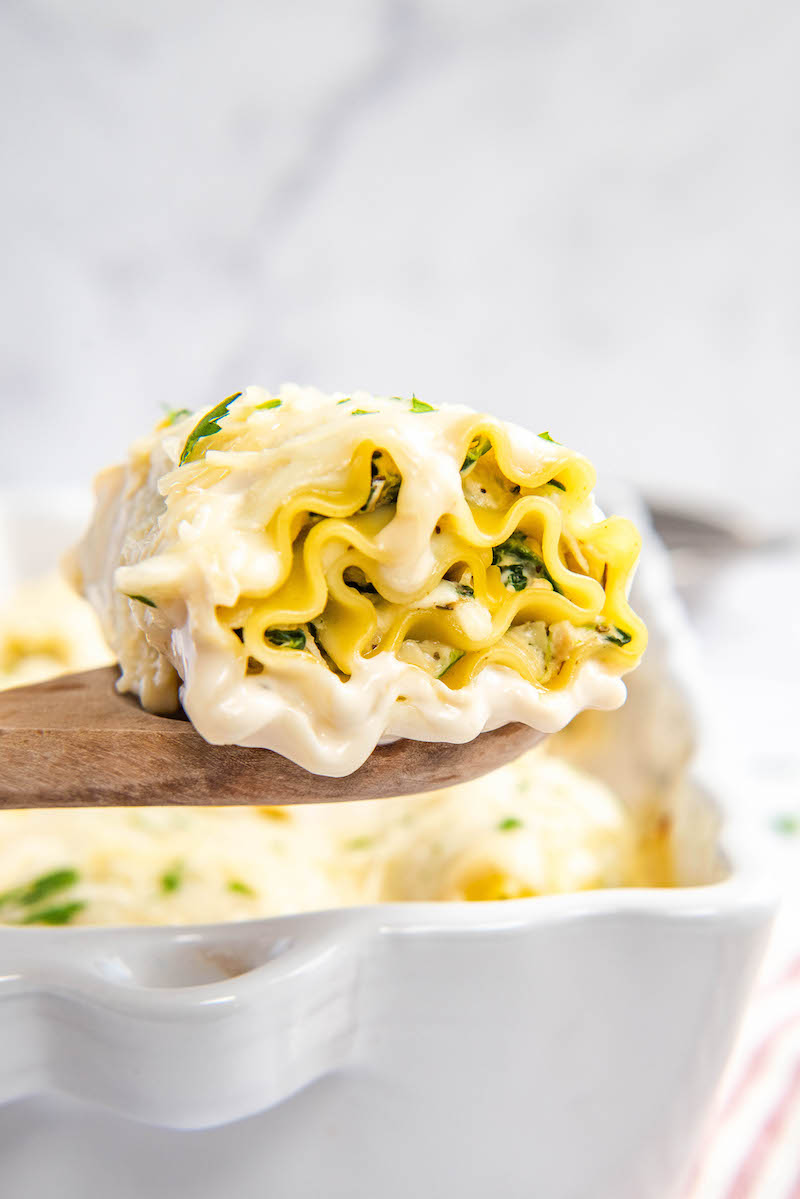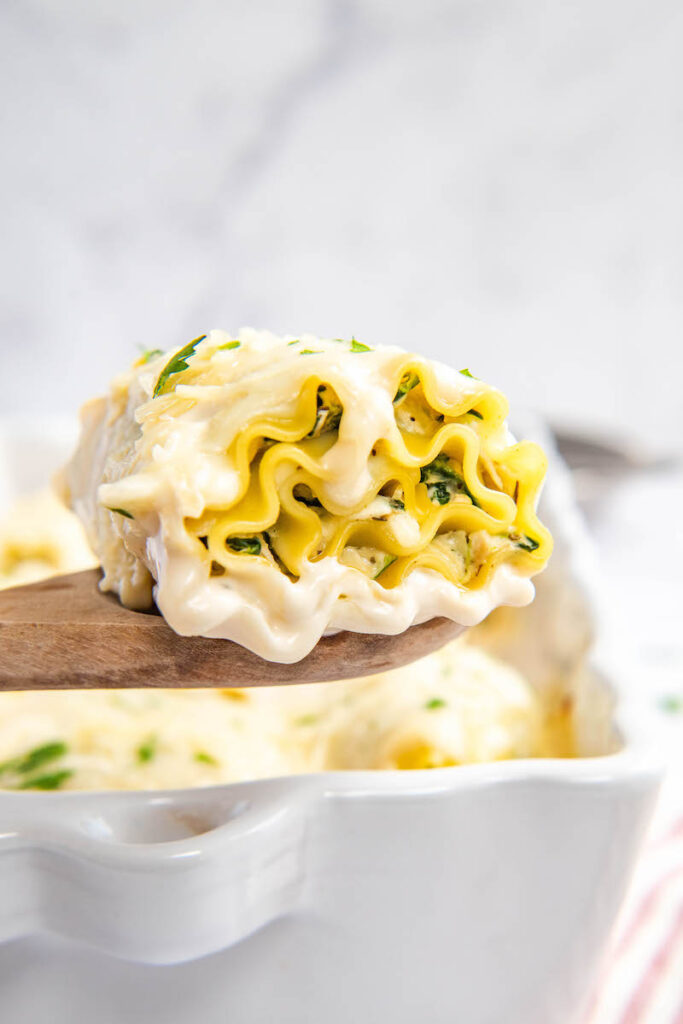 We are so excited for you to try these White Chicken Lasagna Rollups as they are a personal family favorite. Keep in mind that while this is the perfect family dinner, it's also fantastic for parties or potlucks!
Because you can prep it ahead of time and serve it so easily, it's an awesome dish for large gatherings. Not to mention you'll be the star of the party once everyone tries a bite. We're not exaggerating when we say that everyone LOVES this dish! Be ready to share this recipe!
Yield: 12 lasagna rollups
White Chicken Lasagna Rollups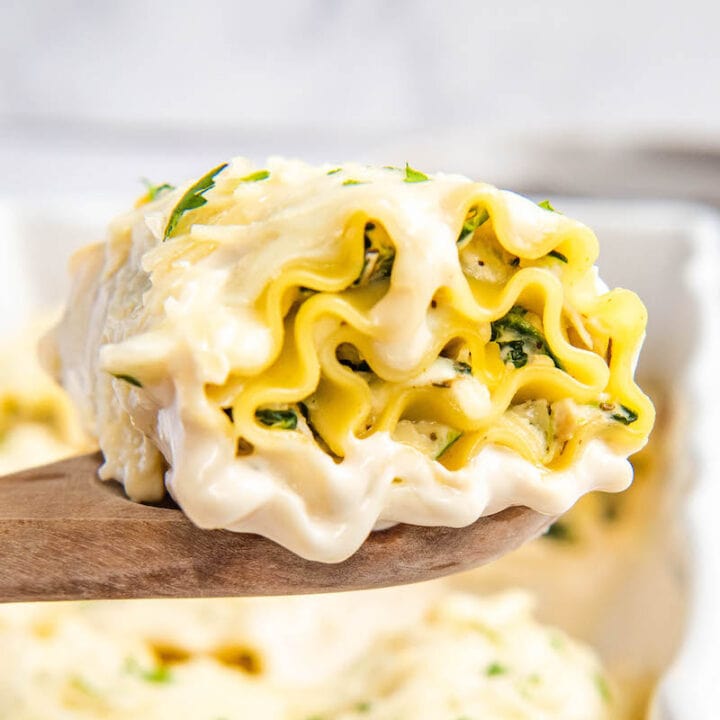 These White Chicken Lasagna Rollups are so delicious and impressive, but surprisingly simple to make! They are so hearty, cheesy, and loaded with flavor!
Ingredients
12 lasagna noodles
10 oz frozen chopped spinach, cooked/thawed and all excess water squeezed out
2 1/2 cups shredded mozzarella, divided
1 cup ricotta cheese
3/4 cup shredded parmesan cheese, divided
2 large cloves garlic, minced
3/4 teaspoon salt
1/2 teaspoon pepper
1/2 teaspoon dried oregano
1/2 teaspoon Italian seasoning
2 cups cooked and shredded chicken
1 (16 oz) jar Alfredo sauce
Instructions
Preheat oven to 350°F and grease a 9x13 casserole dish and set aside.
In a large pot of boiling salted water, cook lasagna noodles according to package instructions; drain well and set aside.
In a large bowl, combine spinach, 2 cups shredded mozzarella cheese, ricotta cheese, 1/2 cup parmesan cheese, minced garlic, salt, pepper, oregano and Italian seasoning. Fold in chicken.
Pour 1 cup of alfredo sauce into the bottom of prepared casserole dish. Lay your lasagna noodles on wax paper or parchment paper. Use about a 1/3 cup of filling and spread evenly over the lasagna noodle, leaving the tip of the pasta clean so when you roll it up it seals.
Roll up each noodle and place seam side down in casserole dish. Repeat for remaining noodles.
Pour the remaining alfredo sauce over the top of the rollups. Sprinkle the top with the remaining mozzarella and parmesan cheese.
Bake covered with aluminum foil for 20 minutes. Remove foil and bake for 10 more minutes. Serve immediately!

Notes
Make this recipe vegetarian by doubling the spinach and leaving out the chicken. Can also add sautéed mushrooms.
Remove all excess water from cooked spinach or your rollups can quickly become watery!
Nutrition Information:
Yield:
6 servings
Serving Size:
1
Amount Per Serving:
Calories:

521
Total Fat:

21g
Saturated Fat:

12g
Trans Fat:

0g
Unsaturated Fat:

8g
Cholesterol:

89mg
Sodium:

1001mg
Carbohydrates:

44g
Fiber:

3g
Sugar:

2g
Protein:

37g