This quick and easy Homemade Alfredo Sauce is a great recipe to use when you need a simple and delicious dinner. It has only 5 ingredients and will only take 10 minutes to make!
5 Ingredient Alfredo Sauce
We've all wanted to grab a jar of our favorite pasta sauce to have it on hand for a quick and simple dinner. But have you ever looked at what's in a jar of store-bought alfredo sauce? We'll save you the trouble and suggest that you just make this Homemade Alfredo Sauce instead.
This sauce requires just 5 ingredients that you can get instead of buying the mystery jar at the store. Better yet, we bet that you have most of the ingredients at home already! They are whole ingredients (you can read and understand!) that come together to make this creamy and rich alfredo sauce.
Why Is This The Best Alfredo Sauce Recipe?
We know you're going to love this recipe. Here are the reasons that this alfredo sauce has easily become one of our favorite pasta sauces.
There are only 5 ingredients! Plus, we're willing to bet that you already have them in your kitchen. So all you need is a box of pasta and you're set for dinner!
It's a super quick recipe. There's not a lot of prep and this recipe only takes 10 minutes to make. (Just enough time to boil the pasta!)
Whole, simple ingredients are used. If you look at a jar of alfredo sauce in the supermarket, you will find a bunch of ingredients that are just not needed. There are no additives or preservatives in this recipe.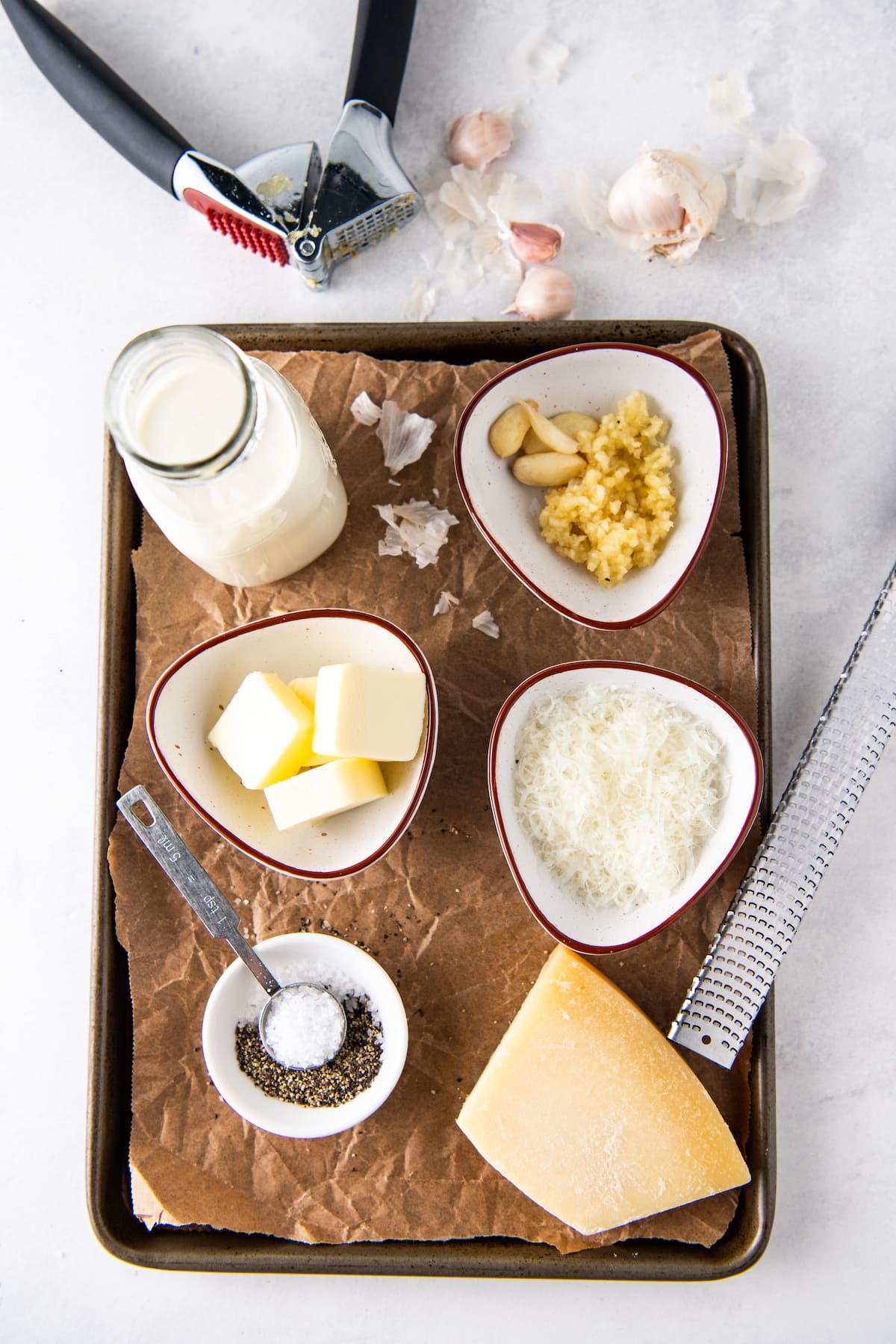 Recipe Ingredients
Here are the details on the 5 simple ingredients for this alfredo sauce. Please remember to check out the recipe card below for specific amounts.
Butter: This is the base ingredient for this recipe. The richness begins with melted butter. We recommend using unsalted butter if you can. That way you can control the salt level of the sauce.
Garlic: We believe there's no such thing as too much garlic! The garlic in the sauce is balanced so well with the creaminess from the heavy cream. You can add more cloves if you'd like!
Heavy Cream: We recommend using heavy cream so that you get a rich and creamy sauce. If you want to use whole milk or half and half, that's ok. But remember that the alfredo sauce might not be as thick.
Parmesan Cheese: We suggest that you grate fresh parmesan yourself for this sauce. Pre-grated parmesan also has some additives added so that it stays fresh longer. The flavor is much more developed with freshly grated parm!
Salt and Pepper: Fresh cracked black pepper is always best for this recipe!
Nutmeg (optional): The nutmeg is optional, but a pinch of freshly grated nutmeg really makes a big difference to the final flavor. It adds a slight warmth to it, which we love!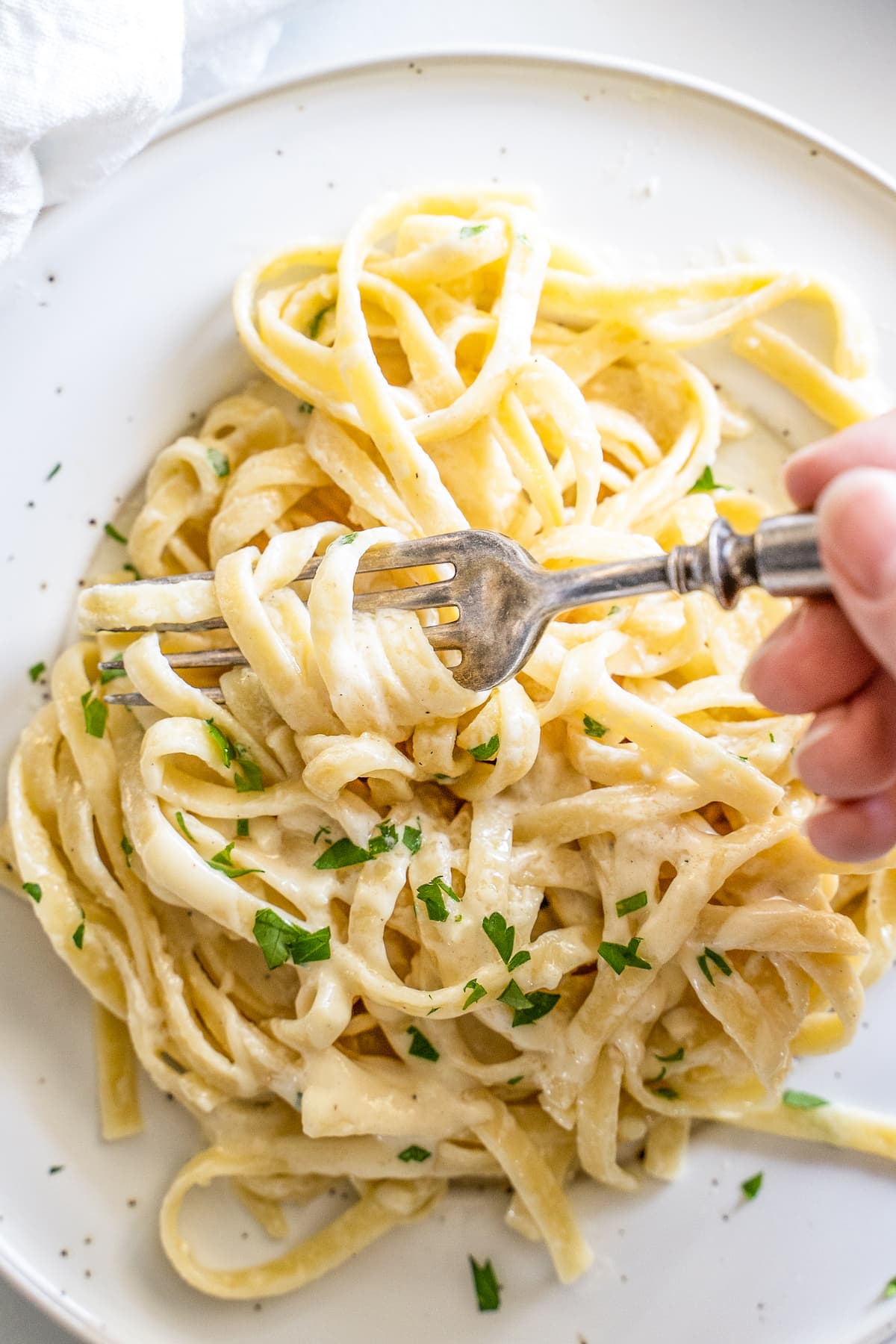 How to Make Homemade Alfredo Sauce from Scratch
Here's how to make this simple alfredo sauce. It will be ready in about 10 minutes!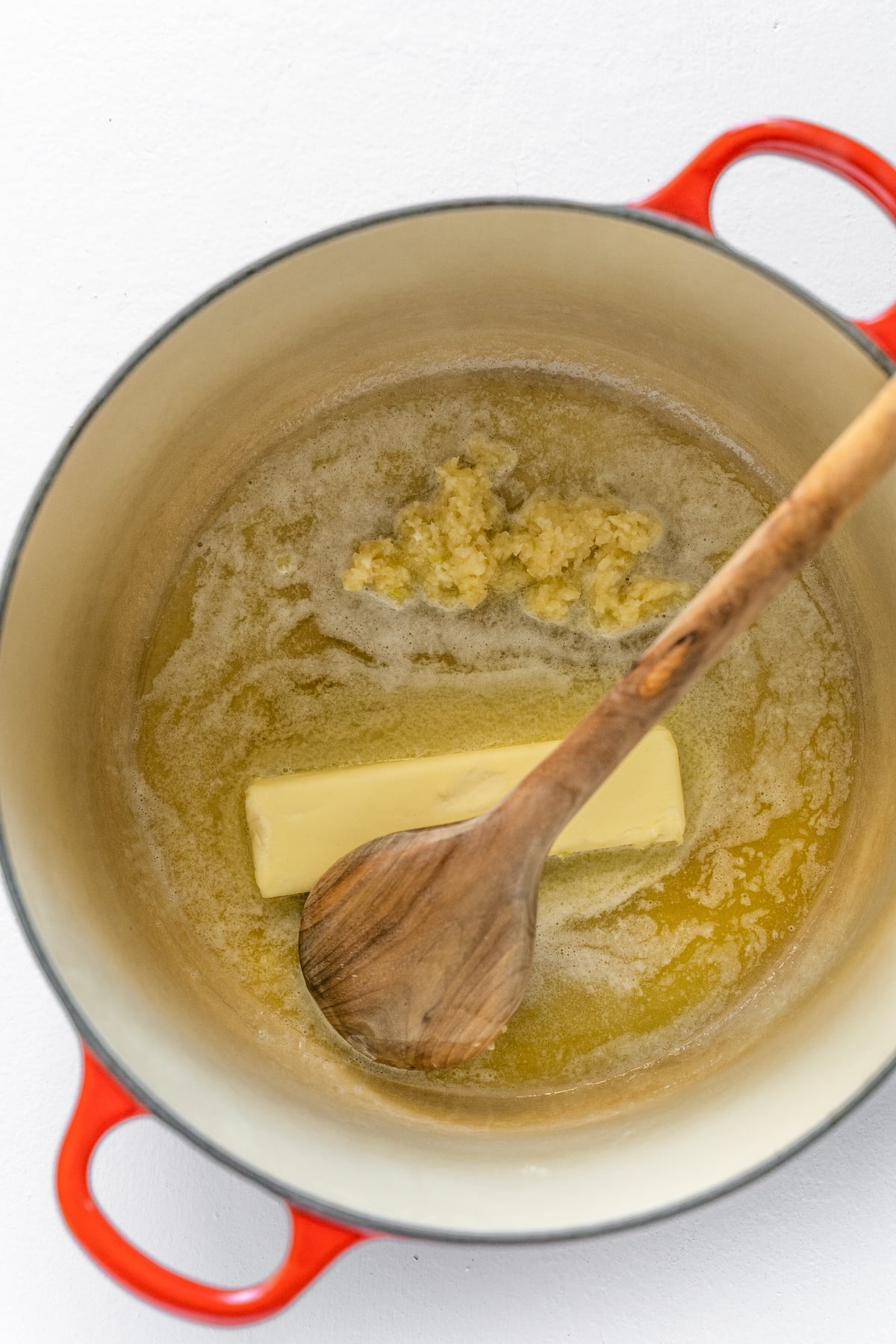 First, melt the butter in a saucepan. Make sure that the butter does not brown!
Then add the garlic. Again, you want to keep this at a moderate heat level so that the garlic and butter do not brown. Cook the garlic for about 30 seconds.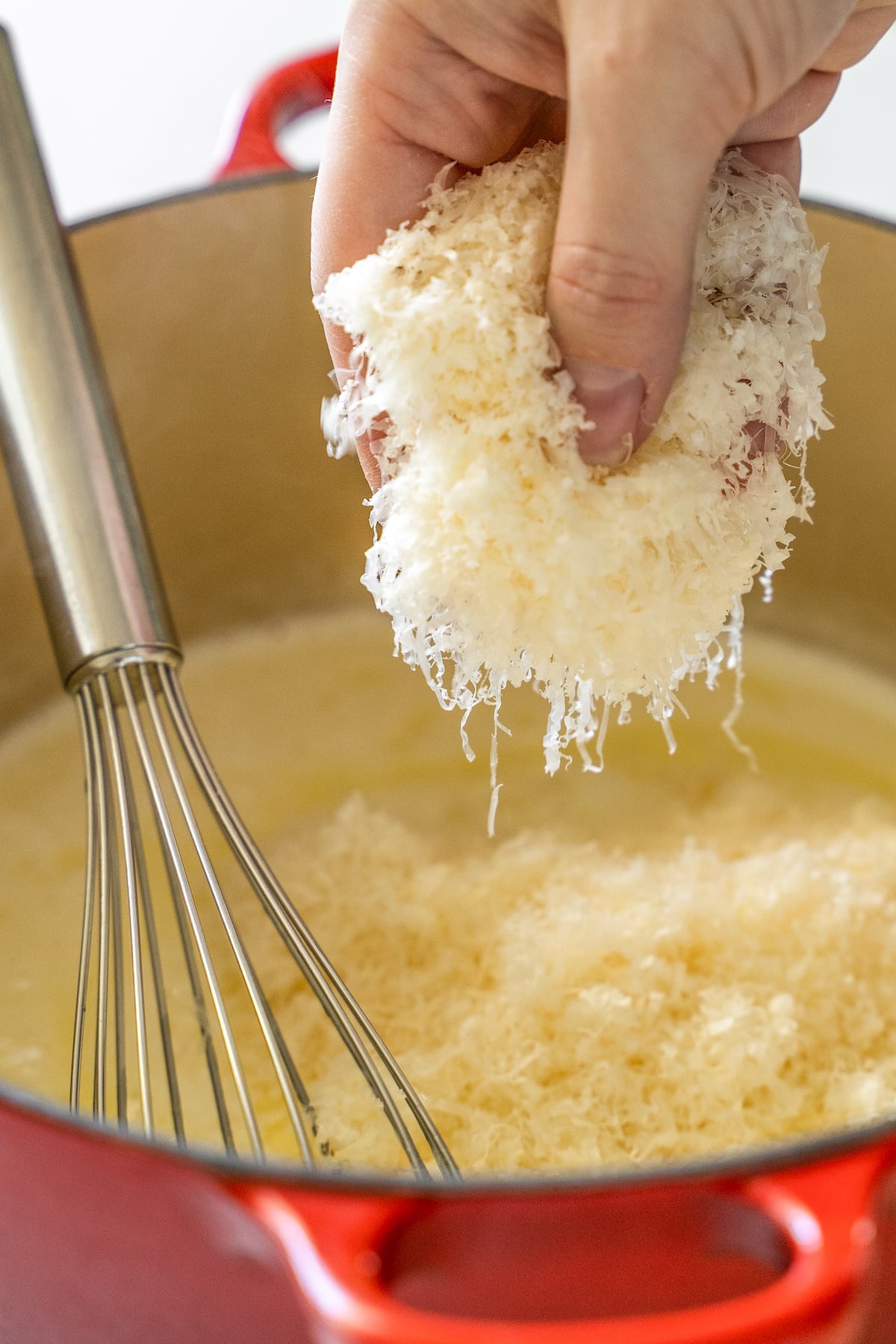 Whisk in the heavy cream. Next, add the heavy cream and bring it to a simmer. Simmer for about 5 minutes and make sure that you're whisking often so that it doesn't burn.
Add in the fresh grated Parmesan cheese. And stir so that the cheese melts. Finally, season with salt and pepper. Now your sauce is ready to serve!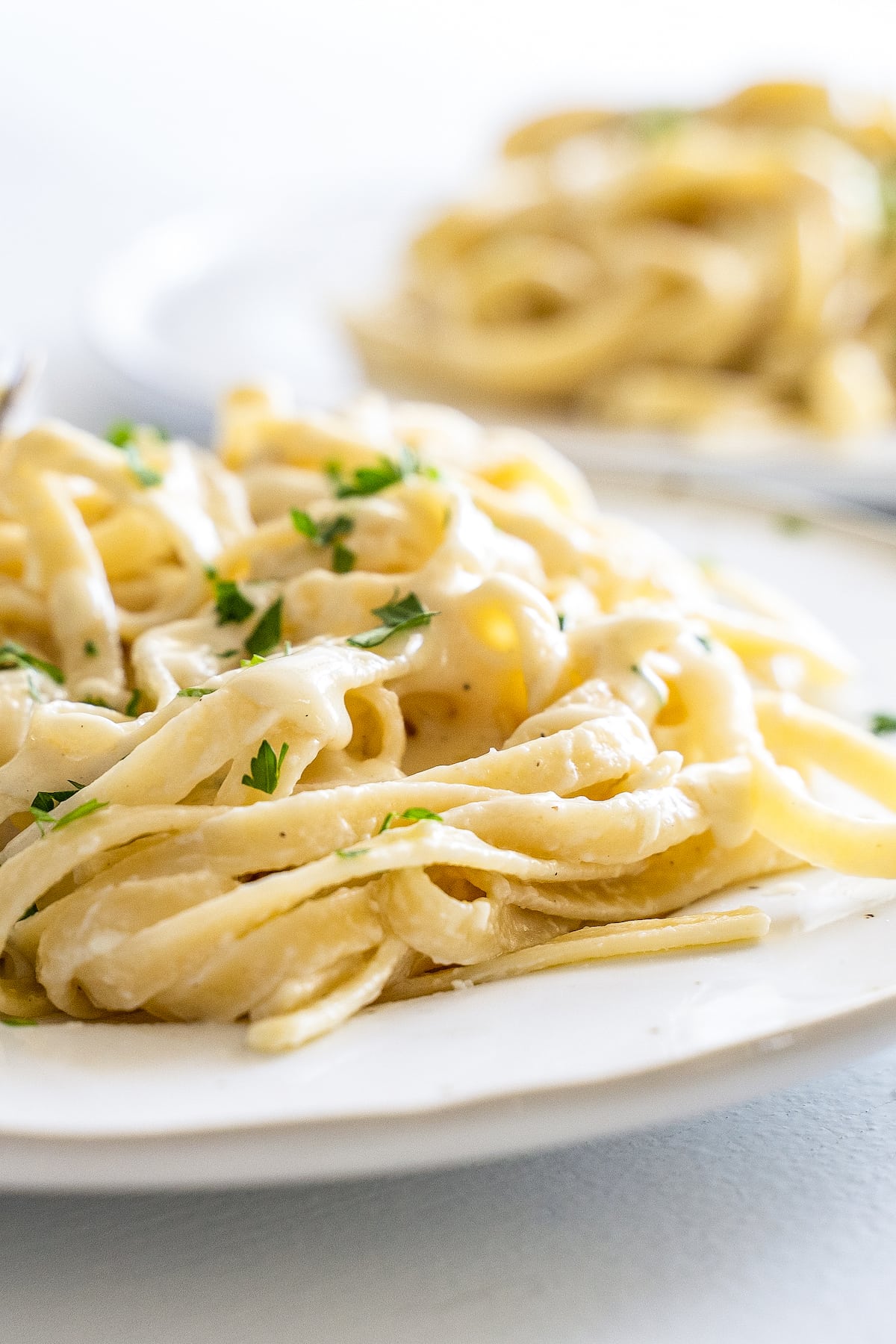 Tips for Success
Here's how to make sure that your sauce turns out perfectly every time:
Buy the best of the best ingredients for this recipe. It's important to use fresh ingredients when making alfredo. You use such few ingredients, using good freshly grated parmesan, full-fat heavy cream and freshly cracked pepper will make all the difference.
Add extra parmesan if you are using half and half. You can use some extra grated parmesan cheese to help thicken up the sauce if you use half and half instead of heavy cream.
How to add lemon to alfredo sauce: Add juice from half of a lemon to make a great creamy lemon alfredo sauce. It really goes wonderfully with fish or shrimp!
Double the batch, if needed. This recipe makes approximately 2 cups of alfredo sauce, which is enough to coat 8 oz of fettuccini noodles. You can easily double the recipe if you need more!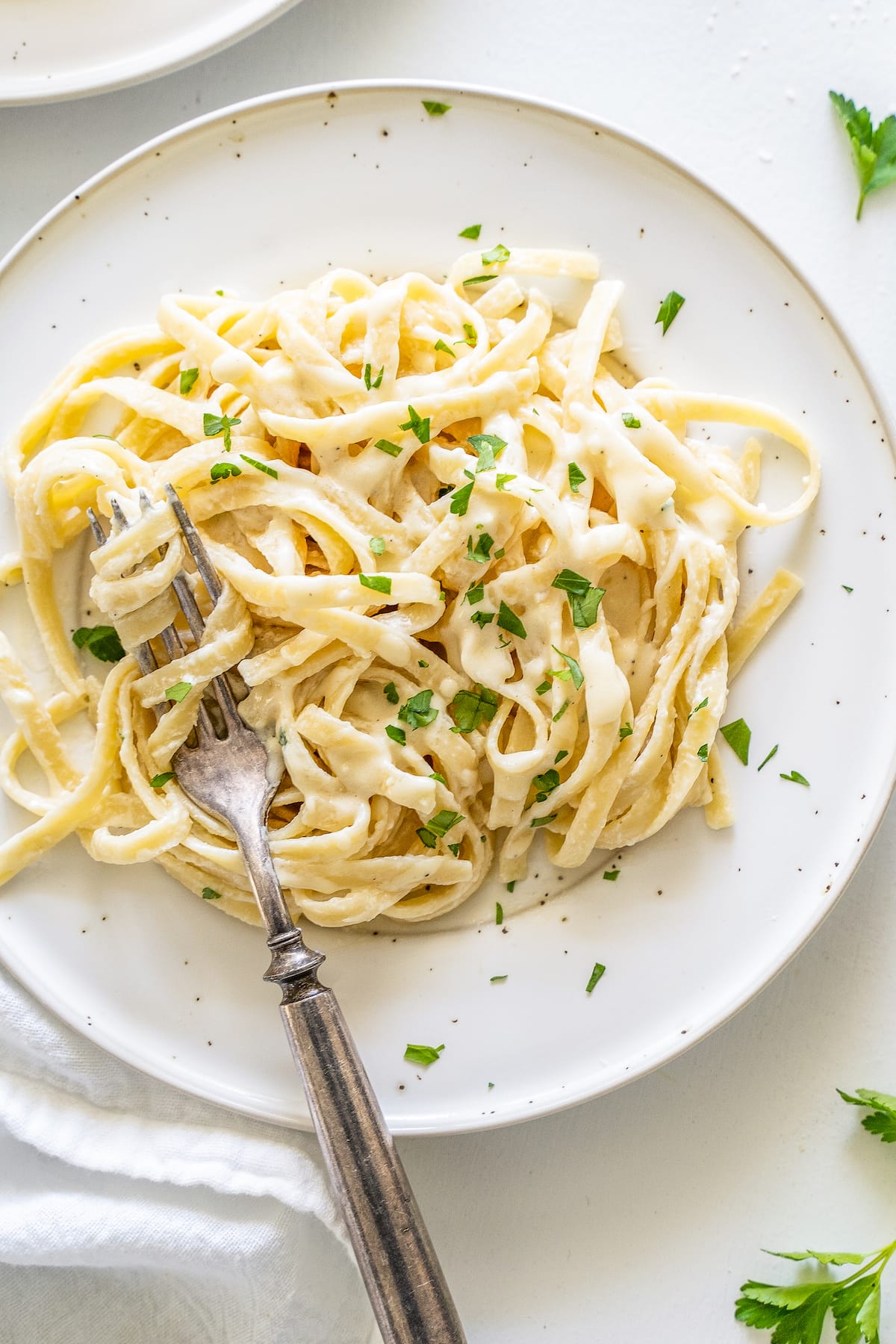 Common Questions
Here are some frequently asked questions that come up when making Homemade Alfredo Sauce.
Can I use half and half instead of cream?
Yes, you can use half and half for this recipe. But keep in mind that the sauce will not be as creamy compared to making the sauce with heavy cream. You can add extra grated cheese to help thicken up the sauce.
How can I thicken alfredo sauce?
You can add more grated parmesan cheese to thicken up your alfredo sauce. This is another reason why we suggest grating the cheese yourself. The light and fluffy cheese melts so easily in the sauce, it's easy to add a little bit more to help get the consistency that you want.
How can I thin alfredo sauce?
It's very simple to thin the sauce out if it's gotten too thick for you. Simply add more heavy cream, half and half, or even some whole milk. Whisk it in and you're good to go!
How much sauce does this recipe make?
This recipe makes approximately 2 cups of alfredo sauce, which is enough to coat 8 oz of fettuccini noodles. You can easily double the recipe if you need more!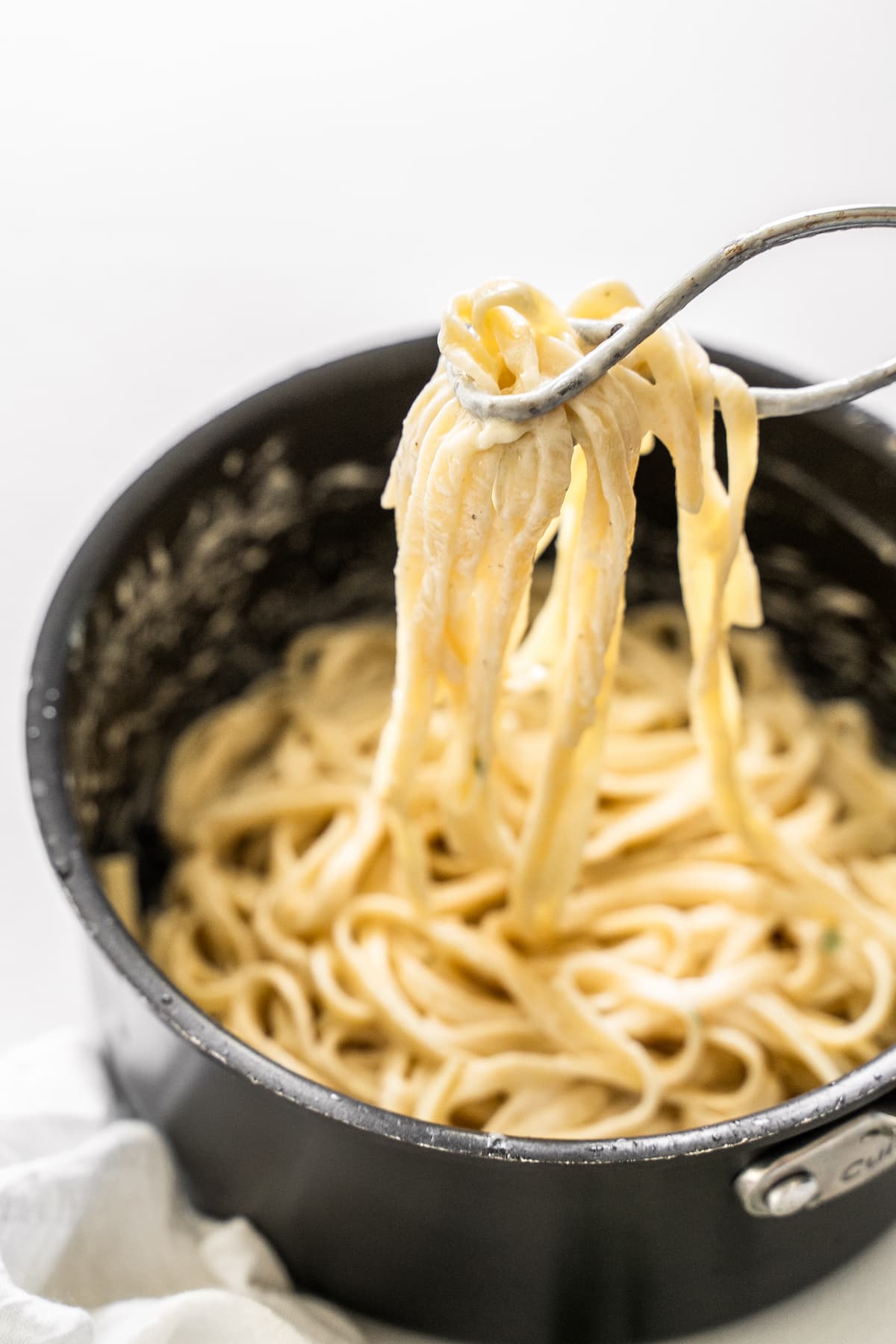 What Goes Well With Alfredo Sauce?
Here are a few of our favorite things to serve with alfredo sauce.
Pasta: Fettuccini of course is usually the preferred noodle. The kids love having it with bowtie pasta! Any noodles that you have on hand will work.
Ravioli: It's also a great sauce to serve with cheese or butternut squash ravioli.
Fish and Chicken: It's a delicious sauce to add to a basic chicken or fish meal. You could try it with our Grilled Chicken Breast.
Vegetables: You can use this recipe as a sauce for steamed vegetables like broccoli, cauliflower, or green beans.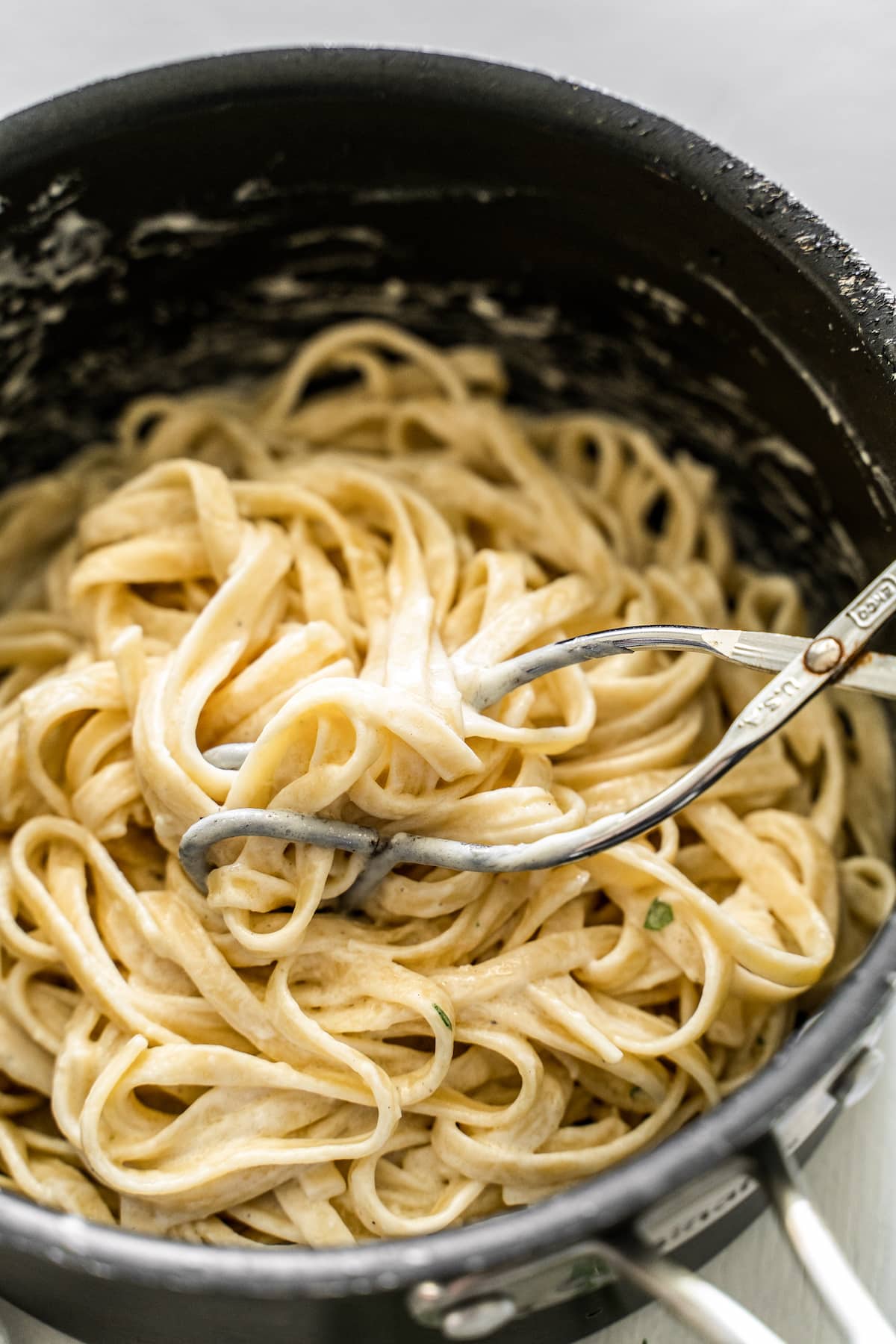 How to Store & Reheat Leftovers
You can store any leftover sauce in an airtight container in the fridge for up to 5 days. We suggest using the stovetop to reheat the sauce. Remember that you may need to add extra cream if the sauce has thickened up.
Can I Freeze This?
Yes, you can freeze alfredo sauce! We suggest storing it in an airtight container (repurposing plastic deli containers is great for this!). Just be sure to thaw the sauce first before reheating. When you reheat, do it slowly, so that the sauce doesn't separate or curdle.
Homemade Alfredo Sauce
This quick and simple Homemade Alfredo Sauce is so rich and creamy, just like you'd find at a restaurant! There are only 5 ingredients and it takes just 10 minutes to make.
Ingredients
4

tablespoons

butter

4

cloves

garlic

,

minced

1

cup

heavy cream

1 ½

cups

freshly grated Parmesan cheese

Salt and freshly cracked pepper

,

to taste

¼

teaspoon

freshly ground nutmeg

,

optional
Instructions
In a medium sauce pan over medium high heat, melt the butter. Add the garlic and cook, stirring constantly, for 30 seconds.

Add the heavy cream and bring to a simmer. Simmer for 5 minutes, whisking often.

Add the parmesan cheese and whisk until melted. Add salt and freshly cracked pepper, to taste.

Serve as desired, or toss in your favorite cooked pasta!
Nutrition
Serving:
1
,
Calories:
312
kcal
,
Carbohydrates:
6
g
,
Protein:
9
g
,
Fat:
29
g
,
Saturated Fat:
18
g
,
Polyunsaturated Fat:
9
g
,
Trans Fat:
1
g
,
Cholesterol:
87
mg
,
Sodium:
620
mg
,
Sugar:
1
g
More Homemade Sauce Recipes